Learn everything you need to know about Japanese "Negi" long green onions. From the different types, how they're used and 5 different cutting techniques so that you can use this versatile vegetable to its full potential!
What is Negi?
Negi, that staple of the Japanese pantry, boasts a legacy as rich as its flavor. This tasty green has been wooing palates in Japan since its first cameo in the "Chronicles of Japan"—the nation's ancient record penned some 1,300 years ago!
With its distinct punch of taste and gentle warmth, negi appears in all sorts of dishes in Japan. Think of it simmering in broths, grilling on a hot plate, swimming in a hotpot, or acting as a punchy garnish. How it's used can be as varied as the dish it graces.
In this post, we aim to delve deeper into the fascinating realm of negi. We will examine the distinct types and varieties, exploring their respective uses in traditional and modern cuisine. Additionally, we'll shed light on the art of cutting negi—a skill essential for maximizing their potential in the kitchen.
History and Characteristics of Negi in Japanese Cuisine
The origins of negi remain an enigma, with theories pointing toward Western China and northern central Asia. Their introduction to Japan is similarly mysterious, yet historical records in the "Nihon Shoki (Chronicles of Japan)" references an "akigi (Autumn negi)." This indicates that by the Heian period (794-1185), the cultivation of negi was well-established.
A closer look at the negi reveals a unique composition. Its body consists of the leaf blade (the green part), the leaf sheath (the white part), and the stem plate from which the roots grow. Interestingly, it's almost entirely made of leaves. Initially known as "gi", it later adopted the name "ne (root) gi (onion)" due to the root-like appearance of the white part.
The negi's early popularity saw the rise of the "green" variety, characterized by a long green section. Still prevalent in the Kansai region and westward, this variety, known as "ao-negi", boasts soft leaves with mild pungency. This makes it a versatile ingredient, finding its way into simmered, grilled, fried, deep-fried dishes, and condiments. Its smaller cousin, "konegi," enhances tofu, soba noodles, udon noodles, and more with its robust flavor.
In the Edo period (1603-1867), the cultivation of "nebuka-negi (根深ネギ)", which have a long white part, gained popularity. Also known as "shiro-negi" or "naga negi," these were central to the beloved "negima nabe"—a hot pot featuring charred nebuka-negi and tuna fatty parts. Today, "negima" is associated with yakitori, skewers of chicken and leeks, but originally it referred to this hot pot dish. Its exceptional cold tolerance means "nebuka-negi" is typically grown in regions north of Kanto.
The interesting thing is, that negi is like a mirror to the land they're grown in, with taste and appearance varying based on location. This has resulted in unique varieties like "Kujo negi (Kyoto)," "Fukaya negi (Saitama)," "Shimonita leek (Gunma)," "Aka (red) negi (Ibaraki)," and "Magari negi (Miyagi)."
Historically, leeks were mainly used as condiments for their antibacterial properties. But with the rise of the "nebuka-negi," revered for its soft and sweet profile when cooked, they have found their way into an array of dishes, from simmered to grilled. They have become an essential part of nabe, the traditional Japanese winter dish, reinforcing their status as a cornerstone of the cuisine.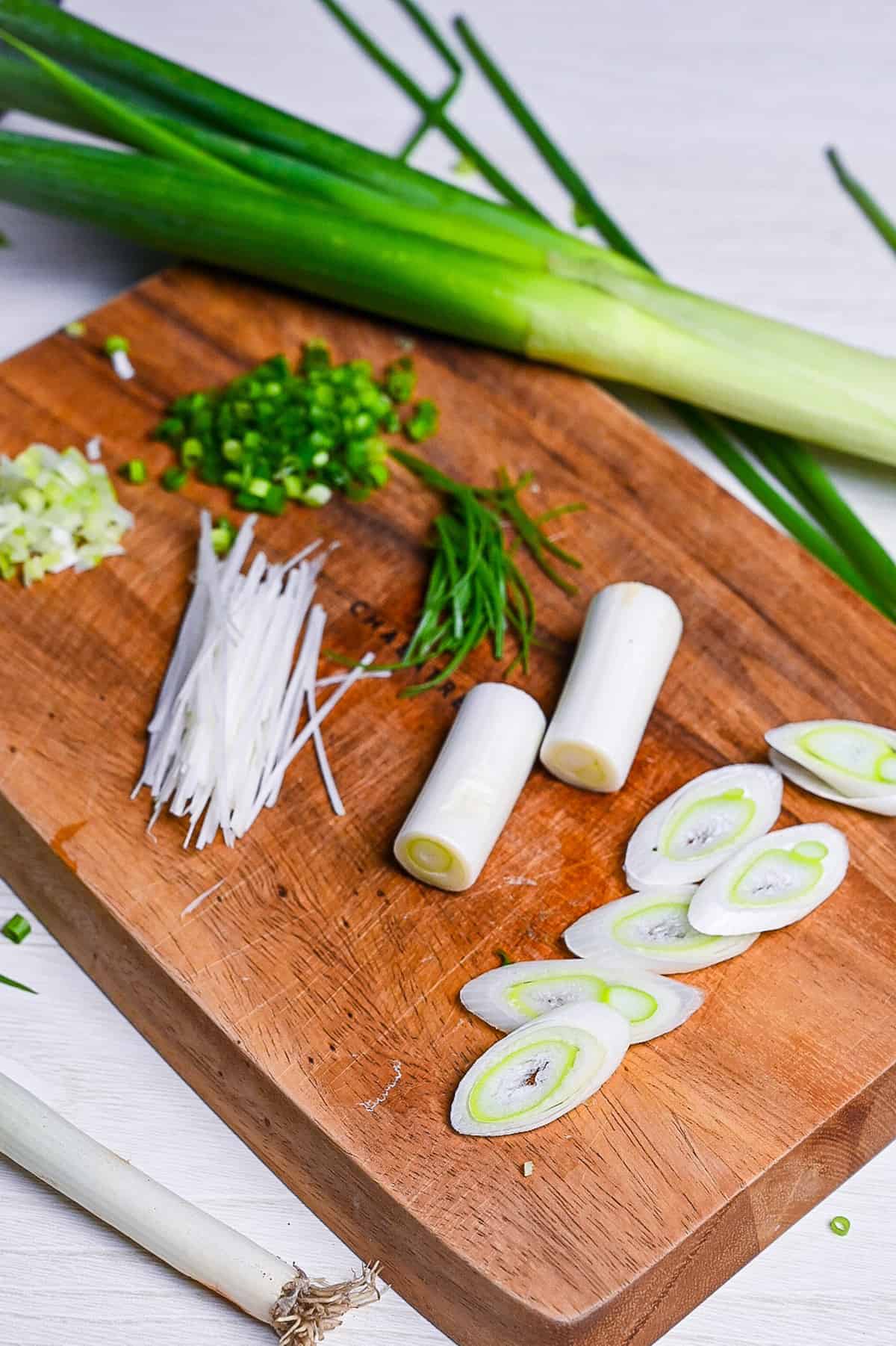 Negi vs Leek: What Are The Differences?
A Western counterpart to negi is leek oe "poireau" in French. In Japan, it is available under "leeki (リーキ)" or "pollo-negi (ポロネギ)." Cultivating leek proves challenging in Japan due to its preference for colder climates. Hence, it's not widely available and is considered a high-end ingredient due to its high cost.
Aesthetically, leek resembles the Shimonita negi, a variety of Japanese negi. However, the green part of the leek is flat and void of cavities, unlike the Shimonita negi. Also, while both parts of the Shimonita negi are edible, only the white part of the leek is consumed.
As for taste, leek lacks the distinctive pungency of Japanese negi and boasts a milder flavor. It sweetens and softens upon heating, making it a suitable candidate for simmered and grilled dishes. Consequently, it can substitute for leeks in nabe, stir-fried, and grilled dishes within Japanese cuisine. However, its unique flavor profile limits its ability to completely replace Japanese negi. Furthermore, leek is typically consumed heated and is thus unsuitable as a raw condiment.
With that in mind, chives, a herb that grows wild in Europe, serve as a Western alternative to negi for use as a condiment (such as finely chopped), but it's noteworthy that chives have a milder flavor less pungent than negi.
| | Negi | Leek |
| --- | --- | --- |
| Appearance | Consists of a leaf sheath and tubular leaf blade (thickness varies with variety) | Consists of a thick leaf sheath and a flat, hollow leaf blade |
| Edible part | All of the leaf | Leaf sheath only |
| Raw consumption | Suitable | Not suitable |
| Usage | Condiments, aromatics, odor-eliminators, general cooking | Stewing, grilling, soups, marinades |
Why Do Green Onions Abroad Look Different from Japanese Negi?
Understandably, names such as "scallion," "green onion," "spring onion," or "Welsh onion" might differ from country to country. However, many onions sold under these names are often equivalent to the Japanese variety known as "wakegi (分葱)."
Despite its similar appearance, "wakegi" is not a variety of negi. Instead, it belongs to the white onion, or shallot family and distinguishes itself with a slightly swollen root base. Its leaves are thinner than negi, and the boundary between the white and green sections is easy to discern.
"Wakegi" carries a distinctive aroma that is milder than negi. Its leaves offer a soft texture and a sweet flavor profile. This variety became widely popular during the Edo period (1603-1867) in Japan, when it was referred to as "fuyugi" (winter onion). It is often used as a substitute for "konegi" (small green onion) and "ha-negi" (leaf onion), making it an ideal choice for condiments.
Negi
Wakegi
Appearance
Leaf sheath constant thickness
No or few divisions
Consists of a thick leaf sheath and a flat, hollow leaf blade
Flavor
Lower portion of leaf sheath is swollen
You can easily see the division
Mild flavor
Low pungency
Broad Types of Negi Mainly Used in Japan
In Japan, three primary types of negi lend unique flavor profiles and textures to various dishes. Let's delve into the details of these three types of leeks and explore their specific uses.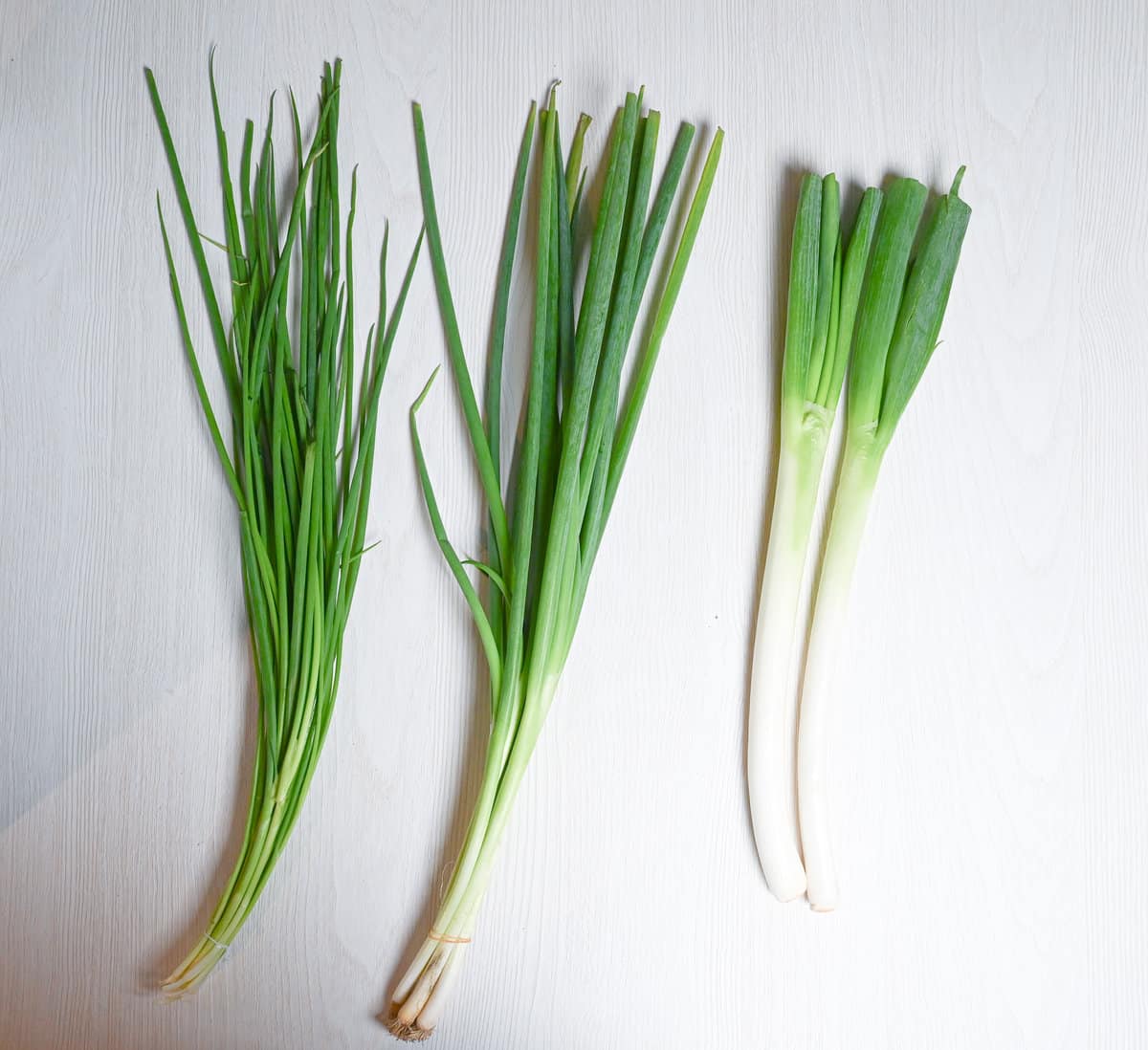 Naganegi (Long Green Onion)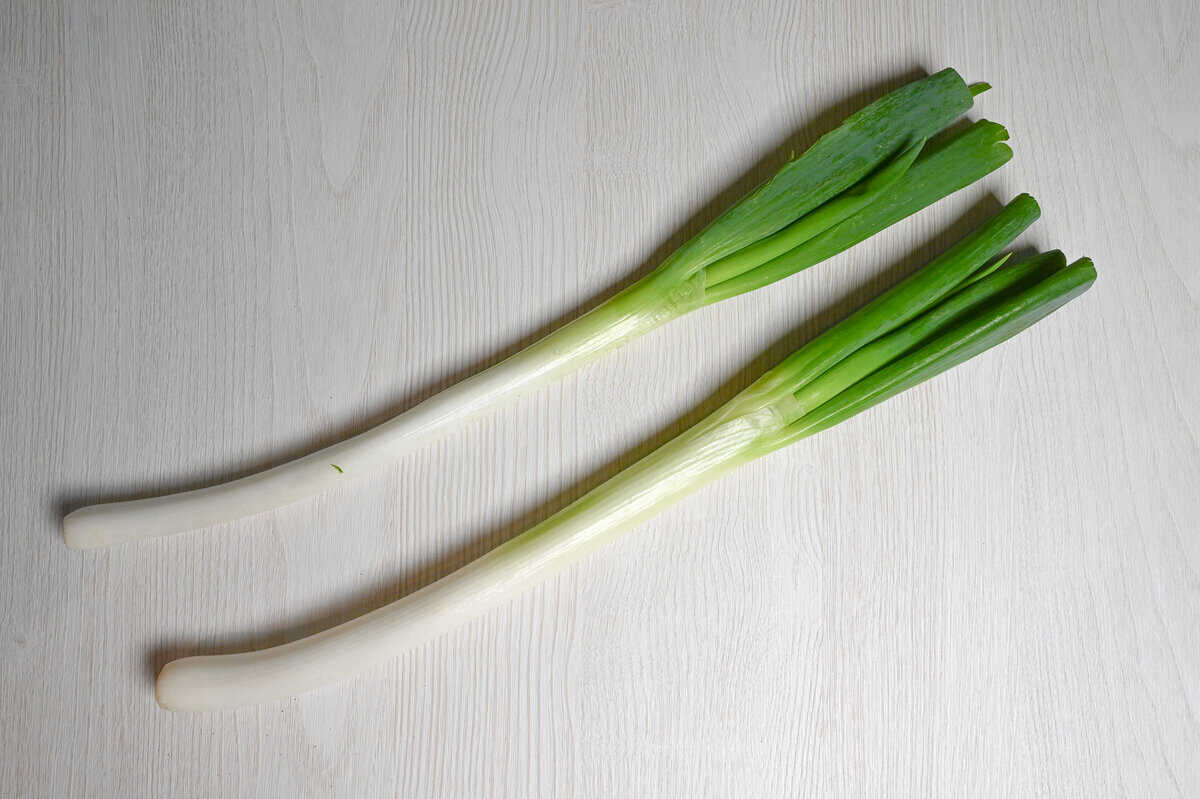 "Naganegi" is a green onion that acquires its partly white leaves by being shielded from the sun during its growth period. Renowned varieties include "Fukaya Negi", "Shimonita Negi", "Senju Negi", and "Jyoshu Negi". A distinguishing feature of these negi is the minimal to non-existent separation between the white and green parts, yielding a distinct sweetness when cooked.
Naganegi stars in nabe (hot pot), sukiyaki, stir-fries, yakitori, and kakiage (deep-fried vegetables). In addition to enhancing the flavor and aroma, it also helps to neutralize any unwanted odors in the dish.
When employed as a condiment, Naganegi is typically chopped and blanched in water to tame its raw flavor, making it a perfect garnish.
Hanegi ("Blue" Onion)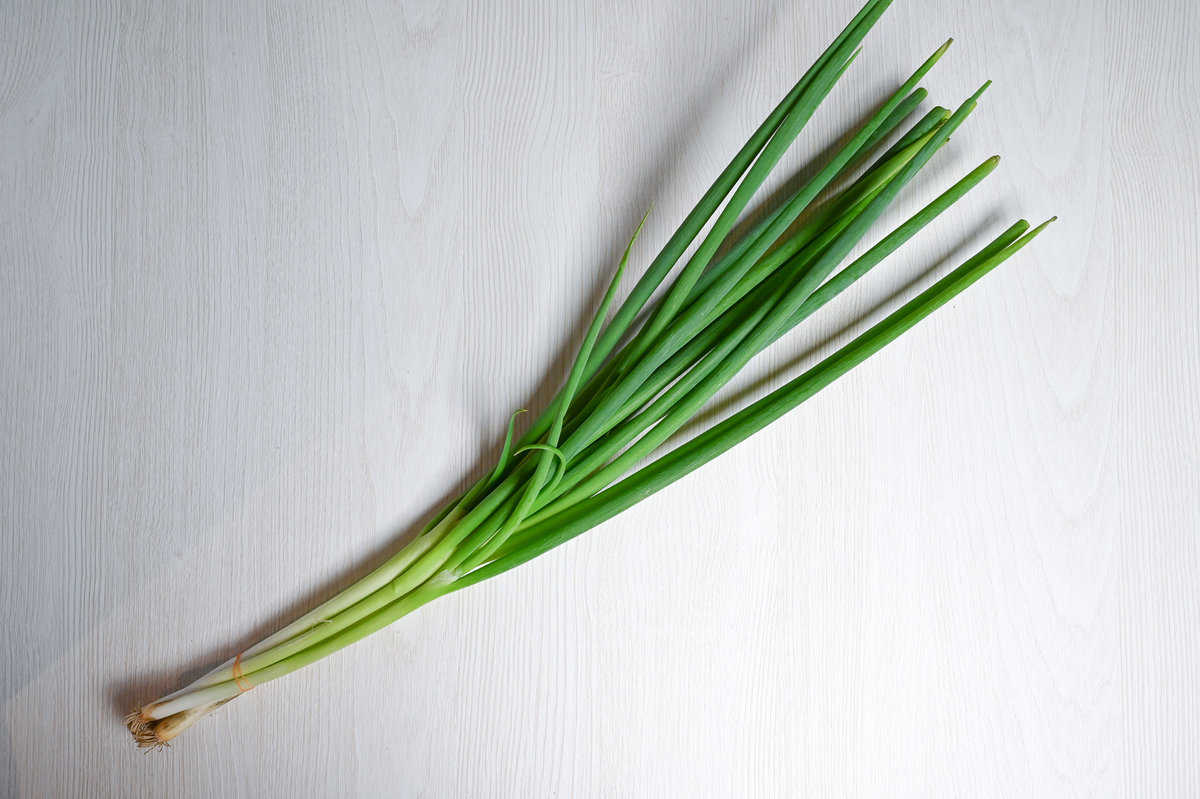 The funny thing about our language is, sometimes we describe green with blue. For example, green light is blue light in Japanese. Anyhow, hanegi, or ao-negi, are defined by their elongated green parts. A standout amongst them is the Kujo onion in Kyoto.
While some other negis keep the green part off the plate, this variety can be enjoyed entirely, including their vibrant green leaves. These leaves are tender, and aromatic, and make a versatile addition to a myriad of dishes. They are especially crucial in "nuta"—a traditional Japanese dish that features ingredients dressed with vinegared miso. Like naganegi, they are chopped and blanched before if you want to use it as a condiment.
Konegi (Versatile Negi)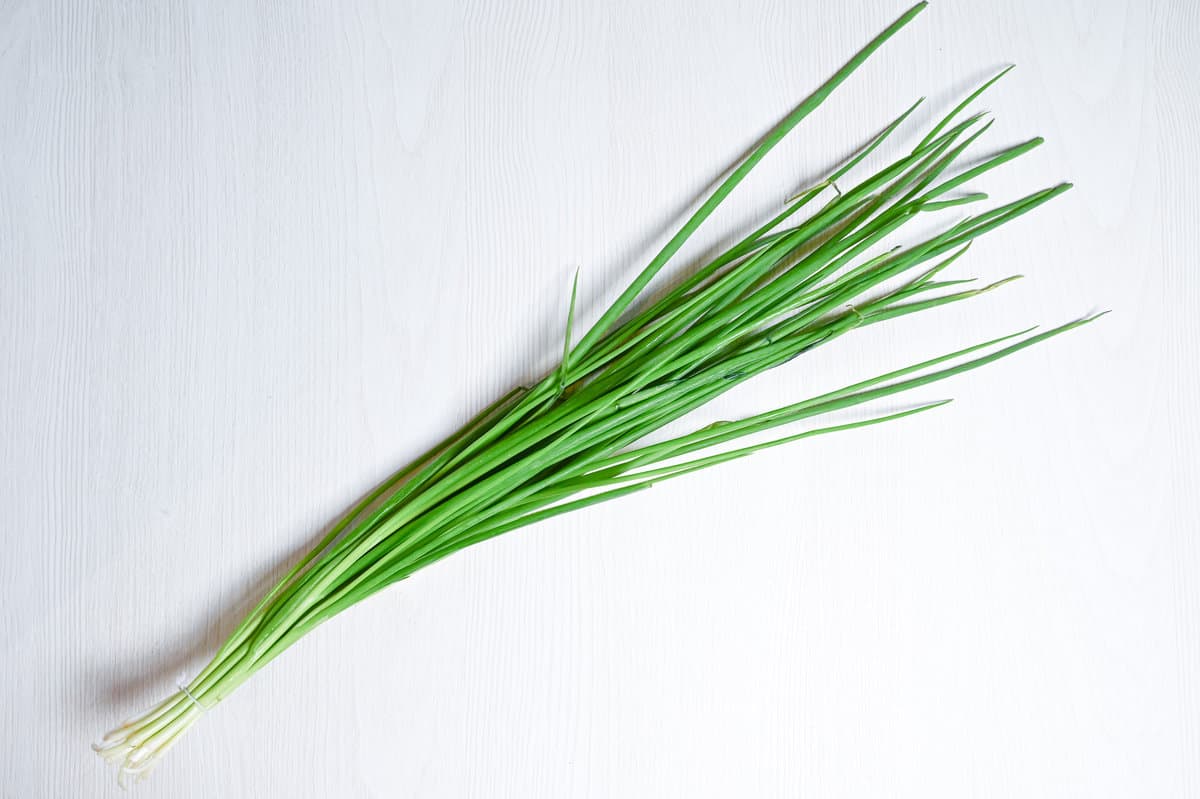 Ko-negi (小ネギ), often referred to as "hoso-negi (細ネギ)", is a refined version of the hanegi, boasting a long green part and thin leaves. A prominent brand of this variety is the "Hakata Banno Negi (博多万能ネギ)." With its subtle flavor and milder pungency, it is frequently used raw as a garnish and is instrumental in adding color to dishes.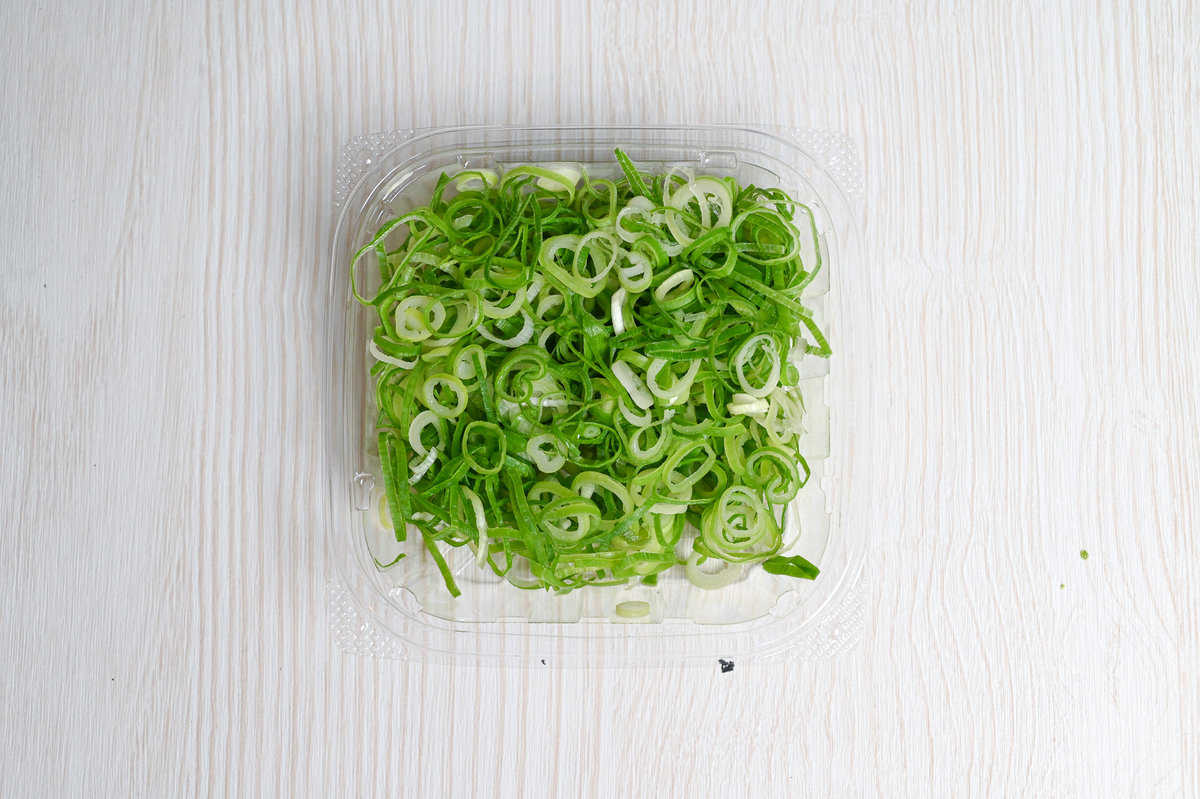 The Bottom Line: Which Onion Should I Use to Substitute Negi for Japanese Cooking?
Having journeyed through the world of negi, you might now wonder, "Which type of onion should I use for Japanese cuisine?" Given that the variety of negi common in Japan is rarely found overseas, the answer isn't as straightforward as you might hope.
As highlighted earlier, negi is like a mirror of the region it is grown in. Consequently, the profile of negi varies by location. In some countries, leeks and shallot hybrids "wakegi," is the most commonly seen.
Essentially, terms like negi, green onion, spring onion, Welsh onion, and scallion are similar but different. It's important to remember that even within Japan, there are numerous types of negi, each showcasing its unique characteristics—there's no one-size-fits-all version.
So, when a recipe calls for "green onion," the ideal substitute can vary based on the intended use of the ingredient. For clarity, let's explore a list of ideal substitutions:
Leek - As previously discussed, leek, is an excellent substitute for hot pot dishes such as Sumo Stew, Mizutaki, Nabeyaki Udon, and dishes like Duck Soba, Chicken Udon, and Sukiyaki. However, it isn't suitable for raw use.
Chive - It makes an excellent replacement when you want to use raw chopped green onions as a garnish or condiment. They especially shine when you want to add a pop of color to your dish without overpowering it with pungency. Be aware, however, that garlic chives are completely different.
Green onions, Scallions, Spring onions, and Welsh onions - These terms encapsulate a range of green onion varieties. The physical characteristics of these types may vary, with some sporting a slender appearance and others boasting a thicker stem. Nonetheless, they are generally a go-to substitute for negi in most dishes. When you find yourself in a culinary quandary, these are reliable choices for bringing the unique charm of green onions to your creation.
How to Cut Negi
Negi lends themselves to an array of dishes, with the method of chopping them dramatically influencing their flavor contribution and the dish's overall outcome. Thus, understanding how to slice each type and part of the green onion is essential to creating masterpieces.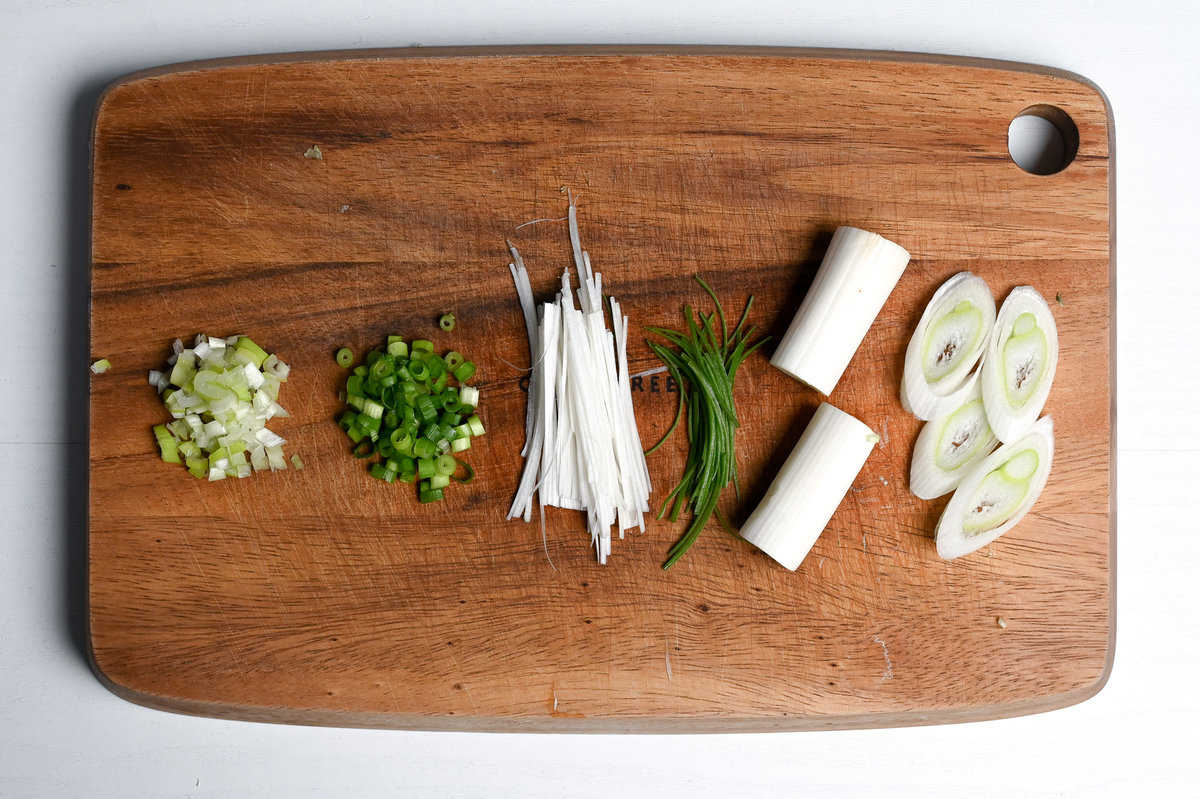 Let's explore some of the most common methods for cutting leeks, their respective applications, and the parts best suited for each cut.
| | Naganegi (thick and long) | Hanegi (medium and thin) | Konegi (small and very thin) |
| --- | --- | --- | --- |
| Cylindrical (tsutsu-giri) | Suitable | Acceptable | Not suitable |
| Diagonal (naname-giri) | Suitable | Suitable | Suitable |
| Finely chopped (mijin-giri) | Suitable | Acceptable | Not suitable |
| Small pieces (koguchi-giri) | Suitable | Suitable | Suitable |
| Thin strips (sen-giri) | Suitable | Not suitable | Not suitable |
Cylindrical (tsutsu-giri)
First, lay the negi horizontally and cut it vertically using a knife. The cuts should measure anywhere between 1 cm and 6 cm in length depending on your preference. Occasionally, scoring technique is employed to boost heat penetration and facilitate the absorption of flavors (such as for soupy dishes). This cut especially fits the white part of the "naganegi" and is ideal for simmered dishes, grilled dishes, and yakitori (grilled chicken skewers).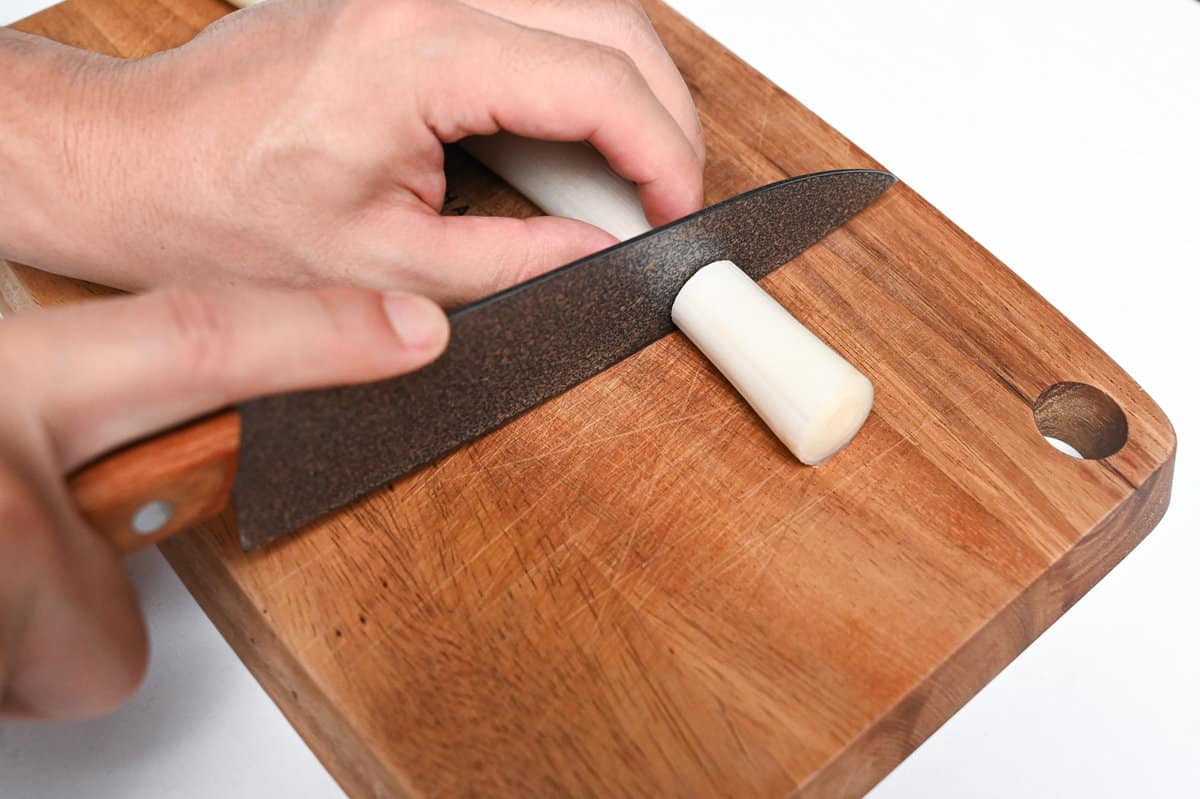 Giving these cuts ample time to cook slowly enhances their sweetness, transforming them into an irresistible delight for the palate. I use this type of cut for my duck soba and chicken udon recipe for example.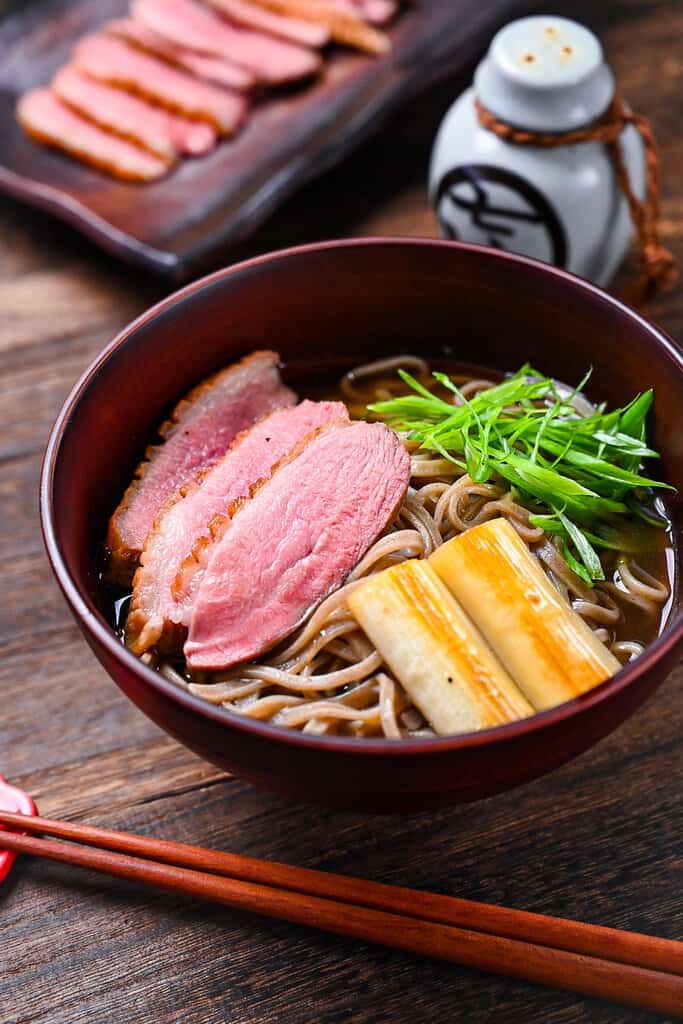 Diagonal (naname-giri)
To achieve naname-giri, position your negi horizontally and make angled cuts with a knife at approximately 45 degrees. The thickness should vary from 5 mm to about 2 cm, depending on your intentions. These slices are more tender to the bite and cook faster than tubular slices. Both "naganegi" and "hanegi" are apt candidates for this technique.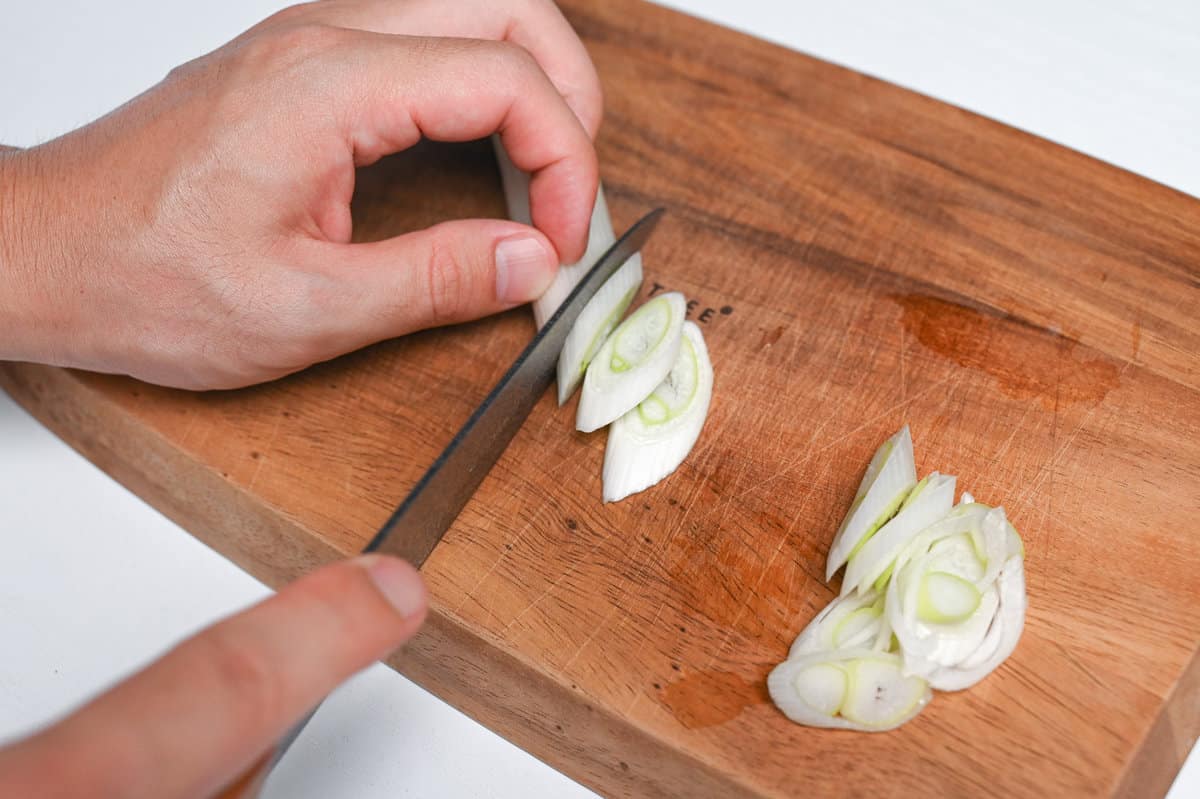 This cut is commonly employed in simmered dishes and stir-fries. For example, I used this technique in my recipes such as nabeyaki udon, curry udon, and chanko nabe.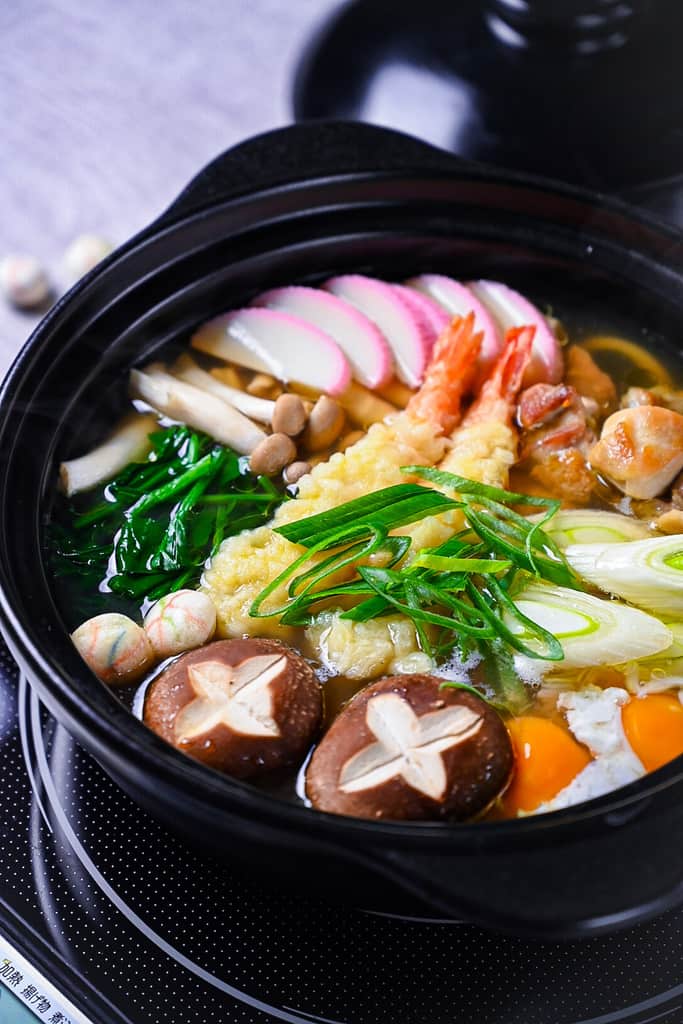 For "konegi," or small green onions, diagonal slices serve as a colorful garnish that adds aesthetic appeal to the dish.
Finely chopped (mijin-giri)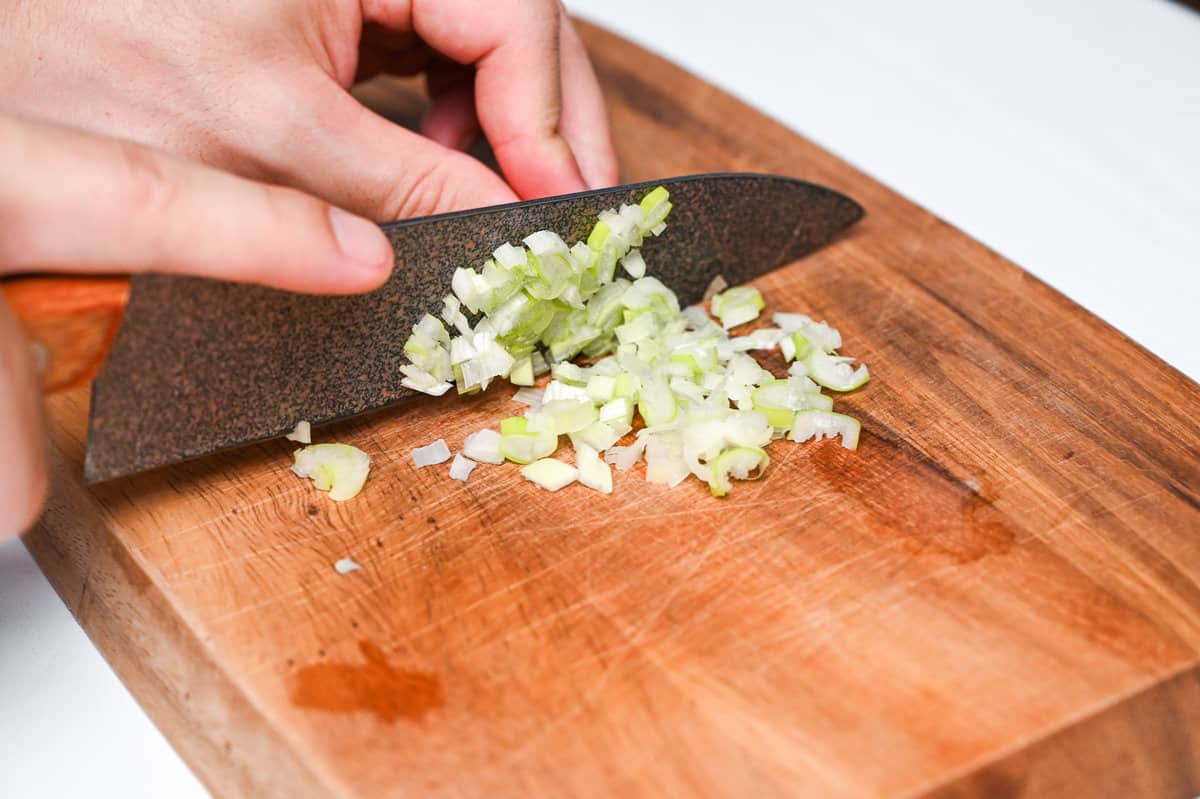 Mijin-giri is a method of cutting the negi into finely chopped pieces. My personal method is making horizontal cuts all around the negi until I reach the center, leaving the top piece intact (this keeps the negi together and gives me something to hold while cutting). Once cut all the way around, it should look like a tassle. I then cut the tassle vertically to create finely chopped negi.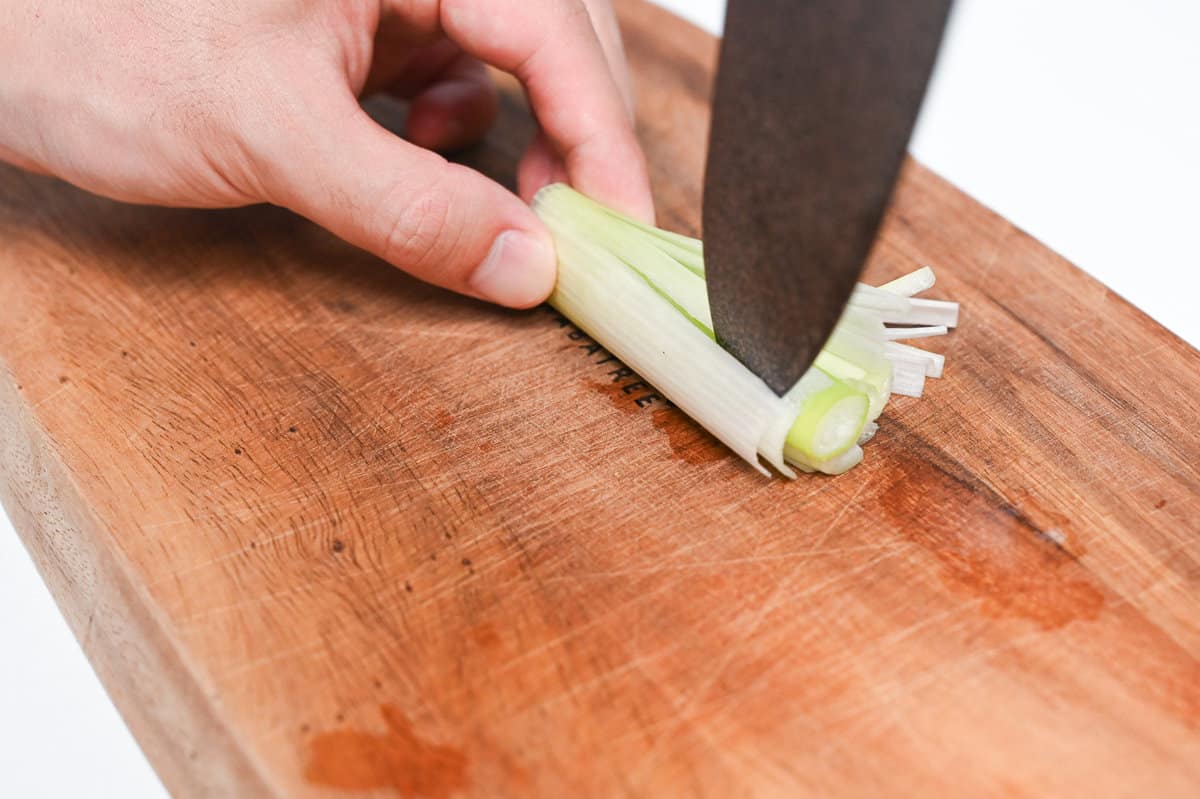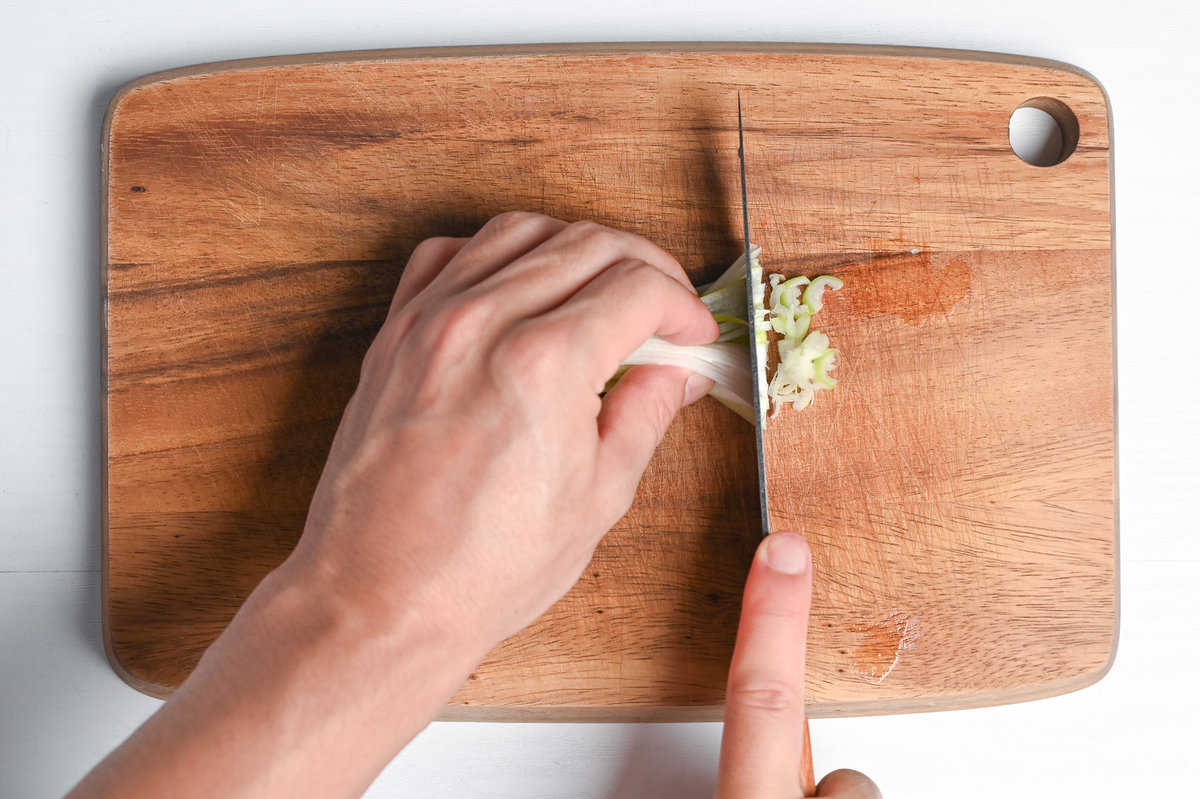 Another way to achieve mijin-giri is to make several longitudinal cuts along the negi's fibers, then switch to horizontal slicing.
If the pieces are finely cut, they are called "mijin," while slightly larger chunks are termed "ara-mijin." The finely chopped version finds its place as a vibrant condiment like I used for shio ramen, while the coarsely chopped version helps infuse an appetizing aroma and eliminate undesirable odors in the dish.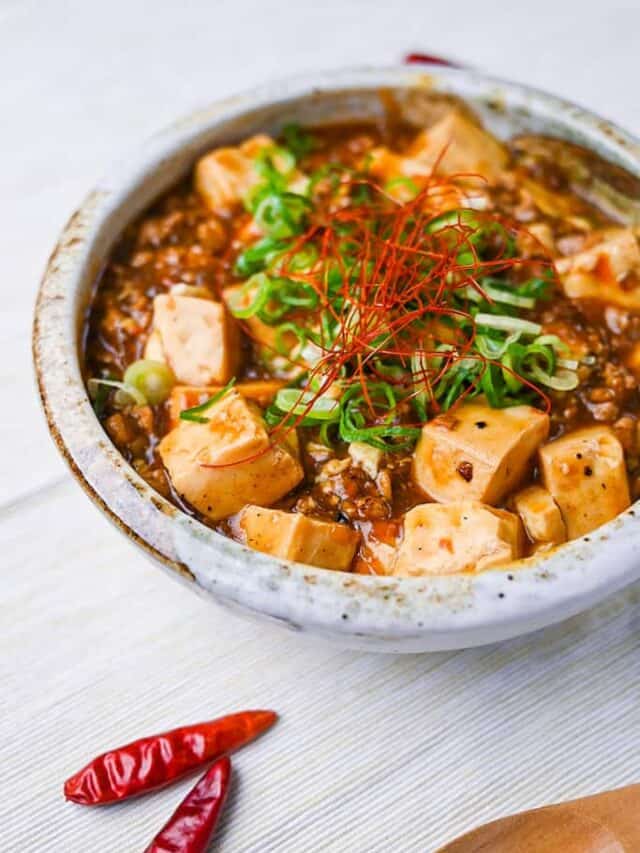 The white section of the negi and the transitional area between the white and green parts are primarily used for this technique. The green part, due to its inherent sliminess, isn't ideal for this method of cutting.
Small pieces (koguchi-giri)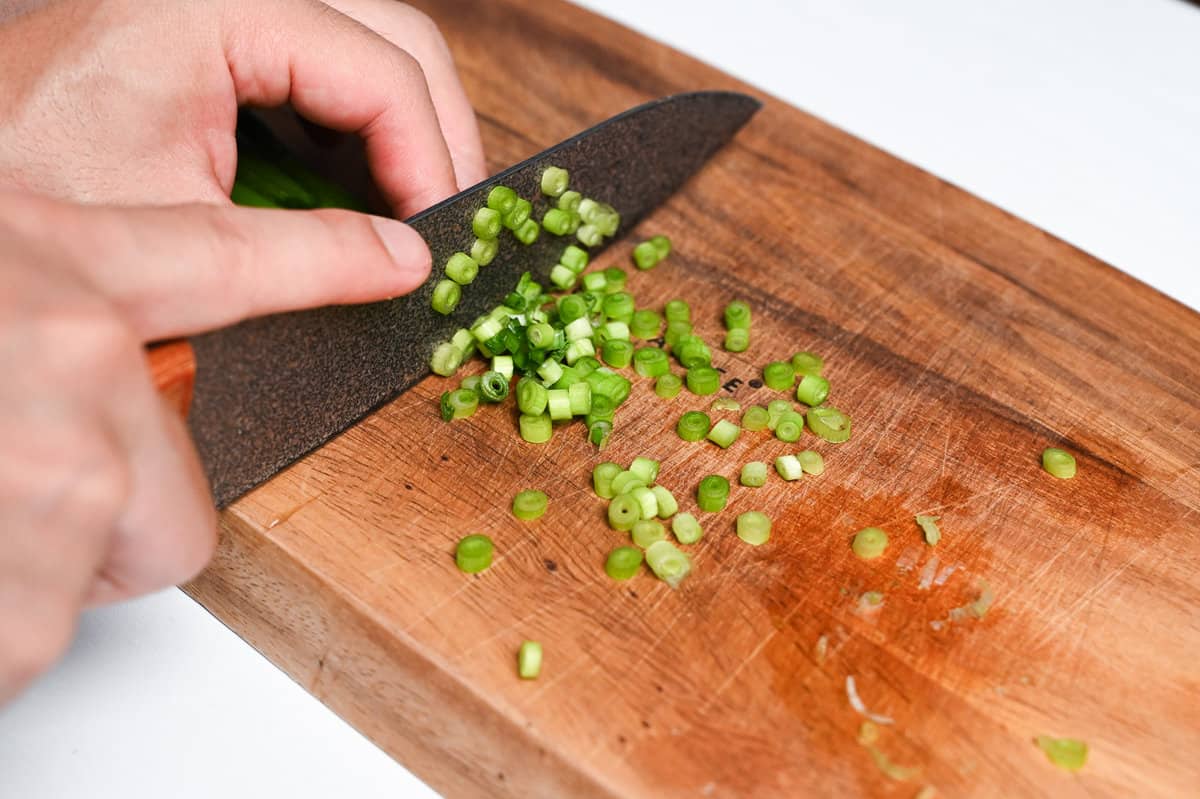 To make koguchi-giri, lay the negi horizontally and gently cut it into wafer-thin pieces starting from one end. This technique applies to "naganegi" (long green onions), "hanegi" (leafy green onions), and "konegi" (small green onions).
Due to their robust flavor, "naganegi" and "hanegi" should be first submerged in chilly water, then thoroughly drained before use. In contrast, "konegi" doesn't require this soaking step; they're ready to be used as is. These vibrant slices can serve as a flavorful condiment or offer an appealing dash of color to a wide array of dishes.
Thin strips (sen-giri)
Sengiri cut can vary depending on the length or which part to use. There are two specific types to consider, namely "Hari-negi (針ネギ)" noted for its crispiness, and "Shiraga-negi (白髪ネギ)" recognized for its fluffy texture. Both these types are typically employed as toppings.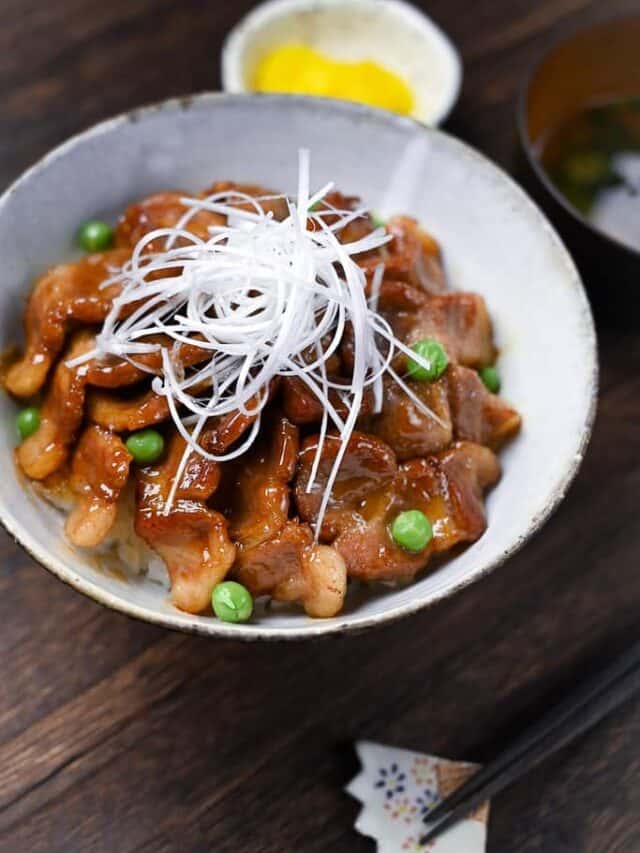 Firstly, for the "Hari-negi", cut the green (or white) part of the negi into segments of 3 cm each. Split them lengthwise down to the center using a knife. After placing it inside face down on a cutting board, spread it out tightly. Using the pressure of your hand to keep it steady, cut it into thin slices along the fibers.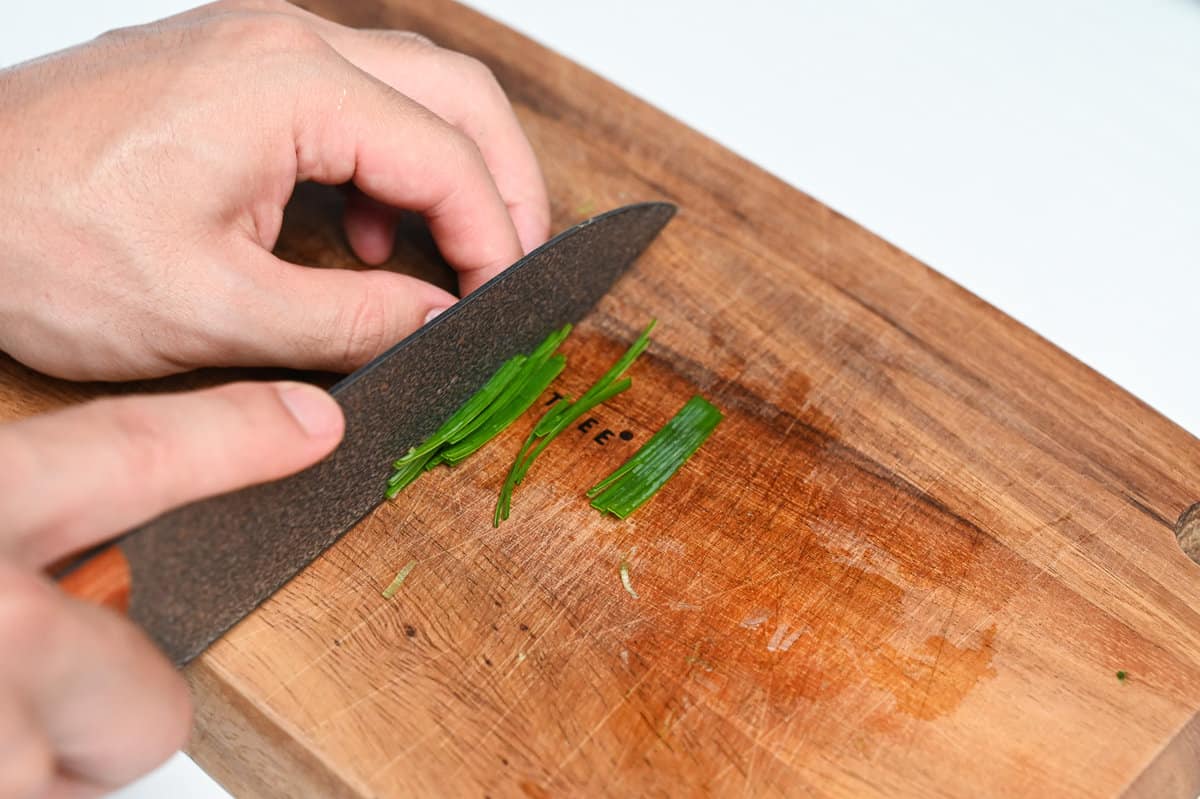 Conversely, for the "Shiraga-negi", the same technique applied with about 5 cm in length. Some people believe the thin slices should be cut against the direction of the fibers as well to distinguish from Harinegi. Subsequently, these should be blanched in cold water and then thoroughly drained.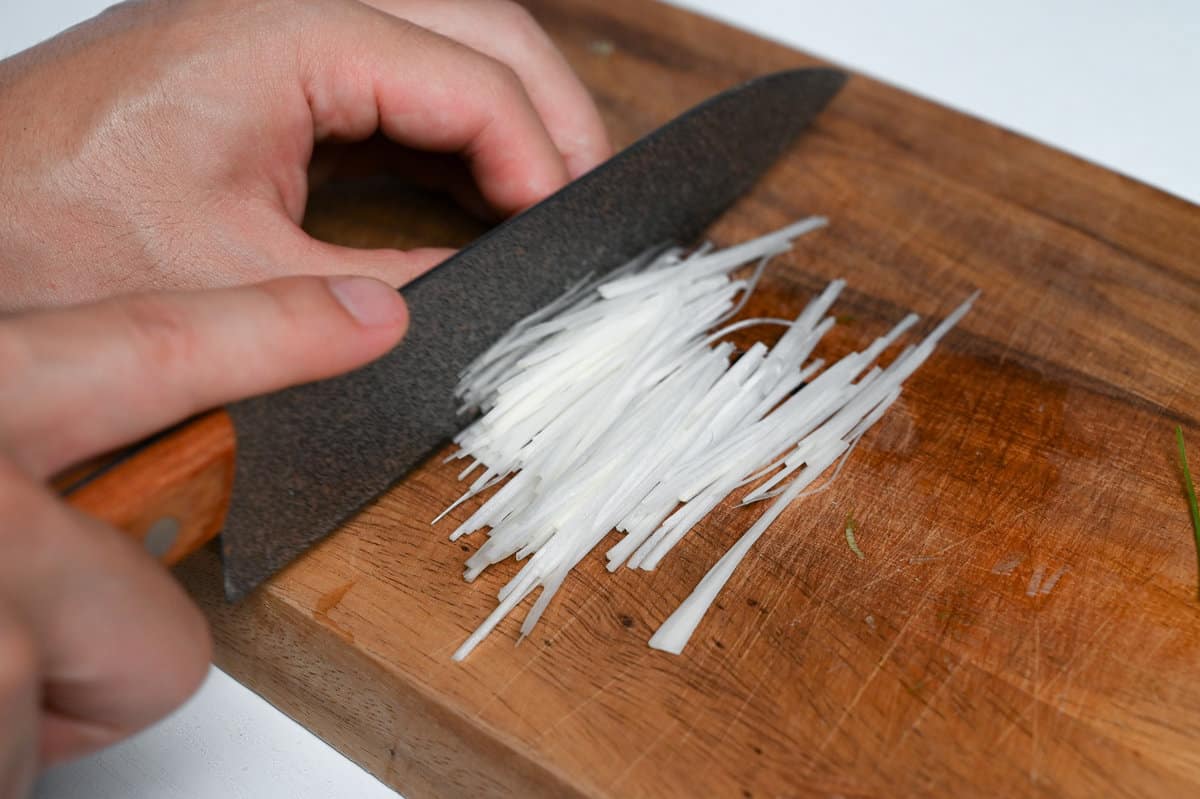 Best recipes that use negi
If you're wondering about recipes where you can use Japanese negi, check out the article linked below!
20 Japanese Green (Welsh) Onion Recipe Ideas
A collection of some of the best and most popular Japanese recipes using green onions (negi)!
Check out these negi recipes →
I hope this article inspires you to use Japanese negi in new and interesting ways! What's your favorite dish that uses negi? Let us know in the comments below!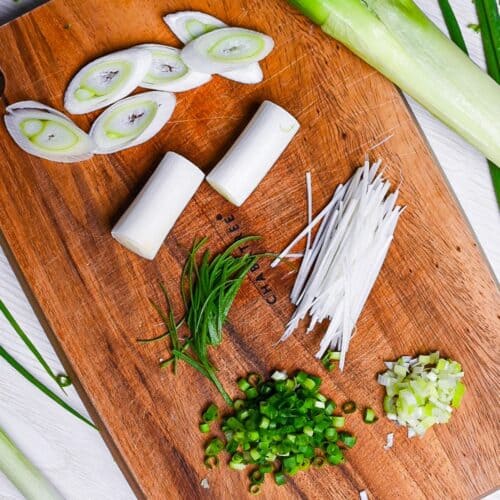 How to Cut Japanese Negi
Learn how to cut Negi (green onion) using 5 different Japanese cutting techniques!
Instructions
Cylindrical (tsutsu-giri)
Lay the negi horizontally in front of you and cut vertically between 1-6cm thick depending on the use.
Diagonal (naname-giri)
Position the negi horizontally in front of you at about a 45-degree angle. Slice approximately 5mm-2cm thick.
Finely chopped (miji-giri)
Place the negi horizontally on the chopping board and cut to your desired length.

Hold the end opposite to your knife-holding hand. Make horizontal slits through to the middle of the negi, leaving the top part you're holding intact.

Repeat all the way around until it resembles a tassel.

Thinly cut the "tassels" to finely chop.
Small slices (koguchi-giri)
Hold a bunch of konegi (thin green onion) together and line them up so the bottom makes a straight line. Slice to your desired thickness. (If using 1 negi, cut it into quarters or sixths and line them up before slicing.)
Thin strips (sen-giri)
Place the negi horizontally on the chopping board and cut off a 5cm piece. (2 inches)

Rotate it so it's now vertical and slice through to the middle.

Remove the outer 2-3 layers.

Flatten the layers out on the chopping board and slice them into thin strips.
FAQ
What is negi usually used for?
Negi is an ingredient in all kinds of Japanese cooking, but they are also used to add aroma and remove odor.
Are leek and negi the same?
While "leeks" and "negi" are sometimes used interchangeably, they are not identical. While they both belong to the same plant family, Allium, they are distinct species with slightly different flavors and uses in the kitchen.
Can you eat negi raw?
Some negi varieties have a strong pungent taste, but they can be eaten raw.
What can be used as a substitute for negi?
Leeks can be substituted for stews and soups and chives can be a substitute when used as a topping or garnish.