Nikujaga is a classic Japanese homecooked dish made with tender, thinly sliced meat and chunky vegetables simmered in a delicious Japanese style broth. This dish is so warming and a typical home dish in Japan!
Disclaimer: This post contains Amazon affiliate links. Sudachi Recipes earn a small percentage from qualifying purchases at no extra cost to you. See disclaimer for more info.
What is Nikujaga (Japanese Meat & Potato Stew)?
Nikujaga is a one-pot dish, quite similar to a simple meat stew. The name "nikujaga" (肉じゃが) combines the word "niku" (meat) with "jagaimo" (potato).
While the dish has quite a Western feel in terms of ingredients, the broth is packed with unique Japanese flavor. It can be eaten either as a main dish served with rice, or even a side to grilled fish, miso soup and pickles. It's really quite versatile.
It is a beloved traditional Japanese home-style dish. It's made with tasty ingredients like beef, potatoes, carrots, and onions. By simmering them together and seasoning with soy sauce, sugar, mirin, the vegetables become tender and full of flavor.
With a delightful blend of sweetness and umami, this dish is adored by many. Enjoy it as a scrumptious side dish with rice or a satisfying side dish with your favorite drink.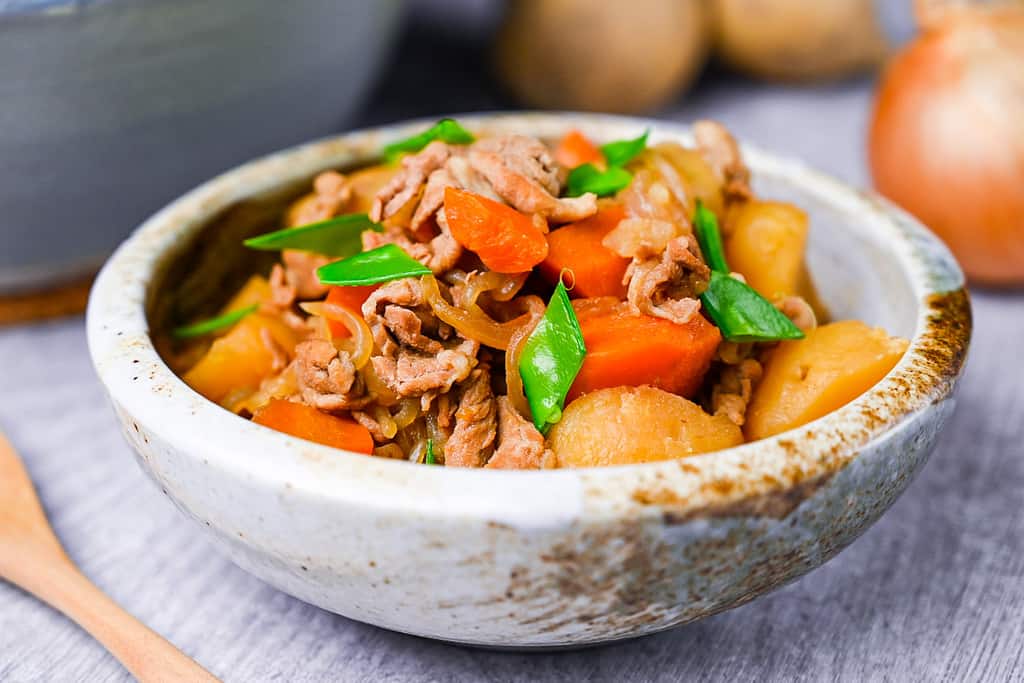 Brief history of nikujaga
The origin of Nikujaga, a beloved Japanese dish, remains a mystery with no definitive theory. However, there is a fascinating tale dating back to the 19th century in Portsmouth, England, which may shed some light on its beginnings.
In this story, a Japanese student living in Portsmouth would frequently savor the flavors of English beef stew. Upon returning to Japan, he requested a chef to recreate the dish for him. The chef, unfamiliar with beef stew, had to rely on the student's description of its taste and improvise using locally available ingredients, such as soy sauce and mirin.
While the resulting dish didn't quite resemble the taste of traditional English beef stew, it eventually evolved into its own unique creation, now known as Nikujaga. Some skeptics argue that this story is purely fictional, leaving the true origin of Nikujaga uncertain. However, as a Japanese person who lived in England, I find this intriguing connection between the two cultures to be quite captivating!
Beef nikujaga or pork nikujaga: which is the common choice?
Do you use pork or beef in nikujaga? You may be wondering. The simple answer is that both are authentic and real Japanese nikujaga. Then what's the difference between pork nikujaga and beef nikujaga? Is it to do with personal preference? Well actually, it depends on the regions within Japan!
A lot of surveys suggest preference in meat is divided between East and West.
As some of you might already know, I'm from Aichi prefecture, which is right in the center of Japan (geographically).
Interestingly, we seem to be on the border between pork and beef. But even though this map above suggests Aichi uses 53.7% pork and 46.3% beef, I have always remembered nikujaga as being a pork dish.
It's actually very interesting that the result in the neighbouring prefecture can be the complete opposite!
Rest assured, the recipe is delicious whether you decide to use beef or pork.
What does nikujaga taste like?
Nikujaga has a delightful sweet and savory taste, with the flavors of its ingredients harmoniously blending together. This dish includes vegetables like potatoes, carrots, and onions, as well as beef or pork. Cooking these ingredients together allows their flavors to combine beautifully.
Key condiments like soy sauce, sugar, and mirin create a sweet and salty broth, in addition to dashi broth as the base. The tender, braised vegetables are packed with umami, giving nikujaga a satisfying depth of flavor.
This taste is a classic in Japanese cuisine, and heartwarming flavors of nikujaga remind many of comforting home-cooked meals, often referred as ofukuro no aji (mother's cooking), making it a beloved dish for lots of Japanese people.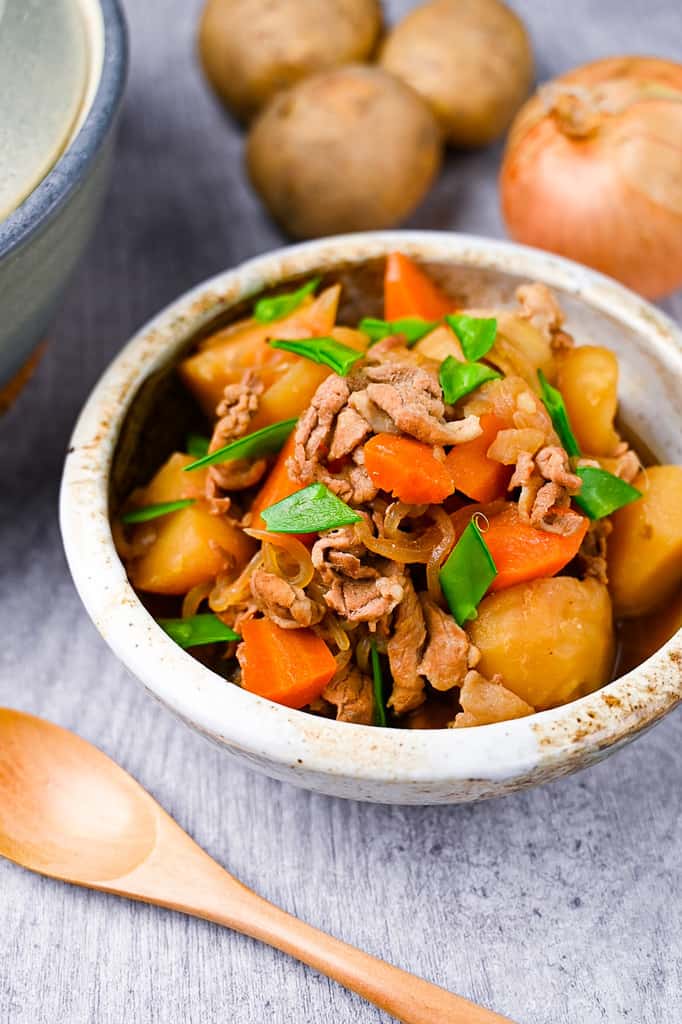 Ingredients to cook this nikujaga recipe
Here is the rundown of this nikujaga recipe's ingredients:
Potatoes
Carrot
White onion
Thinly sliced pork belly or shoulder
Vegetable oil
Light brown sugar
Sake
Konjac noodles (optional)
Snow peas (to garnish)
Tip to prepare ingredients for nikujaga
When it comes to any nimono (Japanese stew) , the way we cut the ingredients is an important factor. The size and shape of the cut can change the way the flavor soaks in. We cut the vegetables in a way that each ingredient soaks an equal amount of flavour and works in harmony within the dish.
For example, if the potatoes are of different sizes, they may not be fully cooked or may fall apart. So it's important to cut the potatoes into same size pieces. Also, carrots are less likely to absorb flavor than potatoes, so we cut them into smaller pieces.
Below are a few tips on how to choose the key ingredients.
Pork
Whether you use pork or beef (or chicken), the amount of fat in the meat is an important element of the recipe. If there is too much fat, it will become greasy, and if there is too little, the meat will become dry and the broth won't be so tasty.
Examples of good meat to use would be pork shoulder, pork belly. We usually use the thinly sliced meat for nikujaga in Japan so that we don't have to cook it for so long.
Potato
Potatoes come in various types, each with a unique texture. The texture depends on the potato's starch content, with firmer potatoes (starchy potatoes) having more starch and softer ones (waxy potatoes) having less.
Waxy potatoes are commonly used for nikujaga because they hold their shape well during cooking, resulting in perfectly cooked nikujaga.
Examples of waxy potatoes include new potatoes, Yukon Gold potatoes, and Charlotte potatoes.
Sugar
You might be surprised, but from my many experiences making nikujaga many times, I've discovered that brown sugar works really well. While white sugar is also fine, brown sugar adds extra flavor and depth, so I highly recommend trying it!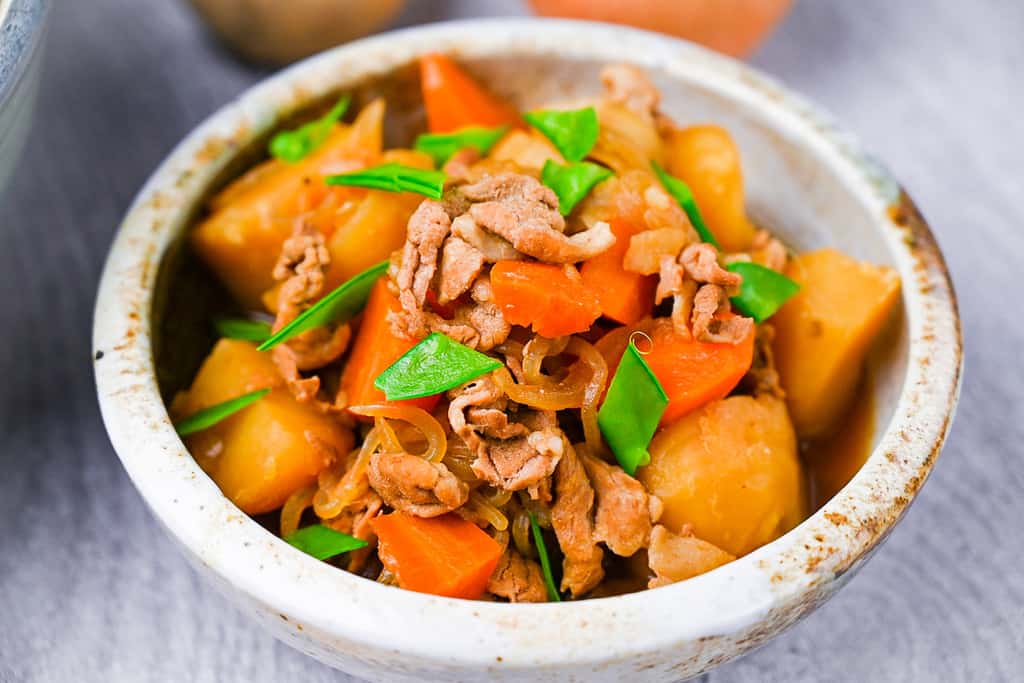 Instructions on how to make authentic nikujaga at home
As nikujaga is a typical homecooked dish, there are no real rules on how to make it and every home makes it differently. This recipe is my favorite way to make Nikujaga including a few tips and tricks to make it amazing! (See the printable recipe card at the bottom of the page for ingredient quantities.)
Cut and soak the potatoes
The first step is to peel the potatoes and cut them into halves or quarters (depending on the size). I recommend using a waxy type of potato such as Yukon Gold or Charlotte as they hold their shape better even after cooking for a long time.
Place the cut potatoes in a bowl of water to help remove the excess starch. This will prevent the broth from becoming thick or cloudy.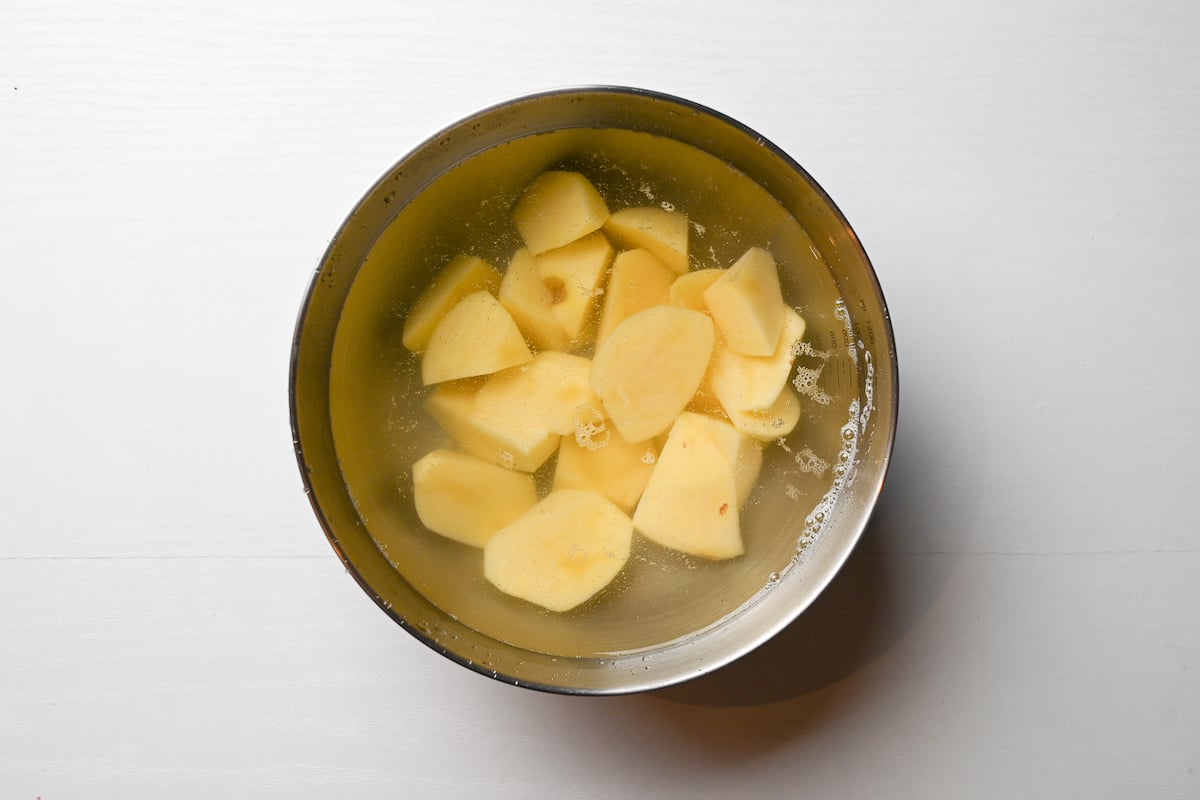 Prepare carrots and onion
Peel the carrot and onion, then cut the carrot into small chunks and the onion into medium sized wedges.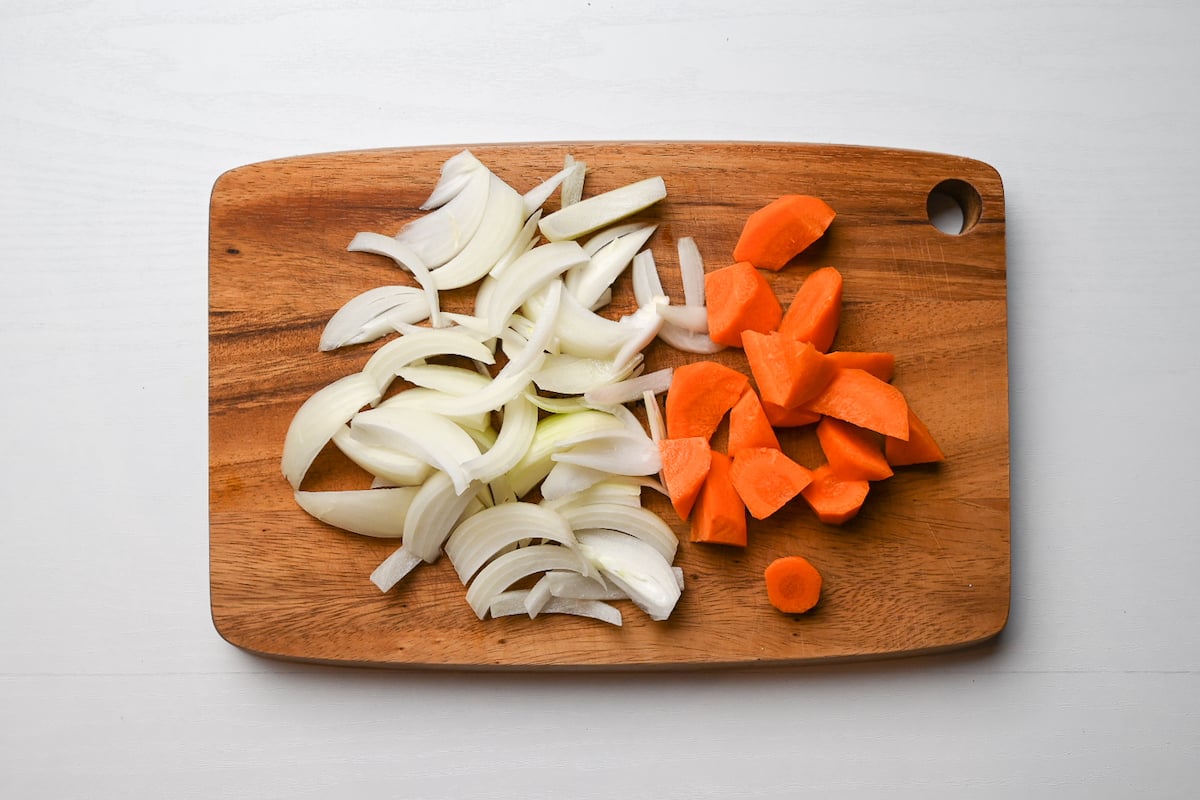 Cut the meat
I recommend using thinly sliced pork (or beef) for this dish. Cut the slices into bitesize pieces.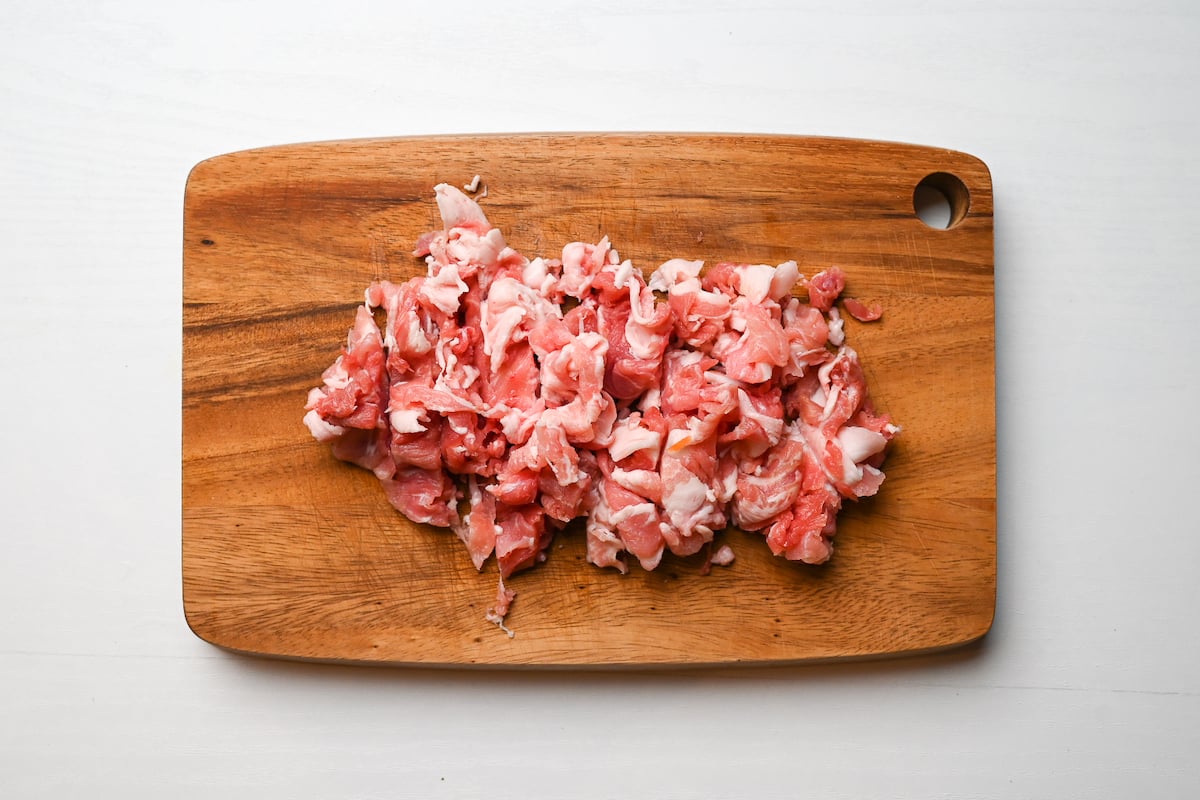 Can't find thinly sliced meat?
If you can't buy thinly sliced pork or beef where you live, then buy a block of meat and then partially freeze it until firm (not frozen) and thinly slice it using a sharp knife. When the meat is half frozen, it's easier to cut it thin without it becoming misshapen.
Seal the meat
Heat a medium to large pot on a medium heat and once hot, add a drizzle of oil. Add the meat and seal on both sides. Once it's sealed, move straight onto the next step (if you fry the meat for too long it can become tough or dry).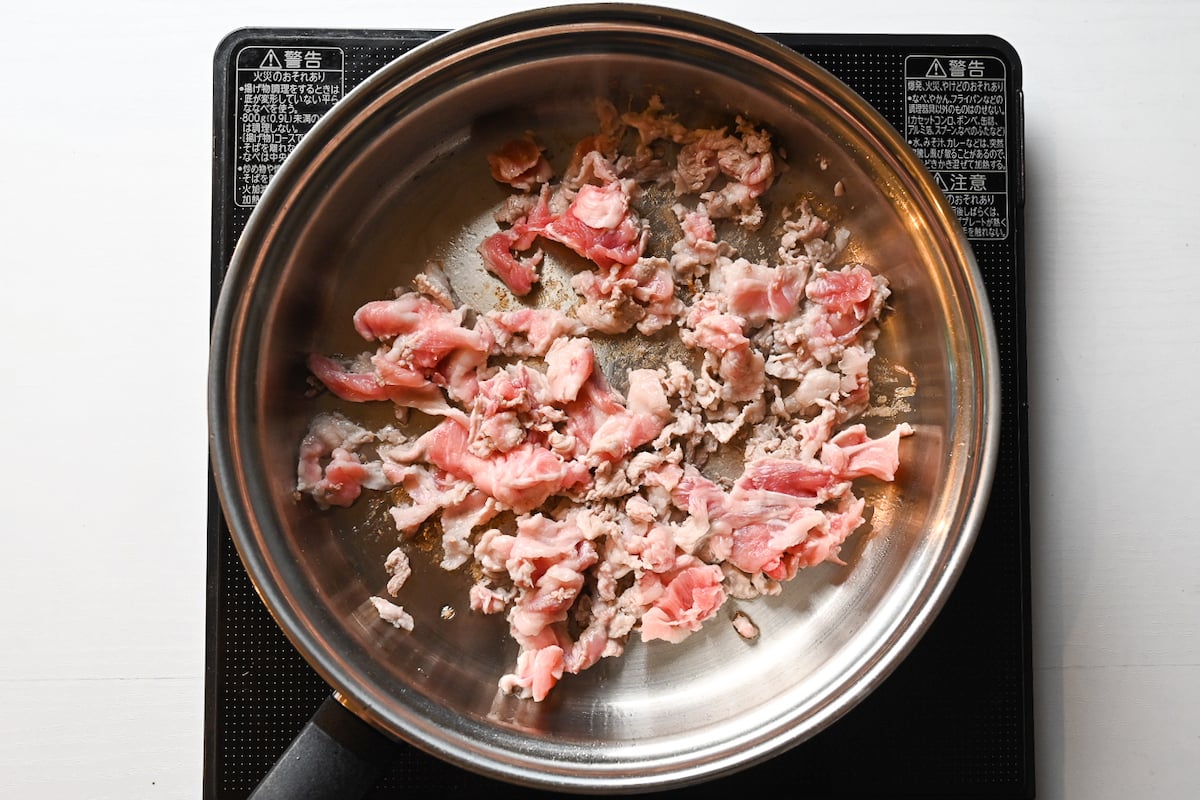 Choose an appropriately sized pot
If the pot is too big, the broth will evaporate too quickly. On the other hand, if the pot is too small, the broth will not be evenly distributed and some of the ingredients might become undercooked.
For this dish, ideally use a medium pot that has a depth that allows the ingredients to come up to about half way.
Add the vegetables
Once the meat is sealed on both sides, add the onion and stir fry them for 1 minute.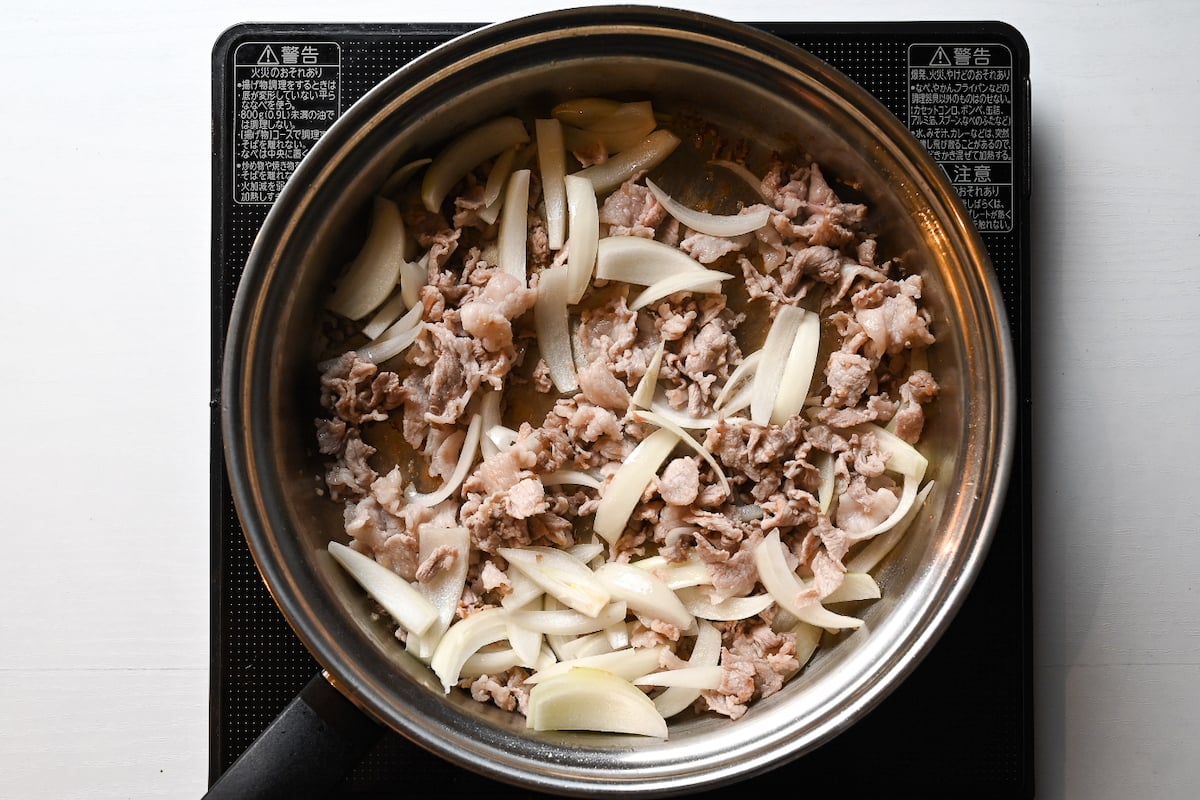 Next, add the carrots and potatoes and mix thoroughly.
Why fry the vegetables with the meat?
Sautéing vegetables with the meat first will help prevent them from falling apart and will also help bring out umami and savory flavors.
Add dashi and condiments
Next, add the dashi and bring it to a boil.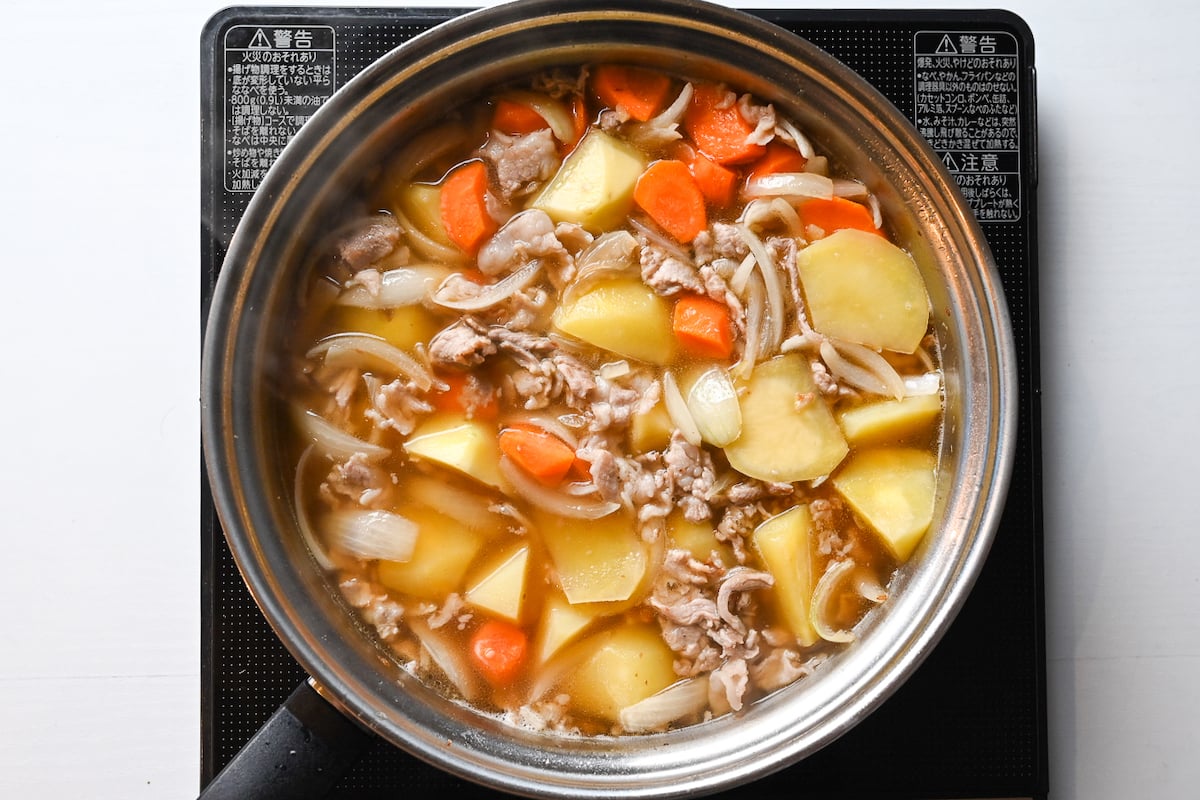 It's important to use dashi for this recipe for the authentic Japanese taste.
Once the dashi is bubbling, add the light brown sugar, mirin and sake.
Simmer with a drop lid (otoshibuta)
Reduce the heat to a simmer and place a drop lid on the top. I used a piece of scrunched up foil with a few holes poked in it this time, but you can use a wooden, steel or silicone drop lid or even learn how to make one with baking paper here. The drop lid should be touching the surface of the broth and ingredients.
Allow the nikujaga to simmer over a low heat for about 30 minutes.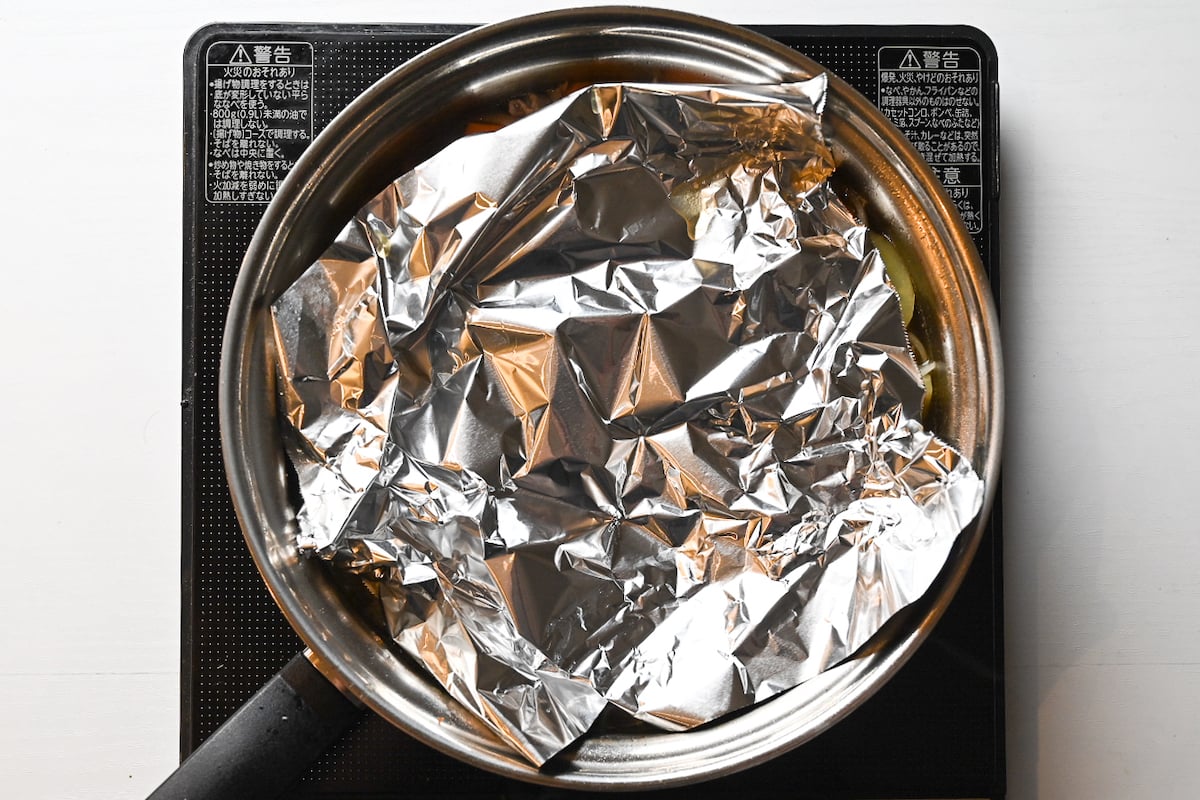 Why should we use a drop lid (otoshibuta)?
Nikujaga is made with a thin broth that is concentrated in flavour. It's important not to add extra water. To help the ingredients cook evenly in less broth, we use a tool called a "otoshibuta" or "drop lid" in English.
A drop lid sits on top of simmered dishes while they're cooking. Not only does it stop the ingredients from moving too much and breaking, but it also helps the broth move around the pot and promotes even cooking. You can learn more about Japanese drop lids and how to make your own here.
Add konjac noodles
If you're using konjac (konnyaku) noodles, boil them in a separate pan of water for 2-3 minutes. This will remove any unwanted odors and prevent the konnyaku from adding a strange taste to your broth.
After the nikujaga has been simmering for 30 minutes, place the cooked konjac noodles on top and add the soy sauce.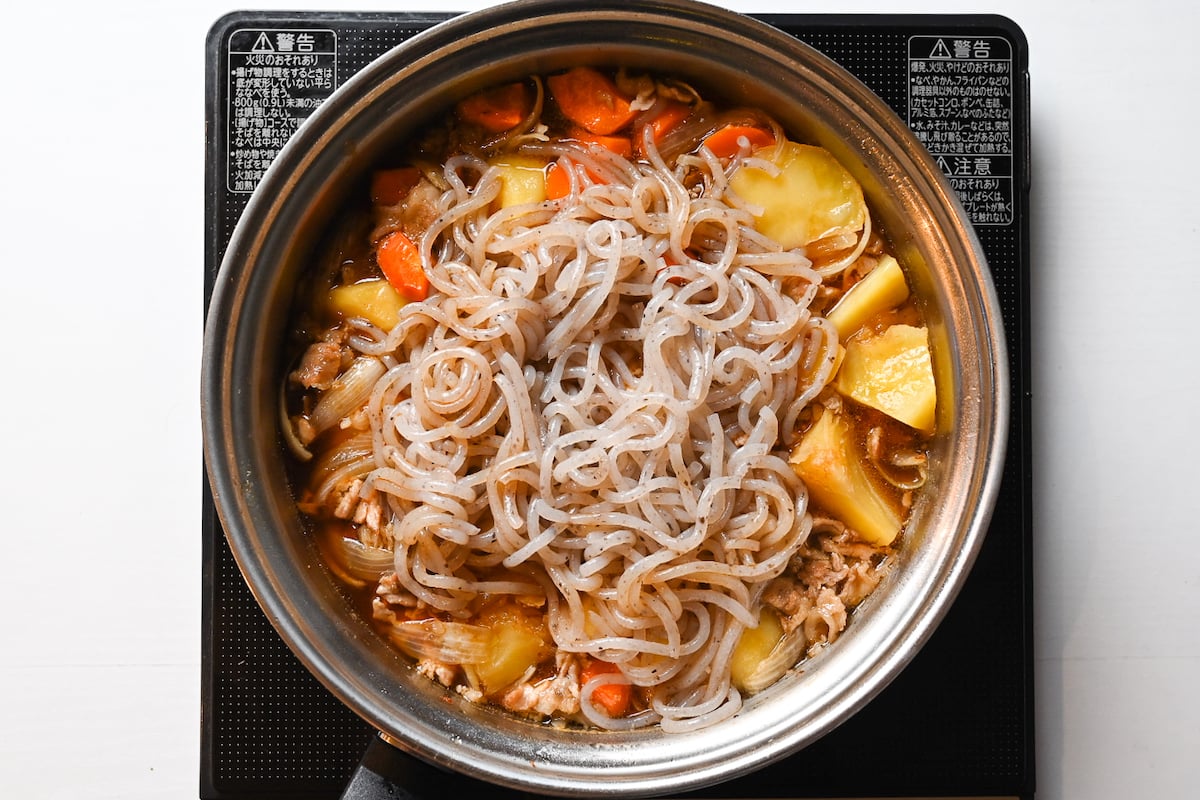 Rather than mixing, tilt the pan from side to side to spread the soy sauce around. Try to refrain from mixing as this can break the vegetables.
Place the drop lid back on and simmer for another 5 minutes.
Try to refrain from mixing
If you stir the ingredients too much while simmering, the potatoes can fall apart. There is no need to stir frequently, as the potatoes will not burn if they are cooked with low heat until the liquid comes to a boil. If necessary, mix as gently as possible.
Optional step: Cool and reheat
This is purely optional, but if you have time, I recommend leaving the nikujaga to cool and then reheating it right before serving.
You might wonder, "what's the point?", but actually, when making nimono (Japanese stew) dishes, the flavors soak in better when they are cool. To take advantage of this, let the dish cool for at least one hour after cooking to allow the flavors to soak in, then reheat right before eating.
Blanch the snow peas
Before the nikujaga finishes cooking, remove the stringy part of the snow peas by pinching one end and pulling the string out.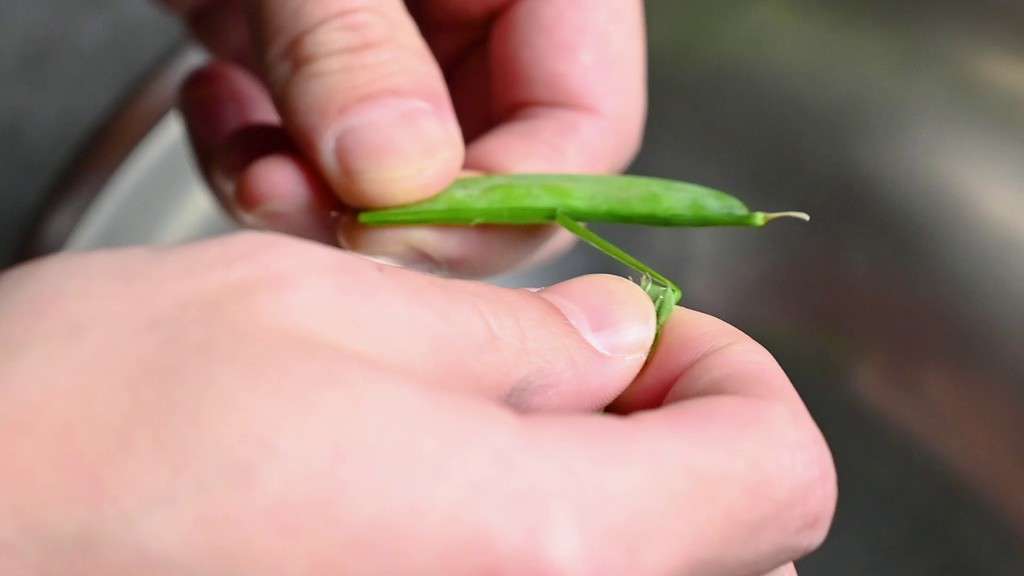 Blanch them in boiling water for 1 minute.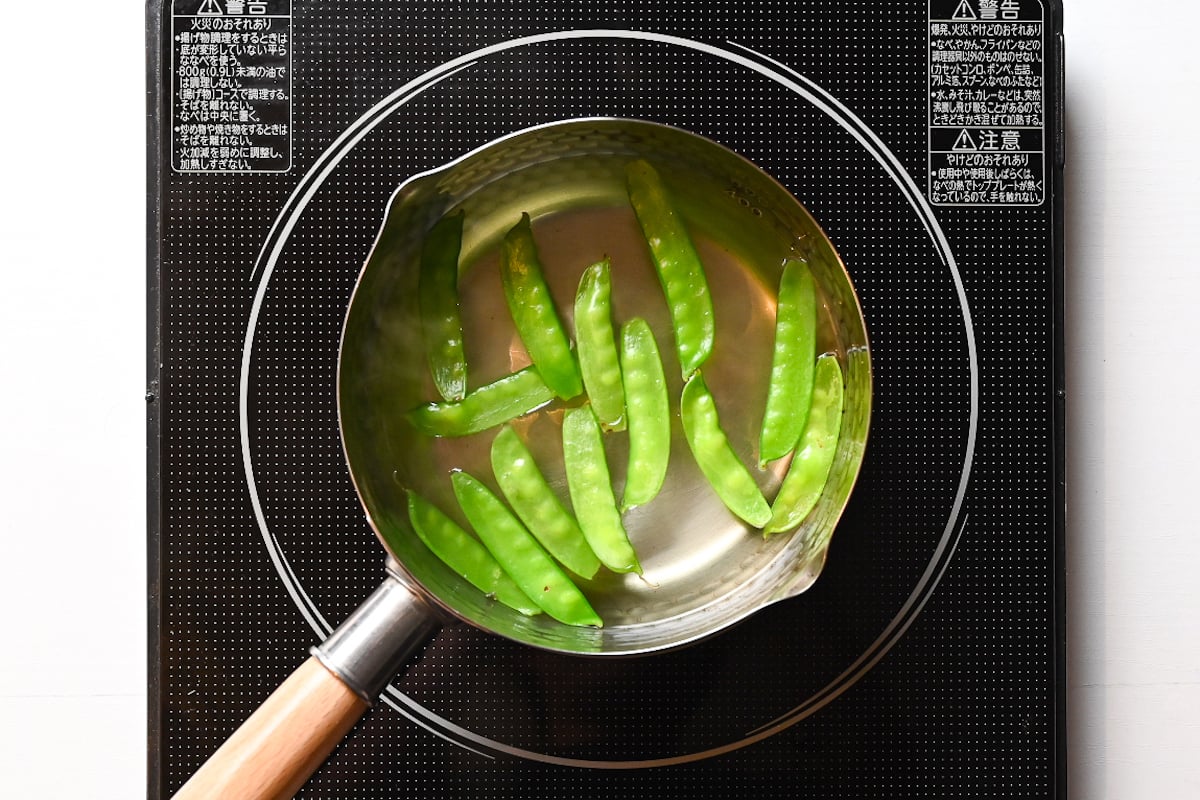 Remove from the heat and drain the water. Rinse with cold water (so that they're cool enough to touch) and cut them into diagonal pieces.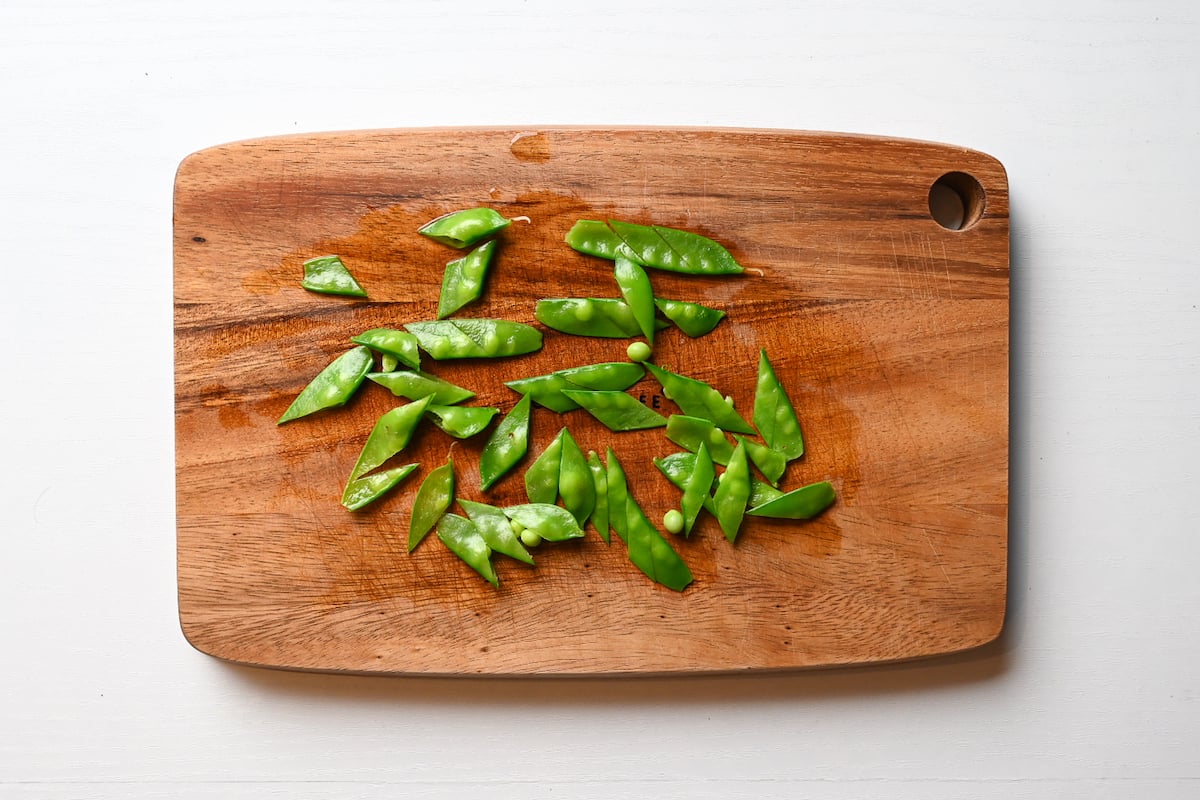 Remove the drop lid
Take off the drop lid and use a spoon or ladle to scoop the broth and pour it over any vegetables that are exposed and poking out of the broth. Repeat for a few minutes.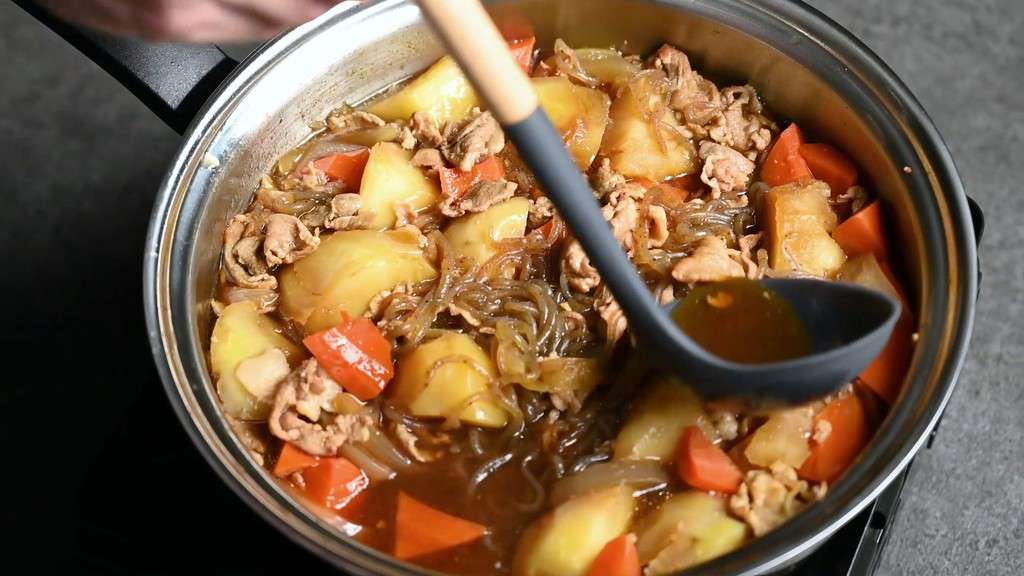 Extra soy sauce
I like to add a little extra soy sauce right at the end. You might wonder why I don't just add more earlier, but the soy sauce used earlier has been cooked and absorbed into the ingredients and broth. An extra bit of soy sauce at the end gives the broth an extra boost of flavour. I use 2 tsp but you can taste test and add more if you like.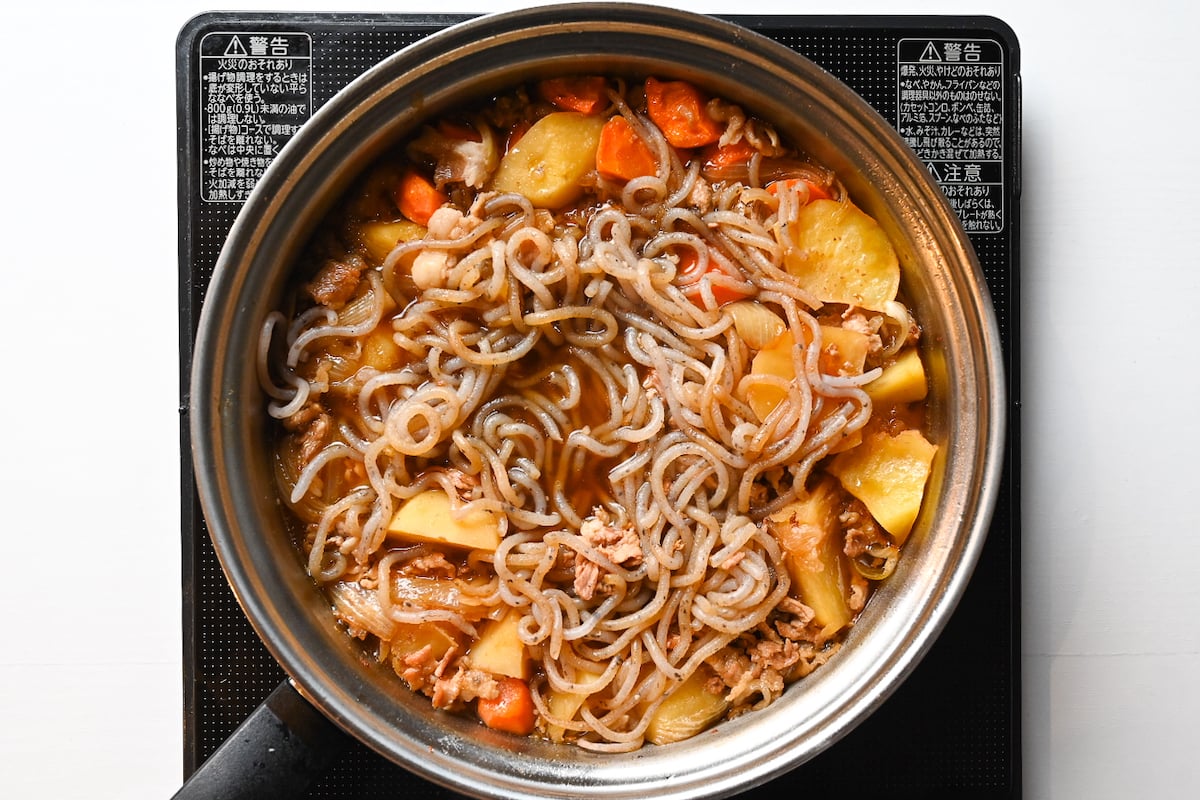 Dish up
When the nikujaga is ready, place it in serving bowls and sprinkle with the blanched snow peas.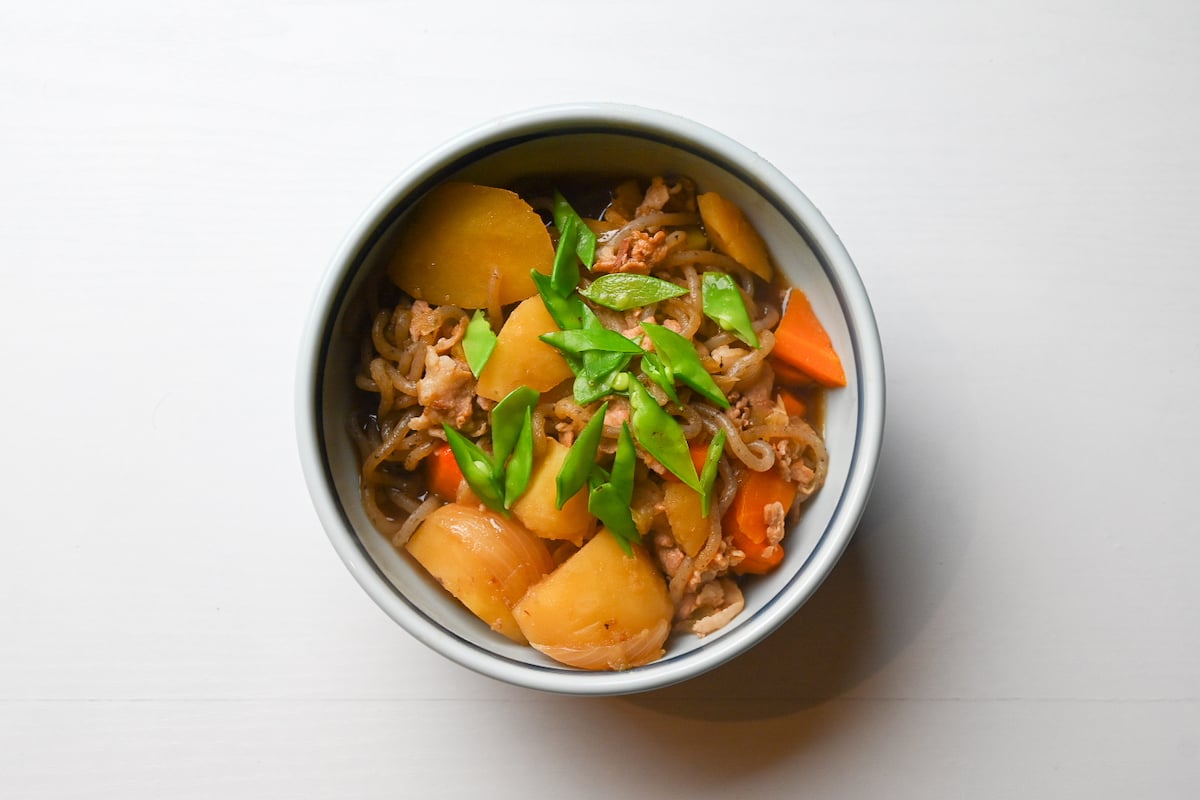 And enjoy!
Variations: alternative ideas
Nikujaga can be adapted to suit your tastes. Although I like to make my recipe with pork, here are a few other ideas you can try!
Beef nikujaga
Compared to pork nikujaga, beef nikujaga has a richer and more flavorful beef taste. If you want to enjoy the full flavor of the meat, beef nikujaga is the way to go. Thinly sliced chuck eye rolls, often used in shabu-shabu and sukiyaki, are typically used for this dish.
The soft and fatty meat allows you to fully appreciate the beef's flavor and richness, making it a great choice for chuck eye rolls. Just be careful not to overcook the meat, as it can turn tough if cooked too long.
Chicken nikujaga
While not as common as pork or beef, chicken is another option for making nikujaga. I suggest using bite-sized pieces of chicken thigh for the best results.
Vegetarian nikujaga
To make a vegetarian-friendly version of this recipe, just follow two simple steps.
First, switch to a vegetarian broth, and second, remove the meat. You can use mushrooms as a tasty substitute for pork or beef as well!
Pairing/Serving Suggestions For Nikujaga
Wondering what to eat with nikujaga? It's true that both potatoes and rice are carbs, so you might be looking for other options. In this section, we'll share some tasty Japanese food pairings that go well with nikujaga.
However, since nikujaga is a dish that can be served as either a main dish or a side dish, the way it is served is also important in determining the pairing.
Saba no shioyaki (grilled mackerel)
If you plan on serving nikujaga as a side dish, it pairs well with a simple salted and grilled mackerel, which is easy to prepare.
Other than mackerel, grilled saury or salmon (shiozake) are also excellent options to consider.
Harusame salad
Harusame salad is a light and refreshing dish made with harusame noodles, vegetables, and either ham or chicken. It has a perfect balance of sweet and sour flavors and a delightful texture.
If you're looking for a refreshing side dish, harusame salad is a great option. Both harusame salad and nikujaga can be enjoyed as a satisfying single meal, as they are not limited to being a main dish or a side dish.
Miso soup
The light miso soup flavor is perfect for a nikujaga! For those who want larger soup, tonjiru (pork miso soup) is also recommended!
I also have a recipe for vegetarian miso soup!
Wakame salad
For a smaller and refreshing side dish, I recommend wakame salad with a sour dressing to give you a refreshing kick.
Tako to kyuri no sunomono (vinegared cucumber and octopus) is also a good choice.
Cucumber pickles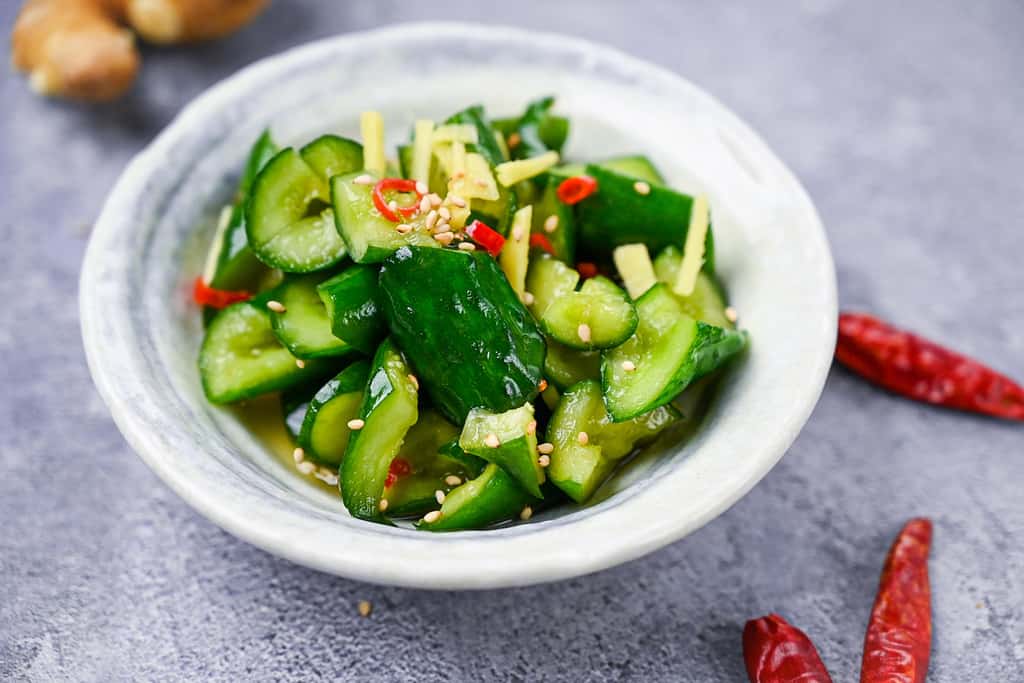 If you want a simple and even smaller side dish, pickled cucumber is a great option.
It's not only perfect with nikujaga but also complements any Japanese dish. It's easy to make and convenient to have on hand.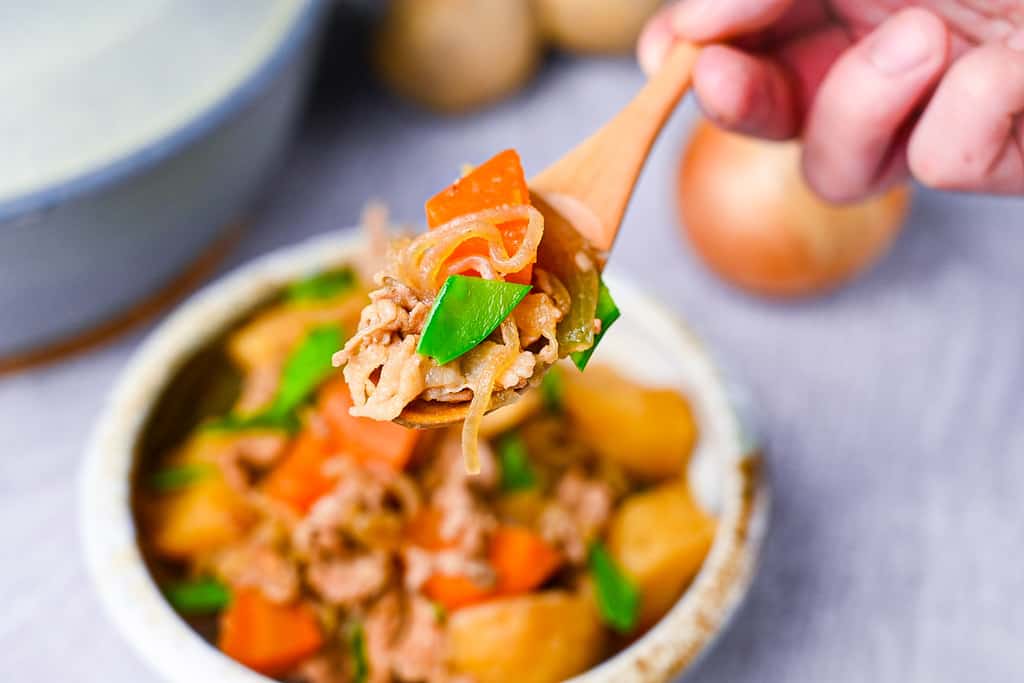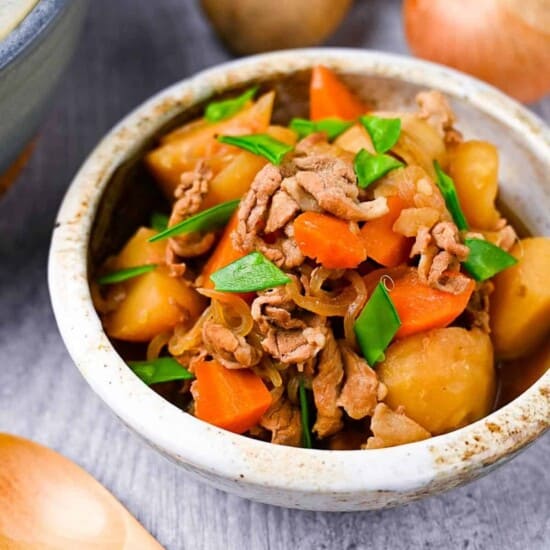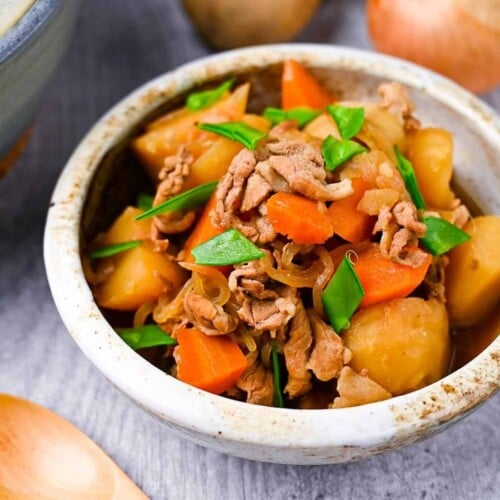 Authentic Nikujaga (Japanese Meat and Potato Stew)
---
How to make warming and homely Japanese style meat and potato stew "nikujaga". Tender, thinly sliced meat, potatoes and vegetables simmered in a delicious Japanese-style broth.
---
---
---
---
Ingredients
300

g

potato(s)

waxy type

120

g

carrot(s)

100

g

yellow onion(s)

200

g

pork or beef

thinly sliced

1

tsp

cooking oil

1

tbsp

light brown sugar

50

ml

mirin

50

ml

sake

100

g

konjac noodles

optional

40

ml

soy sauce

8-10

snow peas

to garnish

2

tsp

soy sauce

added seasoning at the end
Instructions
First, peel

300 g potato(s)

and cut them into quarters. Soak them in a bowl of cold water to remove the excess starch.

Peel

120 g carrot(s)

and

100 g yellow onion(s)

, cut the carrot into rough chunks and the onion into medium wedges.

Cut

200 g pork or beef

into bitesize pieces.

Take a pot and heat it on medium. Once hot, add

1 tsp cooking oil

and add the meat to the pot. Fry until both sides of the meat are sealed.

Once sealed, add the onion and stir fry for 1 minute.

Add the potatoes and carrots to the pot and mix thoroughly.

Add

400 ml dashi stock

and bring it to a boil. 

Once boiling, add

1 tbsp light brown sugar

,

50 ml mirin

and

50 ml sake

. Turn the heat down to a simmer and place a drop lid on top, touching the broth. Simmer for 30 minutes.

At about 25 minutes, boil

100 g konjac noodles

in a separate pot for 2-3 minutes and then drain the water. This removes the unwanted odour from the konnyaku.

Once the 30 minutes are up, remove the drop lid and add

40 ml soy sauce

and konjac noodles to the pan. Tilt the pan/pot from side to side to move the soy sauce around without mixing (avoid mixing).

Place the drop lid back on and simmer for another 5 minutes.

Optional step: For the best flavor, turn off the heat and allow it to cool completely. Once cool, reheat on the stove over a medium setting until boiling.

Remove the stringy part of

8-10 snow peas

and blanch for 1 minute in a separate pot of boiling water.

Remove them from the pot, cool with cold running water and cut them into diagonal pieces.

Remove the drop lid and use a spoon or ladle to scoop the broth and baste it over the exposed vegetables. Add 

2 tsp soy sauce

 and tilt the pan to distribute it through the rest of the broth.

Simmer for 3 minutes and taste-test the soup. (You can add more soy sauce if you want it to be saltier.)

Once you're happy with the taste, dish up. Sprinkle with the cut snow peas to garnish. 

Enjoy!
Notes
This dish is most commonly made with beef or pork. Using thinly sliced meat keeps the cooking time short. If you use stewing meats and don't cook them for long enough they could end up chewy, keep the cooking time in mind when choosing meat cuts.
You can use any snow peas or green beans, whichever you prefer.
Japanese people sometimes add konjac or renkon (lotus root), if you can get hold of these ingredients then you should try adding them too!
Nutrition
Calories:
363
kcal
|
Carbohydrates:
33
g
|
Protein:
13.5
g
|
Fat:
13.6
g
|
Saturated Fat:
5
g
|
Polyunsaturated Fat:
2
g
|
Cholesterol:
46.3
mg
|
Sodium:
1230.7
mg
|
Fiber:
14.1
g
FAQ
What does nikujaga taste like?
Nikujaga is a tasty Japanese stew with a sweet and savory twist. It features vegetables like potatoes, carrots, and onions along with pork or beef, all simmered in a delightful dashi broth seasoned with a mix of soy sauce, sugar, and mirin.
What does nikujaga contain?
Nikujaga is a tasty Japanese meal made with meat (usually pork or beef) and vegetables like potatoes, carrots, and onions.
What does Nikujaga mean in Japanese?
u0022Nikujagau0022 (肉じゃが) is literally means u0022meat and potatoesu0022 in Japanese.
What do you drink with nikujaga?
In Japan, it is common to drink cold tea (such as green tea) with meals, including with nikujaga.
What meat should I use for nikujaga?
For nikujaga, you can use beef or pork, which are the most commonly used meats. Alternatively, chicken can also be used. It's up to your personal preference which meat you choose.
Do you eat nikujaga with rice?
Some people eat nikujaga with rice, but many say that potatoes and white rice are incompatible because potatoes and rice together are all carbohydrates.
Is nikujaga a traditional Japanese dish?
Yes, Nikujaga is considered a traditional Japanese food. It is a popular home-cooked dish that has been enjoyed in Japan for many years. The dish is believed to have appeared during the Meiji era (1868-1912) when Japan opened up to the world and started adopting Western cuisine.