Japanese korokke is a delicious croquette made with potato, ground meat and softened onions coated in a layer of panko breadcrumbs and deep fried until golden. This dish is a firm favorite and perfect drizzled with Worcestershire sauce!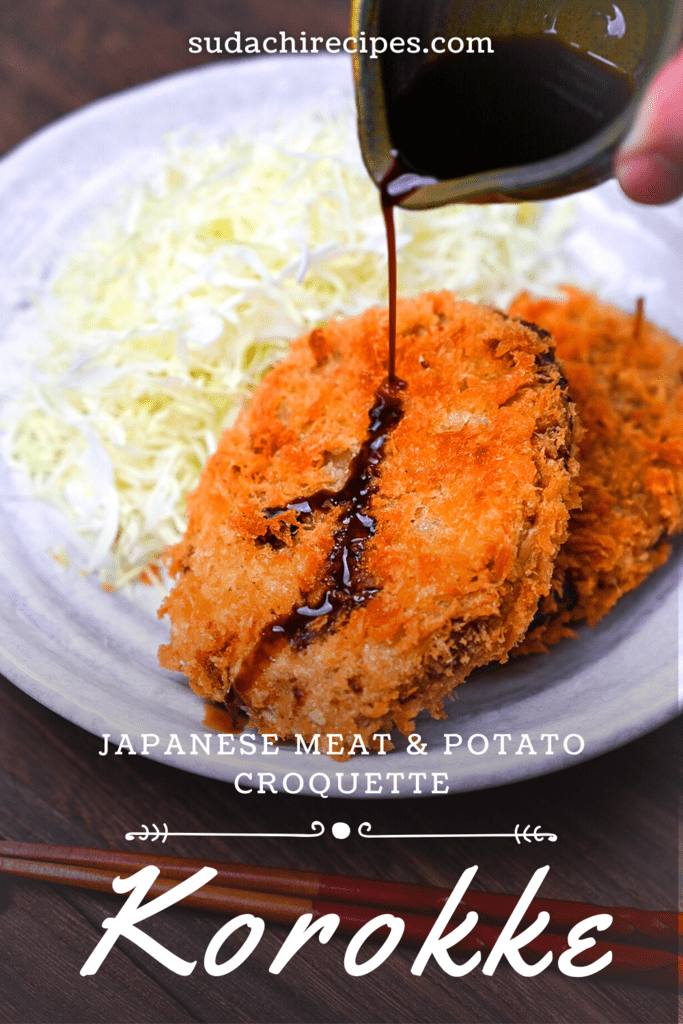 Disclaimer: This post contains Amazon affiliate links to help our readers find the products used by us. Sudachi Recipes earn a small percentage from qualifying purchases at no extra cost to you. See disclaimer for more info.
What is Korokke (Japanese Croquette)?
Korokke is a Japanese Yoshoku (Western-influenced) dish made with mashed boiled potatoes rolled into a bale or oval shape, coated with flour, eggs, breadcrumbs, and deep-fried in oil.
You can buy korokke anywhere, from supermarkets and convenience stores to butchers. They can also be bought pre-cooked, ready-to-eat, or frozen to cook at home.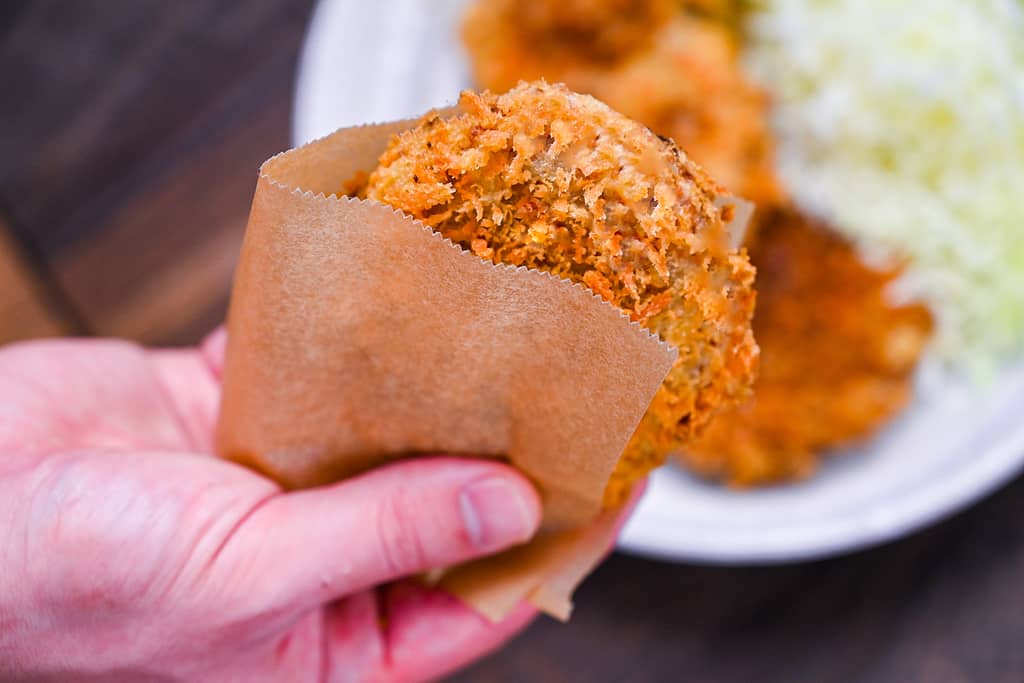 The word "korokke" is a loanword from either the French word "croquette" or the Dutch word "Kroket," reflecting the dish's international influences.
While the exact origin of korokke is uncertain, it is believed to have been created by a chef who combined his knowledge of Dutch cuisine and tempura cooking methods to develop the recipe.
The dish first appeared in cookbooks and restaurants during the Meiji period (1868-1912), when Western cuisine became more popular in Japan.
Korokke's Dutch origins may be due to the long trade history between the Netherlands and Japan. However, many yoshoku dishes in Japan are also influenced by French cuisine, so korokke may also have French roots.
Despite its origins, Korokke has been enjoyed in Japan since the early days of Western food's influence on Japanese cuisine.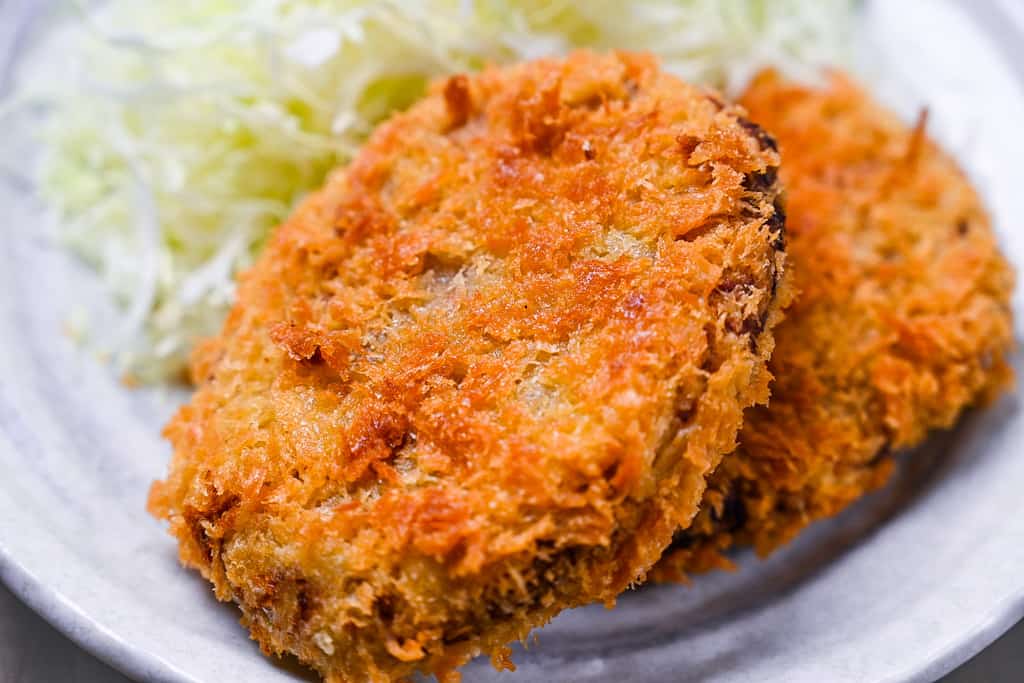 How I Developed This Recipe
From the moment I decided to make this Korokke recipe, my goal was clear: It was to recreate the cheap and delicious croquettes that were sold at the good old butcher when I was a kid.
In today's world, supermarkets seem to have taken over, offering everything under one roof. But in Japan, local butcher shops were more than just places to buy fresh meat. They were also serving up freshly fried food like croquettes and tonkatsu.
In my experience, there's something magical about those flavors from the past, the ones that transport you back in time. And that's what I aimed to capture with this recipe.
Ingredients and Substitution Ideas
Potatoes: Starchy potatoes are my top pick for Korokke. They give that soft, fluffy texture that's just irresistible.
Unsalted Butter: I always stick to unsalted butter. If you're tempted to use salted butter, remember to cut back on other salty ingredients to balance the flavors.
Yellow Onion: While yellow onions are a staple in Japan, white onions are a good substitute.
Ground Beef: While ground beef is my favorite, a mix of beef and pork works too. Just a heads up, I'd steer clear of ground chicken or turkey for this dish.
Nutmeg: A pinch of nutmeg masks the meaty odor and enhances its natural flavors.
Soy Sauce: For an affordable option, I recommend Kikkoman soy sauce. For a deeper dive into selecting the perfect soy sauce for Japanese dishes, refer to my comprehensive soy sauce guide.
Sugar: Your regular sugar works just fine. But lately, I've been leaning towards light brown cane sugar for most recipes.
Mirin: Shopping for mirin? "Hon mirin" (本みりん) is the gold standard. Hinode Hon Mirin is both top-notch and budget-friendly. For more on Japanese condiments, don't miss my post on essential condiments.
Whole Milk: If possible, I recommend making this recipe with whole milk rather than skim milk.
Worcestershire Sauce: A must-have for serving.
Batter Ingredients: My go-to batter mix includes cold water, egg, all-purpose flour, and panko bread crumbs. And speaking of panko, making it at home is a breeze! Check out my homemade panko breadcrumb guide.
Curious about the exact brands and products that bring my recipes to life? Discover the brands and ingredients behind my recipes at the Sudachi Amazon Storefront. Explore my handpicked pantry essentials and find your next kitchen favorites!
Step-by-Step Process
Here are my step-by-step instructions for how to make delicious Japanese butcher-style korokke at home. For ingredient quantities and simplified instructions, scroll down for the printable recipe card below.
Cut potatoes into roughly equal-sized chunks. This ensures they cook evenly. Place them in a pot filled with cold water with a bit of salt.
Starting with cold water and gradually bringing the potatoes to a boil ensures that they cook evenly from the inside out. This method helps in achieving a consistent texture throughout the potato, making it ideal for mashing.
It's a small step that makes a big difference in the end result.
Once it starts boiling, reduce the heat to medium. Let them simmer until soft enough that a fork slides right through.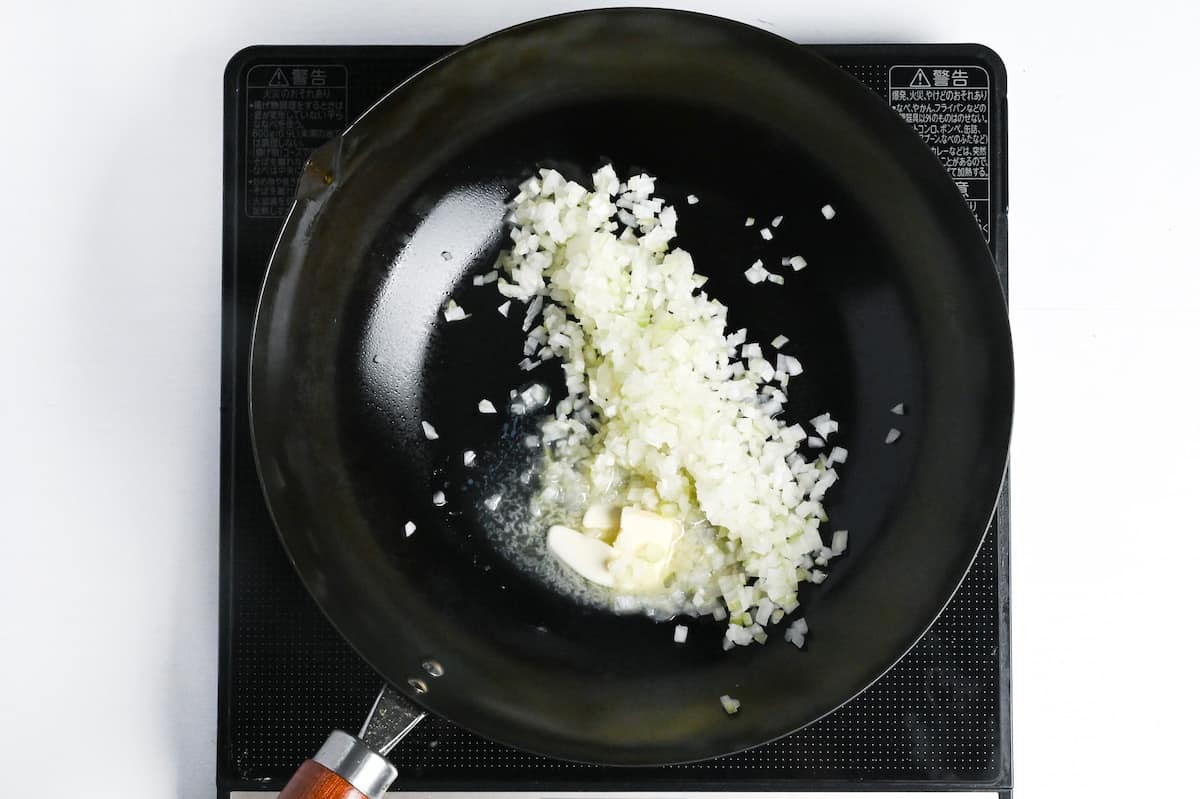 Grab a frying pan while those potatoes are getting all soft and tender. Heat it over medium heat and toss in the unsalted butter.
Once it's all melted and bubbly, add in onions. Cook them until they're soft and have a slightly see-through look. But be careful not to let them brown.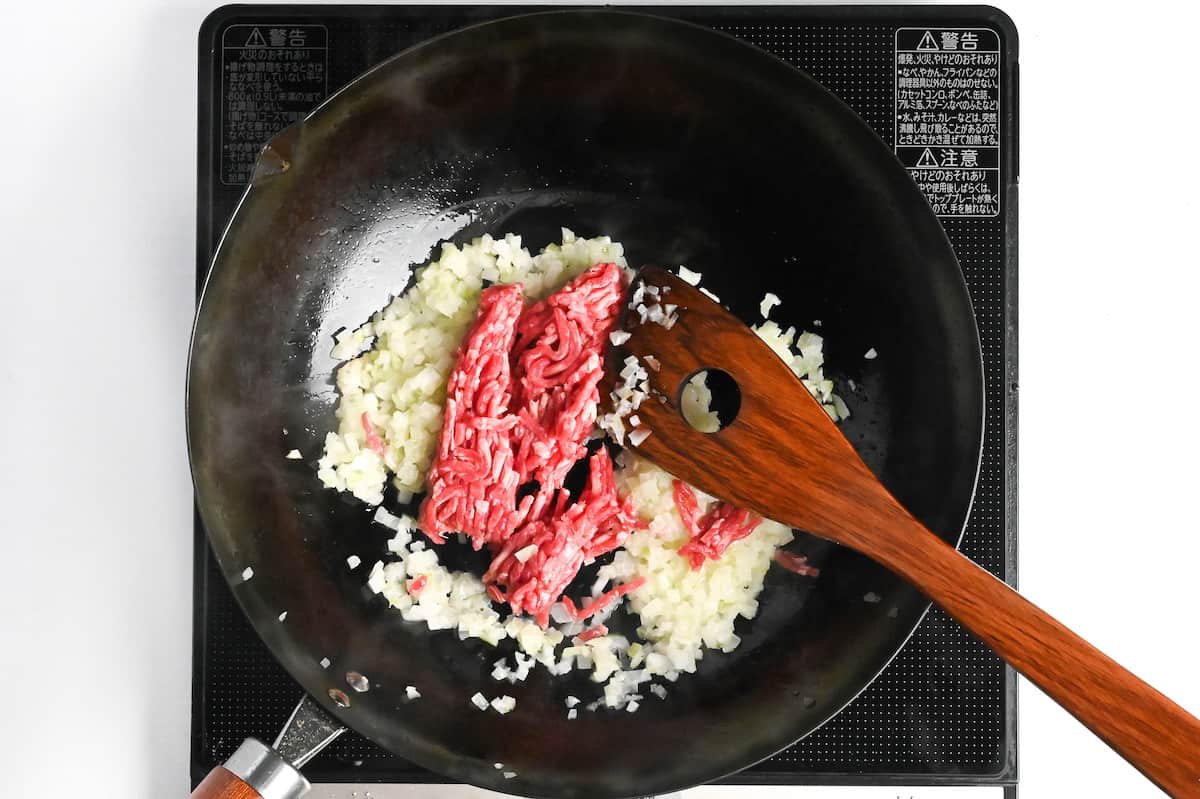 Now, stir in ground beef. Fry it up until there's no pink left.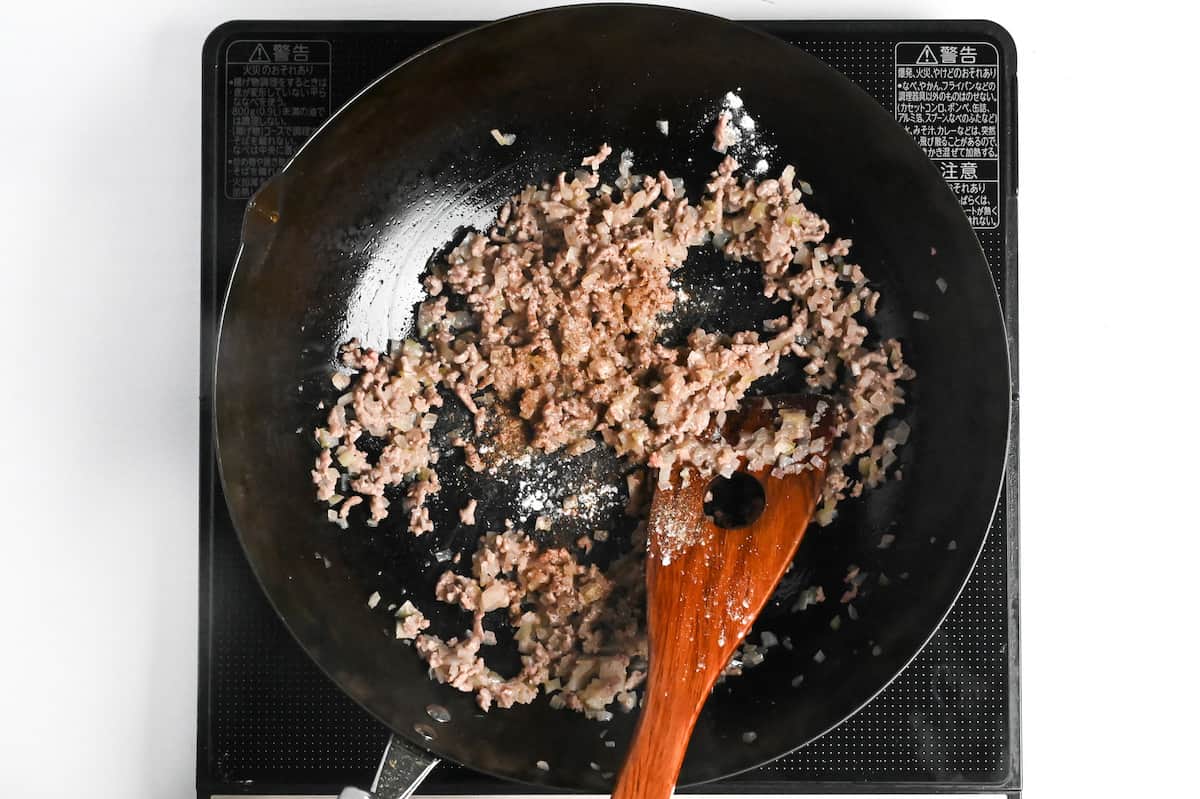 Sprinkle in a pinch of salt, pepper, and nutmeg. Give it a good mix. Then, pour in soy sauce, sugar, and mirin.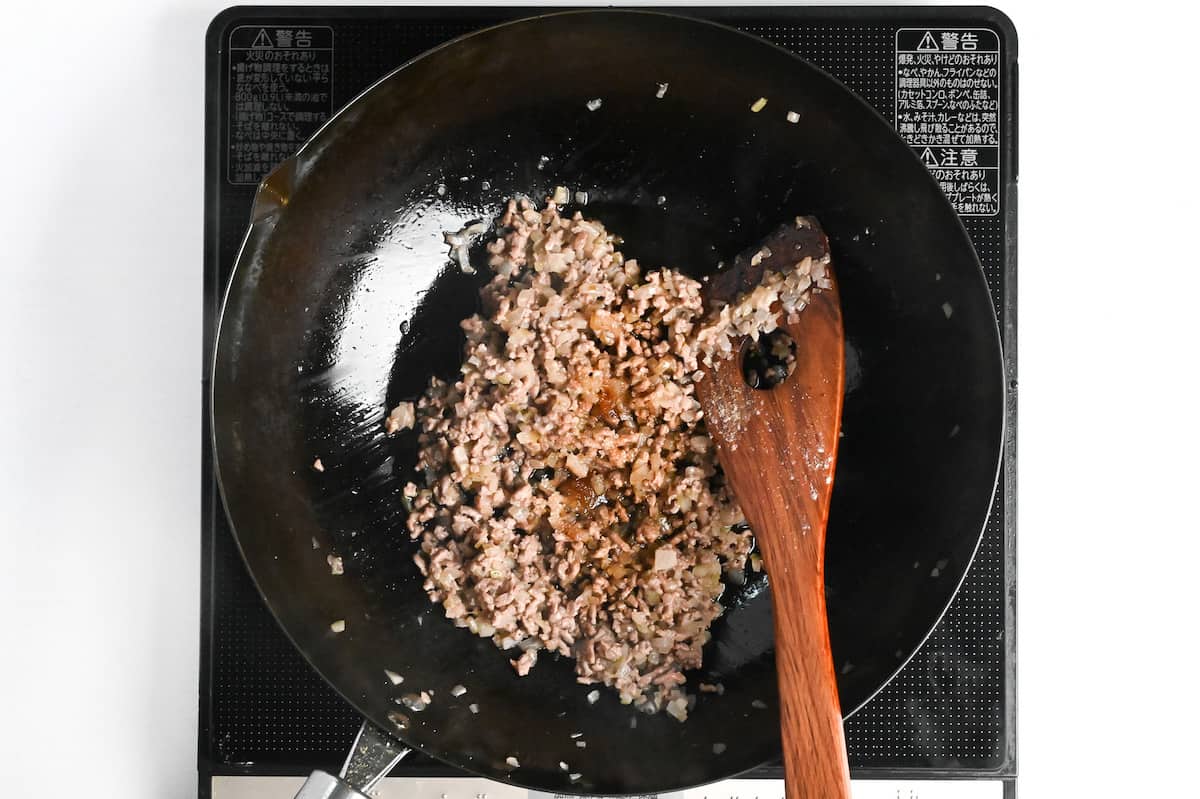 Keep frying until the beef soaks up all that flavorful liquid. Once done, turn off the heat and let it cool.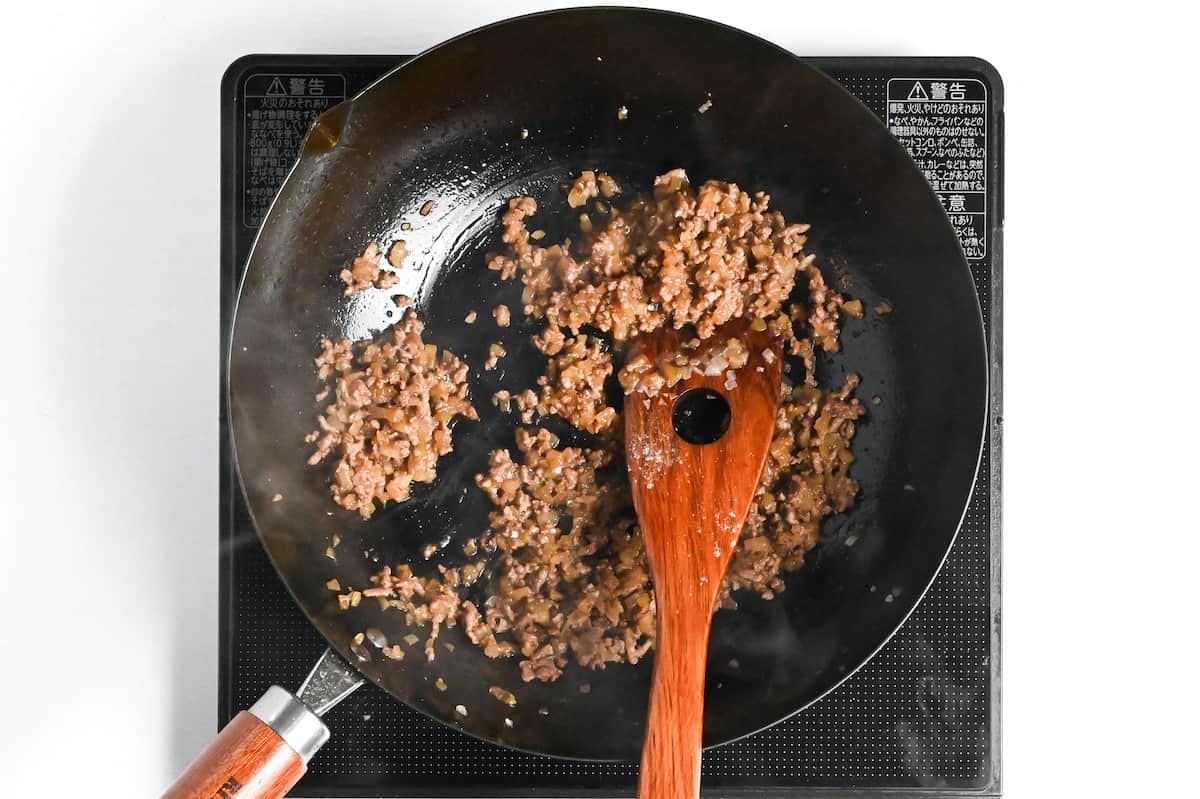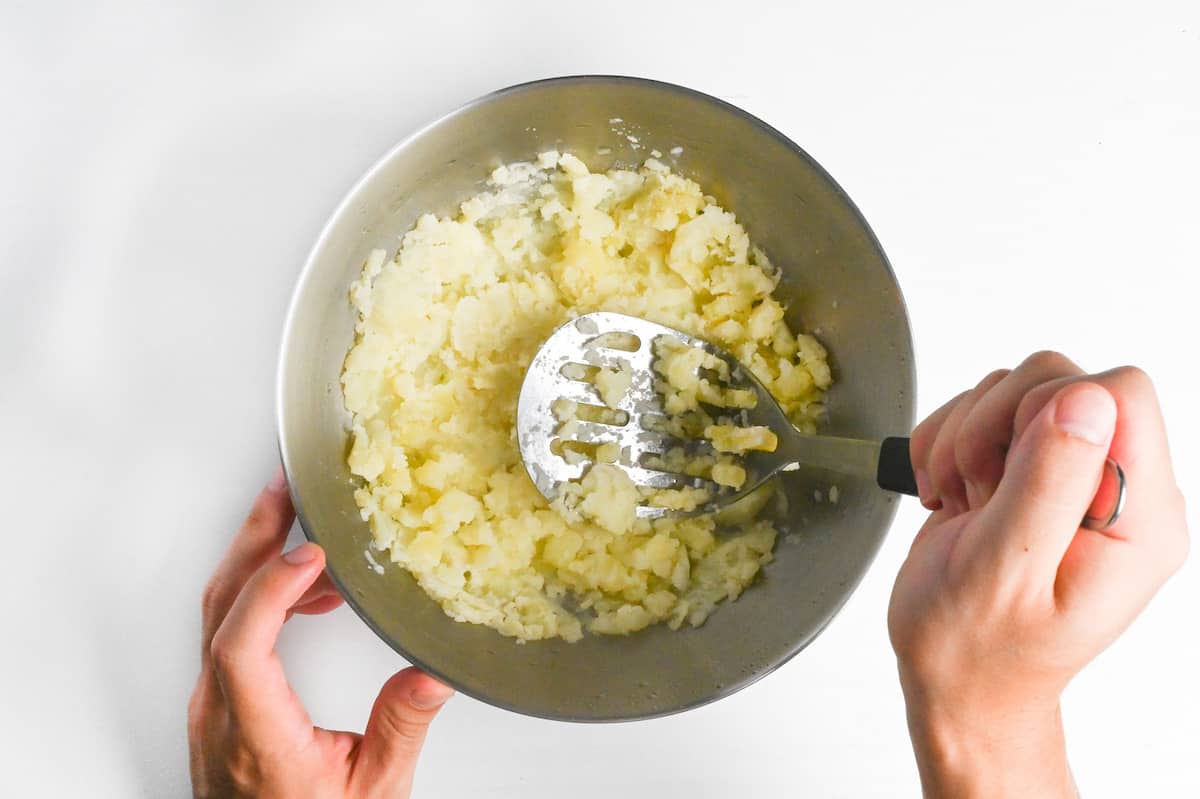 Transfer those cooked potatoes to a large bowl. Mash them up with a bit of whole milk. In my experience, this gives them an extra creamy texture and makes them easier to shape. If you find the mash is not smooth, feel free to add more milk a little at a time.
Mash the potatoes while they're still hot
For better texture, I recommend mashing potatoes while they're still hot due to the starch content. It's best to mash them immediately after boiling and reheating them if they cool down.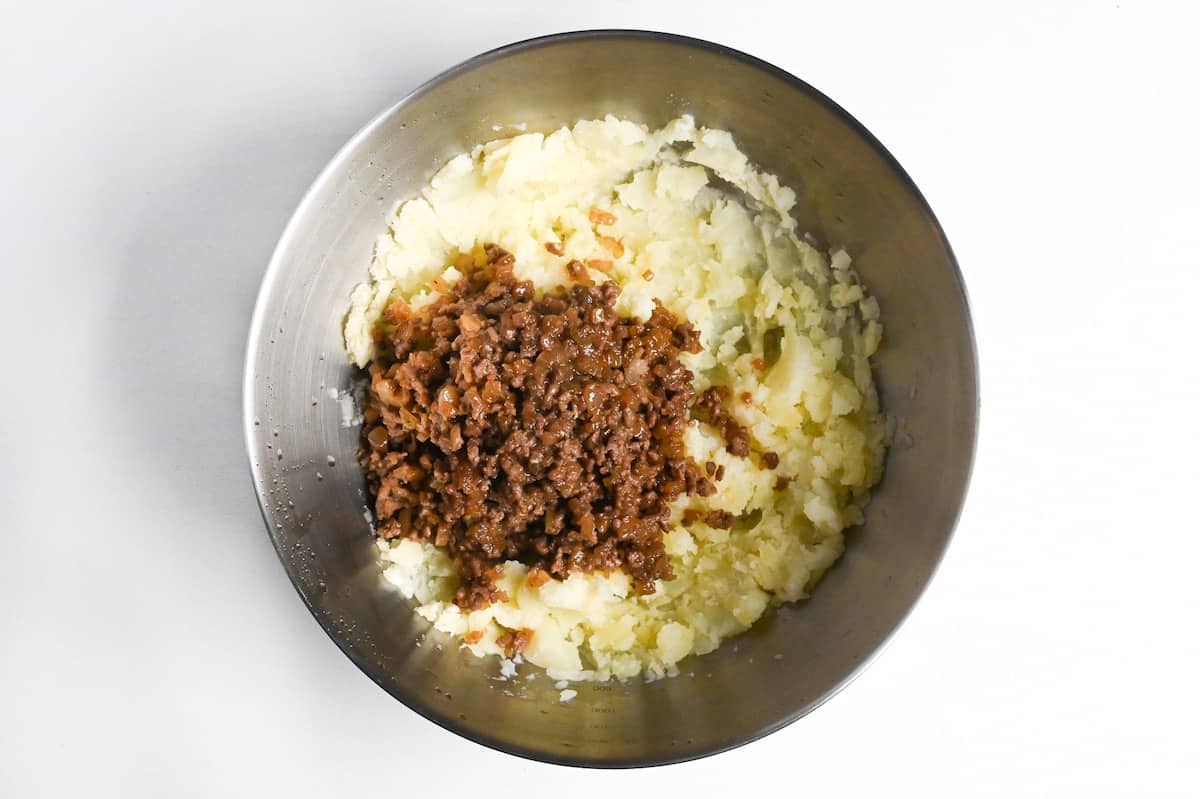 Once you've got a smooth mash, mix in the beef. Make sure everything's well combined.
Do not leave the ingredients wet
Ensure moisture is minimized to avoid a wet filling that could burst during frying. For example, drain potatoes and let them steam over a hot pan with the stove turned off to reduce water content. Thoroughly fry onions and meat to release moisture and fat. Before mixing your korokke filling, spread out cooked ingredients to let any remaining moisture evaporate.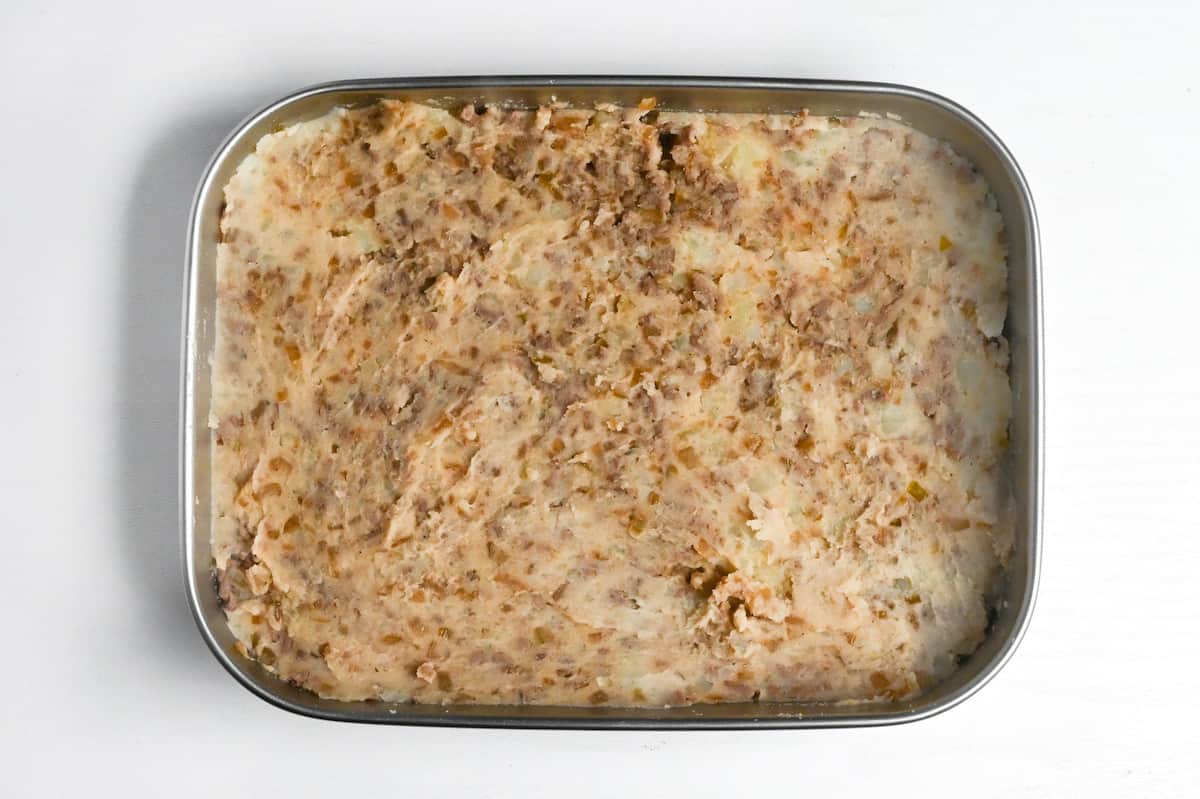 Spread the mixture into a wide container. Let it cool down until it's comfortable to touch.
The purpose of cooling the ingredients is not only to evaporate the water but also to prevent the ingredients from rising in temperature and expanding before the batter is fried.
I recommend to chill in the refrigerator before frying. If you're in a hurry, a short time in the freezer is also good.
Begin by heating your oil to 180°C/356°F in a deep frying pot. For a perfect golden and crispy coating, it's important to fry quickly at a temperature between 170 and 180 degrees Celsius (approximately 340-360 degrees Fahrenheit).
Frying at a lower temperature results in a soggy texture on the outside and greasy on the inside, taking a long time.
Since the inside is already cooked, there's no need to cook it again when frying in oil. All that's required is to heat it through and crisp up the outside.
It is less likely to fail with deep frying
To avoid failure when frying Korokke, I recommend using more oil. Shallow frying can cause the filling to explode as the parts sticking out of the oil only warm up instead of cooking. This can make them unstable and leak out once turned over. Therefore, it's safer to deep fry korokke to reduce the risk of this happening.
Preparing battering station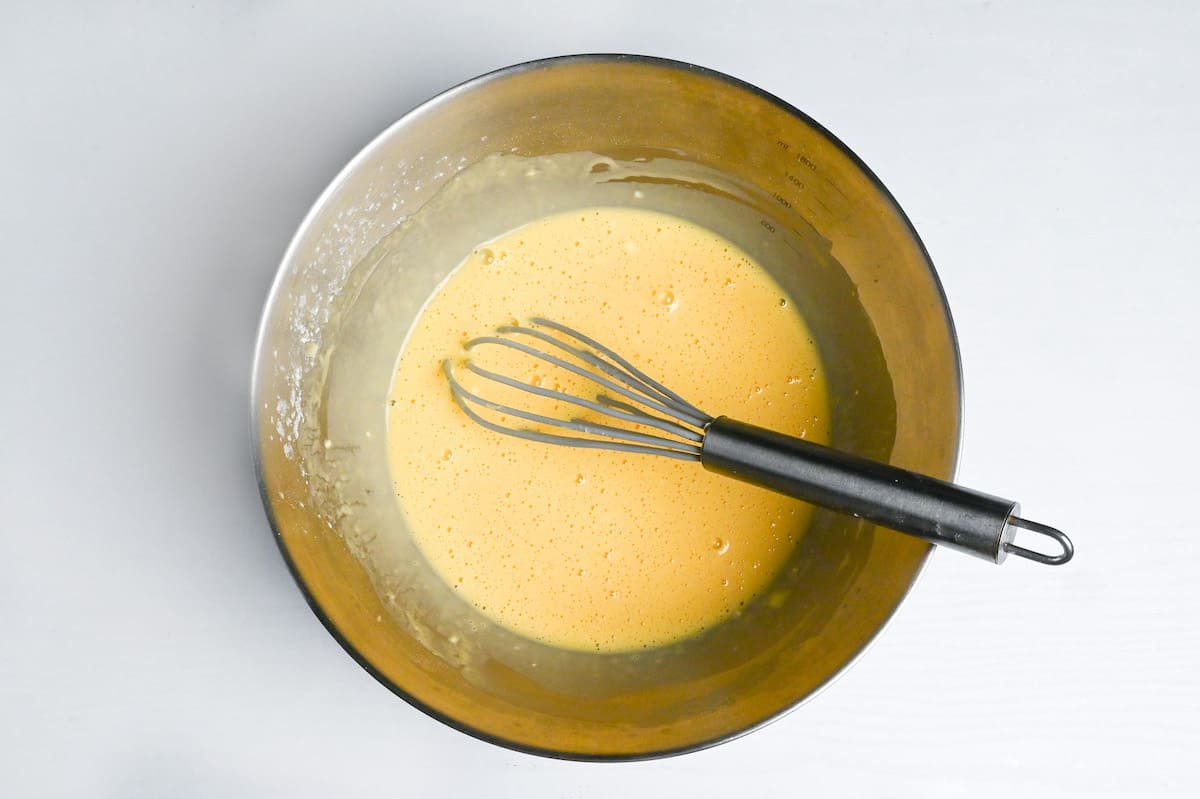 While the oil is heating, let's prepare the batter. Whisk together cold water, egg, and all-purpose flour in a mixing bowl. Ensure it's smooth and lump-free.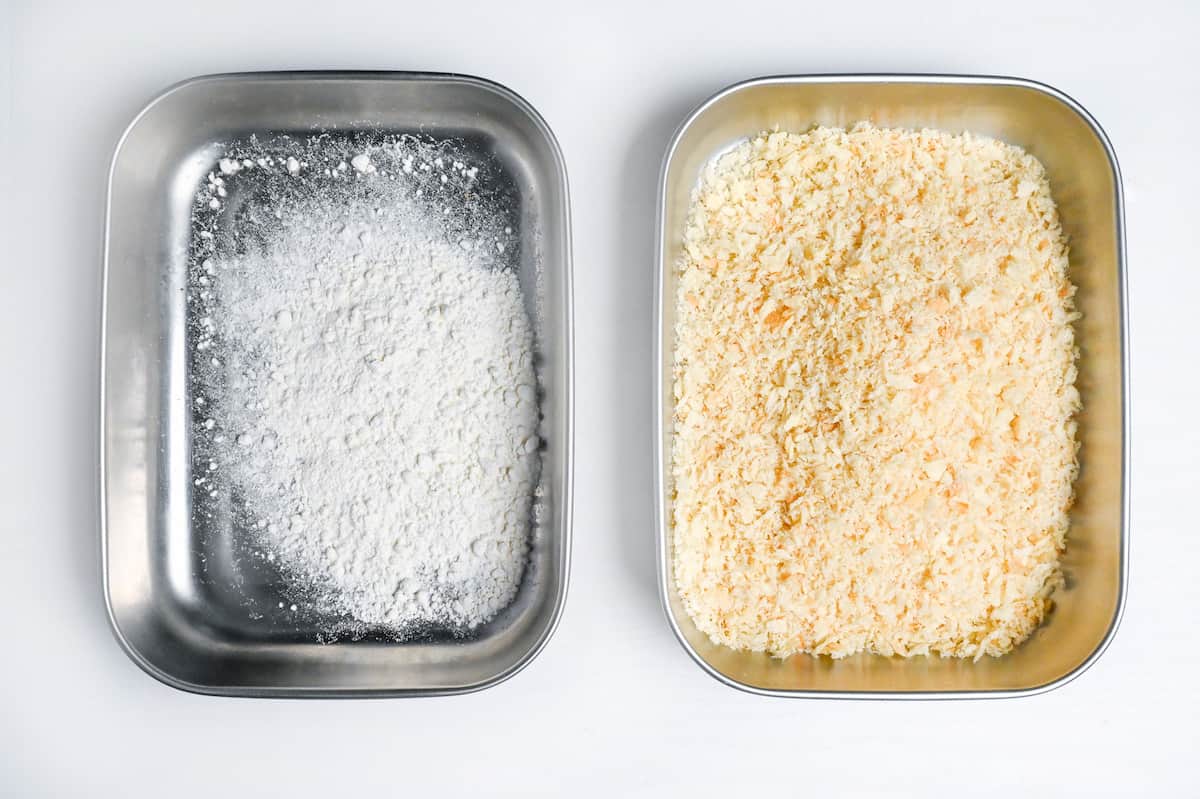 Lay out two plates side by side. On one plate, spread out some plain flour. On the other, spread your panko breadcrumbs.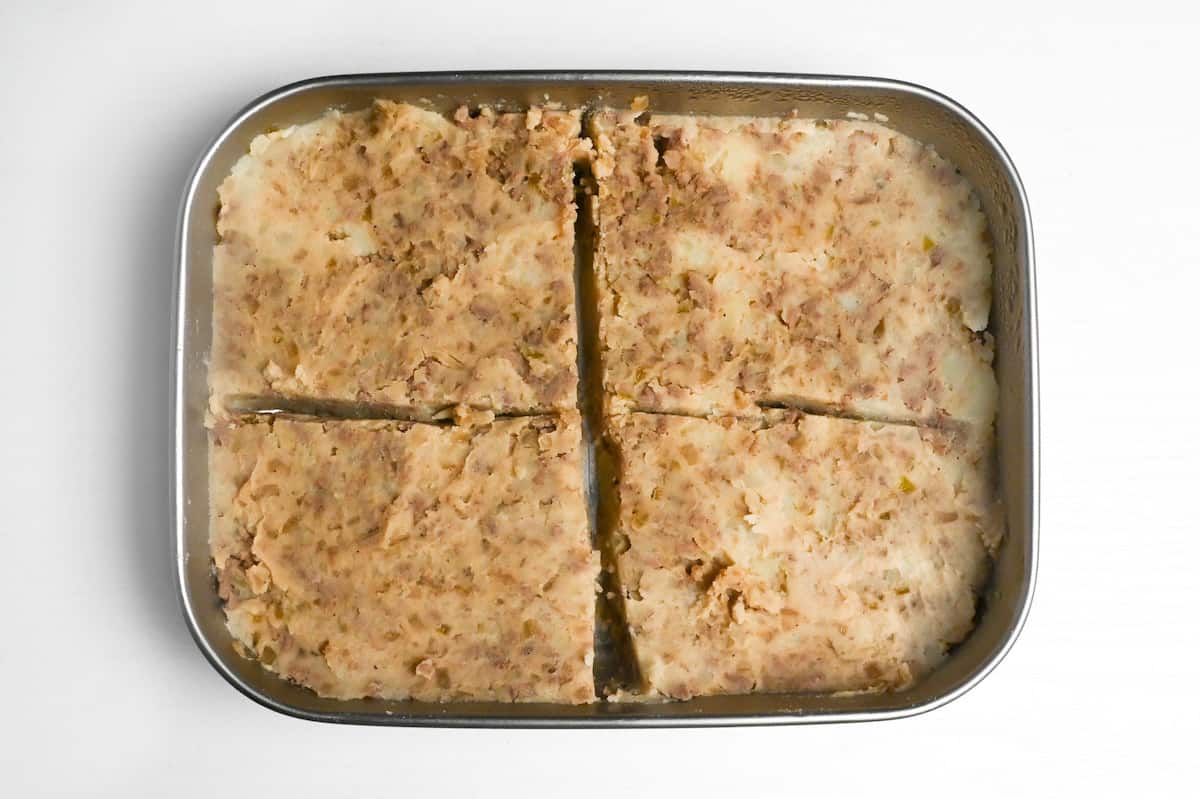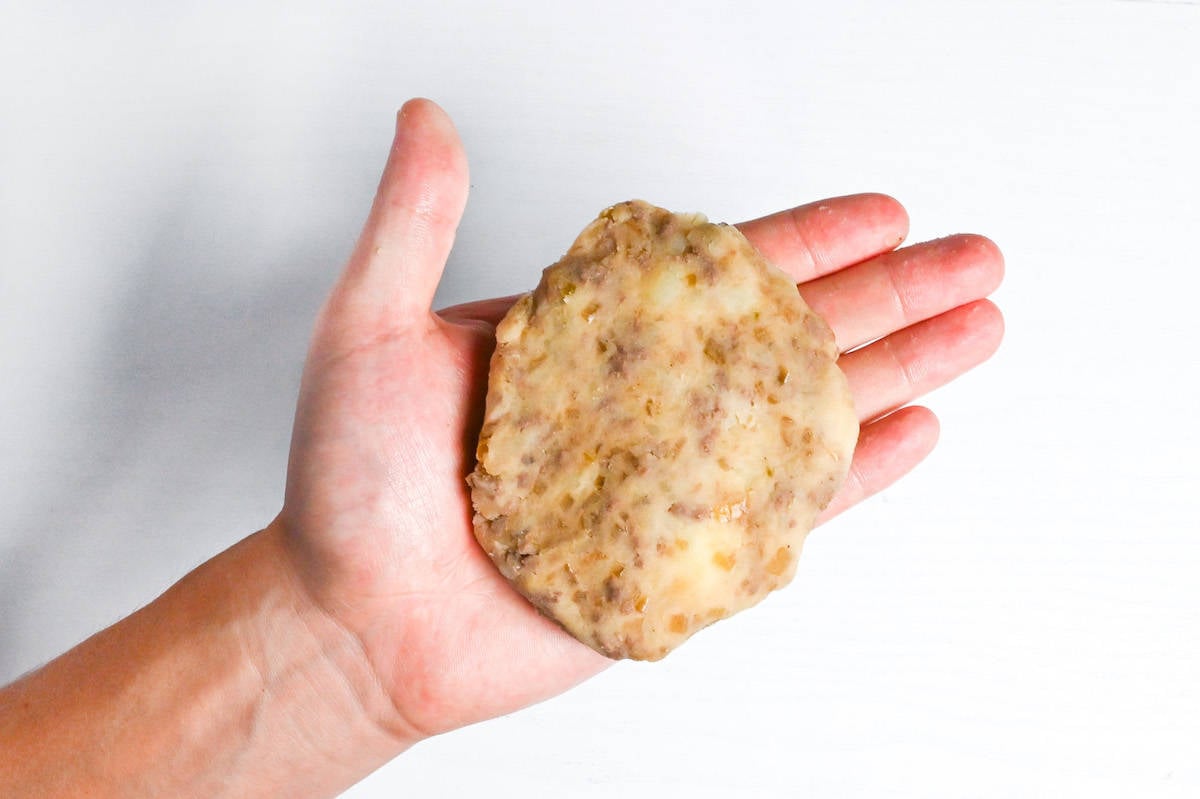 Take the filling out of the fridge. Divide it into 4-6 even portions. Shape each portion into a flat oval. This traditional shape ensures even cooking.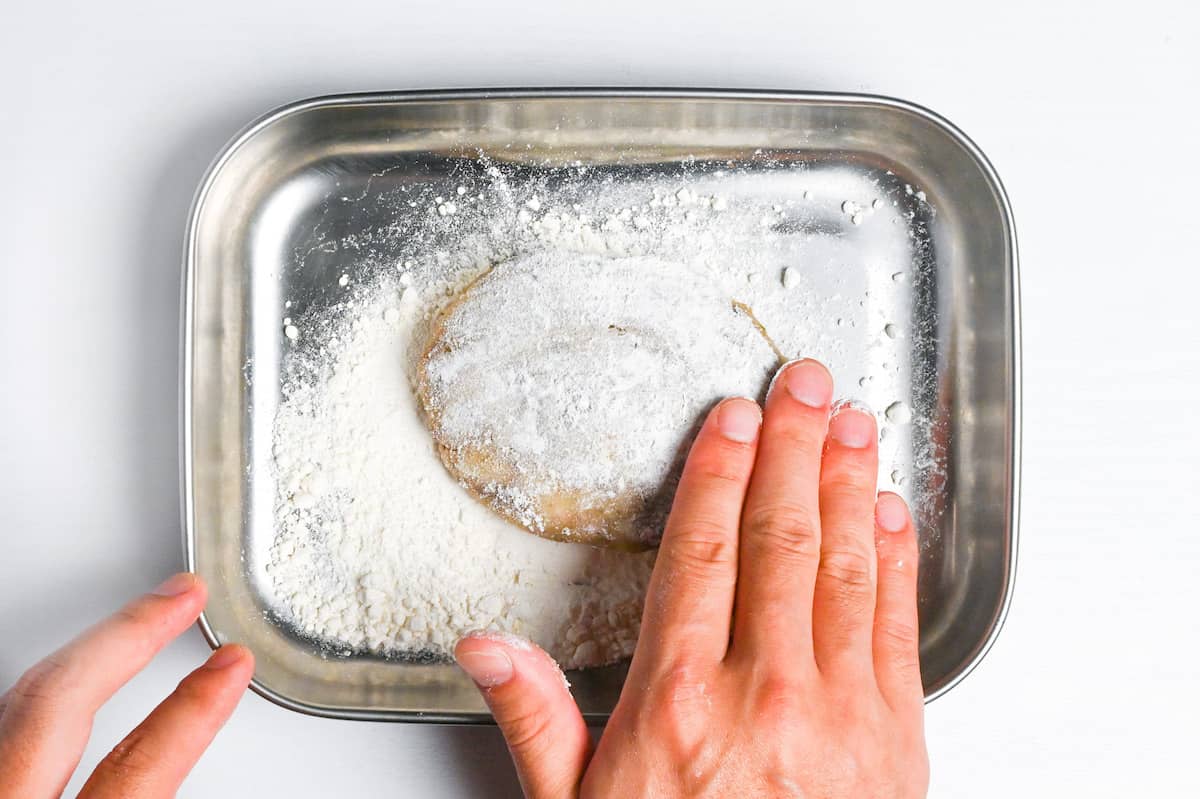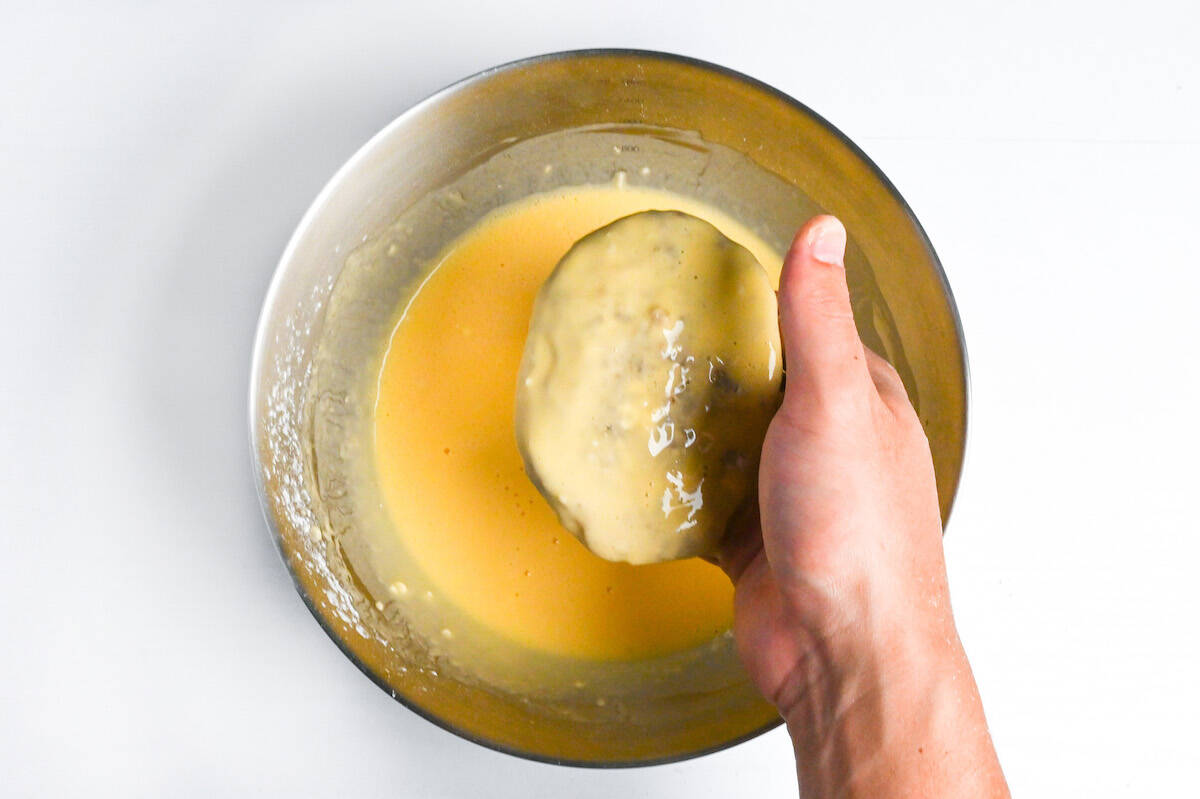 Here's the fun (and messy) part! First, roll each korokke in the plain flour, ensuring it's lightly but completely coated. Dip it into the egg batter next, letting any excess drip off.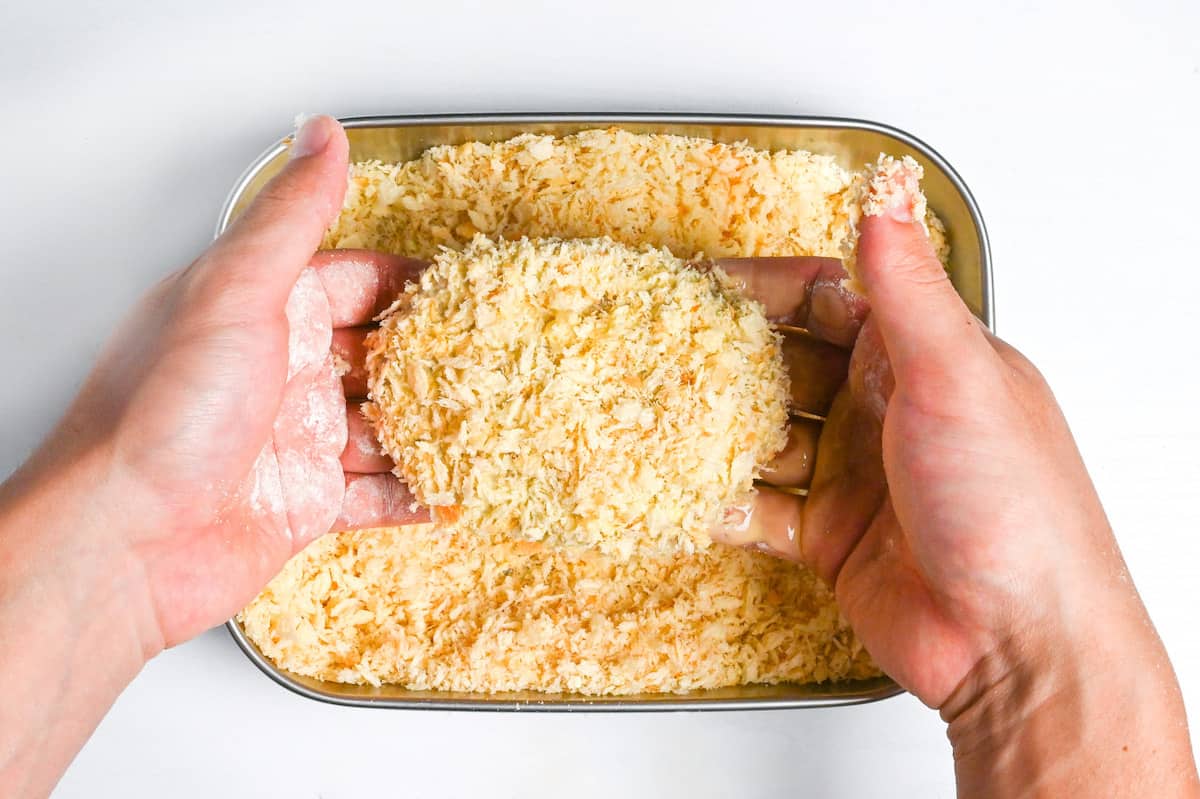 Finally, give it a generous coating of panko breadcrumbs. Press lightly to make sure the breadcrumbs adhere well.
Apply panko breadcrumbs evenly and thoroughly
If the batter and panko are not evenly distributed, some parts may overcook while others remain uncooked. So, I used my homemade batter mixture instead of separate flour and egg to ensure even coating.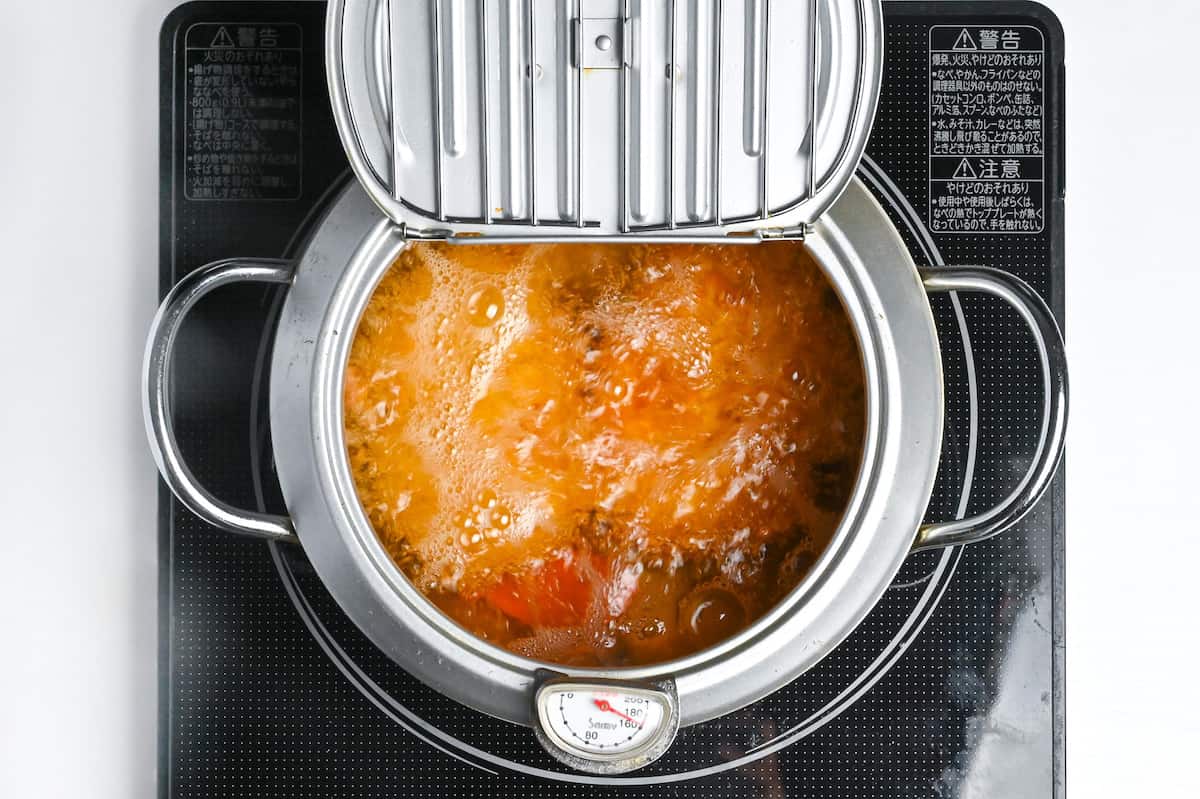 Once your oil is heated to the correct temperature, gently place the korokke into the oil.
To avoid greasy korokke, it's essential to maintain the temperature of the oil. Avoid adding too many korokke at once, which can lower the heat.
Depending on the size of your pan, fry two or three korokke at a time. Be careful not to let them collide, as this may cause the batter to get scratched and panko breadcrumbs to fall off or the filling to burst.
While frying, avoid touching the korokke as it may cause the delicate batter to break. Only flip them once halfway through cooking.
Be especially careful not to touch them with chopsticks or tongs in the first few minutes of frying, as this may cause them to explode.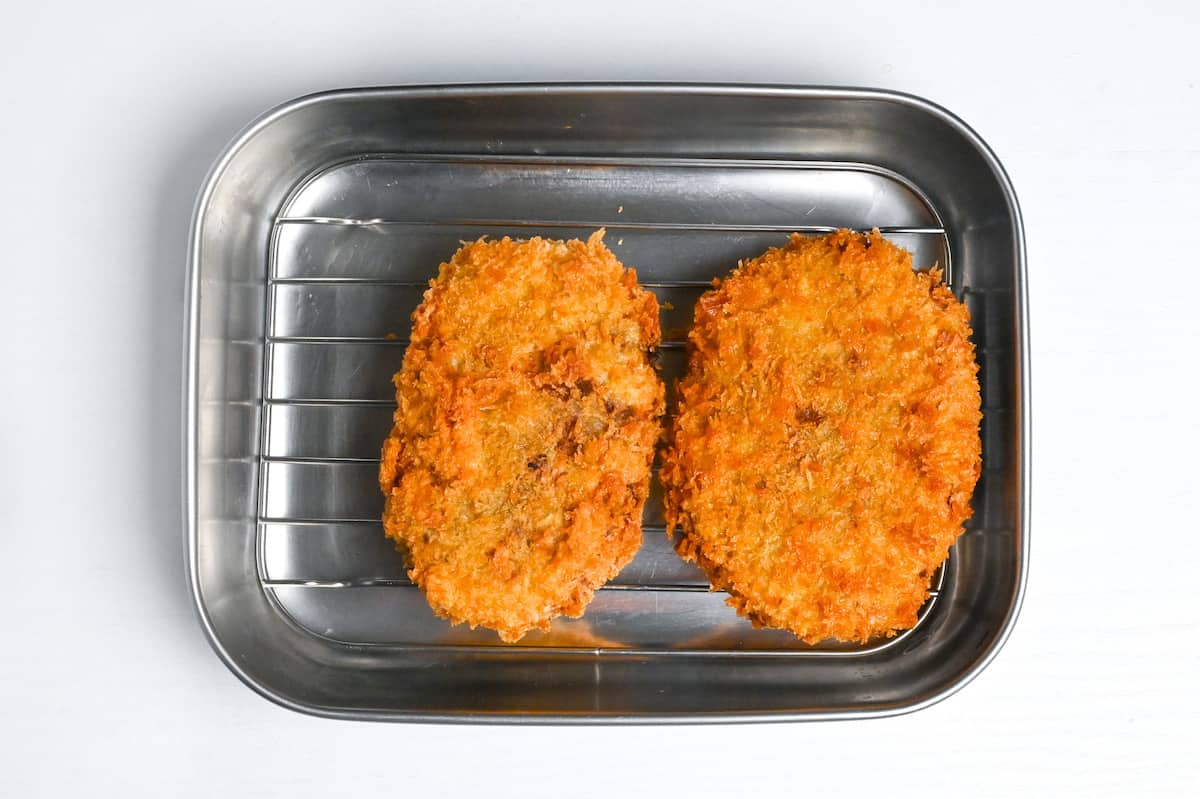 After they've turned a beautiful golden color, remove the korokke and let them rest on a wire rack. This allows any excess oil to drip off, ensuring they remain crispy.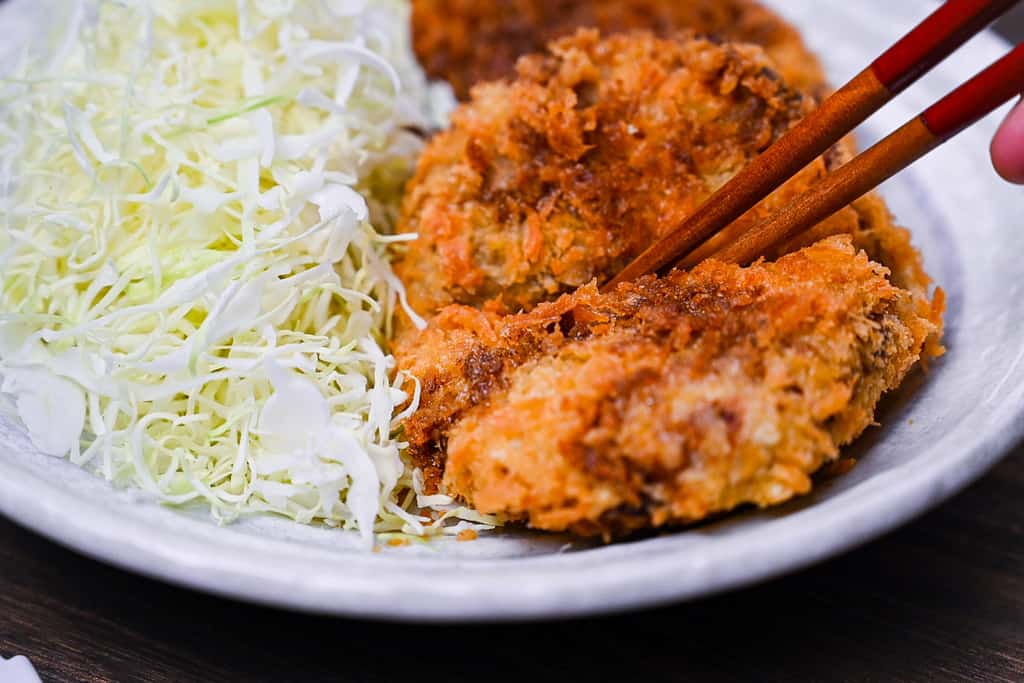 Plate up your korokke and give them a good drizzle of Worcestershire sauce. It adds a tangy kick that complements the korokke beautifully.
Storage
If you're anything like me, making a large batch of something delicious is always tempting. And with croquettes, it's no different.
In my experience, the best way to store Korokke is to freeze them right after shaping and coating them in breadcrumbs. Hold off on the frying part.
This way, whenever you're in the mood for some crispy croquettes, just heat up the oil and fry them straight from the freezer.
When it comes to freezing, individually wrap each Korokke in plastic wrap, ensuring they're snug but not squished. Then, lay them out on stainless steel trays, making sure they don't overlap. Once frozen, they can be transferred to a sealable freezer bag to save space.
They can stay in your freezer, ready to be enjoyed, for up to 3 weeks.
Room temperature – Not recommended.
Refrigerated – Not recommended.
Frozen – Up to 3 weeks (before frying).
I hope you enjoy this Japanese korokke recipe inspired by my childhood favorite butcher! If you try it out, I'd really appreciate it if you could spare a moment to let me know what you thought by giving a review and star rating in the comments below. It's also helpful to share any adjustments you made to the recipe with our other readers. Thank you!
More Deep-Fried Recipes You'll Love
If you love Japanese style croquettes, check out some of these equally delicious recipes: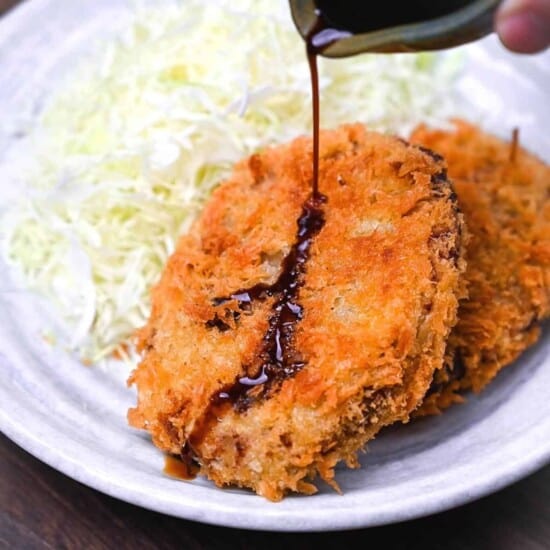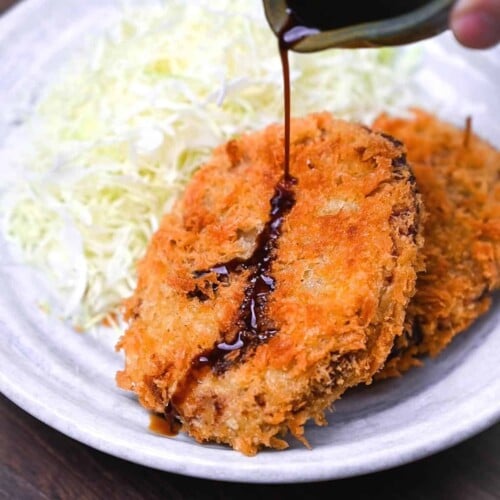 Korokke (Japanese Meat and Potato Croquette)
---
How to make delicious and crispy Butcher's style Korokke, a Japanese croquette made with creamy potato and seasoned ground meat coated in golden panko breadcrumbs.
---
---
---
---
Ingredients
300

g

potato(s)

washed and peeled

½

tbsp

salt

15

g

unsalted butter

100

g

yellow onion(s)

finely diced

80

g

ground beef

1

pinch

salt and pepper

1

pinch

nutmeg

1 ½

tbsp

soy sauce

1

tsp

sugar

2

tsp

mirin

1

tbsp

whole milk

at room temperature

1

tsp

Worcestershire sauce

for serving
Batter
50

ml

cold water

1

medium egg(s)

5

tbsp

all-purpose flour

+extra for dusting

75

g

panko breadcrumbs

cooking oil

for deep frying
Instructions
Cut

300 g potato(s)

roughly into chunks (make sure they're about the same size) and add them to a pot of cold water. Add

1/2 tbsp salt

and bring the water up to the boil, lower the heat to medium and cook until soft. (Pierce with a fork to test the doneness)

While the potatoes are boiling, take a frying pan and heat it on medium. Add

15 g unsalted butter

. Once melted, add

100 g yellow onion(s)

and cook until softened and slightly translucent. (Don't let them brown.)

Add

80 g ground beef

and fry until it's cooked through.

Next, add

1 pinch salt and pepper

and

1 pinch nutmeg

.

Mix well and then add

1 1/2 tbsp soy sauce

,

1 tsp sugar

and

2 tsp mirin

.

Fry until the liquid is absorbed, then turn off the heat and set aside to cool slightly.

Transfer your cooked potatoes to a large heatproof bowl and mash them with

1 tbsp whole milk

.

Once the potato is smooth, add the mince and mix until the ingredients are evenly distributed.

Transfer the mixture to a wide, heatproof container and leave to cool. Once cool to the touch, place a lid or plastic wrap over the top and chill in the refrigerator for 30 minutes.
Coating and frying
Preheat your oil to

180

°C

(

356

°F

). While waiting for it to heat up, make a batter by mixing

50 ml cold water

,

1 medium egg(s)

and

5 tbsp all-purpose flour

together in a bowl.

Prepare two plates, one with flour and one with

75 g panko breadcrumbs

.

Remove the filling from the fridge and divide into 4-6 pieces.

Roll each piece into a flat oval shape.

Coat the shaped korokke in plain flour, then the egg batter, then a generous coating of panko breadcrumbs.

Place the korokke straight into the heated oil. I recommend cooking them in batches to avoid overcrowding the pan. (You can keep the other shaped korokke in the fridge/freezer while you wait for them to cook.)

Once crispy and golden, transfer to a wire rack and rest for a few minutes to drain any excess oil.

Serve with a drizzle of Worcestershire sauce and enjoy!