This tasty yaki udon is made with thick udon noodles, chicken breast, onions, bell peppers and cabbage stir fried in a delicious mixture of garlic, butter and soy sauce. It's easy to make and only takes 15 minutes!
Disclaimer: This post contains Amazon affiliate links. Sudachi Recipes earn a small percentage from qualifying purchases at no extra cost to you. See disclaimer for more info.
What Is Yaki udon?
Yaki udon (焼うどん) is a type of Japanese stir fry dish made with thick udon noodles. There are many different ways to make yaki udon, you can use different meats, various vegetables and even different sauces, there are no rules when it comes to yaki udon!
In my recipe, I flavour the dish with soy sauce, butter and garlic. It's quick, easy and tastes so good!
Yakisoba VS Yakiudon
Yaki (焼き) is the Japanese word for "fry" and appears in the names of lots of fried or grilled dishes, for example takoyaki (fried octopus balls), yaki onigiri (fried rice ball) and yakisoba (fried noodles). In fact, when I think of Japanese stir fried noodles, the first thing that comes to mind is yakisoba. But how is yakisoba different to yaki udon?
Yakisoba and yaki udon use many of the same ingredients, the most obvious difference is the type of noodles used in the dish. Yakisoba is an iconic street food dish made with ramen style noodles called "chukamen" or "chuka soba" whereas yaki udon is of course, made with udon noodles.
However, it's not only the type of noodles that set the dishes apart.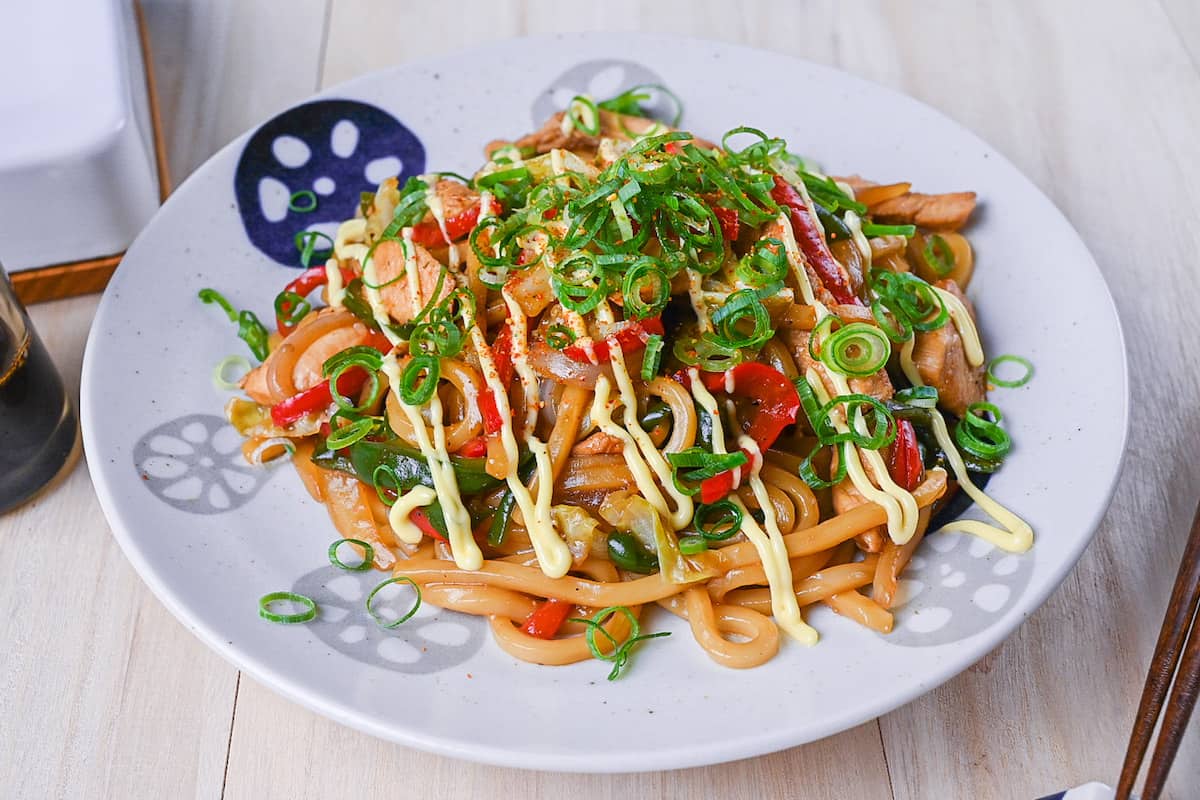 Yaki udon sauce
The biggest difference between yakisoba and yaki udon is the type of sauce used in the dish.
The most well known type of yakisoba is "sauce yakisoba" (ソース焼きそば) and is most commonly made with a savoury and slightly tangy Worcestershire sauce based sauce.
On the other hand, yaki udon is more commonly fried in a soy sauce base and then drizzled with Japanese mayonnaise. Of course, this is not a strict rule and there are many different types of yaki udon, it also depends on the region and family too. (Check out my shio lemon shrimp yaki udon here!)
Butter Shoyu is a Japanese Favourite
In this recipe, I use Kikkoman soy sauce, unsalted butter and garlic as a base for my yaki udon sauce. It's simple, accessible and delicious! What's not to love?
Did you know that the mixture of soy sauce and butter is one of the most loved condiments combinations in Japan? I mean you can find soy sauce and butter flavoured things everywhere, from vegetable side dishes to meat recipes like butter shoyu steak, or even in snacks such as like potato chips.
Adding garlic to the golden combo makes it even more golden in my opinion!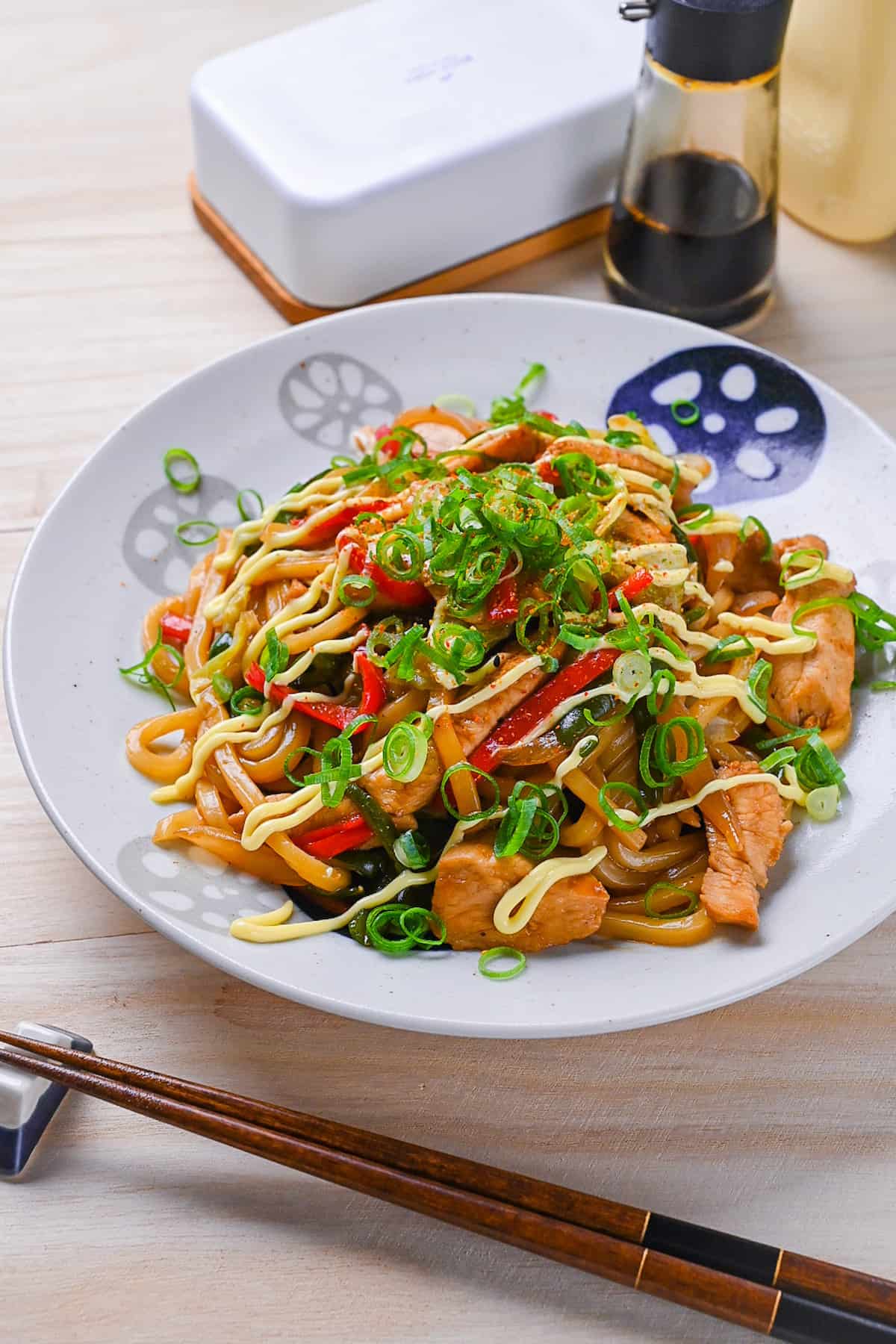 Ingredients
Yaki udon is a highly customisable dish and you can switch out the meat and vegetables to suit your preference. For this recipe, I use the following ingredients:
Pre-cooked udon noodles (you could also buy dried udon and cook beforehand)
Chicken breast
Green cabbage
White onion
Bell pepper (I used red and green, but any colour is fine)
Grated garlic (or garlic paste)
Unsalted butter
Black pepper
Chopped spring onion
See the recipe card at the bottom of the page for ingredient quantities.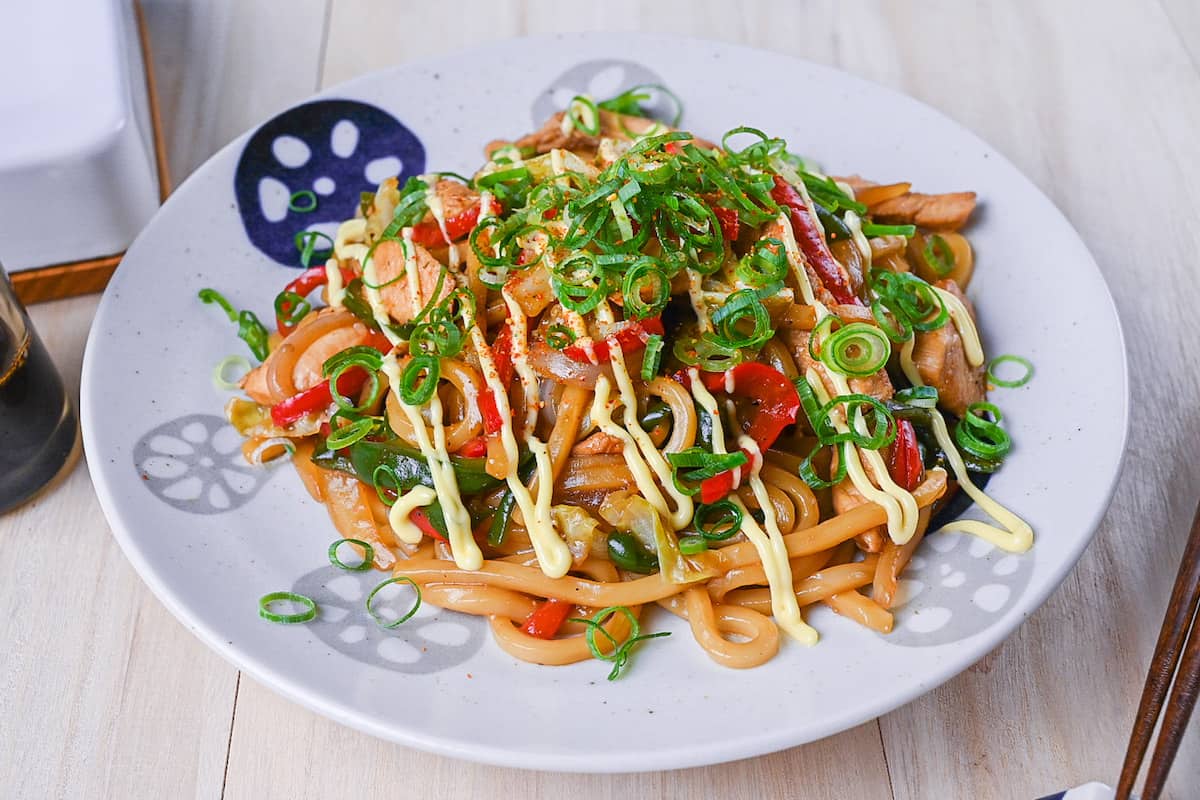 Instructions on how to make yaki udon at home
Yaki udon is a quick and easy dish to make, but why not make it even quicker, easier and even more delicious with these simple but effective tips! For instruction quantities, see the recipe card at the bottom of the page.
Prepare the vegetables
For efficiency in the kitchen, I recommend washing and cutting all of your ingredients in advance.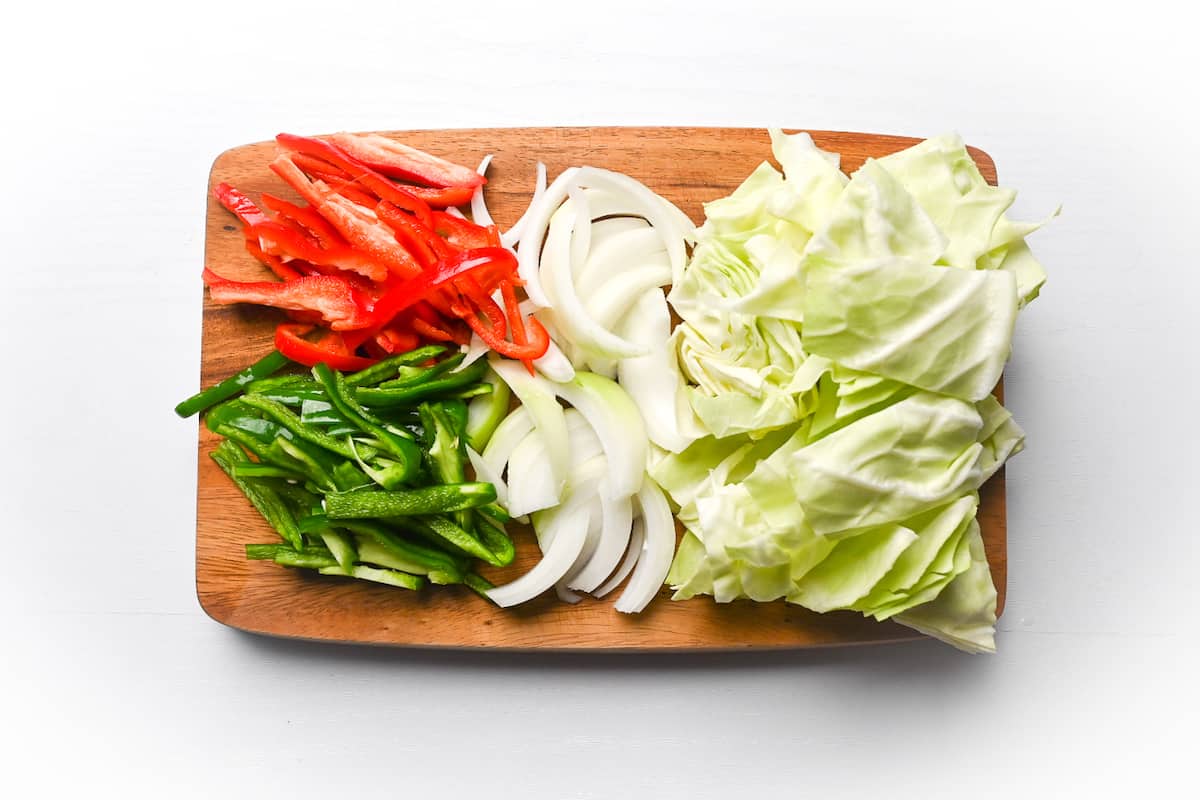 The cabbage can be cut roughly as it's already thin and cooks quickly, but for the rest of the vegetables, I recommend cutting them into thin slices of similar sizes. Thinner slices means faster cooking time and if the pieces are uniform, they'll cook at the same rate.
You'll notice that there is both red and green bell peppers on my chopping board, that's just for extra colour. Feel free to use any colour you like!
Make sure the vegetables are the same size
Cutting the vegetables to the same size and thickness will ensure quick and even cooking.
Fry the chicken in garlic-infused butter
The first step in the cooking process is to melt the butter and add the garlic. This will help infuse the flavours so essentially, you will make your own garlic butter. Do this over a low heat to stop the garlic from burning.
Next, turn up the heat to medium and add the chicken pieces. Adding the chicken early on not only gives it plenty of time to cook all the way through, but the surface will pick up the flavour of the garlic butter.
Cook the chicken in garlic butter
Cooking the chicken in the garlic-infused butter will help the chicken stand out in the dish!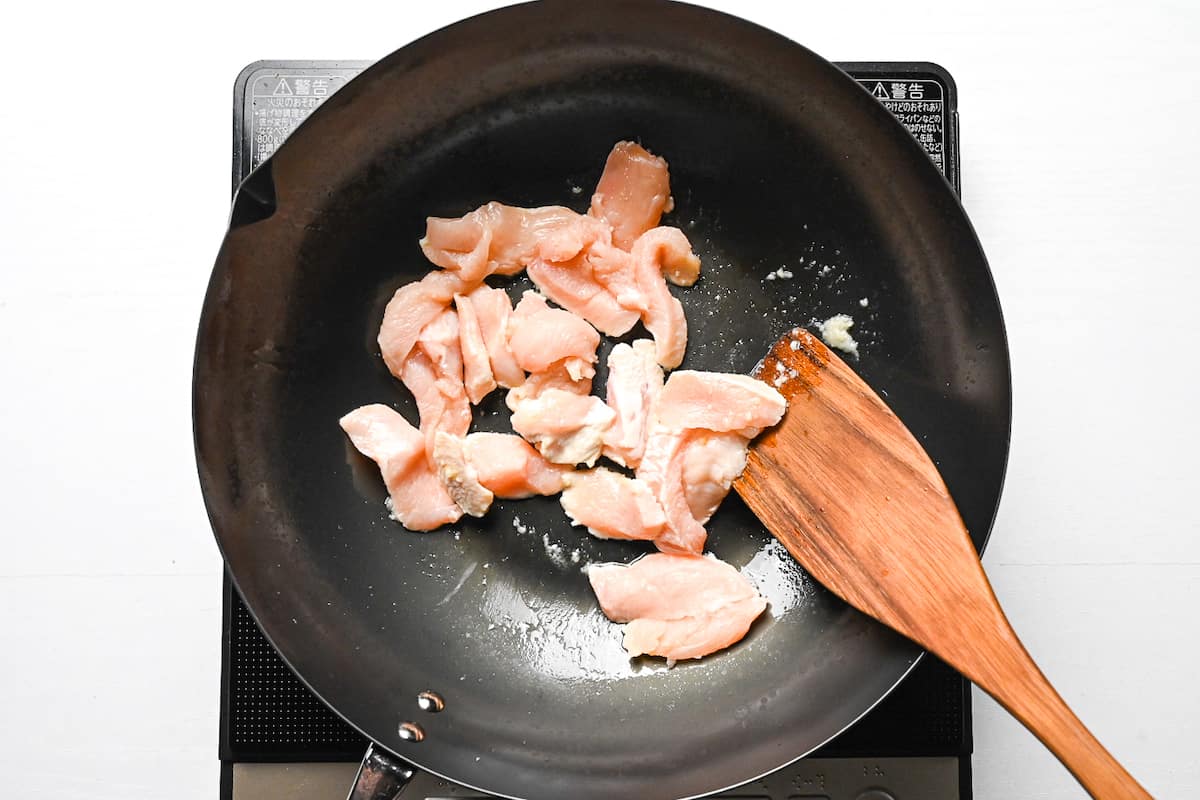 Stir fry the chicken until the surface is sealed on all sides.
Add the vegetables
Once the chicken is sealed, add the cabbage, onion, bell pepper and then drizzle in the oyster sauce and half of the soy sauce. Stir fry until vegetables are softened slightly. This will take about 4 minutes or so.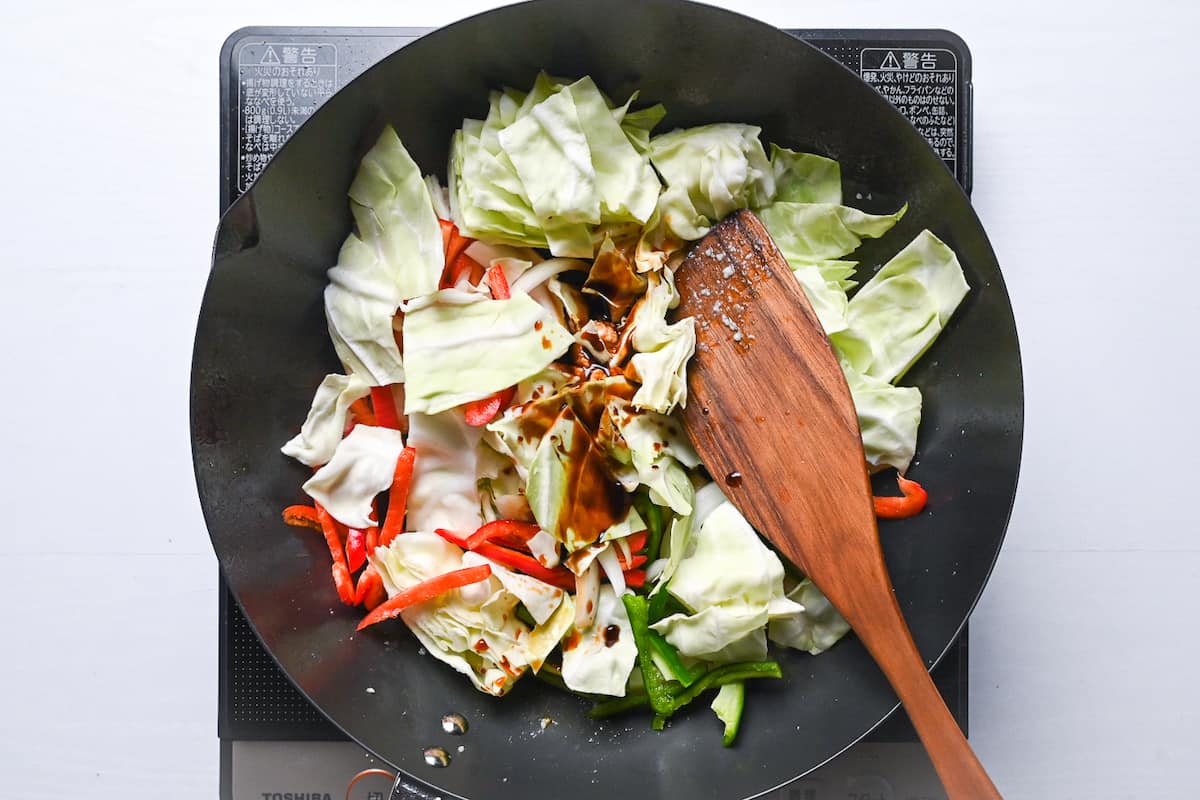 You might find it strange to see that I use half of the soy sauce when I add the vegetables, but it's not a mistake! I add the other half later when I add the noodles. This is because I want to flavour the vegetables and noodles separately.
If you add all the soy sauce in the beginning, the flavour becomes lost and doesn't reach the noodles. If you add it all at the end, the vegetables don't have time to soak up the flavour and everything just becomes jumbled together. I swear by this technique of adding soy sauce at different times when necessary!
Add the noodles
Once the vegetables are softened, add pre-cooked udon noodles to the wok and stir fry for about 3 minutes.
Finally, add the rest of the soy sauce and a generous sprinkle of black pepper. Stir fry for 1 more minute.
Plate up
Divide the yaki udon evenly between serving plates. Garnish with a drizzle of Japanese mayonnaise and a sprinkling of chopped spring onions.
Enjoy!
Variations
Yaki udon is typically made with the following:
Meat (usually pork)
Cabbage
Onion
Udon noodles
However there's no reason why you can't experiment with other ingredients. Here are a few ideas:
Seafood
Bell peppers
Carrot
Beansprouts
Mushrooms
The only thing you need to keep in mind is the water content, if the water content in the new ingredient is too high, this can cause the other vegetables to start steaming and become soggy, so be careful!
Check out some regional yaki udon dishes below for some inspiration.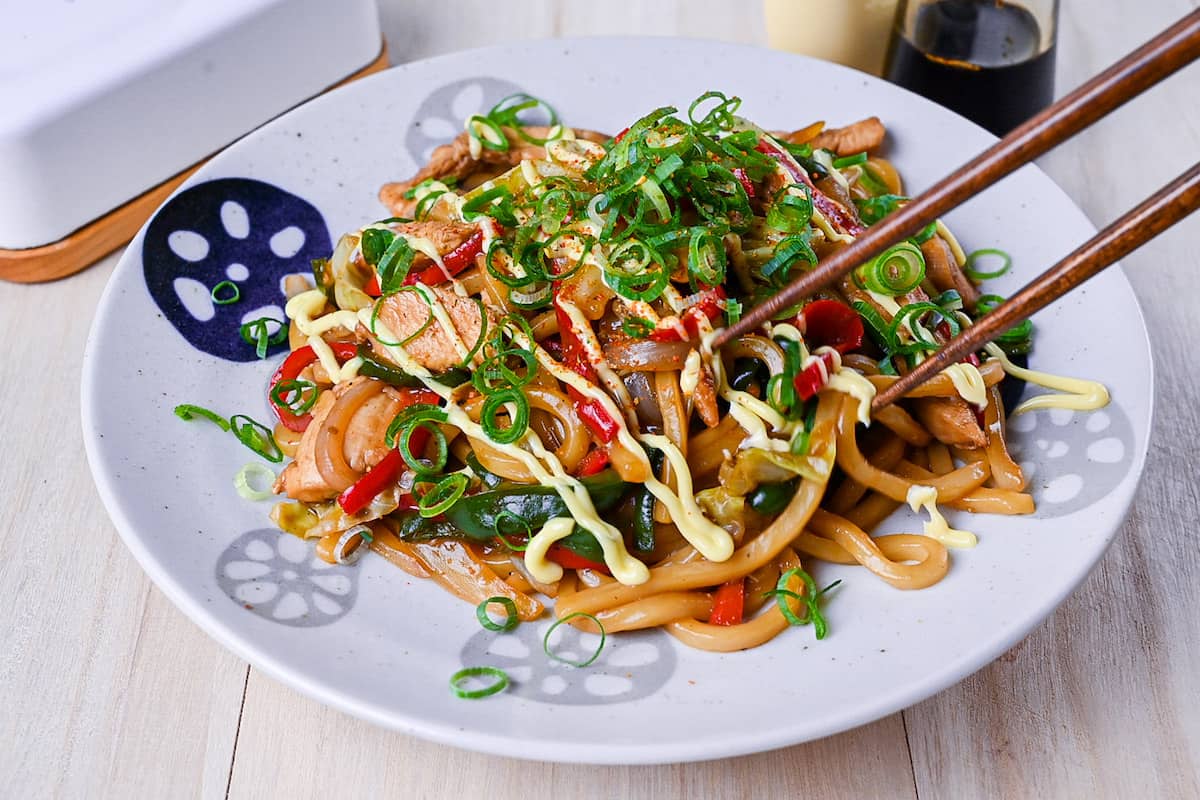 National Yaki Udon Summit (Annual Event)
I have to admit that one of my favourite things about the food communities in Japan is they make everything sound like a big deal and create competitions nationwide. Yaki udon is no exception.
As I mentioned before, there is no real rule about what to include in yaki udon (except, of course, udon noodles) and now many different regions across Japan have created their own regional versions of yaki udon.
Here are a few examples:
Iwatemachi yaki udon (岩手町焼きうどん) : Iwate Prefecture – Pork, cabbage, carrots and udon noodles stir fried and seasoned with salt and white pepper
Hatogayashi Sauce yaki udon (鳩ケ谷市ソース焼きうどん) : Saitama Prefecture – Pork, cabbage, beansprouts, onion, carrot and udon noodles fried in a Worcestershire based sauce.
Kameyama Miso yaki udon (亀山みそ焼きうどん) : Mie Prefecture – Pork, cabbage, onions and udon noodles stir fried in a red miso sauce.
Horumon yaki udon (ホルモン焼きうどん) : Hyogo Prefecture – Yakiudon made with "horumon" offal and stir fried in salt, pepper and soy sauce.
Kim Toma yaki udon (キムトマ焼きうどん) : Gunma Prefecture – Udon with kimchi and tinned tomatoes
And since 2011, there has been an event called the "National Yaki Udon Summit (全国焼うどんサミット)" where yaki udon recipes from different regions compete.
It might come as a surprise that this even is a pretty big deal, Japanese people take food very seriously you know!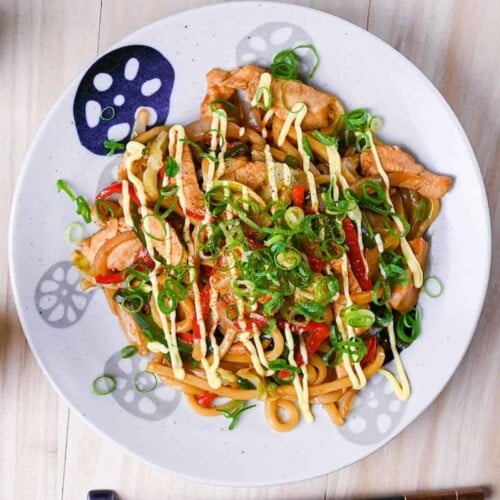 Chicken Yaki Udon (Garlic & Butter Soy Sauce Fried Noodles)
---
How to make delicious, quick and easy Japanese Yaki Udon with tender chicken breast cooked in fragrant garlic butter, then stir fried with fresh vegetables, thick chewy udon noodles and soy sauce.
---
---
---
---
Ingredients
2

portions

udon noodles

pre-cooked, ready to use type

200

g

chicken breast

bitesize pieces

130

g

green cabbage

roughly cut

50

g

yellow onion(s)

thinly sliced

60

g

bell pepper(s)

thinly sliced

1

tsp

garlic

grated or garlic paste

1

tsp

unsalted butter

1

tbsp

oyster sauce

2

tbsp

soy sauce

1

pinch

black pepper

1

tbsp

Japanese Mayonnaise
Instructions
Prepare your ingredients. Cut

200 g chicken breast

into bitesize pieces, then

60 g bell pepper(s)

and

50 g yellow onion(s)

into thin slices and

130 g green cabbage

into rough chunks.

Heat a wok/frying pan on a medium-high heat and add

1 tsp unsalted butter

and grated garlic.

Once the butter is melted and

1 tsp garlic

paste is fragrant, add the chicken pieces and fry until the surfaces are sealed.

Add the cabbage, onion, bell pepper then drizzle in

1 tbsp oyster sauce

and half of the soy sauce. Stir fry until vegetables are softened slightly. (Approx 4 minutes)

Next, add

2 portions udon noodles

and stir fry for about 3 minutes.

Add the rest of the soy sauce and

1 pinch black pepper

. Mix again and fry for 1 more minute.

Dish up, drizzle with

1 tbsp Japanese Mayonnaise

and garnish with

1 tbsp finely chopped green onion(s)

.

Enjoy!
Nutrition
Serving:
411.1
g
|
Calories:
386
kcal
|
Carbohydrates:
43.9
g
|
Protein:
28.9
g
|
Fat:
13
g
|
Saturated Fat:
3.11
g
|
Polyunsaturated Fat:
2.82
g
|
Cholesterol:
81
mg
|
Sodium:
1737
mg
|
Fiber:
4.3
g
FAQ
What does yaki udon mean?
Yaki means to fry, grill or cook and udon is a type of thick Japanese noodle made from wheat flour.
What is the difference between yaki udon and yaki soba?
The biggest difference between the two is the type of sauces and noodles used in the dish. Yaki udon is made with udon noodles stir fried in a soy sauce base whereas yakisoba is made with ramen type u0022chukau0022 noodles fried in a Worcestershire sauce base. The choice of meat and vegetables are often the same, but there isn't a strict rule.
Do yaki udon and yaki soba taste similar?
Even though the ingredients are similar, the difference sauces make yaki udon and yakisoba taste very different.
What is yaki udon sauce made of?
Yaki udon sauce is usually made with soy sauce as the base. You can add other condiments to flavour it to your taste, in my recipe I use garlic and butter with soy sauce.
What are udon noodles made of?
Udon noodles are made from wheat flour.