A refreshing twist on yaki udon, this stir fry dish is made with thick udon noodles, shrimp and crunchy vegetables flavoured with a delicious combination of lemon and salt. It's quick to make and perfect for summer!
Disclaimer: This post may contain affiliate links. Sudachi Recipes is part of the amazon associates programme and earns a small percentage from qualifying purchases at no extra cost to you. See disclaimer for more info.
Jump to:
What is yaki udon?
Yakiudon is a local dish originating in Fukuoka, where udon noodles are stir-fried with meat and vegetables and flavoured with soy sauce, sauce, salt and pepper.
In 1945, the first owner of Daruma-do in Kitakyushu City, attempted to make sauce yakisoba, a popular dish at the time. Unfortunately, due to a shortage of supplies he could not get the right noodles to make the dish and so he used udon noodles instead. This was supposedly the beginning of yakiudon as we know it today.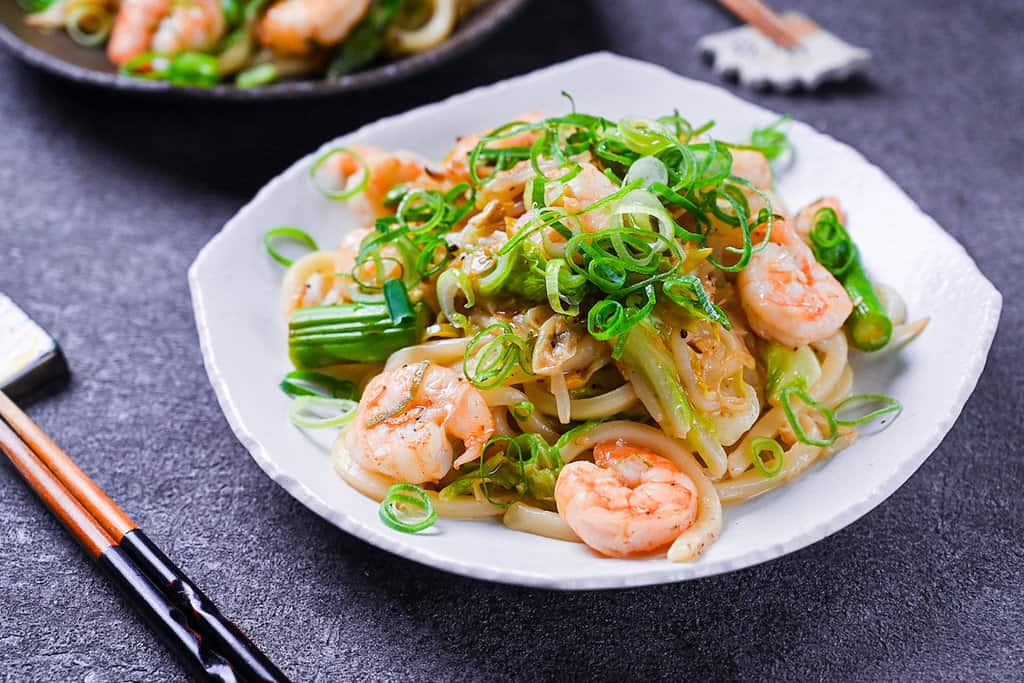 Yaki udon with twist
Yaki udon is best known for containing some kind of meat (usually pork but can also be chicken or beef), however in this recipe, I use king prawns. If you want to make it with chicken, I also have garlic and butter soy sauce chicken yaki udon recipe!
When I thought about making a recipe for shrimp yaki udon, I wondered what kind of seasonings would go well. Seafood and lemon is a golden combination... so from this I came up with the idea of salty lemon yakisoba.
You can basically use any shrimps you like, but generally speaking, shrimps like tiger shrimps are good for this dish.
For extra umami I also fry 3 tablespoons of dried baby shrimp to flavour the oil. In Japanese we call them "hoshi ebi" (干しエビ) which are available on Amazon.
Udon noodles
Udon is one of Japan's most famous noodles, made by kneading wheat flour with a small amount of salted water into a thick noodle shape. It is boiled and eaten by dipping in mentsuyu (noodle dipping sauce) or in a soup seasoned with bonito dashi and soy sauce (kakemen). Sanuki udon from Kagawa Prefecture is the most popular and nationally famous.
It is so versatile that there are so many dishes with udon noodles, including spin-off dishes like yaki udon. Here are some of my udon recipes: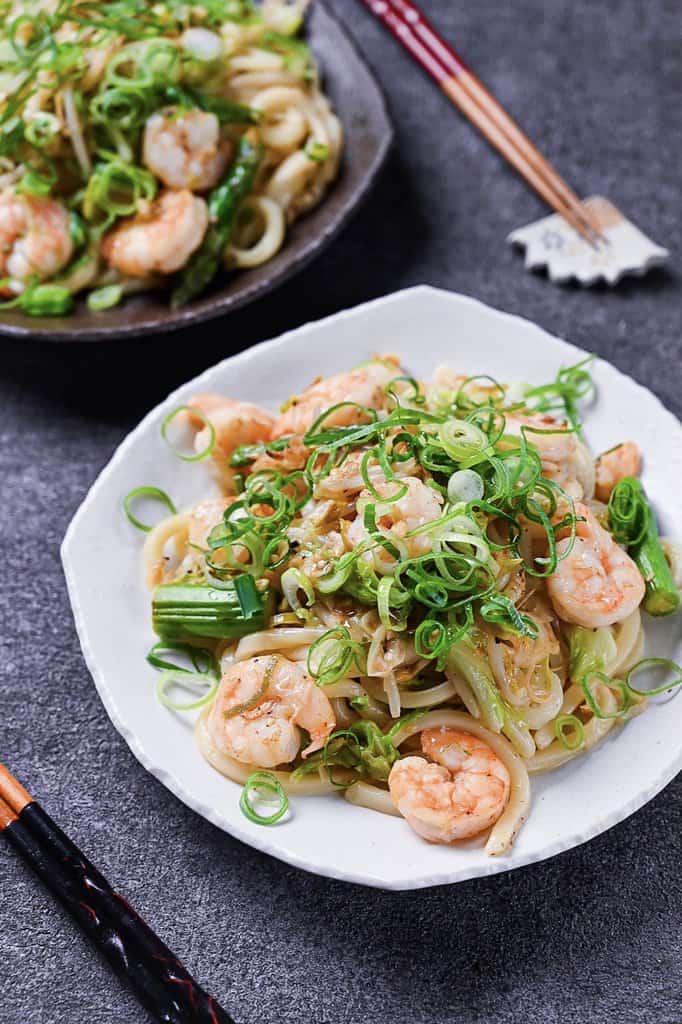 How to prepare shrimp
If you are using fresh shrimps with the shell on, you will need to follow these steps before you start cooking.
Remove the shells
First, deshell the shrimp. I find the easiest way is to do this is to rip the legs off first and then the shell just comes right off. It's up to you whether to pull the tails off too, but in this dish I remove them.
Remove the vein
Next, remove the vein. I do this by taking a cocktail stick and piercing horizontally through the back of the prawn. You should be able to hook the vein and pull it straight out. I recommend doing this a bit slowly and gently so you don't break the vein while pulling it.
Clean
Finally, coat the prawns in a couple of pinches of salt and 1 tsp of corn starch. Rub it over the surface of the prawns and once they're covered, wash them under cold water. The corn starch cleans them out while the salt helps draw out excess moisture.
Vegetables used for yakiudon
Typically yakiudon uses similar vegetables to its older cousin, yakisoba. This includes things like cabbage, beansprouts and onions. However there's no rule or limit to the number of ingredients you use, just be careful about using vegetables with a high water content. (You don't want soggy noodles!)
In this yaki udon dish I use:
Asparagus
Cabbage
Beansprouts
I keep it simple so that the flavour of the shrimps and lemon sauce shines through, but you could also add things like onion, edamame beans or bamboo shoots for extra textures.
I hope you enjoy this delicious yakiudon with a refreshing twist!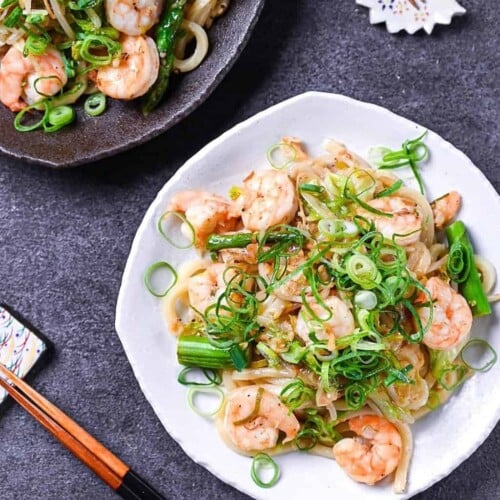 Shrimp Yaki Udon (Shio Lemon Shrimp Udon Stir Fry)
How to make delicious shrimp yaki udon flavoured with salt and lemon sauce!
Ingredients
Shio Lemon Sauce
½

tsp

salt

1

pinch

black pepper

¼

tsp

sugar

1

dash

soy sauce

1

tbsp

sake

½

tsp

garlic paste

1

tsp

sesame oil

1 ½

tbsp

lemon juice

1

tsp

zest of lemon

1

tsp

Chinese-style chicken bouillon powder

1

tsp

white sesame seeds

1

tbsp

finely chopped green onion(s) -

green part
Shio Lemon Yaki Udon
2

tsp

cooking oil

3

tbsp

dried baby shrimps

-

hoshi ebi

2

tbsp

green onion(s) -

white part, finely sliced

200

g

shrimp(s)

-

see in post for cleaning process

100

g

asparagus

-

cut into 2cm pieces

1

pinch

salt

1

pinch

black pepper

50

g

green cabbage

-

roughly chopped

100

g

beansprouts

2

portions

udon noodles

-

pre-cooked

2

tbsp

green onion(s) -

green part, finely sliced to garnish
Instructions
Mix all the sauce ingredients in a small bowl and set aside for later.

Heat a wok on medium and add

2 tsp cooking oil

. Add

3 tbsp dried baby shrimps

and

2 tbsp green onion(s)

and fry for 1 minute to flavour the oil. 

Turn up the heat to medium high and add

200 g shrimp(s)

and

100 g asparagus

, fry until the shrimps are cooked through. (2-3 minutes)

Add

100 g beansprouts

and

50 g green cabbage

and fry for 1-2 minutes.

Push all the ingredients to one side and add

2 portions udon noodles

.

Heat the noodles through until they come apart easily and then pour the shio lemon sauce into the wok. Stir fry everything together for 1-2 minutes.

Dish up and sprinkle with

2 tbsp green onion(s)

.

Enjoy!