Tender marinated beef, soft juicy onions, and chewy udon noodles served in a rich and meaty dashi broth make this Beef Niku Udon the ultimate comfort dish!
Disclaimer: This post contains Amazon and Dokodemo affiliate links. Sudachi Recipes earn a small percentage from qualifying purchases at no extra cost to you. See disclaimer for more info.
What is Niku Udon?
Niku udon (肉うどん) is a rich and meaty noodle dish made with thick udon noodles served in a hot dashi broth and topped with thinly sliced beef and onions.
The direct translation of niku udon is "meat udon." While beef is most popular, some people use pork instead. The preferred meat used for this dish depends on the region. Pork is often used in Japan's Kanto (East) region, while beef is common in Kansai (West).
Using beef or pork brings out different qualities in the dish, and I like them both. I would say that beef udon is richer, meatier, and has a slightly more elegant taste!
How I Developed This Recipe
My mission in developing this beef udon recipe was clear: to amplify the beef's natural flavors without overpowering the rest.
Striking a harmonious balance was important, especially when blending the nuanced flavors and sweetness from the dashi stock, onion, mirin, and other integral ingredients.
Each component was adjusted to ensure a symphony of tastes that complement, rather than compete with, each other. Please give it a try!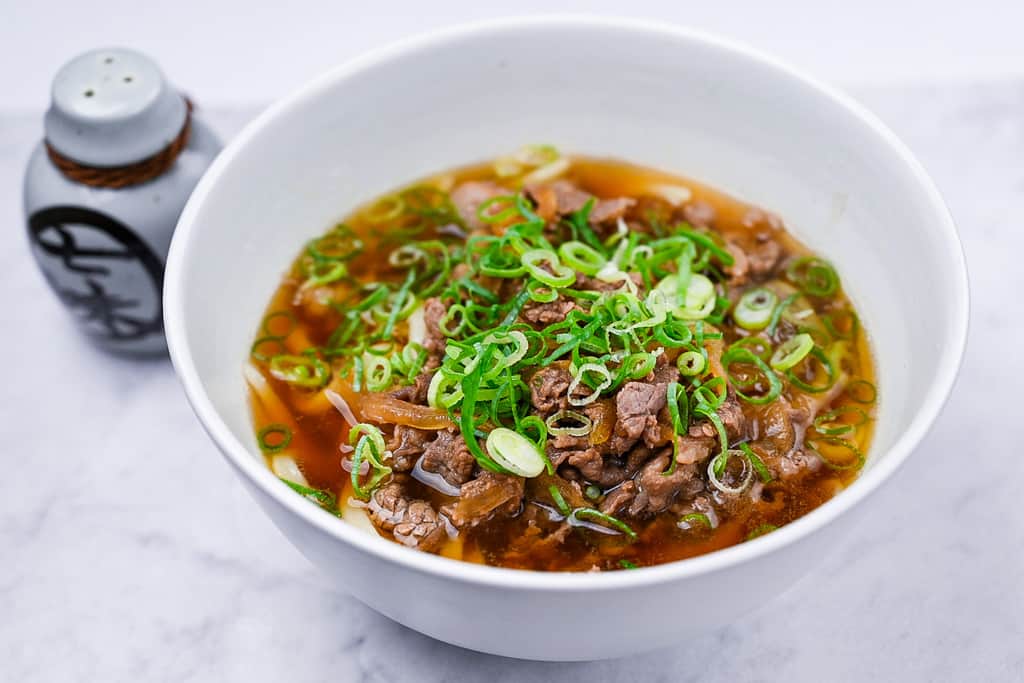 Ingredients and Substitution Ideas
Dashi stock: Any dashi is suitable, with dashi bags and instant granules providing a quick solution. For those keen on a homemade version, consider recipes like my go-to dashi, simple awase dashi, or vegan dashi.
Thinly sliced beef: Expensive beef isn't necessary; however, aim for thin, fatty cuts. In Japan, fatty end cuts are favored as they enhance the broth. Cuts like thigh, loin, or belly are all apt choices. If you can't find pre-sliced beef, purchase a beef block, semi-freeze it (around 30 minutes for every ½ lb or 225g), and thinly slice it with a sharp knife.
Soy sauce: Kikkoman soy sauce is a reliable and cost-effective option. For a comprehensive understanding of selecting the right soy sauce in Japanese cuisine, refer to our complete soy sauce guide.
Mirin: When shopping for mirin, "hon mirin" (本みりん) is the gold standard for flavor. Hinode Hon Mirin is both top-quality and wallet-friendly. For more condiment and seasoning suggestions, check out my post on the 20 Most Useful Condiments and Seasonings for Japanese Cooking.
Oyster sauce: This ingredient brings a depth of flavor to the dish.
Light brown sugar: While I suggest light brown sugar, white sugar is also fine.
Grated ginger: Alternatively, ginger paste is a convenient choice.
Yellow onion: Thinly sliced. While yellow onions are the norm in Japan, white onions are a suitable alternative.
Beef fat: It is often complimentary in Japanese supermarkets, but this can be omitted if unavailable in your area.
Udon noodles: These wheat noodles are great for their chewy consistency, making them a cornerstone of the dish. You can choose from frozen, pre-boiled, or dried udon varieties. I personally choose frozen, since they're quick to prepare and have great texture.
Chopped green onion: Used as a garnish to enhance the dish's presentation.
Shichimi togarashi: Optional, but it imparts a nice spicy kick to the dish.
Curious about the exact brands and products that bring my recipes to life? Discover the brands and ingredients behind my recipes at the Sudachi Amazon Storefront. Explore my handpicked pantry essentials and find your next kitchen favorites!
Step-by-Step Process
Here are my step-by-step instructions on how to make fantastic beef niku udon from scratch, including homemade dashi! I also include some tips and tricks along the way.
For ingredient quantities and simplified steps, see the recipe card at the bottom of the page!
If you're using instant dashi or dashi bags, you can skip this step, but good dashi is an essential element of this dish, so I want to show you how to make my favorite dashi here.
Start by soaking kombu in cold water for 30 minutes. I also use dried sardines (with the heads removed), but these are optional.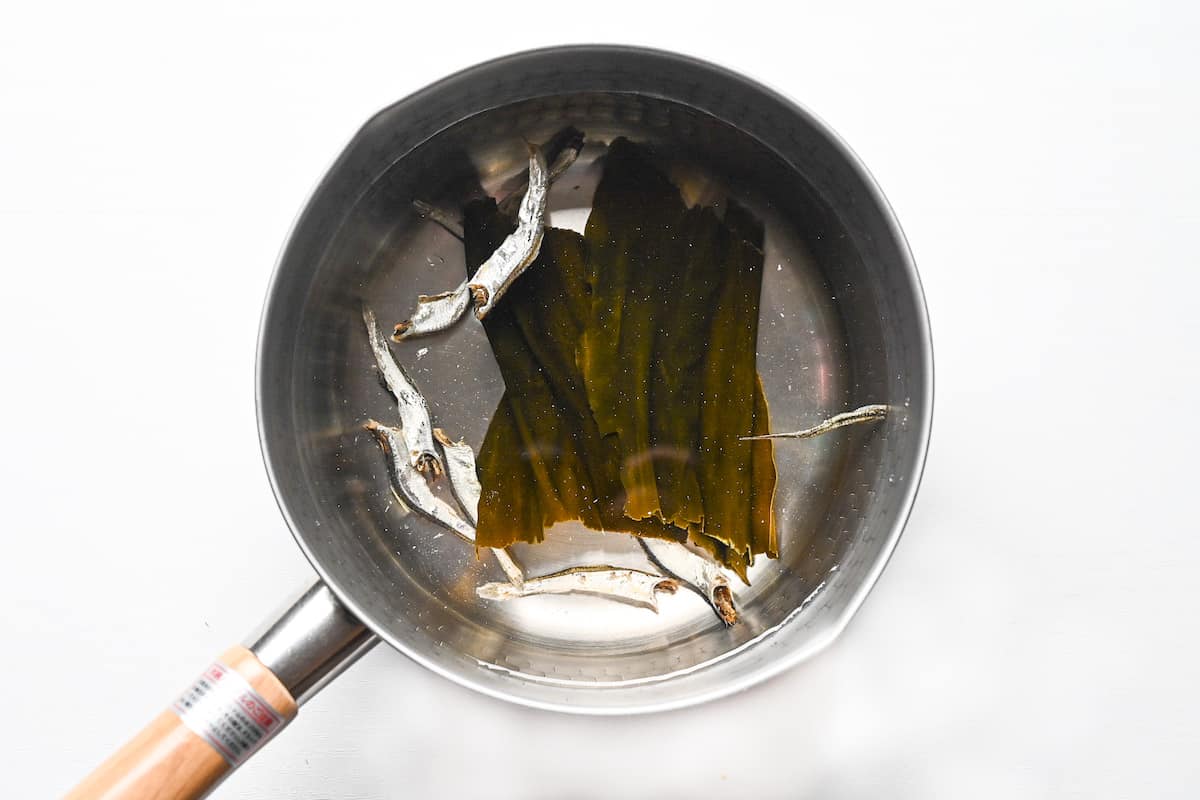 Marinate your beef (the next step) while your dashi ingredients are soaking so that they're ready at the same time!
After 30 minutes, place the pan on the stove and add the katsuobushi.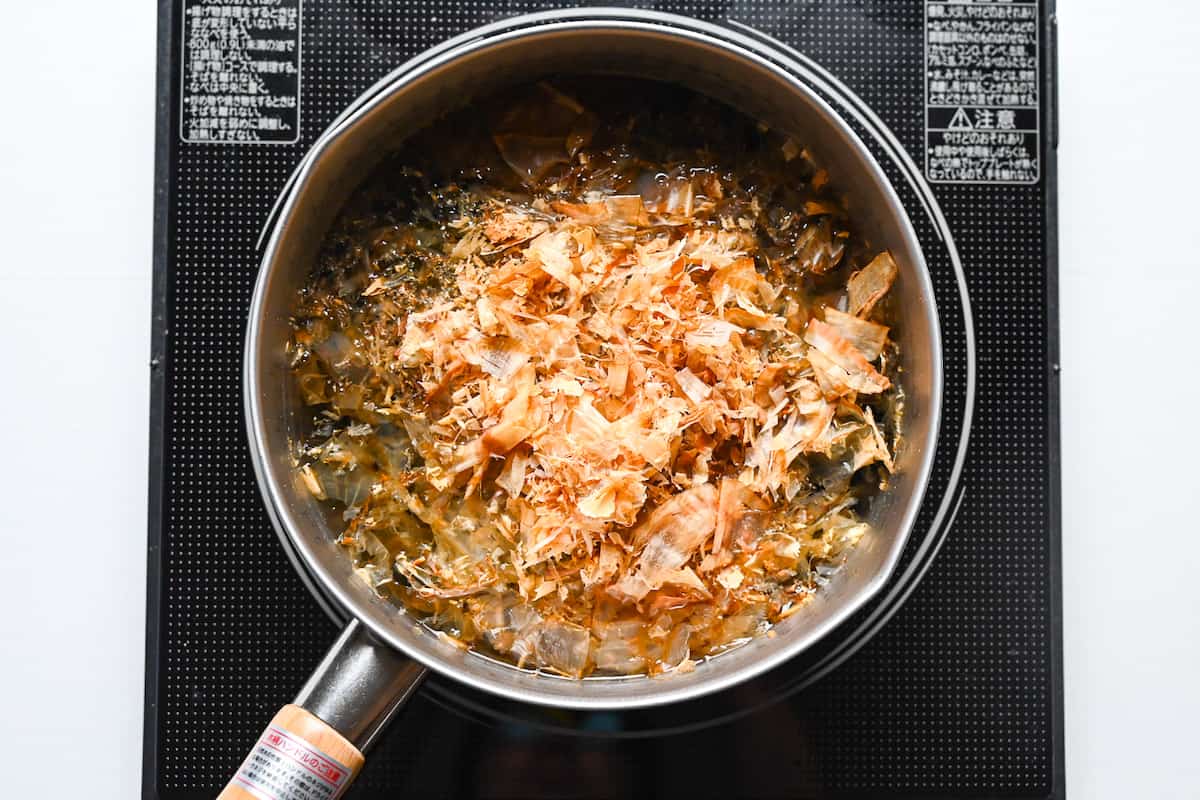 Heat the pan on medium/medium-low and bring to almost boiling. Don't let it actually boil.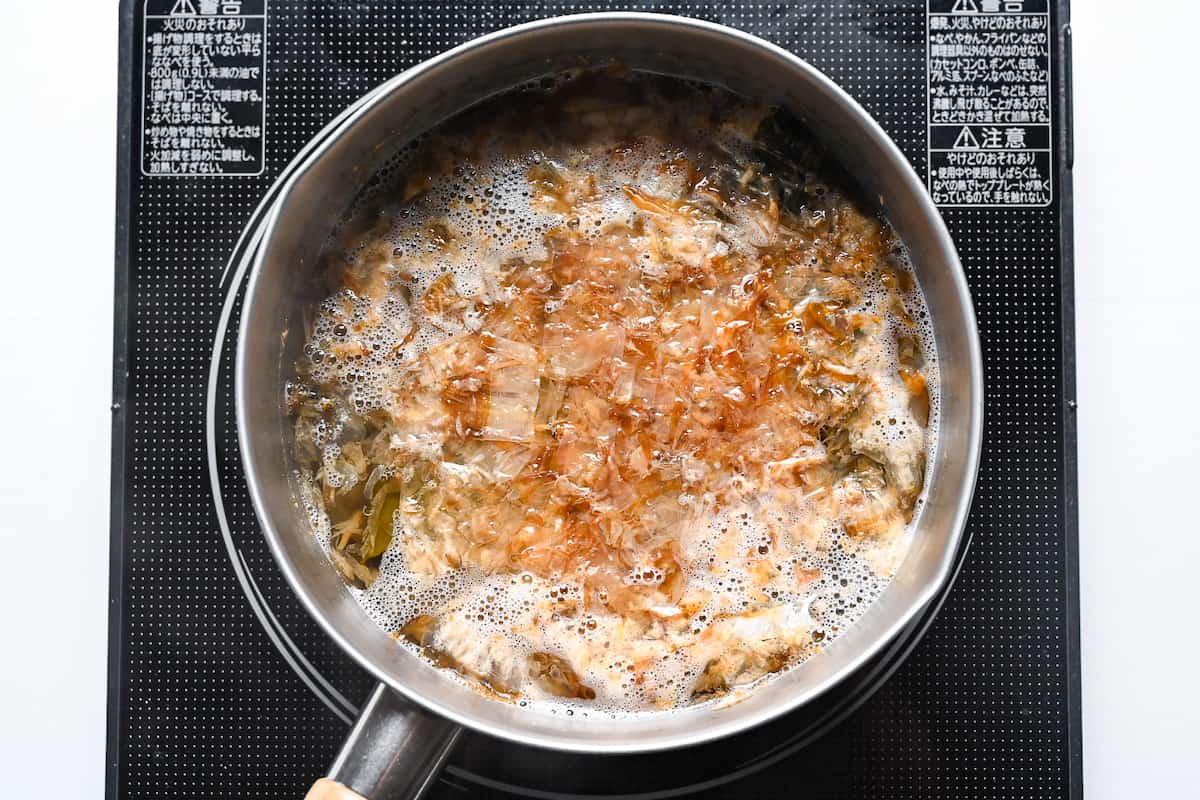 When it simmers gently, turn off the heat and strain it through a sieve lined with kitchen paper.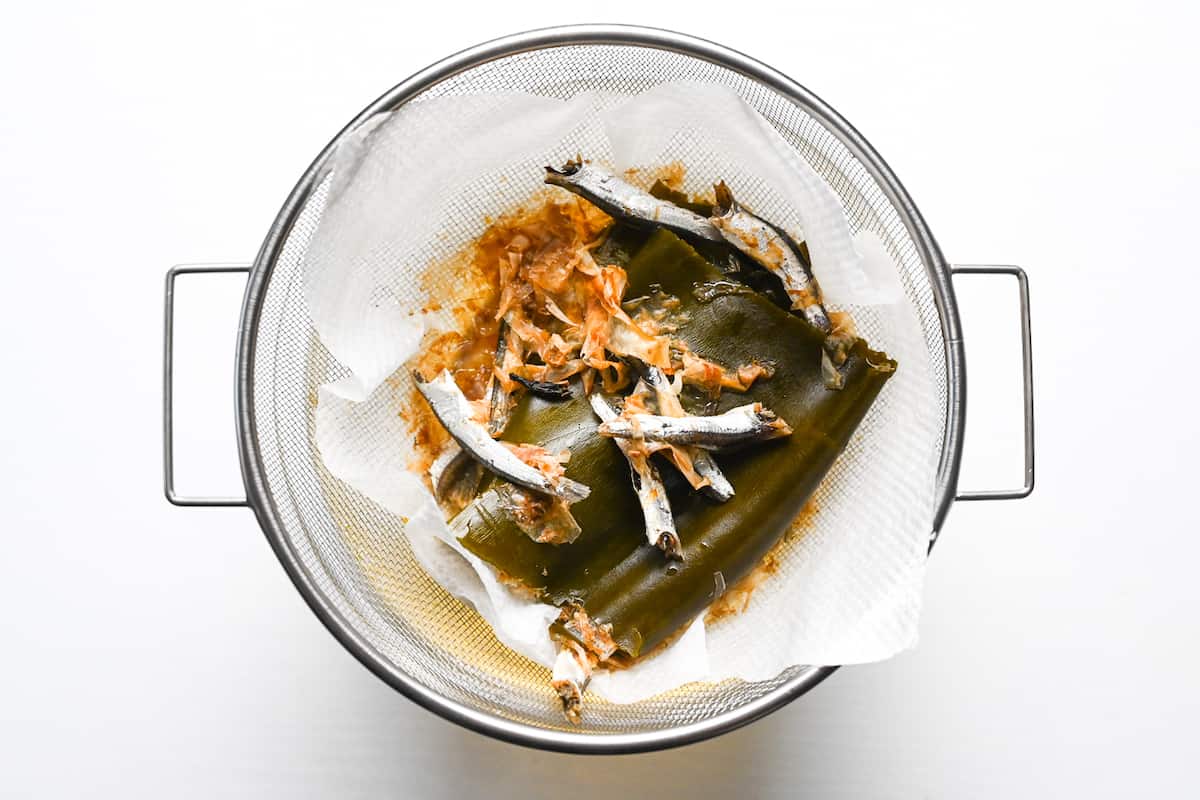 To catch all the fine pieces of katsuobushi, line your sieve or strainer with kitchen paper. This will act as a filter and give you a beautiful clear broth!
The final result should be a beautiful clear golden dashi broth that looks like this: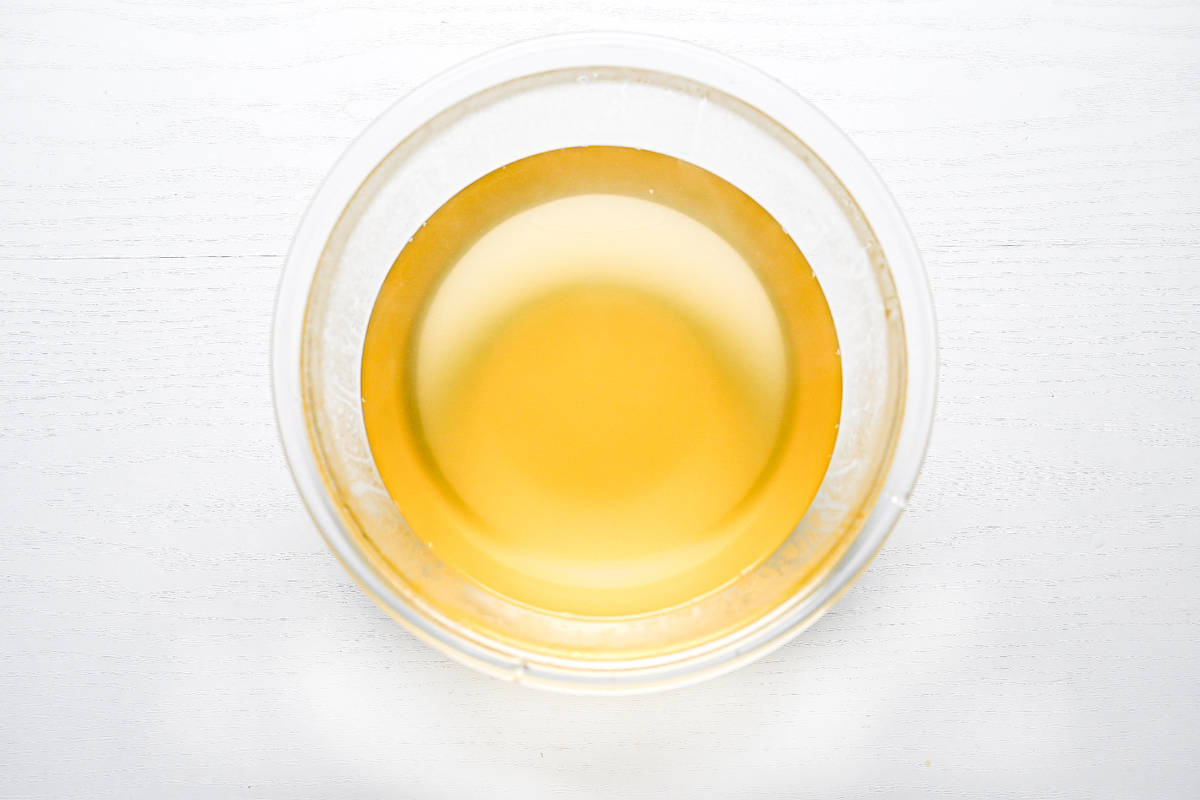 To make sure the flavor of the beef shines through, I like to marinate it before cooking. In my recipe, I soak the beef in a mixture of soy sauce, mirin, oyster sauce, sugar, ginger paste, and salt.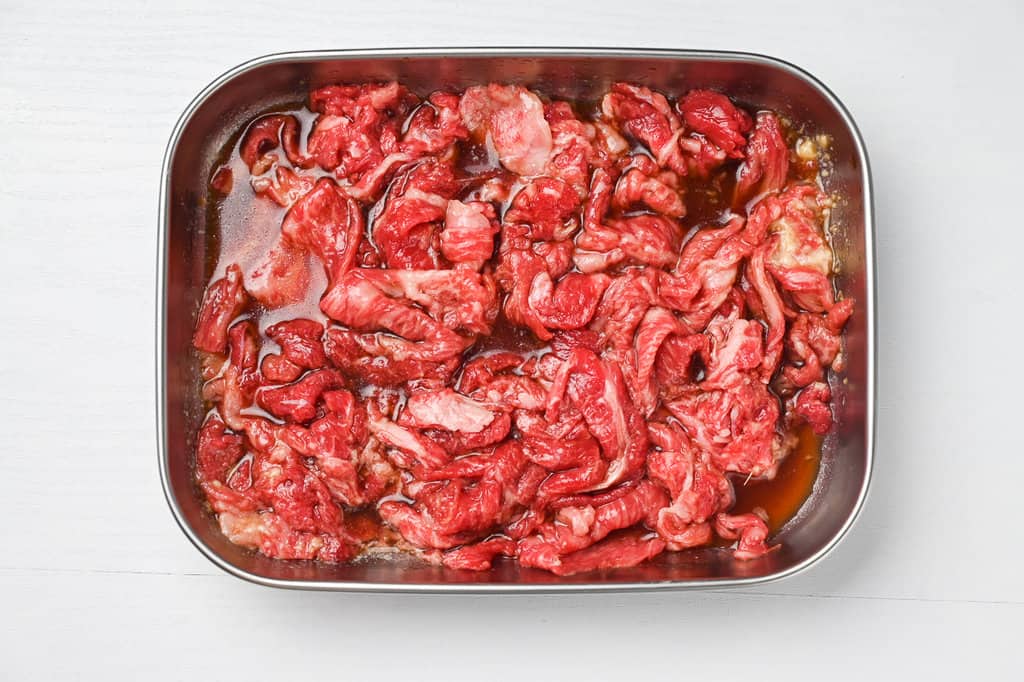 Marinate the beef for at least 10 minutes, preferably 30 minutes. I recommend marinating it while the dashi ingredients are soaking!
Rest the beef at room temperature
For tender beef and even cooking, I recommend keeping the beef out on the counter for about 20-30 minutes while it marinates. (Don't leave it out for more than 1 hour.)
Finely slice the onions and sprinkle them with salt. With your hands, rub the salt over the surface.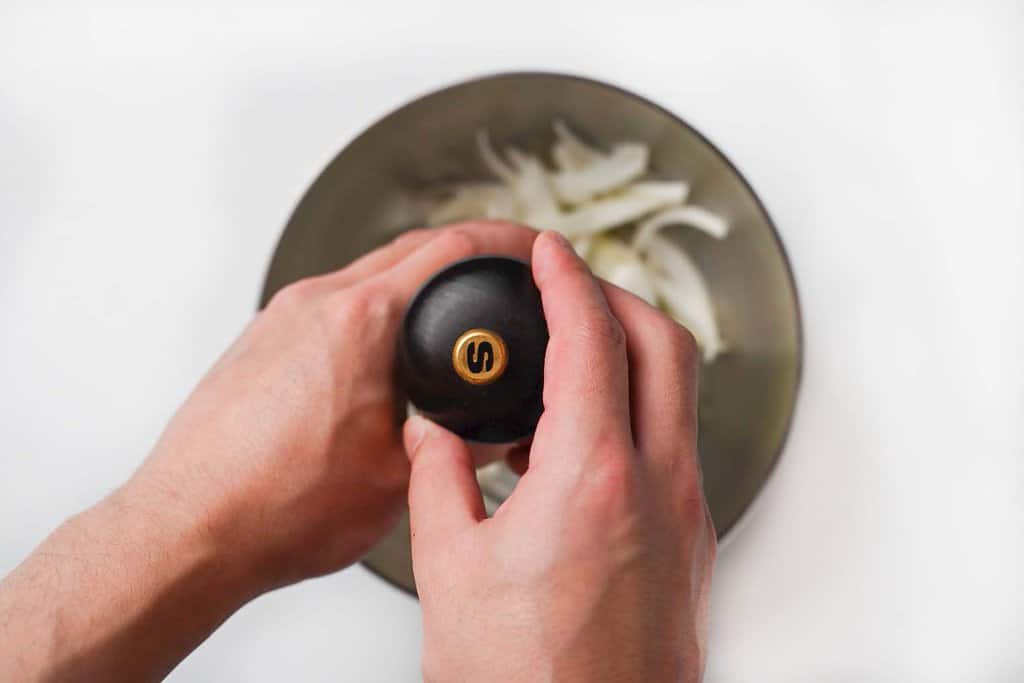 This step is to stop the onions from overpowering the dish. Rubbing them with salt not only tames the strong flavor of onion but also draws out some moisture, which will soften the texture and help them cook faster.
Cook your udon noodles according to the time stated on the packaging. This varies greatly depending on whether the udon is chilled, dried, or frozen.
You can boil your noodles at the same time as making the broth.
Prevent starch from entering the broth
I always recommend cooking the udon noodles in a separate pot and washing them under boiling water to remove the excess starch.
It's also important not to overcook udon! Like pasta, they should be served "al dente" (firm to the bite), and I recommend cooking the udon last when making this dish.
Pour your dashi into a pan and add soy sauce, mirin and light brown sugar.
Place it on the stove and bring it to a boil over medium heat.
Boil for 2 minutes and then set aside. You can reheat it right before serving.
It might be tempting to leave the broth simmering while you prepare the rest of the dish, but this will cause the liquid to evaporate and the broth to become concentrated and too salty. Set it aside and reheat right before serving.
When making niku udon, I prefer to sauté the onions and beef, then serve them on top of the udon at the end. First, we sauté the onions until soft and then add the marinated beef.
Heat a frying pan on medium and add oil or beef fat. I used beef fat to add more meaty flavor to the dish.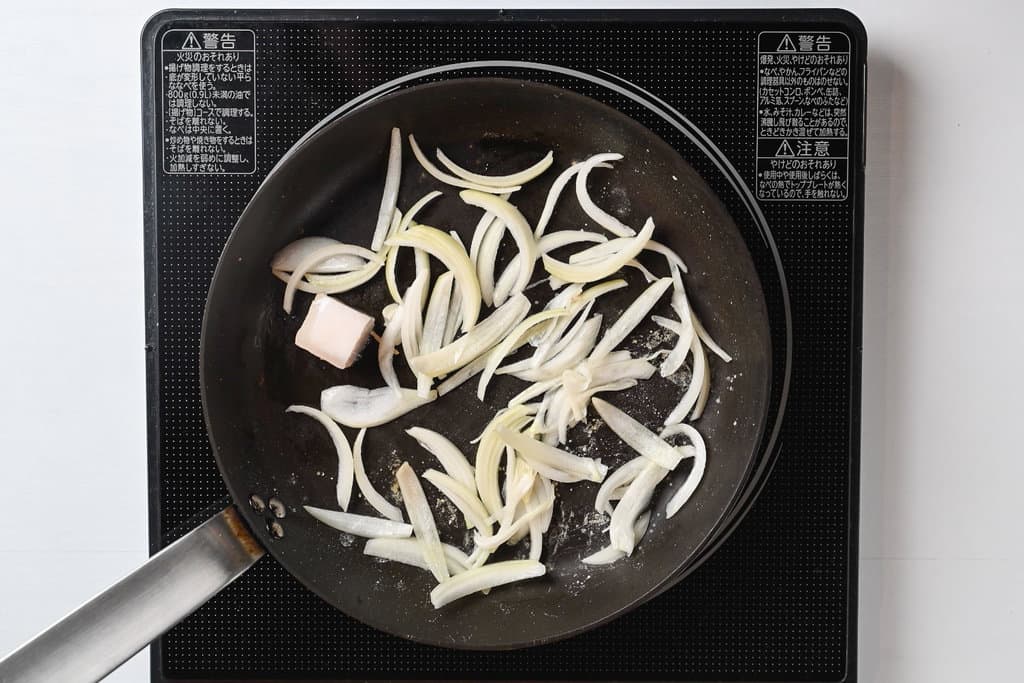 I fry the onions first to soften them thoroughly without overcooking the beef.
Once the onions are softened, add the beef and marinade. Stir fry for a few minutes until the beef is cooked through.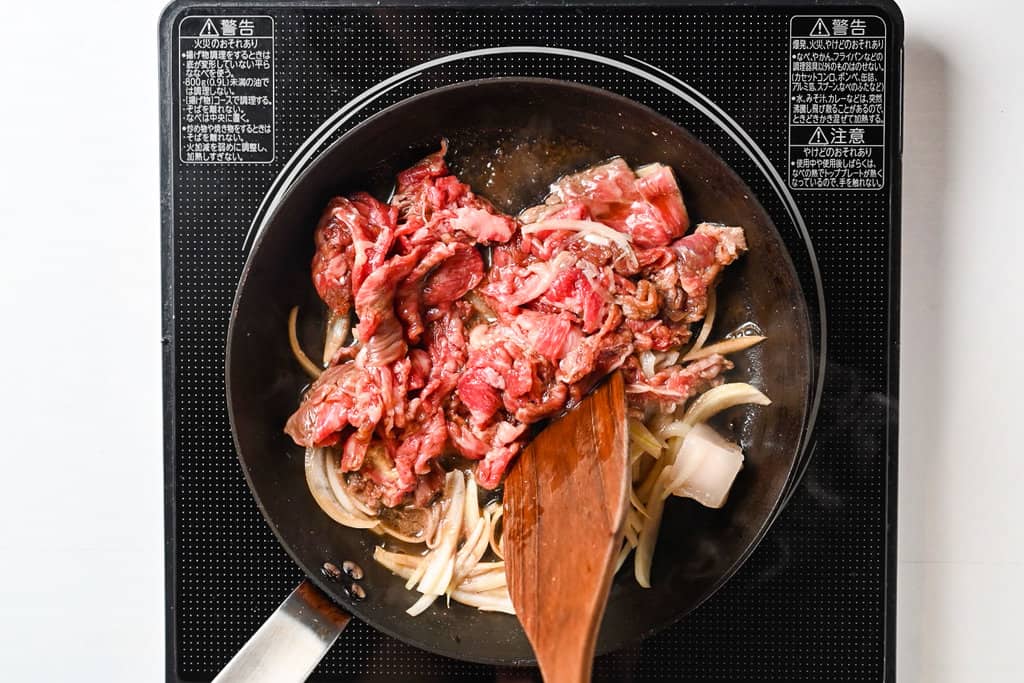 Adding the marinade to the pan is a crucial step because the flavor from the marinade will be absorbed into the onions and beef.
Once cooked, I also pour any leftover marinade in the pan into the udon soup at the end, so it's necessary to burn off the alcohol in the mirin.
Using the leftover marinade in the broth makes it rich and meaty. This method also reduces waste, and no flavor is lost.
Once the beef is cooked, remove the pan from the heat, and we're ready to dish up!
First, divide the udon noodles into serving bowls and pour the broth to fill about two-thirds of the bowl.
Place the beef and onions on the top like this: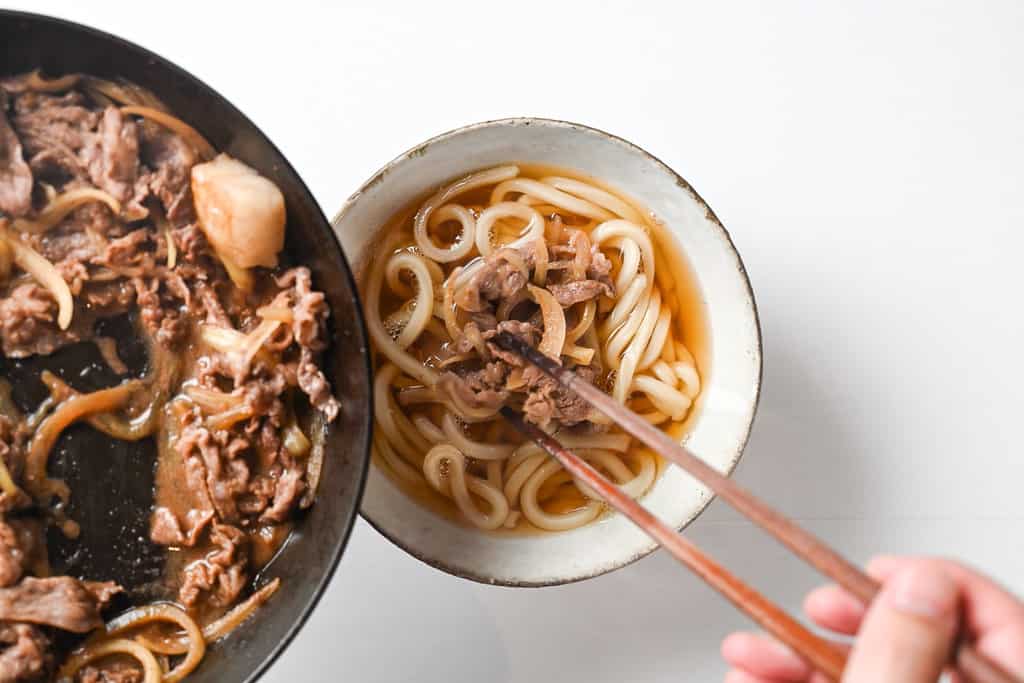 Pour the leftover marinade around the top of each bowl and garnish with chopped spring onions and a sprinkle of Japanese "shichimi" chili pepper. (Optional)
Storage
Once assembled, it is not recommended to store niku udon since noodles left in soup for an extended period will become soft and mushy. However, there are several ways to store the soup and meat, and this dish can be great for meal prep!
The raw marinated beef can be kept in the fridge for 2-3 days. Keep in mind that the flavor will become more intense over time so it's better to take it out of the marinade after 24 hours and then use it as quickly as possible. You can also freeze it for up to 1 month by placing the beef slices in a ziplock bag in the marinade.
Once cooked, the beef can be refrigerated for 3-4 days or frozen for up to 2 months if stored properly.
The broth can be made in advance and stored in the fridge for up to a week, or frozen for three month. If freezing, it's advised to divide into portions for convenient thawing.
Udon noodles should always be eaten immediately after cooking for the best texture.
Room temperature – Not recommended.
Refrigerated – Beef 2-3 days (marinated, raw) or 3-4 days (cooked). Broth, 1 week.
Frozen – Beef 1 month (marinated, raw) or 2 months (cooked). Broth, 3 months.
Other Japanese Udon Recipes
If you love udon, check out some of my other recipes!
I hope you enjoy this rich and meaty niku udon! If you try the recipe, let us know how it goes in the comments below!
Beef Udon Noodles Soup (Niku Udon)
---
How to make flavourful Japanese Beef Niku Udon with thick udon noodles served in a rich and meaty dashi broth, topped with tender marinated beef and juicy sautéed onions.
---
---
---
---
Ingredients
Instructions
Dashi (If using instant dashi, skip this section)
First, remove and discard the heads of the

5 g dried sardines

.

Pour

500 ml water

into a pot and add the dried sardines and

5 g dried kelp(s)

. Leave to soak for 30 minutes. (I recommend marinating the beef while it soaks.)

After 30 minutes, add

5 g bonito flakes

and heat on low on a medium-low setting.

Allow to the dashi to heat up until almost boiling. When small bubbles start to appear, turn off the heat. (Do not let it boil.) 

Take a large heatproof bowl and place a sieve lined with kitchen paper over the top. Pour the dashi through the sieve, allowing the clear broth to pass through into the bowl.
Marinating
Add

150 g beef

(thinly sliced) to a container with

1 tbsp soy sauce

,

1 tbsp mirin

,

1 tsp oyster sauce

,

½ tsp light brown sugar

,

½ tsp grated ginger

and

50 ml water

. Leave to marinate at room temperature for at least 10 minutes, or until the dashi is ready.

While the meat is marinating, finely slice

¼ yellow onion(s)

and place it in a separate bowl. Add

½ tsp salt

, mix thoroughly and set aside until it's time to cook.
Broth
Pour your

500 ml dashi stock

back into a pot and add

1 tbsp soy sauce

,

1 tbsp mirin

and

1 tsp light brown sugar

.

Place the pot on the stove and boil for 2 minutes to burn off the alcohol in the mirin.

Turn off the heat but leave the pot on the stove to keep it warm. (Reheat before serving if necessary.)
Cooking
Cook

2 portions udon noodles

according to the instructions on the packaging.

Heat a pan on medium and once hot add

1 tsp beef fat

. Add the salted onion to the pan and fry until softened.

After the onions have softened, add the beef and marinade, and fry everything together until the meat has cooked through. Once cooked, remove from the heat.

Once the udon is cooked, drain the water, wash them under boiling water and divide them into serving bowls.

Pour the broth into each bowl about two-thirds of the way up and place the beef and onions on top. Pour the leftover sauce from the pan over the top.

Mix well before eating and enjoy!
Notes
This dish can also be made with thinly sliced pork.
Leftover broth can be kept in the fridge for up to 1 week or frozen for 2 months.
Nutritional information is based on drinking the soup which is usually not done with this dish.
Nutrition
Calories:
471
kcal
|
Carbohydrates:
73.3
g
|
Protein:
20.7
g
|
Fat:
9.6
g
|
Saturated Fat:
3.2
g
|
Polyunsaturated Fat:
1.7
g
|
Cholesterol:
51
mg
|
Sodium:
2178.5
mg
|
Fiber:
4
g