Learn everything you need to know about Japanese chicken karaage! This authentic recipe includes tips for making the crispiest, juiciest and tastiest version of this iconic fried chicken dish!
Disclaimer: This post contains Amazon affiliate links. Sudachi Recipes earn a small percentage from qualifying purchases at no extra cost to you. See disclaimer for more info.
What is Chicken Karaage (Tori no karaage)?
Karaage is a special dish for me. My first dream as a kid was to open my own karaage specialty food stand. Two decades ago, such an aspiration might have seemed unconventional. Yet, in the 21st century, karaage specialty stands have overtaken Japan, validating my once-childish dream.
Maybe I should have pursued the dream, but I was like 5 at the time. Karaage is still my favorite dish, and I could pretty much eat it every day.
While many associate "karaage" with Japanese-style fried chicken, it's a misconception. The term Karaage (から揚げ) translates to frying without a batter, setting it apart from the likes of tempura.
Usually, the meat is marinated and mixed with flour to make a batter-like layer. After marinating, it can be coated in a layer of starch.
Karaage can also be pork or seafood like mackerel and squid, but if you go to Japan and see "karaage" written somewhere, it pretty much always means "fried chicken."
How I Developed This Recipe
Karaage isn't just a dish for me; it's a culinary passion. In other words, even though it is my own food, I went through quite a critical trial and error process.
Taking cues from prevailing Japanese culinary trends, I meticulously crafted this recipe. The marinade strikes a harmonious balance – the right blend of saltiness, umami, and a hint of sweetness—the Hailstone effect achieved with potato starch, lending an unparalleled crunch that's second to none.
As a karaage fanatic, this article is my answer to the dish. I will show you how I landed on this recipe and give you insights to develop your best karaage recipe!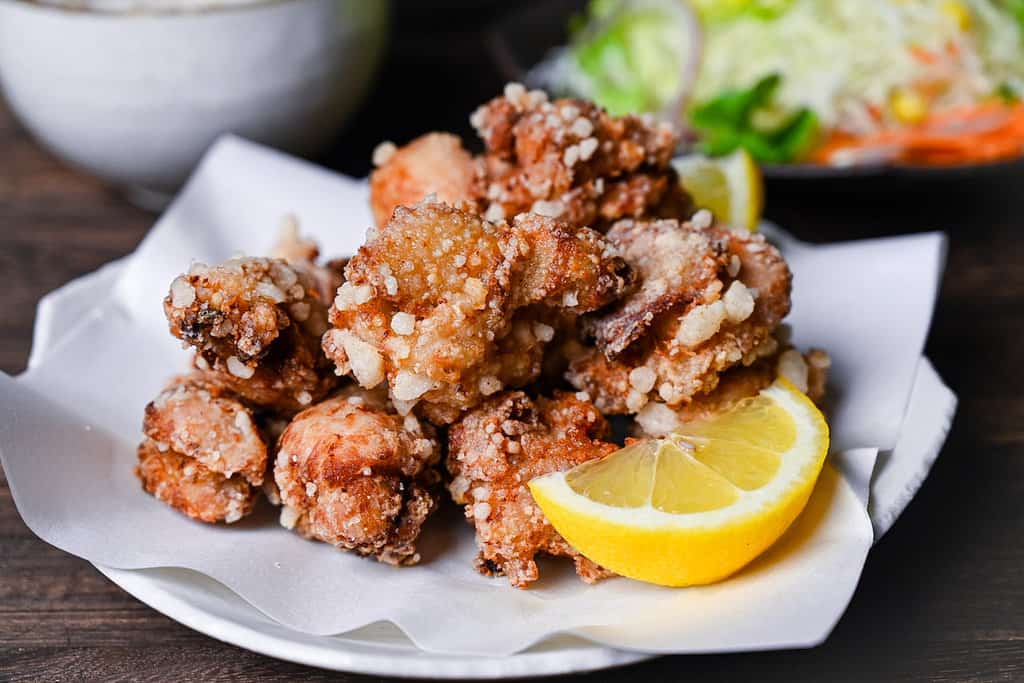 Parts of Chicken You Can Use
Karaage can be crafted from any chicken part. However, for the best experience, I strongly recommend chicken thighs, skin intact.
On the other hand, chicken breast is prone to drying out, potentially stripping the karaage of its signature juiciness. Moreover, the marinade and batter might not stick well, leading to a disaster.
If your heart is set on a chicken breast karaage, I'd recommend sourcing a recipe specifically designed for it, as my recipe is not.
Wings or drumsticks are commendable alternatives if you wish to venture beyond thighs. Just a heads-up: thicker cuts will need extended cooking times.
All in all, this recipe works best when paired with chicken thighs. Chicken wings or drumsticks are fine. However, avoid chicken breasts, which will likely fail with this recipe.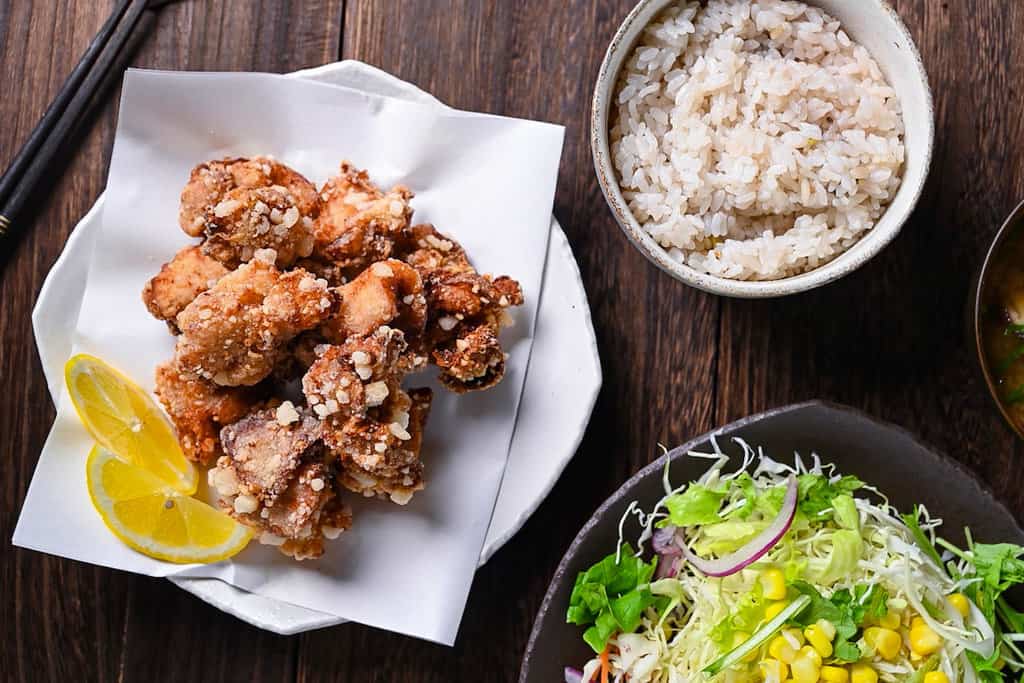 Types of Flour and Starch You Can Use
One of the reasons why there are so many karaage stands in Japan right now is that ideas for karaage are limitless.
It's the same as so many kinds of general fried chicken exist in the world.
One crucial element you can optimize is the flour/starch. Using different flour/starch makes a world of difference in texture. So, I will list all types of flour and starch commonly used in Japan.
Cake flour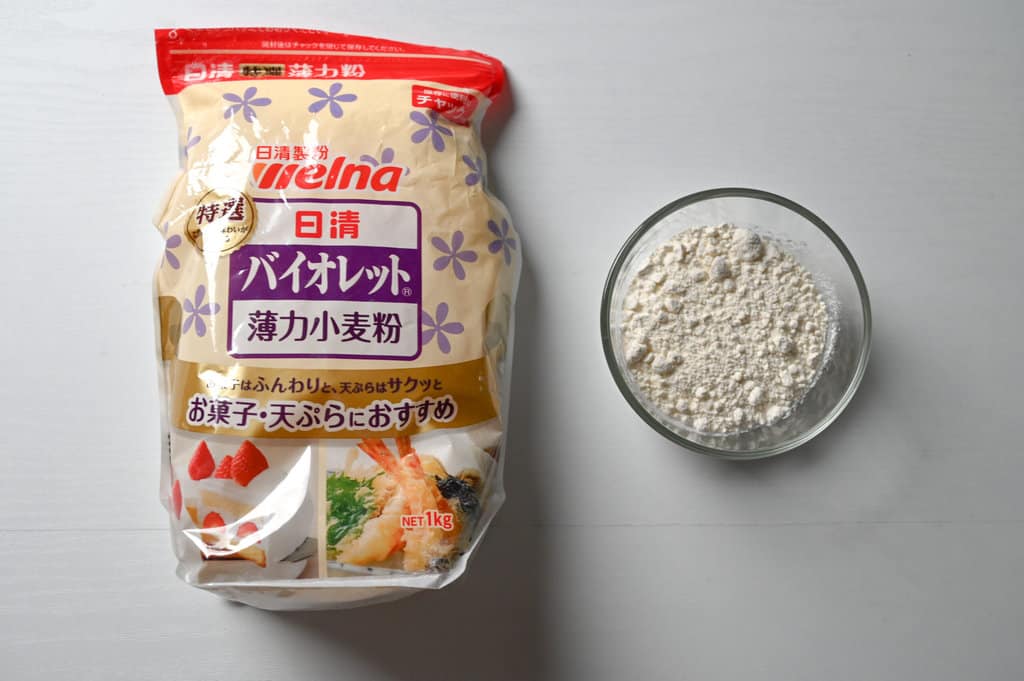 This is a classic style as old-school karaage uses 100% regular flour. The pro of karaage with 100% flour is the delicious umami taste unique to wheat. It also tends to be soft and juicy.
However, there are some reasons why not many people use 100% plain flour karaage these days.
The disadvantage is they're not as crunchy as the ones with starch. Also, it tends to get soggy once cooled down. Some people prefer the sensation, but I want my karaage always to be crispy and crunchy.
I mix a small amount of regular flour with marinade in this recipe.
Potato starch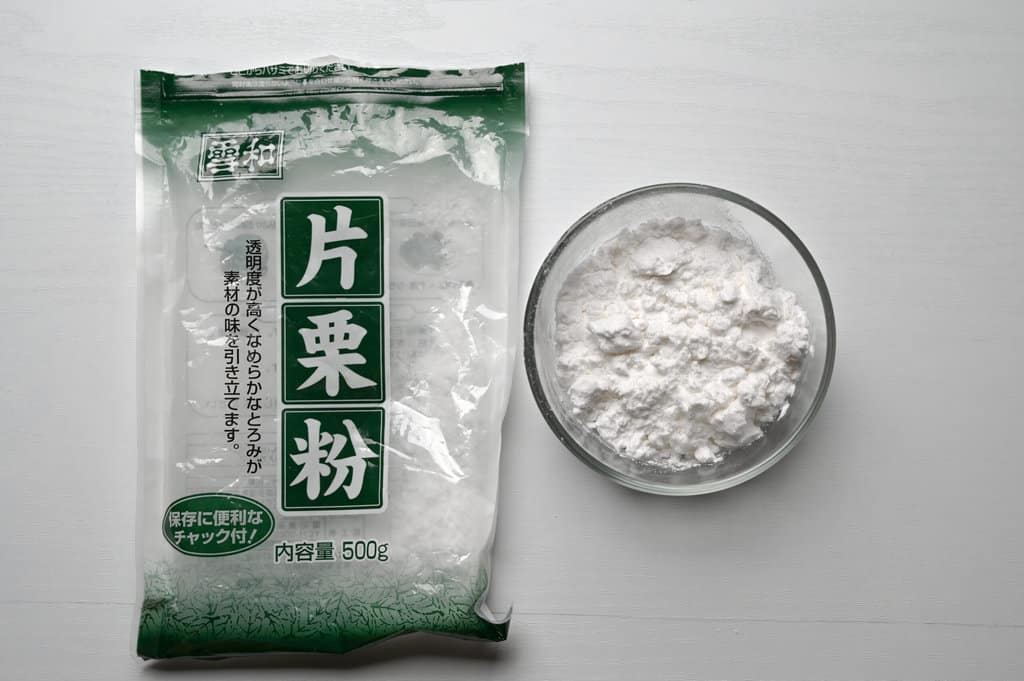 Potato starch (katakuriko) is probably the most commonly used starch in Japan. It has coarse particles, so when it is deep-fried, the white color remains.
A generous dusting gives a wild, crunchy texture, while a thin dusting gives a light and crispy texture.
The downside would be that it absorbs oil easily, becoming oily and heavy over time after cooling down.
Potato starch is made from potato and other starches and has little flavor. If you're going to eat them, don't miss out on the texture. Freshly fried is best!
Cornstarch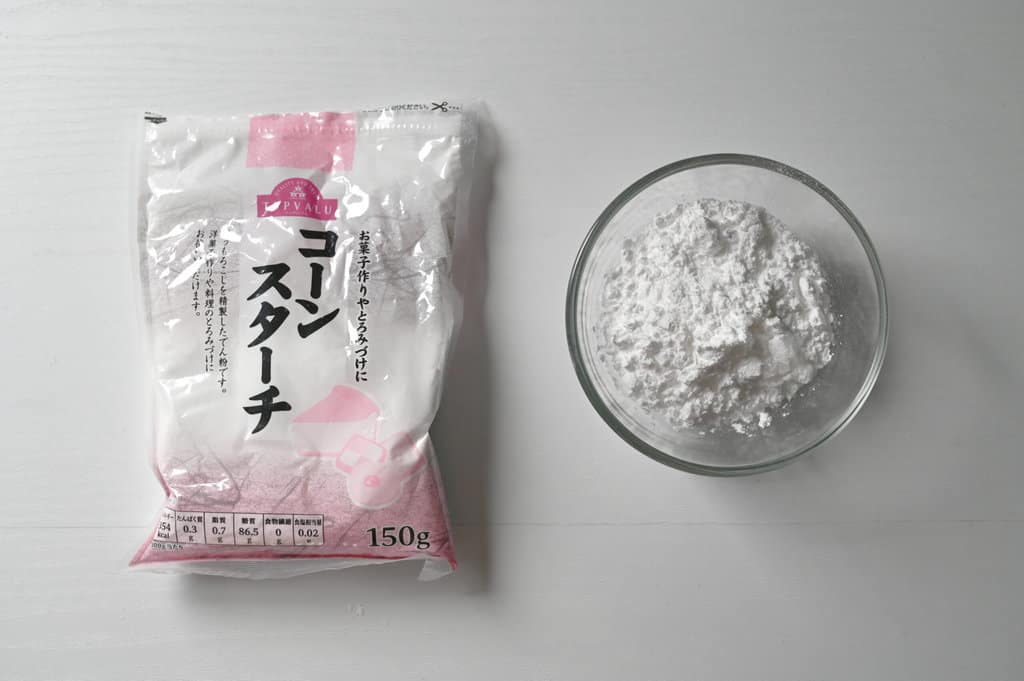 I believe corn starch is more accessible and common starch outside Japan. Although it has a similar effect to potato starch, its result will be lighter.
The flour particles are finer than potato starch so it will be thinner, and the oil doesn't stick as much as corn starch.
Like potato starch, it is crispy and delicious when mixed with 50% cornstarch and 50% flour.
Rice flour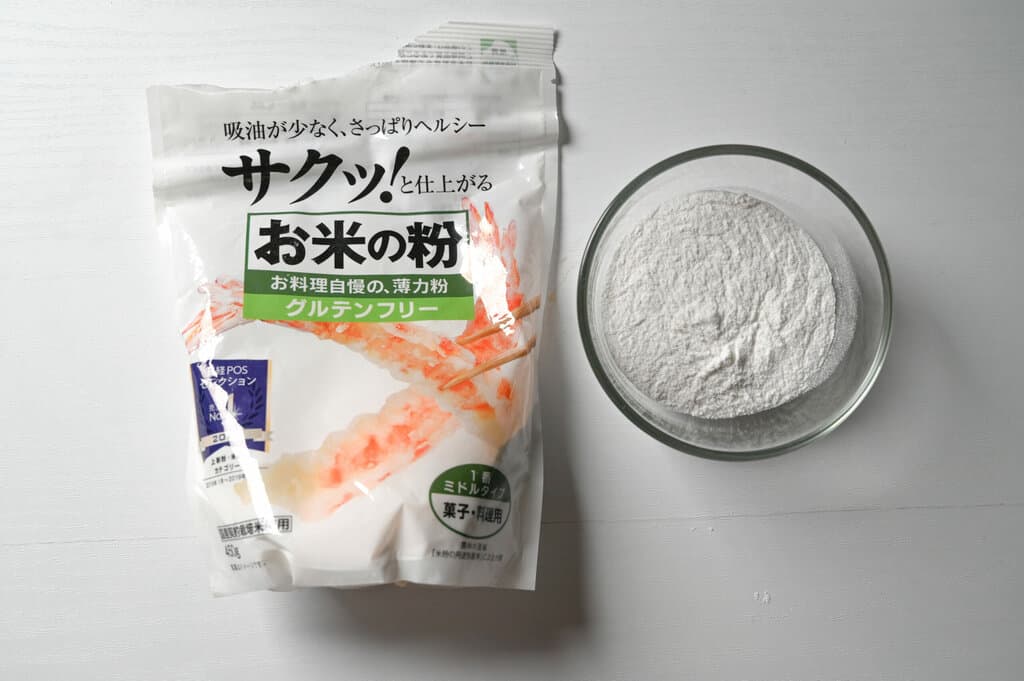 Rice flour, which is ground rice, is very fine and thinner than any of the ones I mentioned.
It does not absorb oil easily, so it stays crispy and lightly fried and can be eaten in large quantities. You can also subtly taste the flavor of the rice.
Tapioca starch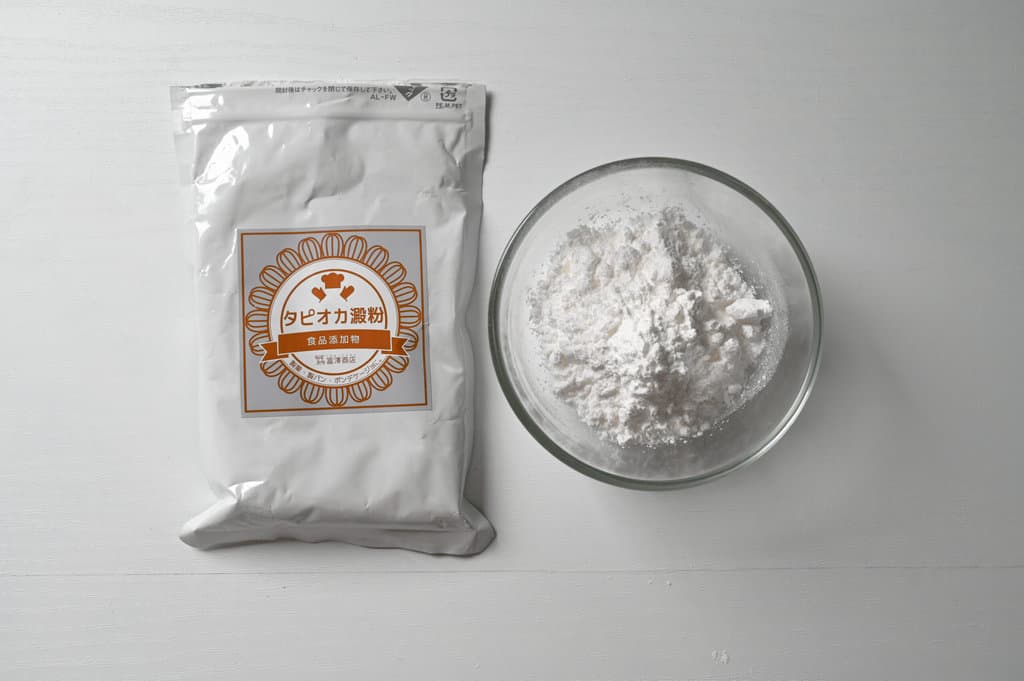 This is the most modern twist, and I believe it's inspired by the iconic Taiwanese fried chicken, which has become more popular in Japan.
Some karaage specialty places I have been use tapioca starch. I use tapioca starch in this recipe for the final touch.
Pre-made Karaage Mix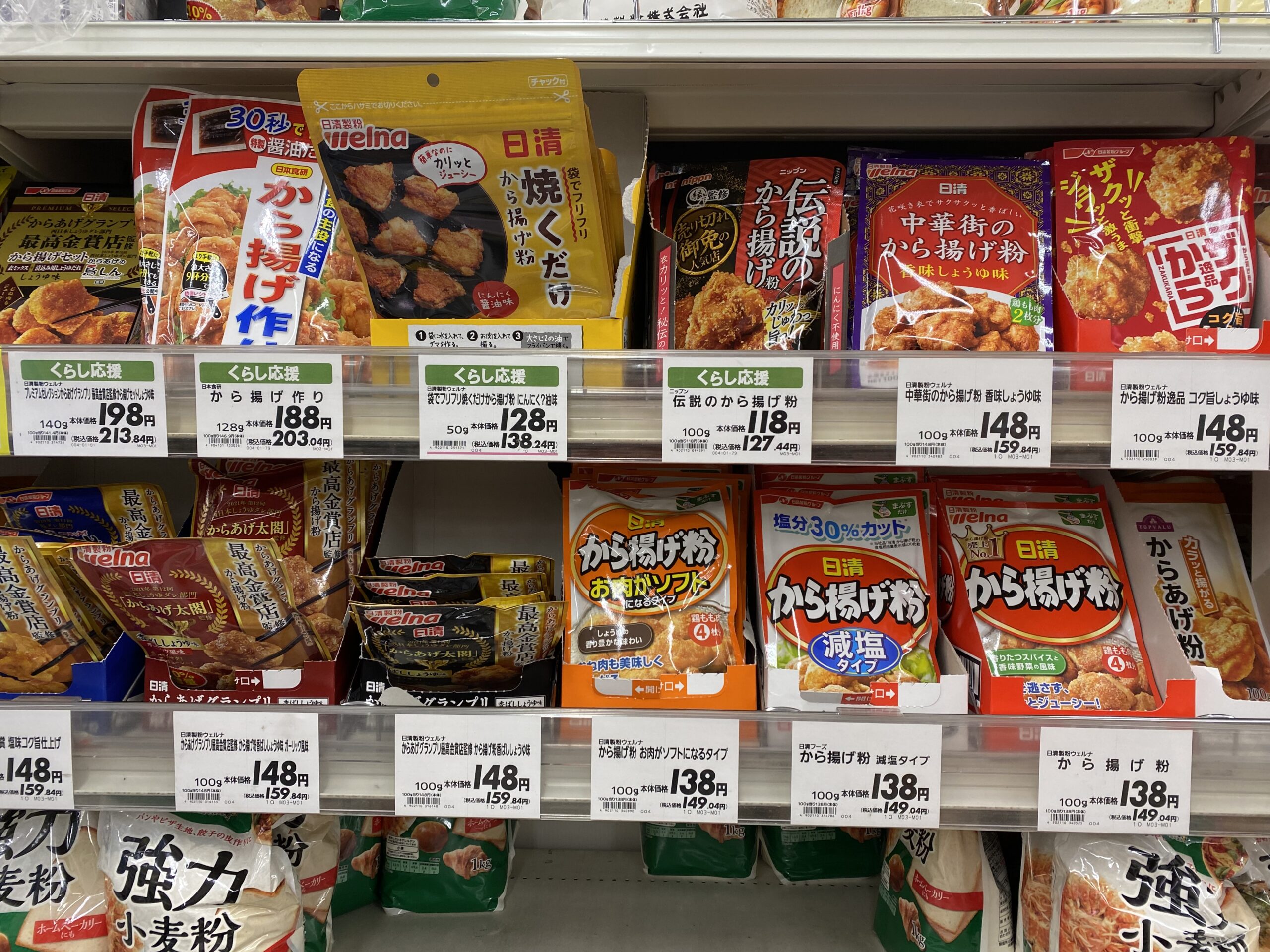 It's not only me whose favorite food is karaage in Japan. So there are so many kinds of pre-made flour mix to make karaage at home easily.
They're literally pre-mixed and flavored, so all you need to do is follow the instructions and fry!
Other flour ideas
It's important to experiment when you make karaage at home. Everyone has a different personal preference when it comes to fried chicken.
Other than above, here are some flour ideas:
| Ideas | characteristics |
| --- | --- |
| Flour 50%, Potato starch 50% | All rounder, best of both worlds |
| Flour 50%, Rice flour 50% | Light yet juicy |
| Bread flour 50%, Cake flour 50% | Heavy and meaty |
| Flour 50%, Cornstarch 50% | Hard and crispy |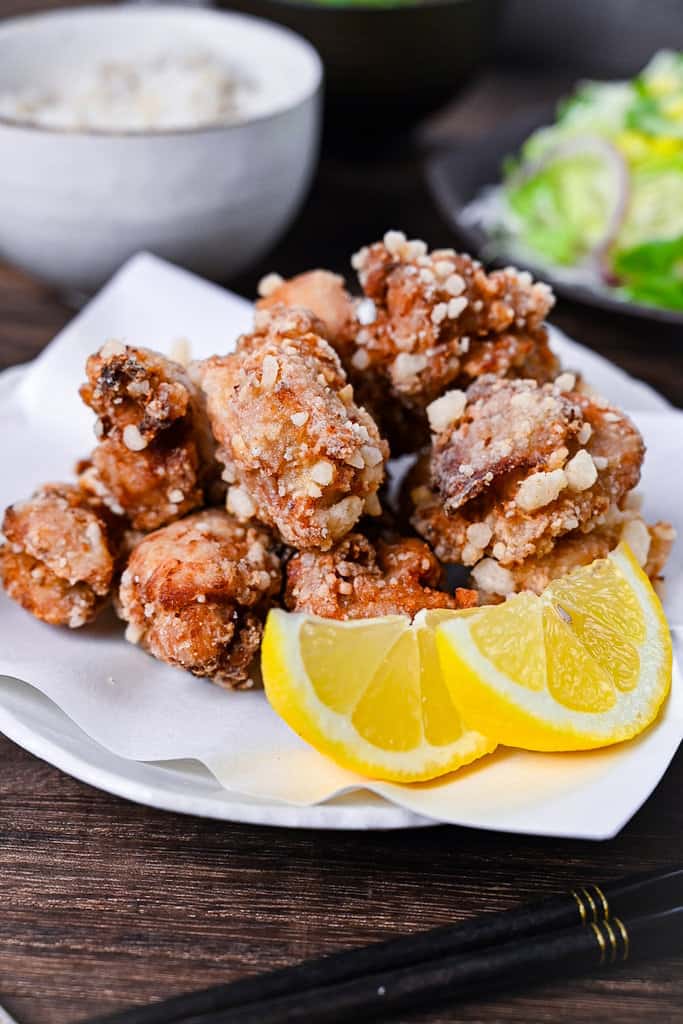 The Marinade Ideas
Another element where you can make your karaage unique is the marinade.
You can apply many ways and ingredients, and each household has a different technique.
Grated ginger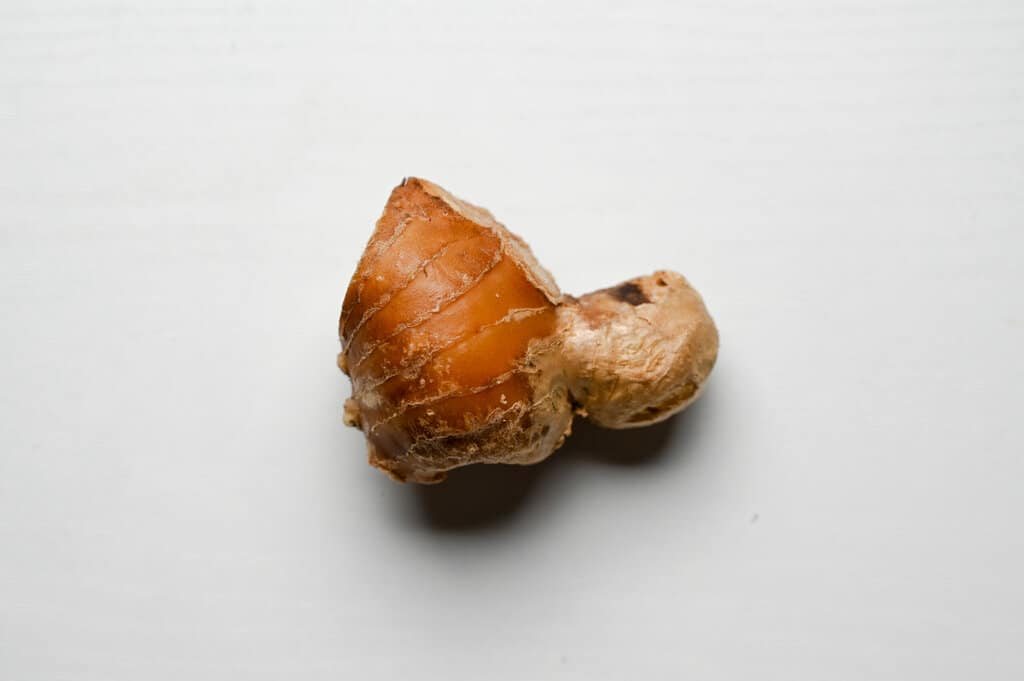 Grated ginger is one element that makes "Japanese fried chicken." Whatever way people make karaage in Japan, I'd say most people would add ginger to create a depth of flavor.
So it's a must-item.
I grate ginger with skin on to maximize the gingery flavor, but it's optional.
As for the amount, it's down to whether you like ginger, but in this recipe, I use 1 1/2 tbsp, which is not too gingery but enough to make the depth of flavor.
Alternatively, you can use pre-made ginger paste.
Importance: ★★★★★ (5/5)
Amount in my recipe: 1.5 tbsp
Alternative: Pre-made ginger paste
Coarse sea salt
This is something we cannot forget about. Salt-based karaage cannot be complete without salt.
If possible, coarse sea salt is my go-to salt for karaage. In my recipe, I add 1 tsp.
Importance: ★★★★★ (5/5)
Amount in my recipe: 1 tsp
Alternative: Cannot be omitted
Shiro dashi (white dashi)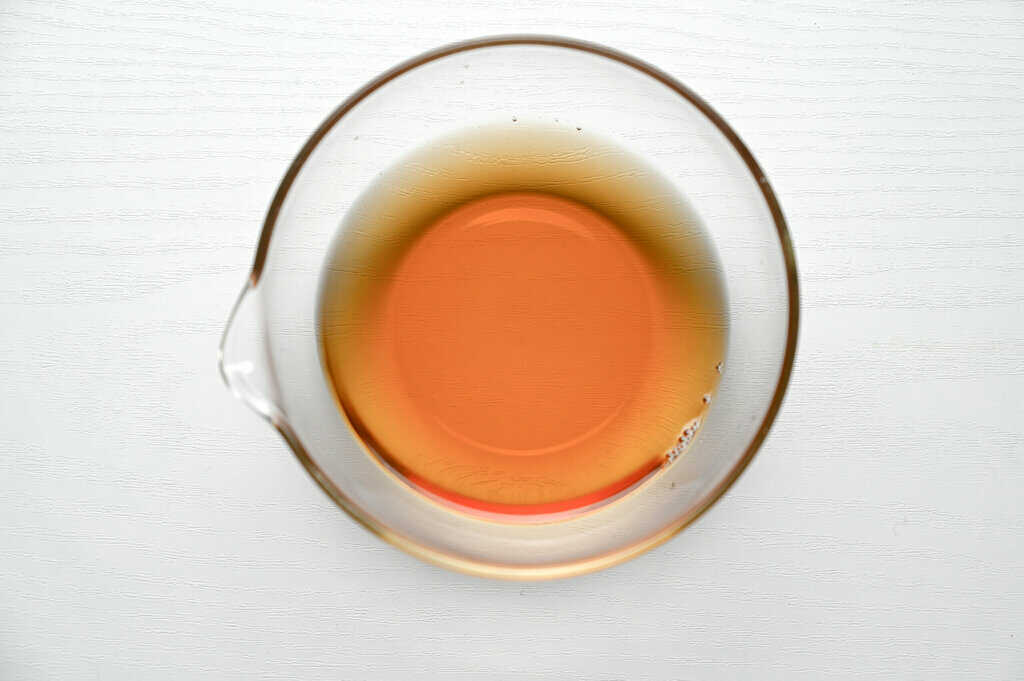 This is not a common condiment in the everyday pantry, but because I want my karaage to be pale in color, I use shiro dashi instead of soy sauce.
White dashi is a Japanese condiment with made with light soy sauce, mirin, sugar and dashi broth.
The quantity I use in this recipe is 1 tsp. Alternatively, you can use light soy sauce, tsuyu sauce, or general soy sauce.
Importance: ★★★★★ (5/5)
Amount in my recipe: 1 tsp
Alternative: Light soy sauce, tsuyu sauce, or general soy sauce
Grated garlic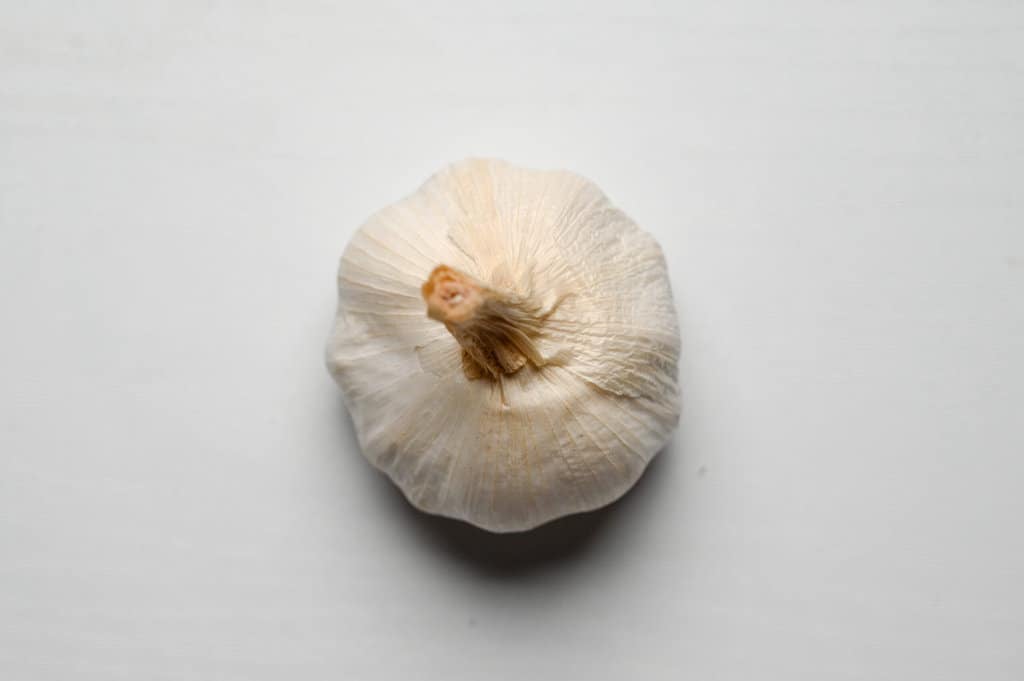 This is not as important as ginger, but this is something a lot of people add. The amount also depends on how much you want the garlic taste to shine through, but a general rule of thumb is a slightly smaller amount than ginger.
I add 1 tbsp worth in this recipe, but you can add more if you're a big fan of garlic. Again, alternatively, you can use pre-made garlic paste.
Importance: ★★★★☆ (4/5)
Amount in my recipe: 1 tbsp
Alternative: Pre-made ginger paste
Grated apple
This is my favorite ingredient to create depth of flavor these days. To name a few, I use grated apples for shogayaki ginger pork, and jingisukan sauce.
Don't worry; it does not make the chicken too sweet! As for the quantity, I only use 1/2 tbsp worth. Alternatively, you can use apple juice or apple jam (possibly a bit less as they're sweetened).
Importance: ★★★★☆ (4/5)
Amount in my recipe: 1/2 tbsp
Alternative: Apple juice or apple jam (possibly half the amount)
White pepper
Some pepper or spice is always used for any fried chicken in the world.
Karaage is not an exception. I prefer white pepper to black pepper for karaage, but you can also use black pepper.
Importance: ★★★★☆ (4/5)
Amount in my recipe: 1/8 tsp
Alternative: Black pepper
Sake (Japanese rice wine)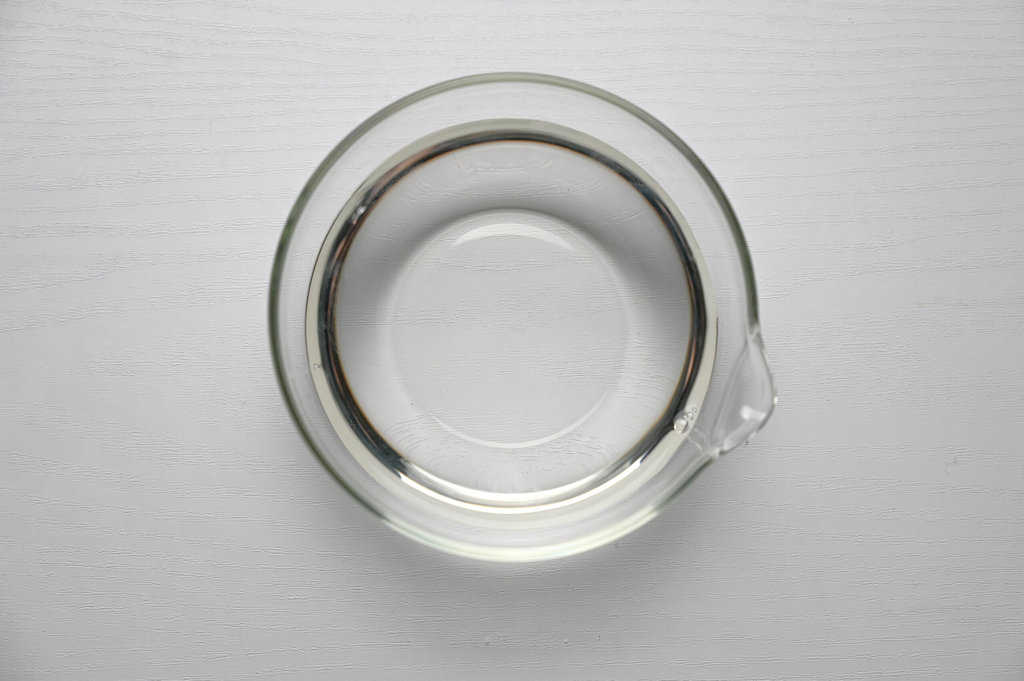 Sake is another common ingredient to add to karaage. The purpose is mainly to soften the chicken, eliminate the odor, and its subtle sweetness is another bonus.
With that in mind, you can alternatively use white wine. If you don't want to use alcohol in your cooking, you can also completely omit it.
I would not recommend substituting this with mirin.
Importance: ★★★☆☆ (3/5)
Amount in my recipe: 1 tbsp
Alternative: White wine or omit
Chinese-style chicken stock powder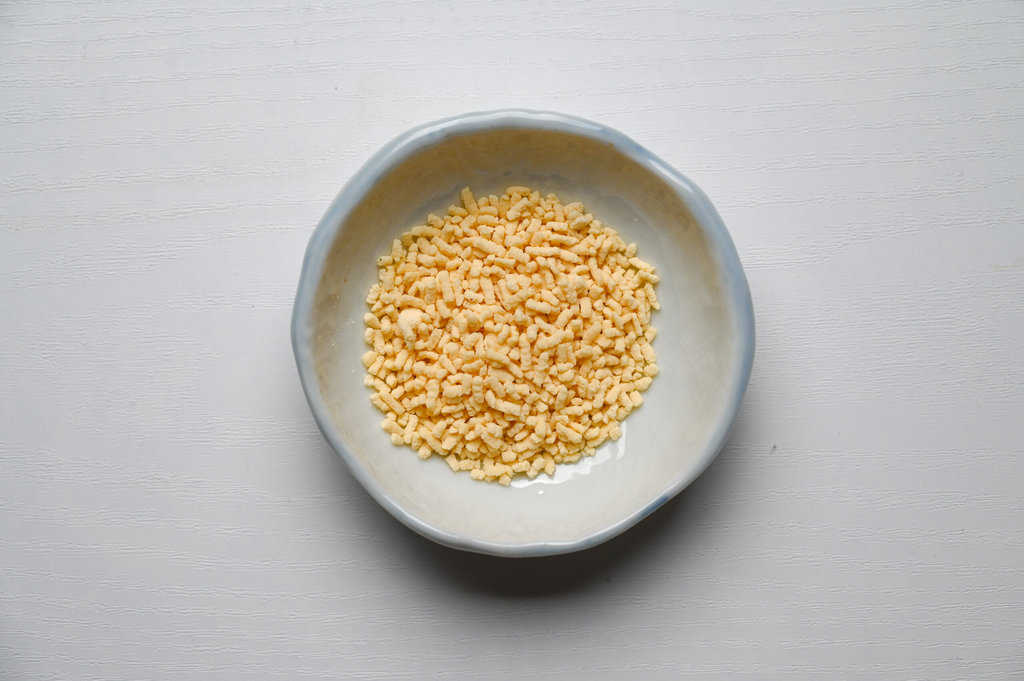 This is a common condiment to have in Japanese households. It is a seasoning made by adding vegetable extracts to soup made by boiling chicken or chicken bones.
It is characterized by its light but deep richness and is conveniently and widely used in Chinese (chuka) cuisine and Japanese dishes.
I use "Youki's additive-free Garasupu" all the time.
The intention is to add more depth, but you can omit this and add extra salt instead.
Importance: ★★★☆☆ (3/5)
Amount in my recipe: 1/2 tsp
Alternative: Salt
Japanese mayonnaise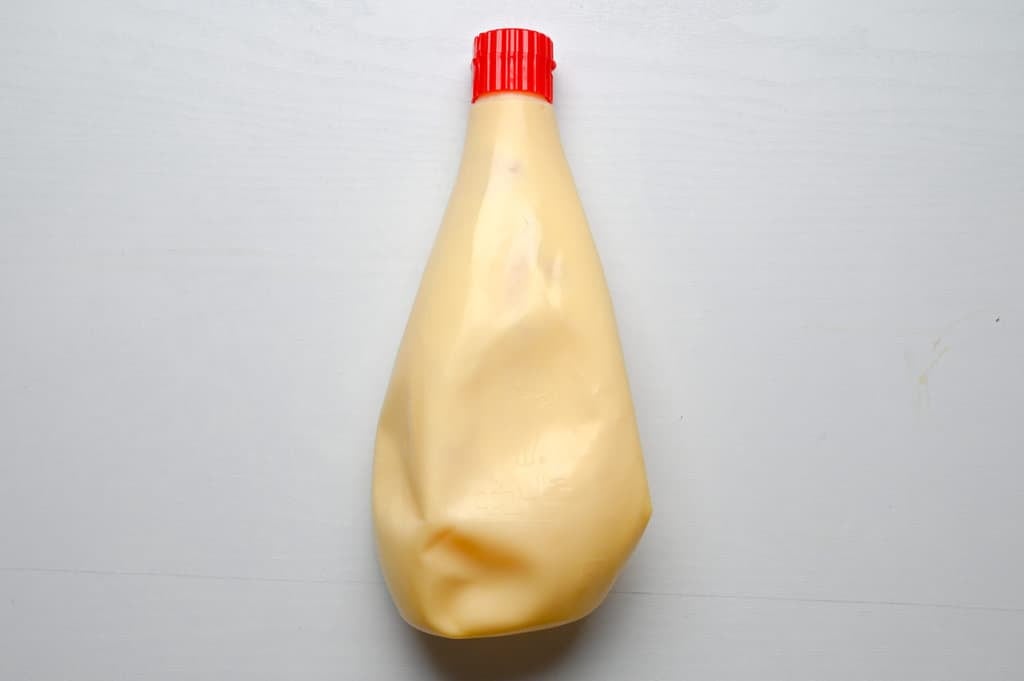 You might think it's a bit strange, but I put a bit of Japanese mayo in my marinade. The main ingredients of mayonnaise are oil, egg yolk, and vinegar.
The oil in mayonnaise coats the meat and prevents it from becoming dry, while the vinegar softens the meat and reduces the odor. That leads to moist, juicy karaage!
However, this is optional, so you can omit it if it's inconvenient.
Importance: ★★☆☆☆ (2/5)
Amount in my recipe: 1 tsp
Alternative: Can entirely be omitted
Sesame oil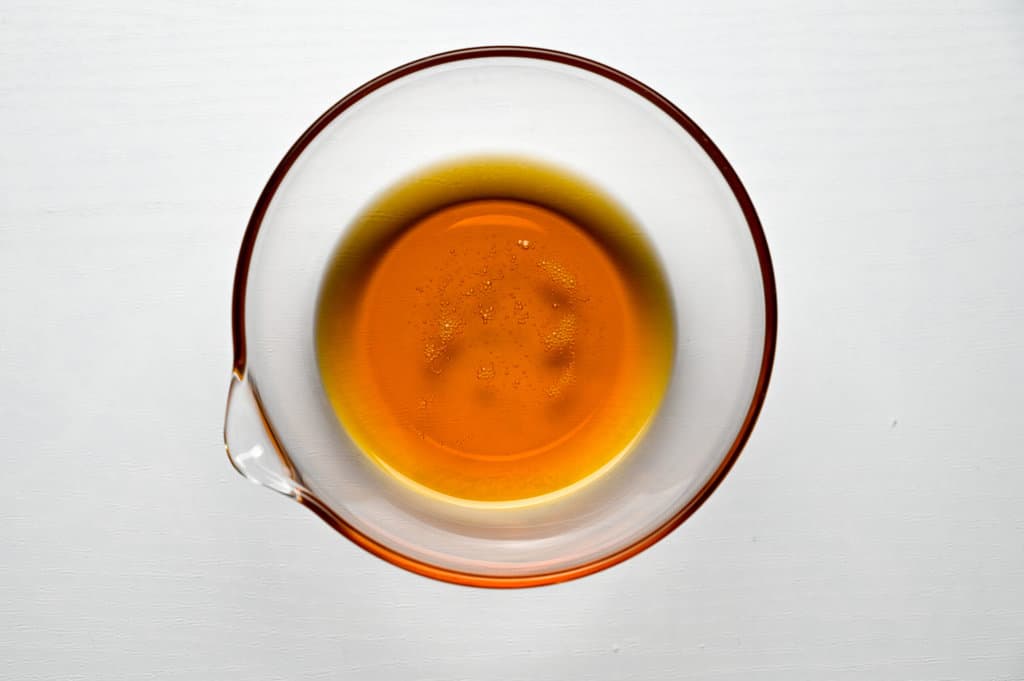 This is to add a bit of nice sesame oil flavor inside! You can omit this ingredient entirely if you like.
Importance: ★☆☆☆☆ (1/5)
Amount in my recipe: 1 tsp
Alternative: Can completely be omitted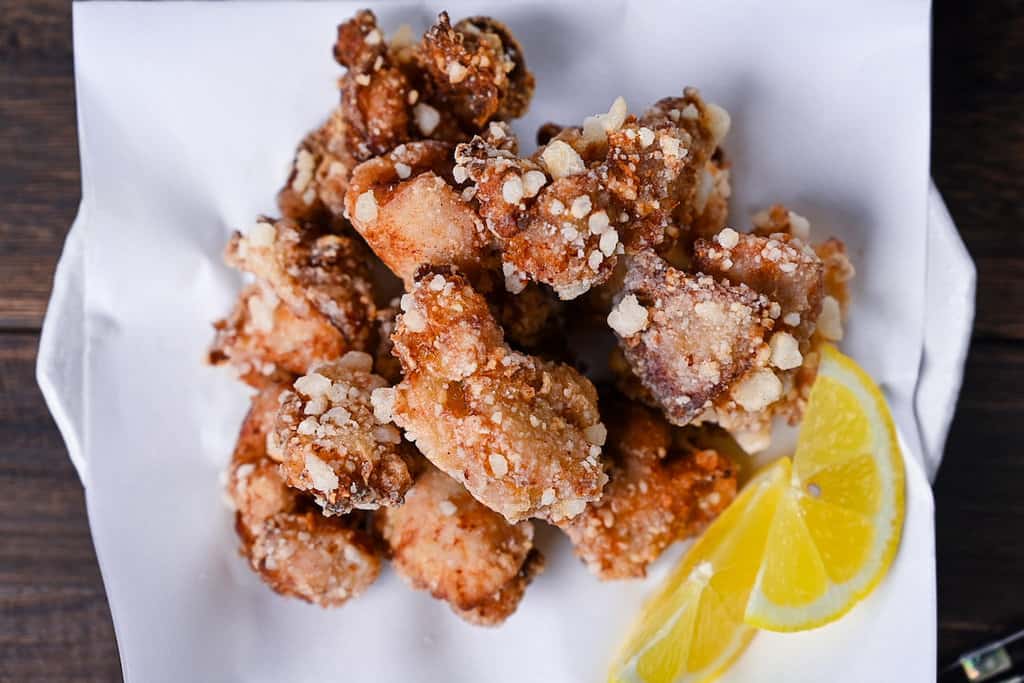 Other Marinade Ideas
I have shared the marinade ingredients I used for this recipe, but many other components can also be used. Feel free to consider them as a starting point for your own karaage recipe experiments.
Sugar
Soy sauce
Kombucha
Shio-koji
Eggs
Oyster sauce
Chili pepper
Lemon juice
Chili bean paste
Miso paste
Let me know your favorite marinade in the comment below!
Extra Crunchy: Hailstone Effect
The hailstone effect is a kind of modern term for extra crunchy karaage. Well, actually I just made it up.
This effect can be achieved by sprinkling a small amount of water over starch (potato, corn, or tapioca). When mixed together, the moisture causes some of the starch to clump together, and once fried, you get an extremely crunchy texture.
The little crispy white clumps of starch resemble hailstones, and the texture is to die for! Just be careful not add too much water when you make them; otherwise it will become a slurry and won't work at all.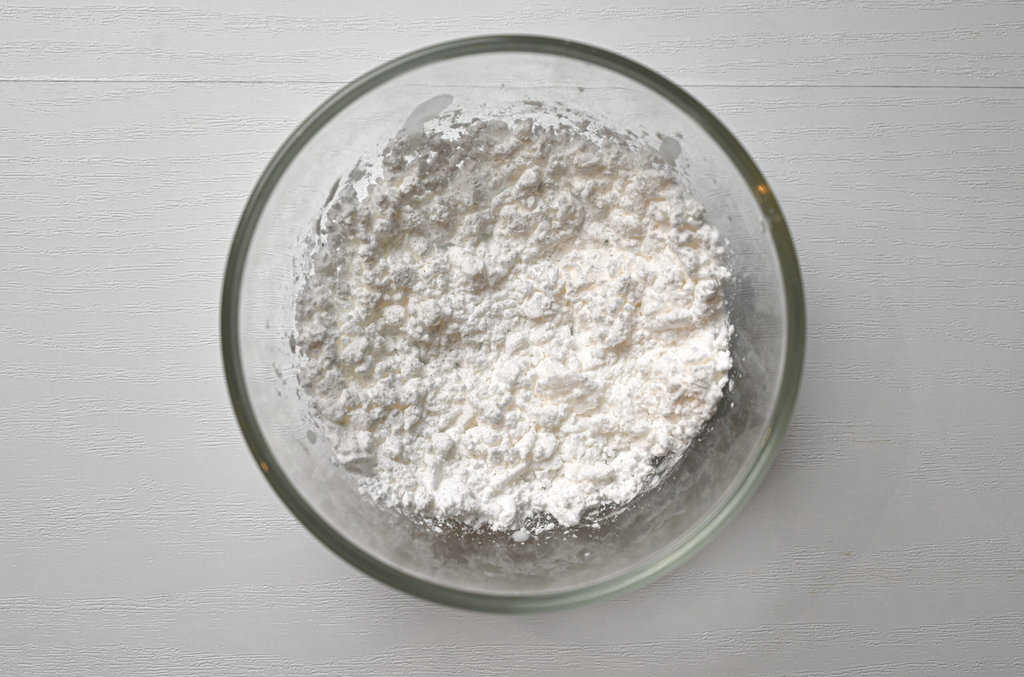 The details are in the recipe card, but this is only optional for people who like extra crunchiness.
If you do not need the extra crunch, lightly coat the chicken with regular dry starch (potato, corn, or tapioca) instead.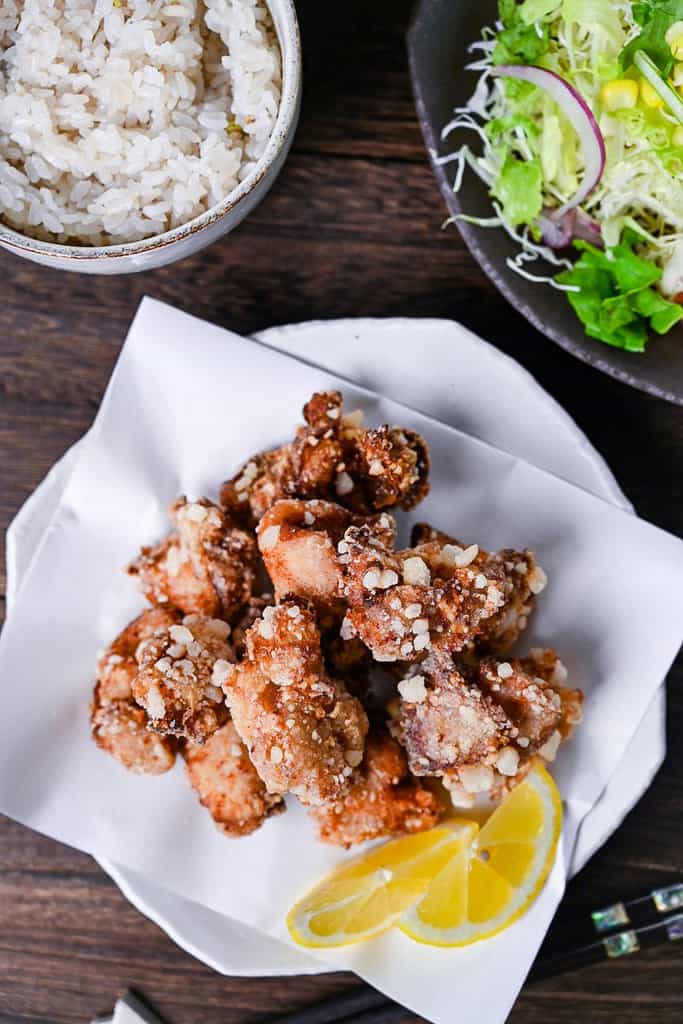 Step-by-Step Process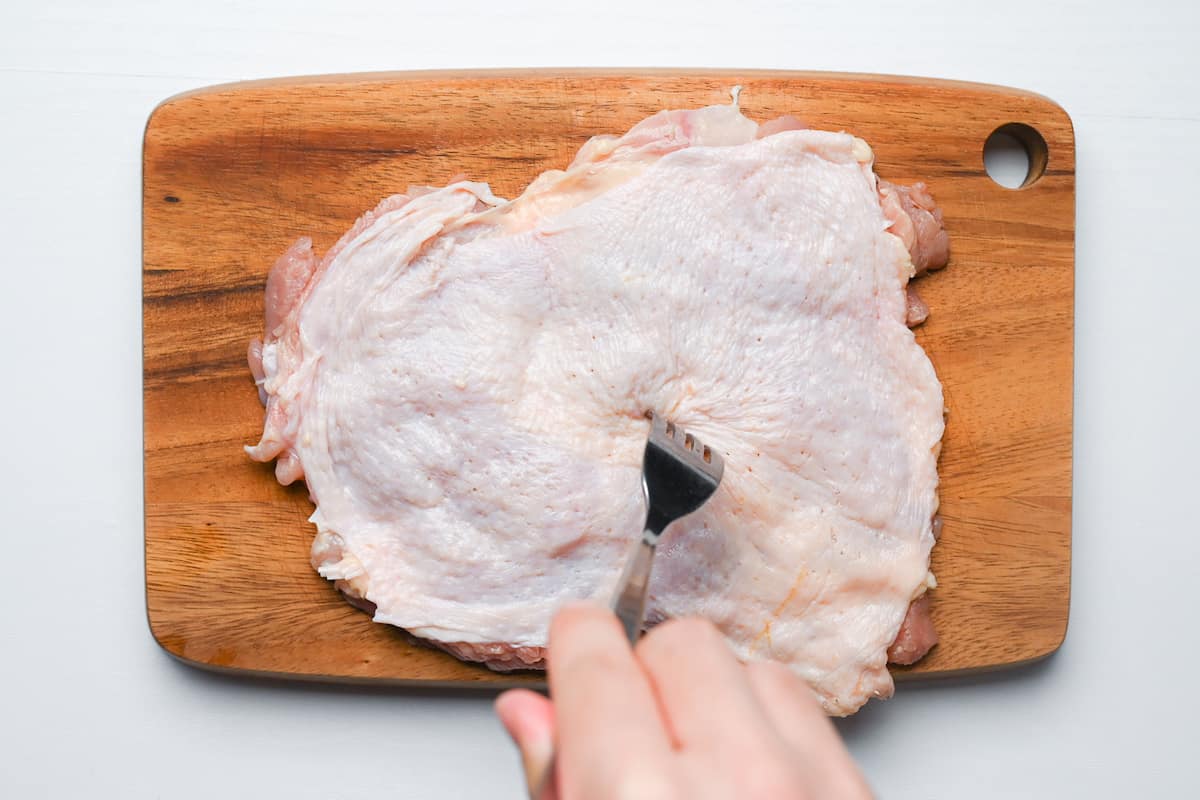 Pat the surface of the chicken dry with kitchen paper and then pierce both sides thoroughly with a fork.
Breaking the fibers makes the chicken thighs extra juicy. This not only makes the chicken softer, but also chicken pieces get well saturated with the marinade as well.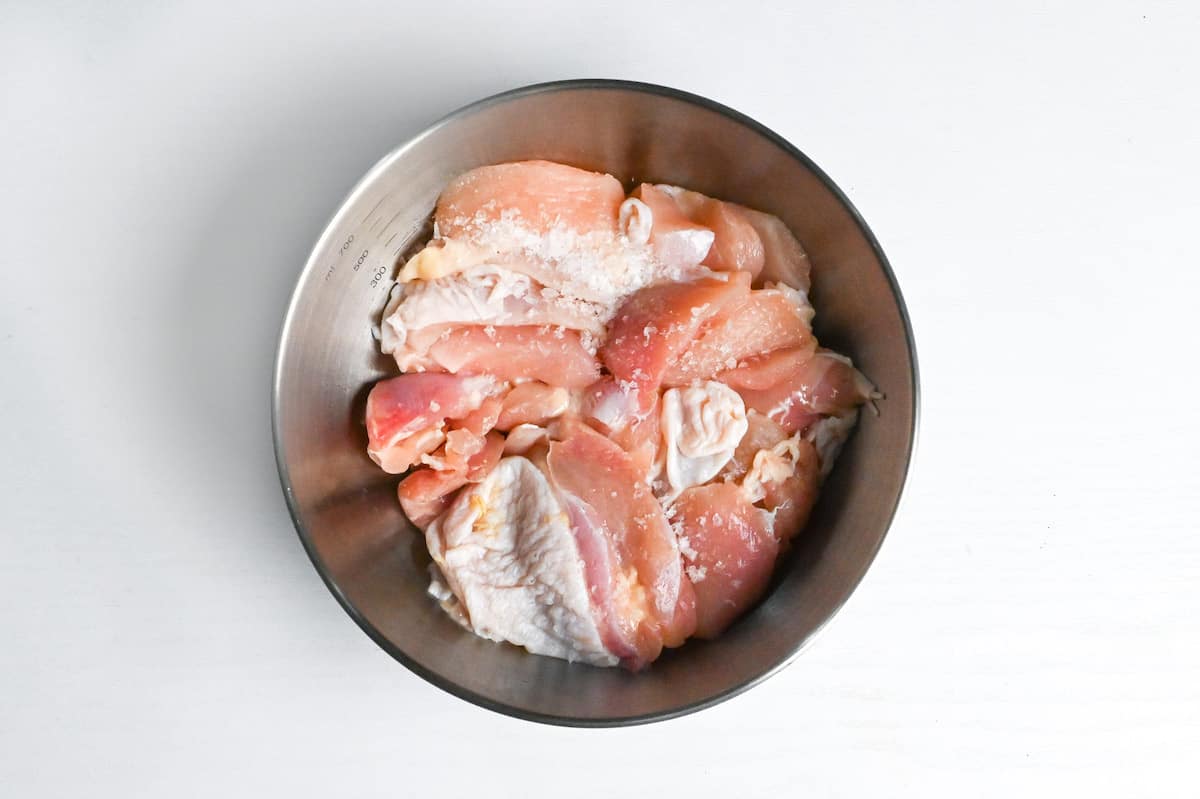 Cutting the chicken into an appropriate size is essential as if it's too tiny, the inside can get tough, and if it's too big, it can lead to being raw inside. The basic measure would be 30-40g a piece. It might look too big initially, but chicken thigh shrinks when fried.
Place the pieces in a bowl, add the salt and massage until evenly covered.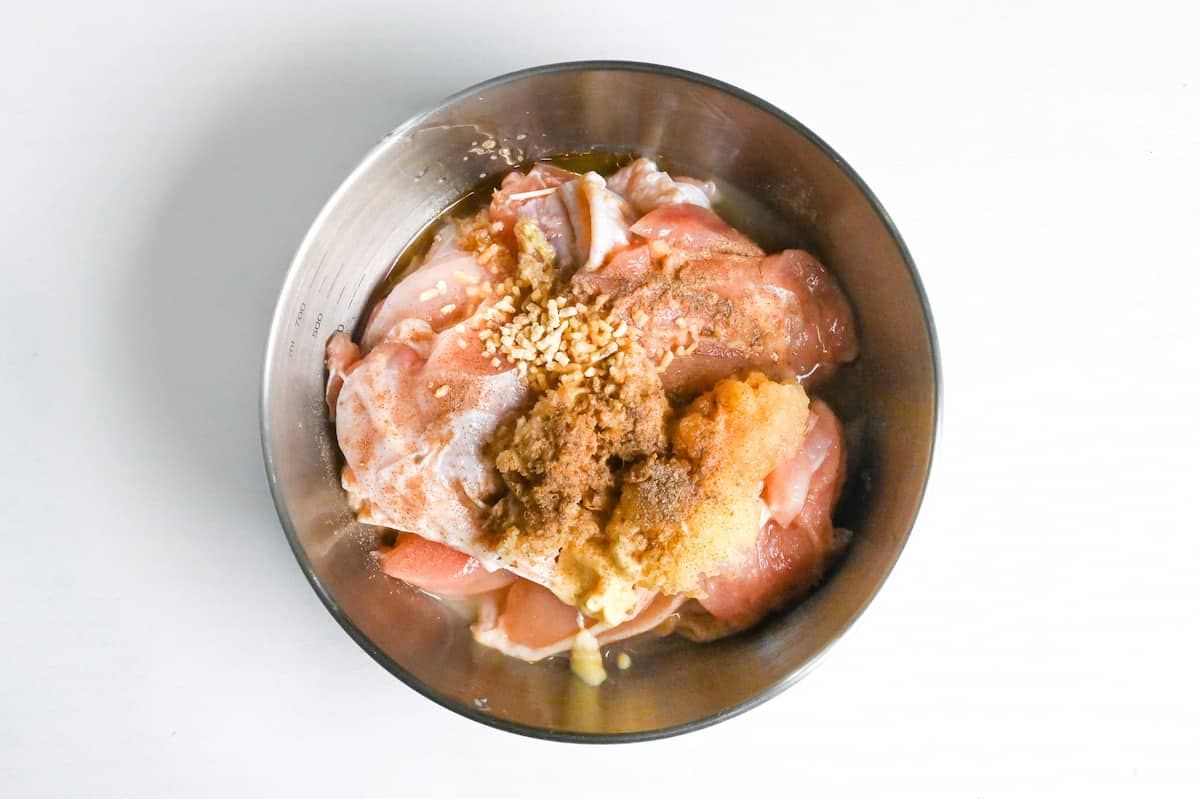 Add the grated ginger, garlic and apple to the bowl along with sake, Japanese mayonnaise, sesame oil, shiro dashi (or soy sauce), Chinese-style chicken bouillon powder and white pepper. Mix thoroughly until evenly distributed.
Add flour and rest for 1 hour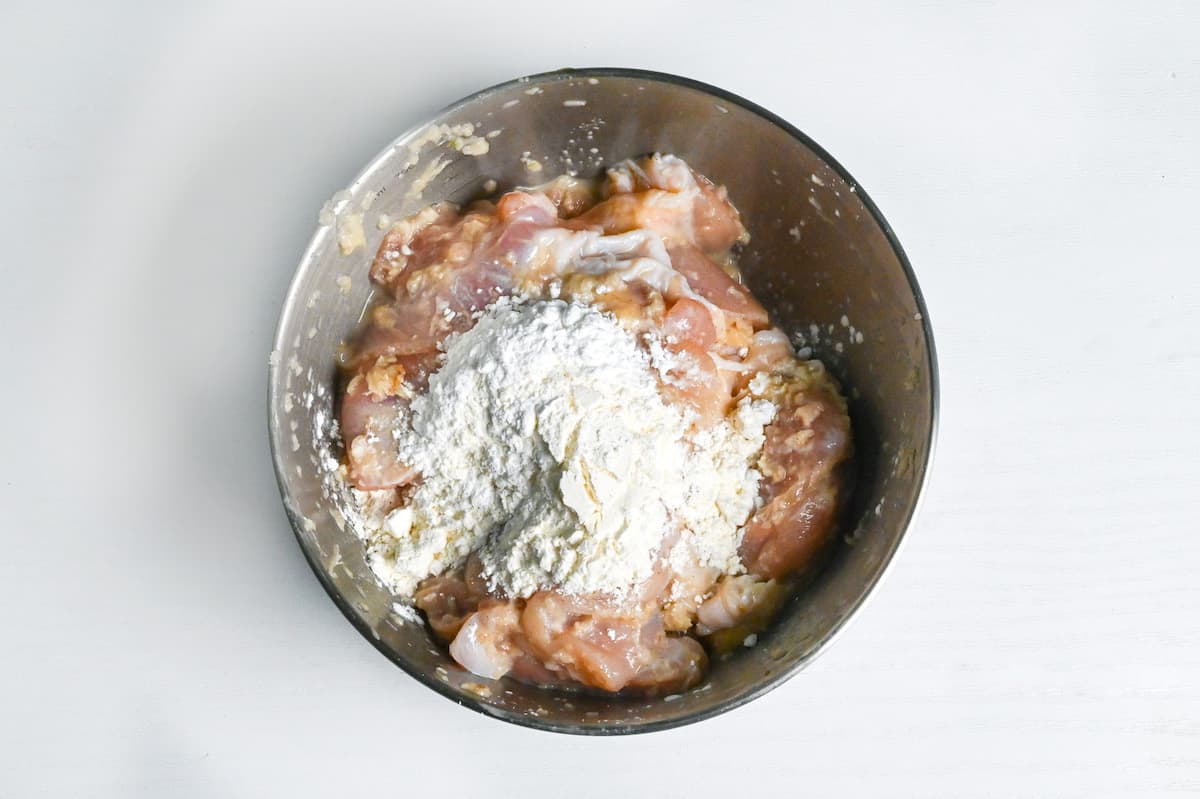 Add all-purpose flour and tapioca starch to the bowl and mix until the chicken is evenly coated.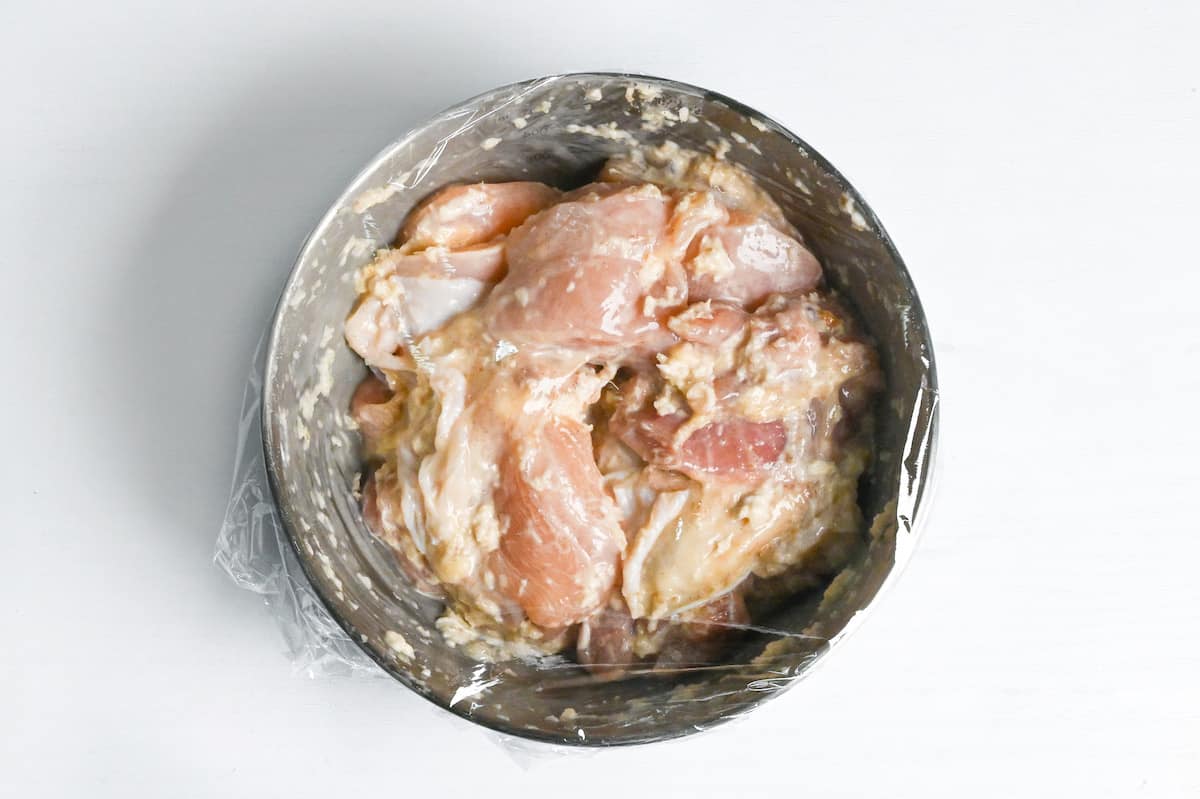 Cover and rest in the fridge for at least 30 minutes, preferably 1 hour.
Firstly, chilling the chicken with the marinade and "batter" will make a greater temperature difference between the surface and the oil, resulting in an extra crispy karaage.
Also, if the water content from the marinade is not dried correctly, it will become sticky, and the batter will be heavy. This weight can also cause the batter to come off, resting in the fridge helps prevent this problem.
There are many different ways to cook karaage out there. You can either deep fry or shallow fry. Make sure to use a mild flavored oil with a high smoke point, like vegetable oil, canola, or peanut oil for example.
My recent choices include rice bran oil and extra virgin (white) sesame oil for shallow and deep frying.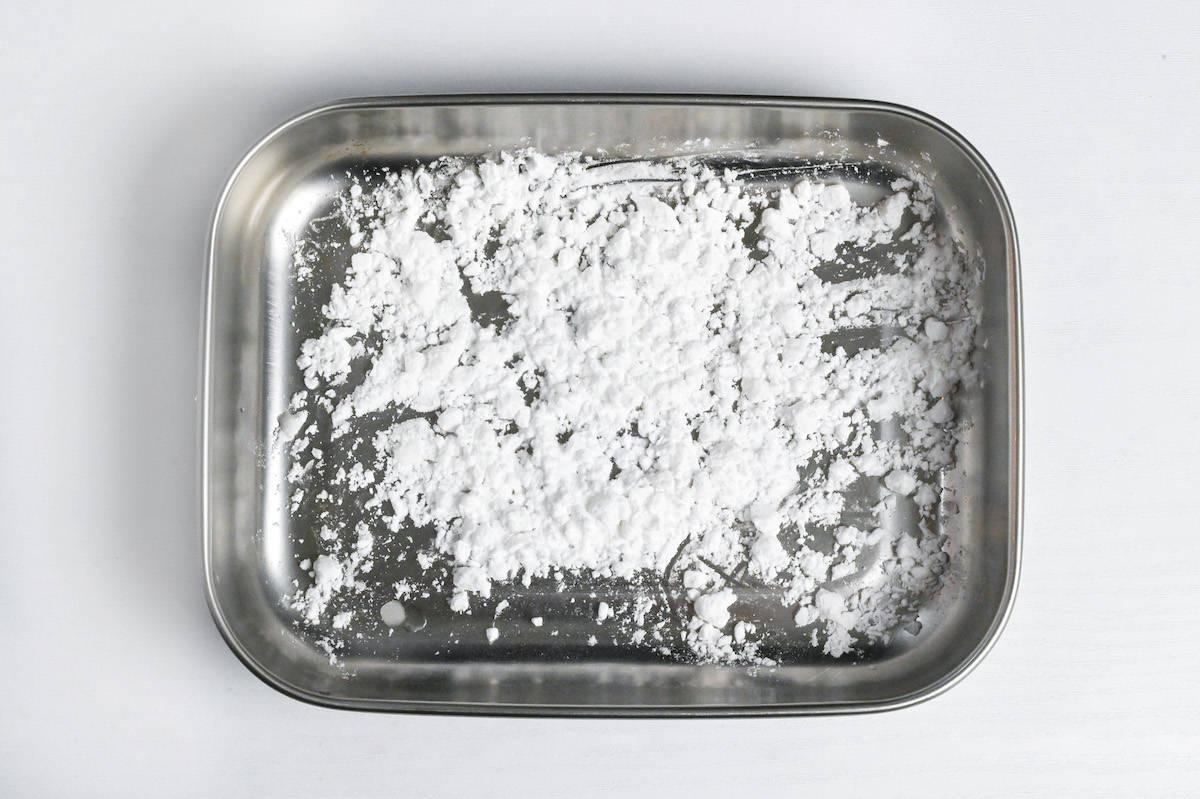 Spread the potato starch on a plate or wide container and sprinkle with a small amount of water. Mix with chopsticks or a fork so that small balls of starch clump together. These are the "hailstones" that will become extra crispy once fried.
This is an optional step and you can simply coat with potato starch if you prefer.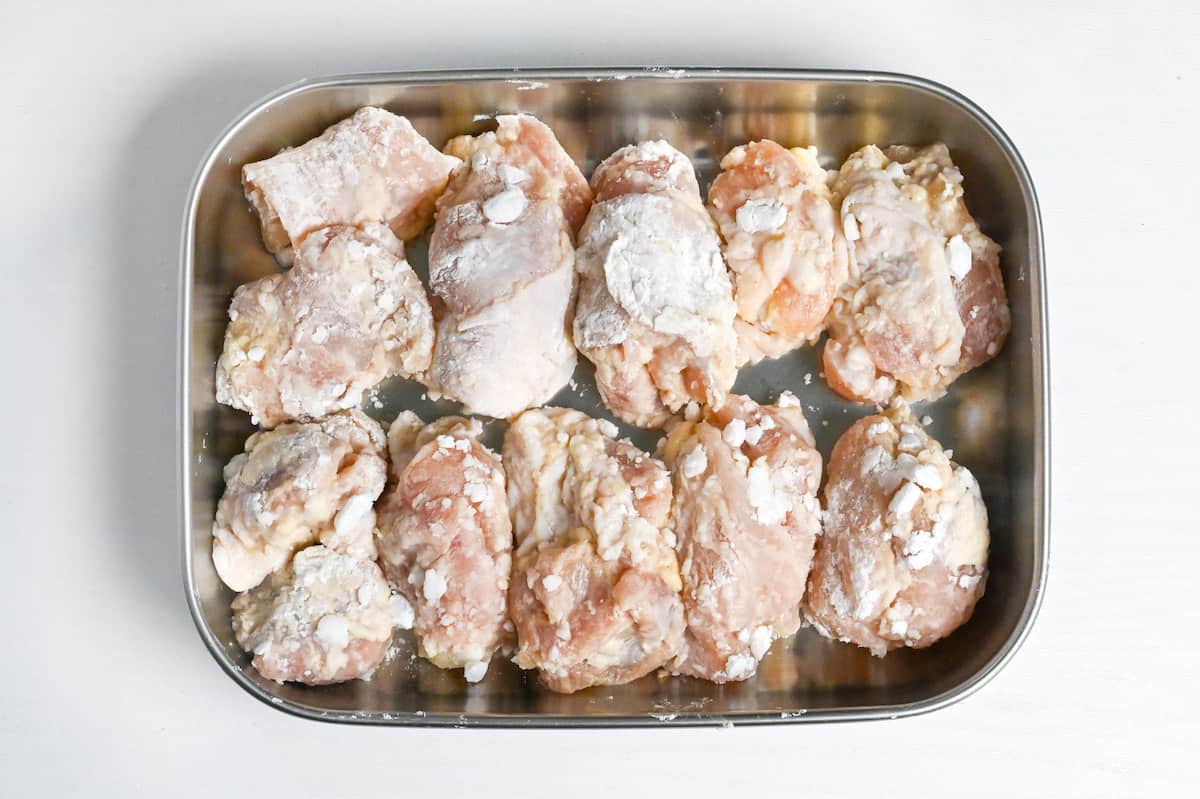 Lightly coat each piece of chicken with the starch.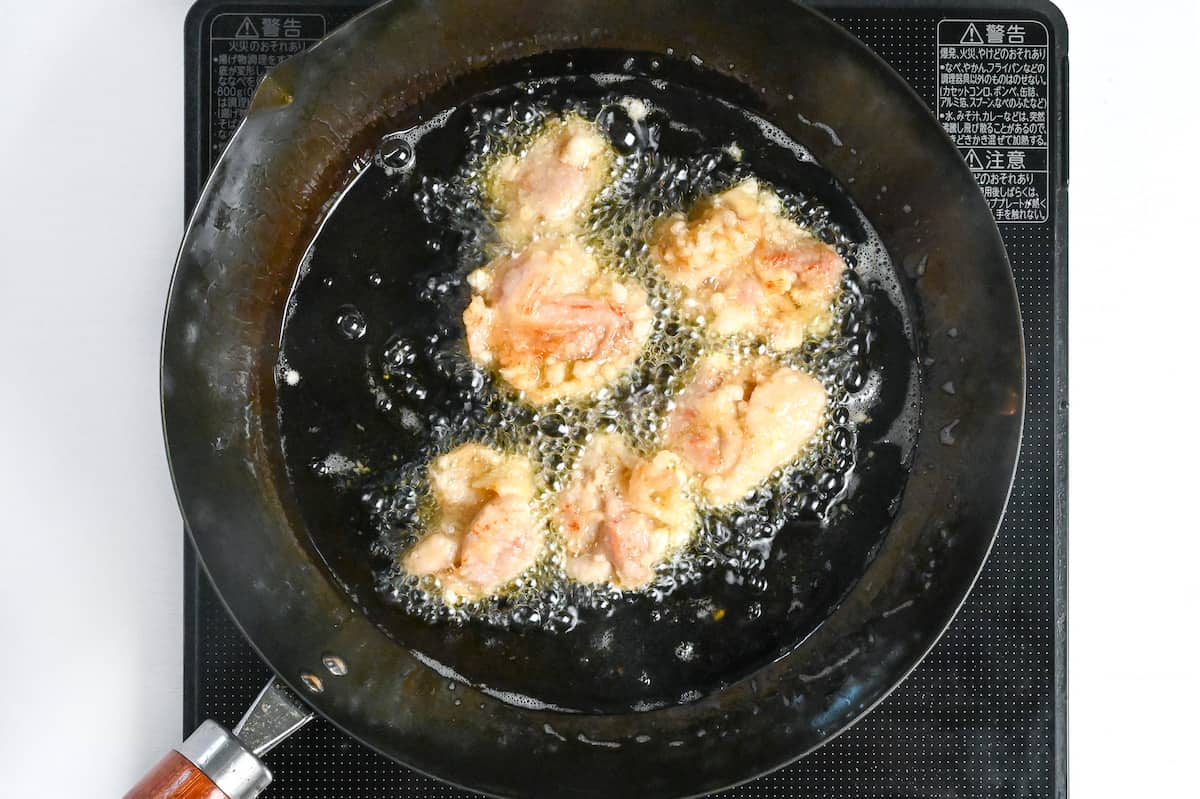 Once the oil is hot, add the chicken and fry for 3 minutes.
The secret to successful frying is to limit the amount of ingredients to about 1/2 to 2/3 of the pot's surface area. The reason is that it is vital to maintain the right temperature.
The temperature drops temporarily if too many pieces are added to the oil. This will result in uneven cooking and a greasy finish.
The purpose of the first frying is to allow the chicken to cook to some extent. To achieve this, it is important to fry the chicken at 160°C (320°F). I mentioned 3 minutes, but the approximate timing is when the color is a light golden brown, and the bubbles have quietened down.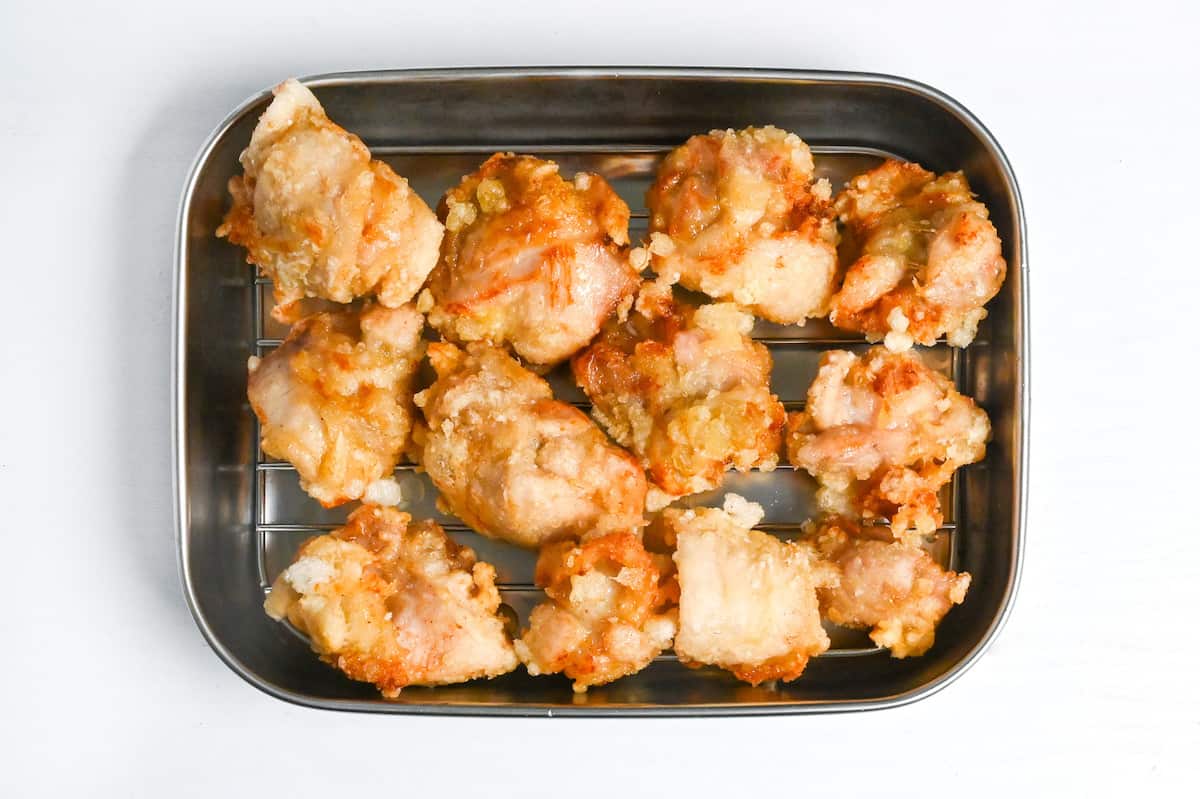 After 3 minutes, transfer to a wire rack.
When the chicken is removed after the first frying, the center temperature is low, but the outside is hot. Resting for some time allows the heat from the outside to transfer to the center and cook the entire chicken evenly. This is better than frying in the oil for a long time as inside or outside are less likely to be overcooked.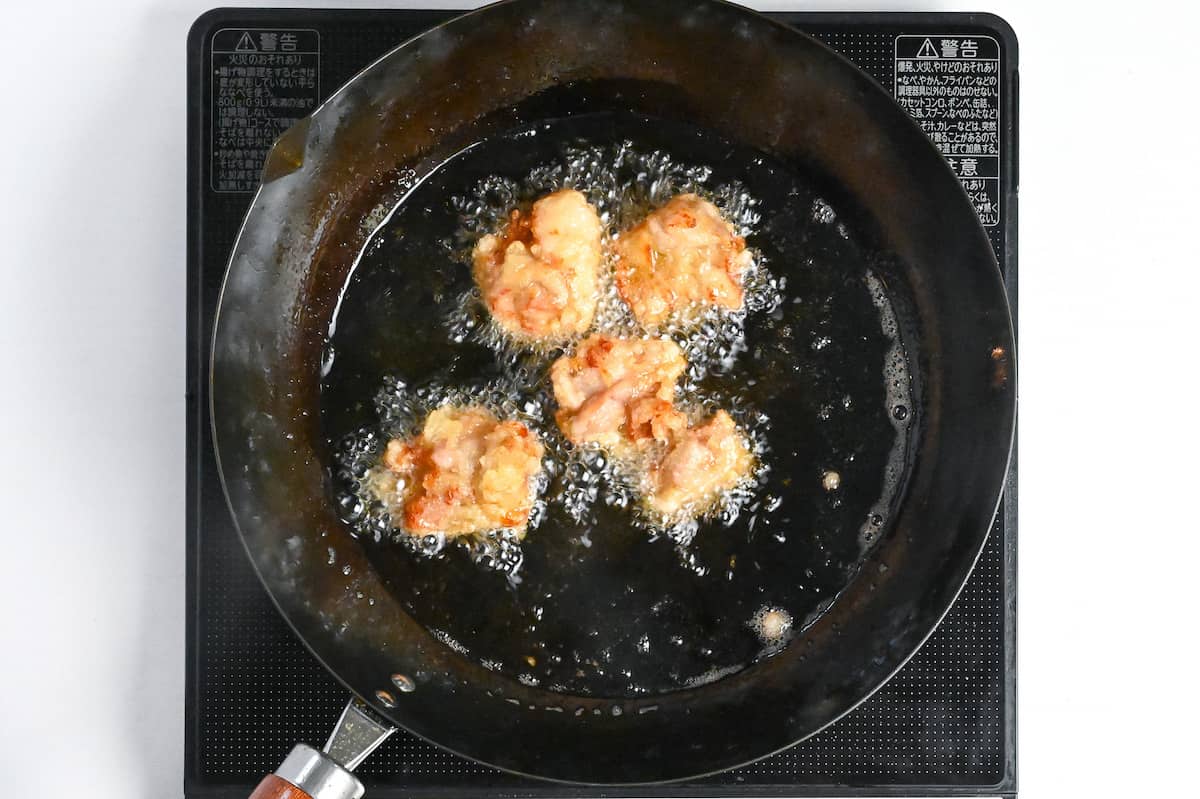 The first frying and resting with residual heat has mostly cooked them, so the second frying is to make them crispy on the outside.
The oil temperature should be set to a high 180-190 °C to allow the surface moisture to evaporate. I set it as 30 seconds, but watch the color and take it out when it looks nicely brown.
The ideal temperature of the center of the chicken is 75-80°C. If the finished temperature is too high, the chicken becomes dry.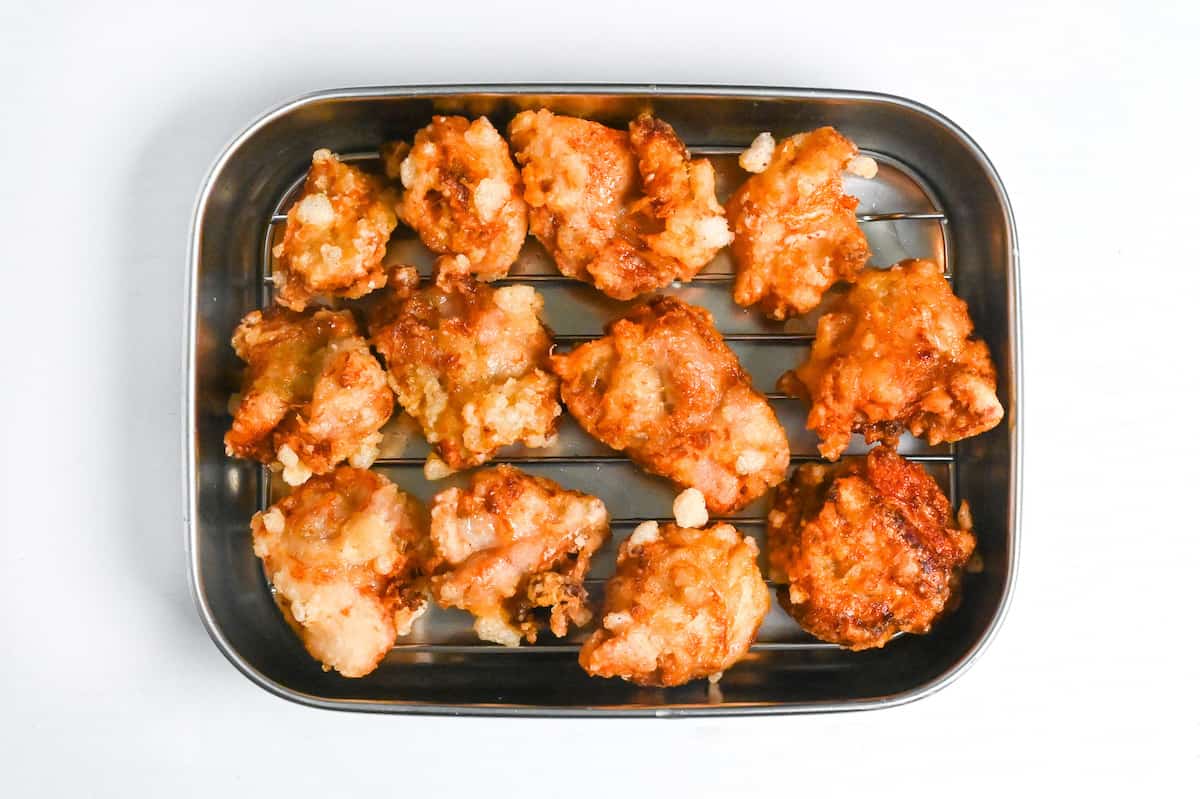 Once fully cooked, rest on a wire rack for a few minutes to allow the excess oil to drain off.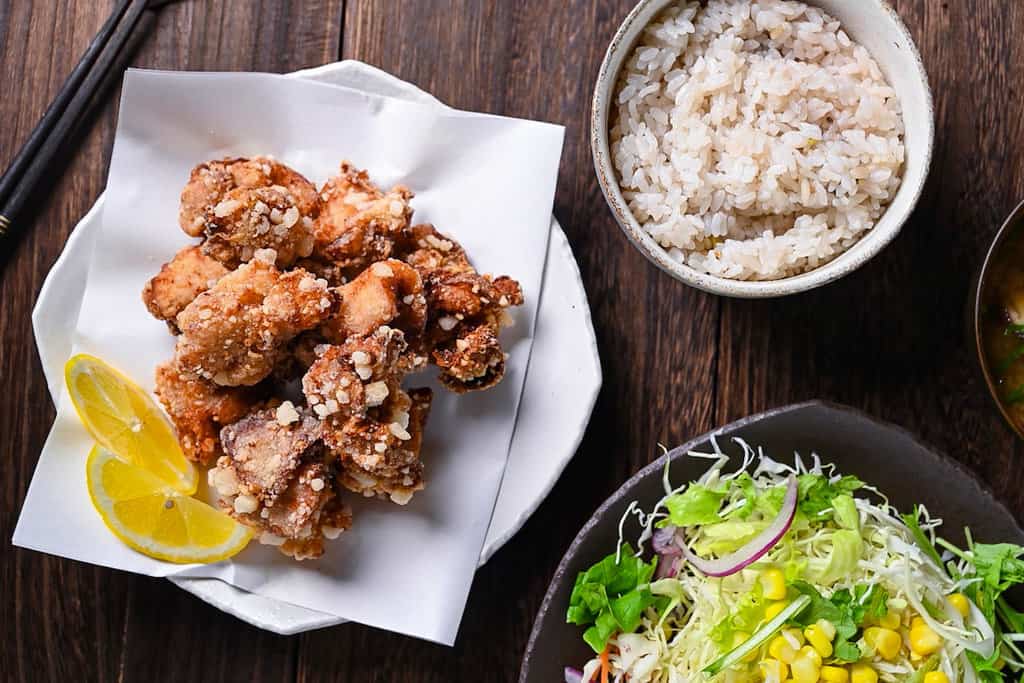 Serve on its own, as an appetizer or part of a main meal. I particularly love adding a squeeze of lemon juice as a finishing touch.
Enjoy!
Troubleshooting and FAQ
Why does my karaage seem sticky and soggy on the outside?
Several factors can affect fried chicken's outcome. Using old oil can make it heavier. If mirin is in your marinade, consider switching to sake, as mirin isn't ideal for marinades. Additionally, fry chicken in small batches to maintain the oil's temperature and ensure even cooking.
My batter peeled off and the karaage seems too oily
Several factors can cause batter to flake off during frying. Firstly, letting the batter set for about 5 minutes before frying is essential. Next, avoid touching the chicken right after placing them in the oil and wait a little while before turning. Additionally, the batter might peel off if the oil's temperature is too low. Ensure the oil is at the right temperature using a cooking thermometer for best results.
Why did my karaage get burnt and the chicken is too hard?
Deep-fried food continues to cook from residual heat even after being removed from the oil. So, over-frying can make the chicken tough. On the other hand, burnt chicken comes from overly high oil temperatures, so using a cooking thermometer is advisable. Please try the twice-fried technique described in my recipe.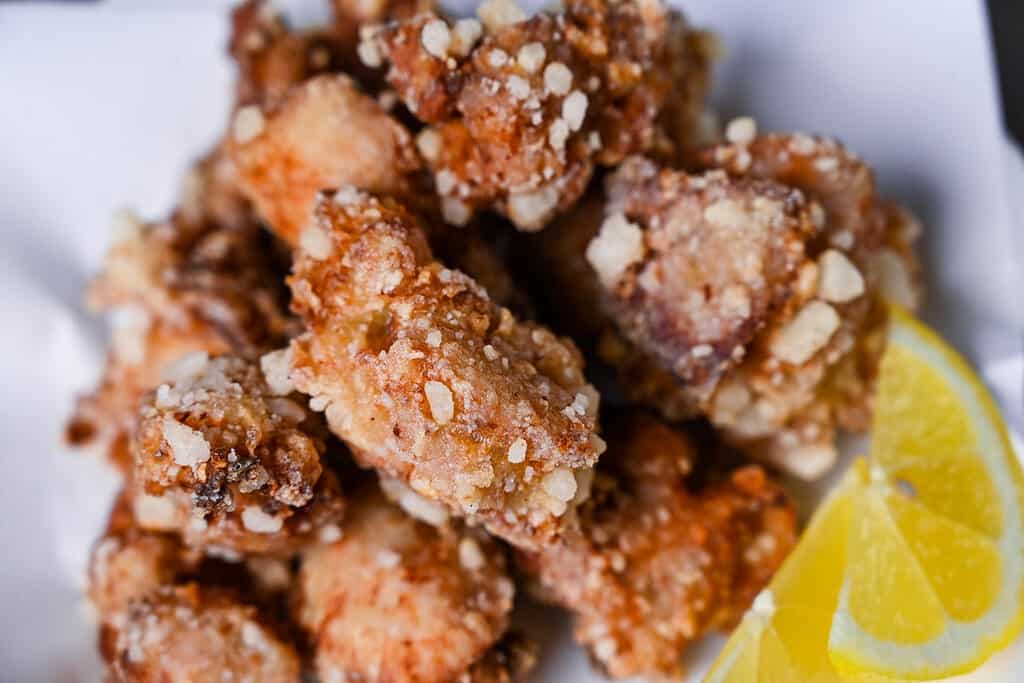 Storage
In the unlikely event that there are leftovers, you can freeze karaage or put it in the refrigerator and eat it within 2-3 days.
If you microwave it, it will lose some crispiness. I usually microwave it to warm up the middle and then put it under the grill or broiler to refresh the outside. If freezing, you can keep it for a month.
There are also several ways you can use it! If you make this recipe, there are different ways for you to enjoy it.
Karaage teishoku set: Served with freshly cooked rice, shredded cabbage and miso soup.
Karaage Onigiri: A rice ball with fried chicken in the center, usually has sauce.
Karaage Don: Donburi rice bowl dish topped with karaage.
Karaage bento: A lunchbox made with karaage, rice, vegetables etc.
Room temperature – Not recommended.
Refrigerated – 2-3 days (only karaage).
Frozen – Up to a month (only karaage).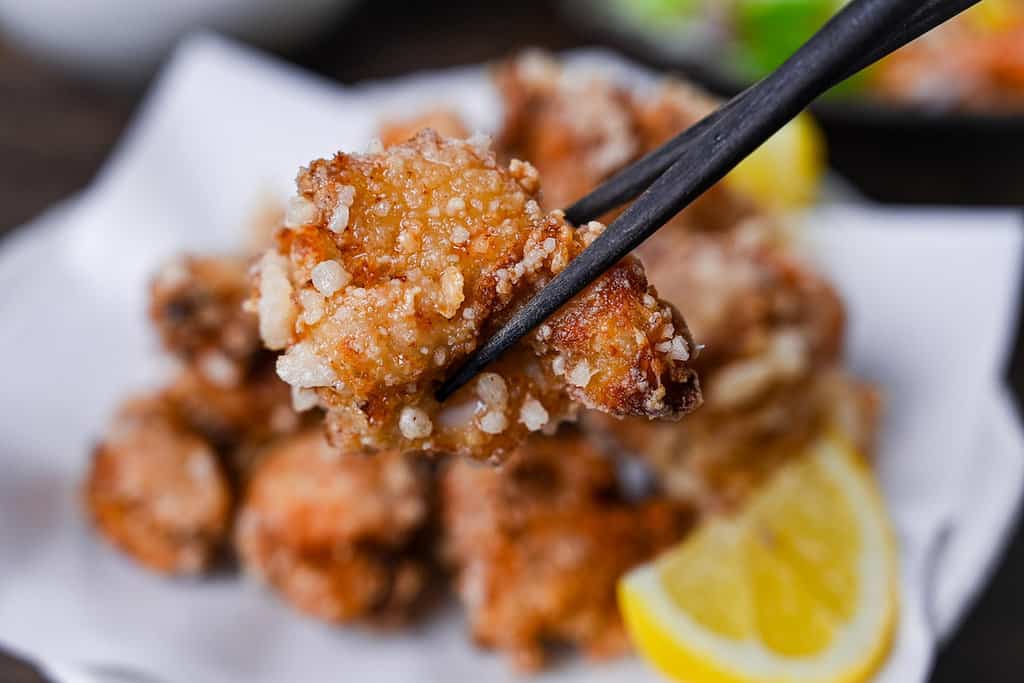 I hope you enjoy this extra crispy chicken karaage recipe! If you try it out, I'd really appreciate it if you could spare a moment to let me know what you thought by giving a review and star rating in the comments below. It's also helpful to share any adjustments you made to the recipe with our other readers. Thank you!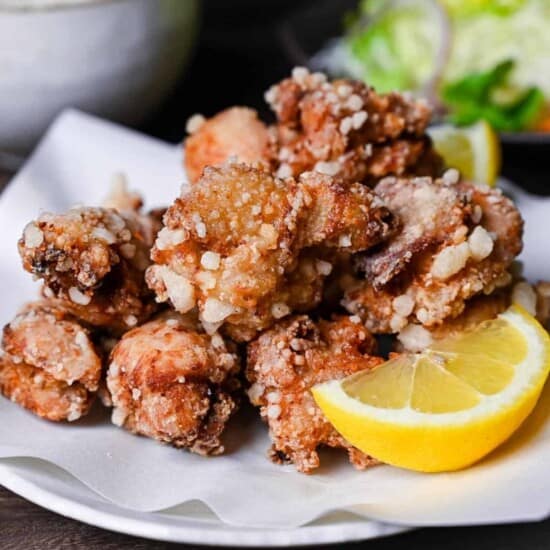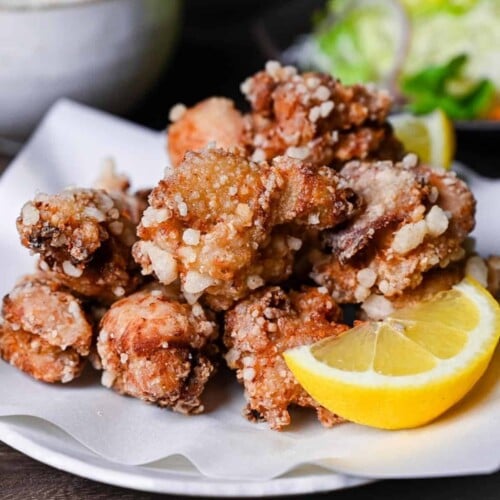 Authentic Chicken Karaage (Crispy Japanese Fried Chicken)
---
How to make authentic chicken karaage (Japanese fried chicken).
---
---
---
---
Ingredients
350

g

boneless chicken thigh(s)

skin-on, 30-40g pieces

½

tsp

salt

1 ½

tbsp

ginger

grated

1

tbsp

garlic

grated

½

tbsp

apple(s)

grated

1

tbsp

sake

1

tsp

Japanese mayonnaise

1

tsp

sesame oil

1

tsp

shiro dashi

alternative: light soy sauce

½

tsp

Chinese-style chicken bouillon powder

⅛

tsp

white pepper

1

tbsp

all-purpose flour

1

tbsp

tapioca starch

or potato starch/corn starch to mix with marinade

4

tbsp

potato starch

optional, to make hailstone effect

2

tsp

water

optional, to make hailstone effect
Instructions
Pat 

350 g boneless chicken thigh(s)

 dry with a paper towel and pierce both sides thoroughly with a fork. 

Cut into 30-40g (1-1.4oz) pieces and place them in a bowl. Sprinkle with

½ tsp salt

and massage until all the pieces are evenly seasoned.

Add

1 ½ tbsp ginger

,

1 tbsp garlic

,

½ tbsp apple(s)

,

1 tbsp sake

,

1 tsp Japanese mayonnaise

,

1 tsp sesame oil

,

1 tsp shiro dashi

,

½ tsp Chinese-style chicken bouillon powder

and

⅛ tsp white pepper

to the bowl and mix thoroughly.

Next, add

1 tbsp all-purpose flour

to the bowl and

1 tbsp tapioca starch

, mix until the chicken is evenly coated.

Cover the bowl and rest the chicken in the fridge for at least 30 minutes, preferably 1 hour. 

Once the chicken has rested, preheat the oil to

160

°C

(

320

°F

).

Add

4 tbsp potato starch

to a plate and sprinkle with

2 tsp water

. Mix with chopsticks or fork to make clumps of starch for the hailstone effect.

Remove the chicken from the fridge and lightly coat each piece with the clumpy starch mixture.

Deep fry the chicken for

3 minutes

. Do not touch for the first minute or so. After that, turn occasionally to promote even cooking.

Remove the chicken from the oil and rest on a wire rack for 3 minutes. (It will continue to cook in the residual heat.)

While the chicken is resting, increase the heat of the oil to

180

°C

(

356

°F

) –

190

°C

(

374

°F

).

Once 3 minutes of resting time is up, deep fry the chicken again for 30 seconds to 1 minute or until golden brown all over.

Transfer to a wire rack to drain the excess oil.

Serve up and enjoy with a slice of lemon!
Notes
Freeze leftovers for 1-2 months or refrigerate and consume within 2-3 days. Reheat before eating.
If you decide to shallow fry then fry the chicken at the lower temperature for 3 minutes on each side and then 30 seconds on each side at the higher temperature.
Nutrition
Calories:
318
kcal
|
Carbohydrates:
8.5
g
|
Protein:
20.1
g
|
Fat:
23.1
g
|
Saturated Fat:
5.8
g
|
Polyunsaturated Fat:
4.7
g
|
Cholesterol:
104.7
mg
|
Sodium:
840.7
mg
|
Fiber:
0.6
g