Omurice is a popular dish made with flavorful ketchup fried rice packed with chicken and vegetables, which is then wrapped in a fluffy blanket of melt-in-mouth omelette. This iconic Western-inspired Japanese dish is loved by children and adults alike, and is perfect for lunch, dinner or served in a bento box!
Disclaimer: This post contains Amazon affiliate links. Sudachi earns a small percentage from qualifying purchases at no extra cost to you. See disclaimer for more info.
What is Omurice?
Omurice (オムライス) is a Japanese dish consisting of ketchup rice or butter rice wrapped in an omelette. It is a popular Western-style (yoshoku) dish for both children and adults and in recent years, many specialty restaurants have appeared offering all kinds of beautiful omurice.
The name "omurice" is simply a combination of the French word "omelette (オムレツ)" and the English word "rice (ライス)," which is an abbreviation of "omelette rice."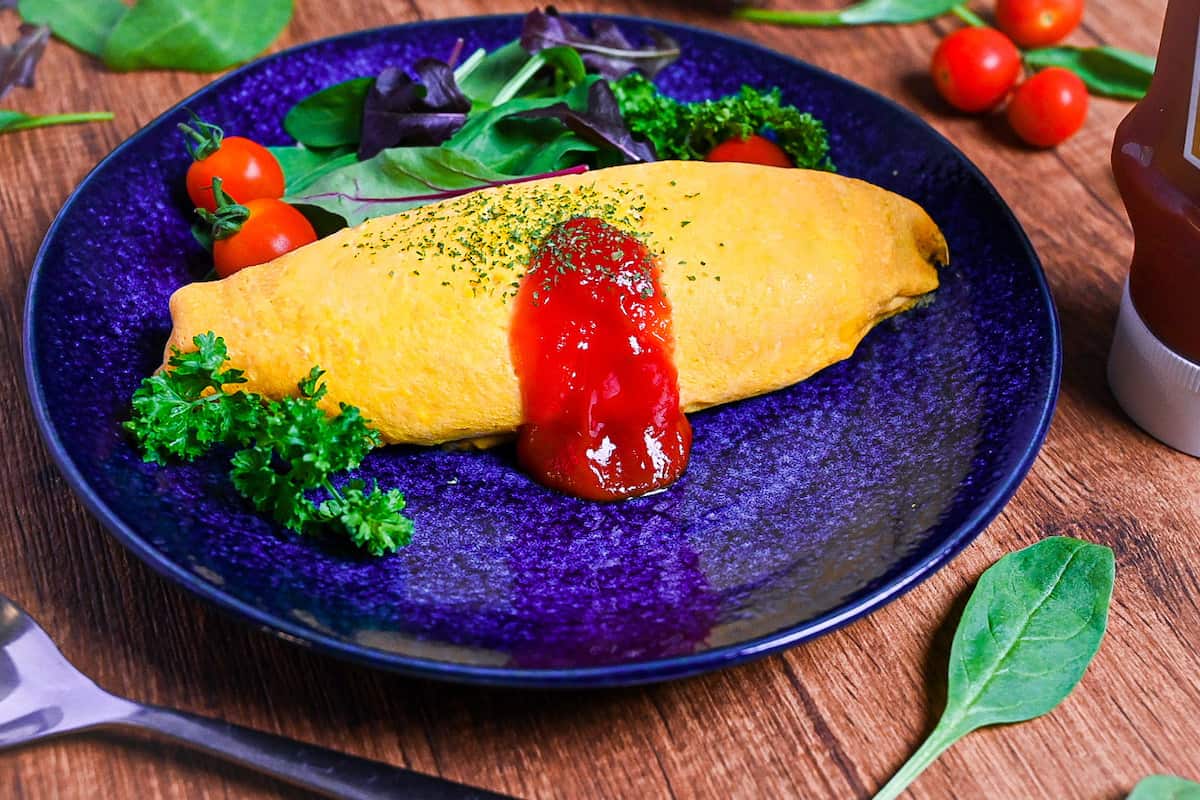 Omurice is a distinctive dish that has evolved significantly since its inception. Its origins trace back to "Renga Tei (煉瓦亭)," a restaurant in Tokyo established in 1895, where the idea of combining omelette and rice in a busy kitchen to serve workers was born. Initially, the dish was more like fried rice with lots of eggs, featuring minced meat and onions but lacking the now-iconic ketchup addition.
A change came in 1922 when "Hokkyokusei (北極星)" in Osaka first served ketchup rice wrapped in a thinly fried egg. Legend has it that this dish was created for a customer with dietary restrictions who always ordered an omelette and rice, illustrating the chef's considerate nature.
From then on, Omurice continued to transform and diversify. Today, the dish ranges from half-boiled, melt-in-your-mouth versions to those devoid of ketchup rice altogether, offering a unique Omurice experience.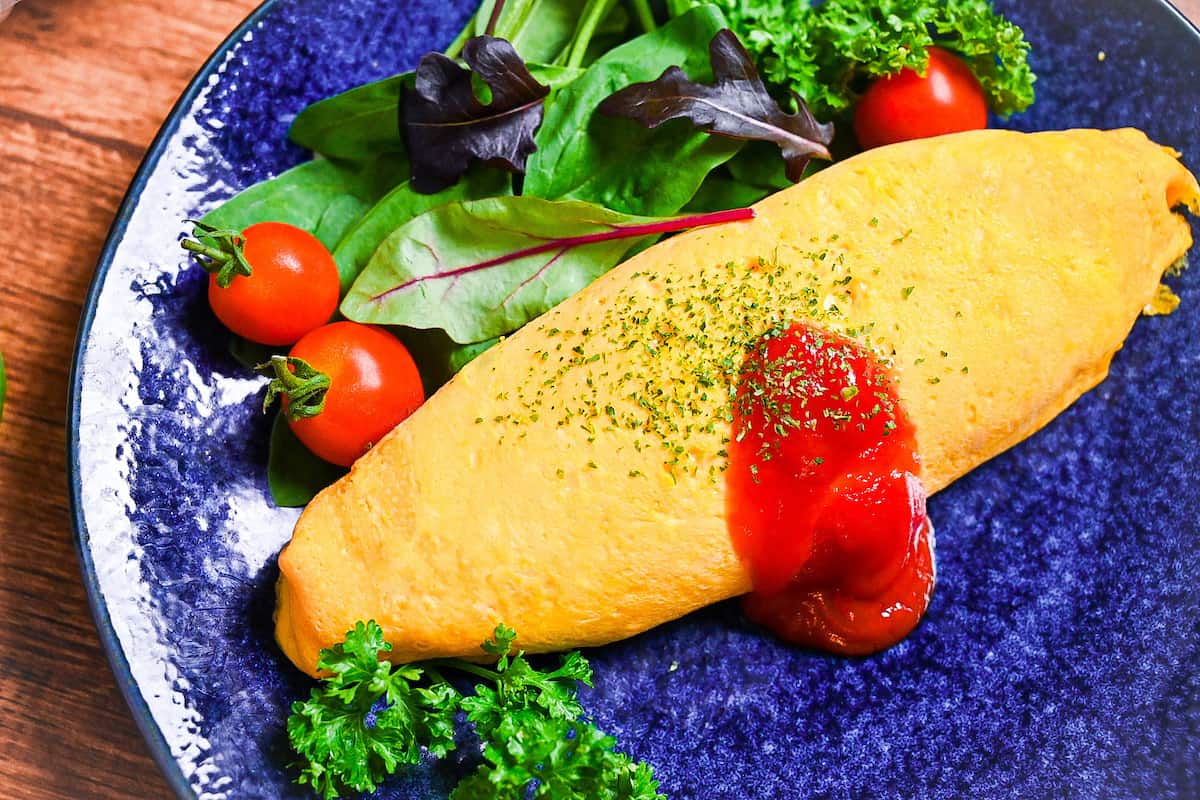 What Pan To Use
Omurice is a simple recipe to make and it's easy to make it taste good. The difficulty often lies in the presentation, getting that smooth and fluffy omelette to wrap perfectly around the rice might take a bit of practice!
When I make omurice, I personally use a 20cm (8 inch) seasoned cast-iron pan. This might sound very small, and if I'm honest, I was a bit skeptical when I saw how tiny it looked, but using this pan helped me to cook the best omurice I've ever made!
Using a small pan actually creates less room for error. The smaller the pan, the less likely your omelette will be too thin (which creates breakage) and the easier it is to fold the edges over.
Additionally, using cast iron has huge advantages for cooking omelettes. Firstly, as long as it's well seasoned (oiled) and preheated thoroughly, you won't have any problems with the egg sticking to the pan. Secondly, cast iron has amazing heat retention and because it heats so evenly with no heat spots, your omelette will have a beautifully smooth and even color.
Of course, if cast-iron isn't for you, a regular pan with a non-stick coating would also work well for omurice. Just make sure to use a small pan (20cm/8inch) for best results and be aware that cheap non-stick pans often have heat spots which might create a spotty surface on your omelette.
Ingredients and Substitution Ideas
Yellow onion – White or red onions can be substituted for yellow onions.
Extra virgin olive oil – Regular olive oil is also fine.
Unsalted butter – I use unsalted butter to have more control over the salt content. If you use salted butter, you should adjust the salt content from the other ingredients.
Chicken breast – Besides chicken breast, any boneless meat can be substituted, including chicken thighs and ground meat.
Mushroom of your choice – I used brown button mushrooms, but you can use your favorite mushrooms from your local area.
White wine – If you do not want to use wine, you can omit it.
Cooked Japanese short-grain rice – I use a rice cooker to cook my rice for convenience, however, if you want to know how to cook Japanese rice on the stove, please check my article.
Salt & Pepper – I use regular sea salt and freshly ground black pepper.
Tomato ketchup – Any ketchup you may have is fine. I used Heinz ketchup.
Worcestershire sauce – You can use Worcestershire sauce that you already have. It is a small amount, so you can substitute soy sauce if you do not have Worcestershire sauce.
Green peas – It improves the overall coloring and adds more texture to the dish; you may omit them if you prefer.
Parsley – Fresh or dry, it's up to you!
Egg – This recipe was created based on using medium-sized eggs. If using small or large eggs, you will need to adjust the quantity accordingly.
Milk – If possible, use whole milk instead of skimmed milk.
The ketchup fried rice can be personalized to suit your tastes. Feel free to use different proteins (pork, beef, seafood, etc) and different vegetables. Other vegetables commonly used in omurice include carrot, bell pepper and sweetcorn, just to name a few.
Curious about the exact brands and products that bring my recipes to life? Discover the brands and ingredients behind my recipes at the Sudachi Amazon Storefront. Explore my handpicked pantry essentials and find your next kitchen favorites!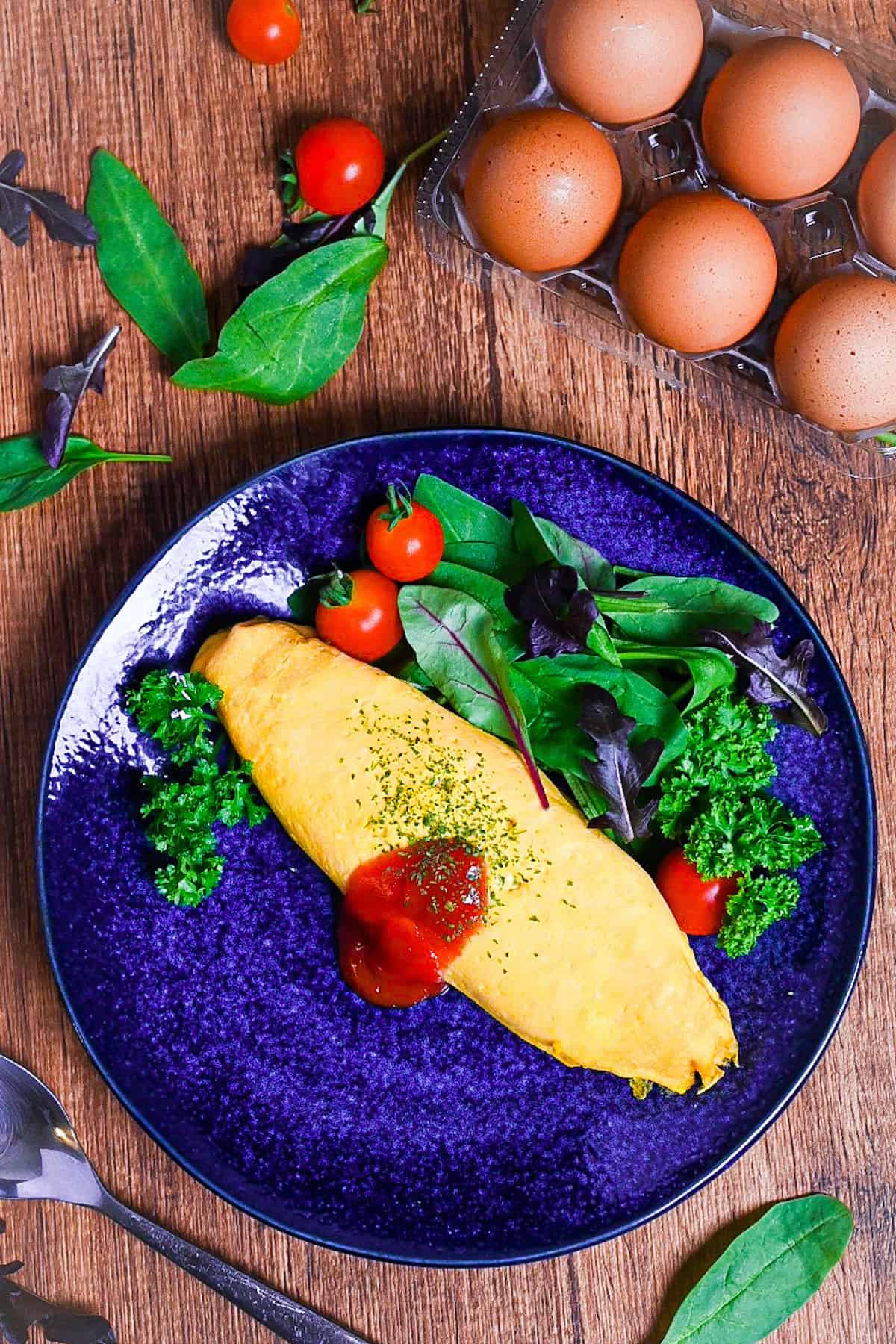 Step-by-Step Process
Here are my step-by-step instructions for how to make beautiful omurice from scratch! For ingredient quantities and simplified instructions, scroll down for the printable recipe card.
How to Make Ketchup Fried Rice
Heat a wok or pan over a medium setting and add olive oil and butter. Finely dice the onion and add it to the pan. Sauté until slightly golden and translucent to bring out their natural sweetness.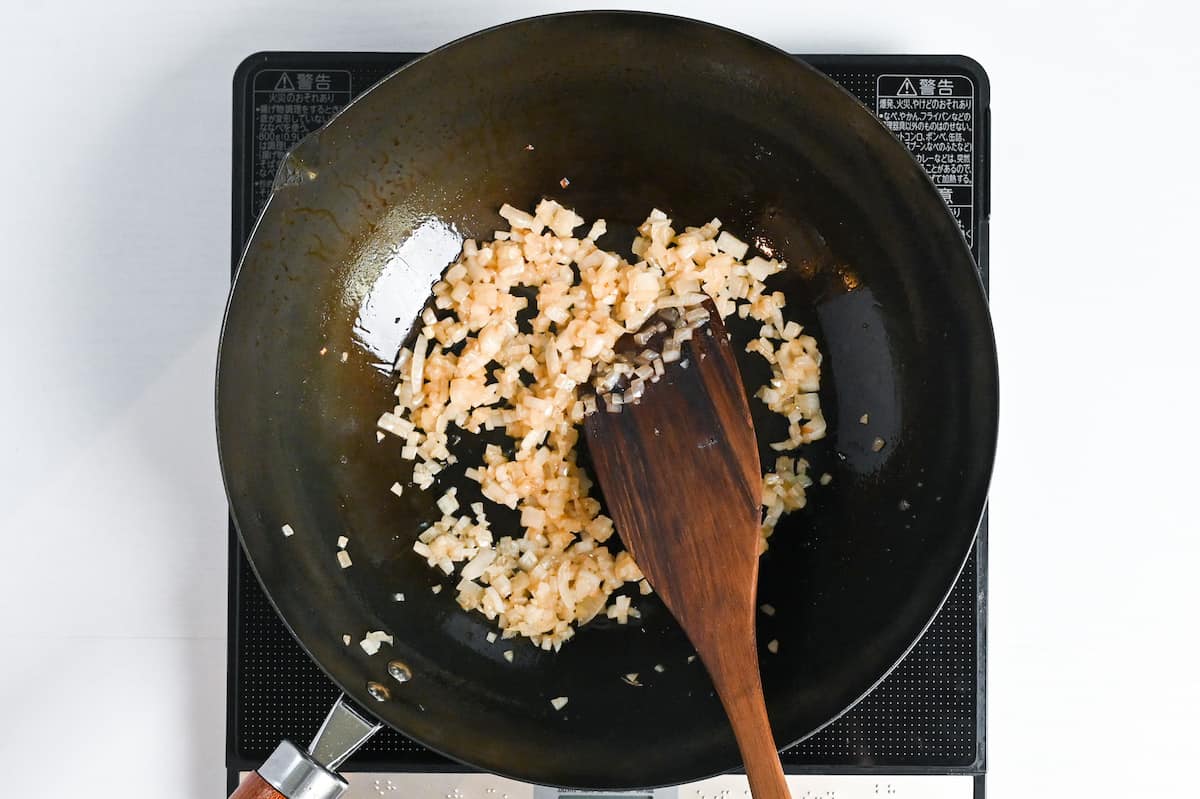 Add the mushrooms and chicken
Cut the chicken into small bitesize pieces and thinly slice the mushrooms. Add them to the pan and stir fry until the surface of the chicken is sealed.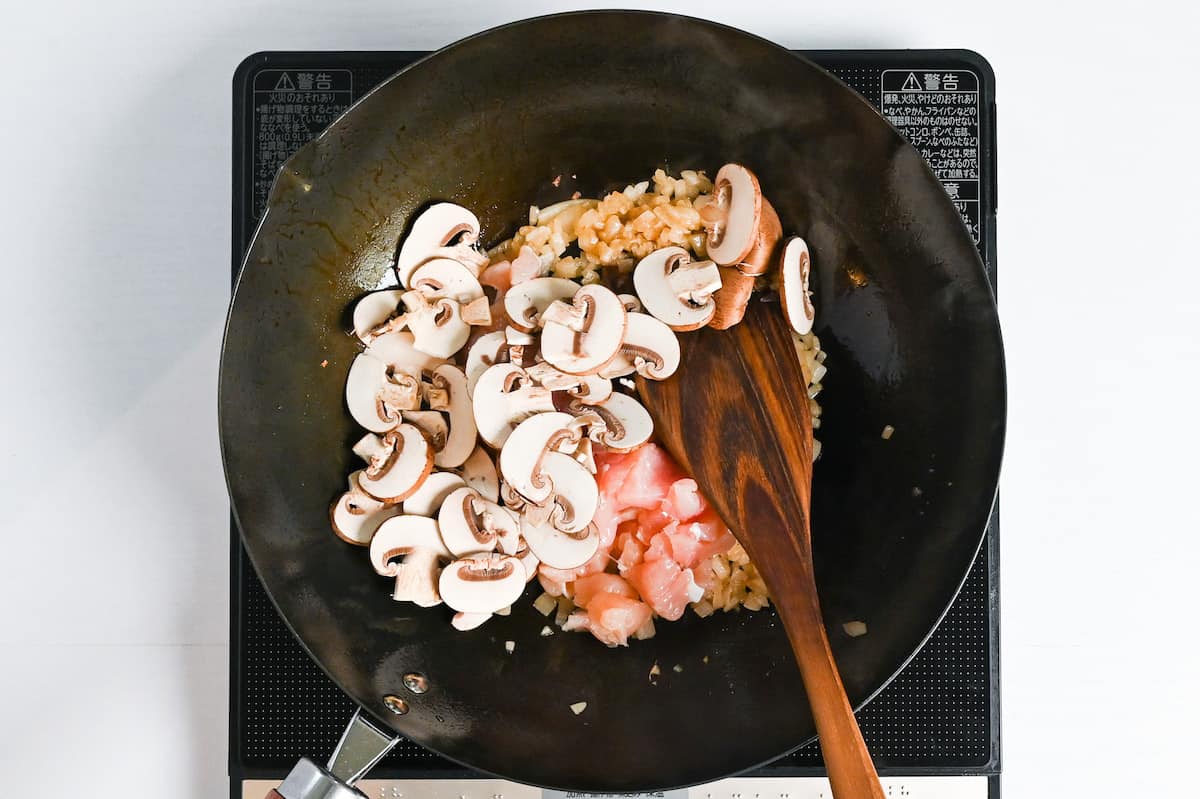 Add the white wine and continue to stir fry until all the ingredients are cooked.
Add the rice along with a pinch of salt and pepper and mix everything together.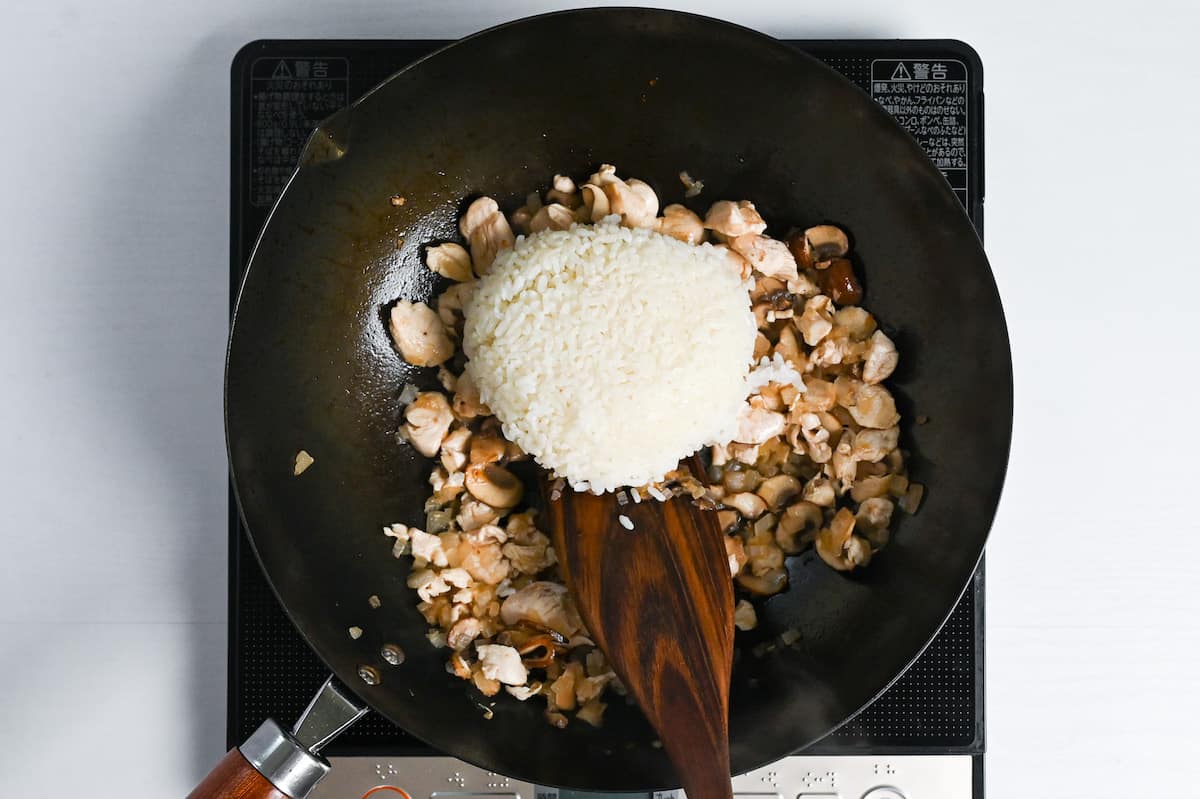 Add the ketchup and Worcestershire sauce and stir fry until they are evenly distributed throughout the rice.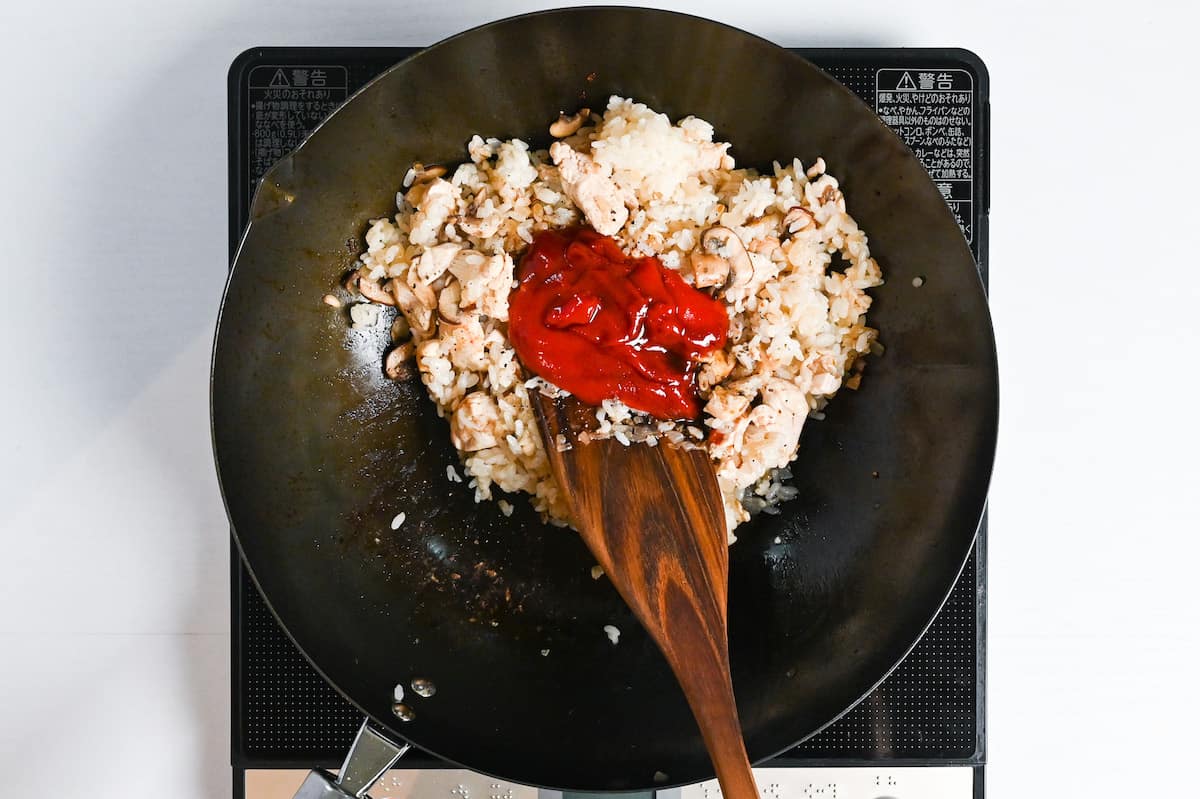 Add the green peas and a generous sprinkle of dry parsley, and stir-fry for one more minute before removing the pan from the heat.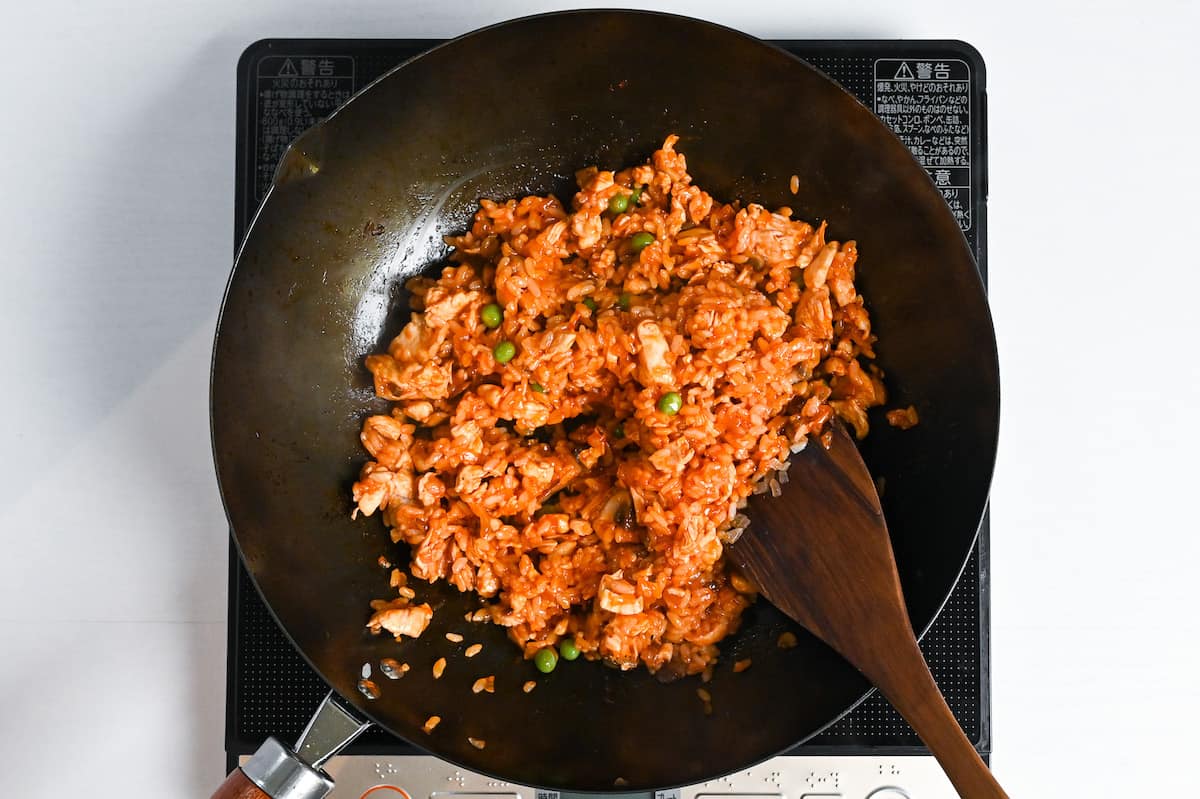 Cover to keep the rice warm and set aside for now.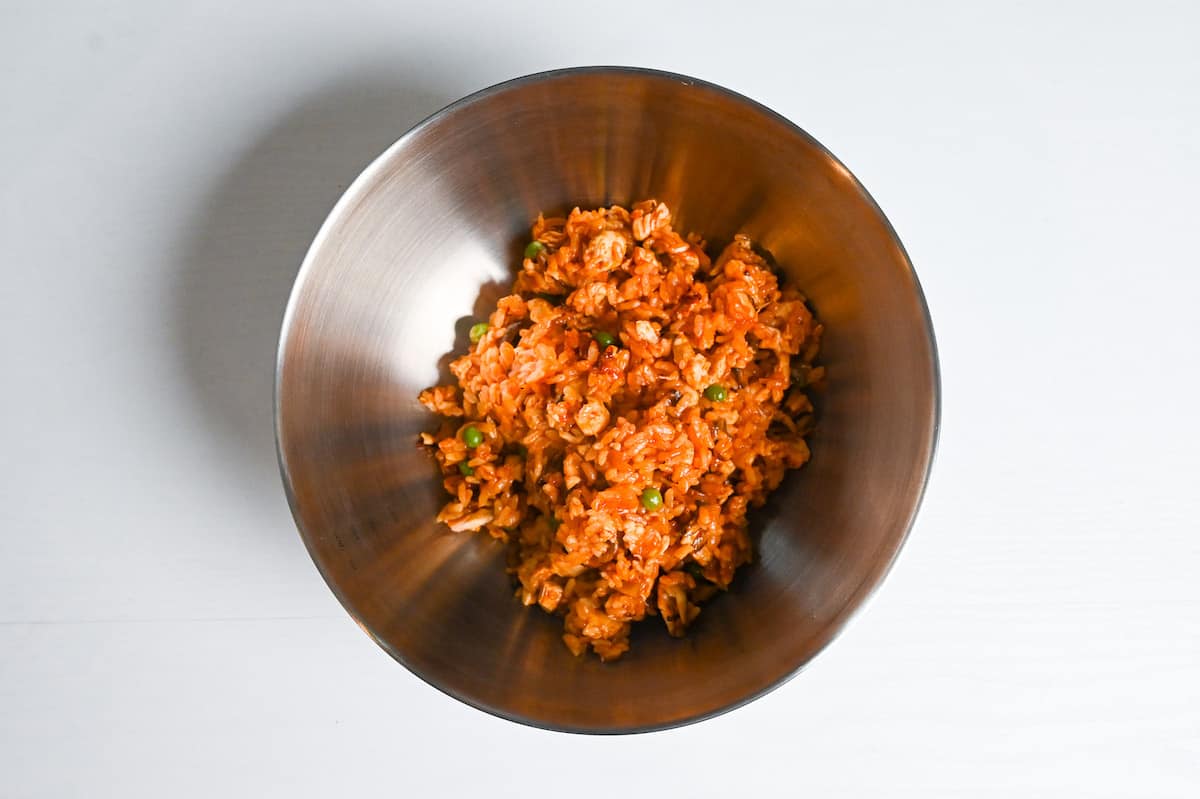 How to Cook and Shape the Omelette for Omurice
Heat a 20cm non-stick pan on a medium Crack the eggs into a mixing bowl and add milk and olive oil. Whisk until the whites and yolks are combined.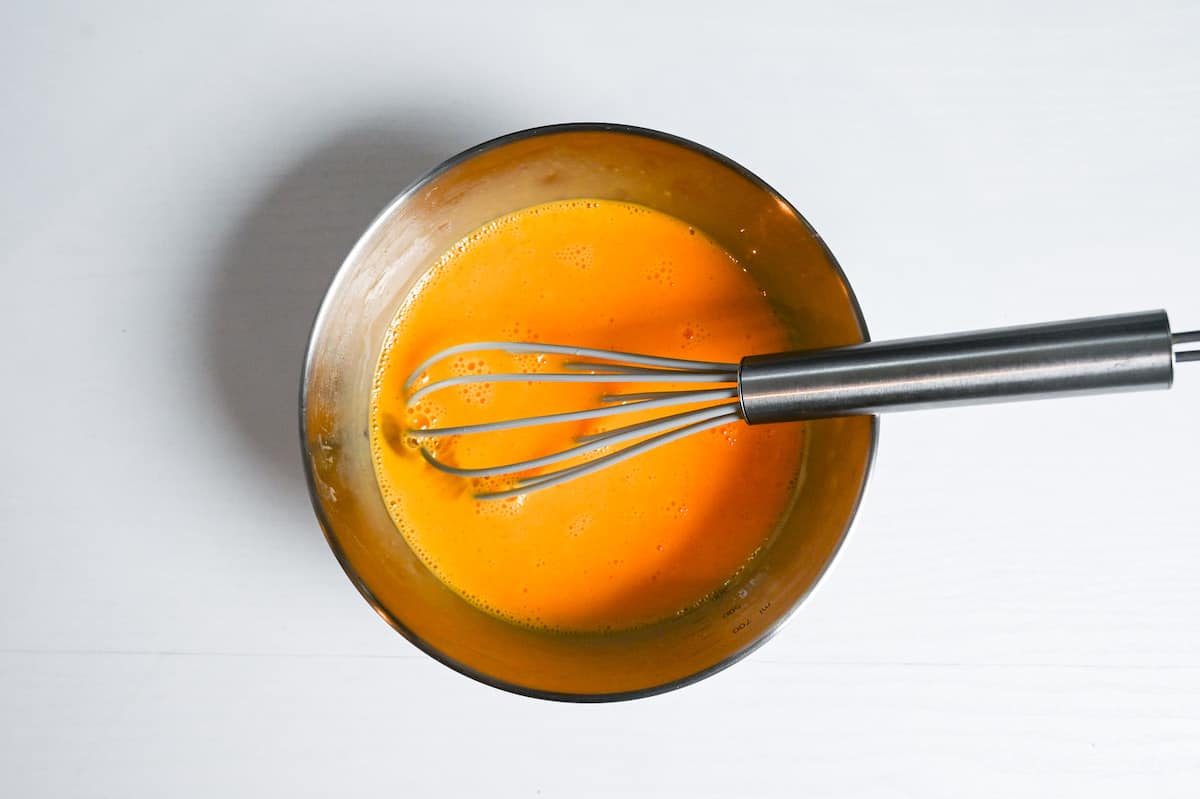 Pour the mixture through a fine mesh sieve to remove any lumps and ensure it's smooth and adequately combined. This step prevents specks of white on the surface of the omelette.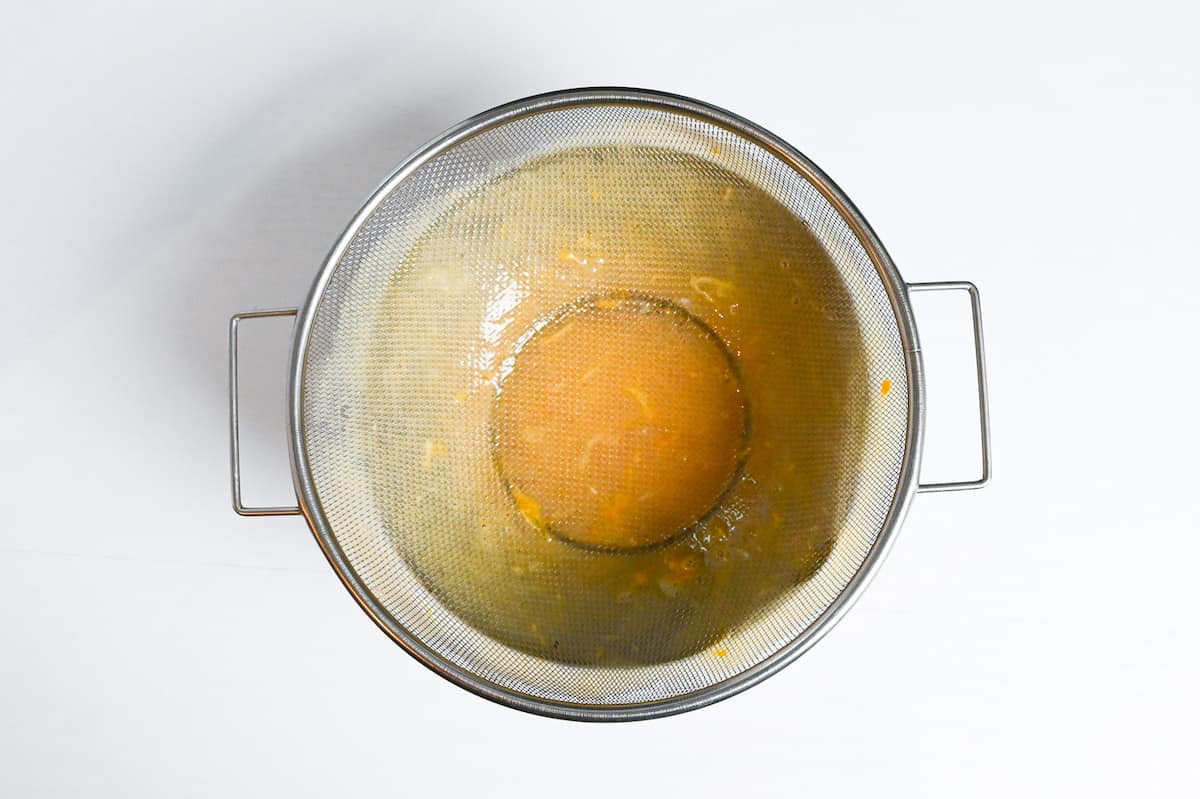 Add a small amount of cooking oil to the heated pan and spread it around using kitchen paper. This will ensure the oil is evenly spread and any excess is wiped away, helping prevent oil spots on the surface of the omelette.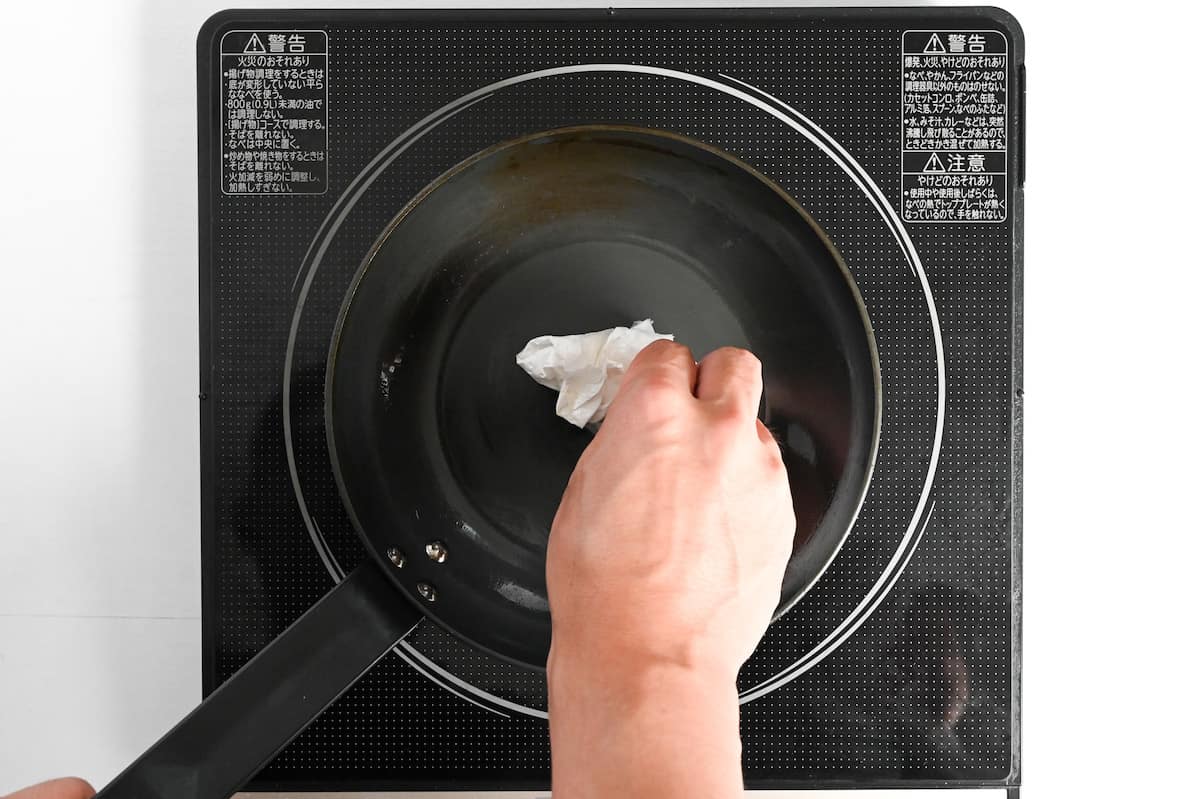 Pour two eggs-worth (1 portion) of the omelette mixture into the pan and whisk to make it fluffy and soft. Continue to do this until the egg starts to set.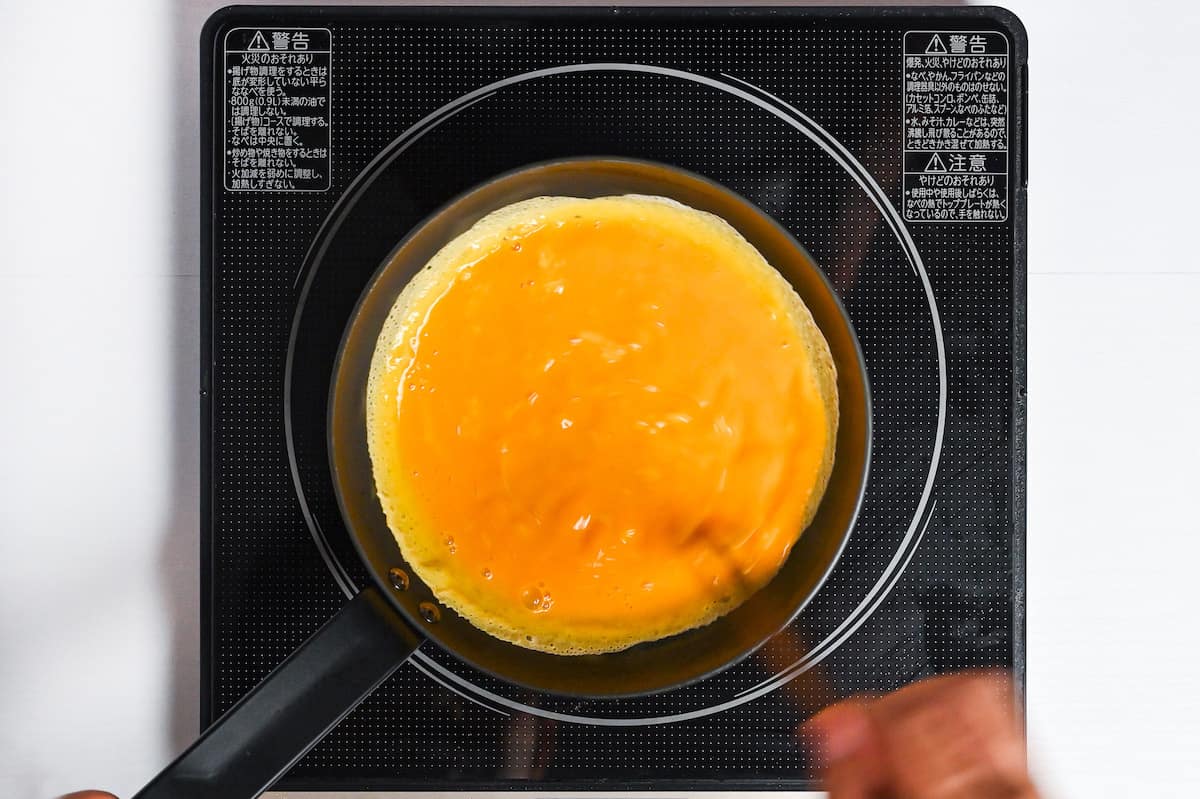 Tilt the pan to coat the edges
Swirl the egg around and tilt to coat the edges. Thoroughly covering the edges with the omelette mixture will make it easier to fold later.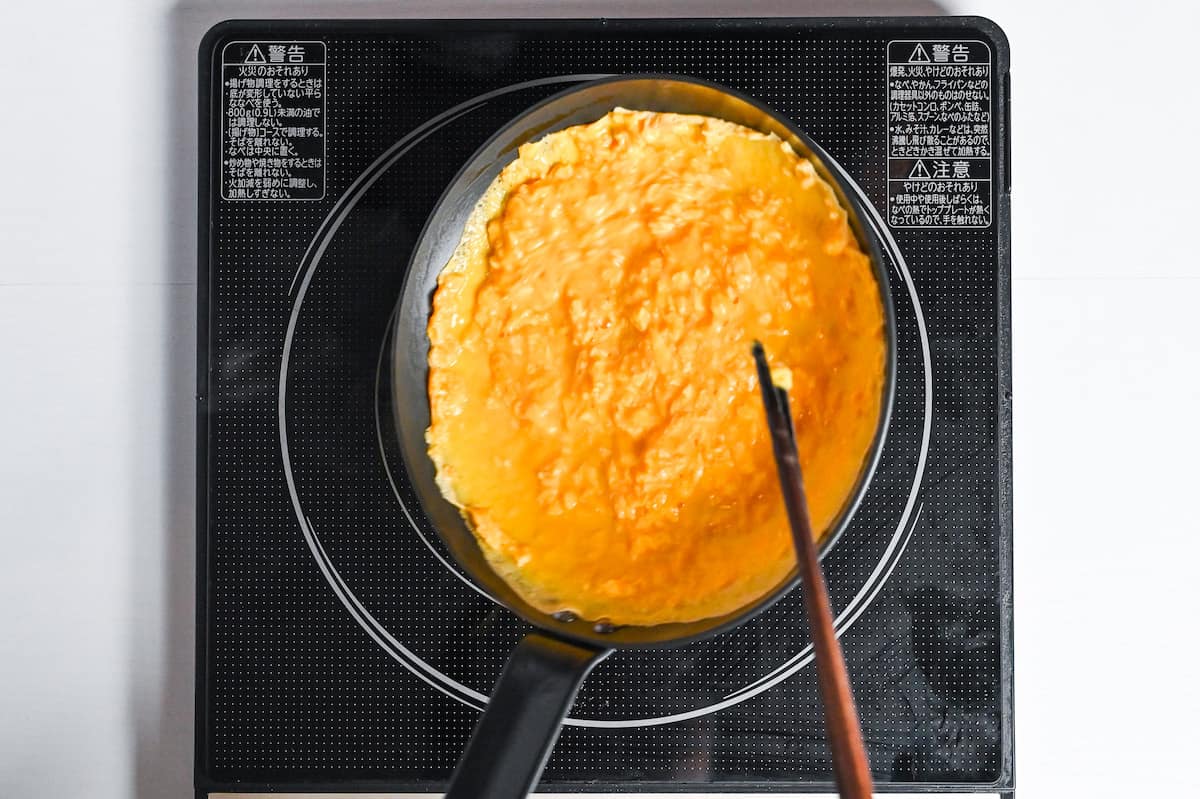 Once the omelette is half cooked, place one portion of fried rice down the center and form it into an American football shape.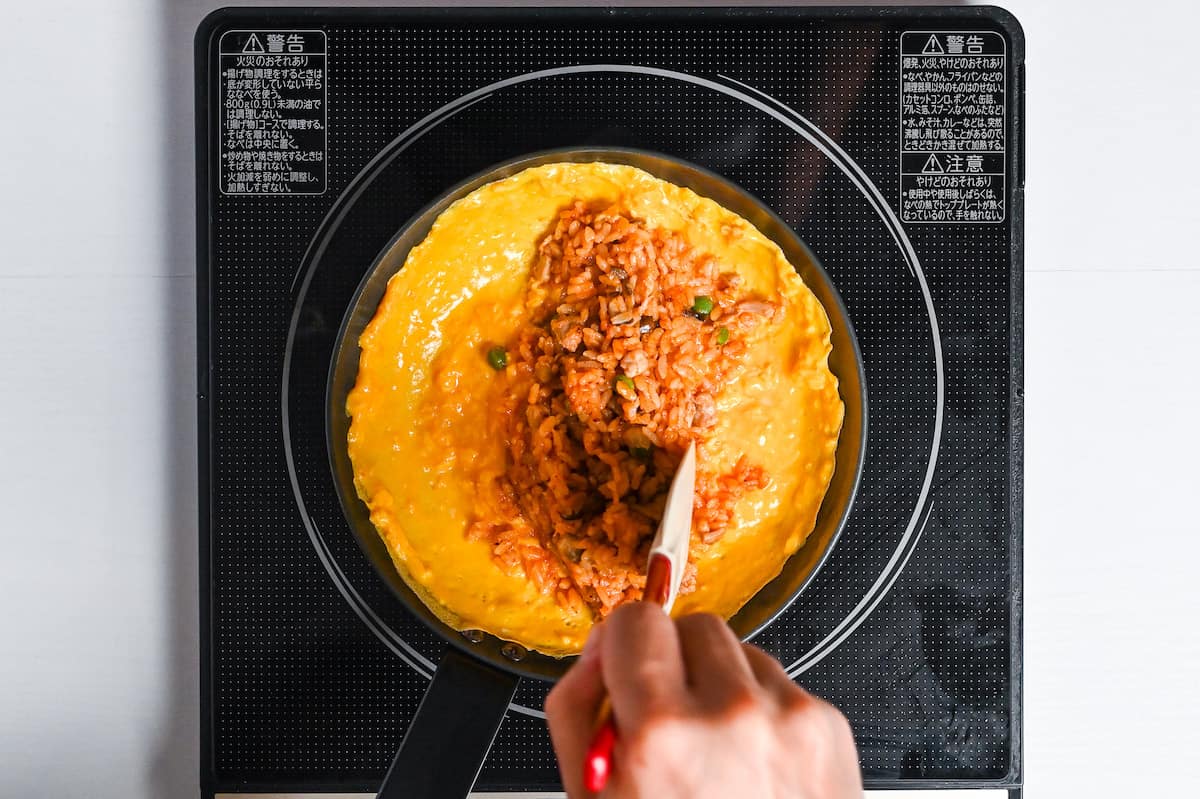 Be careful not to add too much rice, as this can cause the omelette to break.
Use a spatula to help loosen the edges of the omelette away from the pan. Carefully fold one side over the rice.
Repeat on the other side. The edges don't need to meet, since this will be the underneath. Don't try to force the omelette to meet in the middle as this can break it.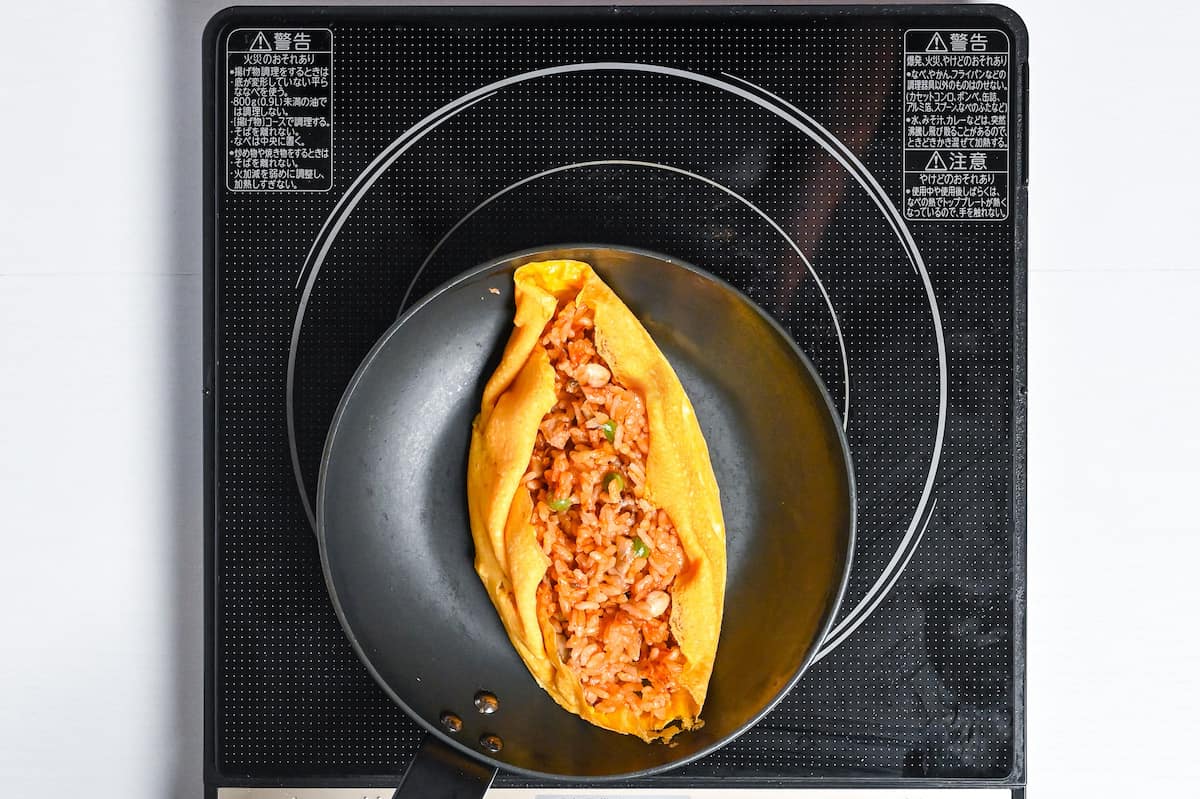 Slide a spatula underneath the omurice to ensure no areas have stuck to the pan. Once you're sure, take a serving plate and flip the omurice onto the plate.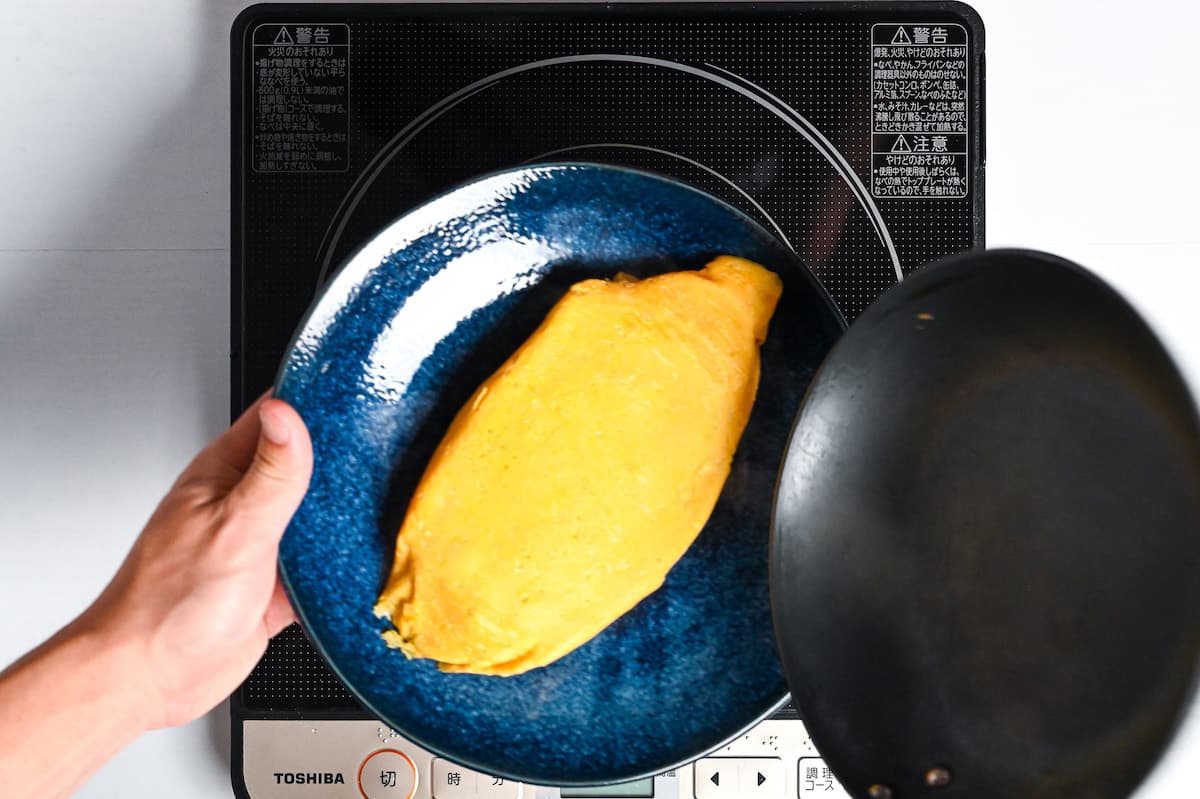 Cover with plastic wrap or kitchen paper and gently press the edges in to neaten the shape.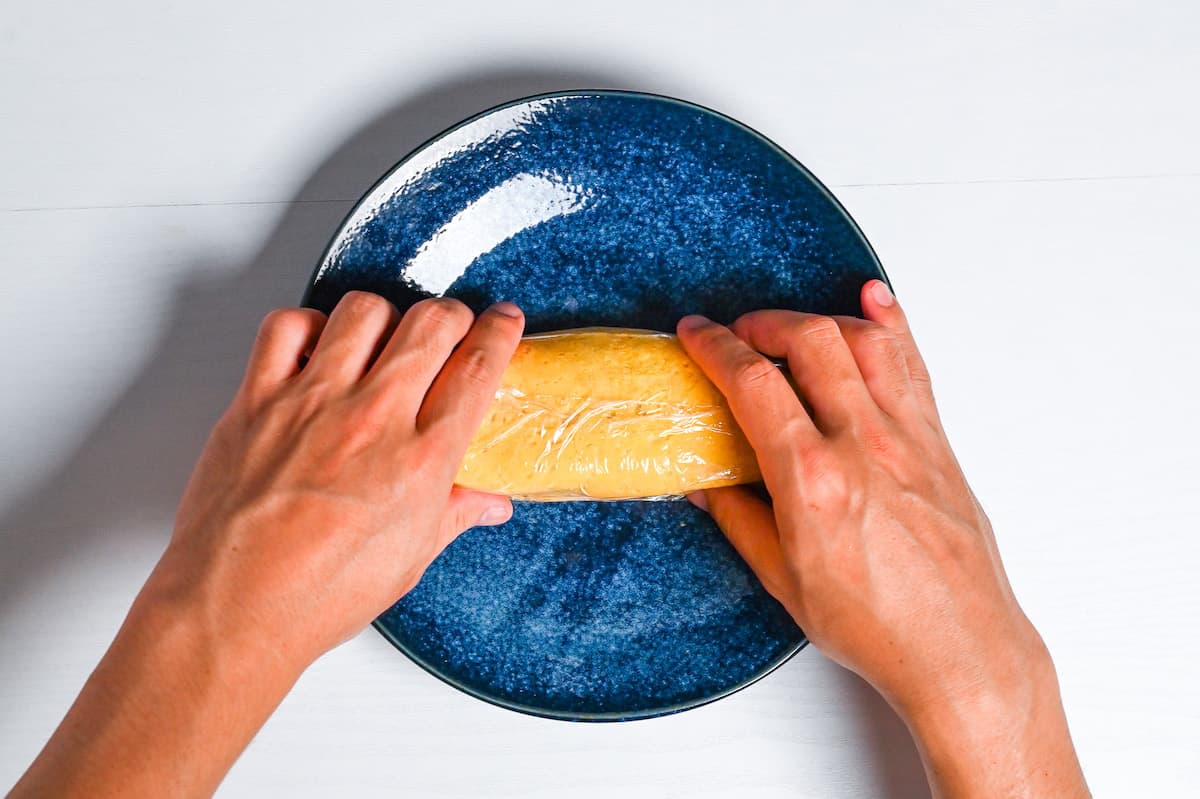 Remove the plastic wrap and top with a drizzle of ketchup and a sprinkle of parsley.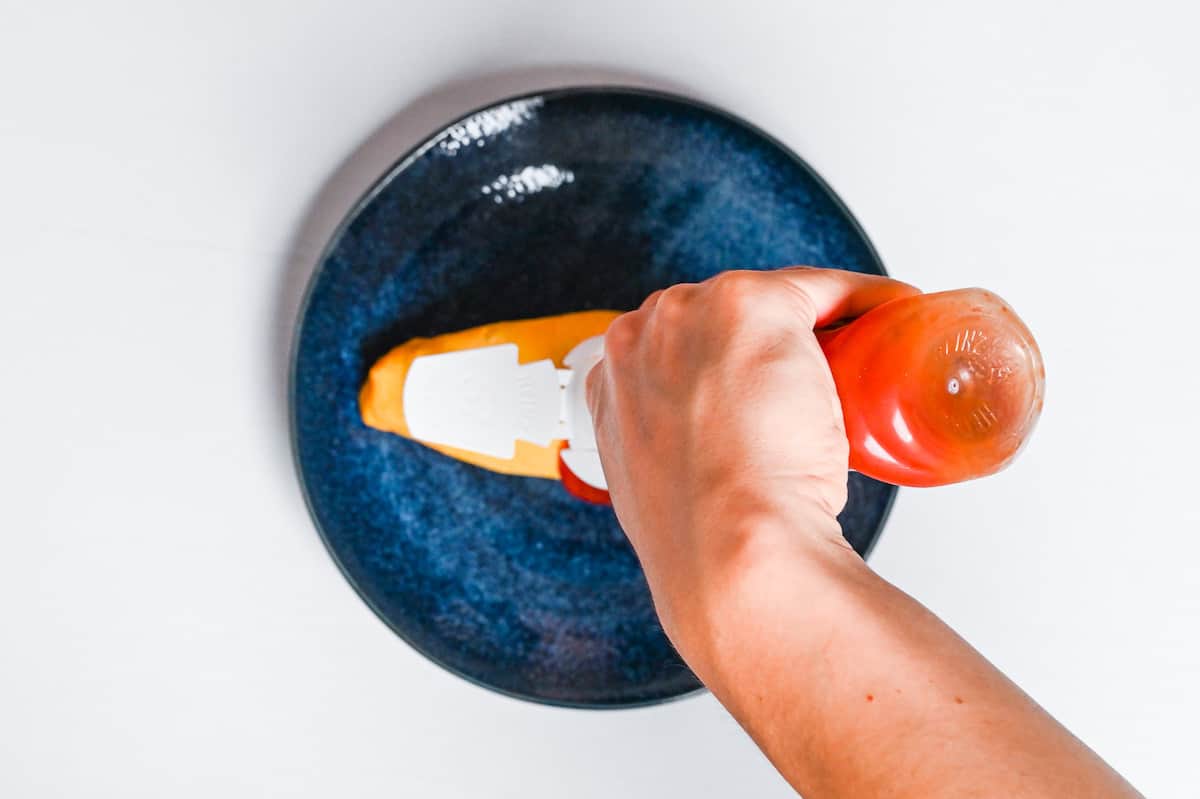 Add your choice of salad or other garnishes and enjoy!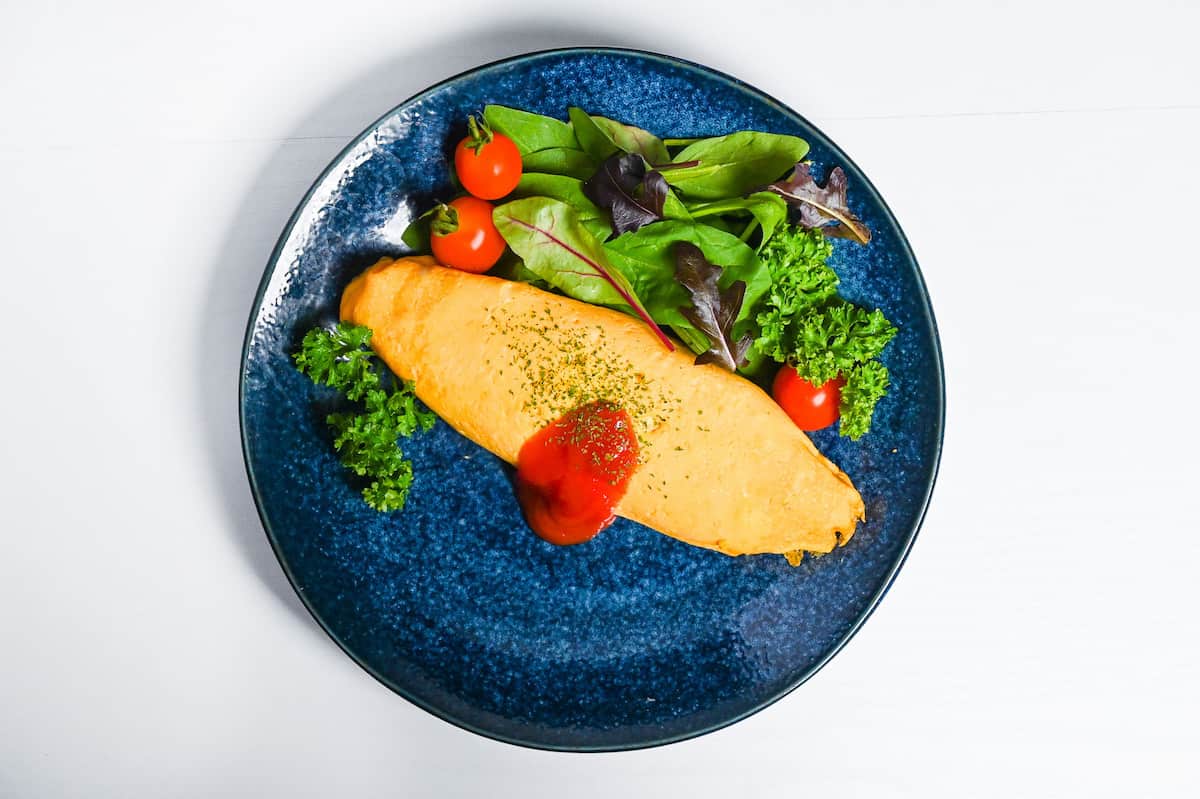 Storage Options
Omurice is best enjoyed fresh and does not keep well at room temperature; it should ideally be consumed immediately after cooking. If you need to store omurice, the recommended approach is to refrigerate the ketchup rice on its own, then reheat and add it to the freshly cooked omelette right before serving. Refrigerated ketchup rice can be stored in an airtight container in the fridge for up to 2 days.
The same method applies for freezing: freeze only the ketchup rice before it's wrapped in egg, and aim to consume it within three weeks for the best flavor and texture.
If serving in a bento box, keep it in a cooler bag with an icepack and consume it within 3-4 hours (2 hours in summer).
Room temperature – Not recommended.
Refrigerated – Up to 2 days (only ketchup rice).
Frozen – Up to 3 weeks (only ketchup rice).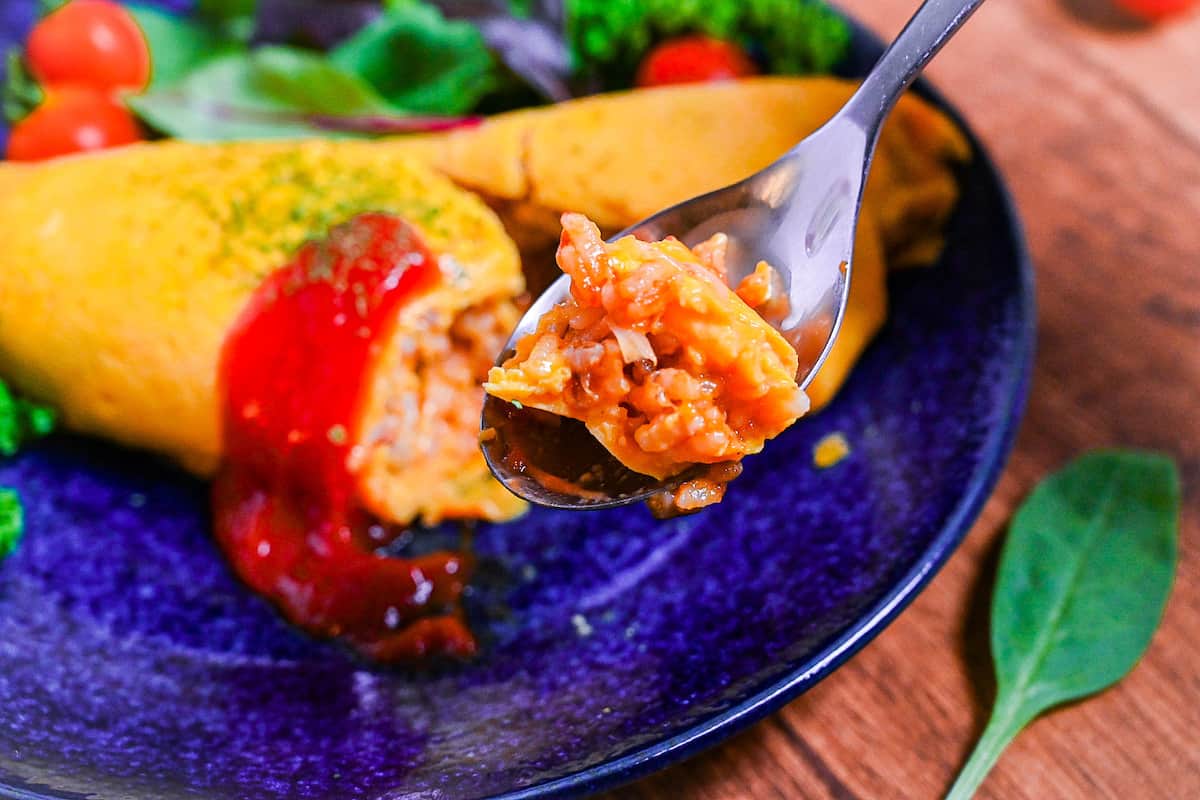 I hope you enjoy this easy and delicious omurice recipe! If you try it out, I'd really appreciate it if you could spare a moment to let me know what you thought by giving a review and star rating in the comments below. It's also helpful to share any adjustments you made to the recipe with our other readers. Thank you!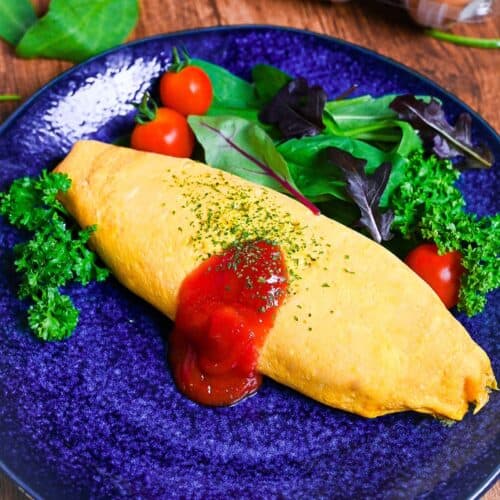 Simple Omurice (Japanese Omelette Rice)
---
Quick and easy Japanese Omurice made with flavorful ketchup fried rice packed with chicken and vegetables all wrapped in a fluffy, melt-in-mouth omelette.
---
---
---
---
Equipment
20cm Cast Iron Frying Pan
Ingredients
Rice
100

g

yellow onion(s)

finely diced

2

tsp

olive oil

1

tsp

unsalted butter

150

g

chicken breast

cut into small pieces

40

g

chestnut mushrooms

(or mushrooms of choice) thinly sliced

1

tbsp

white wine

1

pinch

salt

1

pinch

black pepper

3

tbsp

tomato ketchup

1

tsp

Worcestershire sauce

1

tbsp

green peas

1

pinch

dry parsley
Omelette
6

medium egg(s)

2

tbsp

milk

1

tsp

olive oil
Instructions
Ketchup Fried Rice
First, heat your pan on medium with

2 tsp olive oil

and

1 tsp unsalted butter

. Once the butter has melted, add

100 g yellow onion(s)

and sauté until softened.

Once the onions are softened, add

150 g chicken breast

and

40 g chestnut mushrooms

to the pan.

Add

1 tbsp white wine

to the pan and fry everything until the chicken is cooked through.

Add

200 g cooked Japanese short-grain rice

with

1 pinch salt

and

1 pinch black pepper

.

Add

3 tbsp tomato ketchup

and

1 tsp Worcestershire sauce

and mix until evenly distributed.

Add

1 tbsp green peas

with

1 pinch dry parsley

. Stir fry for one minute and then remove the pan from the heat.

Set aside for now. (Cover to keep it warm or see note.)
Omelette
Heat a small separate non-stick pan on medium, this will be for the omelette.

Crack

6 medium egg(s)

s into a large bowl and add

2 tbsp milk

and

1 tsp olive oil

. Whisk for 1 minute or until well combined.

Strain the eggs through a fine mesh sieve to ensure even coloring.

Add a small amount of cooking oil to the pan and then spread it around evenly with kitchen paper. This will stop too many brown spots from appearing on the surface of the omelette.

Pour two eggs-worth of the egg mixture into the pan and whisk with chopsticks until it starts to set. This step is important to make the omelette fluffy and soft.

Swirl the pan around from time to time to coat the edges of the pan.

Once it's half cooked, add one portion worth of fried rice to the center of the omelette and shape it into an American football shape.

Use a spatula to carefully separate the edges of the omelette from the pan and fold one side over the top of the rice.

Repeat on the other side. It's ok if you can't close the omelette since this will be hidden underneath. (Don't try to force it as this can cause the omelette to break.)

Slide the spatula under the omelette to ensure it's not stuck to the pan, then flip it onto a plate.

Cover the omurice with plastic wrap (or kitchen paper) while it's still warm and press the edges in to neaten up the shape.

Repeat until you've used all of the omelette mixture and fried rice.

Garnish with ketchup and parsley for decoration.

Serve and enjoy!
Notes
I recommend using day-old rice from the fridge (or defrosted from the freezer) for the best fried rice.
You can cook the fried rice in advance and store for up to 2 days in the fridge. Reheat in the microwave or on the stove until piping hot before adding it to the omelette.
Once omurice is assembled, it is best eaten straight away. 
If serving in a bento box, keep it in a cooler bag with an icepack and consume within 3-4 hours (2 hours in summer).
Nutrition
Serving:
319.1
g
|
Calories:
421
kcal
|
Carbohydrates:
36.1
g
|
Protein:
27.4
g
|
Fat:
19.7
g
|
Saturated Fat:
5.57
g
|
Polyunsaturated Fat:
2.5
g
|
Cholesterol:
447
mg
|
Sodium:
487
mg
|
Fiber:
2.4
g
Other Yoshoku Dishes Loved By Children and Adults
Omurice is just one beloved example of yoshoku (Western-inspired Japanese cuisine) that everyone from children to adults appreciates. In this section, we will introduce three more cherished Yoshoku dishes that hold a special place in the hearts of many Japanese, captivating all ages with their delectable charm.
Korokke (Japanese Potato Croquette)
Korokke, the Japanese take on the French "croquette," is a well-loved Yoshoku dish that beautifully blends the East and West. Typically made with mashed potatoes and ground beef or pork, these dumpling-like morsels are coated in crispy panko breadcrumbs and deep-fried to golden perfection.
Other Japanese croquette-style recipes recipes include pumpkin croquettes, crab cream croquettes, and menchi katsu!
Korokke (Japanese Meat and Potato Croquette)
How to make delicious and crispy Butcher's style Korokke, a Japanese croquette made with creamy potato and seasoned ground meat coated in golden panko breadcrumbs.
Check out this recipe →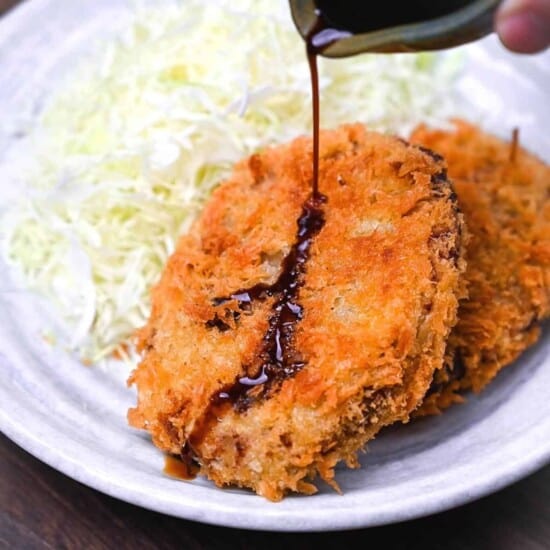 Beef Hayashi Rice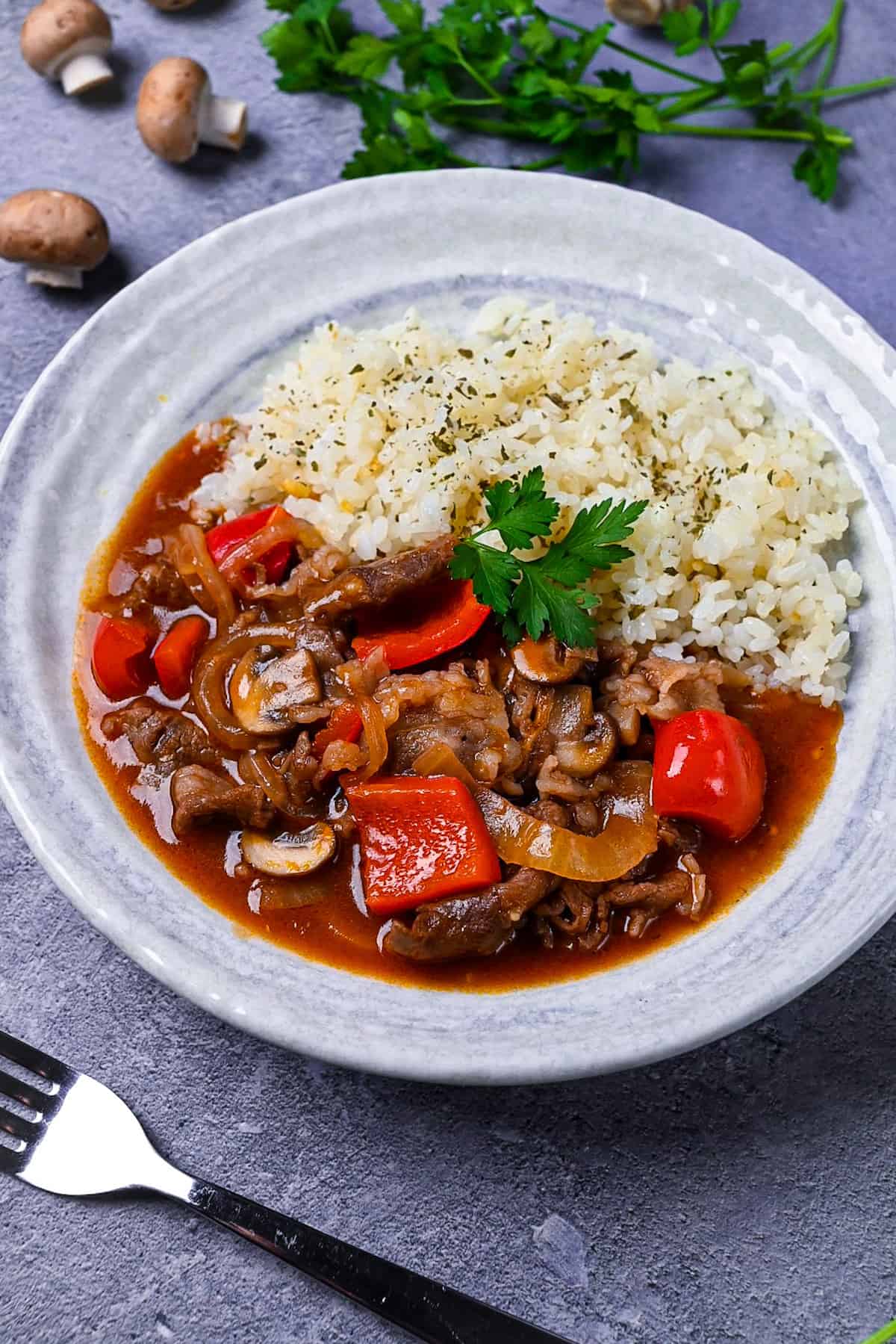 Hayashi Rice features tender slices of beef, sautéed onions, crunchy bell peppers, and earthy mushrooms; all stewed in a savory demi-glace style sauce. Hayashi Rice is a common sight in Japanese Yoshoku restaurants, and a regular home-cooked dish made using handy store-bought roux cubes, like Japanese curry.
Moreover, there are even dishes such as "omu-hayashi," a combination of hayashi rice and omurice!
For a twist on tradition, try it with garlic butter fried rice as included in this recipe, offering a shortcut to that rich, tangy flavor without compromising on taste!
Beef Hayashi Rice (without roux packet)
How to make rich and tasty Japanese Style Beef Hayashi Rice. Tender beef simmered in a tangy sauce with bell peppers, button mushrooms and softened onions served next to fragrant garlic butter rice. 
Check out this recipe →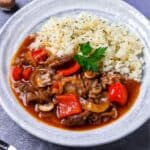 Saizeriya Style Milano Doria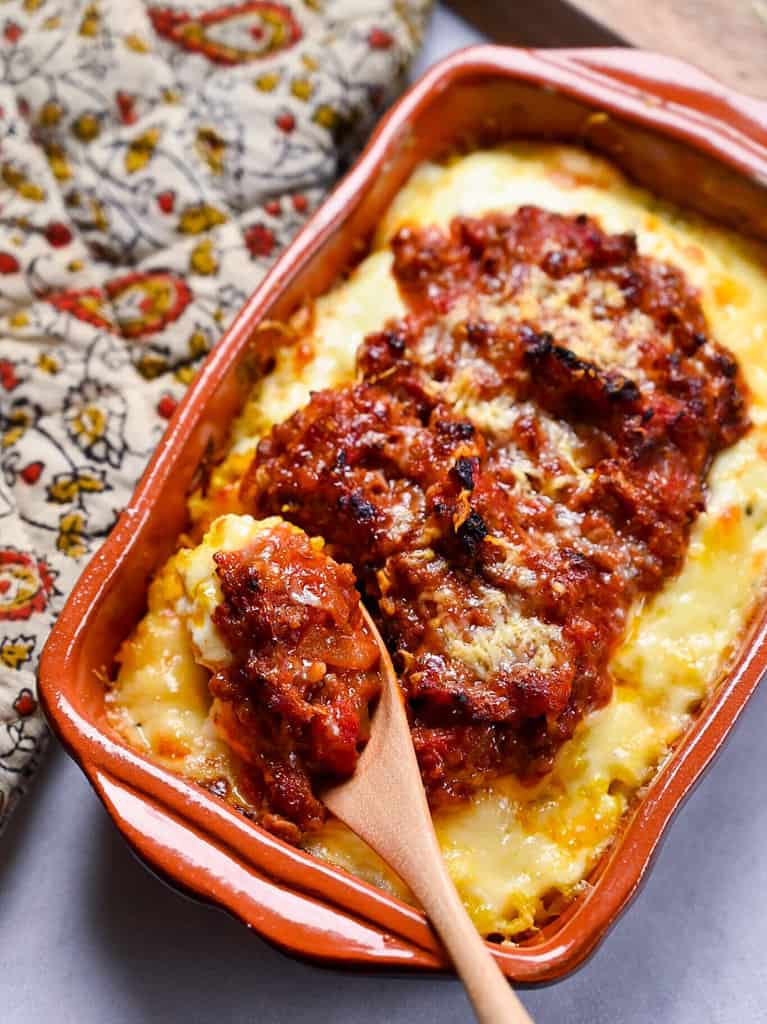 Milano Doria (ミラノ風ドリア) is a dish inspired by Italian and Japanese flavors and is a well-known menu at "Saizeriya," a popular family restaurant chain in Japan. Despite its name, which implies a connection to Milan in Italy, the dish is a unique creation by Saizeriya.
The dish consists of a layer of buttery turmeric rice topped with a creamy white sauce, a meaty sauce, and a sprinkling of powdered cheese. Having frequented Saizeriya throughout my childhood and still occasionally visiting, I can confidently say that the Milano Doria is a favorite among Japanese kids and adults, including myself.
There is also a recipe for seafood doria for those who like seafood!
Saizeriya Milano Doria Copycat Recipe (Japanese Meat Gratin)
A recreation recipe of Saizeriya's most loved dish, Milano Meat Doria. Turmeric rice topped with creamy béchamel sauce, tomato meat sauce with a kick and tangy pecorino cheese.
Check out this recipe →
FAQ
Is omurice omelette raw?
The degree to which the eggs in an omelette are cooked varies from restaurant to restaurant and home to home, but the classic omelette is almost completely cooked. Recently, however, many omelettes have been semi-cooked for a softer texture.
Is omurice famous in Japan?
Yes, it is safe to say that omurice is one of the top three most popular dishes among Japanese children. Because of this, omurice can be considered a nostalgic dish that quite a few people continue to love even into adulthood.
Is the inside of omurice cooked?
The omelette is filled with ketchup rice, so it is completely cooked. Simply put, it is easier to understand if you think fried rice is inside an omelette.
Is omurice breakfast or dinner?
Omurice are rarely eaten for breakfast and are most often eaten for lunch or dinner.
Why do you put ketchup on omurice?
Ketchup's addition to omurice likely had multiple reasons. One of the main considerations could have been accessibility and convenience. Although demi-glace sauce, a rich brown sauce, was a common accompaniment in restaurants, it was not as readily available for home cooks or too time-consuming to prepare from scratch back then. On the other hand, ketchup was an accessible, easy, and flavorful alternative. Another reason could be the visual appeal that ketchup added to the dish. The vibrant red color of ketchup contrasting against the bright yellow omelette made the dish more enticing and appetizing, contributing not just to the taste but also to the dish's visual appeal.
Who invented omurice?
Omurice's origin traces back to "Renga Tei (煉瓦亭)," a restaurant in Tokyo established in 1895. Initially, the dish was more like fried rice with lots of eggs, featuring minced meat and onions but lacking the now-iconic ketchup.
A change came in 1922 when "Hokkyokusei (北極星)" in Osaka first served ketchup rice wrapped in a thinly fried egg.