Why not try this delicious homemade pizza with a Japanese twist? Tender chicken thigh fried in classic Japanese teriyaki sauce served on takeaway style pizza dough with onion, sweetcorn and a drizzle of creamy mayonnaise!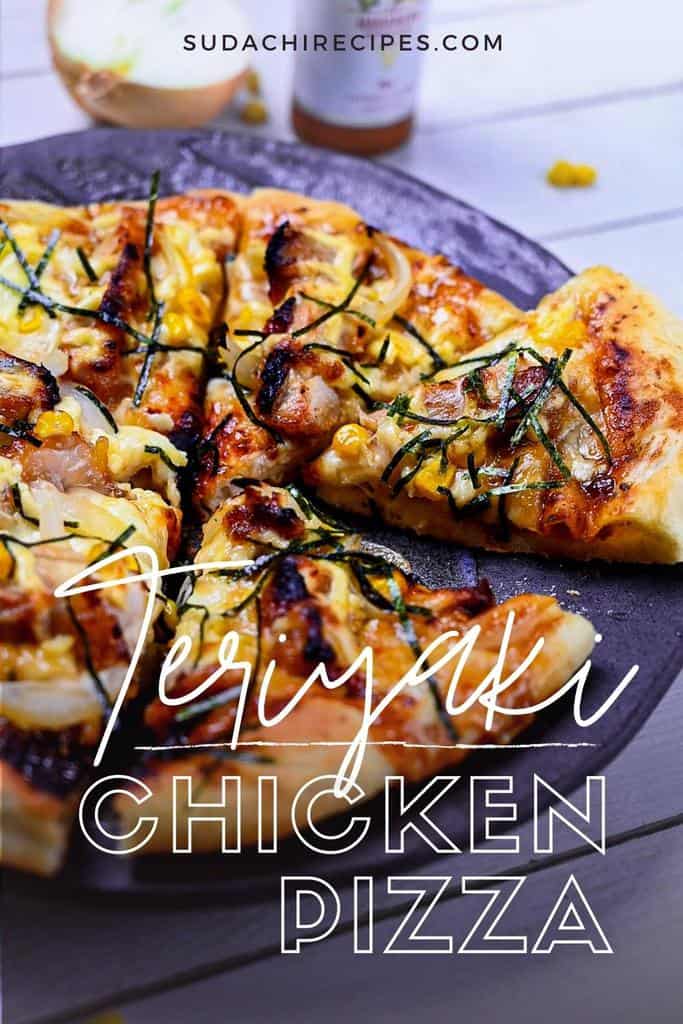 Disclaimer: This post contains Amazon affiliate links. Sudachi Recipes earn a small percentage from qualifying purchases at no extra cost to you. See disclaimer for more info.
Jump to:
Pizza in Japan
There's no doubt that pizza is one of the most loved foods in the whole world and in Japan? Of course we love pizza too! In fact, they're pretty expensive and considered a bit of a luxury.
Pizza was introduced to Japan after the 2nd World War, but it was pretty rare because many restaurants didn't have ovens. As the years went by, mini oven toasters became more popular in Japanese homes and supermarkets started offering frozen pizzas that you can heat in the toaster.
The popularity of pizza grew and grew and by 1985, Dominos opened their first delivery pizza shop in Japan located in Ebisu, Tokyo. There are now over 600 Dominos Pizza in Japan!
Popular pizza toppings
The three most popular pizza delivery shops in Japan are probably Domino's, Pizza-la and Pizza Hut. Pizza-la is a Japanese company and typically has more unusual toppings to suit Japanese tastes, but Domino's and Pizza Hut also have their fair share of unfamiliar toppings too.
Have you ever ordered pizzas in Japan? Or have you ever looked at delivery pizza menu in Japan?
We surely have some toppings that you've never seen before such as:
Teriyaki chicken pizza
Mochi cod roe pizza
Cod roe seafood pizza
Yakiniku pizza
Tuna potato pizza
It's also common to offer limited edition pizza with seasonal ingredients, for example pizza with eel in summer or crabmeat in winter etc. Check out Pizza-la's menu if you want to see more examples!
What is "Teriyaki"?
Teriyaki (照り焼き) is a method of cooking ingredients in soy sauce, sake, sugar and mirin. . Teri (照り) means gloss and because of the sugar in the sauce, it will become thick and glossy.
Teriyaki sauce is often used for chicken and fish (often yellowtail is used in Japan) but of course you can use the technique for anything!
Teriyaki Sauce is Simple to Make
Teriyaki is extremely tasty, yet quick and easy to make. In fact, I never buy premade sauce because I always have the ingredients to hand, there's really no need to buy premade sauce. Homemade teriyaki sauce is the best anyway!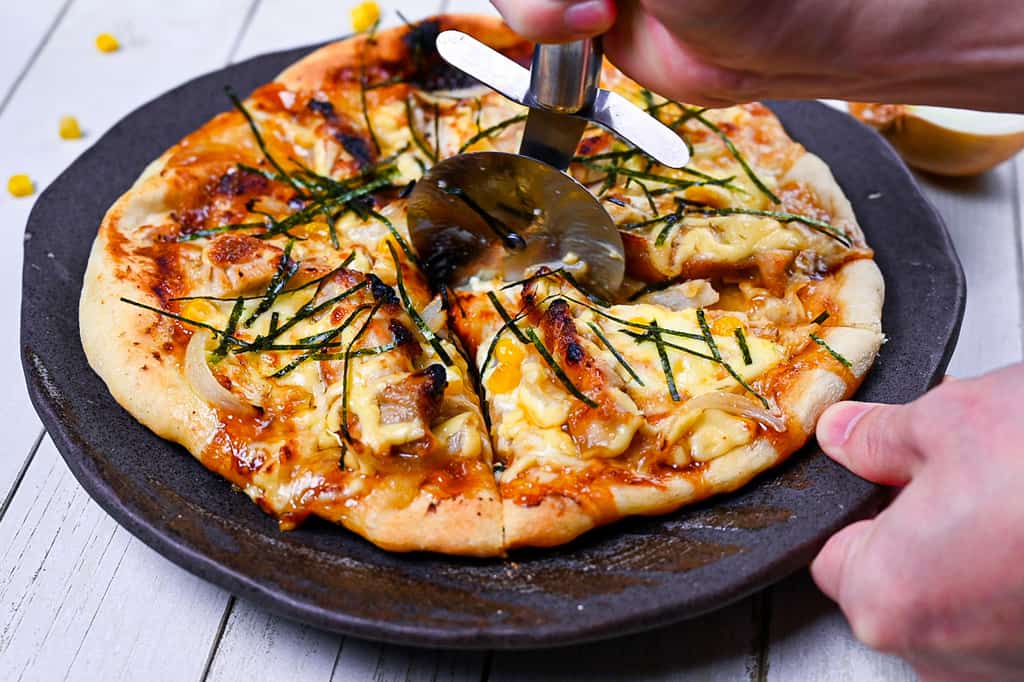 Teriyaki on Pizza?
I know it sounds a bit strange, but honestly, teriyaki chicken pizza is definitely one of the best Japanese pizza creations!
We replace the classic tomato pizza sauce with teriyaki glaze, then top it with cheese, chicken thigh, onion, sweetcorn and mayonnaise.
The first step is to pan-fry the chicken in homemade teriyaki sauce. I then remove the chicken from the pan and drizzle the leftover sauce over the pizza dough! It's quick and easy, there's no waste!
Homemade Pizza Dough
In my recipe, I've included how to make a delivery style pizza dough. Delivery pizzas are typically "New York Style" so thin in the middle with a fluffy and slightly chewy crust.
New York style pizza dough takes time and I've broken it down into two steps.
Step A requires 5 minutes of kneading and at least 3 hours of resting. (For the best results, after 3 hours I recommend storing it in the fridge overnight if you have time.)
Step B requires 15 minutes of kneading. If the dough has been stored in the fridge then you will need to let it reach room temperature before shaping, so take it out 1 hour before you plan to make your pizza.
Making your own pizza dough is definitely worth the time and effort, it can also be a fun activity to do with your family and friends.
Of course, it's optional and if you prefer you can use a premade pizza dough. (Just be aware that the baking time and temperature for the pizza itself will be different to my homemade one.)
FAQ
Is Japanese pizza a thing?
Of course! Japanese people love to put their own twist on other cuisines.
What variety of pizza is the most popular in Japan?
According to the survey on Nifty News, most favourited pizzas in Japan are:

1. Margherita
2. Seafood
3. Bacon u0026 Potatoes
4. Quattro formaggi (4 cheese)
5. Pesto Genovese sauce
6. Teriyaki chicken
7. Soft boiled egg u0026 Ham
8. Shrimp u0026 Mayo
9. Potatoes u0026 Mayo
10. Mochi rice cake u0026 cod roe

This article is from 2017 so it's probably changed since then, but you get the idea!

What are the most popular delivery pizza restaurants in Japan?
According to the survey on Nifty News, most popular delivery pizza chains in Japan are:

1. Pizza-la(ピザーラ)
2. Pizza Hut(ピザハット)
3. Domino's Pizza(ドミノピザ)
4. Napoli no Kama(ナポリの窯)
5. Pizza California(ピザ・カルフォルニア)
6. Chicago Pizza(シカゴピザ)
7. Strawberry Corns(ストロベリーコーンズ)
8. Pizza Salvatore Cuomo(ピザ・サルバトーレ・クオモ)
9. Pizza Ten Four(ピザテンフォー)
10. Aoki's Pizza(アオキーズピザ)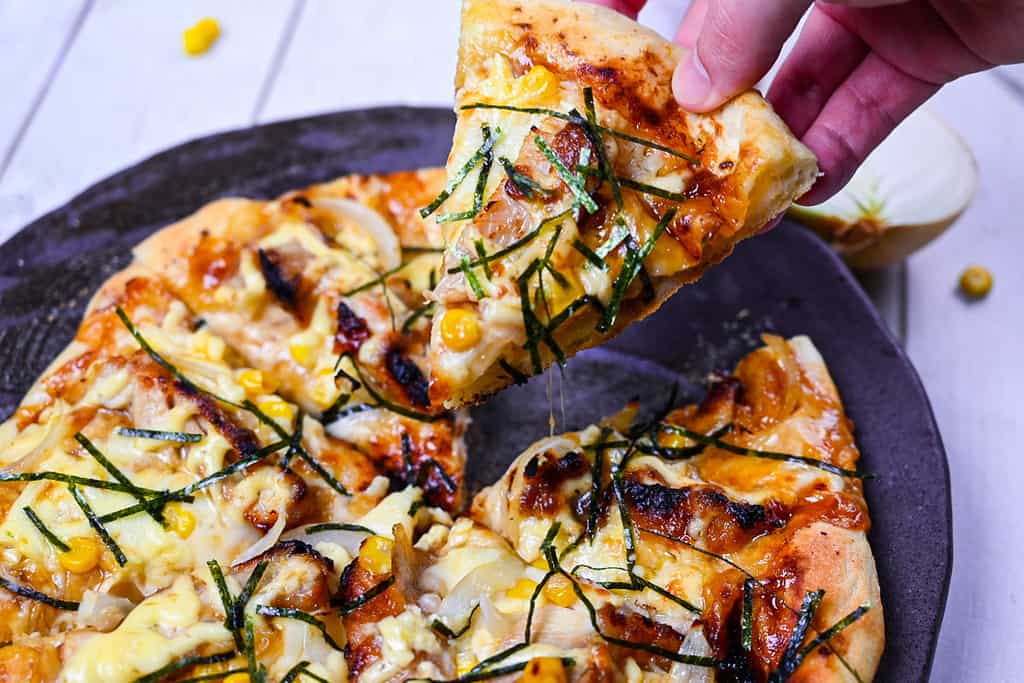 Who needs takeaway pizza when you can make something more delicious at home? Let's try making our own pizza from scratch with a Japanese twist!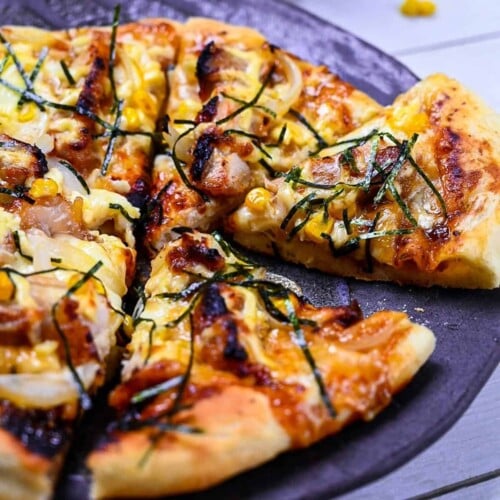 Japanese Teriyaki Chicken Pizza (てりやきチキンピザ)
How to make Japanese style teriyaki chicken pizza from scratch with homemade New York style crust! (For best results, rest pizza dough overnight.) Makes 2 10" pizzas.
Ingredients
Part A
200

g

bread flour

1 ½

tsp

dry active yeast

100

ml

warm water

-

about 40°C or 105°F
Part B
200

g

bread flour

3

tsp

sugar

1

tsp

salt

2

tsp

milk

100

ml

warm water

-

about 40°C or 105°F

½

tbsp

olive oil
Teriyaki chicken
300

g

boneless chicken thigh(s)

-

skin on

1

pinch

salt

2

tsp

cornstarch

1

drizzle

cooking oil

4

tbsp

soy sauce

4

tbsp

sake

4

tbsp

mirin

4

tbsp

dashi stock -

or water

1

tbsp

light brown sugar

2

tsp

honey
OTHER TOPPINGS
50

g

yellow onion(s) -

thinly sliced

2

tbsp

Japanese mayonnaise

150

g

mozzarella cheese

-

grated

2

tbsp

sweet corn

2

tbsp

sushi nori seaweed(s)

-

nori
Instructions
Delivery style Pizza Dough - Part A
(If you want to use a premade base you can skip this step)

Mix

200 g bread flour

,

1 ½ tsp dry active yeast

and

100 ml warm water

together in a bowl until a shaggy dough forms. 

Tip the dough onto a lightly floured surface and knead for 5 minutes. 

Transfer back to the bowl and cover with a damp cloth or plastic wrap for at least 3 hours.

After 3 hours, press the air out of the dough and move onto part B. (Optional - Store in the fridge over night and remove 1 hour before moving onto part B)
Part B
Take the dough and in the same bowl add

200 g bread flour

,

3 tsp sugar

,

1 tsp salt

,

2 tsp milk

and

100 ml warm water

. Combine the dough with the ingredients using a spatula. 

Once the new ingredients are incorporated into the dough, pour the

½ tbsp olive oil

over the surface and knead by hand in the bowl for 5 minutes.

Tip the dough out onto a lightly floured surface and knead for another 10 minutes. (If it's too sticky then gradually sprinkle more flour, just be careful not to add too much!)

Divide into 2 pieces and cover with a damp tea towel or plastic wrap until you're ready to use it. 
Teriyaki Chicken
Take

300 g boneless chicken thigh(s)

and make a butterfly cut so that it's an even thickness throughout. (This means cutting horizontally on the thickest parts and opening them out.)

Stab with skin with fork and dry each side with kitchen paper.

Sprinkle both sides with

1 pinch salt

then lightly brush with

2 tsp cornstarch

. It should have a light coating all over.

Heat a pan on medium and add

1 drizzle cooking oil

.

Once the pan is hot, add the chicken thigh skin side down and fry until crispy and cooked ¾ of the way through. (This took about 8 minutes for me.)

In a small bowl, mix

4 tbsp soy sauce

,

4 tbsp sake

,

4 tbsp mirin

,

4 tbsp dashi stock

(or water),

1 tbsp light brown sugar

and

2 tsp honey

. 

Flip the chicken thigh and cook for 1 ½ minutes on the other side. Then remove it from pan and set it aside.

Add the teriyaki sauce mixture to the same pan and turn up the heat to high.

Once it starts to bubble, place the chicken thigh back in and use a spoon to scoop sauce and baste it over the chicken. Keep basting until the chicken is well covered.

When the sauce has thickened, turn off the heat and take out the chicken.

Allow to sauce and chicken to cool for about 10 minutes. When the chicken is cool enough, cut it into slices.
Assembling and cooking the pizza
Pre-heat your oven to the hottest setting. (Ideally

230

°C

or higher. I used

300

°C

setting.)

Roll the pizza dough out on a lightly floured surface. You can stretch it by hand or use a rolling pin depending on your preference. (Make sure to sprinkle flour on your hands or rolling pin)

Make sure your teriyaki sauce is cool to the touch and then pour half of it onto each pizza.

Sprinkle a generous helping of grated mozzarella cheese.

Arrange the teriyaki chicken around the pizza.

Lastly, sprinkle sweet corn and drizzle with mayonnaise.

Bake for about 10-12 minutes. (Keep an eye on it to make sure it is not burning)

Once the crust is cooked through, remove the pizza from the oven and sprinkle with kizami nori.

Cut, serve and enjoy!
Notes
This recipe makes 2 10" pizzas which serves 2-3 people.
If you want to speed up the process, of course you can use your favourite premade pizza crust.
If you make the pizza dough in advance, use in 3-5 days.