Takikomi gohan is a delicious and nutritious way to enjoy Japanese rice. Cooked with meat and seasonal vegetables flavored with Japanese condiments, this dish is commonly enjoyed with fish and miso soup in the cooler autumn months.
Disclaimer: This post contains Amazon affiliate links. Sudachi Recipes earn a small percentage from qualifying purchases at no extra cost to you. See disclaimer for more info.
What is Takikomi Gohan?
Takikomi gohan (炊き込みご飯) is a flavorful dish made by cooking rice with meat or fish, vegetables, dashi and seasonings. Cooking everything together in a pot results in delicious rice with a deep flavor. Takikomi gohan is treated the same as a regular bowl of rice and commonly served with a main (of fish or meat) and a side of miso soup. It is a common fall dish and often incorporates seasonal produce such as mushrooms and chestnuts.
The name comes from the words "takikomu" which means to cook rice, meat and vegetables together. Depending on the region, it also sometimes goes by other names such as "gomoku meshi" in Eastern Japan (Kanto) or "kayaku meshi" in Western Japan (Kansai).
Another similar dish is "maze gohan", which means "mixed rice". However, one key difference is the fact that the ingredients for maze gohan are mixed in after the rice is cooked, while for takikomi gohan is made by cooking the rice and other ingredients together.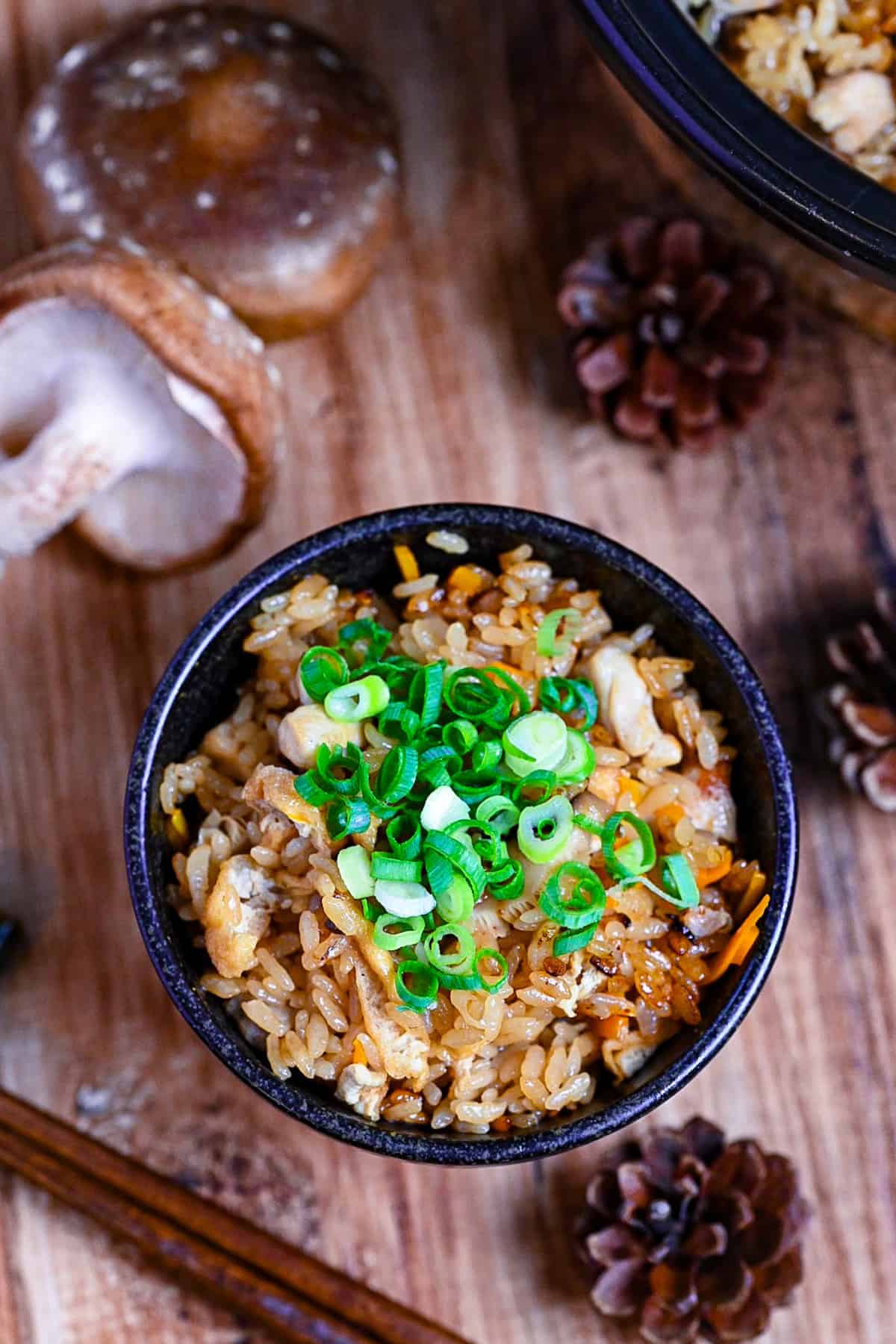 How I Developed This Recipe
Takikomi gohan is a dish where even Japanese cooks can stumble, given its intricate steps and potential pitfalls. With this in mind, I've crafted a comprehensive guide to ensure you sidestep common errors.
This isn't just a recipe; it's a detailed roadmap to perfecting takikomi gohan at home, even without a rice cooker.
I give the dish a personal touch with the addition of crispy chicken skin, which takes the dish to another level both in flavor and texture.
To fully understand this dish and minimize mistakes, I strongly recommend reading the full article, not just skimming the recipe.
Ingredients and Substitution Ideas
Takikomi gohan is a versatile dish whose ingredients can differ based on personal preferences and regional variations.
In this section, I'll share the specific ingredients I've chosen for my version. Additionally, I'll provide a list of other popular ingredients often found in Japanese households, giving you a broader perspective and options to customize your own takikomi gohan.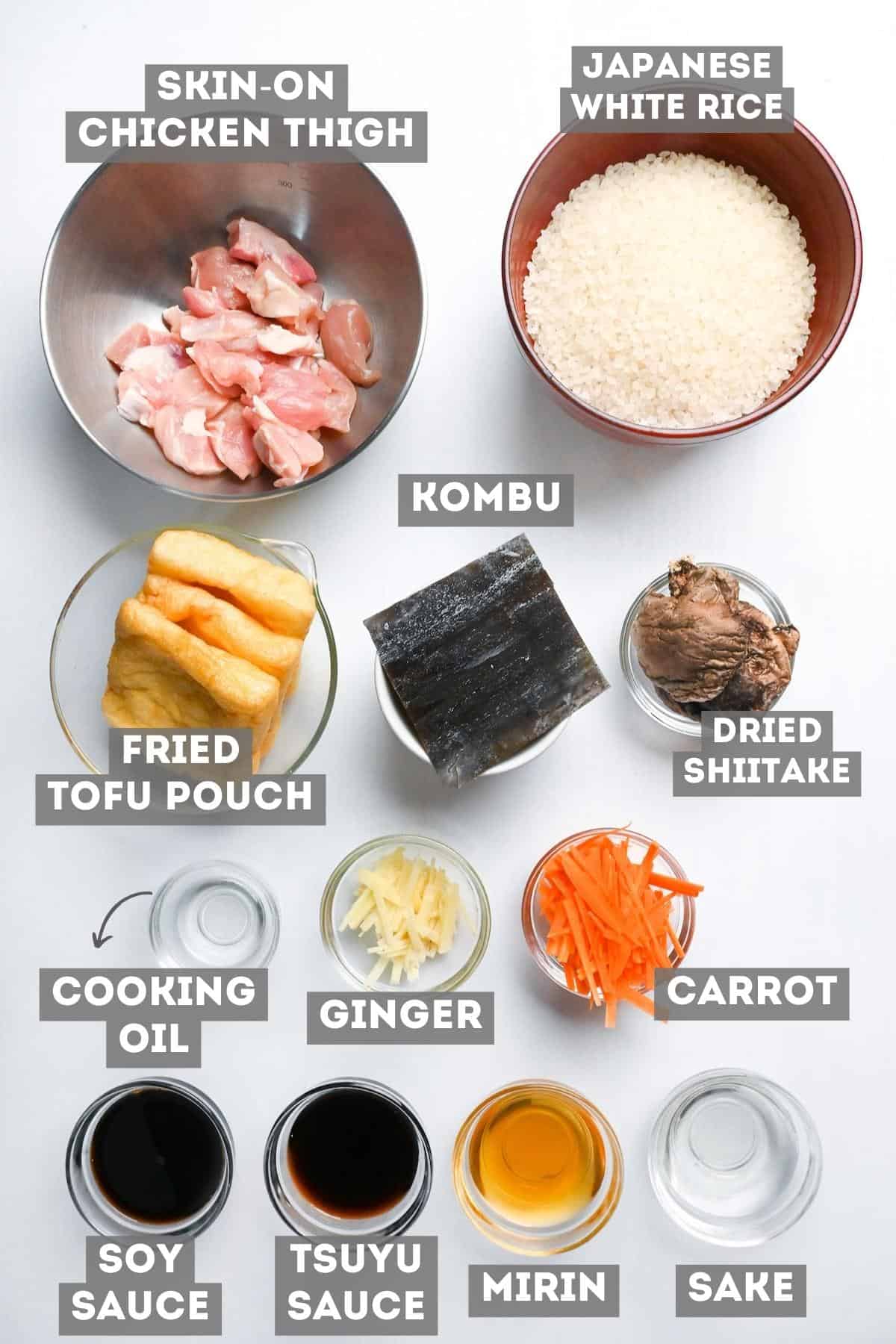 Ingredients I Used
Uncooked Japanese Short-Grain Rice: For the best results, refer to the "How to Cook Japanese Rice Recipe" to find recommended brands in the U.S.
Dried Shiitake Mushrooms: These are essential for crafting the broth and, once rehydrated, serve as a critical ingredient in the dish.
Dried kelp (Kombu): This is the foundation of the broth, imparting a unique depth of flavor.
Fried Tofu Pouch (Aburaage): Ensure you use aburaage, the deep-fried tofu variant, rather than regular tofu. It can be omitted if it is not accessible to you.
Vegetables: The recipe incorporates carrots and ginger for added texture and flavor.
Boneless Chicken Thigh (Skin On): The inclusion of the skin enhances the dish's richness, so opt for skin-on chicken thighs when possible.
Soy Sauce: Kikkoman soy sauce is a reliable and reasonably priced option. Refer to our complete soy sauce guide for a comprehensive guide on selecting soy sauce in Japanese cuisine.
Tsuyu Sauce: For a homemade touch, consider crafting your own tsuyu sauce. Please see the recipe for tsuyu sauce.
Mirin: When shopping for mirin, prioritize "hon mirin" (本みりん) for optimal flavor. Hinode Hon Mirin is a top-tier yet affordable choice. Check out 20 Most Useful Condiments and Seasonings for Japanese Cooking for a broader perspective on condiments and seasonings in Japanese cooking.
Sake: While dry sherry or white wine can often replace sake, this recipe specifically calls for sake to achieve the desired flavor profile. If you need to omit, add an equal amount of water to keep the liquid ratio consistent with the recipe.
Curious about the exact brands and products that bring my recipes to life? Discover the brands and ingredients behind my recipes at the Sudachi Amazon Storefront. Explore my handpicked pantry essentials and find your next kitchen favorites!
Other Ingredient Ideas
There are no rules for this dish, but some of the most well-loved ingredients are below:
Other types of mushrooms
Chestnuts
Bamboo shoots
Fish
Seashells
Sweet potatoes
Gobo (Japanese Burdock root)
Edamame
There are no rules, so you can make it using local ingredients from your area! Just be careful about the amount you use since overfilling the pot can lead to uncooked rice (more about that later!).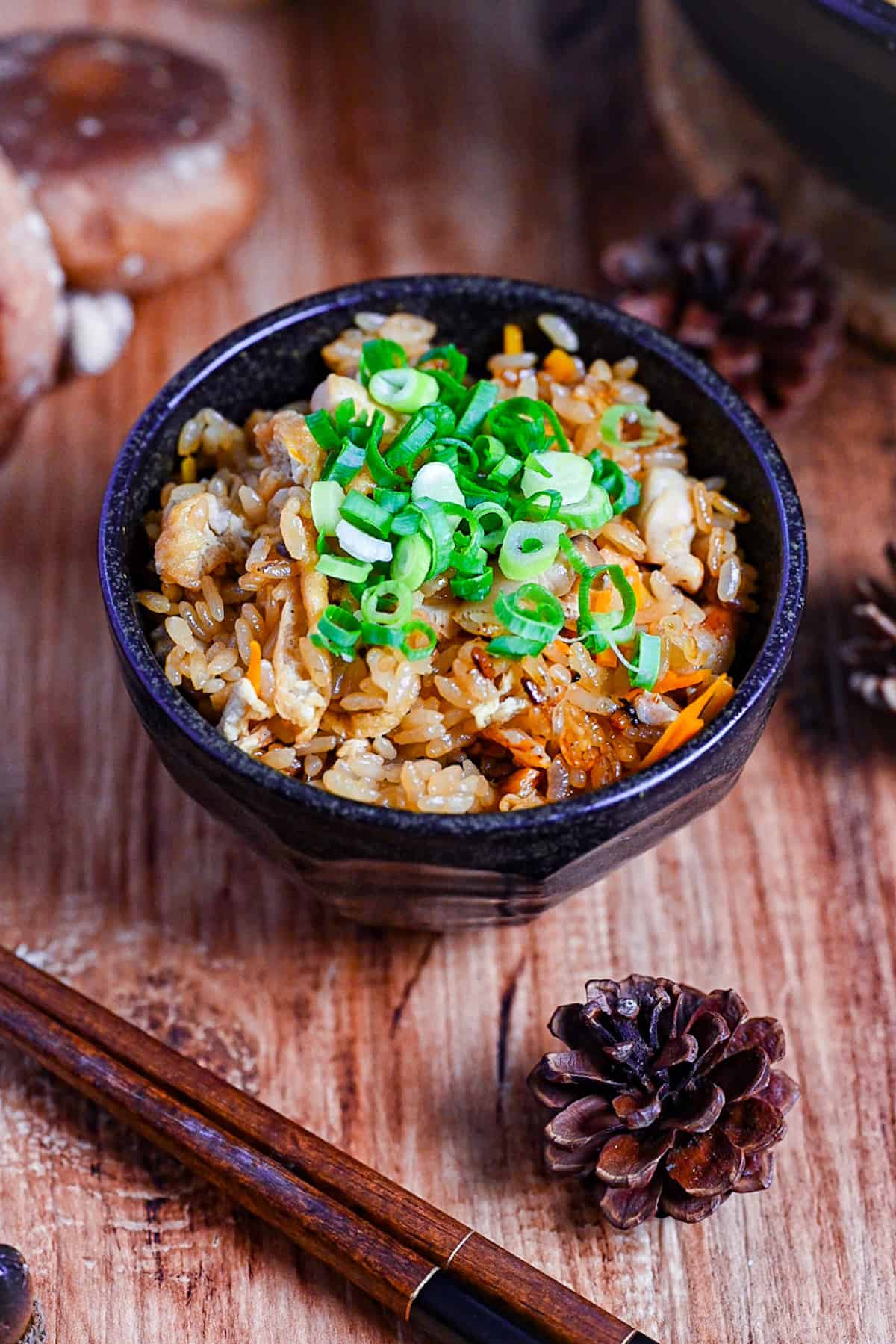 Step-by-Step Process
Here are my step-by-step instructions for how to make delicious chicken Takikomi Gohan. I will explain how to cook it in a pot on the stove, but the recipe works perfectly well in a rice cooker too as long as the pot is big enough that it will only be 60-70% full.
For ingredient quantities and simplified instructions, scroll down for the printable recipe card below.
Pour the rice into a bowl and fill with water. Swish it around until the water becomes cloudy, then drain and repeat twice more.
Can I wash the rice in the cooking pot?
Washing the rice in a cooking pot or rice cooker pot can scratch your cookware and will gradually wear away any non-stick coatings. For this reason, I always recommend washing your rice in a bowl.
After washing, add enough water to completely submerge the rice and soak for one hour. The water might still be cloudy and that is okay.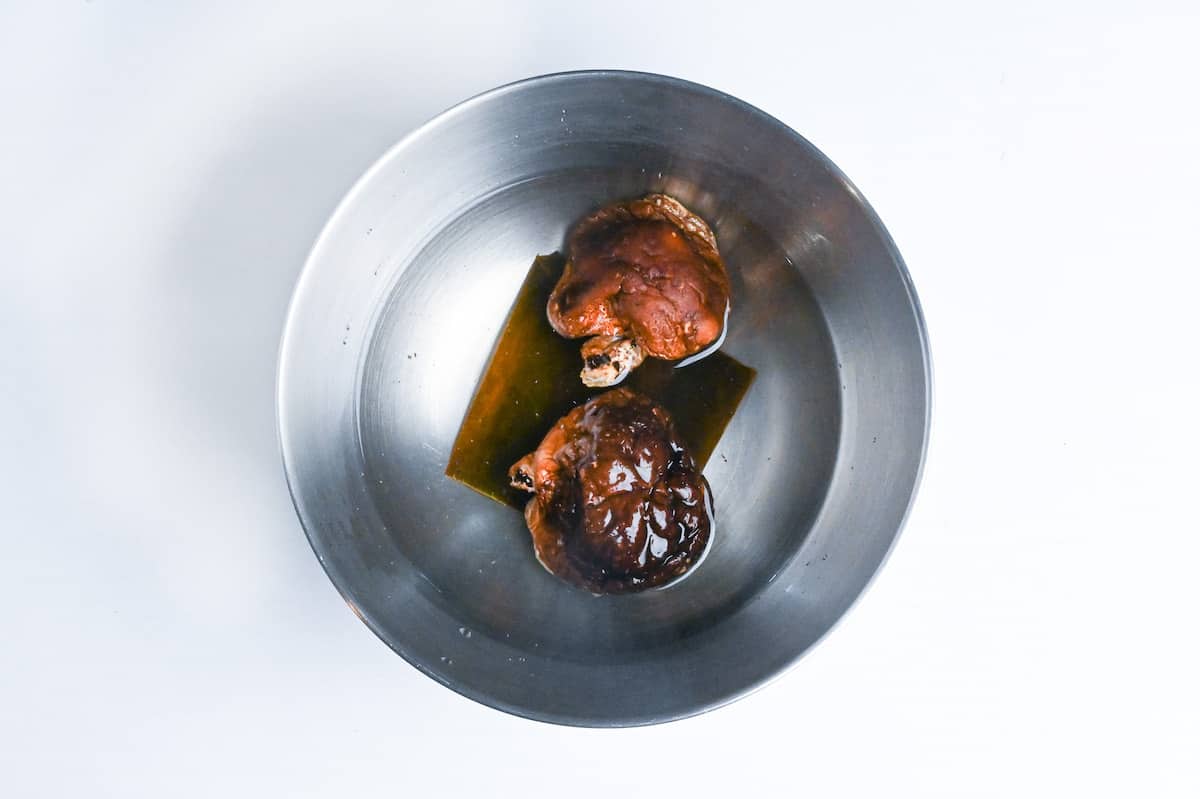 Place dried shiitake mushrooms and kombu (dried kelp) in a bowl of water and soak for 1 hour. Not only does this produce a light dashi stock that we will use later to cook the rice, but it also rehydrates the mushrooms which we can also use in the dish.
After 1 hour, pour the rice into a fine mesh sieve to drain the water and place it over a bowl. Let it dry while you prepare the other ingredients.
Remove the shiitake and kombu from the dashi and set it aside for later. Thinly slice the shiitake mushrooms, we will use them in the recipe. You can discard the kombu or use it to make kombu tsukudani rice ball filling.
Peel and julienne the carrot and ginger, and thinly slice the tofu pouches.
Peel the skin off the chicken and cut both the skin and meat into small bitesize pieces. The smaller they are, the more evenly they will distribute throughout the rice (not too small though, we still want to enjoy the texture of the chicken).
Heat a frying pan on medium and add a small amount of cooking oil. Once hot, add the chicken skin and fry until crispy. I recommend using a lid to stop the fat from spitting out of the pan.
Once golden and crispy, remove from the pan and place on kitchen paper to absorb the excess oil.
Cook the chicken and vegetables
Fry the chicken meat in the fat from the chicken skin until the surface is sealed. It does not need to be cooked all the way through since it will cook fully with the rice later.
Once sealed, add the vegetables and tofu pouches and stir fry for about 1 minute. This step is to allow the other ingredients to absorb some of the flavor from the chicken skin.
Once done, remove the pan from the heat.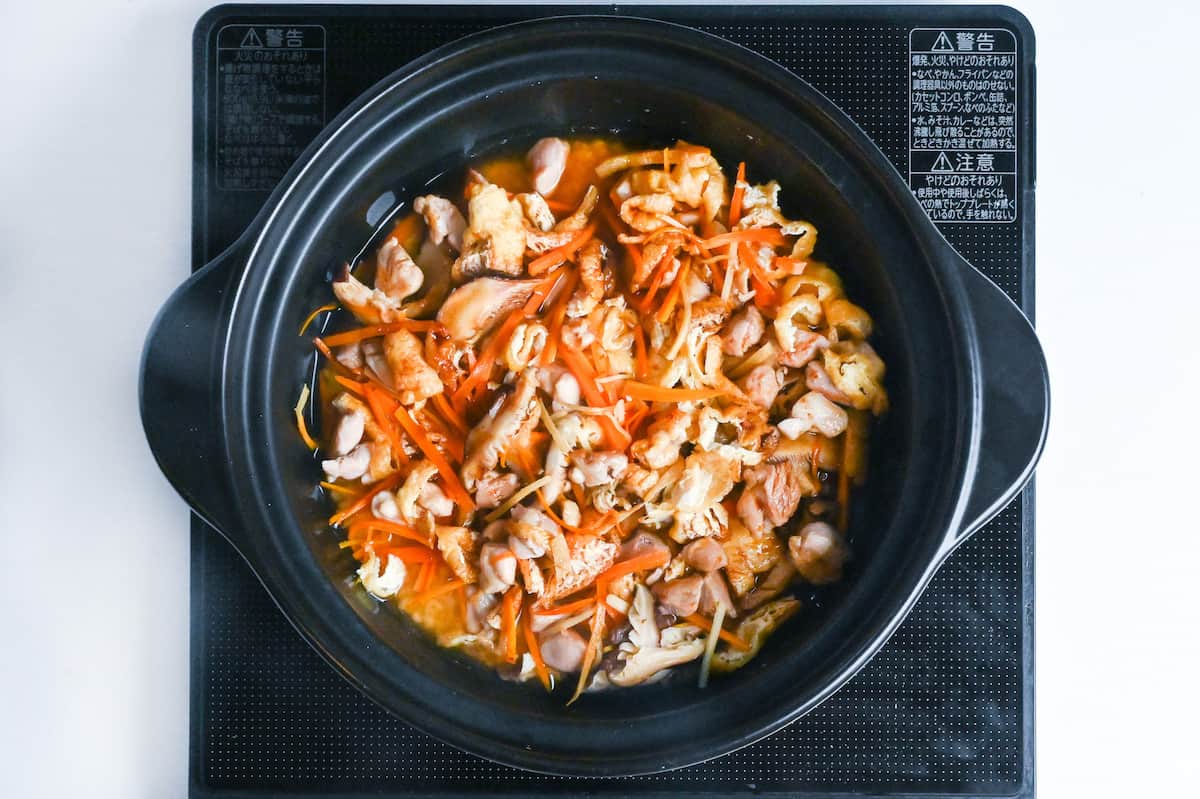 Add the rice and dashi to a pot and empty the contents of the frying pan on top. Drizzle soy sauce, tsuyu sauce, mirin and sake around the top. You can add the crispy chicken skin now, or save it for sprinkling at the end!
Do not mix! Leave the ingredients at the top to ensure the rice underneath can cook evenly.
It's also important to start cooking immediately after adding the condiments. If left, the condiments start to sink down to the bottom of the pot which can affect both the texture and flavor of the rice.
If you are using a rice cooker, use the regular setting. If you are cooking it in a pot on the stove, follow these steps:
Place a lid on top and bring to boil over medium heat.
Once consistently bubbling, set a timer for 2 minutes.
Reduce the heat to medium-low and set a timer for 3 minutes.
Reduce the heat to low and set a timer for 5 minutes.
Finally, blast the heat for 10 seconds on the highest setting and then turn off.
Keep the pot on the warm stove and leave to steam for 20 minutes.
Do not remove the lid at any point during the cooking process!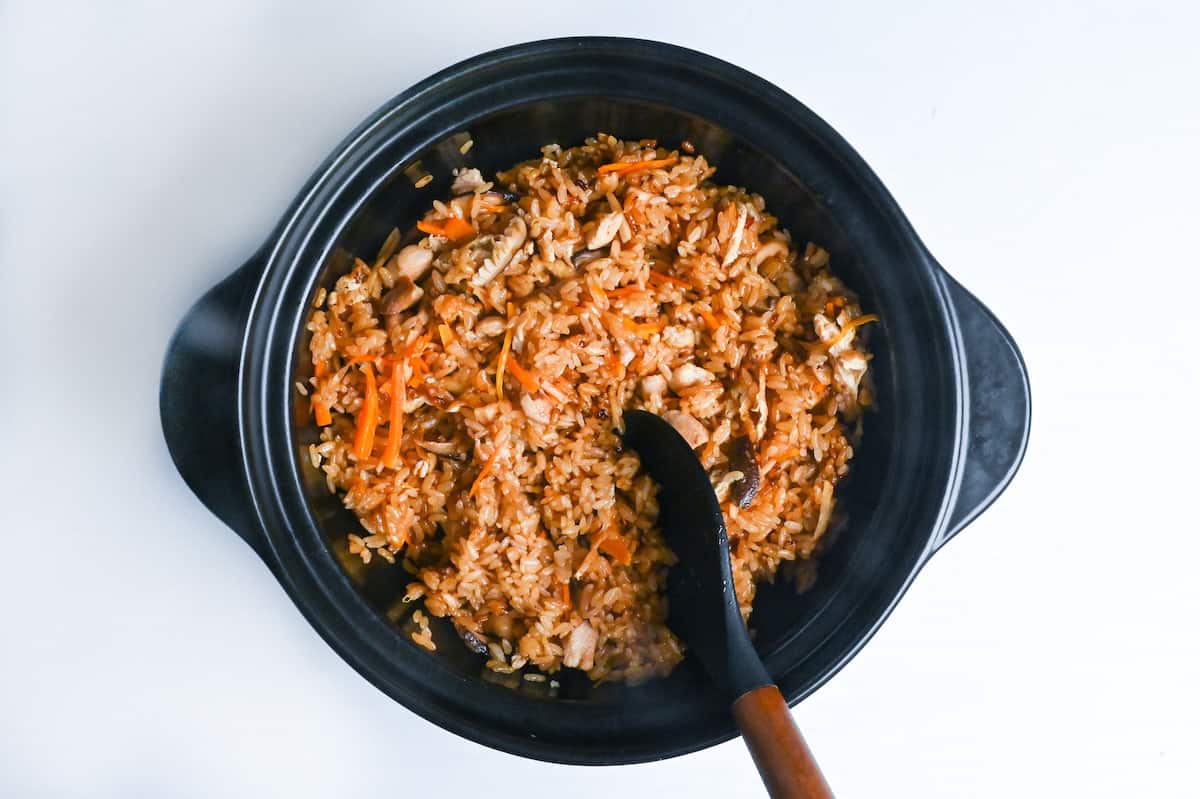 Once the takikomi gohan has finished steaming, remove the lid and mix thoroughly to evenly distribute the ingredients, but gently enough that you don't crush the rice.
Enjoy!
Troubleshooting
Making takikomi gohan can be tricky and more challenging than cooking plain rice. Simply throwing rice, meat, and vegetables into a pot won't do the trick because the ingredients' reaction can lead to unexpected failure.
When I first tried this recipe, I faced some failures, but along the way, I discovered some helpful tips I want to share with you.
Here are some common problems and solutions to fix them in a FAQ-style format.
The rice is undercooked/too hard
One of the common issues with takikomi gohan is undercooked rice, where the core remains hard. At the same time, it might seem like a cooking time issue, but the root causes often differ. Here are some potential reasons:
Insufficient Water Absorption: Rice needs to absorb water adequately. If mixed in condiments, it can increase osmotic pressure, preventing water from entering the rice grains. Soak the rice in plain cold water for 30 minutes to 1 hour before cooking to counter this. After soaking, drain and let the surface of the rice dry to avoid over-saturation.
Premature Ingredient Mixing: Mixing ingredients with rice before cooking can cause uneven cooking. Vegetables might absorb the water meant for the rice. Instead, layer the ingredients on top of the rice, allowing the rice to simmer in water while steaming the ingredients. For instance, layer as follows: rice, chicken, carrot, mushroom, and then fried tofu.
Excessive Oily Ingredients/Condiments: Some rice cookers adjust heating based on temperature sensors. Too much oil can disrupt this, leading to undercooked rice. If using oily ingredients, ensure your rice cooker has a "Takikomi gohan" setting.
Overfilling the Rice Cooker: Filling beyond the cooker's capacity can disrupt its sensors, resulting in undercooked rice. Ensure ingredients only fill 60-70% of the cooker's capacity. For larger batches, I recommend cooking it in a pot on the stove instead.
Early Addition of Condiments: Seasonings like soy sauce can prevent rice from absorbing water due to their salt content. Delay adding condiments until the appropriate time in the cooking process.
Rice being soggy/too wet
Another common issue with Takikomi gohan is on the other end of the scale, when the rice becomes too wet or mushy. This often results from excess liquid, and there are typically two main culprits.
Firstly, overusing condiments can be problematic. Ingredients like soy sauce, mirin, and sake contribute additional moisture. Adjusting the water quantity to account for these additions is vital, ensuring the right liquid balance for rice.
Secondly, incorporating ingredients with high water content, such as radishes or mushrooms, can lead to a soggier result. The moisture from these ingredients seeps out during cooking, increasing the overall liquid in the pot. Japanese rice is extremely absorbent and even once it's done, it will continue to absorb any excess moisture that leaks out of other ingredients.
If you're keen on using such ingredients, consider reducing the initial water amount or try pre-cooking them to evaporate some of their moisture.
Uneven taste and color
An uneven flavor is a common issue with Takikomi gohan. There are a few reasons why this might happen:
Mixing Ingredients and Rice Before Cooking: Combining the rice with the other ingredients before cooking can lead to an uneven distribution of flavors. The ingredients should be layered on top of the rice, not mixed in.
Delay in Cooking After Adding Condiments and Ingredients: The flavors can become uneven if there's a long gap between adding the condiments and cooking the rice. For instance, if you prepare the rice the night before and use a timer function on your rice cooker, the condiments might settle at the bottom. This means the rice at the bottom gets a stronger flavor, leading to inconsistent taste and color throughout the dish.
The key takeaway for perfect Takikomi gohan is to cook it immediately after adding the condiments and ingredients and to keep the ingredients layered on top of the rice rather than mixing them in. This ensures even flavor and perfectly cooked rice.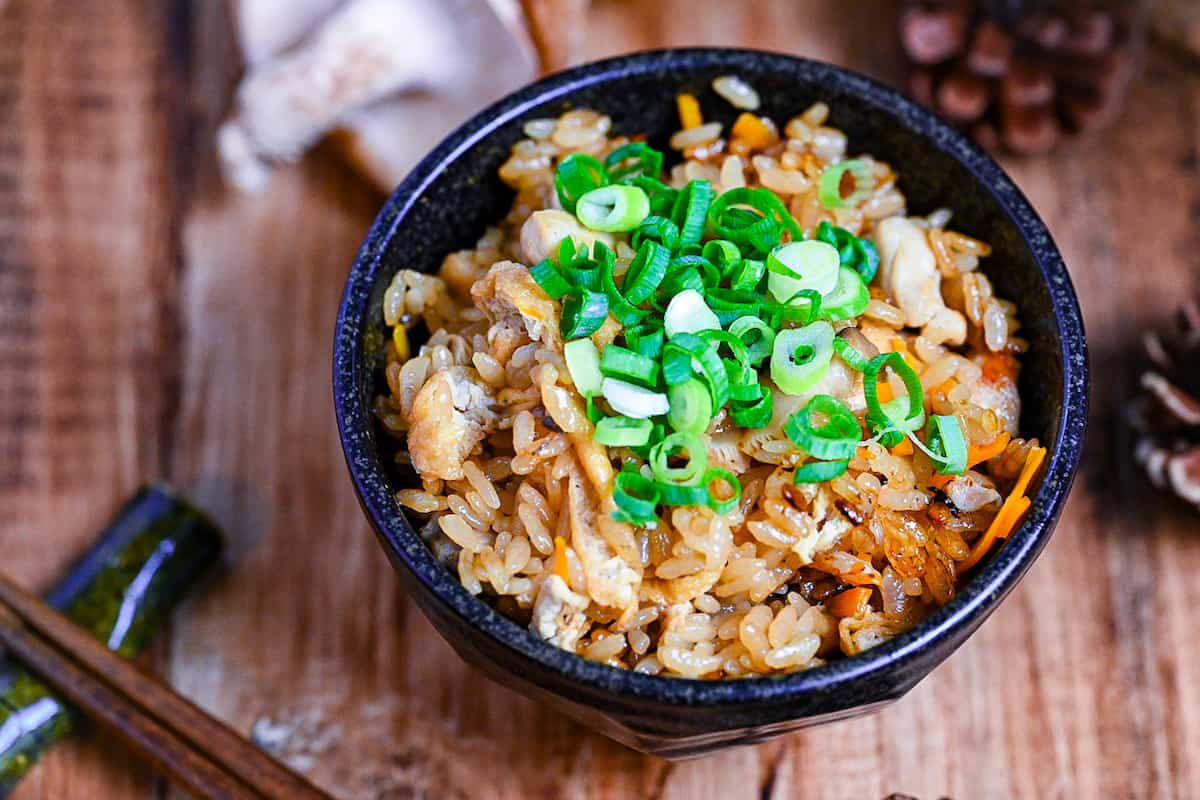 How to Revive Under-Cooked Takikomi Gohan
Hard rice in Takikomi gohan doesn't mean it's a lost cause. You can bring it back to its desired texture with a little effort. If you find your Takikomi gohan a bit on the harder side:
Spread it Out: Lay the rice thinly across a plate. This ensures even reheating.
Moisten the Rice: Lightly sprinkle 1-2 tablespoons of water over the rice. This helps soften the grains.
Cover and Microwave: Wrap the plate with plastic wrap. Microwave it at 500-600W for 2-3 minutes.
Stir and Repeat: After the initial heating, mix the rice to ensure even softening. If needed, microwave again in 1-2 minute intervals, stirring between sessions until the rice reaches the desired softness.
This method can breathe new life into your Takikomi gohan and save a dish that might otherwise have been discarded.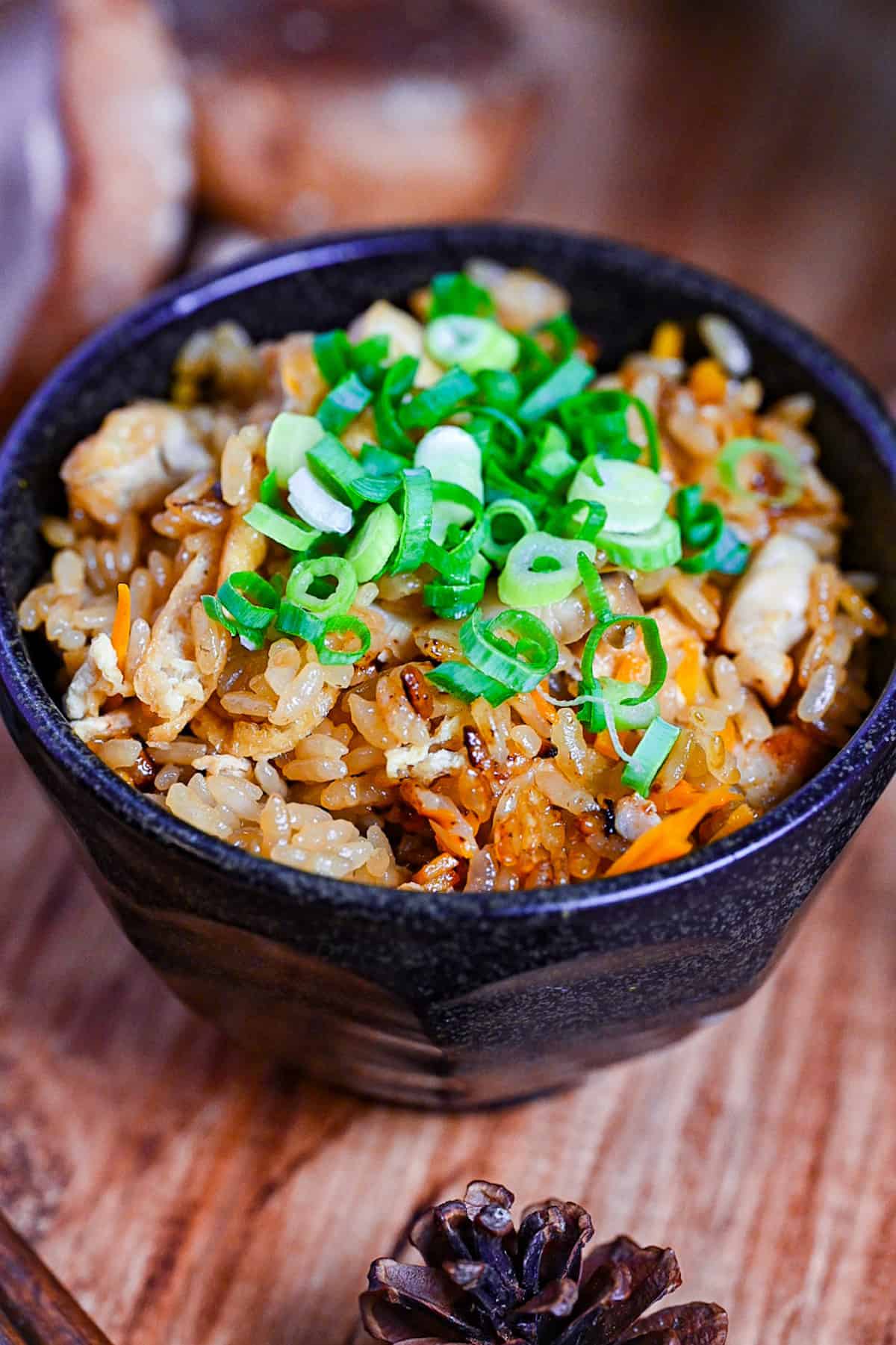 Storage
If you have leftover Takikomi gohan, freezing is the best way to preserve its freshness for later enjoyment. Making it into rice ball shapes and wrapping each in saran wrap is convenient for single servings.
Once wrapped, you can place the rice balls in a Tupperware container or a zip-lock bag, ensuring minimal air inside to maintain freshness. Stored this way, the Takikomi gohan should remain fresh for up to a month in the freezer.
When you're ready to eat, take out the desired portion and microwave it directly. It's worth noting that refrigeration isn't ideal for Takikomi gohan as it can make the rice hard and less flavorful, so freezing is the preferred method.
Room temperature – Not recommended.
Refrigerated – Not recommended.
Frozen – Up to 1 month.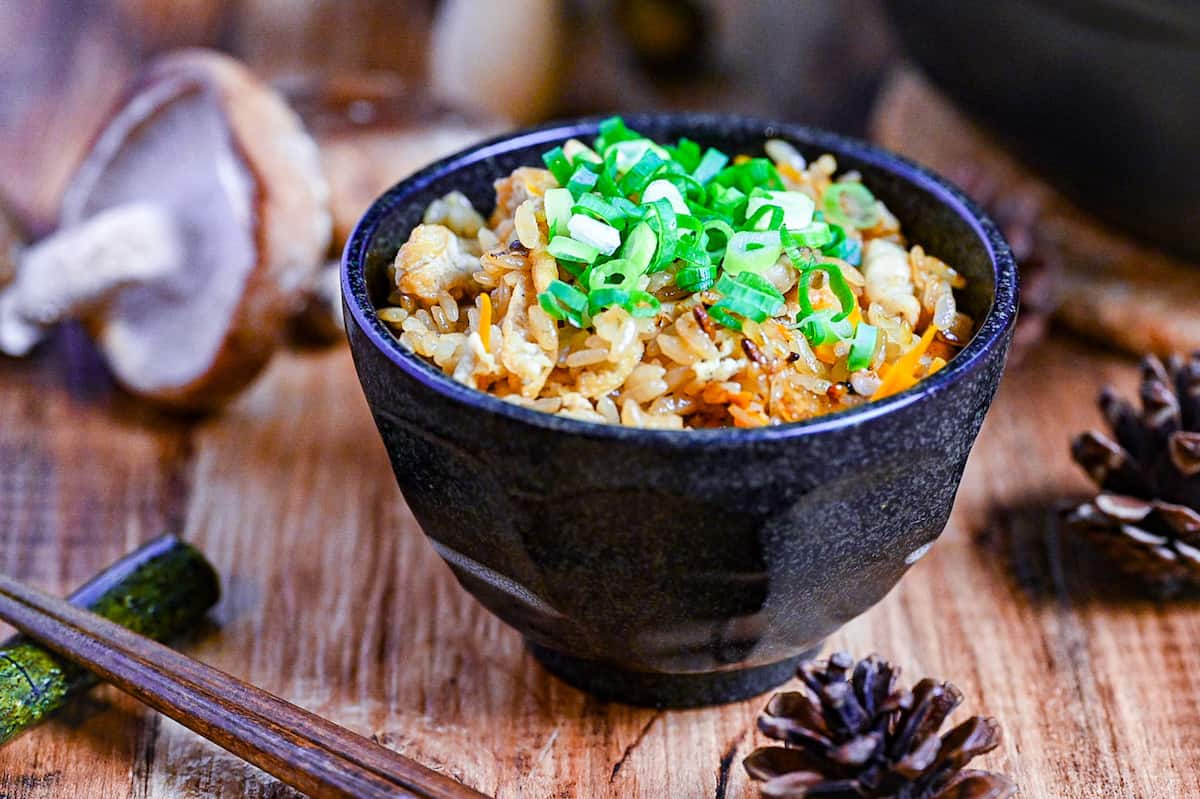 I hope you enjoy this delicious chicken takikomi gohan recipe! If you try it out, I'd really appreciate it if you could spare a moment to let me know what you thought by giving a review and star rating in the comments below. It's also helpful to share any adjustments you made to the recipe with our other readers. Thank you!
More Rice Recipes
Check out some of my other Japanese rice recipes: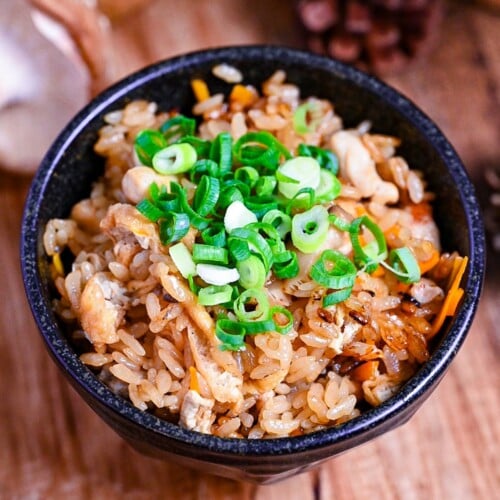 Takikomi Gohan (Japanese Seasoned Rice)
---
How to make deep and flavorful Takikomi Gohan with rice, chicken, ginger and seasonal vegetables cooked in a seasoned dashi broth.
---
---
---
---
Ingredients
300

g

uncooked Japanese short-grain rice

water for soaking

3-5

g

dried kelp(s)

(kombu) 3-5g is one small sheet

275

ml

cold water

to make dashi

150

g

boneless chicken thigh(s)

skin on

½

tsp

cooking oil

3

sheets

fried tofu pouch(s)

(aburaage) thinly sliced

50

g

carrot(s)

peeled and julienned

10

g

fresh ginger

peeled and julienned

2

tbsp

soy sauce

2

tbsp

tsuyu sauce Check out my homemade tsuyu recipe

2

tbsp

mirin

2

tbsp

sake
Instructions
First, place

300 g uncooked Japanese short-grain rice

in a bowl and fill it with water. Swish, drain and repeat 3 times to wash it. (It's okay if the water is still cloudy.)

Pour your rice into a bowl and add enough water to completely submerge it. Leave to soak for one hour. 

Place

2-3 dried shiitake mushroom(s)

and

3-5 g dried kelp(s)

in

275 ml cold water

and soak it for one hour. This will make a shiitake and kombu dashi.

After the rice has soaked for 1 hour, pour through a sieve to drain and place over an empty bowl to dry until it's time to cook.

Remove the shiitake mushroom and kombu from the bowl, the liquid inside is a light dashi that we will use later. Finely slice the rehydrated shiitake mushroom and discard the kombu. (Alternatively, use the kombu to make kombu tsukudani rice ball filling.)

Peel the skin off of

150 g boneless chicken thigh(s)

and cut it into bite-size pieces. Cut the meat into small pieces and set aside.

Heat a small frying pan on medium and once hot, add

½ tsp cooking oil

and the chicken skin. Place a lid on to prevent the fat from splashing and fry on both sides until crispy.

Once done, remove the crispy chicken skin from the pan and place on kitchen paper to absorb the excess oil. Using the same pan, add the chicken meat and fry until sealed.

Next, add the sliced shiitake mushrooms from the dashi to the pan along with

50 g carrot(s)

,

10 g fresh ginger

, and

3 sheets fried tofu pouch(s)

. Stir fry them for a minute to allow your other ingredients to absorb some flavor from the chicken juices. (You do not need to cook them completely as they will cook with the rice later.) Remove the pan from the heat.

Transfer the dried rice to a pot (or rice cooker) and pour in the dashi liquid from the shiitake and kombu. Empty the contents of the frying pan on top of the rice. Add the chicken skin too (or save for later and sprinkle on top).

Finally, pour

2 tbsp soy sauce

,

2 tbsp tsuyu sauce

,

2 tbsp mirin

and

2 tbsp sake

into the pot. IMPORTANT: Do not mix!

Place the pot onto the stove with the lid on and bring it to a boil over a medium heat. (Listen carefully and try to refrain from removing the lid.) Once you can hear it boiling, set a timer for 2 minutes.

After two minutes, reduce the heat to medium low and set a timer for 3 minutes. Turn the heat right down to the lowest setting and set a timer for 5 minutes. Blast the heat for 10 seconds on the highest setting and then turn it off. Leave the rice pot on the warm stove and allow to steam for 20 minutes.

After 20 minutes of steaming, remove the lid and mix the rice thoroughly.

Serve with a sprinkle of

finely chopped green onion(s)

and enjoy! 
Notes
Leftovers should be frozen (not refrigerated) and then thoroughly reheated in the microwave before eating.