Juicy chicken thigh and fluffy ribbons of egg served in a light and delicious udon noodle broth, this oyako udon is not only quick and easy to make, but it's also a great budget meal that can be enjoyed for lunch or dinner!
Disclaimer: This post contains Amazon affiliate links. Sudachi Recipes earn a small percentage from qualifying purchases at no extra cost to you. See disclaimer for more info.
Jump to:
Oyako Udon
Oyako udon (親子うどん) is a simple dish made with pan fried chicken thigh and simmered egg served in a light, dashi base udon soup. You could say that it's a combination of oyakodon, kake udon soup and egg drop soup!
This popular Japanese home cooked dish is comforting, filling and warming. Many people eat oyako udon when they're feeling under the weather or they've lost their appetite, it's a healing dish that always goes down a treat!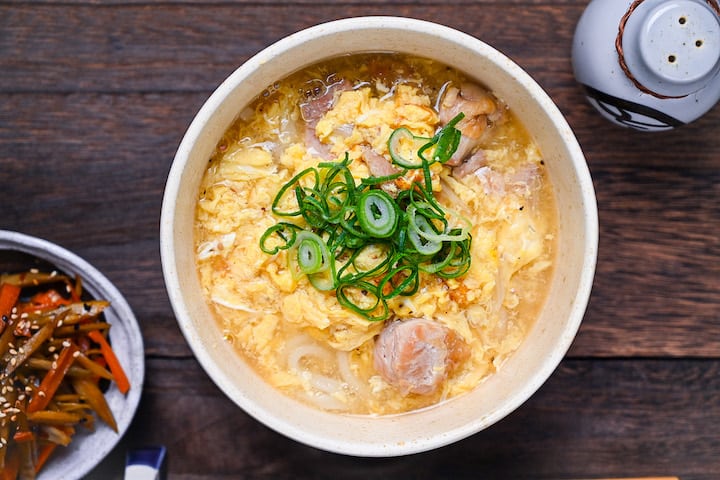 What's "Oyako"?
You might have heard the term "oyako" before, "oyakodon" is one of Japan's most popular "donburi" rice bowl dishes. While oyakodon and oyako udon use similar ingredients, the biggest difference is the fact that oyakodon is served over rice and oyako udon is served in a noodle soup. The egg is prepared differently too.
The Japanese word "oyako" (親子) means "parent and child" and refers to the chicken and egg being served together.
Udon
Udon noodles are a type of thick Japanese noodle made from wheat flour. Because of their neutral flavour, they're perfect served in light and simple broths.
There are a few different types of udon noodles, the most popular one in Japan is called "Sanuki Udon" (讃岐うどん). Sanuki udon are particularly thick and chewy with flat edges.
You can buy udon noodles fresh (chilled), dried and frozen. I personally like stocking up on frozen Sanuki udon because they cook quickly and have great texture, but of course it depends on accessibility and preference. Be sure to check your local Asian supermarket or online.
Udon noodles can be quite starchy (especially the dry ones), so you should boil the noodles in a separate pot and then rinse them with boiling water before adding them to the serving bowls. This will stop your broth from becoming thick and starchy.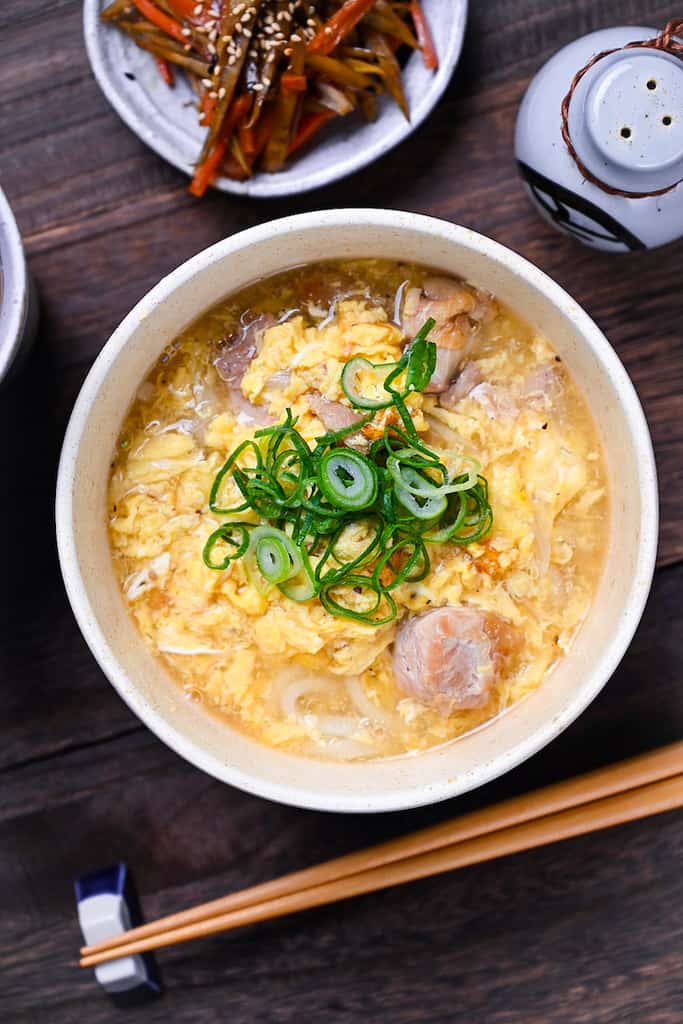 Tips for making the best oyako udon
Oyako udon is quick and easy to make, but that doesn't mean I don't have a few tricks up my sleeve to make it perfectly every time!
Pan fry the chicken
Because I use chicken thigh in this recipe, I like to pan fry it and crisp up the fat and skin before putting it in the broth. This will improve both the taste and texture of the chicken.
Any juices than leak out into the frying pan can also be added to the broth for extra flavour!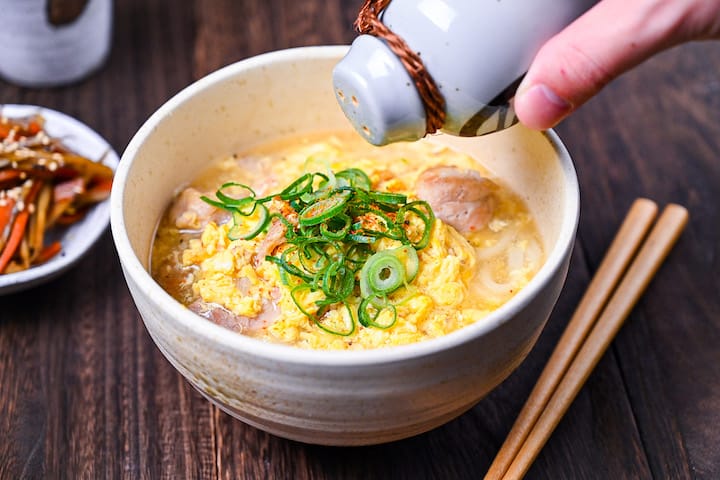 Use homemade dashi
Udon soups typically use a dashi base (Japanese soup stock) which are light and add umami to the dish.
If you can get the ingredients, I highly recommend making your own dashi from scratch! It's really easy and takes less than one hour (with most of that time being soaking time).
If you're interested, you can check out my basic awase dashi recipe made with dried kelp (kombu) and bonito flakes (katsuobushi).
If not, you can also try these dashi bags or instant dashi powder. (Amazon affiliate links)
Thicken with slurry
To thicken the soup, I make a slurry by mixing 1 tbsp of cold water and 1 tbsp of potato starch in a small bowl and then pouring it into the broth.
The purpose of thickening the broth is to help the egg float evenly throughout the soup (instead of sinking to the bottom). It also helps the flavour stick to the noodles.
If you add potato starch straight into the hot broth, it clumps together and makes gummy chunks in your soup which are very unpleasant! That's why you need to mix the starch with cold water seperately first.
Add the egg one third at a time
Firstly, it's important to whisk the egg before adding it to the soup. We also add it after the slurry, and pour it in slowly, one third at a time.
This is to ensure that the egg forms thin ribbons that distribute evenly through the soup.
The temperature of the broth will drop each time you add the egg, so wait for it to start bubbling again before adding the next third.
Once all of the egg is added, stir it a couple of times gently with chopsticks and serve up. It shouldn't be overmixed otherwise the egg pieces will become too small.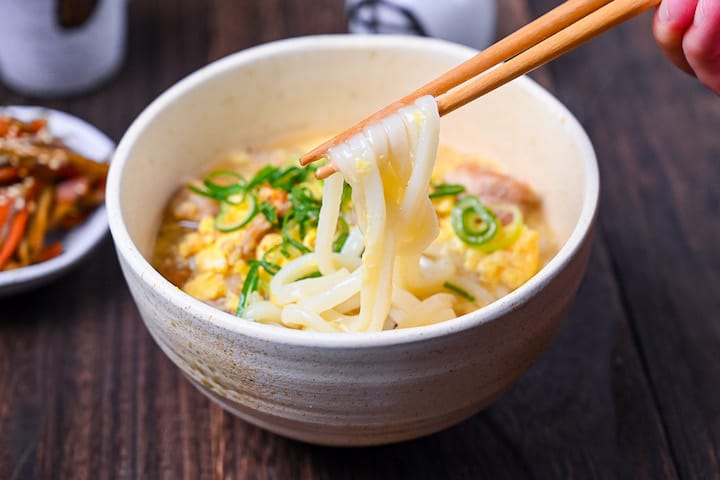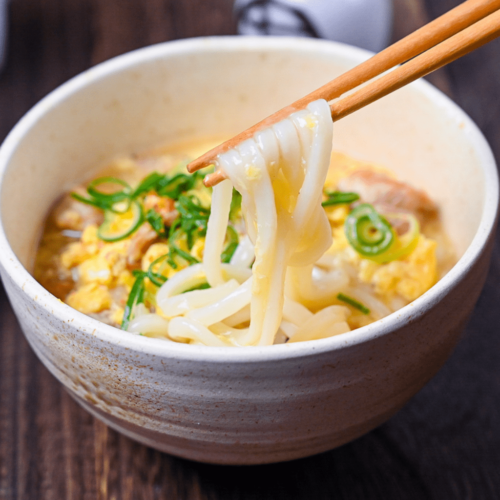 Oyako Udon (親子うどん) Chicken and Egg Udon Soup
How to make Oyako Udon (親子うどん) chewy udon noodles served in a light dashi broth mixed with juicy pan-fried chicken and fluffy ribbons of egg.
Ingredients
150

g

boneless chicken thigh(s)

-

skin-on, boneless

1

pinch

salt and pepper

30

g

green onion(s)

½

tsp

cooking oil

500

ml

dashi stock

1

tsp

salt

1

tsp

soy sauce

1

tsp

mirin

½

tsp

ginger paste

-

or grated fresh ginger

2

portions

udon noodles

1

tbsp

cold water

1

tbsp

potato starch

-

or corn starch

2

medium egg(s)

finely chopped green onion(s) -

finely chopped - optional

Japanese chili powder

-

(shichimi togarashi) optional
Instructions
Cut

150 g boneless chicken thigh(s)

into bite size pieces and sprinkle with

1 pinch salt and pepper

.

Cut

30 g green onion(s)

into diagonal slices about 5mm thick and set aside.

Heat a frying pan on medium and once hot, add

½ tsp cooking oil

and place the chicken in the pan skin-side down. Fry for 5 minutes.

After 5 minutes, turn the chicken pieces over and fry on the other side for 2 minutes.

Remove the pan from the heat and set aside for later.
Noodles and Broth
Cook

2 portions udon noodles

according to the instructions on the packaging. 

In a medium saucepan, add

500 ml dashi stock

,

1 tsp salt

,

1 tsp soy sauce

,

1 tsp mirin

, and

½ tsp ginger paste

. Mix everything together and bring the broth to boil. Once boiling, lower the heat to a simmer.

Take a small bowl and make a slurry by mixing

1 tbsp cold water

with

1 tbsp potato starch

. Pour the slurry into the broth and mix thoroughly.

Add the chicken and

30 g green onion(s)

to the broth. Make sure to pour in the chicken juices from the frying pan for extra flavor.

Turn the heat back up to medium and bring to a boil. While you're waiting for it to boil, crack

2 medium egg(s)

into a bowl and whisk them thoroughly.

Once the broth starts to boil, drizzle in one third of the whisked egg. 

The temperature of the broth will lower, so wait for it to start bubbling again before adding the next third of the whisked egg. Repeat until all of the egg is in the soup. 

Gently mix the soup and then remove it from the heat.

Rinse the cooked udon with boiling water and then divide into two serving bowls, then pour the broth over the noodles.

Garnish with chopped

finely chopped green onion(s)

and

Japanese chili powder

(optional).

Enjoy!