Learn everything you need to know about Japanese light and crispy panko breadcrumbs. This post includes making panko at home using various techniques and types of bread and 10 delicious recipes to put your homemade panko to good use!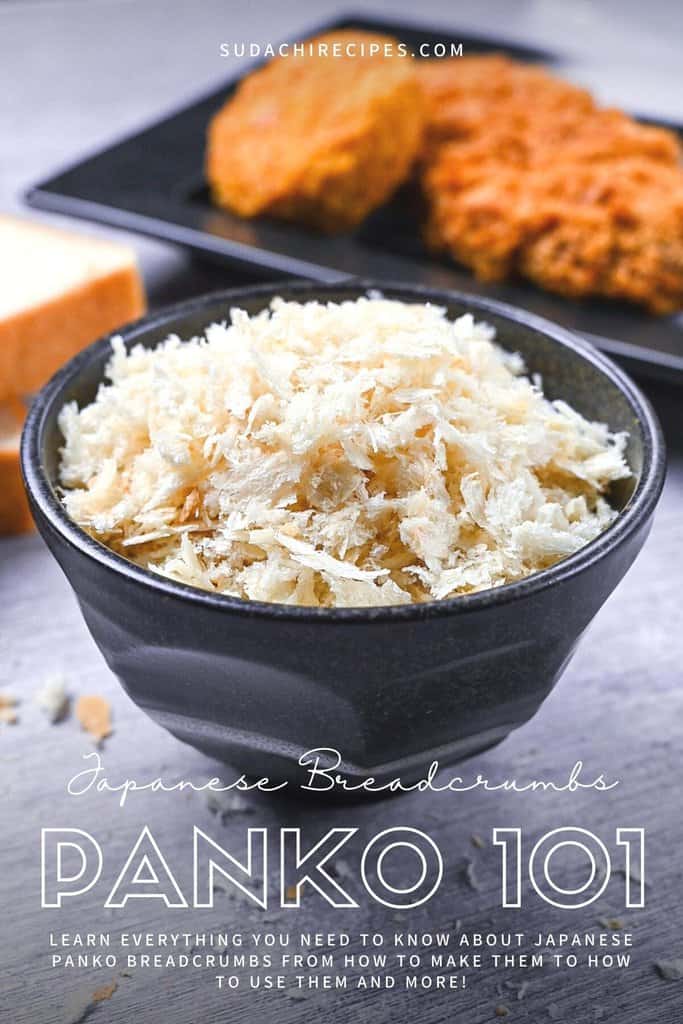 Disclaimer: This post may contain Amazon affiliate links. Sudachi Recipes earn a small percentage from qualifying purchases at no extra cost to you. See disclaimer for more info.
What are Japanese panko breadcrumbs?
Panko breadcrumbs are light and flaky Japanese-style breadcrumbs. When it comes to the term "panko," it's not anything complicated or technical. Pan (パン) is the Japanese word for "bread," and "ko" (粉) can be translated as "powder" or, in this case, "crumb."
So technically, panko is just another way to say breadcrumbs or can be translated as Japanese-style breadcrumbs in English. But how are they different from Western breadcrumbs? That's the question.
Panko vs Regular Breadcrumbs: How is Panko Unique? What's So Special?
So, are there any differences between panko and regular breadcrumbs? Linguistically, there aren't, but a few things are unique to Japanese panko.
One of them is "raw breadcrumbs". In Japan, raw breadcrumbs (nama panko) were created using Japanese-style white loaf (shokupan), suitable for yoshoku dishes such as tonkatsu and ebi fry.
Saying "raw" means using bread in a normal fresh state, not roasted or dried.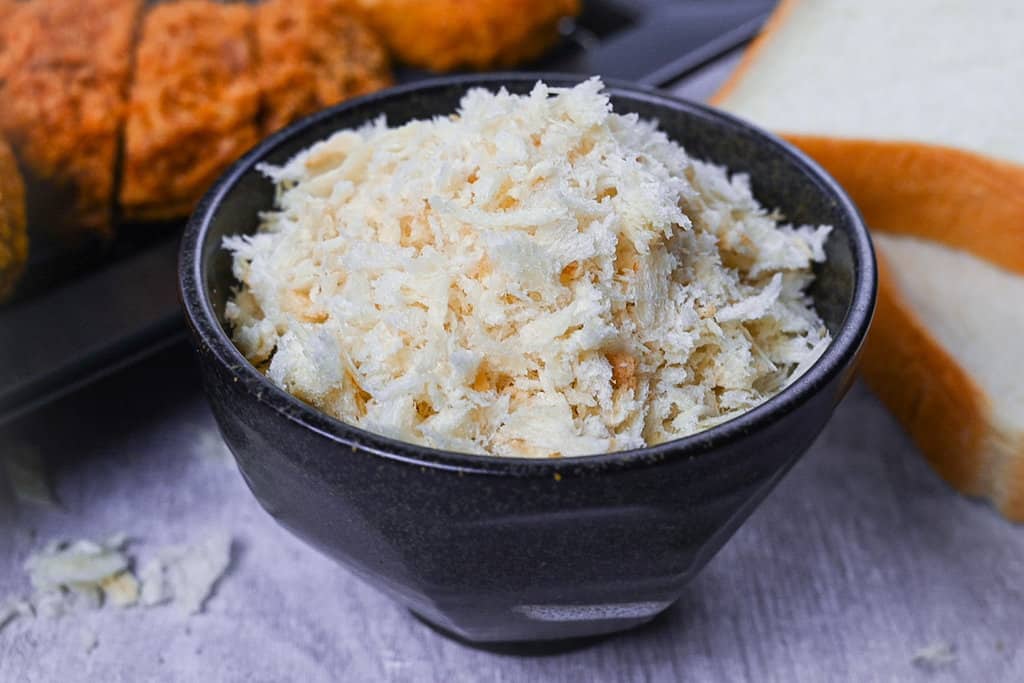 When raw panko is used for frying, the moisture in the breadcrumbs is quickly replaced by the oil, and the fine air bubbles give the breadcrumbs a crispy, light texture.
Raw panko tends to be bigger than regular breadcrumbs as well. However, they absorb oil well, so their calorie content tends to be higher than dry breadcrumbs.
This breadcrumb style became popular and created various uniquely Japanese-yoshoku dishes such as ebi fry, tonkatsu, and korokke.
So, traditional Japanese panko is raw breadcrumbs, not dry ones.
Differences Between Nama Panko and Dried Panko
So, the fresh panko breadcrumb is unique to Japanese cuisine, but what's the difference between fresh one and dried one? That's right, many people still use dried panko breadcrumbs at home!
Other than the obvious difference between fresh and dried, where are the differences? Let's check it out.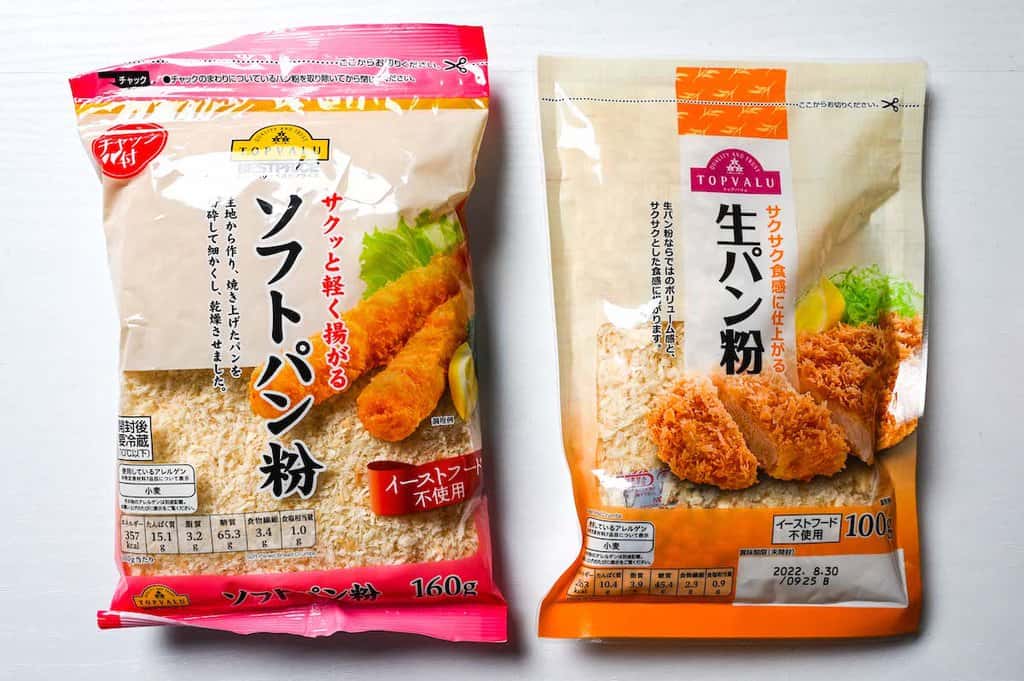 | | | |
| --- | --- | --- |
| | Dried panko | Fresh panko |
| Size of crumb | Smaller | Bigger |
| Heat penetration | Faster | Slower |
| Storage | Long shelf life | Spoils quickly |
| Texture | Crispy | Extra crispy |
| Recommended | korokke, kushiage | ebi fry, tonkatsu… |
The general rule of thumb is that fresh panko is typically used to coat raw ingredients, such as raw pork for tonkatsu and raw shrimp for ebi fry.
But it's just general talk. You can interchange these two types of panko as you like!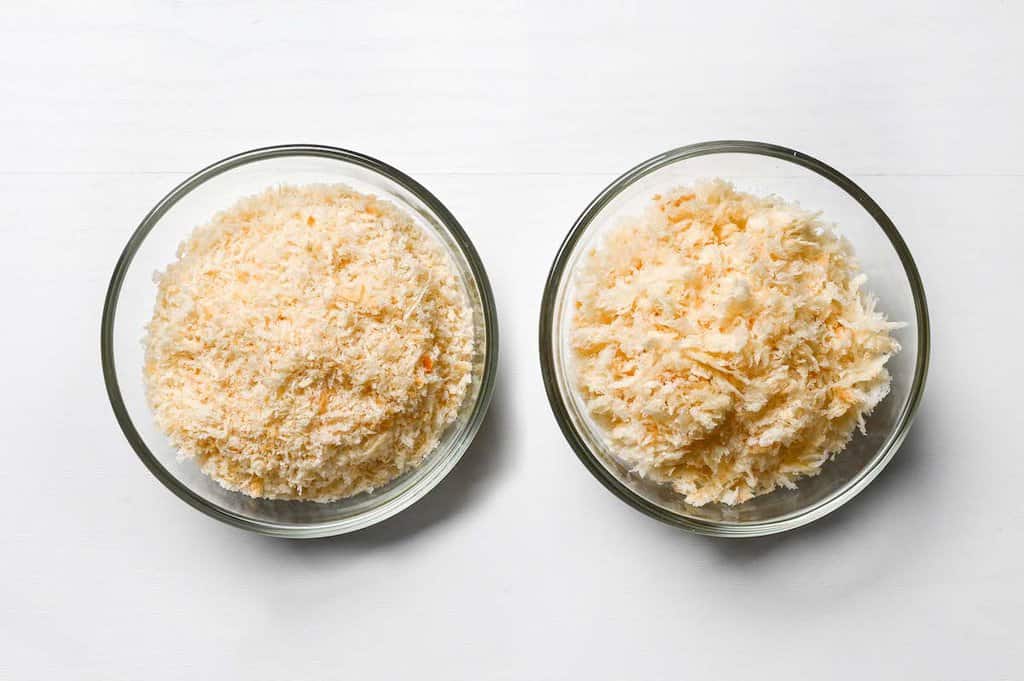 Can I Make My Own Panko Breadcrumbs? Why I Never Buy Packaged Panko Anymore
Until recently, whenever I made deep-fried dishes with panko breadcrumbs, I bought packaged panko as it's not an expensive product, at least in Japan.
However, I never buy them anymore. Why? Firstly, the package always contains at least 100g. I end up with leftovers taking up space in my freezer.
Making homemade panko is 10 times easier than driving to a supermarket. All you need is some leftover bread; it doesn't have to be shokupan!
One purpose of making this panko breadcrumbs 101 post is to explain how easy it is to make panko at home and how you can use almost any kind of bread available. I mean, initially, breadcrumbs were made as a way to use up leftover bread, right? Let's keep the tradition and spirit!
To make this post more interesting, I also experimented with making homemade panko with different kinds of bread I had at home, ranging from baguettes to English muffins.
You know what? They both turned out to be excellent. But first, let's explain how to make panko breadcrumbs before getting into the experiment.
Are Panko Breadcrumbs Gluten Free?
In a usual sense, it's not gluten-free. However, using this homemade panko recipe and gluten-free bread, you can make your own panko!
Stay tuned for how to make homemade panko!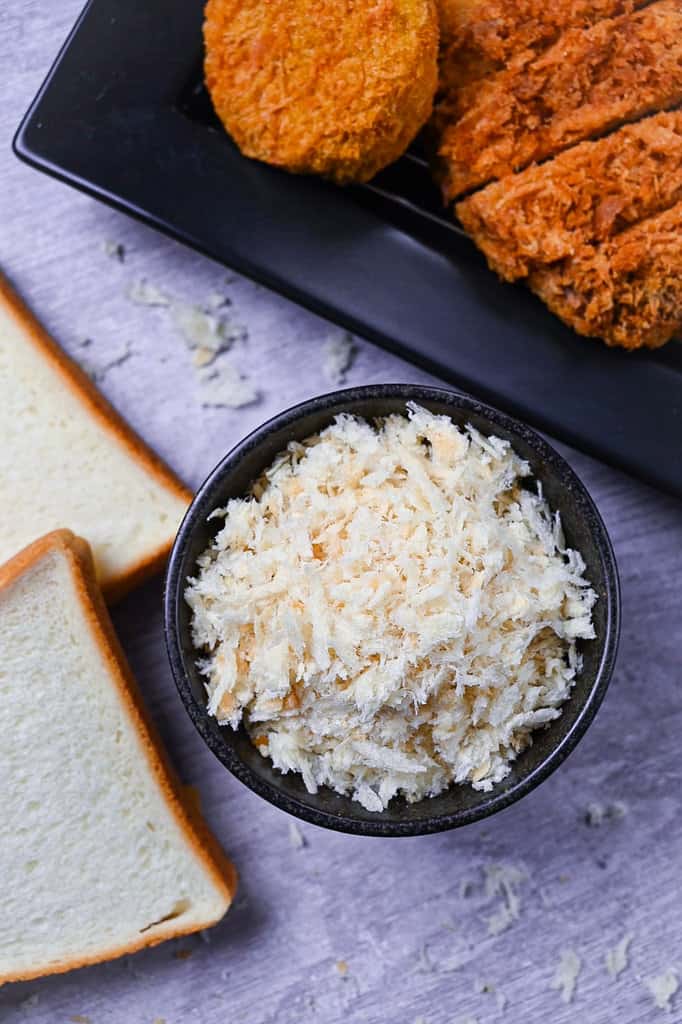 3 Ways to Make Homemade Panko Breadcrumbs
As I said, making homemade panko breadcrumbs is much easier than you imagine!
In this section, I will explain 3 easy ways to make Japanese-style panko breadcrumbs at home! When the desired fineness is achieved, the product is ready.
Straight into a food processor
This way is the most straightforward. You can just roughly cut your leftover bread and put it in a food processor. How long does it take? Honestly, within a minute! The longer you run the food processor, the finer and smaller the panko will be.
With fluffy and big breadcrumbs, the texture is more crunchy rather than crispy when fried. They are more satisfying to eat. As I mentioned before, the bread can be fresh. You don't need to dry it out or use stale bread for this.
Grate frozen bread
This is an alternative way, especially for someone who usually freezes leftover bread or doesn't have a food processor. Bread is just frozen here, so it will still be fresh panko!
The key to making panko with a grater is ensuring the bread is fully frozen. It won't be easy to shave if it is even slightly soft.
I would also recommend cutting the bread into pieces and freezing it beforehand, as it is easier to hold in the hand and does not melt quickly at body temperature.
Making dried panko
Even if you want dried panko breadcrumbs, it's not hard to do! You can take dried (stale) bread and throw it into the food processor or grate it like above. Dried panko tends to be finer with smaller crumbs.
Can You Make Panko Breadcrumbs with Any Bread? Experimented!
In conclusion, you can make panko breadcrumbs with almost any kind of bread as long as it doesn't contain fillings or sauces. Don't go and buy expensive shokupan to make panko!
Use what's available in the kitchen! But I know seeing is believing. So, I did some panko experiments with 3 kinds of bread (somewhat unique) I had at home.
Baguette
Japanese "hotel-style" shokupan loaf
English muffin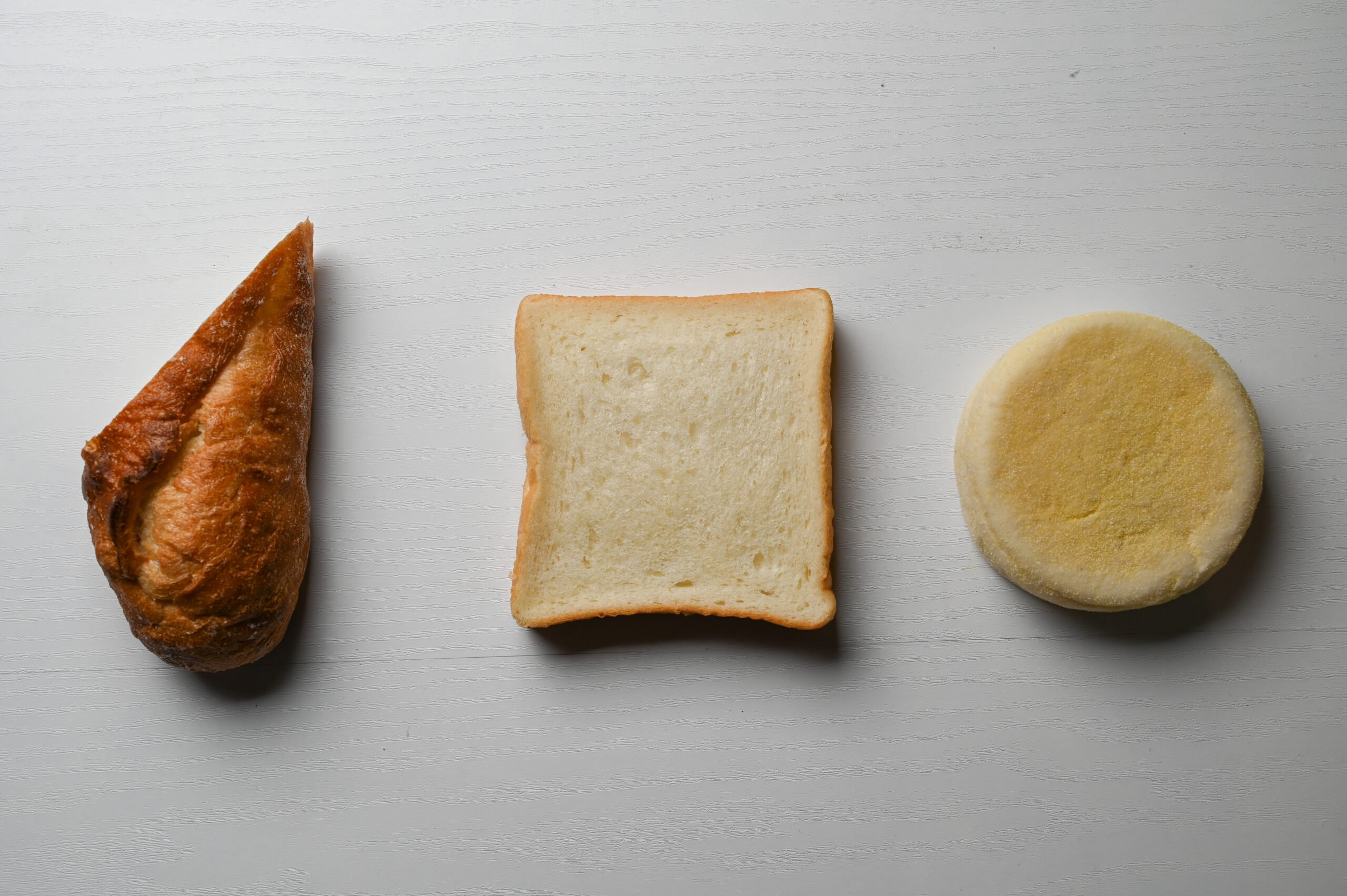 I chose the food processor for the method of making breadcrumbs in this experiment. I can re-confirm that it will be ready in 30 seconds!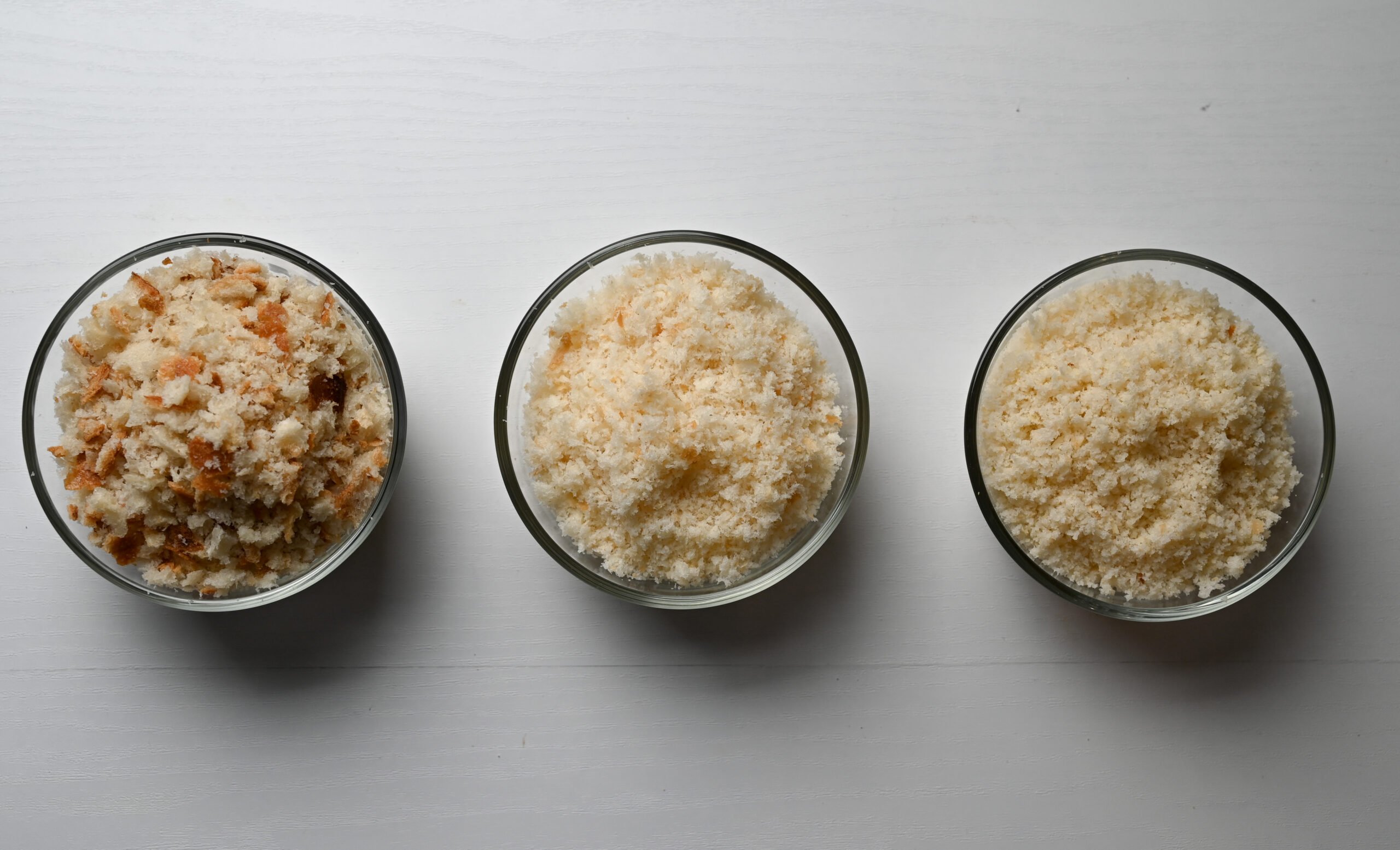 Then, in this experiment, I deep-fried pork to make hire katsu with each homemade panko. Below is the result!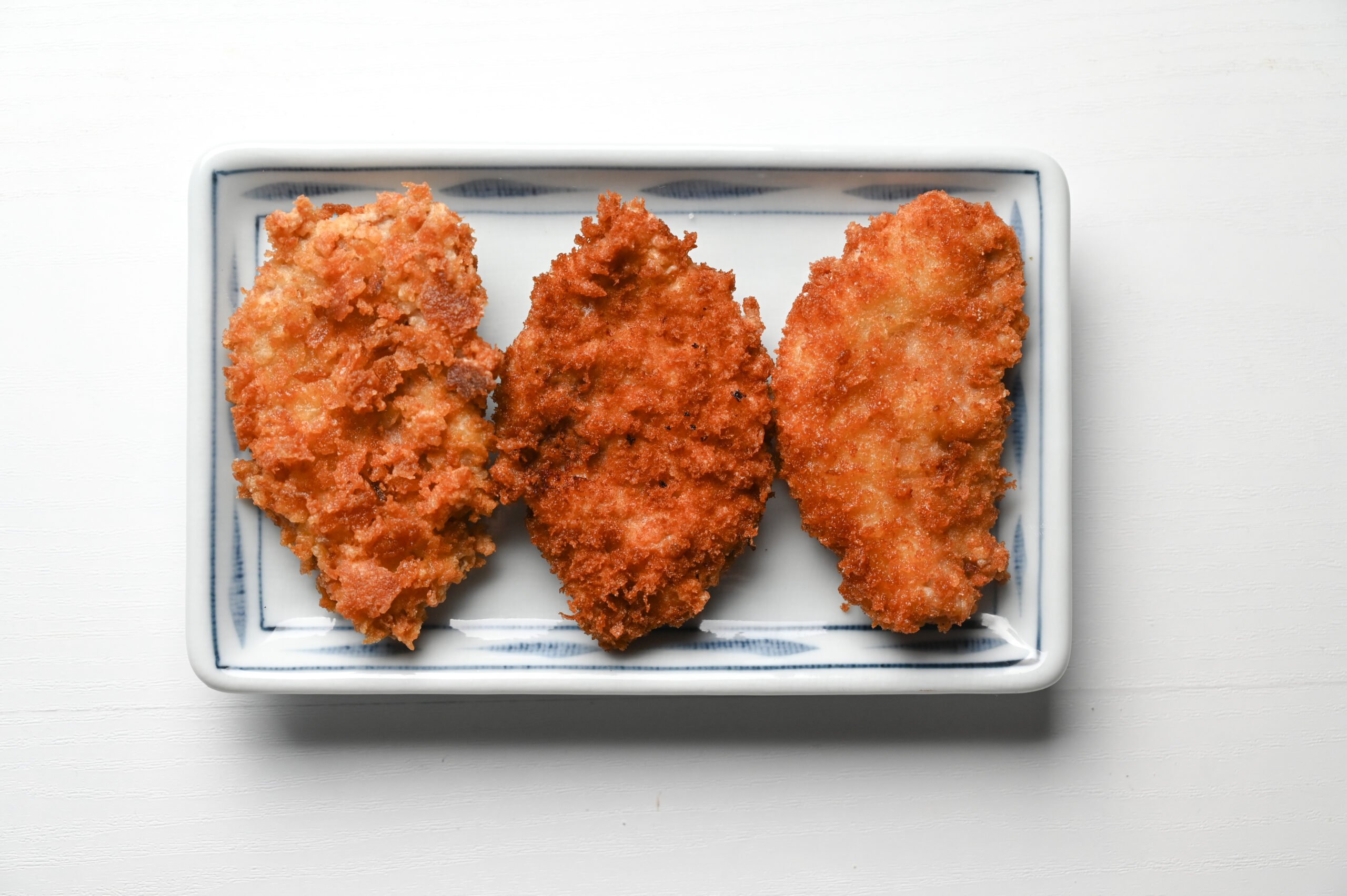 Surprisingly, my favorite of all three was baguette panko! The crust of the baguette became really crunchy, and its texture was almost like a crunchy cracker snack attached on the outside. You can't make that heavy, crunchy sensation with any other two.
On the other hand, Japanese-style loaf and English muffin panko breadcrumbs were somewhat similar. The only significant difference was that the English muffin panko was a bit finer and paler, a little more like dry panko.
Nonetheless, they both tasted amazing and did the job of panko breadcrumbs properly.
After this experiment, I was intrigued about what would happen with other kinds of bread. If I try something new, I will keep adding it here.
But until then, here are the other bread ideas for homemade panko:
Whole grain bread
Focaccia
Soda bread
Brioche
Rye bread
Ciabatta
Pita
Bagel…etc
The beauty of this is you can use any leftover bread!
How Long Can You Store Homemade Panko Breadcrumbs?
Storage time for homemade panko breadcrumbs is simple. Homemade breadcrumbs are made from bread literally, so the shelf life is the same as bread.
If you make too much but don't intend to use the leftovers soon, store it in the freezer for 2 weeks to 1 month for good flavor.
However, the best practice would be to check the packaging of the bread (if you use store-bought bread) and follow the expiry date once it's open. I personally keep the leftovers in a zip-lock bag and store them in the freezer.
Nonetheless, it is still essential to use them up as quickly as possible.
Recommended Japanese Recipes Using Homemade Panko Breadcrumbs
So finally, you might think, what can I use this homemade panko for Japanese cooking? Don't worry, I got everything covered. Here is the list of every recipe I have that uses panko breadcrumbs!
Tonkatsu (Japanese pork cutlet)
Tonkatsu (とんかつ) is a delicious pork cutlet that has been coated in egg and panko breadcrumbs and then deep-fried to golden perfection. It's probably one of the most popular dishes in Japan, and the cutlet can be used in many other dishes.
The word "ton" (豚) comes from the Japanese reading for the kanji character "pig." The "katsu" part comes from the Japanese pronunciation of "cutlet."
Katsudon (Japanese Pork Cutlet Bowl)
Katsudon is the king of all rice bowls! It is a popular rice bowl dish topped with breaded deep-fried pork cutlet and onion simmered in soy sauce-flavored dashi sauce and mixed with egg. It is one of the most well-loved Japanese dishes among children and adults.
The recipe page explains the recipe itself and its background information and tips and tricks to make the best of it.
Chicken katsu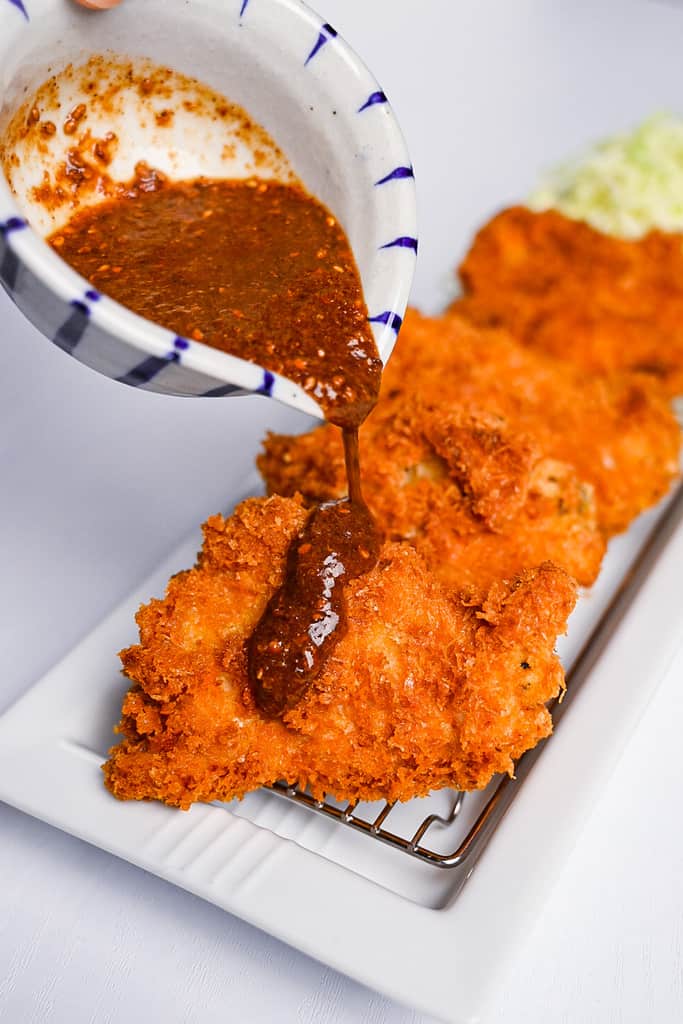 Chicken katsu is a chicken version of tonkatsu. Tender chicken thigh coated in a thick and crunchy layer of panko breadcrumbs and fried to perfection then drizzled with a delicious homemade katsu sauce.
You can see the special sesame katsu sauce on the recipe page!
Katsu curry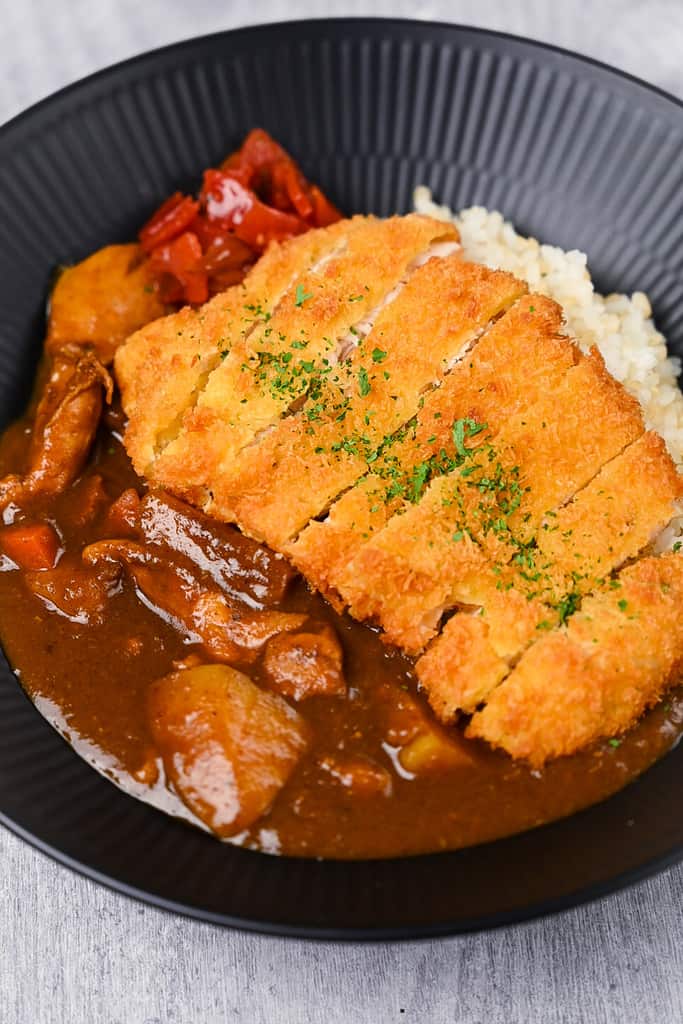 Katsu curry is a Japanese curry rice with any katsu. In my recipe, you can check how to make katsu curry from scratch inspired by the original Japanese curry and chicken katsu using chicken breast.
Menchi katsu
Menchi Katsu (メンチカツ) is a delicious deep-fried dish made with ground meat, onions, and seasonings shaped into a patty. To finish it off, it's coated in crunchy, golden panko breadcrumbs and drizzled with a zingy "katsu sauce". You could say it's like a deep-fried hamburger patty.
The page below includes the menchi katsu recipe and special tips and tricks.
Katsu sando (Japanese Katsu Sandwich)
Katsu sando is your favorite "Tonkatsu" recipe in a sandwich. You've probably noticed tonkatsu is always served with shredded cabbage; the sandwich is no different. Crispy fried katsu, with cabbage and sauce in a sandwich, it's a taste and texture sensation!
You can check out two kinds of sauces for katsu sando below!
Ebi fry (Japanese-style Fried Shrimp)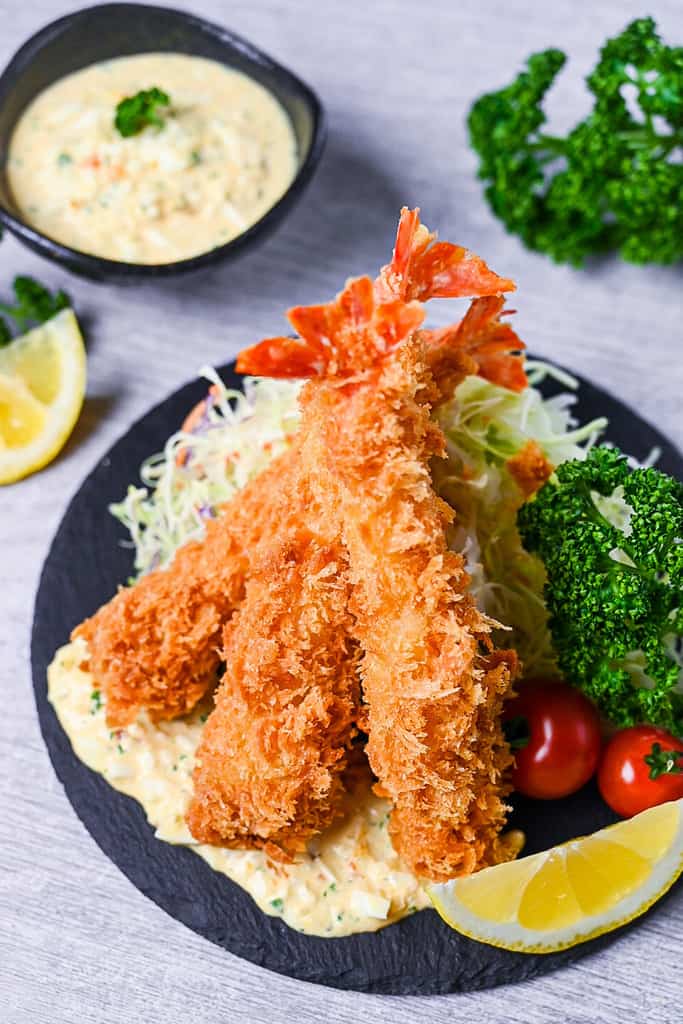 Ebi Fry is an iconic Japanese deep-fried dish with large shrimp coated in flour, egg, and panko breadcrumbs. The history of Ebi Fry is uncertain, but some theories go back to the early 20th century by creating a different version of tonkatsu or menchi-katsu (deep-fried mince meat).
My recipe explains what kind of shrimp to use, how to make Japanese-style tartar sauce, and how to prep shrimp!
Korokke (Japanese style croquette)
Korokke (コロッケ) is the Japanese word for "croquette," a popular type of "dumpling" often made with potatoes, meat or seafood. It's considered a "yoshoku dish," a Japanese dish with heavy Western influence.
You can check its history and secret tips and tricks on the recipe page!
Kani kurimu korokke (crab cream croquette)
As you can assume from the name, crab cream croquette is a type of korokke with a creamy filling. Rather than using potatoes, cream korokke is made with white béchamel sauce and then mixed with other ingredients such as crab, shrimp, or chicken.
Check out the recipe for this elegant type of korokke below!
Kabocha Korokke (pumpkin croquette)
Pumpkin croquette is a delicious deep-fried dish made from soft, sweet, and tasty Japanese winter squash covered in crispy panko breadcrumbs and then drizzled with a tangy sauce.
Check out the recipe to see how to make this colorful korokke!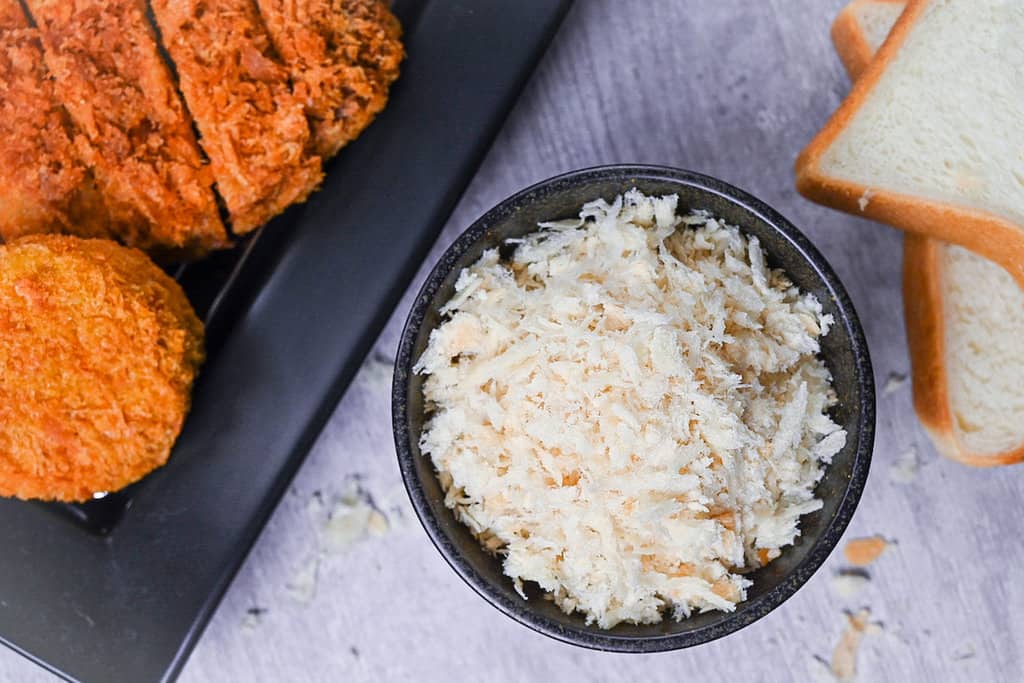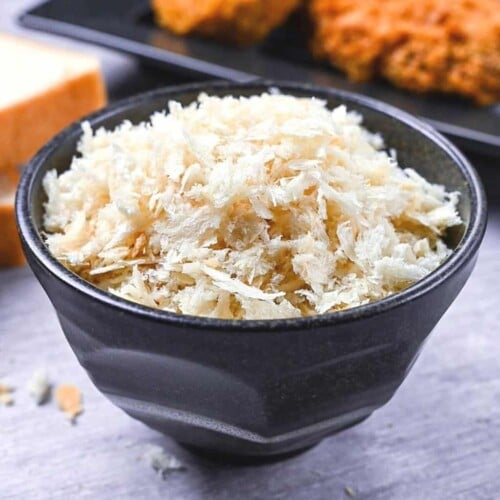 Homemade Japanese Panko Breadcrumbs
---
Two ways to make light and crispy Japanese panko breadcrumbs.
---
---
---
---
Instructions
Method 1 (Food Processor/Blender)
Cut

2 slices white bread

into rough cubes.

Place the cubes in the food processor / blender and blitz for a few seconds. (Don't blitz for too long or the panko will be too fine.)
Method 2 (freeze and grate)
Cut the bread slices into 3-4 pieces and place them on a tray.

Place the tray in the freezer for 2-3 hours or until the bread is completely frozen.

Take one piece of bread from the freezer and grate using a grater with large holes.

Repeat until all of the bread is grated into panko breadcrumbs.
Notes
Place leftover panko breadcrumbs in an airtight container for up to 1 month and defrost at room temperature before use.
FAQ
What are panko breadcrumbs made of?
Japanese panko is generally made of a Japanese-style loaf called shoku pan. Their production process starts with making the bread.
Can I substitute panko for regular bread crumbs?
The texture of the result will be different, but those two are interchangeable. However, dishes like katsu and ebi fry are very different as you can only achieve their iconic flakes using panko.
Can I use flour instead of panko?
No, you cannot use flour instead of panko. The result will be completely different, and many dishes will end up failing. If you want to substitute panko, you must use other breadcrumbs.
Can I substitute cornflakes for panko?
Oatmeal and cornflakes can also be substitute ingredients. Corn flakes are more recommended as a substitute ingredient because they are easier to use than oatmeal. If you use cornflakes, put them in a bag and crush them by hand. Please note to use non-flavored cornflakes only.