Toriten is a regional dish that hails from Oita, Japan. Made with succulent, marinated chicken breast which is then coated in a fluffy tempura batter and deep fried, it's served with a bright and citrusy dipping sauce. When it comes to flavour, this regional chicken tempura ticks all the boxes!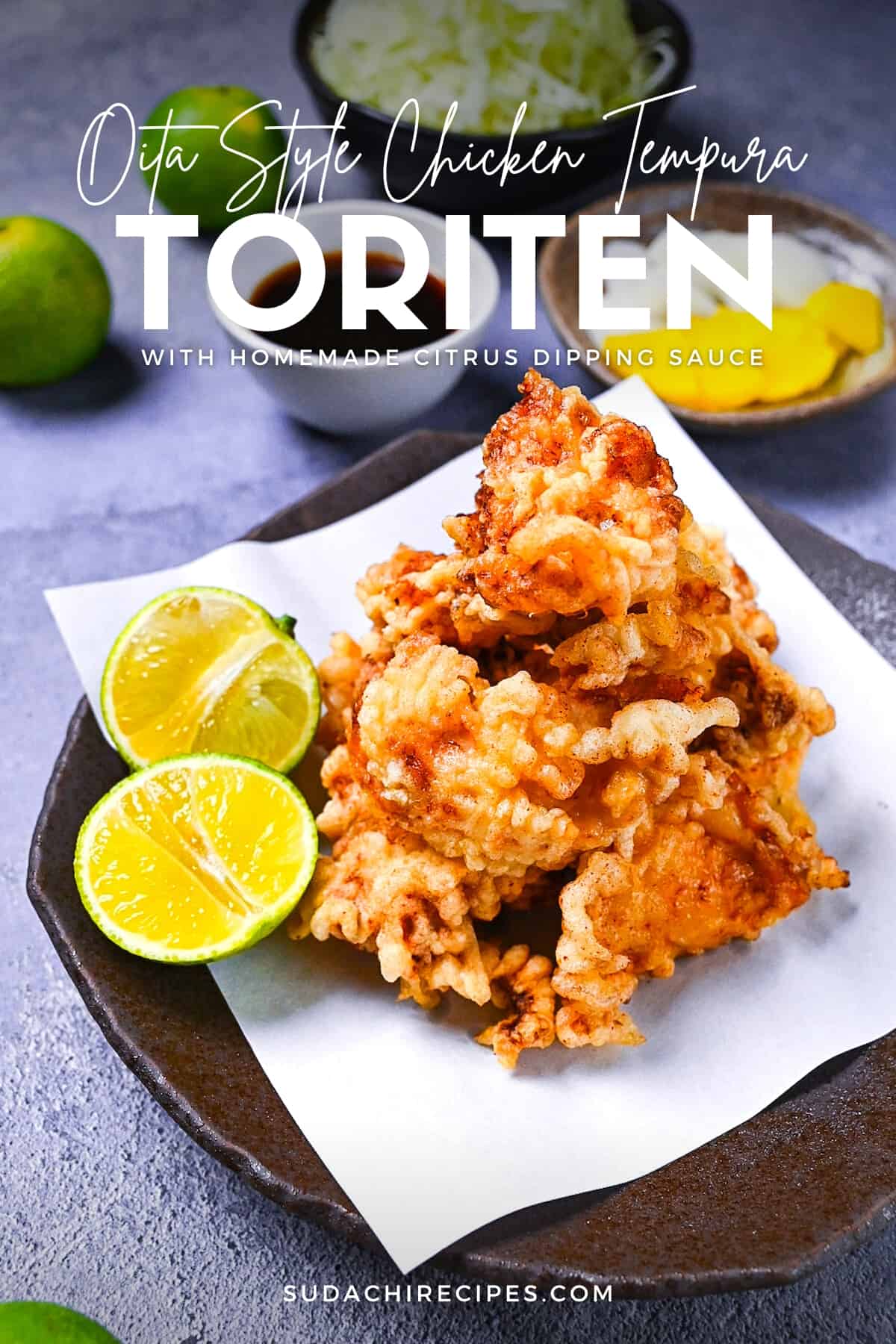 Disclaimer: This post may contain affiliate links. Sudachi Recipes is part of the amazon associates programme and earns a small percentage from qualifying purchases at no extra cost to you. See disclaimer for more info.
What is toriten (Japanese chicken tempura)?
You might think chicken tempura is simply a deep fried chicken with tempura batter, but technically this is not the case. The batter is thicker to coat the smooth surface of the chicken and the chicken meat itself is marinated. I would say it's more like a cross between tempura and karaage.
Toriten is a regional dish of Oita Prefecture which is located on the South Western island of Kyushu. Incidentally, the locals of Oita Prefecture are well known for eating a lot of chicken.
Brief history of chicken tempura
"Toriten" is said to have originated from Toyoken, a restaurant in Beppu City, Oita in the early Showa period (1926-1989). The existing karaage (the most famous type of Japanese fried chicken) on their menu was made with chicken thigh on the bone.
Toriten was originally made by cutting boneless thigh meat into bite-size pieces and arranging them tempura-style, out of concern that the karaage with bones would be difficult to eat for some people.
As a result, the batter, which cooks faster than karaage and is both crispy and soft, quickly became popular and can now be found in restaurants throughout Japan.
Toriten vs Tempura: what are the differences?
Even though the name toriten is an abbreviation of the words "tori" (chicken) and "tempura", toriten is not the same as regular tempura. The first critical difference is that while toriten is seasoned before frying, regular tempura ingredients are not seasoned at all. This is because tempura is deep-fried in an mild batter and then dipped in sauce or salt, the purpose is to let the flavour of each ingredient shine through.
Because of this aspect, regular tempura has a whitish appearance, while the toriten looks more golden because of the marinating sauce. I personally do not recommend making chicken tempura with the regular thin tempura batter. Instead, use this toriten marinade and batter recipe created especially for chicken tempura.
The contents of the batter itself are quite similar, but toriten batter has a slightly thicker consistency. As for the dipping sauce, toriten is served with a sour dipping sauce made with soy sauce, citrus juice and vinegar (similar to ponzu) rather than the usual tempura dipping sauce (tentsuyu).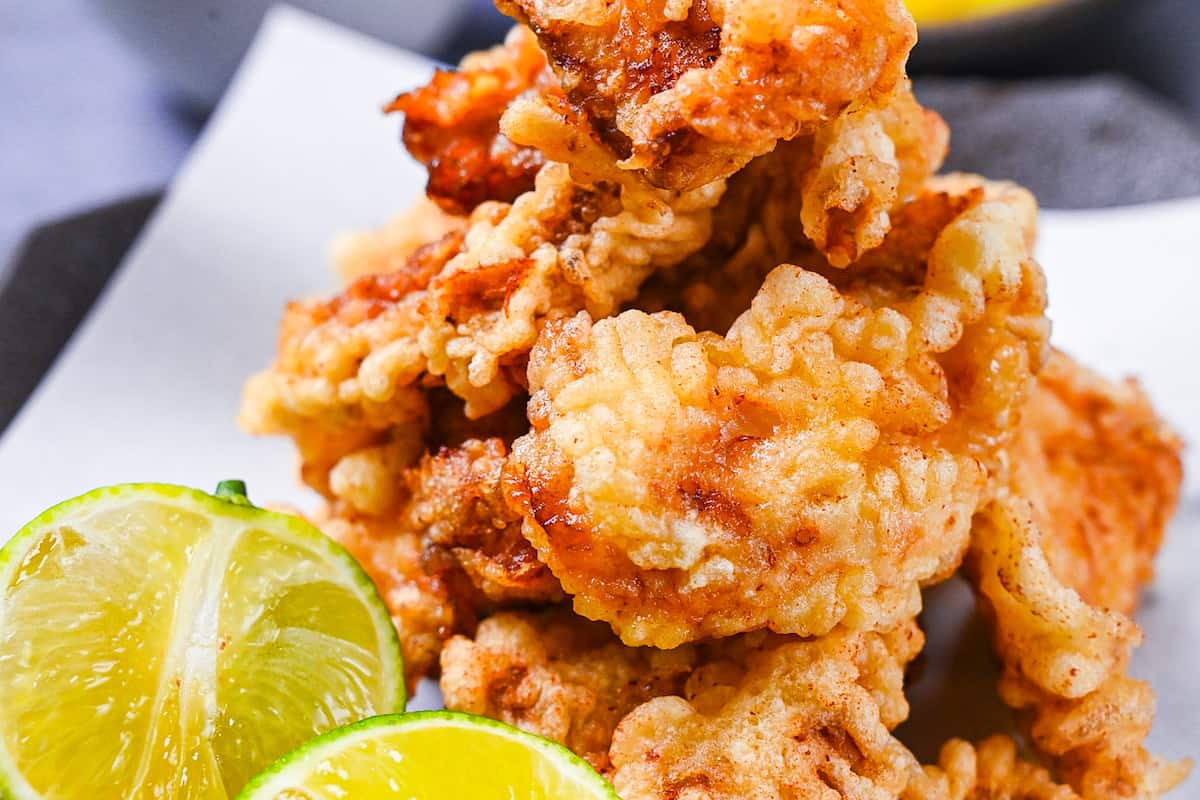 Toriten vs Karaage: what are the differences?
Okay now, how is toriten different from karaage? Aren't they both "fried chicken"? In the broadest terms, yes they are both deep fried chicken dishes that are marinated beforehand. The biggest difference between the two is in the batter.
This is because karaage is basically deep-fried with a dry coating, whereas toriten is made by dipping it in a tempura-style batter made with egg. If you compare them side by side, you will definitely notice that karaage is crunchier, whereas toriten is light and crispy, yet also slightly fluffy due thanks the eggs creating an airier batter.
Furthermore, karaage is often made with chicken thigh meat, whereas toriten often uses chicken breast. Incidentally, I personally prefer thigh meat for karaage, but prefer breast meat for toriten. So if you want to make Japanese style fried chicken with chicken breast, I definitely recommend making toriten over karaage.
Chicken tempura vs Chicken katsu: what are the differences?
Unlike the dishes above that certainly have similaries, chicken tempura and chicken katsu are completely different. Toriten is basically a battered chicken, whereas chicken katsu is coated with flour, egg and panko breadcrumbs then deep fried.
If you look at my pictures above, you can see how they are very different. In addition, chicken katsu is usually served with a thick katsu sauce.
Ingredients
Toriten is made with 3 different components: the marinade, the batter and the dipping sauce. I've broken the ingredients down into sections to make it clear. (For the ingredient quantities, see the recipe card at the bottom of the page.)
Ingredients for toriten marinade
Toriten uses a similar marinade to chicken karaage. This marinade includes:
The soy sauce adds saltiness, umami and brings out the flavour of the chicken. The sake softens the meat and the ginger/garlic/sesame oil mixture makes the overall result fragrant and flavourful.
Ingredients for chicken tempura batter
The batter is made with typical tempura ingredients:
All-purpose flour
Potato starch (or other kind of starch such as corn starch)
Egg
Water
Although the ingredients used are the same as regular tempura batter, the quantities are different. See the recipe card at the bottom of the page for exact measurements.
Dipping sauce ingredients
Unlike regular tempura, chicken tempura is served with a sour and refreshing sauce made with:
Kabosu juice (or any kind of similar citrus juice such as lime juice)
Kabosu is a citrus fruit closely related to Japanese yuzu. Oita prefecture is well known for it's kabosu production so to keep with the regional theme, I used kabosu in my recipe. Of course, it can be hard to come by outside of Japan so feel free to use more accessible citrus fruits such as lemon, lime etc.
You can also buy bottle kabosu juice from Oita on Amazon (affiliate link) but it's pretty expensive so if you only plan to use it for this dish, it's better to use a substitute.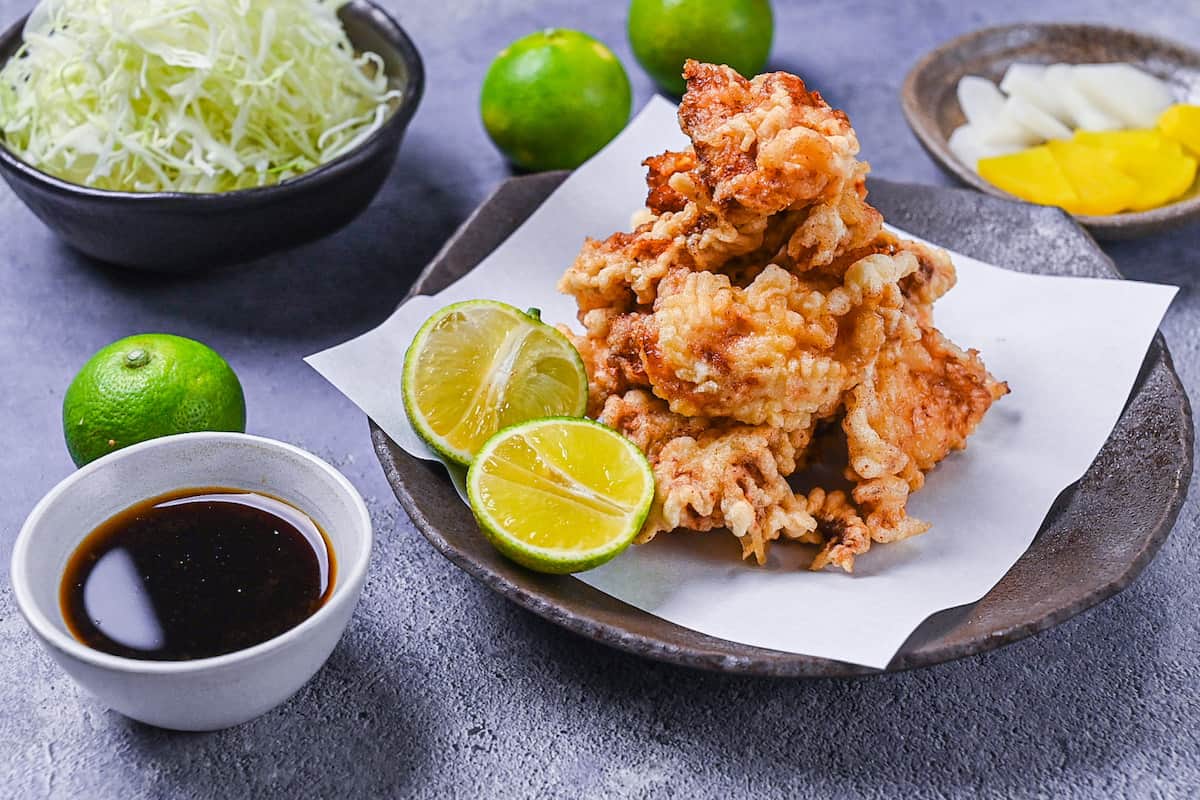 Instructions on how to make homemade chicken tempura
Here is my step by step recipe on how to make chicken tempura from scratch including tips and tricks to make it perfect every time! (See printable recipe card at the bottom of the page for ingredient quantities.)
Cut the chicken
The first step is to cut the chicken breast into bitesize pieces. It sounds straight forward, but because we only deep fry for a short time, it's important that they are not too big otherwise the batter will brown too much before the chicken is cooked all the way through.
I recommend just a little larger than bitesize.
Uniformity = more even cooking
Try to cut the chicken to similar sizes so that the pieces cook evenly and at the same rate.
Marinade
Mix the soy sauce, grated garlic, grated ginger, sake and sesame oil in a bowl and add the chicken pieces. Once every piece is evenly coated, cover and allow to marinate in the fridge for 30 minutes.
30 minutes is plenty of time for the marinade to work it's magic, you don't need longer than 30 minutes. In fact, if you marinate too long, the flavour can become overpowering, 30 minutes is the sweet spot!
Mix the egg and water
One of the most important things to mention in this step, is that you should use chilled water straight from the fridge to make the tempura batter. I recommend measuring out the water right at the beginning and chilling it while the chicken is marinating. (Some people even add ice to tempura batter.)
Whisk the chilled water and the egg together until combined, whisk slowly and gently so that the egg doesn't become too foamy.
Sift in the flour and starch
In a separate mixing bowl, add the flour and potato starch and whisk them together until combined. I recommend sifting the dry ingredients into the wet ingredients to make it extra light and airy.
Again, mix gently so that small lumps remain in the batter. Tempura is known for being a bit lumpy!
Dip and fry
Preheat your oil to 170°C (340°F). Use a neutral flavoured oil with a high smoke point such as vegetable oil or canola oil. (Some tempura restaurants use expensive oils such as rice bran oil or white sesame oil, they do improve the tempura but are not essential.)
If you've already mixed your tempura batter and you're waiting for your oil to heat up, store it in the fridge to keep it chilled. Cold tempura batter works best and should be kept chilled while you're not using it, this includes the time between batches if you're making a lot!
Once your oil is hot, transfer all of the chicken pieces into the bowl of batter, coat thoroughly and then add them to the oil one by one.
Avoid overfilling the pot as this will reduce the temperature of the oil and not only will the chicken tempura cook more slowly, but the batter could become saturated and oily.
Fry for 4 minutes in total, turning halfway through. The end result should be fluffy and golden.
Drain
Once cooked, place on a wire rack to allow any excess oil to drain off. This will prevent the batter from becoming soggy.
Make the sauce
Lastly, mix up the kabosu juice, soy sauce and rice vinegar in a bowl. It probably takes about 30 seconds and it's so zingy and refreshing, a perfect balance for a deep fried dish!
Substitutions and variations of chicken tempura
In this section, I will list all the alternative ingredients, substitutions and variations against the recipe card below so you can make the best chicken tempura to suit your preference:
Chicken thigh (instead of breast)
Chicken wings (instead of breast)
Dry white wine or dry sherry (instead of sake)
In the making of batter, I used potato starch. But you can substitute potato starch with other starch below:
Corn starch
Tapioca starch
Rice flour
For the citrus in the dipping sauce, I used kabosu or sudachi, but you can also use other citrus juice like these below:
Lemon
Lime
Yuzu (You can buy concentrated yuzu juice on Amazon)
I hope you enjoy this delicious regional tempura style chicken! If you try the recipe, let me know how it went in the comments below. Happy cooking!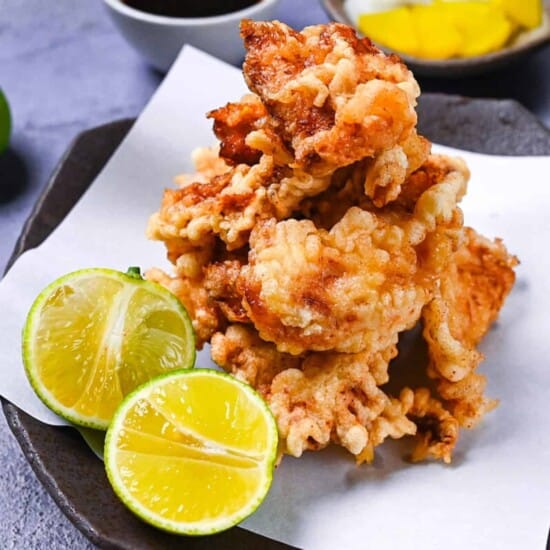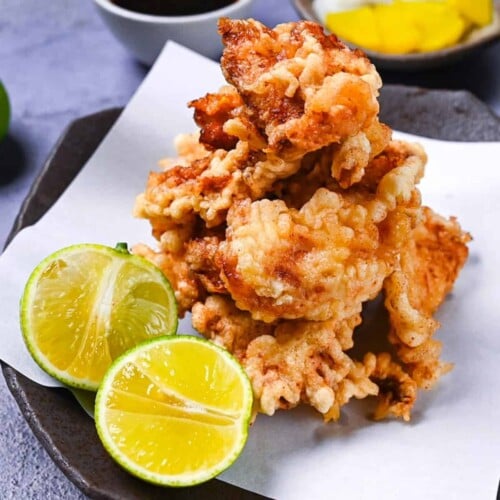 Oita Style Chicken Tempura (Toriten)
---
How to make light and crispy Oita Style Chicken Tempura (Toriten) with a refreshing homemade citrus dipping sauce.
---
---
---
---
Ingredients
400

g

chicken breast

preferable skin-on

cooking oil

for deep-frying
Toriten batter
1

medium egg(s)

50

ml

water

chilled

4

tbsp

all-purpose flour

3

tbsp

potato starch
Toriten dipping sauce
1

tbsp

kabosu juice

or citrus juice of your choice

1

tbsp

soy sauce

1

tbsp

rice vinegar
Instructions
Cut

400 g chicken breast

into large bitesize pieces.

Add

2 tsp soy sauce

,

1 tsp ginger

,

1 tsp garlic

,

1 tsp sake

and

1 tsp sesame oil

to a mixing bowl, mix well and add the chicken pieces. Mix until the chicken is fully coated, cover with plastic wrap and rest in the refrigerator for 30 minutes. (I also recommend measuring out the water for the batter at this point and chilling for 30 minutes too!)

Start heating your oil to

170

°C

(

338

°F

).

Gently whisk

1 medium egg(s)

with

50 ml water

, being careful not to let it become too foamy.

Sift

4 tbsp all-purpose flour

and

3 tbsp potato starch

into the bowl and mix gently, it's okay if there are small lumps in the batter. 

Once the oil is preheated, dip the chicken in the batter and deep fry for 4 minutes, turning it halfway through. 

Transfer the cooked toriten to a wire rack to allow the excess oil to drain off.

Mix the

1 tbsp kabosu juice

(or citrus of your choice),

1 tbsp soy sauce

and

1 tbsp rice vinegar

in a small bowl.

Dish up and enjoy!
Nutrition
Calories:
630
kcal
|
Carbohydrates:
28.5
g
|
Protein:
48.6
g
|
Fat:
36.7
g
|
Saturated Fat:
6.4
g
|
Polyunsaturated Fat:
11.6
g
|
Cholesterol:
241
mg
|
Sodium:
1034
mg
|
Fiber:
0.6
g