Chicken tsukune is a delicious and flavourful type of Japanese meatball often served at izakayas, yakitori stands, at home and in bento boxes. My homemade tsukune recipe is made with chicken thigh mixed with grated onion, shiso leaves, miso paste and ginger. They are then shaped, fried and coated in a delicious sticky glaze!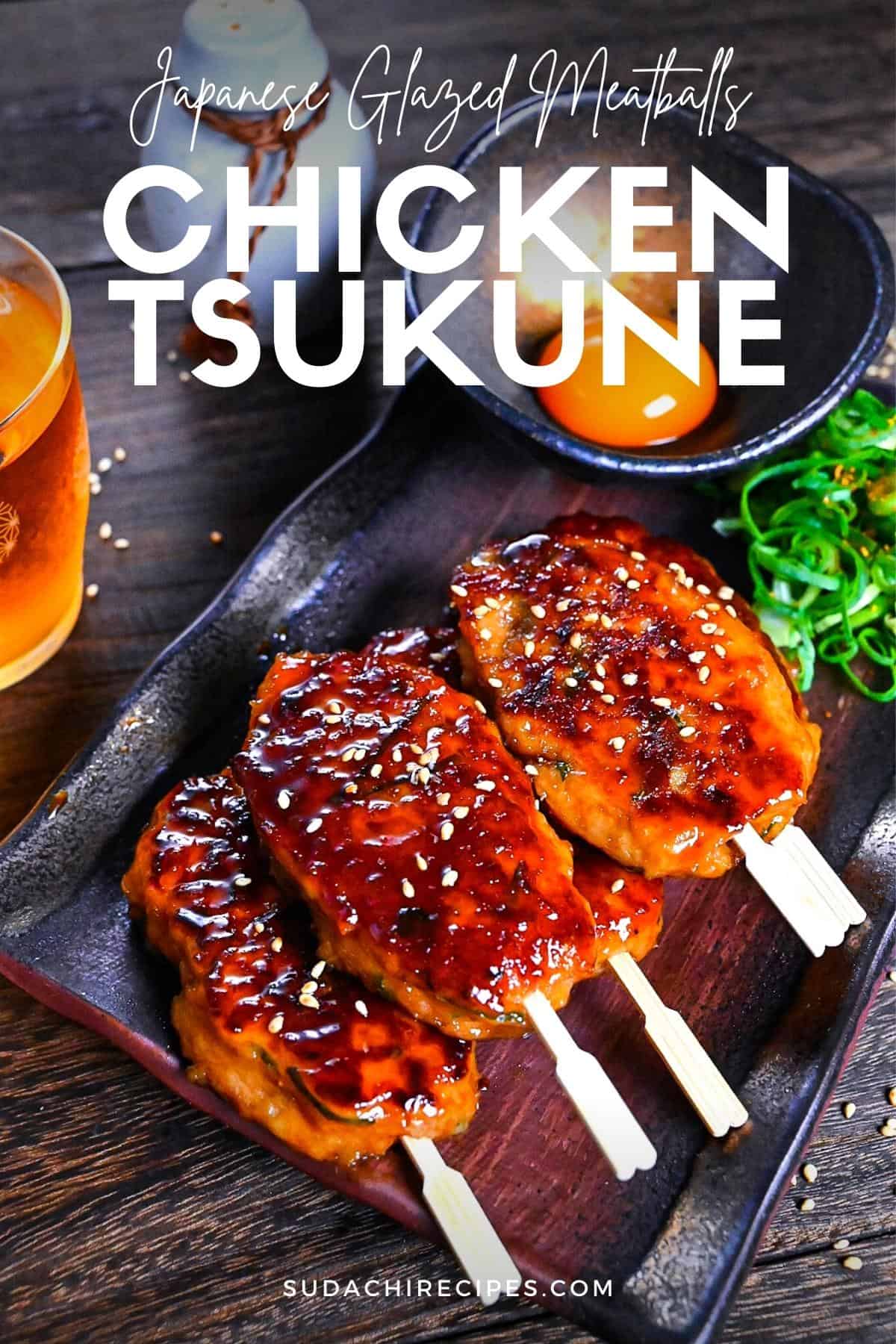 Disclaimer: This post may contain affiliate links. Sudachi Recipes is part of the amazon associates programme and earns a small percentage from qualifying purchases at no extra cost to you. See disclaimer for more info.
What is tsukune (Japanese chicken meatballs)?
Tsukune is a Japanese style meatball made by adding starch, or another binder to ground chicken, pork, fish, or other meat, and shaping it into round dumplings or oblongs and often served on skewers. It does not have to be chicken, but from a Japanese perspective, the first thing that comes to my mind when I think of "tsukune" is chicken tsukune.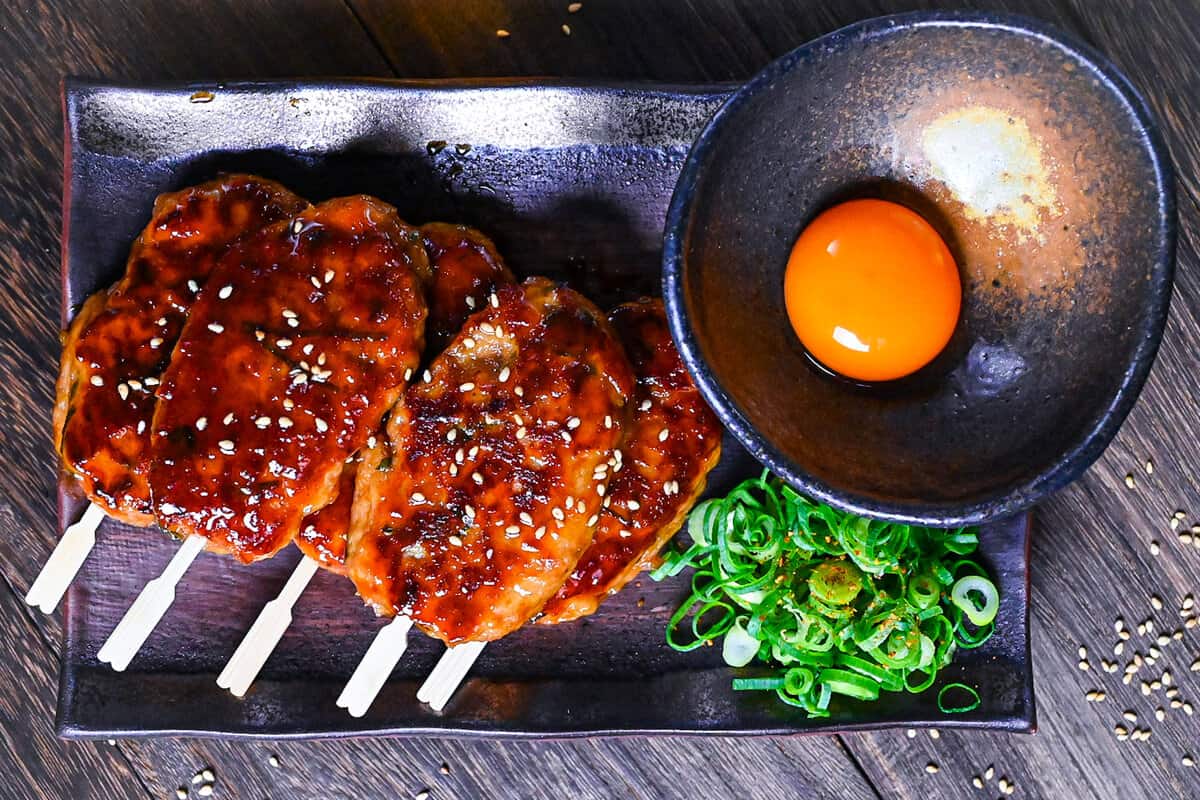 Tsukune as yakitori
Yakitori (焼き鳥) is meat cut into bite-sized pieces, skewered, and grilled over an open flame. An interesting thing about yakitori is, even though the name "yakitori" literally means "grilled chicken", it doesn't have to be chicken (arguably) and many yakitori establishments offer pork and offal.
According to Japan Yakitori Association, the definition of yakitori goes:
Made from chicken, pork, beef, or other livestock (including wild game) meat or offal.
Bite-size pieces served on a skewer.
Seasoned with salt or sauce and grilled.
Anyway, as those who have been to yakitori restaurant in Japan might know, tsukune-gushi (skewered tsukune) is one of the most popular yakitori available. In that context, it's skewered and grilled over a charcoal flame.
However, you don't have to grill tsukune when you make it at home! In this recipe, I will explain easy way to cook tsukune in a frying pan. Of course you can still use this recipe for your next bbq too.
Grill over charcoal
Grill in the oven
Bake in a toaster oven
Frying pan (this recipe uses frying pan)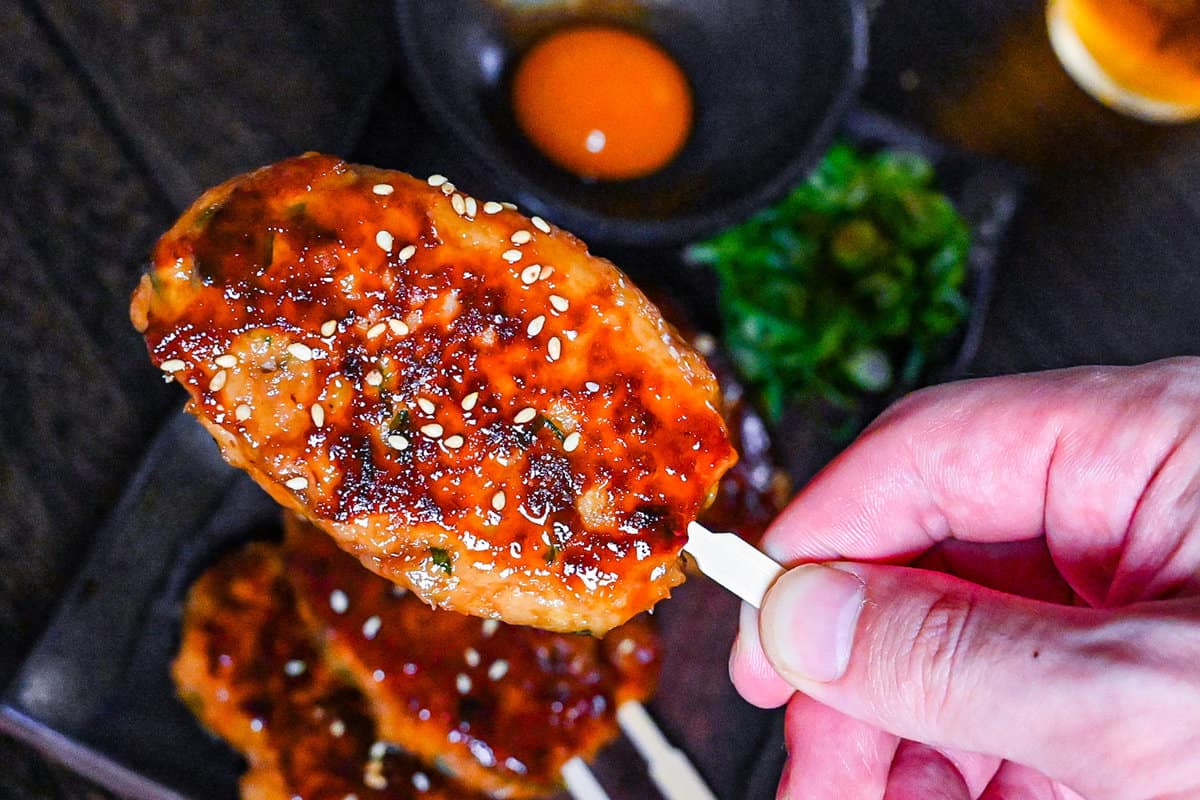 What is jidori tsukune?
Some restaurants might advertise their tsukune as "jidori tsukune" and you might wonder how it's different. Jidori is a generic term for domestically raised chickens with a blood percentage of at least 50% of indigenous origin, as listed in the Japanese Agricultural Standard (JAS).
In Japan, brands like Nagoya Cochin and Hinai Jidori are the highest grade of chicken meat. Compared to ordinary chickens, these chickens are raised for a longer period of time, so the differences in meat quality, aroma, taste, etc., between brands are more obvious.
In conclusion, jidori tsukune is a tsukune that is made with these kinds of high brand Japanese chickens.
Can tsukune be made with pork or beef?
In short, you can! As I explained earlier, tsukune does not necessarily be made with chicken. You can use pork mince or beef mince. However, this recipe is optimised for chicken tsukune, so you might have to tweak the seasonings and cooking times a bit when you make it with pork or beef.
If you use alternative meat for this recipe, you can use turkey mince for a closer, leaner alternative.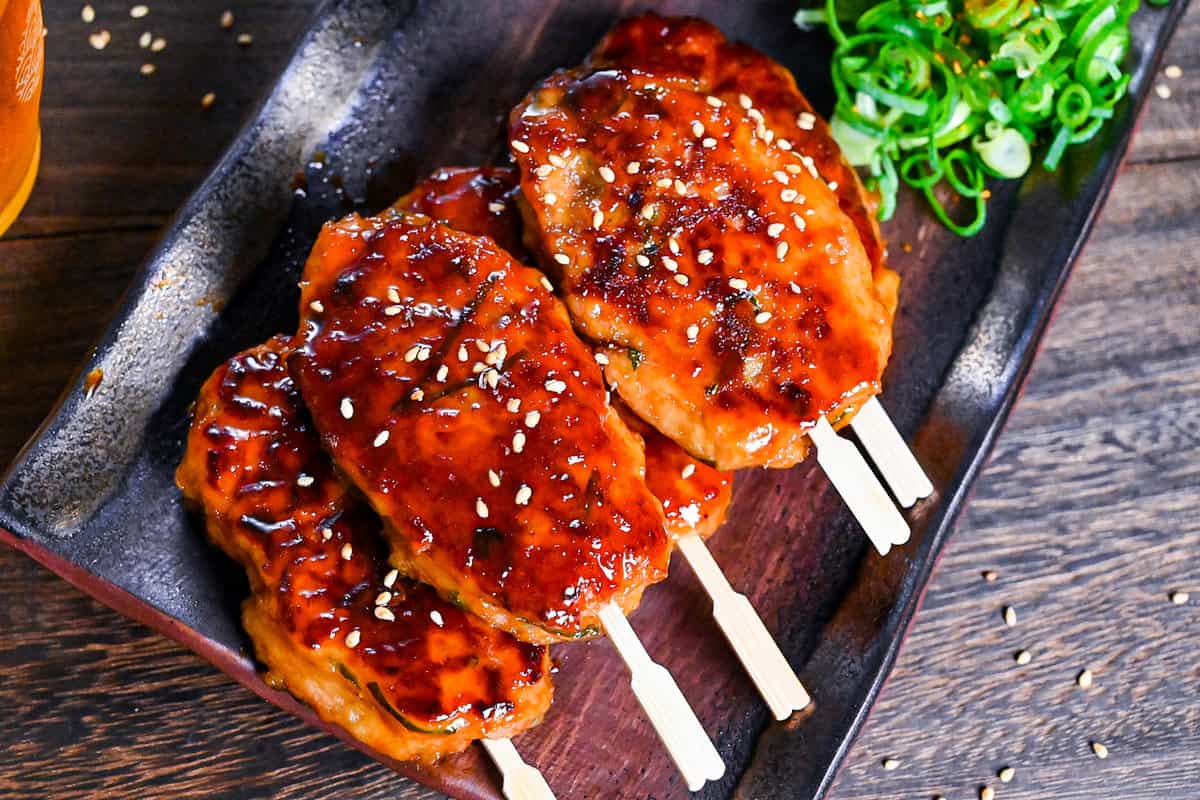 Tsukune vs Tsumire: What are the differneces?
You might heard of other Japanese meatballs called "tsumire", do you know what the differences are? They both are in fact "Japanese meatballs", however, the usage and process is slightly different.
The word tsumire is a contracted form of the verb "tsumi ireru" which means to pick and insert. "Tsumire" is a cooking method in which the mixture, which has not yet been shaped, is scooped into smaller pieces using a spoon or spatula and dropped into a hot pot to cook in the broth.
On the other hand, the word "tsukune" is derived from "tsukuneru," meaning to knead and roll into a ball. With this in mind, "tsukune" is made by adding seasonings, a binding agent like starch or egg to the ingredients, then kneading and shaping the dough by hand.
So in conclusion, tsumire and tsukune are both types of meatballs but are shaped and cooked in different ways. I make tsumire style meatballs in my chanko nabe recipe if you'd like to check it out!
Ingredients to make homemade chicken tsukune
Making tsukune is very simple in terms of process and ingredients! Here are the ingredients I use to make chicken tsukune at home! (Includes affiliate links)
Chicken mince (preferably thigh)
Onion
Ooba leaves (perilla leaf / shiso)
Ginger paste (or grated fresh ginger)
Black pepper
As for the alternatives and potential additions, please refer to the later section. (And for quantities, see the recipe card at the bottom of the page.)
Chicken mince
In Japan stores, there are two kinds of chicken mince available; thigh mince and breast mince. The mince made with chicken thigh is fattier and yields a juicier result with a more prominent chicken flavour, while breast mince is leaner and milder in taste. You can use store bought mince or make it yourself if you prefer.
I personally like thigh meat the best, but breast works too. In fact, I'd say that the sticky glaze on the tsukune helps counteract the dryness of chicken breast. Of course, some stores only offer general "chicken mince" which could contain various parts. Keep in mind that the lower the fat percentage, the drier the result.
So in the end, choose your mince (chicken or otherwise) according to your preference and what is available to you.
Onion
Onions are one of meat's best friends, they add depth, sweetness and bring out the flavour of the meat itself. In order for them to blend seamlessly into the tsukune mixture, I prefer to grate the onions rather than chop or slice. Grating also releases the moisture in the onion so you can squeeze it out easily before adding to the meat. This results in a mixture that is smoother and easier to handle without excess moisture.
Ooba Leaves
Ooba leaves (also known as shisho or perilla leaves) are related to the mint family and have a strong, refreshing flavour. If you can't find ooba in your country, you can omit it completely or alternatively, flavour the mince with a different ingredient or herb. Some alternatives could be spring onion or even a small amount of peppermint or basil.
Mayonnaise
Adding mayonnaise to the tsukune mixture improves the texture, making it extra soft and fluffy. I personally use Japanese Kewpie mayonnaise.
While some people use egg as an additional binding agent in meatballs, I tried it myself when testing this recipe and I didn't really like the result. This was possibly because my tsukune recipe makes a small batch (5 skewers) and even 1 egg was too much, but dividing one egg is a bit bothersome. Using mayonnaise instead also makes it easier to reduce or increase the recipe how you please without having to divide eggs.
Grated ginger
Ginger is a favourite ingredient in Japanese cooking and is often used to neutralise strong flavours in meat or fish. While this is a bit of a contradiction to using onion (which enhances the meat flavour), I believe using the ginger and onion together in tsukune creates a wonderful balanced flavour. Ginger also contains an enzyme that softens and tenderizes meat, it's not really necessary for meatballs but it's definitely a bonus!
I often use S&B ginger paste for convenience!
Miso paste
I add miso paste to my tsukune for added flavour and umami. I personally use a mixed miso paste, known in Japanese as "awase miso".
There are 3 main types of miso paste used across Japan; white, red or yellow. White is very mild and subtle while red is very deep and rich in flavour, yellow is generally (but not always) a mixture of the two and is the best of both worlds. Not too mild, not too rich!
Tsukune Glaze
For the glaze, I use following ingredients:
This simple glaze is the perfect balance of sweet and savory, it's nicely sticky and glossy too. Now let's move on to the cooking instructions!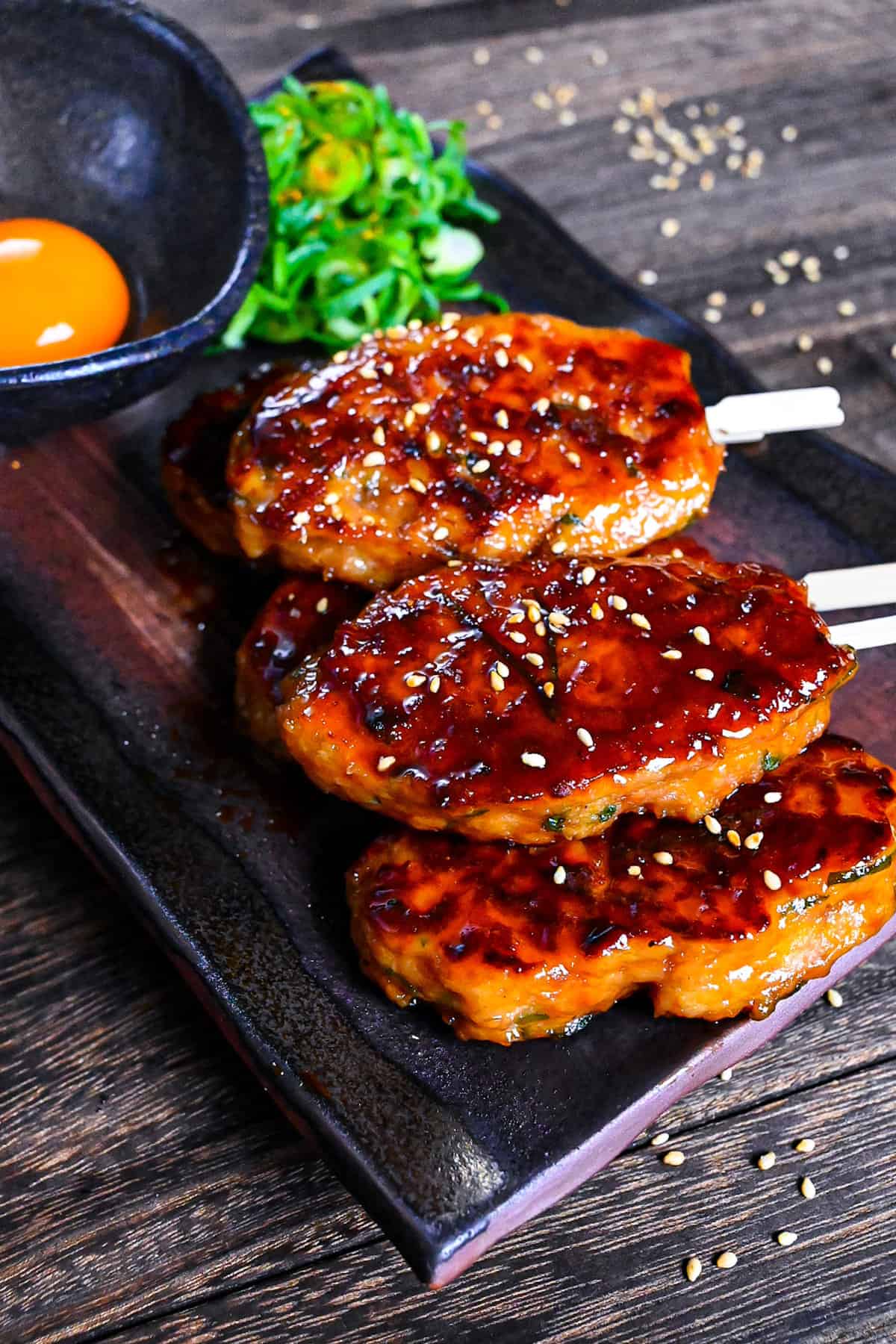 Instructions on how to make homemade tsukune
Making tsukune at home is pretty straight forward, but I have a few tricks up my sleeve to help improve the cooking process and make it easier to shape! For ingredient quantities, see the printable recipe card at the bottom of the page.
Mix the ingredients in a bowl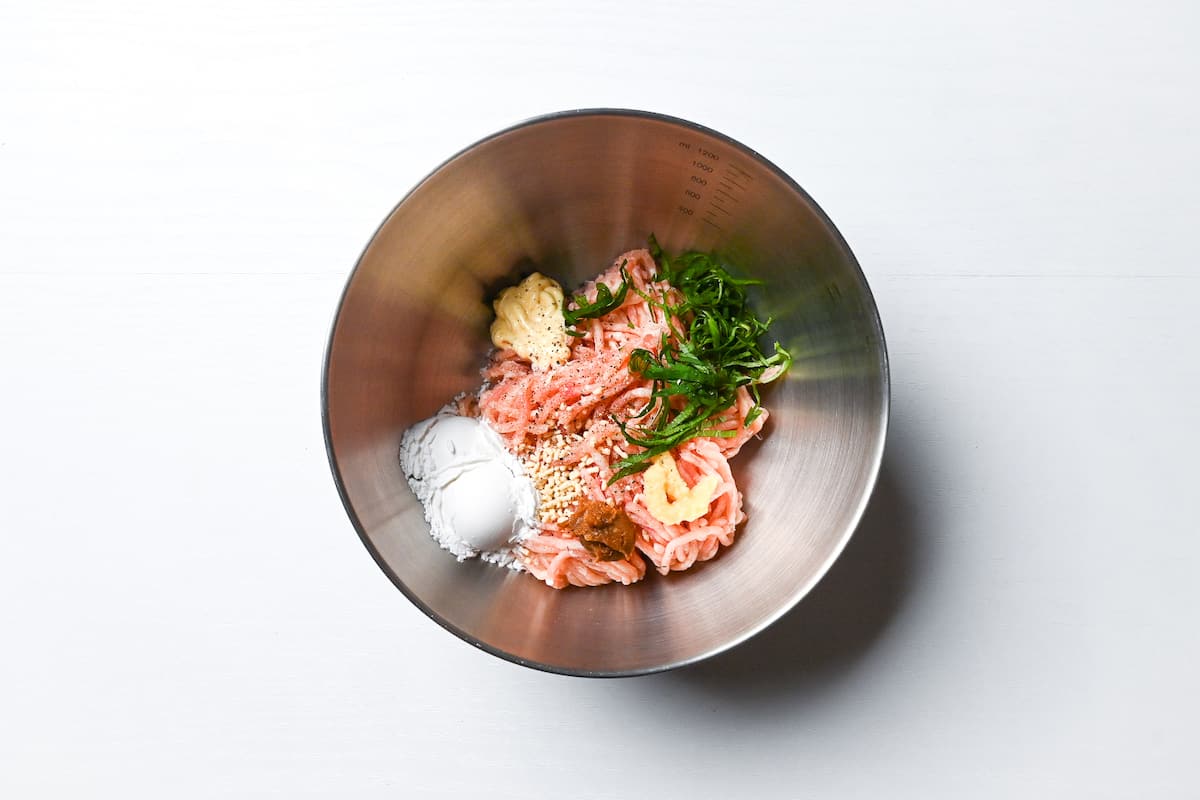 Who doesn't love a recipe that you can mix altogether in one bowl? Simply throw the grated onion, chicken mince, sliced ooba leaves, mayonnaise, grated ginger, miso paste, chicken stock powder, potato starch and black pepper into a large bowl and mix with a spatula.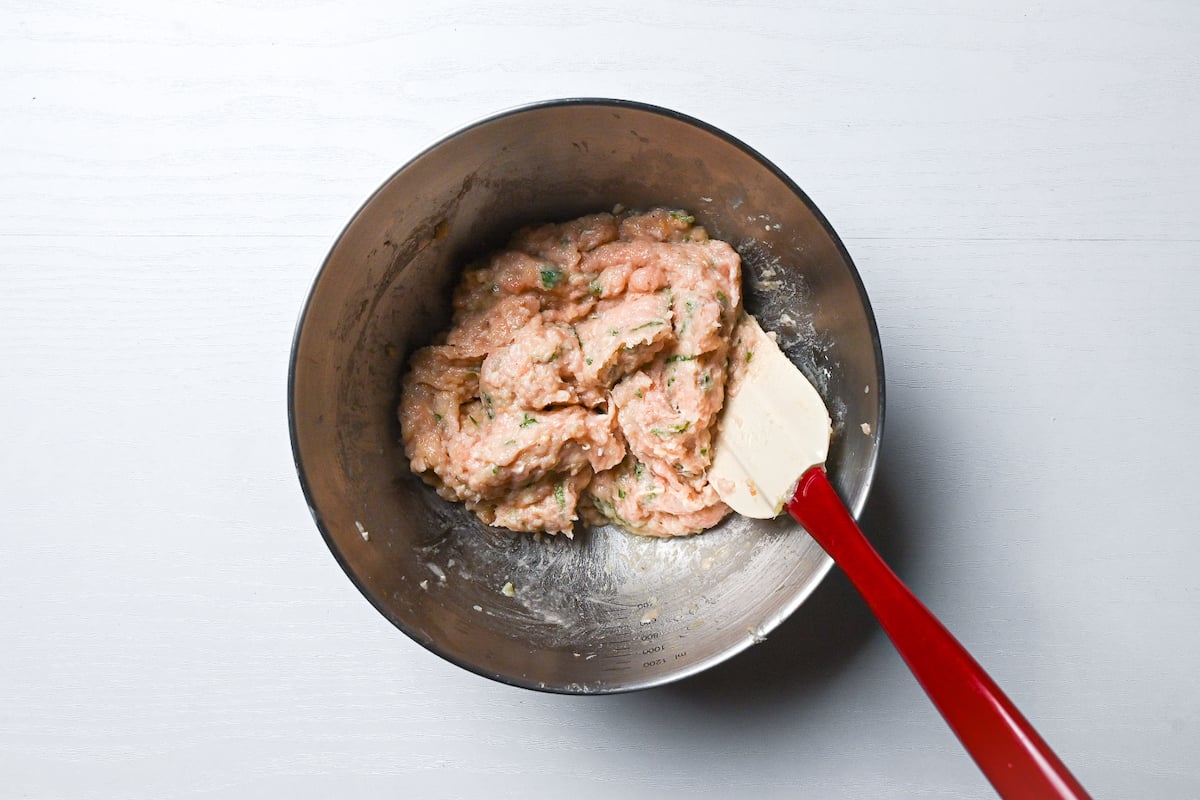 Tip: I use a spatula rather than my hands for this because I want to keep the mixture cool before I shape it later (bare hands tend to warm up the ingredients).
Divide and shape
Once the mixture is well mixed, it's time to shape them.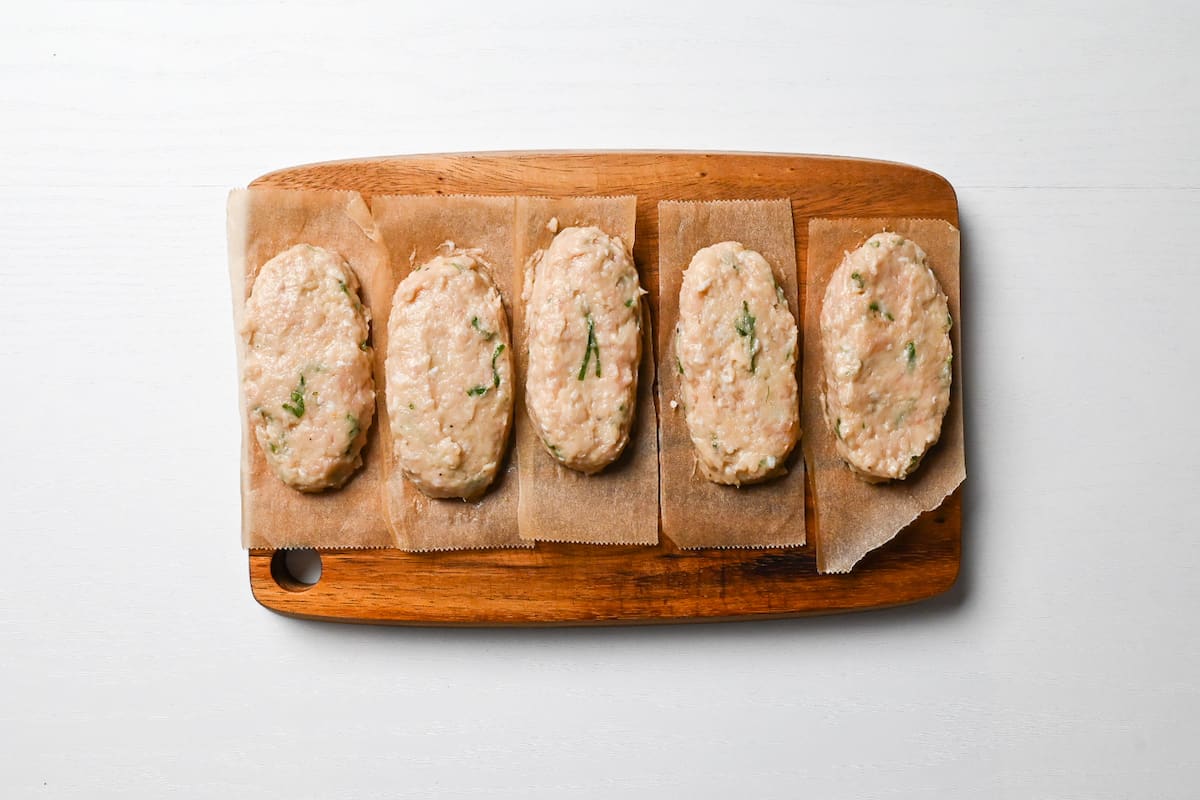 The most common ways to shape tsukune is either into balls or oblongs (like pictured above) and then serve on bamboo skewers. If you make balls, divide the mixture into 12-15 balls which will be enough for 4-5 skewers.
Alternatively you can divide the mixture into 5 and make oblongs like I did! (It's quicker!)
I have 2 methods for shaping. One is to oil my palms, shape by hand and then place them straight into a heated pan. The other method is cutting strips of baking paper, placing each portion on top and then shape it using the edge of a spoon.
If you use the baking parchment method, you can transfer each tsukune meatball to the heated pan with the paper side facing up and then peel it away without misshaping it.
Fry
While yakitori restaurants and stands would usually cook tsukune over a charcoal grill, this is a home recipe so I opted for a simple frying pan instead.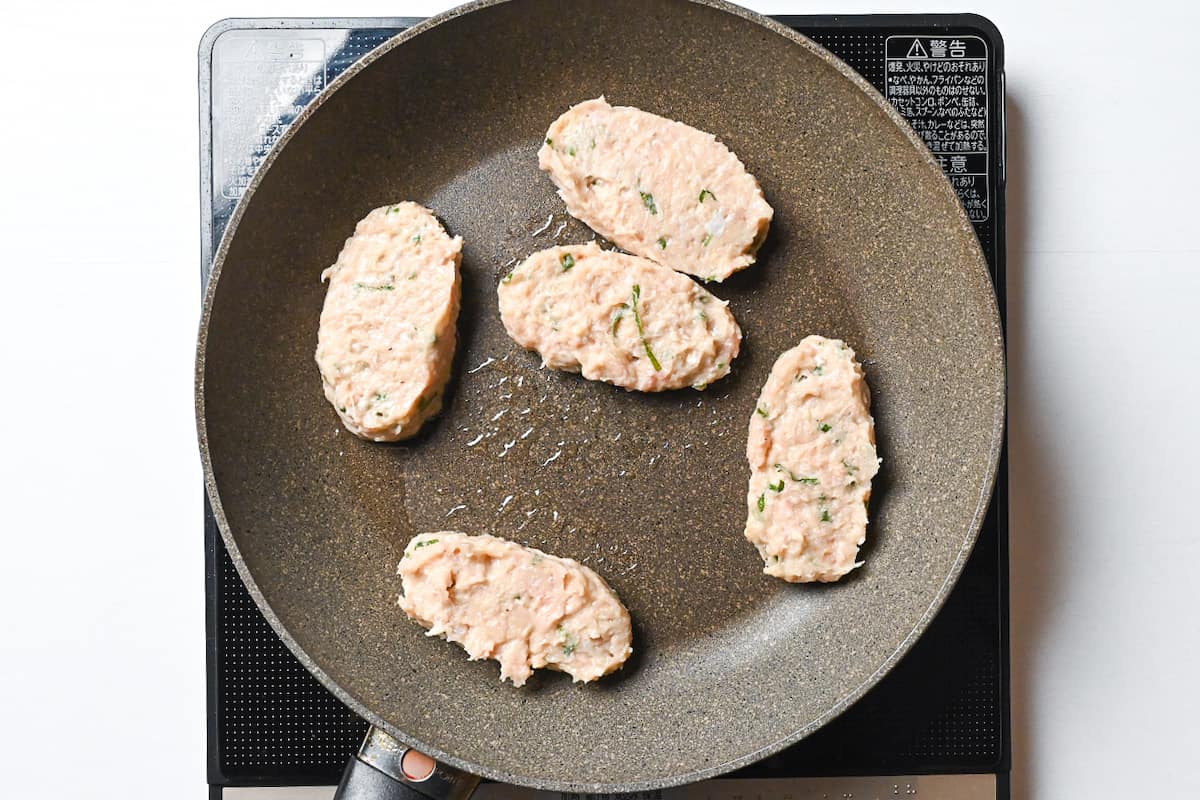 Place the tsukune in the pan and brown them on both sides, frying until they're fully cooked all the way through. This generally takes about 2-3 minutes on each side but can vary slightly depending on the thickness of the tsukune and the power of your stove.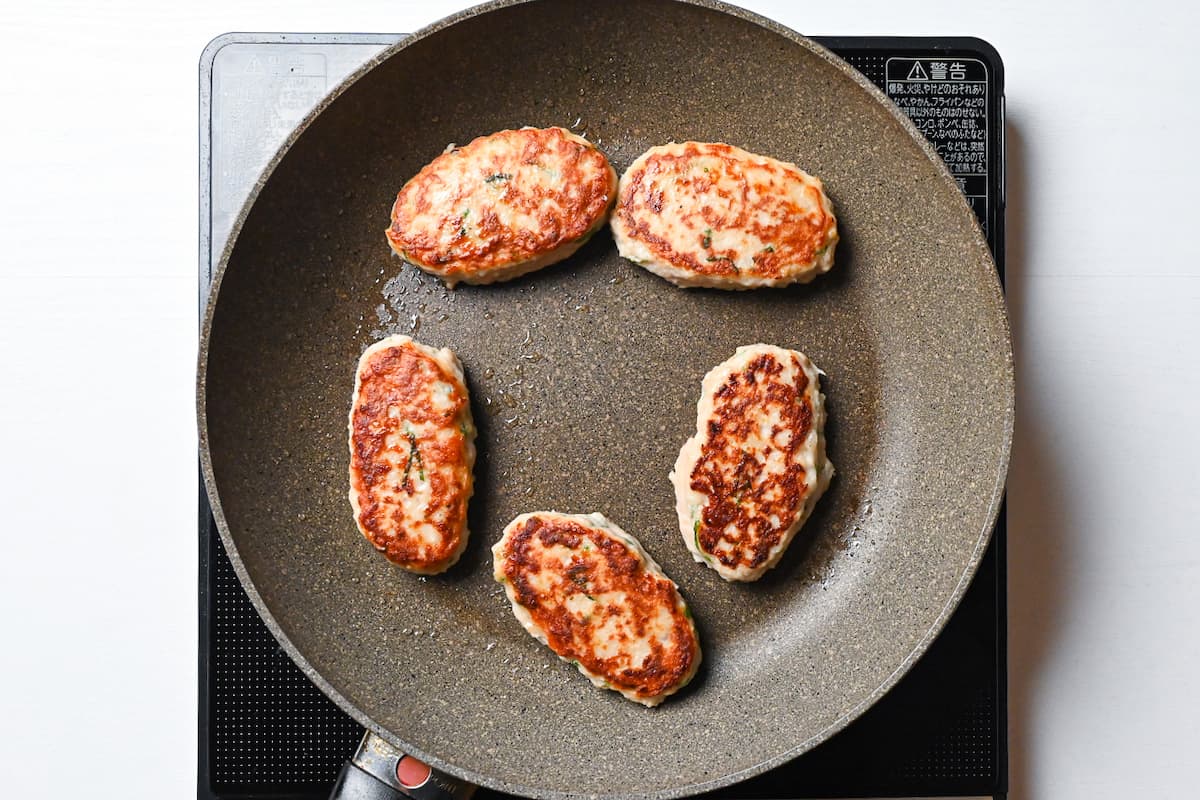 Keep in mind that if you're making the ball style tsukune, you will have to keep rotating them to ensure they're browned evenly all the way over.
Make the sauce
While the tsukune are cooking, I combine soy sauce, sugar, mirin and red wine in a small bowl. Give it a mix and then it's ready to add to the pan.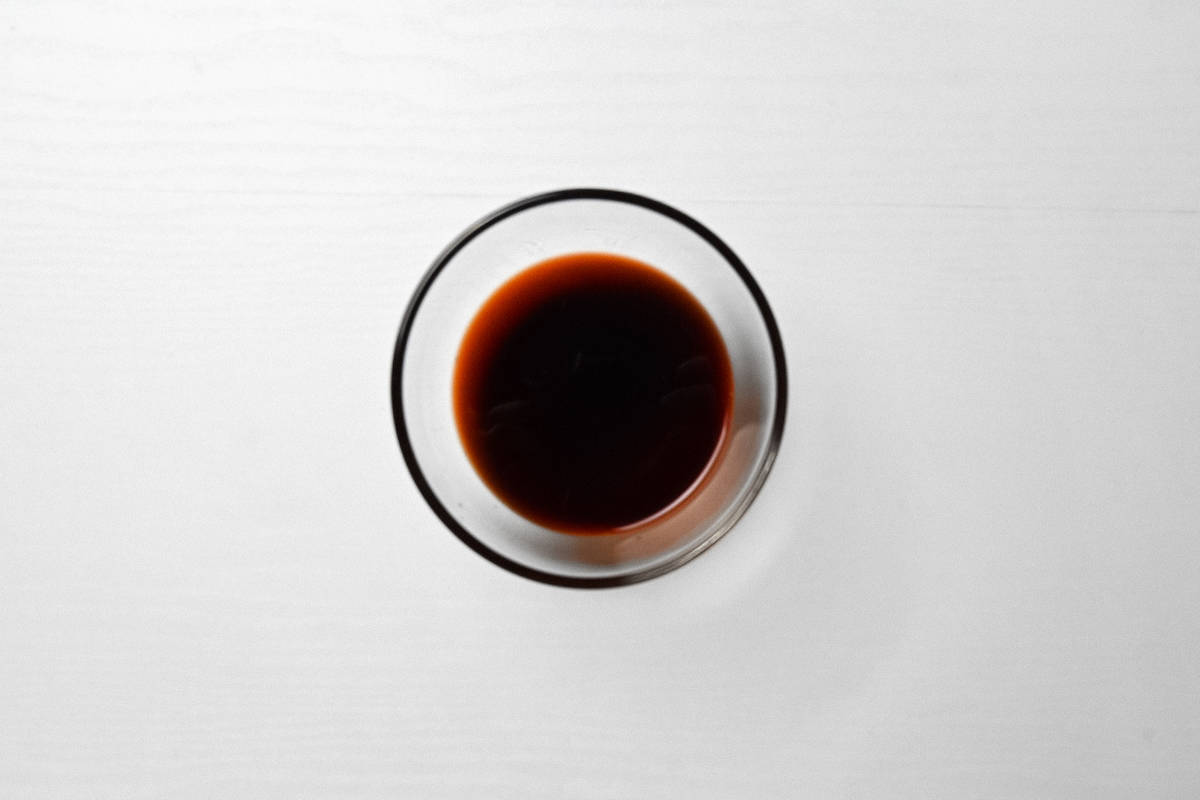 Add the sauce to the pan
Once the tsukune are cooked all the way through, turn off the heat and add the sauce!
Turn off the stove before adding the sauce
Because this sauce is a small amount and contains sugar, it can thicken and burn very quickly. To prevent this, turn off the heat before adding the sauce. The pan will still be hot, but the heat won't be so direct and the sauce will thicken in the residual heat.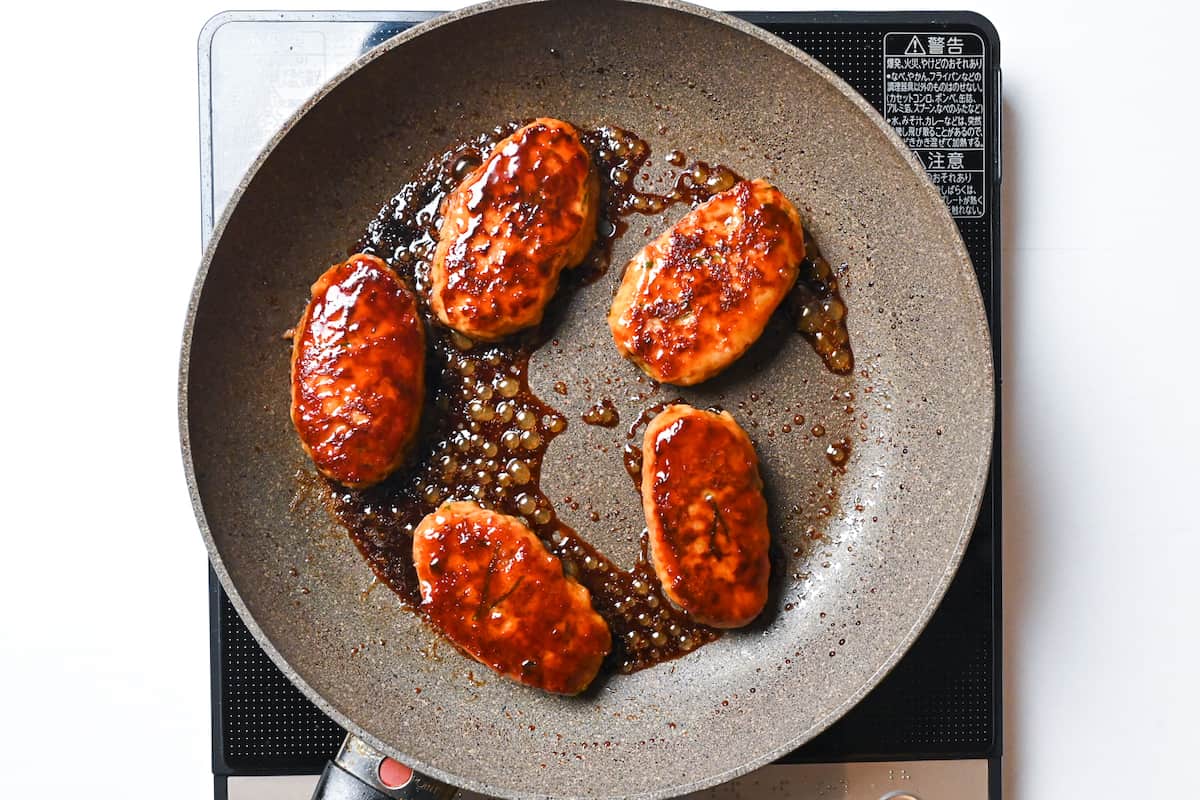 Be sure to move the tsukune around the pan and coat the sauce over both sides evenly.
Push onto skewers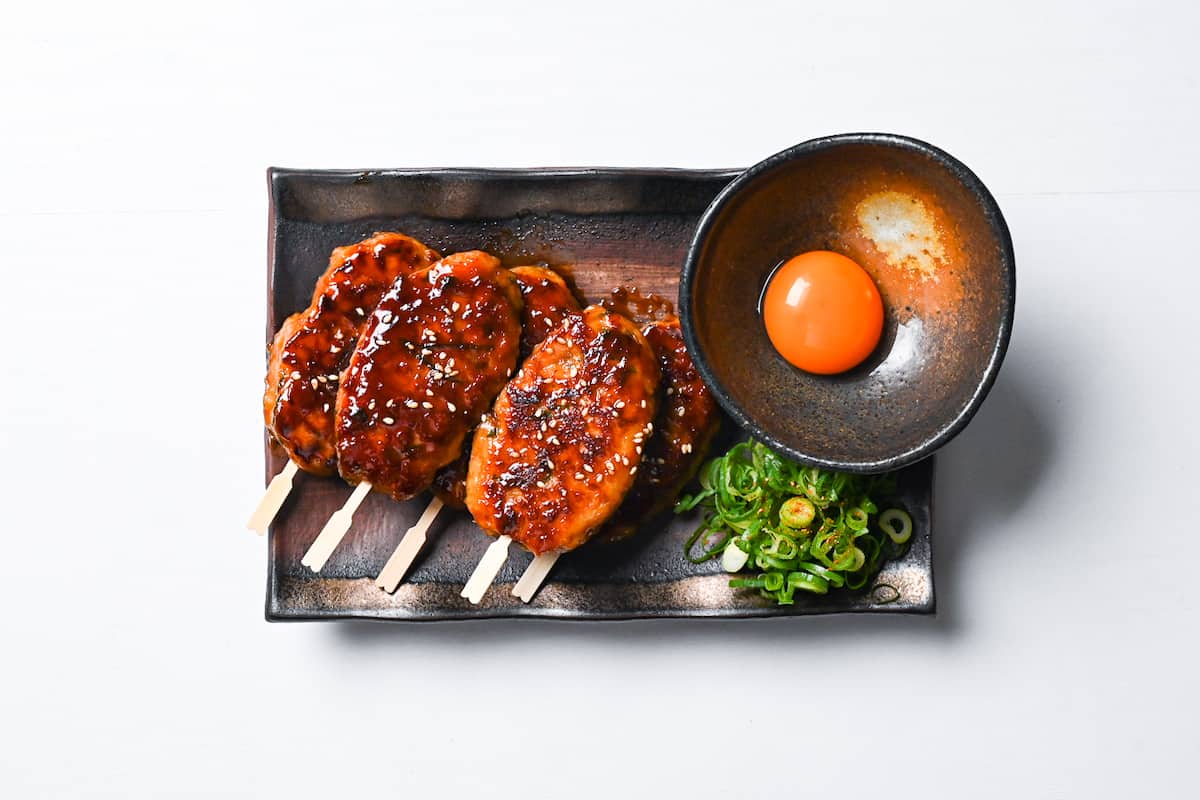 The final step is to put them on the skewers, this is optional but makes for better presentation. (These skewers on Amazon work great and come in various sizes! I like 3.5″ or 4″ for tsukune.)
You can either let them cool for a few minutes before pushing them onto the skewers by hand (be careful not to burn yourself!) or hold them with tongs or a fork and push the skewers in. If the sauce comes off, just hold them by the skewer and re-coat with any leftover sauce in the pan!
Lastly, garnish with sesame seeds and spring onion, and enjoy your tsukune in true Japanese style by dipping them in a raw egg yolk before eating!
Substitutions and variations of tsukune
In this section, I will list all the alternative ingredients, substitutions and variations to make the best tsukune to your preference. First, here are the alternatives for this particular recipe:
Chicken breast mince (instead of chicken thigh mince)
Turkey mince (instead of chicken mince)
Chopped spring onion (instead of ooba)
Chopped mint or basil (instead of ooba)
Other types of starch such as cornstarch and tapioca starch (instead of potato starch)
Shaping in balls (instead of ovals)
As for the addtions/customisation, please refer to the list below:
Cheese (add a couple of tablespoons or so in the mix)
Chicken cartilage (for added texture)
Finely diced lotus root (for added texture)
Finely diced mushroom
Tiny amount of silken tofu (for extra soft texture)
Generally speaking, tsukune goes well with root vegetables, so once you make the normal version, maybe you can start exploring the possibilities of additional ingredients!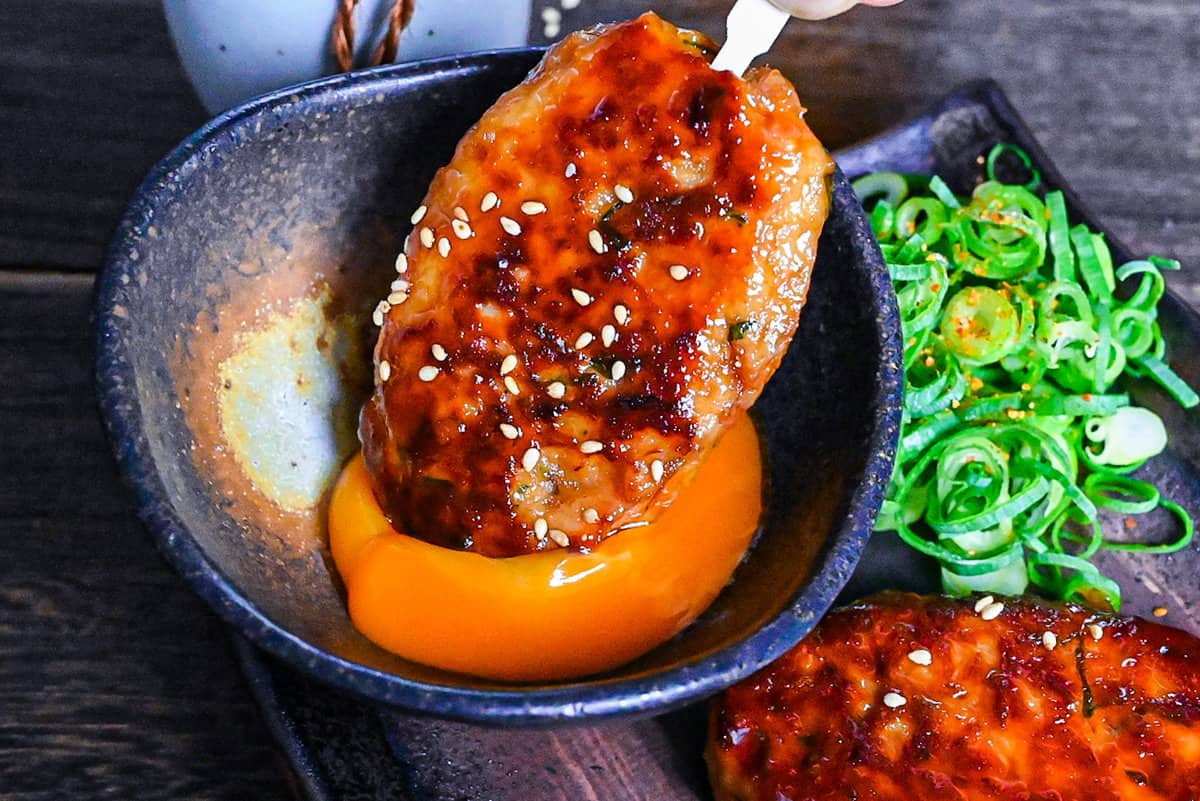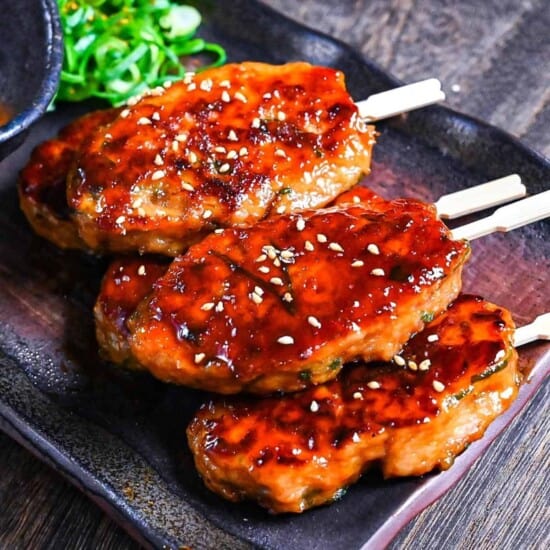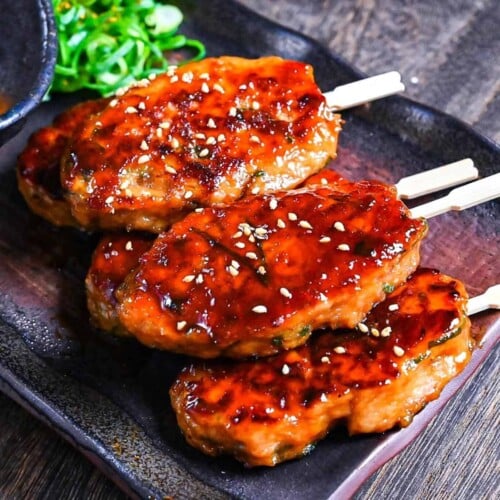 Chicken Tsukune (Japanese Glazed Meatballs)
---
How to make delicious homemade Chicken Tsukune (Japanese meatballs) coated in a sweet and sticky soy sauce based glaze. (Makes 5 skewers)
---
---
---
---
Ingredients
50

g

yellow onion(s)

grated

250

g

ground chicken

5

perilla leaves

shiso/ooba, thinly sliced

1

tbsp

Japanese mayonnaise

1

tsp

ginger

grated or pasted

½

tsp

miso paste

1

tsp

Chinese-style chicken bouillon powder

2

tbsp

potato starch

1

pinch

black pepper

1

tsp

cooking oil

plus extra oiling hands

5

bamboo skewers

optional

1

pasteurized egg yolk

optional, for dipping
Sauce
1 ½

tbsp

soy sauce

1 ½

tbsp

mirin

1

tbsp

sugar

1

tsp

red wine
Instructions
Add

50 g yellow onion(s)

,

250 g ground chicken

,

5 perilla leaves

,

1 tbsp Japanese mayonnaise

,

1 tsp ginger

,

1/2 tsp miso paste

,

1 tsp Chinese-style chicken bouillon powder

,

2 tbsp potato starch

and

1 pinch black pepper

to a large mixing bowl.

Mix with a silicone spatula until the ingredients are evenly distributed throughout and the mixture has combined and reached a sticky consistency. 

Divide into 5 equal pieces (for balls, divide into 12-15 pieces to make 4-5 skewers with 3 meatballs on each). Grease your hands with oil and shape into oblongs or balls. (If you don't want to get your hands dirty, transfer each piece to a piece of baking parchment and shape using a spoon.)

Heat pan on medium and drizzle

1 tsp cooking oil

. Once hot, add the tsukune to the pan and fry until crispy underneath.

Flip and repeat on the other side.

While the tsukune are frying, mix

1 1/2 tbsp soy sauce

,

1 1/2 tbsp mirin

,

1 tsp red wine

and

1 tbsp sugar

in small bowl.

Once both sides are crispy and the meat is cooked through, add the sauce to the pan and turn off the heat, the sauce will thicken in the residual heat. Move the tsukune around the pan and make sure they're evenly coated all over.

Push onto skewers, sprinkle with sesame seeds and spring onion. Optional: serve with

1 pasteurized egg yolk

for dipping.

Enjoy!
Nutrition
Calories:
390
kcal
|
Carbohydrates:
22.7
g
|
Protein:
23.8
g
|
Fat:
22.7
g
|
Saturated Fat:
4.8
g
|
Polyunsaturated Fat:
5.1
g
|
Cholesterol:
103.5
mg
|
Sodium:
1231.5
mg
|
Fiber:
0.9
g
What is in tsukune?
Tsukune is usually made with chicken mince (although it does not have to be with chicken), binder agent (e.g. egg or starch) with condiments. In my recipe, I use grated onion, ooba leaves, mayonnaise, ginger paste, miso…etc to add more flavour and texture.
What is tsukune in Japanese?
Tsukune is spelt as "つくね" in Japanese hiragana and doesn't have kanji (Chinese) characters.
What is the definition of yakitori?
According to Japan Yakitori Association, the definition of yakitori goes, 1. Made from chicken, pork, beef, or other livestock (including wild game) meat or offal. 2. Skewered in bite-size pieces. 3. Seasoned with salt or sauce and grilled.