Chicken katsu is a versatile dish that you can make into pretty much anything! Enjoy it with rice, on donburi, in a sandwich, with curry… the list goes on! Tender chicken thigh coated in a thick and crunchy layer of panko breadcrumbs and fried to perfection, then drizzled with a delicious homemade katsu sauce. Every crunch is gonna have you dancing in your seat!
Disclaimer: This post contains Amazon affiliate links. Sudachi Recipes earn a small percentage from qualifying purchases at no extra cost to you. See disclaimer for more info.
What is Katsu?
Katsu (カツ) is the Japanese word for "cutlet", a cut of meat rolled in breadcrumbs and deep fried. Katsu originated from Europe and many countries have a version of the dish, whether it's German "schnitzel", French "escalope" or Spanish "filete empanado".
These are just 3 examples but there are so many more. This just goes to show what a popular and well loved dish katsu is!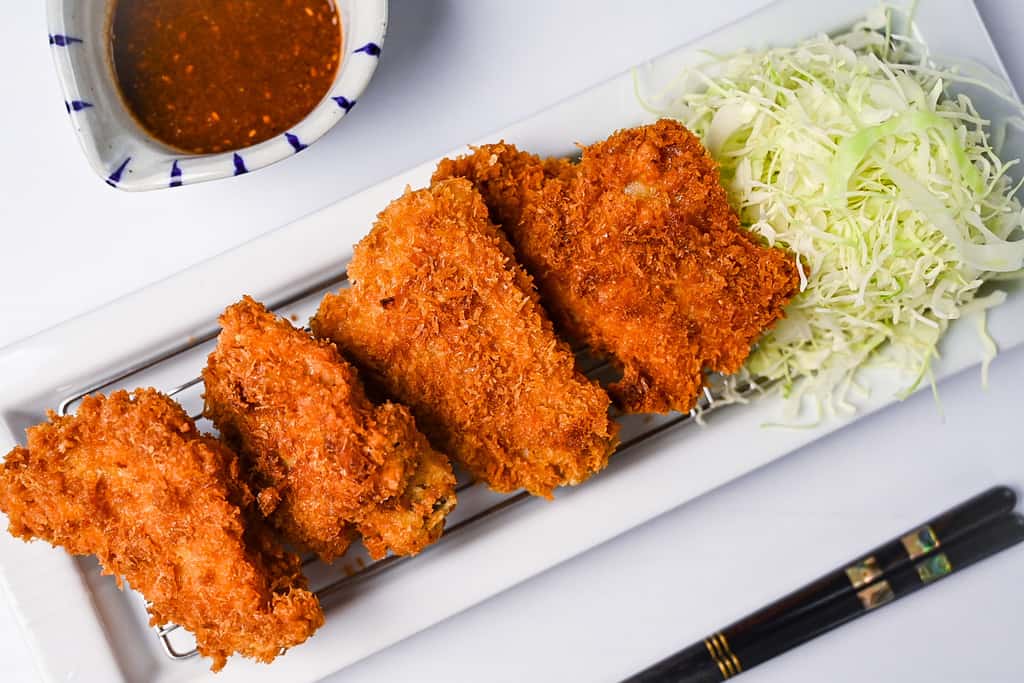 Types of Katsu
The most common types of katsu in Japan:
Tonkatsu (とんかつ) pork cutlet, made with pork chops
Chikinkatsu (チキンカツ) chicken cutlet made with chicken breast or chicken thigh
Gyukatsu (牛カツ) beef cutlet often made with sirloin and cooked rare or medium
Tonkatsu is the most popular in Japan and if the type of katsu isn't specified, it usually means pork by default.
What is Chicken Katsu?
Chicken katsu can be made with chicken breast or chicken thigh. Although chicken breast is firmer and a bit healthier, I used thigh for this recipe so that it's extra succulent and juicy.
I have a recipe for cheesy chicken katsu which I made with chicken breast as part of my chicken katsu curry recipe, check it out if you're interested!
How to make the best Katsu
Despite needing to fry it in oil, katsu is a pretty easy dish to make and extremely popular to make at home. There are a few tips you can follow to achieve the perfect katsu every time.
Panko
The first point is the breadcrumbs. Japanese katsu is made specifically using panko breadcrumbs. Panko is made up of large flakes from white, crust-less bread and are said to be drier than usual breadcrumbs.
Because panko is very dry, it absorbs less oil and results in an extra crispy breadcrumb layer. In other words, panko is essential for authentic Japanese katsu.
I personally use Hamaotome Soft Panko, it never fails. When I was in England and couldn't buy my usual brand, I found that JFC Panko breadcrumbs were a great alternative and easy to find worldwide. (UK readers can buy it in Sainsbury's!)
Batter
Next, is how to stick the panko to the surface. Traditionally, you would coat the meat in flour, then egg and then panko. Although this technique is good, I find sometimes there are gaps where the panko doesn't stick.
For a perfectly even coat, I make a batter from a mixture of egg, flour and water. This helps more of the panko stick to the surface, which makes it extra thick and crispy. I'm not sure about the science behind it, but somehow, this technique makes the meat more tender too.
Oil
When deep frying or shallow frying foods, it's always important to use an oil with a high smoke point. This means that it can reach high temperatures without creating smoke. Here are a few popular options:
Vegetable oil
Canola oil
Peanut oil
The temperature of the oil is also very important! If the temperature is too low, the oil will be absorbed into the panko and it can become greasy and unpleasant.
If the temperature is too high, the outside can become dark and burnt while the middle is not cooked through. I'd say the best temperature for frying katsu is 170°C (340°F), it takes approximately 3-4 minutes on each side.
Home cook Tips
Mums are basically the pros at making katsu, here are some common tips that many people use for cooking katsu at home.
Testing the heat of the oil by dropping a panko crumb in. When it starts sizzling, it's ready to start frying.
Don't disturb the katsu. Just place it in and wait patiently, moving it around will cause the panko to fall off. Just one turn half-way through is all it needs.
Listen to the oil. When it bubbles aggressively, it means the water content in the meat is reacting with the oil, indicating that it's not yet cooked. When the oil becomes quiet, the meat is cooked through.
Make a large batch then freeze the leftovers, you can defrost it and then bake it in the oven or run it under the grill to return your katsu to it's former crispy glory. (Use within 1 month.)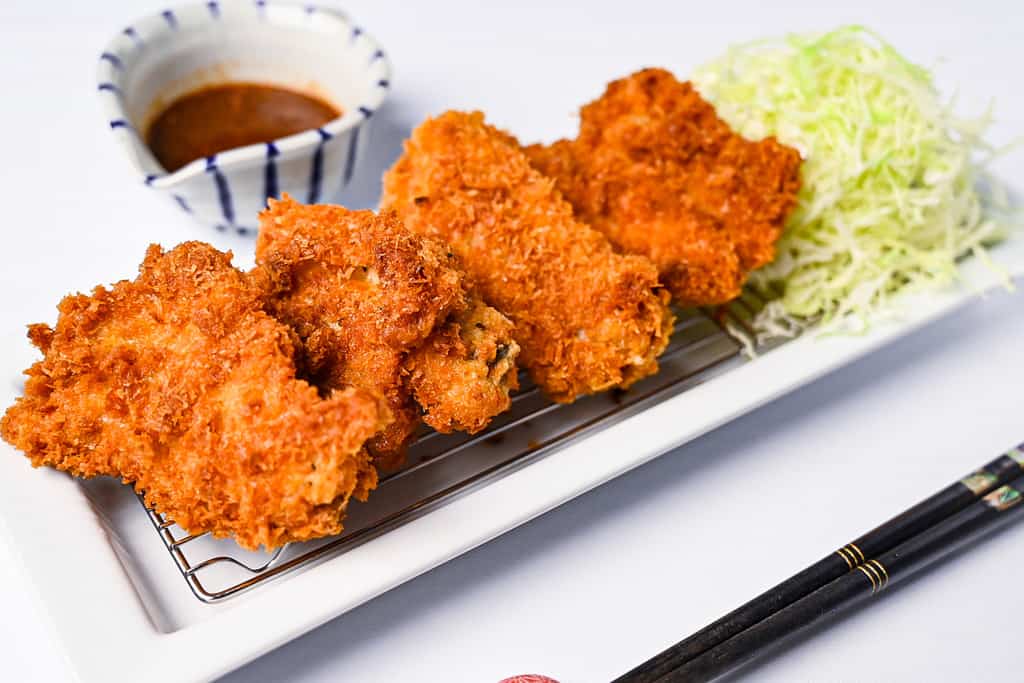 Katsu Sauce
Katsu is usually served with a sauce. Katsu sauce in Japan is usually sweet and tangy with a strong taste of Worcestershire sauce, but that's not the only kind of sauce.
In Aichi prefecture (where I live), Katsu is famously served with a red miso based sauce. It's very rich but truly delicious. If you visit Nagoya or anywhere in Aichi, you have to try it! I also have a recipe for red miso sauce on my katsu sand post, check it out if you're interested.
For this chicken katsu recipe, I wanted to make the sauce a little different so I made a tangy sesame sauce. If you want to make a more traditional katsu sauce, check out the recipe on my tonkatsu recipe here.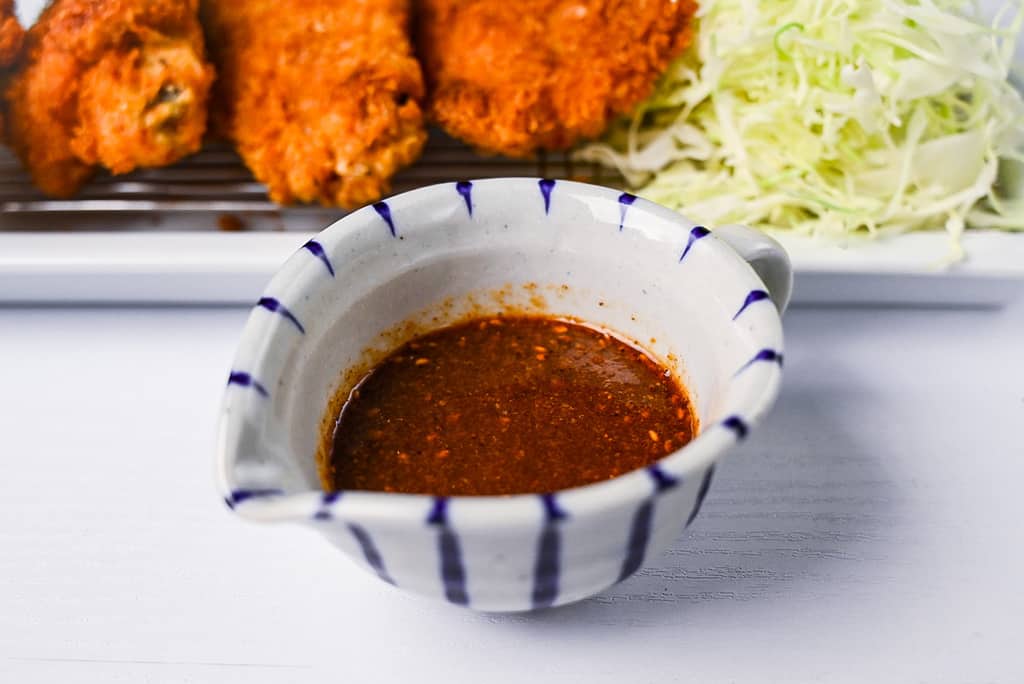 Katsu Dishes
Katsu is versatile and can be used in all kinds of dishes. Here are a few favourites!
Teishoku (Set meal with katsu drizzled with a Worcestershire sauce based sauce, shredded cabbage, rice, miso soup and pickles.)
Katsudon (Katsu served on rice with simmered onions and fluffy egg)
Katsu Kare (Japanese style curry with rice, katsu and pickles)
Katsu Sando (Katsu sandwich, usually made with white bread, cabbage and flavoured with katsu sauce)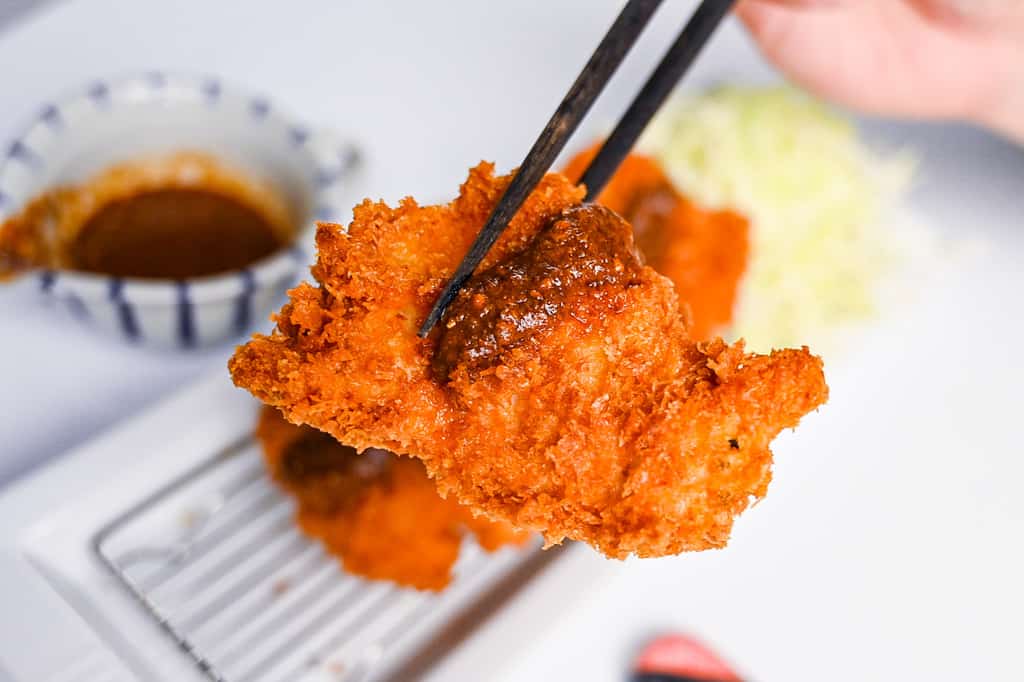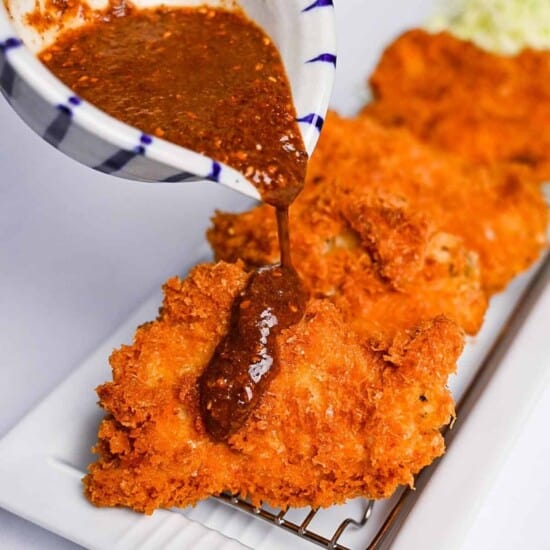 The Ultimate Crispy Chicken Katsu (チキンカツ)
---
How to make the ultimate crispy Japanese chicken katsu. Juicy, tender chicken thigh coated in a thick layer of panko breadcrumbs and deep fried until perfectly golden, then drizzled with a thick and delicious homemade katsu sauce.
---
---
---
---
Ingredients
Katsu Sauce
15

g

white sesame seeds

2

tsp

soy sauce

2

tsp

Worcestershire sauce

1

tbsp

tomato ketchup

1

tsp

sugar

4

tsp

water
Chicken Katsu
600

g

boneless chicken thigh(s)

skin-on, boneless (or chicken breast)

1

pinch

salt and pepper

45

g

cake flour

for the first coat

100

g

panko breadcrumbs

100

ml

water

2

medium egg(s)

100

g

all-purpose flour

for the batter

cooking oil

for deep frying
Instructions
Sauce
Roast

15 g white sesame seeds

in a dry frying pan on a medium-high heat for a few minutes until fragrant. 

Grind the roasted sesame seeds with a mortar and pestle. 

Transfer the ground sesame to a bowl and add

2 tsp soy sauce

,

2 tsp Worcestershire sauce

,

1 tbsp tomato ketchup

,

1 tsp sugar

and

4 tsp water

. Mix until well incorporated and set aside for later.
Katsu
Heat your oil to

170

°C

(

338

°F

).

Cut each

600 g boneless chicken thigh(s)

into quarters or sixths depending on your preference. (If using chicken breast, refer to my chicken katsu curry recipe for how to cut.)

Prepare two plates, add the

45 g cake flour

to one and

100 g panko breadcrumbs

to the other.

In a bowl, mix

100 ml water

,

2 medium egg(s)

and

100 g all-purpose flour

to form a thick batter.

Sprinkle the chicken pieces with

1 pinch salt and pepper

on both sides and coat the surface with a thin layer of cake flour.

Once the oil has finished heating, dip your chicken into the batter.

Roll in the panko and coat thoroughly before placing them straight into the oil.

Fry for 3-4 minutes on each side until crispy and golden.

Transfer to a wire rack and allow any excess oil to drip off.

Serve the chicken katsu and drizzle with homemade sauce.

Enjoy!
Notes
If you want to use chicken breast, I recommend doing a butterfly cut (see my chicken katsu curry recipe for pictures and video) and then pounding the meat until 1cm or 1/2 inch thick. 
I recommend making a large batch and then storing leftovers in the freezer for up to one month. You can enjoy this chicken katsu in a sandwich, burger, curry or lunchbox. It has so many uses! 
Defrost and then warm up in the oven or under the grill to ensure the panko gets crispy again.
I don't recommend microwaving.
For traditional katsu sauce, see my tonkatsu recipe.