You might think ketchup rice sounds a bit simple and kiddy, but don't be fooled! My Japanese ketchup rice (also known as "Japanese chicken rice") is seasoned with a variety of herbs and seasonings to give it a more sophisticated taste. Made with chicken thigh, onions, bell peppers and mushrooms, this elegant "ketchup rice" can be enjoyed by the whole family, not just kids!
Jump to:
What is Japanese ketchup rice (chicken rice)?
There are many kinds of chicken rice dishes across Asia (the most famous probably being Hainanese chicken rice popular in Singapore, Thailand, Indonesia, Malaysia etc. ) but the Japanese version differs greatly from the Southeast Asian vesion. In fact, "chicken rice" in Japan is recognised as ketchup rice with chicken.
Japanese ketchup rice is made of cooked rice stir fried with chicken and vegetables, then seasoned with tomato ketchup. It is also a staple of the children's lunch menu, and is usually served in a mountainous shape, with a small decorative flag on top. It is also a popular filling for "omurice", fried rice wrapped in a yellow omelette.
However, in this particular recipe, I have modified the concept of Japanese ketchup rice in my own way to make it specifically more enjoyable for adults! So please note that you cannot really expect the typical Japanese ketchup rice for kids in this recipe.
If you are looking for more of a kiddy style Japanese ketchup rice, please check out my omurice recipe!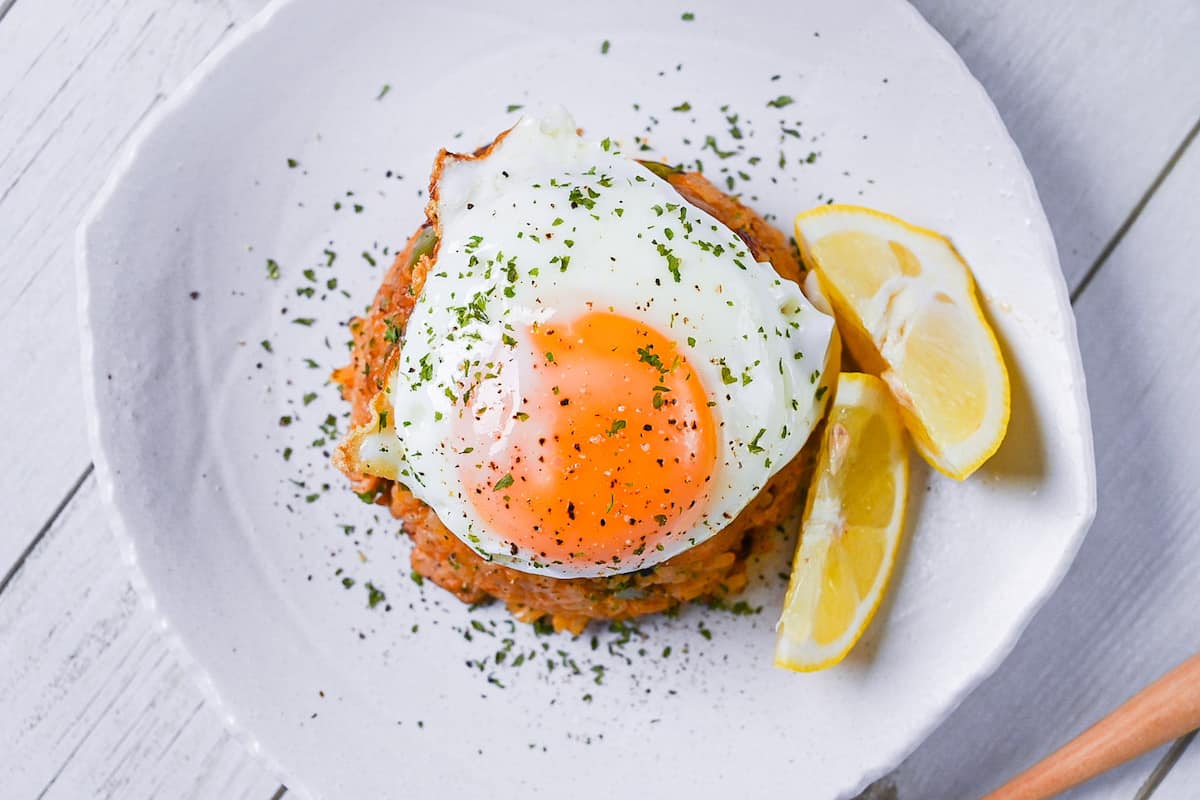 Brief history of Japanese ketchup rice
To begin with, ketchup, an essential ingredient in the Japanese version of chicken rice, was first sold in Japan in 1908. This means that ketchup rice did not exist in Japan before then. But around the same time, something called "ham rice" was popular, which was was made by stir-frying chopped ham and rice, seasoned with soy sauce, salt, and pepper.
It is not clear when they started using ketchup after that, but in 1931, "Shufu no Tomo" (Friend of Housewives) published an advertisement that said, "Mix ham, tomato sauce, onions, green peas, ajinomoto, and other ingredients together." And later, ham was eventually replaced with chicken.
The first appearance of "ketchup chicken rice" in Western-style restaurants is said to have been around 1924, and it can be assumed that it became popular as a household dish around 1930's based on the Friend of Housewives' advertisement.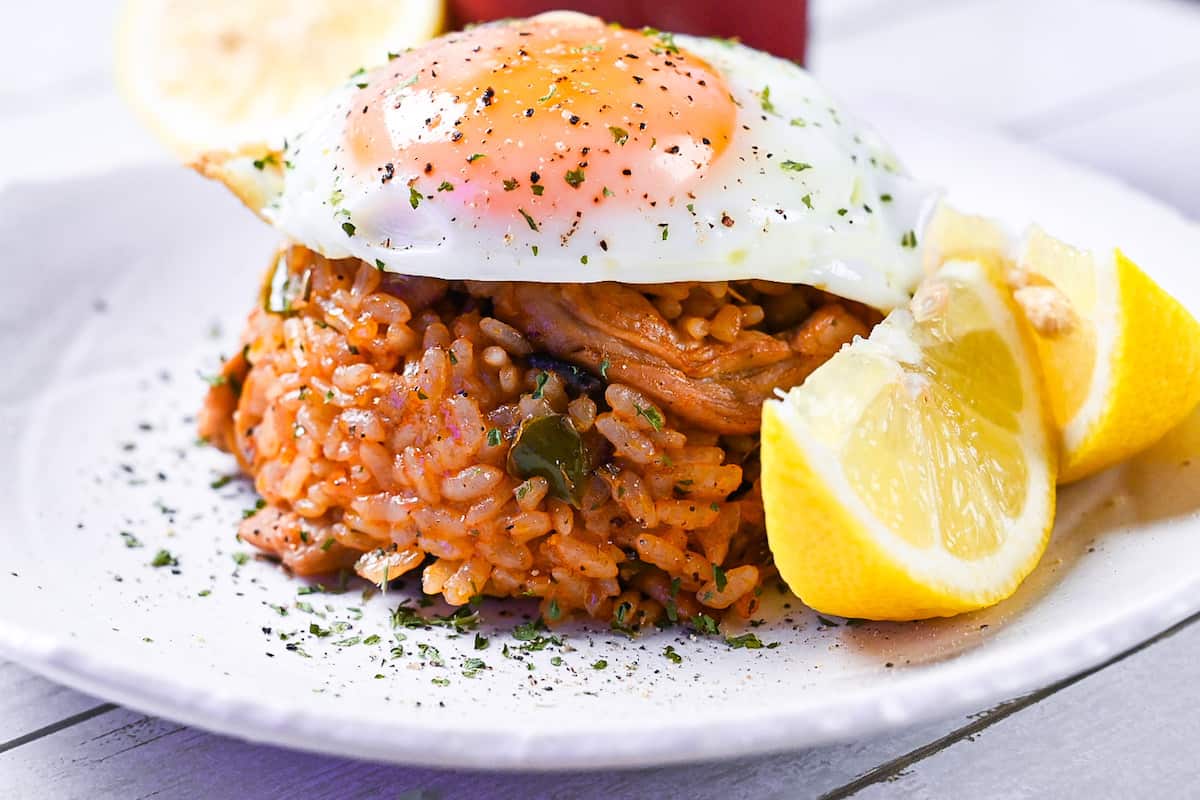 Is Japanese ketchup rice always in omurice?
Japanese ketchup rice is hugely associated with omurice (omelette and ketchup rice), however, ketchup rice can be served on its own. It's often referred as "chicken rice" when it's served on its own, and when the chicken rice is in omelette, it's often called ketchup rice.
I know it's confusing but that's how we distinguish these two different dishes.
Typical ingredients used to make Japanese ketchup rice
The basic ingredients for ketchup rice include chicken, onions, bell peppers and mushrooms, which are chopped or cut into small pieces and stir-fried with the rice.
The general method of preparation is to cook the rice in a frying pan and add tomato ketchup at the end, but it really depends on personal preference. Some restaurants do not even use tomato ketchup, but instead make it with homemade tomato sauce.
However, as I mentioned earlier, I'm not making typical Japanese ketchup rice in this recipe!
Ingredients to make ketchup rice for "adults"
Japanese ketchup rice is all time favourite for kids without a doubt. But for many adults, it's a bit too sweet and simple. So I thought "why not create a Japanese ketchup rice specifically for adults that can be enjoyed on its own or even in omurice?".
First, I have to say that I'm not usually a fan of ketchup rice and I had to make this multiple times to find the one I eventually liked. Here are the ingredients that I used for this ketchup rice.
Chicken thigh
Brown button mushrooms
Green bell pepper
Onion
Butter
Olive oil
Garlic paste (or grated garlic)
Tomato ketchup
Red wine
Grated parmigiano cheese
Parsley
Lemon
Then to make the dish more sophisticated with depth of flavour, I made my own special herb and spice mix using the following ingredients:
Salt & pepper
Nutmeg
Cumin
Rosemary
Chilli powder
Paprika powder
Fenugreek powder
As you can see, this is packed with all sorts of spice!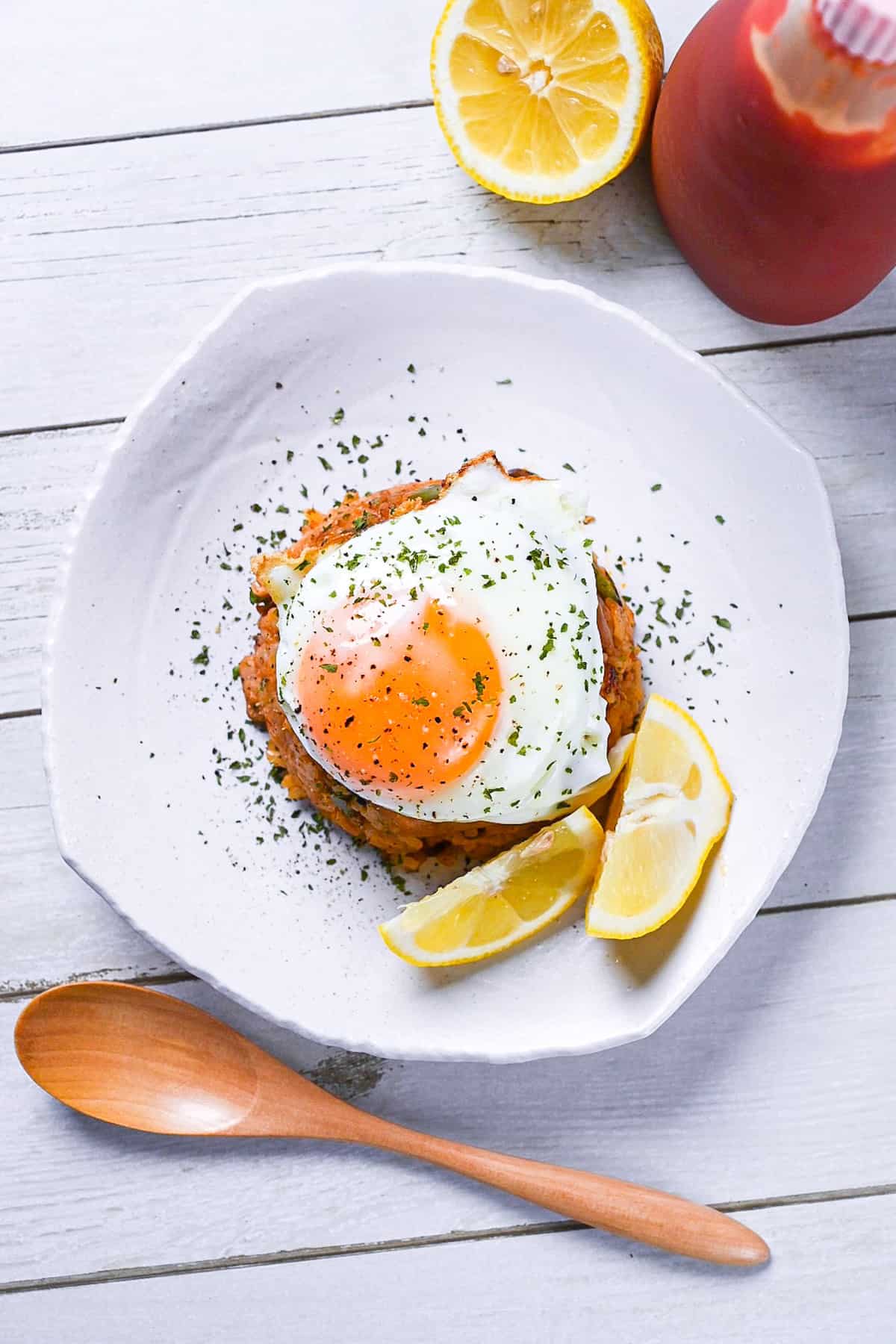 Alternative ingredients/substitution
Japanese ketchup rice is a versatile dish that can be adapted to suit your tastes. You can add, replace or remove any ingredients to make your own best ketchup rice!
For inspiration, you can refer to the list below:
Chicken breast (instead of chicken thigh)
Sausage (instead of chicken thigh)
Ham (instead of chicken thigh)
Bacon (instead of chicken thigh)
Any kind of mince (instead of chicken thigh)
Prawns (instead of chicken thigh)
Carrot
Green peas (instead of green bell pepper)
Sweetcorn...etc
Swap the chicken out for a vegetarian alternative such as soy protein and replace the chicken stock with vegetable stock to make vegetarian ketchup rice!
But these are just ideas! Feel free to customise the Japanese ketchup rice to suit you and your family!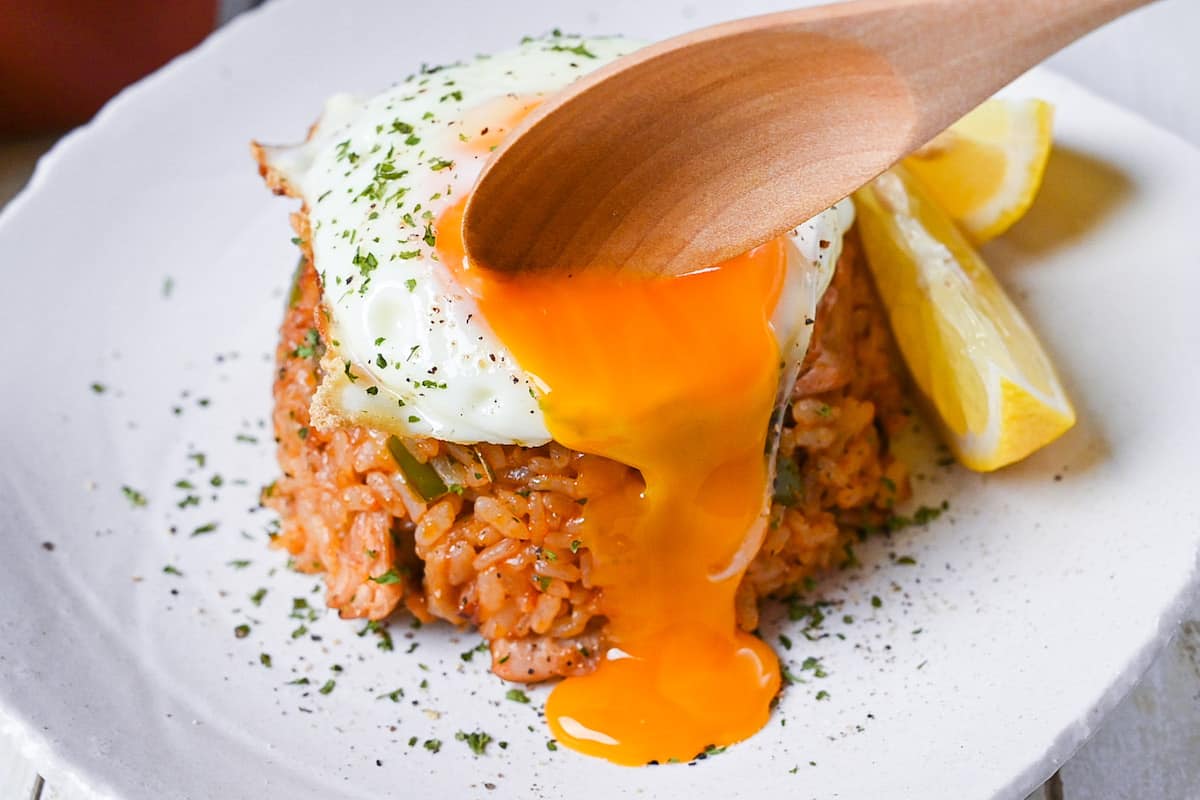 Instructions on how to make Japanese ketchup rice
Japanese ketchup rice is a quick and easy dish to make any time, especially if you have leftover rice in the fridge or freezer. Here is my step by step guide on how to make delicious Japanese ketchup rice for adults! (See the recipe card at the bottom of the page for the full ingredients list.)
Use pre-cooked rice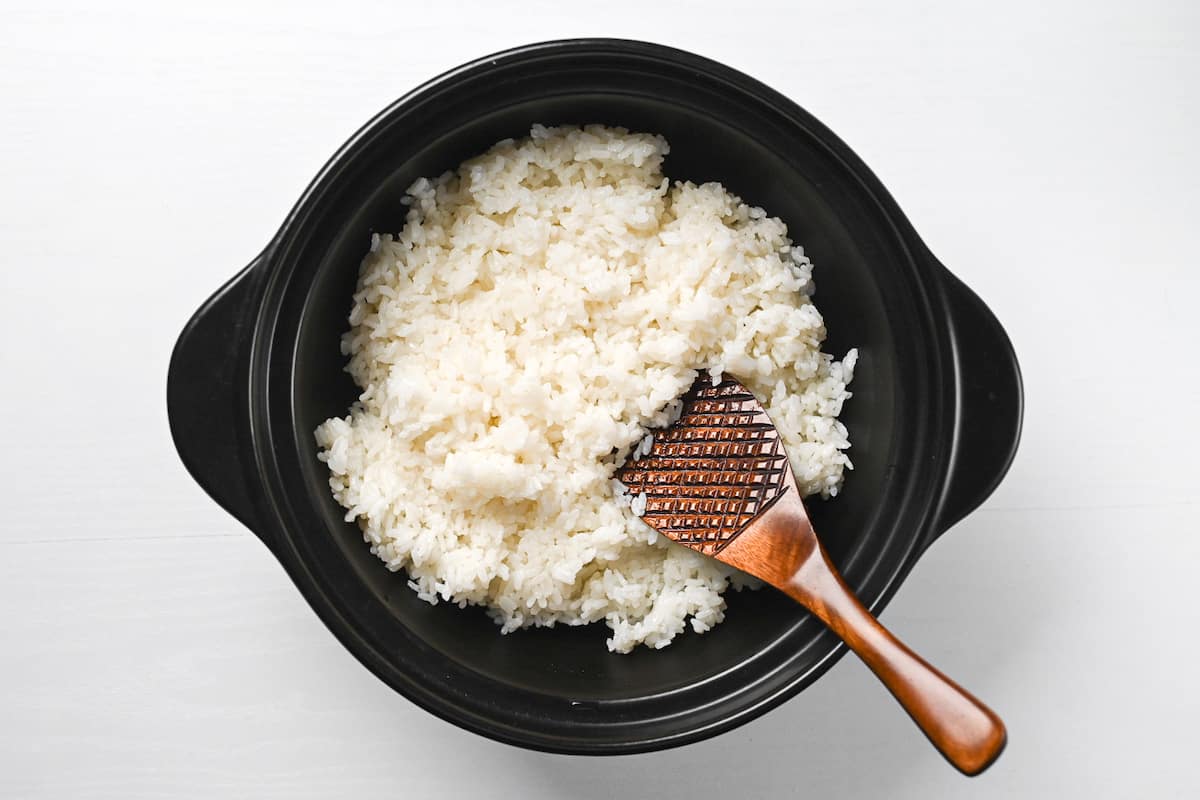 Rather than using freshly cooked rice, it's better to use cold rice or leftover rice so that it doesn't clump together when frying. If you're like me, I always make large batches of rice and keep it in tupperware containers in the freezer. This is perfect for frying!
If you don't have rice leftovers, cook your rice as usual and allow it to cool before frying it.
Mix the spices in advance
Rather than measuring out and adding each herb and spice while you're cooking, measure them out before you start and mix them in a small bowl. Not only does this save time, but it also helps evenly distribute the spice mix through the rice when you add it.
Soften the onions in butter
Preheat a wok or large frying pan and melt a cube of butter.
Once the butter has melted, add finely diced onions and fry until translucent.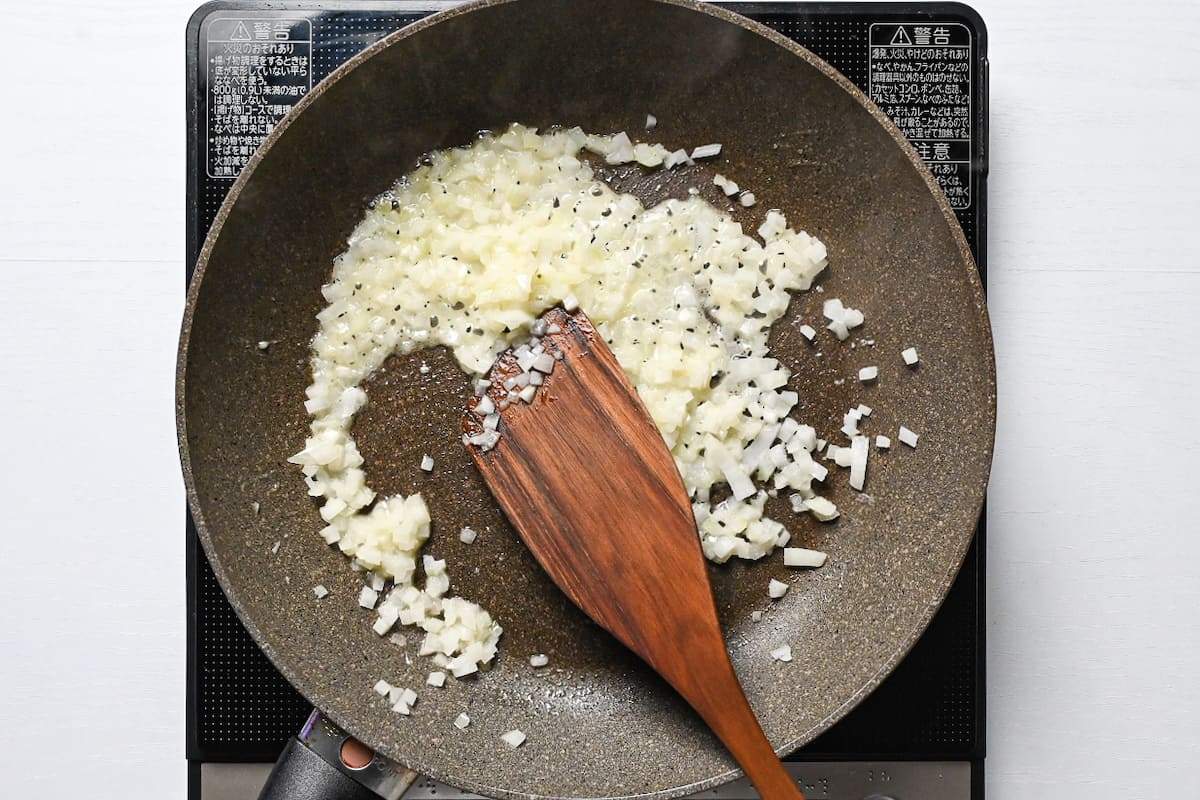 Frying the onions in butter adds a rich and slightly sweet flavour to the dish. Since the onions take the longest to cook, I fry them first and then add the other ingredients later.
Fry the rest of the ingredients before adding the rice
Next, push the onions to the edges of the pan and add the chicken thigh, garlic paste, mushrooms and bell pepper. I recommend cutting everything small and thin so that it cooks quickly.
Once the chicken is sealed on the surface, add the red wine and spices you mixed earlier. Stir fry everything together for 1-2 minutes.
Because the rice is already cooked, it only needs reheating. You should cook the other ingredients well (especially chicken) before adding the rice.
Add the rice
Once the chicken is cooked through, add the rice, ketchup and grated parmesan cheese.
Stir fry until heated all the way through and the flavours are evenly distributed through the rice.
Extras
Ketchup rice and egg are a golden combination so I like to add a sunny side up fried egg to the dish, this is optional though.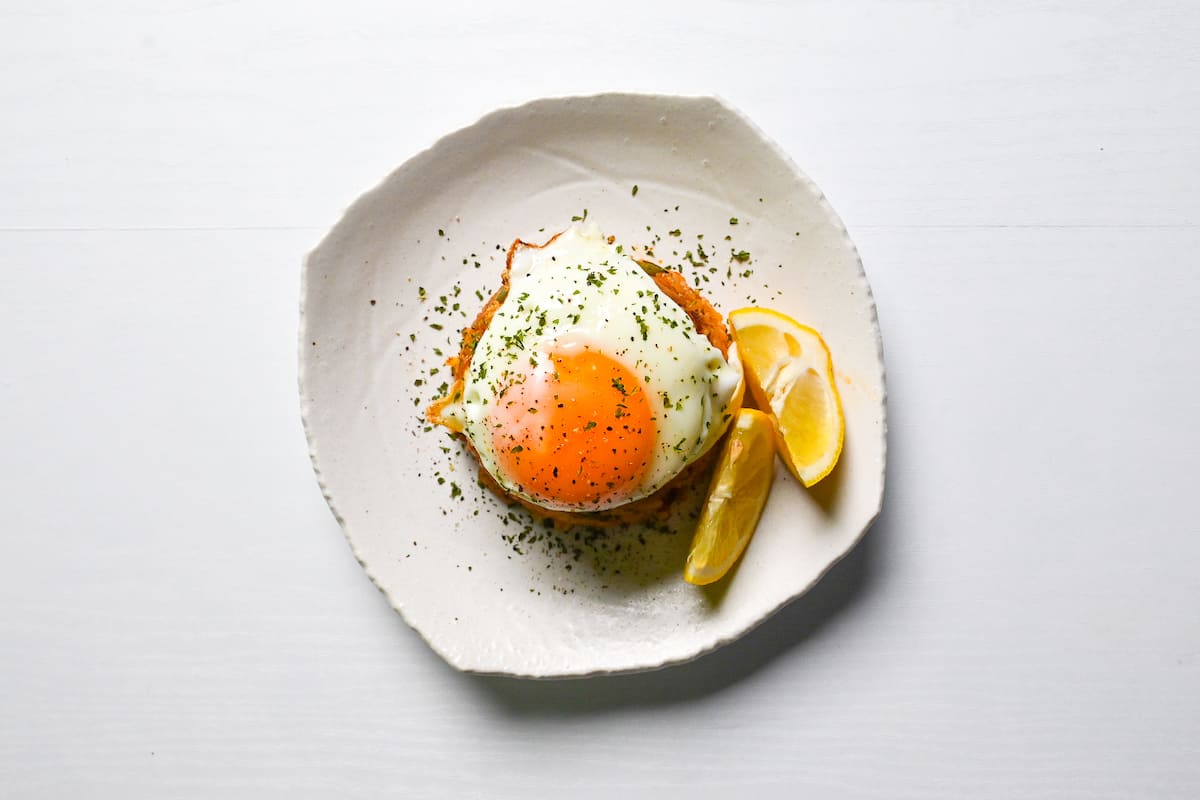 Serve with a sprinkle of parsley and a wedge of lemon. I must say that adding a squeeze of lemon juice over the rice really makes the flavours pop, so don't leave out the lemon if you can help it!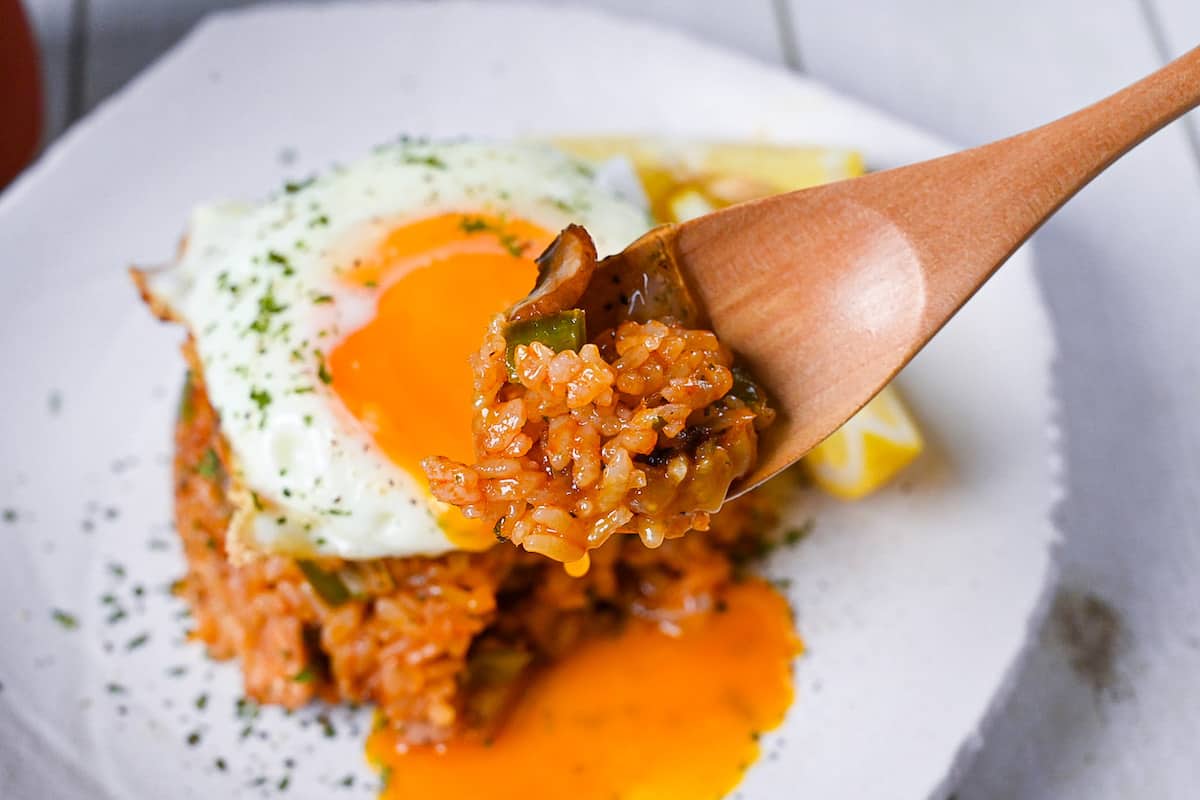 I hope you enjoy this adult version of ketchup rice (Japanese chicken rice), feel free to serve it on its own or even inside an omelette for a more sophisticated tasting omurice!
If you try the recipe, be sure to let me know what you thought in the comments below. Happy cooking!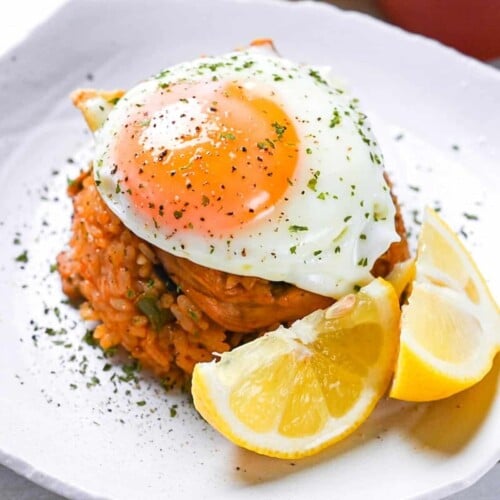 Japanese Ketchup Fried Rice for Adults (Chicken Rice)
How to make sophisticated Japanese ketchup rice (Chicken Rice) for adults with chicken thigh, onion, mushrooms and bell peppers seasoned with a variety of herbs and spices. (Recipe does not include cooking rice.)
Ingredients
Japanese Ketchup Rice Spice Mix
½

tbsp

Chinese-style chicken bouillon powder

1

pinch

salt

1

pinch

black pepper

¼

tsp

chili powder

¼

tsp

nutmeg

½

tsp

cumin powder

½

tsp

rosemary

½

tsp

fenugreek

½

tsp

paprika powder
Japanese Ketchup Rice
1

tbsp

unsalted butter

100

g

yellow onion(s) -

finely diced

1

tsp

olive oil

200

g

boneless chicken thigh(s)

-

sliced or cut into small bitesize pieces

1

tsp

garlic paste

1

tbsp

red wine

4

brown button mushroom(s)

-

sliced

30

g

green bell pepper(s)

-

small dice

2

tbsp

tomato ketchup

1

tbsp

parmesan cheese

-

grated

3

fried egg

-

optional

1

tsp

parsley

-

finely chopped, optional

3

lemon wedges

-

optional
Instructions
Mix the spices in a bowl and set aside for later.

Heat a frying pan or wok on medium high and add

1 tbsp unsalted butter

.

Once the butter has melted, add

100 g yellow onion(s)

and fry until transparent.

Push the onion to one side of the pan and add

1 tsp olive oil

. Add

200 g boneless chicken thigh(s)

,

1 tsp garlic paste

and vegetables.

Once the chicken is sealed, add

1 tbsp red wine

and spice mix. Stir fry for 1-2 minutes.

Add

400 g cooked Japanese short-grain rice

,

2 tbsp tomato ketchup

and

1 tbsp parmesan cheese

. Stir fry until the rice is heated all the way through and the spices are well distributed.

Serve with

3 fried egg

,

3 lemon wedges

and

1 tsp parsley

.

Squeeze the lemon juice over the rice before eating.

Enjoy!
Notes
I recommend using rice that has been cooked and cooled rather than freshly cooked.
Nutrition
Calories:
430
kcal
Carbohydrates:
59.1
g
Protein:
16.9
g
Fat:
15.6
g
Saturated Fat:
5.7
g
Polyunsaturated Fat:
1.6
g
Cholesterol:
70.7
mg
Sodium:
638.7
mg
Fiber:
3.6
g