Zosui is a comforting dish made with cooked rice served in a delicious soup flavoured with soy sauce or miso. My recipe is made with succulent chicken thigh, crispy chicken skin and umami-rich mushrooms for the ultimate flavour. This will be the best zosui you will ever try!
What is zosui (Japanese rice soup) in Japanese?
Zosui 雑炊 (also known as "Ojiya") is a soupy rice dish made with simmered vegetables and chicken (or seafood), seasoned with soy sauce or miso. The soup is made separately and then pre-cooked rice is added in. It's a comforting, filling and wholesome dish, not to mention, a great way to use up leftover rice and ingredients!
My recipe makes the soup from scratch, however it's not unusual to add rice to the leftover soup of a hotpot (nabe) and call it "shimezosui". "Shime" means "to finish", basically a way to finish up the soup without any waste.
While the procedure is completely different, you could kind of say that zosui/ojiya is like a Japanese version of risotto, savoury rice porridge or congee.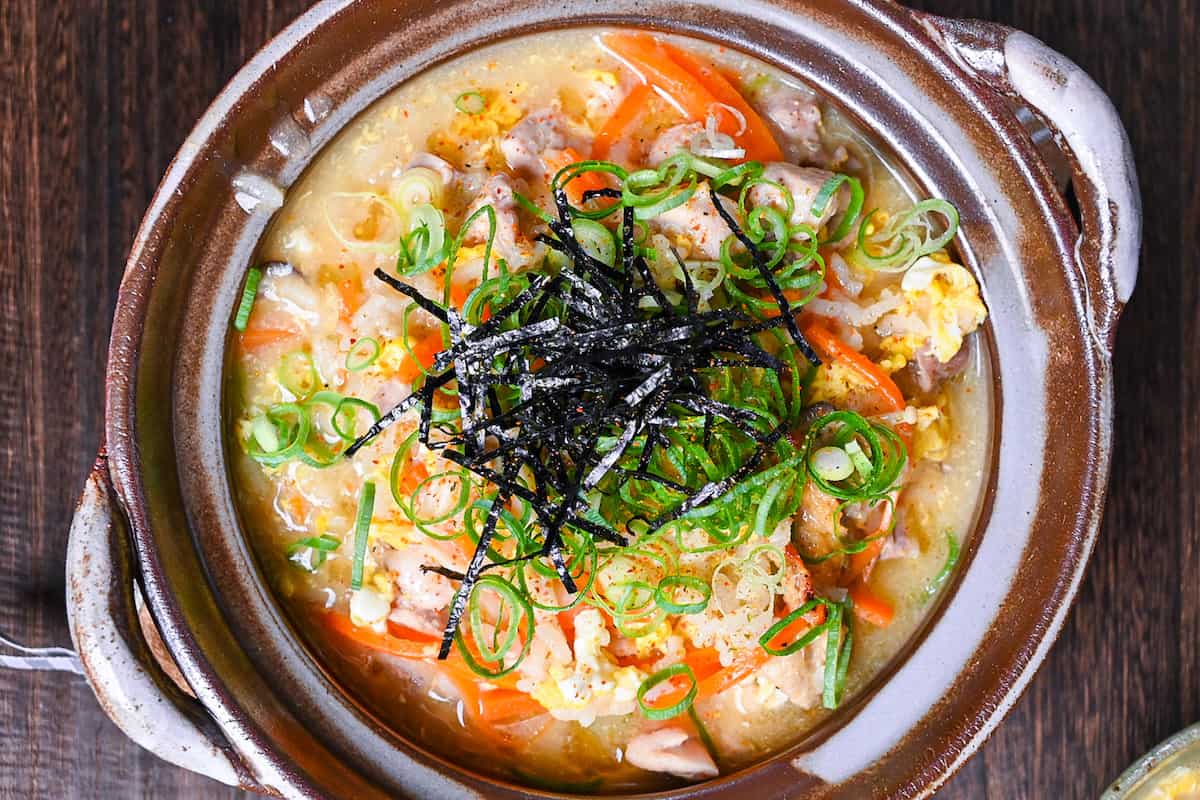 Brief origin of zosui/ojiya
Zosui (雑炊) was once written in the old days as 増水 (increased water) indicating the addition of water to rice to increase its volume. Since various ingredients such as vegetables and seafood were added to the dish, the term 雑炊 (each character means assorted and freshly cooked) came to be used as an appellation for the soup.
However, the name origin of ojiya (another common name for the dish) is more interesting. Even though there are a few theories on the origin of the word ojiya, it is said to derive from the Spanish word "olla" (oja), which means a pot dish or stewed dish.
It is believed that olla looks similar to ojiya, and the "jiya-jiya" comes from the onomatopoeia for the sound it makes when simmering. This may have led to the name "ojiya" we know today.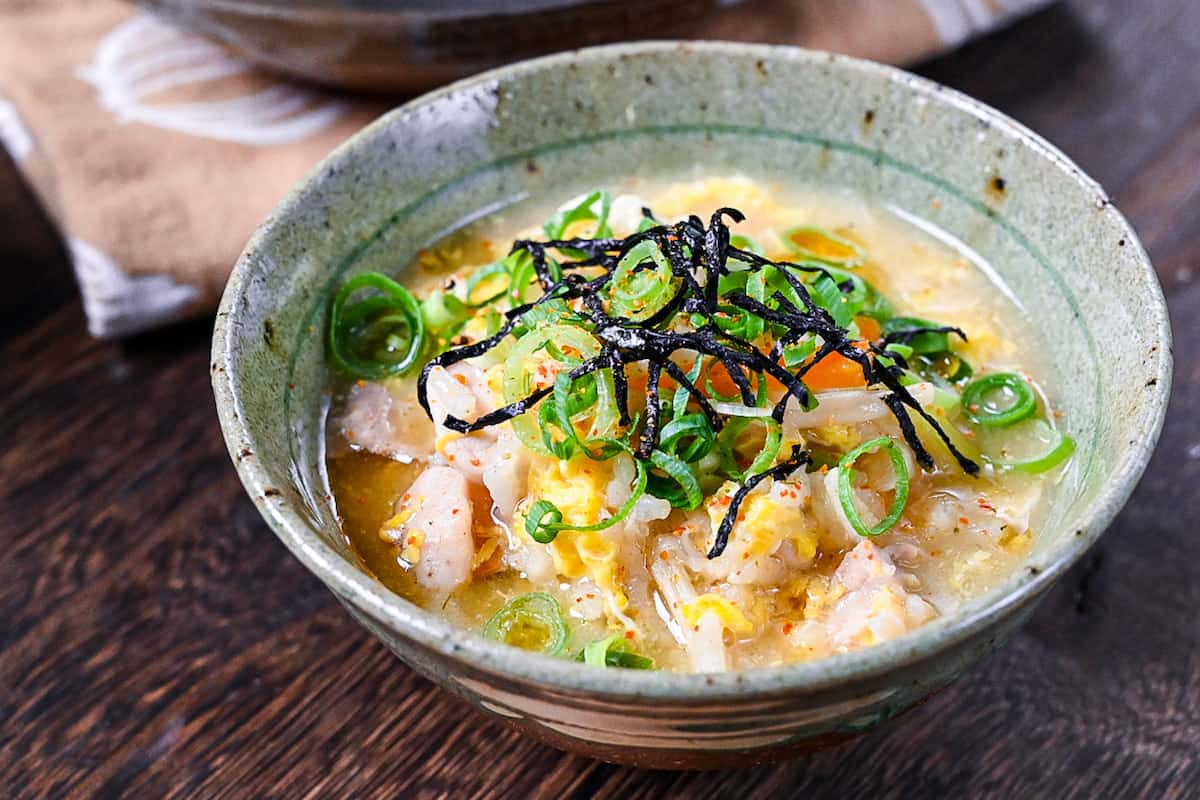 Zosui vs Ojiya: what are the differences?
While they're generally considered to be the same thing, some regions in Japan might disagree.
To some people, zosui is a dish where the cooked rice is washed to remove the stickiness /sliminess which would mean that the stickier version (where the cooked rice isn't washed) is called ojiya. On the other hand, some people might say that rice seasoned with miso or soy sauce is called ojiya, whereas rice seasoned with salt or dashi is called zosui.
What I want to say here is there is no concrete definition for each term. These distinctions vary from region to region and household to household, and there are no clear rules, so basically, "zosui" and "ojiya" are the same thing.
Zosui vs Okayu: what are the differences?
Unlike zosui vs ojiya, there is a clear difference between zosui and okayu, meaning they are not the same dish. Okayu (お粥) is basically a dish made by cooking raw rice in large amounts of water until the consistency is extremely soft. No precooked rice is used in okayu.
It is often seasoned simply with salt only (or sometimes with eggs), and because it is easily digestible, it is considered an easy to eat dish for children and the elderly, as well as a comfort food to eat when you're sick.
On the other hand, zosui uses already cooked rice and other ingredients such as vegetables, chicken or seafood. Zosui is a great dish for using up leftovers.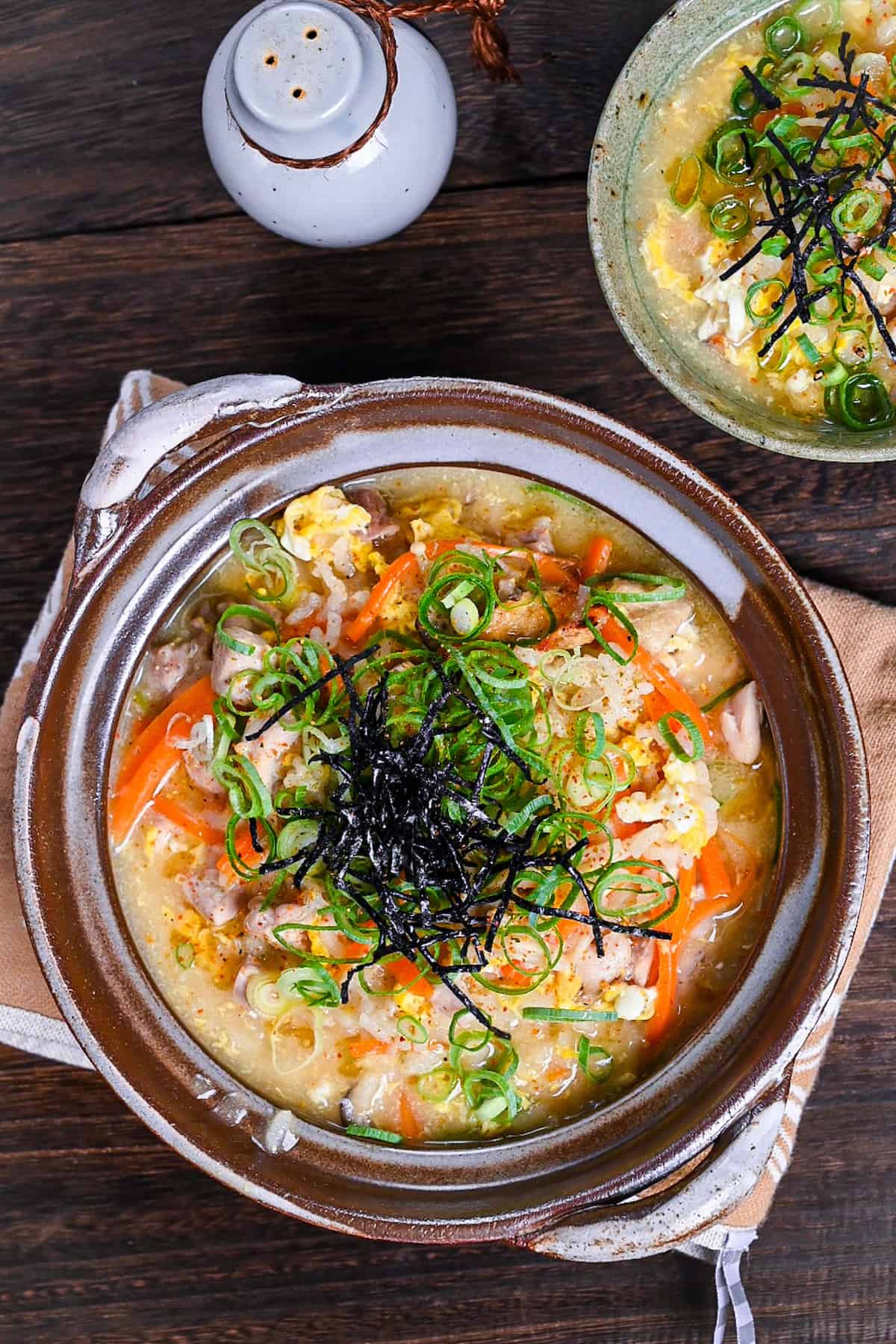 Ingredients to use for my chicken zosui
In this chicken zosui recipe, I use following ingredients:
See recipe card for details and quantities.
Instructions on how to make chicken zosui/ojiya
This recipe includes slightly tricky processes including cooking chicken skin separately. So in this section, I will provide an overview of instructions on how to make chicken zosui.
Again, a more detailed version of the recipe is in the recipe card at the end!
Separate skin and meat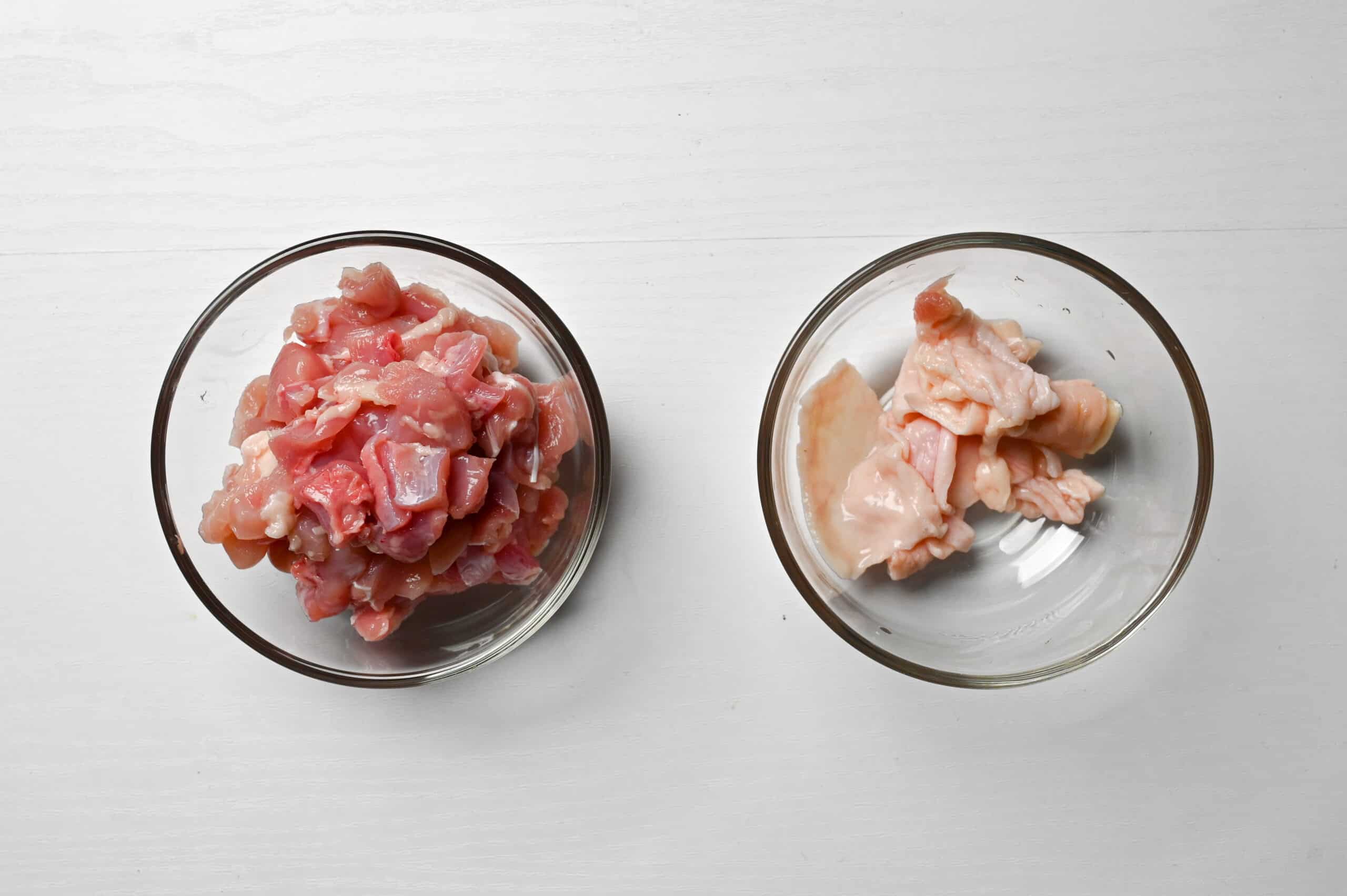 Pull the skin off of the meat and then cut everything into small pieces. The skin will be cooked first until crispy to add more flavour and texture to the dish.
Cut the vegetables thin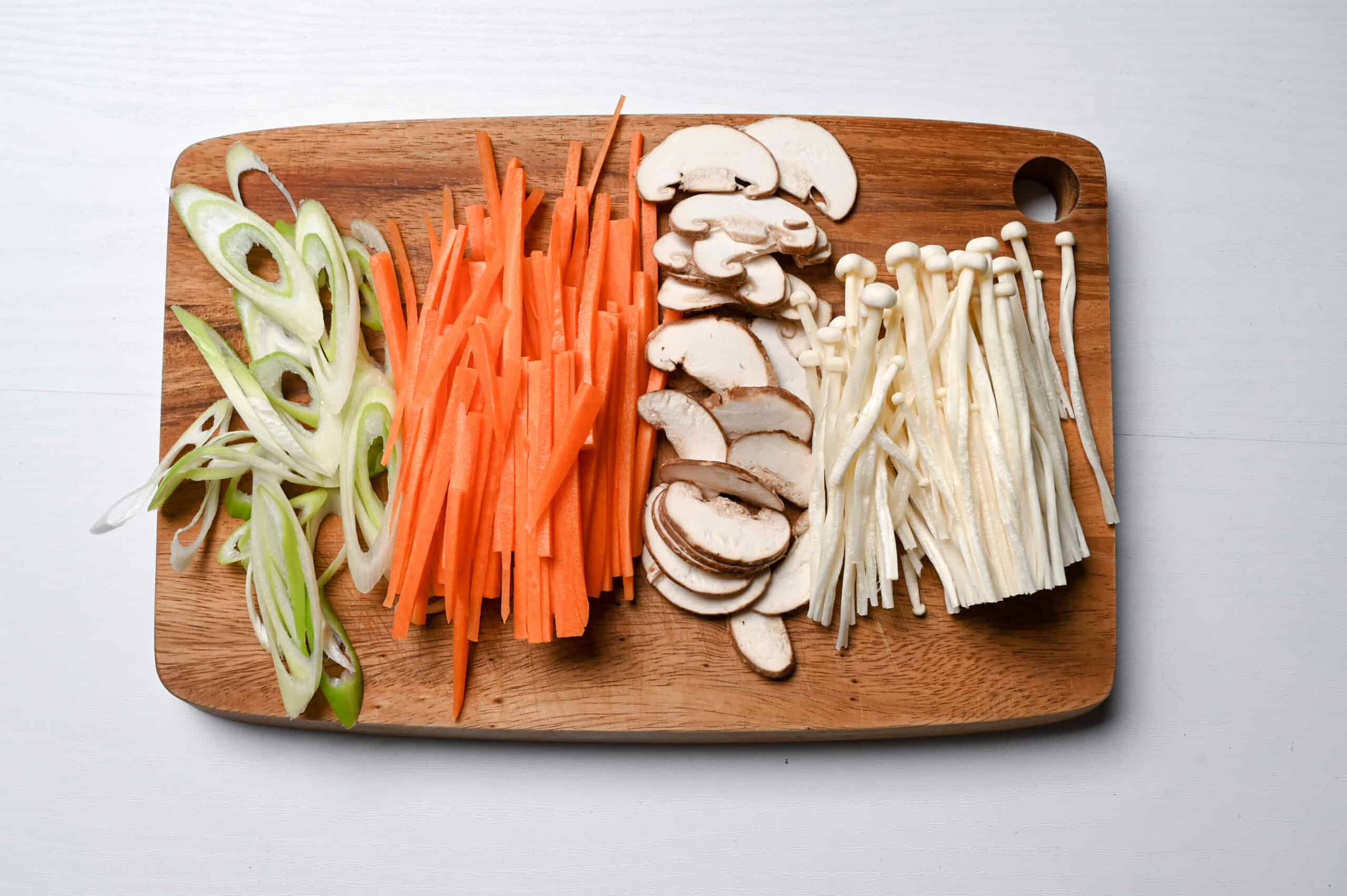 By cutting the vegetables finely, they will cook quicker and reduce the overall cooking time.
Cook the chicken in the broth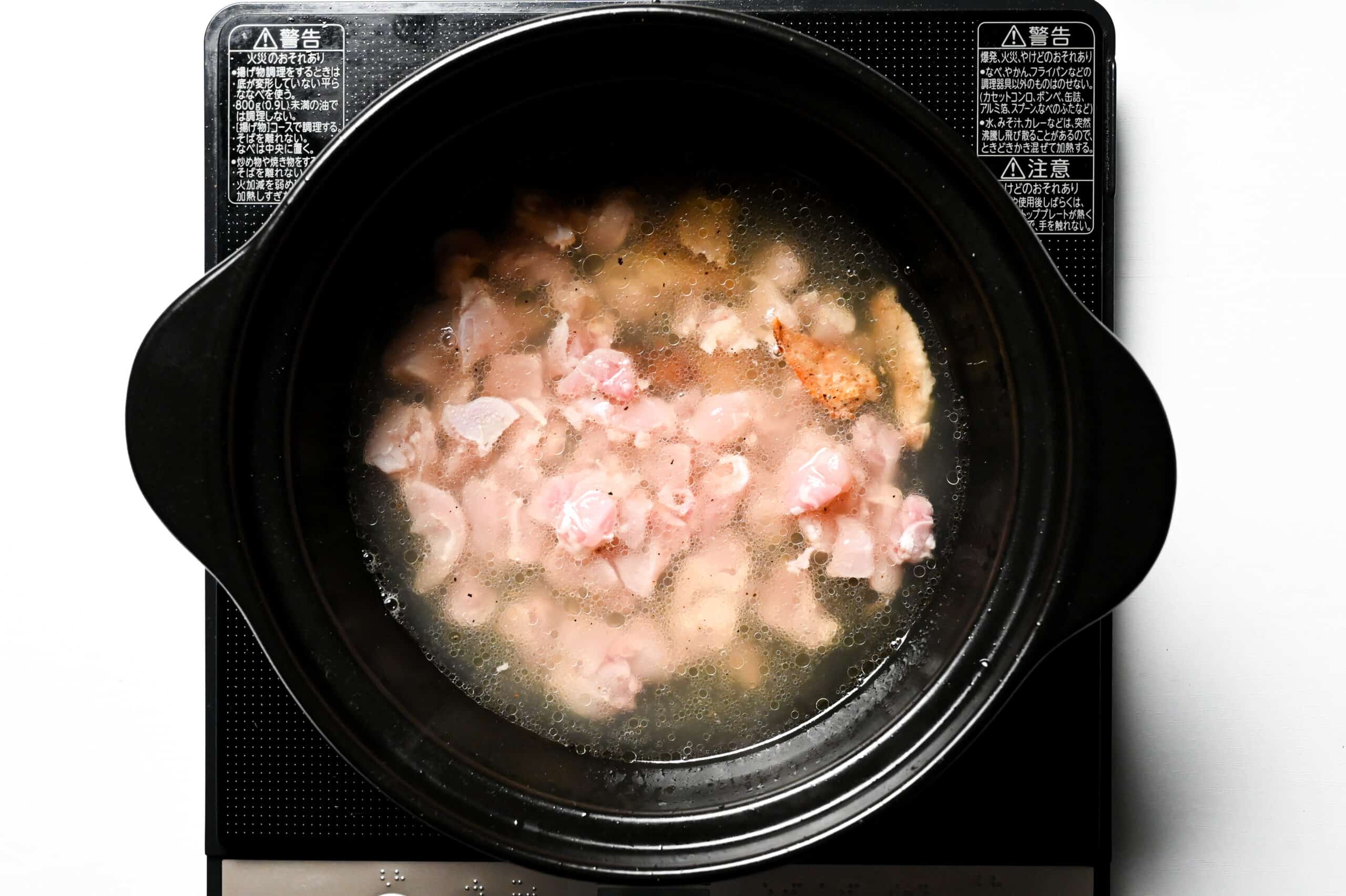 Cook the chicken meat in the broth, once the outside is cooked, you can add the vegetables.
Add the vegetables
By cutting all the vegetables to a similar size, the cooking times will be around the same. This allows us to add them altogether.
See the recipe card below for detailed steps and ingredient quantities.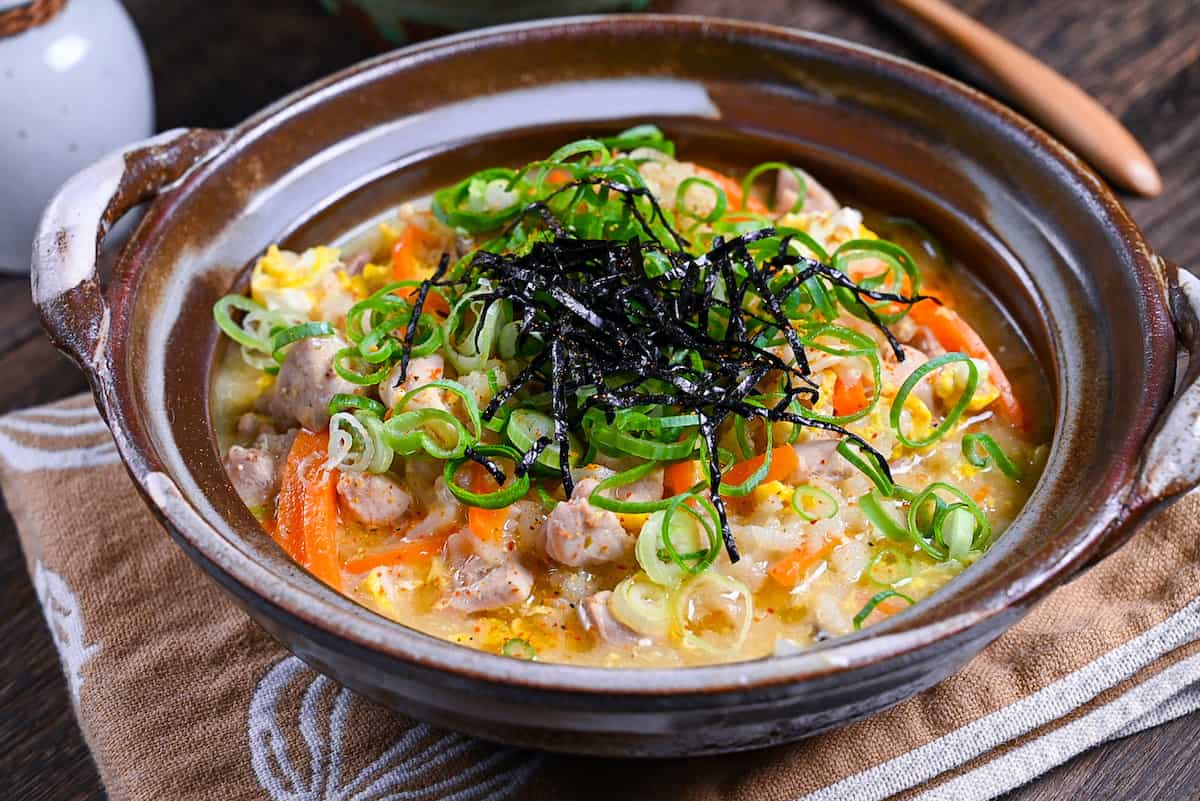 Substitutions
Because I'm currently living in Japan, I often use specific ingredients that are hard to get anywhere else. I lived abroad for a long time so I know how frustrating it is not to be able to find the exact ingredient.
So in here, I will list all the substitutions for specific ingredients as much as possible.
Chicken breast: if you want to use chicken breast instead of thigh, you can use skin-on chicken breast
Salmon: if you prefer using fish instead of chicken, you can use skin-on salmon fillet!
Mushroom of your choice: even though I used shiitake and enoki mushroom for this recipe, you can literally use any mushroom you like.
Dark soy sauce: I specifically used light soy sauce for this, but if you don't have it in your pantry, you can use dark soy sauce. However, because light soy sauce has more salt in it, use tiny bit more when you use dark soy sauce
If you don't want to use sake: I know some people might not want to use alcohol in your cooking, in that case, you can omit sake.
3 Tips and tricks to make delicious zosui at home from scratch
With zosui, there are a few things that are very important to note such as using already cooked rice (it does not work with uncooked rice. In fact, I made the exact same mistake before as well!)
So here, I will list tips and tricks to make a great zosui at home from scratch!
Use cooked rice and wash it
Yes, that's right. We wash already cooked rice under cold running water when you make zosui! And yes, I found it surprising too, but there is a reason behind it.
If you prefer a sticky texture, you can use it as it is, but if you want it smooth (I personally do), you can rinse it quickly with water to wash off the sliminess on the surface.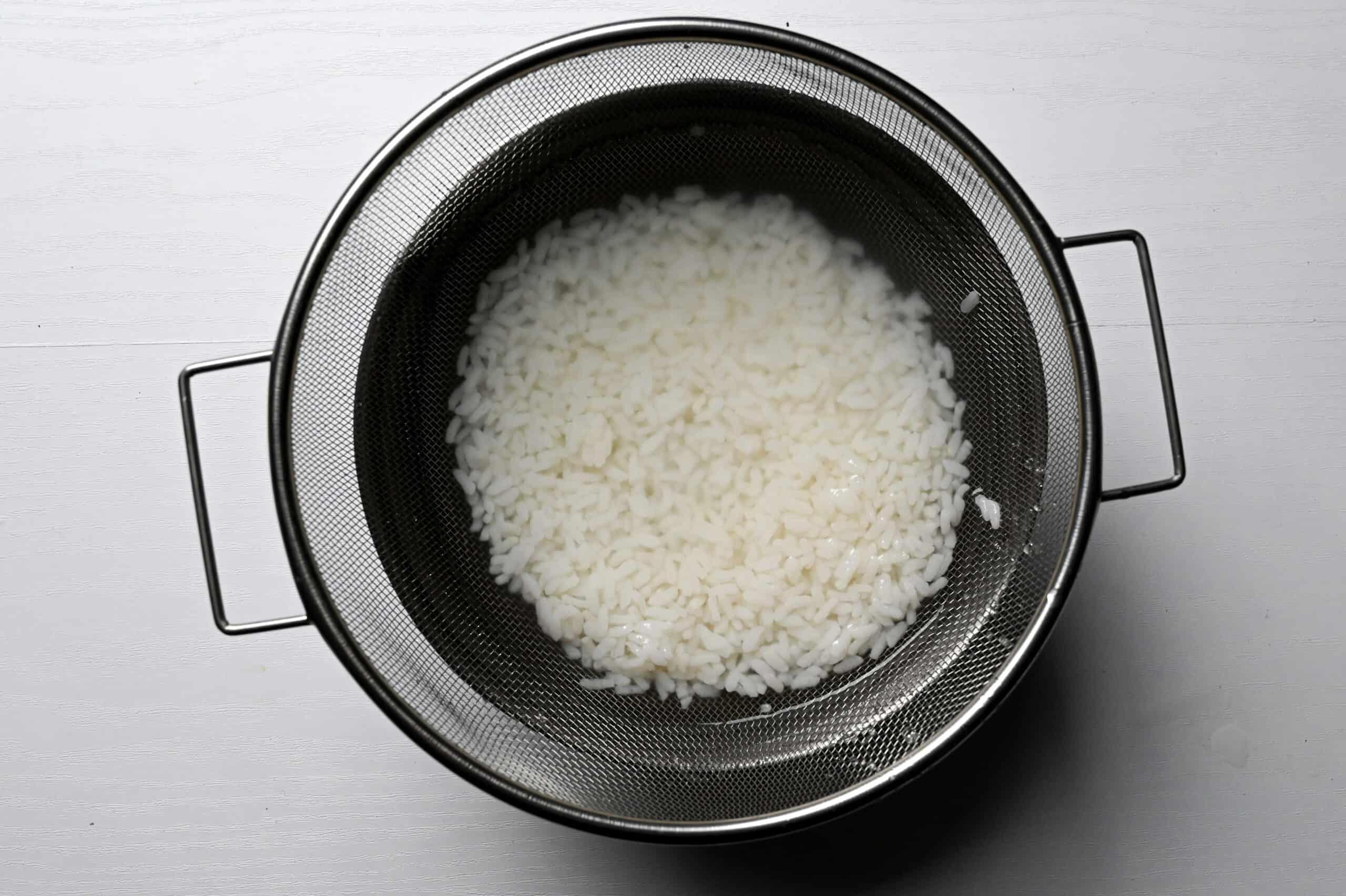 The stickiness tends to increase as it cools down, so cooked rice becomes tends to clump together when left to stand. If this sticky rice is used to make zosui as it is, the excess starch on the sticky rice will dissolve into the soup, making the soup a bit slimy.
After a quick wash, transfer the rice to a colander or other container to drain.
Put the cooked rice in a bowl with water and swish it gently around with your hands so as not to crush the rice, then drain the water using a colander or sieve. This process rinses off the starch and prevents the entire dish becoming too sticky and thick.
Utilise chicken skin
When it comes to depth of flavour, I'm obsessed with using chicken skin recently. For example, I used similar method for my takikomi gohan recipe too.
But more than that, this technique works amazingly with chicken zosui! I basically separate chicken thigh's meat and skin beforehand, then cook the skin with low heat until it gets crispy (releasing the amazing chicken fat too) before I make soup. That's why I specifically use chicken thigh with skin on in this recipe.
I mean depth is always important for any kind of chicken soup right? Crispy chicken skin in zosui also adds a bit of different texture to the dish too!
Utilise chicken skin to maximise chicken zosui's depth of flavour.
Turn off the heat quickly after egg is added
To achieve the silky texture of the eggs, turn off the heat about 30 seconds after adding the eggs to the soup. The eggs will cook in the residual heat and this will result in a zosui with wonderful textures throughout.
If the eggs are cooked for a long time over a strong heat, they might become tough and rubbery.
Don't cook the egg for too long to avoid a tough and rubbery texture.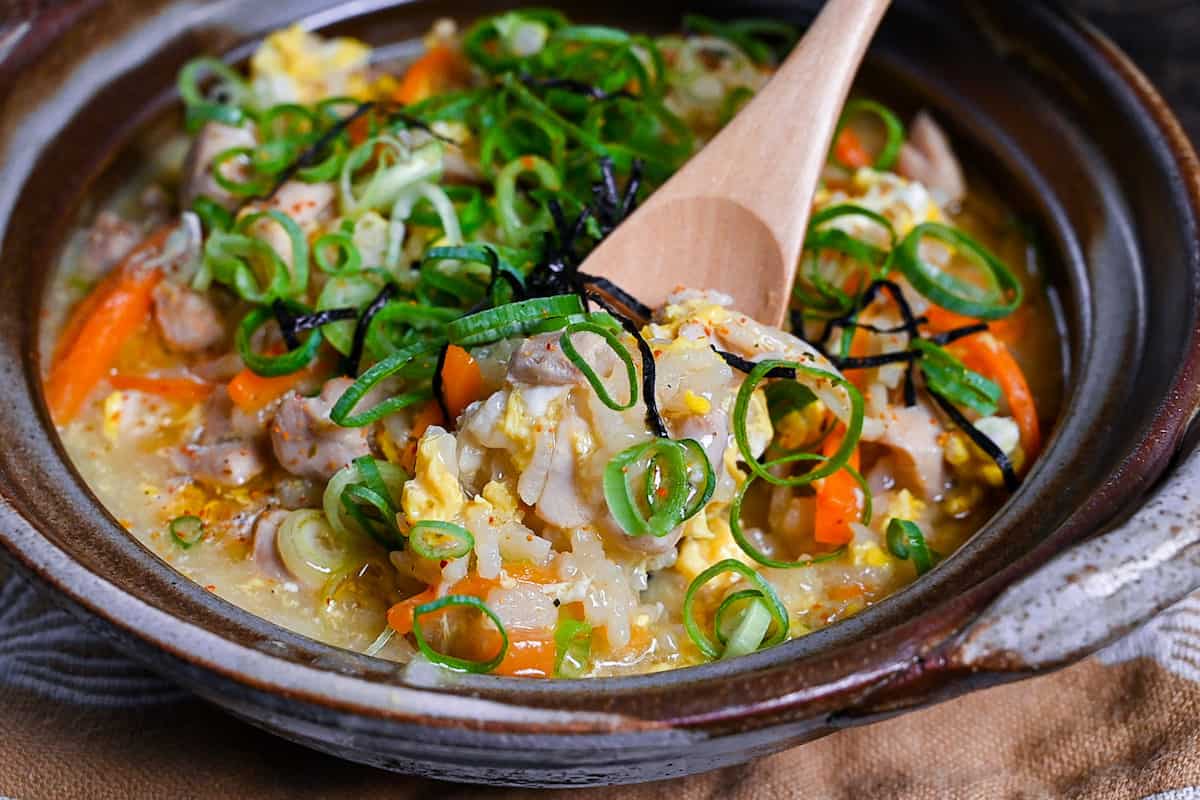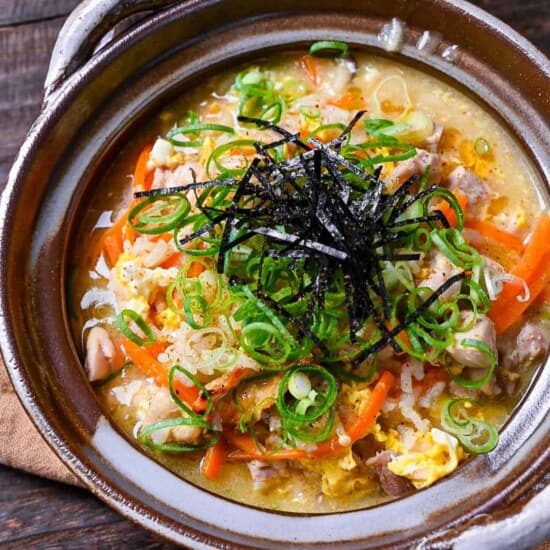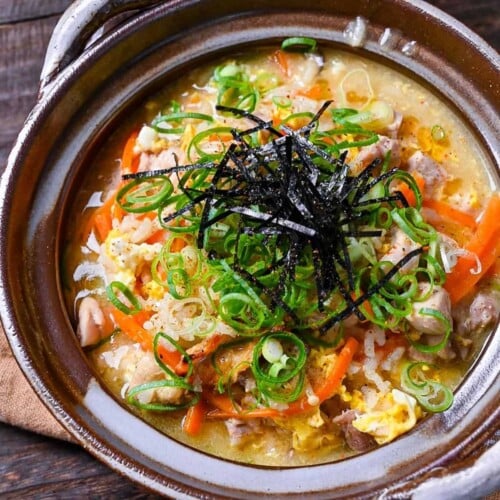 Chicken Zosui (Japanese Rice Soup)
---
How to make Japanese Chicken Rice Soup (Zosui / Ojiya) from scratch!
---
---
---
---
Ingredients
150

g

boneless chicken thigh(s)

skin-on, boneless

1

tsp

cooking oil

1

pinch

black pepper

400

ml

dashi stock

1

tbsp

sake

200

g

cooked Japanese short-grain rice see my recipe, how to cook Japanese style rice

30

g

green onion(s)

white part diagonally sliced

80

g

carrot(s)

julienned

2

fresh shiitake mushroom(s)

thinly sliced

100

g

enoki mushroom(s)

roots removed

15

g

fresh ginger

grated

3

tbsp

light soy sauce

see note for how to use dark soy sauce

2

medium egg(s)

finely chopped green onion(s)

optional garnish

shredded sushi nori seaweed "kizami nori"

(kizami nori) option garnish

Japanese chili powder

(shichimi togarashi) optional garnish

sesame oil

optional garnish
Instructions
Peel the skin off of

150 g boneless chicken thigh(s)

, cut the meat into small pieces and the skin into bitesize pieces.

Heat up a large pot on medium-low and add

1 tsp cooking oil

. Once heated, add the chicken skin with

1 pinch black pepper

and fry until crispy on both sides.

Once the skin is crispy, add 400 ml dashi stock and 

1 tbsp sake

. Alternatively, you can remove the skin and use it for sprinkling at the end. Turn up the heat to medium-high and bring to a boil. Once boiling, lower the heat to medium-low and add the chicken thigh.

Place

200 g cooked Japanese short-grain rice

in a bowl and fill it with fresh cold water. Swish it around with your hand to gently remove the excess starch and then pour it through a sieve or colander to drain the water.

When the outside of the chicken is sealed, add the rice,

80 g carrot(s)

,

30 g green onion(s)

,

2 fresh shiitake mushroom(s)

,

100 g enoki mushroom(s)

,

15 g fresh ginger

and

3 tbsp light soy sauce

.

Once the carrots are slightly softened, set a timer for

5 minutes

. During this time, crack

2 medium egg(s)

into a small bowl and whisk.

Pour the whisked egg around the pot and set a timer for

30 seconds

. 

When 30 seconds are up, turn off the heat and dish up.

Garnish with the chicken skin from earlier,

finely chopped green onion(s)

(green part),

shredded sushi nori seaweed "kizami nori"

and

Japanese chili powder

(according to your tastes) and a dash of

sesame oil

.

Enjoy!
Notes
If using dark soy sauce as a substitute, add an extra ½ tbsp for every 3 tbsp of light soy sauce.
Can also be made with skin-on salmon fillets.
Chicken skin process is optional (but I highly recommend it!)
Nutrition
Calories:
227
kcal
|
Carbohydrates:
24.4
g
|
Protein:
11.8
g
|
Fat:
8.6
g
|
Saturated Fat:
2.6
g
|
Polyunsaturated Fat:
1.5
g
|
Cholesterol:
128
mg
|
Sodium:
984.3
mg
|
Fiber:
2.7
g