This chicken soboro onigiri (鶏そぼろおにぎり) is made with ground chicken cooked in a savory Japanese style sauce and then mixed with sticky white rice. It's easy to make and a delicious meaty twist on a classic lunchbox dish!
Disclaimer: This post contains Amazon affiliate links. Sudachi Recipes earn a small percentage from qualifying purchases at no extra cost to you. See disclaimer for more info.
Onigiri
Onigiri (おにぎり) is a popular Japanese dish made with sticky, short grain white rice shaped into a ball or triangle. In English they are often known as "rice balls" and much like sandwiches, they're portable, great for lunchboxes and can be stuffed with a whole variety of tasty fillings.
Onigiri can be found in supermarkets, convenience stores, bento shops and it's extremely common to make it at home too. They're fun to make and easy to customize to your tastes!
I'm sure you've seen them in Japanese TV dramas, films and anime too.
History of Onigiri
Onigiri is probably one of the most ancient foods in Japan and there's evidence to show that they have been around 350BC!
During its long history it's picked up a few different names along the way. Some other words for onigiri are nigiri (にぎり), nigiri-meshi (にぎりめし), omusubi (おむすび) and musubi (むすび). All of these are still used in modern times but I'd say "onigiri" is the most popular and well known word for the dish worldwide.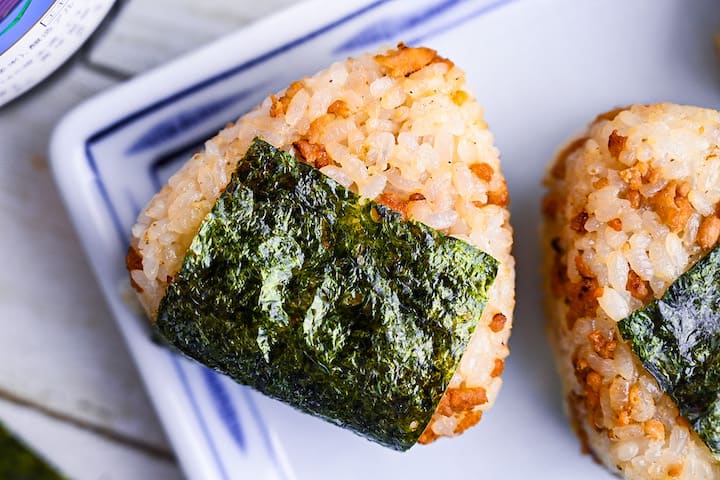 Popular Onigiri Fillings
As it's very a versatile food, people enjoy putting many kinds of fillings in onigiri rice balls.
The most popular onigiri filling ranking in Japan is:
Seasoned cod roe (辛子明太子)

Hard cod roe (たらこ)

Salted plum (梅)
Takana (高菜)
(CanCam.jp 2020)
As you can see, the most common fillings are fish and pickles. However, that doesn't mean you can't enjoy a meaty rice ball and chicken soboro onigiri is a great alternative for people who don't like fish and seafood!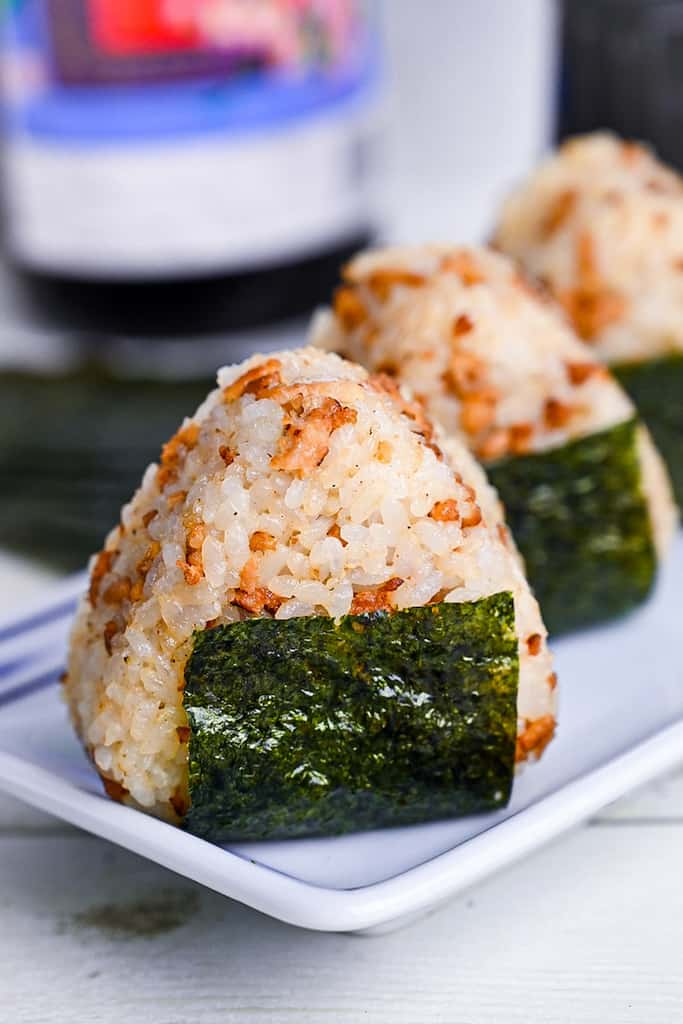 Soboro Chicken
Soboro (そぼろ) is the Japanese word for ground meat or fish that has been seasoned and pan fried. It doesn't strictly have to be chicken. Soboro is most commonly served on rice.
I personally cook soboro chicken with the following condiments:
If you can't use sake or mirin, it's okay to use substitutes in this recipe. Sake can be switched for dry sherry or white wine and mirin can be substituted with rice wine vinegar and a bit of extra sugar (to counteract the sourness from the vinegar).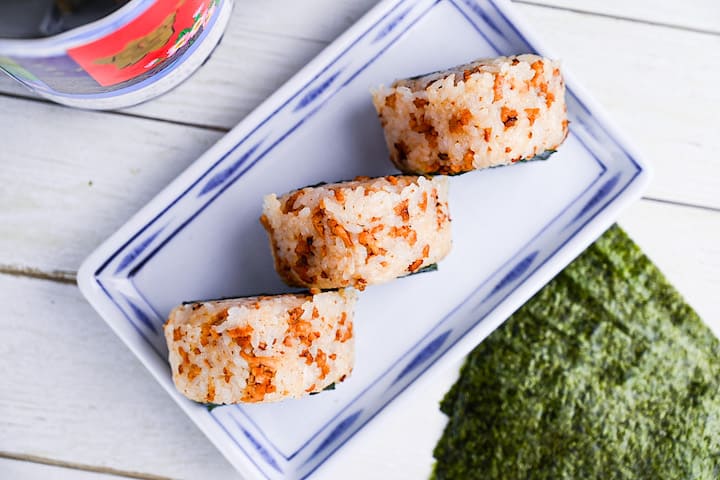 Japanese style pan fried chicken mince is very popular for bento boxes and dishes such as Chicken Mince and Egg Donburi (3色丼ぶり)
It's savoury and meaty so it's surely very different to my other onigiri recipes!
If you'd like something different, it's definitely worth a try!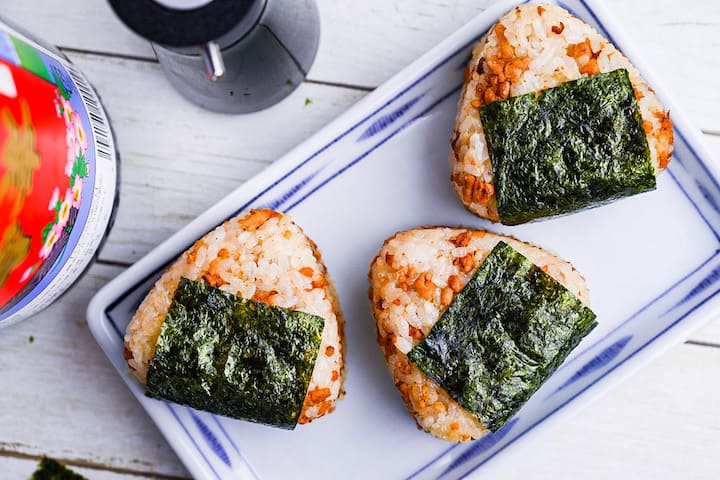 Other meaty onigiri ideas
The beauty of onigiri is the fact that there are no rules! If you want to incorporate other meats into onigiri, why not try some of these recipes and put the leftovers in a rice ball?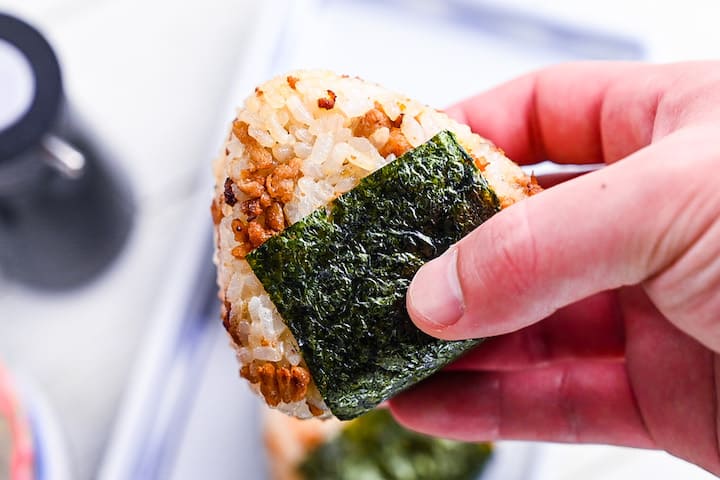 FAQ
What is onigiri?
Onigiri is made with short grain white rice and then formed into a triangle or ball. In English they are called u0022rice ballsu0022. Ingredients are either mixed in with the rice or stuffed in the middle. Onigiri are commonly eaten for lunch and put in bento boxes.
What kind of rice is used for onigiri?
To ensure onigiri keeps its shape, we use Japanese short grain white rice which is a bit sticky (the same kind used for sushi).
Is onigiri the same as sushi?
Sushi is made with rice that has been mixed with vinegar, salt and sugar whereas onigiri is made with simple salted rice. They are also shaped differently so no, onigiri and sushi are not the same.
Can I store onigiri and eat it later?
Onigiri is best eaten the same day. Most people keep it in a lunchbox with an icepack. If you have leftovers, wrap the onigiri in plastic wrap and store it in the freezer (without the nori). You can microwave it to defrost. I don't recommend refrigerating onigiri as it dries out the rice.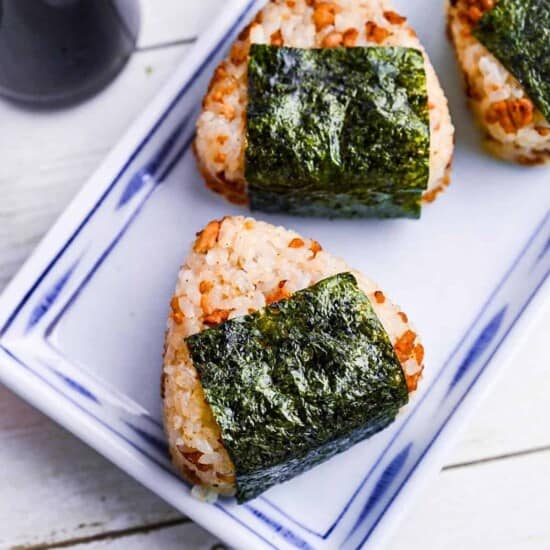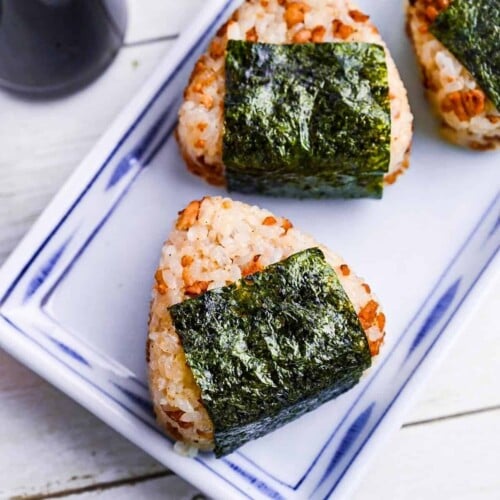 Chicken Soboro Onigiri (Japanese Ground Chicken Rice Ball)
---
How to make Chicken Soboro Onigiri (Japanese Ground Chicken Rice Ball). Recipe doesn't include how to cook rice. (See this post to learn how to make Japanese style rice without a rice cooker)
---
---
---
---
Ingredients
1

tsp

cooking oil

100

g

ground chicken

1

tbsp

soy sauce

½

tbsp

mirin

1

tsp

sugar

1

tsp

sake

6

strips

sushi nori seaweed(s)

nori
Instructions
Heat up a frying pan on a medium high heat. Once hot, add

1 tsp cooking oil

and

100 g ground chicken

and fry until browned.

Add

1 tbsp soy sauce

,

1/2 tbsp mirin

,

1 tsp sugar

and

1 tsp sake

to the pan and fry everything together. When the liquid has fully absorbed, remove from the heat.

Add

600 g cooked Japanese short-grain rice

and the seasoned chicken to a large bowl and mix thoroughly. Once evenly distributed, I recommend dividing into equal portions to ensure all the onigiri are the same size.

Once your onigiri are shaped, wrap with nori. Eat straight away or put in your lunch box with an ice pack. See note for storage options.

Enjoy!
Notes
If you have leftovers, wrap each individual onigiri in plastic wrap without nori and place them in an airtight container in the freezer. (This prevents freezer burn.)
Best eaten within 1 month. Microwave to defrost and enjoy with fresh nori.
Refrigeration is not recommended.