Chanko nabe is a traditional dish eaten by Japanese sumo wrestlers. Packed with vegetables, tofu and delicious homemade chicken meatballs in a light dashi and chicken broth, why not enjoy this nutritious and warming dish at home?
Disclaimer: This post contains Amazon affiliate links. Sudachi Recipes earn a small percentage from qualifying purchases at no extra cost to you. See disclaimer for more info.
Jump to:
Chanko Nabe
Chanko nabe is a type of "nabemono" (hot pot dish). Japanese hotpots usually contain a variety of vegetables and proteins cooked in a thin but flavourful broth.
There are so many different kinds of nabe in Japan and you can make it very personal with your favourite ingredients!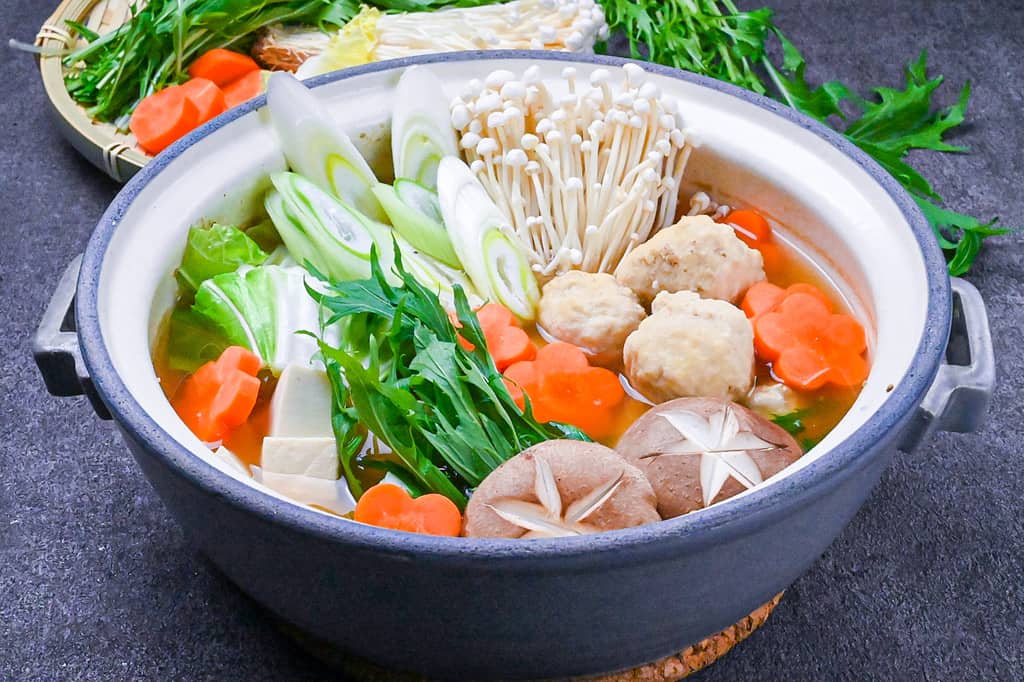 The History of Nabe (鍋)
Nabe (鍋) can literally be translated as "hot pot" in English. It's just a general term used to describe hot pot dishes in Japan and also refers to the cooking pot itself.
Before the modern period, many houses in Japan had a Japanese style hearth called "irori" (囲炉裏). It was used for cooking, as a light source or as a heating source in winter.
You can see the Japanese hearth in the middle of the floor on this picture.
The oldest record of a hot pot dish goes all the way back to 17th century, but it's believed that cooking pot dishes using the hearth was common before that. Hot pot dishes not using a hearth started in the late 18th century.
Hot pots became popular as a homecooked dish in the 19th century because of gas stoves and electric hobs. Most families own a portable stove that can be placed in the middle of the table. We can keep adding ingredients to the broth and enjoy the hot pot together as a family.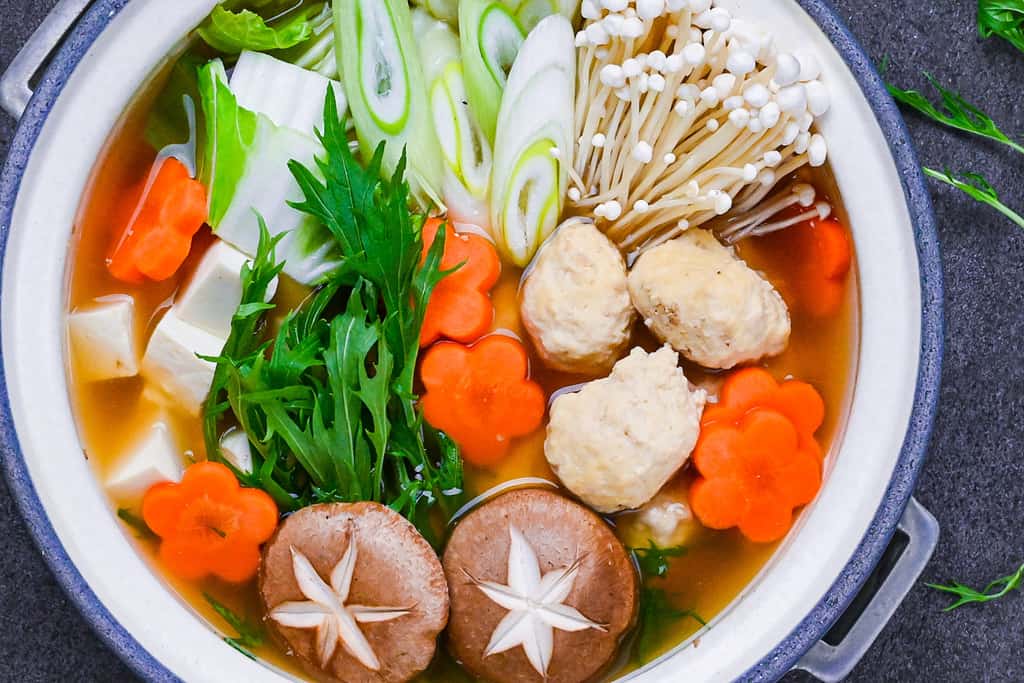 Popular Nabe dishes in Japan
There are so many popular hot pot dishes that I couldn't possibly name all of them, but some of the most common ones are:
Motsu Nabe (もつ鍋)
Chanko Nabe (ちゃんこ鍋)
There are also some "new wave" dishes where unusual sauces and ingredients are used such as:
Tonyu (Soy milk) Nabe (豆乳鍋)
Tomato Nabe (トマト鍋)
Mikan (Orange) Nabe (みかん鍋)
The possibilities of hot pot is endless!
What exactly is Chanko Nabe?
Some people might be wondering "What is Chanko Nabe?" "Sumo Stew?" "Is it something to do with sumo wrestlers?"
In fact, it has everything to do with sumo wrestlers!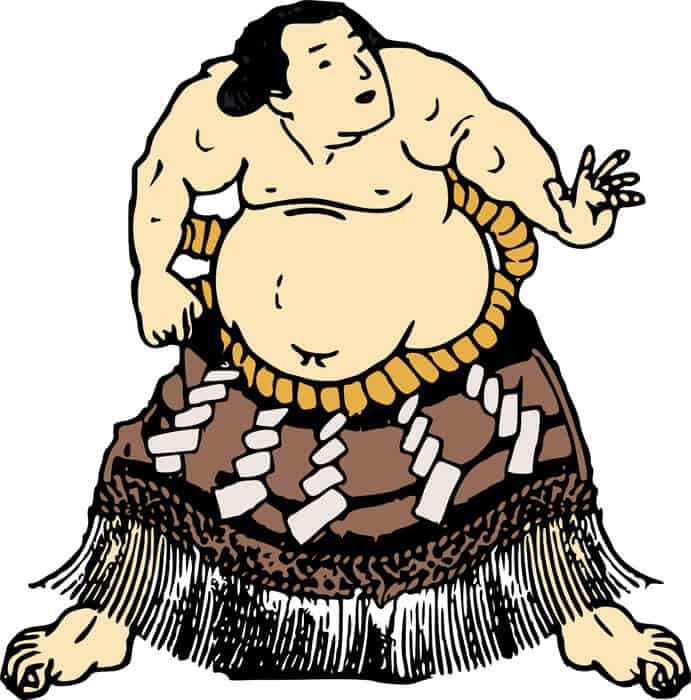 Everyday dish for sumo wrestlers
The word "chanko" comes from the people who are in charge of cooking meals at sumo stables. These cooks are called "Chanko Ban" and the hot pot they make is called "chanko nabe"
Technically, chanko nabe is more like an idea or concept rather than a specific dish and in turn, this basically means there is no set recipe for chanko nabe. Any hot pot that is made in sumo stable can be called chanko nabe.
Every Chanko Ban has their own style of making chanko nabe but the general rule is that it contains meat, lots of vegetables and a broth.
Some people might think that it is unhealthy or fatty because that's what sumo wrestlers eat on a daily basis, but it's actually the opposite. It needs to be very nutritious and full of variety to help the sumo wrestlers stay strong and healthy.
Chanko Nabe Restaurants
Even though chanko nabe refers to the hot pot eaten by sumo wrestlers, retired sumo wrestlers started opening up their own restaurants and serving their own versions of chanko nabe. Since then, normal people came to know about chanko nabe and it became a well known dish nationwide.
The first chanko nabe restaurant opened in 1937 in the Ryogoku district in Tokyo (where you can find many sumo stables and stadiums).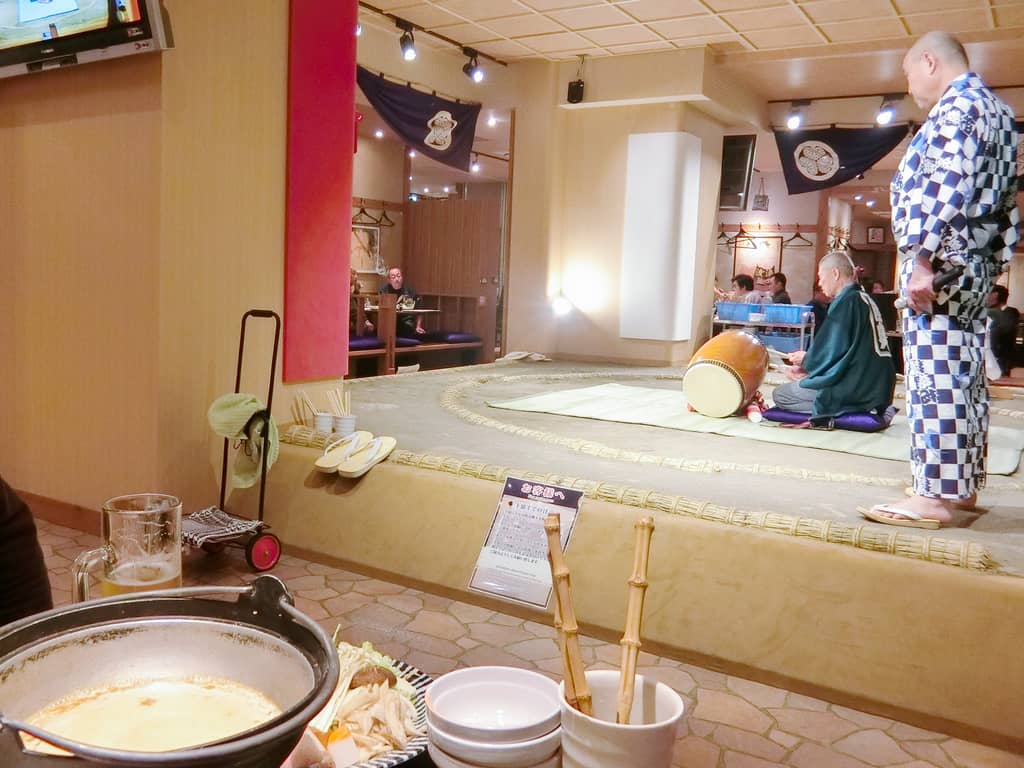 If you get a chance, you should check out "Hananomai" in Ryogoku, Tokyo. It's an sumo-themed izakaya style restaurant with a sumo ring in the middle. You can watch sumo matches and performances while trying authentic chanko nabe! (They also serve typical izakaya foods and drinks.) It's a memorable experience for sure!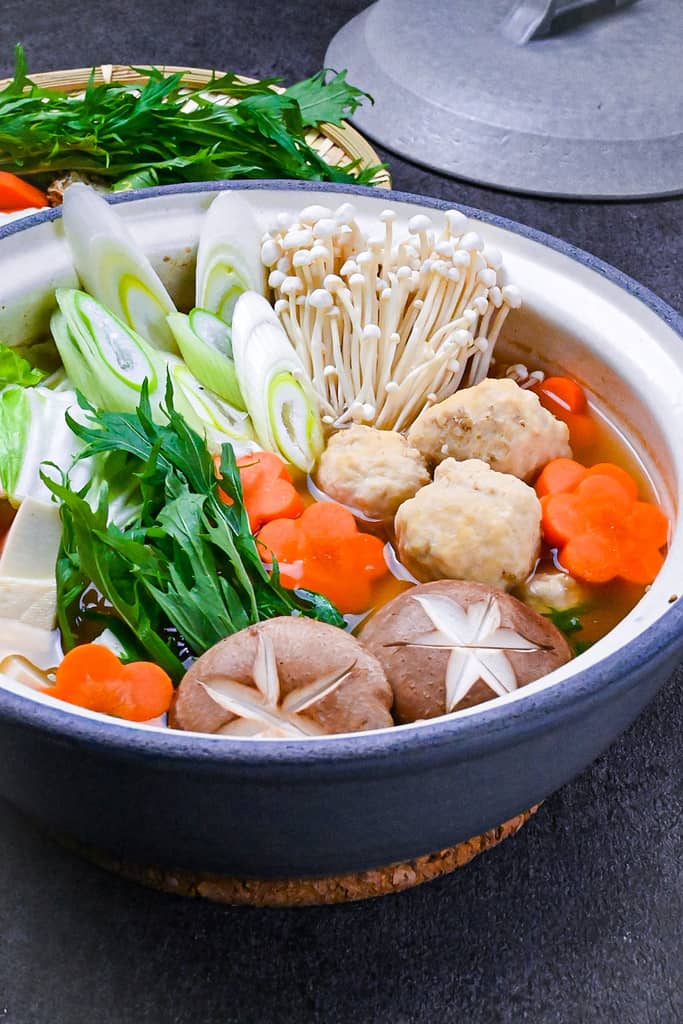 Ingredients
As "chanko nabe" means hot pot made in a sumo stable, there are many different flavours and ingredients used. Sumo wrestlers eat this dish often so it's only natural that they keep changing the ingredients to keep it interesting.
Broth
Chanko nabe is usually made with a dashi broth, chicken stock or mixture of both (like my recipe). They can also be flavoured with other condiments such as:
But again, there are no specific rules. In this recipe, I use soy sauce and a bit of miso which makes a great flavour!
Meat
Protein is important so chanko nabe pretty much always contains some kind of meat or fish. Here are some popular meats and seafoods used in chanko nabe:
Chicken meatballs
Chicken thigh
Seafood such as shrimp or crab
White fish fillets like cod or sea bream
Thinly sliced pork belly
My recipe uses homemade chicken meatballs which I will also teach you how to make!
Vegetables and tofu
You can enjoy customizing chanko nabe with any of these commonly used ingredients:
Mushrooms (shiitake, enoki, eryngii, enoki etc.)
Cabbage or napa cabbage (hakusai)
Carrots
Leeks / spring onions
Mizuna (Japanese mustard greens)
Firm tofu
Fried tofu (aburaage)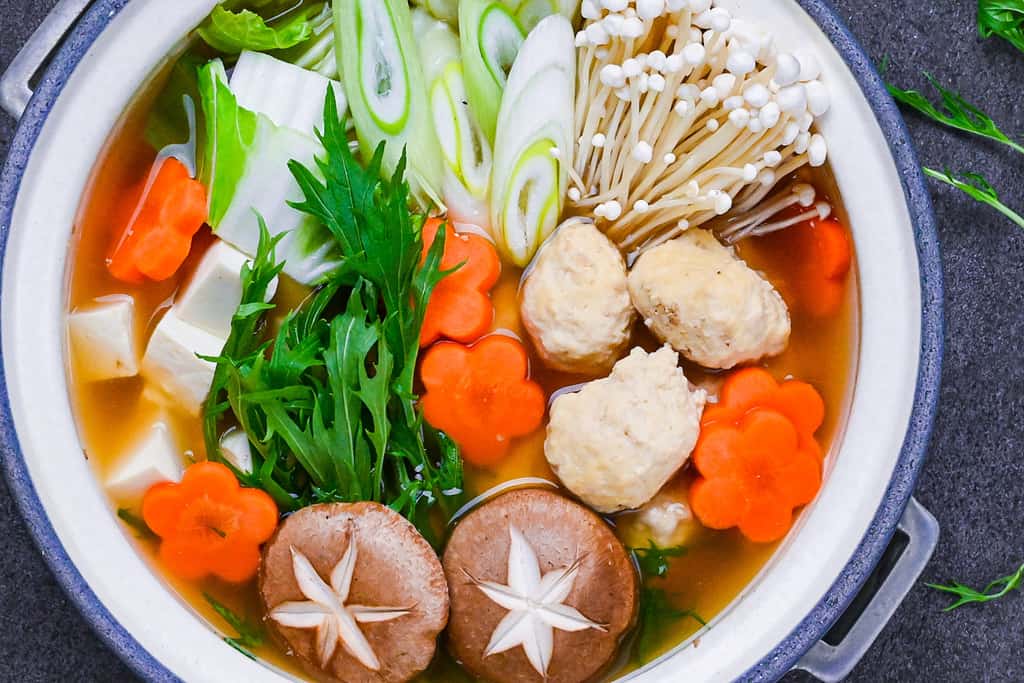 What to eat with Chanko Nabe
Chanko nabe can be enjoyed on its own or with rice.
You can also reuse the broth, either add more ingredients to use it again, drink it as a soup (if it's too concentrated you can add more water) or enjoy it with noodles!
It's common to enjoy the last of the broth with ramen noodles or udon.
FAQ
Here are some frequently asked questions about Chanko Nabe (Sumo Stew)
Is chanko nabe bad for you?
Not really, it's full of vegetables and definitely not as unhealthy as people might think. Sumos just eat huge amounts of it along with large portions of rice to build their bodies. It is said that sumo wrestlers eat about 4000 calories a day.
Why do sumo wrestlers eat chanko nabe?
The main reason sumo wrestlers eat chanko nabe are:
1. You can make it in a giant batch. Especially because so many sumo wrestlers (including trainees) share the same dish in a stable, it's more convenient to cook a large pot for everyone.
2. You can consume a lot of vegetables to get strong!
3. To prevent food poisoning.
4. To save on utility bills.
Don't sumo wrestlers get bored of chanko nabe?
They change flavour and ingredients often so that they won't get bored easily.
That's also the beauty of Chanko Nabe! You can add what you like!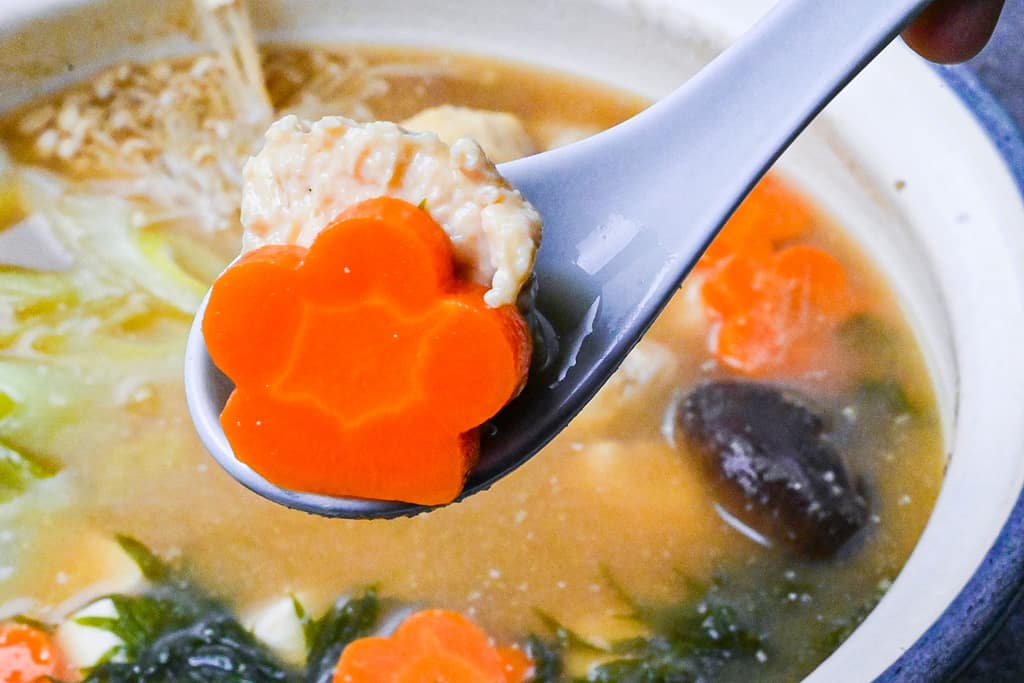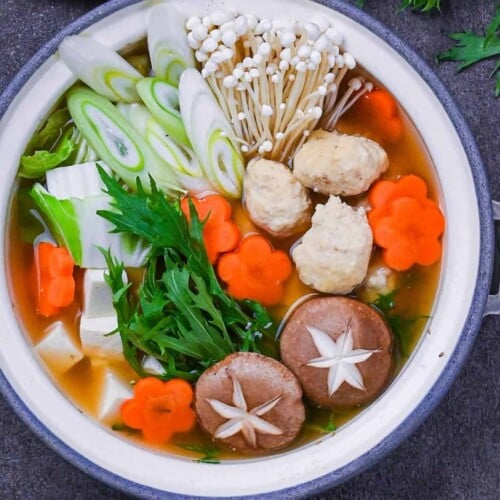 "Chanko Nabe" Sumo Stew (ちゃんこ鍋)
How to make rich, warming and nutritious "Chanko Nabe" (ちゃんこ鍋) Sumo Wrester Hot Pot with homemade chicken meatballs, a variety of vegetables and tofu in a light chicken stock and dashi broth.
Ingredients
Homemade Chicken Meatballs
200

g

ground chicken

1

small egg

-

If you're using a large egg, whisk and use half

½

tbsp

miso paste

-

awase

½

tsp

ginger paste

½

tsp

garlic paste

½

tbsp

cornstarch
Broth
1000

ml

dashi stock -

1½

tbsp

Chinese-style chicken bouillon powder

1

tbsp

soy sauce

1

tbsp

mirin

½

tbsp

ginger paste

½

tbsp

garlic paste

2

tbsp

ground sesame seeds

2

tbsp

miso paste

-

awase
Other Ingredients
150

g

carrot(s)

-

peeled and cut into thick rounds

100

g

green onion(s) -

cut into thick diagonal slices

100

g

mushroom of your choice

-

I used shiitake and enoki

250

g

napa cabbage

-

around ⅛ roughly cut

150

g

firm tofu

-

cut into cubes

200

g

potherb mustard

-

mizuna, stems removed
Instructions
Homemade Chicken Meatballs
First prepare the meatballs. Add

200 g ground chicken

to a bowl along with

½ tbsp miso paste

,

½ tsp ginger paste

and

½ tsp garlic paste

. Mix until the ingredients are well distributed (especially the miso, we don't want any lumps!).

In a small separate bowl, crack

1 small egg

and lightly whisk.

Add the egg and

½ tbsp cornstarch

to the chicken mince, mix until you have a slightly sticky mixture.

Set aside for later.
Broth
Add

1000 ml dashi stock

,

1½ tbsp Chinese-style chicken bouillon powder

,

1 tbsp soy sauce

,

1 tbsp mirin

,

½ tbsp ginger paste

,

½ tbsp garlic paste

and

2 tbsp ground sesame seeds

to the pot.

Mix up all the ingredients and bring it to the boil.

Once boiling, use a spoon to take a scoop of seasoned chicken mince and then another spoon to scrape it off and drop it into the boiling broth. These are your meatballs.

When all the mince is used up, put the lid on and cook for 3-4 mins.
Other ingredients
Add

150 g carrot(s)

first as they take a bit longer than the other vegetables. Allow to boil for a few minutes.

Now add the rest of your vegetables and

150 g firm tofu

, allow to simmer for 10 m

inutes.

Turn off the heat and mix in

2 tbsp miso paste

by scooping it onto a ladle or mesh spoon and allowing a small amount of the hot broth in. Using chopsticks or a small whisk, break up the miso paste up into the small amount of broth and then gradually add it to the rest of the hot pot.

Serve on its own or with a bowl of rice and enjoy!
Notes
If you want to make the most of the broth, you can cut up more vegetables and use it again!
You can also drink the leftover broth as a soup or add cooked noodles to enjoy it further.
If you have a portable stove, you can sit it on your table and continue to cook and more add ingredients until the broth is gone.