Disclaimer: This post contains Amazon affiliate links. Sudachi earns a small percentage from qualifying purchases at no extra cost to you. See disclaimer for more info.
What is Chicken Soboro (Sanshoku) Donburi?
In Japanese, "soboro" refers to ground meat or fish seasoned and fried. Serving it over rice creates chicken soboro donburi, made from fried ground chicken mixed with seasonings and condiments.
Sanshoku donburi, on the other hand, is all about the dish's appearance. The name "sanshoku" means "three colors" in Japanese, which represents the three main ingredients used to top the rice bowl:
Brown: ground chicken soboro
Yellow: scrambled egg
Green: boiled vegetables
However, the ingredients can vary depending on the region and family. For example, some people use salmon instead of chicken and add a fourth color. I like to add pickled ginger to give the dish more color and flavor, but this is optional.
By the way, soboro has a rich, thick and sweet flavor. For this reason, soboro is best served with plain, unseasoned rice to help soften and balance the taste. This is also why I like to add red ginger (benishoga) for freshness and tartness; this makes the dish more enjoyable for me personally but is, of course, optional.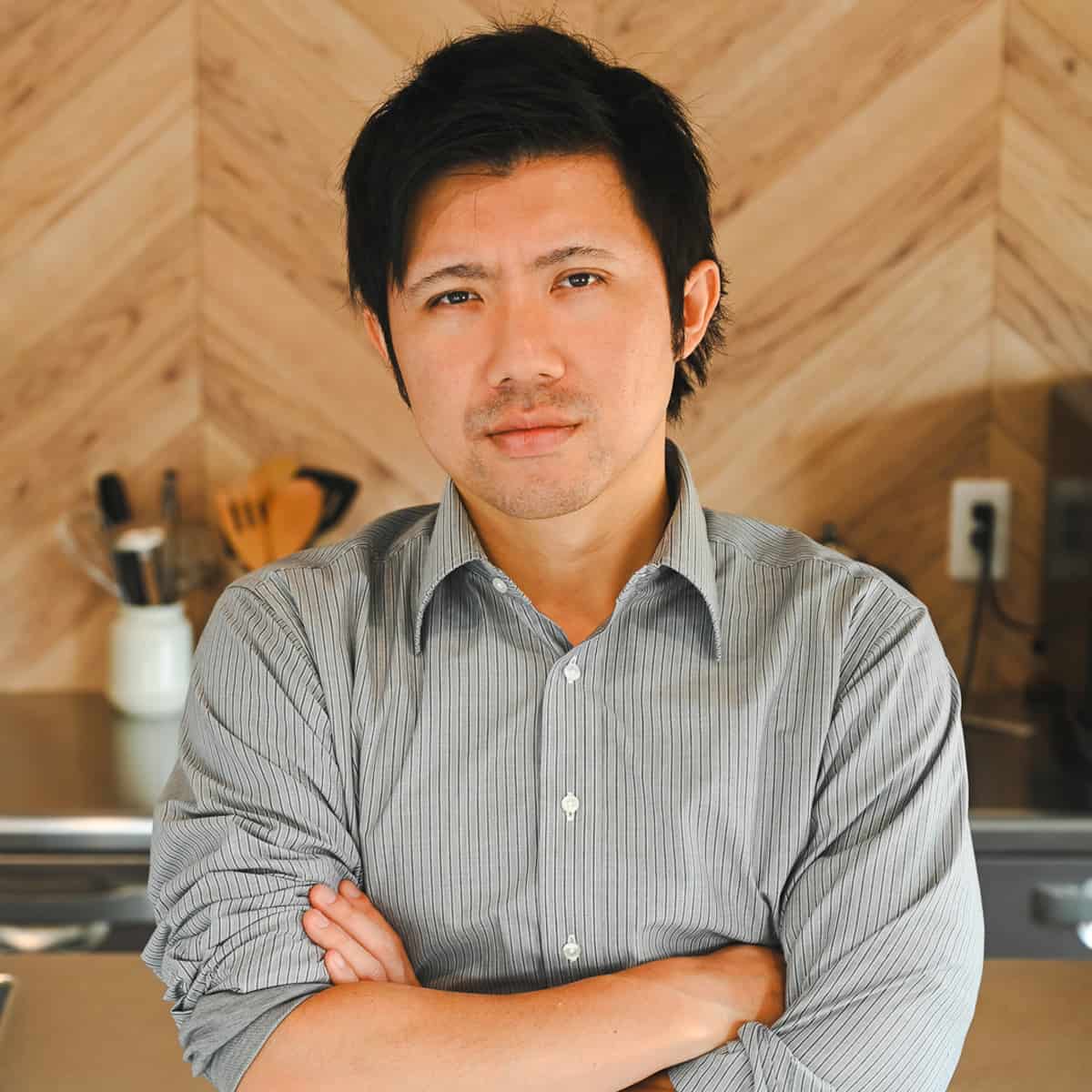 How I Developed This Recipe
---
When making this Soboro Donburi, my priority was to create a robustly flavored Soboro that complements the simplicity of unseasoned white rice.
Soboro's charm lies in its perfect harmony of sweetness and savoriness, and I've maintained this balance to ensure the dish feels complete in every bite.
This rice bowl isn't just a feast for the taste buds; it's also a visual treat. I'm excited for you to try it!
Ingredients & Substitution Ideas
Cooked Japanese short-grain rice: To learn how to cook delicious Japanese rice, please see the "How to Cook Japanese Rice" recipe.
Ground chicken: Ground chicken is commonly used but can also be made with ground pork, ground beef or even TVP (texturized vegetable protein).
Eggs: This recipe is calculated with medium-sized eggs, but the eggs' size does not matter much.
Spinach: This recipe calls for spinach for the green color, but other greens such as green peas, green onions, snow peas, and okra can be substituted.
Red pickled ginger (benishoga): Although optional, as mentioned earlier, the Soboro-don is rich and quite sweet, so adding red ginger makes it more refreshing and easy to eat.
Soy sauce: If you want something reasonably priced, you can't go wrong with Kikkoman soy sauce. Please see our guide to soy sauce article to learn more about how to choose soy sauce in Japanese cuisine.
Oyster sauce: Adding oyster sauce gives the dish a richness that cannot be achieved with only soy sauce.
Sake: If you do not have it, substitute white wine or dry sherry.
Mirin: When purchasing mirin, it is recommended to look for "hon mirin" (本みりん) for the best flavor. I recommend Hinode Hon Mirin as a high-quality and affordable option. See my 20 Most Useful Condiments and Seasonings for Japanese Cooking post for more recommendations.
Sugar: Regular white sugar works fine, but I've been using light brown cane sugar for most dishes lately.
Sesame oil: It is used to add subtle flavor. I recommend Kadoya's sesame oil.
White sesame seeds: Adds color and nuttiness. Optional.
Curious about the exact brands and products that bring my recipes to life? Discover the brands and ingredients behind my recipes at the Sudachi Amazon Storefront. Explore my handpicked pantry essentials and find your next kitchen favorites!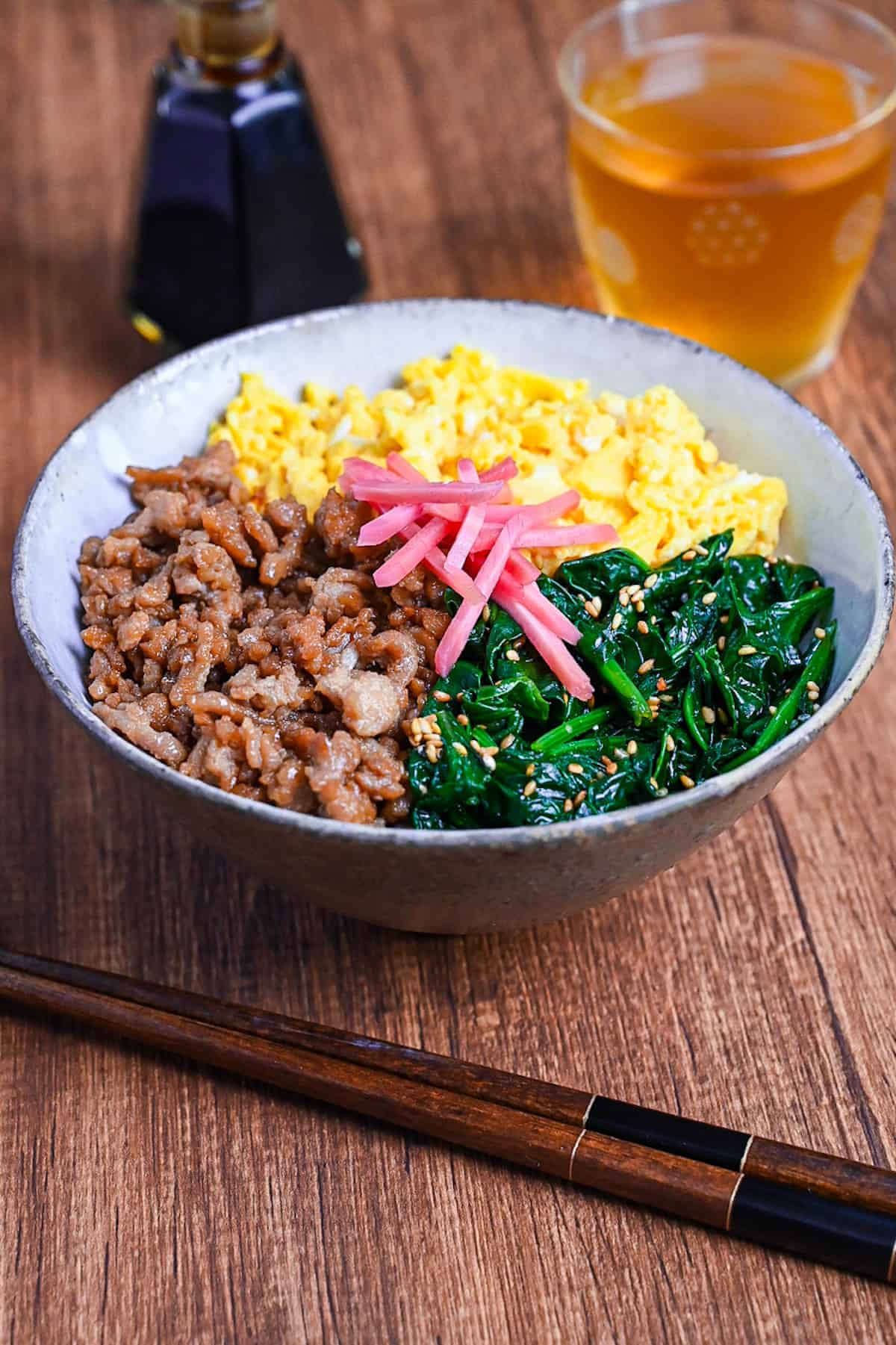 Visual Walkthrough & Tips
Here are my step-by-step instructions for how to make vibrant and delicious sanshoku donburi with chicken soboro at home. For ingredient quantities and simplified instructions, scroll down for the printable recipe card below.
Crack the eggs into a mixing bowl and add sugar, sake and salt.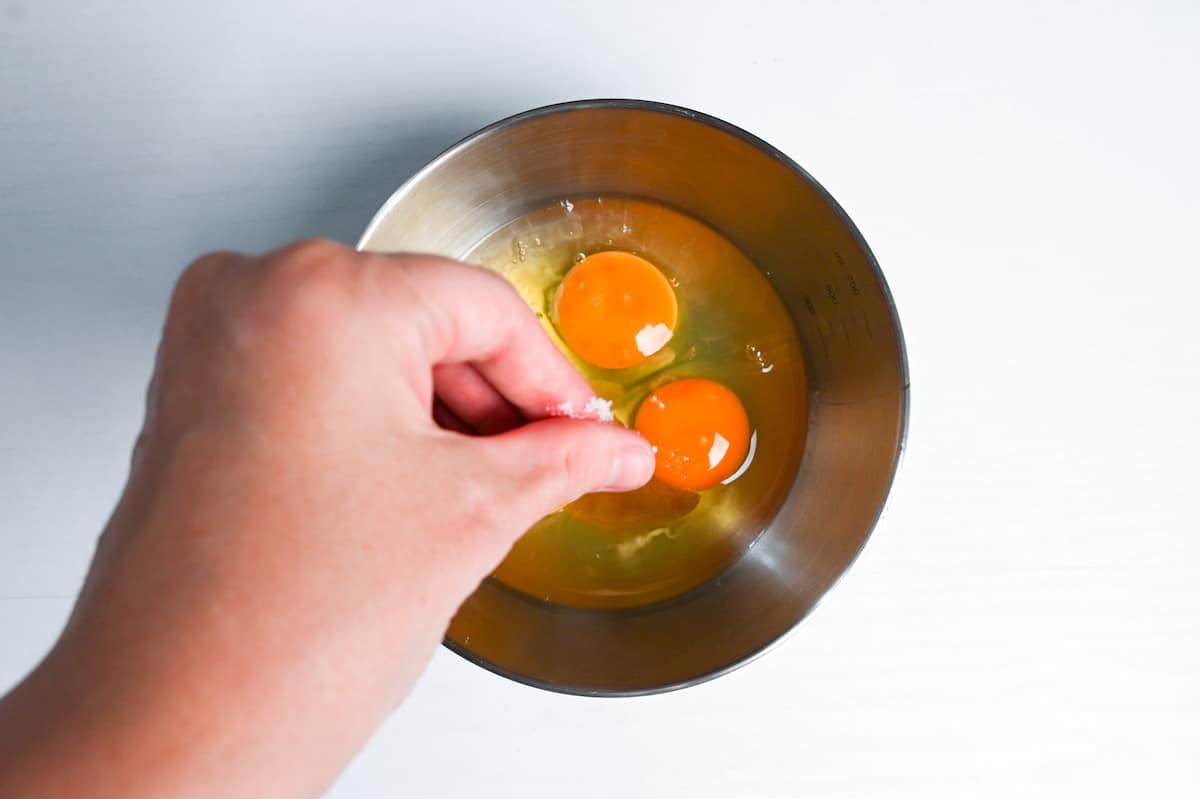 Whisk until well combined.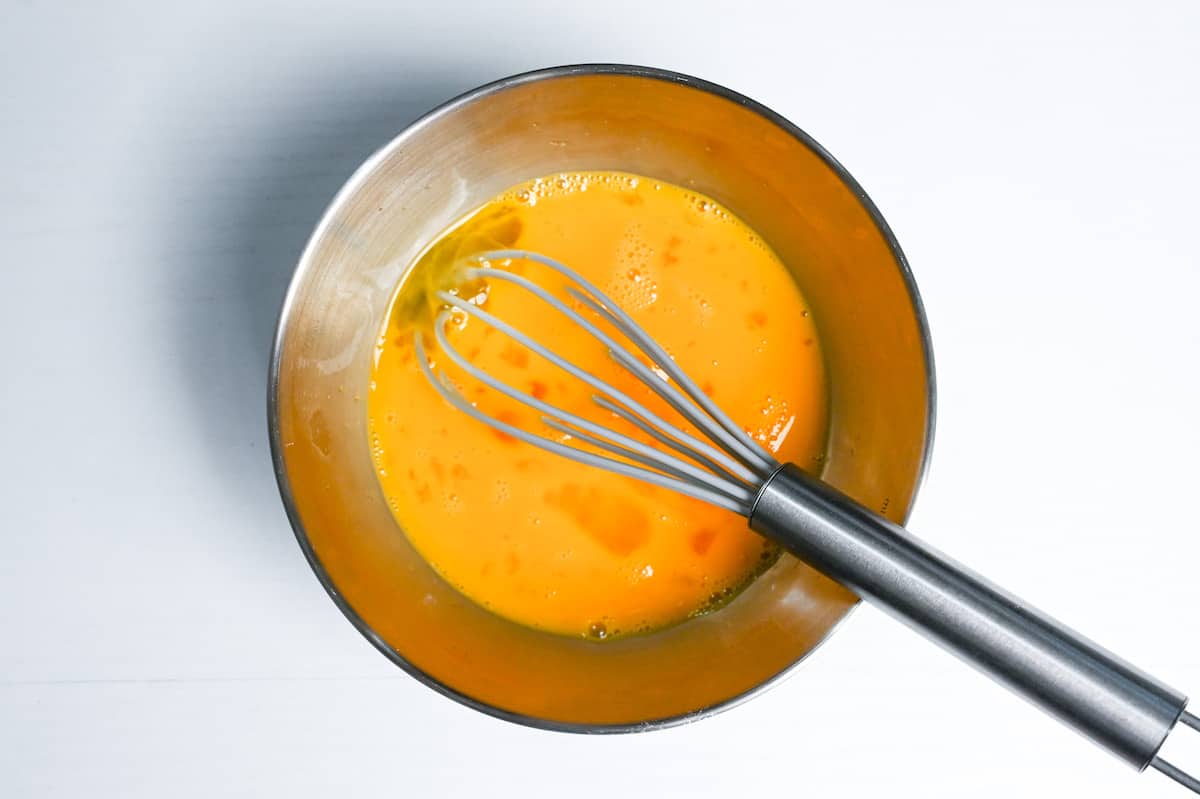 Heat a frying pan on medium, add a small drizzle of oil and spread it around the pan. Once hot, pour in the egg mixture and allow it to cook until half done. Mix roughly to create chunky scrambled egg.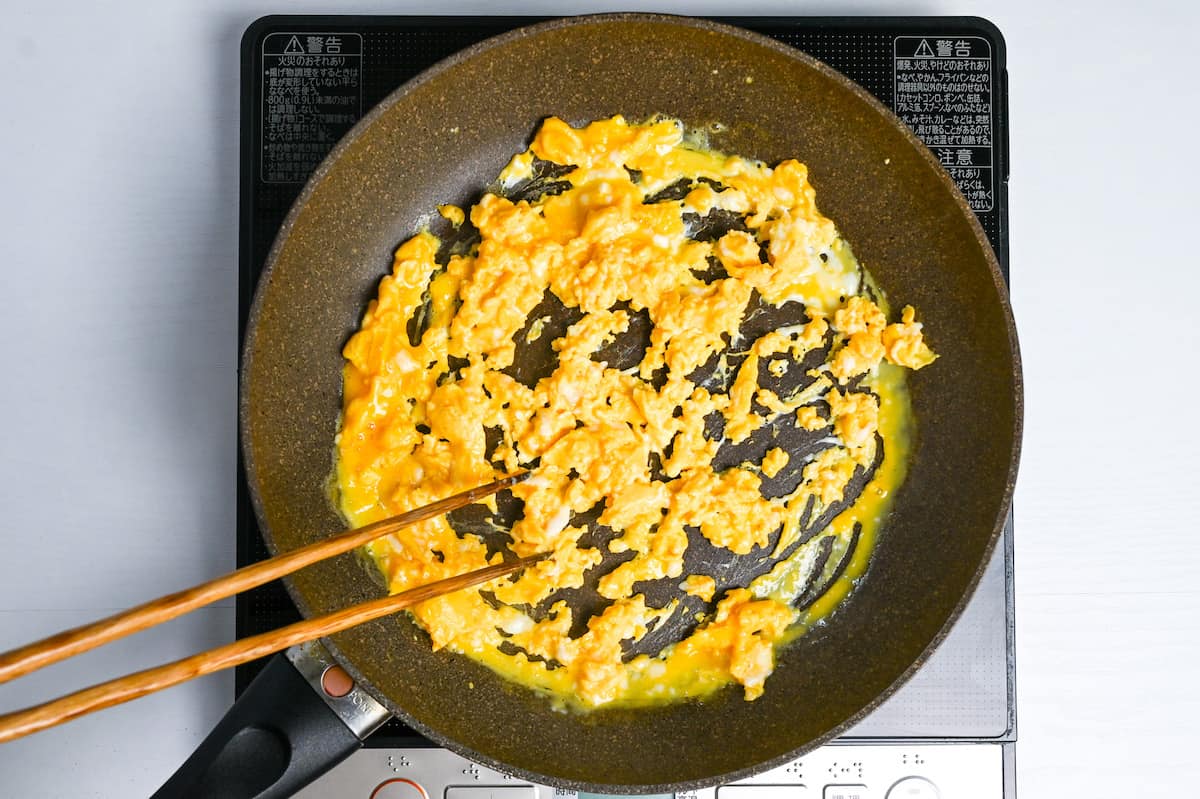 Transfer the scrambled egg to a bowl and set aside. If any egg residue is left in the pan, wipe it out with kitchen paper.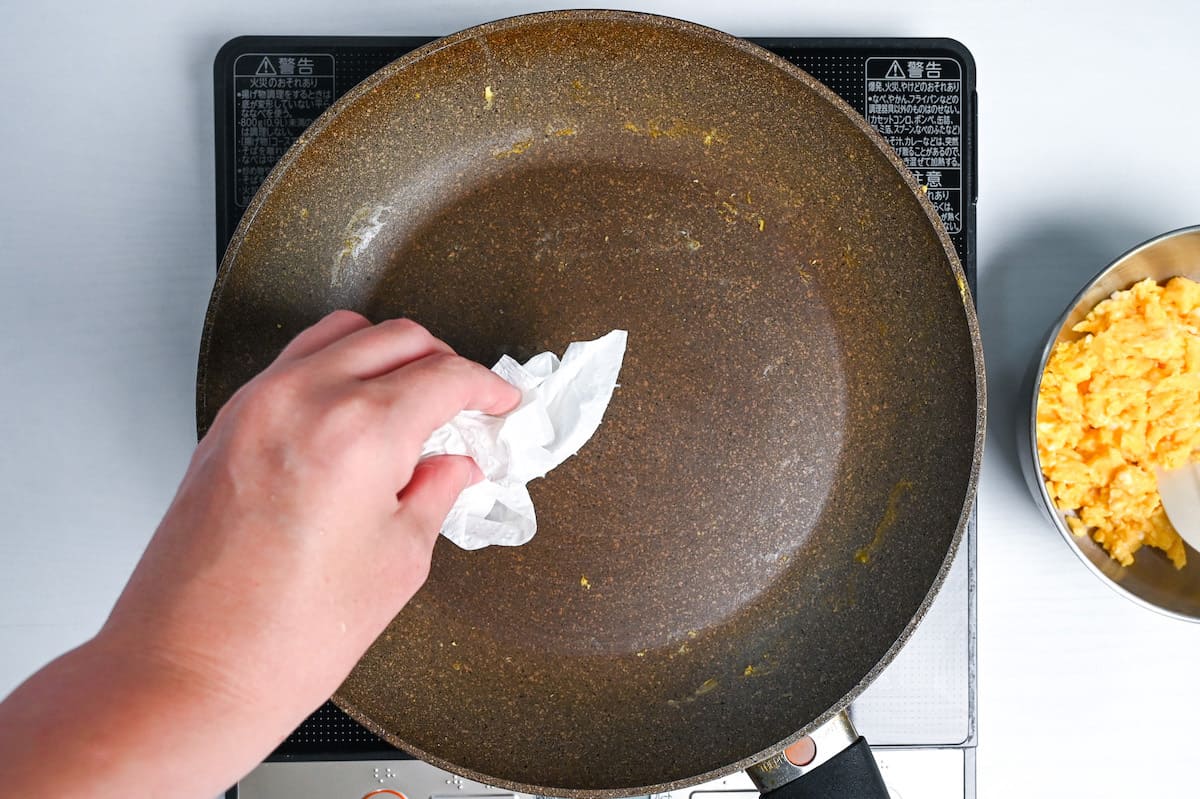 Add a little more oil if necessary and then seal the ground chicken.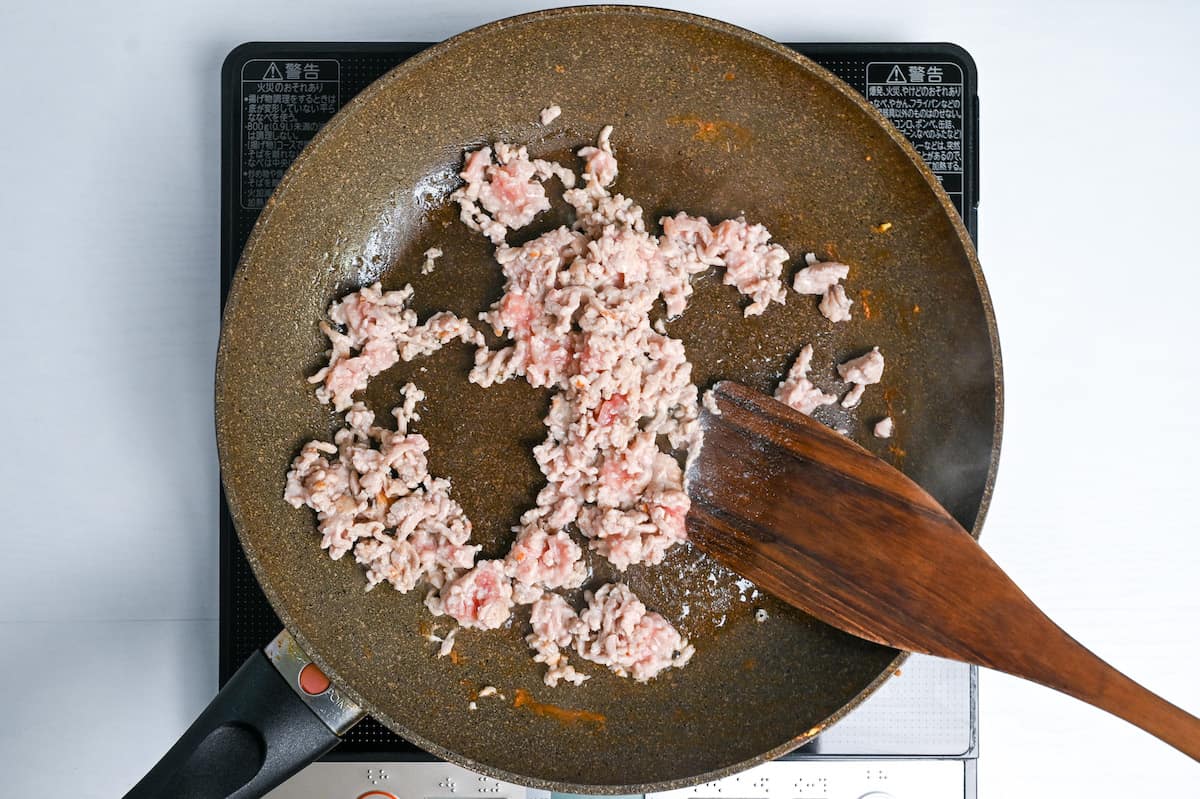 Add seasonings and condiments
Add the soy sauce, oyster sauce, sake, mirin and sugar. Increase the heat to high and cook until the liquid has reduced completely.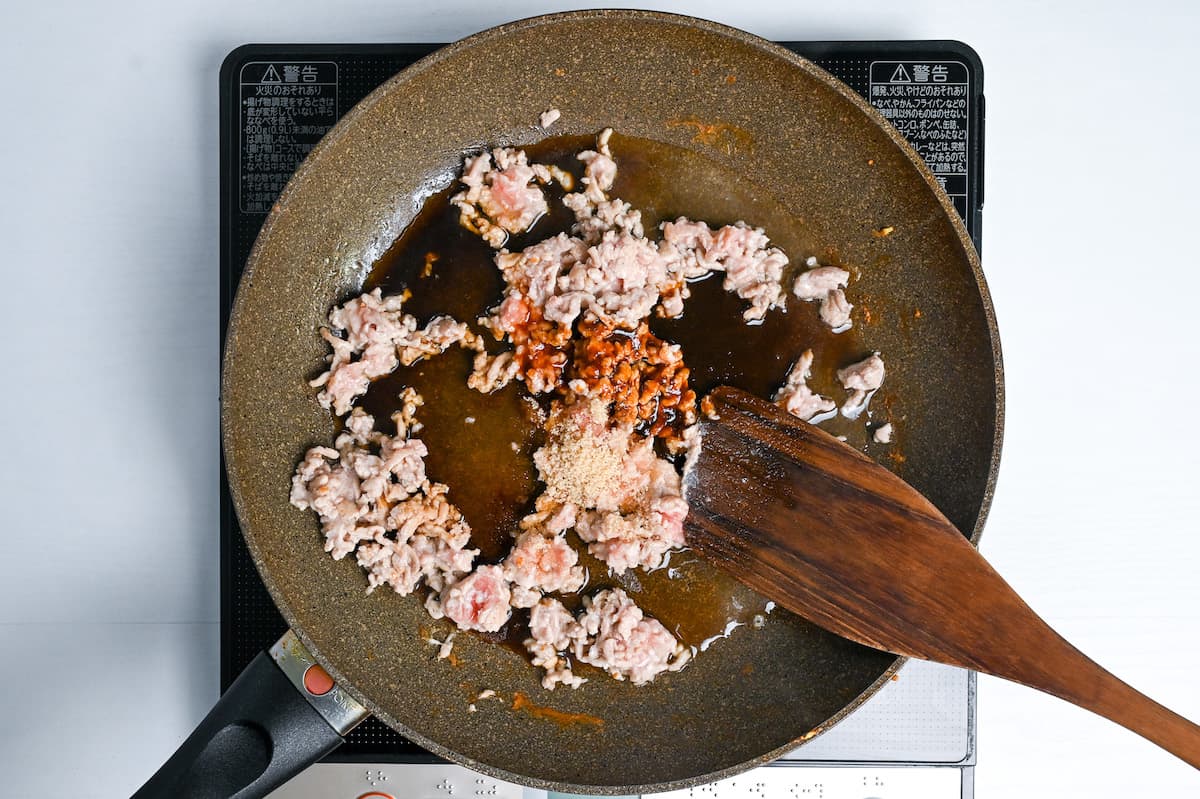 Once all the liquid is gone, remove the pan from the heat.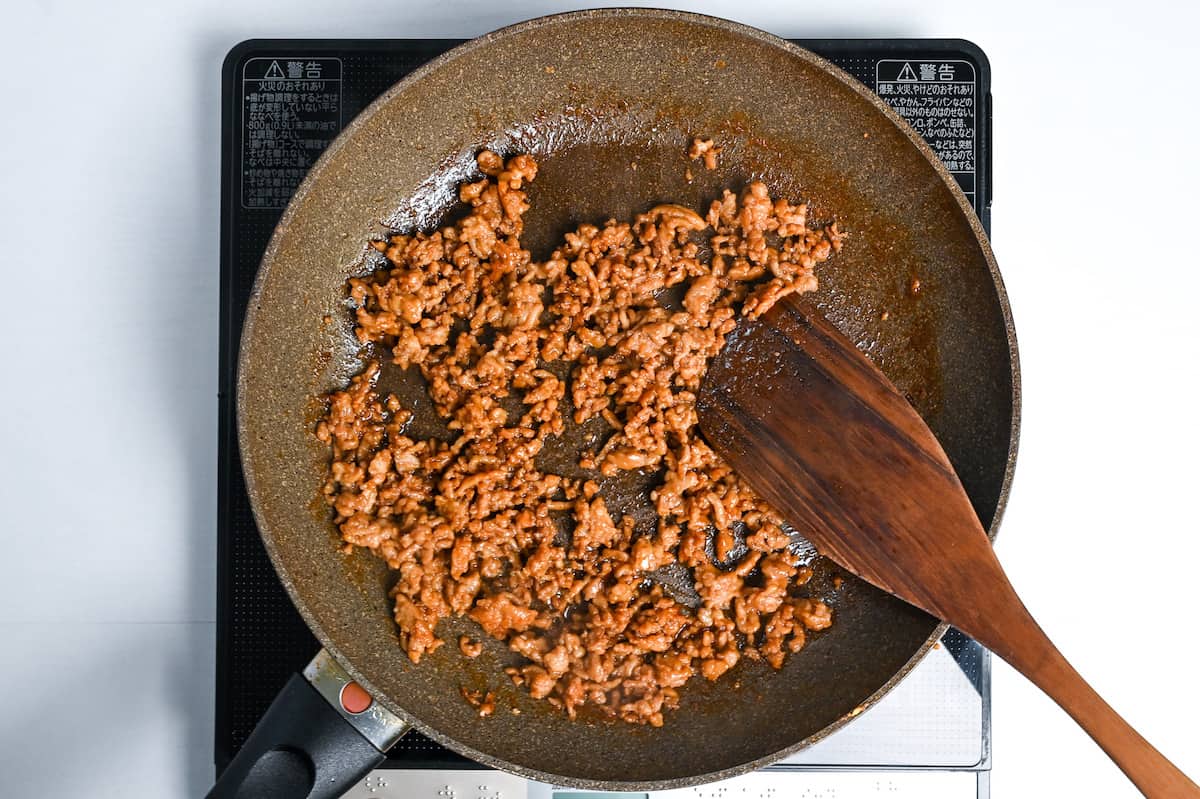 Bring a small pot of water to a rolling boil and add a pinch of salt. Blanch the spinach for about 1 minute.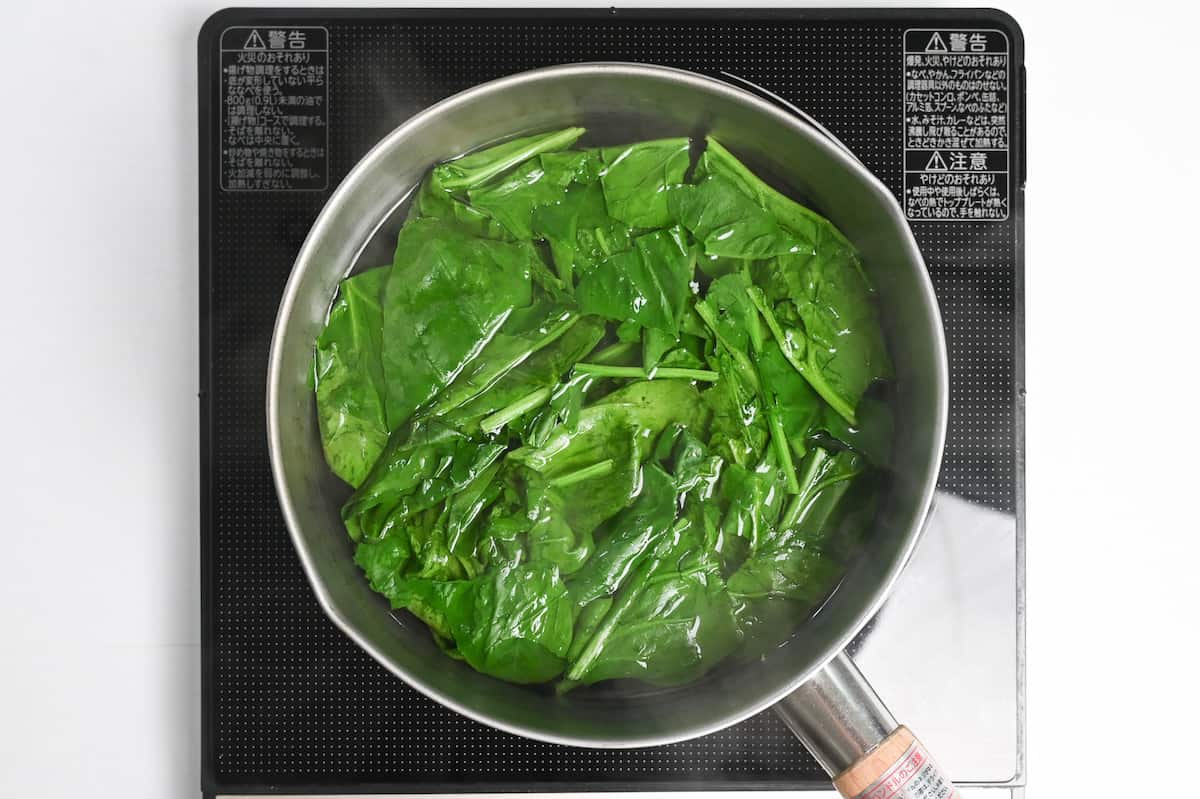 Drain the water and place the blanched spinach in a bowl. Add soy sauce, sugar, sesame oil and sesame seeds and mix well.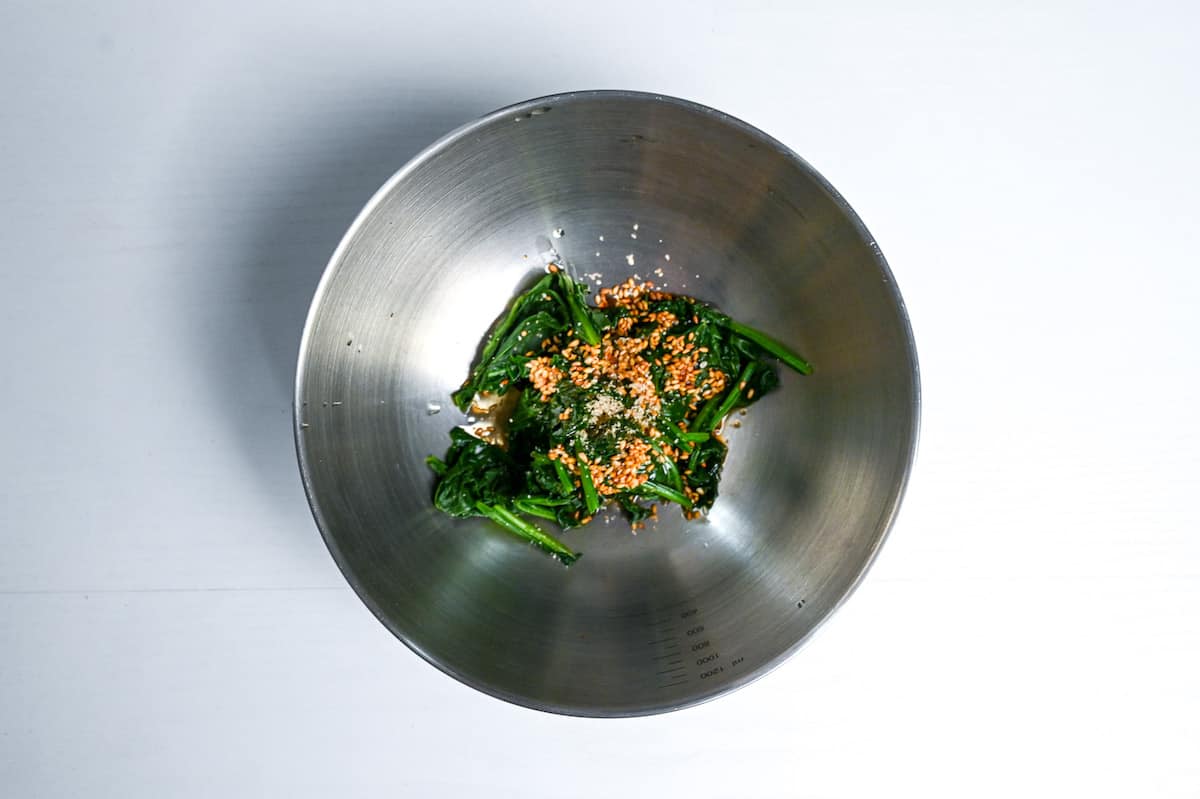 Divide cooked rice into serving bowls.
Arrange the scrambled egg, chicken soboro and blanched spinach on top.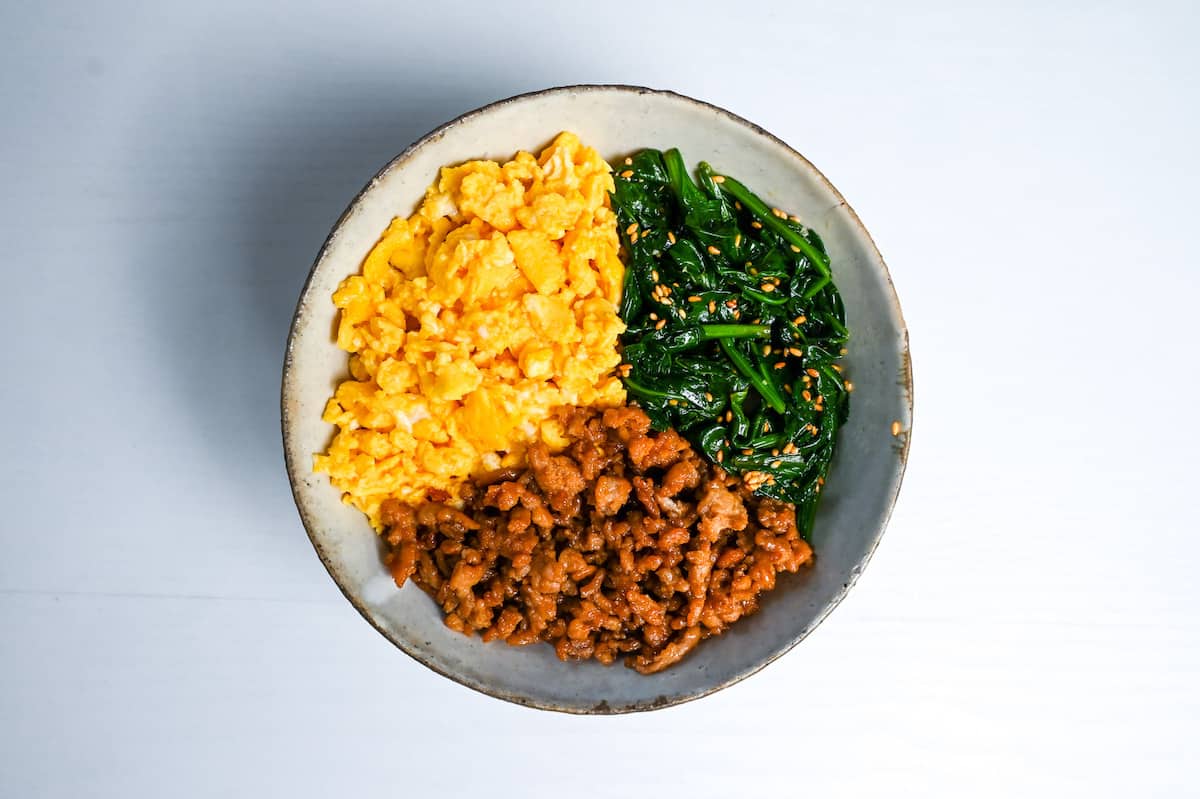 Garnish with red pickled ginger.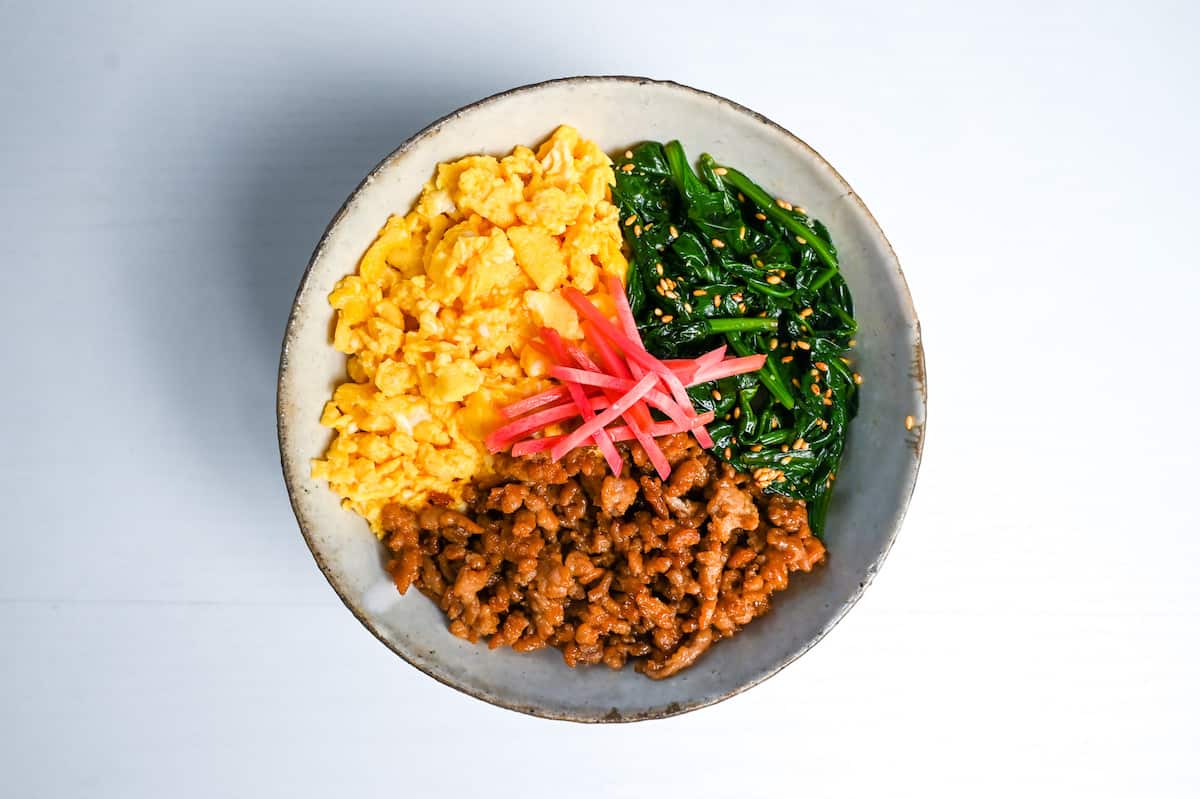 And enjoy!
How to Store
As with any donburi dish, storing the rice and toppings separately is better. All of the elements store well, but vary in ideal storage times.
For refrigerated storage, wrap the soboro in plastic wrap and place it in a zippered storage bag, then store it in the fridge. The estimated storage time is about three days. Store scrambled egg and blanched spinach in separate, sealed containers for up to 3 or 4 days, respectively. Rice tends to dry out during refrigeration so freezing is preferred.
For freezing, soboro chicken can be stored in the same manner, wrapped in plastic wrap, and placed in a storage bag or container for about one month. Rice and scrambled eggs can be stored for up to 6 months, and blanched spinach for up to one year. For long storage, seal them in airtight containers or freeze bags to prevent freezer burn.
Soboro don/sanshoku don are commonly served in bento boxes. Place the lunchbox in a cool bag with an ice pack and consume within 3-4 hours (or 2 hours in summer).
Room temperature – Not recommended.
Refrigerated – About three days (soboro only without rice).
Frozen – Up to a month (soboro only without rice).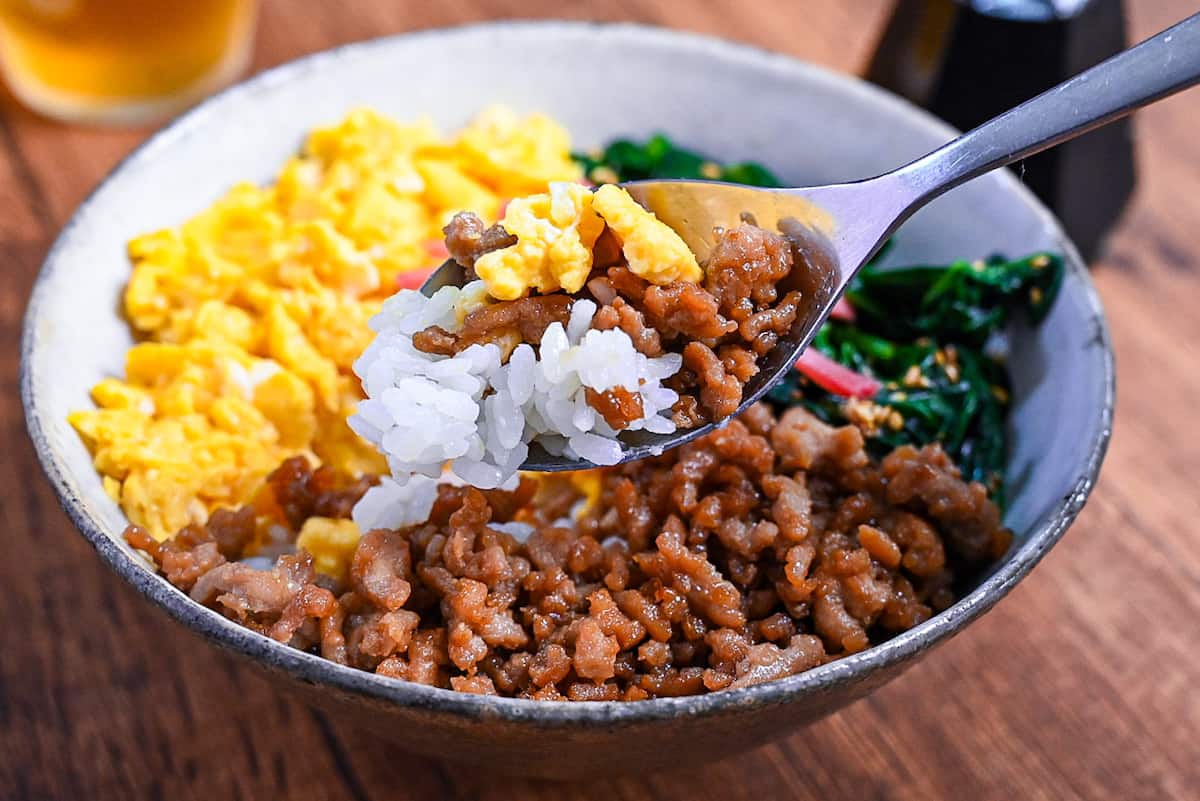 FAQ
Should I use cooking sake or drinking sake?
When a recipe calls for "sake," it can be confusing to choose the right type, as some specify regular or cooking sake. On Sudachi, "sake" refers to pure sake without added salt (in short, not cooking sake), so if you use cooking sake with salt, adjust the recipe's salt content accordingly. All dishes on Sudachi are created using drinking sake.
If you want to know more about sake in Japanese cooking, please refer to Sake 101 post written by a professional chef with 30+ years of experience in the industry for the right selection and substitutes.
What does Soboro Donburi taste like?
Soboro Don features a balanced mix of sweet and salty flavors with a prominent chicken taste, which may surprise some with its sweetness. However, the dish's complexity is best appreciated when its three key components—typically colored for visual appeal—are combined and eaten with white rice. The dish is traditionally served as a bowl of rice topped with these flavorful elements, and the white rice acts as a perfect base, allowing the intricate flavors of the Soboro-don to stand out. Enjoying it this way ensures a harmonious blend of tastes in every bite.
I hope you enjoy this Soboro Don recipe! If you try it out, I'd really appreciate it if you could spare a moment to let me know what you thought by giving a review and star rating in the comments below. It's also helpful to share any adjustments you made to the recipe with our other readers. Thank you!
More Chicken Donburi Recipes
If you're interested in Japanese chicken donburi recipes, check out some of my other recipes: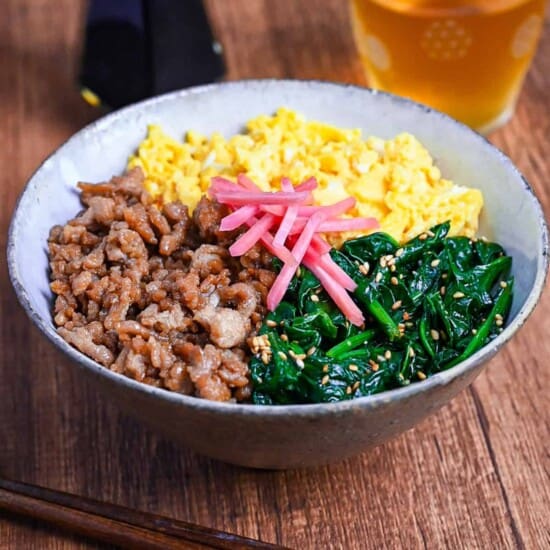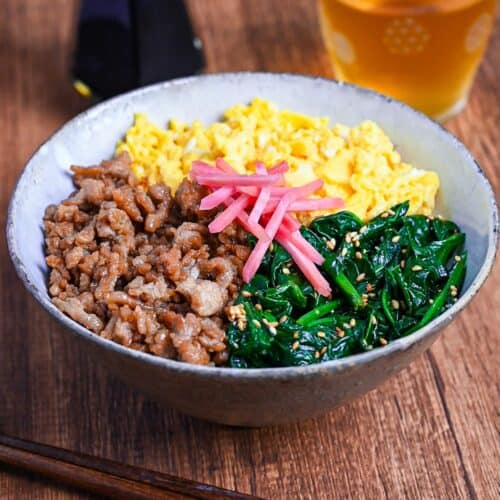 Chicken Soboro Rice Bowl (Sanshoku Donburi)
---
Sanshoku don is a colorful and tasty dish made with seasoned Japanese chicken "soboro", tender scrambled eggs, and blanched spinach served on top of hot and fluffy Japanese rice. It's tasty, filling, and perfect for dinner and lunchboxes!
---
---
---
---
Ingredients
Instructions
Crack

3 medium egg(s)

into a mixing bowl and add

½ tbsp sugar

,

1 tbsp sake

and

1 pinch salt

. Whisk them together until well combined.

Take a non-stick pan and heat it on medium. Add a small drizzle of cooking oil and pour in the egg. Allow it to firm up a little before mixing to make it scrambled.

Transfer the scrambled egg to a bowl and set aside for later. Wipe out the pan to remove any egg residue.

Return the pan to the heat and add

150 g ground chicken

. (Add a little more oil if necessary.) Cook until lightly browned.

Add

1 tbsp soy sauce

,

1 tbsp oyster sauce

,

1 tbsp sake

,

1 tbsp mirin

and

1 tbsp sugar

to the mince and cook on a high heat until the liquid is completely reduced.

Once all the liquid is gone, remove the pan from the heat. 

Bring a small pot of water to a rolling boil and add

1 pinch salt

. Add

60 g spinach

and blanch for 1 minute. Once done,

Drain the water and place the blanched spinach in a small bowl. Add

1 tsp soy sauce

,

1 pinch sugar

,

1 tsp sesame oil

and

½ tsp white sesame seeds

, and mix thoroughly.

Dish up

2 portions cooked Japanese short-grain rice

into separate serving bowls.

Arrange the egg, soboro chicken and greens on top.

Garnish with

1 tsp red pickled ginger

(optional) on each portion and enjoy!
Notes
If you can't find sake then you can substitute with dry sherry or white wine
The alcohol in the sake will be cooked away but if you really don't want to use it, you can just add an equal amount of water instead.
Using a rice cooker is the easiest way to cook rice for donburi but if you want to cook Japanese style rice on the stove, check out my recipe here.
Nutrition
Serving:
393.2
g
|
Calories:
592
kcal
|
Carbohydrates:
71.5
g
|
Protein:
29.5
g
|
Fat:
20.7
g
|
Saturated Fat:
5.59
g
|
Polyunsaturated Fat:
3.89
g
|
Cholesterol:
365
mg
|
Sodium:
1461
mg
|
Fiber:
3.3
g