Sukiyaki is a surprisingly simple dish made with thinly sliced beef, grilled tofu and a beautiful display of vegetables cooked in a sweet and rich "warishita" sauce. Wow your friends and family with this delicious homemade sukiyaki recipe!
Disclaimer: This post contains Amazon affiliate links. Sudachi Recipes earn a small percentage from qualifying purchases at no extra cost to you. See disclaimer for more info.
Jump to:
What is Japanese beef sukiyaki?
Sukiyaki is a popular dish made with high quality, thinly sliced beef cooked in a sweet soy sauce based broth with other ingredients such as green onions, carrots, mushrooms and grilled tofu. Once cooked, these ingredients are usually dipped in whisked raw egg which balances out the sweetness and increases the richness of the dish.
Due to its rich flavour and the use of high quality ingredients, sukiyaki is typically seen as a celebration food and often eaten during "bonenkai" end of year celebrations (忘年会) and New Year's gatherings (お正月).
The method of preparation differs depending on whether you are in the Kanto region (East) and the Kansai region (West) of Japan. I literally grew up in central Japan between these two regions, but this recipe leans towards Kanto style.
Sweet and savoury sukiyaki
Authentic beef sukiyaki sauce/broth
Easy-to-follow recipe for you to use at home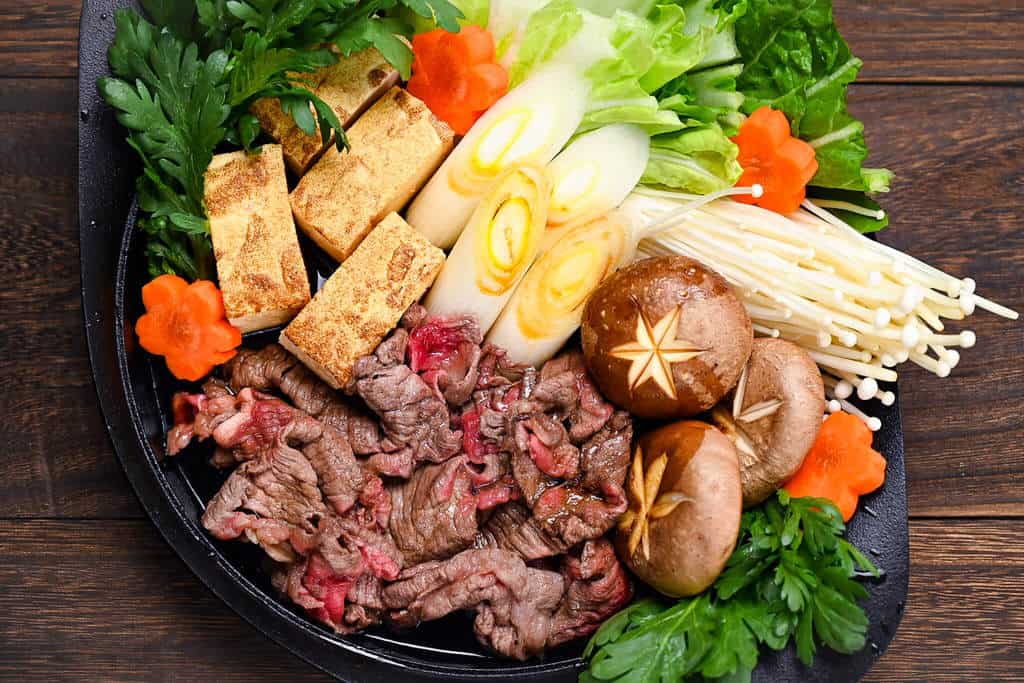 Brief history of beef sukiyaki
Despite its popularity, the history of sukiyaki is not very long, and it is said to have been born around the end of the Edo period (19th century). It might be a surprising fact that eating meat was officially prohibited in Japan (though some people still ate meat in private) until the beginning of the Meiji Era (1868-1912).
Against this historical background, beef was also eaten in secret, and the first "sukiyaki restaurant" was established in Kyoto's Sanjo Kawara at the end of the Edo period. It was not until after the Meiji Restoration (1868-1889) that the ban was officially lifted, and from there the meat-eating culture spread throughout Japan. Restaurants serving a dish called "gyu-nabe (beef hot pot)" opened one after another in Tokyo and became all the rage.
The name "sukiyaki" was originally from the Kansai region (West Japan), while in the Kanto region (Tokyo and surrounding areas) it was called "gyu-nabe". Nevertheless, the name "sukiyaki" is now standardized throughout Japan in most cases.
Incidentally, the name "sukiyaki" is said to have originated from the practice of roasting fish and vegetables by holding the metal part of a plow ("suki" in Japanese) over a fire, hence the name "suki (plow) yaki (grill)".
Kanto style VS Kansai style: what are the diffenreces?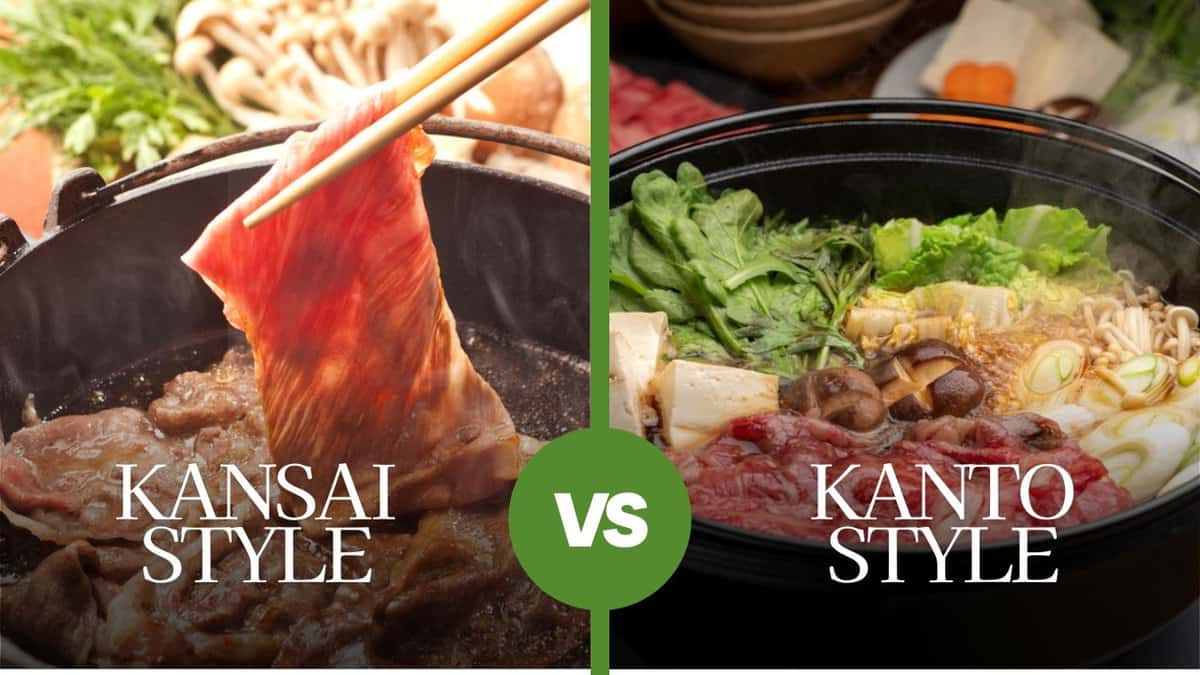 As I mentioned earlier, the way sukiyaki is made differs greatly from east to west. For an easier comparison, see the following table.
| | Kanto (East) | Kansai (West) |
| --- | --- | --- |
| Cooking method of beef | Stew | Grill |
| Seasoning | Make warishita sauce first and cook the beef in the sauce | Grill beef first and then season with sugar, soy sauce and sake |
| Appearance | Like a hotpot | Grilled beef and vegetables |
| Difficulty | Easy | Intermediate |
| How to eat | With raw egg | With raw egg |
Isn't it easier to cook Kansai-style, where all you have to do is grill? You might think so, but because it is difficult to get the timing and seasoning just right for Kansai style, it is actually said that Kanto style is easier.
There may be some differences in ingredients, but the bottom line is that every home-made sukiyaki tends to use different ingredients according to the preference of the family, so there are no set ingredients that are specific to the Kanto region or to the Kansai region.
Sukiyaki VS Shabu Shabu: 3 major differences explained!
Sukiyaki and shabu-shabu are often thought to be similar, but they are two very different dishes in many aspects. Let's look at the differences one by one.
History
Sukiyaki, as mentioned above, originated in the Meiji era (1868-1912), while shabu-shabu is said to have first appeared in the 1950s as a summer menu item at yakiniku restaurants. In other words, shabu-shabu is by far a more modern dish.
Cooking method
Sukiyaki is usually made by simmering beef, vegetables and tofu in a rich "warishita sauce" in a shallow iron sukiyaki pot. The pot is usually set on a heat source in the middle of the table (on a portable stove for example). This way, the group can appreciate the beautiful presentation and then eat it as it cooks. Extra raw ingredients are kept nearby and used to top up the pot as they run out.
In contrast, shabu shabu is cooked in a large steel pot filled with hot kombu dashi. The meat is paper thin and cooked by swishing it in the broth and then adding vegetables and noodles.
Dipping "sauces"
When eating sukiyaki, each person has their own bowl of raw whisked egg for dipping the cooked ingredients in, the egg compliments the sweetness of the sauce beautifully and adds a rich creaminess with every bite.
On the other hand, shabu shabu is usually served with bold and flavourful sauces such as creamy sesame sauce and sour ponzu sauce. This is to counteract the kombu broth, which is very light and delicate.
Thickness of the beef
Both sukiyaki and shabu-shabu use thinly sliced beef, but the one used for sukiyaki is generally slightly thicker. At first glance, it is hard to tell the difference between the beef used for these dishes, that's why Japanese supermarkets often label them separately "for shabu-shabu" and "for sukiyaki".
Ingredients used in sukiyaki
Sukiyaki is a little similar to hot pot dishes (although technically it is not a hot pot), you can choose your ingredients to suit your personal tastes. That said, here are some of the most commonly used ingredients:
Thinly sliced beef
Grilled tofu
Hakusai (Chinese leaf / Napa cabbage)
Shiitake Mushrooms
Enoki Mushrooms
Carrot
Spring Onion (or leek)
Shungiku (crown daisy/ edible chrysanthemum)
Shirataki noodles (optional)
Cuts of beef used for sukiyaki
Sukiyaki is almost always made with beef, but it can vary from region to region and pork is used too, especially in Hokkaido and Niigata.
The type of beef used depends on personal preference and budget, but generally speaking, high quality meat with marbling fat is most suitable for sukiyaki.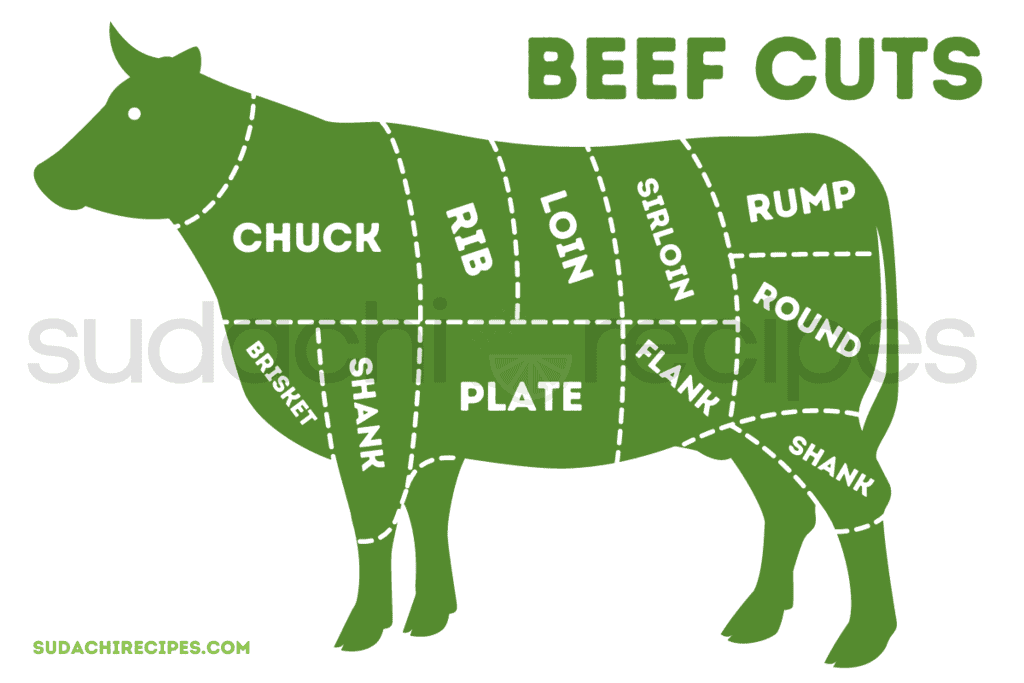 There are four types of beef parts suitable for sukiyaki.
Rib eye roll - considered one of the finest cuts for sukiyaki. Has a good balance of fat and lean meat with beautiful marbling. The fat melts easily into the sauce contributing to a rich and flavourful taste.
Chuck eye roll - High fat content with fine marbling (although not as much as rib eye) makes chuck eye an ideal part for sukiyaki. Also often used for shabu shabu and yakiniku (grilled meat).
Plate - Slightly coarser option with a good amount of fat makes plate a decent part for making sukiyaki for a lower cost. Care should be taken not to overcook the meat.
Round - a leaner option for people who don't enjoy fatty meats. Cooking time should be reduced to prevent the meat becoming too tough.
Whichever cut of beef you use, the meat must be thinly sliced for sukiyaki. If you can't buy meat already cut thin, you can partially freeze a block (until firm, not frozen) and slice it thinly yourself at home.
Sukiyaki Sauce (Warishita)
Sukiyaki sauce is known as "warishita" (割り下) in Japanese. Warishita is made by mixing soy sauce, sugar, mirin, sake and dashi. This creates a rich and sweet sauce, it's easy to make too.
I include how to make your own homemade warishita sauce in my recipe. Warishita sauce can also be purchased here on Amazon.
Instructions on how to make beef sukiyaki at home
Here are my step by step instructions on how to make beef sukiyaki with homemade warishita sauce. See the recipe card at the bottom of the page for ingredient quantities.
This recipe is for a small batch of sukiyaki to serve two people so you will need to double or triple the ingredients and cook in batches if you're serving more.
Make warishita sauce
Warishita sauce needs some to soak (about 30 minutes) so it's more time efficient to make it first.
The first step is to cook the mirin and sake in a small saucepan to burn off the alcohol.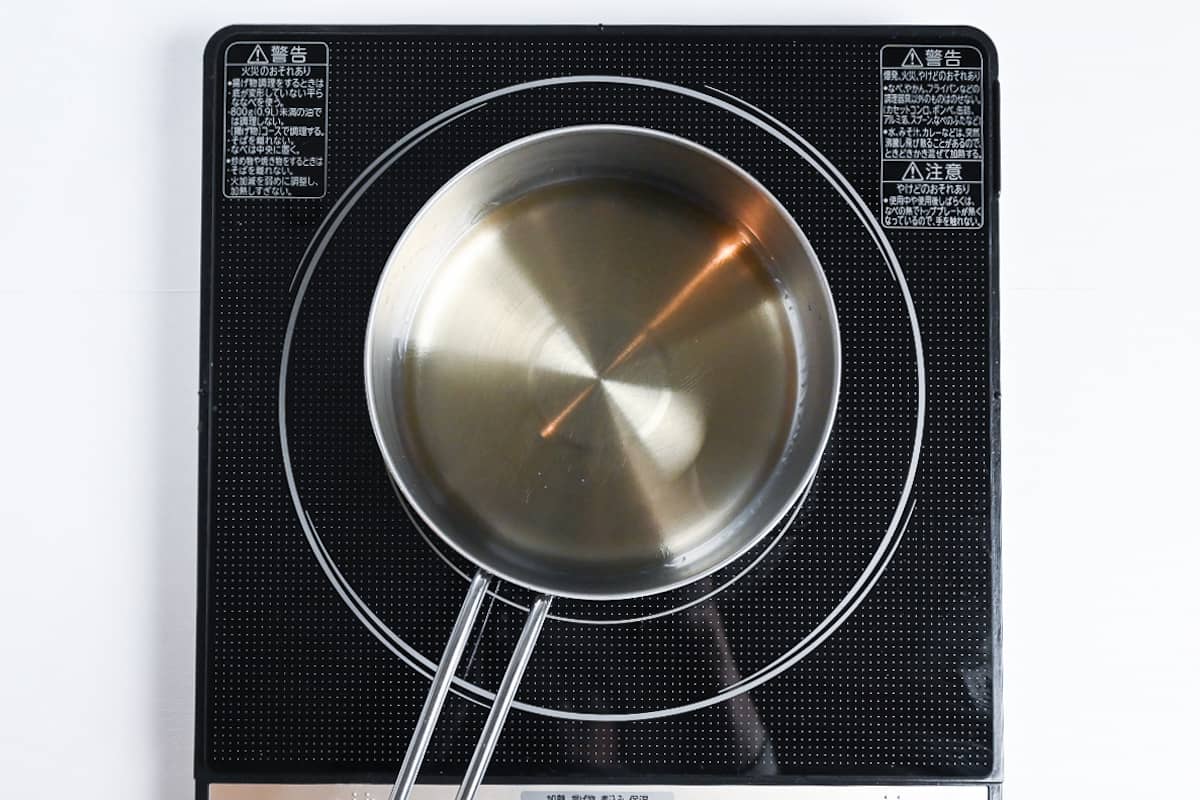 Heat it on medium and allow it to bubble for 1-2 minutes.
Reduce the heat to low and then add the soy sauce, light brown sugar and water. Stir over the low heat until the sugar is dissolved.
Once the sugar has dissolved, add a piece of kombu (dried kelp) and leave it to soak at room temperature for around 30 minutes or until the kombu has rehydrated. This will add extra depth and umami to your warishita!
While the kombu is soaking you can prepare the rest of your ingredients.
Prepare the ingredients
The initial presentation is important for sukiyaki. If possible you should try to purchase high quality thinly sliced beef that is especially for sukiyaki. You might be able to find it at Japanese speciality stores.
If you're unable to buy the beef already finely sliced, then you can try cutting it yourself. You will need to place a block of beef in the freezer until firm (not frozen) and then use a sharp knife to cut it as thinly as possible.
The vegetables and tofu should also be cut with presentation in mind.
Here is a breakdown of how I cut my vegetables, but this is just a suggestion and you can cut them however you like.
Shiitake mushrooms - Stems removed and a star pattern cut on top.
Napa cabbage (hakusai) - Roughly cut into squares/rectangles.
Spring onion - Diagonally sliced.
Tofu - Cut into squares or rectangles.
Enoki mushrooms - In a bunch with roots removed.
Carrots - Sliced and cut with a shaped cutter (you can purchase decorative vegetable cutters here on Amazon).
Crown daisy (shungiku) - Stems trimmed.
Once everything is cut, you can display it on the table to impress your guests!
Cook
Cooking sukiyaki is simple! Start by heating your iron pot on a medium heat and rubbing the surface with beef fat.
Once the pot is greased, add the spring onions and char the surface.
Once charred, push the spring onion to one side and add the sauce, vegetables and tofu (except for the crown daisy). Bring the sauce to a boil and once it's bubbling, lower the heat to a simmer.
Next, add the beef. You might have to move the vegetables around a little so that the meat comes into contact with the sauce.
Turn the tofu over and add the crown daisy.
Allow to simmer without a lid until the beef and vegetables are cooked to your liking. The thinly sliced meat only takes a few minutes, but the vegetables can take between 5-15 minutes.
How to eat sukiyaki
As the meat and vegetables cook, distribute them between each person. Different ingredients will be ready at different times, so you need to keep watch and take them out as the cook to avoid overcooking.
As you remove and eat the cooked ingredients, you can top up the pot with more raw ingredients. If you're serving a lot of people, I recommend dividing the meat into batches and cooking them with a little time in between so that you can enjoy the meat for the duration of the meal (rather than eating only vegetables towards the end).
It's common to give each person an individual serving bowl and a raw egg for them to whisk and use for dipping. It's important to use pasteurised eggs for this to avoid food-borne illnesses.
If you can, I highly recommend trying sukiyaki with raw egg, but of course this is optional.
You can also eat sukiyaki with rice.
Use up the leftover warishita sauce
If you still have warishita sauce left in your pot, then don't waste it! You can add pre-cooked udon noodles to the sauce for the final part of the meal.
Make sure to use noodles that have already been cooked and washed to avoid making the sauce thick and starchy.
I hope you enjoy this homemade sukiyaki, perfect for a rich and comforting winter treat or even parties and gatherings! If you try the recipe, be sure to let us know how it went in the comments below! Happy cooking!
Japanese Beef Sukiyaki (Traditional Sauce From Scratch)
How to make Japanese beef sukiyaki with thinly sliced beef, grilled tofu and a variety of vegetables simmered in a deliciously sweet and rich homemade "warishita" sauce.
Ingredients
Sukiyaki
1

tbsp

beef fat

-

or lard

250

g

thinly sliced beef

150

g

firm tofu

2

leaves

Napa cabbage

-

hakusai

4

fresh shiitake mushroom(s)

60

g

enoki mushroom(s)

70

g

carrot(s)

90

g

green onion(s) -

negi

150

g

crown daisy

-

you can omit if you can't access this ingredient

2

pasteurized egg

-

optional

2

portions

cooked udon noodles

-

optional
Instructions
Sukiyaki Sauce (warishita)
Add

3 tbsp mirin

and

3 tbsp sake

to a small sauce pan and bring to a boil over a medium heat for 1-2 minutes.

Lower the heat to medium-low and add

3 tbsp soy sauce

,

2 tbsp light brown sugar

and

3 tbsp water

. Stir over the heat until the sugar has dissolved.

Place

5 g dried kelp(s)

in the sauce and leave to soak at room temperature for about 30 minutes (or until the kombu has rehydrated).
Sukiyaki
While the kombu is soaking, cut your ingredients and arrange them on plates. Cut the vegetables as follows;

•

150 g firm tofu

- large squares or rectangles•

2 leaves Napa cabbage

- rough squares• Shitake mushrooms - trim the stalk and make a star pattern on the top using diagonal cuts•

60 g enoki mushroom(s)

- cut off the roots•

70 g carrot(s)

- peel and slice about 1cm thick, use a cutter to make flowers etc (optional)•

90 g green onion(s)

- cut diagonally into 5-6cm pieces•

4 fresh shiitake mushroom(s)

- make decorative incisions.

Once the sauce is ready, heat a wide, shallow iron pot over a medium heat and coat evenly with

1 tbsp beef fat

or lard.

After the fat is melted and the pot is hot, add the green onion and cook until slightly charred.

When the green onions are lightly browned, push them to one side and add the sauce, tofu and vegetables (except the crown daisy).

Bring the sauce to a boil and then lower the heat to a simmer. 

Make some space between the ingredients and add

250 g thinly sliced beef

so that it's in contact with the sauce.

Turn the tofu and add

150 g crown daisy

to the pot.

Simmer without a lid until the beef and vegetables are cooked to your liking. (Approximately 5-15 minutes depending on the ingredient.)

As each ingredient cooks, remove it from the pot and distribute between each person. Top up with more ingredients as you go.

Give each person a bowl and a raw pasteurised egg. Each person should crack the egg into the bowl and whisk thoroughly before using it to dip the cooked sukiyaki ingredients. (optional)

Once all of the ingredients are eaten, enjoy the last of the sauce by adding some cooked udon noodles.

Enjoy!
Notes
Sukiyaki can be served with rice or cooked noodles can be added to the sauce. Popular options include konnyaku noodles such as shirataki and ito konnyaku.
FAQ
What is sukiyaki in Japanese?
Sukiyaki is すき焼き or すきやき in Japanese and occasionally this dish is referred as gyu-nabe (牛鍋) depending on the region.
What is sukiyaki made of?
Sukiyaki is a type of one-pot dish consisting of beef, tofu and vegetables simmered in a special sauce called warishita.
What does sukiyaki taste like?
The taste and flavor differ from household to household, restaurant to restaurant as well as depending on the region, but generally speaking, sukiyaki has a sweet and savory taste with a rich beefy flavour.
What is sukiyaki sauce made of?
The sauce used for sukiyaki is called warishita. Warishita is made mainly from soy sauce, mirin, sake, and sugar. In Japan, ready-made Warishita is also sold, so some people use it at home as well. However, it is easy to make, so if you have the ingredients, please try to make it at home!