Sukiyaki udon is a delicious Japanese hot pot-style dish made with chewy udon noodles served in a rich "sukiyaki" style broth with beef, tofu, and vegetables. It's easy to make, packed with flavor, and ready in less than 30 minutes!
Disclaimer: This post contains Amazon affiliate links. Sudachi Recipes earn a small percentage from qualifying purchases at no extra cost to you. See disclaimer for more info.
What is Sukiyaki Udon?
Sukiyaki udon (すき焼きうどん) is a rich and tasty dish made with udon noodles served in a simplified sukiyaki-style soup and simmered with meat, tofu and vegetables. The process is simple, so it doesn't require a lot of work, unlike actual sukiyaki.
Sukiyaki is a unique Japanese hot pot dish (nabemono) that combines meat, tofu, and vegetables, all cooked in a blend of sweet and savory flavors from sugar and soy sauce.
You could say that it's an easy way to enjoy sukiyaki without all the hassle!
How I Developed This Recipe
In creating this recipe for sukiyaki udon, I aimed to capture the distinctive sukiyaki flavor while making the dish less laborious to prepare.
I wanted to provide an easy way to savor the taste of sukiyaki in a udon dish. By doing so, I achieved a rich sukiyaki flavor, but with a simplified and faster cooking process!
Suitable Beef Cuts to Use
Sukiyaki is a fancy dish, and Japanese people usually eat it for celebrations and special occasions.
High-quality wagyu beef is often used for sukiyaki, and it's always cut thin so that it's quicker and easier to cook in the broth.
Let's look at the different kinds of beef in more detail.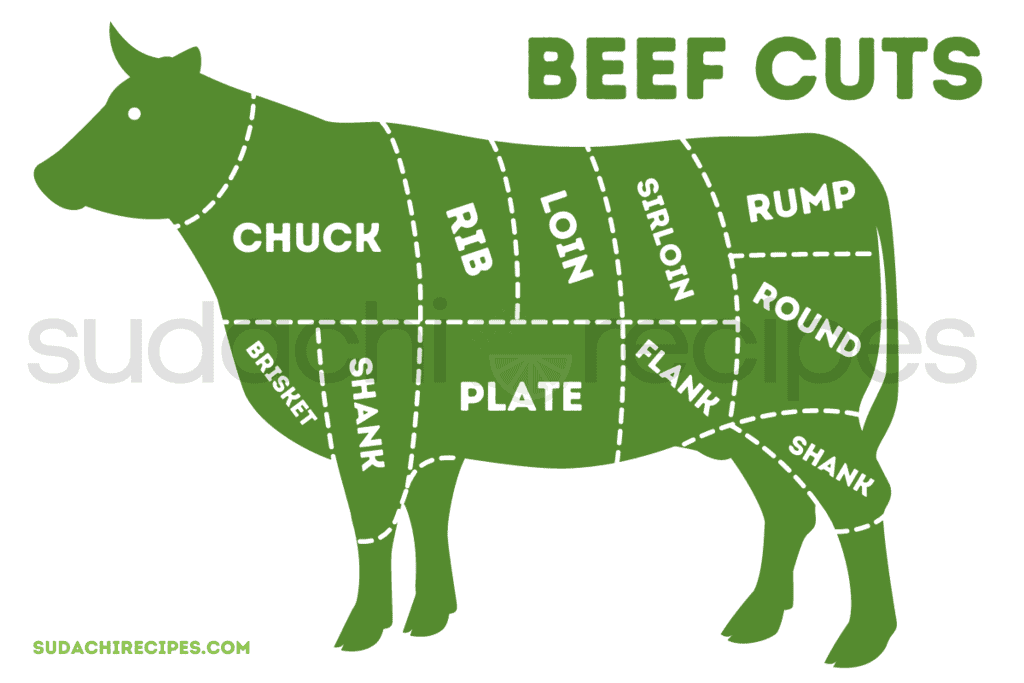 Marbled: For sukiyaki, choose meat with lots of marbling and fat. This fat enhances the broth's taste. Marbled beef becomes soft when cooked, while lean beef can become tough. Rib and loin cuts have the most marbling, while sirloin and round have less. Japanese wagyu beef is especially known for its extra marbling.
Plate: Plate is budget-friendly, making it great for sukiyaki udon. It's known for its tasty flavor and works well in yakiniku and gyudon. But, cook it briefly; overcooking can make it tough and bland.
Round: Round is a leaner choice with minimal fat, making it tricky for sukiyaki since it can get tough when overcooked. It's a good pick for those who want to avoid fatty cuts.
Chuck: This meat is tender with a fine texture, rich flavor, and good marbling. It's versatile, suitable for thin slices in shabu shabu, sukiyaki, and yakiniku, or cubed for stews.
Rib: Rib meat offers a balanced mix of lean and fat, delivering a rich taste. Its marbled cuts shine in sukiyaki. It's arguably the beef's tastiest and most luxurious choice of all.
Ingredients and Substitution Ideas
Thinly Sliced Beef: Refer to the above section for recommended beef cuts.
Udon Noodles: These thick, chewy noodles are a staple in this dish. Pre-boiled udon, frozen udon, or dried udon all work well.
Dashi Stock: Choose any dashi that suits your preference, with instant granules and dashi bags being the most convenient. For a more authentic flavor, consider making my favorite dashi, simple awase dashi, or even a plant-based dashi for a different flavor profile.
Vegetables: I incorporated green onion, carrot, shiitake mushroom, and crown daisy (shungiku). If shiitake mushrooms aren't available, other mushroom varieties will do. Likewise, shungiku can be replaced with alternatives like pak choi, watercress, spinach, or Napa cabbage.
Soy Sauce: Kikkoman soy sauce is a reliable and affordable choice. For a comprehensive guide on selecting the right soy sauce, refer to my complete soy sauce guide.
Mirin: When shopping for mirin, "hon mirin" (本みりん) is the top choice for its authentic flavor. Hinode Hon Mirin is a quality brand I recommend available on Amazon. For more condiment suggestions, check out my post on the 20 Most Useful Condiments and Seasonings for Japanese Cooking.
Sugar: I typically opt for light brown cane sugar, but any standard sugar will suffice.
Yaki Tofu: This unique tofu variant is lightly grilled and charred on both sides. If unavailable, firm or extra-firm tofu is a suitable replacement.
Toppings: Red ginger enhances the dish's flavor, while a raw egg dip contrasts the rich sukiyaki udon. If you're considering the raw egg, ensure it's pasteurized to reduce the chance of food-borne illness.
Curious about the exact brands and products that bring my recipes to life? Discover the brands and ingredients behind my recipes at the Sudachi Amazon Storefront. Explore my handpicked pantry essentials and find your next kitchen favorites!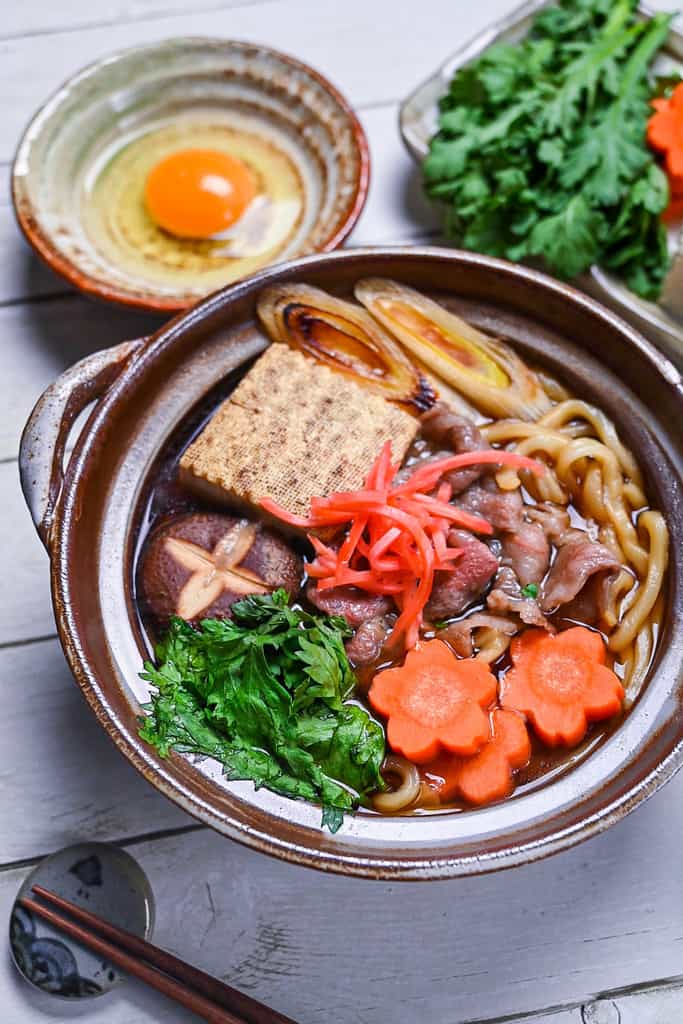 Step-by-Step Process
Here are my step-by-step instructions for how to make easy beef sukiyaki nabe udon from scratch at home. For ingredient quantities and simplified instructions, scroll down for the printable recipe card below.
If you cook the udon noodles directly in the broth, your broth can become thick and starchy. Pre-boiling the udon for 3-4 minutes less than the time stated on the packaging will remove the excess starch without overcooking them. Once cooked, pour into a colander and rinse with fresh water.
Diagonally cut the green onion into thin slices and fry in a pan with a little oil (or beef fat) until lightly charred. Once charred, remove from the heat and set aside.
Take a donabe (or heavy pot) and add dashi stock, soy sauce, mirin and brown sugar. Since carrots take the longest to cook, add them now and bring the broth to a boil. If you're adding other root vegetables, you can add them together with the carrots.
Once the broth has been bubbling for 1-2 minutes, add the pre-boiled udon and charred green onions from earlier. Add the rest of the vegetables, tofu and meat and place a lid on top.
Cook for 3-4 minutes over a medium heat.
Enjoy beef sukiyaki udon straight from the pot or divide it into individual portions. If you want to want to try it the Japanese way, serve with a raw whisked egg for dipping and a sprinkle of red pickled ginger (benishoga).
Enjoy!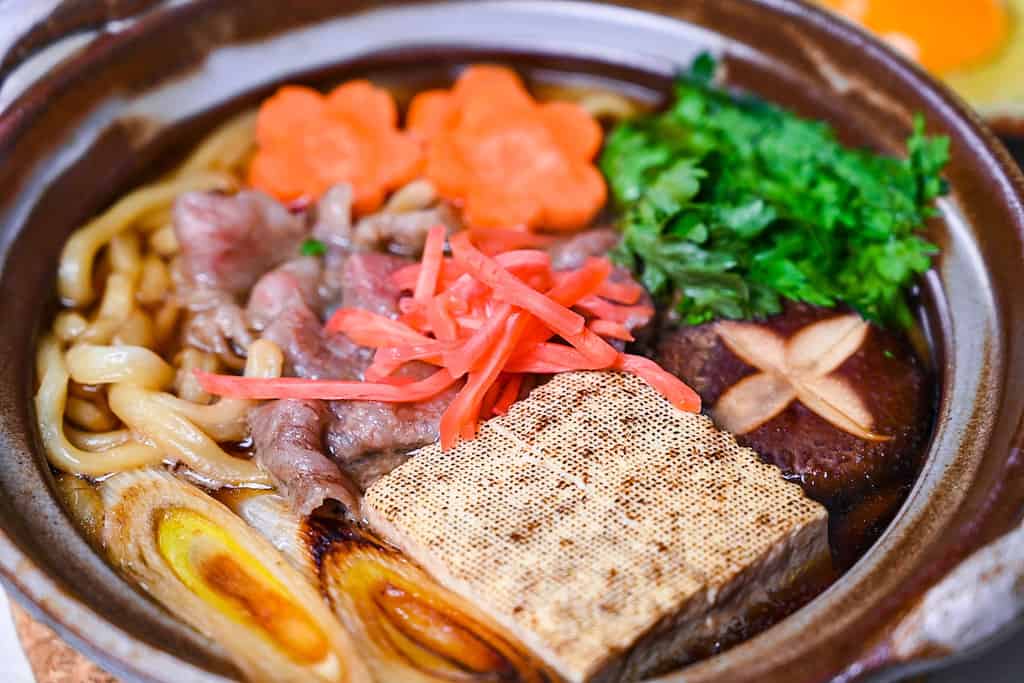 Storage
To preserve sukiyaki udon, it's important not to have any leftover udon or ingredients. If you only have soup left, you can make the udon again and add fresh ingredients to enjoy it again.
To store the soup, strain it through a colander to remove any ingredients left and then store it in an airtight container, whether refrigerated or frozen.
The recommended storage time for refrigerated udon is 2 to 3 days and frozen can be stored for up to 2 weeks.
Room temperature – Not recommended.
Refrigerated – 2-3 days.
Frozen – Up to 2 weeks.
I hope you enjoy this quick and easy beef sukiyaki udon recipe! If you try it out, I'd really appreciate it if you could spare a moment to let me know what you thought by giving a review and star rating in the comments below. It's also helpful to share any adjustments you made to the recipe with our other readers. Thank you!
More Recipes You'll Love
If you loved this recipe, check out some of these: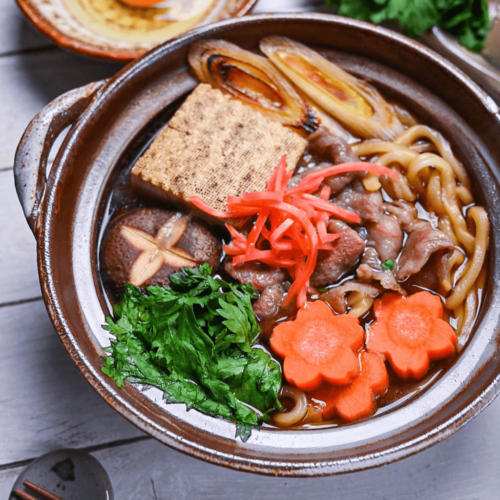 Beef Sukiyaki Nabe Udon
---
How to make easy Sukiyaki Style Nabe Udon (すき焼き鍋うどん)
---
---
---
---
Ingredients
2

portions

udon noodles

30

g

green onion(s)

diagonal cut, white part

1

tsp

cooking oil

or a little beef fat

500

ml

dashi stock

75

ml

soy sauce

75

ml

mirin

1

tbsp

brown sugar

30

g

carrot(s)

peeled and cut into rounds

2

fresh shiitake mushroom(s)

stems trimmed

50

g

crown daisy

shungiku, see in post for alternatives

150

g

beef

thinly sliced, see in post for best parts to use

150

g

firm tofu

momen tofu, cut into thick slices

1

tsp

red pickled ginger

benishoga, optional, to garnish

2

medium egg(s)

pasteurised, optional for dipping
Instructions
First, boil

2 portions udon noodles

for 3-4 minutes less than the time stated on the packaging. Pour the noodles into a colander to drain and rinse to remove any excess starch.

Cut

30 g green onion(s)

into thick diagonal pieces and brown them in a small frying pan with

1 tsp cooking oil

or beef fat. Once browned, remove from the heat and set aside.

Take your donabe (earthenware pot) and add

500 ml dashi stock

,

75 ml soy sauce

,

75 ml mirin

and

1 tbsp brown sugar

. Add 

30 g carrot(s)

 to the pot and bring the broth to the boil. Let it bubble for 1-2 minutes.

Add all of the other ingredients (fried long onion from earlier,

150 g beef

,

2 fresh shiitake mushroom(s)

,

50 g crown daisy

,

150 g firm tofu

and udon) and cook with the lid on for 3-4 minutes on a medium heat. 

Enjoy straight from the pot or divide into portions. Each serving can be served with

1 tsp red pickled ginger

(benishoga) and a raw whisked egg (optional – for dipping).

Enjoy!
Notes
This recipe can be made in one large donabe and shared or divided into two individual donabe pots.
Leftover ingredients can be cooked in the leftover broth.