Gyukatsu is a tender beef steak that has been coated in breadcrumbs and deep fried. It's crunchy and golden on the outside while being juicy and rare on the inside, perfection! Make this restaurant style dish at home for a fraction of the cost!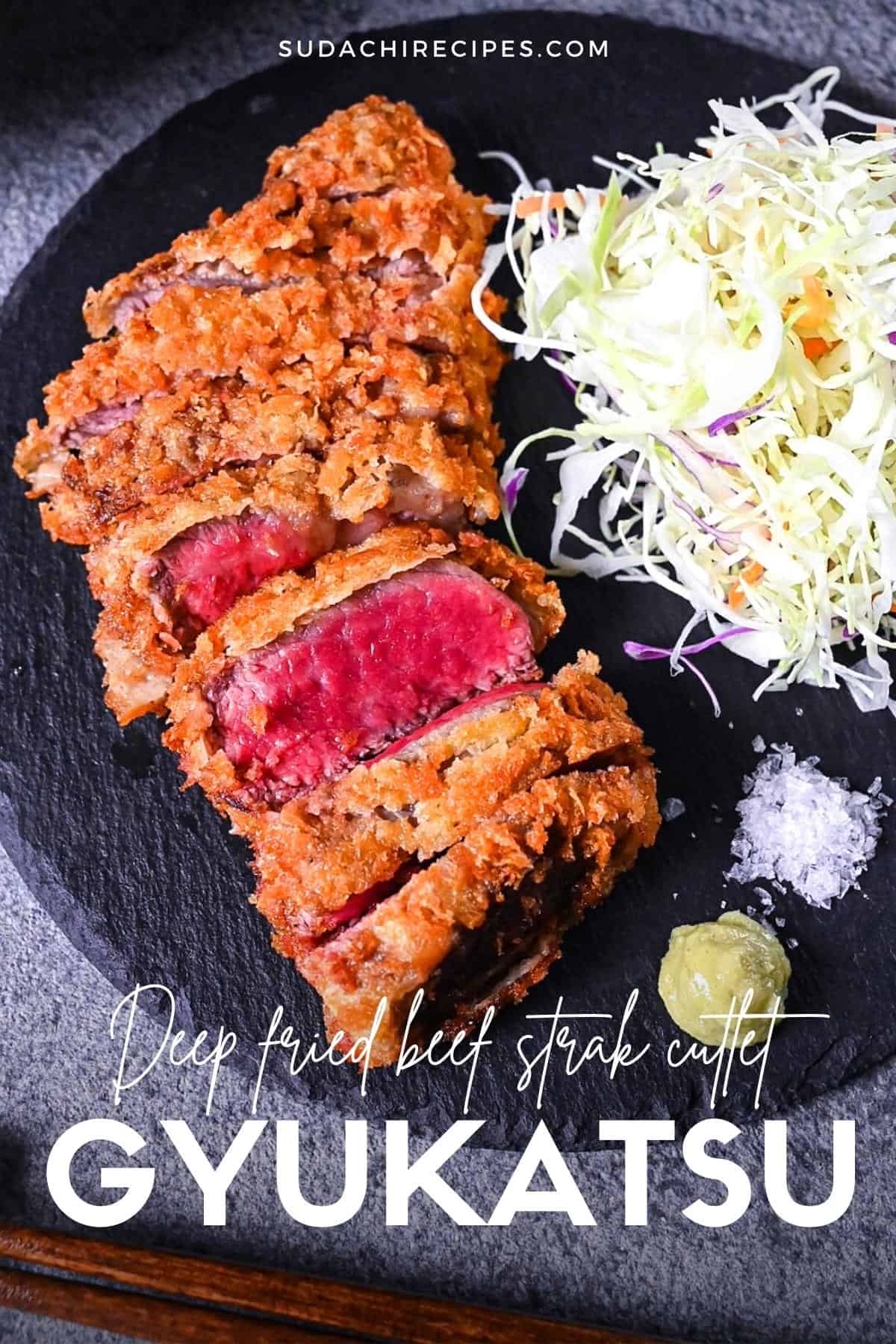 Jump to:
What is Gyukatsu?
Gyukatsu (deep-fried beef steak cutlet) is a Western style Japanese "yoshoku" dish consisting of beef fillet coated in a panko (breadcrumb) batter and deep fried. It is also known as beef katsu (ビーフカツ), bifukatsu (ビフカツ), or beef cutlet (ビーフカツレツ).
It's often eaten with shredded cabbage, rice, miso soup and served with salt, wasabi or katsu sauce on the side for dipping.
It is traditionally popular in the Kansai region of Japan, including Kyoto and Kobe, where the beef eating culture is more prominent.
A brief history of gyukatsu
As many of you may know, Japanese cutlets (katsu) are meat dishes where a piece of meat has been coated in breadcrumbs and deep fried, they were originally inspired by the French cutlet (côtelette) dish. This is true not only for beef katsu but also for tonkatsu (pork cutlet) and chicken katsu as well.
There are a few theories about the roots of gyukatsu. The "beef cutlet" developed by "Yosoku Kiraku" in Tokyo is considered as one of the original sources, serving deep fried aged meat medium rare. It is said that it was "Gyukatsu Okada" in Tokyo that began using deep fried rare steak and is credited with creating the current form of gyukatsu served with wasabi and soy sauce.
Although the two theories of the origins claim the dish started in Tokyo, gyukatsu is more popular in Western Japan, more specifically in Kyoto and Kobe. It's because Western Japan is traditionally known as "beef-eating region" while Eastern Japan is known as "pork-eating region". So beef katsu continued to occupy the mainstream position of katsu in the West of Japan, while pork katsu (tonkatsu) dominated in the East.
Currently, "Kyoto's gyukatsu" restaurants are particularly booming. In the beautiful and historic city of Kyoto, eating beef katsu, a modern dish, in a traditional Japanese-style building is becoming a popular tourist attraction.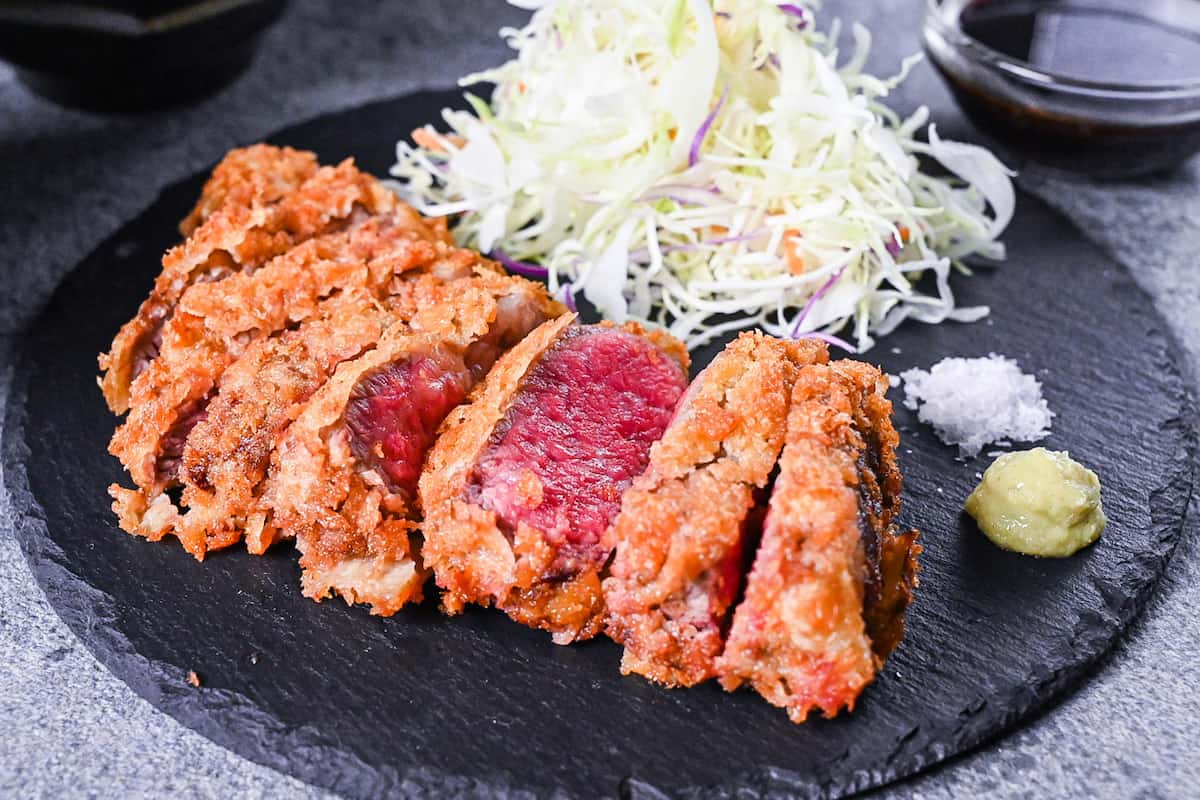 Is gyukatsu raw?
Gyukatsu served at famous beef katsu restaurants are very often served rare. I don't know if "raw" is a good word for this, but you can think of gyukatsu as a battered and deep fried rare beef steak.
But if you want to make it at home, you can easily fry it a little longer depending on your steak preference, that's the beauty of making it at home!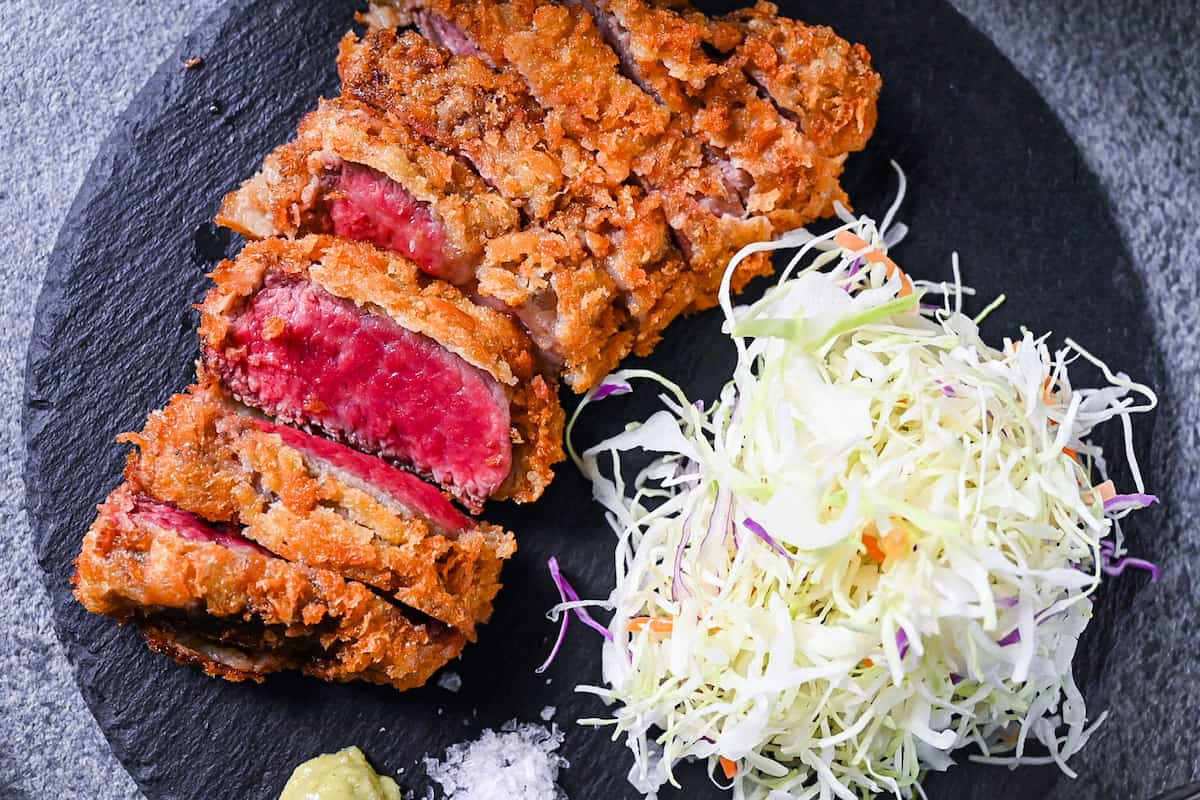 What kind of beef is used for beef katsu?
Famous and high-end gyukatsu restaurants in Japan do use wagyu for beef katsu, but I personally do not recommend using wagyu at home for this specific dish as I do believe wagyu is better served as a simple steak to truly enjoy its unique qualities. In fact, gyukatsu does not need to be made with expensive meat to be delicious, so get any steak meat available in your local supermarket or butcher.
It can be made with round, sirloin, or loin meat. I recommend using round meat for those who like light gyukatsu and sirloin for those who enjoy tender and juicy steak.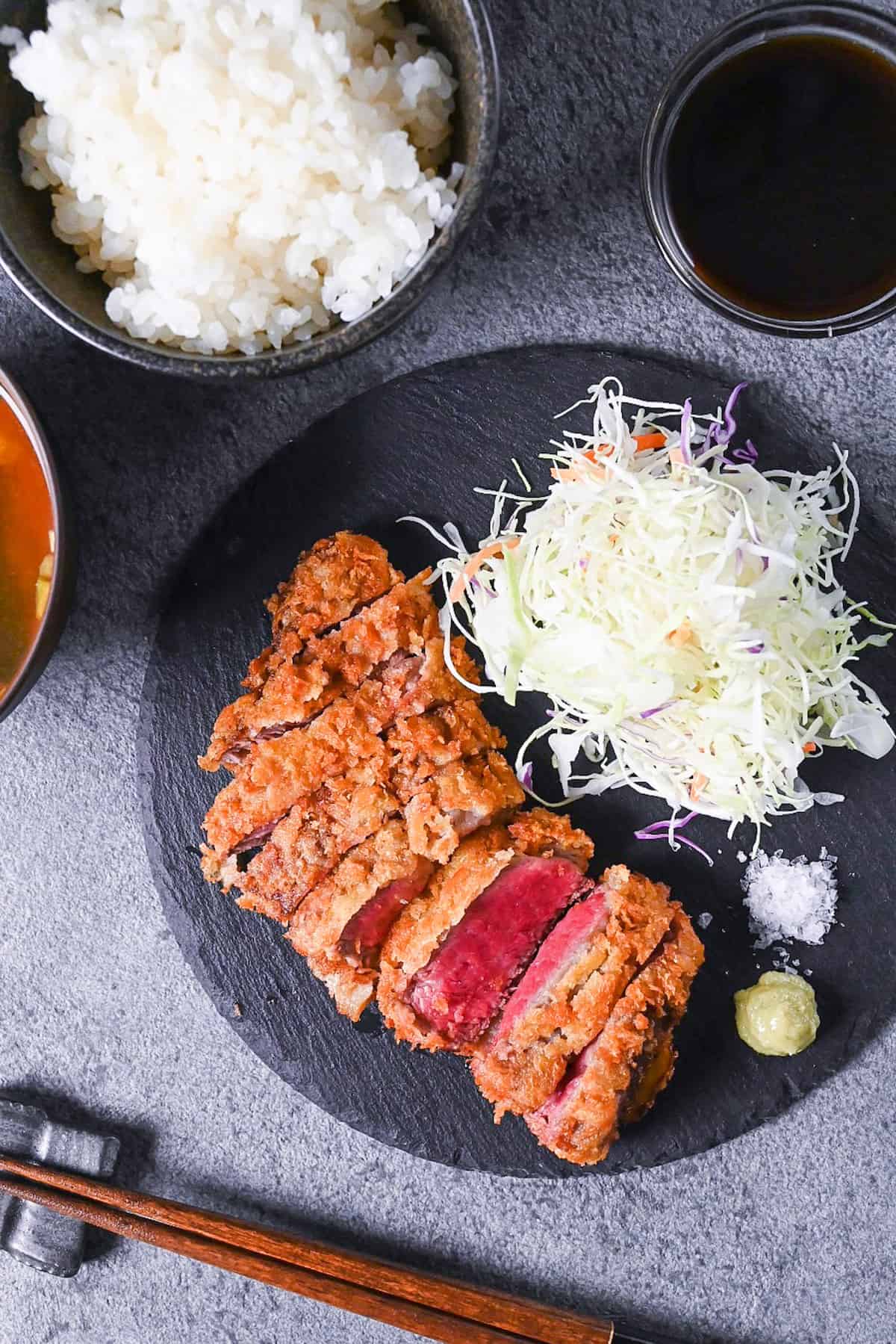 Ingredients to make gyukatsu at home
As I mentioned earlier, gyukatsu is simply a rare beef steak coated in flour, egg and panko breadcrumbs, so the ingredient list is very simple. The most important thing is to use thick steak meat (about 2 cm thick), I personally used a thick cut of loin steak meat.
However, in my recipe, I also decided to apply the technique I used to make Chaliapin Steak. This requires extra time and ingredients, but it's worth it for the extra tender and flavourful result! (I'll explain in more detail a little later.)
Anyway, here are the ingredients I use for my extra tender gyukatsu:
Thick steak meat (round, sirloin, loin)
Salt
Pepper
Dill (or thyme)
Rosemary
Bay leaf
Onion
All-purpose flour
Egg
Milk
You can simply use soy sauce, but I decided to make homemade dipping sauce as well:
Red wine
Ginger paste (or grated ginger)
Garlic paste (or grated garlic)
The soy sauce, mirin and ginger paste give it a Japanese flavour while the red wine and garlic add some Western flare! However, if you want to eat it simply with salt, wasabi or soy sauce, you can omit this part of the recipe if you like.
Instructions on how to make homemade gyukatsu
Here are my step by step instructions for making delicious Japanese gyukatsu with explanations behind each step. I've also included a few tips and tricks to ensure your gyukatsu is fail free!
For ingredient quantities and more concise instructions, see the recipe card below.
Pierce and season the beef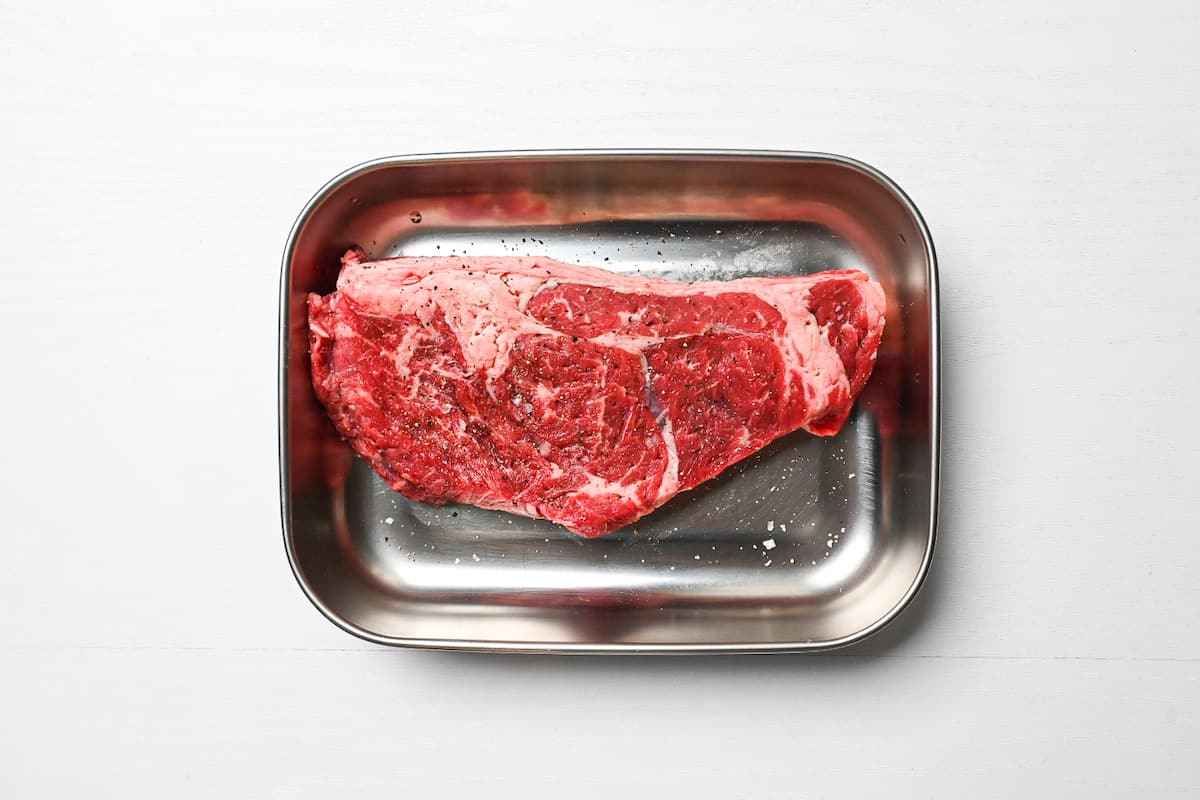 The first step when prepping your steak is to pierce both sides multiple times with a clean fork. This step helps make the meat more tender and also allows any flavours from herbs or marinades to travel deeper into the steak, making it more flavourful all the way through.
Make sure to use a clean fork
When piercing, it is important to use a clean fork to prevent transferring bacteria into the meat. This is especially important if you're like me and prefer steak cooked rare or medium rare.
Top with fresh herbs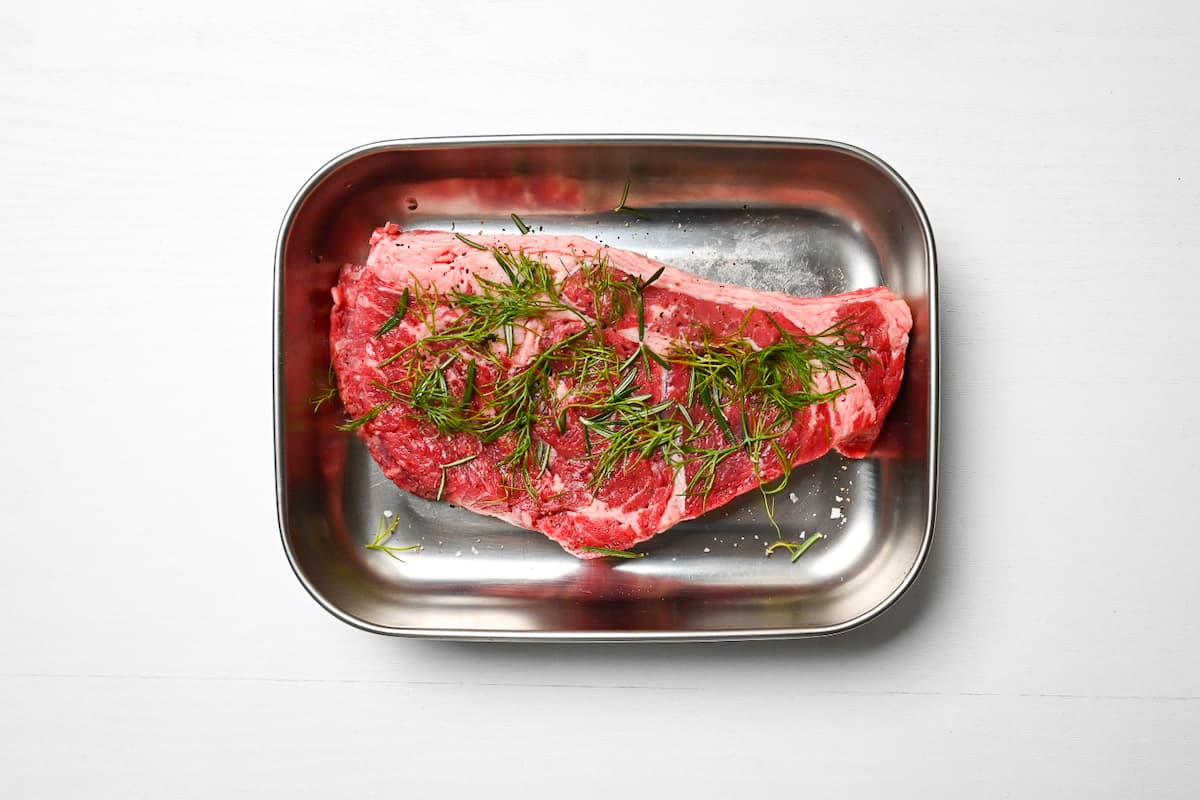 Once that's done, pat it dry with a paper towel and add your herbs and seasonings. I sprinkle both sides with salt and pepper, then top with fresh rosemary, dill and bay leaves. You can use your own favourite herbs for this!
Coat in grated onion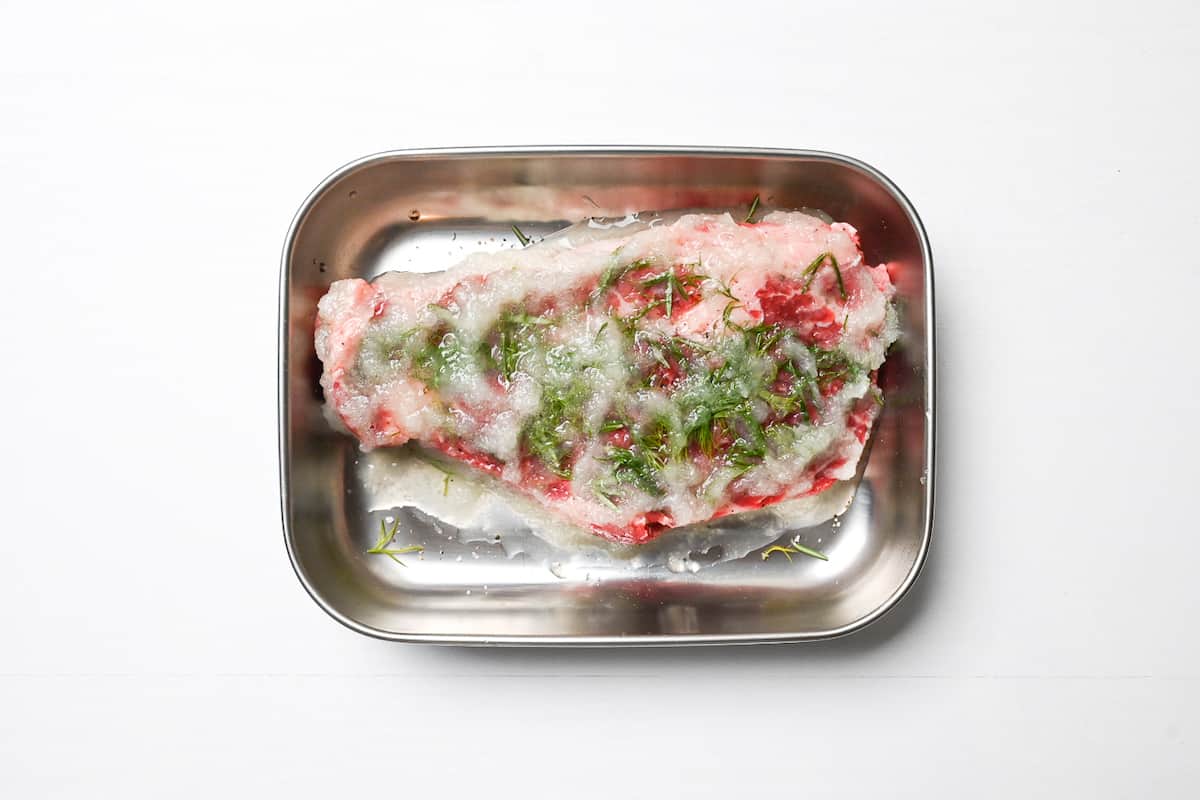 Did you know there's a method called "enzymatic tenderization" where the juices of certain fruits and vegetables help break down the connective tissues in meat, giving it a melt-in-the-mouth texture? Some of these ingredients include onion, pineapple, papaya and figs.
I learned about this technique when researching for my Chaliapin steak donburi recipe. The great thing about "enzymatic tenderization" is that even if you use cheaper cuts of meat, you can still produce a beautifully tender steak, or in this case, gyukatsu.
I grate the onion so that the texture is pulpy and easy to spread, but you can finely dice it if you prefer.
Once the steak is coated, cover it and keep it in a cool place for 30 minutes. I don't recommend refrigerating as this slows down the enzymes. You also want the steak to be around room temperature when it's time to cook.
Make the sauce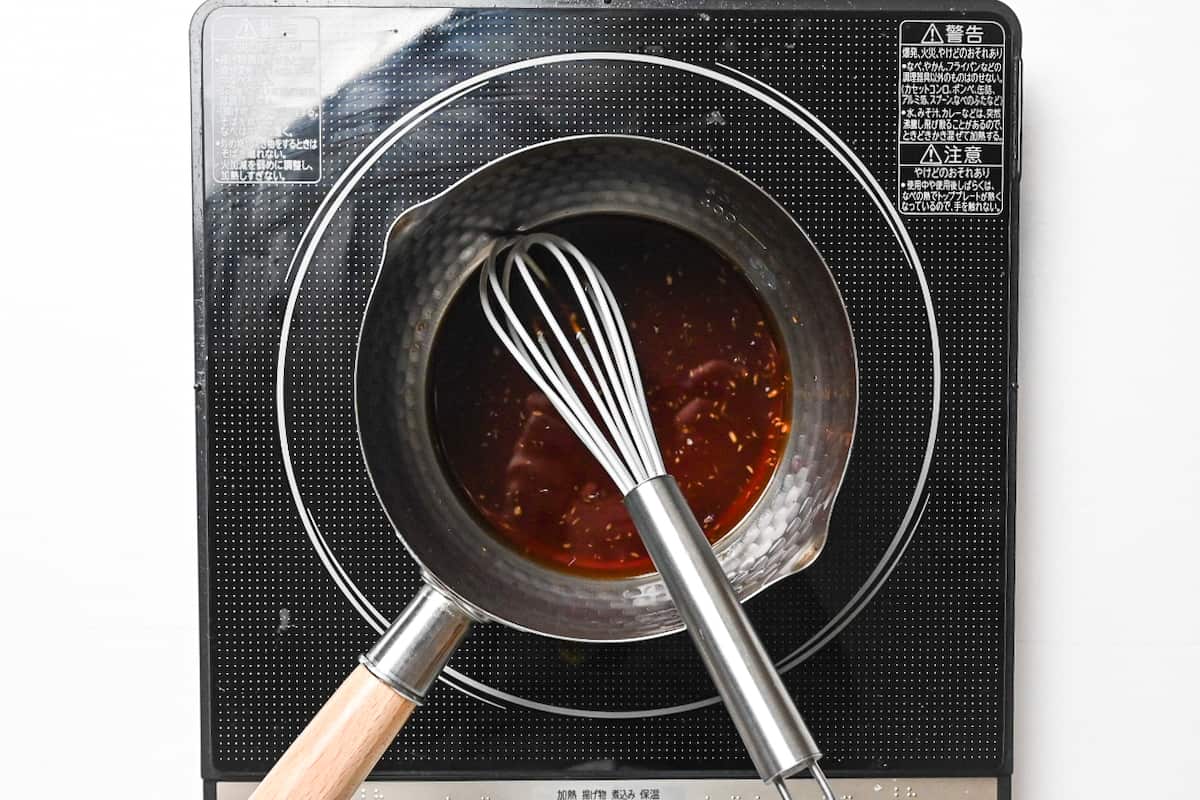 The dipping sauce is quick and easy to make. Simply add soy sauce, mirin, red wine, garlic paste and ginger paste to a small sauce pan and bring to a boil. Once it's boiling, lower the heat and allow it to bubble for 1 minute to burn off the alcohol in the mirin and red wine.
Allow it to cool before serving.
Wash the beef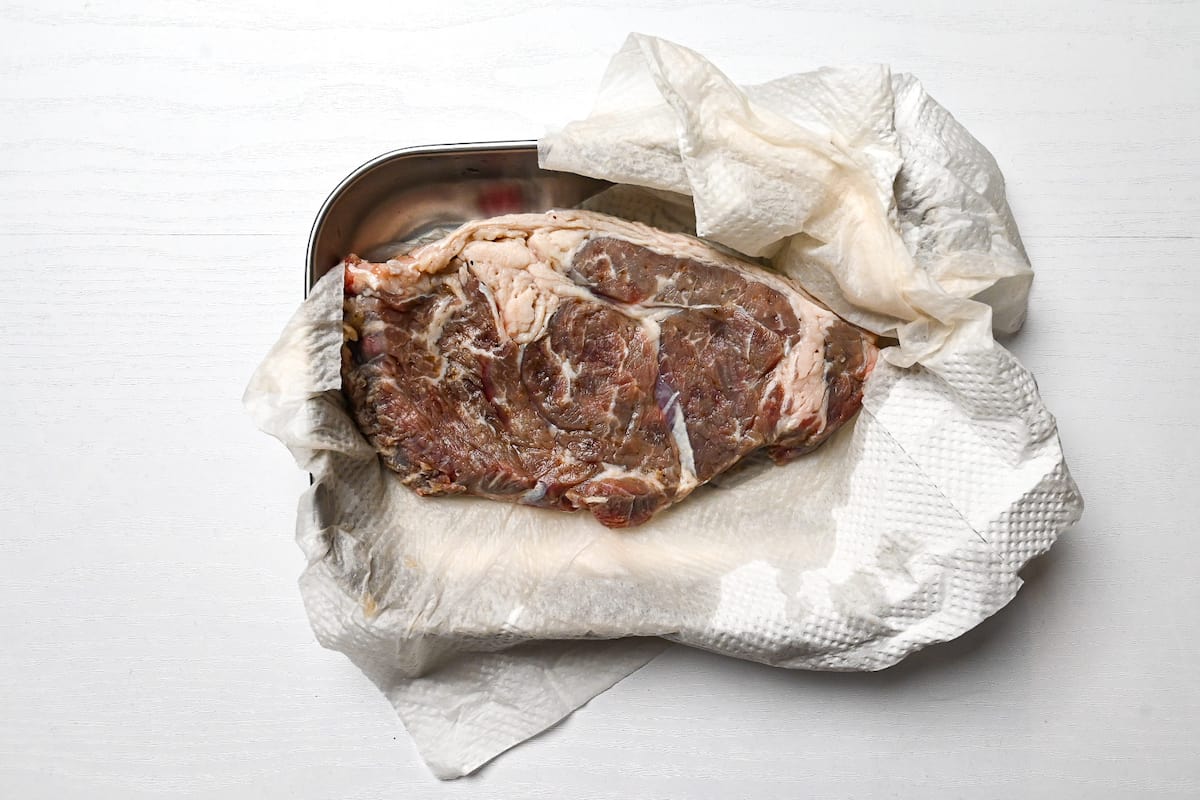 Once 30 minutes have passed, scrape the onion and herbs off of the surface of the meat and discard them. Then wash the steak gently with cold running water and pat it dry with a paper towel. You will probably find that the meat has become discolored, this is a reaction from the enzymes in the onion and no cause for concern.
It's important that the surface of the meat is clean and dry to allow the panko breadcrumb coat to stick properly.
Coat with flour, egg and panko
The most common way to make Japanese katsu dishes is by coating in a thin layer of flour, whisked egg and then a thick layer of panko breadcrumbs.
First coat with a thin layer of plain flour.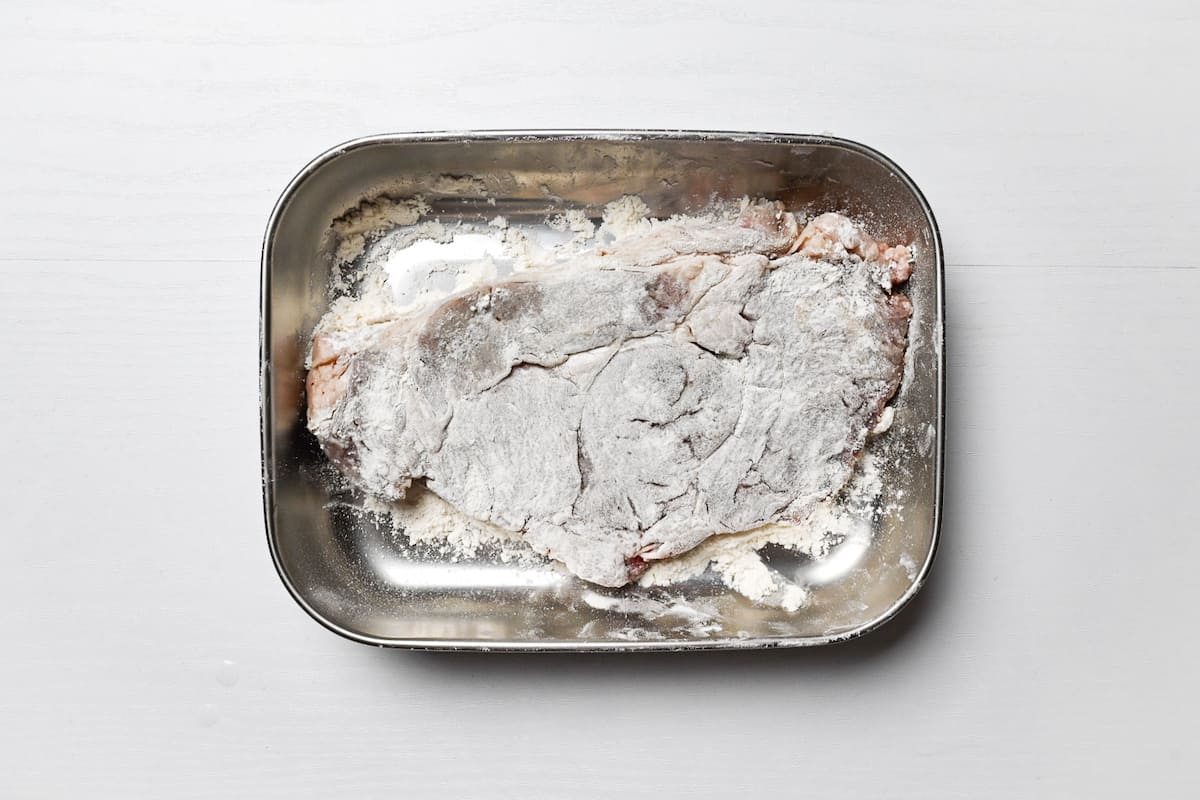 When coating the beef with flour, make sure it's a thin layer and brush or pat off any excess. Flouring the meat not only helps keep the juices from the meat in, but it also dries the surface so that the egg layer sticks better.
The reason you shouldn't add too much is because excess flour falls off easily, it will fall off into your eggs and the batter could fall off completely at the end, a thin even layer is best.
Next, coat with an even layer of whisked egg.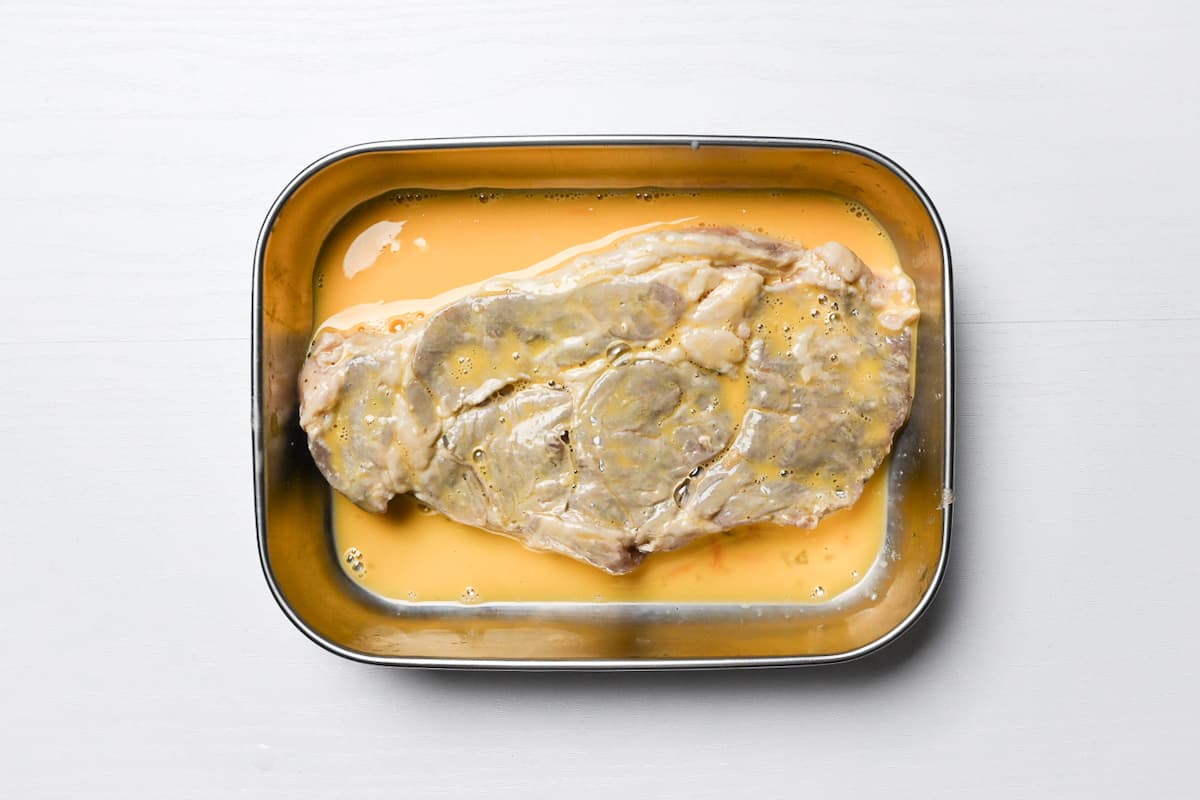 Add oil and milk to the egg
A little trick I learned from watching professional chefs make katsu, is to add a little bit of oil and milk to the eggs.
Firstly, the protein in the milk helps to soften the meat, making it more tender. It also stretches the egg out a bit further if you're making lots of katsu (just don't add too much!). I usually add no more than 1 tbsp of milk for each medium sized egg.
The other trick is to add a bit of vegetable oil (or other mildly flavoured oil). When you whisk the oil with the egg, the texture becomes smoother and creates a more even layer to stick your panko to. I add just 1 tsp of oil for each medium sized egg.
Finally, add a generous coating of panko breadcrumbs. You can use store bought panko, or make your own with my homemade panko breadcrumb recipe.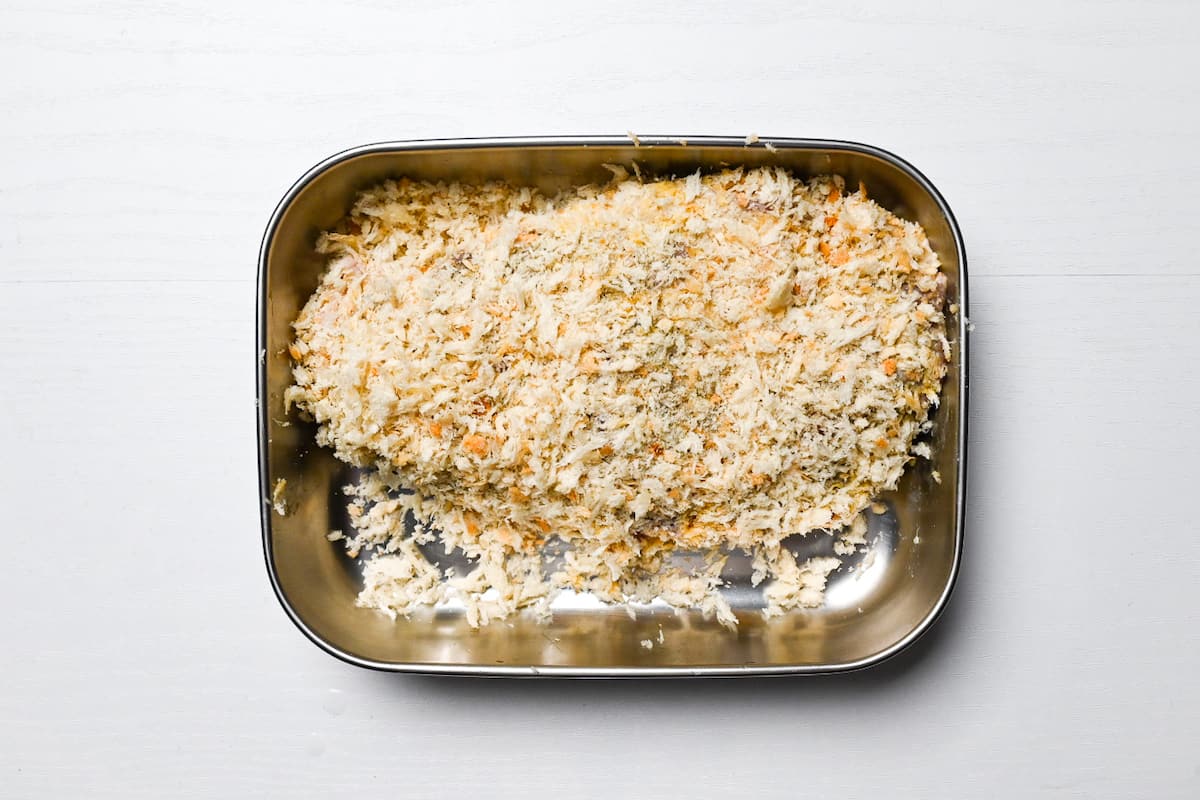 Be generous with the panko
While the flour and egg layers should be thin and even, I like to be a bit more heavy handed with the panko breadcrumbs. Make sure the cutlet is completely covered and then gently press it with your hand to secure it to the surface. Also be sure that there aren't any gaps!
Deep Fry
When deep frying, you should use a mild flavoured oil with a high smoke point such as vegetable oil, canola oil etc. There should be enough oil so that the katsu doesn't touch the bottom of the pot, if it touches the bottom then the panko can become burnt.
Preheat the oil to 180°C (356°F).
Important: Heat the oil to the correct temperature
Cooking beef katsu requires a higher temperature than regular katsu, I always heat my oil to 180°C (356°F). We use a high temperature so that the outside cooks quickly while the inside stays rare, essentially it's the opposite of how we'd cook pork and chicken that need to be cooked thoroughly all the way through. This is also why you can't use this recipe for pork or chicken katsu. (Check out my pork tonkatsu or chicken katsu recipes for correct temperatures and cooking times.)
On the other hand, any hotter than this and the panko could burn and taste bitter, any lower the batter will take longer to crisp up resulting in well-done beef that could become quite tough and chewy.
Cooking steak to your preferred done-ness is always a bit trial and error, but I find 45 seconds on each side at 180°C is perfect for a rare gyukatsu. I highly recommend using a thermometer for gyukatsu, accuracy is quite important for cooking steak.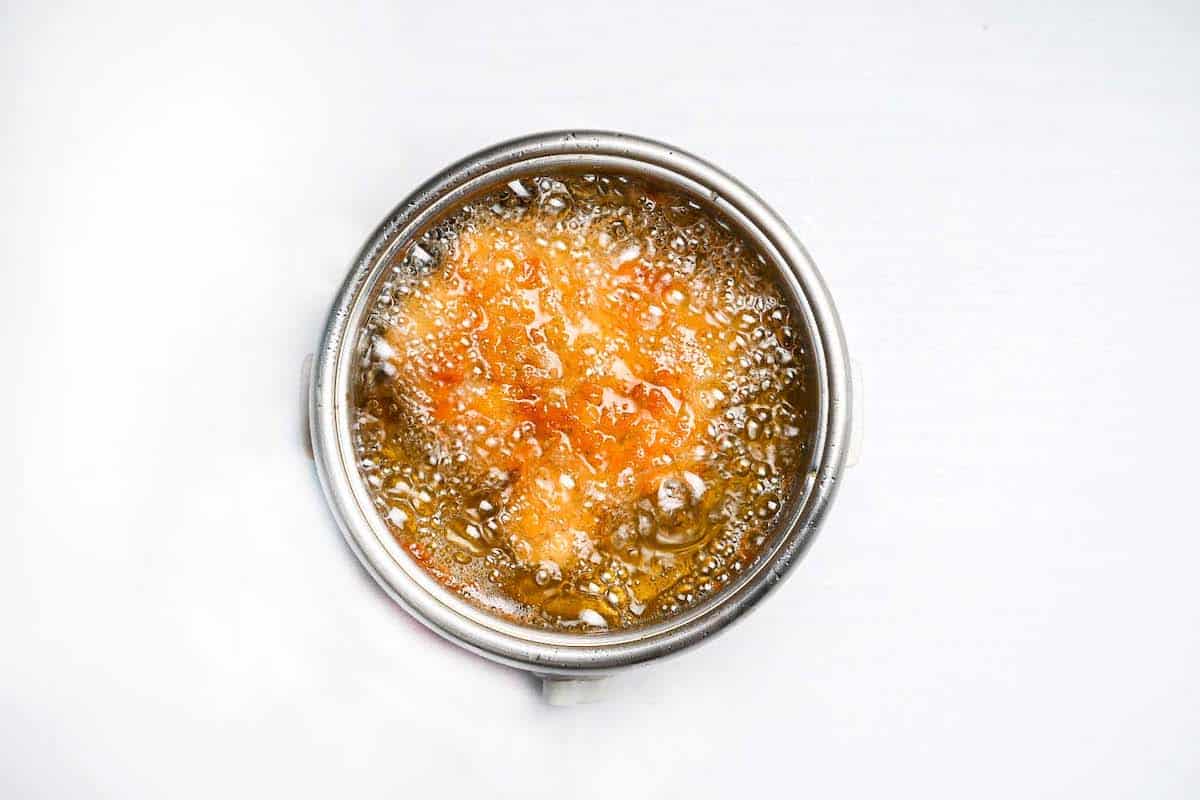 Place the gyukatsu in the oil and fry for 45 seconds on one side, then turn it over and fry for another 45 seconds on the other side. This will cook the steak to "rare" and the panko will be golden and crispy. If you want medium rare, increase the cooking time to 1 minute on each side (2 minutes in total).
The final step is placing the gyukatsu in the oil. The moment when you first place the gyukatsu in the oil is the point when it is at its most delicate and rough handling can cause the panko to fall off straight away. It's important to place it in gently, and not to move it, stir it or flip it too early.
Once it's cooked, place the gyukatsu on a wire rack and allow the excess oil to drain off for a few minutes.
Slice
Japanese katsu is usually cut into strips so that it is easy to pick up with chopsticks and eat. In the case of gyukatsu, it's also nice to be able to see the pink hue of a perfectly rare steak in every slice.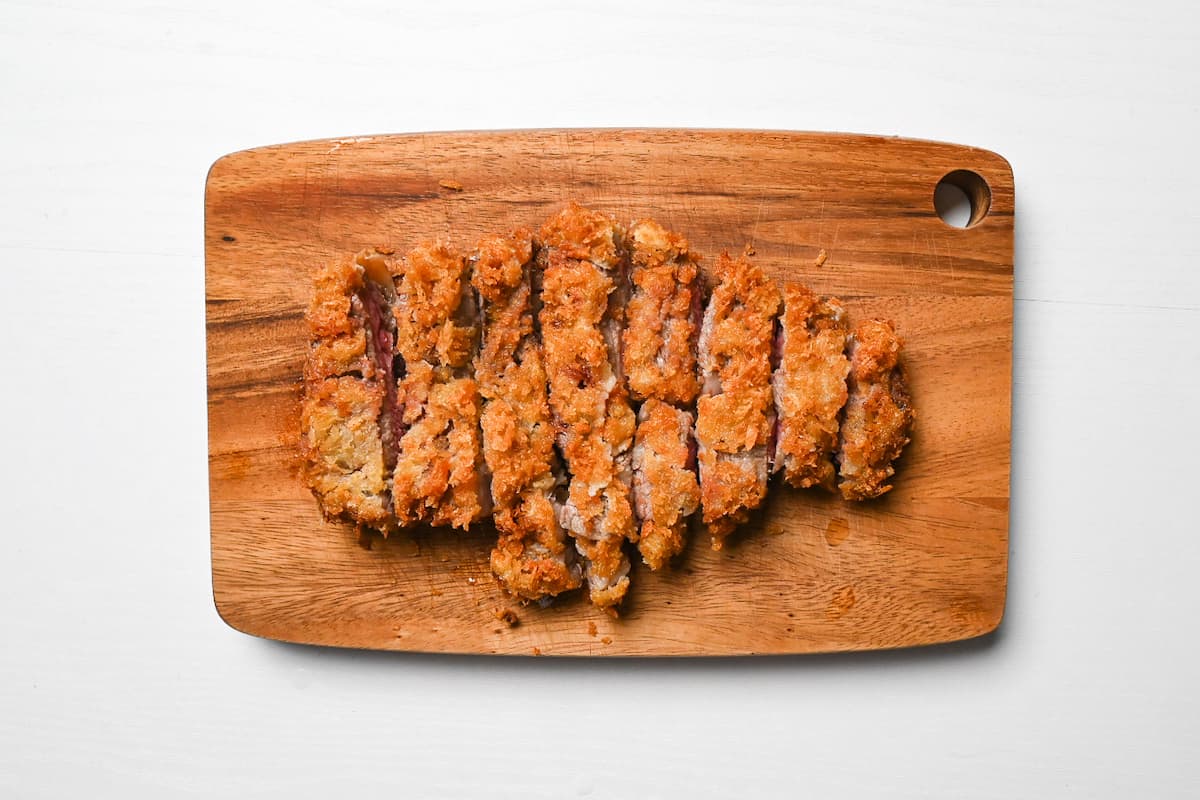 I recommend cutting into 1.5cm thick (about ½ inch).
Enjoy!
Serve the perfectly cooked gyukatsu with your homemade dipping sauce (or soy sauce/salt) and enjoy!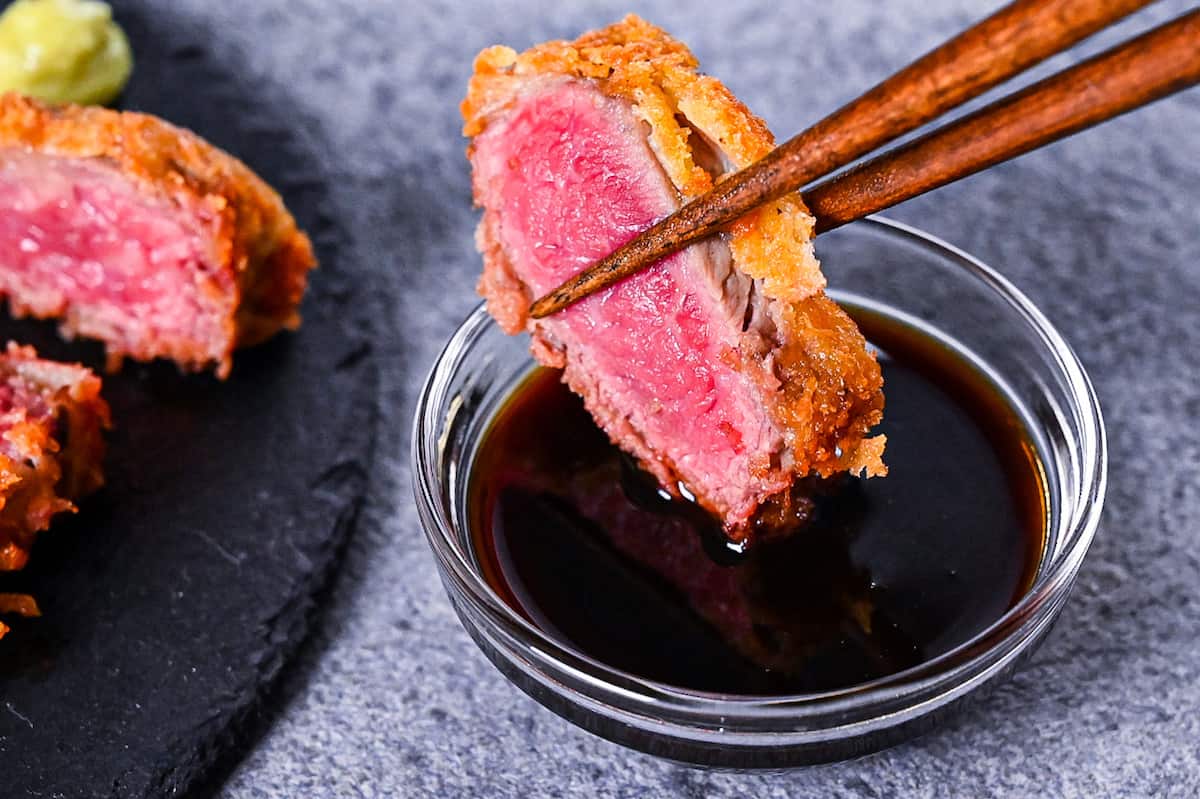 I hope you enjoy this delicious restaurant style Japanese beef gyukatsu with homemade sauce! If you tried the recipe, be sure to let me know what you thought of it in the comments below!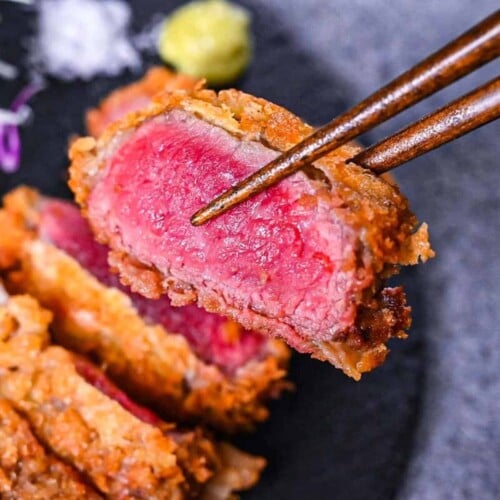 Gyukatsu (Japanese deep-fried beef steak cutlet)
How to make tender and crispy Japanese "Gyukatsu" (deep fried beef steak cutlet) with fragrant homemade steak dipping sauce.
Ingredients
360

g

thick beef steak

-

2cm thick

2

pinches

salt

2

pinches

pepper

2

dried bay leaves

2

stalks

fresh rosemary

4

stalks

fresh dill

200

g

yellow onion(s) -

grated

4

tbsp

all-purpose flour

1

medium egg(s)

1

tbsp

milk

1

tsp

cooking oil

100

g

panko breadcrumbs

cooking oil

-

for deep-frying

salt

-

optional, for dipping

wasabi paste -

optional, for dipping
Sauce
2

tbsp

soy sauce

1

tbsp

red wine

1

tbsp

mirin

1

tsp

ginger paste

1

tsp

garlic paste
Instructions
Stab

360 g thick beef steak

with a clean fork on both sides, dry with kitchen paper and sprinkle each side with a pinch of salt and pepper.

Place

2 dried bay leaves

,

2 stalks fresh rosemary

and

4 stalks fresh dill

on the top.

Spread half of the grated onion over the bottom of a container, place the steak on top and then cover the top with the other half. Cover with a lid or plastic wrap and store in a cool place for 30 minutes. (Preferably, not a refrigerator as this slows down the tenderisation process.)

Mix

2 tbsp soy sauce

,

1 tbsp mirin

,

1 tbsp red wine

,

1 tsp ginger paste

and

1 tsp garlic paste

in a small saucepan. Place on a medium heat and bring to a boil, allow to bubble for 1 minute and then remove from the heat. Set aside for later.

Start heating your oil to

180

°C

.

Once 30 minutes have passed, scrape the grated onion and herbs off of the steak. Wash the surface with cold running water and then pat dry with a paper towel.

Coat the steak with a thin layer of

4 tbsp all-purpose flour

all over.

Whisk

1 medium egg(s)

with

1 tbsp milk

and

1 tsp cooking oil

until smooth, then coat the steak.

Finally, coat the steak with a generous layer of

100 g panko breadcrumbs

. Gently press them down with your palm to secure them.

Deep fry steak for 1 minute and a half, turning it over half way through. In other words, 45 seconds on each side. (For medium rare, you can increase this to one minute on each side, 2 minutes in total.)

Remove the gyukatsu and place on a wire rack. Allow to rest for 3 minutes.

Cut into strips, approx 1.5cm thick (½ inch). 

Serve with dipping sauce (or wasabi/salt) and enjoy!
Notes
This recipe doesn't work for chicken or pork as they need different oil temperatures and cooking times. Refer to my Pork Tonkatsu and Crispy Chicken Katsu recipes for more info.
Nutrition
Calories:
919
kcal
Carbohydrates:
60.9
g
Protein:
45.5
g
Fat:
57.8
g
Saturated Fat:
17
g
Polyunsaturated Fat:
9.1
g
Cholesterol:
215.5
mg
Sodium:
1565.5
mg
Fiber:
4
g
FAQ
How do you eat gyukatsu?
Gyukatsu is usually served with wasabi, salt or dipping sauce. You can enjoy it with rice and miso soup, as donburi or even as a sandwich like katsu sando.
Do you need to use Wagyu steak for gyukatsu?
Many high end restaurants do use Wagyu beef. However, my recipe uses tenderising techniques so that you can use cheaper types of steak meat, therefore, it is not necessary to use wagyu steak.