Tender pieces of frying steak pan fried in a quick and easy Japanese BBQ "yakiniku" style sauce served over fluffy white rice. This yakiniku beef bowl is packed with flavour and only takes 10 minutes!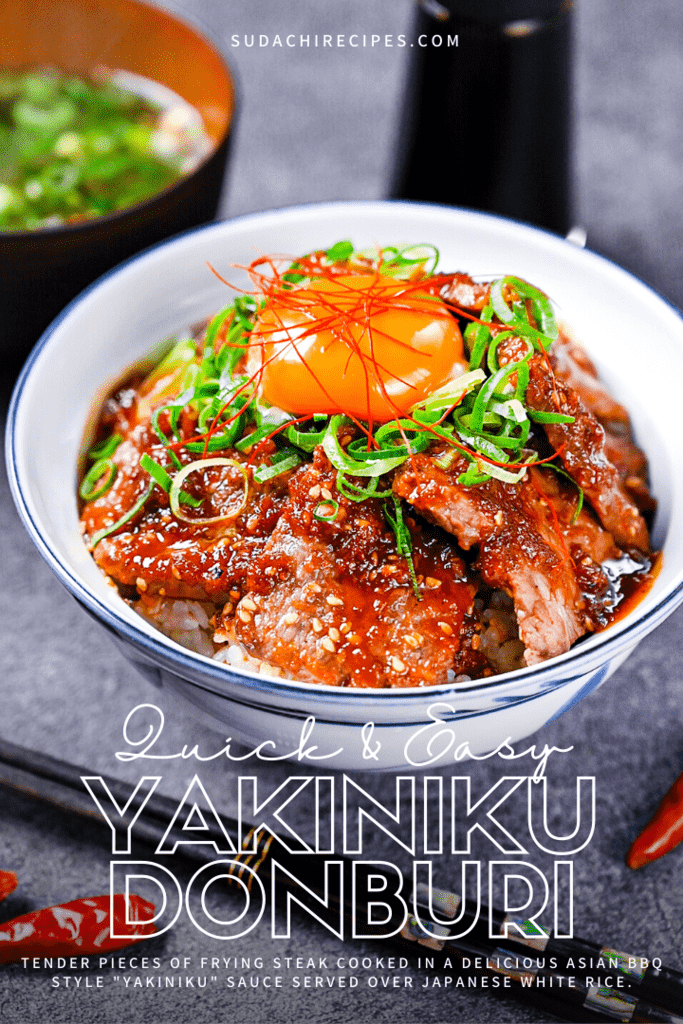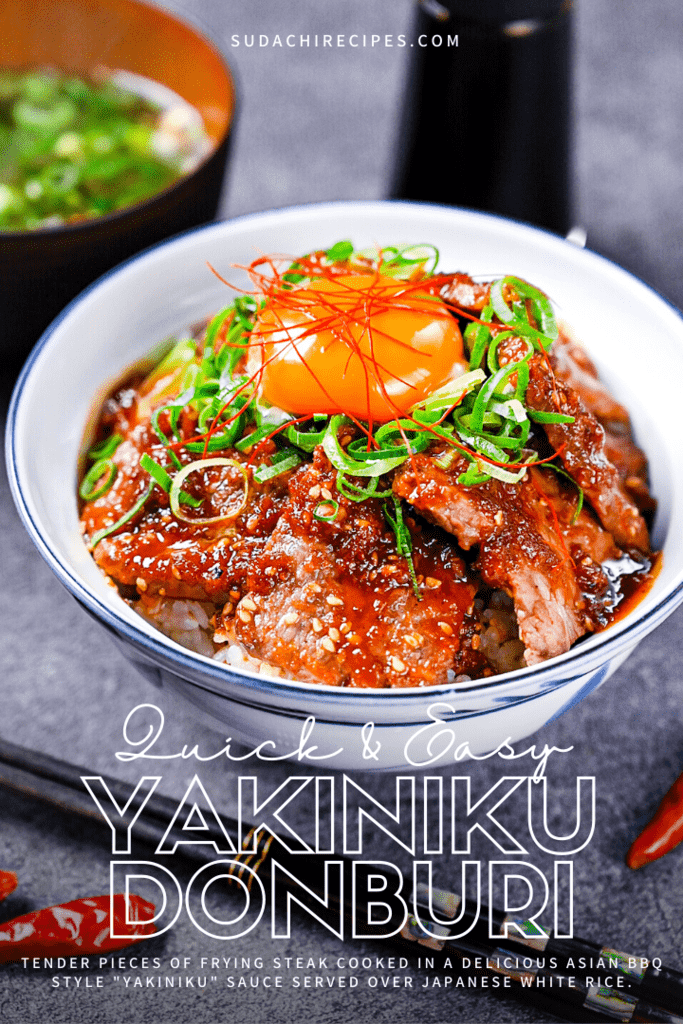 Disclaimer: This post contains Amazon affiliate links. Sudachi Recipes earn a small percentage from qualifying purchases at no extra cost to you. See disclaimer for more info.
Jump to:
What is yakiniku?
Yakiniku (焼き肉) is a popular style of grilled meat, similar to Korean BBQ. In Japanese, the term "yaki" (焼き) means "to grill" and "niku" (肉) means meat. Despite the simple name, there's more to yakiniku than simply throwing meat on a barbecue.
Yakiniku usually consists of sliced, bitesize pieces of meat (most commonly beef but also chicken or pork), offal (known as horumon) and vegetables cooked on a gridiron over a charcoal, gas or electric grill.
It might seem to defeat the purpose of eating at a restaurant, but yakiniku restaurants usually bring out raw ingredients that you cook by yourself using a grill in the centre of the table. It's fun and you can enjoy the food at your own pace.
Once the ingredients are cooked, they are then dipped in a delicious sauce and enjoyed with some side dishes and a beer!
Lightning fast yakiniku don recipe
The easiest yakiniku sauce ever
Ready in 10 minutes!
So what is yakiniku don?
When it comes to yakiniku don, it's simple.
Yakiniku donburi (also known as yakiniku don / yakiniku beef bowl) is a simple dish where BBQ style grilled meats (yakiniku) are served on top of a bowl of rice (donburi).
You can make donburi with pretty much anything and it's considered a kind of fast food to Japanese people. The rice is usually topped with something delicious and quick to make, it usually doesn't contain too many different ingredients in order to maintain the simplicity. I have a tonne of donburi recipes if you're interested, check out my top donburi recipes for some more ideas!
Yakiniku sauce
To be honest, the thing that makes yakiniku special is the sauce, known in Japanese as "yakiniku tare" (焼き肉たれ). Yakiniku tare is usually tangy, sweet, savory, fruity and complex, you truly can't enjoy yakiniku without a good yakiniku sauce!
The typical yakiniku sauce usually contains things such as:
Soy sauce
Mirin
Sake
Sugar or honey
Fruit juice or pulp
Garlic
Ginger
Shallots/onions
Sesame
Chilis / Chili paste (gochujang or similar)
There are lots of different types of yakiniku sauce and each restaurant / brand has their own specialty sauce that uses a tonne of different ingredients. It can be pretty hard to replicate, especially if you only want to make a small batch!
You can actually buy popular Japanese restaurant's premade yakiniku sauce on Amazon such as Jojoen yakiniku sauce or Gyukaku yakiniku sauce. There's also a popular brand called "Ebara" that sell spicy/fruity or hot yakiniku sauces.
But sometimes I just want to recreate the delicious taste of yakiniku without too much fuss using ingredients I already have lying around in the kitchen! That's why I made this quick and easy recipe with a "cheat" yakiniku sauce.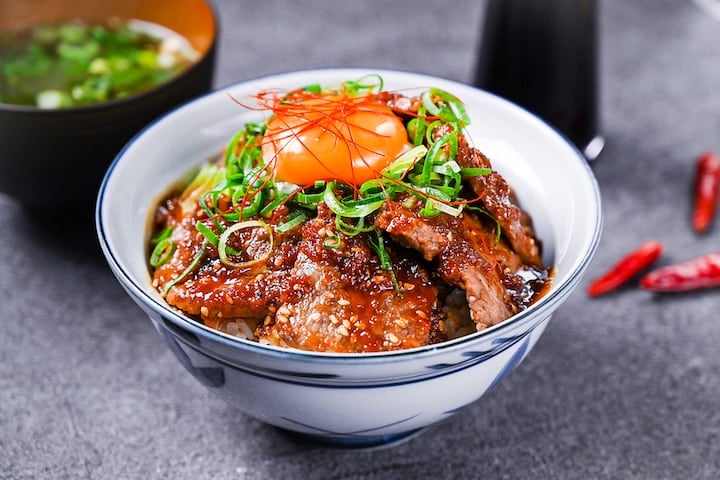 What kind of meat to use for yakiniku?
Yakiniku always uses thinly sliced bitesize pieces of meat so that they cook quickly. By cutting them thin, even cheaper cuts won't be too chewy.
While there's no rule, the most common type of yakiniku is beef and the generalized most popular cuts are:
Kalbi (カルビ) short rib
Harami (ハラミ) skirt steak
Rosu (ロース) loin
Tan (たん) tongue
You could really use any kind of beef, as long as it's cut relatively thin. Use what is available to you! And if you don't eat beef, you can use pork or chicken instead. I recommend fatty cuts (like pork belly or chicken thigh) to make it extra tasty and juicy!
How to cut yakiniku meat
It can be difficult to find suitable meat for yakiniku outside of Asia, but don't fear because it's not so hard to cut it yourself!
All you need is a block of your chosen beef, a sharp knife and a freezer.
Simply wrap up the block of meat and firm it up in the freezer. You want it to be hard enough that it holds its shape, but soft enough to cut through, so don't freeze completely! I'd say 20-30 minutes per ½ lb (approx 225g) of meat is a good amount of time, but it depends on your freezer and climate so keep checking it.
Once it's firm and cold, cut the slices to your preferred thickness and they're ready to use!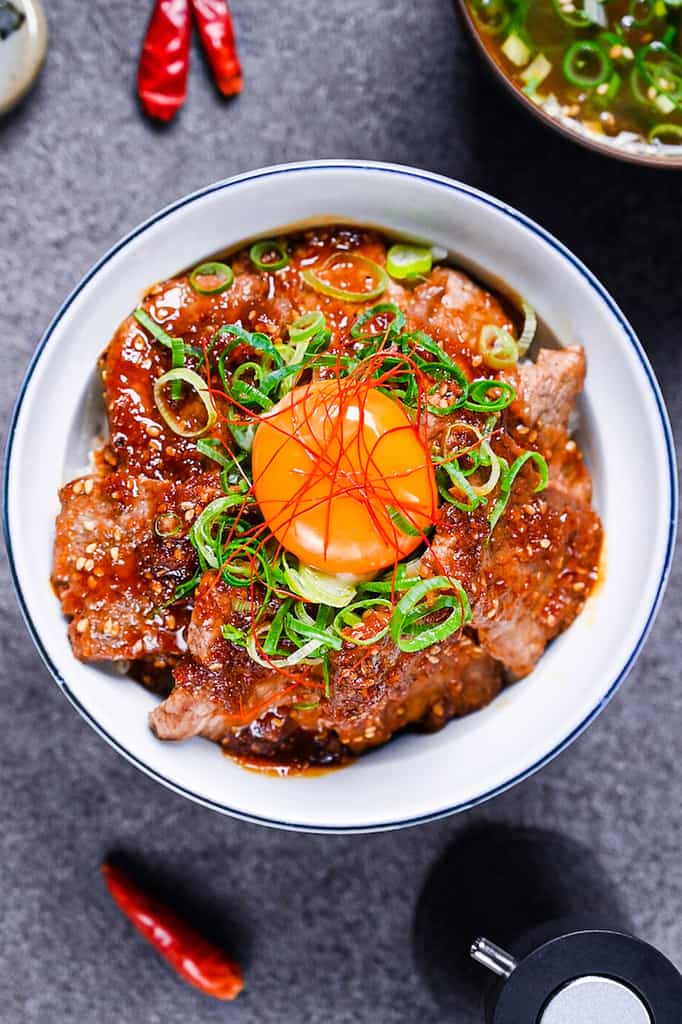 Ingredients to make easy yakiniku beef bowl
For this simple yakiniku don, I tried to use ingredients that I always have around. If you're into Japanese cooking, it's likely you already have them too!
Sugar
Honey
Garlic paste (or grated garlic clove)
Ginger paste (or grated fresh ginger)
White sesame seeds
Chilli powder
Black pepper
Thinly sliced beef
Cooked rice
Chopped green onion
Soft boiled egg / raw egg yolk (pasteurized) optional
For recipe quantities, check the recipe card at the bottom of the page!
Instructions on how to make homemade yakiniku donburi
Here are the steps on how to make quick and easy yakiniku donburi at home. I recommend using a rice cooker to cook the rice in advance, or microwave leftover frozen rice to keep it fast! (This recipe doesn't include how to cook rice.)
Mix the sauce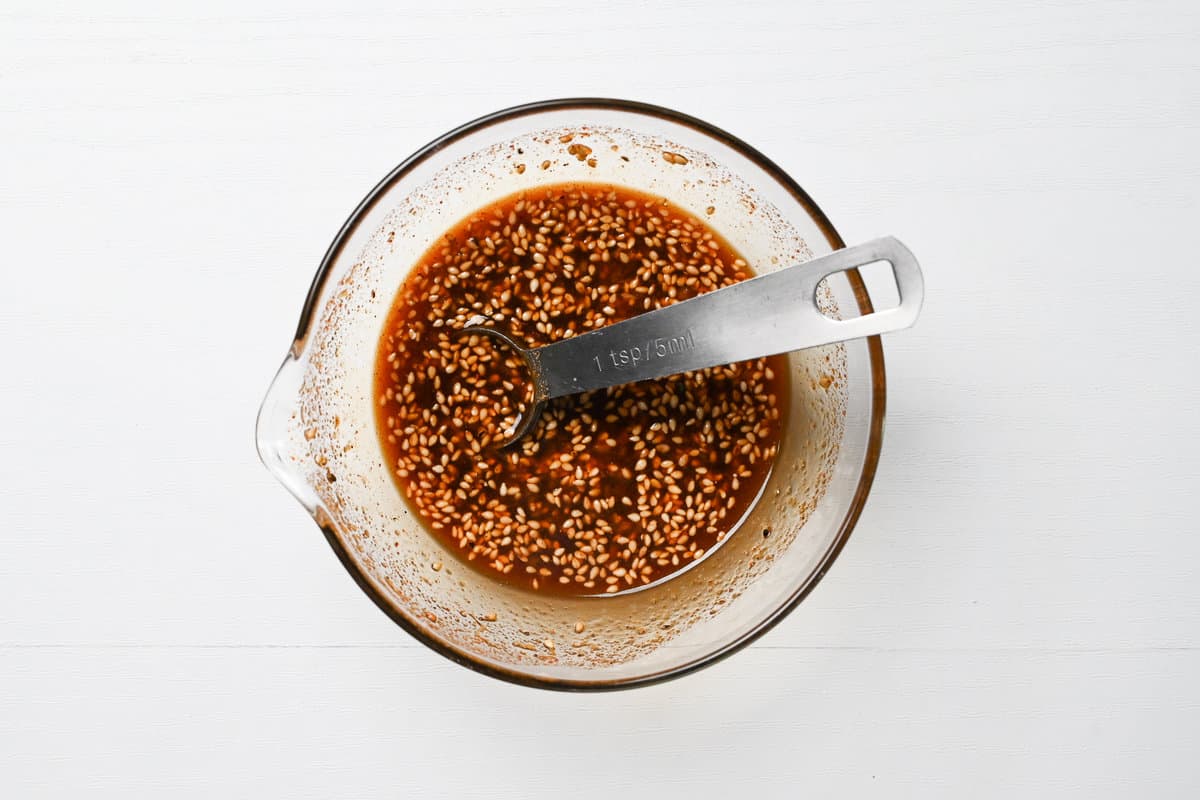 The first step is to mix the sauce in a small bowl. You can also start preheating your pan on medium so it's hot by the time the sauce is finished.
Simply mix soy sauce, mirin, honey, sugar, grated ginger, grated garlic, sesame oil, sesame seeds, chilli powder and black pepper in a bowl. To make this step quick and convenient, I usually use store-bought ginger paste and garlic paste for this recipe, but if you don't mind adding a few minutes to the preparation time you can grate fresh ones for a stronger flavour.
Fry the beef
If you preheated the pan while making the sauce, it should be nice and hot already. Add a small drizzle of oil and add your thin slices of beef.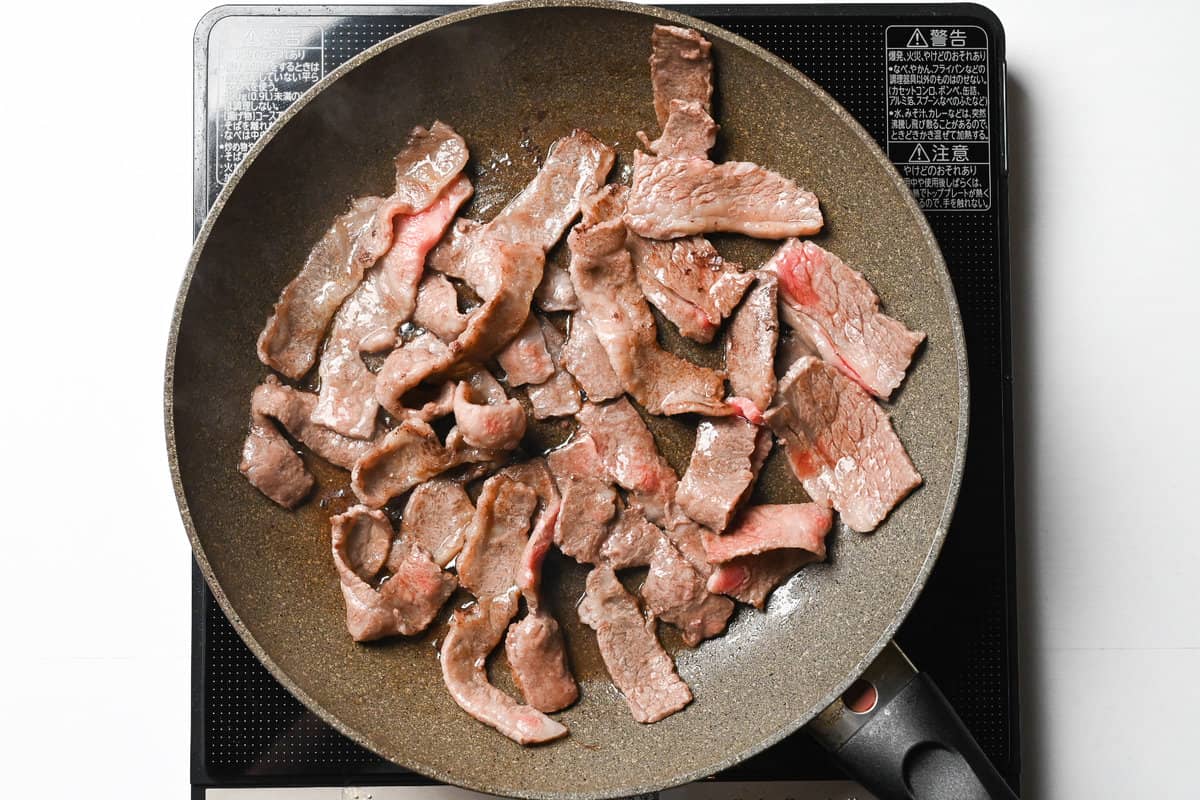 You don't need to cook the beef all the way through, just seal and flip so that it's lightly browned on both sides.
If you want to add vegetables to this dish, I recommend cooking them before the beef to ensure they're cooked enough. Cooking times depend on the vegetable. Cut them thin so they cook fast and see the variations section for ideas on what vegetables make good additions to this dish!
Add the sauce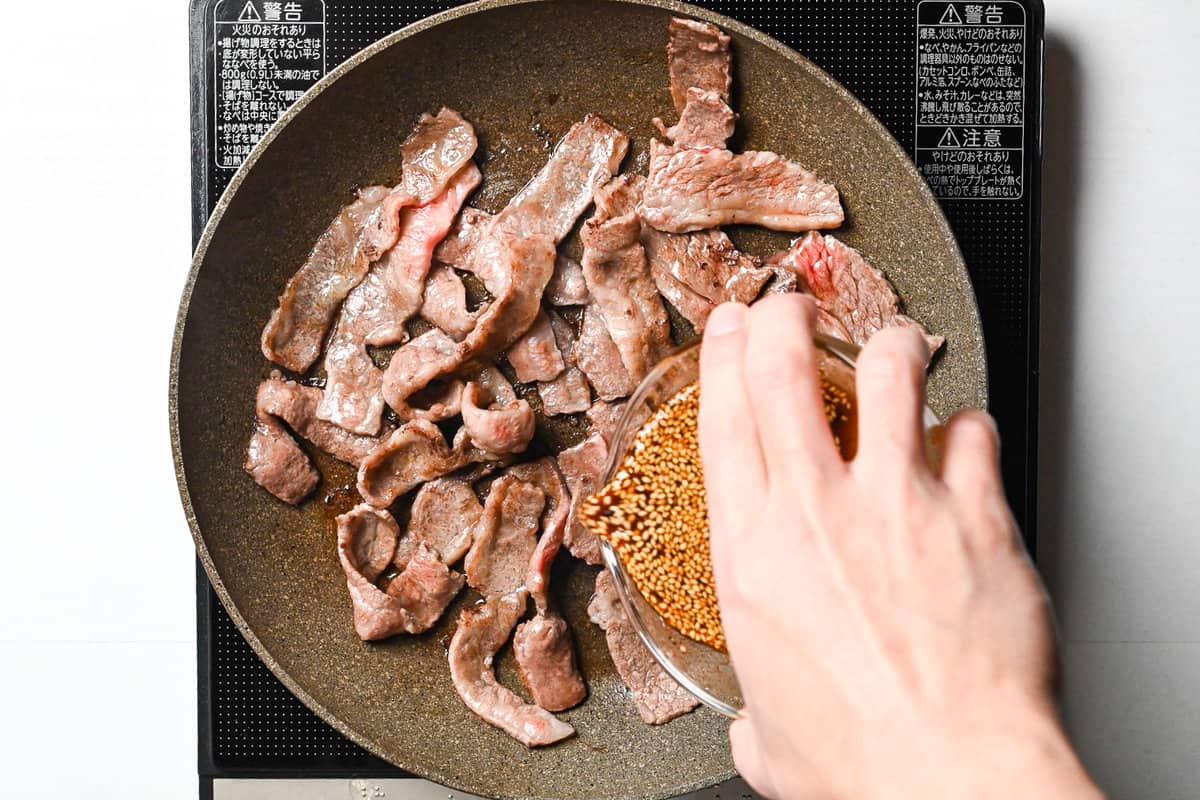 Pour the sauce into the pan and stir fry the meat for about 1 minute 30 seconds. You can turn up the heat too high if you want to thicken the sauce a bit.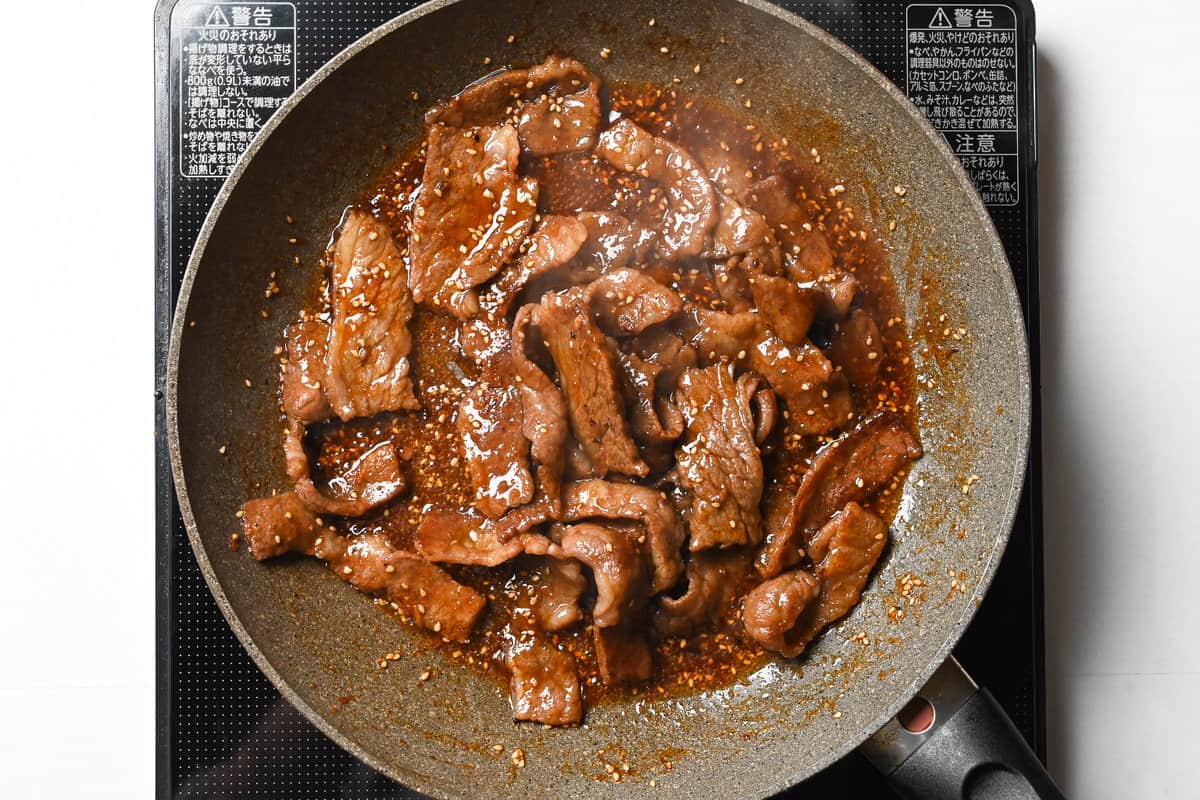 Remove it from the heat and dish up two bowls of rice.
Dish up
Place the meat on top of the rice and drizzle with the sauce in the pan.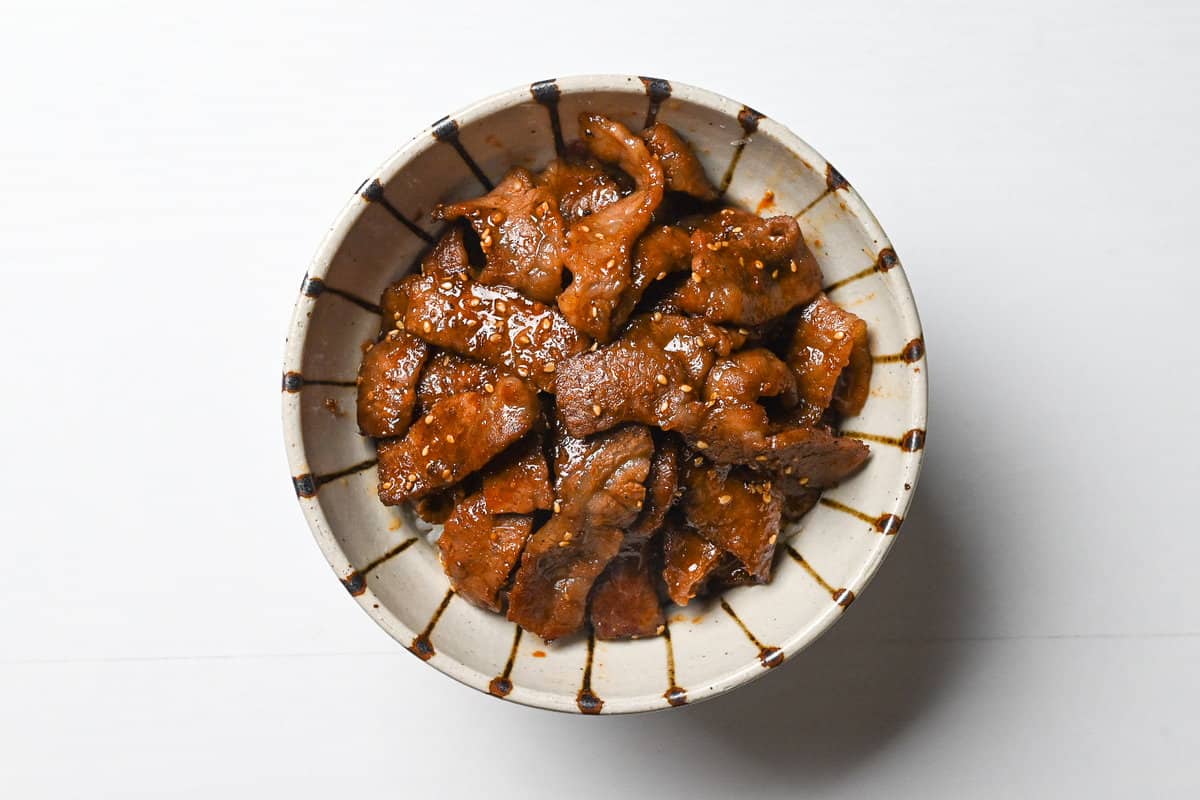 Garnish with chopped spring onion and/or a boiled egg! (Optional)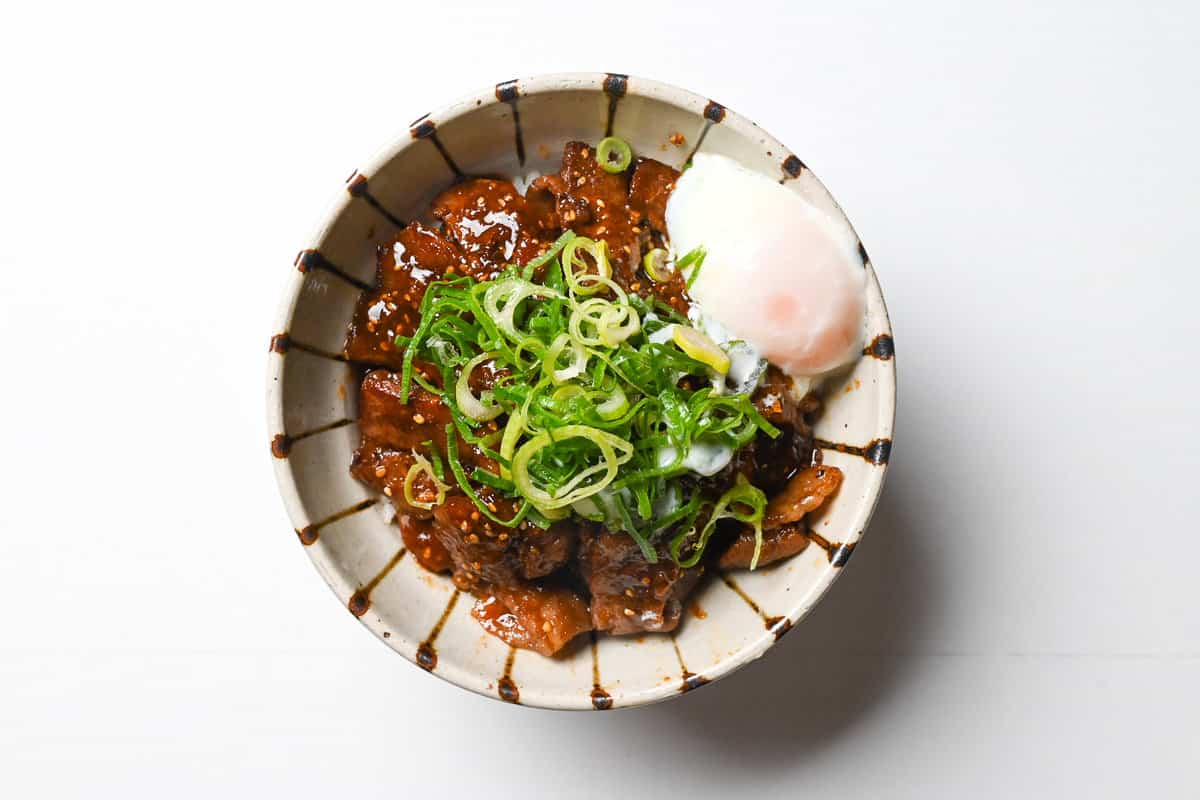 Enjoy!
Variations and additional toppings
Because donburi is usually considered to be a quick and easy, fast-food type of dish, they're often lacking vegetables. However, that doesn't mean you can't add them and make it more nutritious and interesting! Here are a few ideas:
Onion
Green onion (spring onion or scallions)
Bell peppers (or piman)
Mushrooms (sliced)
Asparagus
Sweetcorn
Egg yolk / soft boiled egg
I recommend using vegetables that cook fast or can still be eaten a bit raw, just to keep the recipe quick.
In the end, yakiniku don is highly customizable so feel free to get creative!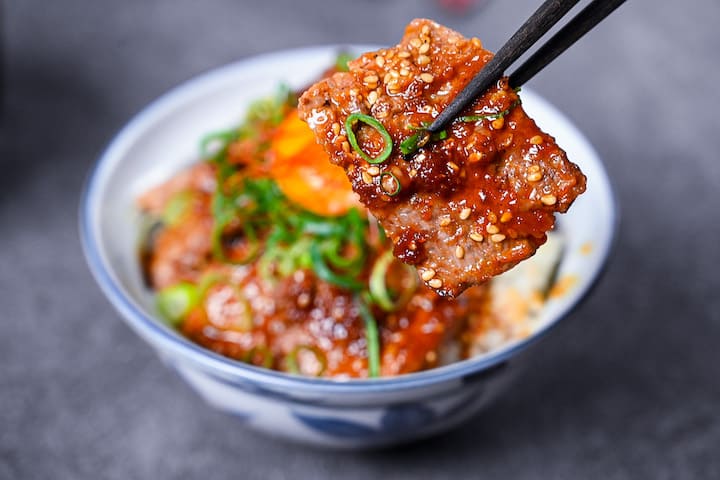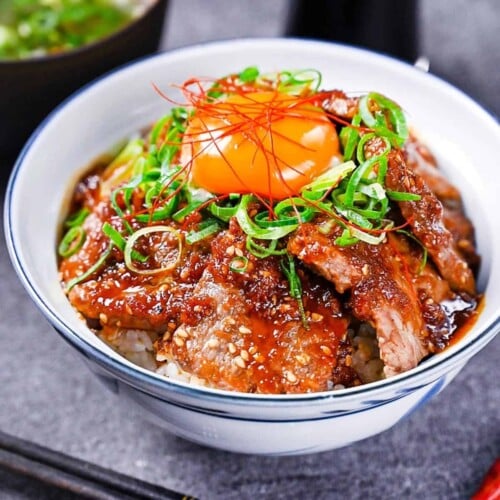 Yakiniku Don (Japanese BBQ Style Beef Bowl)
How to make quick and easy yakiniku don. Tender slices of beef pan fried in a Japanese style BBQ sauce served on white rice and topped with scallions and an egg yolk. (Doesn't include cooking rice.)
Ingredients
Sauce
2

tbsp

soy sauce

½

tbsp

mirin

1

tsp

sugar

1

tsp

honey

1

tsp

garlic paste

-

or 1 crushed clove

1

tsp

ginger paste

-

or grated fresh ginger

½

tbsp

sesame oil

½

tbsp

white sesame seeds

1

tsp

chili powder

½

tsp

black pepper
Instructions
Measure out all of the sauce ingredients (

2 tbsp soy sauce

,

½ tbsp mirin

,

1 tsp sugar

,

1 tsp honey

,

1 tsp garlic paste

,

1 tsp ginger paste

,

½ tbsp sesame oil

,

½ tbsp white sesame seeds

,

1 tsp chili powder

,

½ tsp black pepper

into a small bowl and mix thoroughly.

Heat a frying pan on a medium. Once hot, add a small drizzle of oil and

300 g thinly sliced beef

. Sear on both sides (don't cook all the way through).

Once seared, add the sauce and stir fry the meat for 1 minute 30 seconds. (Increase the heat to high if you want to thicken the sauce.)

Remove the pan from the heat and prepare

2 portions cooked Japanese short-grain rice

.

Arrange the meat on top of the rice and drizzle the sauce in the pan over the top.

Top with chopped spring onion and a boiled egg (optional).

Enjoy!
Notes
If you want to add vegetables to this dish, fry them before adding the beef. (You can use the same pan.)
FAQ
What is yakiniku?
In the broadest possible sense, yakiniku is simply u0022grilled meatu0022.
What's in yakiniku sauce?
There are too many kinds of yakiniku sauce, but most of them contain soy sauce, sugar, mirin, sake, garlic, fruit juice/pulp and sesame seeds. There are some spicy kinds too.
What is yakiniku beef?
In general, yakiniku beef is simply bitesize pieces of beef cut thin so that they cook fast and stay tender. The most popular cuts for yakiniku are short rib, loin, skirt and beef tongue.
Can you go to yakiniku restaurants alone?
Eating yakiniku is usually a group activity, but in recent times, u00221 person yakinikuu0022 (一人焼き肉) has grown in popularity. There are even specialized restaurants for lone eaters.