What is wasabi? Where does it come from? How do you make it? Where do you use it? So many questions, and I have all the answers right here! Not to mention a list of some of my favourite recipes that use wasabi. Let's get started!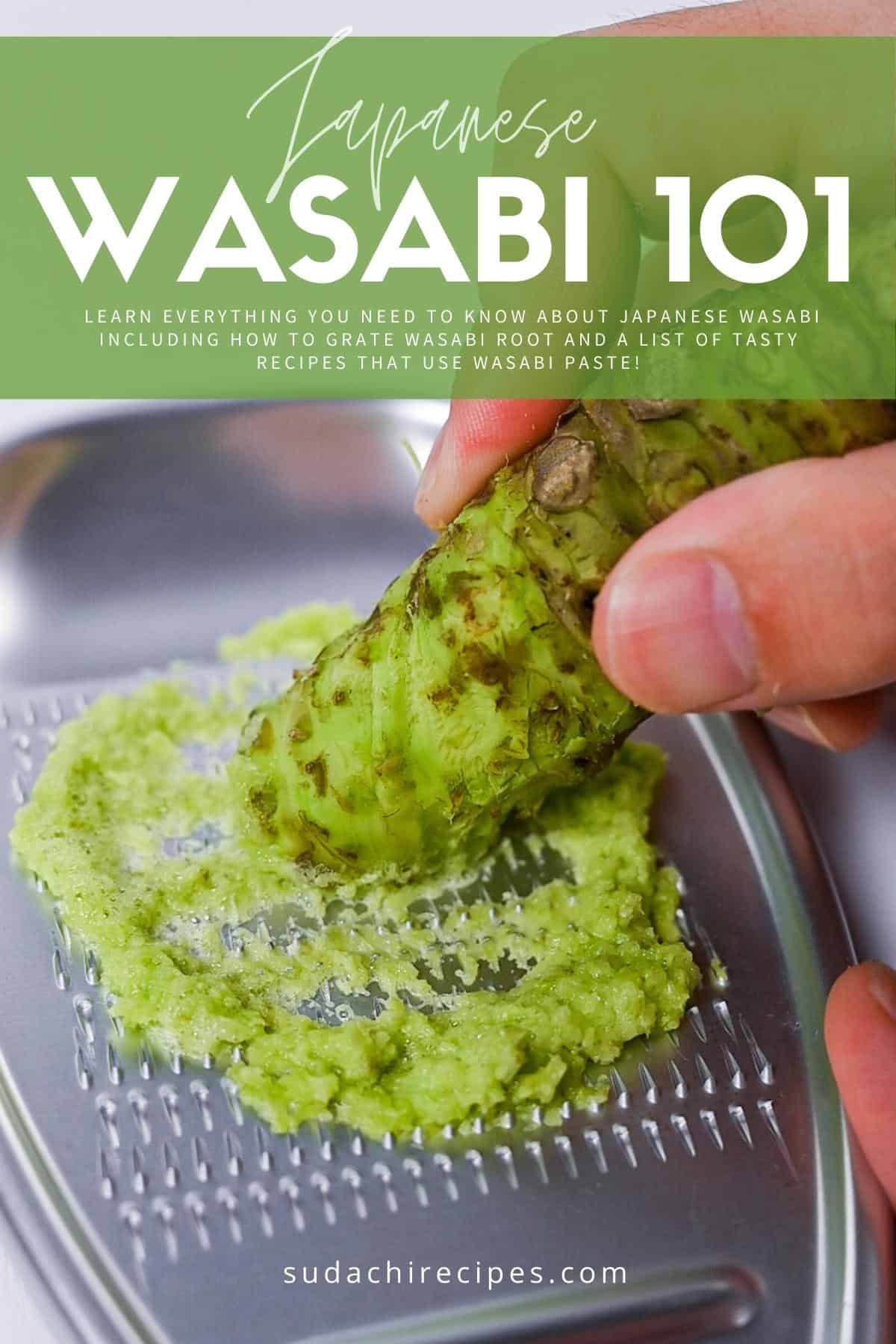 Disclaimer: This post contains Amazon affiliate links. Sudachi Recipes earn a small percentage from qualifying purchases at no extra cost to you. See disclaimer for more info.
Jump to:
What is wasabi?
Wasabi is a cruciferous plant native to Japan that grows in clear streams deep in the mountains. The wasabi plant is part of the horseradish family and is often known as "Japanese horseradish". It's green in colour and has a pungent, yet fresh and aromatic taste.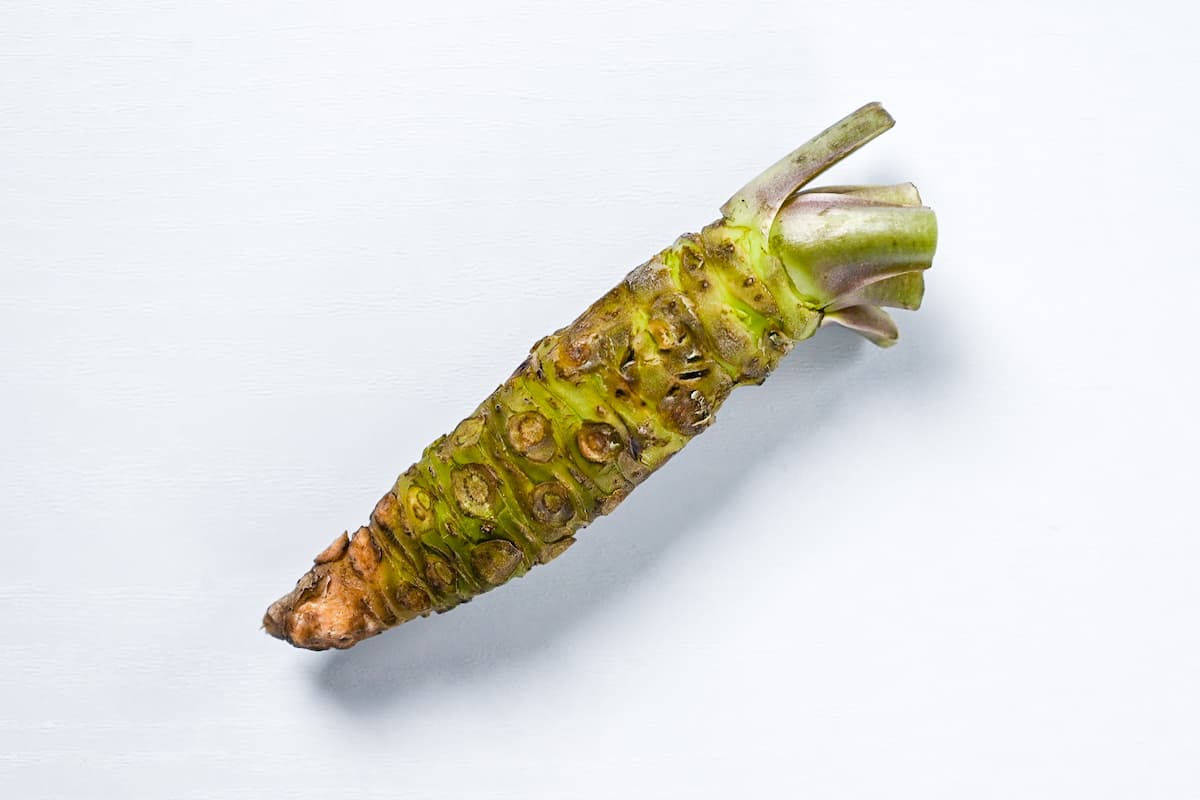 The wasabi paste as you know it is made from the grated rhizome (underground stem) of the wasabi plant. It is an indispensable ingredient in Japanese cuisine and used with dishes such as sushi, sashimi and soba noodles.
Where does wasabi grow?
The wasabi plant is native to Japan and only grows under very specific conditions. They tend to grow in rich soil and need to be slightly submerged in running water, this is why the mountains of Japan are so ideal for wild wasabi to grow. Recreating these conditions makes wasabi a pretty expensive plant to produce.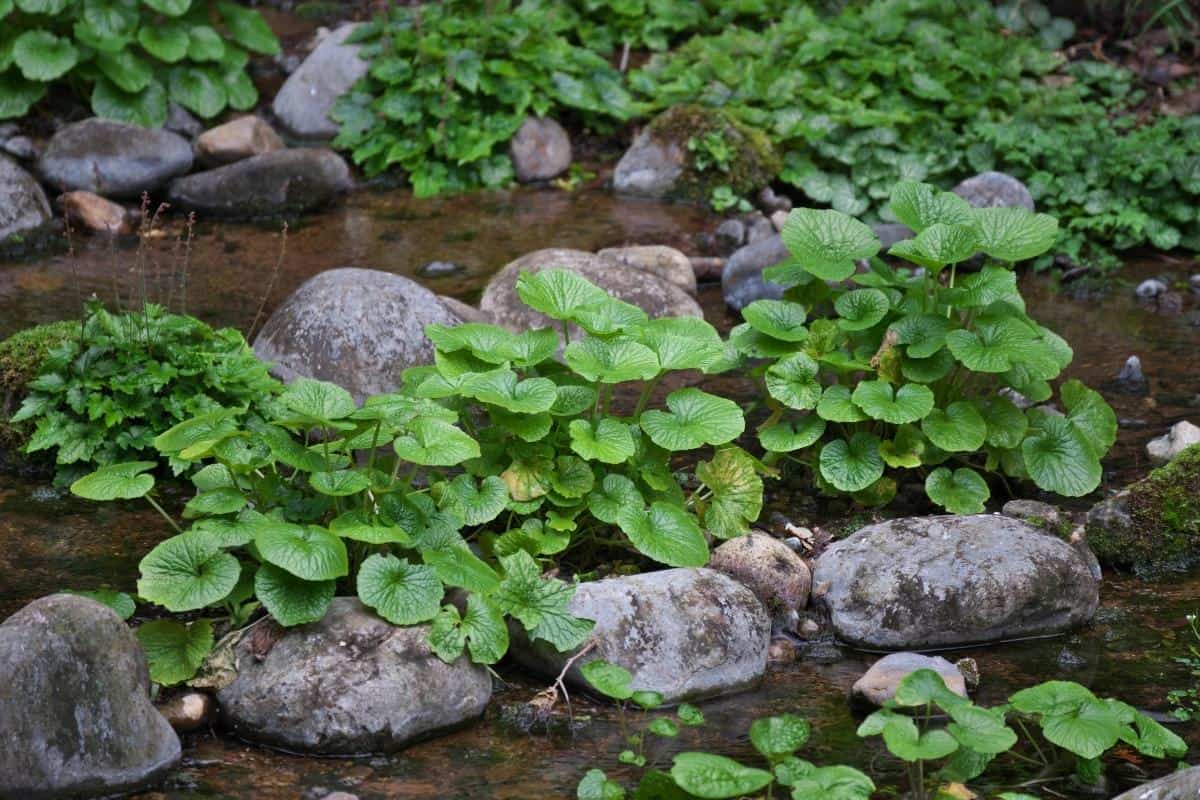 It is said that growing wasabi originated in the early Edo period (1603-1867) when it was transplanted from a native plant in Arihitogi, Shizuoka Prefecture, and started to be cultivated there.
Research has shown that there are considerable differences in the refined taste, aroma, pungency, bitterness, and sweetness of wasabi among the major production areas in Japan. In fact, high-end wasabi is not as spicy as many people think.
Is real wasabi actually spicy?
You might be surprised to know that real wasabi (hon wasabi) is barely spicy at all. The intention of serving fish with wasabi is to compliment and bring out the flavour, not mask it with spiciness. It is also known to help kill bacteria on raw fish.
Most so-called "wasabi" pastes and powders are actually made with the cheaper "seiyo wasabi", also known as "wasabi daikon" or regular horseradish in English. It's then mixed with green food colouring and a few other ingredients so that it looks like real wasabi. It is interesting to note that the cheaper the wasabi is, the spicier it tastes.
This spicy fake wasabi is used in restaurants, sold in supermarkets and is a lot easier to come by than the real deal, but if I'm being honest, I still like it!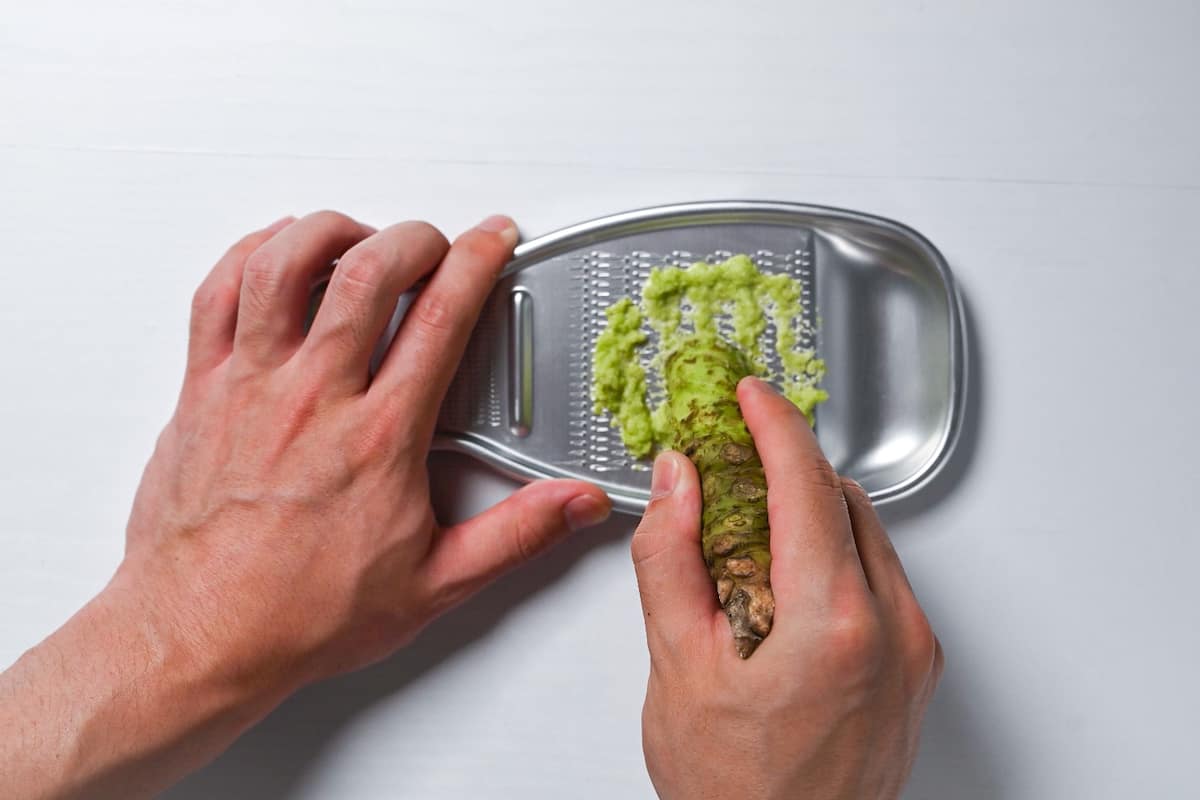 Are wasabi and horseradish the same?
Real wasabi is part of the horseradish family, but it is not the same as horseradish itself. Horseradish is a lot spicier and easier to grow. It's most likely that the wasabi you have eaten is made with horseradish as it's more common, even within Japan.
Where can I buy wasabi root?
Wasabi root is pretty expensive and difficult to find. There are a few online sellers that ship to the US and Europe so check google to find your local seller.
If you can't find wasabi root, I recommend this S&B premium wasabi paste. It's one of the few wasabi pastes that contain real wasabi (hon wasabi) stated in the ingredients. I can vouch for it because I use this one all the time!
What kind of grater should I use to grate wasabi root?
I personally use a general Japanese grater like this, however, the most professional grater for wasabi would be like this one.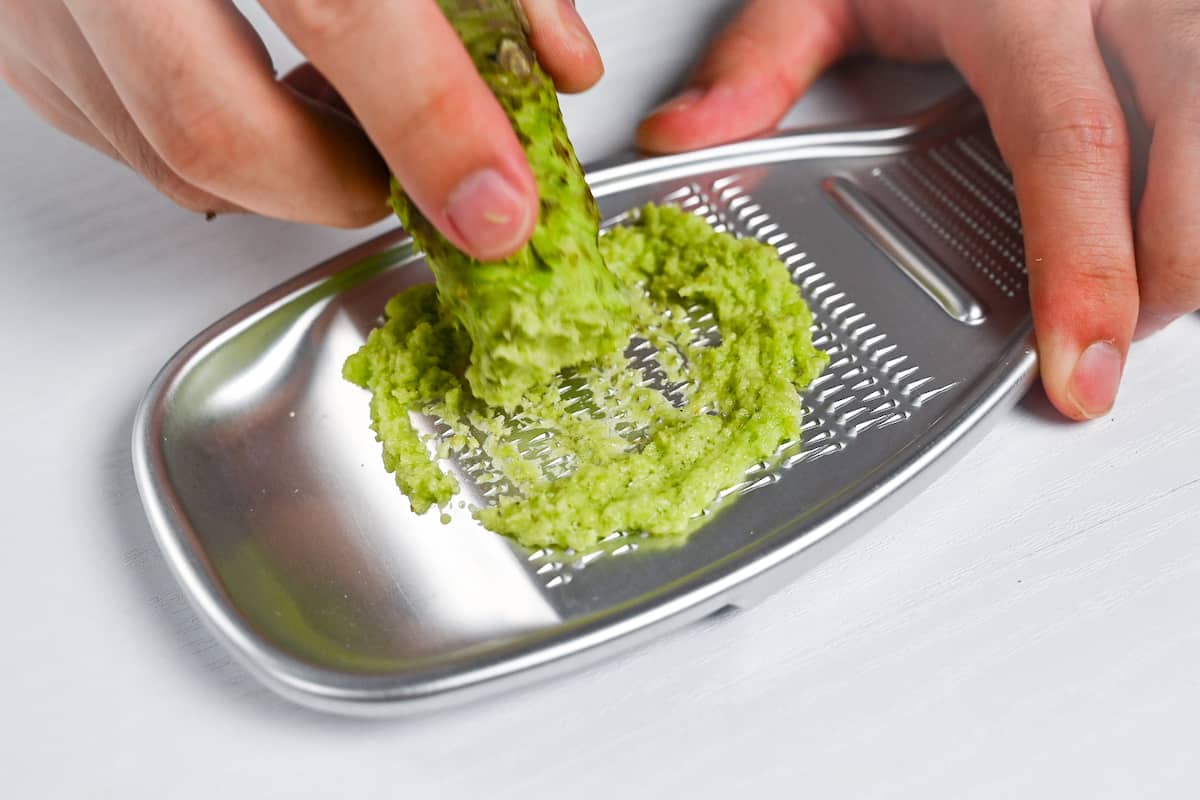 Japanese graters are called "oroshigane" or "oroshiki" and are quite different to Western style graters. They don't contain holes, just raised spikes that create a finer grind. This is because grated ingredients are used a lot in Japanese cooking, for example ginger, garlic and oroshi daikon.
Cover with aluminium foil
If you cover the spikes with aluminium foil before grating, there will be less wasted wasabi on the grater and it will be easier to clean too!
I've never tried grating wasabi root with a Western style grater (it's a bit too expensive to try) but I'd assume you can't get it fine enough so I wouldn't recommend it.
How to grate fresh wasabi root in steps
Here I will teach you how to prepare wasabi step by step!
Step 1: Take a stalk of wasabi by hand
Wash the wasabi root first and then pluck the top stems by hand.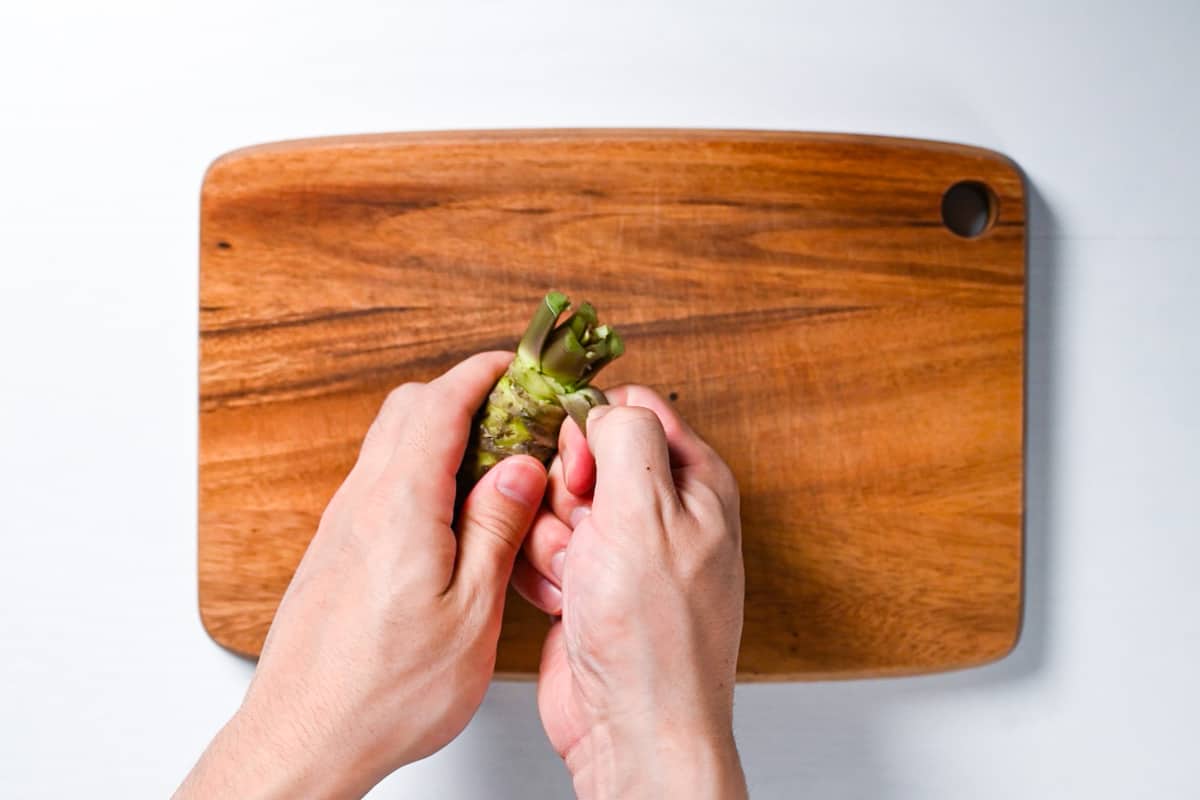 Step 2: Scrape off the black part with a knife
If there are black parts, scrub them with a scrubbing brush or scrape them off with a knife.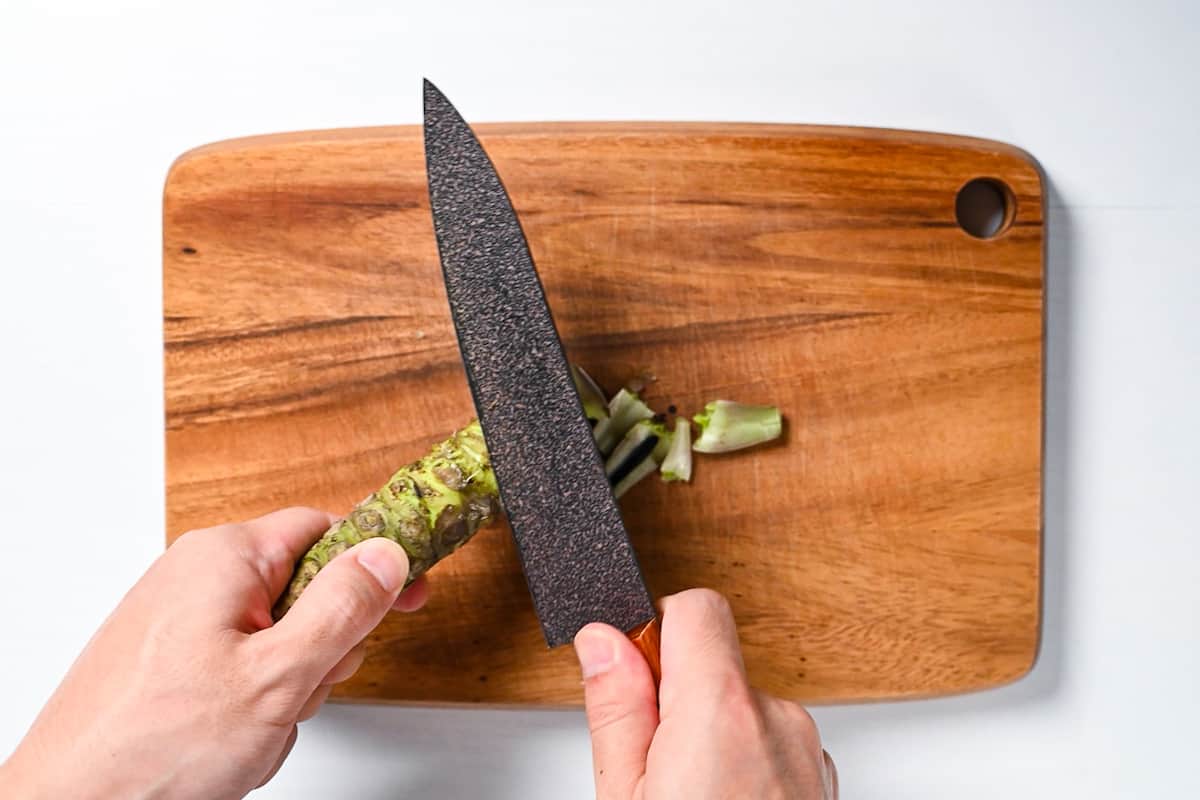 Wasabi's skin should not be peeled completely because the pungency and flavor comes from the area around the peel.
Step 3: Grate the wasabi in a circular motion
Grating and breaking down the wasabi cells gives it its pungency and flavor. The most important thing here is to grate slowly and gently in a circular motion. If you grate it with force, the texture will become coarse and the pungency and flavor will not be fully extracted.
Wasabi tastes slightly different on the stem side versus the tip side. Stem-side wasabi is characterized as beautiful bright green in color, fragrant, fresh and aromatic, and slightly less pungent. On the other hand, the tip-side wasabi is whitish in color (not as beautiful as stem) and has a weak aroma, but the pungency is very strong and the texture is sticky rather than watery. In Japanese restaurants, the two are often mixed together and used to adjust the spiciness and aroma.
Cut even finer using a sharp knife
For a final step, transfer the ground wasabi root to a chopping board and cut it with a sharp knife in a sort of rocking motion. This will help make it extra smooth.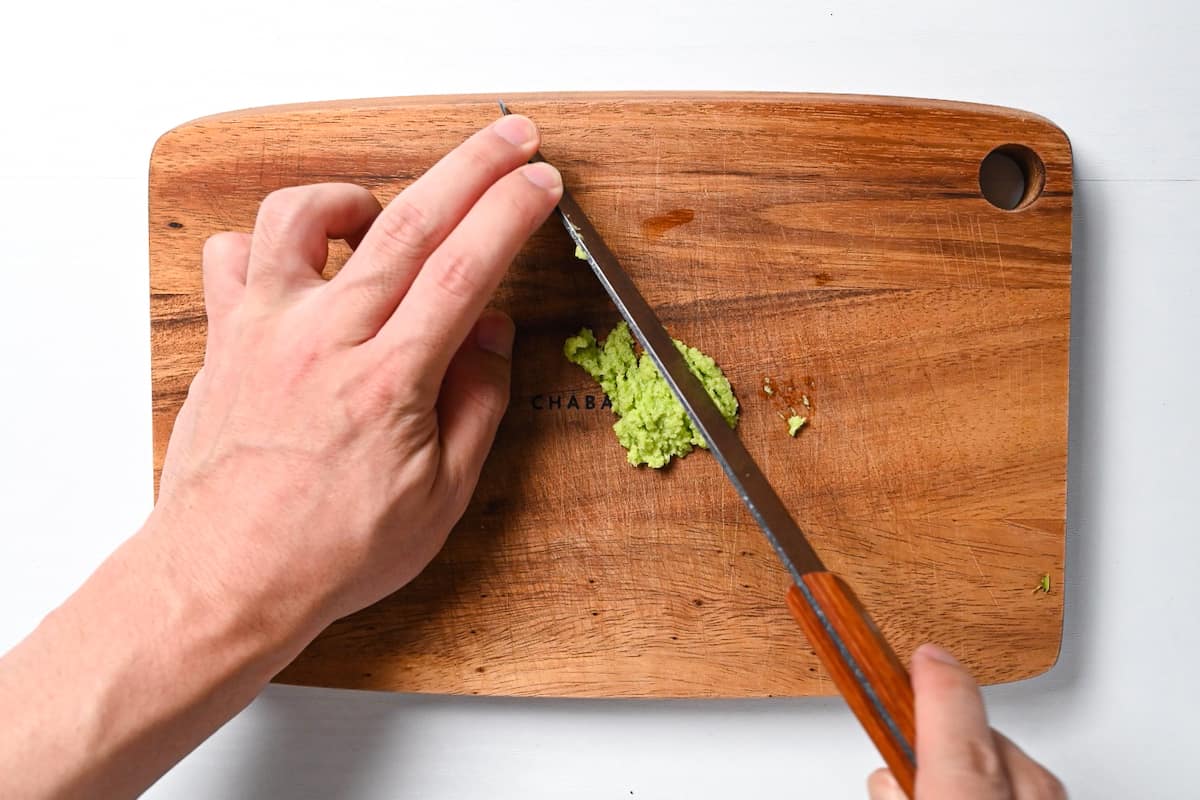 Enjoy with Japanese fish or noodle recipes
Enjoy your homemade wasabi with raw fish (sashimi), sushi and noodle recipes. You can also use it in dressings or even with roast beef.
Scroll down to see my recipe suggestions!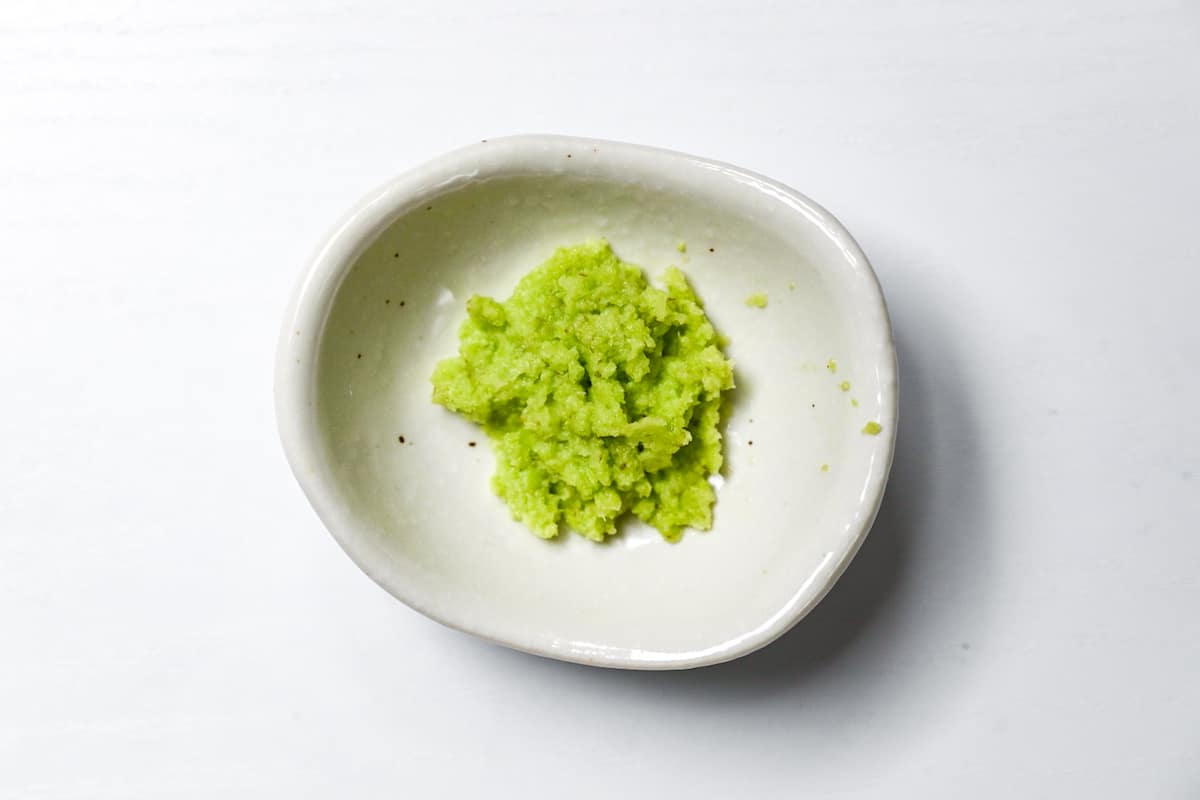 Storage of fresh wasabi root
Since it is difficult to use up a root of wasabi at once at home, the leftover wasabi should be stored in the refrigerator. However, it is important to store it in its original state and grate it fresh each time you use it.
Wipe the wasabi dry, wrap it in dry kitchen paper, place it in a plastic bag with a zipper, and store it in the refrigerator. Because it tends to dry out easily, check the condition of the wasabi every week or so, and if it is dry, rehydrate it by soaking it in water.
With this method, you can store it up to 2 weeks.
Japanese recipes that use wasabi
Are you wondering what can be made with wasabi? Here are a few recipes that use wasabi for some inspiration!
Wasabi Pickled Cucumbers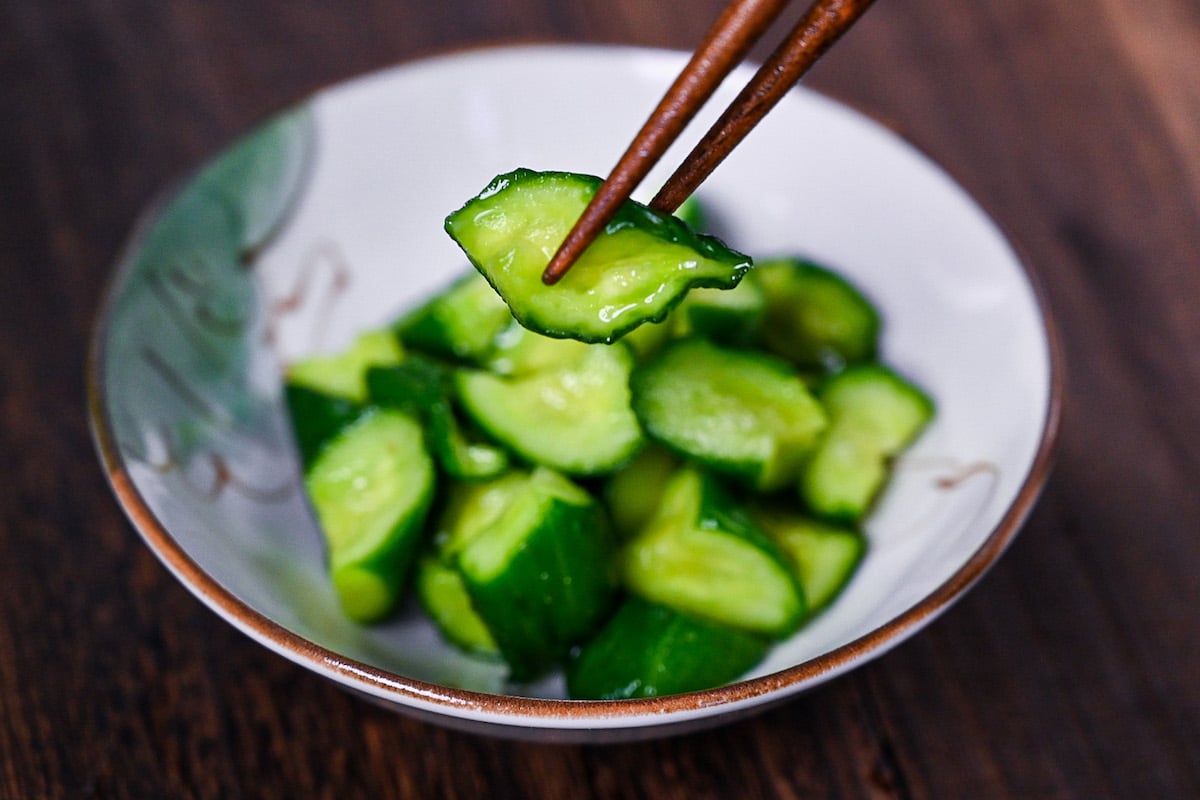 These delicious Japanese style quick pickles are made with cucumber, salt and sugar with a fiery kick of wasabi. Perfect as a side dish or addictive snack and ready in just 12 hours!
It's very easy and delicious as a side dish. Highly recommended!
Japanese Style Avocado Egg Salad
This Japanese twist on avocado egg salad packs a punch with its delicious, creamy wasabi mayo sauce, sashimi grade salmon and bonito flakes and spring onion toppings.
It only takes 5 minutes to prepare and it's ready to eat in just 20 minutes!
Maguro Zuke Don
Maguro zuke don is a delicious rice bowl dish made with fresh raw tuna soaked in a rich soy based marinade. Not only is it mouthwatering, but it's extremely simple to make and requires barely any cooking!
Zaru Udon
When the weather is too hot for a steaming bowl of soupy noodles, zaru udon is the perfect alternative!
Chilled udon noodles served with a delicious homemade mentsuyu dipping sauce, this dish is a staple in Japan during the summer! It's quick to make and commonly enjoyed with tempura.
Salmon Ochazuke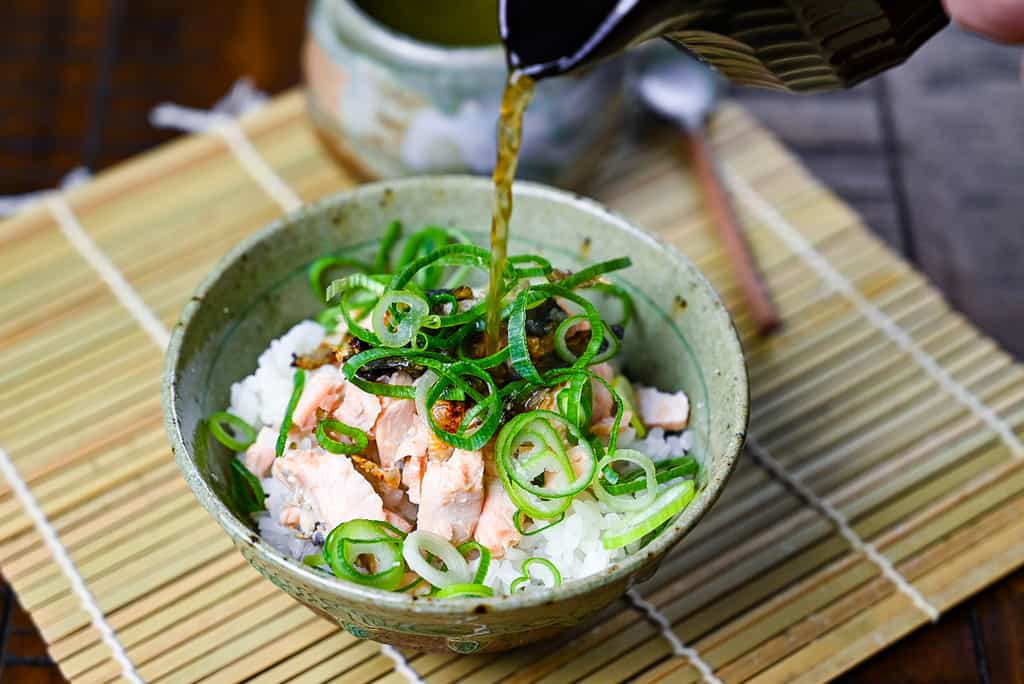 Learn how to make traditional ochazuke, fluffy white rice steeped in a delicate Japanese green tea and garnished with a variety of savory toppings.
It's quick and easy, and the perfect way to use up leftover rice and ingredients!
Zaru Soba
Zaru soba is a traditional Japanese dish made with buckwheat noodles served on a bamboo tray. It's enjoyed with a dashi based dipping sauce called "mentsuyu" and served cold. It's a refreshing dish perfect for hot days!
Marinated Salmon Sashimi Bowl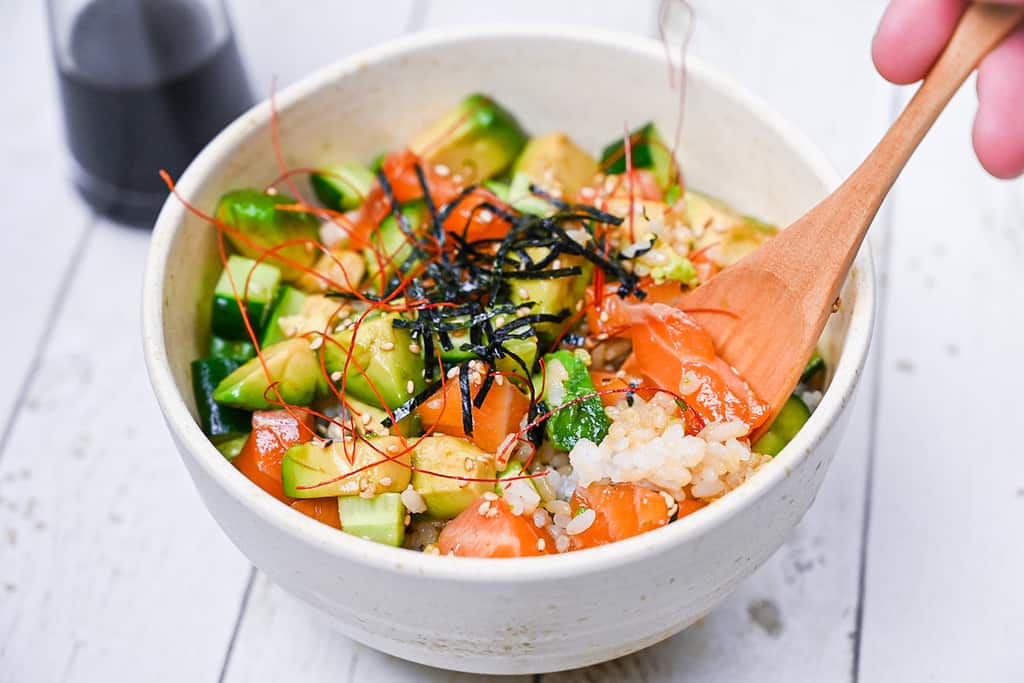 Tender sashimi grade salmon soaked in a delicious Japanese marinade and served with crunchy cucumber and fresh avocado over rice. This recipe is refreshing, filling and super quick to make!
Kaisen Donburi (Seafood Rice Bowl)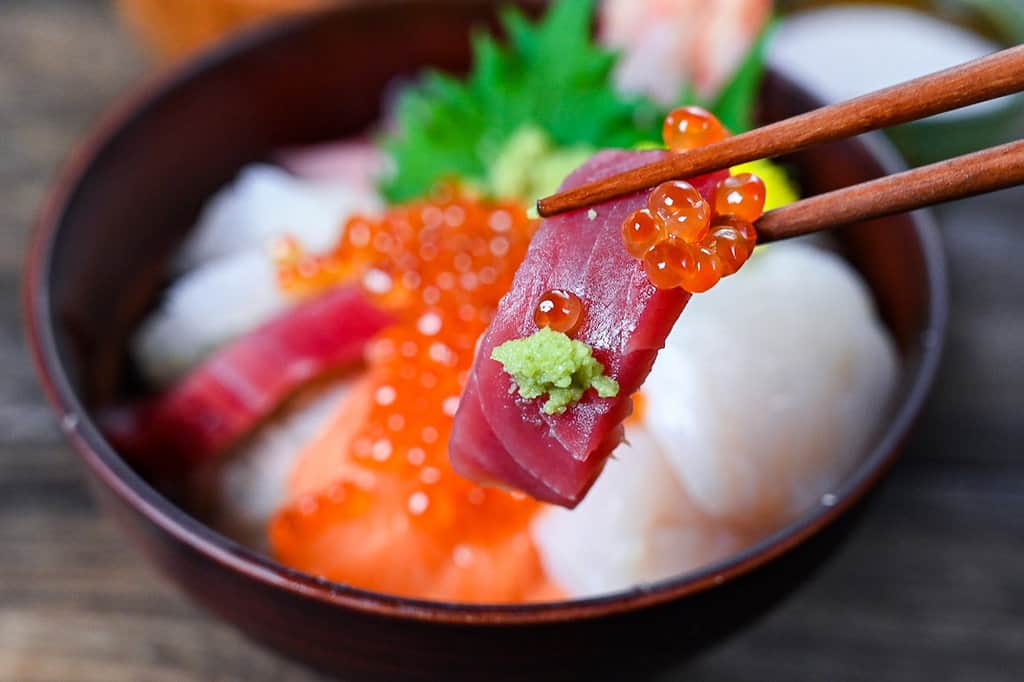 Kaisendon is a colourful rice bowl dish made with a variety of fresh seafood. In this post I will teach you 3 different ways to enjoy kaisen donburi and how to make a delicious sweet and savoury dipping sauce!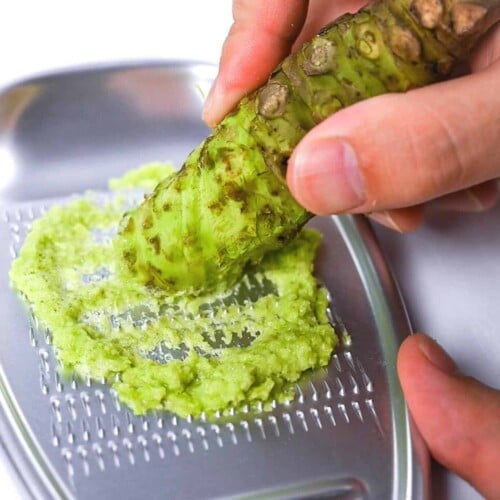 Homemade Wasabi Paste
How to grate wasabi root and make your own fresh wasabi paste at home!
Ingredients
1

wasabi root

-

(hon wasabi)
Instructions
Wash

1 wasabi root

under cold running water and clean gently with a scrubber to remove any dirt.

Remove the stems by hand.

Use a knife to remove any black parts. (Do not peel completely.)

Grate using a Japanese style grater (oroshiki/oroshigame) by gently pressing the wasabi root over the spikes and moving in a repetitive circular motion. Grate what you need, don't grate the whole root.

Transfer to a chopping board.

Using a sharp knife, cut the wasabi finely using a rocking motion. This will make it smoother and break down any lumps.

Enjoy with your favourite Japanese sashimi, sushi and noodle dishes!
Notes
Grate how much you need and store the leftover wasabi root using the instructions below.
Wipe the wasabi root dry, wrap it in dry kitchen paper and store it in a plastic ziplock bag in the refrigerator. If it dries out, rehydrate it by soaking in cold water.
Once the stems are removed and it's been grated once, keep for up to 2 weeks using the tips above.