Beef tataki is an elegant yet surprisingly easy-to-make dish made with tender fillet of beef that has been lightly seasoned, seared over a high heat and thinly sliced. The result? Melt-in-mouth pieces of rare beef served with a delicious homemade soy-based dipping sauce.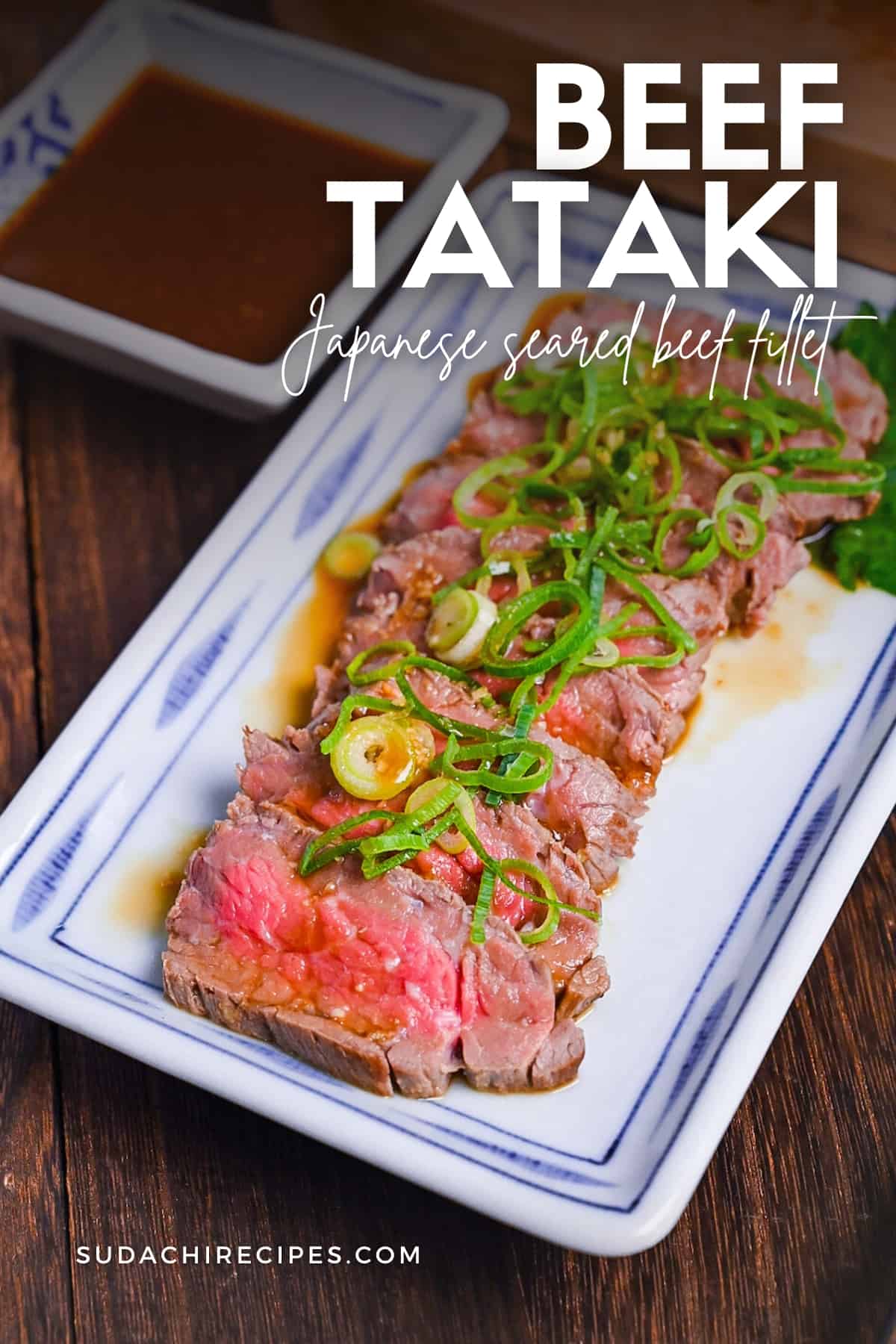 Disclaimer: This post contains Amazon affiliate links. Sudachi Recipes earn a small percentage from qualifying purchases at no extra cost to you. See disclaimer for more info.
Jump to:
What is beef tataki?
Beef tataki (or "gyuniku no tataki" 牛肉のたたき in Japanese) is a Japanese dish made with fillet of beef that has been seasoned, seared over a high heat, cooled and cut into thin slices. It is most commonly served either soaked in a marinade or with a soy based dipping sauce and sprinkled with green onions.
While it looks somewhat similar to roast beef, the cooking method and serving style is vastly different. Due to the quick searing, the inside is mostly raw/rare and its melt-in-the-mouth texture can be compared to that of sashimi. Besides beef, "katsuo no tataki" made with bonito is also famous, and actually more popular than beef in Japan.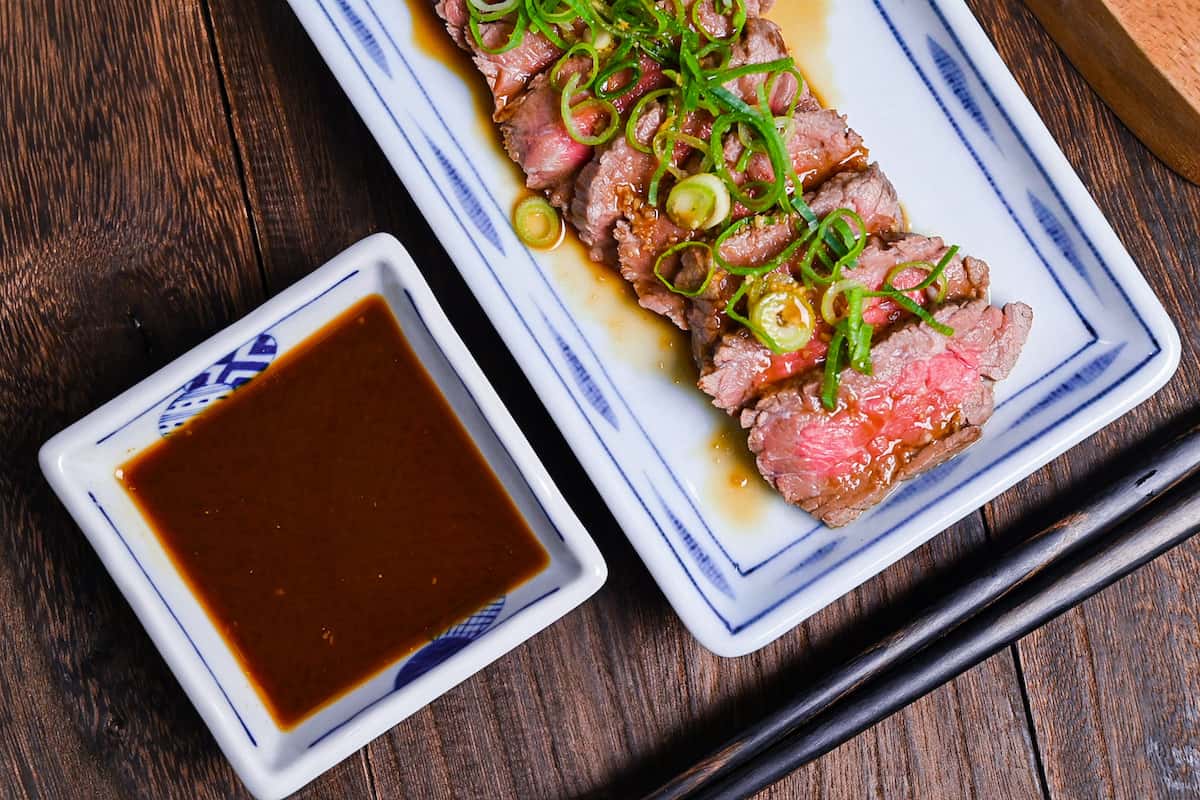 What is tataki (たたき)?
Tataki (たたき) is a term linked with the distinct culinary practices of Japan. In its earliest use, "tataki", which means beating or bashing in Japanese, denoted a specific preparation technique in which ingredients were physically crushed or mashed, either by hand or using a knife. This procedure was implemented to thoroughly infuse the ingredients with an array of seasonings, thereby enhancing their natural flavors.
In recent times, however, the interpretation of "tataki" has changed significantly. It is now frequently associated with dishes featuring blocks of fish or beef that are seasoned and expertly seared over charcoal or grilled on a hot plate. Once seared, the block is promptly cooled, thinly sliced, and served accompanied with a selection of condiments and seasonings.
As for the etymology of "tataki," one prevailing theory suggests that the term originated from the practice of pre-salting fish meat and then physically beating it either with the side of a knife or the palm. Another hypothesis proposes that "tataki" might have stemmed from the tradition of sprinkling condiments on grilled food and patting them in with either the hand or the back of a knife.
In beef tataki, fillet of beef with little fat or muscle fibers is used in order to achieve a soft, melt-in-mouth texture.
Beef tataki vs roast beef: what are the differences?
Indeed, beef tataki and roast beef may appear similar at first glance, primarily due to their use of fillet of beef, which distinguishes them from dishes like steaks. However, upon a closer look, these two dishes reveal unique cooking techniques and cultural influences that make them fundamentally different.
Roast beef, a classic of English cuisine, is prepared by slow-cooking a block of beef in the oven. This method allows the meat to develop a deliciously browned surface with a beautiful rose-colored interior, contributing to its iconic presentation.
On the other hand, beef tataki follows a contrasting culinary philosophy. It involves searing the surface of the beef in a frying pan or pot while keeping the inside essentially raw. This technique results in a completely different texture and flavor profile compared to roast beef.
These dishes also diverge significantly in their seasoning approach. While roast beef typically incorporates herbs, salt, and pepper during the cooking process and is often served with a gravy made from the meat's juices, beef tataki opts for a distinctly Japanese palette of flavors. It is typically served with soy sauce, ponzu sauce, or a soy sauce-based sauce, akin to sashimi, further emphasizing its Japanese culinary roots.
In conclusion, while beef tataki and roast beef may share the use of beef chunks, the cooking methods, timings, and seasonings employed result in two distinctively different, yet equally delicious dishes.
Does tataki have to be made with wagyu?
When it comes to Japanese beef dishes, you might associate them with Wagyu beef. However, it is not necessary to use Wagyu for Tataki (although of course, you can if you like).
You can make beef tataki with the same blocks of beef that you use for roast beef at home. In fact, I used Angus beef round in making this recipe.
And to be more specific, beef tataki is often made with particularly lean cuts of meat, with rounds and rumps being the most commonly used cuts.
Ingredients You Will Need
Fillet of beef - As mentioned, rounds or rumps would be great options, preferably use a lean block of beef without too much fat or connective tissues.
Salt - Simple sea salt or your preferred cooking salt to bring out the flavor of the beef.
Garlic paste - You can grate garlic yourself or you can use premade garlic paste as a shortcut (I often use S&B Oroshi Nama Ninniku)
Black pepper - White pepper can also be used instead depending on your preference.
Cooking oil - Any unflavored oil will do. I usually use unflavored white sesame oil or rice bran oil.
Soy sauce - If you want to know more about soy sauce used for Japanese cooking, please see my 20 Most Useful Condiments and Seasonings for Japanese Cooking post.
Mirin - Choosing the right mirin can be tricky, as there are various "mirin-style condiments" that are not true mirin. When purchasing mirin, it is recommended to look for "hon mirin" (本みりん) for the best flavor. In the US, Hinode Hon Mirin is a high-quality and affordable option. Another premium hon mirin available on Amazon US is Kokonoe Jun Mikawa Hon Mirin. If you prefer a more budget-friendly option that is not hon mirin, Kikkoman's Manjo Aji Mirin would be a suitable choice.
Sake - If you do not have it, substitute white wine or dry sherry.
Wasabi - You can grate wasabi yourself, but realistically, wasabi paste such as S&B's is more than good enough.
I have listed my recommended Japanese condiments, tools, and ingredients in the Sudachi Recipes Amazon shop. If you want to keep making various Japanese foods at home, please check it out!
Step-by-Step Process
Take your beef fillet and pierce it all over with a clean fork. This will tenderize the meat and help the seasonings travel deeper.
Sprinkle with salt and pepper, then rub the garlic paste all over the surface. Cover and allow the fillet to come to room temperature.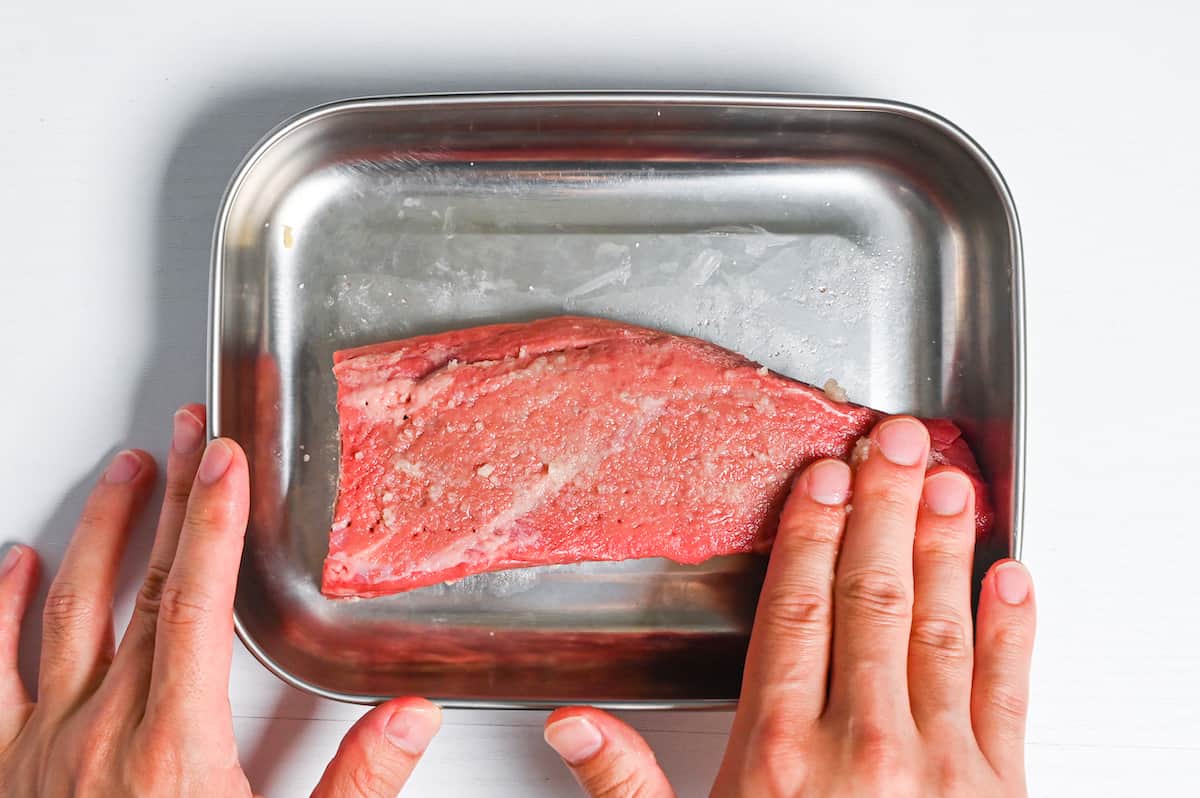 Preheat your pan on high. I recommend using cast iron for a beautiful even brown sear, they also retain heat better for the resting period later.
Once hot, add the oil and place the fillet in the pan.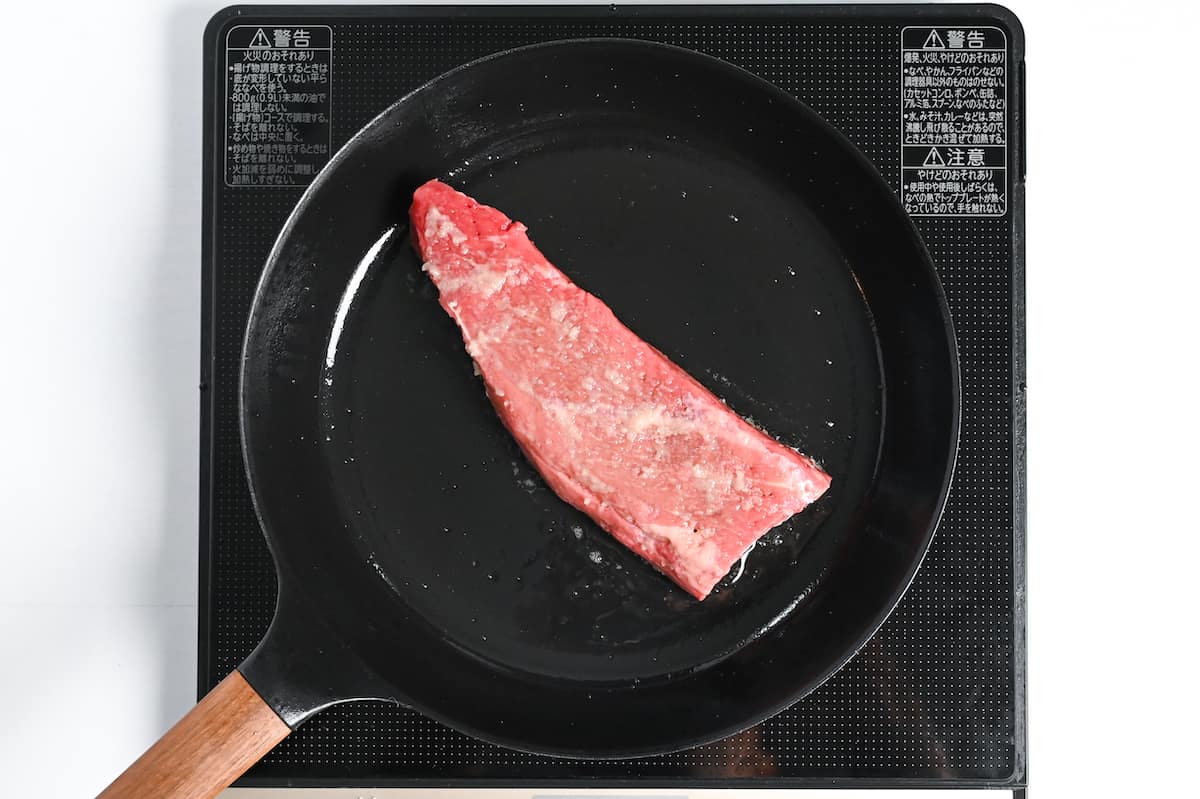 Fry for about 30-45 seconds on each side to seal the surface.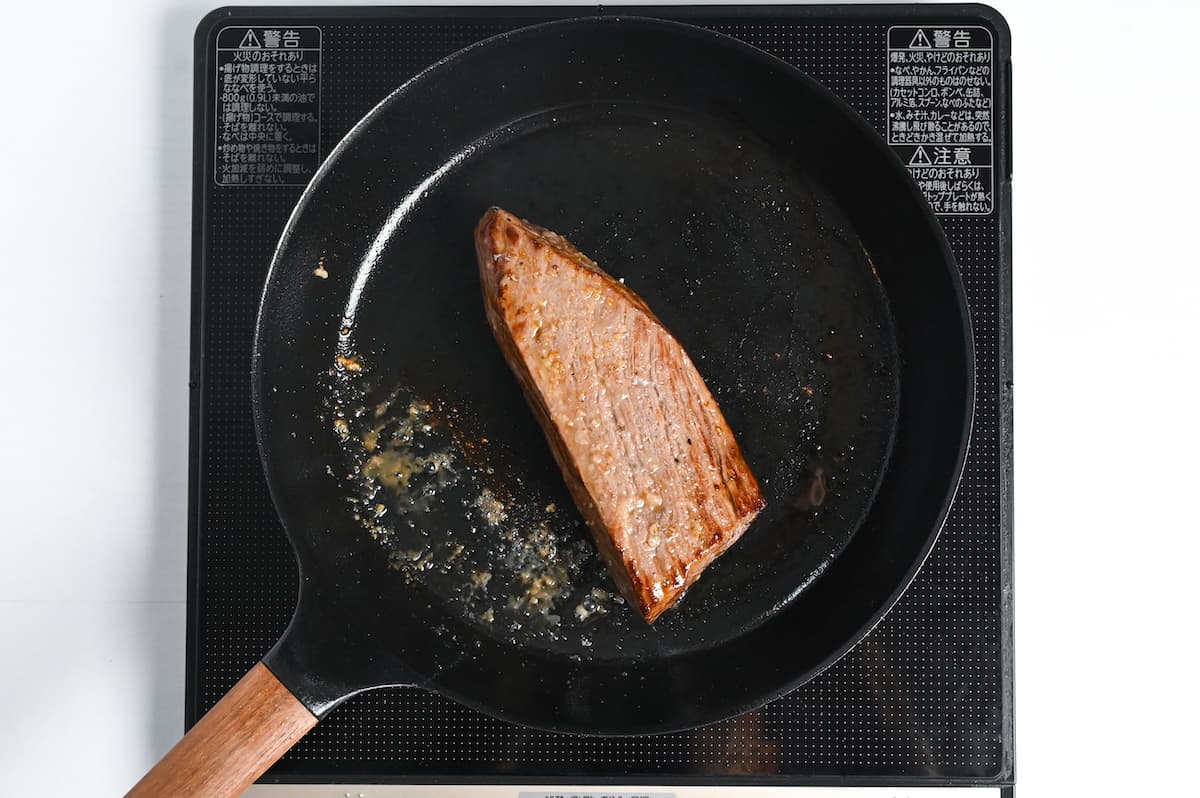 Once sealed, turn off the heat, wrap the meat with foil and rest it in the warm pan for 15 minutes.
Pour the sake and mirin into a small saucepan and allow it to boil for 1-2 minutes to burn off the alcohol. Pour it into a small, heatproof bowl.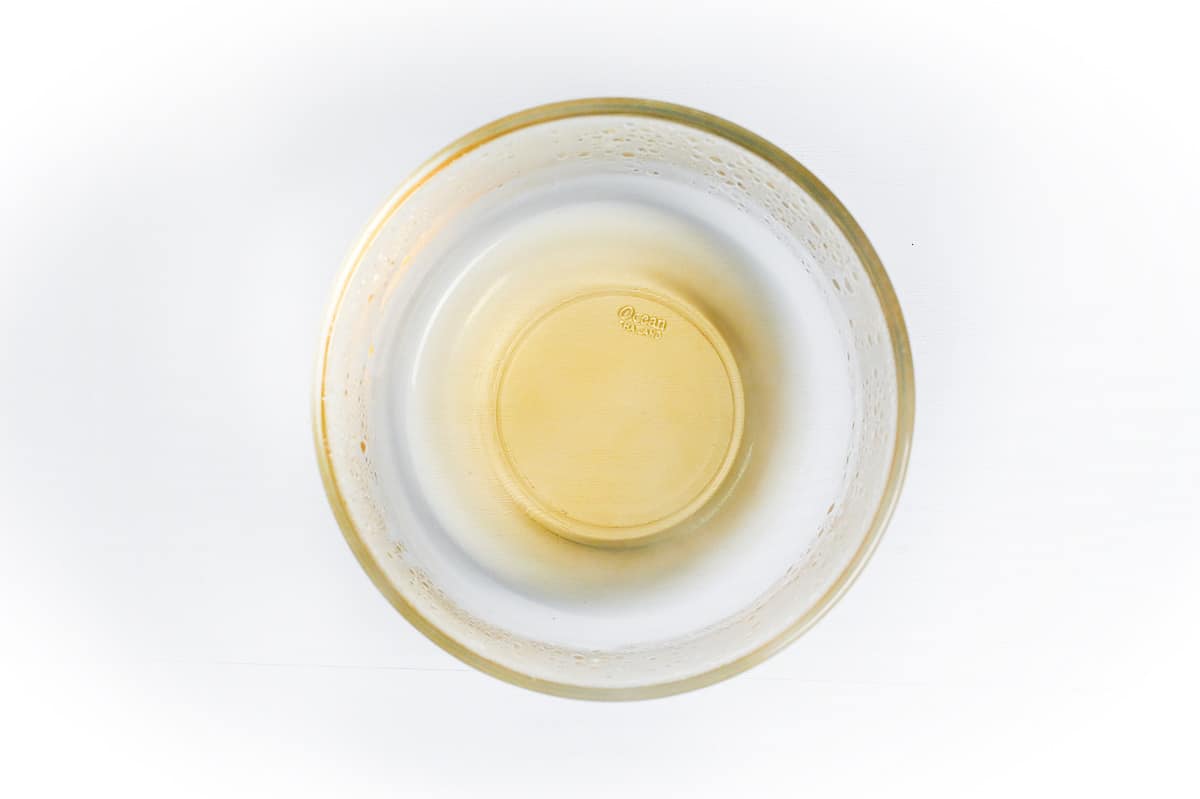 Add soy sauce and wasabi to the bowl and whisk until smooth. Store in the fridge until time to serve.
Once the beef has finished resting, use a clean, sharp knife to cut it into thin slices. Arrange the slices on a plate, drizzle with sauce and top with chopped green onions.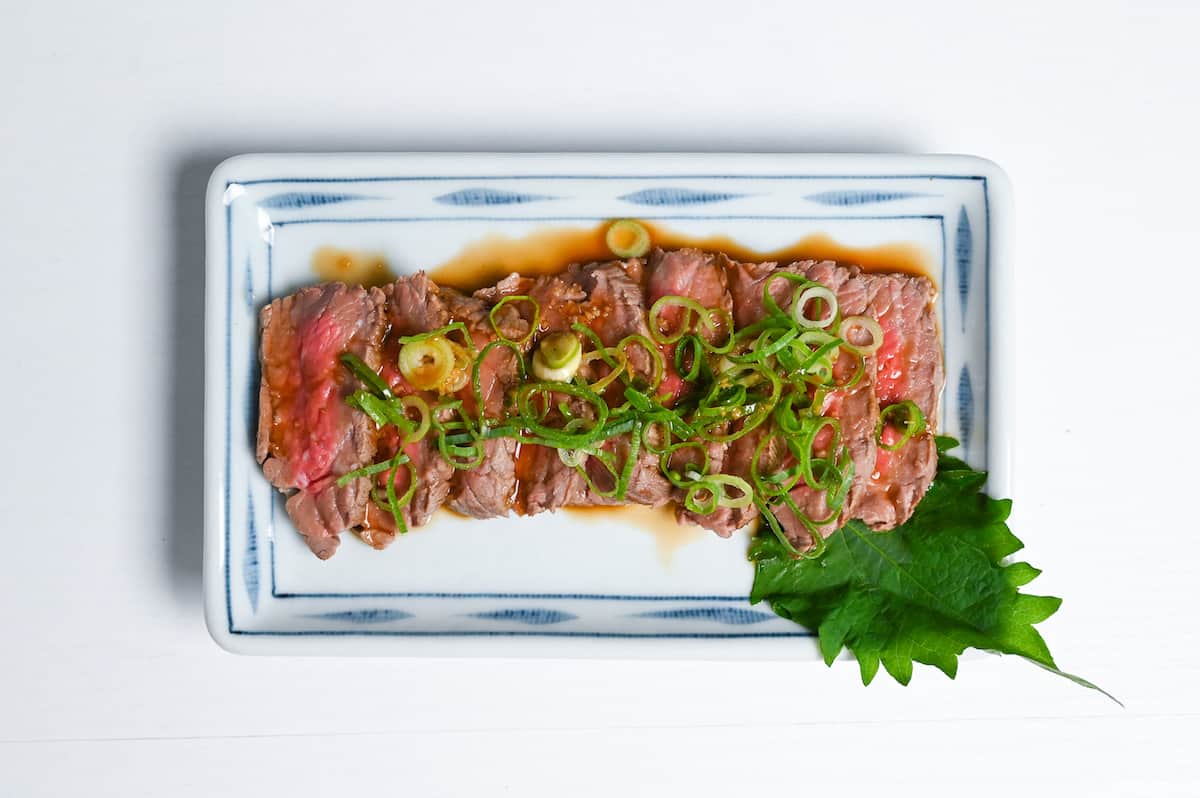 Enjoy!
Storage guideline
Beef tataki is basically cooked only on the outside and most of the inside is rare or even raw, so it is important to eat it the same day it is cooked, even if it is stored in the refrigerator.
At the latest, it should be stored in the refrigerator and eaten within 24 hours. If you choose to refrigerate, store it in block form and cut with a clean knife right before serving to avoid bacterial growth.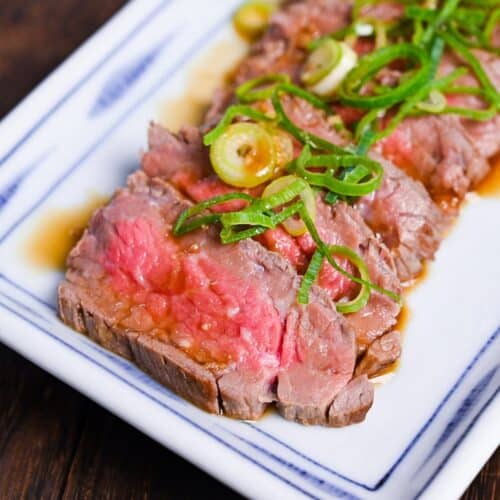 Beef Tataki (Japanese Seared Beef Fillet)
Elegant Beef Tataki made with seared, tender beef fillet served with a simple homemade soy-based dipping sauce.
Ingredients
300

g

fillet of beef

¼

tsp

salt

⅛

tsp

black pepper

½

tbsp

garlic paste

-

or grated clove

½

tbsp

cooking oil

-

neutral flavor with high smoke point

1

tbsp

green onion(s) -

thinly sliced
Instructions
Place the

300 g fillet of beef

in a container and stab it thoroughly all over with a clean fork.

Sprinkle with

¼ tsp salt

and

⅛ tsp black pepper

and rub the

½ tbsp garlic paste

evenly over the surface. Cover and bring to room temperature.

Once the beef reaches room temperature, heat an iron skillet on high. Once hot, add the oil and place the beef fillet in the pan.

Fry for about 30-45 seconds on each side.

Once sealed all over, turn off the heat. Wrap the meat in foil and place it back in the pan to rest in the residual heat for 15 minutes.

While the beef is resting, heat the

½ tbsp sake

and

1 tbsp mirin

in a saucepan and boil for 1-2 minutes to burn off the alcohol. Pour into a heatproof bowl.

Add

½ tbsp soy sauce

and

½ tsp wasabi paste

to the bowl and whisk until combined. Store in the fridge until serving time.

Once the beef has finished resting, use a clean, sharp knife to cut it into thin slices. Lay the slices on a plate and drizzle with the sauce. Top with chopped green onions and enjoy!
Notes
Cut right before serving.
Consume on the day of cooking or within 24 hours. If storing, refrigerate as a block and slice right before serving.
Nutrition
Serving:
175.9
g
Calories:
309
kcal
Carbohydrates:
5.4
g
Protein:
31.4
g
Fat:
18
g
Saturated Fat:
5.86
g
Polyunsaturated Fat:
1.92
g
Cholesterol:
101
mg
Sodium:
775
mg
Fiber:
0.1
g
FAQ
What does tataki mean?
"Tataki," is originally a Japanese culinary technique involving the physical mashing or crushing of ingredients to enhance their flavor. This has evolved in modern times to typically refer to dishes featuring fish or beef. These proteins are seared over charcoal or a hot plate, promptly cooled, sliced, and served with condiments and seasonings. The term "tataki" possibly originates from practices of pre-salting and beating fish meat or sprinkling condiments on grilled food and patting them in.
Do you eat beef tataki raw?
Yes, in a sense. Beef tataki is prepared by briefly searing the exterior of the beef, leaving the inside largely raw, akin to a thinly sliced rare steak. The speedy searing seals in the flavors while preserving the meat's freshness. However, it's important to use high-quality, fresh beef for both taste and safety.
What is tataki beef?
Beef Tataki is a dish of sliced beef block that is quickly cooled after cooking only the surface of the meat, without cooking the inside. It is usually served with soy sauce or ponzu. Incidentally, the name "Tataki" comes from "Katsuo no Tataki (bonito tataki)" which is a major dish in the world of tataki.