Menchi Katsu is a popular Japanese yoshoku dish made with a seasoned meat patty, coated with panko breadcrumbs and deep fried until golden and perfectly crisp. It's then drizzled with a tasty homemade sauce and served with shredded cabbage and rice, delicious!
Disclaimer: This post contains Amazon affiliate links. Sudachi Recipes earn a small percentage from qualifying purchases at no extra cost to you. See disclaimer for more info.
Jump to:
What is menchi katsu (メンチカツ)?
Menchi Katsu (メンチカツ) is a delicious deep fried dish made with ground meat, onions and seasonings shaped into a patty. To finish it off, it's coated in crunchy, golden panko breadcrumbs and drizzled with a zingy "katsu sauce". You could say it's like a deep fried hamburger patty.
The filling for menchi katsu is generally made with a mixture of beef and pork (with the beef ratio being a little higher). The mince is kneaded together with the onions and seasonings, shaped into a small oval or sphere, then coated with flour, beaten egg and breadcrumbs and deep-fried in oil.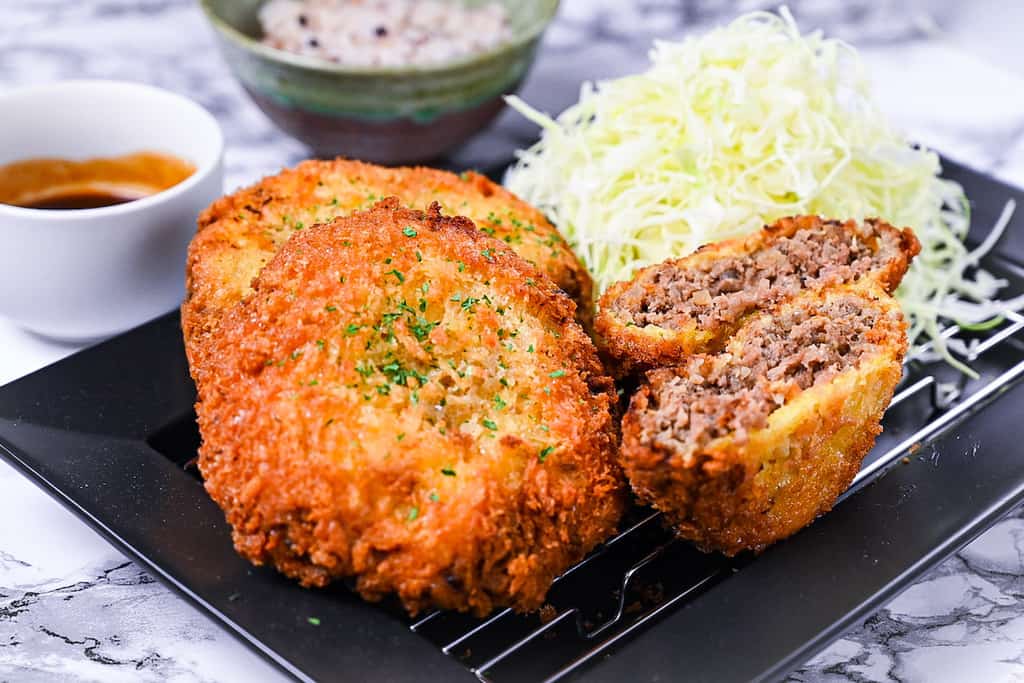 The word "menchi" comes from the word "mince" or "minced meat". It is occasionally called "minchi katsu" as well.
Menchi katsu is a type of "yoshoku dish", a dish created in Japan but with Western flavours and influence. The funny thing about yoshoku dishes is that they're rarely found outside of Japan!
Even though it contains a word "katsu (cutlet)", it's considered more like a variant of croquette (korokke).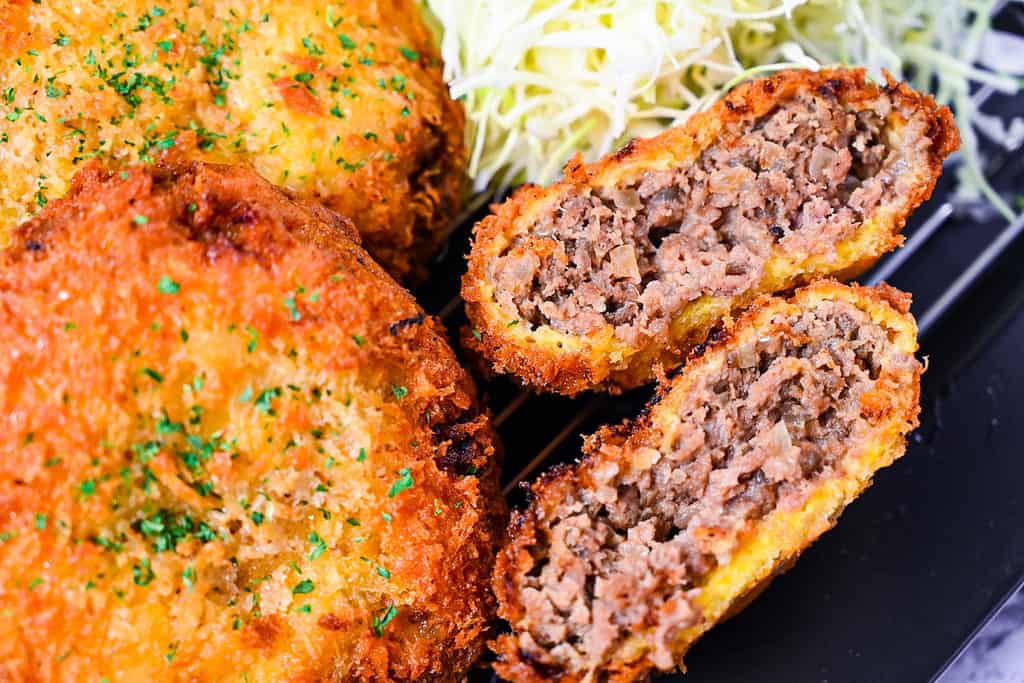 A brief history of menchi katsu
The origin of menchi katsu dates all the way back to the Meiji era (1868 - 1912), more specifically, it is believed that it was created in 1897.
The original idea was to create minced meat version of tonkatsu. This explains why it's known as "katsu" rather than "korokke".
The owner of the restaurant (Rengatei in Ginza, Tokyo) named the dish "menchi katsu", in other words "minced cutlet". The misunderstanding here is that he converted the English word "mince" into "menchi" in Japanese.
The funny thing is, we call mince meat "minchi" in Japanese, but up until 1930, it was called menchi because of that misunderstanding.
That being said, some people call it "minchi katsu" instead. However, there is no concrete answer to the origin and this is one of the most prominent theories available.
What is the difference between menchi katsu and korokke?
Menchi katsu and korokke are both dishes in which the ingredients are shaped, battered with flour, beaten egg and breadcrumbs and deep-fried.
The main difference lies in the ingredients.
Menchi katsu are made from a mixture of minced pork or beef and chopped onions, while the standard korokke are made from a mixture of boiled potatoes, minced meat and onions.
So it's safe to say that the main difference between the two is whether the meat or the potatoes are the star of the dish.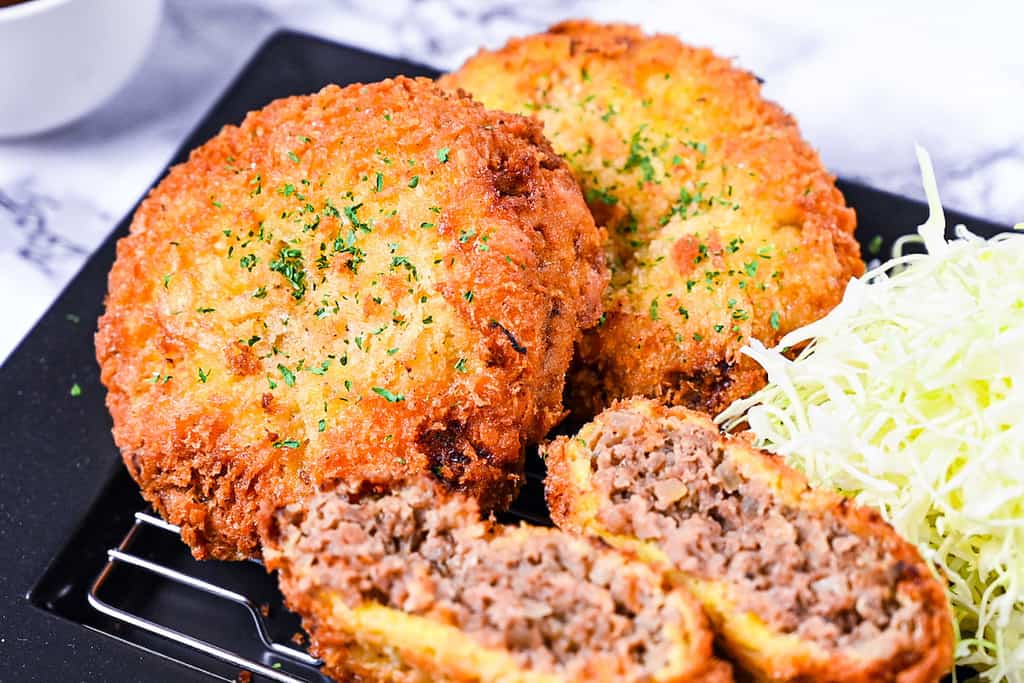 Match 7th is menchi katsu day
Although not widely recognised, 7th of March is known as Menchi Katsu Day in Japan.
This day was established in 2009 by a company in Kagawa Prefecture that manufactures and sells frozen foods.
It has a rather forced etymology of 3 = "Mi" and 7 = "Shichi" to make "Minchi".
In Japanese, the word "katsu" can also mean "to win". March is exam season in Japan, so the company also promotes that if students eat Menchi Katsu on March 7th, it will bring them good luck to pass their exams.
If I'm honest, Menchi Katsu day is not very well known and I didn't know about it until recently. But I'm sure students love eating menchi katsu during the stressful exam period!
Tips and tricks to make an amazing menchi katsu at home
Here are a few of my favourite tips for making menchi katsu at home. These tricks will help avoid failure and make a delicious menchi katsu that will exceed your expectations!
Fry onions with butter until golden brown
By frying onions with butter until golden brown, you can bring out sweetness and deep flavour of the onion. Just be careful not to brown them too much.
Toss the patties
When making Menchi Katsu or Hamburg steaks, I like to toss the patties from one hand to another while shaping. Not only does this push the air out of the patty, but it also prevents the warmth of your hands heating up the meat too much.
Rest the meat mixture in the fridge for 30 minutes
After shaping, rest in the fridge for 30 minutes to firm up the patties! That way, the fat in the meat solidifies making the filling juicier and more delicious. The patties also become more stable and the batter sticks better too!
This technique prevents the menchi katsu from exploding while frying as well, there's many reasons to follow this step!
Add chicken soup jelly into the meat mixture (optional)
To make extra juicy menchikatsu, I add chicken soup jelly, made from chicken broth soup and gelatine, to the meat mixture.
It basically acts as juice bomb and the end result will be extra juicy!
Simply mix 100ml chicken stock soup and 2.5g gelatin and rest it in fridge for 2-3 hours to make chicken soup jelly!
However, because this process has a long waiting time, I'd say it's optional.
Double battering
To reinforce the outside of the katsu and avoid explosion, I use the double battering technique.
This means coating the patties with flour, egg, panko and then once more with egg and panko again.
This makes it more difficult for the batter to peel off and the reinforced outer skin also makes it less likely to burst during the frying process.
Fry no more than two at the same time
If you are going to fry multiple menchi katsu at the same time, it is better to fry no more than two at the most. Of course this depends on the size of your pot/fryer, but the less you put in, the higher the chance of successful menchi katsu.
If you fry too many at the same time, the temperature of the oil will temporarily drop which causes the katsu to absorb more oil. This negatively affects the texture because the batter becomes less crispy and more oily.
Double frying
To make menchi katsu juicy inside and crispy outside, I use double frying technique.
First fry at 160°C for 4 minutes (2 mins on each side), then remove and raise the temperature to 180°C, then fry for 1 to 2 minutes to crisp them up!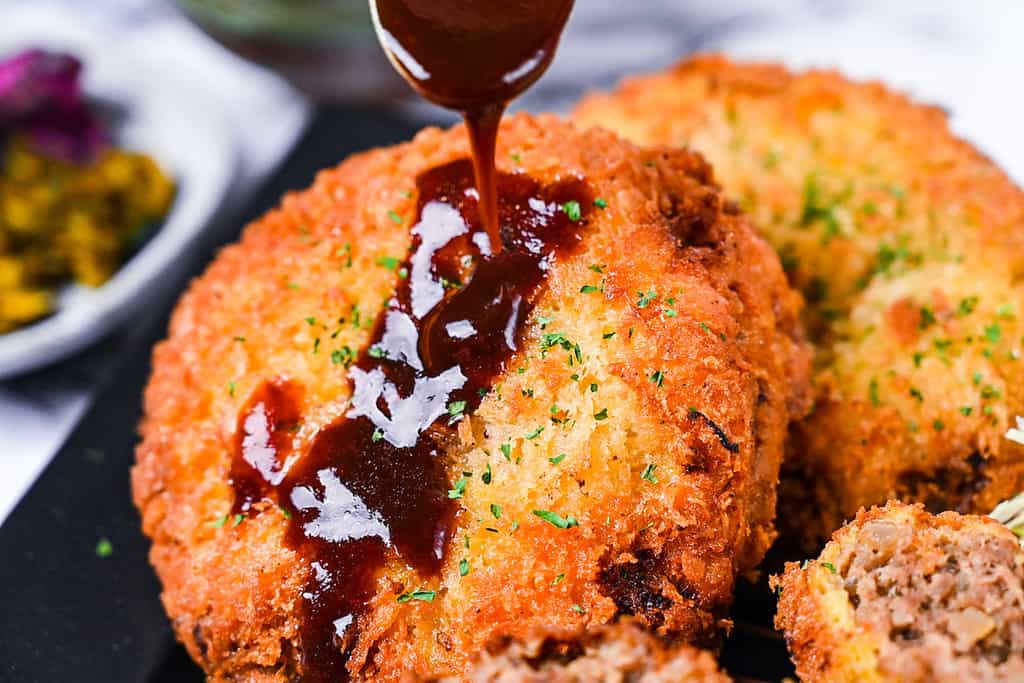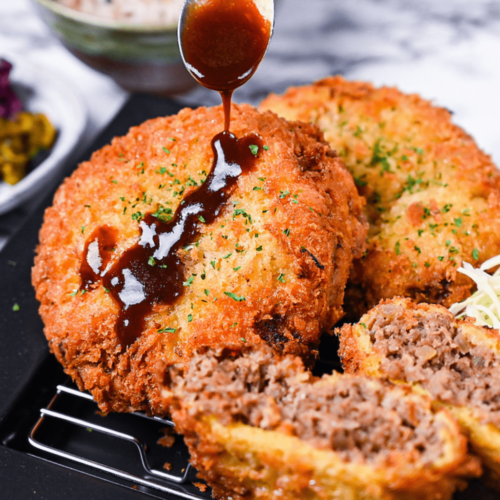 Menchi Katsu (Japanese Ground Meat Cutlet)
How to make crispy and delicious homemade Menchi Katsu with homemade sauce.
Ingredients
Menchi Katsu
½

tsp

gelatin

-

optional

50

ml

chicken stock

-

optional

1

tsp

unsalted butter

100

g

yellow onion(s) -

finely diced

100

g

ground beef

-

or beef/pork mix, for frying

150

g

ground beef

-

or beef/pork mix, for using as it is

½

tbsp

mirin

1

tbsp

Worcestershire sauce

3

tbsp

panko breadcrumbs

1 ½

tbsp

whole milk

1

pasteurized egg yolk

½

tsp

tomato ketchup

1

tsp

sugar

1

pinch

nutmeg

1

pinch

salt and pepper

85

g

all-purpose flour

-

for dusting

1

large egg

-

or 2 small

150

g

panko breadcrumbs

dry parsley

-

to garnish
Sauce
1

tbsp

tomato ketchup

1

tbsp

Worcestershire sauce

1

tsp

oyster sauce

1

dash

olive oil

1

dash

rice vinegar
Instructions
Optional step:In a microwavable bowl, add

50 ml chicken stock

and sprinkle in

½ tsp gelatin

. Let it bloom for 5-10 minutes and then microwave for 30 seconds or in 20 second intervals until the gelatin is dissolved. Place in the refrigerator and leave to set for 3 hours. Once set, break up into small pieces using a spoon.

Place a frying pan on the stove and heat on medium. Melt

1 tsp unsalted butter

and add

100 g yellow onion(s)

.

Fry the onion until softened and slightly golden.

Add

100 g ground beef

to the pan and fry until browned on the surface.

Pour in

½ tbsp mirin

and

1 tbsp Worcestershire sauce

. Stir and continue to fry until liquid is almost gone.

Remove the pan from heat and allow the mixture to cool to room temperature.

In a small bowl, mix

3 tbsp panko breadcrumbs

with

1 ½ tbsp whole milk

.

Take a mixing bowl and add

150 g ground beef

. Sprinkle with

1 pinch salt and pepper

and roughly mix.

Add the wet panko mixture,

1 pasteurized egg yolk

,

½ tsp tomato ketchup

,

1 tsp sugar

,

1 pinch nutmeg

, and cooked cooled mince from earlier to the mixing bowl. Mix well by hand. (If using chicken jelly, add that too.)

Divide the mixture into 4 portions (8 if you double the recipe) and shape into ovals/discs.

Place each patty on a plate, cover and rest in the fridge for 30 minutes.

Preheat your oil to

160

°C

.

Prepare 3 plates or containers. One with flour, one with whisked egg and one with panko breadcrumbs.

Coat each patty with

85 g all-purpose flour

, then

1 large egg

, then

150 g panko breadcrumbs

. Be sure to press the breadcrumbs down gently without squashing the patty.

Coat each patty with egg and panko one more time.

Place the menchi katsu in the oil and fry for 2 minutes on each side. (Preferably cook 2 at a time.)

Remove from the oil and place on a wire rack. Increase the heat of the oil to

180

°C

.

Fry the menchi katsu in the hotter oil for 1-2 minutes each side or until golden.

Remove from the oil and place on a wire rack to allow the excess oil to drip off.

Mix the sauce ingredients in a small bowl or serving jug.

Serve menchi katsu with a sprinkling of dry parsley and a heap of shredded cabbage.

Drizzle with sauce and enjoy!
Notes
Cooking time doesn't include chicken jelly because it's an optional step.
Adding chicken jelly makes the patty juicier and more flavourful, but takes longer and can be harder to shape.