Learn how to make delicious beef negimaki made with thin slices of tender and juicy beef wrapped around thick pieces of spring onion and braised in a rich, sukiyaki-style sauce. This dish is quick and easy to make, and makes the perfect appetizer or bento box filler!
Disclaimer: This post contains Amazon affiliate links. Sudachi Recipes earn a small percentage from qualifying purchases at no extra cost to you. See disclaimer for more info.
Jump to:
What is beef negimaki?
Beef negimaki, known in Japanese as "negi no gyuniku maki" (ネギの牛肉巻き) or "gyuniku no negi maki" (牛肉のネギ巻き), is a dish made with thinly sliced beef (like the beef used in shabu-shabu or sukiyaki) wrapped around green onions and fried in a sweet and savory sukiyaki-like sauce.
The simplicity of its ingredients characterizes it, yet the sweetness of the green onions and the savoury flavor of the beef combine perfectly. Due to its convenient size and attractive appearance when cut, it is also a popular side dish to use for bento boxes (packed lunch).
A Brief History
Although the history of the current negimaki itself is not known, there is a Japanese dish called yawatamaki (八幡巻き), in which vegetables (mainly burdock root) are wrapped with meat or eel, including beef.
Yawatamaki evolved from a local dish of the former Yawata Village (present-day Yawata City, Kyoto Prefecture), which was well known for its local burdock roots and wild eel that could be caught there. It is also a dish used in Osechi (traditional New Year's dishes), and since burdocks are the main ingredient, the wish for "humble and long happiness" is implied from the appearance of the burdocks.
Although there is no proof at all, negimaki may have originated or been influenced from this yawatamaki.
What does "negimaki" mean?
"Negi" is the Japanese name for spring onion, scallion or green onion and "maki" means "to roll", so the direct translation would be "spring onion roll". However, in Japan, negimaki is actually more commonly known as "nikumaki" since the meat is wrapped around the vegetable (and not the other way around).
I would also say that it's more common to use thinly sliced pork for wrapping rather than beef, and while "negi" is one of the most popular vegetables used, other various vegetables can be wrapped such as asparagus, enoki mushrooms and cabbage.
The difference between "negimaki" and "negima"
If you're interested in Japanese cuisine or have traveled to Japan, you might have seen or heard the name "Negima". Is it short for "negimaki"? Well actually, no. Despite the similar names and the fact that both are dishes made with meat and spring onions, they are actually completely different.
"Negimaki" is made by wrapping the spring onions with thin slices of meat (usually beef or pork) and then braising them. On the other hand, "negima" is a yakitori dish where chunks of spring onion are wedged between pieces of chicken (or pork, never beef) on a bamboo skewer and grilled over charcoal.
You might think the names are confusingly similar, but negimaki is better known as "nikumaki", so these dishes don't tend to get confused with each other in Japanese.
It's also worth noting that negimaki is considered a typical home cooked dish and is rarely seen in restaurants in Japan, whereas negima is a common item on menus at yakitori restaurants.
Recommended Beef Cuts to Use
In order to wrap the beef successfully around the green onions, naturally, the meat must be thinly sliced. You can definitely use beef cuts that would usually be used for shabu-shabu or sukiyaki, which can be found in specialized Japanese or Korean supermarkets. Specific parts of the beef are as follows: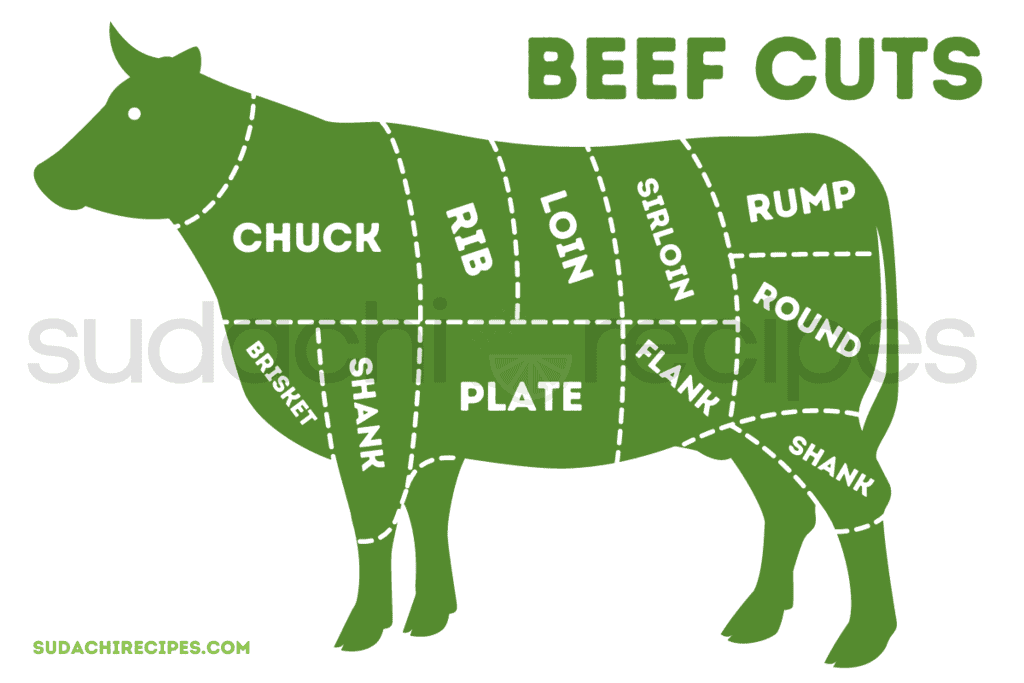 There are four types of beef parts suitable for negimaki.
Rib eye roll - considered one of the finest cuts. Has a good balance of fat and lean meat with beautiful marbling. The fat melts easily into the sauce contributing to a rich and flavourful taste.
Chuck eye roll - High-fat content with fine marbling (although not as much as rib-eye). Also often used for shabu shabu and yakiniku (grilled meat).
Plate - A slightly coarser option with a good amount of fat makes plate a decent part for a lower cost.
Round - a leaner option for people who don't enjoy fatty meats. Cooking time should be reduced to prevent the meat from becoming too tough.
However, beef negimaki is a casual dish and doesn't require top quality beef like shabu-shabu, yakiniku, or sukiyaki, where the quality of the beef is so important to the quality of the dish itself. Honestly speaking, you can use any cut of beef as long as its thinly sliced.
I mentioned earlier that it's actually more common to use thin slices of pork for negimaki in Japan. Thinly sliced pork belly or shoulder are best for this.
If you need to thinly slice the meat yourself at home, I recommend placing the block of meat in the freezer for a short amount of time so that the meat becomes firm (not frozen). This will help you cut the meat thinly with ease.
Ingredients You Will Need
Thinly sliced beef - As I mentioned, rib eye roll, chuck eye roll, plate and round would be good options, but any thinly sliced beef would work.
Green onion - Also known as long onion, Welsh onion, scallions or "negi" in Japanese. Wash and cut into pieces 10 cm long.
All-purpose flour - Coat thinly before cooking. This improves the color and helps the sauce stick to the surface.
Soy sauce - If you want to know more about soy sauce used for Japanese cooking, please see my 20 Most Useful Condiments and Seasonings for Japanese Cooking post.
Mirin - Choosing the right mirin can be tricky, as there are various "mirin-style condiments" that are not true mirin. When purchasing mirin, it is recommended to look for "hon mirin" (本みりん) for the best flavor. In the US, Hinode Hon Mirin is a high-quality and affordable option. Another premium hon mirin available on Amazon US is Kokonoe Jun Mikawa Hon Mirin. If you prefer a more budget-friendly option that is not hon mirin, Kikkoman's Manjo Aji Mirin would be a suitable choice.
Sake - If you do not have it, substitute white wine or dry sherry.
Light brown sugar - White sugar can be used, but brown sugar is recommended for a richer taste.
Rice vinegar - Grain vinegar can be substituted for rice vinegar.
Oil - As long as the flavor is not too strong, your regular cooking oil is fine. I personally use white sesame oil (unscented) or rice bran oil for general frying.
I have listed my recommended Japanese condiments, tools, and ingredients in the Sudachi Recipes Amazon shop. If you want to keep making various Japanese foods at home, please check it out!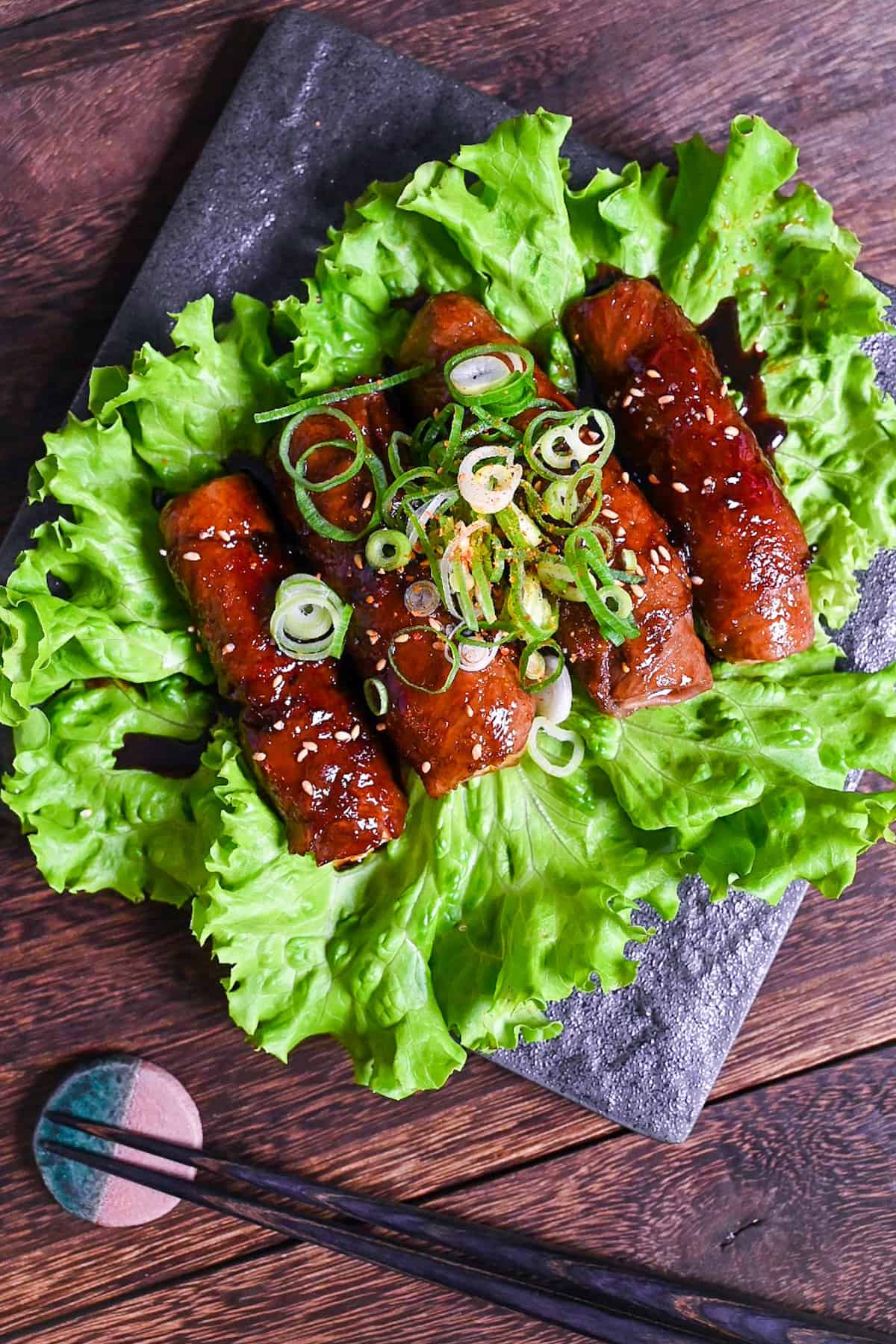 Step-by-Step Process
Negimaki is a quick and simple dish that can be made ahead of time. Simply roll them up, make the sauce and store them in the fridge until it's time to cook. Here is how to make them step by step!
Take a small bowl and mix the soy sauce, sake, mirin, brown sugar and rice vinegar. Once the sugar has dissolved, set the bowl near the stove.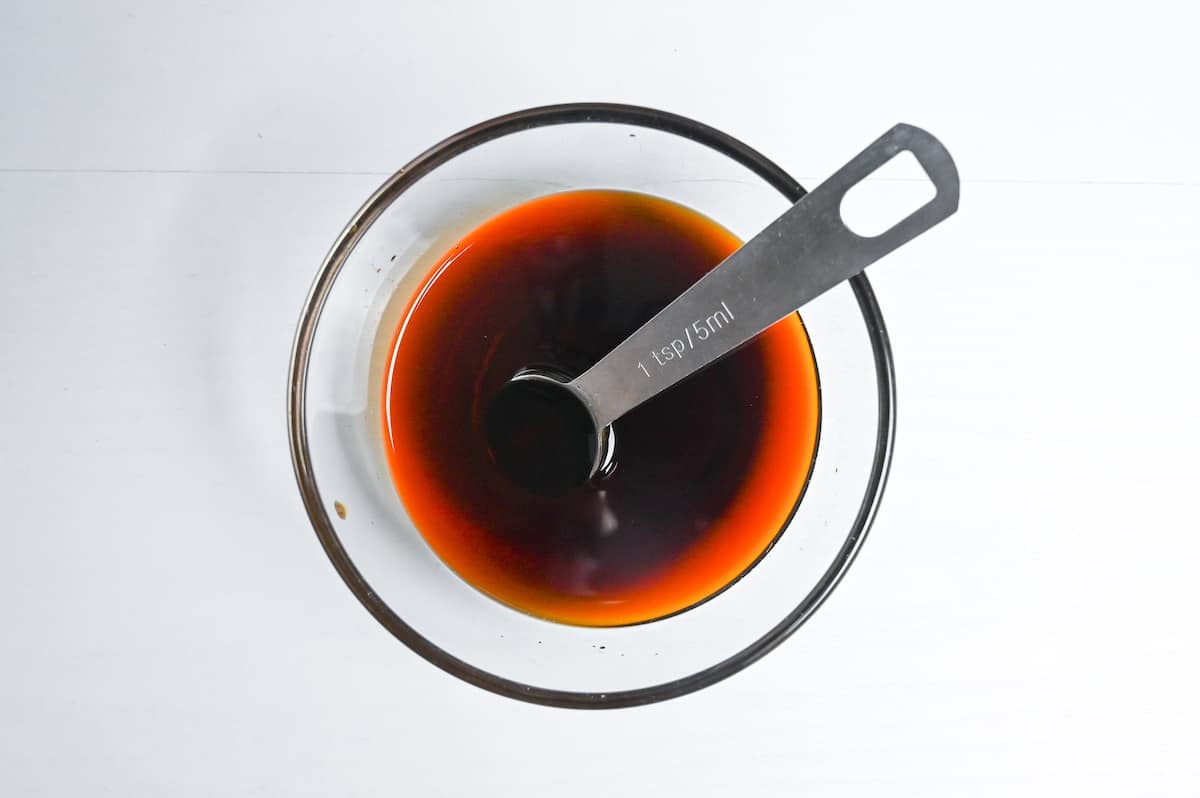 Cut the spring onion and beef
Wash the spring onion and cut them into pieces about 10cm long (4 inches). I don't recommend cutting them any smaller than that, otherwise they become difficult to roll. If you want them to be smaller, you can cut them again after they're cooked.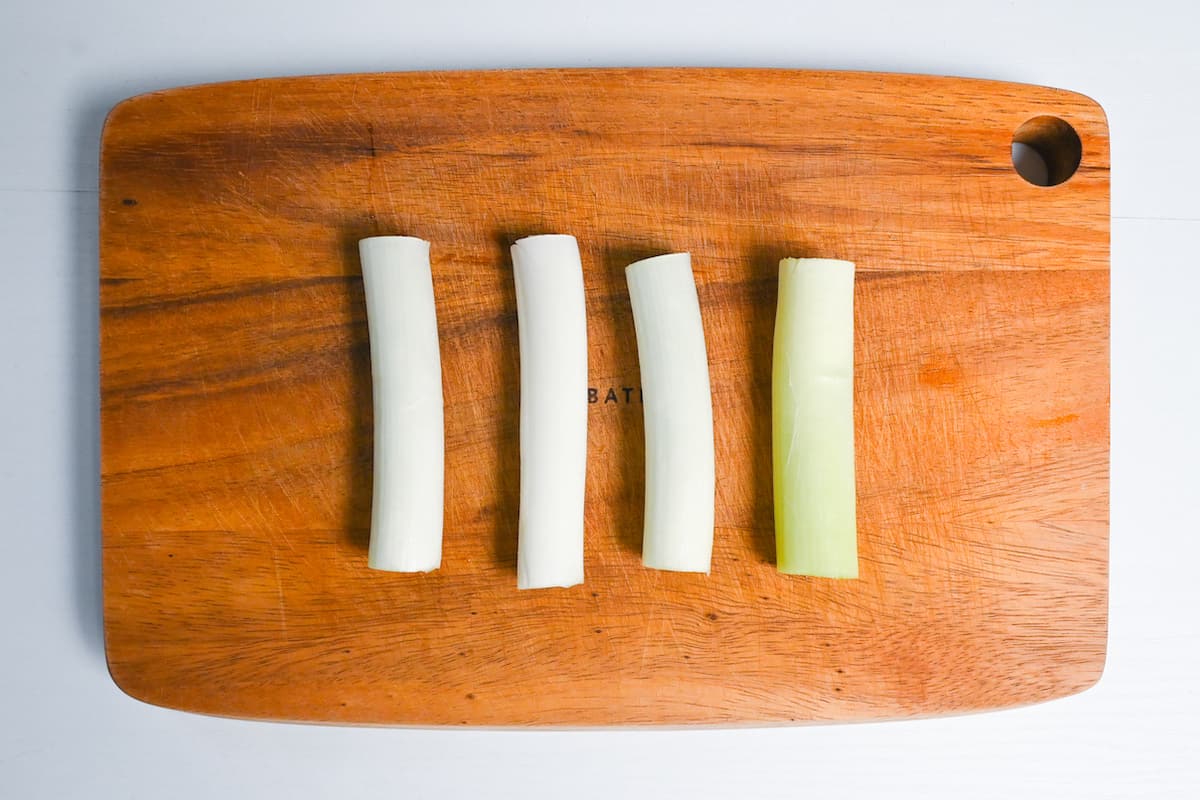 I bought my beef already thinly cut. If you're cutting a block of beef yourself, I recommend chilling it in the freezer until firm (not frozen) and cut it thinly with a sharp knife.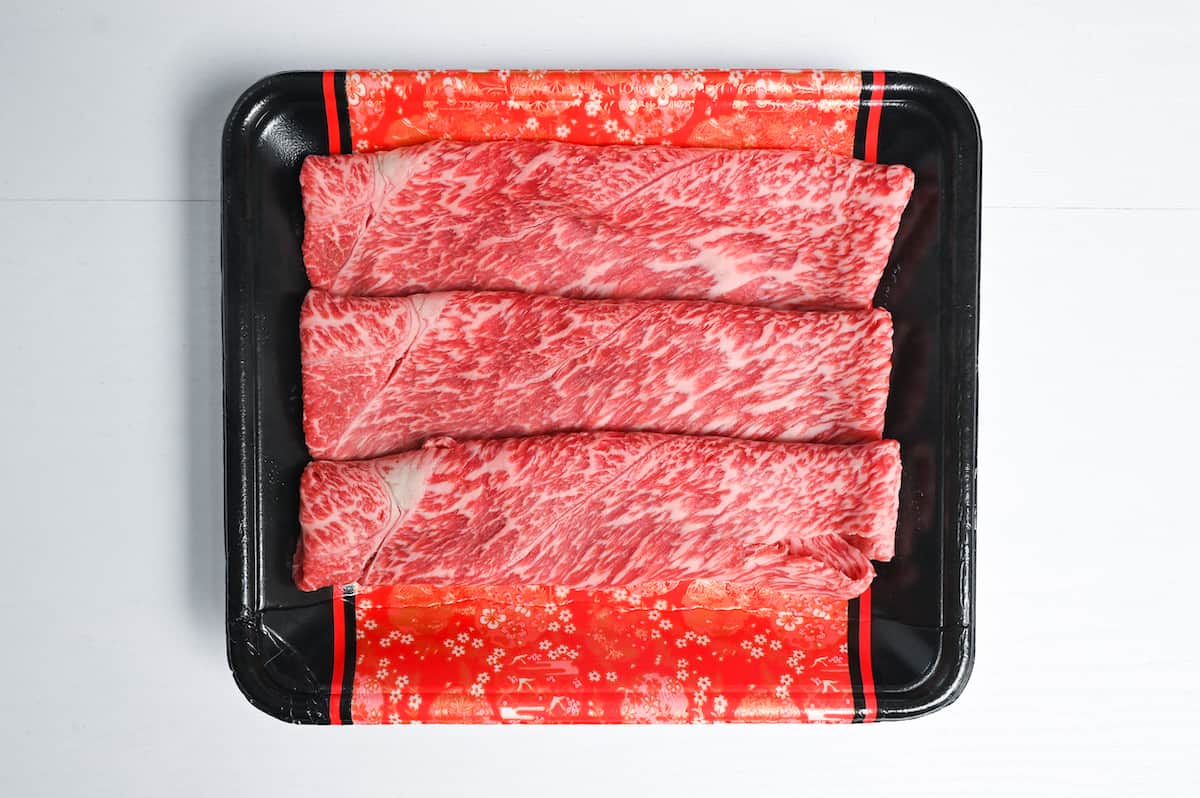 If the pieces are too big, you can cut them smaller, but try to keep them long so that they wrap easily. If the pieces are too small, you will need to lay them out on a flat surface and overlap each piece in a row to be able to roll it.
Wrap the beef around the spring onion. Depending on how wide the meat is, you might need to wrap it diagonally so that it spirals up and around the spring onion.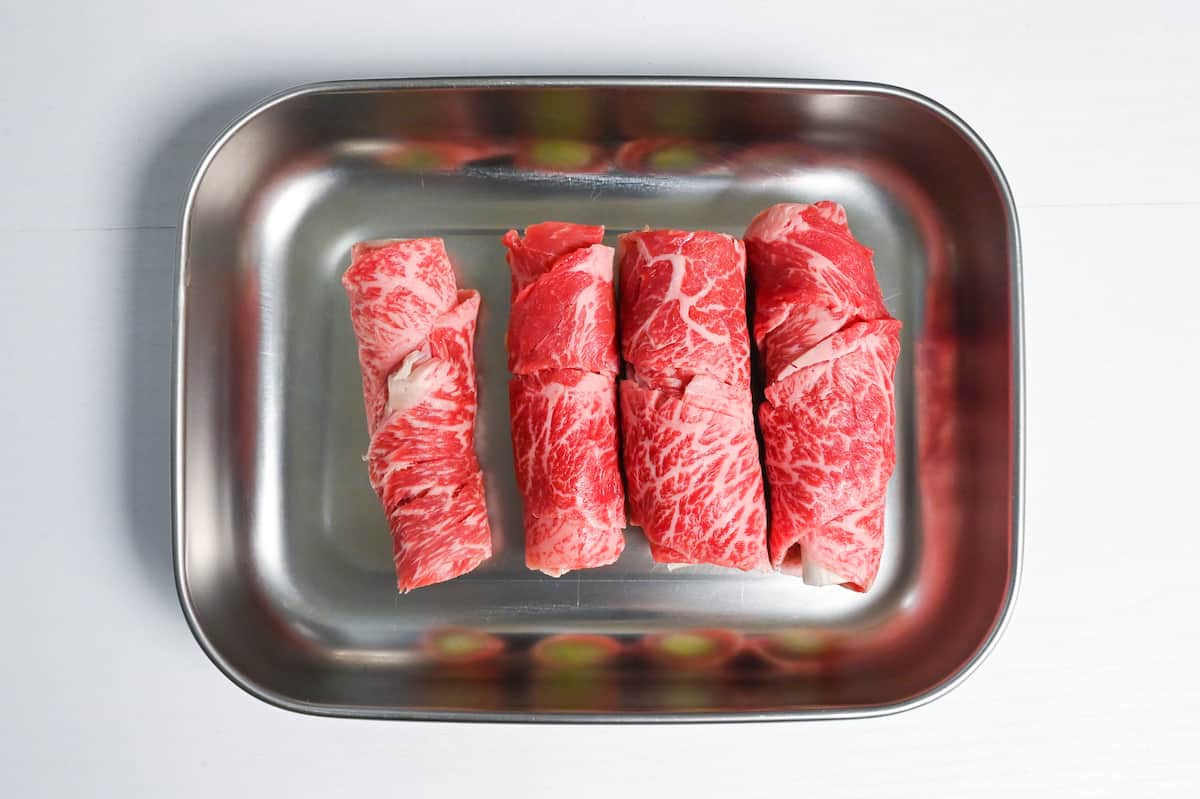 Evenly coat the meat with a thin layer of flour. I prefer using cake flour for this. The flour will help the meat develop a beautiful brown surface and help the sauce stick when cooking. Make sure to brush off any excess before adding them to the pan.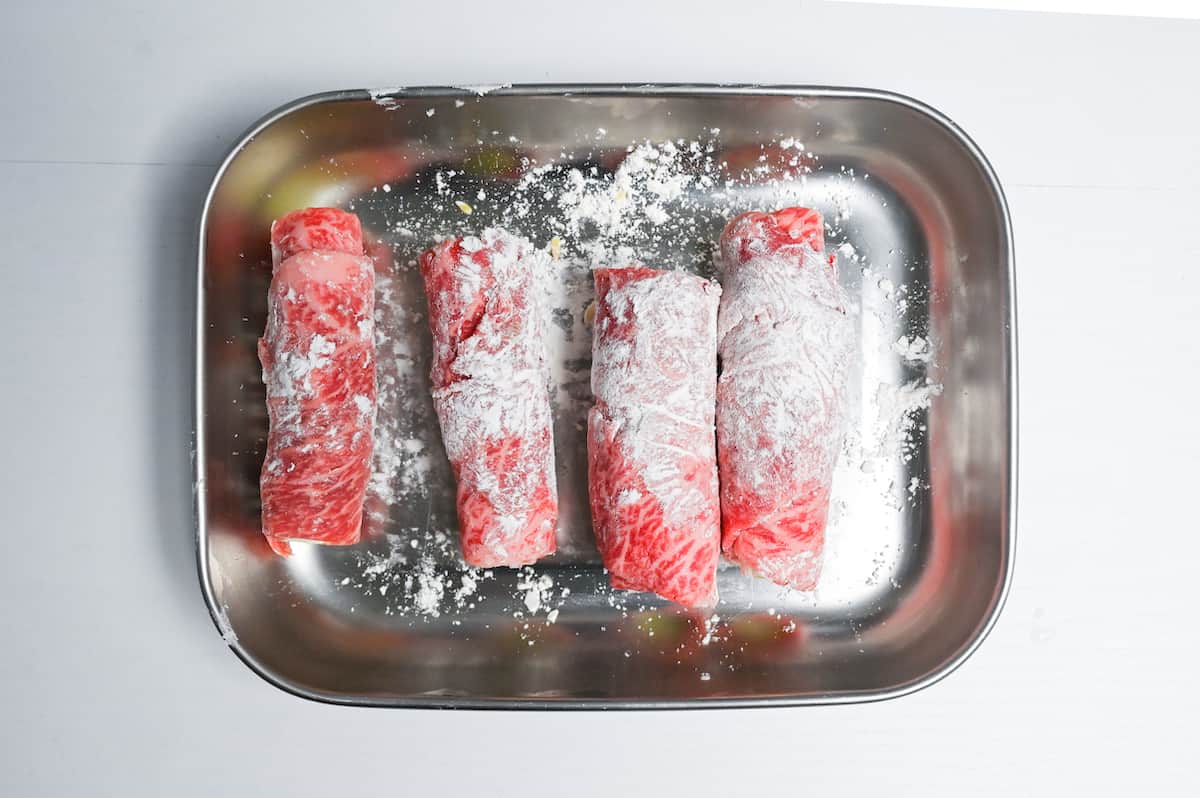 Heat a frying pan on medium. Once hot, add the oil and swirl it around. Place the negimaki in the pan with the seam facing down, this will seal the edge of the meat so that it doesn't unroll during the cooking process. Once the surface is brown, turn and repeat until evenly browned all over.
Once the meat is cooked, pour the sauce into the pan and continue to fry until it's slightly thickened and sticky. Move the negimaki around so that the surface is completely coated.
Be careful not to cook the sauce for too long, otherwise it can become bitter and too salty.
Once cooked, remove the pan from the heat.
Lay the complete negimaki over a bed of lettuce (optional) and drizzle with the sauce left over in the pan. I also like to decorate mine with a few chopped spring onions and some sesame seeds.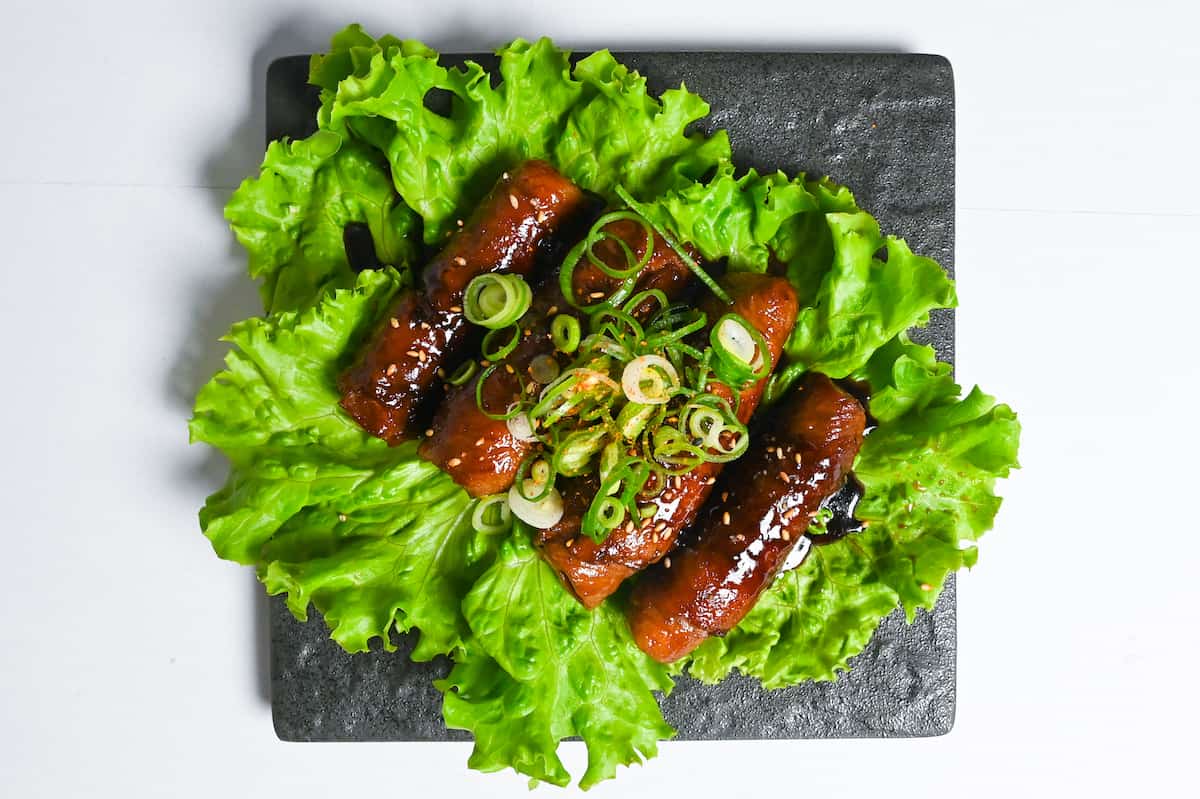 Enjoy!
I hope you enjoyed this beef negimaki recipe! If you try it out, I would really appreciate it if you could take a moment to leave a review and star rating in the comments below. It's also helpful for our other readers if you share any adjustments you made to the recipe. Thank you so much!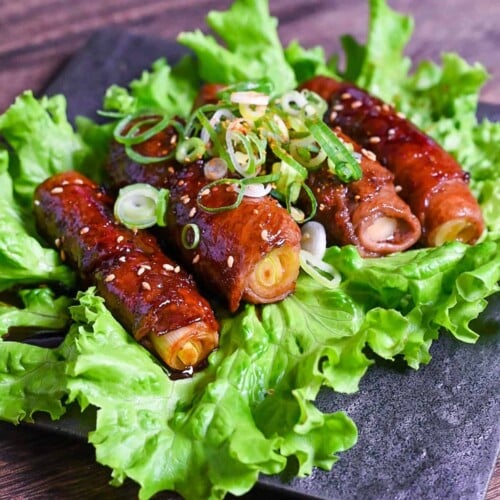 Beef Negimaki (Beef Scallion Rolls)
How to make delicious Japanese Beef Negimaki with thin slices of tender beef wrapped around spring onions and braised in a sukiyaki style sauce.
Ingredients
2

tbsp

soy sauce

2

tbsp

mirin

2

tbsp

sake

1

tsp

light brown sugar

1

tsp

rice vinegar

80

g

green onion(s)

150

g

thinly sliced beef

1

tsp

all-purpose flour

1

tsp

cooking oil

2-3

lettuce leaves

-

optional for serving
Instructions
Mix

2 tbsp soy sauce

,

2 tbsp mirin

,

2 tbsp sake

,

1 tsp light brown sugar

and

1 tsp rice vinegar

in a small bowl and set aside.

Wash

80 g green onion(s)

and cut into 10cm (4 inch) pieces.

Cut

150 g thinly sliced beef

into long pieces and wrap them around each piece of green onion.

Sprinkle with

1 tsp all-purpose flour

and rub it evenly over the surface. Brush off any excess.

Heat a frying pan on medium, and once hot add

1 tsp cooking oil

. Swirl the oil around until the bottom of the pan is evenly coated and place the negimaki with the seam (edge of the roll) facing down. Turn and fry until evenly the meat is evenly browned all over.

Add the sauce to the pan and fry until the sauce is slightly sticky and sticks to the surface of the negimaki. (Be careful not to cook down too much or it will become too salty and bitter.)

Line a plate with

2-3 lettuce leaves

and place the negimaki on top. Drizzle with any sauce leftover in the pan.

Enjoy!
Nutrition
Serving:
174.3
g
Calories:
401
kcal
Carbohydrates:
16.6
g
Protein:
12.9
g
Fat:
29.9
g
Saturated Fat:
11.56
g
Polyunsaturated Fat:
1.83
g
Cholesterol:
62
mg
Sodium:
1188
mg
Fiber:
1
g
FAQ
What is Negimaki in English?
Negimaki is a generic term for an appetizer where meat is wrapped around green onions and cooked in a sweet and savory sauce. So, in the case of beef negimaki, thinly sliced beef is used to wrap the green onion.
What is the translation of beef Negimaki?
A rough translation of "Beef Negimaki" would be "Beef and Scallion Rolls" or "Beef and Green Onion Rolls".