Beef kushiyaki is a simple dish made with delicious pieces of Japanese style marinated steak served on bamboo skewers and lightly charred under the grill or over hot coals. This addictive dish is the perfect beer snack and makes a great addition to any party or BBQ!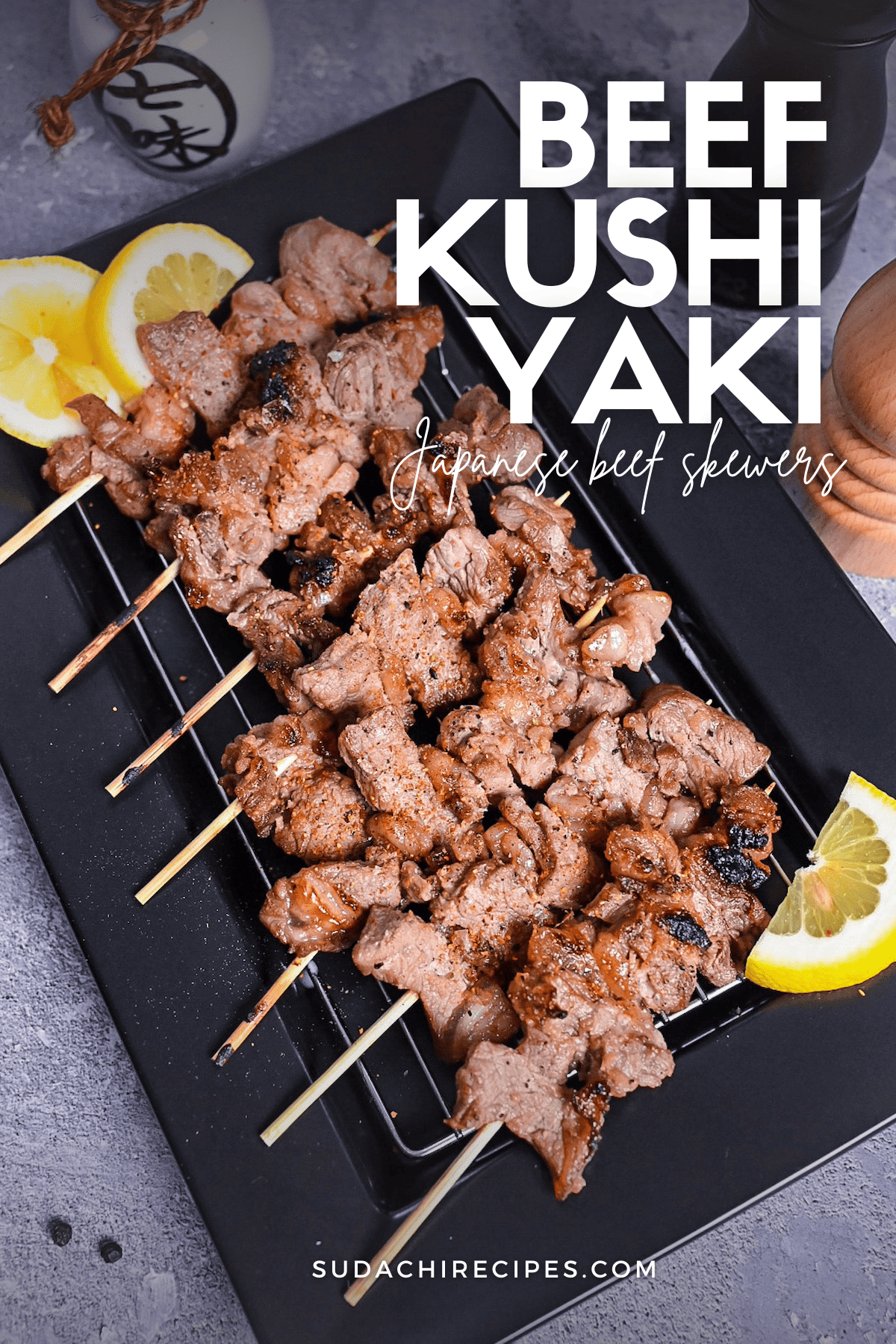 Disclaimer: This post contains Amazon affiliate links. Sudachi Recipes earn a small percentage from qualifying purchases at no extra cost to you. See disclaimer for more info.
Jump to:
What is Beef Kushiyaki?
Beef kushiyaki (牛肉の串焼き), also known as "Gyu-kushi (牛串)" for short, are simply Japanese-style beef skewers. There are a variety of types, from using high quality Wagyu beef and simply seasoning it with salt and pepper to using cheaper beef cuts and marinating them in sauce. The skewers are then grilled to create a slightly charred effect and wonderful flavor.
In my recipe presented here, the beef kushiyaki is marinated in a homemade yakiniku-style sauce and grilled. I used a Japanese fish grill at home, but this recipe works well using the broiler feature on a standard oven or on a BBQ as well, so if you have a set for barbecuing at home, please give it a try. You won't be dissapointed!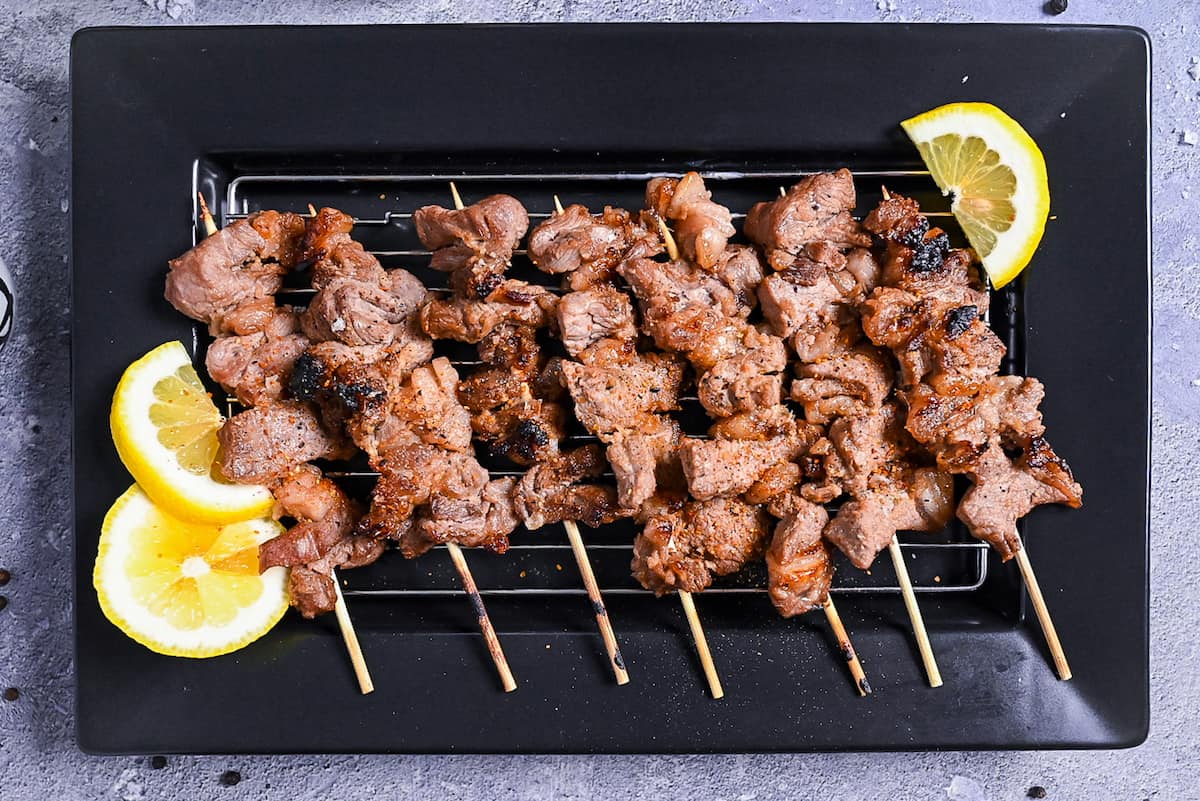 A brief history of beef kushiyaki
There is no reliable record of where or when beef kushiyaki originated, but it is typical to assume that it was derived from yakitori, the Japanese name for grilled chicken skewers.
When beef is used, it is often found in regions that specialize in brand-name beef, such as Yonezawa City (famous for Yonezawa beef) and Hida City (famous for Hida beef), and is also commonly found on the menus of izakaya (Japanese style pubs) and local restaurants or food stalls. Of course, many yakitori restaurants also offer beef (and pork) as well.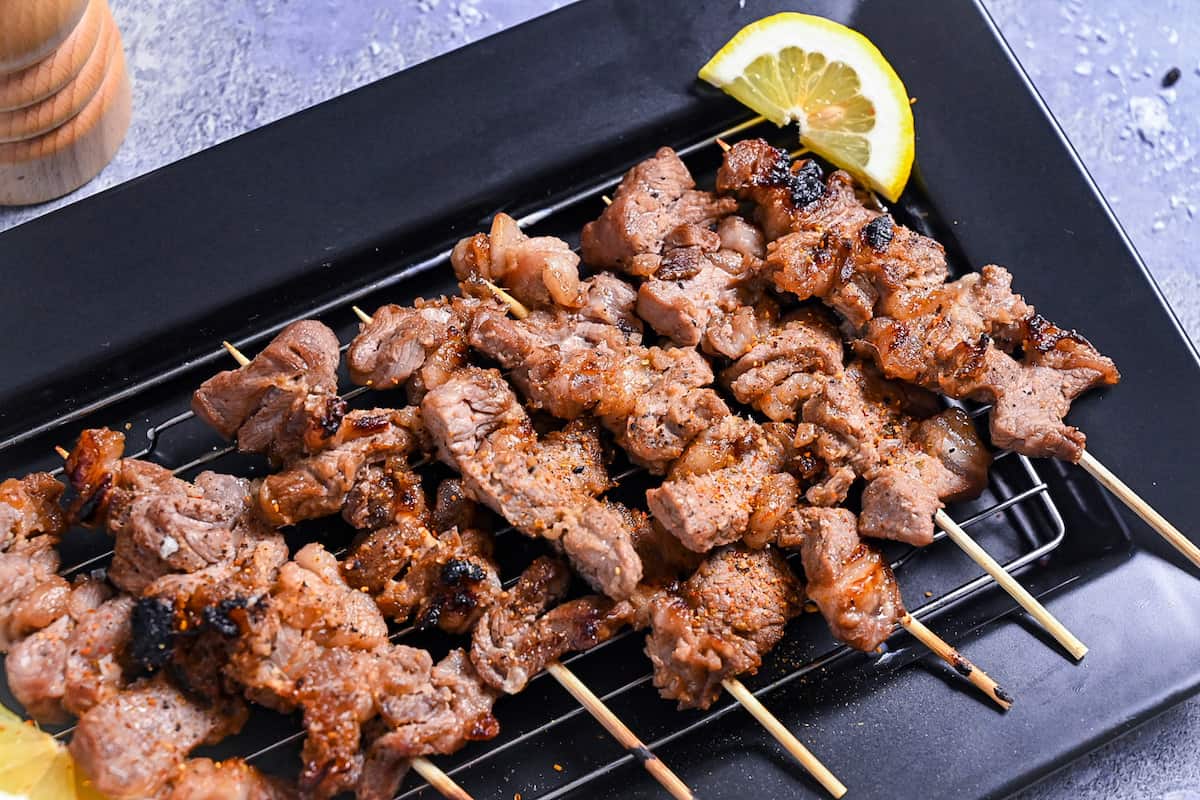 As mentioned above, the seasoning varies greatly depending on the restaurant. Sauce (tare) or salt is mainly used, and while the sauce is similar to yakitori sauce, it is often seasoned slightly differently to suit the taste of beef.
However, restaurants that serve high-end Wagyu beef most often use a simple seasoning of salt and pepper so that customers can appreciate the full flavor of the quality beef. On the other hand, when cheaper cuts or special parts such as offal (known as "horumon" ホルモン) are used, a flavorful sauce is mostly used to mask the odor.
Does beef kushiyaki have to be made with wagyu?
It is true that many yakitori restaurants in Japan that sell beef kushiyaki use Wagyu beef, but that does not mean that Wagyu beef must be used.
Rather, since this recipe uses a marinade, it is best to use the regular steak meat you usually use instead of going out of your way to purchase expensive Wagyu beef.
In fact, when I made this recipe, I used Aussie or Angus beef steak. Recommended cuts of beef are described in the next section.
Recommended beef cuts to use for beef kushiyaki
While there's no strict rule dictating the specific cut of beef for kushiyaki, it's common to see a variety used, be it in a yakitori restaurant or a street food stall. Speaking from personal preference, my top choice would be the flavorful skirt steak (part of plate), also known as "Harami" in Japanese.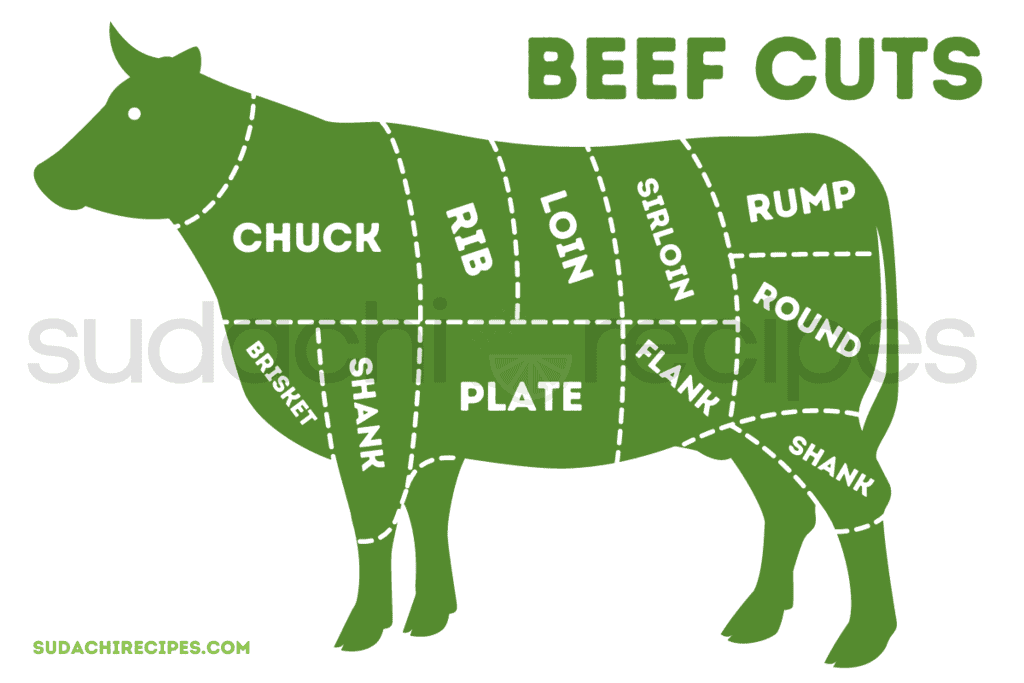 Indeed, while various cuts can be used for kushiyaki, for ease of preparation, I'd recommend opting for a thick-cut steak that you can easily get in your local area.
Ingredients to make this beef kushiyaki
Beef steak - A slightly thicker cut of steak makes it easier to make beef skewers.
Sesame oil - It is used to add subtle flavor to marinades. I recommend Kadoya's sesame oil.
Bay leaf - Adds depth of flavor and is effective in masking the odor of beef.
Sake - Another effective ingredient in masking the odor of beef and making Japanese-style marinade rich in umami. It also helps tenderize the meat.
Mirin - Adds depth and sweetness to the marinade. If you want to know my recommended brands for mirin, check out my "20 Most Useful Condiments and Seasonings for Japanese Cooking" post.
White pepper - You can substitute this with black pepper.
Apple - I use a small amount of grated apple. It makes the marinade fruity.
Salt - I prefer using coarse/flaky salt for this, I specifically used Maldon's salt.
Worcestershire sauce - It is indispensable for making fruity and veggie marinades. I usually use LEA & PERRINS.
Oyster sauce - adds depth of flavor and a unique sweetness and savoriness to marinades that Worcestershire sauce does not have.
Garlic - It can be freshly grated from a clove or you can use store-bought garlic paste. (I often use S&B Oroshi Nama Ninniku)
Fresh ginger - either freshly grated or store-bought ginger paste flavors the meat and softens the odor. (I use S&B Oroshi Nama Shoga)
Black pepper - Sprinkle at the end, separately from the white pepper.
Japanese Chili Pepper (Shichimi togarashi) - An optional ingredient for those who want a little spiciness, I recommend S&B's shichimi.
Lemon (optional) - Squeeze a little bit of fresh lemon juice over the beef before eating for a refreshing change of flavor.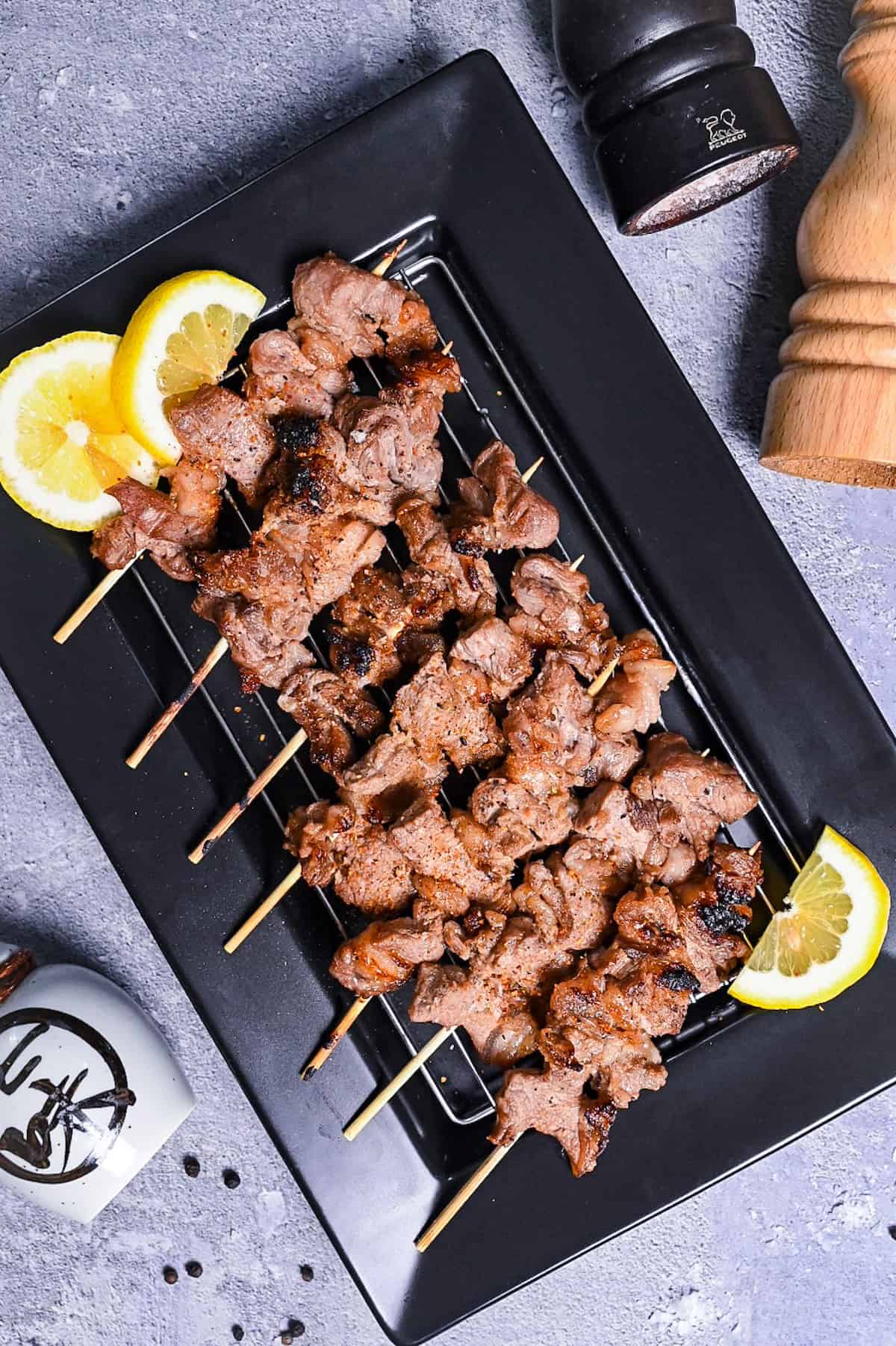 Instructions on how to make this beef kushiyaki recipe
Cut the fat off the beef and cut it into small cubes. Cut the meat into 3cm pieces (approx 1 ¼ inches).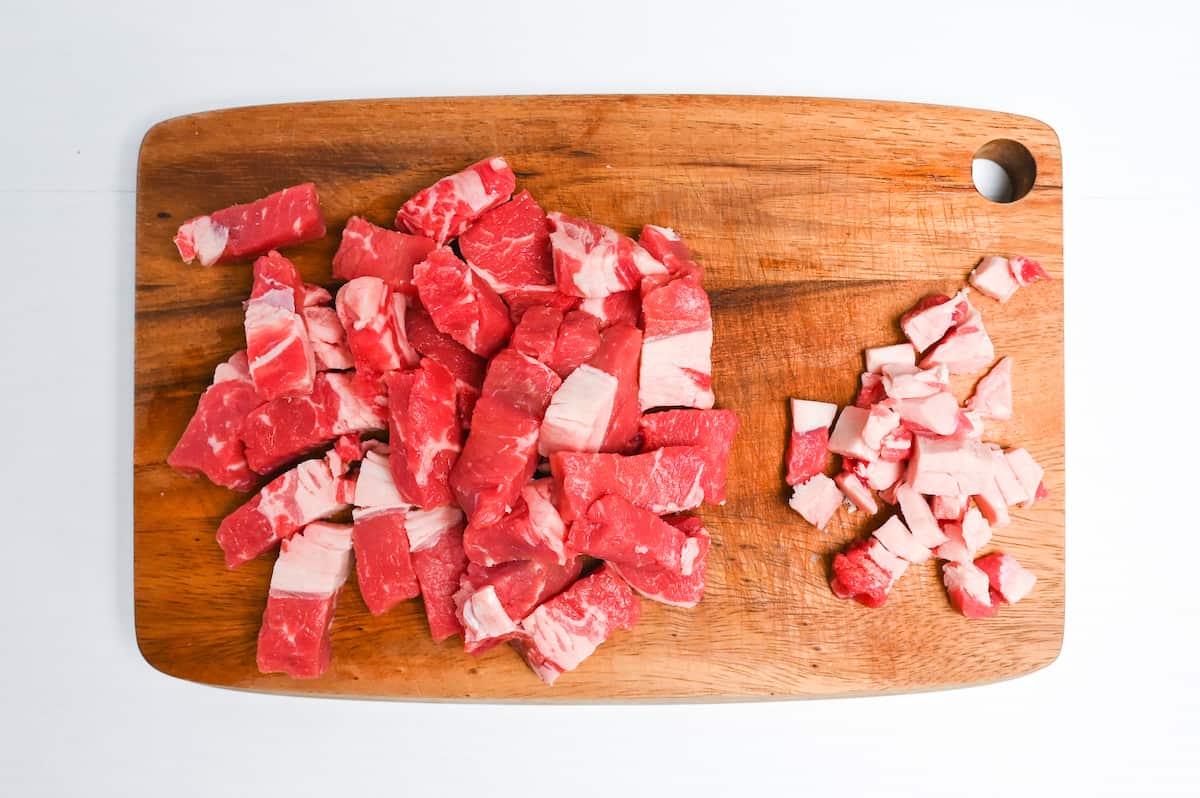 Place the beef meat and fat pieces in a bag and add sesame oil, a bay leaf, sake, mirin, white pepper, grated apple, sea salt, Worcestershire sauce, oyster sauce, garlic and fresh ginger.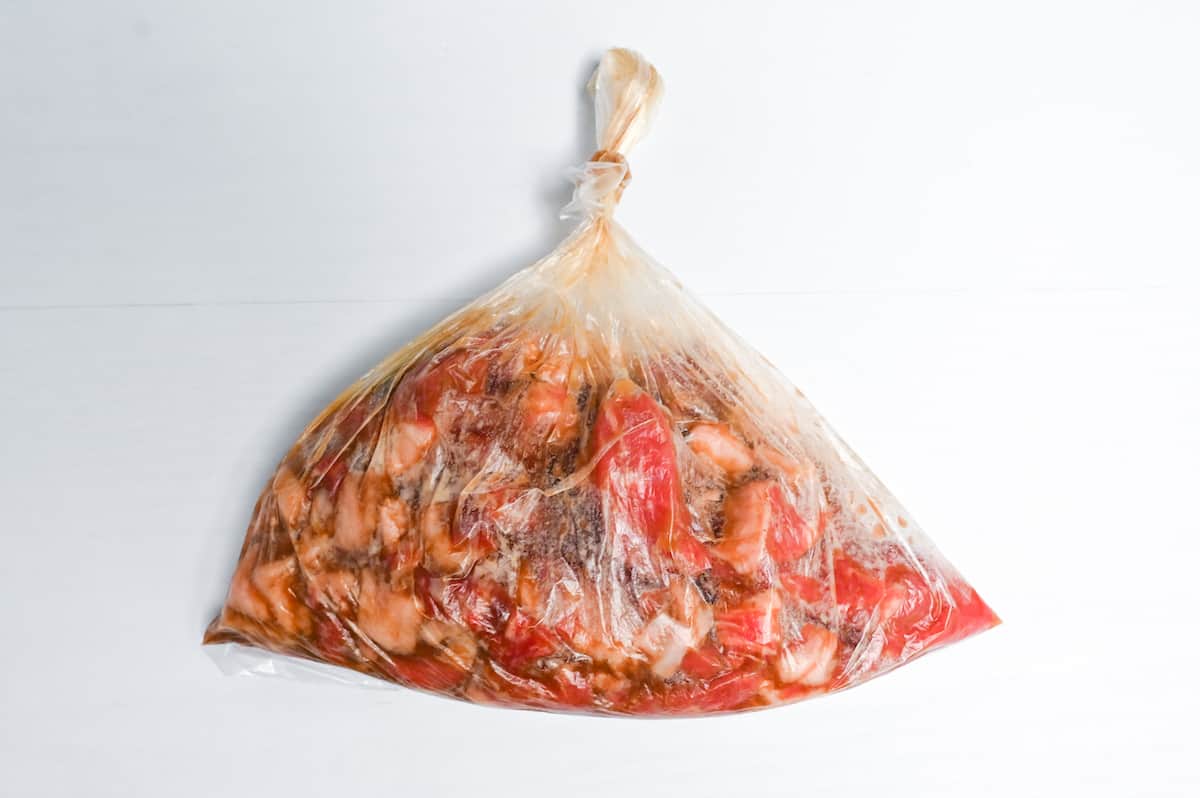 Seal the bag and massage everything together until the seasonings are evenly distributed and the beef is fully covered.
Marinate in the fridge for at least 30 minutes.
Once the marinating time is up, preheat your grill/broiler on medium high for 5-10 minutes. While you wait for it to heat up, push the pieces of beef onto the skewers. Try and arrange the skewers so that the meat and fat pieces are alternating.
Once assembled, place them on a wire rack and sprinkle with a pinch of coarse salt and freshly ground black pepper. Grill for 5 minutes.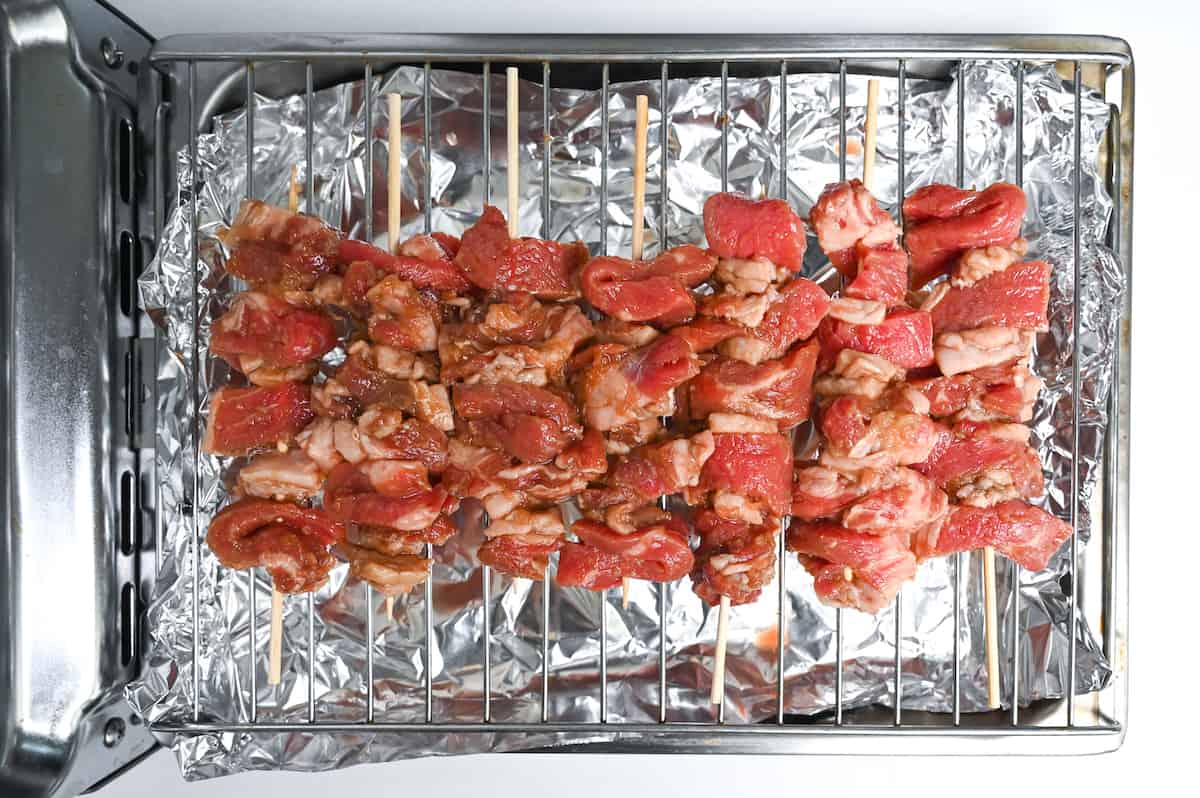 It might be tempting to sprinkle both sides with salt and pepper before cooking, but I like to sprinkle and then cook each side separately to avoid the seasoning falling off.
After 5 minutes, turn the skewers and sprinkle the other side with a pinch of coarse salt and black pepper, then return them to the grill for 4 minutes.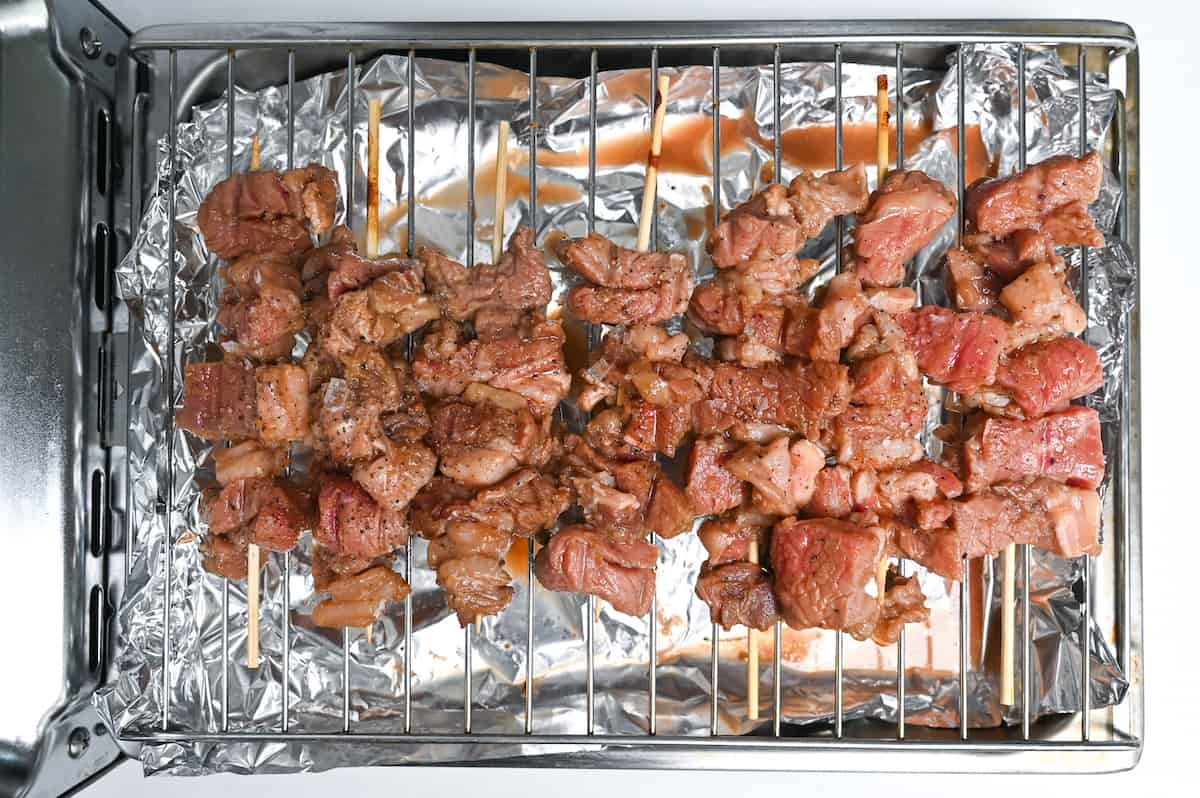 Once 4 minutes are up or the beef is cooked through and the surface is lightly charred, remove them from the grill.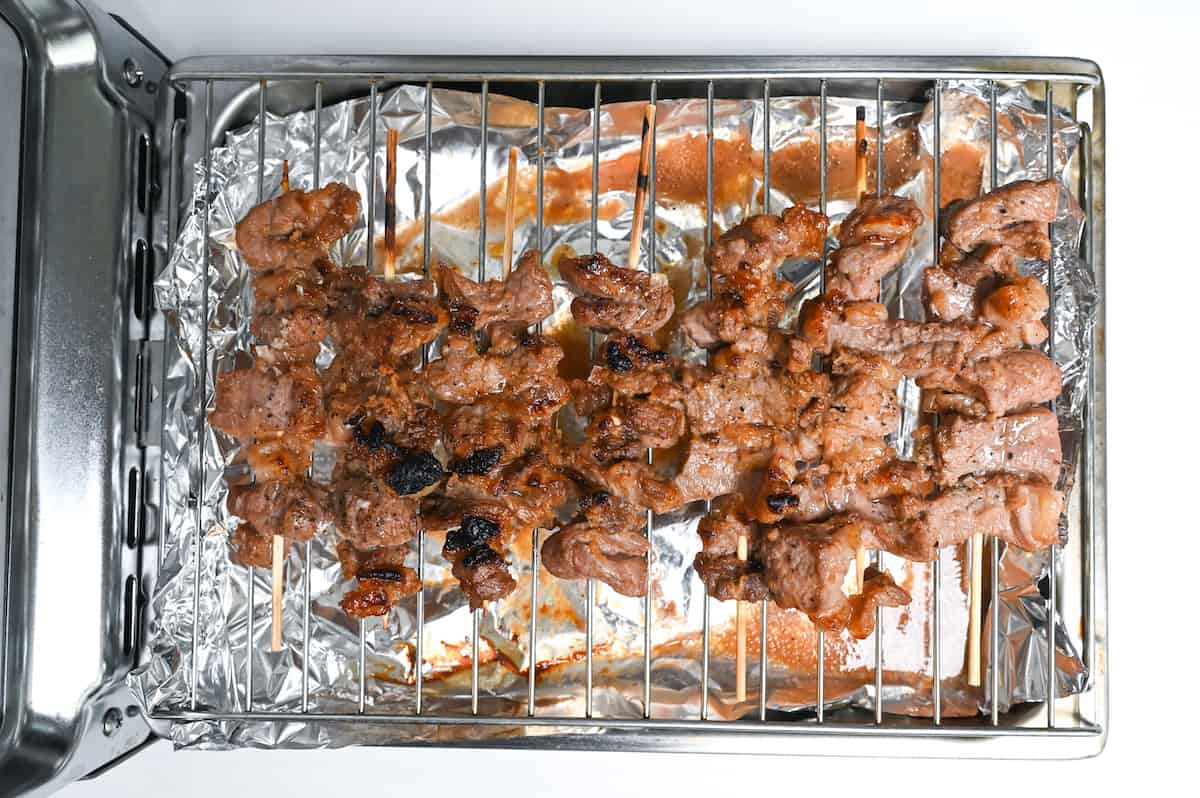 Serve up and enjoy with a sprinkle of Japanese chili powder (shichimi togarashi) and/or a squeeze of fresh lemon juice!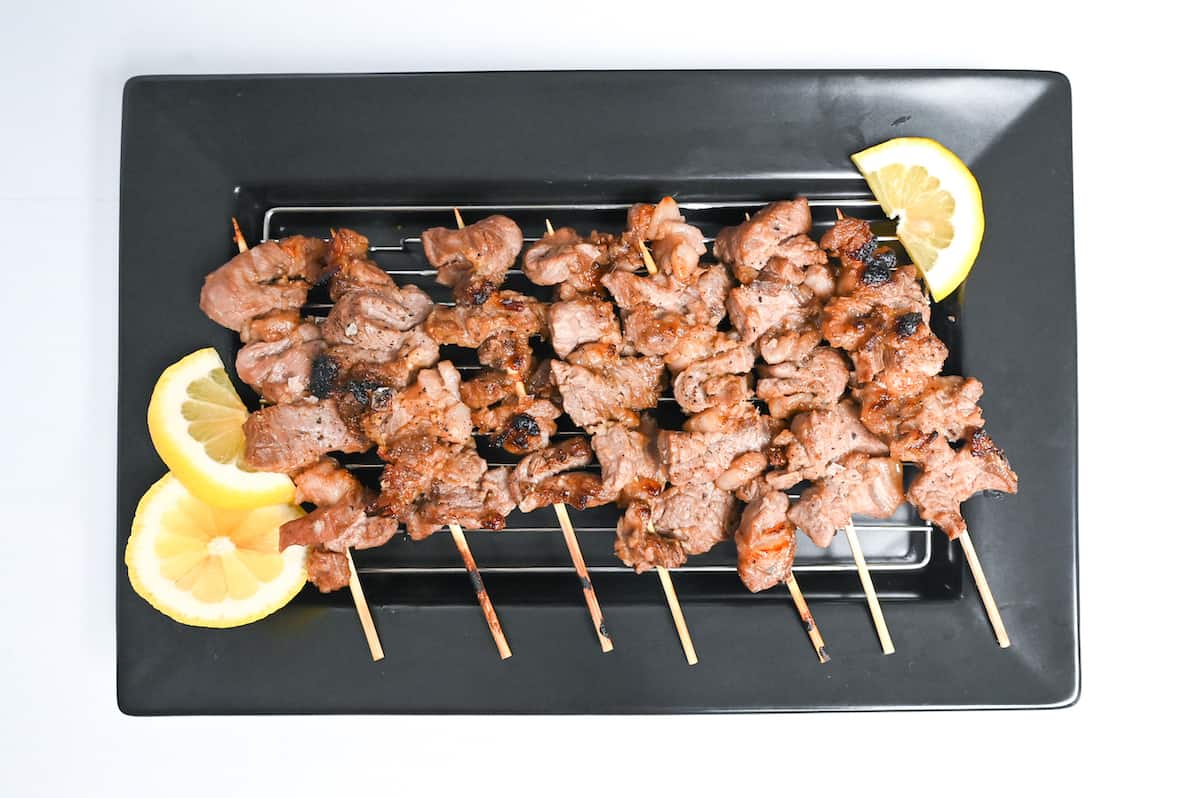 I hope you enjoy this simple yet delicious Japanese beef kushiyaki recipe! If you try it out, I'd love if you could spare a moment to let me know what you thought by giving a review and star rating in the comments below. It's also helpful to share any adjustments you made to the recipe with other readers. Thank you so much!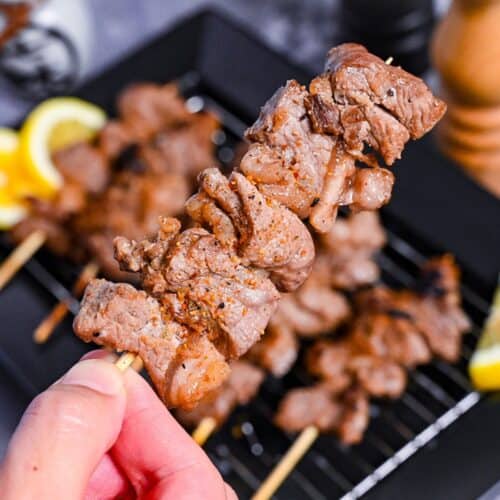 Beef Kushiyaki (Japanese Beef Skewers)
How to make Beef Kushiyaki, juicy pieces of steak flavored with a Japanese-style yakiniku marinade and grilled to perfection! Great for parties and BBQs!
Ingredients
300

g

beef steak

½

tbsp

sesame oil

1

bay leaf

1

tbsp

sake

1

tbsp

mirin

⅛

tsp

white pepper

1

tbsp

grated apple

¼

tsp

sea salt

1

tbsp

Worcestershire sauce

1

tsp

oyster sauce

1

tsp

garlic

-

grated or paste

½

tsp

fresh ginger

-

grated or paste

2

pinches

coarse salt

2

pinches

freshly ground black pepper

Japanese chili powder

-

(shichimi togarashi) optional

lemon wedges

-

optional
Instructions
Take

300 g beef steak

and cut off the fatty part. Cut the meat into 3cm square pieces (1¼ inches) and the fat into small cubes.

Place the pieces of beef and fat in a bag and add

½ tbsp sesame oil

,

1 bay leaf

,

1 tbsp sake

,

1 tbsp mirin

,

⅛ tsp white pepper

,

1 tbsp grated apple

,

¼ tsp sea salt

,

1 tbsp Worcestershire sauce

,

1 tsp oyster sauce

,

1 tsp garlic

and

½ tsp fresh ginger

. Massage until all the seasonings are evenly distributed and the meat is evenly covered, then marinate in the fridge for at least

30 mins

.

Once the beef has finished marinating, preheat grill on medium-high for 5-10 minutes. While you're waiting for it to heat up, push the beef onto skewers alternating between the meat and fat. Place the skewers onto a wire rack with foil underneath. Sprinkle with

2 pinches coarse salt

and

2 pinches freshly ground black pepper

and place under the grill for 5 minutes.

Turn the skewers over and sprinkle with another pinch of coarse salt and black pepper. Grill for 4 minutes.

Once cooked through and slightly charred, remove from the grill.

Sprinkle with a pinch of

Japanese chili powder

and a squeeze of lemon juice (optional).
Nutrition
Serving:
131.7
g
Calories:
250
kcal
Carbohydrates:
7.3
g
Protein:
19.9
g
Fat:
15.4
g
Saturated Fat:
5.42
g
Polyunsaturated Fat:
1.4
g
Cholesterol:
69
mg
Sodium:
612
mg
Fiber:
0.2
g
FAQ
What is the difference between kushiyaki and yakitori?
Kushiyaki is a general term for something grilled on a skewer. In Japanese, "kushi" means "skewer" and "yaki" means "grill". The term can be used for chicken, seafood, vegetables, and other meats. On the other hand, yakitori is basically grilled chicken meat, and generally refers to a dish in which chicken meat is skewered and grilled. But in some areas, such as Kagoshima and Miyazaki, the thigh is opened and grilled on a net, while in other areas, such as Imabari in Ehime, it is grilled on a griddle instead of being skewered.
What is kushiyaki in Japanese?
Kushiyaki is 串焼き in Japanese. The word "串" refers to a skewer and "焼き" means grilling.
What is kushiyaki don?
Kushiyaki-don refers to a dish of seasoned or marinated meat grilled on skewers and served on top of rice. Sometimes the skewers are placed directly on the rice, other times the meat is removed from the skewer first to make it easier to eat with the rice.