The Tsukimi burger is an iconic seasonal item on the Japanese McDonald's menu. Made up of a juicy beef patty topped with crispy bacon, creamy sauce and a perfectly cooked egg all stacked inside a soft white bun, many Japanese people wait all year to finally enjoy the beloved Tsukimi burger! And with my delicious homemade recipe you can make your own from scratch all year round!
Disclaimer: This post contains Amazon affiliate links. Sudachi Recipes earn a small percentage from qualifying purchases at no extra cost to you. See disclaimer for more info.
What is a Tsukimi burger?
The Tsukimi Burger was created by McDonald's Japan in 1991. It was inspired by the Autumn custom of "otsukimi", also known in English as "moon viewing" or the Japanese mid-Autumn festival. Since then, the burger has been offered every year around September / October and is one of McDonald's most anticipated and well-loved seasonal items. In fact, it is so popular that McDonald's restaurants in Japan have people lining up to get their hands on it every Autumn!
The ingredient that makes this burger relevant to otsukimi is the fact that it features a round egg that resembles the moon. Other than that, it's a pretty simple burger made with a beef patty topped with bacon and a punchy sauce. There's also a cheese Tsukimi burger which is the one that inspired my recipe.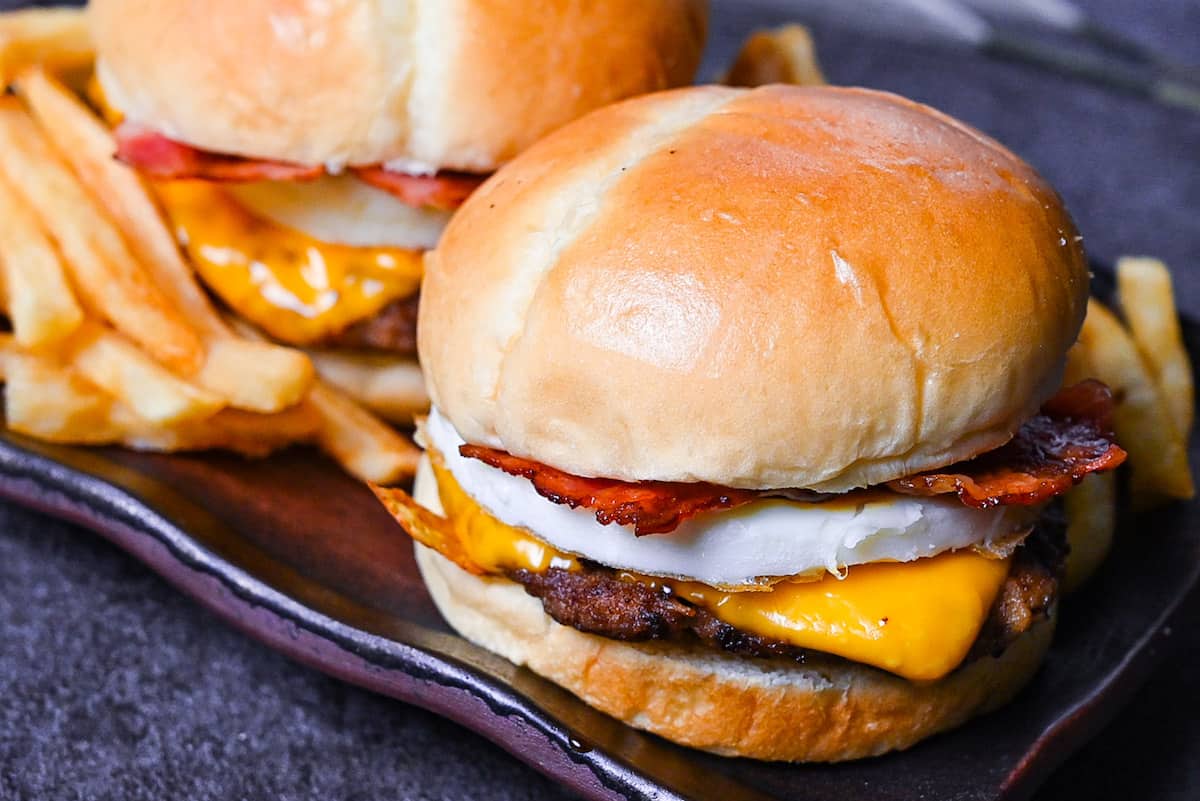 Tsukimi (moon gazing) in Japan
Otsukimi (お月見) was introduced to Japan from China around 859-877 during the Heian period (794-1185) and became popular among the nobility. At that time, it was a fashionable event to drink sake while watching the moon, and to enjoy poetry and orchestral music on a boat. It is said that the nobles did not look up at the sky to gaze at the moon, but rather admired the moon reflected on the water and in the sake cups.
It is said that it was not until the Edo period (1603-1867) that the common people began to widely enjoy the custom, and it seems that it had a greater significance as a harvest festival or first harvest festival, rather than a moon-viewing festival like the nobles.
Although the custom of moon-viewing has taken root throughout Japan in modern times, the content of the event and offerings differ slightly from region to region.
Tsukimi burger at McDonald's
The tsukimi burger is, after all, a McDonald's product. Back in 1991, a survey was conducted on popular ingredients that people would be happy to have in a burger, and the results showed that eggs were the most popular. From there, the development of burgers with eggs began.
According to the person in charge of the development at that time, he "ate countless eggs" before completing the Tsukimi Burger, which was made with those iconic eggs shaped to resemble the moon.
These days, the Tsukimi special is not only limited to burgers, there's a whole Tsukimi menu available! In 2022, the following Tsukimi related products were released at McDonald's Japan:
Tsukimi burger
Tsukimi cheese burger
Sukiyaki tsukimi
Tsukimi muffin (Breakfast menu)
Chestnut and Mont Blanc McFlurry
Anko (red bean paste) and mochi (rice cake) Tsukimi pie
Yuzu and shichimi sauce for Chicken McNuggets
For the research purpose (or not), I went to get tsukimi burger set this year, but the drive thru was literally packed! That was my re-realisation of how popular tsukimi burger is!
Because McDonald's tsukimi burger is so popular, other fast food chains such as KFC, Mos Burger, and Lotteria have recently started selling their own Tsukimi burgers.
What is tsukimi burger made of?
Okay, I'm not aiming to create an exact copy of McDonald's Tsukimi burger, but I still kept the main elements of it. To do that, I used following ingredients:
Beef mince
Pork mince
Finely diced beef end cuts
Cheddar cheese
Streaky bacon
Burger buns (store bought)
And these are the ingredients I use for the sauce:
Tips for making homemade Tsukimi burger
Here are the methods I use to make the most delicious Tsukimi Burger!
Use a mixture of meats
While McDonald's Tsukimi burger is made with 100% ground beef patties, I like to add a small amount of pork mince to the mix. Pork tends to be juicier than beef so it helps keep the patties moist, it also adds umami from the pork fat! I personally recommend buying the beef and pork separately so you can control the ratio, you don't want to add too much pork otherwise the flavour of the beef will be lost.
In addition to this, I also add some beef end cuts that have been finely diced by hand. This addition improves the texture of the patty and makes it feel more meaty. It's optional but I highly recommend it!
Add softened panko
Soak panko breadcrumbs in milk and add them to the patty mixture for juicier patties that are easier to shape!
Chill the patty mixture in the fridge
You can make the patty mixture ahead of time and store it in the fridge until it's time to cook. I usually keep it in the fridge for about 15 minutes or so while I prepare the other ingredients.
Caramelize the bacon
In order to make the bacon perfectly crispy and sweet, I add a sprinkle of sugar to a cold frying pan and lay the bacon on top (trying to prevent overlapping if possible). Turn on the heat on a low setting to prevent the sugar from burning. As the pan slowly heats up, the sugar melts and makes a caramel layer on the bacon! Once it's cooked on one side, sprinkle another pinch of sugar over the top, flip them over and fry the other side.
once they're cooked, transfer them to a plate lined with kitchen paper to absorb the excess oil.
How to fry the egg
The most essential part to making this burger a "Tsukimi burger" is the egg fried in a round shape to resemble the full moon. There's no secret tips or tricks to this, I simply use a round mold (also known as an egg ring) in the frying pan. You can purchase them here on Amazon. Alternatively, if you have any large round cookie cutters, these work too as long as you oil them well.
Start by heating a pan on low. Once it's hot, crack the eggs into the rings, sprinkle with a pinch of salt and break the yolks. Not only does this create a moon surface effect, but it also mixes the salt into the egg rather than having it sitting on the surface. Don't worry if a little bit of egg white leaks out from underneath, you can cut it off later. (My pan isn't perfectly flat so a little bit leaked out.)
Place a lid on top and cook the eggs on a low heat until it becomes firm. This takes about 5 minutes, although it could be longer or shorter depending on the height and width of the egg ring. By using a lid, the steam gets trapped and cooks the top of the egg so there's no need to flip it.
Shape the patties
My recipe makes 4 Tsukimi burgers, so I divide the patty mixture into quarters and roll them into balls using the palm of my hand. Next, I toss them from one hand to the other to remove any air that might be trapped in there like this: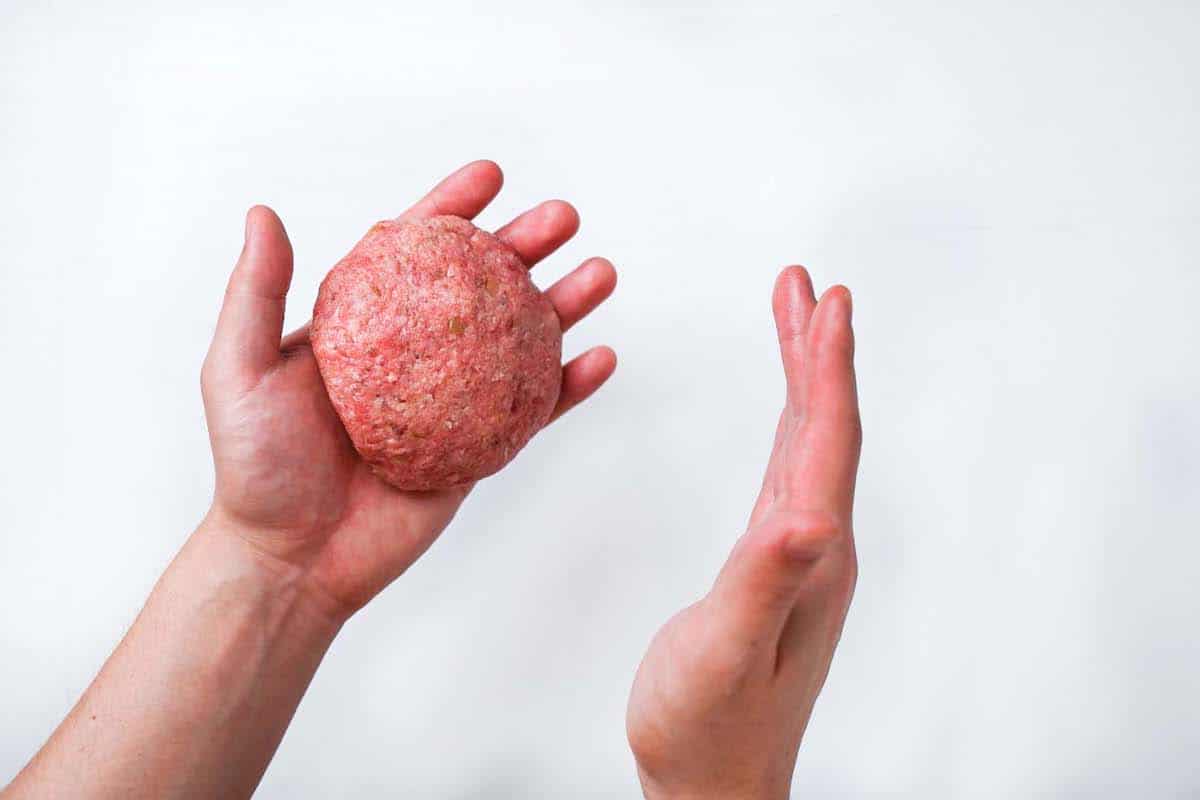 McDonald's patties are usually quite thin so I press them gently in the palm of my hand and then flatten them a bit more when I add them to the frying pan.
Melt the cheese
Once the patties are cooked on one side, flip them over and add a slice of cheese to each one. This is to melt the cheese before you assemble the Tsukimi burger.
Make Tsukimi burger sauce
The sauce doesn't require any cooking. Simply mix Japanese mayonnaise, ketchup, lemon juice, white pepper, salt and paprika powder in a small bowl.
Assemble
The order of the burger from bottom to top should go bun > patty (with cheese) > egg > bacon > sauce > bun.
1. Bun topped with patty and cheese.
2. Egg
3. Bacon
4. Sauce
5. Top of bun
And the Tsukimi burger is complete!
I hope you enjoy this delicious McDonald's inspired Tsukimi Burger at home!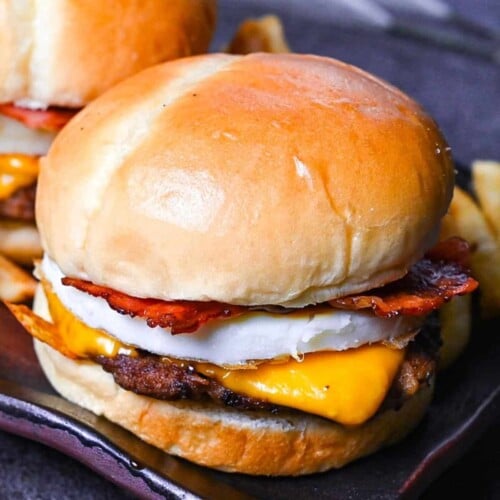 Homemade Tsukimi Burger (Moon Gazing Burger)
---
How to make homemade McDonald's style Tsukimi (moon gazing) burger from scratch! 
---
---
---
---
Ingredients
Tsukimi Burger Patty
50

g

beef end cuts

4

tbsp

panko breadcrumbs

3

tbsp

milk

250

g

ground beef

50

g

ground pork

1

pinch

nutmeg

¼

tsp

black pepper

¼

tsp

salt

1

tbsp

olive oil
Tsukimi Burger Sauce
2

tbsp

Japanese mayonnaise

kewpie

1

tbsp

tomato ketchup

¼

tsp

salt

¼

tsp

lemon juice

1

pinch

white pepper

¼

tsp

paprika powder
Tsukimi Burger
1

pinch

sugar

4

rashers of streaky bacon halved

4

medium egg(s)

1

pinch

salt

4

slices

cheddar cheese

4

burger buns
Instructions
Finely cut

50 g beef end cuts

with a knife.

Add the beef cuts,

250 g ground beef

,

50 g ground pork

, panko mixture,

1 pinch nutmeg

,

¼ tsp black pepper

and

¼ tsp salt

to a large mixing bowl and lightly knead until the ingredients are evenly distributed. Be careful not to over-knead.

Cover the bowl and store it in the fridge for later.

Take a large frying pan and sprinkle the surface with

1 pinch sugar

.

Lay

4 rashers of streaky bacon halved

over the sugar (try not to overlap) and turn the heat on low. Fry until crispy underneath, then sprinkle sugar over the top and flip them over. Fry on the other side until crispy.

Place the cooked bacon on a sheet of kitchen paper to absorb any excess oil.

Heat a frying pan on low and crack

4 medium egg(s)

into egg rings. (I only have 2 molds but you can do them all at the same time.)

Sprinkle

1 pinch salt

over the top of the eggs and break the yolks to create the "moon surface" effect.

Place a lid on top and continue to cook the eggs until firm. The top of the eggs will cook in the steam so no need to flip them.

Take the patty mixture from the fridge and divide it into even quarters. Roll each patty into a ball and toss them from one hand to the other to remove the air.

Press the patties flat and place them in a cold frying pan drizzled with

1 tbsp olive oil

. Place the pan on the stove and set the heat to medium. Fry until browned on one side.

Flip the patties and top each one with a slice of

4 slices cheddar cheese

. Continue to fry until cooked through and the cheese is melted.

Mix the sauce ingredients (2 tbsp Japanese mayonnaise,

1 tbsp tomato ketchup

,

¼ tsp salt

,

¼ tsp lemon juice

,

1 pinch white pepper

and

¼ tsp paprika powder

) in a small bowl and toast the buns.

To assemble the Tsukimi burger, place the patties on the bottom halves of

4 burger buns

with the cheese on top.

Next add the egg.

Then the bacon.

Add about 1 tbsp of the sauce per burger.

Add the top half of the bun.

And enjoy!