Lean and meaty pork medallions coated with crispy panko breadcrumbs and fried until golden, then coated with a rich and glossy Nagoya-style red miso sauce. This regional recipe is one that I've grown up with and it's one of my personal favourites!
Disclaimer: This post contains Amazon affiliate links. Sudachi Recipes earn a small percentage from qualifying purchases at no extra cost to you. See disclaimer for more info.
Jump to:
What are hire katsu and miso katsu?
Hire katsu is a tonkatsu (Japanese deep-fried cutlet) specifically made from tenderloin (medallion) part of pork (normal tonkatsu is made from loin or the boneless rib part). The term hire refers to tenderloin (medallion). We call normal tonkatsu "rosu katsu" and tenderloin katsu "hire katsu" to differentiate. By using medallion, hire katsu is a lot smaller and less fatty than rosu tonkatsu.
Miso katsu is a tonkatsu topped with a unique sauce based on Hatcho miso (red miso), bonito stock, sugar, and other ingredients. It is especially popular in Nagoya, and is one of the dishes known as "Nagoya meshi" (Nagoya food). As a person who was born and raised in the area, I can confirm that I have never seen any tonkatsu restaurants that don't serve miso katsu.
Where is miso katsu from? Nagoya!
Long story short, miso katsu originates from Nagoya. Miso katsu is actually a dish inspired by tendon (tempura bowl). The owner of a soba noodle restaurant in Tokyo that served tendon, after returning to his hometown in Nagoya, decided that if he could do it with soy sauce, he could do it with miso, so he used Hatcho miso, a specialty of Aichi prefecture, as the sauce.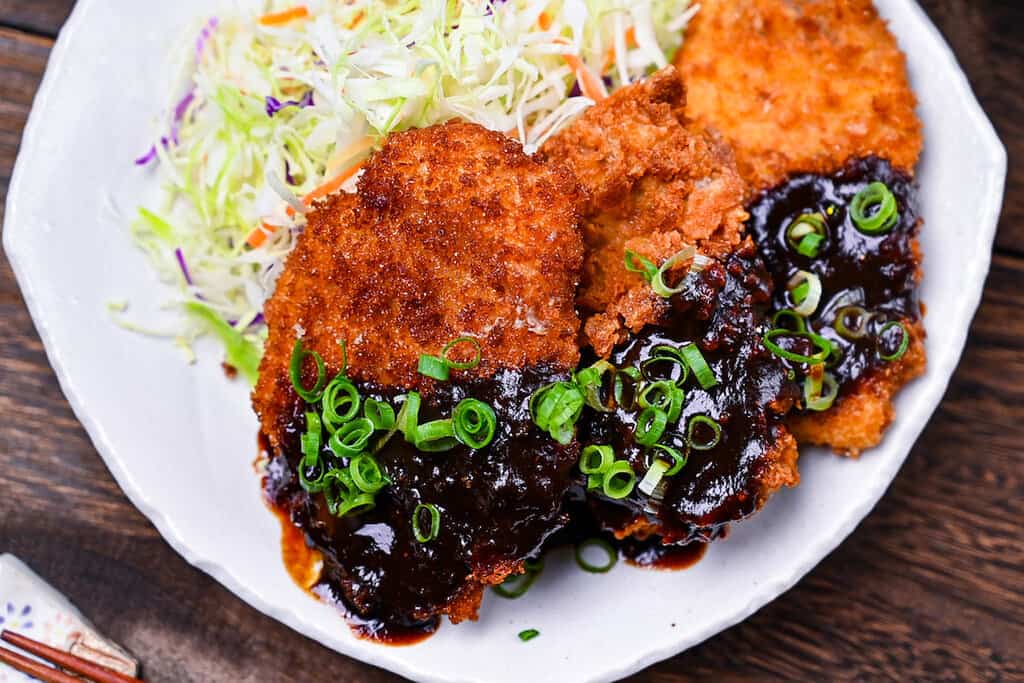 What is red miso?
Authentic miso katsu sauce is exclusively made with red miso. Other types of miso wouldn't achieve the rich flavour and deep colour that miso katsu is so famous for. As the name suggests, red miso refers to miso paste with a dark red appearance. However, in the miso katsu context, red miso is mostly to do with hatcho miso (八丁味噌).
While hatcho red miso is made from pure soybeans, there are other kinds of "red miso" made from rice and is eaten mainly in northern Japan.
I can actually go into more details on hatcho miso as I literally lived 10 minutes away from their factory when I was a kid. Hatcho miso is made from only soybeans and salt, prepared in a large wooden vat, and weighed down with natural river stones piled up like a mountain by craftsmen, and matured through natural brewing for two summers and two winters (over two years). We also make miso soup with hacho miso in this region.
If you want to learn more about authentic Hatcho miso, check out their website (available in Japanese, English, French and Italian).
How to make hire katsu: step by step guide
The cooking process of hire katsu is almost the same as normal tonkatsu. However, to differ from it, you'd need to get tenderloin (medallion) part of pork. Here, I will make step-by-step guide on how to make hire katsu from tenderloin pork.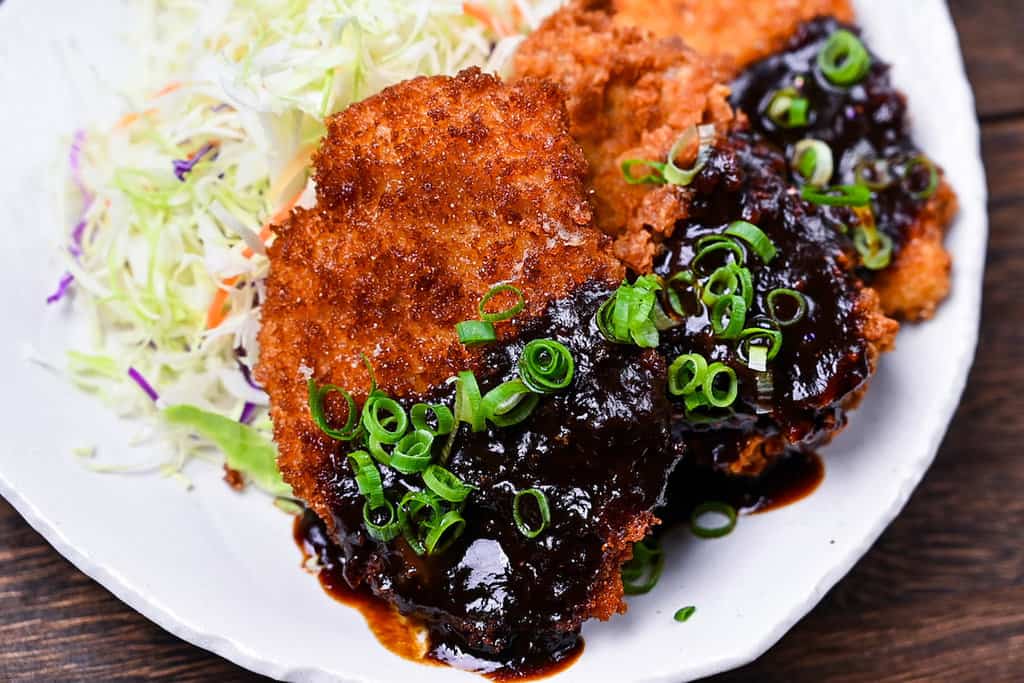 Cut tenderloin pork 2cm thick
The general rule of thumb for hire katsu is to cut them about 2cm thick (a little less than 1 inch). So the first step is to cut tenderloin pork in 2cm thick at an angle.
Pierce the cut pork with fork
Breaking the fibres makes the tenderloin extra soft and juicy! After that, sprinkle a pinch of salt and pepper on each piece.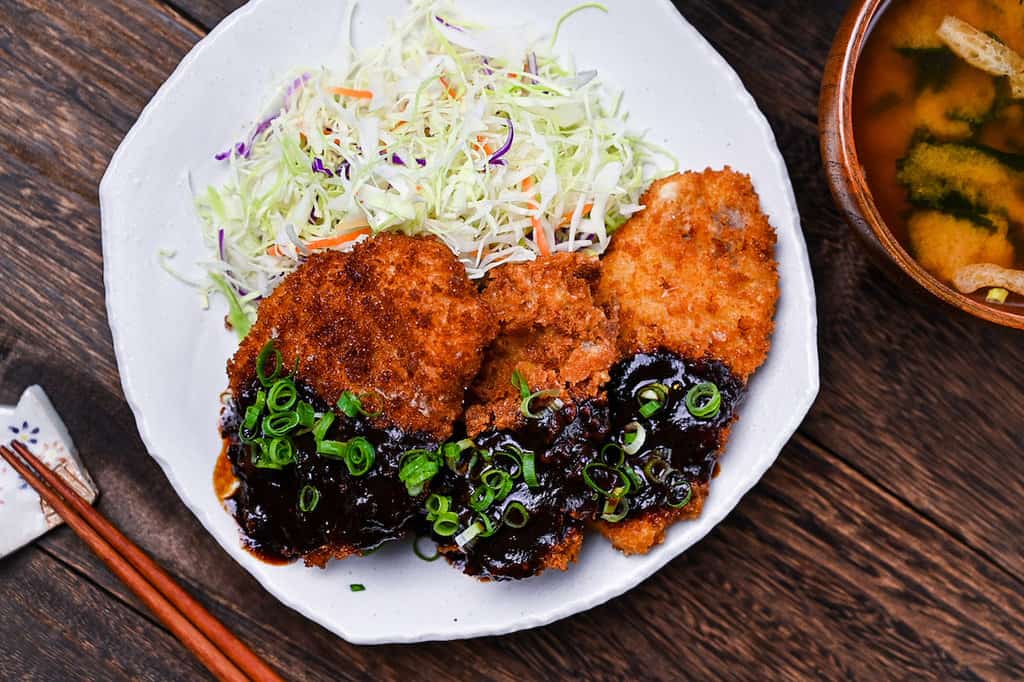 Batter the pork
Traditional hire katsu batter is made with a layer of flour, eggs, and breadcrumbs, all of which play a significant role. If one layer is uneven, then the next layer will be compromised.
If there is any part of the meat that is not well coated with each layer, the batter will start to peel and fall off eventually. You need to be generous, yet not have excess. It's a delicate balance.
Battering the pork firmly and evenly with each layer is one key for sure!
Deep fry them for 4 minutes at 180°C (355°F)
Once the pork is coated completely, deep dry them for 4 minutes at 180°C (355°F). It's also important that you turn them over half way through cooking. Other than turning them, don't touch or interfere with them while frying! This can cause the breadcrumbs to fall off.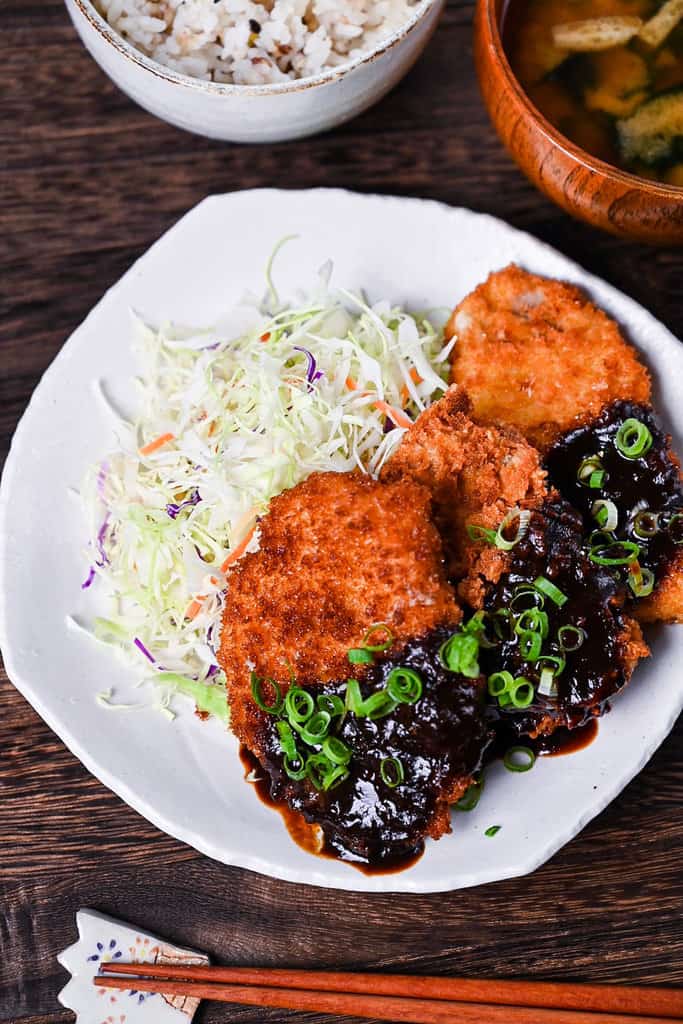 How to make miso katsu sauce
As I Nagoya area native, I'd say I'm picky with miso katsu sauce compared to people from somewhere else. I've loved miso katsu whole my life and grew up with it. After quite a few attempts, I finally managed to create the miso katsu sauce recipe that I'm truly satisfied with.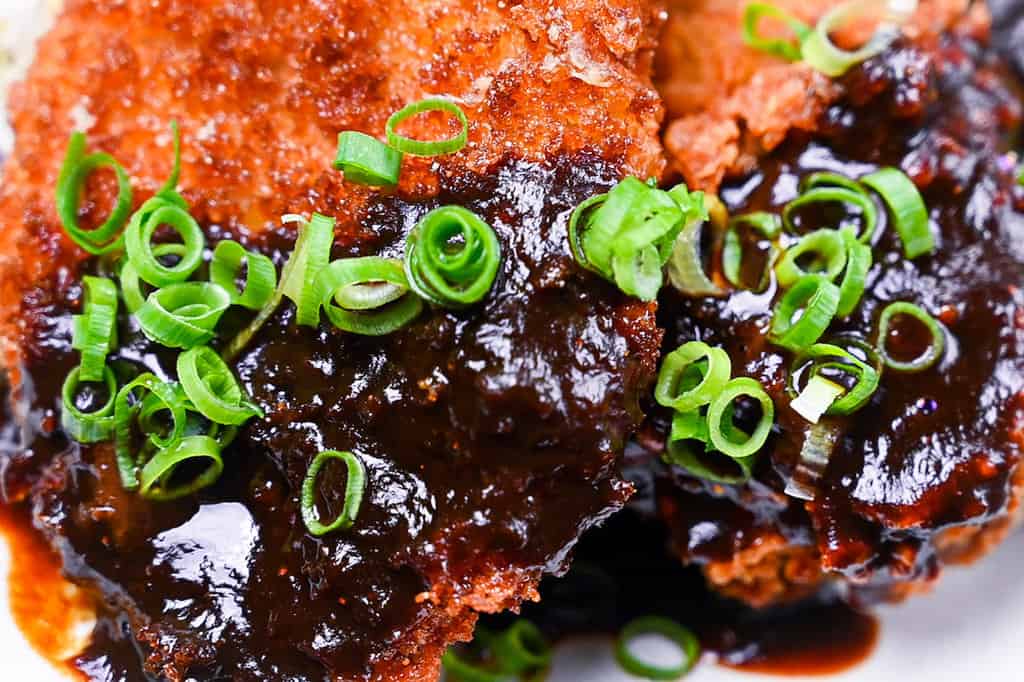 This sauce recipe is heavily influenced by the most famous miso katsu restaurant in the whole country, Yabaton. Here is the list of ingredients for my miso katsu sauce:
Red miso (hatcho-style miso can be found on Amazon but it's not the official product)
Sake
Brown sugar
White sesame seeds
The cooking process is easy. Basically put everything except for white sesame seeds into a small sauce pan and bring it to boil. Then turn down to heat to simmer, and simmer until the sauce becomes thick and glossy.
The measurement and details are in the recipe card below!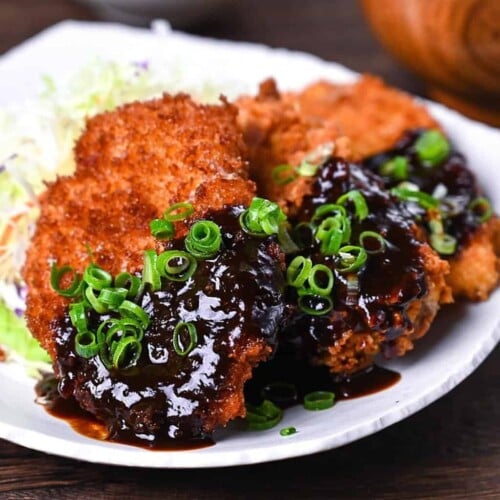 Hire Katsu with Authentic Nagoya Red Miso Sauce
How to make Hire Katsu (crispy breaded pork medallions) coated with a rich and glossy Nagoya-style red miso sauce.
Ingredients
Miso katsu sauce
100

ml

dashi stock

2

tbsp

red miso paste

1

tbsp

sake

1½

tbsp

mirin

1

tsp

soy sauce

2

tbsp

light brown sugar

½

tbsp

white sesame seeds
Hire Katsu
200

g

pork tenderloin block

-

or precut medallions

salt and pepper

4

tbsp

all-purpose flour

-

for dusting

1

medium egg(s)

1

tbsp

milk

1

tsp

cooking oil

cooking oil

-

for deep frying
Instructions
Red Miso Sauce
Add 100 ml dashi stock,

2 tbsp red miso paste

,

1 tbsp sake

,

1½ tbsp mirin

,

1 tsp soy sauce

and

2 tbsp light brown sugar

to a cold saucepan and mix well.

Place the pan on the stove and bring to a boil over a medium heat. Once boiling, lower to a simmer.

Cook the sauce until slightly thickened and glossy (approx 5-10 mins). Mix occasionally to prevent burning.

Remove from the heat and mix in

½ tbsp white sesame seeds

.
Hire Katsu
Preheat the

cooking oil

to

180

°C

.

Cut

200 g pork tenderloin block

into 2cm slices at a slight angle to increase the surface area.

Pierce both sides a few times with a fork.

Sprinkle a small pinch of

salt and pepper

on both sides of each medallion.

Prepare a plate of

4 tbsp all-purpose flour

and another one with

60 g panko breadcrumbs

. Crack

1 medium egg(s)

into a wide container and mix in

1 tbsp milk

and

1 tsp cooking oil

.

Coat each pork medallion with a thin layer of flour, be sure to brush off any excess.

One by one, coat the medallion with an even layer of egg mixture and then a generous coating of panko breadcrumbs. Press the breadcrumbs down to secure them and prevent them from falling off.

Place the medallions in the oil and deep fry for 4 minutes in total. Turn half way through to ensure even cooking. (Make sure not to overcrowd the pot.)

Remove the katsu from the oil and place on a wire rack to allow the excess oil to drip off.

Dish up and drizzle the red miso sauce over the top.

Best served with shredded cabbage and rice.

Enjoy!
Notes
If you don't have a way of checking your oil temperature, drop a panko breadcrumb in the oil. If it sinks, the oil isn't hot enough yet. If it floats and sizzles then the oil is ready.
Frequently asked questions
How do you eat miso katsu?
Miso katsu is usually served as teishoku style (shredded cabbage, a bowl of rice, miso soup and pickles). Alternatively you can make misokatsu donburi by layering a bowl of rice with a layer of shredded cabbage and then topping it with the miso katsu. Miso katsu sandwich is also popular. (Check out my katsu sando recipe here.)
Where is miso katsu from?
Miso katsu originates from Nagoya and is actually a dish inspired by tendon (tempura donburi rice bowl).
What is tonkatsu in Japanese?
It's とんかつ. とん means pork and かつ is cutlet.
What is red miso?
As the name suggests, red miso refers to all miso which is reddish in color and contains a higher percentage of soy beans compared to other types of miso. However, in the miso katsu context, red miso mostly refers to hacho miso (八丁味噌).
What is the difference between "rosu" and "hire" katsu?
When I think of tonkatsu as a Japanese, I think of rosu katsu first. Rosu katsu is usually made from either loin or boneless rib parts. On the other hand, hire katsu is smaller, leaner and made from tenderloin (medallion) part of the pork.
How do you cut tenderloin for tonkatsu?
When you have a big tenderloin centre cut, cut it in 2cm thick at an angle.
What is hire pork?
"Hire" (ヒレ) pork means the tenderloin part of pork in Japanese.