Kenchin Jiru is a filling and nutritious soup made with tofu and a variety of vegetables served in a soy sauce flavoured dashi broth. This traditional dish has roots in Buddhism and it's suitable for vegans too!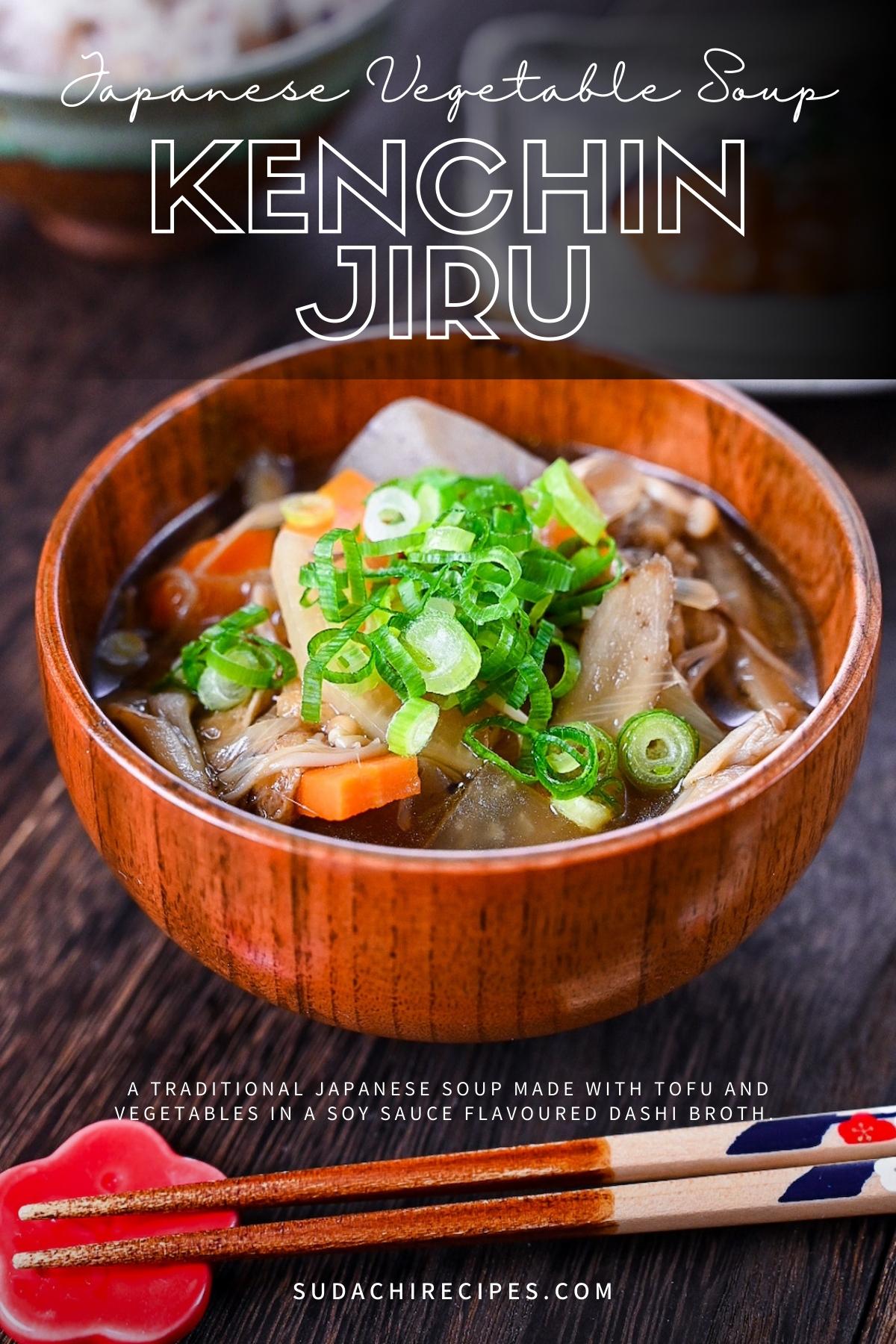 Disclaimer: This post contains Amazon affiliate links. Sudachi Recipes earn a small percentage from qualifying purchases at no extra cost to you. See disclaimer for more info.
Jump to:
What is kenchin jiru (soup)?
Kenchin Jiru (written as けんちん汁 or 巻繊汁) is a Japanese vegetable soup made by sautéing daikon radish, carrots, burdock root, konnyaku, etc in sesame oil, adding vegetarian soup stock, simmering, and finally seasoning with soy sauce.
Originally, since it was a "shojin ryori" dish (Japanese vegetarian dish) no meat or fish are added. The dashi broth is also made from kombu and/or shiitake mushrooms rather than the usual bonito flakes or dried sardines.
What is shojin ryori (Japanese vegetarian dishes)?
You might not associate Japanese cuisine with vegetarian dishes, but some very traditional vegetarian dishes still exist to this day. Shojin ryori (精進料理) is a type of cuisine closely associated with Buddhism that does not use meat or fish.
The word "shojin" is a Buddhist term meaning "to cultivate one's mind by avoiding gourmet food and meat, and to cultivate one's spirit by eating coarse or vegetarian food. The cuisine itself is said to be established at around 12th century.
The ingredients used in shojin ryori are characterized by the use of only "shojinmono" which refers to plant based ingredients. So you can say shojin ryori is almost identical to definition of modern day vegan.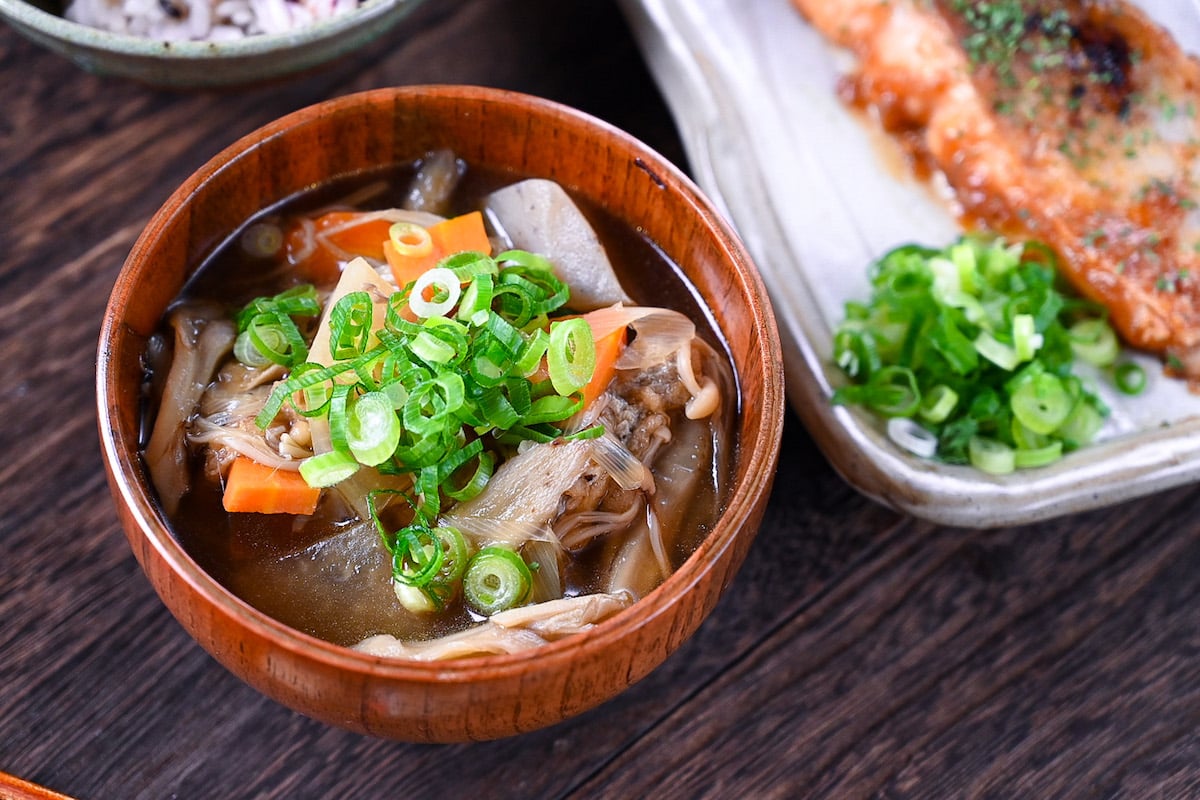 Why is it called kenchin? What does it mean?
There are various theories as to the origin of the name "Kenchin." One theory is that the name came into Japanese from a Chinese vegetarian dish called "kenchan" and another theory is that Kencho soup, made at Kenchoji Temple in Kamakura, somehow came to be called "Kenchin" soup.
Kenchin-jiru is now served in many parts of Japan, but it has been served at Kenchoji Temple for more than 700 years. According to a theory, it spread throughout Japan as the monks who trained at Kenchoji Temple were dispatched to various regions across the country.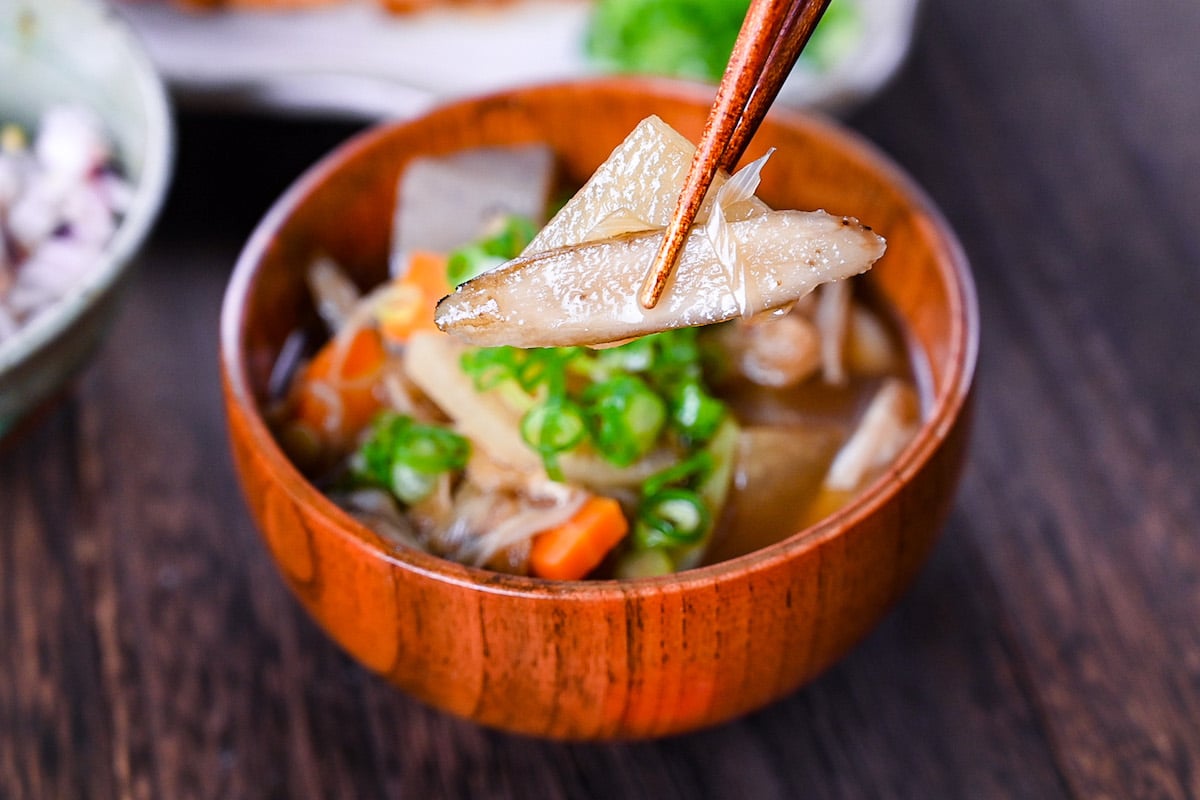 Kenchin jiru vs Tonjiru: what are the differences?
We already know that kenchin jiru is supposed to be a vegetarian dish, but do you know about "tonjiru"? Tonjiru is another kind of nutritious soup that uses similar ingredients to kenchin jiru.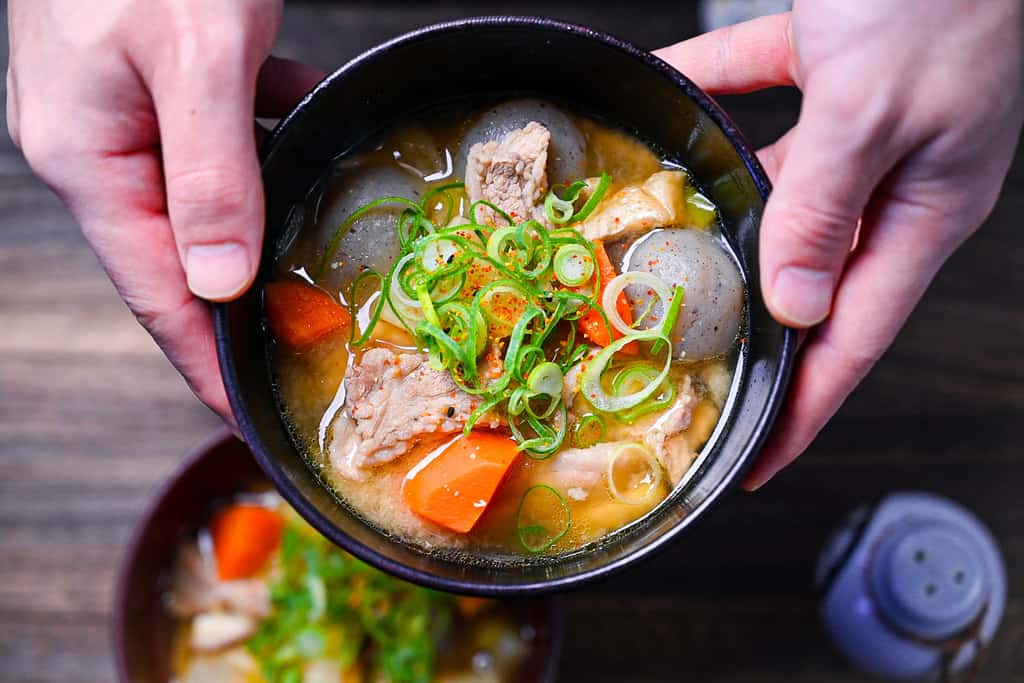 The biggest difference between the two is firstly, tonjiru contains pork. (The word "ton" (豚) is a prefix used in Japanese dishes that contain pork.) Secondly, the flavour of the soup is different. Tonjiru soup is flavoured with miso paste, while kenchin jiru uses soy sauce for its main flavour.
Even though they share very similar vegetable ingredients, the actual dishes are completely different not only in flavour, but also in culture.
What vegetables to put in kenchin soup?
In my kenchin jiru recipe, I used following ingredients:
Plant base awase dashi stock (kombu and dried shiitake mushroom)
Carrot
Daikon
Burdock root
Konnyaku
Aburaage (fried tofu)
Shimeji mushroom
Enoki mushroom
Spring onion
Some of them are very Japanese ingredients, but you can substitute these ingredients for something more accessible. To name a few, you can replace daikon with other types of root vegetables like radish or potato, shimeji mushroom with a different mushroom of your choice, aburaage with normal firm tofu or simply exclude!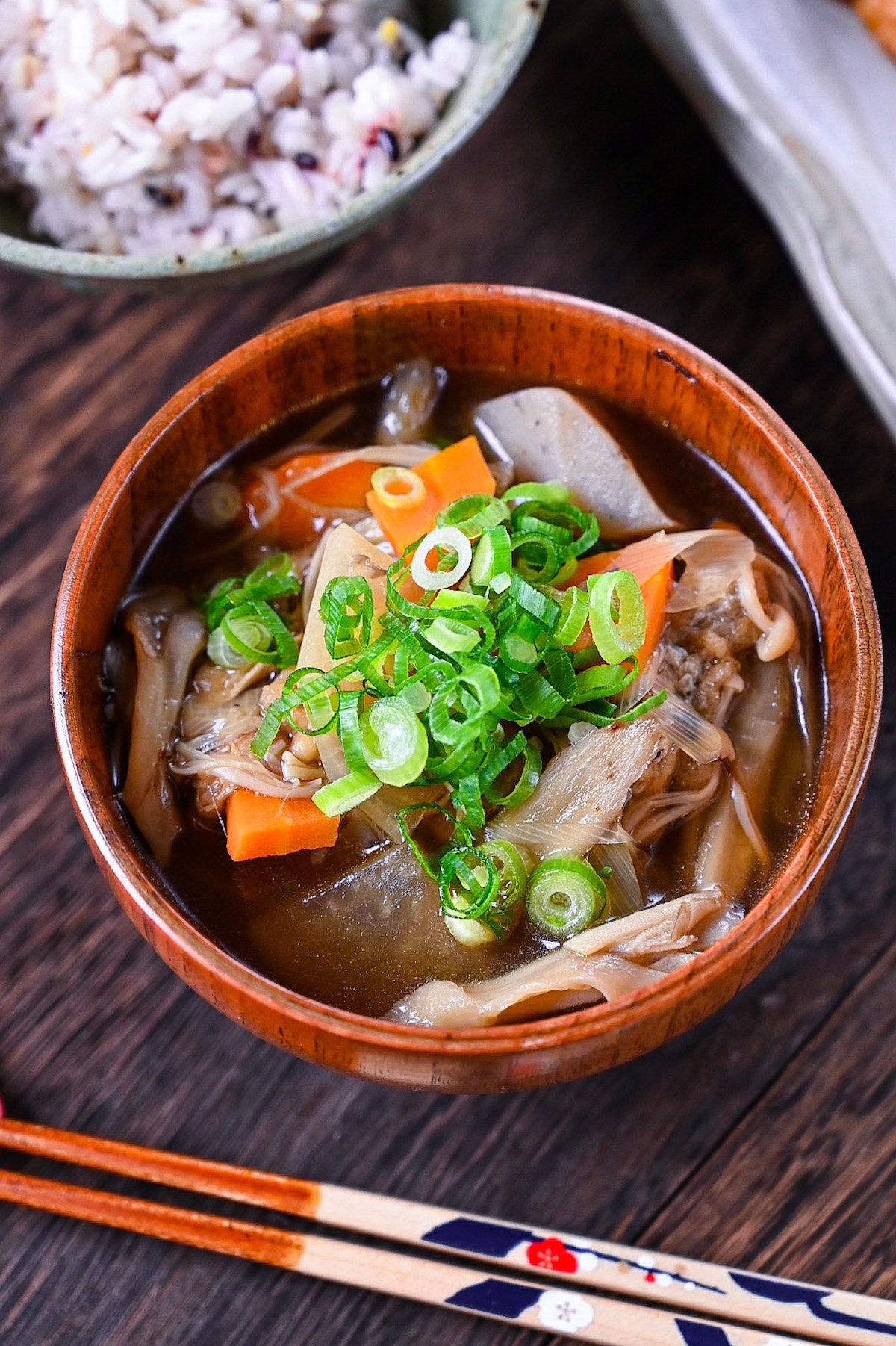 Steps for making delicious kenchin jiru
Here I will share and explain the methods and tips I personally use for making delicious kenchin jiru at home.
Homemade dashi
Dashi is most commonly made with bonito flakes (skipjack tuna) and kombu (dried kelp). However, kenchin jiru is a vegetarian/vegan soup and therefore the dashi should be plant based too.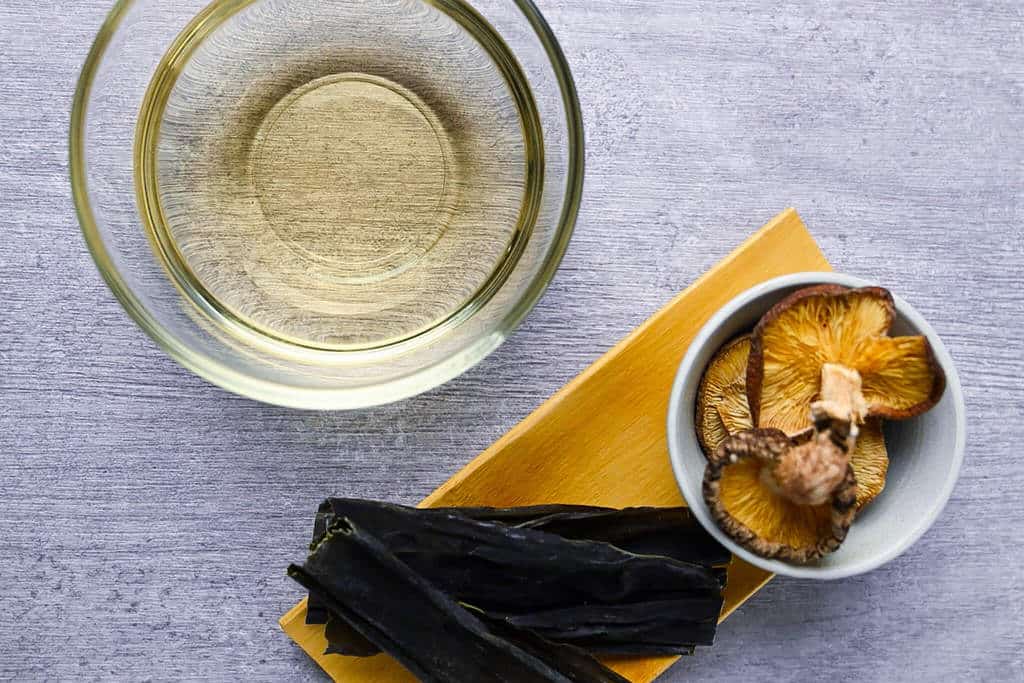 Because this soup relies on a good dashi, I recommend making your own using kombu and dried shiitake mushrooms. It takes about 30 minutes to soak the kombu and shiitake mushrooms in water, then the shiitake can be removed and used as an extra vegetable in the soup.
If you have time I recommend soaking it for longer (overnight if possible!). I've included the instructions in the recipe card below, but if you want to learn more about making vegan awase dashi, you can check out my post here.
Alternatively, you can buy vegan dashi on amazon to speed things up. There are dashi bag types or powder types (kombu only or shiitake only). The dashi bag type is better for soups and broths but it can be hard to find vegetarian ones. (If you don't mind it containing fish then the dashi bag can be found here on Amazon.)
Cutting ingredients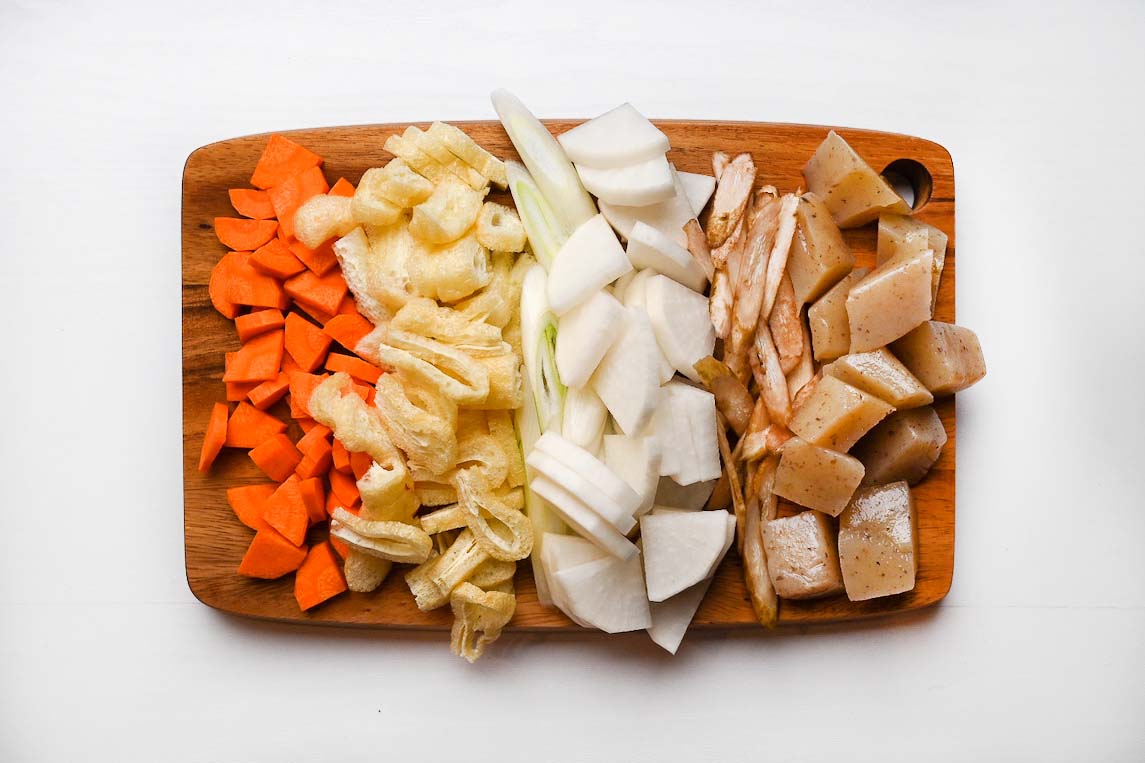 Because I add all of the vegetables at the same time, it's important to cut them to similar sizes to ensure even cooking. Root vegetables like carrot and daikon take longer to cook so I cut them in thin rounds and then cut the rounds into quarters.
The gobo (burdock root) skin should be scraped with a knife (rather than peeled with a peeler) and then cut into diagonal slices to increase the surface area.
Finally things like konnyaku (or firm tofu) are cut into rough bitesize chunks. I also used aburaage (twice fried tofu) cut into slices in my recipe.
Sautéing the vegetables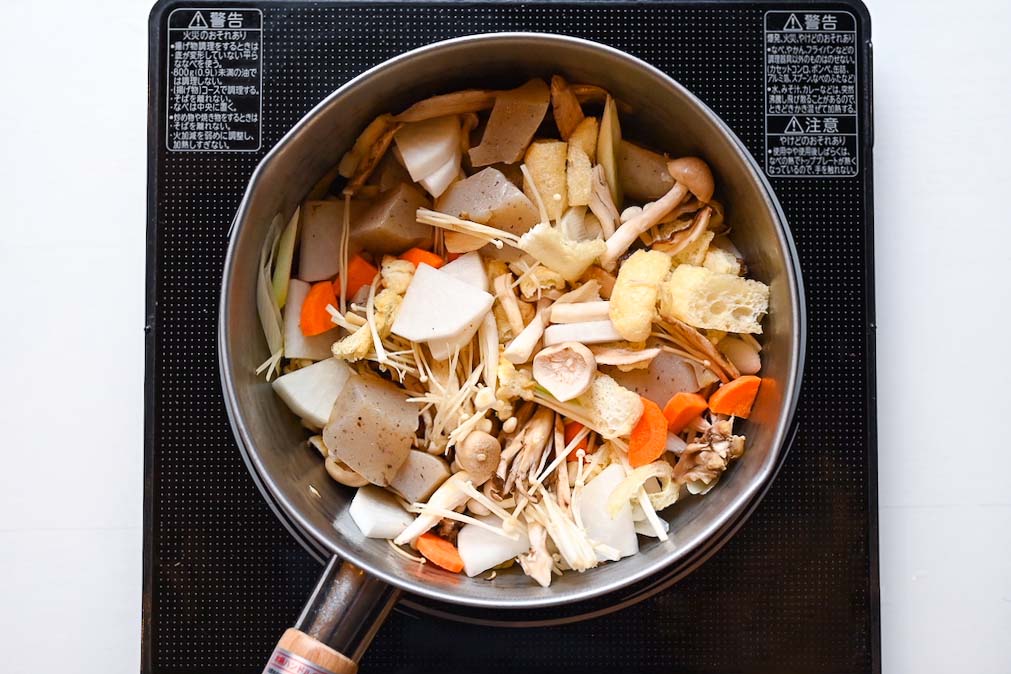 Some people might simply boil the ingredients in dashi, but I like to sauté them with sesame oil before adding the broth. Not only does this improve the texture, but it also helps each vegetable retain more of its individual flavour, rather than the flavours becoming blurred in the soup.
Adding condiments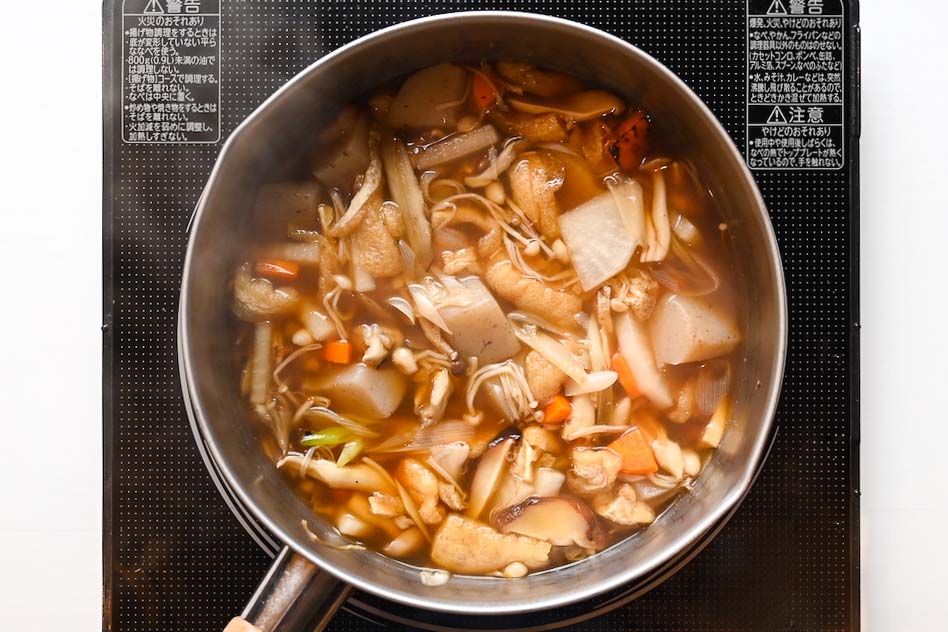 Softening the vegetables in the dashi takes some time, so I like to add the condiments to flavour the soup near the end. This will allow the flavours to shine in the soup broth rather than be absorbed into the vegetables.
Add the spring onion last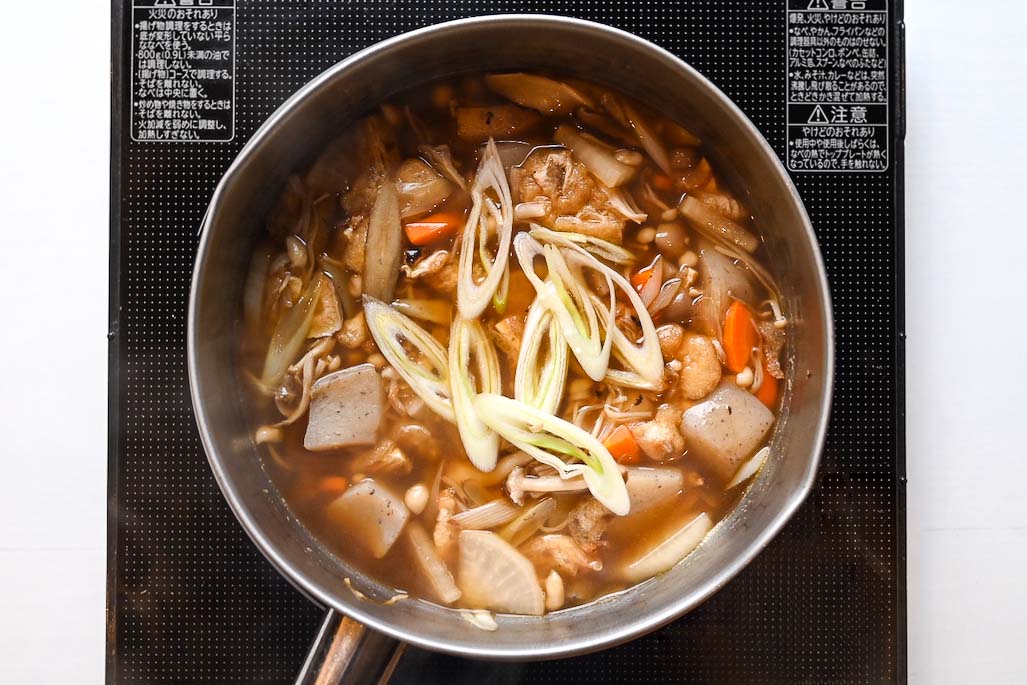 Japanese negi (a type of large spring onion known in English as "Welsh onion") cooks quickly and can become lost if added to early. I use the white part cut into diagonal slices and then add it last for the best taste and texture! You can also finely chop the green part and use it as a garnish.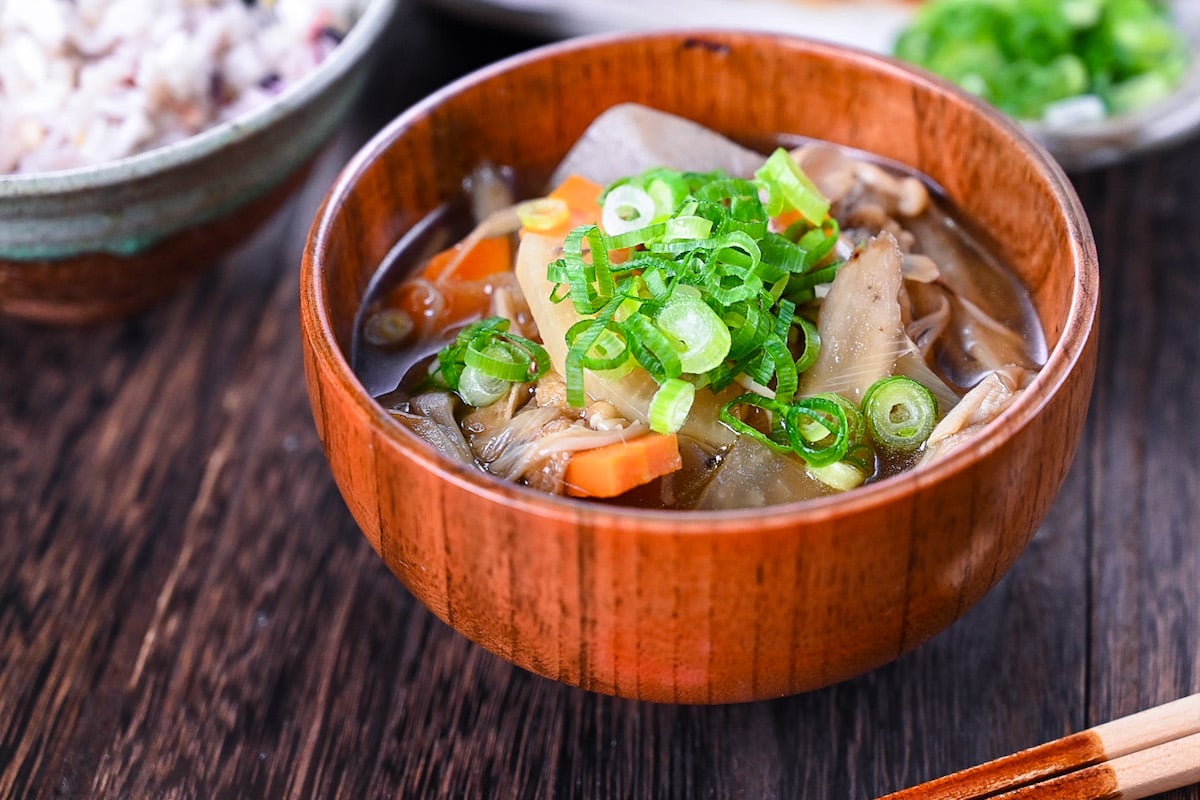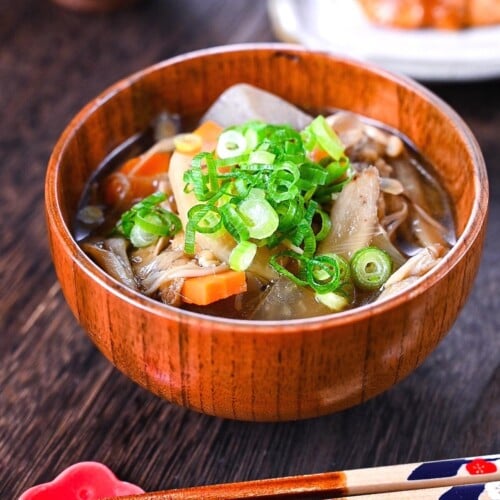 Kenchin Jiru (Japanese medieval vegetable soup)
How to make Kenchin Jiru (けんちん汁) a traditional Japanese soup made with tofu and a variety of vegetables served in a soy sauce flavoured dashi broth.
Ingredients
Kenchin Jiru
1

tsp

sesame oil

75

g

carrot(s)

-

cut into rounds and quartered

250

g

daikon radish(s)

-

cut into rounds and quartered

100

g

burdock root(s)

-

gobo, peeled and diagonally sliced

150

g

konjac

-

konnyaku, rough bitesize chunks

20

g

fried tofu pouch(s)

-

aburaage, thinly sliced

50

g

shimeji mushroom(s)

100

g

enoki mushroom(s)

50

g

green onion(s) -

diagonally sliced
Instructions
Add

5 g dried kelp(s)

and

10 g dried shiitake mushroom(s)

to a pot with

500 ml water

. Cover and allow to soak for at least 30 minutes. (If you have time, leave overnight for a deeper flavour.)

Remove the shiitake mushroom and thinly slice it to add back to the soup later.

Place the pot on the stove and heat until the dashi starts to bubble (don't let it boil). When it's nearly boiling, lower the heat to simmer and remove the kombu. Simmer for 5 minutes.

Heat up another large pot on medium and add

1 tsp sesame oil

. Add all of the ingredients except for green onion (we'll add that later) and stir fry until the root vegetables are softened slightly.

Pour the dashi into the pot with the other ingredients and simmer until the carrot and daikon are soft enough to pierce with a fork. 

Add

2 tbsp sake

,

2 tbsp mirin

and

3 tbsp soy sauce

and simmer for 2-3 minutes.

Finally add

50 g green onion(s)

and simmer for another 5 minutes.

Taste test, you can simmer for longer to make the flavour more concentrated or add a little more soy sauce to taste.

Dish up and enjoy!
Notes
Store leftovers in an airtight container in the fridge and consume within 2-3 days. Reheat in the microwave or on the stove.
Nutrition
Calories:
101
kcal
Carbohydrates:
12
g
Protein:
3.1
g
Fat:
2.1
g
Saturated Fat:
0.3
g
Polyunsaturated Fat:
1
g
Cholesterol:
0.2
mg
Sodium:
762.2
mg
Fiber:
5.3
g