Tonjiru is the ultimate miso soup packed with tender pork belly and a tonne of extra veggies to make it more filling and delicious! You've gotta try this warming home-style dish!
Disclaimer: This post contains Amazon affiliate links. Sudachi Recipes earn a small percentage from qualifying purchases at no extra cost to you. See disclaimer for more info.
Jump to:
What is Tonjiru (Butajiru)?
Tonjiru (豚汁) is a type of miso soup made with pork and vegetables. Root vegetables are often used to make the dish nutritious and filling, and miso paste is predominately used for seasoning and flavor. The name is made up of the characters 豚 which means "pork" and 汁 which means "soup". In some regions, this dish is also known as "butajiru" but I'll explain more about that later.
Tonjiru is a favorite dish in many Japanese homes. What makes it so loved? It's all about the broth, which pulls in the flavors of all the ingredients. The unique taste and texture of soft pork belly set it apart from other meats like chicken or beef and gives the soup a special flavor.
Imagine enjoying a hot bowl of pork miso soup on a cold day. It's the best treat you could ask for. I remember back in junior high, we had this rather strange event where all the students would run a city marathon from midnight until morning right in the middle of winter. Waking up that early for a school event was a pain, but the reward at the end was worth it: a delicious bowl of tonjiru. It tasted exceptional after the chilly run.
Incidentally, the reason why it is often eaten in cold regions and during cold weather is for practical reasons: the fat from the pork covers the surface of the soup and keeps it from getting cold.
A brief history
Tonjiru has a history that's somewhat shrouded in mystery. One thing we know for sure: for roughly 1,200 years, the consumption of meats like beef and pork was forbidden in Japan, starting in 675 when Emperor Temmu issued a meat-eating ban. This suggests that the history of pork miso soup is likely not that long.
Even though meat was banned in the Edo period (1603-1867), there's a tale that pigs, wild boars, and deer were frequently consumed by the Satsuma clan (薩摩藩), in what's now Kagoshima Prefecture. This has led many to believe that pork miso soup may have originated in what we now know as the Kyushu region of Japan.
But like any good mystery, there are other theories as well. Some say pork was just added to Kenchinjiru, a type of vegetable soup, or that the dish took inspiration from Botan nabe, a wild boar hot pot. Others speculate it might have started in Hokkaido. All we know for certain is that this dish has won the hearts of many, wherever it came from.
Tonjiru or Butajiru?
So, you might be wondering, "Should I call it 'Tonjiru' or 'Butajiru'?" Surprisingly, in linguistic terms, both names are spot on. In Japanese, the kanji character "豚" represents pork, and it can be pronounced either as "ton" or "buta".
The reason why these two names, while linguistically identical, coexist, lies in regional variations. For instance, in Hokkaido, most locals refer to it as "butajiru." Meanwhile, in Tokyo, you'll hear the term "tonjiru" more often. Just for context, I'm originally from Aichi Prefecture, right in the heart of Japan, and in my experience, "butajiru" isn't a term you'll hear very often.
What Kind of Pork To Use
As its name hints, tonjiru, or pork miso soup, calls for pork. But many of us are left scratching our heads over which part of the pork to use. In Japan, thinly sliced pork belly or end cuts are the go-to choices. A fatty cut of pork is usually preferred since the fat and flavor it releases play a key role in this soup's distinctive taste.
In my own recipe, I also suggest pork belly, but with a twist. Instead of a thinly sliced pork belly, I recommend using a block of pork belly and cut it yourself. The first reason is that this allows for thicker slices than what you'd typically find in Japanese supermarkets. The second reason is practicality. Outside of Japan, it can be challenging to find thinly sliced meat in regular supermarkets.
In fact, these thicker cuts not only offer a more substantial bite but also allow you to savor the taste and texture of pork belly to its fullest. So, don't shy away from the thicker slices—they're recommended over thin ones for a meatier experience in my opinion!
General Elements
The key elements in tonjiru are dashi broth, miso paste, pork, and vegetables. Let's look at each element in detail.
Dashi Broth
At the heart of a flavorful tonjiru is its dashi base. Dashi broth, a vital Japanese stock, can be made from a few different core ingredients. Some of these include:
Kombu dashi: Made from dried kelp.
Katsuobushi dashi: Created using bonito flakes from skipjack tuna.
Shiitake Dashi: Uses dried shiitake mushrooms.
In this recipe, we'll be cooking up tonjiru using homemade dashi, lovingly brewed with a blend of kombu and katsuobushi. This type of dashi is called "awase dashi," and we've got a detailed recipe ready for you to follow.
For those of you seeking a quicker route, dashi powder or dashi packs (similar to teabags) can be easily found on Amazon. These can be your shortcut to a comforting bowl of tonjiru.
Miso Paste
Japan's miso landscape is as diverse as it is delightful, with the type of miso you choose for your miso soup ultimately boiling down to personal preference. Here's a quick rundown of the different types of miso you might encounter in Japan:
Rice Miso (米味噌): A trio of rice, soybeans, and salt makes up this common variant.
Barley Miso (麦味噌): Crafted from wheat, soybeans, and salt, it's a frequent find in the Chugoku, Shikoku, and Kyushu regions.
Soybean Miso (豆味噌): Made with just soybeans and salt, this type is particularly popular in the Chukyo region (which happens to be my home turf!).
Mixed Miso (調合味噌): This type is a tasty blend of two or three types of rice miso, barley miso, or soybean miso.
Miso can also be grouped by color, each offering a distinct flavor profile:
These are just the broad strokes, though. The miso universe in Japan is vast, with countless variations from region to region. Traditionally, families even made their own miso at home, leading to differences from one household to the next.
A fun fact about my hometown, Okazaki, is that it's famous for producing Hacho Miso, a kind of deep, rich red miso paste.
In my recipe, I opted for "awase miso" (yellow) this time, which you can readily purchase on Amazon. The choice of miso, much like any ingredient, can greatly change the character of your tonjiru, making each bowl a unique experience.
Other ingredients
Tonjiru, unlike its ordinary miso soup counterpart, boasts a medley of ingredients that inject it with its distinctive character. It's like a festive gathering of flavors, each adding its unique touch. Here are some of typical ingredients used:
Carrots: These bring a touch of sweetness.
Green Onion: For that vibrant green and mild zing.
Potatoes: Often, "satoimo" or taro is used, imparting a delightful creaminess.
Mushrooms: Japanese varieties like shiitake, enoki, eryngii, and shimeji are popular choices.
Daikon Radish: This adds a refreshing crunch.
Burdock root: Also known as "gobo" in Japanese is a common pick that adds a unique flavor.
Tofu: For a silky, satisfying bite.
Konjac (konnyaku): This adds a unique texture to the mix.
While the choice of ingredients ultimately rests with you, I'd suggest picking at least three from this list to ensure a symphony of flavors in your bowl of tonjiru.
Ingredients and Substitutions
Pork belly block - As mentioned above, you can use thinly sliced pork belly or any other part of the pork, but I recommend pork belly block the most.
Daikon radish - If you live in an area where daikon radishes are hard to find, substitute locally available radishes.
Carrot - Fresh local carrots are the best.
Gobo (burdock root) - If it is not available, you may use another root vegetable.
Shiitake mushrooms - You can substitute your favorite mushrooms from your area.
Green onion - If you prefer onions to green onions, onions can also be delicious.
Konjac - If it is not available, you can add another type of vegetable.
Aburaage (fried tofu) - You can also use regular tofu instead.
Unsalted butter - Use unsalted butter, as using salted butter will change the salt content.
Dashi broth - Awase dashi containing dried bonito flakes is recommended. If you do not make homemade dashi, you can use dashi packets in tea bag form or dashi granules.
Miso paste - Use your favorite miso paste that is readily available. I like to use an awase miso paste.
Soy sauce - If you want to know more about soy sauce used for Japanese cooking, please see my 20 Most Useful Condiments and Seasonings for Japanese Cooking post.
Mirin - Choosing the right mirin can be tricky, as there are various "mirin-style condiments" that are not true mirin. When purchasing mirin, it is recommended to look for "hon mirin" (本みりん) for the best flavor. In the US, Hinode Hon Mirin is a high-quality and affordable option. Another premium hon mirin available on Amazon US is Kokonoe Jun Mikawa Hon Mirin. If you prefer a more budget-friendly option that is not hon mirin, Kikkoman's Manjo Aji Mirin would be a suitable choice.
Sesame oil - It is used for the final touch. I recommend Kadoya's sesame oil.
Chopped green onion to garnish (optional) - This improves the color of the final soup.
Shichimi Togarashi (optional) - Japanese chili powder, recommended for those who want to add a little spiciness.
I have listed my recommended Japanese condiments, tools, and ingredients in the Sudachi Recipes Amazon shop. If you want to keep making various Japanese foods at home, please check it out!
Step-by-Step Process
Here I will show you how to make delicious, flavorful and authentic Japanese tonjiru from scratch along with tips and tricks along the way!
Cut the pork belly into slices about 2mm thick. I recommend using a sharp knife and cutting it straight from the fridge so that it's firm and holds its shape.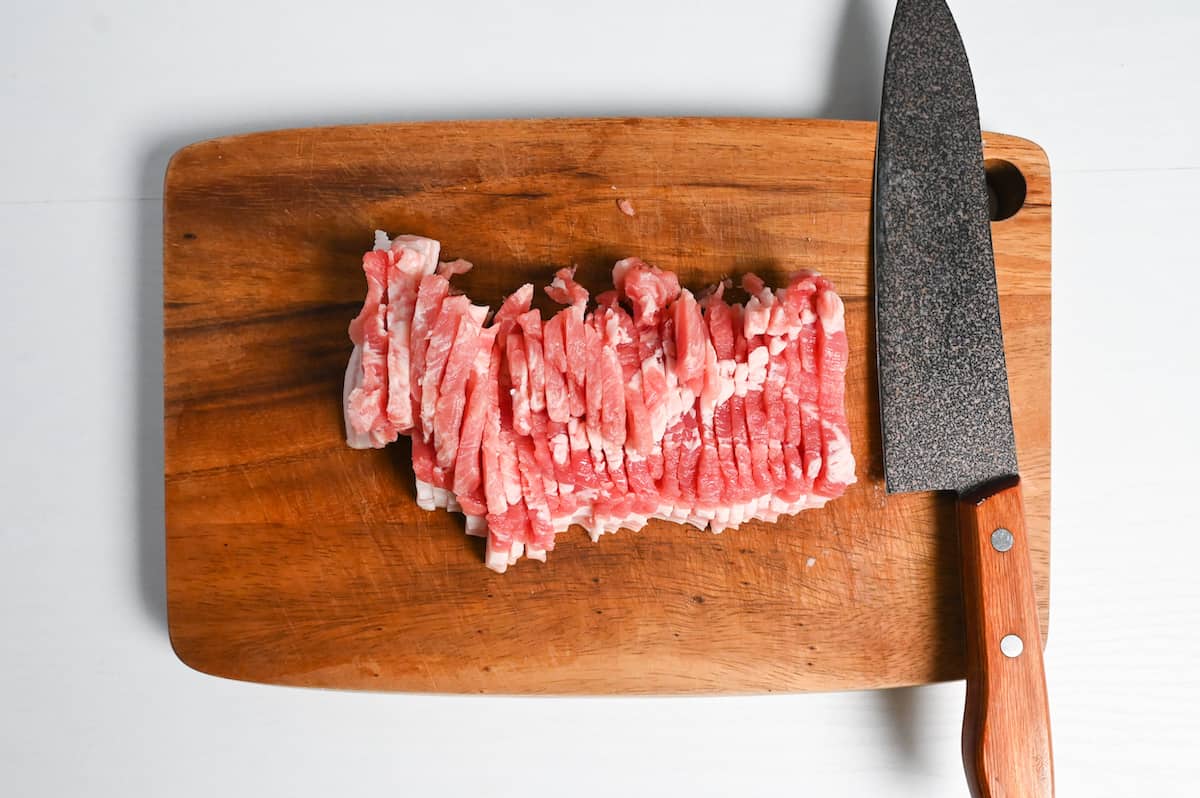 Can I use pre-cut thinly sliced pork belly?
It's actually more common in Japan to use the thinly sliced pork belly you can buy from the store, but I personally find it's so thin that it becomes lost in the soup. Thinly sliced pork is also harder to find outside of Japan and might be more expensive. Using a pork belly block is not only more accessible but also adds more texture and a meaty feeling to the soup. But of course this depends on preference, feel free to use thinly sliced if you prefer!
Cut the other ingredients
Wash and scrape the skin off the burdock root, then cut it diagonally into thin slices. Thinly slice the fried tofu pouch, green onion and shiitake mushrooms. Peel and cut the carrot and daikon radish into bitesize chunks. If using konjac, cut it into bitesize chunks, blanch it in hot water and rinse with cold water to remove the odor.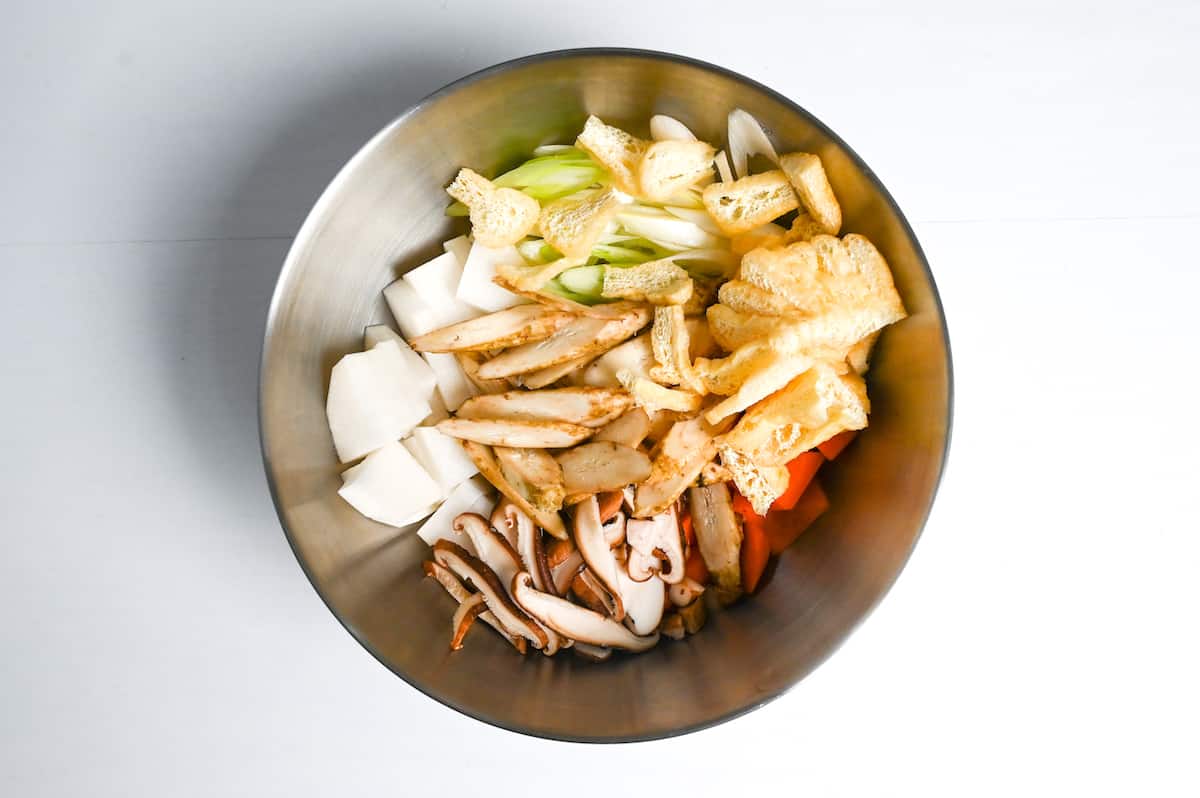 Use a good variety of vegetables (and tofu) to make tonjiru. By adding more vegetables, the delicious and complex essence from them will come out and make the dish have more depth of flavor. It also makes it more comforting and nutritious!
Heat a large pot on a medium heat and melt unsalted butter. Add the pork and seal on both sides. Using butter rather than oil adds a richer flavor and compliments the pork and miso!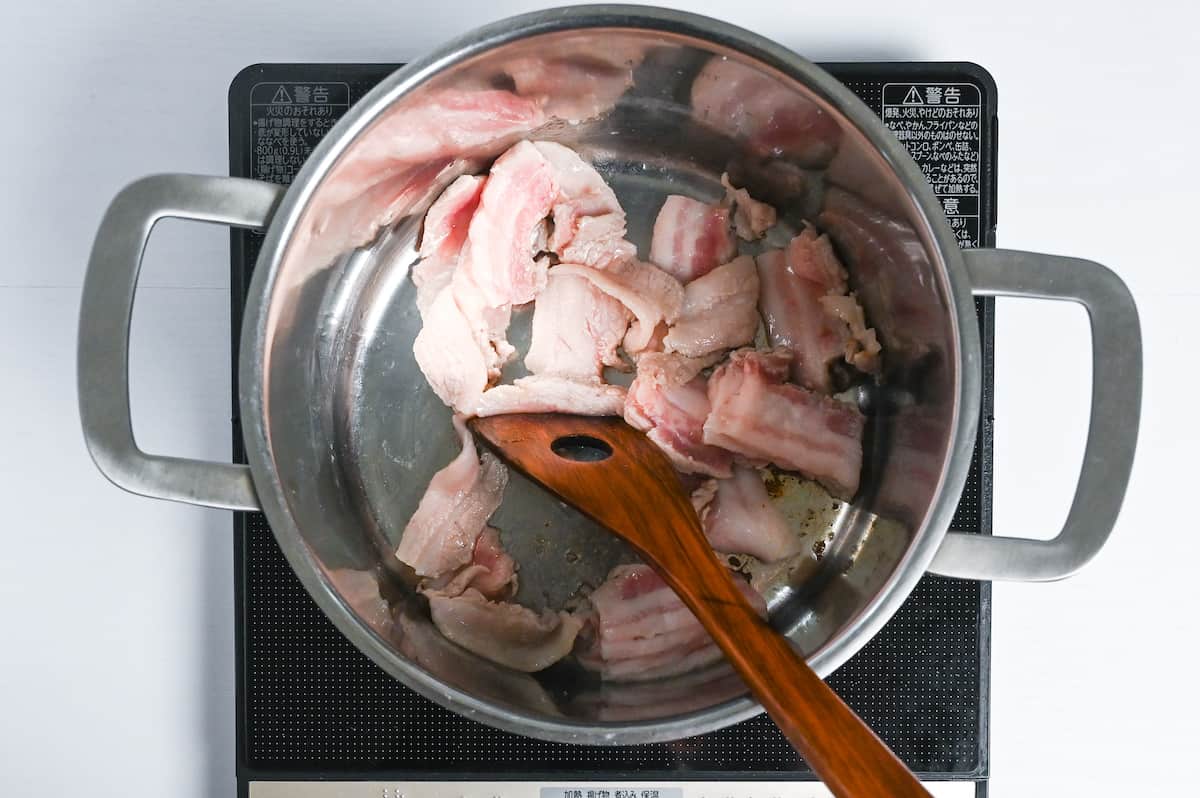 Next, add the sliced burdock root and stir fry for one minute.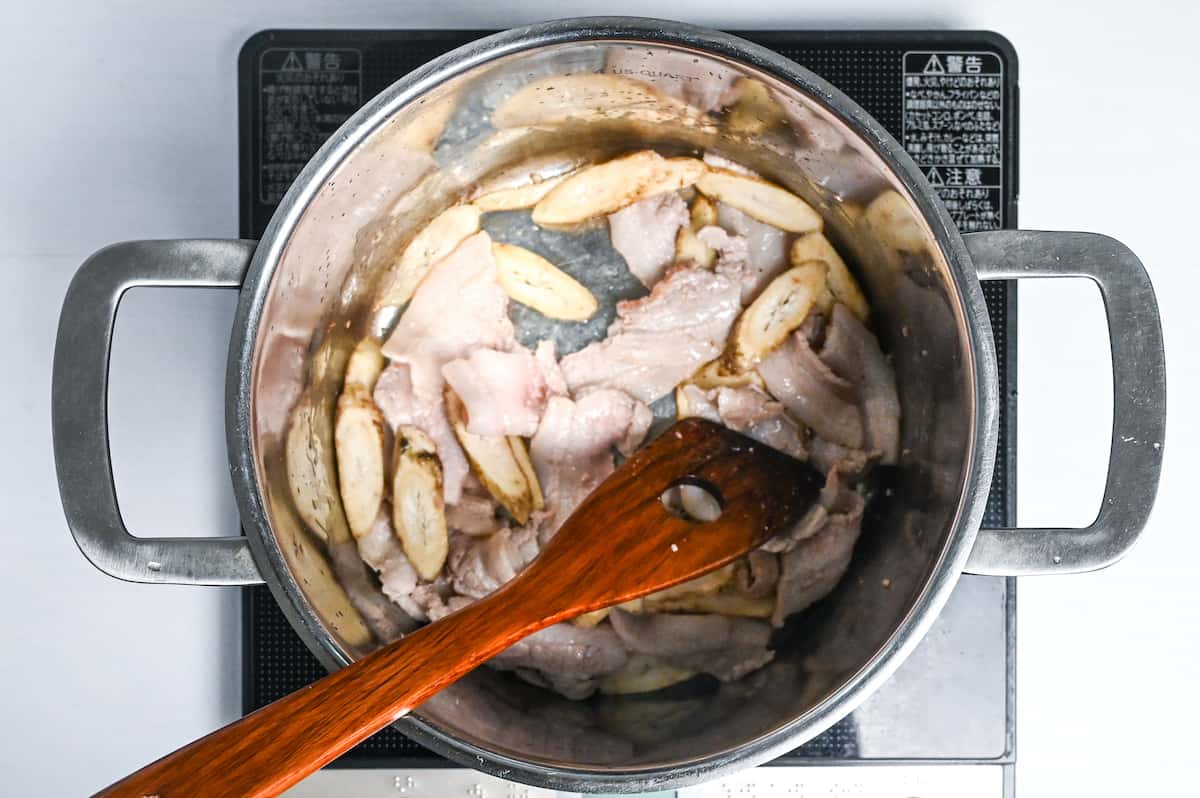 Add vegetables and konjac
Add the carrot, daikon radish, shiitake mushrooms, konjac and fried tofu pouch. (Don't add the green onion yet.)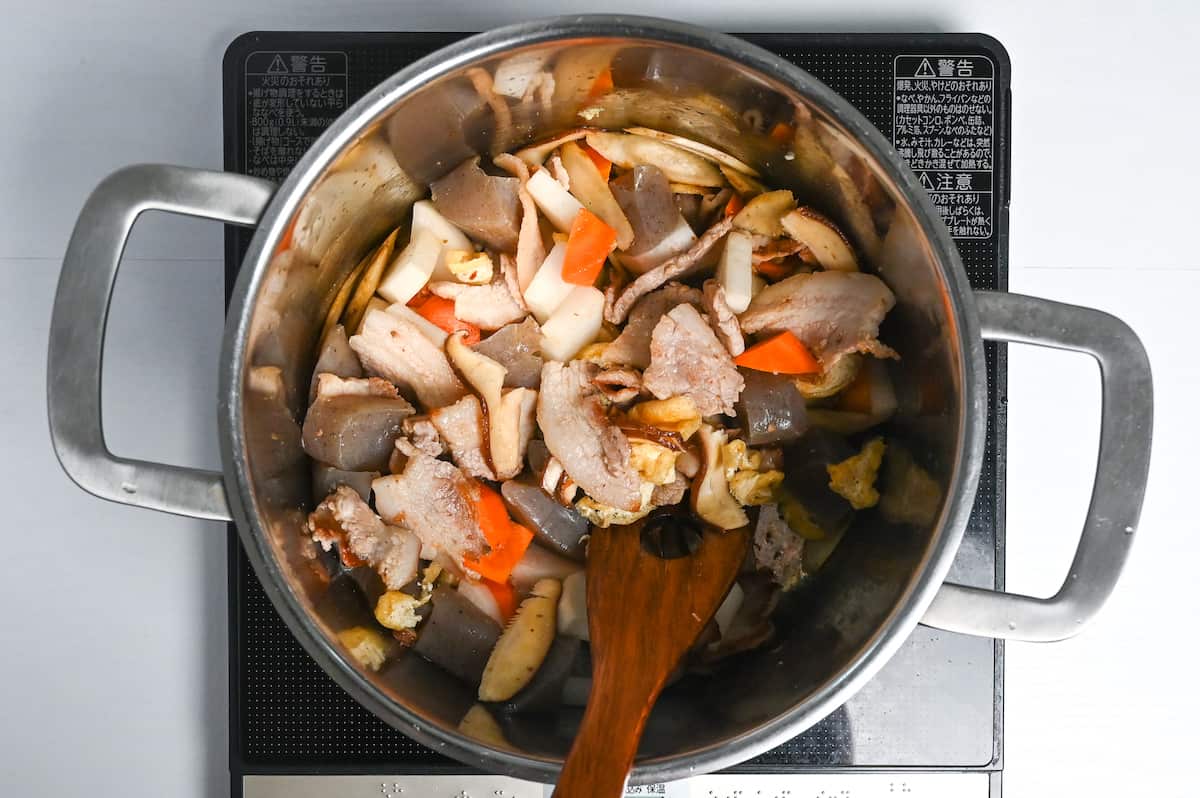 Mix the contents of the pot thoroughly and add the dashi.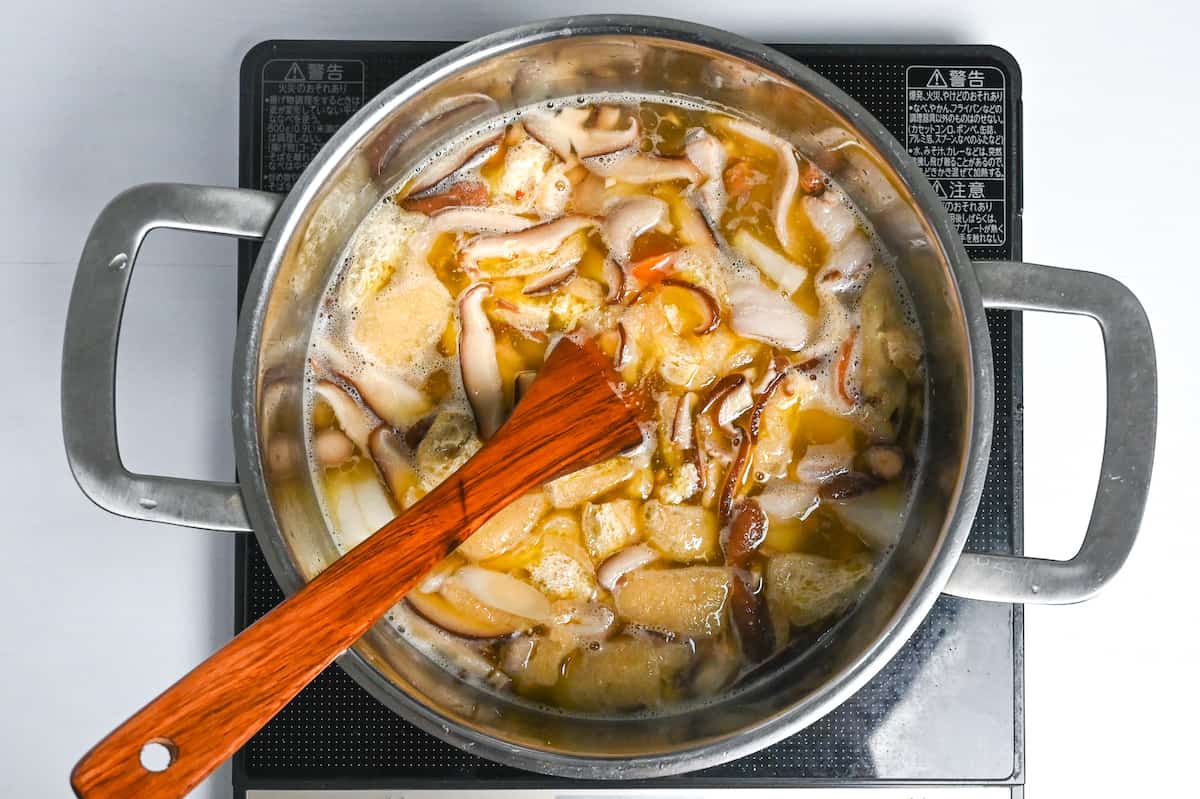 Add half of the miso paste
Add the first half of the miso paste by placing it in a mesh spoon, submerging it in the broth and mixing thoroughly until it's incorporated. This technique prevents lumps of miso and ensures it's evenly distributed throughout the soup. Mix well and simmer for 15 minutes.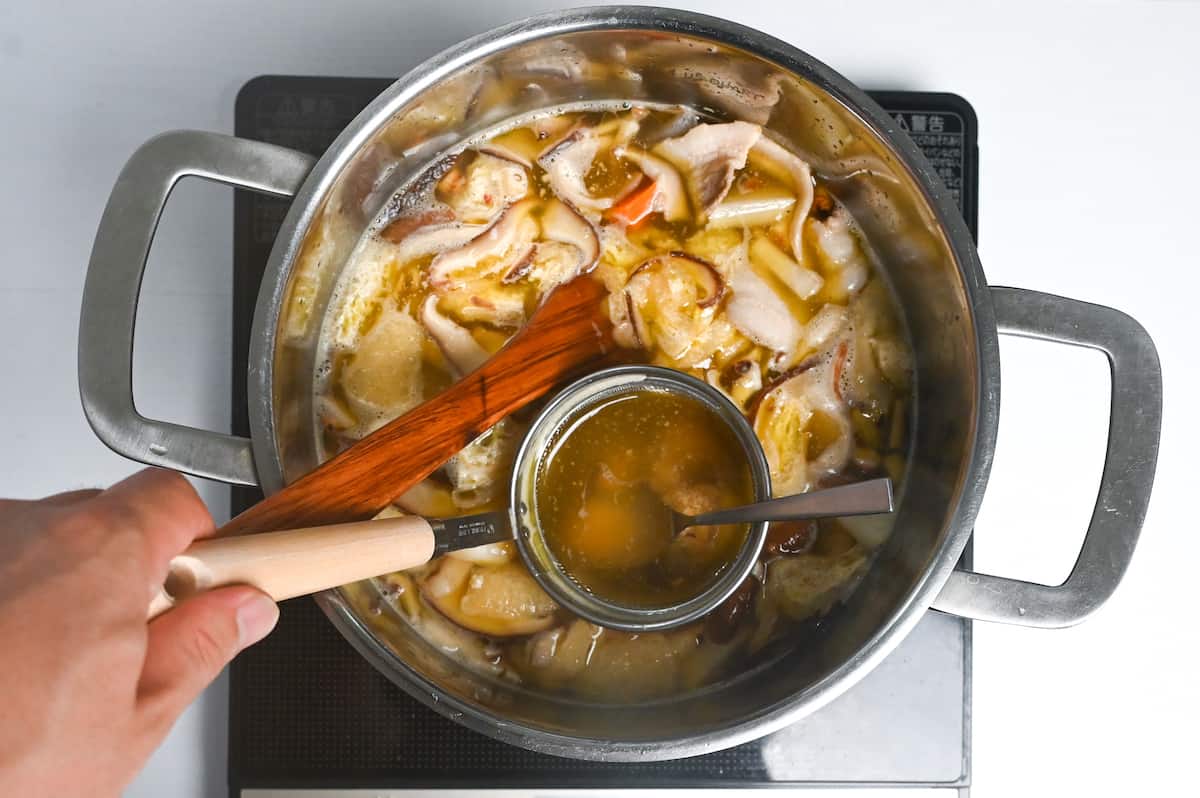 Why don't we add all of the miso?
The purpose of the miso here is to allow the flavor to be absorbed into the vegetables. Miso tends to lose its flavor the longer it's heated, so we flavor the soup right at the end to ensure maximum flavor.
As the soup simmers, the pork will release scum that floats to the surface. Scoop it off as it appears using a mesh spoon.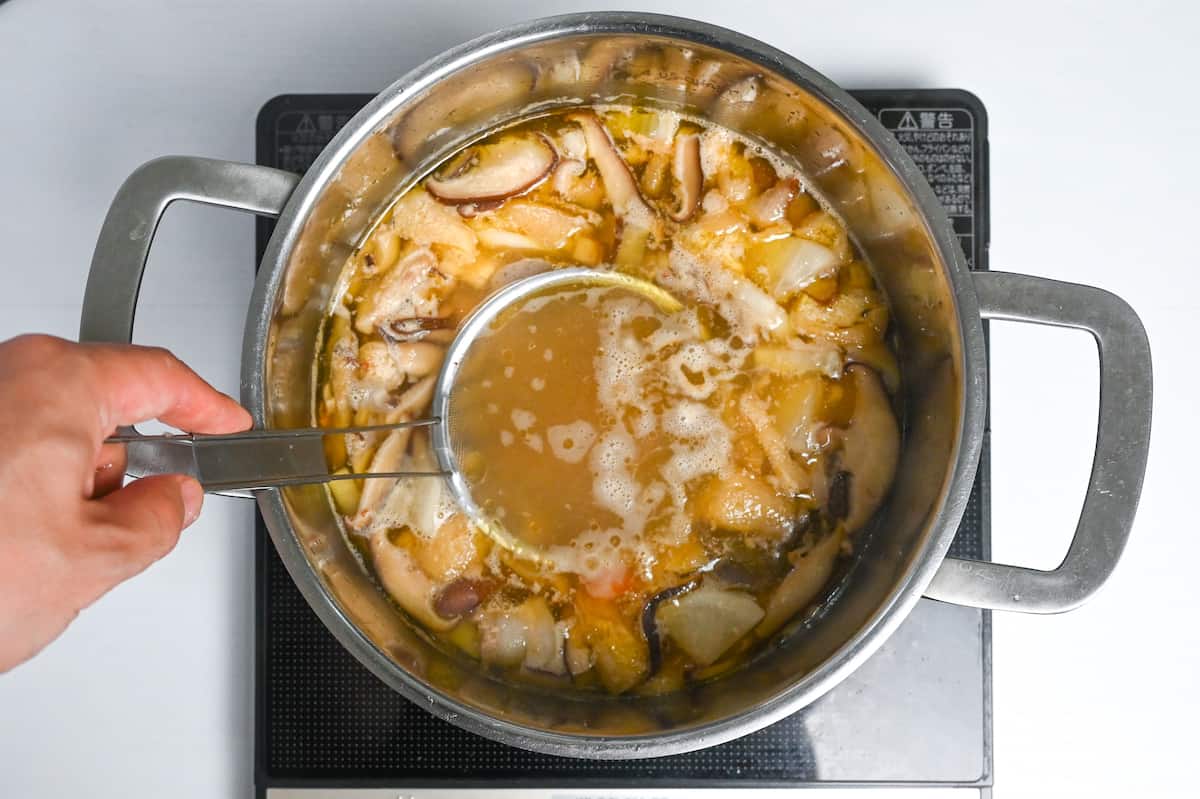 After 15 minutes, add the green onion and simmer for another 10 minutes.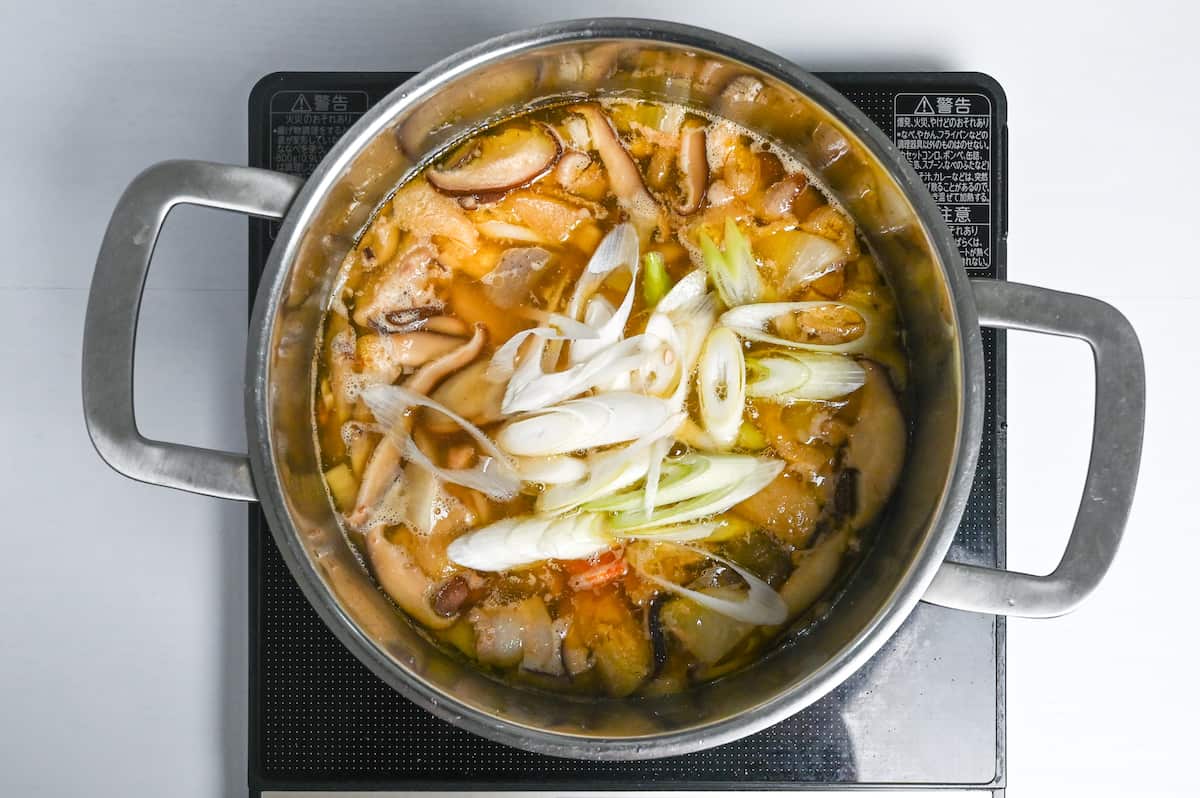 Add the soy sauce and mirin, then turn off the heat. Add the other half of the miso paste using the mesh spoon technique from before. Taste test and add more miso if needed.
Divide the soup into serving bowls, drizzle with sesame oil and top with chopped green onion.
Enjoy!
Tips and tricks to making amazing Tonjiru at home
It is safe to say tonjiru is one of the biggest staple dishes in Japan, meaning there are so many tips and tricks available! In this section, I will explain my favourite tips to make an amazing tonjiru at home as well as how to avoid common mistakes.
Tips and tricks to make the best Tonjiru
Use thick slices of pork for a meatier texture.
Add a good variety of vegetables to help make the soup more complex and flavorful.
Cut the root vegetables into rough bitesize chunks for better texture.
Use butter instead of cooking oil for a richer taste that compliments the pork and miso flavor.
Add miso at different times - half before simmering so that the flavor can be absorbed by the vegetables, and half at the end to flavor the soup.
Turn off the heat before adding the second half of the miso paste, this ensures that the flavor is the best it can be.
If reheating, do not boil. Just heat to drinking temperature.
Best eaten straight away as the flavor of miso deteriorates over time, especially after reheating.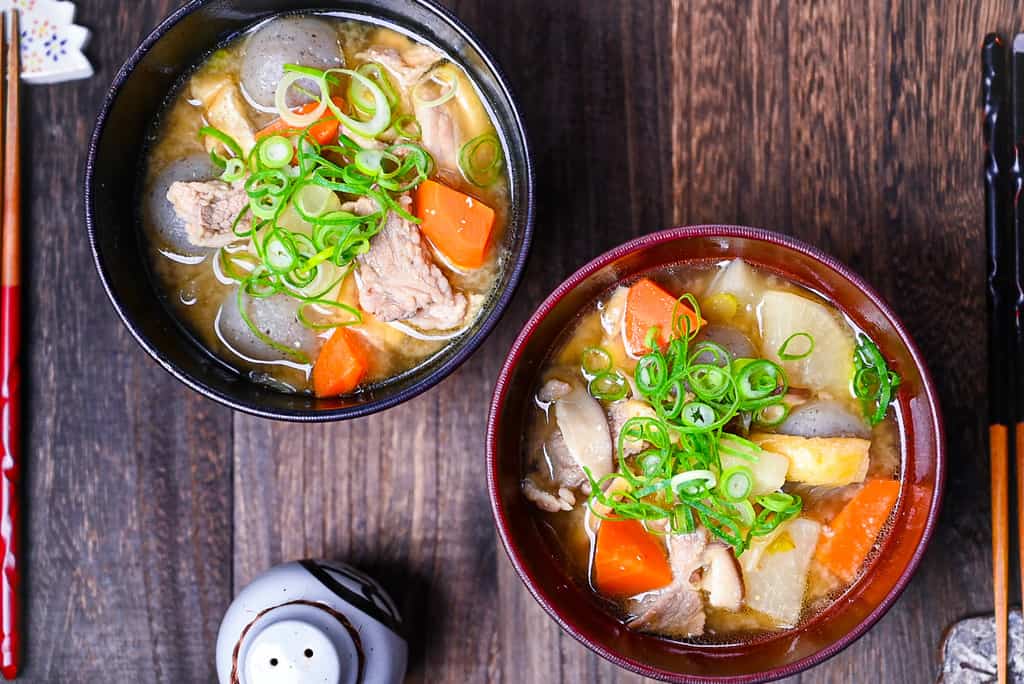 Storing
Since the flavor of miso tends to deteriorate after storing and reheating, it's best to try and eat tonjiru on the day it is made. However, making tonjiru takes a lot more effort than regular miso soup and we wouldn't want that effort to go to waste!
To store leftovers, transfer the soup to an airtight container and keep it in the refrigerator. In winter or colder climates, it can be kept for up to 4 days. In summer or hot/humid conditions, leftover tonjiru should be consumed within 2 days. Note that these estimates are based on using fresh ingredients.
To reheat, heat on the stove and bring to almost boiling. Taste test and if a significant amount of flavor has been lost during storing and reheating, you can add more miso paste to revive it.
Do not freeze.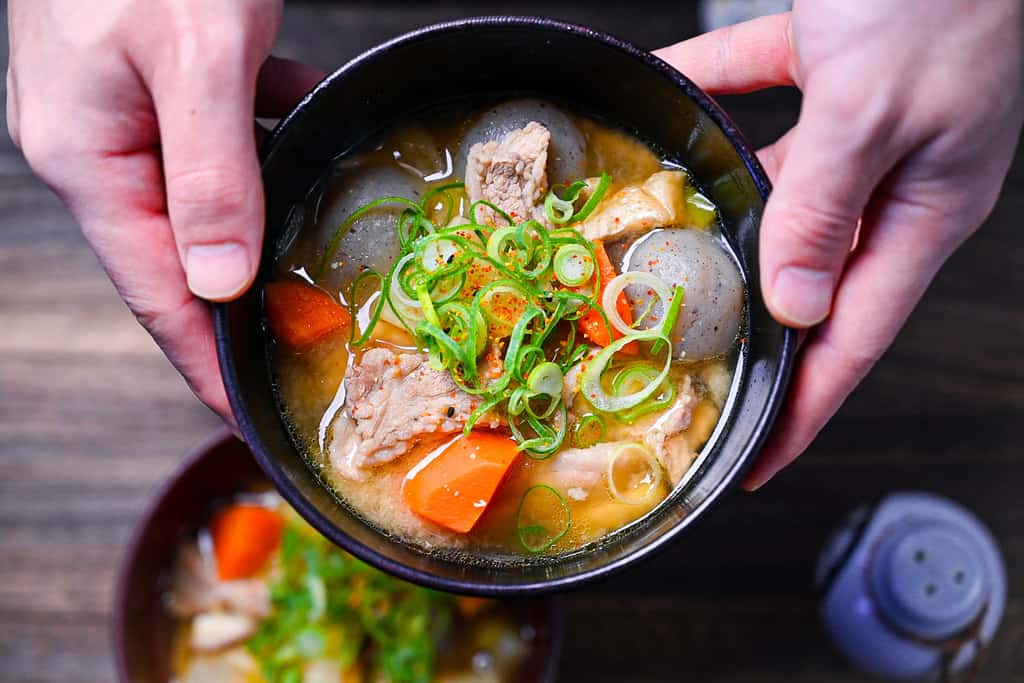 5 Pairing Suggestions For Tonjiru
Tonjiru, with its depth and heartiness, often claims the spotlight as a main course, especially during lunch in Japan. But should you wish to bask in its warmth during dinner, you might find yourself asking, "What can I pair this with to create a nice meal?"
Fret not, I've got your back! Drawing from my own experience, here are a few dishes that harmonize beautifully with this hearty pork miso soup!
Takikomi gohan (Japanese seasoned rice)
Takikomi gohan, also recognized as Gomoku gohan or Kayaku gohan depending on the locale, is a seasoned rice cuisine from Japan that is typically combined with a mix of dashi, soy sauce, various types of meat, and vegetables.
Takikomi rice, which is heartier than regular white rice, and tonjiru, which is heartier than regular miso soup, are a perfect match.
Takikomi Gohan (Japanese Seasoned Rice)
How to make deep and flavorful Takikomi Gohan with rice, chicken, ginger and seasonal vegetables cooked in a seasoned dashi broth.
Check out this recipe →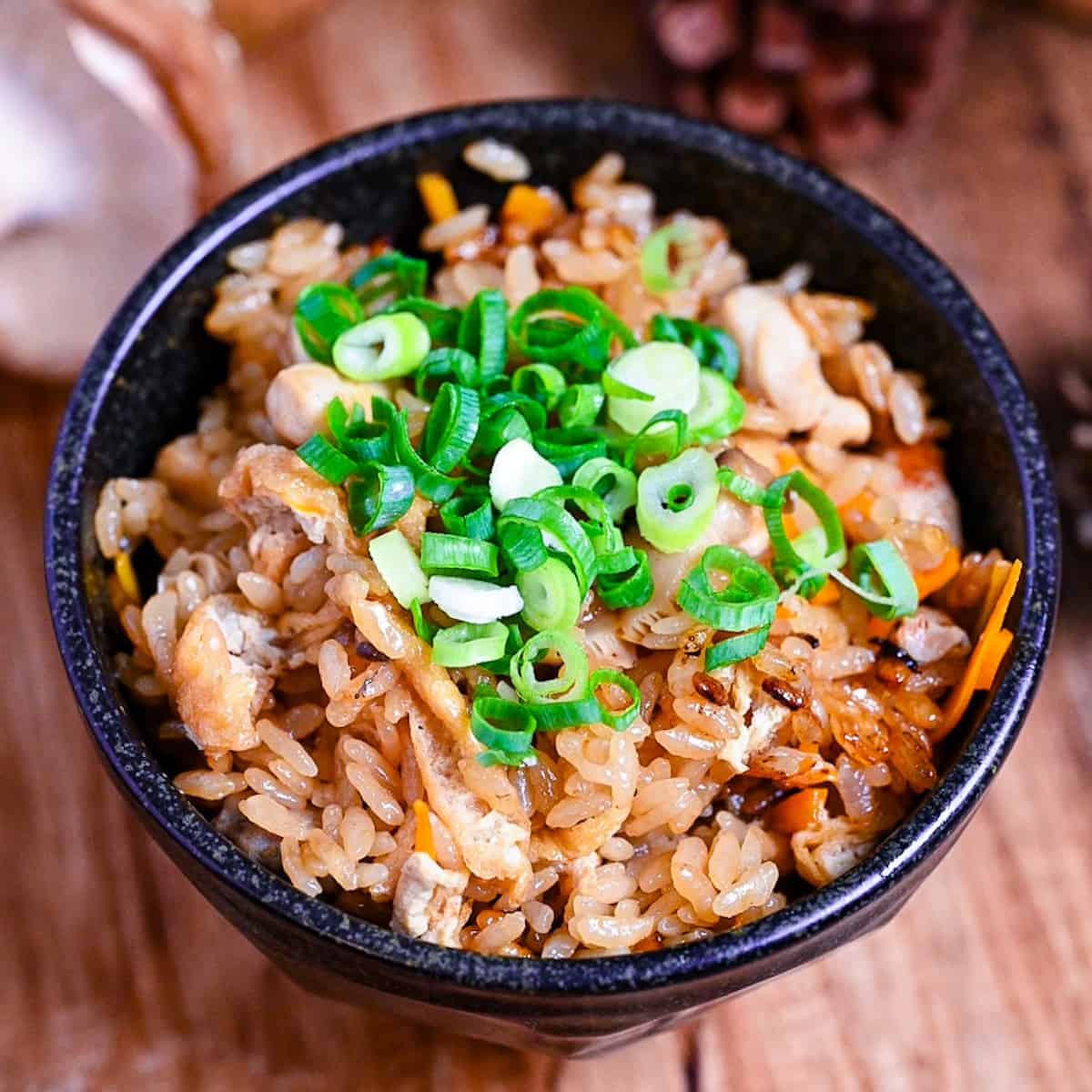 Chicken karaage (Japanese fried chicken)
Karaage, a term often used for Japanese-style fried chicken, holds a special place in my heart. I recall childhood dreams of opening a karaage specialty food stand, an ambition that seemed peculiar over 20 years ago, but has since become a massive trend in Japan.
A dining table with white rice, pork miso soup, and chicken karaage is a dream come true for me. You can also try making tatsuta-age or karaage-don instead!
Authentic Chicken Karaage (Crispy Japanese Fried Chicken)
How to make authentic chicken karaage (Japanese fried chicken).
Check out this recipe →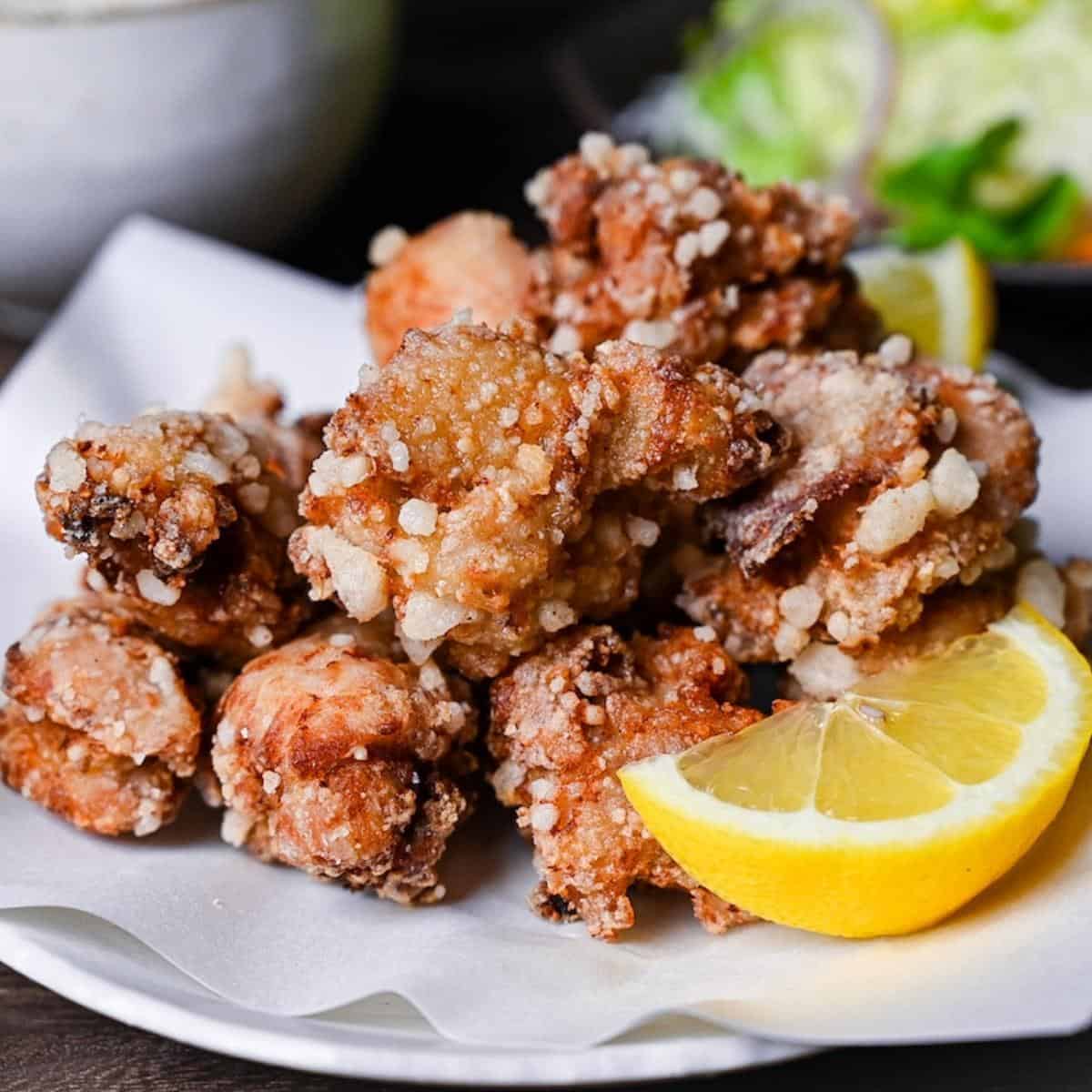 Nikujaga (Japanese meat and potato stew)
Nikujaga is a cherished one-pot dish in Japanese home-style cooking, sharing similarities with a basic meat stew. The name itself combines "niku" meaning meat and "jagaimo" referring to potato. Although the ingredients mirror a Western-style stew, the distinctive Japanese flavors in the broth set it apart.
If you are willing to eat soup and stew together, I highly recommend it! Another similar dish I recommend is chikuzen-ni!
Authentic Nikujaga (Japanese Meat and Potato Stew)
How to make warming and homely Japanese style meat and potato stew "nikujaga". Tender, thinly sliced meat, potatoes and vegetables simmered in a delicious Japanese-style broth.
Check out this recipe →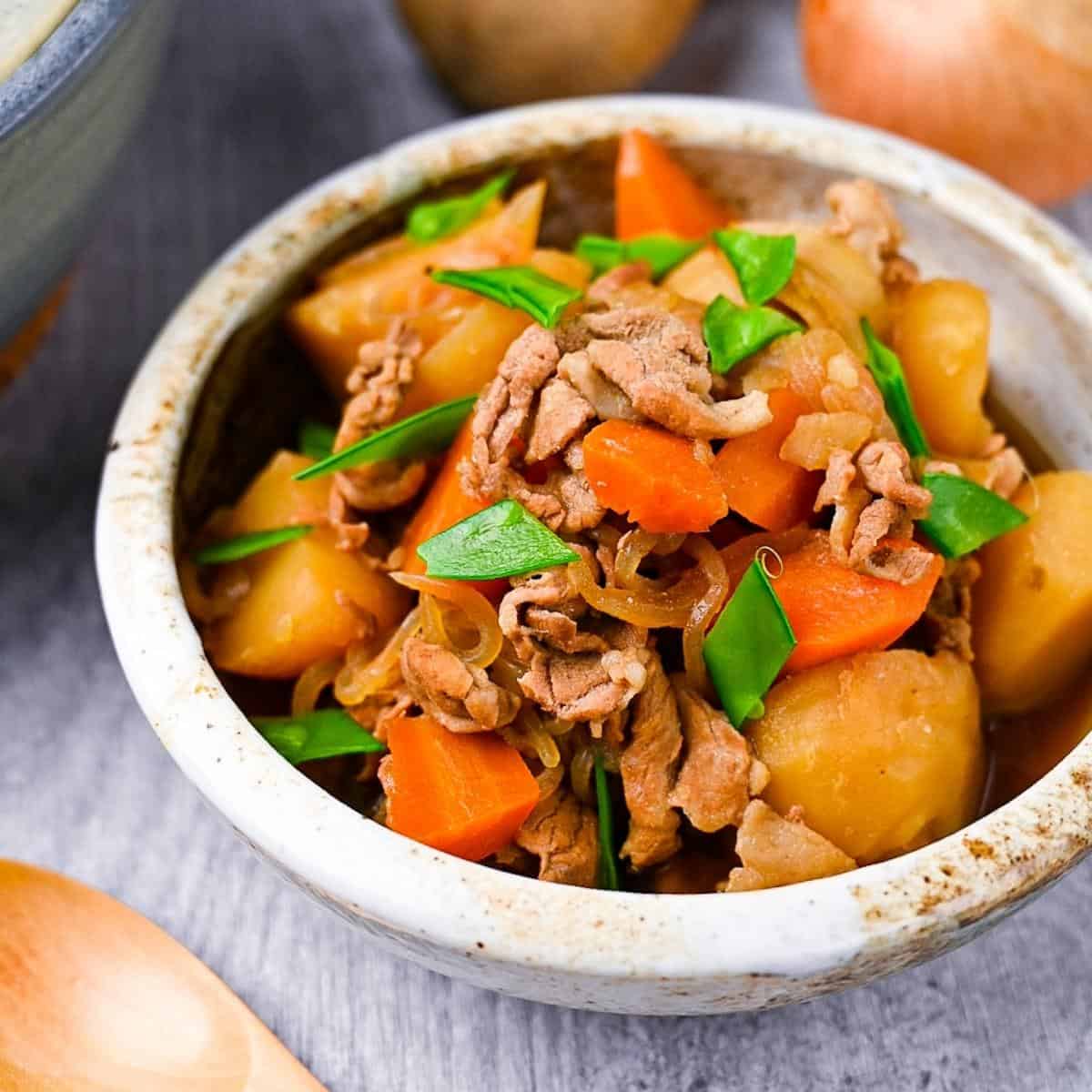 Sakana no nitsuke (Japanese simmered fish)
Sakana no Nitsuke is a traditional Japanese dish where fish is simmered in a sweet and savory broth. The method was initially a preservation technique for easily spoiled or strong-smelling fish.
Recommended for those who want to enjoy pork miso soup with a fish dish! Other highly recommended fish dishes include grilled salmon, grilled mackerel, and teriyaki salmon.
Sakana no Nitsuke (Japanese simmered fish)
How to make Sakana no Nitsuke (Japanese simmered fish). A delicious fish dish simmered in a flavourful sauce made from soy sauce, sake, mirin and ginger.
Check out this recipe →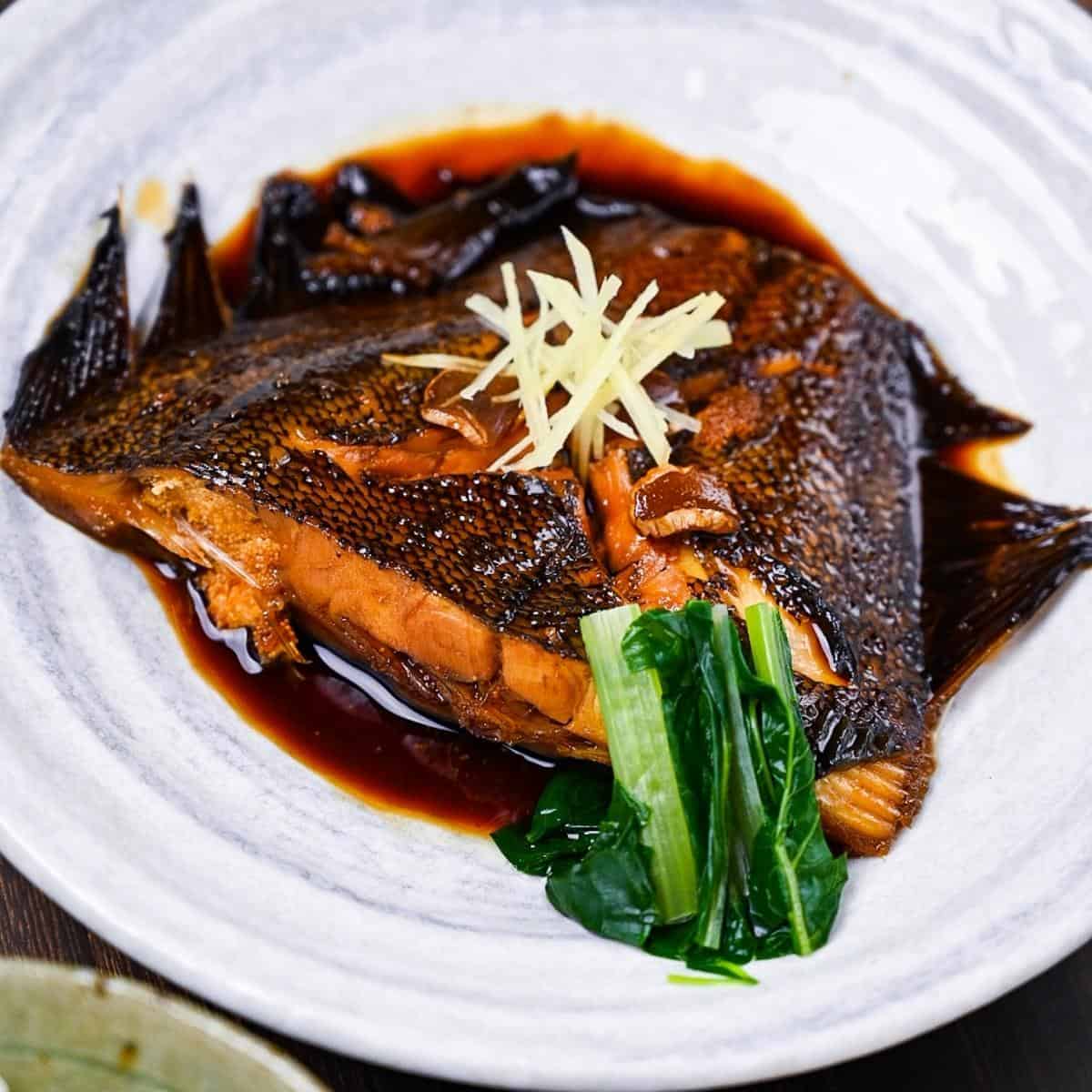 Addictive salted cabbage
Japanese salted cabbage, also known as "yamitsuki" or "addictive" cabbage, is a simple yet delicious side dish often served in izakaya or yakiniku restaurants. Despite its basic preparation involving raw cabbage, salt, and seasonings, it's irresistibly addictive.
Although not a main dish, it is recommended to be served with pork miso soup and white rice! Other recommended side dishes include pickled cucumber and spinach with sesame paste.
Addictive Izakaya Style Salted Cabbage (Yamitsuki Cabbage)
How to make Izakaya Style "Addictive" Salted Cabbage.
Check out this recipe →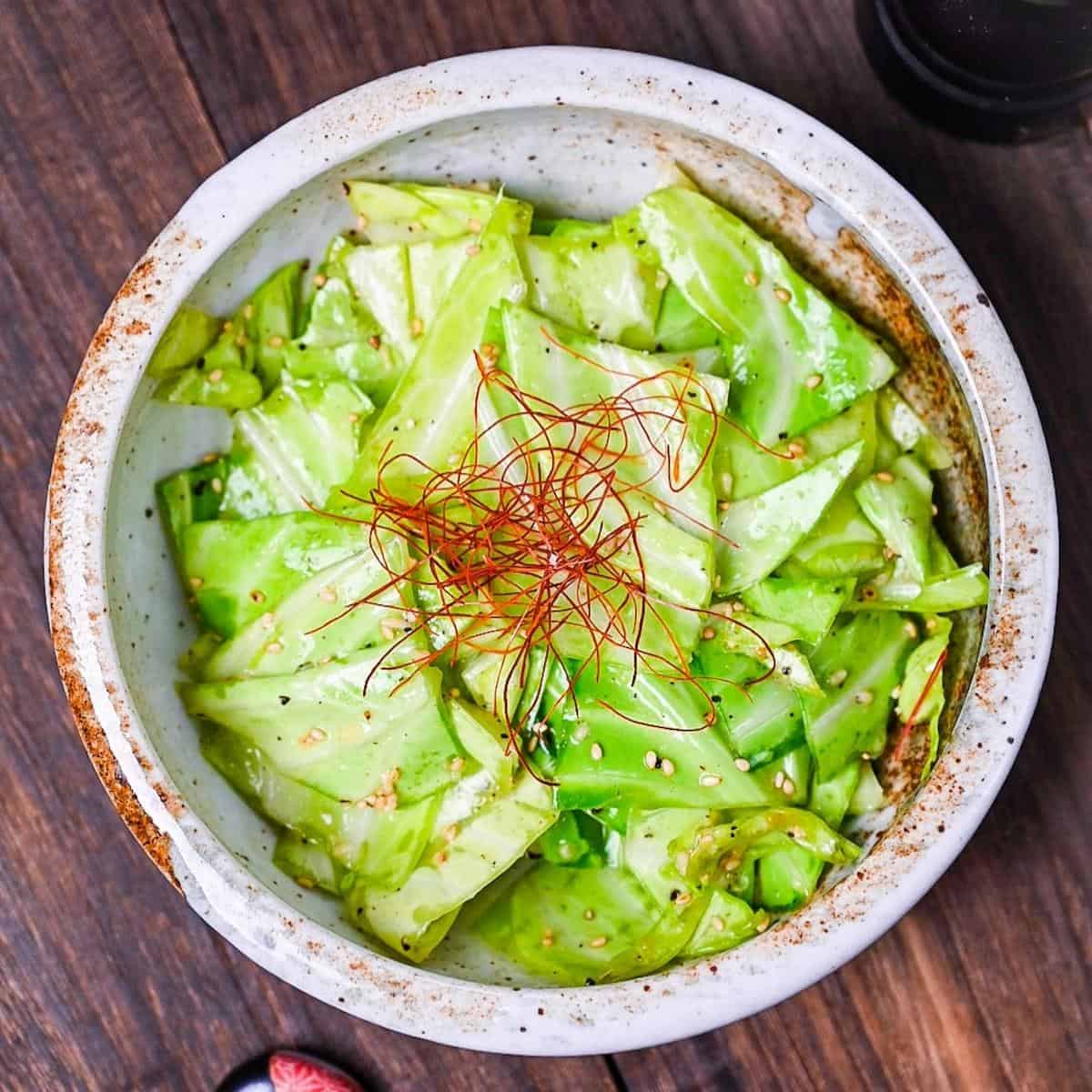 Tonjiru (Butajiru) Japanese Pork Miso Soup
How to make classic Japanese homemade Tonjiru (豚汁) Pork and Vegetable Miso Soup. Tender pork belly cooked in a dashi broth with a variety of vegetables and then flavored with a rich miso paste.
Ingredients
200

g

pork belly block

-

chilled

350

g

daikon radish(s)

-

peeled, thickly sliced and quartered

150

g

carrot(s)

-

roughly cut into bitesize pieces

75

g

burdock root(s)

-

(gobo) peeled and thinly sliced diagonally

20

g

fresh shiitake mushroom(s)

-

stems removed and thinly sliced

50

g

green onion(s) -

thinly sliced diagonally

400

g

sheet konjac

-

cut into bitesize pieces

60

g

fried tofu pouch(s)

-

(aburaage) thinly sliced

½

tbsp

unsalted butter

1

tsp

soy sauce

sesame oil

-

to garnish

finely chopped green onion(s) -

optional

Japanese chili powder

-

(shichimi togarashi) optional
Instructions
Prep
Cut the

200 g pork belly block

into slices 2mm thick. (I recommend doing this straight from the fridge.)

Wash, peel and cut

350 g daikon radish(s)

,

150 g carrot(s)

,

75 g burdock root(s)

,

20 g fresh shiitake mushroom(s)

,

50 g green onion(s)

and

60 g fried tofu pouch(s)

according to the notes in the ingredients list.

Use a spoon to break

400 g sheet konjac

into bitesize pieces. Blanch and wash with cold water.
Cooking
Heat a large pot on medium and once hot, add

½ tbsp unsalted butter

. Add the pork belly slices and seal on both sides.

Add the burdock root to the pot and stir fry for 1 minute.

Next, add the carrot, daikon radish, mushroom, konjac and aburaage, and mix everything together.

Pour

1500 ml dashi stock

into the pot and stir.

Measure out

6-7 tbsp awase miso paste

and add half of it to the soup by placing it in a mesh spoon or ladle, submerging it into the broth and whisking on the spoon to break it up. Mix and simmer for 15 minutes.

Scoop off any foam that develops on the surface of the soup. (This will prevent the broth from becoming cloudy.)

Add the sliced green onion and simmer for another 10 minutes.

Add

1 tsp soy sauce

and 1 tsp mirin, then turn off the heat. Add the rest of the miso paste using the same technique as before. Taste test and add more miso paste if needed.

Divide into serving bowls and top with a drizzle with

sesame oil

,

finely chopped green onion(s)

and a sprinkle of 

Japanese chili powder

 (optional).

Enjoy!
Notes
Other than pork and miso paste, the other ingredients can be swapped or omitted. See in post for more ideas. I recommend using at least 3 different vegetables.
To make dashi stock, you can either buy stock powder or cubes from your local asian super market OR you can try making your own, check out my recipe on how to make homemade awase dashi here.
If you can't find or make dashi, you can just use water but won't have as much depth of flavor.
If you have leftovers you can store in the fridge and eat within 2-4 days depending on season and climate (see in post for more details).
When reheating, heat on the stove and turn off the heat just before it starts to boil. (Overcooking will diminish the flavor of the miso paste.)
Nutrition
Calories:
149
kcal
Carbohydrates:
6.3
g
Protein:
5.2
g
Fat:
10.9
g
Saturated Fat:
4.3
g
Polyunsaturated Fat:
1.6
g
Cholesterol:
19.3
mg
Sodium:
417.3
mg
Fiber:
2.7
g