What is shoyu? Is it different to regular soy sauce? How do I use it? If you've been wondering about any of these questions, you are in the right place! Here, I will teach you everything you need to know about Japanese soy sauce from its history and production methods, to the different variations and how to use them in your cooking!
Disclaimer: This post contains Amazon affiliate links. Sudachi Recipes earn a small percentage from qualifying purchases at no extra cost to you. See disclaimer for more info.
Jump to:
What is Shoyu (Japanese Soy Sauce)?
Shoyu (醤油) is the Japanese name for soy sauce and it holds a crucial role as a condiment in Japanese cuisine. With a rich history, it has been a familiar staple to the Japanese for centuries. Most soy sauce is crafted from soybeans, wheat, salt, and koji (malt), undergoing a process of fermentation and aging.
There is also a variety of soy sauce made from fermented fish. Below, we delve into a detailed explanation of soy sauce, a condiment celebrated globally for its remarkable flavor and rich umami.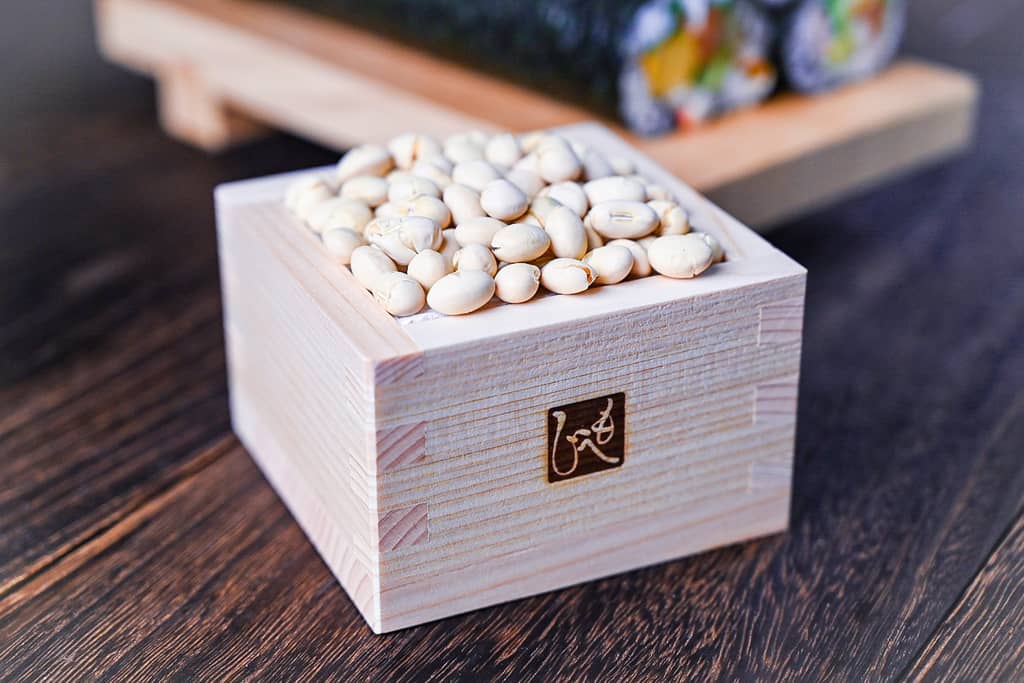 History of Soy Sauce in Japanese Cuisine
Over 1,300 years ago, the term "hishio (醤)" appeared in Japanese literature. "Hishio," a form of soy sauce that had been made in China since BC, was introduced to Japan and its techniques became deeply ingrained, leading to the production of local hishio. During this era, it was used as a dipping condiment, and there were various types including kusabishio (fermented vegetables), nikubishio (fermented meat), uobishio (fermented fish), and kokubishio (fermented grains). Of these, kokubishio is believed to be the precursor of modern miso and soy sauce. However, it was very costly and limited to consumption by royalty and aristocrats.
Around 1250, a monk who had trained in China returned home with the technique of making miso. He processed the juice that accumulated in miso barrels as a seasoning, marking the birth of "tamari soy sauce." This tamari or "miso tamari" was greatly valued. However, it was only used as a dipping sauce in certain regions and the term "soy sauce (shoyu)" was yet to be coined.
The term "shoyu" only came into existence around 1470; with the advent of the tea ceremony, kaiseki cuisine (now known as traditional Japanese cuisine) was born and soy sauce evolved from a dipping sauce to a seasoning for flavoring dishes. As kaiseki ryori spread among samurai, affluent merchants, and townsfolk, Japanese cuisine transformed, and soy sauce grew in popularity.
During the Edo period (1603-1867), soy sauce production began to thrive. In cities like Edo (now Tokyo) and Osaka, industrially produced soy sauce started to make its way into everyday life. However, in rural areas, many homemade soy sauces still existed.
It wasn't until around 1918 that industrially produced soy sauce, as we know it today, became widely accessible across Japan.
| | |
| --- | --- |
| Asuka Period (from around 700 onwards) | "Hishio (old form of soy sauce)" was introduced from China |
| Kamakura Period (from around 1250 onwards) | Miso-making techniques were introduced from China, giving birth to tamari. |
| Muromachi Period (from around 1570 onwards) | Kaiseki cuisine is born and soy sauce becomes popular. |
| Edo Period (from around 1600 onwards) | Soy sauce production flourishes and spreads to the general public. |
| Taisho Period (from around 1918 onwards) | Soy sauce productivity increases and spreads throughout Japan. |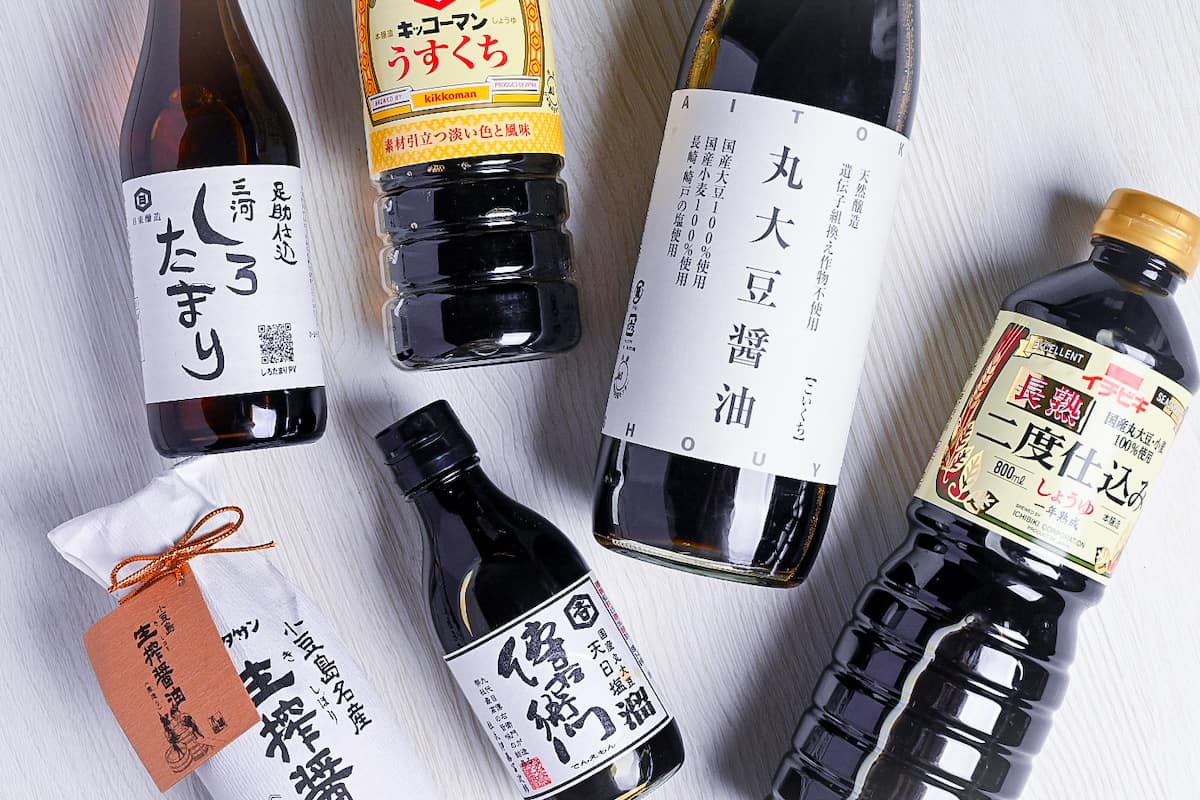 Effects and Uses of Soy Sauce in Japanese Cuisine
Soy sauce has multiple beneficial properties when used in cooking:
Sterilizing effect: Soy sauce can help preserve foods for longer periods, useful for dishes like tsukudani and pickles.
Bacteriostatic effect: Similar to the sterilizing effect, soy sauce can help maintain food freshness by limiting bacterial growth.
Deodorizing effect: Soy sauce can mitigate the odor of seafood, and meat, useful for dishes like sushi and sashimi.
Heating effect and aromatic effect: When soy sauce is heated, it encourages aminocarbonyl reactions with amino acids, creating an appetizing aroma and teriyaki-like flavor, perfect for dishes like yakitori and teriyaki.
Synergistic umami effect: The ingredients in soy sauce can meld with the umami elements in food, intensifying the overall flavor. This is especially effective when used in combination with dashi broth.
Contrast-suppressing effect: A small amount of soy sauce can heighten sweetness and reduce perceived saltiness. This property can be utilized to enhance the sweetness of desserts or to temper the saltiness of grilled fish or pickles.
Differences from Soy Sauce in Other Countries
Soy sauce, although a staple in Japanese cuisine, is widely used in other countries, each with its unique variations:
Chinese Soy Sauce: Originating from China, the birthplace of soy sauce, it shares a similar production process to Japanese soy sauce. However, it's noticeably darker, almost black, and tends to be thicker, sweeter, and less salty.
Korean Soy Sauce: Traditional Korean soy sauce, or 'ganjang', is typically aged in large jars under the sun. Modern industrial production has seen some variations in flavor, including a higher salt content or sweetness.
Southeast Asian Soy Sauce: Many Southeast Asian countries produce 'fish sauce' from fermented fish. This type of sauce has been a resourceful solution in areas where soybean or wheat cultivation is challenging due to land or climate. Thai fish sauce and Vietnamese 'nuoc mam,' primarily made from sardines, are the most common, characterized by their distinctive flavor and high saltiness.
Interestingly, fish sauce isn't solely a Southeast Asian invention. Ancient Rome produced 'garum', another type of fish sauce, and modern reproductions are available in Italy today. Japan too, has regional fish sauces like Akita's 'Shotsuru (しょっつる)' from sardines, Ishikawa's 'Ishiru (いしる)' from squid entrails, and Kagawa's 'Ikanago Shoyu (いかなご醤油)' from sand lances.
However, substituting soy sauce with fish sauce isn't a great choice due to its distinctive flavors.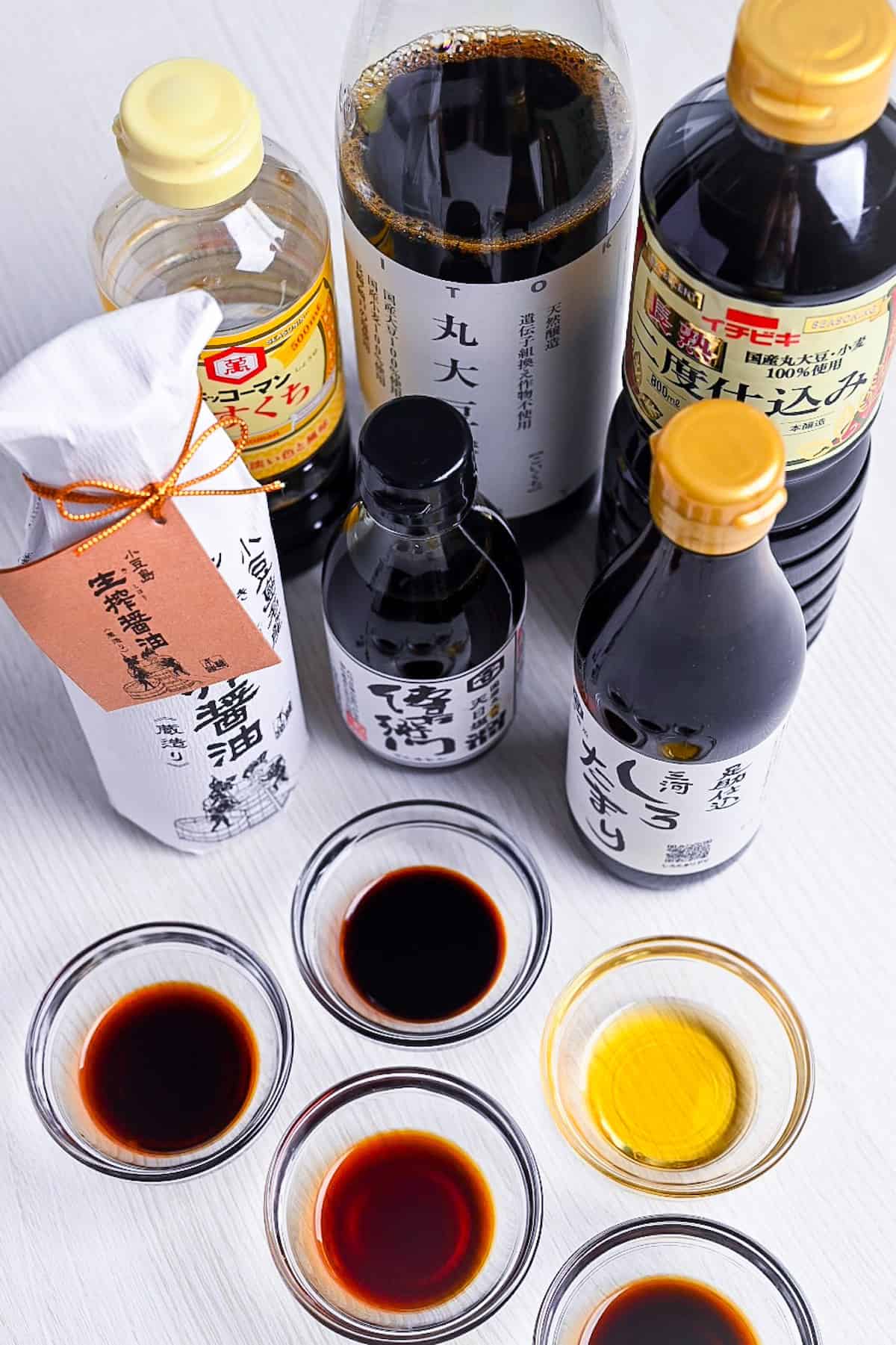 Different Types of Soy Sauce in Japan
There are various types of soy sauce in Japan. Here is an easy-to-understand explanation of their characteristics and uses.
| | Dark Soy Sauce (Koikuchi Shoyu) | Light Soy Sauce (Usukuchi Shoyu) | Tamari Soy Sauce | Double-brewed Soy Sauce (Saishikomi Shoyu) | White Soy Sauce (Shiro Shoyu) |
| --- | --- | --- | --- | --- | --- |
| Appearance, Taste, Smell | Dark brown with a hint of purple, umami-rich, mellow | Light brown color, high salt content, less aroma | Dark brown, rich and thick | Brown, thick consistency, also known as "nectar soy sauce (kanro shoyu)" | Light golden color, salty and sweet |
| Usage | All rounder | Chawanmushi, simmered dishes, salad, etc. | Sushi, sashimi, finishing of simmered dishes, teriyaki, tsukudani, rice crackers | Sashimi, Kake-Soy Sauce, Dipping | Chawanmushi, steamed dish, soup, rice cracker, pickles |
| Well-known production areas | All across Japan | Tatsuno, Hyogo Prefecture | Tokai region | Yanai, Yamaguchi Prefecture | Hekinan, Aichi |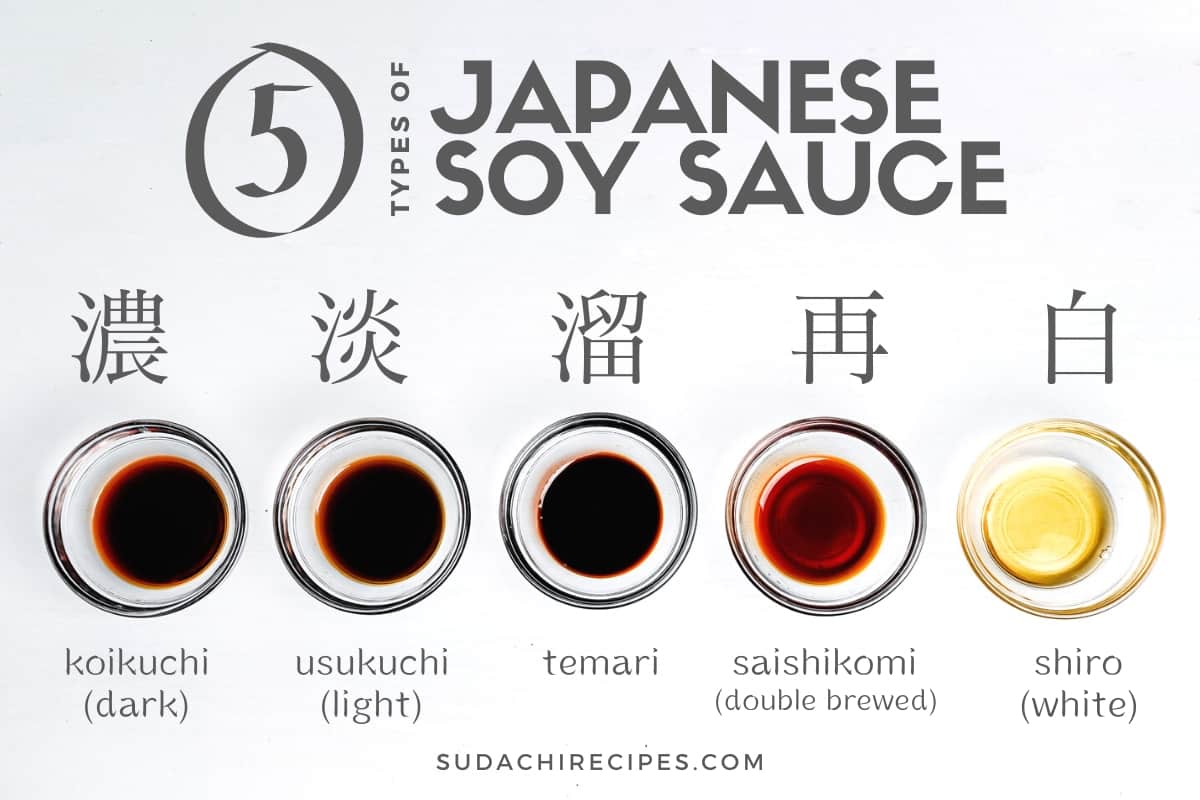 Dark Soy Sauce (Koikuchi Shoyu)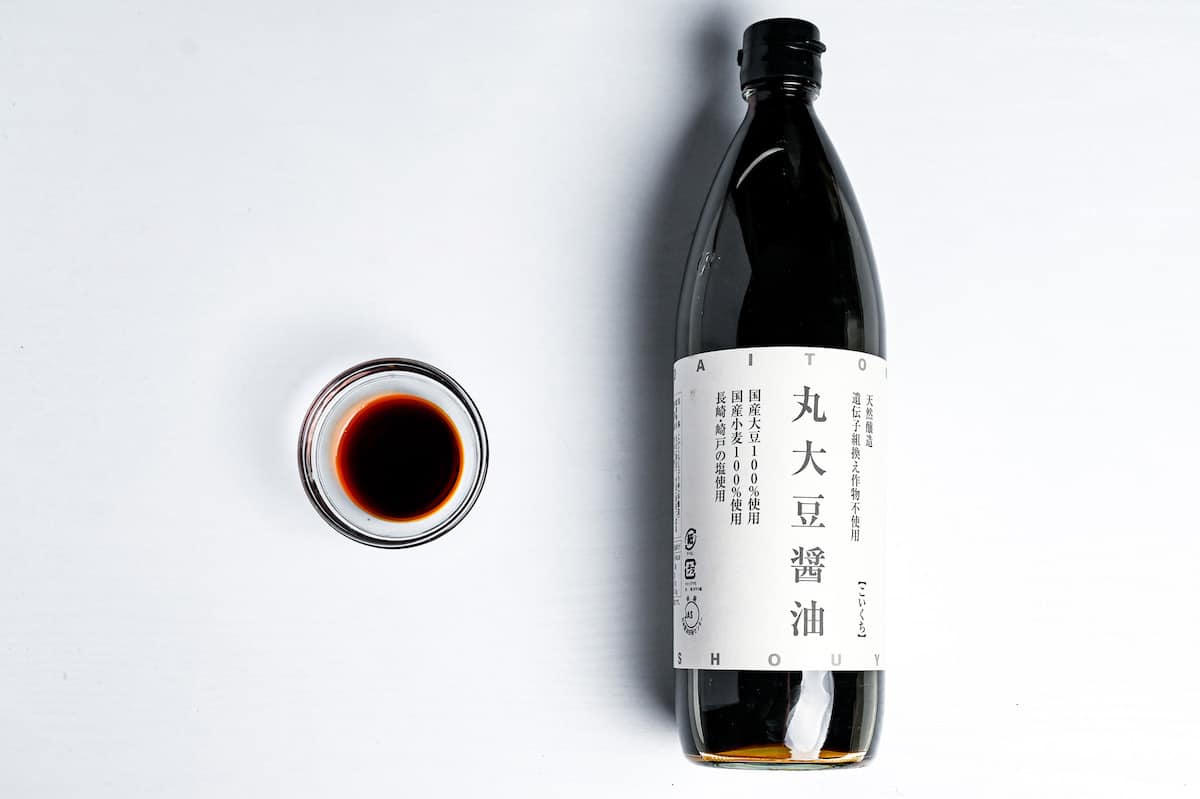 Dark soy sauce is the most widely utilized variant throughout Japan, characterized by a salt content of 16-17%. In addition to its saline flavor, it carries a mild sweetness, a profound umami essence, a refreshing sourness, and a bitterness that further elevates the overall flavor. This versatile seasoning is apt for a wide variety of dishes.
When I say "soy sauce" in my recipe, that always means dark soy sauce unless specified. You can say this is the all-rounder in the soy sauce world.
Light Soy Sauce (Usukuchi Shoyu)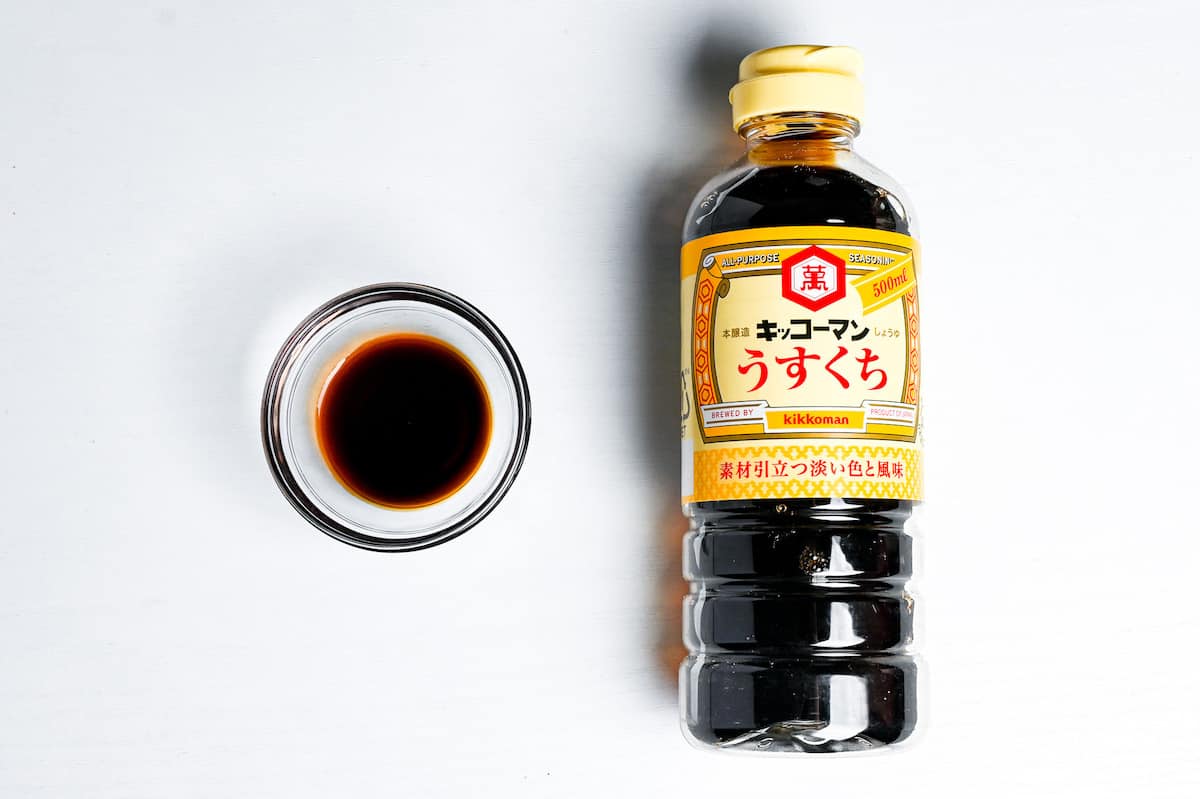 Light soy sauce is lighter in color compared to dark soy sauce. It finds common usage in the Kansai region where the visual appeal of the ingredients holds significant value.
It possesses a higher salt content, around 18%, as compared to dark soy sauce. While it is suitable for all kinds of dishes, it is crucial to ensure that it is not overly used, as its strong salty taste might be misleading given its light appearance.
Recipe ideas for using light soy sauce
Tamari Soy Sauce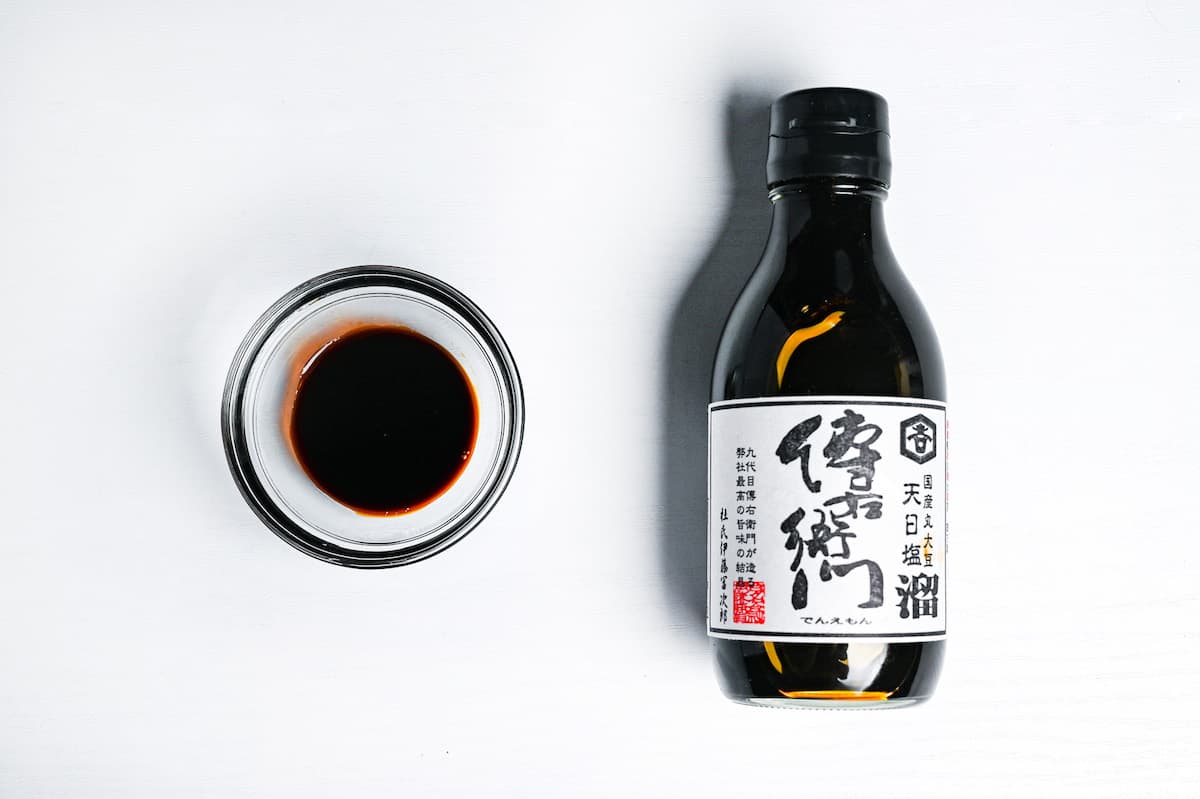 Tamari soy sauce was discovered inadvertently during the process of making soybean miso in the Kamakura period (1185-1333). It has a salt content of 16%.
It has a distinct thick consistency and unique flavor, which acquires a shiny appearance when heated.
Recipe ideas for using tamari soy sauce
Double-brewed Soy Sauce (Saishikomi Shoyu)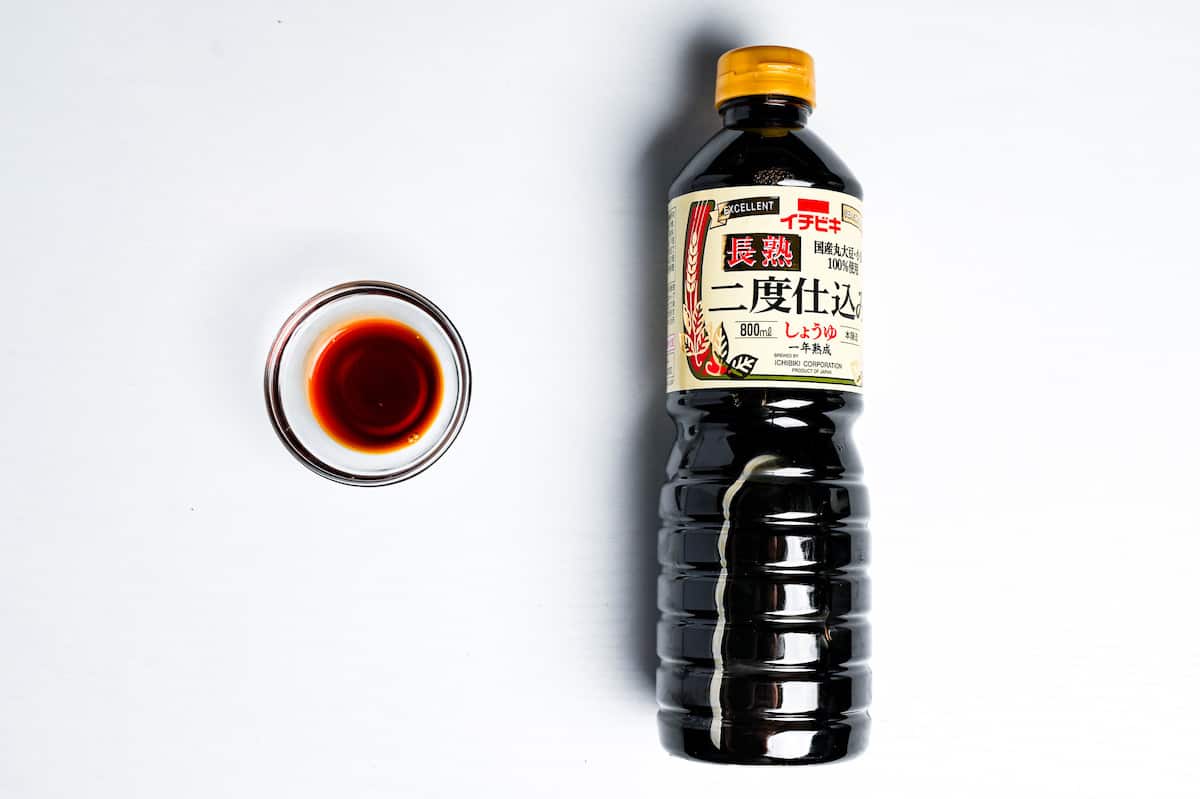 Unlike ordinary soy sauce, which is made by preparing koji with brine, saishikomi soy sauce is made from unheated kiage shoyu (freshly pressed soy sauce), and hence, is referred to as "saishikomi (double-brewed or refermented) soy sauce".
The taste, appearance, and aroma are all significantly rich, making it a preferred choice for dishes like sashimi and cold tofu kake-soy sauce.
Recipe ideas for using double-brewed soy sauce
White Soy Sauce (Shiro Shoyu)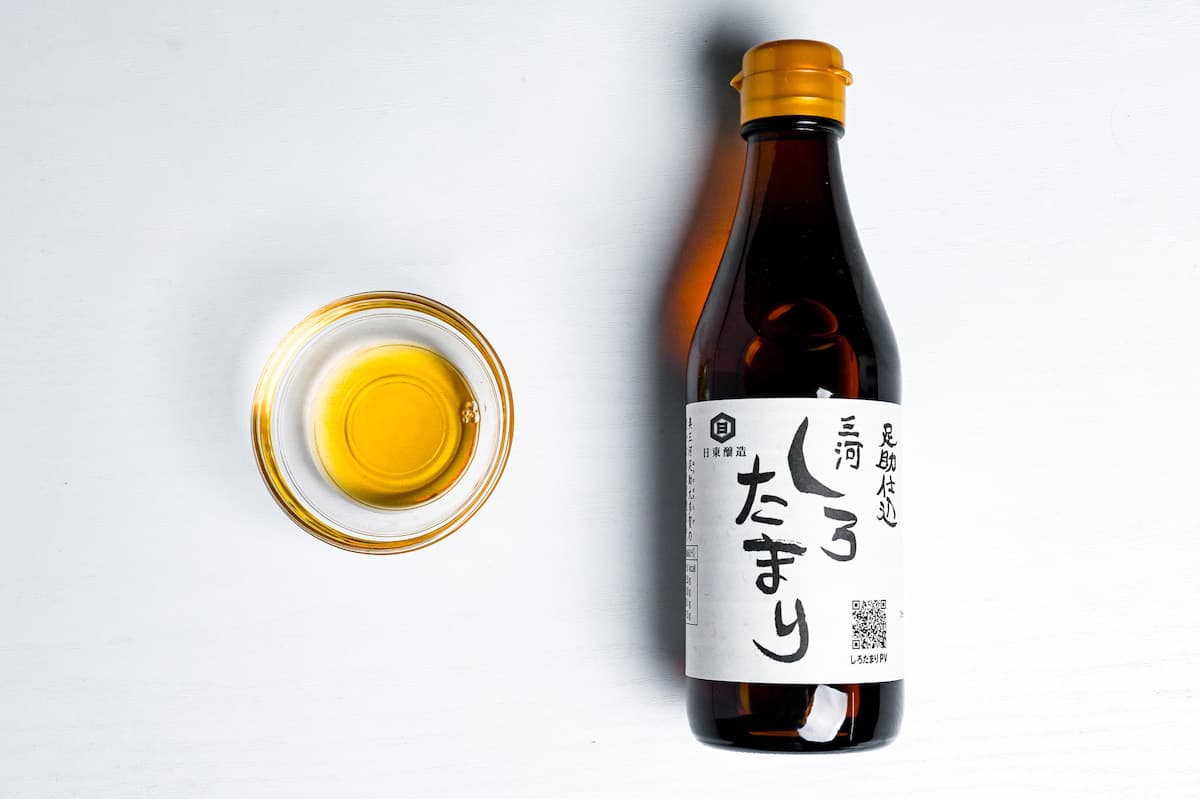 White soy sauce is pale amber-colored and even lighter than light soy sauce. Its salt content stands at 18%.
Despite its light color, it packs a potent salty and sweet flavor, and a small amount is sufficient to impart a powerful taste. It is particularly suited for dishes such as chawanmushi (steamed egg custard) and soups that demand an aesthetically pleasing color.
Recipe ideas for using white soy sauce
Other Types of Soy Sauce
Amakuchi (sweet) soy sauce - Amakuchi soy sauce is primarily distributed in the Kyushu and Hokuriku regions of Japan. It is sweetened with added sugar and is particularly suited for sashimi and simmered fish.
Dashi soy sauce - Dashi soy sauce is enhanced with added bonito or kelp broth. Since there is no need to extract the broth, it can be diluted and directly used for simmered dishes and soups. It is also convenient as a kake-soy sauce.
Sashimi soy sauce - This is a product name rather than a type of soy sauce. Sashimi soy sauce is specifically blended to complement sashimi and may refer to saishikomi shoyu or tamari soy sauce.
Oyster soy sauce (kakijoyu) - Oyster soy sauce is a flavorful concoction made by blending the umami extract from oysters with soy sauce. Some manufacturers may add kelp or bonito extract and sugar to the mixture.
Raw soy sauce (kijoyu) - Kijoyu is produced by removing the sediment and other ingredients from aged soy sauce. Some producers sell soy sauce that has been at least minimally heated as nama-shoyu. In sushi restaurants, normal soy sauce is sometimes called kijoyu.
Powdered soy sauce - Powdered soy sauce is freeze-dried soy sauce. It is convenient for carrying and effectively prevents the over-using of soy sauce. It can also be used for food preparation.
Gluten-free soy sauce - Gluten-free soy sauce is a wheat-free variant of soy sauce that individuals with wheat allergies can consume.
Reduced-sodium soy sauce (gen-en shoyu) - Reduced-sodium soy sauce is a variety of soy sauce with a reduced salt content, catering to health-conscious consumers. The finished soy sauce is processed through a desalinizer to remove only the salt content.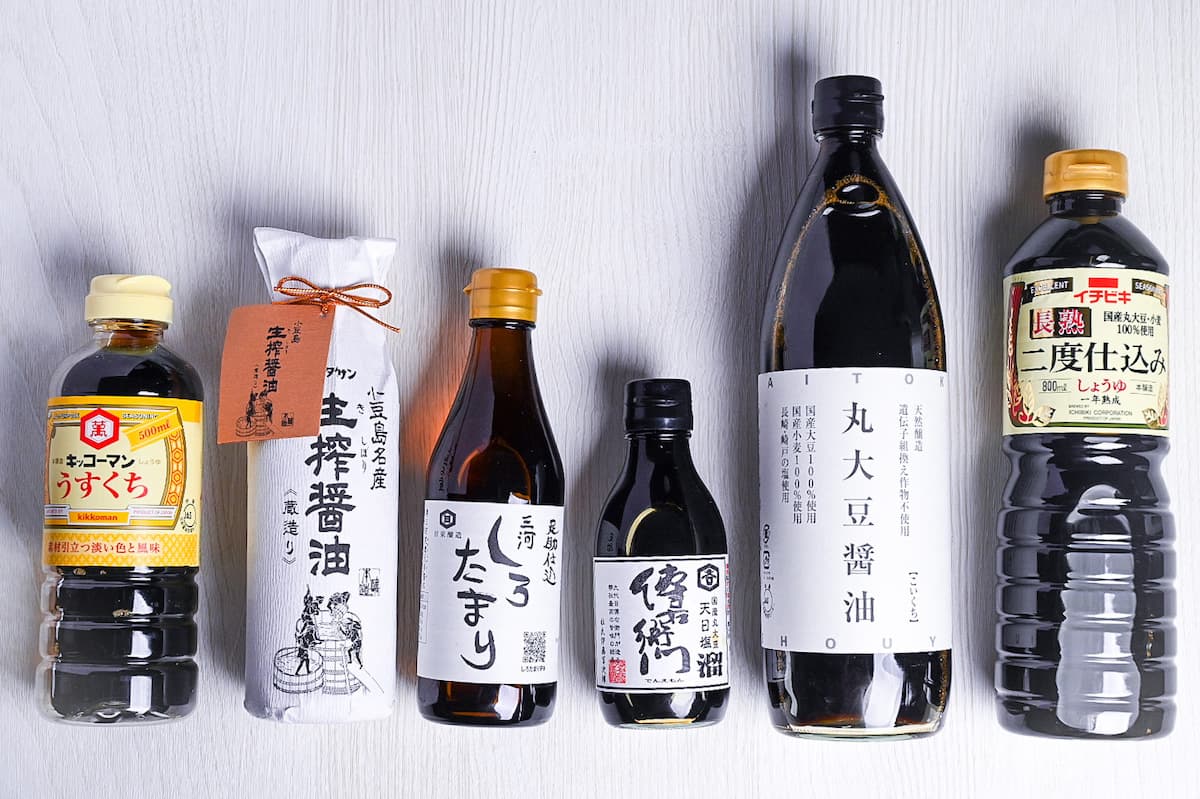 Differences in Soy Sauce by Manufacturing Method
There are three main types of soy sauce, which are classified based on the production method. One of these is the Honjozo method, which produces soy sauce with a natural flavor. The other two methods are the mixed brewing and blending methods, where umami is scientifically added to produce soy sauce at a lower cost and in a shorter period.
Let's take a closer look at the differences between these methods.
Honjozo Method
Honjozo (本醸造) is a traditional brewing method that has been used since the Edo period (1603-1868), based on microbial fermentation. First, heated soybeans or wheat are coated with malted rice, and then highly concentrated salt water is added to make moromi (soy sauce malt made from wheat and soybeans, fermented and aged with salt water), which is then allowed to mature.
After about six months of maturation, the soy sauce is pressed to make kiage (freshly pressed) soy sauce. The soy sauce is then heated to stop fermentation, and the process is complete. More than 87% of soy sauce sold in Japan today is made using this method.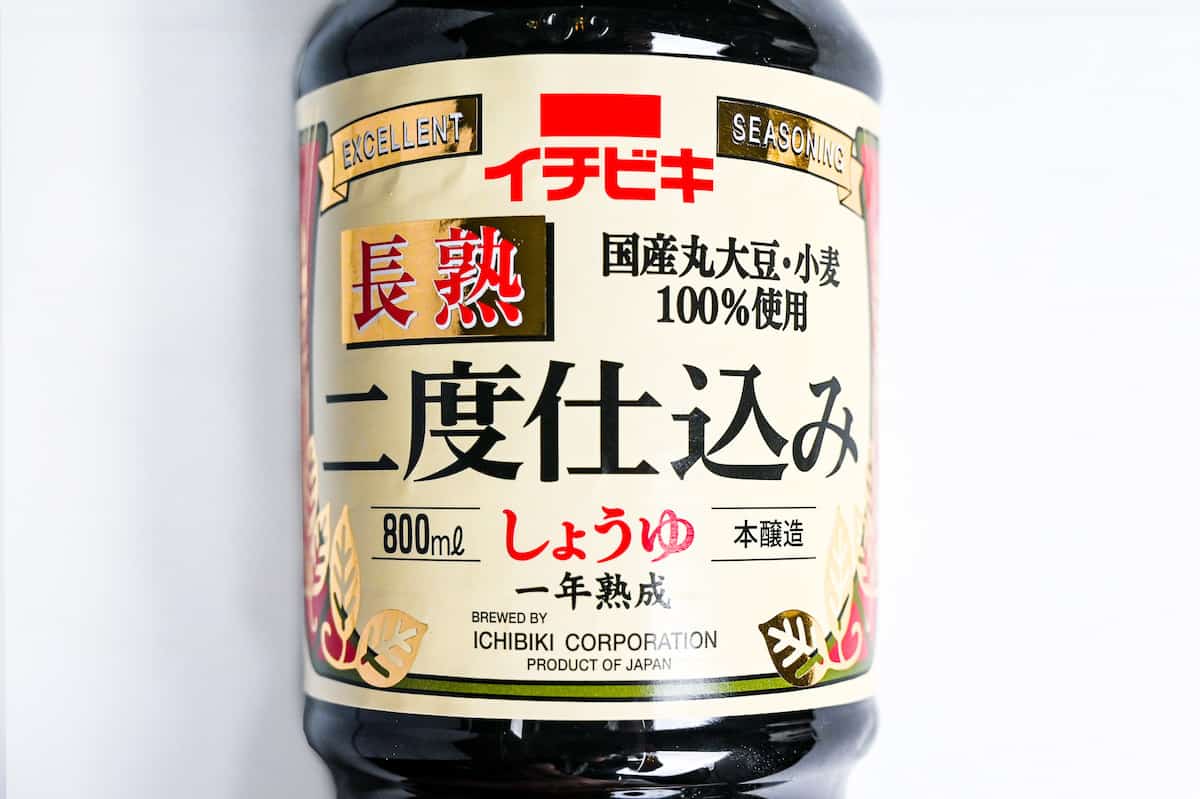 Mixed Brewing Method
In the mixed brewing method, the amino acid solution is sprinkled on top of the moromi, and the soy sauce is matured while being stirred occasionally.
This method is sometimes used for soy sauce production in Kyushu and Hokuriku regions, where sweeteners are added. This was the mainstream production method during the postwar shortage but now accounts for only 0.6% of all soy sauce production.
Blending Method
The blending method eliminates the brewing process and adds an amino acid solution to freshly pressed soy sauce.
Like the mixed brewing method, this method produces soy sauce with added sweetness. This is the simplest method and accounts for about 12% of all soy sauce production in Japan.
Differences in Soy Sauce Sauce by Processing Soybeans
The flavor and taste of soy sauce varies depending on how the soybeans, the main ingredient of soy sauce, are processed. There are two ways to process soybeans. The differences are explained below.
Round Soy Sauce (Marudaizu Shoyu)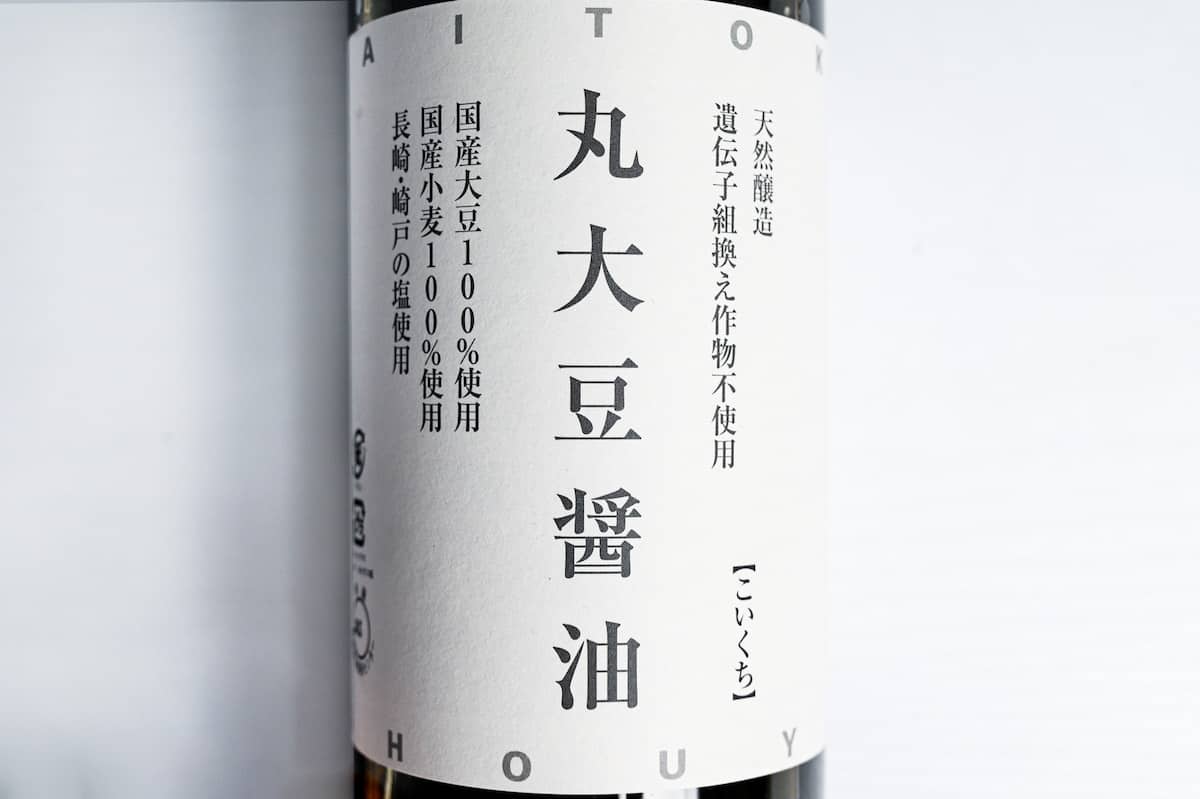 Round soy sauce (丸大豆) is characterized by its gentle flavor and mild sweetness. It is made using whole soybeans as the raw material. In the past, everything was made this way.
During the aging process, part of the aroma of whole soybean soy sauce is transferred to the lipids of the soybeans. The soybean lipid is removed when the soy sauce is turned into kiage soy sauce, resulting in a milder flavor. The lipid is also converted to glycerin, the source of the sweet flavor, during brewing.
Round soybean soy sauce has a high glycerin content, which gives it a mild sweet taste.
Non-Fat Processed Soy Soy Sauce
Non-fat soybean soy sauce removes about 20% of the lipid and fat contained in the soybeans in advance. The removed lipid is effectively used to make vegetable oil and other products.
Compared to soy sauce made from whole soybeans, it contains less glycerin and has a sharper taste. Most soy sauces sold in Japan today are made from non-fat soybeans.
What are Soy Sauce Grades?
Soy sauce made at JAS (Japanese Agricultural Standard) certified factories and bearing the JAS mark is labeled as standard, premium, or special grade. The color, taste, aroma, and ingredients are strictly checked and classified according to numerical values. In simple terms, soy sauce is classified in descending order of flavor components, from highest grade to lowest grade, then to standard grade.
"Tokkyu" (特級) or "exceptional" grade is only allowed for soy sauce made using the honjozo method and, exceptionally, for saishikomi soy sauce made using the mixed brewing method. Tokkyu is also allowed to be labeled as "Tokusen (特選)" and "Cho (super) Tokusen".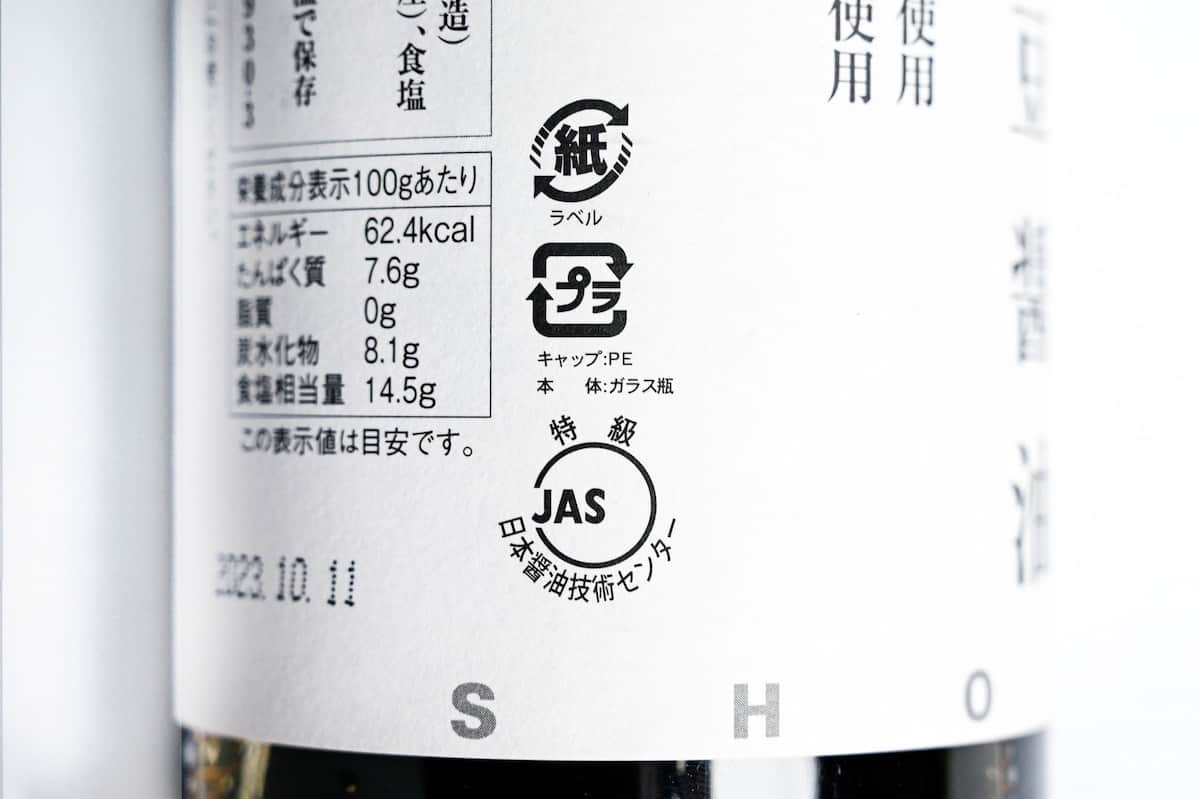 The Bottom Line: Recommended Japanese Soy Sauce to Add to Your Pantry
Among the many Japanese soy sauces available, I recommend the following soy sauces that are easy to use as well as easy to find.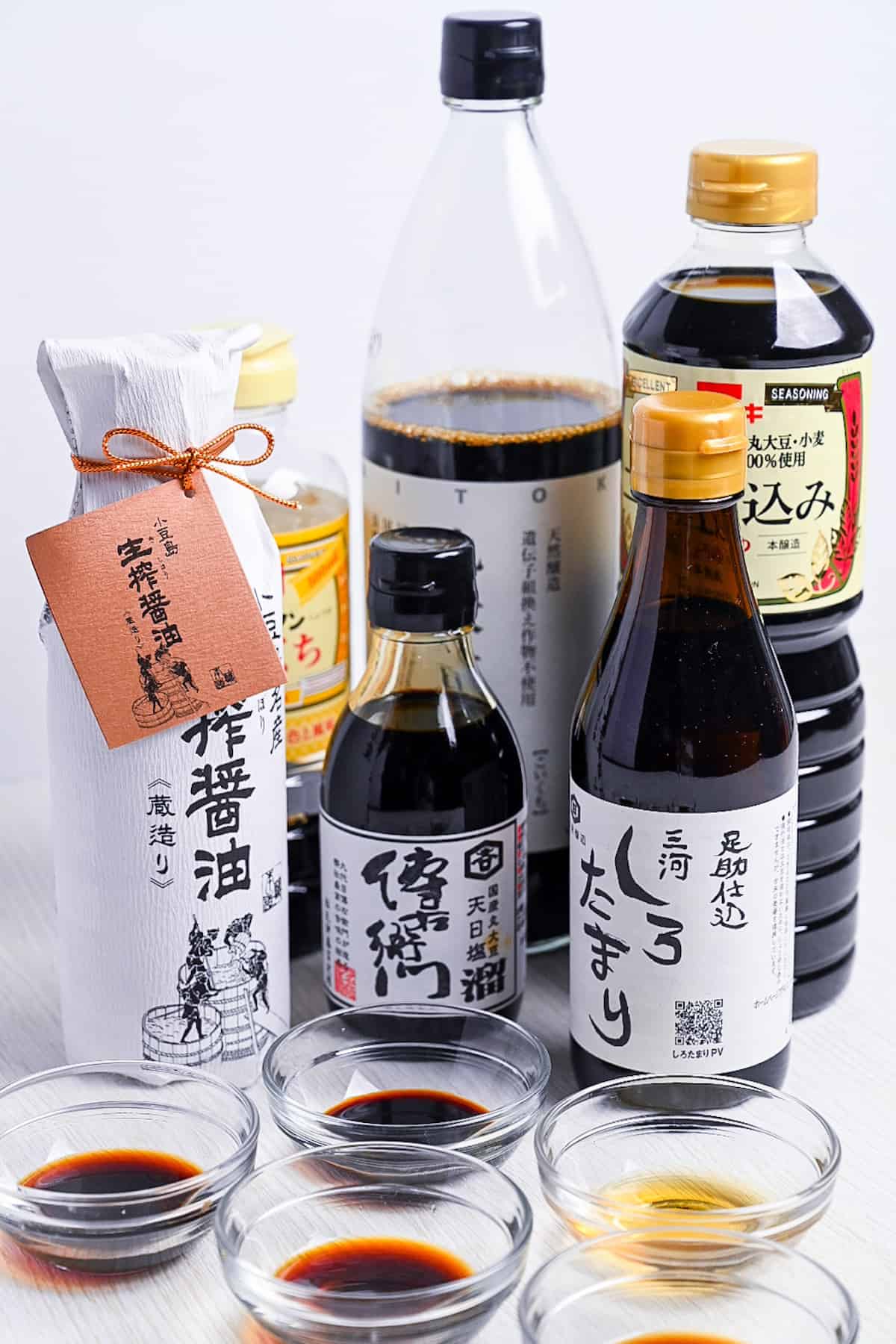 FAQ
What is the difference between Japanese soy sauce and regular soy sauce?
Color, consistency, flavor, and taste all differ. Japanese soy sauce is known for its slightly lighter color, thin consistency and umami-rich taste. On the other hand, Chinese soy sauce is darker, thicker, and sweeter.
What are the different types of Japanese soy sauce?
The most common types are dark soy sauce, light soy sauce, tamari soy sauce, saishikomi soy sauce, and white soy sauce.
What is the most popular soy sauce in Japan?
The most widely distributed and in demand is dark soy sauce (koikuchi shoyu).
Does soy sauce need to be refrigerated?
Once opened, the bottle should be refrigerated and in the ideal world, used up as soon as possible.
Why do the Japanese use so much soy sauce?
This is because the umami components of dashi soup stock and soy sauce, essential to Japanese cuisine, create a synergistic effect that produces an even deeper richness and umami.