Hey guys, it's Yuto here @sudachi.recipes and today I'm going to show you how to make the ultimate sandwich, Japanese Katsu Sando.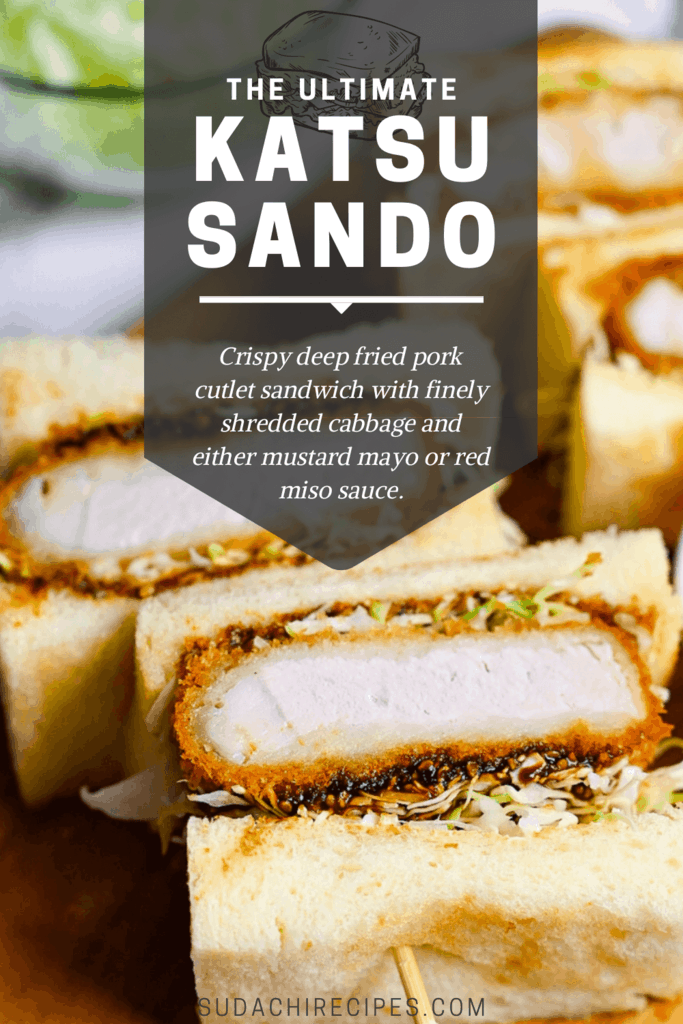 Disclaimer: This post contains Amazon affiliate links. Sudachi Recipes earn a small percentage from qualifying purchases at no extra cost to you. See disclaimer for more info.
Katsu Sando
What is Katsu Sando?
Katsu sando is basically your favourite "Tonkatsu" recipe in a sandwich. You've probably noticed that tonkatsu is always served with shredded cabbage, the sandwich is no different. Crispy fried katsu, with cabbage and sauce in a sandwich, it's a taste and texture sensation! (Of course, there are katsu sandwiches without cabbage too!)
Katsu sando is probably one of the most popular sandwiches in Japan. You can find it at convenience stores, supermarkets and it's especially popular in train stations. If you're travelling in Japan you should definitely try Katsu Sando!
Brief History of Katsu Sando
It is believed that Katsu Sando was invented in 1935 at a Tonkatsu restaurant called "Isen" in Tokyo. Apparently at that time, Geisha around area especially favoured the dish and the restaurant.
"Sando?"
You might be wondering about "sando". In Japan, the word sandwich is pronounced "sandoicchi" (サンドイッチ). Japanese people often shorten or abbreviate words, especially foreign words! So sando is just a shortened version of ""sandoicchi".
But sando is not exclusively sandwiches made with bread. Sando can also mean cookies or cakes "sandwiched" together with a filling in the centre, often some kind of cream.
Sauces
Japanese Mustard Mayo
Japanese mustard, also known as "karashi" (からし) is a strong, hot and slightly bitter kind of mustard. It is not as sour as regular mustard and mixed with mayonnaise gives it a milder and creamier taste. This sauce adds a delicious kick to a katsu sandwich.
I recommend using S&B Japanese karashi paste. If you can't access it, Colman's English mustard is quite similar, but reduce the amount because it's a bit stronger.
Red Miso Sauce
Red miso is a regional specialty from Aichi Prefecture (specifically Okazaki, my hometown!). The company, Hacho Miso, is famous all over Japan for its red miso. Miso katsu is very popular here and a dish in it's own right, but it tastes delicious in a sandwich too.
Red miso is very rich. The sauce for the katsu sando is sweetened with honey and mirin. It has quite a strong taste but it really is delicious.
Authentic Hatcho Miso is quite expensive to buy online but you can purchase it on Amazon. Alternatively you could use a cheaper brand like this Shirakiku Red Miso paste which still works perfectly well.
Other Famous Red Miso Dishes
If you're in Aichi prefecture, you can find plenty of delicious red miso dishes to enjoy. Here are some of the most popular ones.
Miso Katsu
Miso Katsudon
Miso Dengaku
I hope you love this crispy delicious katsu sando. Let us know your favourite sauce in the comments!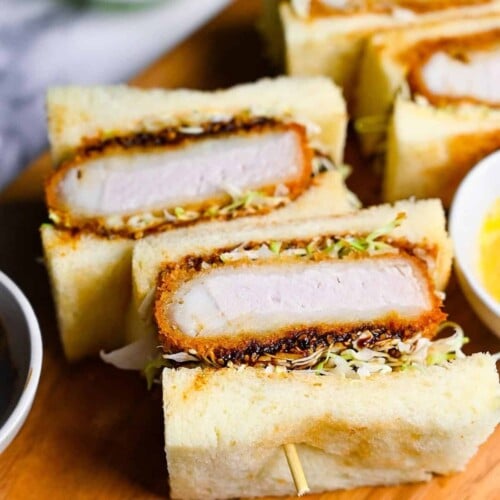 Katsu Sando (Japanese Pork Cutlet Sandwich) with Homemade Sauce
---
How to make the ultimate sandwich, Japanese Katsu Sando (カツサンド). Crispy deep fried pork cutlet topped with finely shredded cabbage and a choice of either Japanese mustard mayo or miso sauce in two slices of lightly toasted bread.
---
---
---
---
Ingredients
Japanese Mustard Mayo
2

tbsp

Japanese mayonnaise

1

tsp

Japanese mustard

karashi

½

tsp

sugar

1

pinch

black pepper
Red Miso Sauce
1

tbsp

red miso paste

1

tbsp

honey

1

tbsp

sake

1

tbsp

mirin

1

tbsp

white sesame seeds
Katsu
2

boneless pork chop(s)

1

pinch

salt and pepper

cooking oil

amount needed to shallow or deep fry

all-purpose flour

for coating pork

1

medium egg(s)

100

g

panko breadcrumbs
Sandwich
4

slices

loaf bread

see note

unsalted butter

for spreading

1

tbsp

Worcestershire sauce

40

g

green cabbage

shredded
Instructions
For Japanese Mustard Mayo
In a small bowl, add

2 tbsp Japanese mayonnaise

,

1 tsp Japanese mustard

,

1/2 tsp sugar

and

1 pinch black pepper

Mix well and set aside for later.
For Miso Sauce
If you're making miso sauce as well or instead then take a small pan. Add

1 tbsp red miso paste

,

1 tbsp honey

,

1 tbsp sake

,

1 tbsp mirin

and

1 tbsp white sesame seeds

.

Turn on the heat (low) and stir continuously.

Once thickened turn off the heat and set aside for later.
Fry the Katsu
You can start heating your oil straight away. Heat the oil to

170

°C

(

338

°F

).

Next, prepare the katsu coating stations. In a dish, whisk

1 medium egg(s)

and prepare two separate plates, one with flour and one with

100 g panko breadcrumbs

. Three stations in total.

First, coat

2 boneless pork chop(s)

chops with and

1 pinch salt and pepper

flour on both sides.

Next, dip them into the whisked egg.

Then, press them into the panko breadcrumbs, make sure it's fully covered.

Check your oil is hot enough, either with a thermometer or drop a piece of panko in. If the crumb sizzles and floats, you're ready to go!

Carefully place the coated pork chops into the oil and cook for about 4 minutes on each side (8 minutes total) or until golden brown.

While the katsu is cooking, finely shred

40 g green cabbage

(as fine as you can!) and cut the crusts off of

4 slices loaf bread

. (Cutting the crusts is an optional step but katsu sando you see in Japan nearly always has crusts cut off!)

When the oil stops making a crackling sound, that means the tonkatsu are ready. Set on a wire rack to let any excess oil drain off.
Assembling Japanese Mustard Mayo Katsu Sando
First, take a dish and pour in

1 tbsp Worcestershire sauce

.

Place your katsu into the Worcestershire sauce and let it absorb into the surface, do this on both sides.

Butter the bread and then add the mustard mayo.

Place the katsu on the bread and then spread more mustard mayo on the surface of the katsu.

Add the shredded cabbage and the last piece of bread. Press down firmly.

Cut off the ends where the katsu might be sticking out (you can eat these bits) and then cut the sandwich into halves or thirds.

Turn the katsu so the cut edge is facing up.
Assembling Miso Katsu Sando
Butter the bread and then spread a layer of miso on one piece.

Add shredded cabbage and the katsu on top.

Spread the miso sauce on one side (or both sides for extra flavour) of your katsu.

Top the katsu with another layer of cabbage.

Place the next piece of bread on top of the cabbage and press it down.

Cut the ends of the katsu if they're poking out of the sandwich.

Cut into halves or thirds and serve.

Enjoy!
Notes
Katsu Sando is usually made with plain white bread, but of course you can use your preferred bread. It is also usually served with the bread crusts cut off, but it's up to you if you want to keep them on.
Try not to touch or move the tonkatsu during the first minute of frying otherwise the breadcrumbs may start to fall off.