Whether you're new to Japanese cooking and want to build up your pantry from scratch or an experienced cook looking for brand recommendations, here I will introduce and explain 20 must-have condiments and seasonings you need in your Japanese kitchen!
Disclaimer: This post may contain affiliate links. Sudachi Recipes is part of the amazon associates programme and earns a small percentage from qualifying purchases at no extra cost to you. See disclaimer for more info.
Jump to:
The importance of using the right condiments in Japanese cooking
Trying to cook unfamiliar dishes or foreign cuisines is always exciting, yet it can also be intimidating at the same time. This is certainly the case when it comes to Japanese cuisine as it uses a whole range of specific condiments, unusual ingredients and unique cooking methods that can be so different to other cuisines.
You may sometimes think "is this an authentic product?" "is this the right one?" or even "which brand should I choose?". I know exactly how it feels because I have always been fascinated by cooking from all around the world and am always interested in the unique ingredients used in different cuisines.
So, as a food lover born and raised in Japan who lived abroad for a long time, I will list all the most commonly used Japanese condiments and recommend specific brand/products that I use personally with the hope that more people are interested in taking up Japanese cooking without feeling intimidated from the start.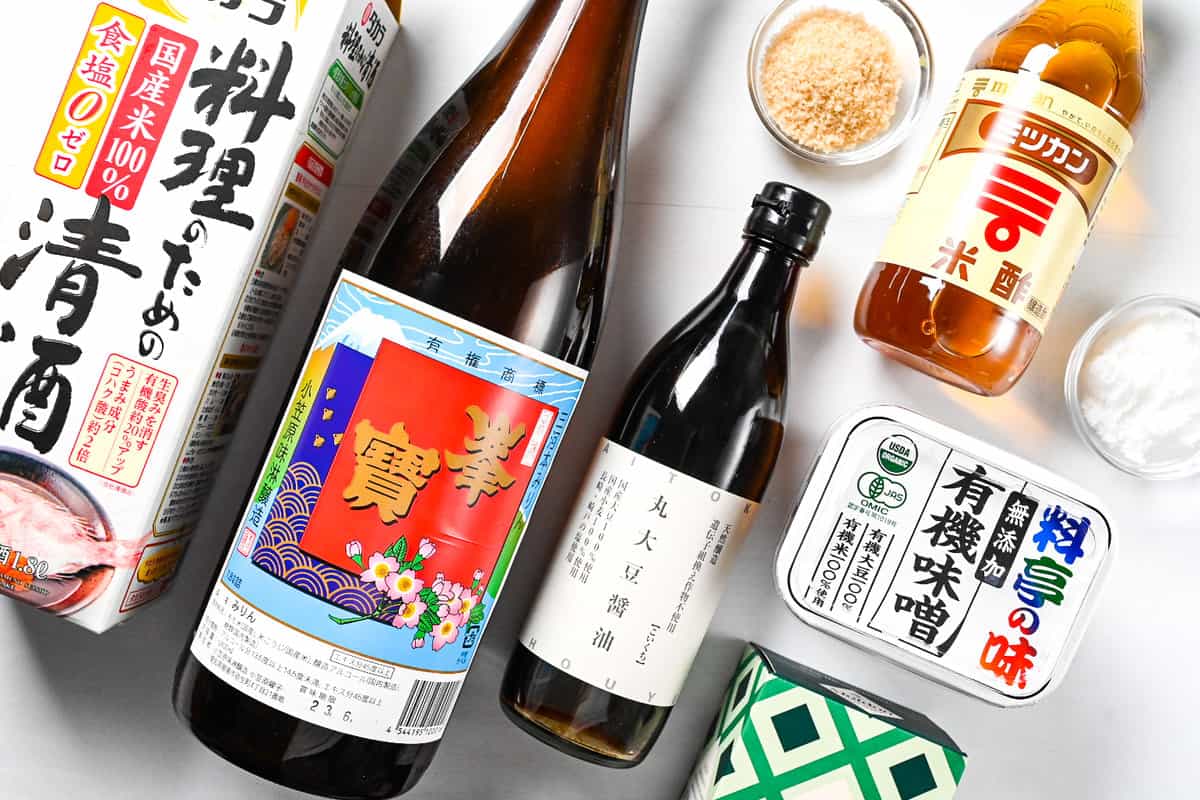 After all these years of cooking Japanese food, I came to one conclusion: "Don't be stingy with condiments and seasonings." Top-class condiments may seem very expensive, well I'm not gonna lie, they are. But in the long run, using them generously can bring your cooking up to restaurant level. In fact, if you skip a few eat outs and take outs, they pretty much pay for themselves! And if you plan to cook Japanese food often and have space, it might even pay to buy some in bulk (I practically have wholesale amounts of soy sauce and mirin in my house!).
Unlike buying top-quality ingredients, which is more of a running cost, buying condiments is like an investment that will last you weeks, if not months. So I recommend getting good quality condiments before expensive ingredients if the situation allows.
To make this post as useful as possible, I will try to include product recommendations for each ingredient and where you can buy them. The links provided here will be from Amazon and mostly catered towards people living in the US and Japan.
7 ingredients that are 100% essential in Japanese cooking
I would say that no Japanese kitchen is complete without these 7 must-have ingredients. Some are common household items worldwide, but a select few are exclusive to Japanese cooking. The 7 most important ingredients are:
Sugar
Salt
Vinegar (rice vinegar)
Japanese soy sauce
Miso paste
Mirin
Sake
Without these condiments and seasonings, you basically can't make Japanese food! Let's go over them in more detail.
The Rule of "Sa Shi Su Se So"
Anyone who has studied Japanese language might be aware of our phonetic lettering system that combines consonants with the sounds "a i u e o" (あいうえお pronounced "ah ee oo eh oh"). You might wonder "how is this relevant to cooking?" Well it is! We use a simple and memorable phrase "sa shi su se so" to help us remember the five most important elements in Japanese cooking.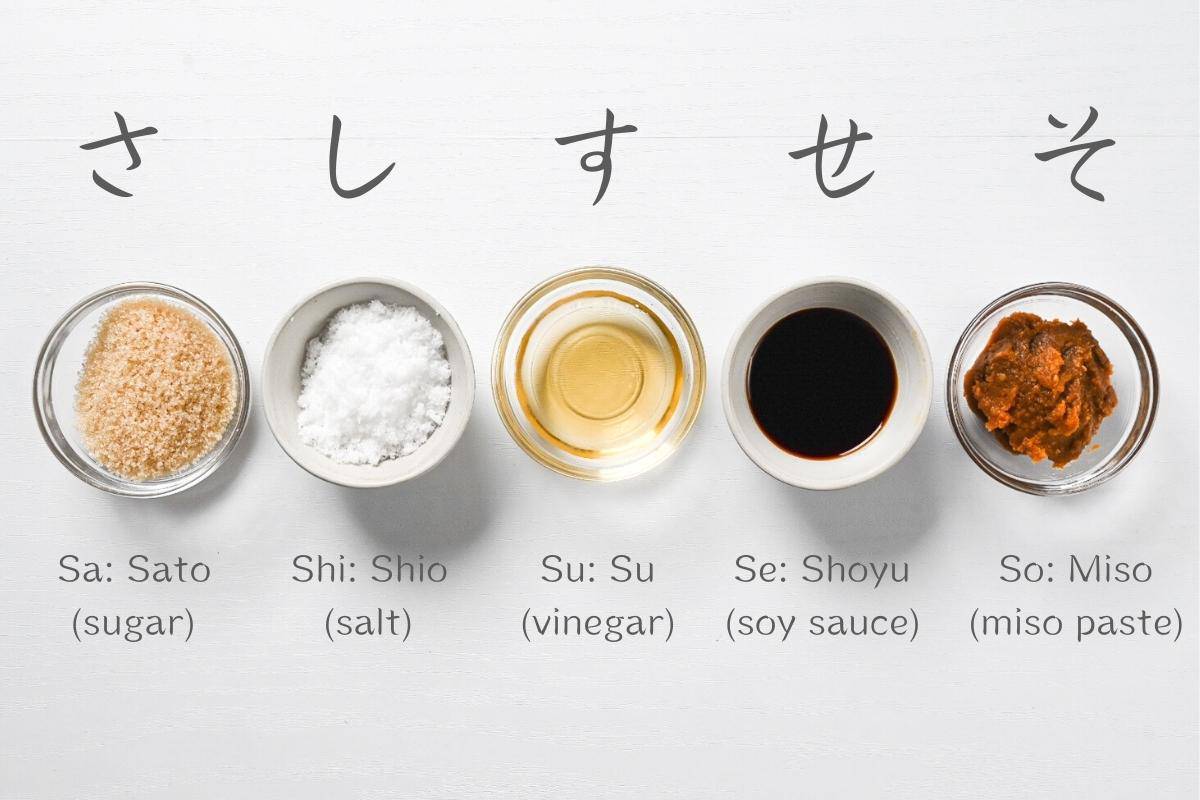 This is a well known and simple method where each sound represents the five basic ingredients and the order in which they should be added for optimal flavour. In other words, these are most basic elements in Japanese cooking and are must-haves if you plan to cook Japanese food regularly.
Sa: Sugar (sato)
Shi: Salt (shio)
Su: Vinegar (su)
Se: Soy sauce (shoyu, a.k.a. seuyu)
So: Miso
The rule is not just a random combination of acronyms, it is believed that dishes will taste better if the seasonings are added in the order of "sa-shi-su-se-so". Of course there are sometimes exceptions, but the general idea here is that you can get the best aroma and flavour by adding the soy sauce and miso towards the end so that the flavour isn't lost during the cooking process!
Now, I will explain the basics of each condiment, recommended products and where you can buy them.
Sugar (sato)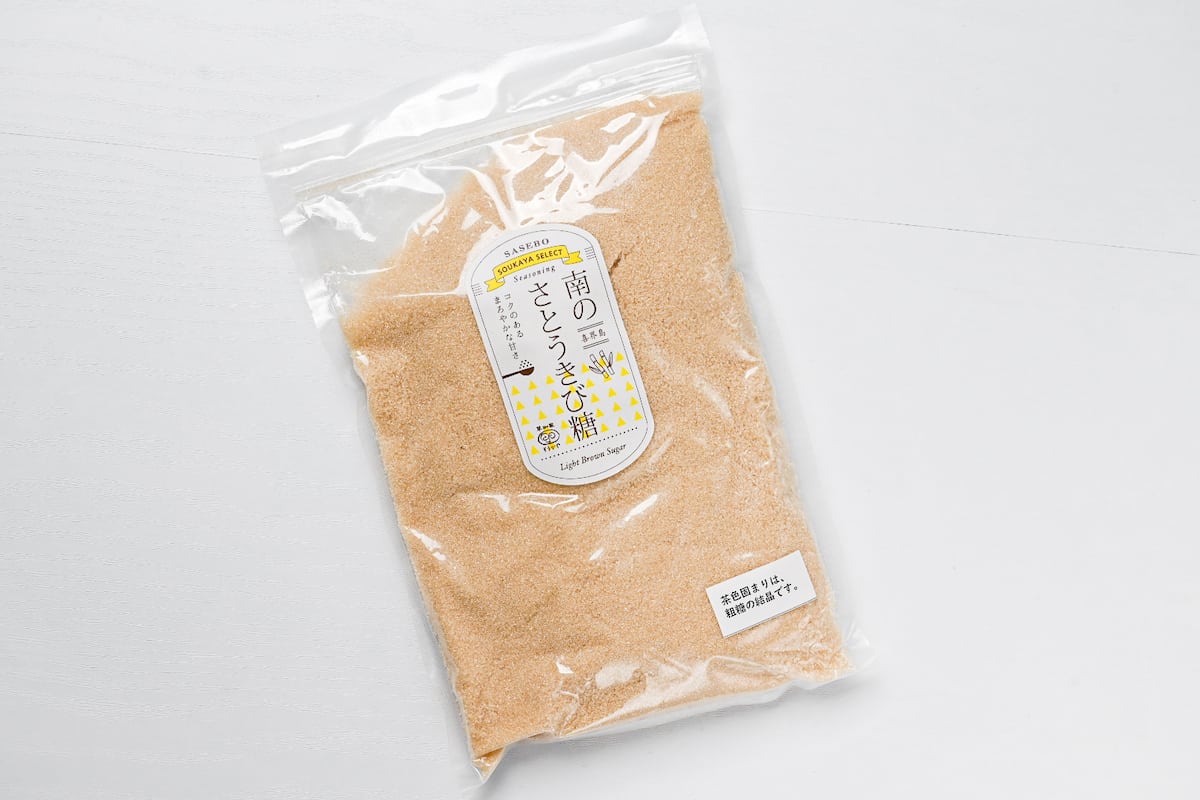 In Japanese cuisine, sugar is used not only to sweeten dishes but also to soften flavours and allow ingredients to really shine. Although a lot of people often use white sugar, which is easy to dissolve, I personally tend to opt for light brown sugar these days (It has an even stronger flavor and richness compared to white sugar and is especially suitable for stewed dishes.). If you want a richer taste, you can use brown sugar too.
I generally use cane sugar (sato kibito) like pictured above. Wholesome organic cane sugar is available here on Amazon US.
Salt (shio)
Many people believe that Japanese cooks use soy sauce in place of salt. While it might be true in some cases, salt certainly plays an important part in Japanese cooking too. Salt is an essential ingredient for cooking in general as it brings out the flavor of ingredients, slows down spoilage and has a dehydrating effect, which is especially important in a cuisine that is serious about pickles!
It can be difficult to determine just the right amount, and adding too much is irreversible, so it is safer to start with a small amount, tasting as you go.
Salt can roughly be classified into three categories: refined salt, coarse salt, and rock salt. For general cooking, I stick to regular sea salt like this Hakata roasted sea salt.
For special beef dishes such as gyukatsu or beef kushiyaki, where high-quality salt plays an important role, I have a favorite coarse salt that was introduced to me by a well-traveled chef who owns a high-class restaurant in my city. The salt is called "Maldon salt", and is a natural sea salt that comes from the town of Maldon in the UK. Even though I don't use it in every meal I make, it's a real treat and I especially love using it with tempura or steak!
Vinegar (su)
Vinegar has the effect of softening ingredients and adding a touch of acidity to a dish. In fact, sometimes if you feel a dish is lacking somehow, adding a small amount of vinegar can really lift it up!
There are various types of vinegar in the world, such as grain vinegar, rice vinegar, pure rice vinegar, and brown rice vinegar, depending on the raw material. In Japanese cuisine, rice vinegar or grain vinegar are mostly used. You can use other vinegar too, but those are the ones that work the best with Japanese dishes.
In US, Marukan rice vinegar is a very good option. They're a extremely trusted and historical company that has successfully operated since 1649 in Japan.
In Japan, I currently use Murayama Zosu's "Chidorisu". The bottle is so elegant and the vinegar itself is so good too!
Dark Soy Sauce (koikuchi shoyu)
The king of Japanese condiments! The flavor of Japanese soy sauce, which contains all kinds of aromatic ingredients, is an essential part of Japanese cuisine.
When I use soy sauce in my recipe, I always mean "dark soy sauce" (koikuchi shoyu) unless otherwise stated. Dark soy sauce is dark in color and rich in aroma. It adds depth of flavor, umami and a nice color to the dish.
Another common type of soy sauce is "light soy sauce" (usukuchi shoyu) however they cannot be used interchangably. Light sauce is stronger with a higher salt content. You can read more about light soy sauce below.
Either way, it is actually essential to use Japanese soy sauce for Japanese cuisine. Regardless of where you buy the soy sauce, these are the elements to be considered:
Organic soy sauce with only soybeans, wheat, and salt as ingredients.
Using soybeans instead of processed soybeans
"Honjozo" production method.
In US, Yamasa's organic marudaizu soy sauce is definitely a good option to consider. Yamasa is a long-established soy sauce manufacturer founded in 1645.
In Japan, I currently use Daitoku shoyu's organic soy sauce. I buy in bulk and it has lasted for a long long time even though I literally use soy sauce every day.
Miso Paste
Unlike other ingredients, miso is a bit tricky to pick. This is because miso, a fermented food, comes in many varieties, with different tastes and flavours depending on the production method and region of origin. For example, red miso is the most popular option in where I'm from, but other type is most used in different areas.
Categorised by raw material, there is rice miso, barley miso, and soybean miso, and by color, there are shiro-miso (white miso), aka-miso (red miso) or awase-miso (miso made by blending two or three different types of miso) so it is easy to get confused.
To make it simple, the most generic miso to handle would be awase miso. In my recipes, I generally use awase miso unless specified.
In US, I recommend Marukome's miso paste. Founded in 1854, the company is known as one of Japan's leading miso makers.
In Japan, it gets more complicated as I keep a few types of miso in my pantry. I currently use Marukome's koji bijin for general use, organic haccho miso for red miso and Kyo no irodori saikyo shiro miso for white miso.
Mirin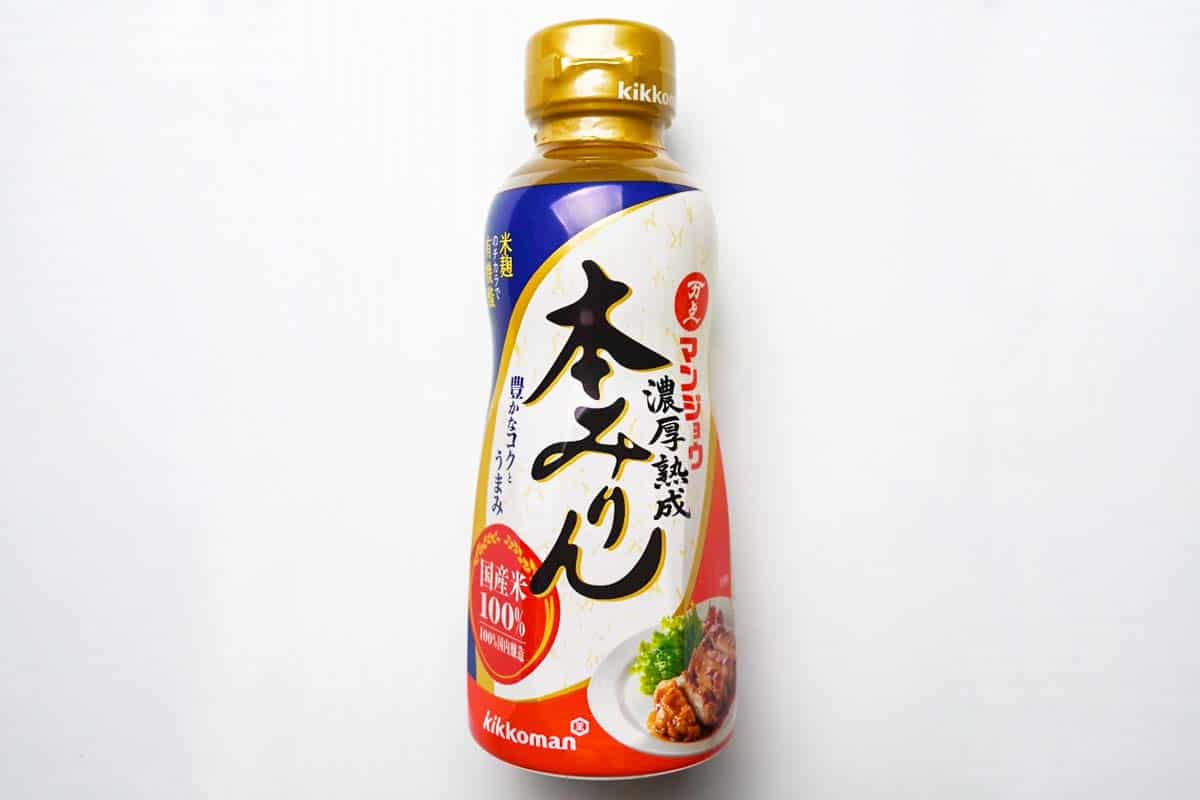 Mirin is a liquor seasoning with a mild and gentle sweetness made from glutinous rice, which is often translated as sweet cooking sake. It is an indispensable condiment for Japanese cuisine, adding a hint of sweetness and a more authentic Japanese flavor to dishes. Simmering down the ingredients gives them a shine that improves the appearance of the dish and gives it more depth of flavor.
Choosing the right mirin is very important and tricky at times because there are a lot of "mirin-style condiments (みりん風調味料)" that are actually not real mirin, even in Japan. When you buy mirin, please look for hon mirin (本みりん), which is literally "real mirin".
Mirin-style condiment is a cheaper option that is a great substitute if you're on a budget, however if possible, I recommend using Hon Mirin instead.
In the US, for a high quality affordable hon mirin I recommend Hinode Hon Mirin. Hinode is a well-known manufacturer of seasonings, mainly mirin and brewed vinegar, it's headquarters are located in Hyogo Prefecture. If you're looking for some premium quality hon mirin, Kokonoe Jun Mikawa Hon Mirin is also available on Amazon US. If you're looking for something a bit easier on the wallet and don't mind that it's not real hon mirin, Kikkoman's Manjo Aji Mirin would be a great option for you.
In Japan, I currently use Ogasawara Mirin Jozo's Mikawa Mirin "Minetakara".
Sake
Sake (Japanese rice wine) is not only for drinking, but also an extremely important condiment for Japanese cooking. It does make a big difference if sake is absent. It is effective in enhancing umami and removing meat/fish odors.
However, choosing right sake for cooking can be very challenging. The most suitable one is any kind of clear junmai (pure rice sake). On the other hand, daiginjo and any kinds of cloudy sake or sake containing additional fruits would not be suitable.
The ironic trap is that some of products marked as "cooking sake" are not always the best option for cooking because they contain added salt and can mess up the salt balance when following a recipe. The reason these cooking sakes are cheaper is because by adding salt and other additives, they won't get taxed as alcohol. If you buy cooking sake with added salt, be sure to adjust the salt or soy sauce content in the recipe to avoid making it overly salty. When I mention sake in my recipe, I mean sake without any salt content so this is something you will need to consider.
It's also difficult to find good sake for cooking online, however, for your reference, I currently Takara's no added salt cooking sake.
Mayonnaise
Even though mayonnaise is available in every country. Japanese mayonnaise works the best with Japanese cooking. One notable difference is Japanese mayonnaise is not as sour. Here are some differences between regular mayonnaise and Japanese mayonnaise:
While some mayonnaise sold by Japanese manufacturers are whole egg type, Kewpie's product, which has the largest market share, only uses egg yolk.
Japanese mayonnaise is kept in very iconic and protective bottles, which helps to keep the flavour longer.
Japanese mayonnaise is made with rice vinegar, which gives the mayonnaise a softer touch.
I'm not a pro or anti MSG but I'm not gonna lie, Kewpie mayonnaise contains MSG. It's up to you whether you want to avoid it or not in your home cooking.
As I mentioned, THE JAPANESE MAYONNAISE is Kewpie's regardless of the region!
Tsuyu Sauce
Tsuyu sauce is a condiment based on dashi (Japanese soup stock), soy sauce, mirin (or sake), and sugar. Originally it was designed to be used with noodles, such as somen, soba, and udon. One of the main features of this product is that it is sold in a very diverse lineup of types, such as those used diluted or straight, as well as made with different types of dashi.
In recent years, more and more people have begun to treat it not only as sauce for noodles, but also as a replacement for soy sauce and use it in a variety of dishes.
Even though I have recipe for homemade tsuyu sauce, I tend to keep one shop bought one in my pantry because I often use it in small amounts. When I say tsuyu sauce in my recipe, I mean the concentrated type, not the diluted type.
In US, I recommend good old Kikkoman's hontsuyu!
In Japan, I currently use Soumi no tsuyu.
Chicken Stock (bouillon) Powder
You might have been surprised how many of my recipes use "chicken stock powder (ガラスープの素)". To me, this is almost like a must item to have in your pantry when it comes to cooking in Japan. It adds the nice depth to the dish as well as saltiness.
Incidentally, chicken stock powder is a seasoning made by adding vegetable extracts to soup made by boiling chicken or chicken bones. It is characterized by its light but deep flavor, and can be used conveniently and widely not only for Chuka (Japanese style Chinese dishes) but also for Japanese cuisine.
You can substitute with other chicken stock powder other stock powder that contains salt. But don't use concentrated stock cubes as it might mess up the salt content.
I currently use Youki's chicken bouillon powder (Amazon US).
Sesame Oil
Sesame oil, an essential part of the Asian cuisines, is made from white sesame seeds that have been roasted and pressed for their oil content. Japan is no exception, and this oil is always stored at home. It is amber in color and has an amazingly distinctive aroma. Sesame oil has long been used as a fat ingredient in Japanese history.
Sesame oil is so versatile that it can be used for frying or raw, so be sure to keep a bottle in your pantry.
In US, I recommend a classic Kadoya's sesame oil. In Japan, I currently use Abumo seiyu's sesame oil.
Dashi
Dashi is the broth made by boiling ingredients such as kombu (kelp) and dried bonito flakes, and is an absolutely essential part of Japanese cuisine. If you want to make homemade one, I have a few dashi recipes so please check out from below:
However, you don't always have time to make homemade dashi stock, in such situations, I resort to teabag-style dashi or powdered dashi (if I need small quantity). However, tea bag style is not as popular outside Japan, so if you're looking for easy way to make dashi outside Japan, opt for powder!
The dashi bags by Kuzu Fuku and Sons are my all time favorite, even in Japan. I was even surprised how good it is, almost as good as homemade dashi! Luckily you can find it here on Amazon US.
Ajinomoto's hondashi is a great option if you want to stick with convenient dashi powder.
Wasabi
Wasabi is a cruciferous plant native to Japan that grows in clear streams deep in the mountains. The wasabi plant is part of the horseradish family and is often known as "Japanese horseradish". It's green in color and has a pungent, yet fresh and aromatic taste. It is an indispensable part of sashimi and sushi.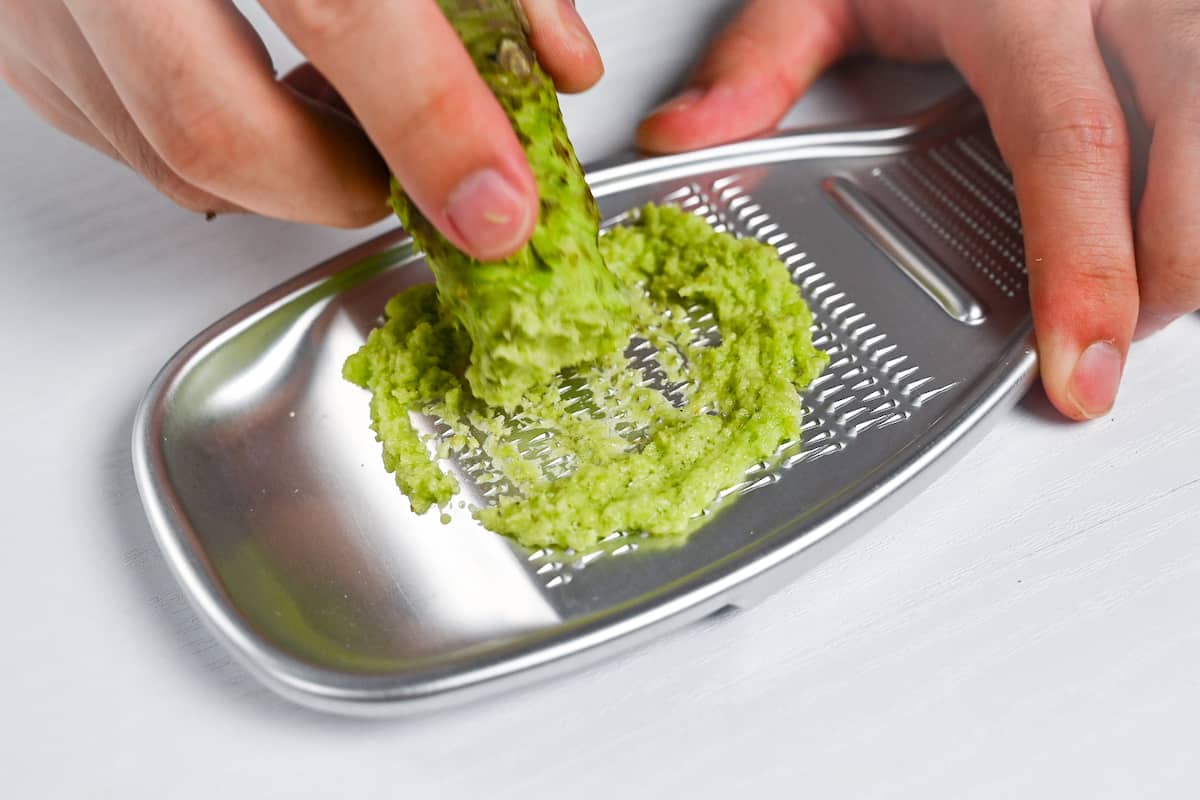 If you want to know how to grate fresh wasabi root, please check out this how-to post! But for an easier and inexpensive solution, we often use wasabi paste in a tube. One thing to note is make sure to buy wasabi tube that states "hon wasabi (本わさび)", if not, the product is likely to be made by regular horse radish, not wasabi.
The best wasabi paste in a tube available on Amazon US is Tamaruya's Authentic Wasabi from Shizuoka. This is basically the closest you can get to freshly grated wasabi from a tube. S&B brand wasabi is not always "hon wasabi", but it's a popular option in Japan and I personally use it often since it tastes good and is easy to find at the supermarket.
Japanese Mustard (Karashi)
You might wonder about the differences between Japanese mustard (a.k.a karashi) and other mustard. Genuine Japanese mustard is made primarily from "oriental mustard" and is designed to deliver a distinctive mustard flavor and strong pungency. However, some products may contain a blend of "oriental mustard" and "yellow mustard".
Also, while Japanese mustard is made by kneading powdered Japanese mustard seeds dissolved in water or lukewarm water, Western mustard is not made from mustard seeds alone, but rather seasonings such as vinegar, sugar, and wine are added to it.
Same as wasabi, choosing S&B karashi is usually the safest option! (Available on Amazon US.)
Tobanajan
Doubanjiang (tobanjan) is a red pepper paste from the Sichuan region of China, made by fermenting fava beans with salt, red pepper, and malt. It is a seasoning used in Chinese cuisine, and you might be surprised to see it on a Japanese condiments list but it is also very commonly used in Japanese home cooking.
For example, it is an indispensable seasoning for "Chuka ryori" (Chinese-Japanese fusion dishes) such as mabo dofu and ebi chili.
I currently and have always been using Lee Kum Kee's Tobanjan, the same product is also available in Amazon US.
Curry Powder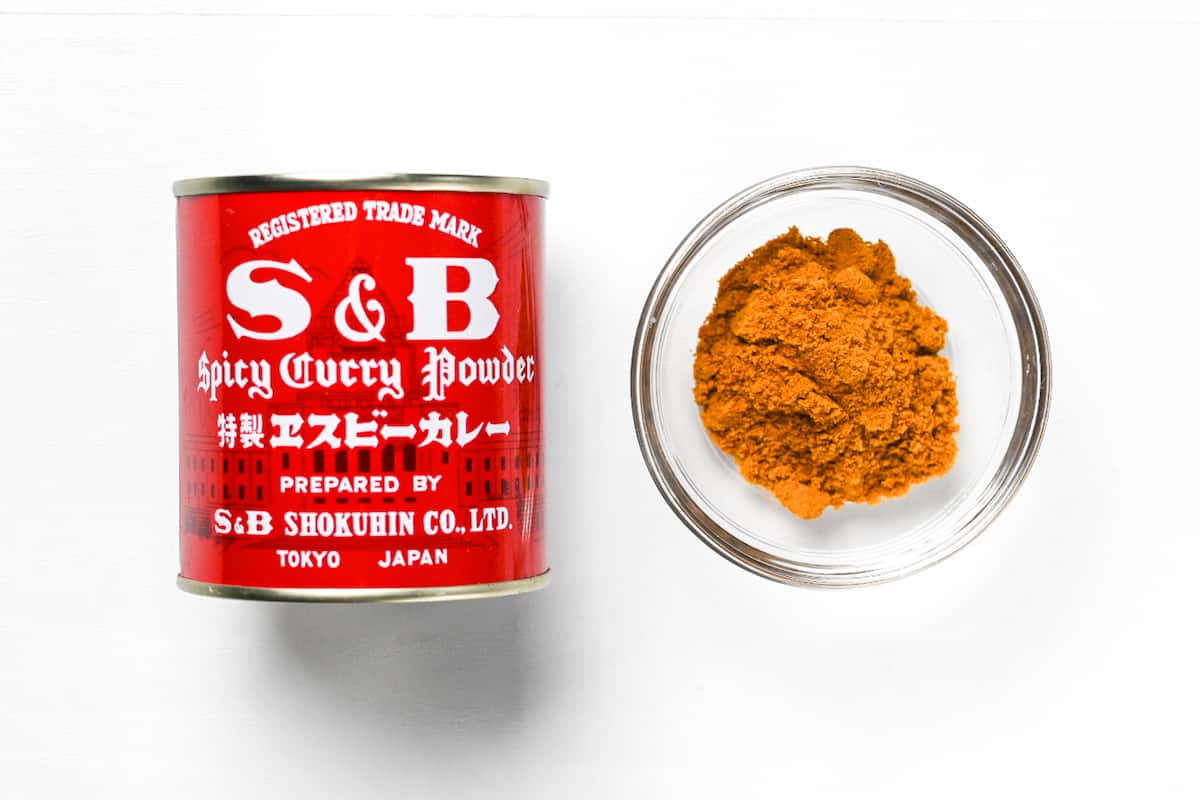 Curry powder is a mixed spice used in curry-flavored dishes. In India, people make their own homemade blends of various spices, but in Japan, ready-made mixed spices are used.
To be honest, there is only one curry powder product I want to recommend, which is made by S&B again. It's available at Amazon US and Amazon JP.
Shichimi Togarashi
Shichimi (seven spice mix) is a uniquely Japanese mixture of spices, mainly chili peppers. It is excellent for use in all kinds of dishes, including sprinkling over udon and soba noodles.
Yet again, I recommend S&B shichimi togarashi which is available at Amazon US and Amazon JP.
Light soy sauce (Usukuchi Shoyu)
Unlike the essential dark soy sauce, I don't use light soy sauce as often. Light soy sauce is a lightly colored, mildly aromatic and strongly salted soy sauce originating from the Kansai region. It is suited for dishes that take full advantage of the color and flavor of the ingredients, and can be used to create an elegant taste.
Although word "light" might sound like it is low in salt, it is actually it's the opposite. So be careful not to use it in the same way as dark soy sauce, as it can be extremely salty. It's often used for soup so the color of soup will be lighter, or dishes where you want to maintain a light color such as dashimaki tamago.
I would say the importance of having light soy sauce in your pantry is not that high, however if you're interested, I recommend Kikkoman's usukuchi soy sauce which is available on Amazon US.
Ginger Paste
Ginger is often used in dishes to soften meaty or fishy odours, it also adds a light a fragrant taste that stimulates the appetite. While it's fine to use fresh ginger and grate it into a paste, it's common to find tubes of ready-to-use ginger paste in Japanese homes. While I wouldn't say it's an essential ingredient, it's so convenient and has a long shelf life so I had to recommend it!
I use S&B Oroshi Shoga (grated ginger) which you can buy on Amazon US here.
Garlic Paste
Garlic is another great flavour to add to your Japanese cooking. Similar to ginger paste, garlic paste is another convenient option for when you don't want to spend time peeling and crushing garlic. It is a staple in Japanese homes and can be found in pretty much every supermarket in Japan.
I use S&B Oroshi Nama Ninniku (grated garlic) which can be bought here on Amazon.
Grocery List
For your convenience, here is a round-up list of all the condiments and seasonings mentioned in this post. You can use it as a reference point or grocery list for building up your Japanese pantry!
Sugar
Salt
Rice vinegar
Japanese soy sauce (dark soy sauce / koikuchi shoyu)
Miso paste (awase miso)
Mirin
Sake
Kewpie mayonnaise
Tsuyu sauce
Chicken buoillon powder
Sesame oil
Dashi
Wasabi paste
Japanese mustard (karashi)
Tobanjan (Sichuan chilli paste)
Japanese curry powder
Japanese chilli powder (shichimi togarashi)
Light soy sauce (usukuchi shoyu)
Ginger paste
Garlic paste