This delicious tofu donburi is made with crispy cubes of firm tofu coated in a sticky teriyaki glaze served with pan fried green onions and bell peppers over a bed of fluffy rice. It's seriously satisfying and ready in just 20 minutes!
Disclaimer: This post contains Amazon affiliate links. Sudachi earns a small percentage from qualifying purchases at no extra cost to you. See disclaimer for more info.
What is Teriyaki Tofu Donburi?
Teriyaki Tofu Donburi is a blend of tofu and teriyaki glaze served on a bed of Japanese white rice. While tofu is not widely used as teriyaki ingredient in Japan, it is an excellent plant-based substitute for teriyaki chicken or salmon.
Interestingly, teriyaki in Japan does not refer to a sauce but to a cooking technique where soy sauce, sake, mirin, and sugar are used to create a glaze. The word teri (照り) means "glossy" and yaki (焼き) means to fry or grill.
This recipe uses an authentic Japanese teriyaki technique to coat crispy and chewy tofu in order to create a plant-based donburi (rice bowl).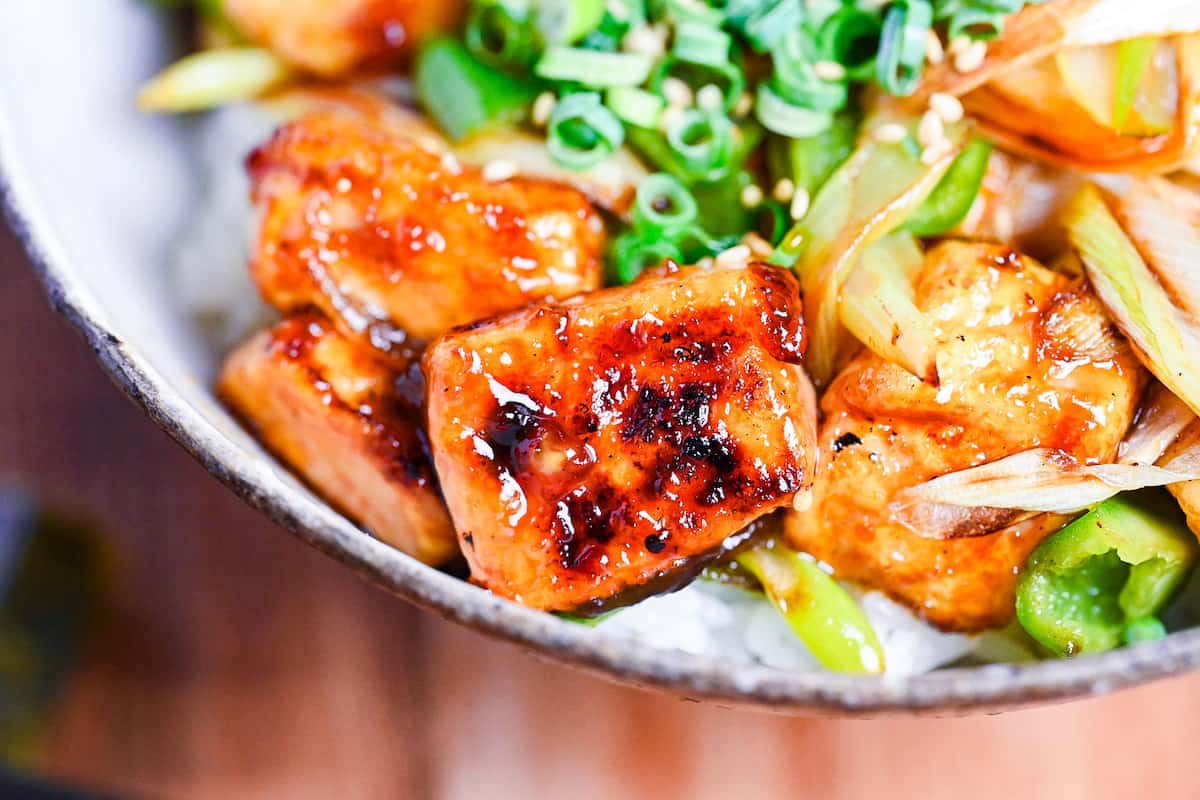 How I Developed This Recipe
When I developed the recipe for this Tofu Donburi, the harmonious blend of crispy and chewy tofu like Agedashi Tofu and teriyaki glaze was in my mind. There's something magical about how the unique exterior meets a soft inside, and I wanted to capture that essence.
The idea was to make the tofu crispy and chewy and then finish it off with an authentic Japanese teriyaki technique. The use of garlic gives the dish depth and a bit of chili oil adds a spicy kick!
As a result, I am proud to say that I have possibly achieved a texture that surpasses teriyaki chicken and salmon. Give it a try!
Ingredients and Substitution Ideas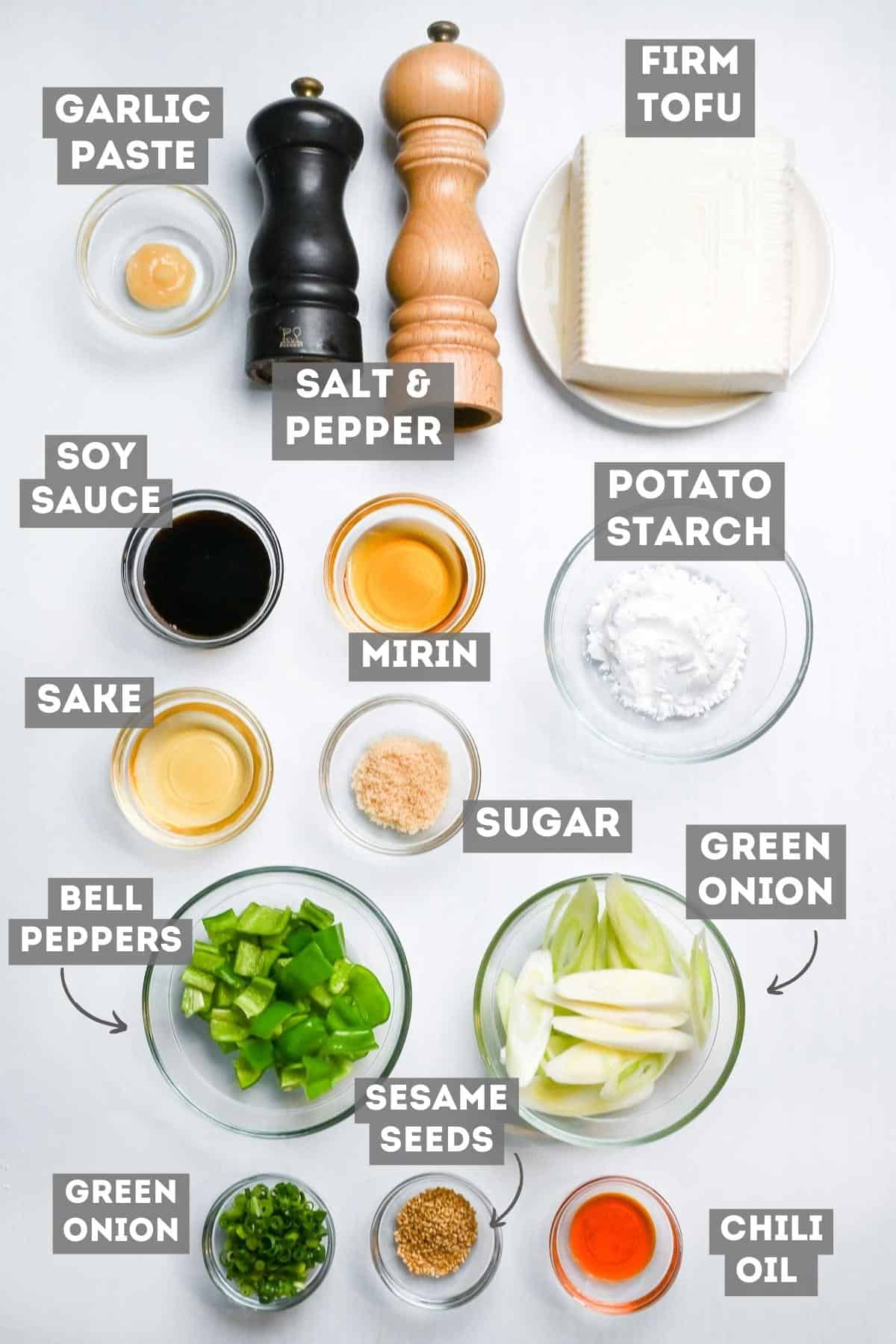 Firm Tofu: This recipe needs to use firm tofu to achieve that crispy exterior. Silken tofu won't give the same result, and even worse, it can ruin the whole dish if it starts to fall apart.
Potato starch: While I often use potato starch, other options like cornstarch or tapioca starch work just as well.
Soy Sauce: I find Kikkoman soy sauce a budget-friendly and worldwide choice that doesn't compromise on flavor. If you're curious about choosing the right soy sauce for Japanese dishes, I've written a comprehensive soy sauce guide.
Sake: Don't have sake on hand? No worries! White wine or dry sherry makes a good substitute.
Mirin: When shopping for mirin, I always look for "hon mirin" (本みりん) to ensure the best flavor. Hinode Hon Mirin is a brand I trust for both quality and affordability. For more insights on Japanese condiments, check out my post on the 20 Most Useful Condiments and Seasonings for Japanese Cooking.
Sugar: Any regular sugar works fine, but I've been leaning towards light brown cane sugar for most dishes lately.
Grated Garlic: Using garlic paste is a convenient alternative.
Green Onion: Use the white part of the green onion as an ingredient, slicing it diagonally, and finely chop the green part for a fresh topping. Need tips on how to do this? I've got a guide on green onions just for that.
Green Bell Pepper: You don't have to stick to green. Yellow, red, or orange bell peppers can add a splash of color and taste just as great.
Toppings: A combination of finely chopped green onion, sesame seeds, and sesame oil-based chili oil elevates the dish.
Cooked Japanese short-grain rice – Short-grain Japanese rice is best used for donburi dishes. Recommended Japanese rice available in the U.S. and how to cook Japanese rice in a pot are explained in the How to Cook Japanese Rice Recipe.
Curious about the exact brands and products that bring my recipes to life? Discover the brands and ingredients behind my recipes at the Sudachi Amazon Storefront. Explore my handpicked pantry essentials and find your next kitchen favorites!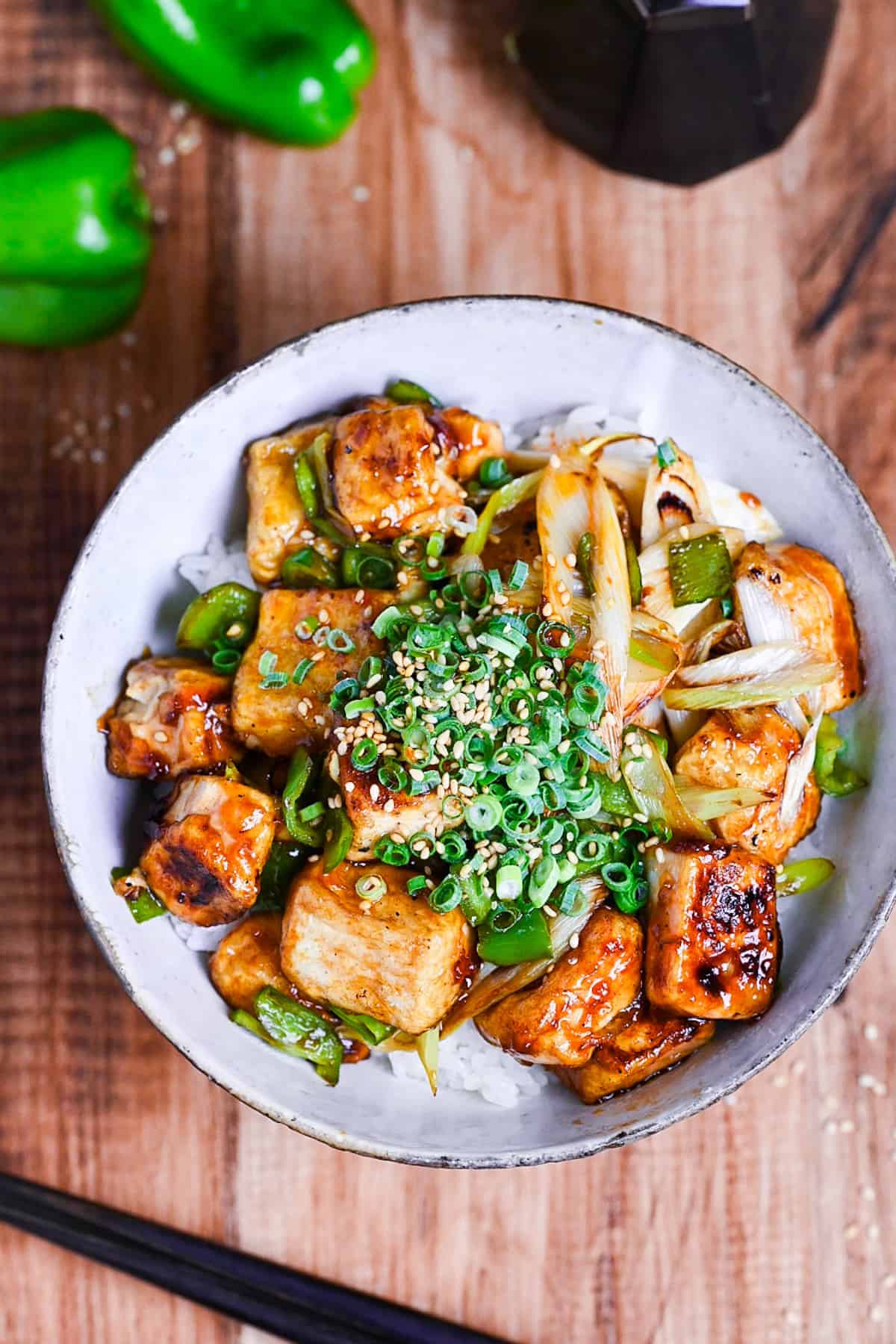 Step-by-Step Process
Here are my step-by-step instructions for how to make delicious teriyaki tofu donburi from scratch. For ingredient quantities and simplified instructions, scroll down for the printable recipe card below.
Remove the excess water from firm tofu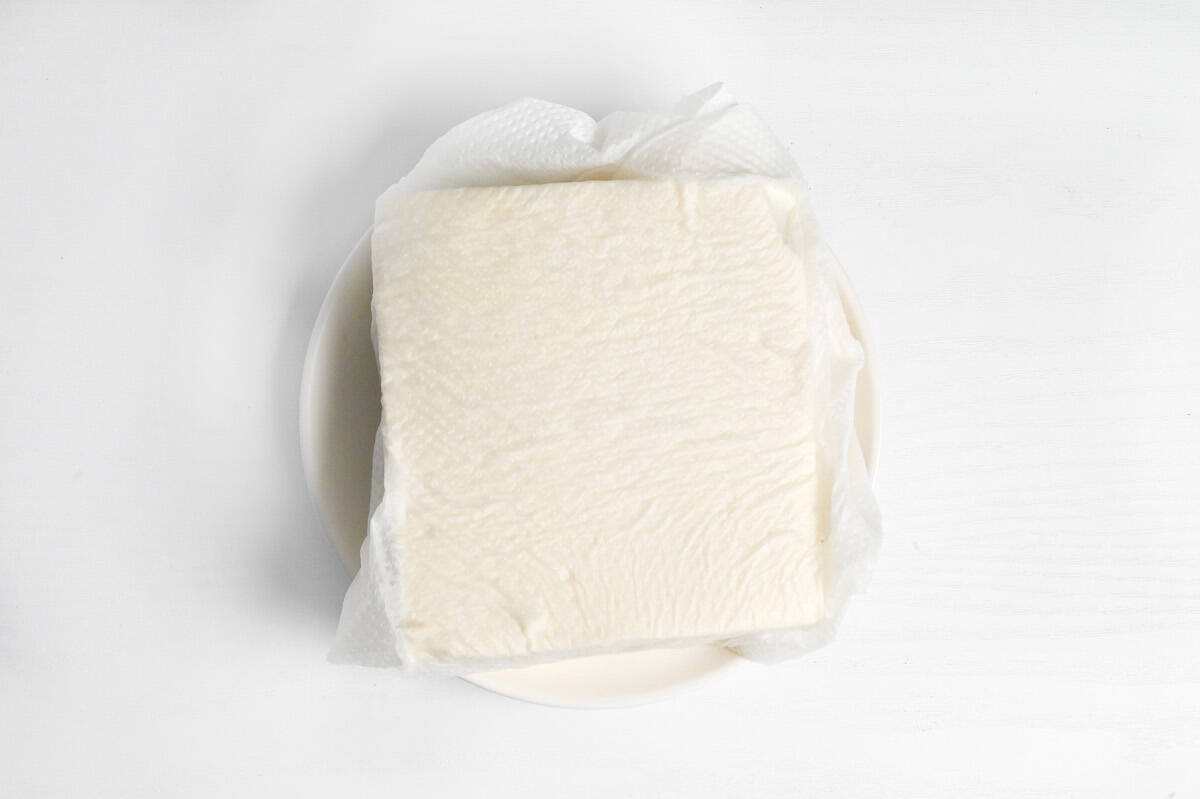 The traditional way to remove excess water from firm tofu is to place a weight on top. This pushes out the water and makes the tofu's texture more dense.
But if you want to save time, you can wrap your tofu in kitchen paper and give it a quick zap in the microwave at 600W for 2 minutes. This will evaporate the excess moisture without changing the shape of the tofu, I use this technique regularly and love how convenient it is!
Once it's done, remove it from the microwave and leave to cool.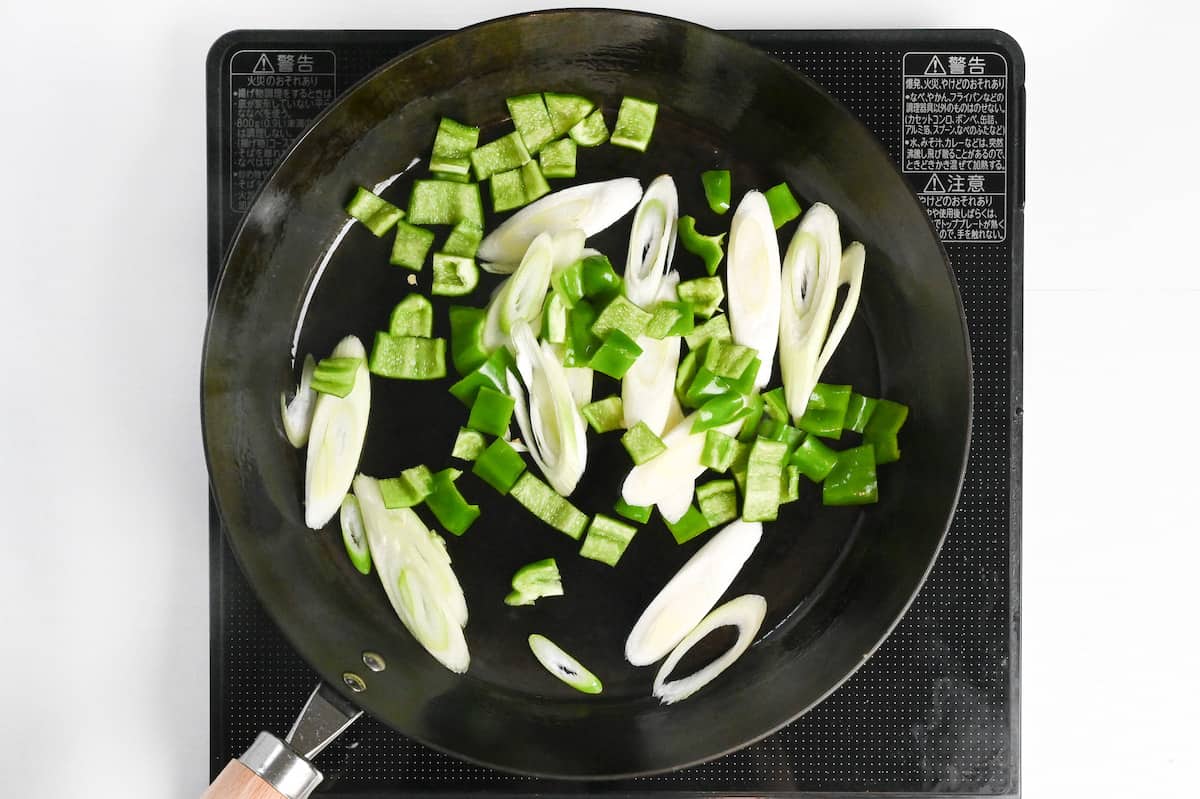 Frying your chopped green onions and bell pepper separately allows you to get that perfect texture without compromising the tofu.
Heat the pan on medium with a drizzle of oil and add the vegetables. Once they've got that lovely browned surface, transfer them to a plate and set near the stove ready to add back to the pan later.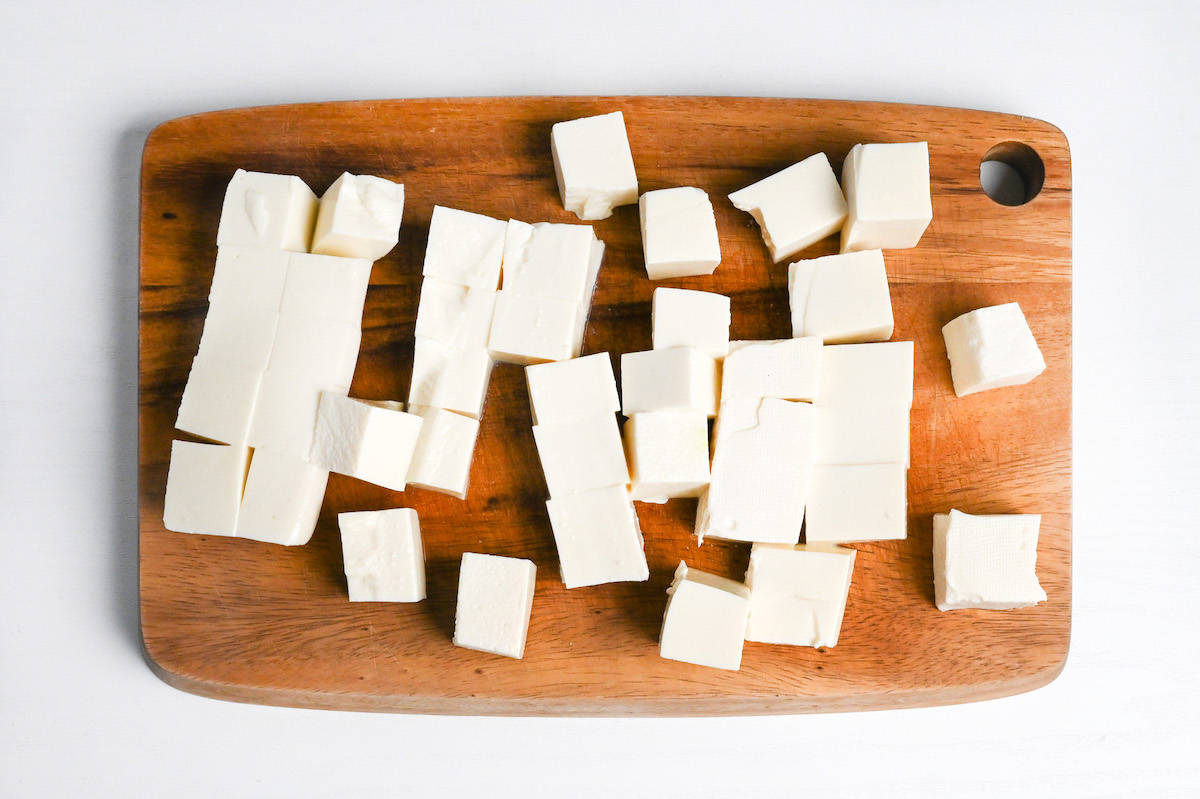 After frying the vegetables, your tofu should be cool enough to touch.
Check it's not too hot, unwrap it, and then cut it into squares. Slightly larger squares make cooking easier.
Coat the tofu with starch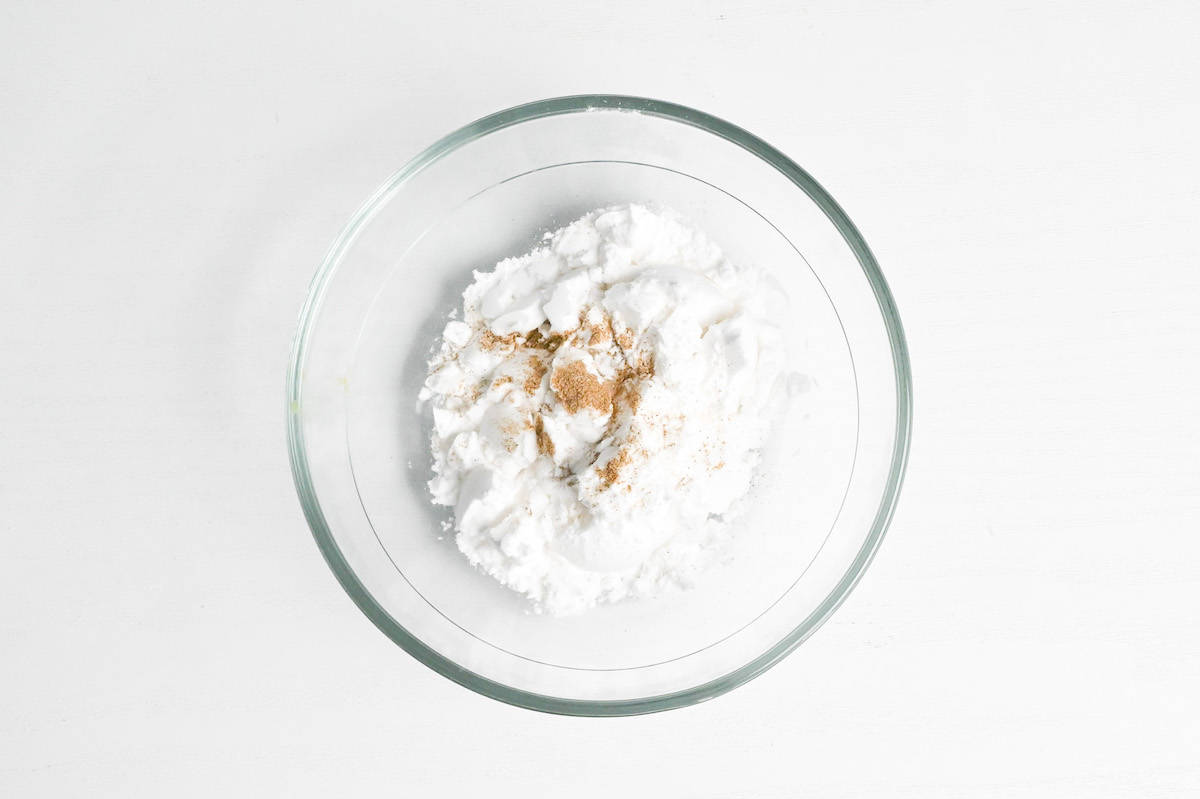 First, whisk together potato starch, salt, and pepper. While you might be tempted to give the tofu a thick coat, a light dusting on all sides is all you need to get that crispy finish.
Add more oil to the same pan and preheat thoroughly before you start coating the tofu. If you coat the tofu in starch too early, it will start to become wet and gummy.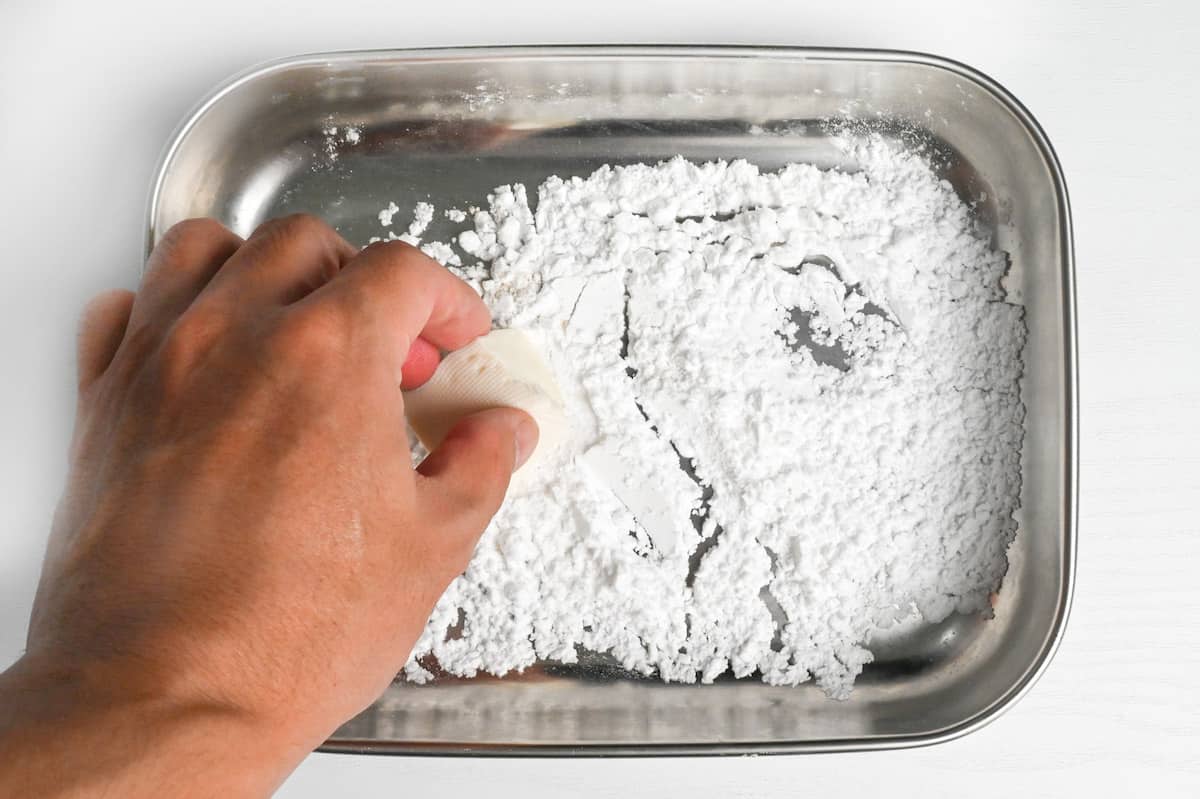 Once the pan is hot once more, roll each piece of tofu in the starch mixture and place it straight into the pan. Turn occasionally and fry until the tofu is golden brown on all sides.
If the tofu soaks up all the oil completely, don't hesitate to drizzle in a little more.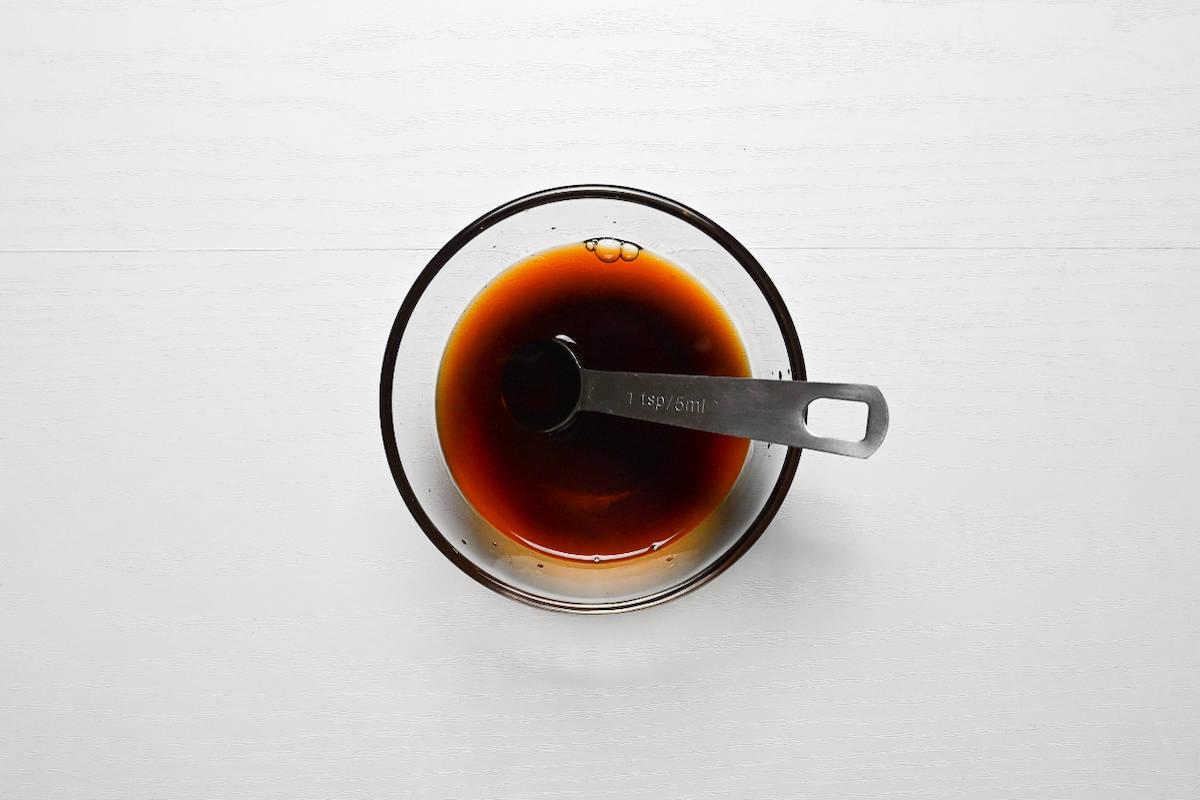 Also, now's a good time to mix your teriyaki ingredients. Take a small bowl and combine the soy sauce, mirin, sake, sugar and garlic paste.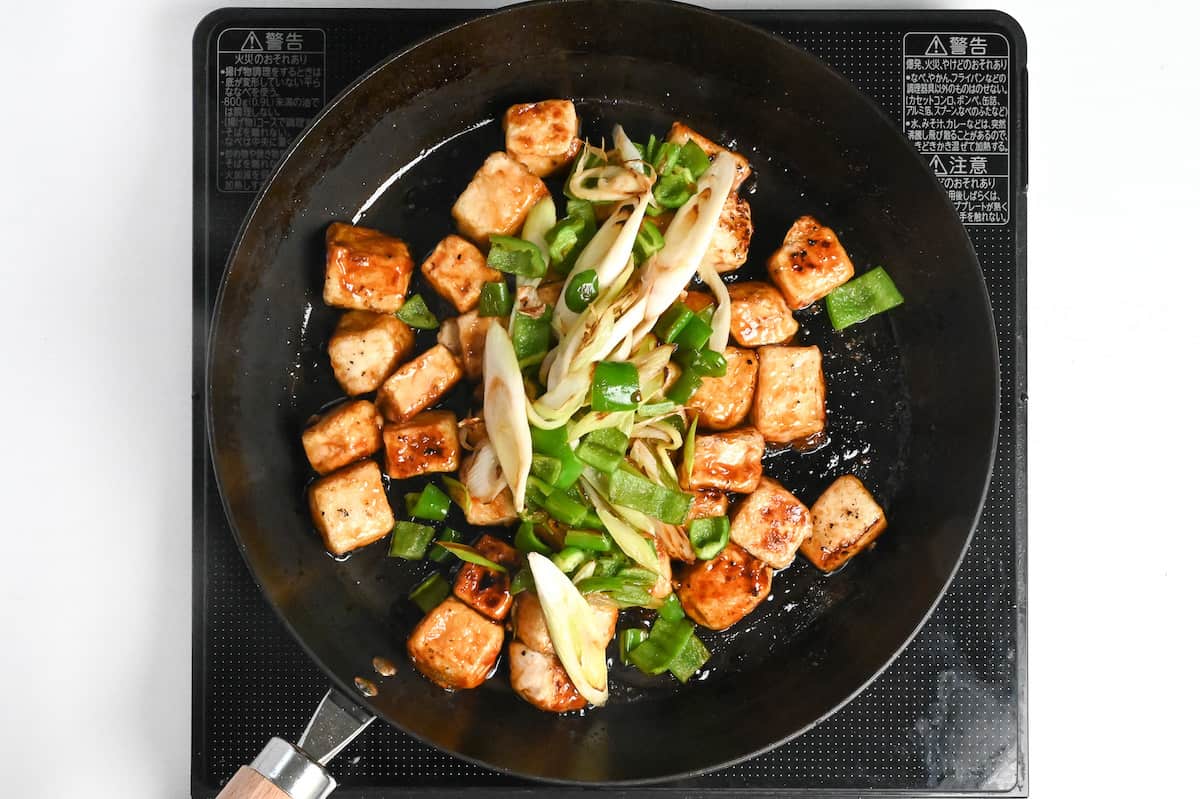 Once your tofu's got that golden glow, pour in the teriyaki mix and add the fried veggies from earlier.
Fry until the sauce thickens and your tofu looks glossy.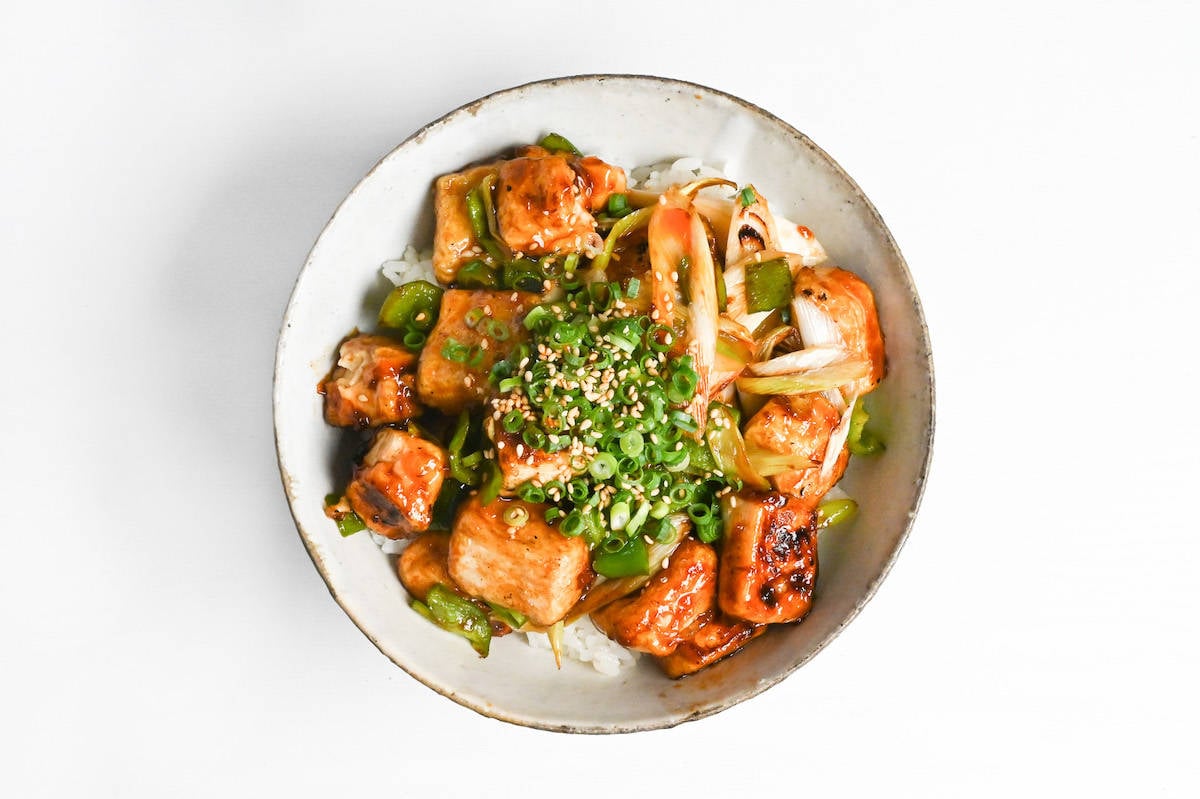 Divide your cooked rice into serving bowls, top with your glossy tofu and vegetables, and sprinkle on some sesame seeds, chopped green onions, and a dash of chili oil.
Enjoy!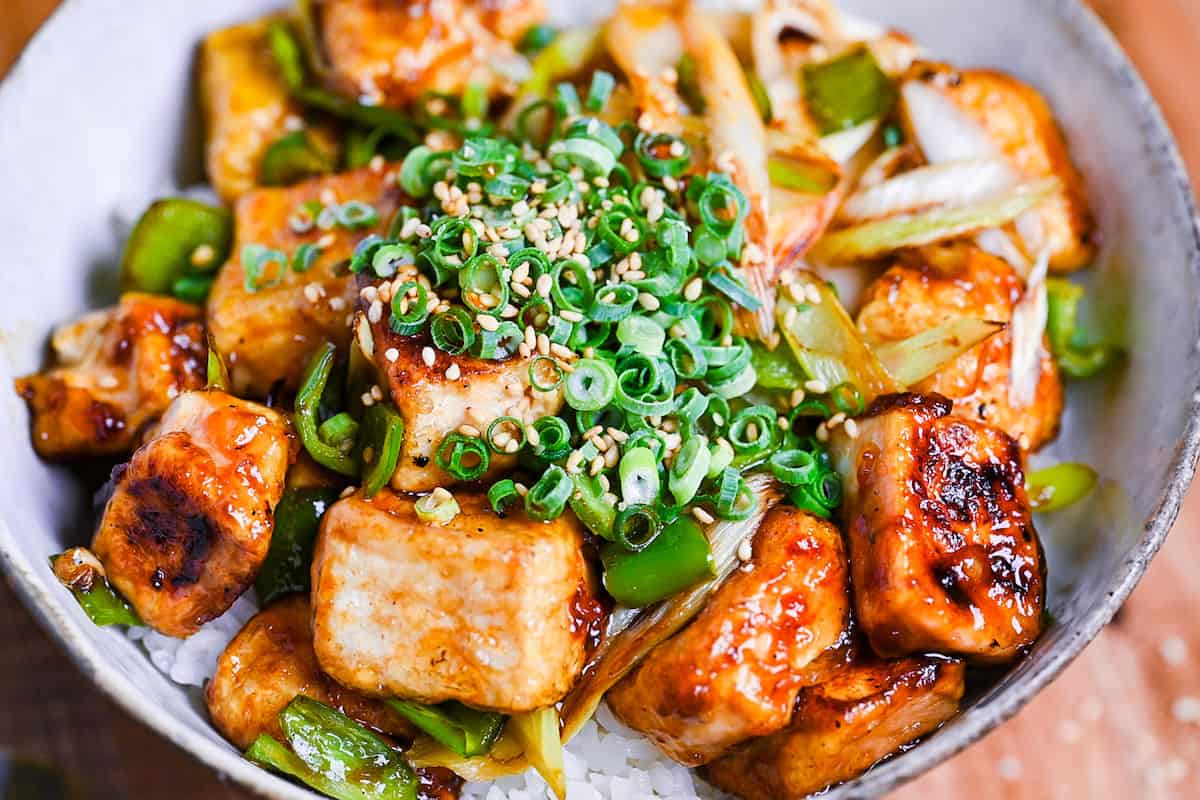 Storage
In my honest opinion, the allure of this Teriyaki Tofu Donburi lies greatly in its texture. Personally, I'd advise against storing it.
However, I understand sometimes we end up with more than we can eat in one sitting. If you find yourself with leftovers, you can pop them in the fridge, but not for more than two days.
When it's time to reheat, the microwave is your best bet.
Room temperature – Not recommended.
Refrigerated – Up to 2 days.
Frozen – Not recommended.
I hope you enjoy this comforting teriyaki tofu donburi recipe! If you try it out, I'd really appreciate it if you could spare a moment to let me know what you thought by giving a review and star rating in the comments below. It's also helpful to share any adjustments you made to the recipe with our other readers. Thank you!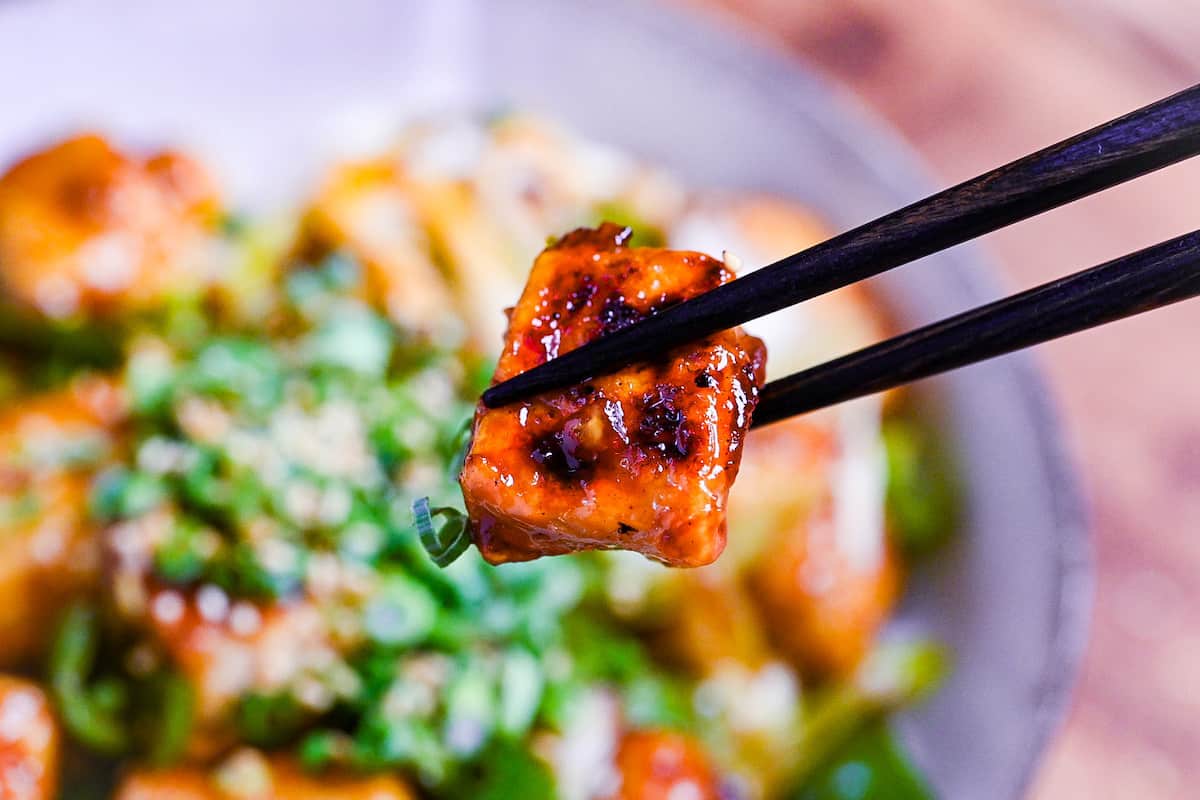 More Japanese Plant-based Recipes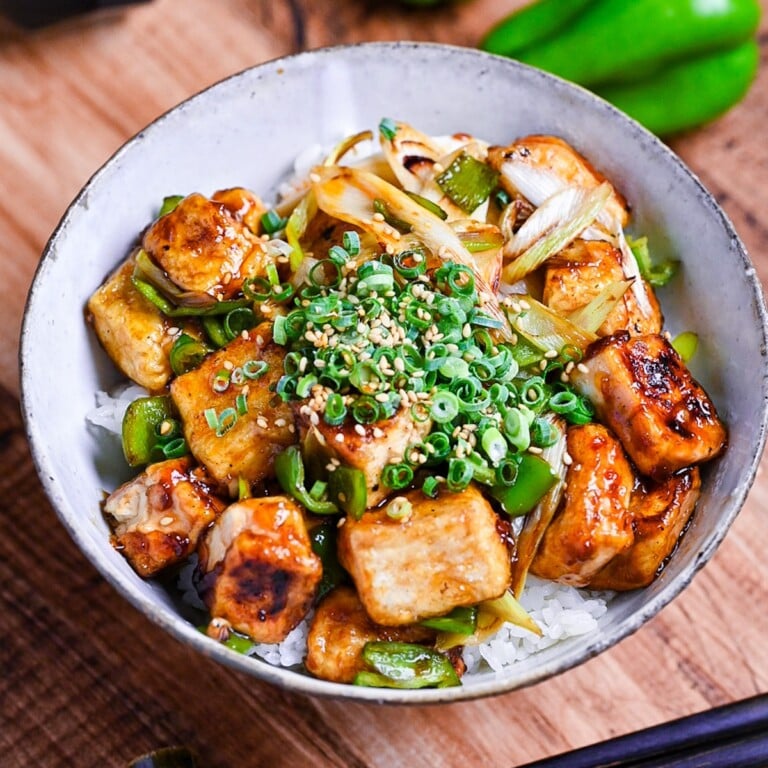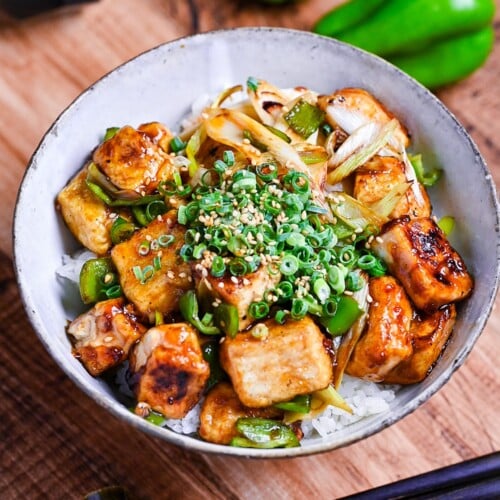 Teriyaki Tofu Donburi
---
How to make delicious tofu donburi with cubes of crispy fried tofu and charred vegetables coated in a sticky teriyaki glaze and served over fluffy white rice.
---
---
---
---
Instructions
Wrap

350 g firm tofu

with kitchen paper and place it on a heatproof plate. Microwave for 2 minutes at 600W, then remove and leave to cool.

Heat a pan on medium and add a drizzle of

cooking oil

. Fry

50 g green bell pepper(s)

and

50 g green onion(s)

until lightly charred, then transfer to a plate and set by the stove for later.

Once the tofu is cool to the touch, cut it into cubes. Larger cubes will make cooking easier later.

Take a small bowl and add a generous pinch of

salt and pepper

and

3 tbsp potato starch

, mix well and sprinkle it on a plate or tray.

Reheat the same pan as earlier over medium and add a generous amount of

cooking oil

(approx 1 tbsp per serving).

Once the pan is hot, coat the tofu pieces in the starch mixture and place them directly into the pan. Tip: Do not coat the tofu in advance as the starch will soak up the moisture and become sticky.

Fry the tofu and turn occasionally, ensuring they're golden brown on all sides.

Take a small bowl and mix

2 tbsp soy sauce

,

2 tbsp mirin

,

2 tbsp sake

,

2 tsp sugar

and

½ tbsp garlic paste

until well combined. Once the tofu is golden all over, pour the sauce into the pan.

Add the charred vegetables from earlier and continue to cook until warmed through and the glaze has become thick and glossy. Once everything is evenly coated, remove the pan from the heat.

Divide

2 portions cooked Japanese short-grain rice

into serving bowls and place the tofu and vegetables on top. Sprinkle with

sesame seeds

,

finely chopped green onion(s)

and a drizzle of

chili oil

.