Maguro zuke don is a delicious rice bowl dish made with fresh raw tuna soaked in a rich soy based marinade. Not only is it mouthwatering, but it's extremely simple to make and requires barely any cooking!
Disclaimer: This post may contain affiliate links. Sudachi Recipes is part of the amazon associates programme and earns a small percentage from qualifying purchases at no extra cost to you. See disclaimer for more info.
Jump to:
What is Maguro Zuke Don?
Maguro zuke don (マグロ漬け丼) is a type of rice bowl topped with marinated raw tuna. You can often find it served in teishoku-style restaurants or sometimes Japanese-style pubs we call "izakayas".
To be honest, this dish is not commonly made at home, even in Japan. However, it's so straightforward to make, so why not?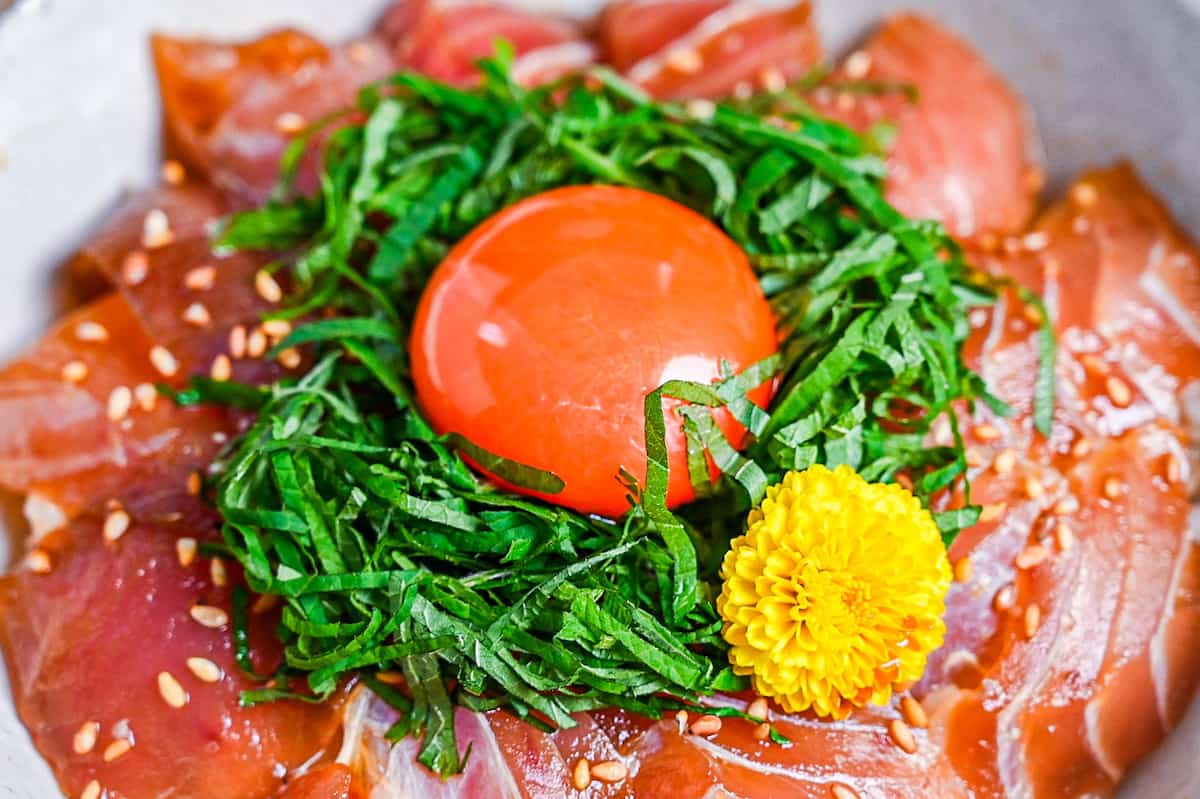 Tekka Don VS Maguro Don
There are two popular types of raw tuna bowls, one is "maguro don" (マグロ丼) and the other is called "tekka don" (鉄火丼).
While they look the same to the untrained eye, there are actually slight technical differences between tekka don and maguro don. To be honest, it's almost never mentioned anywhere and even I didn't know until recently, but here are the key differences!
| | | |
| --- | --- | --- |
| | Tekka don (鉄火丼) | Maguro don (マグロ丼) |
| Rice | Use sumeshi (sushi rice with vinegar) | Use white rice without vinegar |
| Tuna | Use red part of tuna only | Can use any parts of tuna |
| Toppings | Sauce, wasabi, spring onion...etc | Sauce, wasabi, spring onion...etc |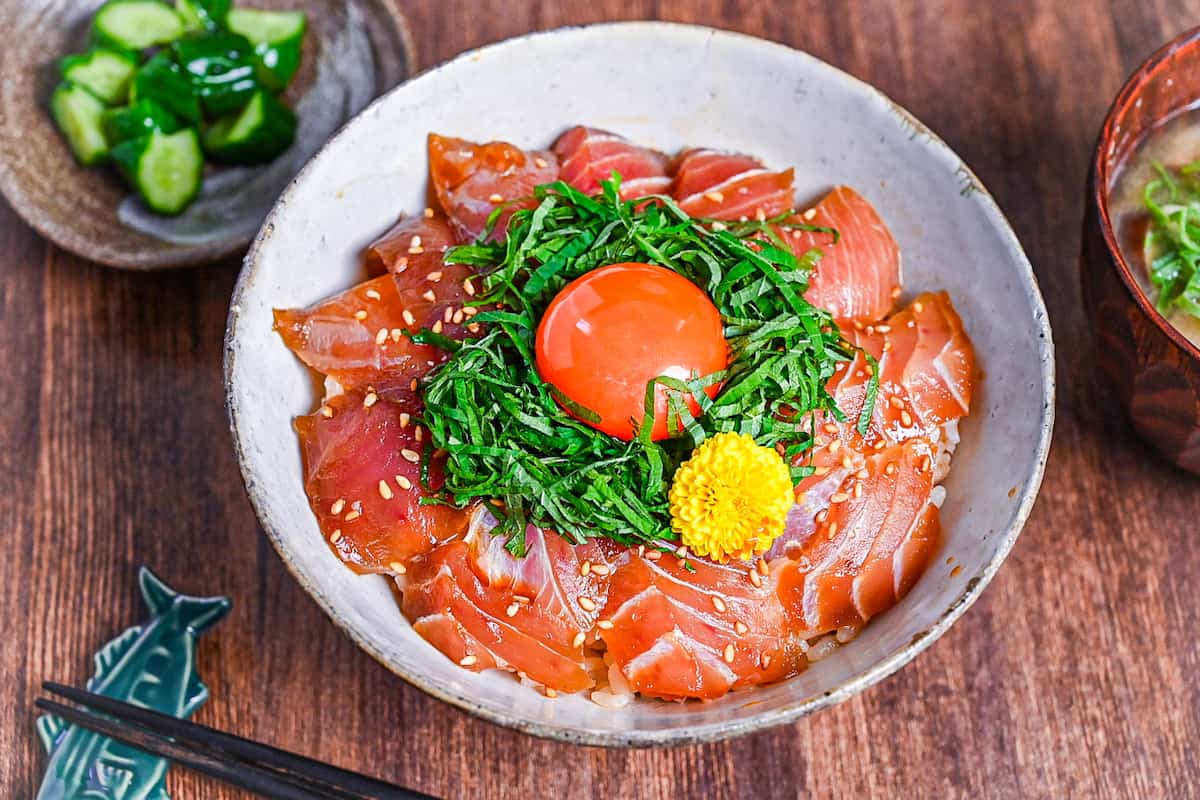 So basically, the main differences are whether you use sushi rice or regular unseasoned rice and which part of the tuna you use.
They are such small details that many Japanese people also don't know the difference between the two, but I thought it's interesting to mention!
With this in mind, if you're interested in making Tekkadon with homemade sushi rice and different toppings, check out my Tekkadon recipe here.
What Kind of Tuna to Use
As maguro zuke don is made with raw tuna, the most important thing is to use tuna that is fresh and specifically labelled as "sashimi-grade" or "sushi-grade". Sushi-grade fish is prepared in such a way that it is safe to eat at home raw.
As for which part of the tuna to use, generally you can use any part. Just keep in mind that if you specifically want to make "tekka don", you can only use the red part of the tuna. (If you use the pink, fattier parts, then the dish will become maguro don.)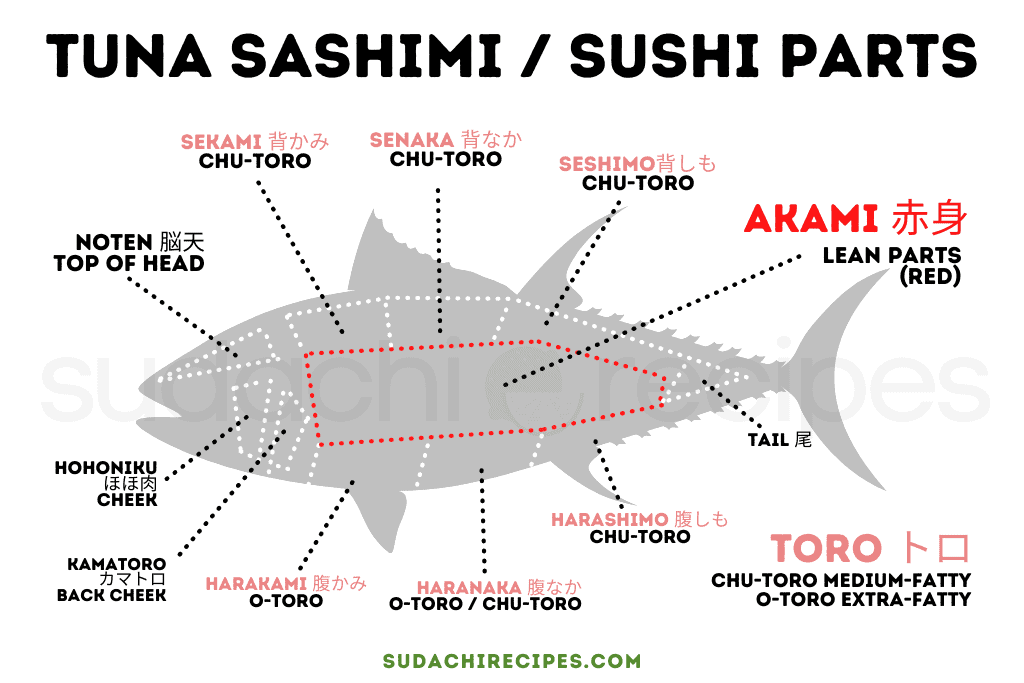 The red part is generally known as "akami" (赤身) and is relatively lean and meaty. It's one of the most common cuts because there's a lot of it, and it's also reasonably priced compared to the other parts.
The fattier parts are known as "toro" and have a melt-in-the-mouth texture. "Chutoro" (中トロ) is the medium fatty part, and "o-toro" (大トロ) is the extra-fatty part from the front of the belly. These parts are usually pinker in color, considered higher grade and are more expensive too.
If you buy raw tuna in a block, you can cut it into "sashimi style slices" or "cubes" depending on your preference.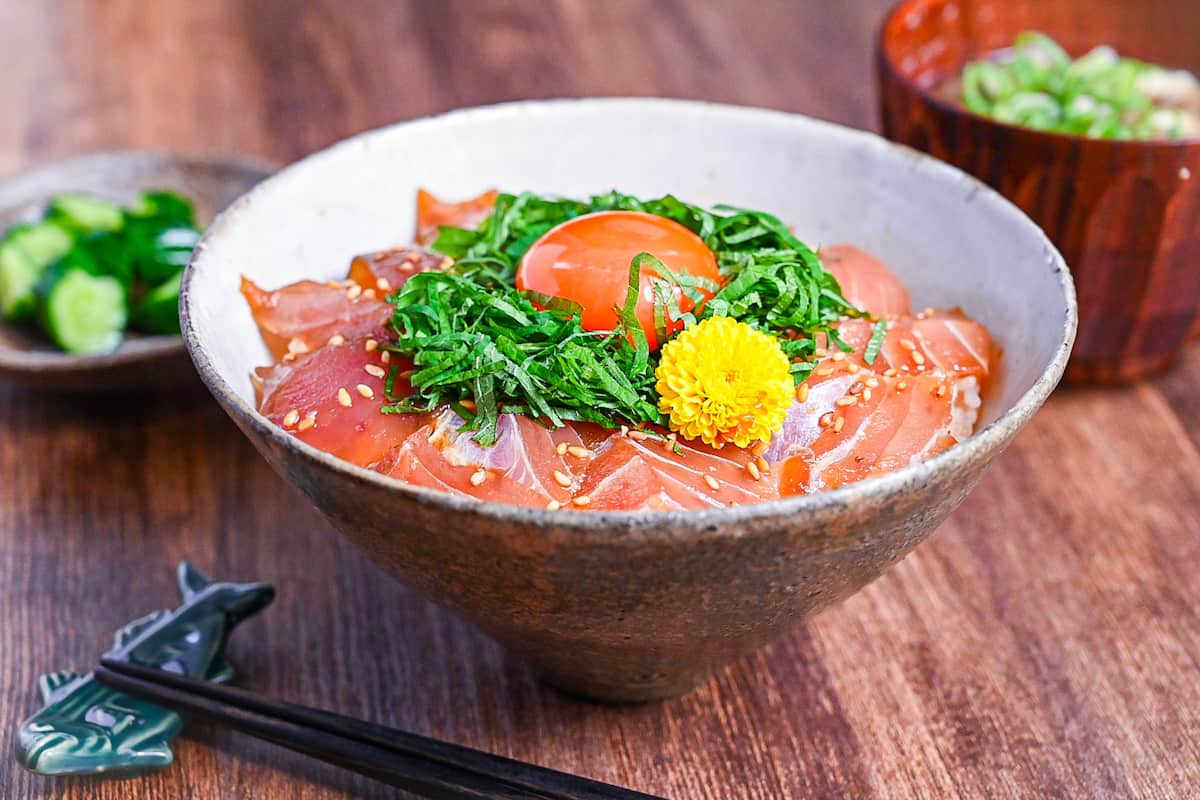 Ingredients You'll Need
Maguro zuke don can be broken down into 3 components; the rice, the marinated tuna and the toppings. Here are the ingredients you'll need to make this recipe:
Cooked rice - I always recommend using short-grain Japanese white rice for donburi dishes. I use a rice cooker, but if you don't have one I check out my post How to Cook Perfect Japanese White Rice on the Stove.
Sashimi grade tuna - any cuts work for this humble dish so use your favorite parts.
Soy sauce - the base flavor for the marinade. Use Japanese koikuchi shoyu (dark soy sauce) for best results. You can't go wrong with Kikkoman soy sauce. I also recommend their organic marudaizu soy sauce, characterized by its mild flavor and depth.
Mirin - A sweet Japanese "rice wine" that adds depth and sweetness to the marinade. I recommend real Hon Mirin for the best flavor rather than "mirin-style" seasonings.
Sake - a rice wine with subtle acidity and bitterness. Not only does it create a balanced marinade, but it also softens the texture and taste of the tuna sashimi.
Kombu - this dried kelp is packed with umami and will make your marinade more delicious!
For toppings, I use:
Perilla leaves - known as shiso or ooba in Japanese, these refreshing leaves have a strong, fragrant flavor that pairs perfectly with sashimi.
Raw egg yolk - adds a rich creaminess to the donburi, mix into the rice to enjoy it to the full! I recommend using pasteurized eggs since it's added raw.
Sesame seeds - for decoration in addition to a subtle nutty crunch (optional).
Wasabi - Since sashimi tuna is used, wasabi is the perfect addition to this dish. Adds a spicy and refreshing element that compliments the flavor of the marinade.
Of course, the toppings are optional. Other topping ideas include chopped spring onions, radish sprouts or nori.
I have listed my recommended Japanese condiments, tools, and ingredients in the Sudachi Recipes Amazon shop. If you want to keep making various Japanese foods at home, please check it out!
Step-by-Step Process
Maguro zuke don is so easy to make, especially if you have a rice cooker! Follow the steps below or check out the recipe card at the bottom of the page.
Start cooking your rice. Using a rice cooker is preferred but if you don't have one, check out my post on how to cook Japanese style rice on the stove.
Burn off the alcohol in the sake and mirin by heating them in a saucepan and letting them boil for 1 minute.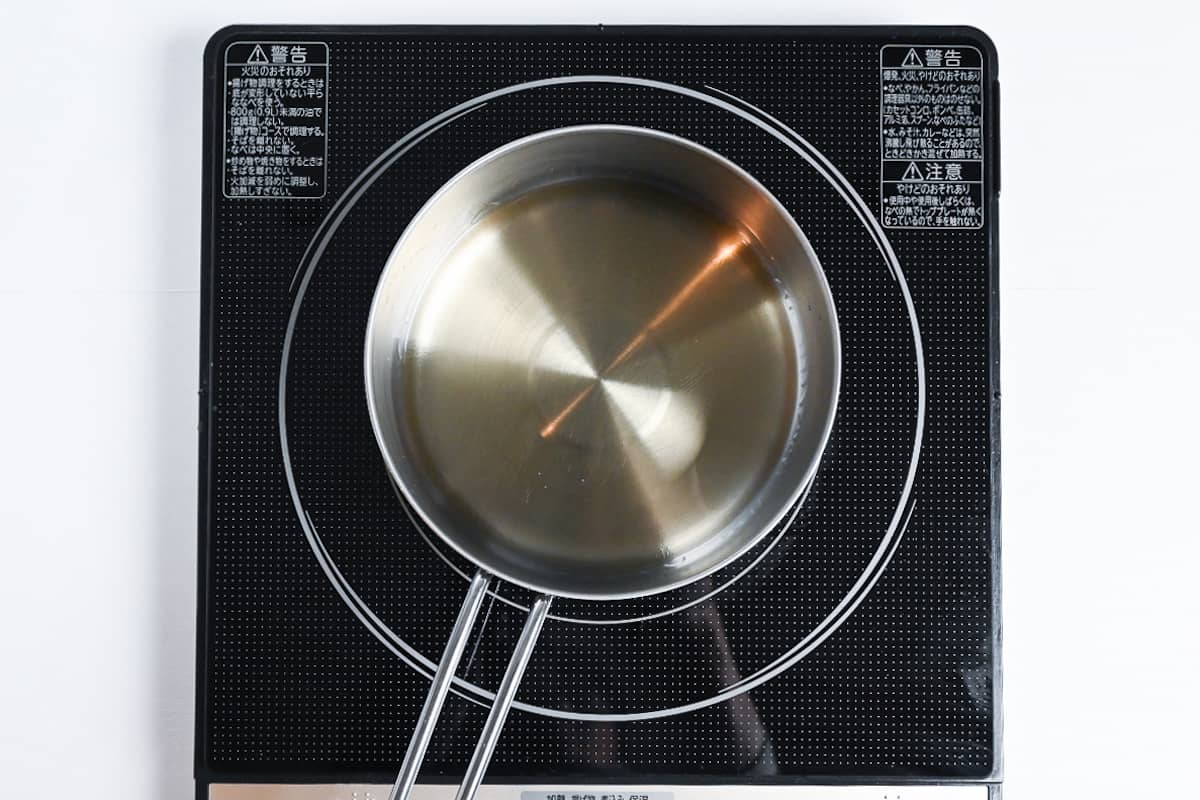 Turn off the heat and add the soy sauce.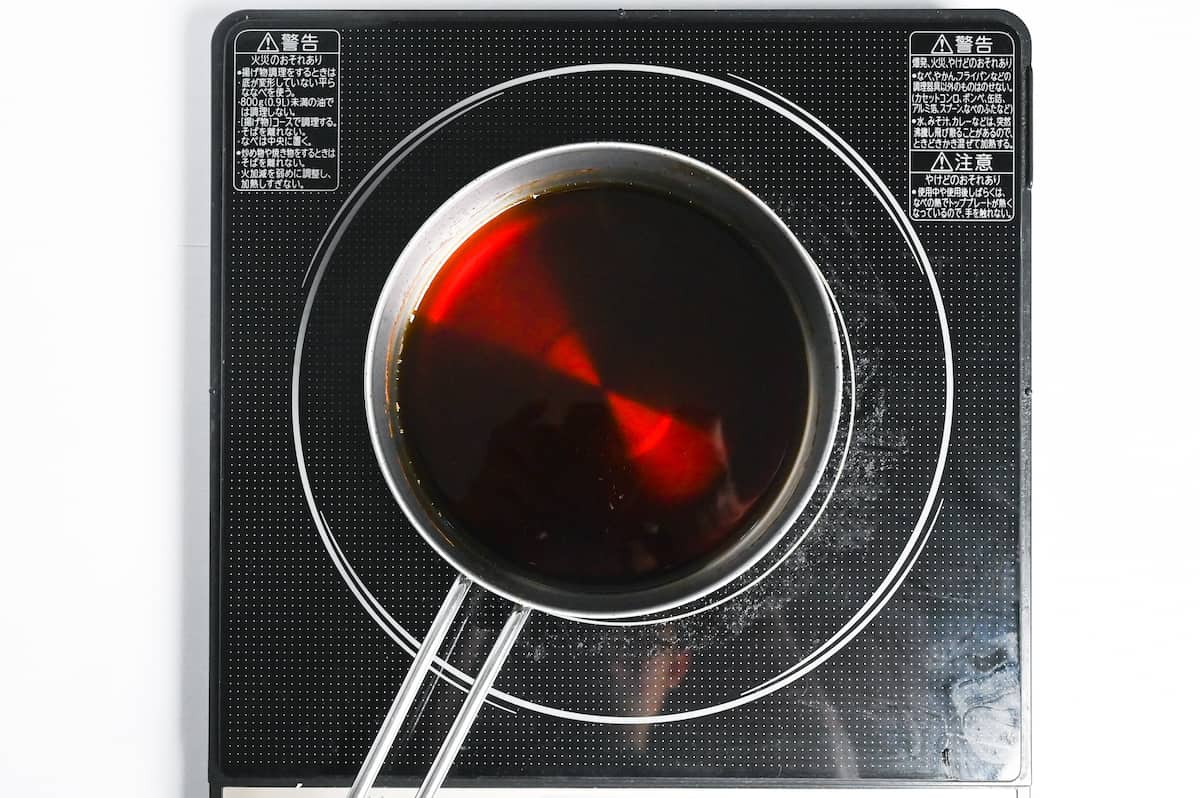 Allow the sauce to cool fully before adding the tuna (otherwise, the tuna will start to cook). You can speed up the process by pouring the marinade into a wide container and placing the container over ice/cold water.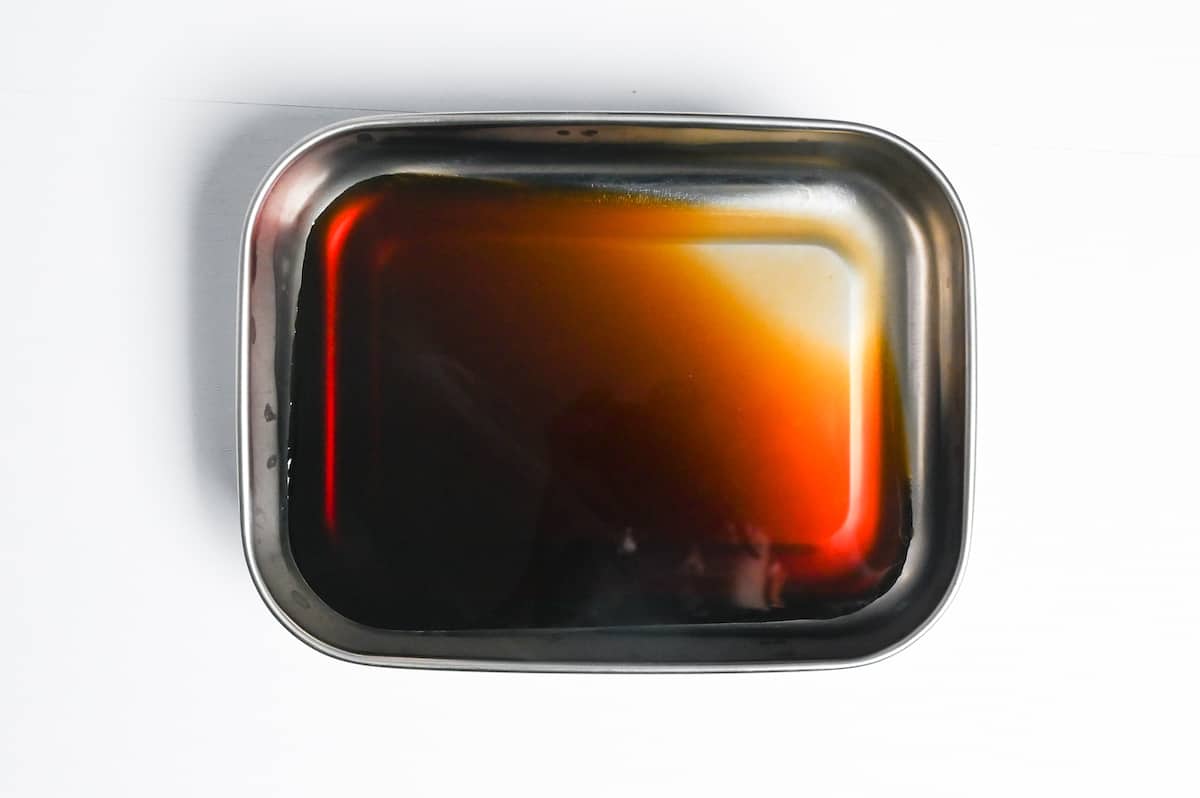 Place a small piece of kombu in the marinade, dip each piece of sashimi-grade tuna in the marinade and then lay them flat in the container.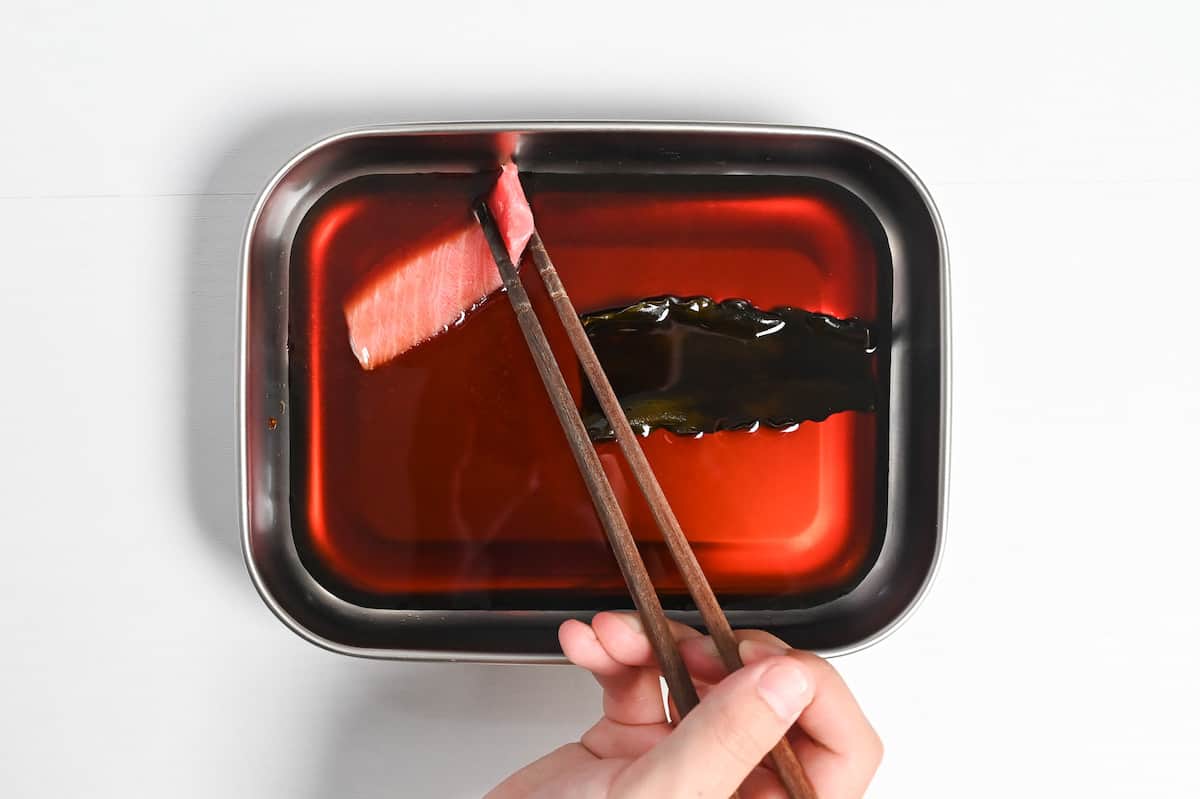 Try and keep the tuna to one layer to ensure they're evenly coated in the marinade.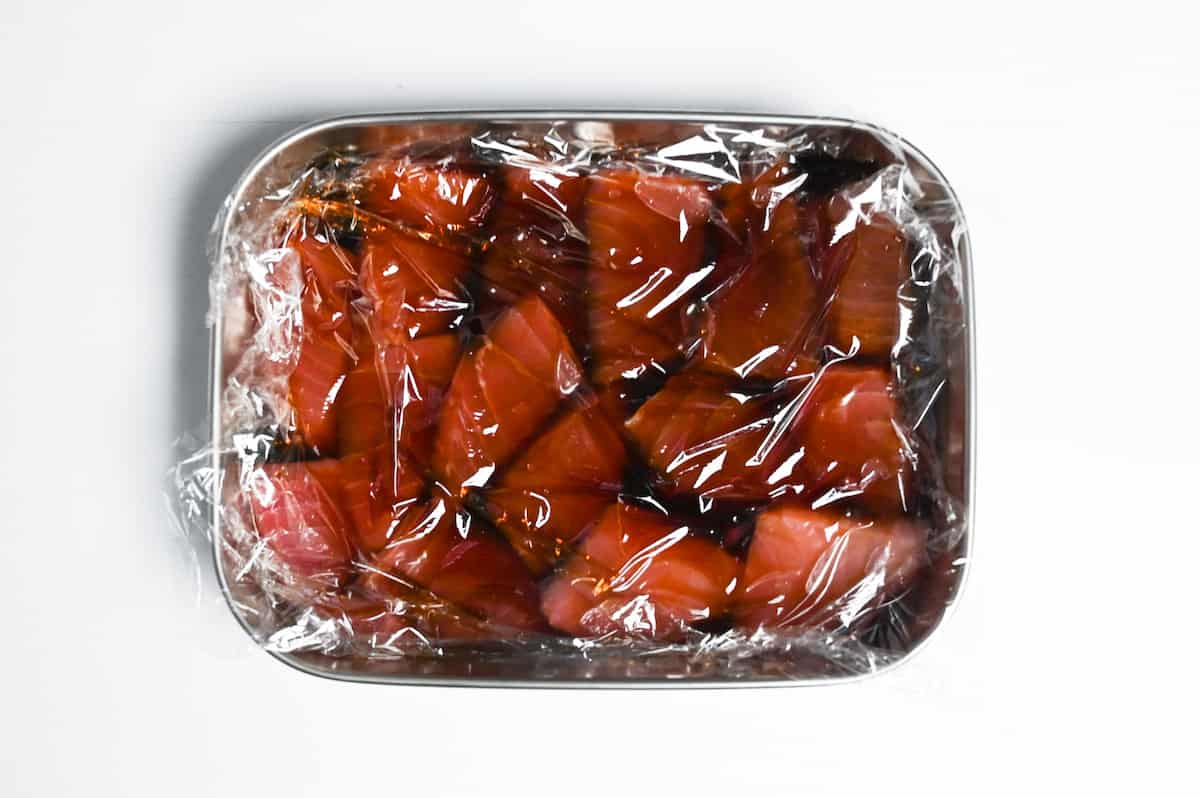 Cover with plastic wrap and marinate in the fridge for 30 minutes. You can marinate it longer than this but be aware that color of the tuna will get darker as time goes by, and the flavor will get stronger too. It depends on your preference!
Fill a bowl with rice and arrange the marinated tuna pieces on top. Drizzle about ½ tbsp of the leftover marinade over the tuna, and then top with sliced ooba (Perilla) leaves, a blob of wasabi, and an egg yolk or your choice of toppings.
Enjoy!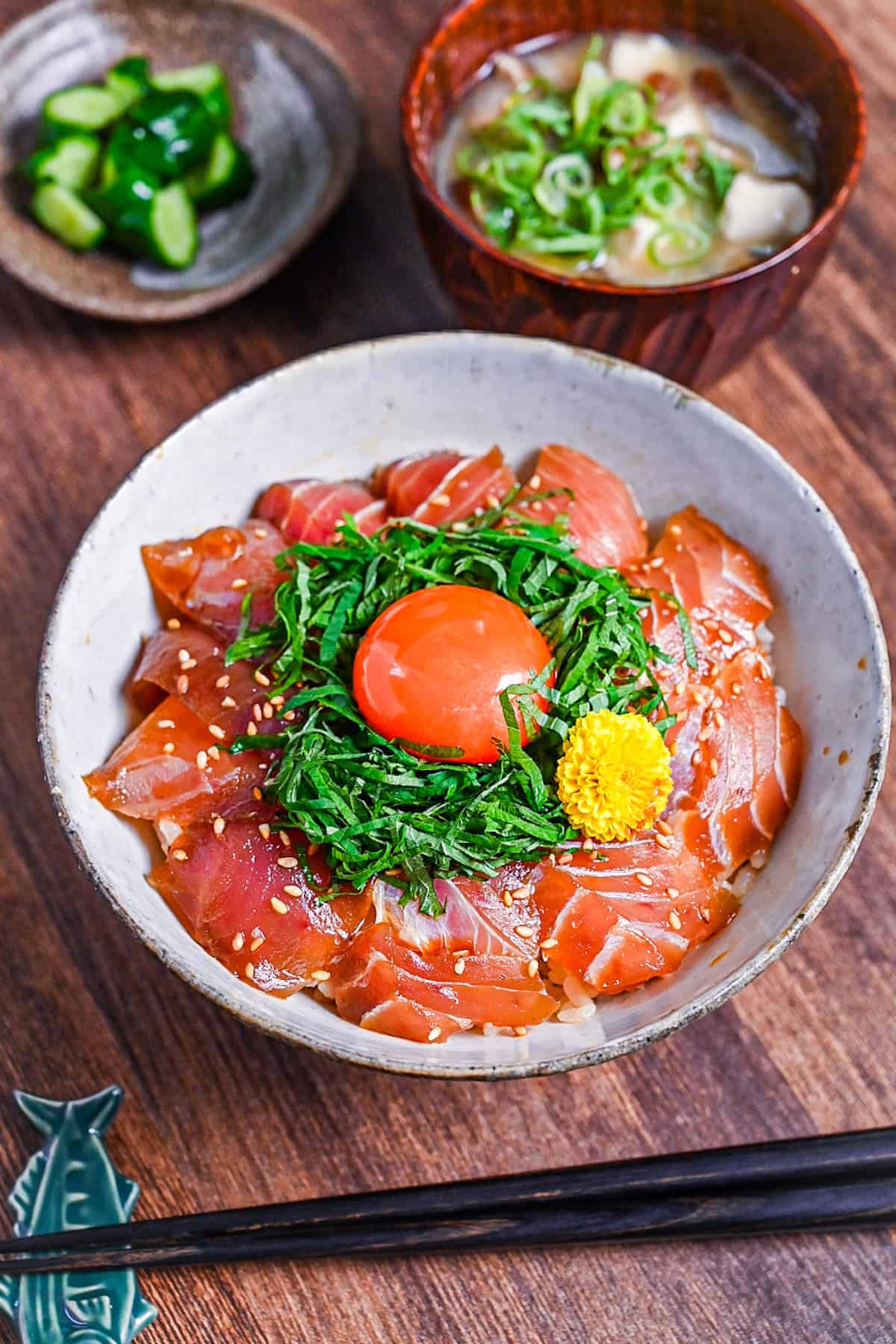 If you try the recipe, we'd love to know what you thought so let us know by leaving a review and star rating in the comments below. It's also helpful to our other readers if you mention any substitutions you made. Thank you!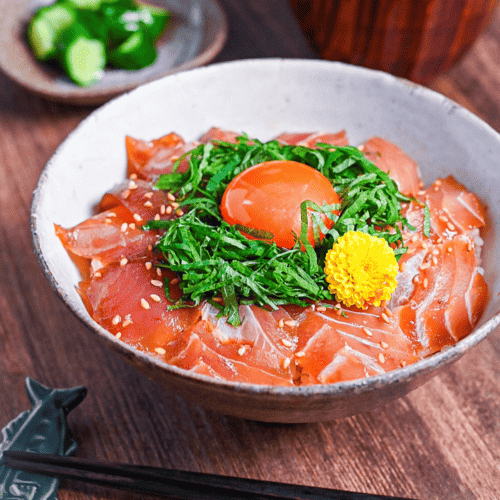 Maguro Zuke Don (Marinated Tuna Sashimi Bowl)
How to make simple and delicious Maguro Zuke Don with fresh sashimi-grade tuna soaked in a rich soy marinade and served over rice. (This recipe does not include rice cooking time.)
Ingredients
50

ml

mirin

50

ml

sake

50

ml

soy sauce

3

g

dried kelp(s) -

(kombu)

150-200

g

sashimi-grade tuna

-

(maguro)

1

tsp

sesame seeds

2

pasteurized egg yolk

-

from pasteurized eggs (optional topping)

perilla leaves

-

(shiso/oba) finely sliced (optional)
Instructions
Pour

50 ml mirin

and

50 ml sake

into a small saucepan and bring to a boil over a medium-high heat. Boil for 1 minute and then turn off.

Add

50 ml soy sauce

and swirl around. Transfer to a wide container and allow to cool to room temperature. (You can speed up the process by resting the container of the marinade over a bowl of ice or cold water.)

Place

3 g dried kelp(s)

in the marinade.

Once the marinade is cool to the touch, dip 

150-200 g sashimi-grade tuna

 pieces to coat both sides and then lay them flat (try and keep it to 1 layer).

Cover with the plastic wrap making direct contact with the tuna and marinate in the refrigerator for 30 mins.

Once 30 mins have passed, dish up the rice and arrange the marinated tuna pieces on top. Pour ½ tbsp of the leftover marinade over each bowl and garnish with sesame seeds, an egg yolk, shredded perilla leaves and a blob of wasabi (optional).

Enjoy!
Notes
If you marinate the tuna for longer than the suggested time, the taste will be stronger and the color will be darker.
If you don't have a rice cooker, I recommend soaking your rice 30 mins before starting the recipe and then cooking it while the tuna is marinating. You can learn how to cook Japanese style rice for donburi on my post here.