This simple rice bowl made with mashed tuna is quick, easy and satisfying, the perfect dish for a week-night dinner. I also include my own delicious homemade negitoro don sauce that you can whip up in just a few minutes!
What is negitoro don?
Negitoro (ネギトロ丼) is a unique Japanese preparation method using raw tuna. Originally, it was made by vendors who bought whole tuna, shaving off the meat in the crevices between the bones and behind the skin after the tuna was filleted so that there was no waste and every last bit was consumed.
Donburi is basically a dish in which rice is served in a bowl and topped with ingredients. So negitoro don can be translated as mashed sashimi tuna bowl.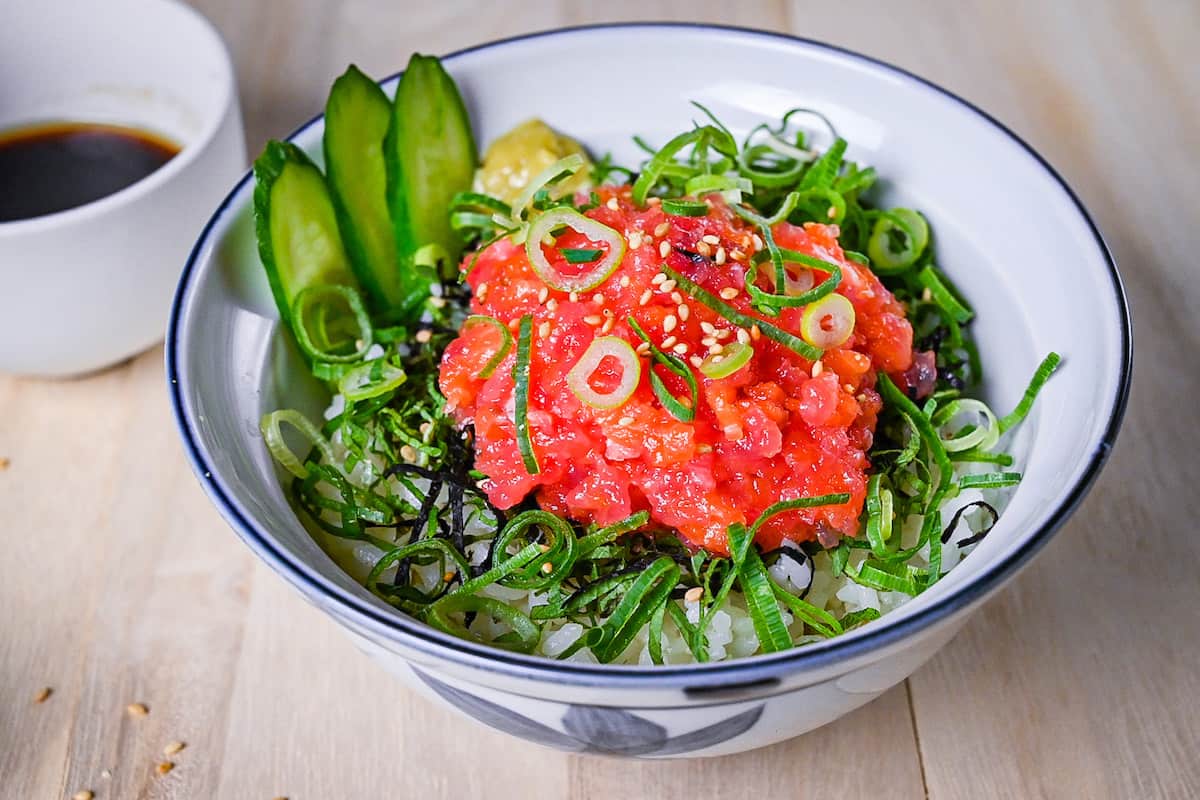 What does negitoro mean in Japanese? Negitoro is not toro!
As you might already know, "negi" in Japanese means spring onion and "toro" is an expensive fatty part of tuna. So you might think negitoro must be something to do with these. However, the origin of negi-toro has nothing to do with these.
Negi is derived from the word "negitoru" which means to "scrape off". The word "negi" actually has nothing to do with the vegetable itself, and while it is true that negitoro is often served with chopped spring onion over it, the "negitoro" (minced tuna) part itself does not contain spring onion.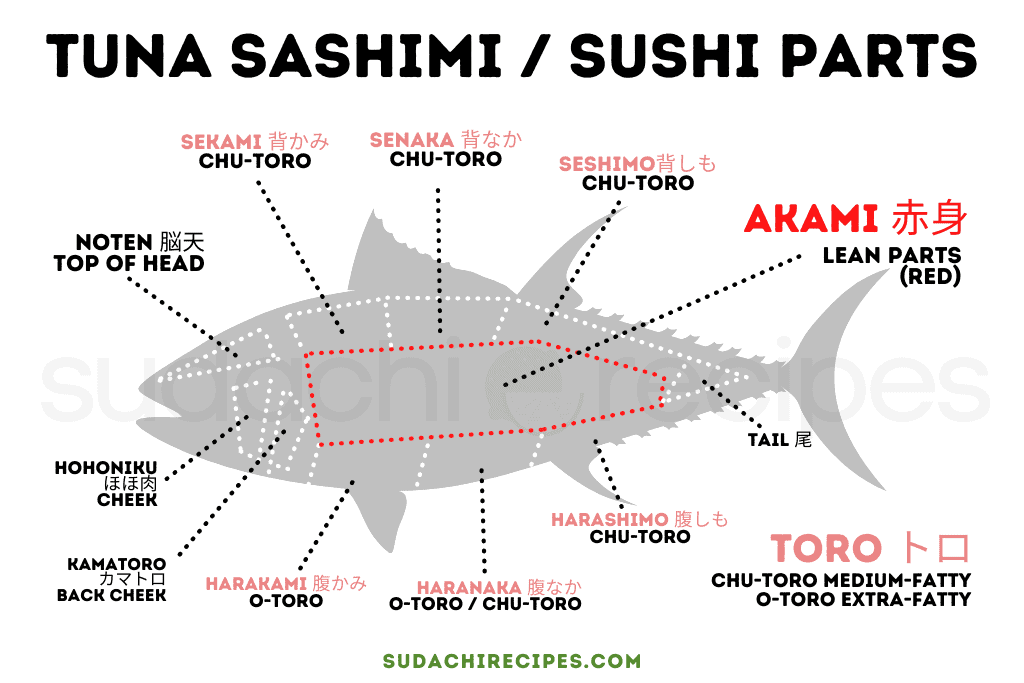 Same goes with "toro" part. Negitoro is not necessarily made from the expensive part of tuna. There are various theories as to why the word "toro" was added, but the most popular theory is that it is because it has a soft texture like toro.
The most commonly used part of tuna for negitoro is nakaochi (中落ち), which is the extra flesh attached to the head, mid-bone, fins and tail.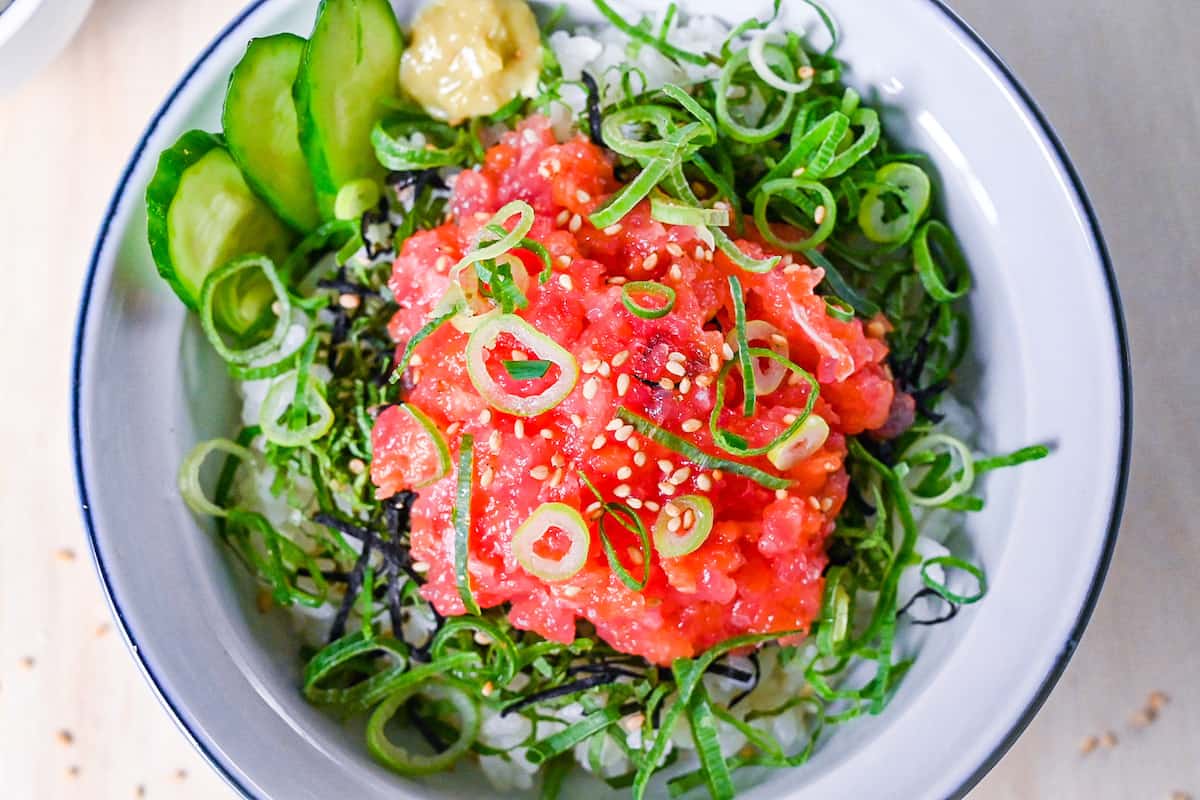 It does not have to be tuna either
While negitoro is heavily associated with tuna, some supermarkets or chain sushi restaurants use opah instead. The flesh of opah is very similar to that of tuna and it is cheaper.
In fact, it is similar to tuna in taste and texture, and is actually very tasty. Personally, I consider opah to be far superior compared to making negitoro with "akami" red meat (lean part) of tuna.
If you buy negitoro premade in the supermarket, it is usually made by mixing the cheaper red meat with either fat from the tuna or sometimes with opah (which is fattier than tuna), albacore or yellow tail to keep costs down. This is also why the dish is simply known as "negitoro", rather than "tuna negitoro", it might not be 100% tuna!
How I make negitoro tasty using tuna
So should I buy expensive tuna sashimi to make negitoro? Definitely not, it's better to eat expensive sashimi as it is. It's better to use end cuts (that are not beautiful enough for sashimi) or cheaper parts.
I actually came up with a solution to make negitoro using the relatively cheap and lean part of tuna, then mixing it with sashimi grade salmon. Salmon sashimi is definitely cheaper than the expensive cuts of tuna sashimi and I thought that the fatty flesh of salmon is very suitable for what I need here. Another benefit of mixing salmon into the tuna is that the colour of negitoro becomes brighter and more beautiful.
At the end of the day, as long as the fish you use is sashimi grade, anything can be negitoro.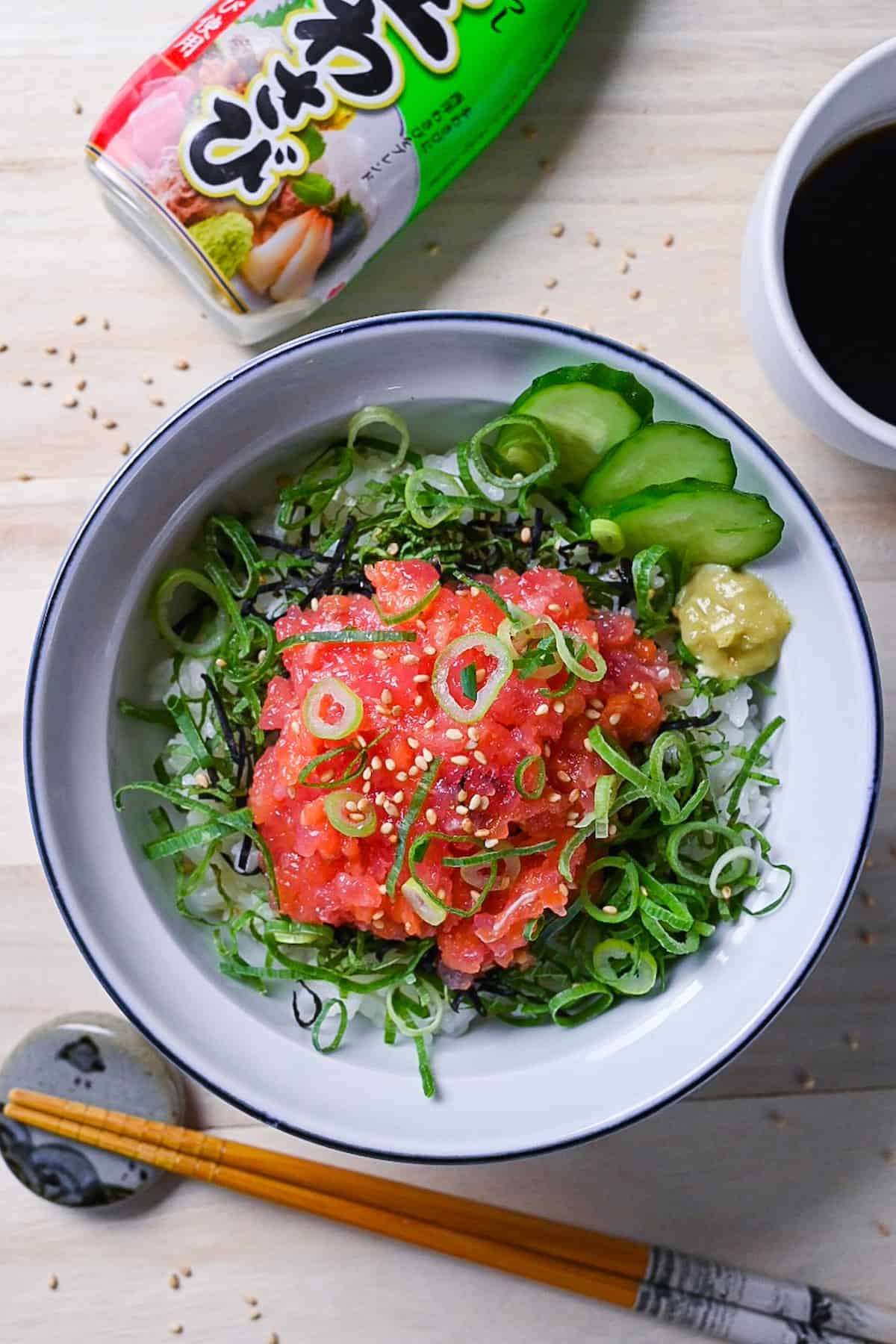 Ingredients to make homemade negitoro don
Sashimi grade tuna
Sashimi grade salmon
Ooba leaves (shiso/perilla)
Kizami nori
Chopped spring onion
Cucumber
For my special negitoro sauce, I used the following ingredients:
Instructions on how to make negitoro don at home
Here are my step by step instructions on how to make Negitoro Don at home! For ingredient quantities and simple printable instructions, see the recipe card below.
Make the sauce
Because the sauce needs a little time to cool, I recommend making it first. It's super easy and can be made in 3 simple steps!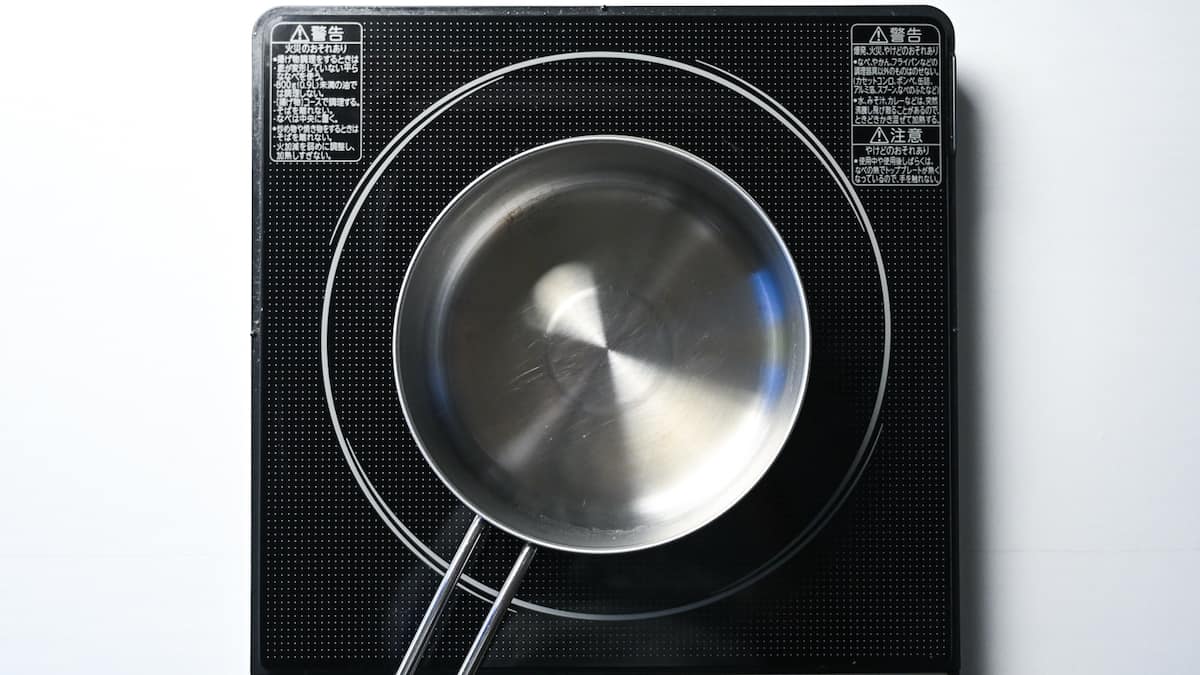 1. First, heat the sake and mirin in a small sauce pan and bring it to a boil. Let it boil for 30 seconds, this is to burn off the alcohol in the sake and mirin.
After burning off the alcohol, turn the heat down to a simmer and add sugar and dashi to the pan. Mix over the low heat until the sugar is dissolved.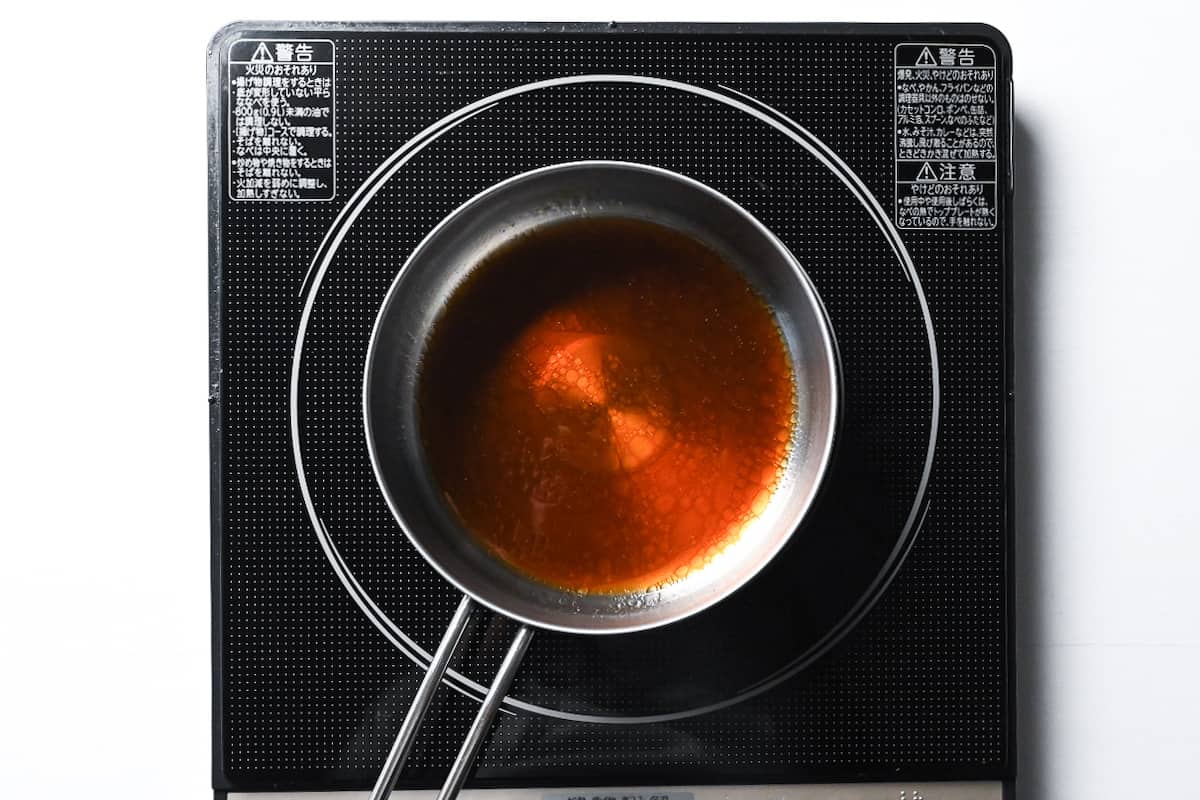 Finally, turn off the heat and add the soy sauce and sesame oil. Remove from the heat and leave to cool for about 10 minutes. That's all there is to it!
Make the "negitoro"
Negitoro is essentially mashed up tuna, all you need for this step is a chopping board and a sharp knife.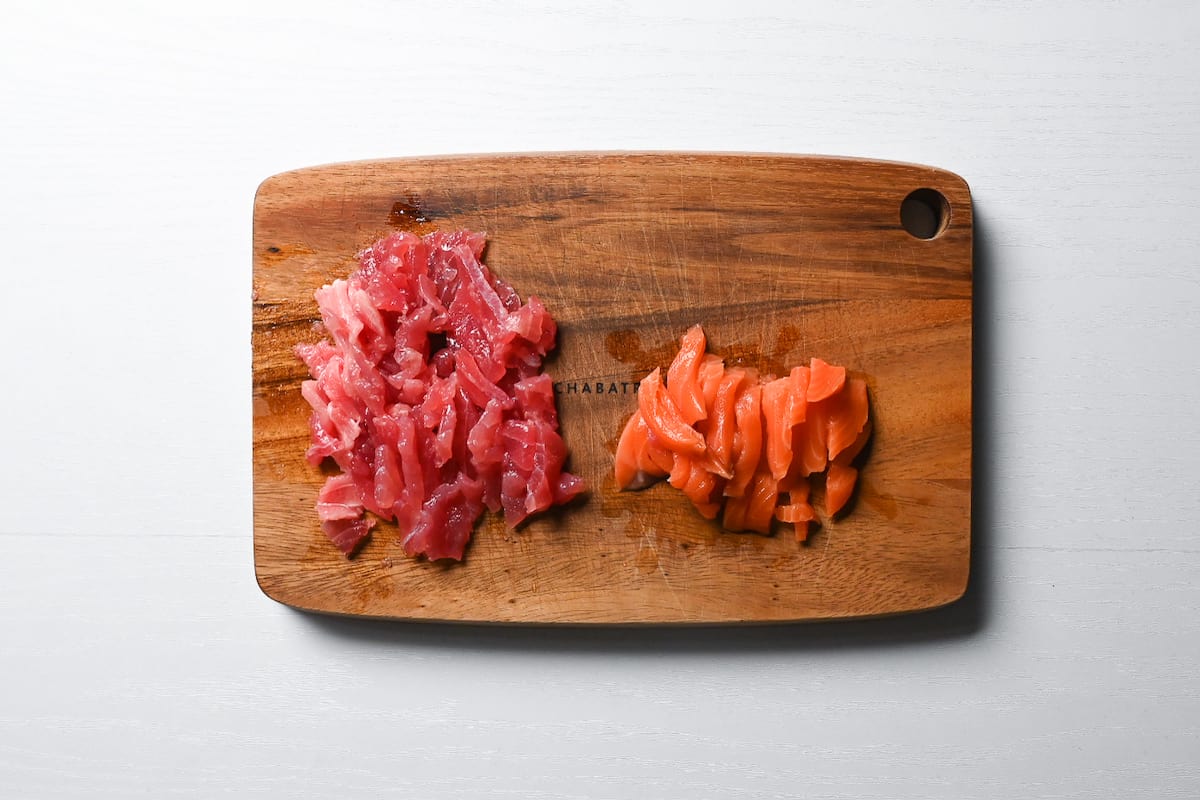 Start by cutting your tuna and salmon into small strips. This just makes it easier to "mash" in the next step.
Finely dice the tuna and salmon by cutting in all directions using a rocking motion with your knife. As the fish spreads out, scoop it back together and continue to dice until relatively fine and there are no large chunks left.
Assemble
All that's left is assembling!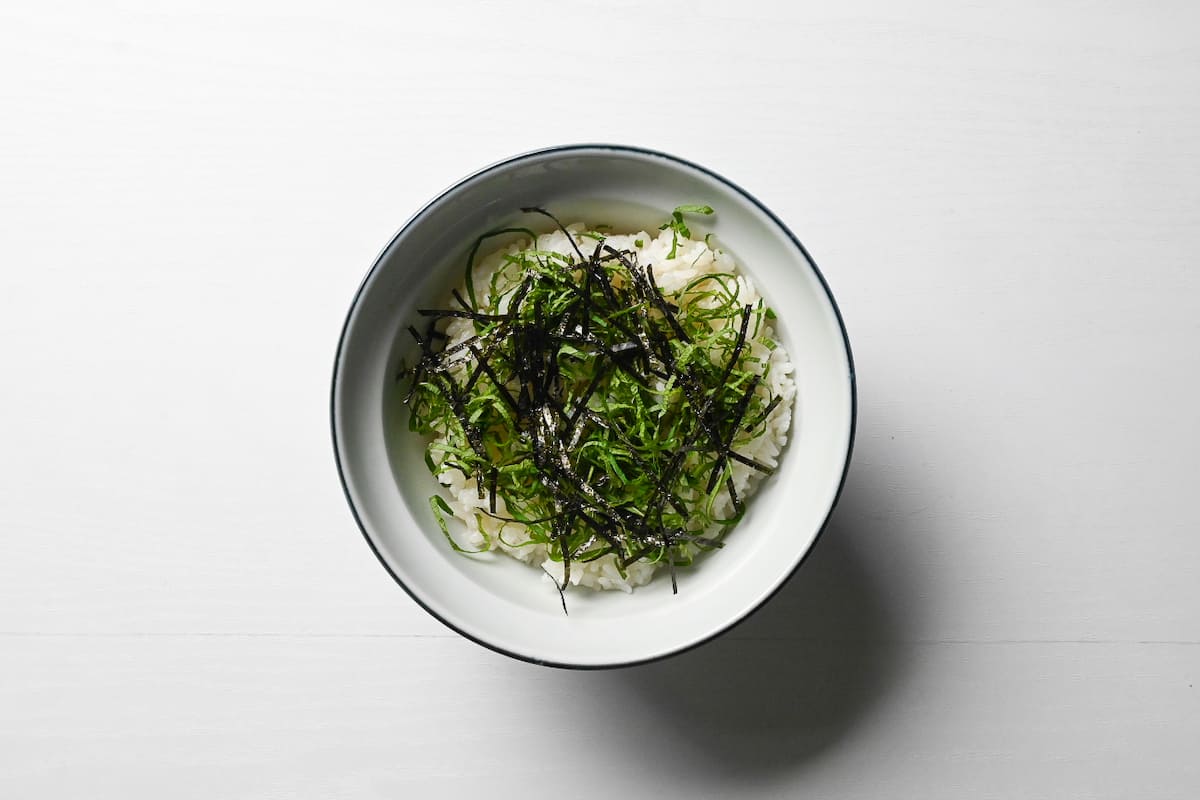 Dish up the rice and top with a bed of finely sliced spring onion and nori. (Save some spring onion for sprinkling at the end too.)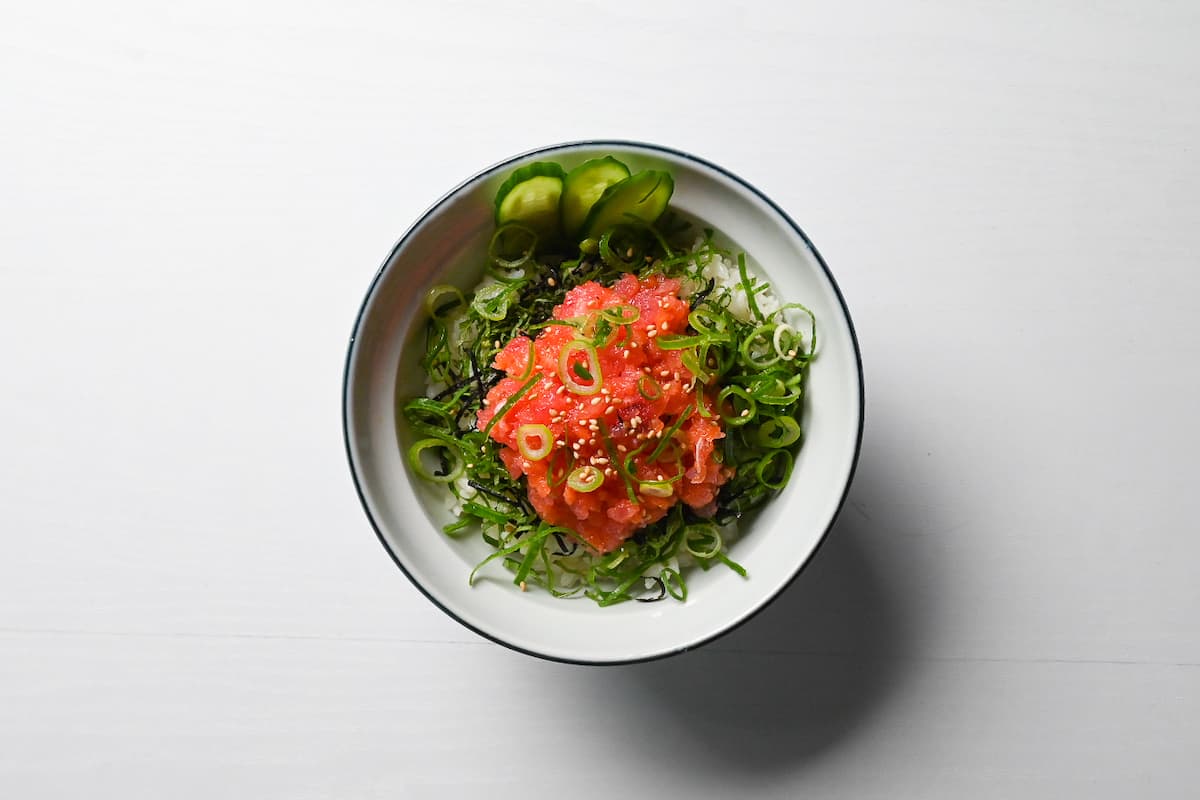 Place your handmade negitoro on top and sprinkle with more chopped spring onion and a few toasted white sesame seeds. I also serve negitoro don with a generous blob of wasabi and a few slices of cucumber for a refreshing crunch!
Finally, drizzle the sauce over the top, mix well and enjoy!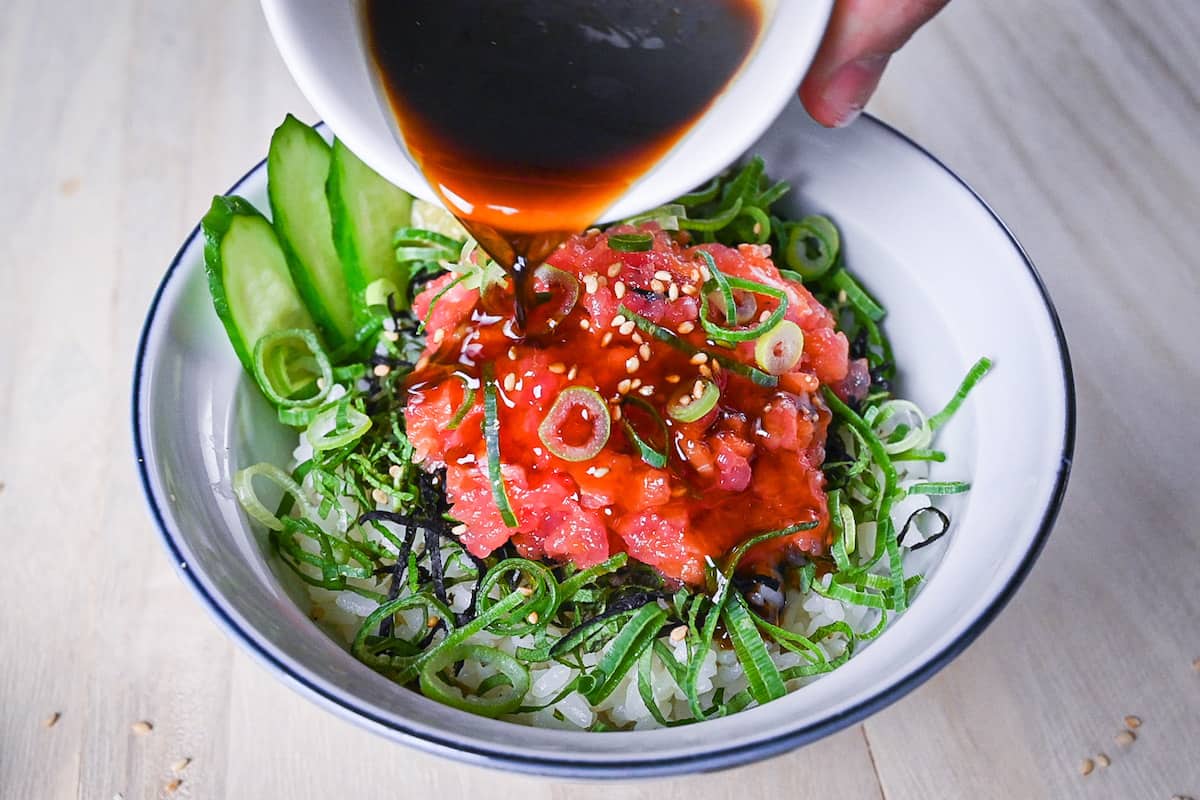 Variations
Feel free to customise the dish to your liking, here are a few suggestions:
Add vegetables such as avocado, okra or grated daikon for a more nutritious bowl.
Drizzle with chili oil for a spicy kick.
Top with an egg yolk (from a pasteurised egg) for a richer taste.
Use negitoro to make sushi rolls instead of donburi
I hope you enjoy this super simple yet satisfying negitoro don!
Negitoro Don (mashed tuna sashimi bowl)
---
How to make simple negitoro don with tuna and salmon sashimi drizzled with a delicious homemade sauce. (Recipe doesn't include rice cooking time.)
---
---
---
---
Instructions
Add

2 tbsp sake

and

1 tbsp mirin

to a small sauce pan and heat on medium. Bring to boil and allow to bubble for 30 seconds.

Turn heat down to low and add

1 tsp sugar

and

1/2 tbsp dashi stock

. Mix over the heat until sugar is dissolved.

Once the sugar is dissolved, turn off the heat and add

1 tbsp soy sauce

and

1 tsp sesame oil

. Mix and remove from the stove. Leave to cool for about

10 minutes

.

Using sharp knife, cut

150 g sashimi-grade tuna

and

50 g sashimi-grade salmon

into thin strips. 

Finely dice the tuna and salmon using a rocking motion with your knife. As the tuna and salmon spreads out, scrape it back to the centre and repeat, cutting in different directions each time until a "mince" is formed.

Divide

2 portions cooked Japanese short-grain rice

into portions and make a bed of

3 perilla leaves

and

2 tbsp shredded sushi nori seaweed "kizami nori"

.

Place the mashed tuna and salmon on top and sprinkle with

2 tbsp green onion(s)

and

1 tsp toasted sesame seeds

. Arrange

30 g Japanese or Persian cucumber(s)

on the side with

1 tsp wasabi paste

to taste.

Pour the sauce over the top.

Mix well before eating and enjoy!
Nutrition
Calories:
462
kcal
|
Carbohydrates:
64.8
g
|
Protein:
30.3
g
|
Fat:
8.8
g
|
Saturated Fat:
1.4
g
|
Polyunsaturated Fat:
2.6
g
|
Cholesterol:
54
mg
|
Sodium:
736.5
mg
|
Fiber:
3.2
g