Unagidon is a luxurious dish made with grilled eel coated in a special sweet and sticky sauce served on rice. It's typically enjoyed as a summer treat and here I will teach you how to prepare and cook eel, as well as make the delicious unagi sauce from scratch!
Disclaimer: This post contains Amazon affiliate links. Sudachi Recipes earn a small percentage from qualifying purchases at no extra cost to you. See disclaimer for more info.
What is Unagi Donburi (Unadon)?
Unagi donburi is simply a bowl of cooked rice topped with grilled eel coated in a sweet sticky glaze, and is one of the most common summer traditions in Japan. It is topped with a special unagi sauce poured over the rice, with grilled eel placed on top of the bowl and the sauce poured over again.
The basic Japanese way to eat is to eat it with sansho (Japanese pepper) as a condiment. I personally think unagi don is not complete without sansho.
Despite the name "donburi," round lacquer bowls are often used instead of the ceramic bowls usually used for donburi.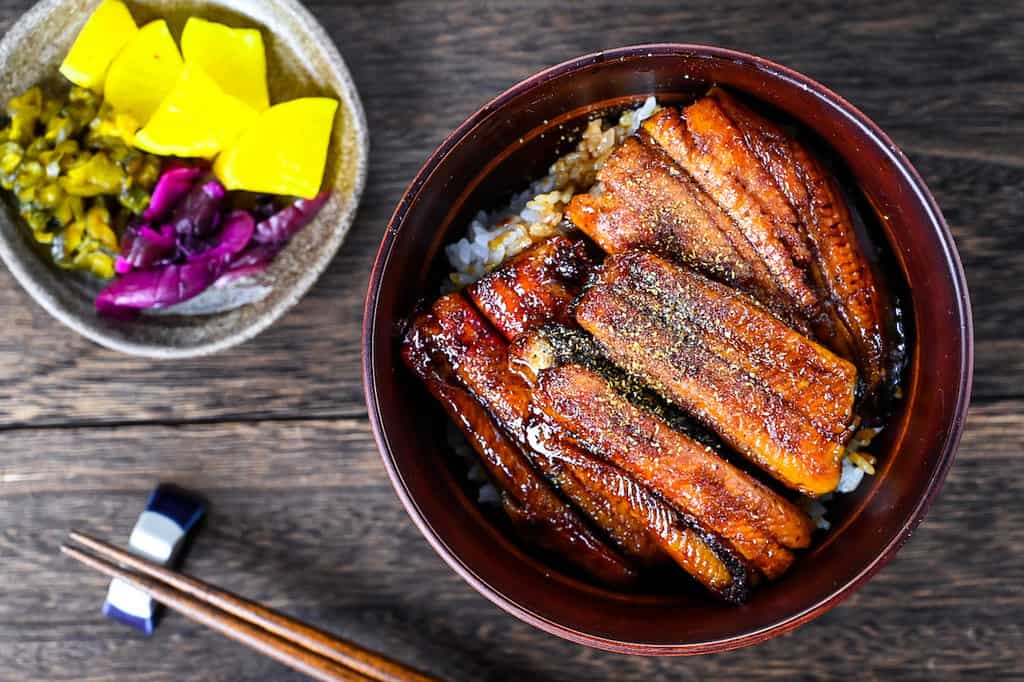 A brief history of unagi don
The history of eating eels in Japan actually dates back thousands of years . Evidence of Japan's eel consuming culture was discovered during excavations that revealed several shell middens containing traces of eel bones and are believed to date back as far as 5,000 years ago.
However, it was not until the Edo period (1603-1867) that eel began to take root as a food in earnest. There are various theories about the origin of unagi don, but a book published in 1885 states that it was first made by Okubo Imasuke, a theatrical entertainer who was fond of eels.
The theory goes that it was placed in a bowl on top of the rice, and then topped with more rice in order to retain the heat upon delivery. Not only did this method keep the eel hot, but it also tasted great with the rice and unagi don was born.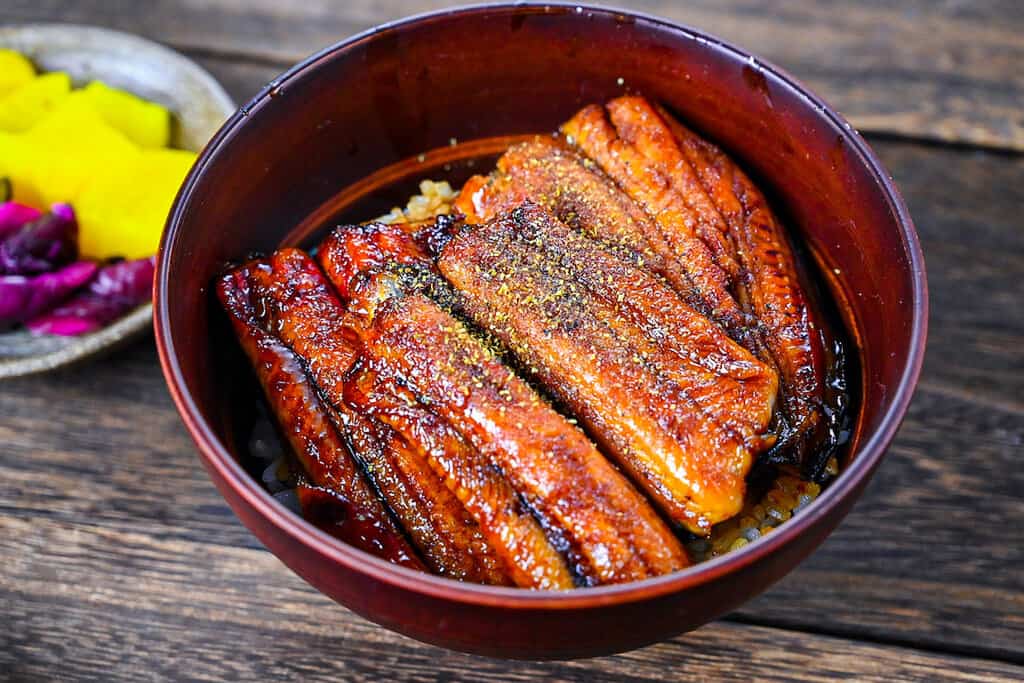 Yearly eel day: doyou no ushi no hi
In Japan, eels are lined up on supermarket shelves during the summer season with the catchphrase "Doyou no Ushi no Hi" (土用の丑の日) which means "day of the ox in midsummer". Literally, you can find so many eels in supermarkets around the time just like how you see so many ehomaki in February.
"Doyou" is the term for the 18-day period immediately preceding the first day of summer, autumn, winter, and spring, and the date changes every year, but the summer one is the well known one for being the time to eat eel. For example, the dates in 2022 are Saturday, July 23 and Thursday, August 4.
The reason for eating eels is that in Japan, there was an old custom of eating foods that start with the letter "U" (e.g., pickled plums (ume), gourd (uri), udon noodles) on "Ushi no Hi" (the day of the ox), which is good for the body, as the body is prone to summer fatigue during the summer Doyou period.
In the Edo period (1603-1867), grilled eels did not sell during summer because it was out of season and people did not want to eat rich food in hot weather. So, eel shops, hoping to boost sales in summer, put up signs saying "Today is Doyou Ushi no Hi" (today is the day of the Ox), and it became the standard for the Doyou Ushi.
In other words, the reason we eat eels on the day is due to an analog marketing strategy several hundred years ago.
How do you eat unagi don?
As I mentioned earlier, the most popular way to eat unagi don is with Japanese pepper called sansho (山椒). Native to Japan, this Japanese spice has been used since ancient times and is characterized by its numbing spiciness and refreshing aroma.
It goes extremely well with unagi and unagi sauce and this is a must item for me to enjoy unagi don to the fullest.
You can purchase the exact S&B brand sansho I use on Amazon.
Othe than sansho, unagi don is usually served with following dishes in restaurants:
Suimono (Simple Japanese clear soup)
Japanese style pickles
Additional unagi sauce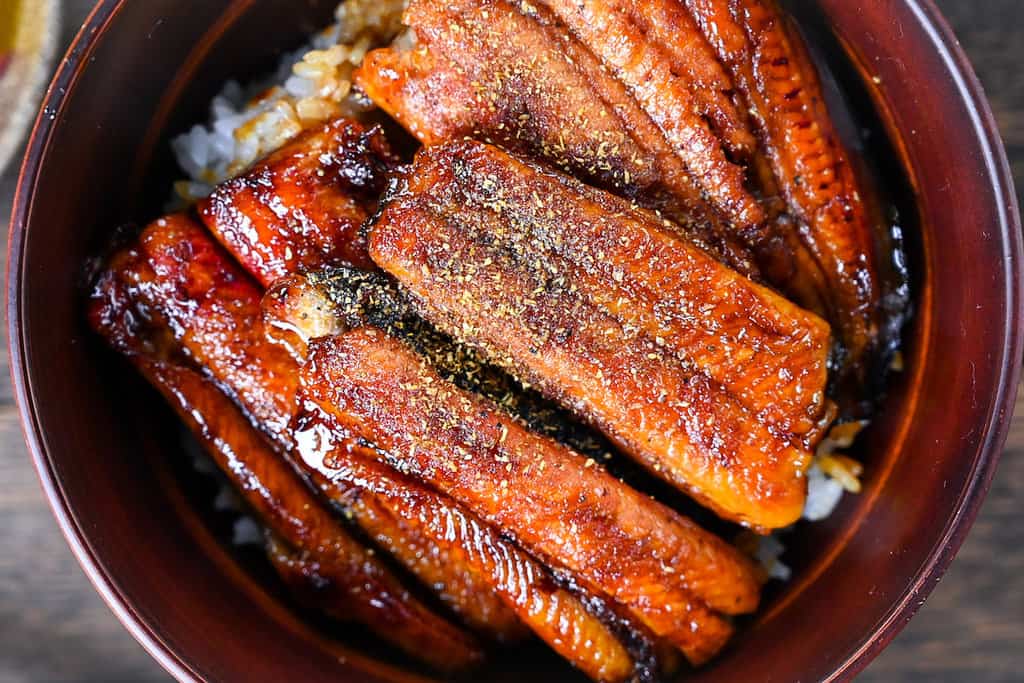 Unagi don VS Unaju: What are the differences?
Unagi-don and unaju are both served on a bowl of white rice topped with grilled eel and unagi sauce. If you have ever been to unagi restaurants in Japan, you must have seen both of them on the menu. I actually don't know any places that serves only one kind.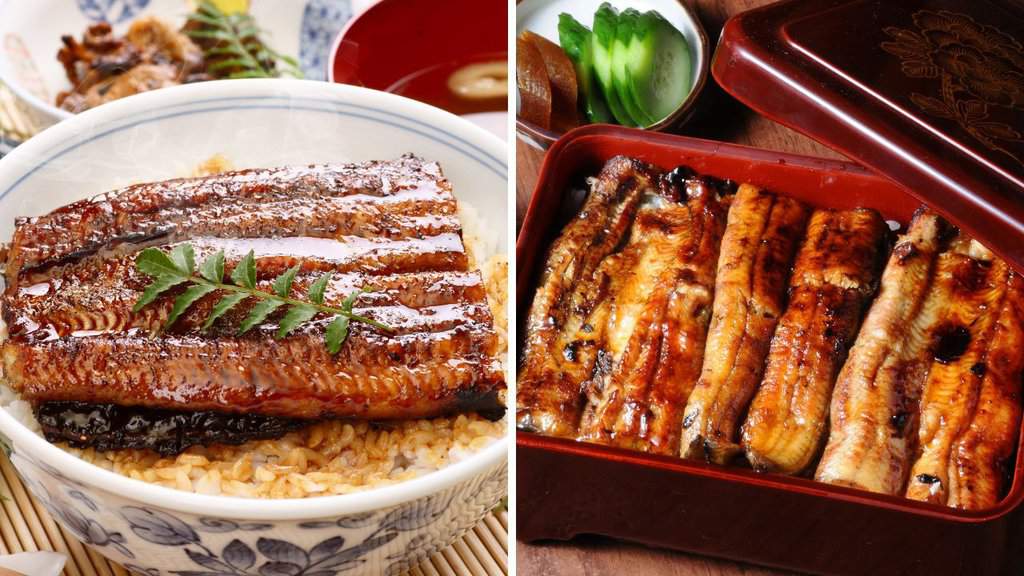 The reason is extremely simple. It's because the only real difference is how the quantity of eel and how it's presented, that's it. Unagi don is served in a bowl and unaju is served in Japanese lacquer ware boxes.
However, even though the taste and quality of the eels are exactly the same, the price is generally higher for unaju than for unagi don. The main reason for this is that unaju requires more eel, this is so that they can be neatly arranged right up to the edge and completely cover the rice. In comparison, rice bowls are round, so the amount of eel needed is undoubtedly smaller.
Kind of eels to use for unagi don: what is unagi?
It is said that there are 18 species of eels living in the world, among which there are four species that are eaten in eel dishes in Japan.
Japanese eel (Anguilla japonica)
Giant long-finned eel (Anguilla marmorata)
American eel (Anguilla rostrata)
European eel (Anguilla anguilla)
As you might have guessed, Japanese eel is the most commonly eaten in Japan. Most eels available in Japan today are not wild eels, but farmed eels, mainly domestic, Chinese, and Taiwanese eels.
Eels labeled as domestic are Japanese eels which are generally finer, have less odor and fat, and have slightly tighter flesh. On the other hand, eels from China are mostly European eels, which are thicker, shorter, and have more fat, and are generally available at a lower price.
Either way, regardless of where they're from, eels are considered a luxury item.
Why is unagi don so expensive?
The reason why eels are so expensive is simply because of the shortage of eels. Japanese eels are caught and raised as shirasu eels, which are the young version of Japanese eel, and distributed to restaurants and supermarkets.
The price of this eel has skyrocketed because the catch of young fish has been decreasing year by year. The Japanese eel was even listed as an endangered species IB in June 2014.
Furthermore, in the current stage of aquaculture technology, it is not possible to raise eels other than by catching and raising fry. Because the ecology of eels is still shrouded in mystery, no other production method is possible. For instance, all eels are male when raised normally, and the factors that determine the sex are not yet known. In other words, it is not possible to completely farm eels from eggs.
In the process of making this recipe, I ordered 4 eels directly from the local fishing harbour in a city called "Nishio". Even before cooking and by direct shipment from the harbour, they costed 8,600 yen (about $65). This means that each portion of eel costed approximately $16.25.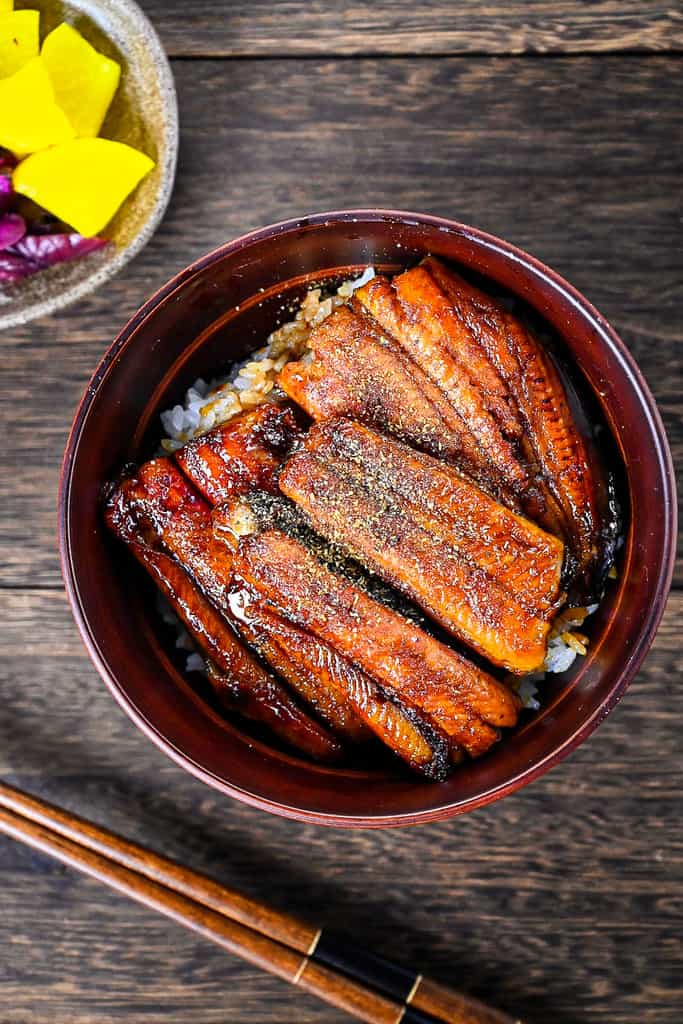 How to make unagi donburi at home: a few tips included
To be honest, not many people make unagi don or any eel dishes at home in Japan. For us, it's a luxurious dish that we enjoy very occasionally so you might as well visit a restaurant rather than risk a less than perfect result by cooking at home.
However, I love cooking from scratch and I couldn't help but wonder "would it be possible to make good unagi don using a home setup?"
After a few tries (which costed me a fortune...), I came to make a very good unagi don with an everyday oven grill!
So before I get into the detailed recipe (which is at the bottom of this page), I will explain overview of what I did.
How to cut unagi (eels)
When you buy eel, I recommend purchasing them with the bones and insides already removed. (Unless you're extremely skilled with filleting fish!)
As you probably guess, the surface of eels are extremely slippery and difficult to cut. To avoid them slipping off the chopping board or slipping the knife and getting injured, you need to cut them in a certain way.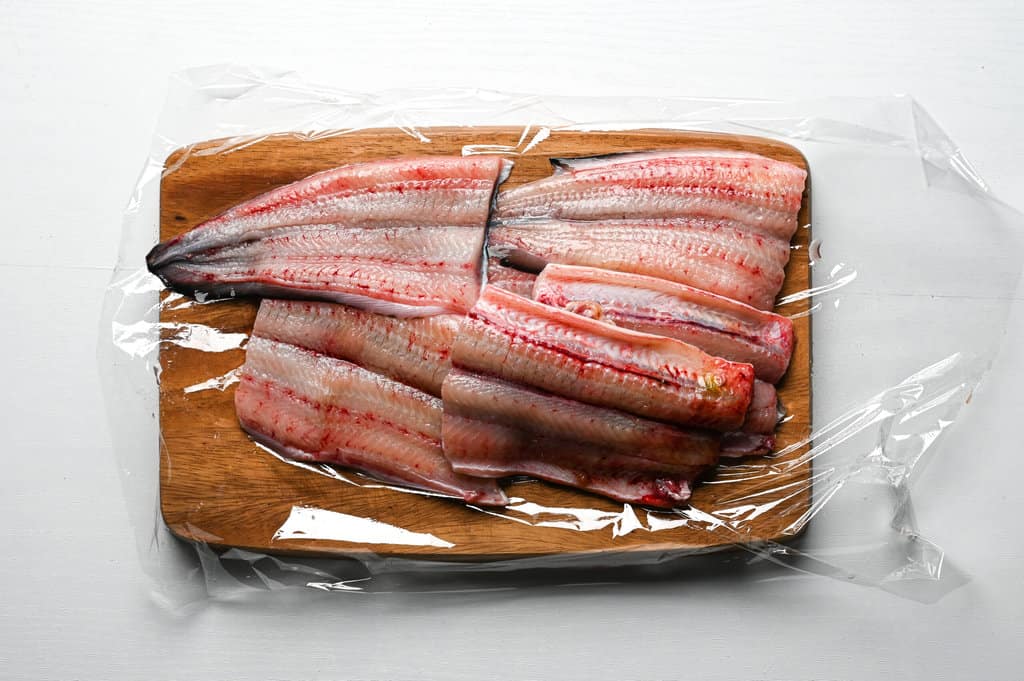 You might think plastic wrap makes the situation worse, but here is the trick. When you cut eels, rather than moving the knife, hold the knife still and move the eel backwards and forwards underneath the stationary blade. The plastic wrap will help you move the eel around more smoothly..
Depending on the size of eel, cut it into 2 or 3 pieces. Mine was quite big so I cut 2 eels into 6 fillets. And of course, make sure to wash eels under cold running water beforehand too.
Steam the eels with sake before grilling
You can directly grill the eels of course, but this is one trick to make your eels extra tender, fluffy and soft. This is actually a common procedure in Kanto (Eastern Japan) region. On the other hand, Kansai (Western Japan) style put eels directly onto a grill.
It is also said that the reason for steaming eels before grilling them with sauce was to remove excess fat, since eels from the Kanto region had more fat than eels from the Kansai region.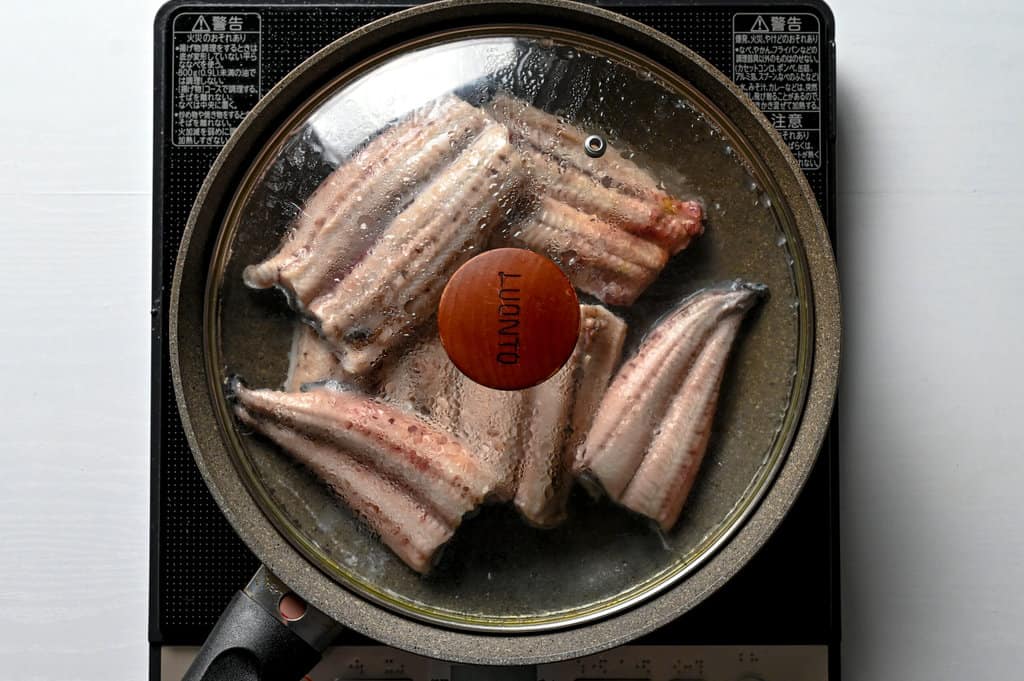 In an ideal world, a steamer would be used for steaming eels. However, because it takes a long time and I don't have a steamer, I simplified the process by steaming the eel with sake on a medium-low heat for about 5 minutes.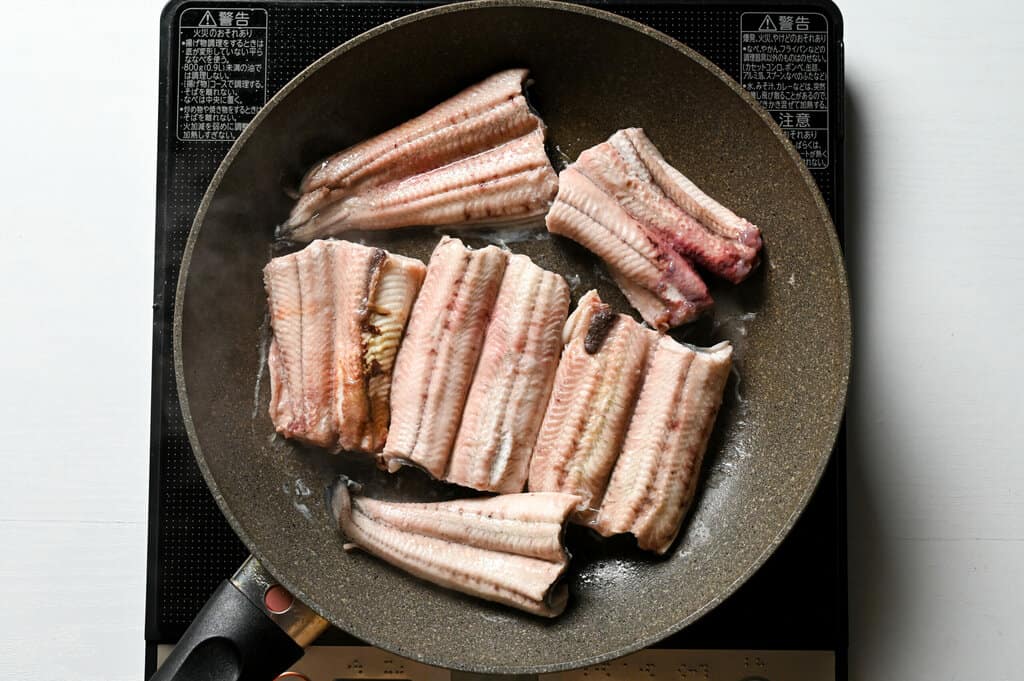 How to grill unagi in a home grill
Although you can follow the exact steps to make unadon at a BBQ (when grilling on a BBQ or over charcoal, turn over early because the heat is a lot higher and the meat tends to burn easily), this recipe is specifically for people who want to make unadon at home. Firstly, because we use a lot of sauce, we line aluminium foil on the grill. Make sure to preheat the grill for 5 minutes before placing the eel inside.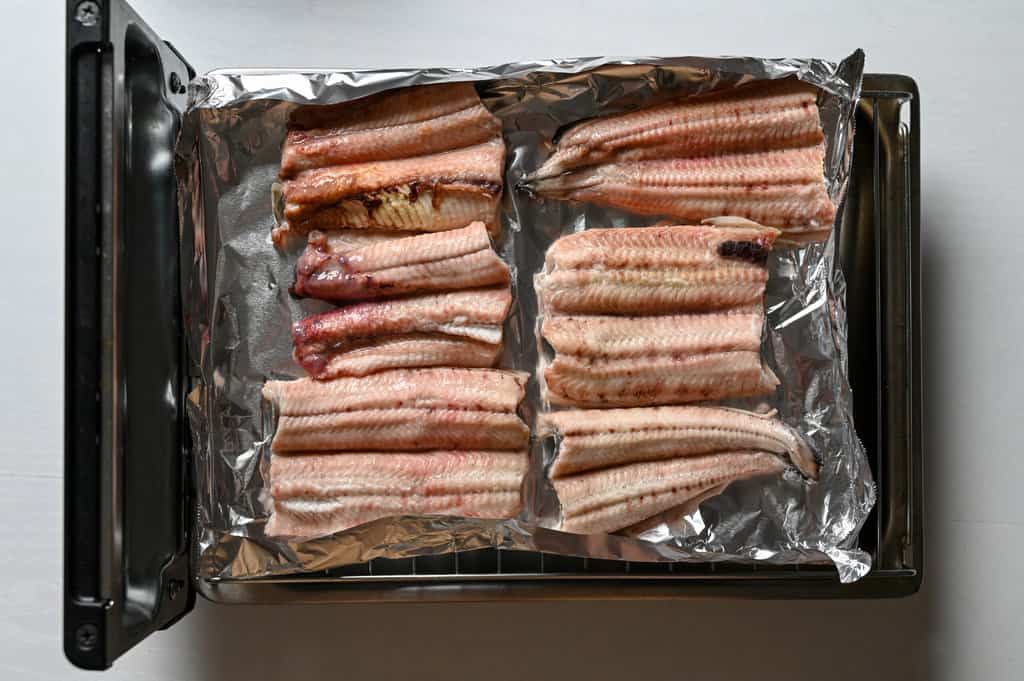 I know a general rule of thumb is skin side up when it comes to grilling fish, but I put skin side down for eel. The reason is eel shrink very easily, so if the skin side is up first, the whole fish shrinks and becomes easy to break and fall apart.
We cook the fleshy side for 6 minutes on a medium high setting.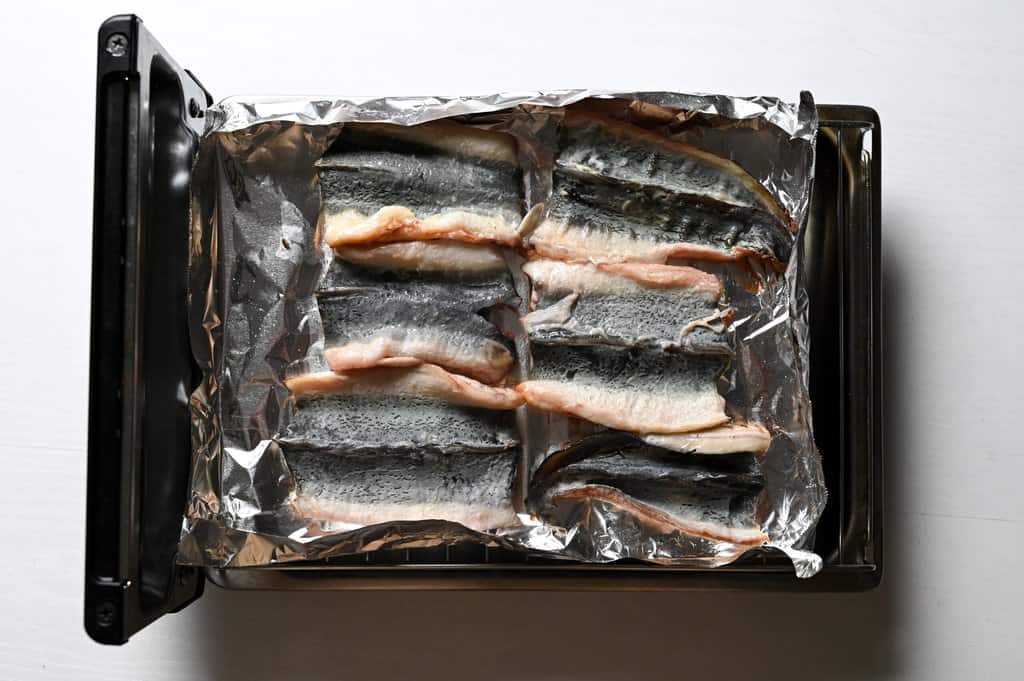 After 6 minutes, flip them over and put them back in the grill, then grill for another 5 minutes on the same setting.
How to apply sauce on eels
Once the eels are grilled, we apply sauce onto them. By the way, we call this point (grilled eel without sauce) shirayaki (白焼き). To penetrate the sauce into the eels, we need to repeat applying sauce process over and over, essentially basting. In this case, we brush the sauce 3 times on each side.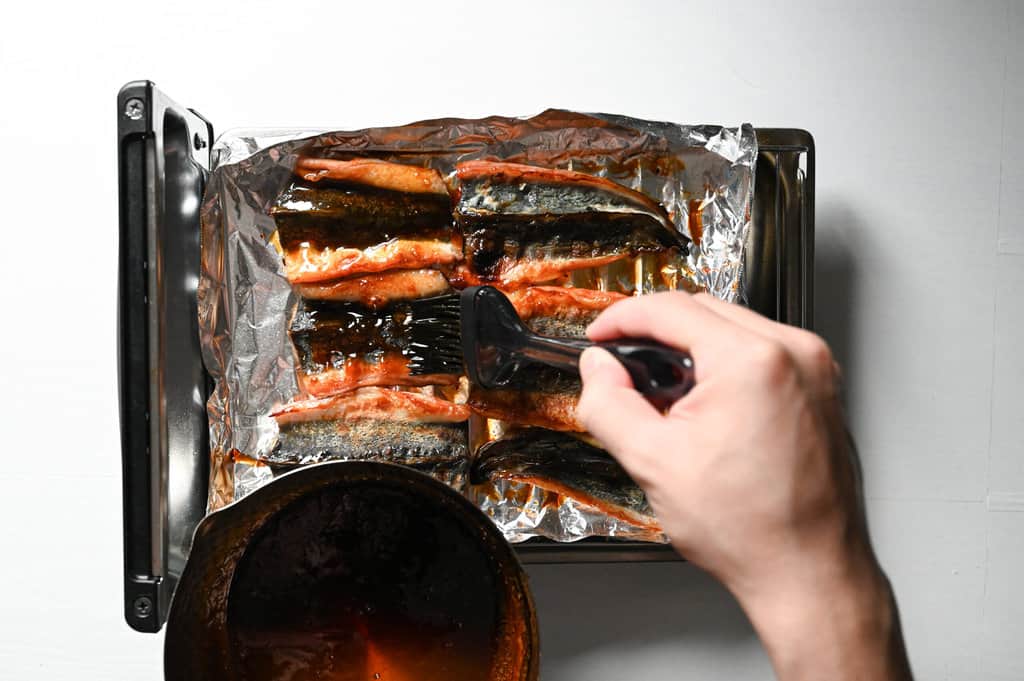 Using brush, generously apply the sauce on the surface. Once they're coated, put them back in the grill and grill for 30 seconds with high setting. If you continuously grill for more than 30 seconds, they start to burn so be careful! (This is due to the high amount of sugar in unagi sauce.)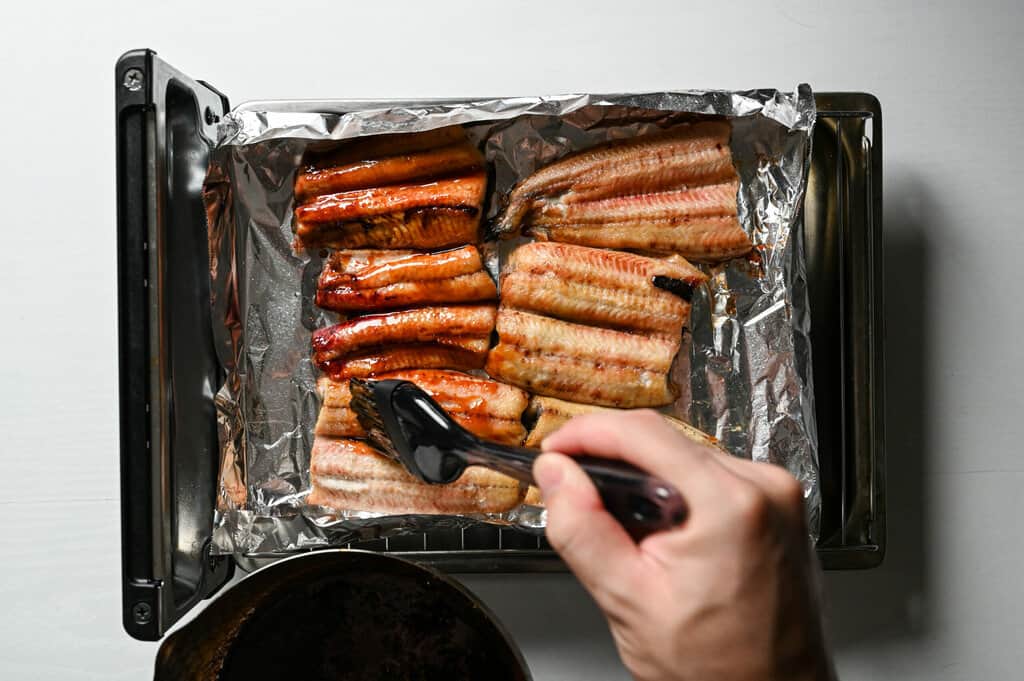 After the first 30 seconds, flip them over and apply the sauce like we did on skin side. Then put them back again and grill for 30 seconds again. After that, repeat the same process for 2 more rounds.
How to assemble unadon
Assembling unagi donburi is extremely easy, but I have one bonus tip. Apply the leftover unagi sauce to the top of the rice to help make the rice underneath extra flavourful and reduce waste!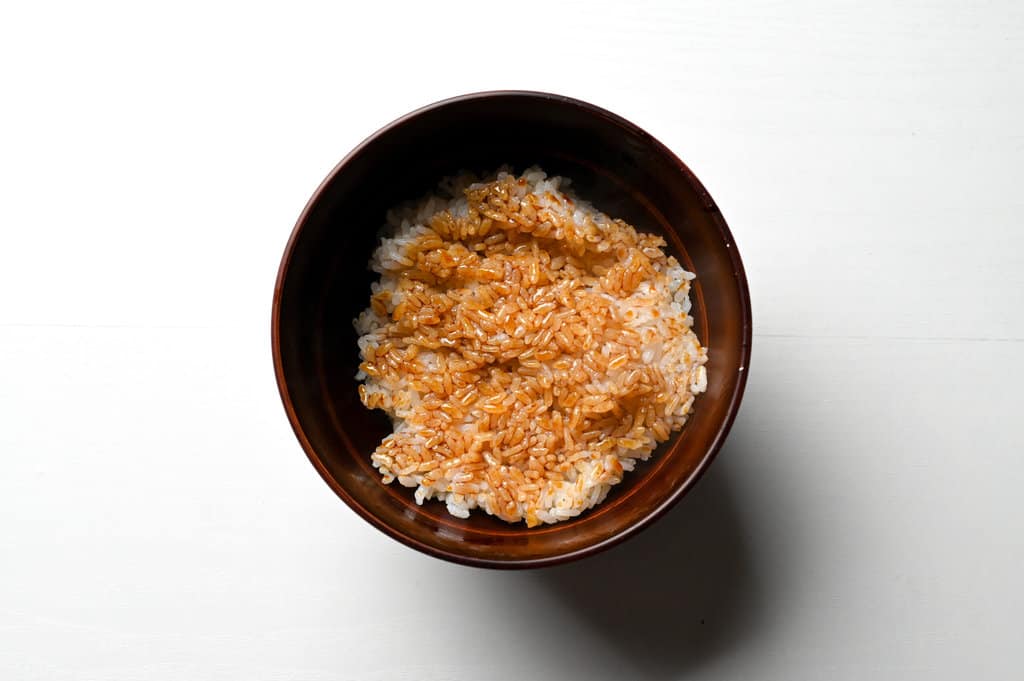 After that, simply add the cooked unagi on top.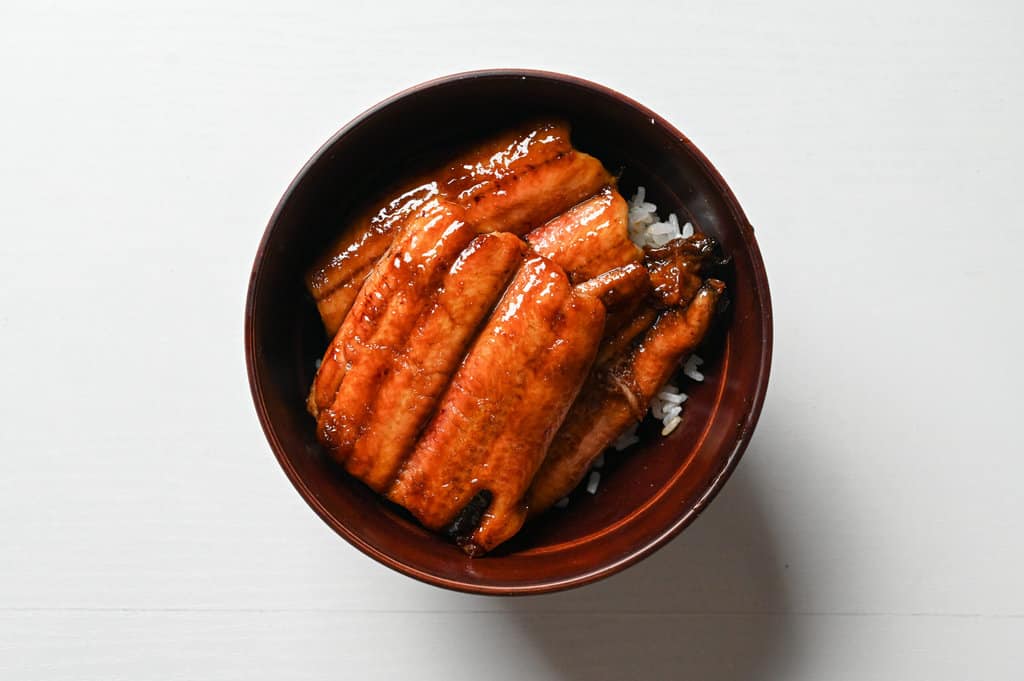 For me, unadon is not complete without sansho, so I will add sansho powder too!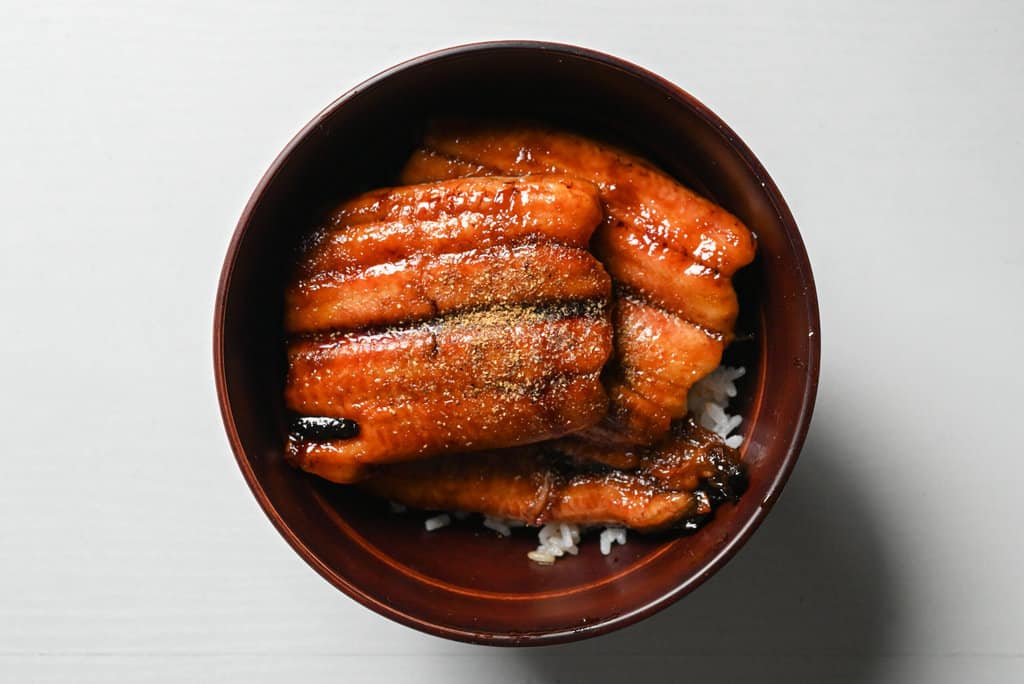 How to store and reheat eels
If you use fresh eels, it's not recommended to freeze as they are. Freezing eels fresh will result in a deteriorated texture and taste. Because it is an expensive high quality fish, it should not be stored in such a way.
Even if you have too much eel, cook them all until shirayaki (cooked but sauce is not applied) point. Frozen shirayaki eel can be stored for up to one month.
If you want to defrost shirayaki, place it in the refrigerator from the freezer beforehand and defrost it gradually instead of rushing it.
Then steam them in a pan with sake or lightly grill them in the oven or on the grill. The meat will be fluffier when steamed, and more crispy when grilled or in the oven.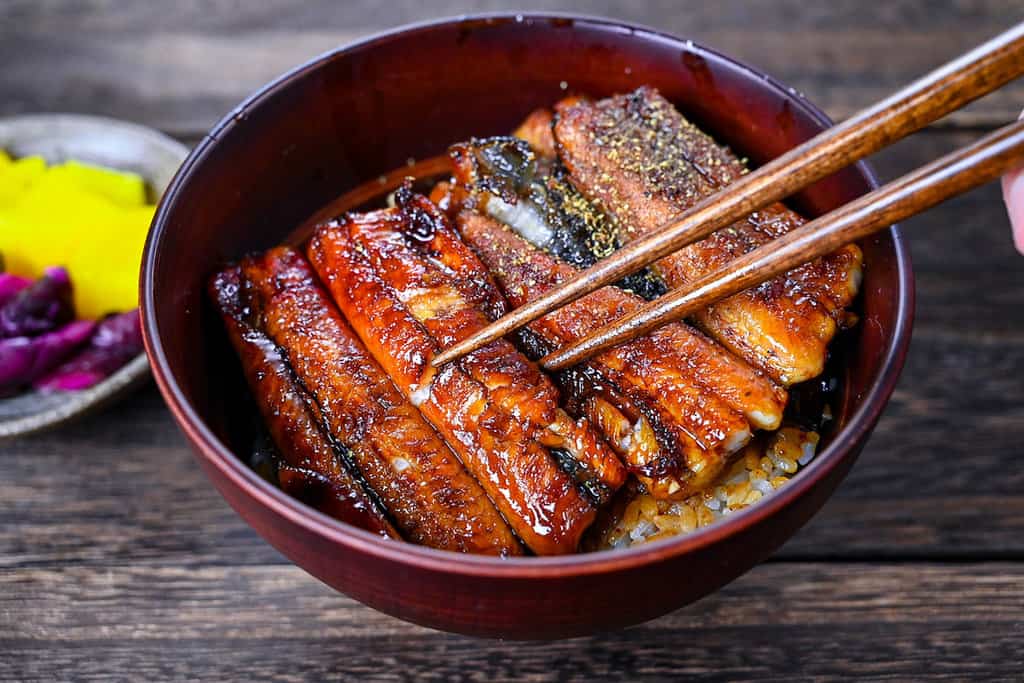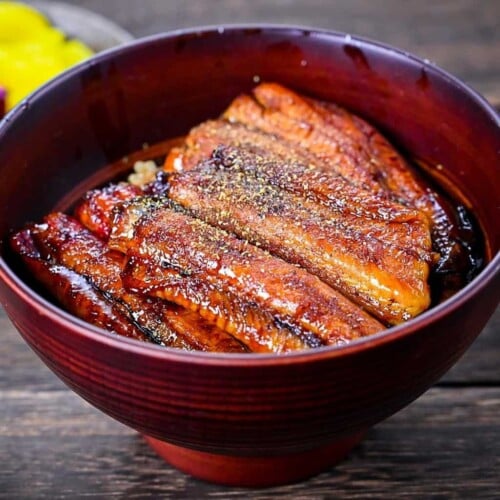 Unagi donburi (Japanese grilled eel rice bowl)
Learn how to prepare and cook eel for the most delicious unagi donburi (grilled eel rice bowl) complete with homemade sauce from scratch! (Recipe doesn't include cooking rice.)
Ingredients
Unagi Sauce
3

tbsp

turbinado sugar

-

(zarame) light brown with coarse texture

1

tsp

dark brown sugar

75

ml

sake

75

ml

mirin

75

ml

soy sauce
Unagi don
300

g

filleted eels

-

1 fillet is approx 150g

2

tbsp

sake

Japanese pepper (sansho)

-

optional
Instructions
Unagi Sauce
Add

3 tbsp turbinado sugar

and

1 tsp dark brown sugar

to a saucepan. Place the pan on the stove and turn on the heat to medium-high.

Once the sugar starts to melt, add

75 ml sake

and

75 ml mirin

. Bring to boil and allow to cook for 1-2 minutes, stirring occasionally.

Add

75 ml soy sauce

and turn down the heat to simmer. 

Simmer until thickened slightly (about 10 minutes). Stir occasionally to prevent the sugar from burning.

Remove from the heat and allow to cool while preparing the eel.
Unagi don
Wash

300 g filleted eels

with cold running water.

Cover a chopping board with a sheet of plastic wrap and place the eel on top. Cut each eel into 2-3 pieces by pressing a sharp knife into the area you want to cut, and pushing the eel back and forth over the plastic wrap.

Place the eel in a cold frying pan with the skin side down and add

2 tbsp sake

.

Turn on the heat on medium and steam for 5 minutes with the lid on. While it's steaming, preheat the grill/broiler on medium-high for 5 minutes.

After 5 minutes, remove the pan from the heat and transfer the eel skin side down to a wire rack lined with aluminum foil. Grill for 6 minutes. 

Turn the eel over and grill the skin side for 5 minutes.

Apply the sauce generously but evenly over the skin and grill for 30 seconds.

Turn the eel over and apply the sauce on the meat side and grill for 30 seconds.

Repeat steps 8 and 9 twice more (3 times on each side in total). 

Dish up

2 portions cooked Japanese short-grain rice

and brush the top with the leftover sauce.

Place the eel on top and sprinkle with

Japanese pepper (sansho)

.

Enjoy!