With its delicate flavour and smooth texture, salmon is one of the most popular kinds of sashimi. In this article I will teach you everything you need to know about salmon sashimi, from its surprisingly recent history to how to select, prepare and cut it like a professional! I'll also explain how to eat and store it, so let's get started!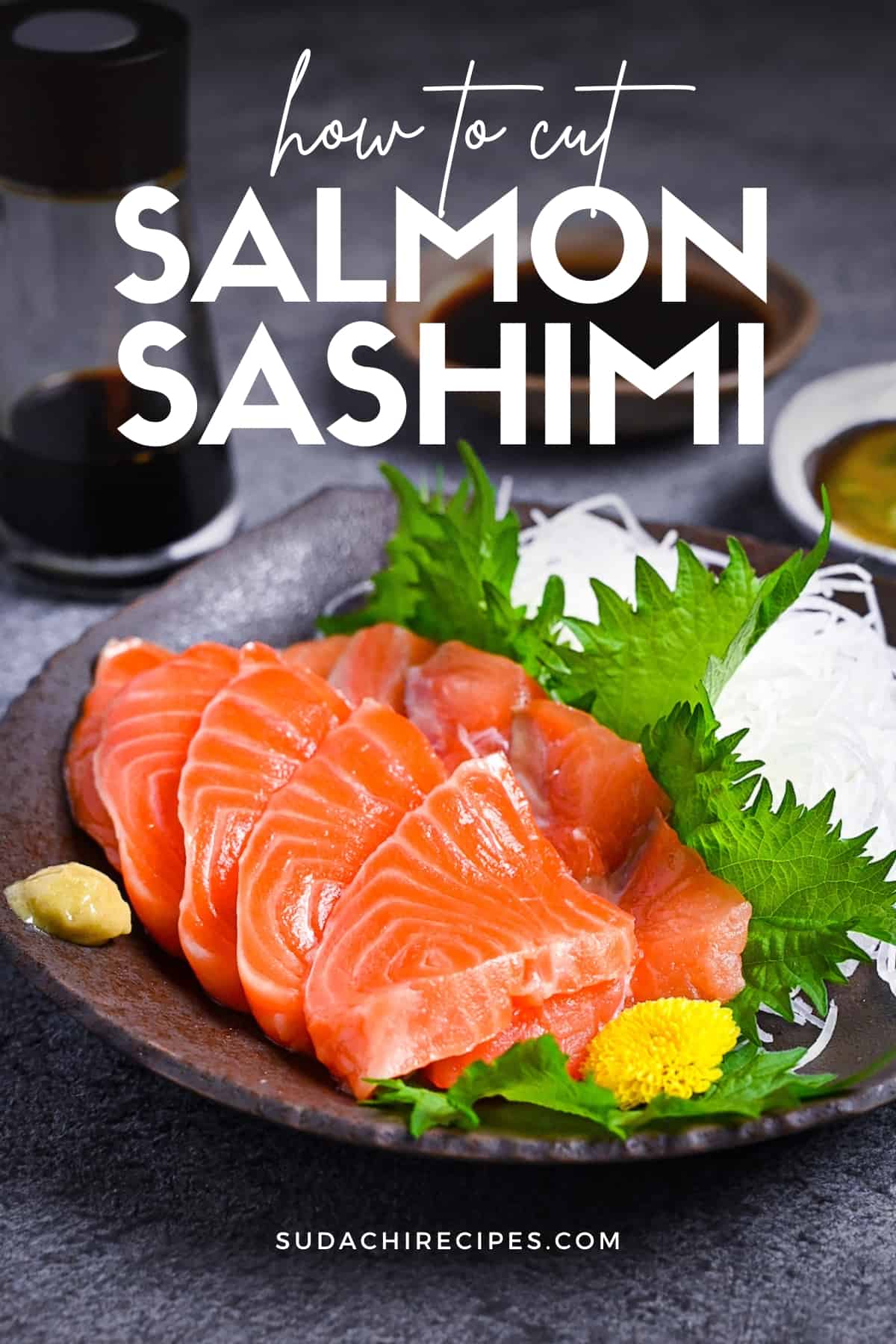 Yuhiko Okamoto
Contributing writer
In 2002, with zero experience, Yuhiko began his career in Japanese cuisine and has since worked as a chef and executive chef at a kappo restaurant, a high-end sushi restaurant, and izakayas.
Jump to:
What is salmon sashimi?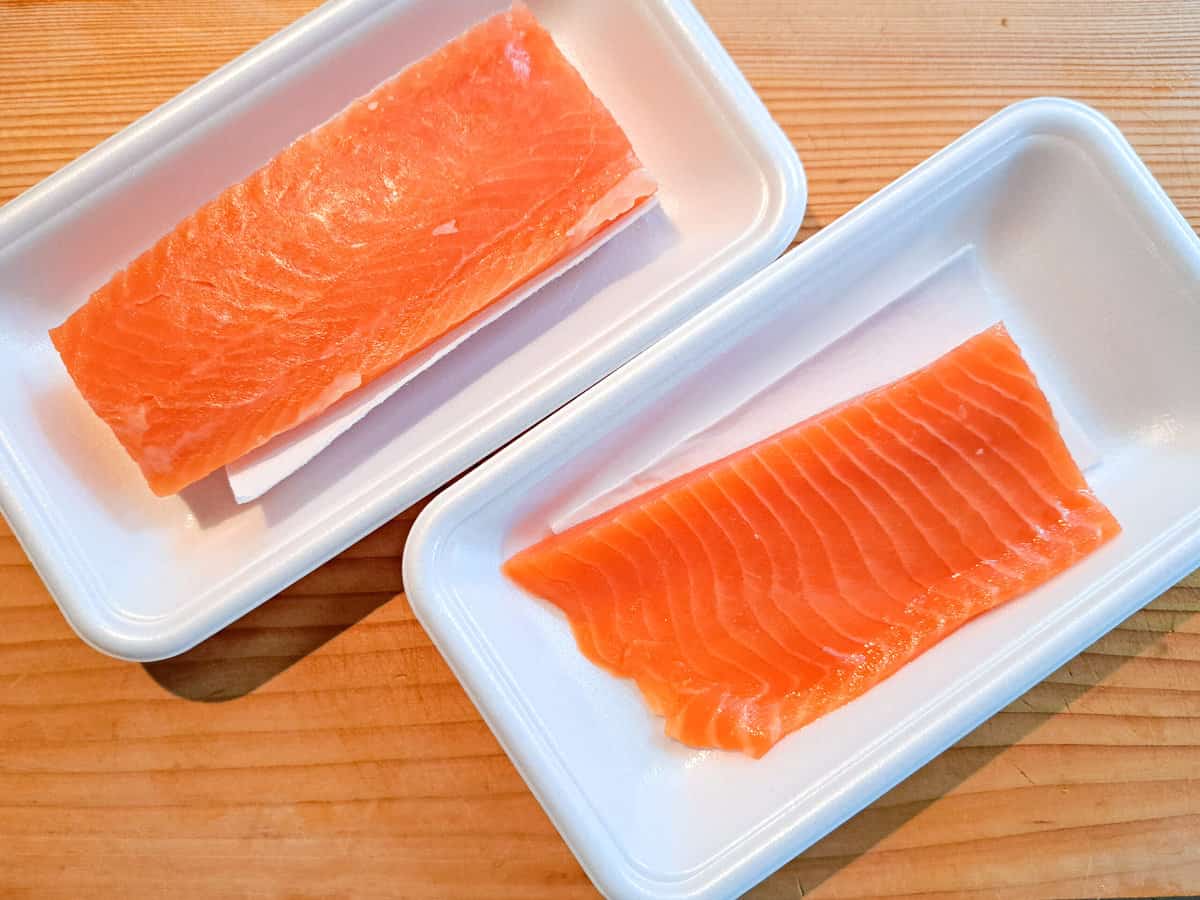 Salmon sashimi is a simple Japanese dish made up of delicious slices of raw salmon served with a dipping sauce such as soy sauce. If it's your first time trying sashimi, salmon is a great option due to its silky melt-in-mouth texture and fresh flavour.
To enjoy it safely, we use farm-raised salmon that has been fed a special diet and is extremely fresh! In Japan, it's important for retailers to clearly label salmon stating whether its for cooking or raw use, this is because wild salmon is not safe to eat raw due to parasites like anisakis.
Preparing sashimi is simple! Just remove the skin and bones, slice, and you're ready to go. You can even find frozen sashimi in Japanese supermarkets, often sourced from countries like Norway and Chile.
How is Sashimi Grade Salmon Special? Farmed salmon vs wild salmon
What's the difference between salmon used for sashimi and salmon used for cooking? It's all about where they come from!
Cultured (farmed) salmon (called samon サーモン in Japanese): Safe to eat raw and used for sashimi and sushi
Natural (wild) salmon (called sake 鮭 in Japanese): Used for cooking and not safe for raw consumption
Wild salmon isn't sashimi-friendly because of parasites. Sea-dwelling krill carry anisakis, while freshwater fish have jaw mouth worms. Since salmon live in both saltwater and freshwater, they're more likely to host parasites.
In fact, because of this, eating raw salmon wasn't possible until the emergence of farmed salmon, which was especially developed for sashimi in 1985. Since the salmon is raised in a carefully controlled environment and fed a special diet, it became possible to eat salmon raw without fear of parasites.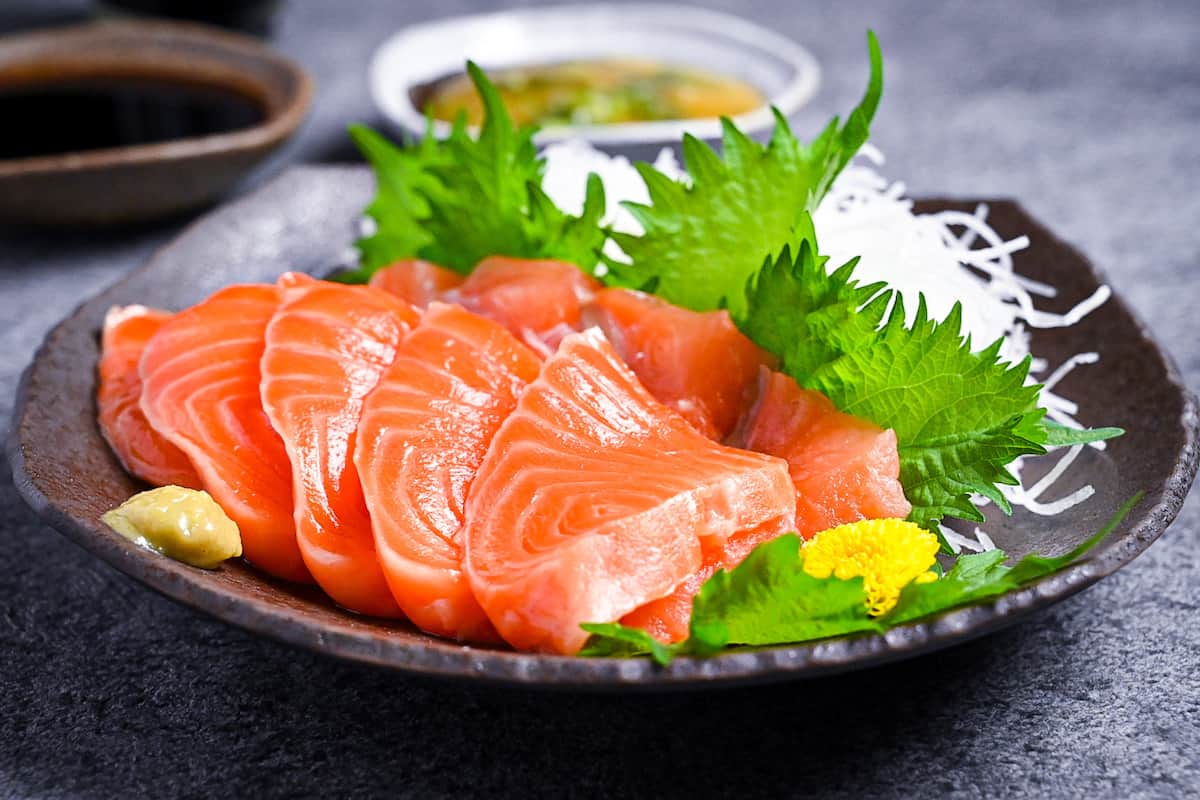 Salmon sashimi vs salmon sushi
The two most popular ways to enjoy raw salmon are salmon sashimi and salmon sushi, but what is the difference?
Well, salmon sashimi is simply made by cutting the flesh into slices and dipping them into some kind of dipping sauce. Popular dipping sauces include soy sauce, salt based sauce with citrus or tsuyu sauce (dashi based dipping sauce with soy sauce). Sashimi is typically used as a way to enjoy the natural taste of the fish to the fullest.
On the other hand, sushi is made by combining raw fish with vinegared rice known in Japanese as "shari". Sushi can be made with additional ingredients such as nori (a dried seaweed) and vegetables. Salmon sushi comes in many varieties and is one of the most popular options at conveyor-belt sushi restaurants.
Farmed salmon is often frozen and imported, and its stable price and distribution makes it a popular ingredient for sashimi and sushi sold at supermarkets and budget conveyor-belt sushi restaurants. However, for this same reason, farmed salmon is never used in high-end sushi restaurants. This is because these high-end restaurants only use carefully selected domestic wild fish. Since wild salmon cannot be safely consumed raw, you won't find salmon sashimi or salmon sushi at high-end sushi restaurants in Japan.
How to choose a good sashimi-grade salmon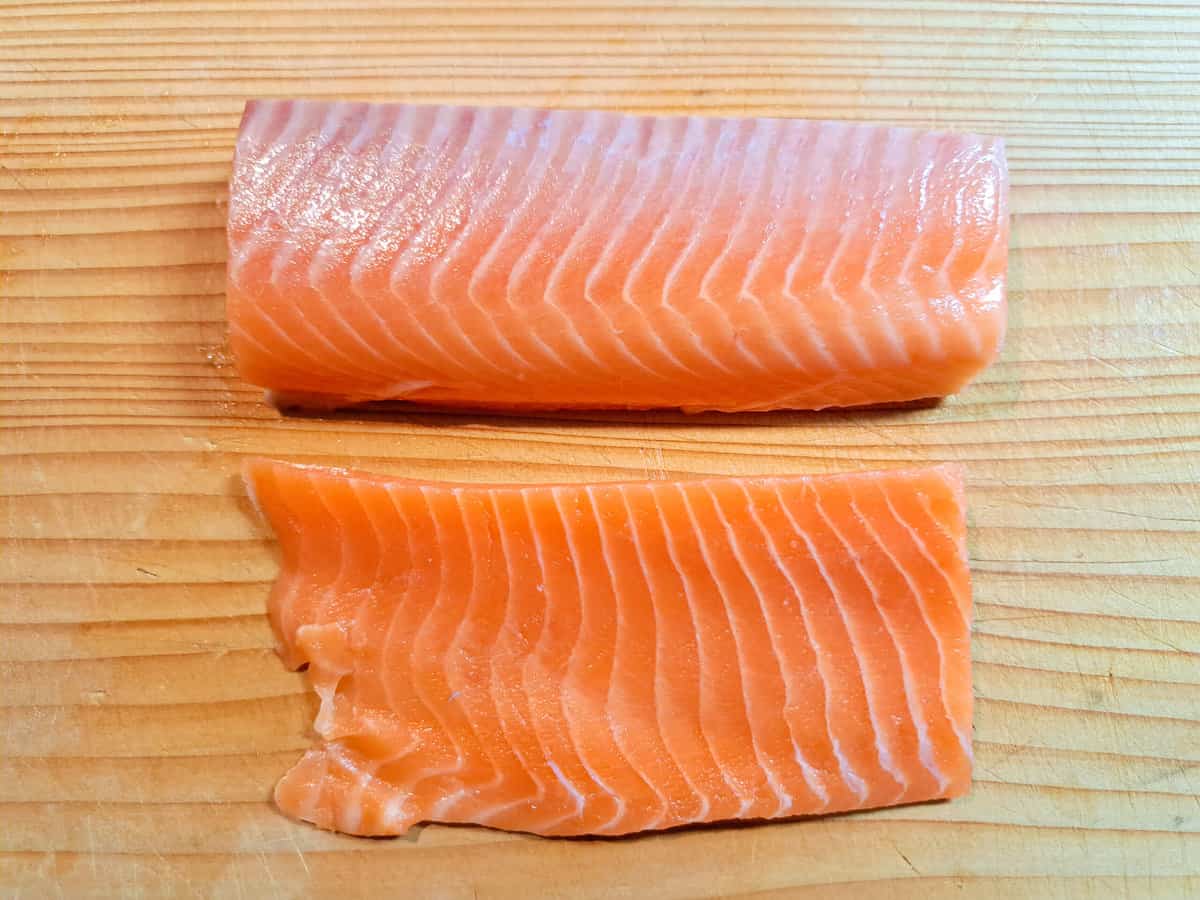 The first thing to look for is if there is pinkish liquid coming out of the salmon. This is a cellular fluid known in Japanese as "drip" (ドリップ) that contains flavor and nutrients. The more "drip" that comes out, the more evidence that the fish has lost its freshness and flavor.
In addition, fresh fish products that are in contact with this cellular fluid can be severely degraded in quality. The large amount of water and nutrients on the surface of the salmon makes it susceptible to bacterial growth.
Other than the loss of cellular fluid, you should also pay close attention to the following:
The color of the meat and blood
Shape of the salmon
Type of salmon
How to identify good sashimi-grade salmon
The key to determining freshness is the color of the flesh and blood. Bloodstain is the brownish area on the border of the back and belly, and is inspected from the side for sashimi-grade salmon.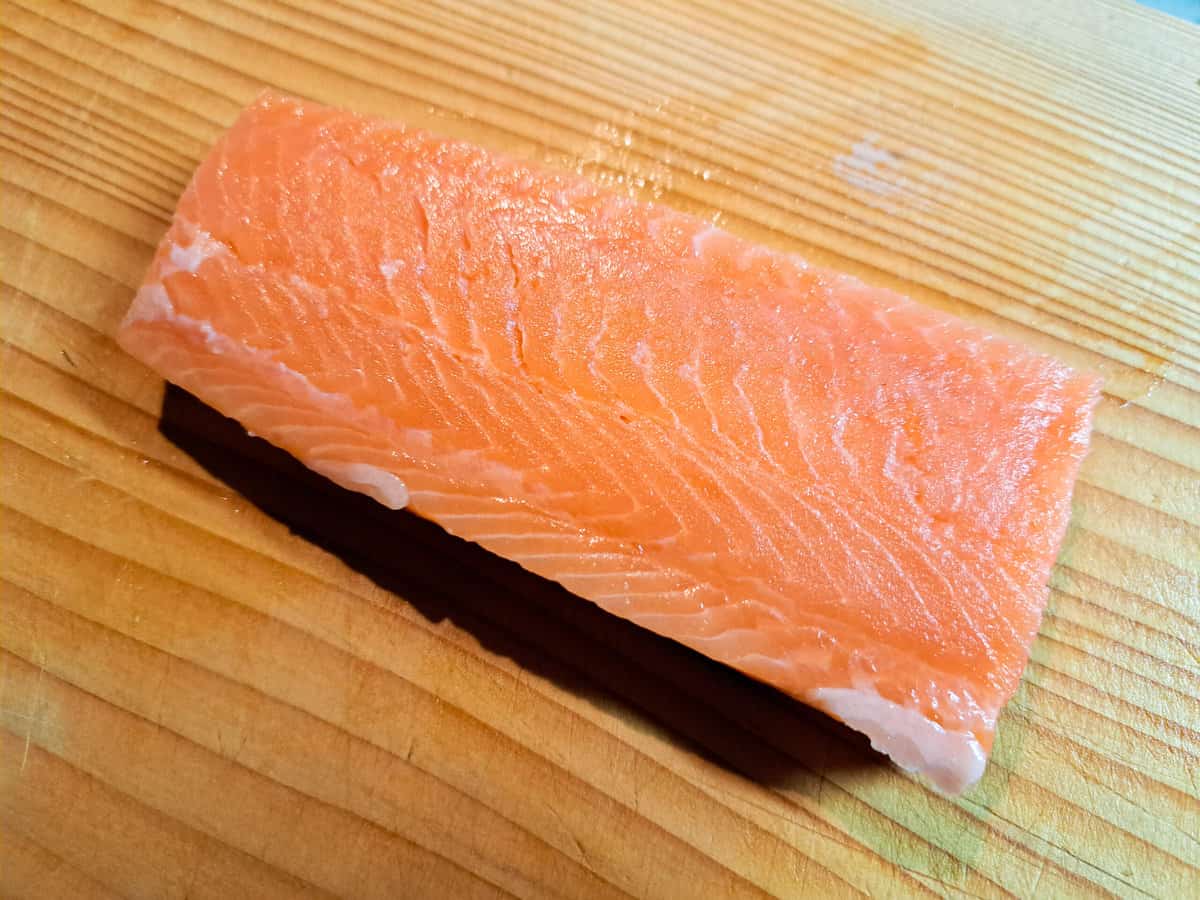 The best color for the flesh is bright orange, and it should be shiny and vibrant.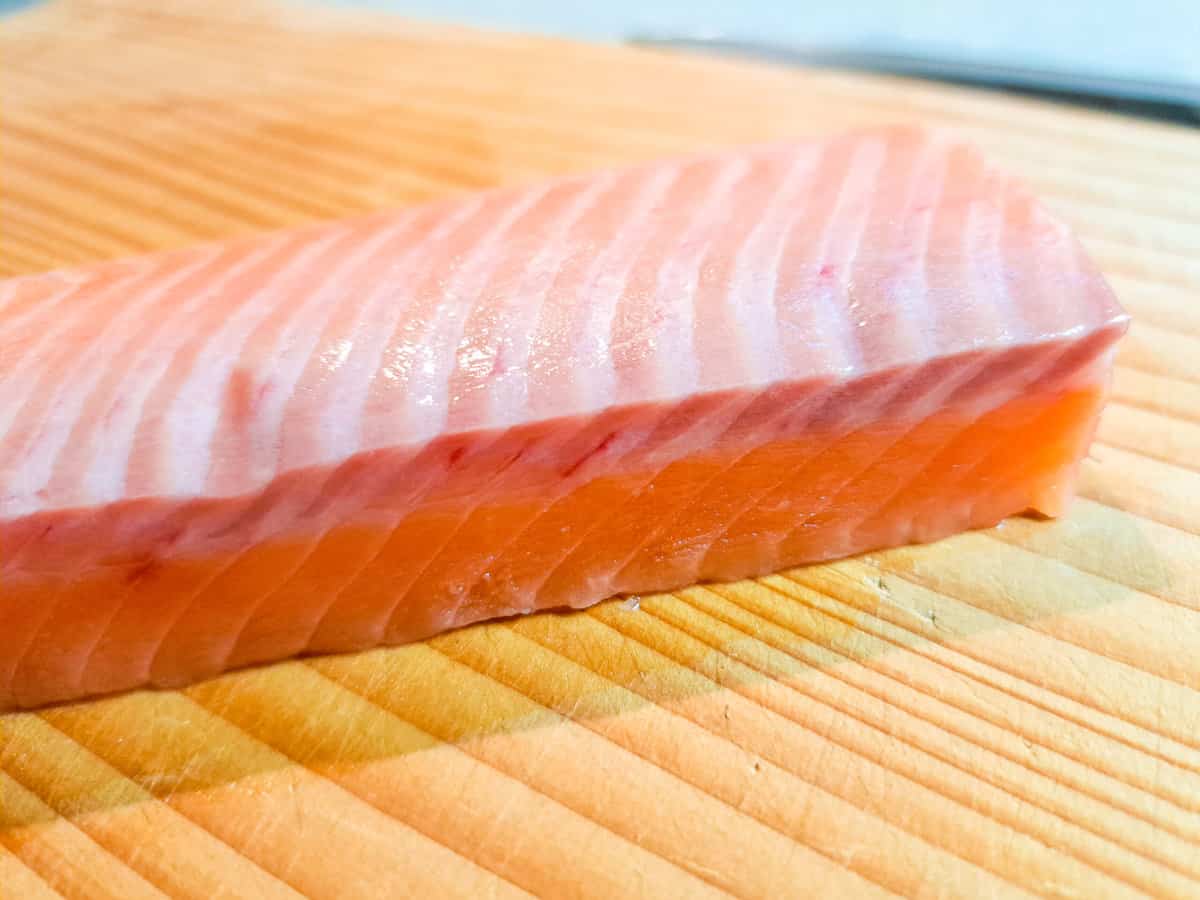 The area between the back and the abdomen are called the "red fibromuscles", in Japanese we call it "chiai". The chiai should be light brown with a reddish tinge.
A shiny surface indicates a fresh, fatty salmon. As freshness deteriorates, the flesh becomes dull and white, and the blood turns brownish and becomes less transparent.
In Japanese supermarkets, salmon is often displayed with the chiai side down, so you can judge the quality by looking at the block from the side.
Shape of block (saku)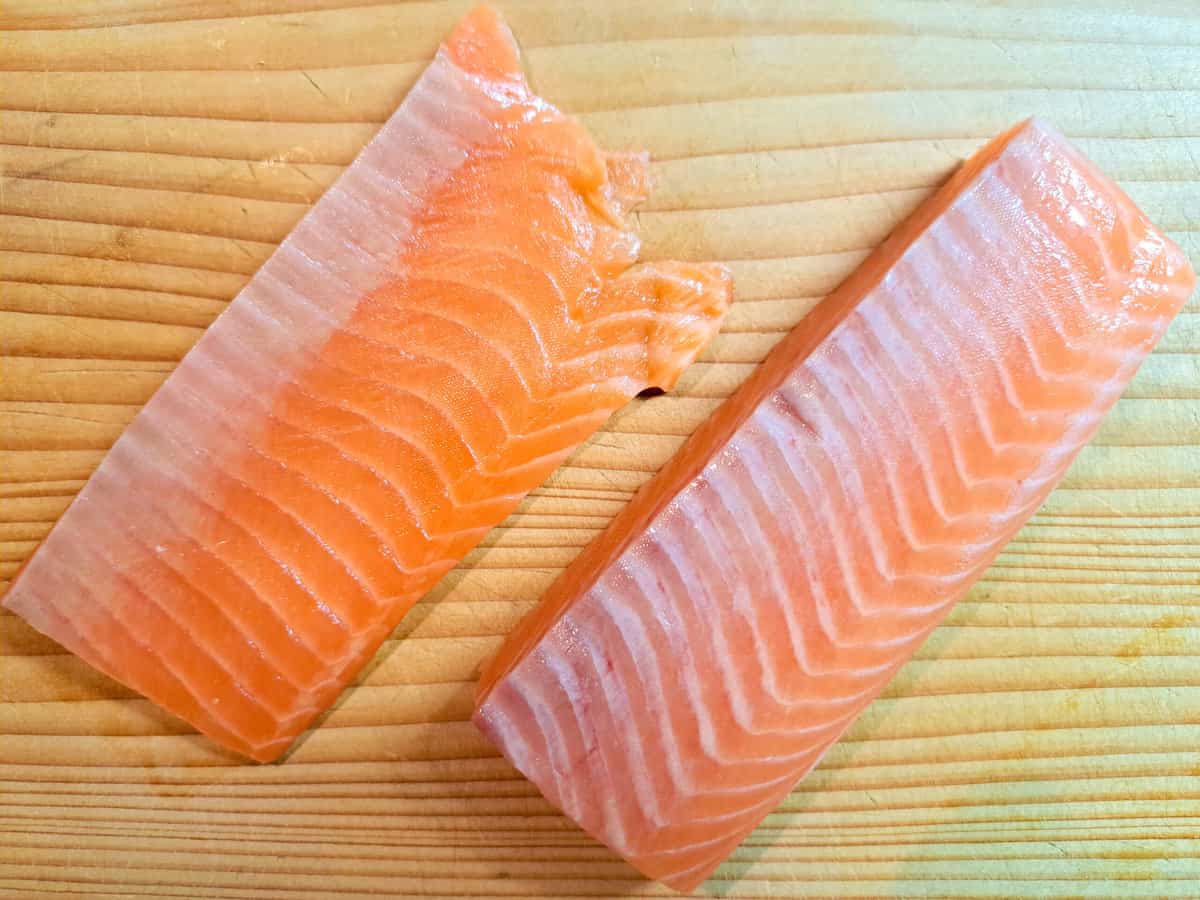 Fish used for sashimi is sold in blocks called "saku". The saku of sashimi-grade salmon differs in the shape depending on the part of the salmon. The characteristics of each part are as follows.
| | Characteristics of Taste | Shape of Saku |
| --- | --- | --- |
| Back side flesh | Rich salmon flavor and its texture is resilient | Thick, with stripes in the shape of a V |
| Abdomen side flesh | Fatty and melt-in-your-mouth texture | Thin and flat, with diagonal striations |
| Head side | High fat content (Ootoro) | Only one side (near the head) is thin |
| Tail side | Tight flesh | Right side and left side are the same thickness (close to rectangular) |
| Center | Thick with strong umami | Only one side (near the tail) is thicker than the other |
I personally recommend the center of the salmon, where the body is the biggest. It has a good balance of fat and umami and is well shaped for beautiful presentation.
As for the back and abdomen flesh, you can choose according to your taste preferences and the way you like to eat it.
Choose by Salmon Type
The three main types of salmon distributed in Japan are as Atlantic Salmon, King Salmon and Salmon Trout. Each type has a different taste and texture, the characteristics are explained in the table below.
Atlantic Salmon (Norwegian salmon)
King Salmon
Salmon trout
Characteristics
Large in size
Distributed in raw form
Salmon-pink flesh
One of the largest
Thick meat and low water content
Often not suitable for raw use
Slightly smaller in size
Dark orange
Firm flesh
Taste
The fat is rich and the texture is melt-in-your-mouth type.
Fatty and rich taste
Soft with string umami
Moderately fatty
Firm yet slightly chewy texture
Main production area
Norway
Canada
Chile
Price
Relatively high
Very expensive
Most affordable
Salmon raised in the region of Norway, where the water temperature is low, and which have passed strict standards are labelled as "Norwegian salmon" and are highly valued in Japan.
Strictly speaking, salmon trout is not a salmon. It is a freshwater rainbow trout that has been bred to be farmed in sea water (salted) for sashimi use.
How to Prepare Salmon Sashimi at Home
Most sashimi-grade salmon sold comes in saku (block) form and does not require any preparation such as boning or skinning.
It can of course be eaten as is, but for better flavor, I recommend dehydration with salt. The idea is that the osmotic pressure of the salt removes excess water from the salmon. This is a Japanese cooking technique called shiojime (塩締め), which can be translated as "salt-tightning" and is often used for both sashimi and other fish dishes.
Effects of shiojime
The water in fish contains components that cause odor. By removing the excess water, the odor is removed and only the flavor is concentrated.
Salmon that has gone through "shiojime" is characterized by a nice chewy texture. Of course, it cannot match the texture of freshly caught fish, but it can make distributed fish outstandingly revived.
How to do "shiojime"
Here is my method for shiojime.
Wipe off excess moisture from the surface of the salmon using kitchen paper.
Sprinkle salt on a container and place the salmon silver side (where the skin was) facing down.
Sprinkle salt evenly over the the top and sides as well.
Make an incline and rest in the fridge for 15-20 minutes.
The reason for the incline is to allow the liquid that comes out to run to the bottom of the container.
If the container is flat, the salmon will be sitting in the extracted liquids which can leave a lingering odor and easily spoil.
Wipe off any water that appears on the surface.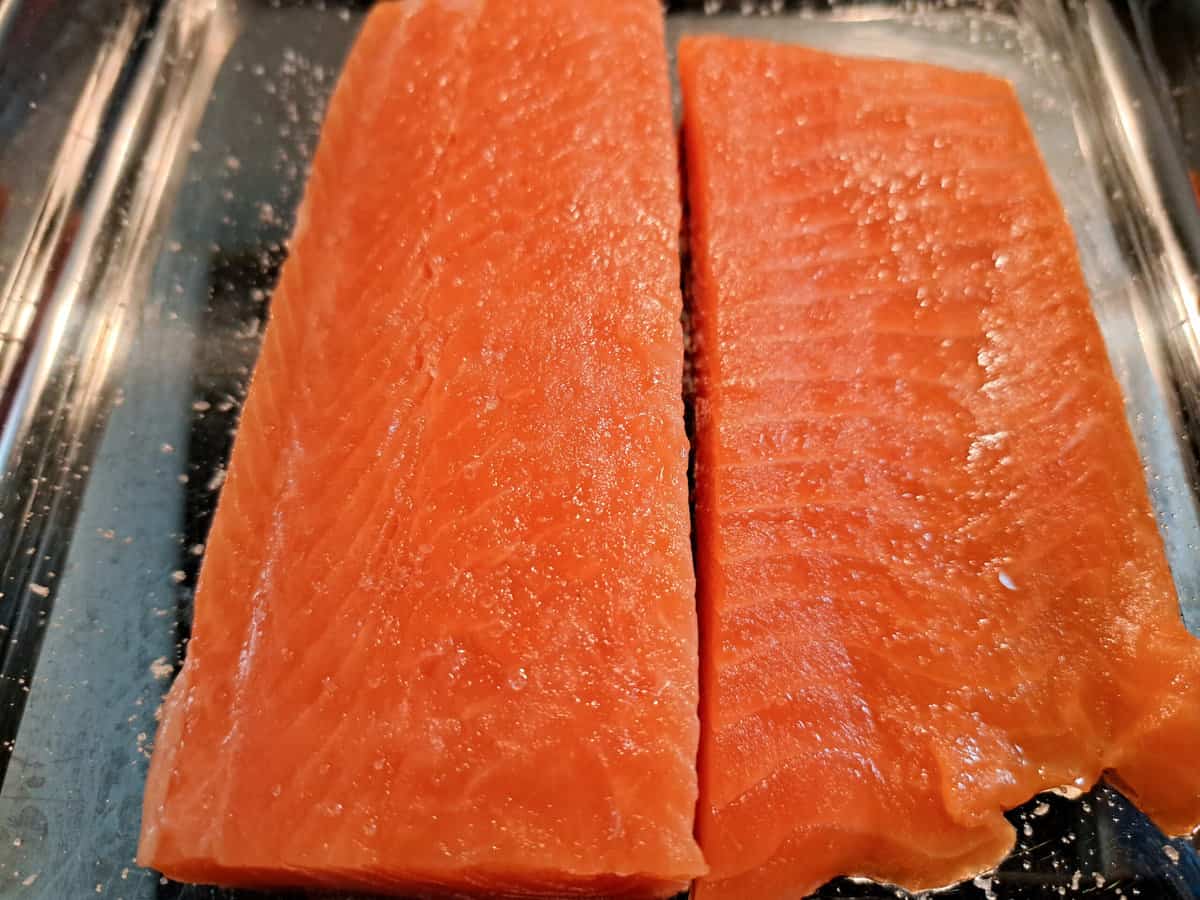 Wipe the salmon thoroughly with kitchen paper to remove the salt and extracted liquid.
How to Cut Salmon Sashimi: Techniques and Tips
There are two ways to cut salmon, depending on which part you're slicing:
Back side flesh - Hirazukuri (flat slice)
Abdomen side slesh - Sogigiri (cutting technique as if scraping)
Hirazukuri is perfect for thick pieces, while sogigiri works great for thinner ones. For both methods, the golden rule is to slide the knife from the top to the base in a single, smooth motion.
This guide is for right-handed people. If you're left-handed, just flip the knife directions!
How to cut salmon sashimi using hirazukuri method
Place the salmon skin-side up, with the thicker part facing the back and the thinner part facing the front. Start slicing the salmon from the right side.
Place the salmon block at the front of the cutting board (for easy movement of the knife).
Position the base of the knife on the thickness you want to cut and stand the tip up slightly
The left hand presses down on the salmon with fingers bent.
Move the knife in an arc as you cut in one motion.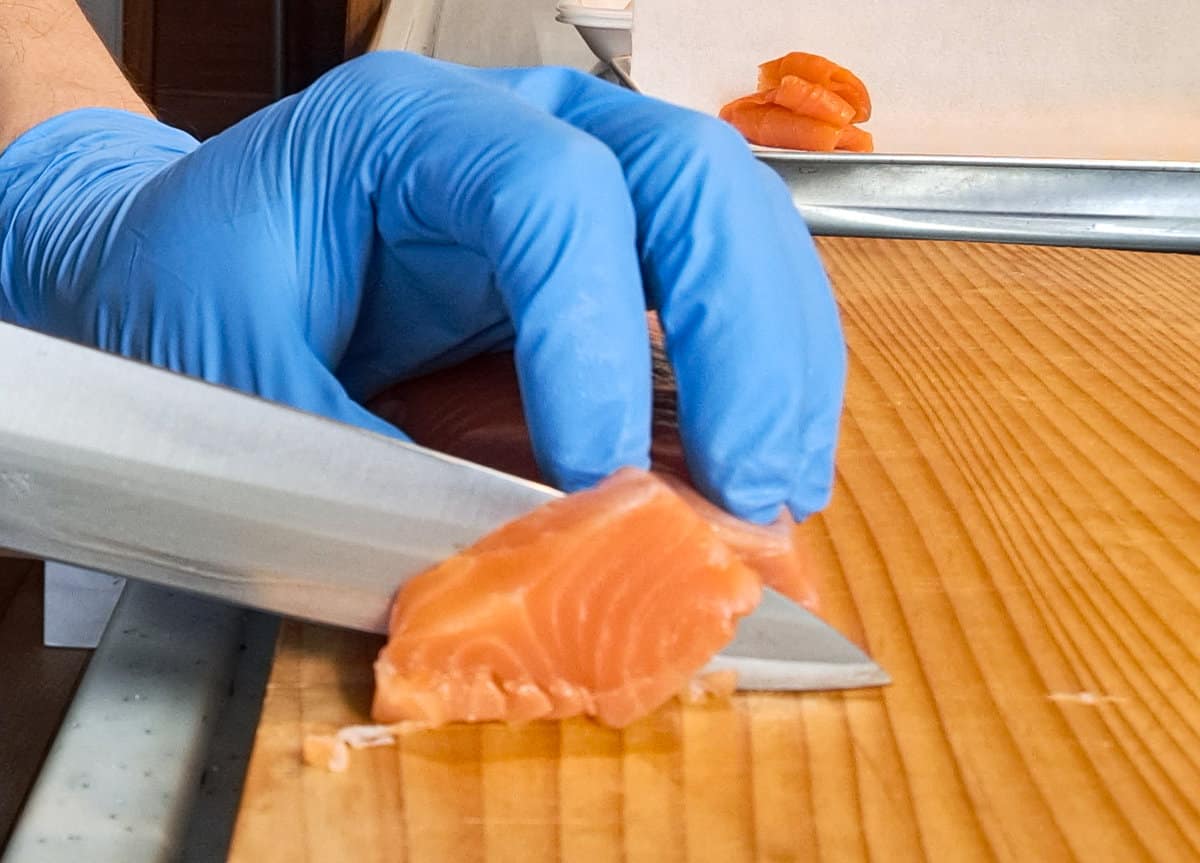 Imagine starting your cut at the top and finishing at the tip. Gently push the sliced sashimi to the right with the tip of your knife. If you line them up at this point, they will be easier to serve.
How to cut salmon sashimi using sogigiri method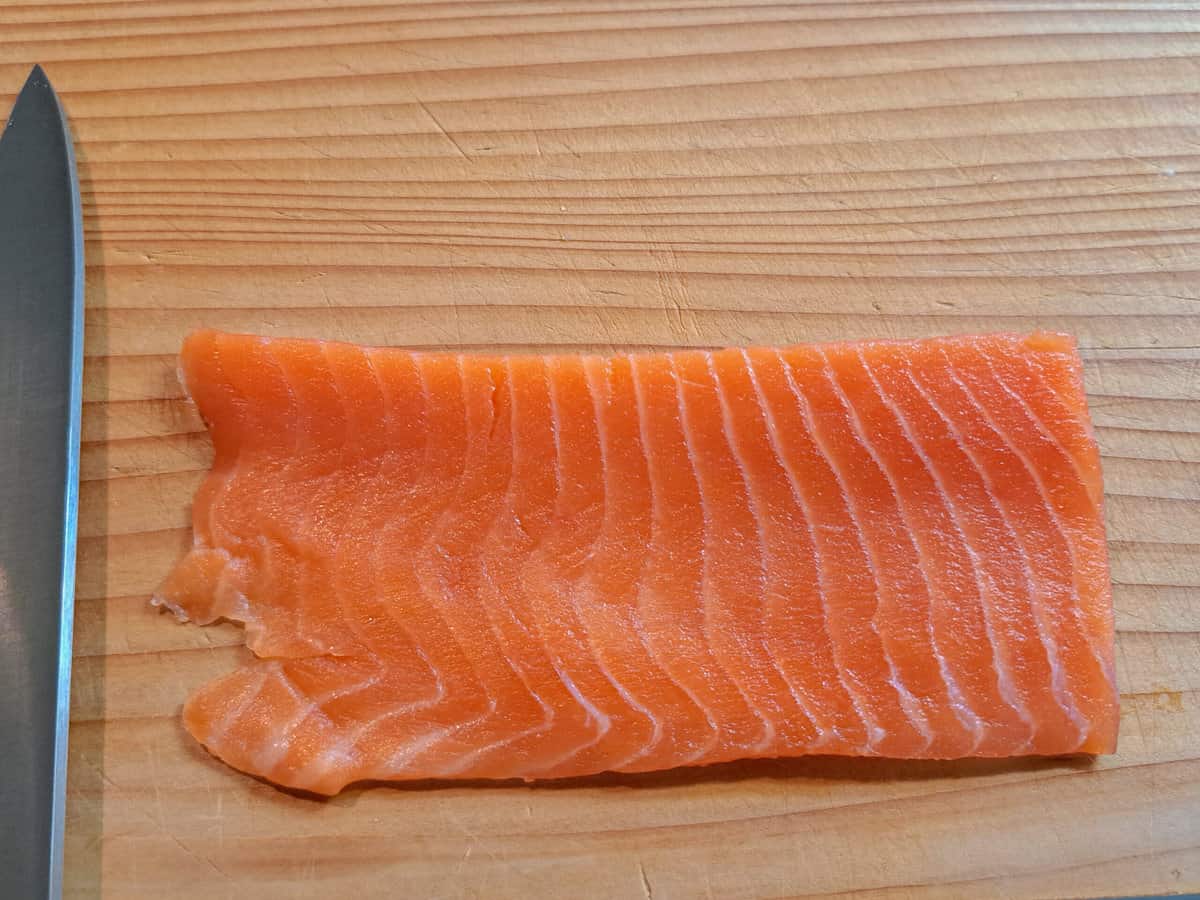 Place the salmon skin side down with the thicker part facing the back and the thinner part in front. Start cutting the salmon from the left side.
Place at a slight right angle
The wider the angle, the longer the sashimi will be.
Apply the knife at the thickness you want to cut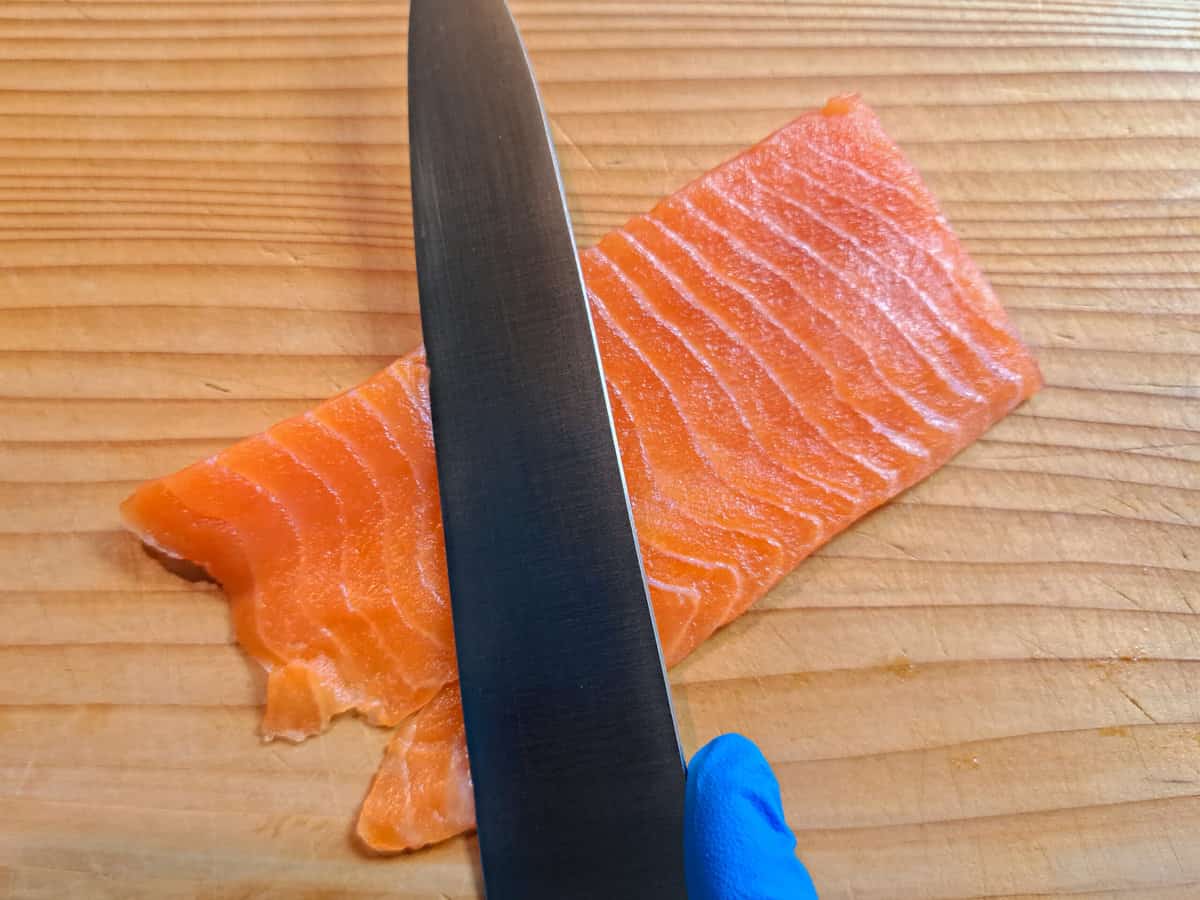 Press lightly on the salmon with three fingers.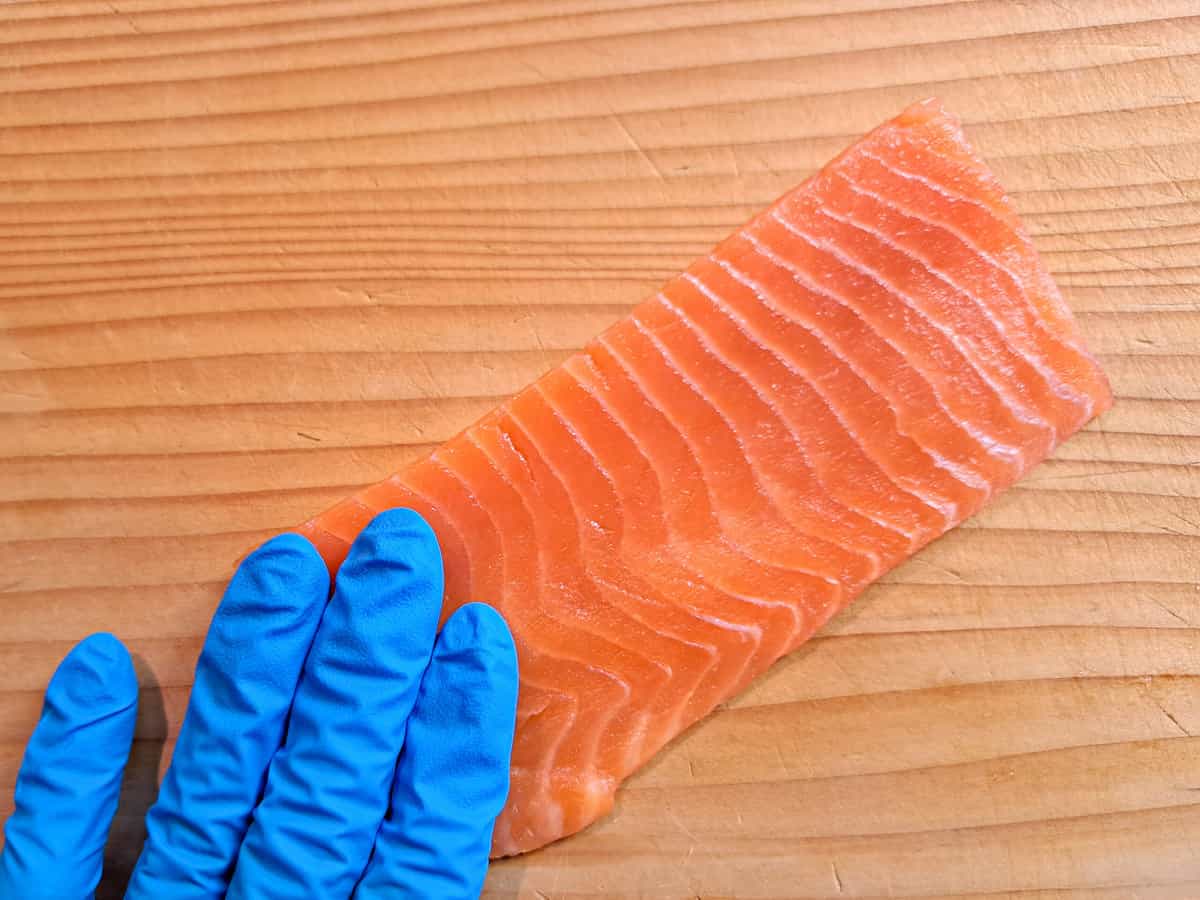 Move in a circular motion and cut in one go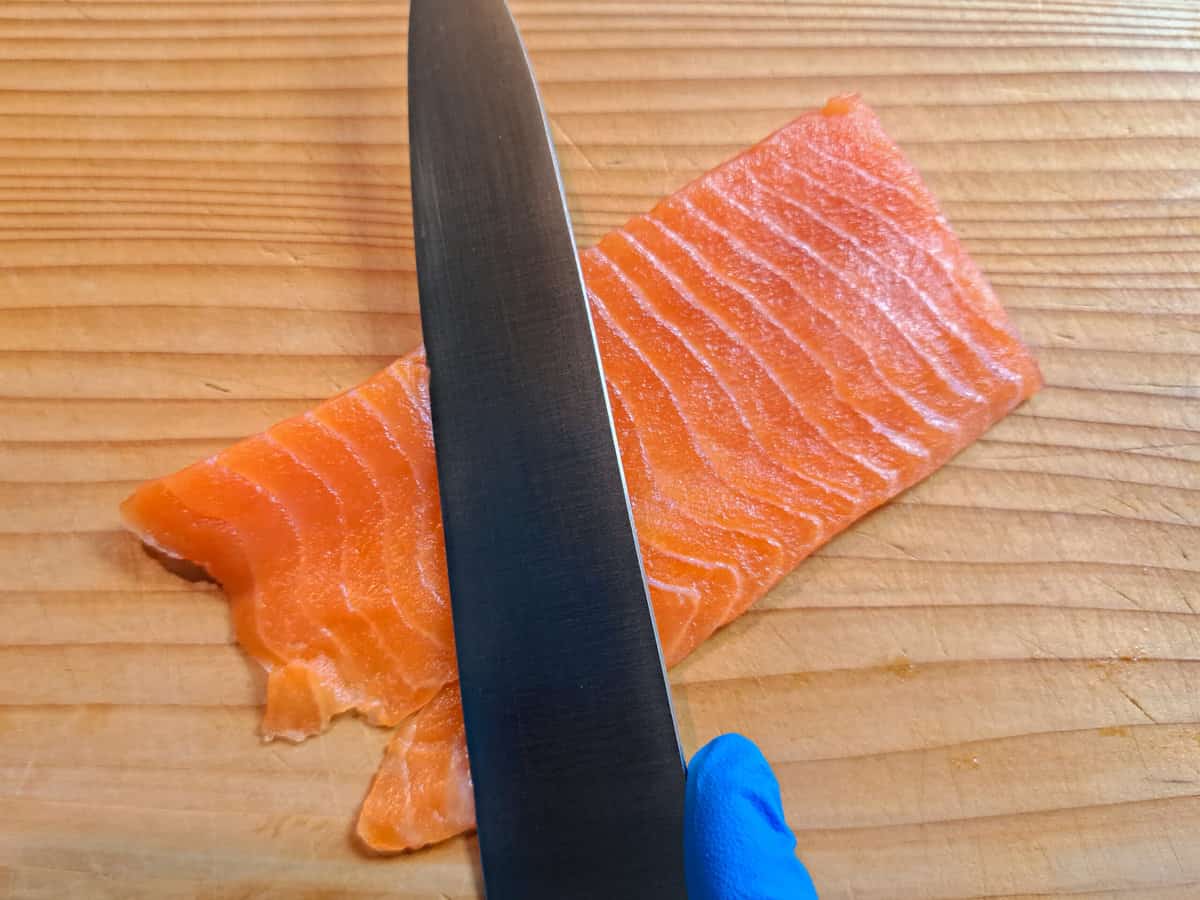 The secret is to check the thickness of the sashimi with your finger as you cut. Just avoid pointing the blade upwards and your fingers will be safe. Align and arrange the sashimi slices neatly by turning them with your left hand.
Tips for cutting sashimi-grade salmon
The key to perfect sashimi is to have an angular shape, which enhances its texture and presentation. When using the Hirazukuri technique, angle the blade slightly outward for sharp, stunning edges on each slice.
On the other hand, to create the perfect sogigiri, position the knife at a 90-degree angle at the end of the cut (on the edge of the skin). This improves the fish's appearance and texture, and allows soy sauce to coat it more easily. This technique is especially effective for fish with clean skin side, like salmon.
When cutting sashimi, avoid touching the raw fish with your bare hands as much as possible, since it can make it warm and cause it to lose freshness and flavour. It is best practice to use the knife to scoop up the cut sashimi when moving it.
What kind of knife is used for cutting salmon sashimi?
When Japanese chefs prepare salmon sashimi, we use a special knife called a "Yanagiba knife (柳刃包丁)". This knife has a long, thin blade that is perfect for cutting sashimi. The name translates to "willow-leaf blade" and comes from its slender shape.
Sashimi should be cut in one smooth motion to prevent it from breaking apart and losing flavor. That's why a sharp, long knife is ideal for cutting sashimi. The Yanagiba knife is slimmer than a chef's knife, which helps prevent the sliced raw fish from sticking to it.
The main difference between a Yanagiba knife and a Western knife is that the Yanagiba knife has a single-edged blade. Because the blade only touches one side of the food, it's easier to make precise cuts and create an even cross section.
As an alternative to the Yanagiba knife, I suggest you try a salmon slicer knife.
This knife is slim like the Yanagiba and has a moderate length. The oval bumps on either side of the blade reduce sticking, so sashimi won't stick to the blade. The blade is thinner and lighter than a Yanagiba knife, making it easy for anyone to use.
When slicing salmon at home, prioritize sharpness over blade length. Choose a knife that cuts well. A knife that is too long can be difficult to handle and may be inconvenient in a home kitchen setup.
Delicious ways to eat salmon sashimi at home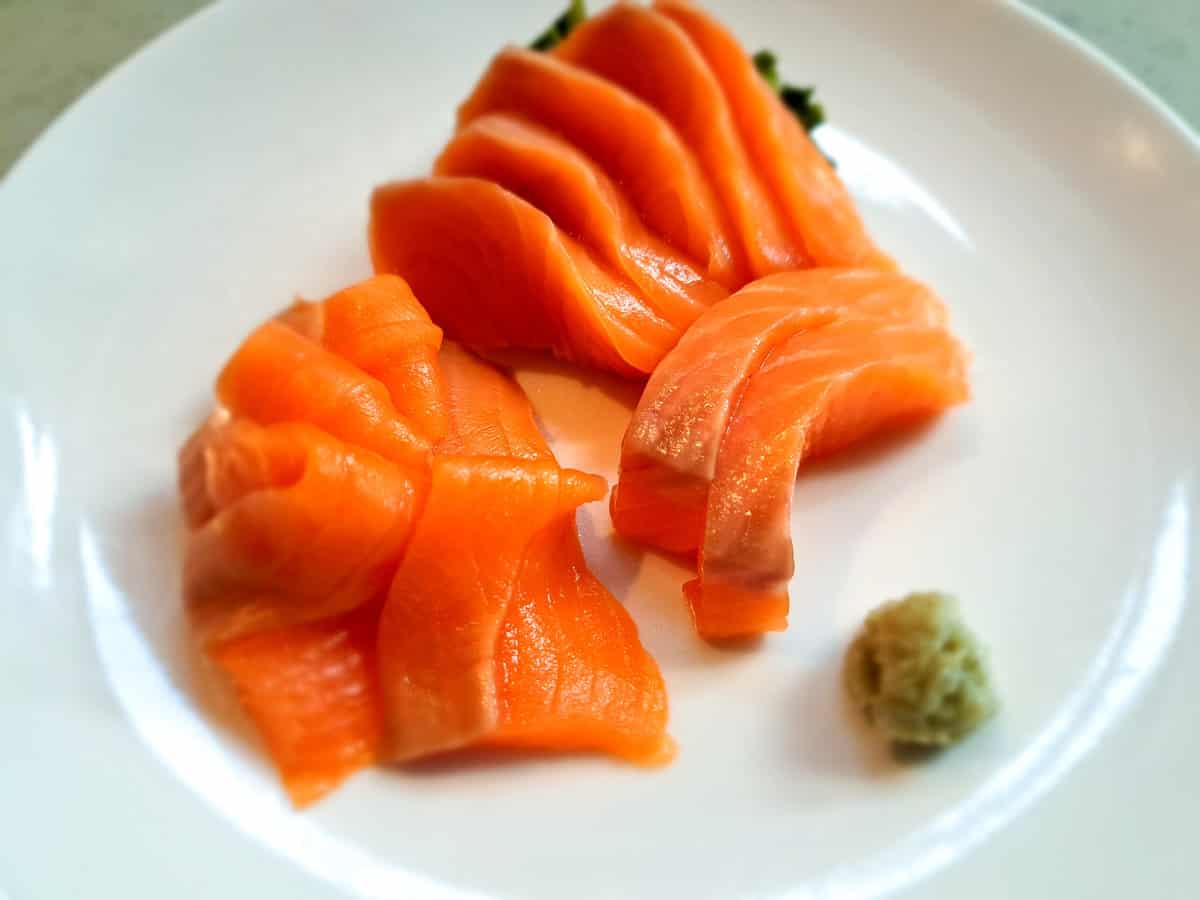 Salmon sashimi is not only great for sashimi on its own, but can be enjoyed in many other ways. Its rich, fatty texture and moderate chewiness make it versatile for a variety of dishes, such as grilling or marinating in sauces.
Here are three easy-to-prepare dishes you can try at home.
Seared salmon sashimi
Nanbanzuke Salmon
Seared salmon sashimi
This cooking method involves quickly searing the salmon skin with a blowtorch, drawing out the fat and creating a melt-in-your-mouth texture. The temperature of the sashimi becomes similar to that of your tongue. It's best to use the fatty part of the belly for searing.
If you don't have a blowtorch, you can lightly grill it on a pan with a cooking sheet. Try serving the back side portion as regular sashimi for two different flavors from the same salmon.
In addition to the classic wasabi and soy sauce, try oroshi ponzu. The salmon's melted fat pairs beautifully with ponzu's tangy flavor.
Marinated salmon donburi
Quickly run the whole salmon block through hot water in a process called "yushimo" or "shimofuri." This removes surface odors and prevents the marinade from soaking in too much.
The basic marinade ratio is "1 soy sauce: 1 mirin: 1 sake (water)." As long as you remove the alcohol from mirin and sake, it's safe for everyone to eat. You can heat the marinade on the stove for a few minutes to burn off the alcohol, but make sure to cool it before adding the salmon.
Marinate for 30 minutes to 1 hour, adjusting the time based on the size of the salmon block and your taste. If you slice the fish for sashimi before marinating, it takes less time (but be careful not to over-marinate).
For easy preparation, use tsuyu sauce. It contains all necessary seasonings and is already has the alcohol removed, so it's convenient and ready to use.
Drizzle leftover marinade on the fish and add wasabi if you like. You can also enjoy it as ochazuke by pouring dashi stock over the top if you want to try it out.
Salmon nanbanzuke
This method is perfect for using leftover sashimi or when it might be too late to eat raw. The sour marinade makes it so refreshing.
Deep-fry or shallow fry salmon coated in potato starch, then marinate in nanban sauce and refrigerate overnight. To make nanban sauce, boil 6 parts dashi stock, 2 parts vinegar, 1 part soy sauce, and 1 part mirin in a saucepan. Use sugar instead of mirin for a sweeter taste, or add dried chili pepper for a spicy kick.
Vegetables such as shredded carrots, onions, and bell peppers work well with nanban sauce!
How to Store Sashimi-Grade Salmon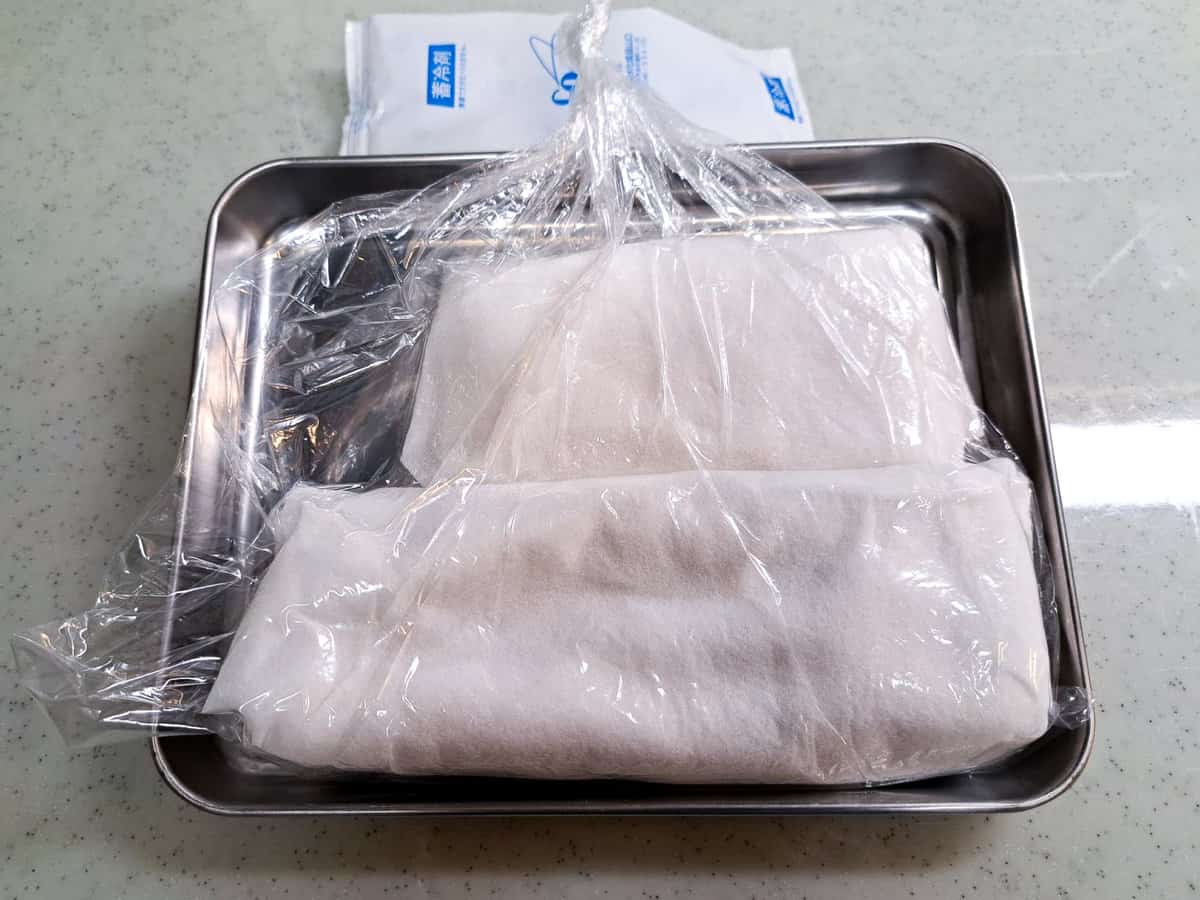 When storing sashimi-grade salmon, it's important to protect it from moisture and air. Moisture causes spoilage, while exposure to air causes oxidation damage.
But the freshness of your salmon really depends on the condition in which it was purchased. Use these tips to keep your salmon fresh and delicious.
General Sashimi-Salmon Expiration Date: How long can salmon sashimi last in the fridge?
A good rule for sashimi-grade salmon is to keep it in the fridge, with a general expiration of about one day (until the day after purchase). The rate of spoilage varies based on storage conditions. Higher temperatures cause faster spoilage, while lower temperatures help it last longer.
The ideal temperature for storing sashimi-grade salmon is -1°C to 2°C (30°F to 36°F). If stored in a chilled room (0-2°C, 32-36°F) rather than a regular refrigerator (3-6°C, 37-43°F), it stays fresh for 2 to 3 days. To maintain a low temperature, place the salmon on aluminum trays, which conduct the heat well and keep the fish properly chilled.
Can sashimi-grade salmon be frozen?
You can freeze sashimi-grade salmon, but once it's frozen at home you can't eat it raw. Freezing doesn't entirely prevent oxidation and drying, which can affect the taste even if it's within the expiration date.
Typically, frozen sashimi-grade salmon lasts for two weeks. Extended freezing may cause freeze-burn due to dryness.
It's best to freeze salmon on the day you buy it when it's at its freshest. To thaw the salmon, let it defrost slowly in the fridge. Salmon should never be left at room temperature for extended periods of time and you should never refreeze it. Once thawed, use for cooking and don't risk trying to eat it as sashimi.
Seasoned freezing is the way to go if you want to keep it longer
By coating the salmon with seasoning, it avoids oxidation or drying out and reduces cooking time since no extra seasoning is needed. The standard shelf life is two weeks to one month.
You can prepare the salmon in various ways, for example, tatsuta age marinade.
Put the marinade in a freezer bag, add the salmon, remove the air, and seal it tightly to prevent leaks. Spread the bag thinly to save freezer space.
But remember, don't eat the salmon raw after thawing.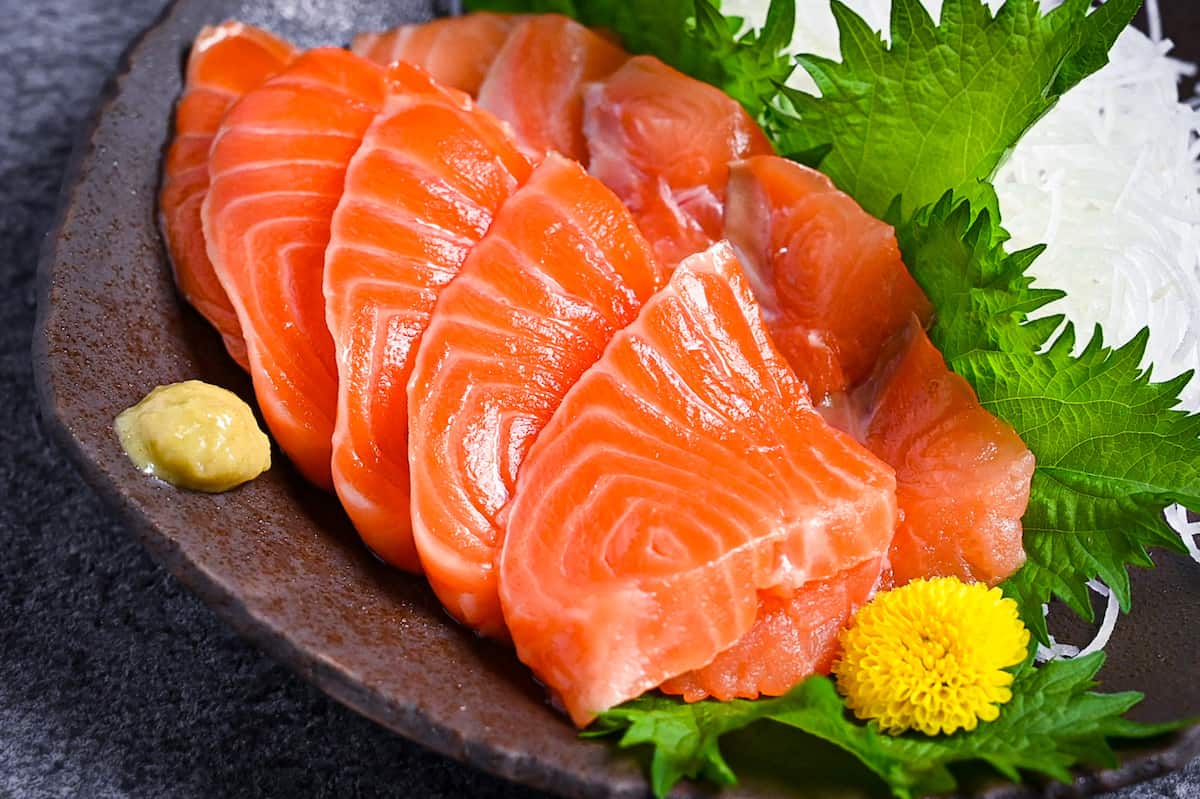 I hope this post has answered any questions you might have had about salmon sashimi. Let me know if I missed anything in the comments below!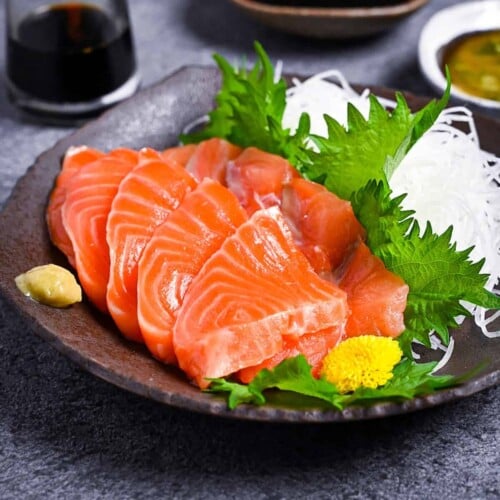 Salmon Sashimi (with 3 kinds of dipping sauce)
How to make prepare sashimi-grade salmon for cutting your own sashimi at home and serve with one of 3 kinds of dipping sauce. (Serves 2)
Ingredients
Instructions
Sashimi
Pat the surface of

200 g block of fresh sashimi grade salmon

dry using kitchen paper.

Sprinkle

salt

evenly over a container and place the salmon block with the silver side (skin side) facing down. Sprinkle more salt over the top and sides of the salmon.

Place the container in the fridge at a slight incline (place a small bowl or box under one side) to allow the liquid to drip down.

Rest for 15-20 minutes in the fridge.

Gently wipe off the salt and pat the surface dry with kitchen paper.

Slice the block of salmon into bitesize pieces using your preferred method. (See in post for how to cut sogigiri style and hirazukuri style.)
Sashimi soy sauce (simple)
Pour

1 tbsp dark soy sauce

into a bowl and place

1 tsp wasabi paste

on the side. (It is considered bad manners to mix soy sauce and wasabi together.)

Use your chopsticks to take your preferred amount of wasabi and spread it on the top of the sashimi.

Pick up the sashimi and dip it in the soy sauce.

Eat and enjoy!
Sashimi soy sauce (sweetened)
Pour

1 tsp sake

and

1 tsp mirin

into a large heatproof bowl and microwave for 40 seconds at 600W. (This will burn off the alcohol.)

Transfer them to a smaller bowl and add the

25 ml dark soy sauce

,

1 tsp water

and

1 pinch dashi granules

.

Mix well and chill before serving.

Dip the sashimi and enjoy!
Salt sesame sauce
Pour

1 tbsp sake

into a heatproof bowl and microwave for 50 seconds at 600W. (This is to burn off the alcohol.)

Remove the bowl from the microwave and add

½ tbsp sesame oil

,

½ tsp garlic paste

,

⅛ tsp rice vinegar

,

1 pinch black pepper

,

1 pinch sesame seeds

and

1 pinch sugar

. Mix thoroughly until the sugar has dissolved and all the ingredients are well distributed. Add

1 tsp finely chopped green onion(s)

for a refreshing taste and color (optional).

Chill before serving.

Dip the sashimi and enjoy!
Notes
Each sauce recipe is for 2 servings. (The 3 sauces together are enough for 6 servings.)
FAQ
What is the difference between salmon (サーモン) and sake (鮭)?
In Japan, salmon is for raw consumption and sake is for cooking.
Can sashimi salmon be used heated?
Of course, it can be heated, but to take advantage of its freshness, I recommend eating in raw. In some cases it is seared with a blow torch which melts the fat and creates a different experience.
Can frozen salmon be used for sashimi?
If the frozen salmon is labeled as sashimi-grade (can be eaten raw after thawing), it can be eaten as sashimi. However, we do not recommend that you thaw frozen salmon at home by yourself and eat it raw.
Can I eat regular salmon as sashimi?
It is dangerous to eat regular salmon as sashimi due to the presence of the parasite anisakis. Please don't risk eating regular salmon raw.
What type of salmon is most recommended for sashimi?
Taste depends on preference, but the most affordable is salmon trout. (Although not strictly speaking a salmon.)
Sashimi salmon has varying fat content and texture in the back, belly, head side, and tail side. You can identify each part by observing the shape of the belly, as explained in the article.