Kaisendon is a colourful rice bowl dish made with a variety of fresh seafood. In this post I will teach you 3 different ways to enjoy kaisen donburi and how to make a delicious sweet and savoury dipping sauce!
Disclaimer: This post contains Amazon and Dokodemo affiliate links. Sudachi Recipes earn a small percentage from qualifying purchases at no extra cost to you. See disclaimer for more info.
What is kaisen donburi/kaisendon?
Kaisendon (海鮮丼) is a bowl of fresh sashimi and other seafood on a bed of white rice. The fish used vary depending on the region, season or personal preference.
It is said to have been created after WWII and spread from northern Japan, including Hokkaido and the Tohoku region, to the rest of the country. Sashimi such as tuna, salmon roe and salmon are particularly popular.
The term "Kaisendon" is sometimes used as a generic term for seafood bowls, including tekkadon (tuna bowl), unidon (sea urchin bowl), kanidon (crab bowl) and zukedon (marinated seafood bowl), which use single ingredients.
You can find the best kaisendon in Hokkaido or places that have fishing harbour where restaurants can get the freshest seafood.
What is the difference between kaisendon and chirashizushi?
Chirashizushi is a type of sushi in which ingredients are placed on a bed of vinegared rice in a container such as a stacked box or a hitsu, and is called 'chirashizushi' or 'chirashi' because the ingredients are 'scattered' without being held in place.
While it's true that some ingredients are in common (seafood in particular), chirashizushi contains more than seafood such as:
Shiitake mushroom
Carrot
Kinshi tamago
Lotus roots
Snow peas…etc
You cannot find these thing above in kaisendon. Moreover, while chirashizushi uses vinegared rice, kaisendon typically uses regular unseasoned white rice.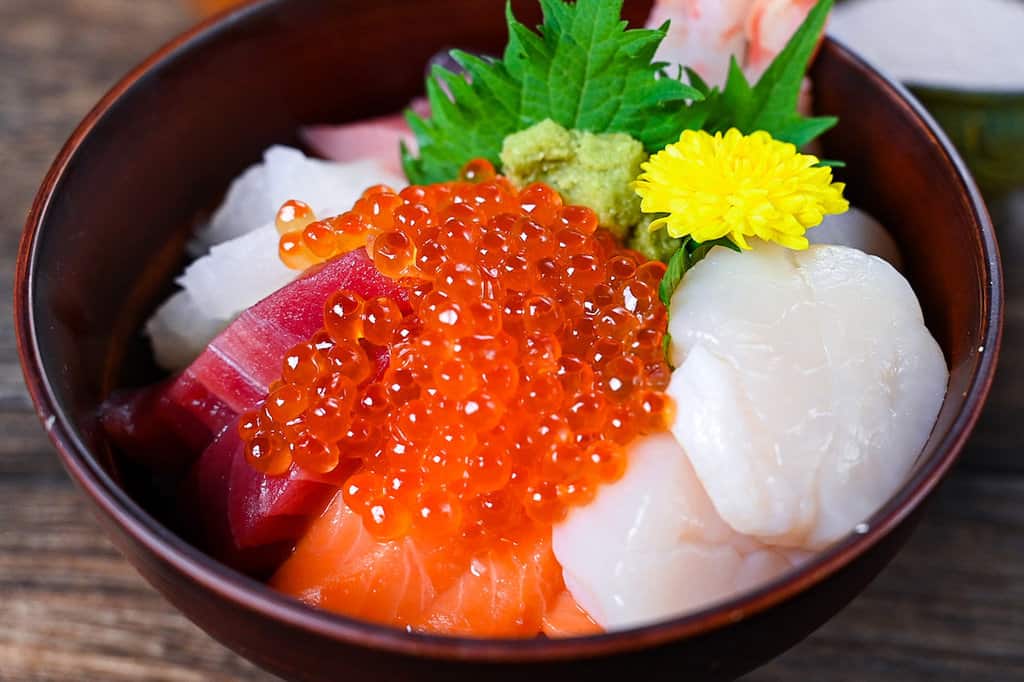 The government even did a 1 month kaisendon challenge
Fisheries Agency in Japanese government did something called "1 month kaisendon challenge" to promote fish consumption throughout Japan. Apparently, the rules were:
Kaisendon is a 'rice bowl' made from fresh fish from the 'sea', so not only sashimi but also cooked fish is acceptable (e.g. tendon with fresh fish).
One or two kinds of fish are acceptable.
Eating out is also acceptable.
This is the post from the government (in Japanese), where you can see what kind of kaisendon he ate everyday for 30 days for inspiration. Or you can check my list of kaisendon ideas later on.
Common seafood to use for kaisendon
If you think kaisendon as a general term means "bowl of fresh seafood", you can guess there is no set ingredients to be used for this dish. However, it's also true that there are preferred ingredients people like in Japan. This is the list of popular seafood ingredients (neta) for kaisendon:
Tuna
Sea urchin
Scallops
Ikura (salmon roe)
Yellowtail
Salmon
Red snapper
Sweet shrimps
Squid
Shirasu (whitebait)…etc
At particular restaurants, you can even choose what kind of seafood you want to include. So it's free to mix and match different ingredients depending on your preference. I will list some kaisendon ideas later in this post.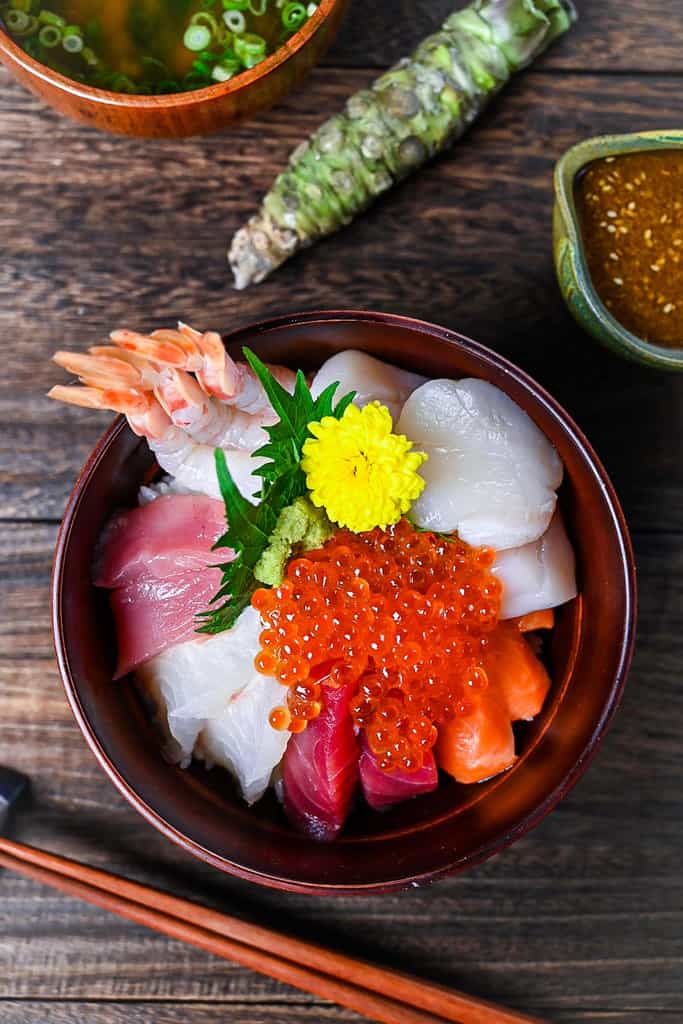 How to enjoy kaisendon to the fullest at home
There is no rule or manner when it comes to kaisendon or any other donburi dishes. However, there are always better ways to eat to enjoy the fullest. So, I will list a few tips and tricks on how to eat kaisendon at home or even at restaurants!
Use sushi / sashimi grade fish
If you're not cooking the fish, it's extremely important to buy fish that is prepared especially for raw consumption. This is often labeled as "sushi grade" or "sashimi grade".
Sushi grade means that the fish is caught and then safely stored and transported so that it is parasite free and safe to eat raw. Sushi grade fish can be found at Japanese supermarkets or ordered online. Don't risk eating raw fish you are not 100% sure about (better to be safe than sorry).
Eating rice and seafood at the same time
The fundamental way of eating a donburi dishes, such as a seafood bowl, is to eat the ingredients and rice evenly. It is not advisable to eat all the ingredients first or, conversely, to eat all the rice first and then eat the remaining ingredients. Some people even think this is a manner when you eat donburi in Japan.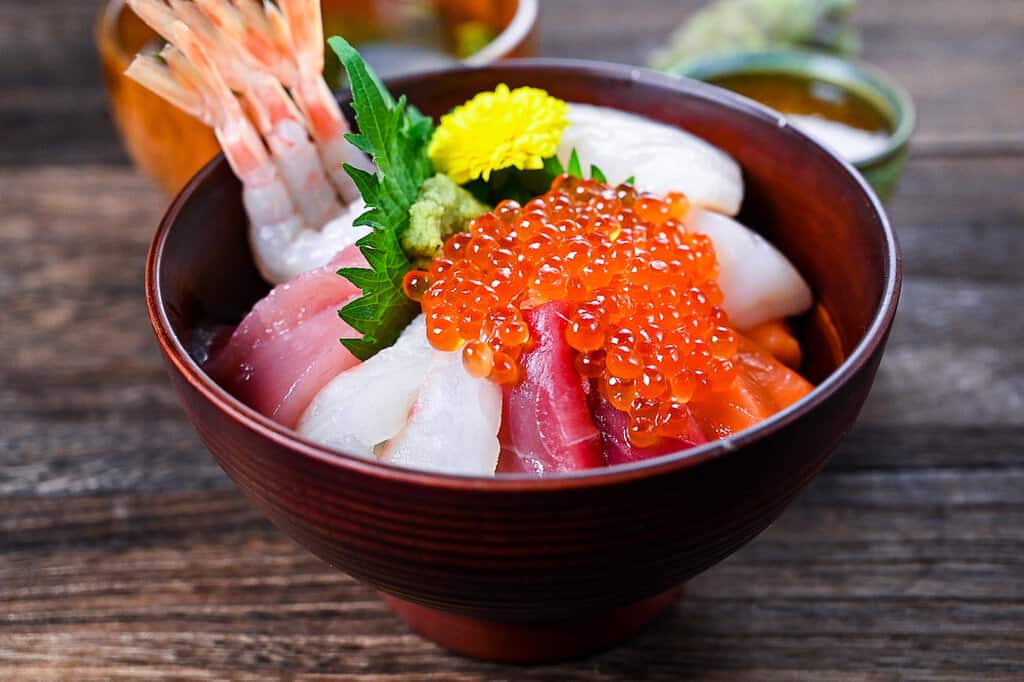 Do not pour soy sauce directly on the rice bowl
What many people tend to do is pouring soy sauce directly on it. I mean surely this is the easiest way to apply soy sauce, but if you pour soy sauce over the entire kaisendon from the start, the soy sauce will accumulate at the bottom and the rice may absorb too much, resulting in an overly salty kaisendon. And there is also a possibility that the taste of the fish itself will not be conveyed properly.
The solution is to prepare a small dish of soy sauce on the side, then dip the seafood into the soy sauce, return it to the bowl and eat it together with rice. This way, the rice is not going to be soaked in the soy sauce and because the sauce only adheres to the fish, kaisendon won't be full of soy sauce.
Do not mix kaisendon too much
This is also common problem as it's just easy to do: "Mixing all the ingredients before eating the kaisendon". Not only does this ruin the beautifully coloured seafood ingredients, it also makes it impossible to taste the ingredients individually.
Put the wasabi directly on each piece of seafood
To enjoy the flavour of wasabi as a condiment, and the flavour of each seafood, it is best to put a good amount of wasabi directly on the ingredient to bring out the best of each other. Not the advisable way on the other hand is mixing wasabi with soy sauce and mix all in. This way will tick the two boxes of "not advisable"
If you want to use wasabi, the ideal way would be to dip the seafood in soy sauce and then place an appropriate amount of wasabi on top, then put it back on the rice.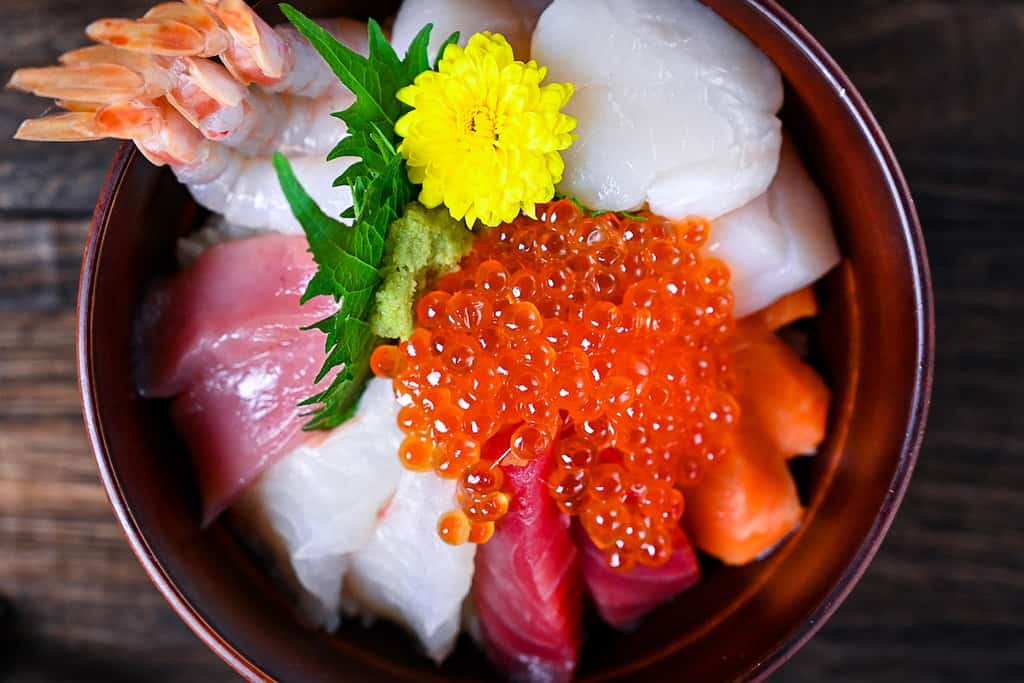 What kind of sauce to use for kaisendon?
There is no real definite answer to that to be honest, because it's down to your preference. However, common sauces to be used are:
If you don't want to make a special sauce, you can use soy sauce as kaisendon sauce. There's nothing wrong with it. If you think sushi is eaten with soy sauce, you know it will work.
The second option is tsuyu sauce for a sweeter flavour. When I can't be bothered to make kaisendon sauce from scratch, I usually go for tsuyu sauce personally.
The ultimate option is kaisendon sauce, there's different kinds of kaisendon sauce, but most generic one is somewhat similar to tsuyu sauce with slight kick. That being said, kaisendon sauce is sweet and savoury type.
Because I cannot really make a recipe for kaisendon itself (because it's just seafood putting on rice…), I will explain my recipe of special kaisendon sauce.
The details are in the recipe card, but I use:
Soy sauce
Brown sugar
Sake
Mirin
Dashi
Ground sesame
Sesame oil
I especially love the hint of sesame in this sauce! Again, the process and measurement are in the recipe card below.
3 topping/variation ideas for kaisendon to your taste
As you already know, you can use any types of seafood ingredients for this dish. Some might find it too much freedom of choice. So, I will list all the ingredients I had for inspiration!
Salmon & ikura (a.k.a kaisen oyako don)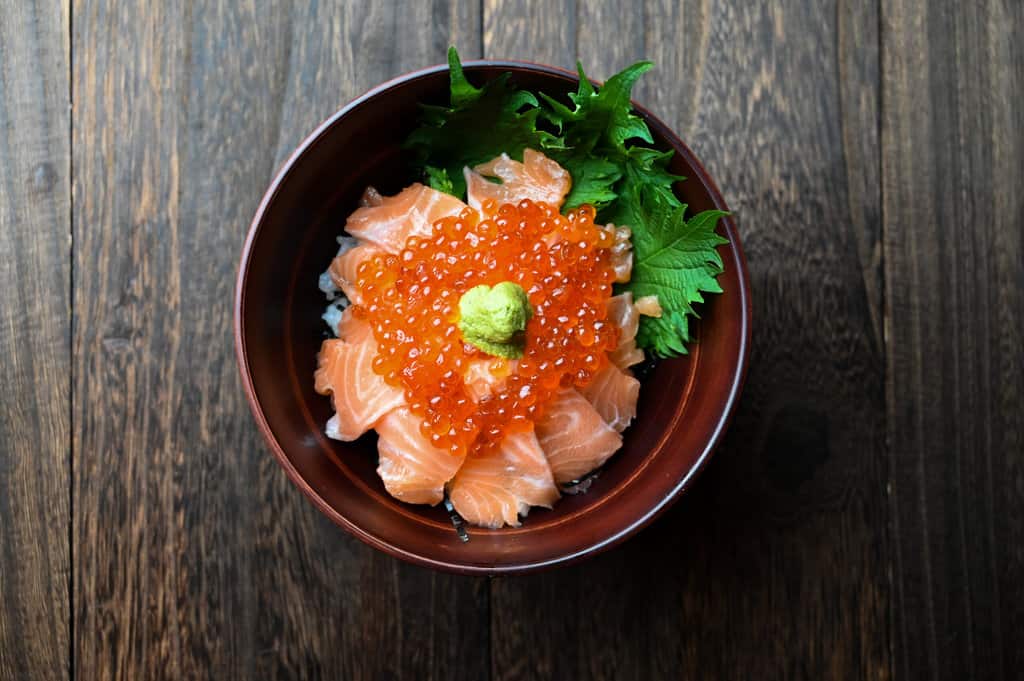 In a general sense, the term oyakodon means "parent and child rice bowl" and it usually refers to chicken and egg donburi. However, technically this variation of kaisendon can also be called oyakodon as it contains salmon and salmon eggs. This is one of the most popular variations in Japan and it tastes great! I used beautiful Norwegian salmon topped with shiso leaves and wasabi.
Classic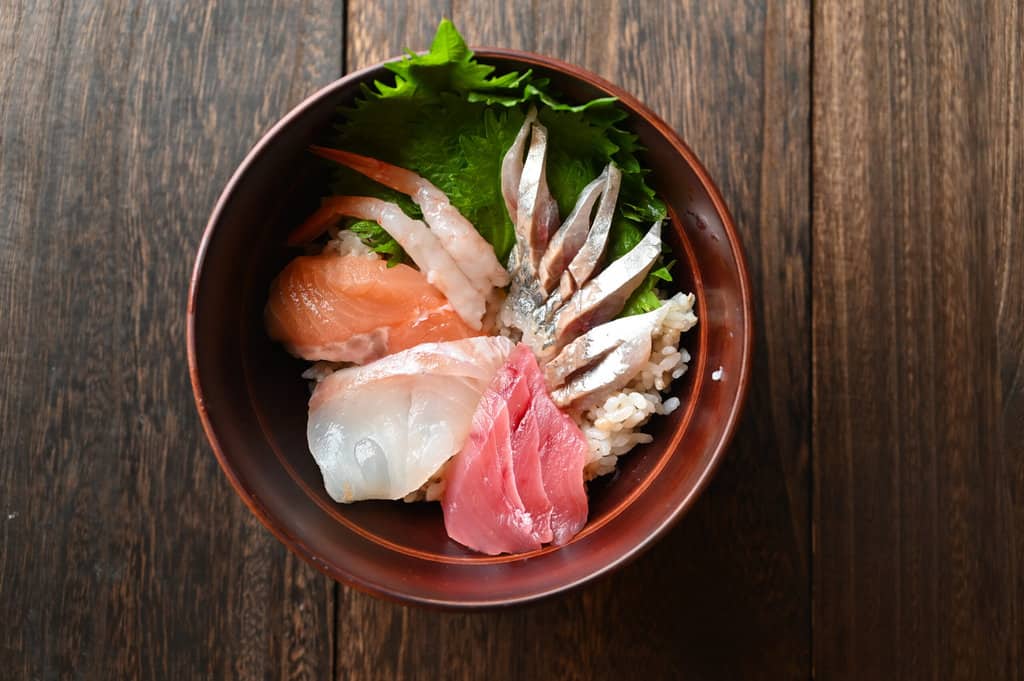 When it comes to sashimi, it can roughly be broken down into 3 categories: blue, red and white. What does that mean? Check the table with examples out!
| | | |
| --- | --- | --- |
| Blue (青魚) | Red (赤身魚) | White (白身魚) |
| Mackerel | Tuna | Red snapper |
| Horse mackerel | Skipjack | Cod |
| Pacific saury | Yellowtail | Flounder |
Everyone has different opinion on that in Japan so I won't delve into it now, but in this bowl, I used horse mackerel for blue, tuna for red and red snapper for white. As a bonus, I added salmon and sweet shrimps.
When you use one or two fish from each category, you can make your kaisen don more colourful!
Marinated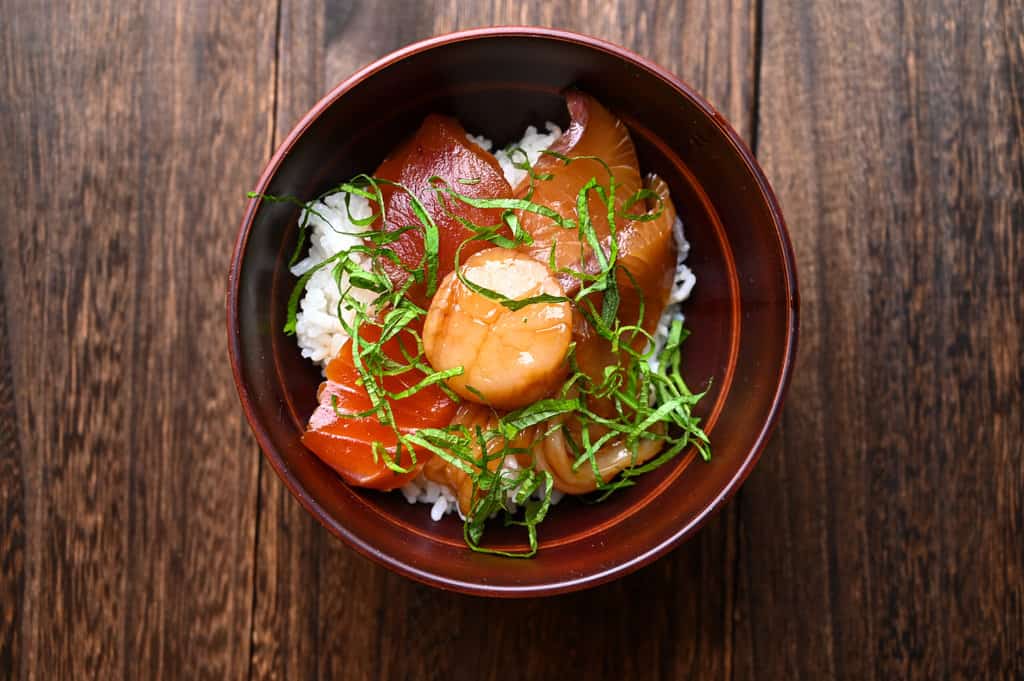 Ingredients of kaisen don can be marinated with soy sauce base marinade. You can check how to make the marinade in my zuke maguro don recipe here. My marinade is made quite sweet so, if you like sweet and savoury at the same time, definitely worth a try!
You can marinate any seafood and in the specific picture, I used:
Scallop
Tuna
Red snapper
Squid
It's topped with shiso leaves for extra kick!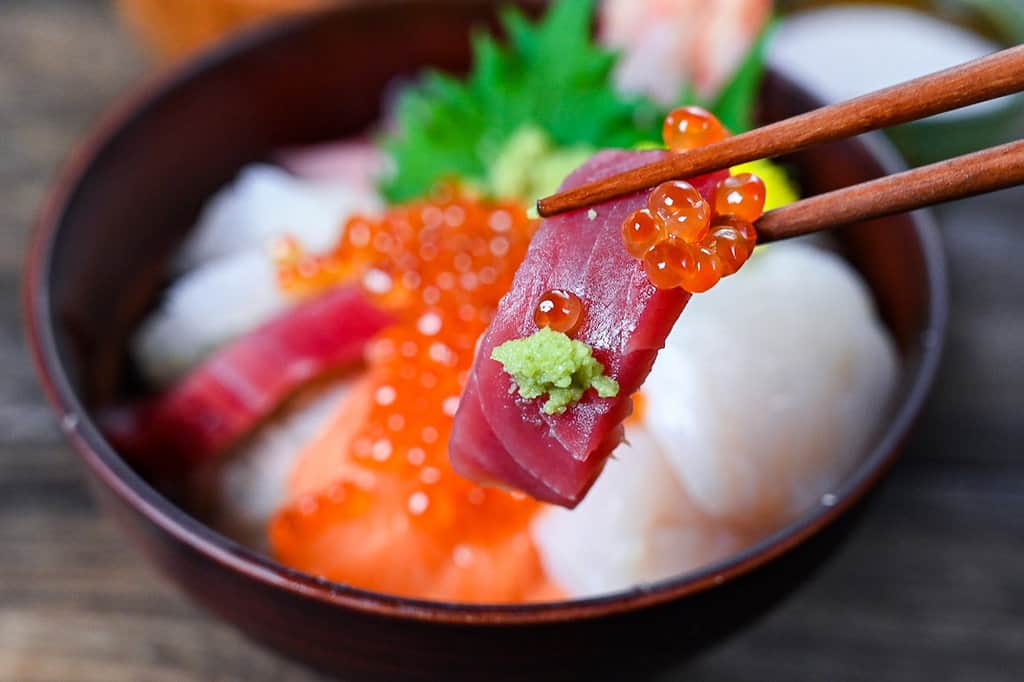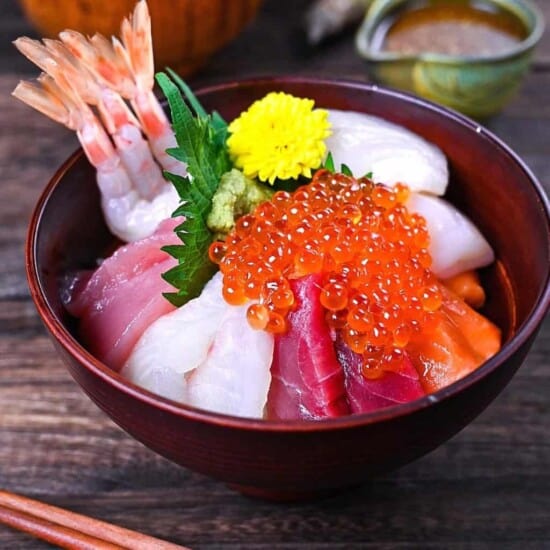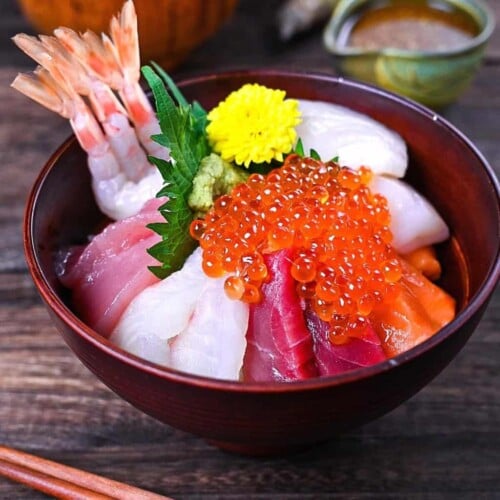 Kaisen Donburi (Seafood Rice Bowl)
---
How to make refreshing kaisendon (海鮮丼)with fresh seafood served over rice with a delicious homemade sweet and savoury sauce.
---
---
---
---
Ingredients
Sauce
2

tbsp

soy sauce

1

tbsp

light brown sugar

½

tbsp

sake

½

tbsp

mirin

50

ml

dashi stock

1

tsp

sesame oil

1

tsp

ground sesame seeds

optional
Instructions
Add

2 tbsp soy sauce

,

1 tbsp light brown sugar

,

1/2 tbsp sake

,

1/2 tbsp mirin

and

50 ml dashi stock

to a small pan and bring it to a boil.

Once boiling, turn the heat down and simmer for 5 minutes until slightly thickened.

Remove the pan from the heat and allow to cool completely. 

Transfer to a small dipping bowl and add

1 tsp sesame oil

and

1 tsp ground sesame seeds

. Mix well.

Divide

2 portions cooked Japanese short-grain rice

into bowls and top with

200 g seafood of your choice

. 

Garnish with shiso leaves, nori or chopped green onion.

Apply wasabi to the fish and dip each piece in the sauce before eating.

Enjoy with rice!