Tender cubes of sashimi-grade salmon soaked in a delicious Japanese marinade and served with crunchy cucumber and fresh avocado over fluffy white rice. This salmon don recipe is refreshing, filling and easy to make! Let's get started!
Disclaimer: This post contains Amazon affiliate links. Sudachi Recipes earn a small percentage from qualifying purchases at no extra cost to you. See disclaimer for more info.
Jump to:
What is Salmon Don?
Salmon don is a simple dish traditionally made with slices of sashimi-grade salmon served over rice. You could say that it is a variation of "kaisendon", a rice bowl dish topped with a mixture of raw seafood. In my recipe, I add cubes of crunchy cucumber and soft avocado to make the dish a little more nutritious and texturally interesting.
This is actually one of my go-to recipes when I don't feel like cooking. It's refreshing, filling and a great way to enjoy the natural flavors of fresh ingredients. Whether it's summer or winter, for lunch or dinner, this is a perfect dish for any time!
What is Donburi?
Donburi (丼) is the Japanese word for "rice bowl". Because most Japanese families own rice cookers, donburi is considered a quick and convenient meal, especially topped with raw seafood that is reasonably priced and readily available at supermarkets in Japan.
A few similar donburi dishes include:
Kaisendon (海鮮丼) Mixed raw seafood rice bowl
Magurozuke don (マグロ漬け丼) Raw tuna served over white rice
Tekka Don (鉄火丼) Red parts of raw tuna served over vinegared rice
Salmon and Ikura no Oyakodon (サーモンとイクラの親子丼) A rice bowl topped with salmon sashimi and salmon roe
If you have a rice cooker and access to sashimi-grade fish, you can enjoy making and eating these dishes anytime!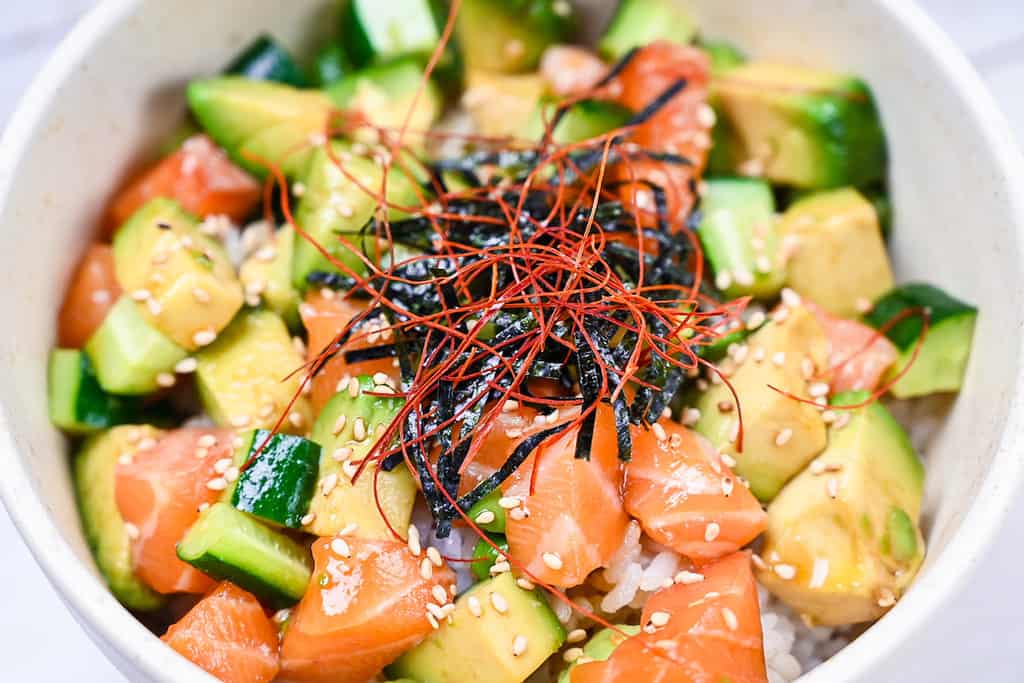 IngredientsYou Will Need
This simple recipe only requires a handful of ingredients, so it's important to use fresh and high-quality for the best results. For my recipe, you will need:
Sashimi-grade salmon - look for salmon that is labeled "sashimi-grade", no other salmon will do if you are eating it raw! Look for salmon that has shiny and vibrant orange flesh without too much cellular fluid (drips). Avoid dull salmon with excess liquid in the packaging, this is evidence of a fish that has lost its freshness and flavor.
Avocado - Choose an avocado that is only just ripe, since the donburi will be mixed before eating, you don't want the avocado to become too easily mushed.
Cucumber - I use Japanese cucumber, but any fresh cucumber will work. If it's a variety that has a lot of soft flesh, you might want to scoop this out before cutting it into cubes to avoid making the rice watery.
Japanese short-grain white rice - Donburi is nearly always made with Japanese style short-grain white rice. I recommend a rice cooker for convenience, but if you don't have one, check out how to cook Japanese rice on the stove here.
Marinade
To make this dish extra tasty, I like to marinate the salmon and avocado for 30 minutes. This extra step is definitely worth the effort and the marinating time can be used to cook the rice. Everything will come together in 30 minutes!
My marinade is made from the following ingredients:
Soy sauce - I use Japanese dark soy sauce (koikuchi shoyu). For brand recommendations, see my post 20 essential condiments for Japanese cooking.
Mirin - I recommend using a high-quality, affordable "hon mirin" such as Hinode Hon Mirin, rather than fake "mirin-style" condiments.
Sake - Sake softens both the taste and texture of the salmon, removing any unpleasant fishness. If you can't find sake, dry sherry or white wine can be used instead.
Kombu - a small sheet of kombu left to soak in the marinade with the other ingredients adds depth and umami to everything it touches. If you don't have kombu to hand, a small sprinkle of instant dashi powder would work in a pinch.
If you really want to skip the marinade (which I do if I'm in a rush), then I recommend pouring a small amount of tsuyu sauce over the bowl before serving.
I have listed my recommended Japanese condiments, tools, and ingredients in the Sudachi Recipes Amazon shop. If you want to keep making various Japanese foods at home, please check it out!
Toppings
You can personalize this dish further by adding a range of different toppings. Here are a few suggestions:
Toasted white sesame seeds
Shredded nori (kizami nori)
Chili threads
Wasabi
Perilla leaves (shiso/ooba)
What is Sashimi Grade?
When eating raw fish, it's extremely important to use fish that has been stored and prepared especially for sashimi or sushi. This will be labeled as "sushi-grade" or "sashimi-grade" and can be found at Japanese supermarkets or ordered online.
"Sashimi grade" means that the fish has been stored and transported at low enough temperatures that that it is parasite free and safe to eat raw. Sashimi-grade salmon in particular is farmed to prevent parasites (since wild salmon is never safe to eat raw), so please be careful when selecting suitable salmon for raw consumption. If you have any questions about sashimi-grade salmon, I have an in-depth article about salmon sashimi here.
Tip: If you can't buy sushi grade salmon, switch it for smoked salmon and skip the marinade. I used to do this when I lived in England!
What kind of rice is used for donburi?
Japanese short grain white rice is the go-to rice in Japan and is used to make all kinds of dishes from sushi and rice balls, to curry rice and donburi. The rice is a little bit sticky so it's easy to pick up with chopsticks.
Koshi hikari is the one of the most famous types of Japanese rice and popular for its natural sweetness and stickiness. If possible, I recommend using koshi hikari when making donburi.
If you have a rice cooker, making donburi couldn't be much easier! But if not, don't fear. I have a whole post on how to cook Japanese style rice on the stove, check it out here!
Tip: When cooking Japanese rice, make extra and store it in portions in the freezer. Then you can microwave it whenever you want to whip up a quick donburi meal! (I literally do this all the time!)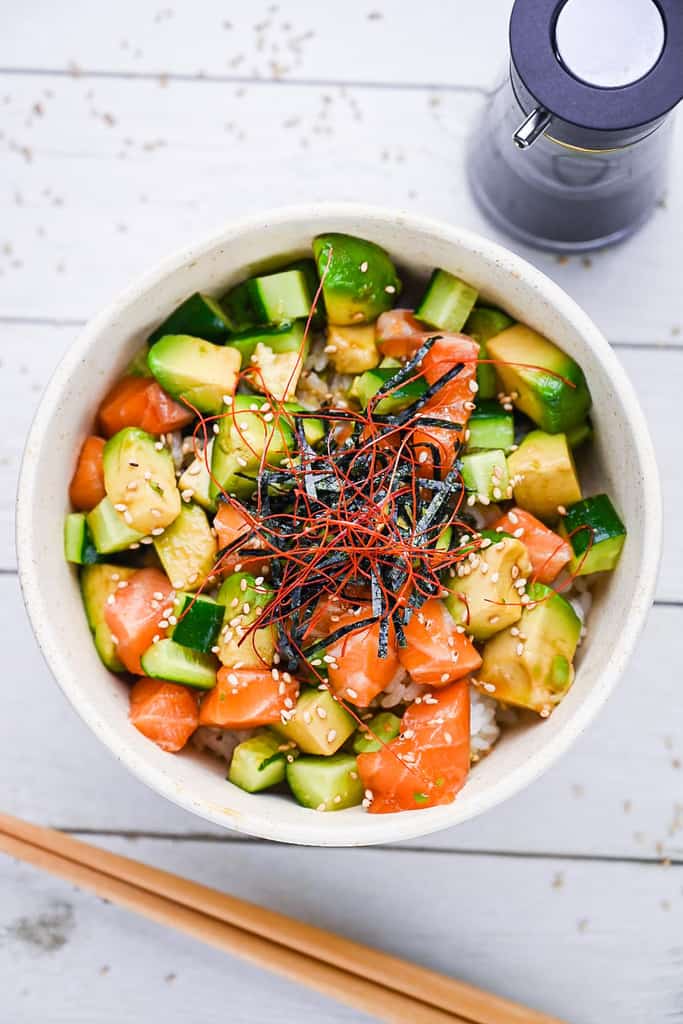 Step-by-Step Process
Here are my step by step instructions for how to make delicious marinated salmon don at home. For ingredient quantities and simplified instructions, see the printable recipe card below.
Tip: If you're cooking fresh rice, I recommend washing it and soaking it for 30 minutes before you start making this recipe.
Pour soy sauce, mirin and sake into a small pan and boil it over a medium heat for 1-2 minutes. This step is to burn off the alcohol in the mirin and sake.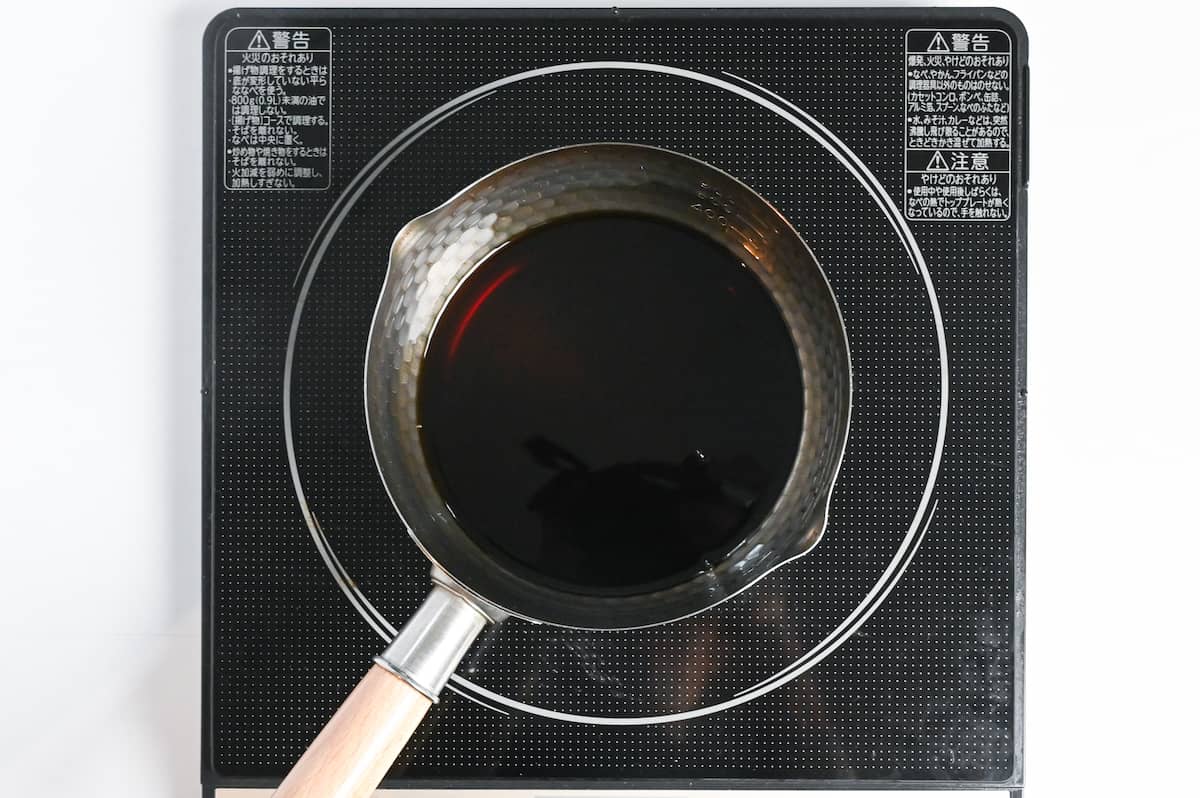 Allow the marinade to cool to room temperature, you can speed up the process by transferring it to a container and placing it over an ice bath or cool surface.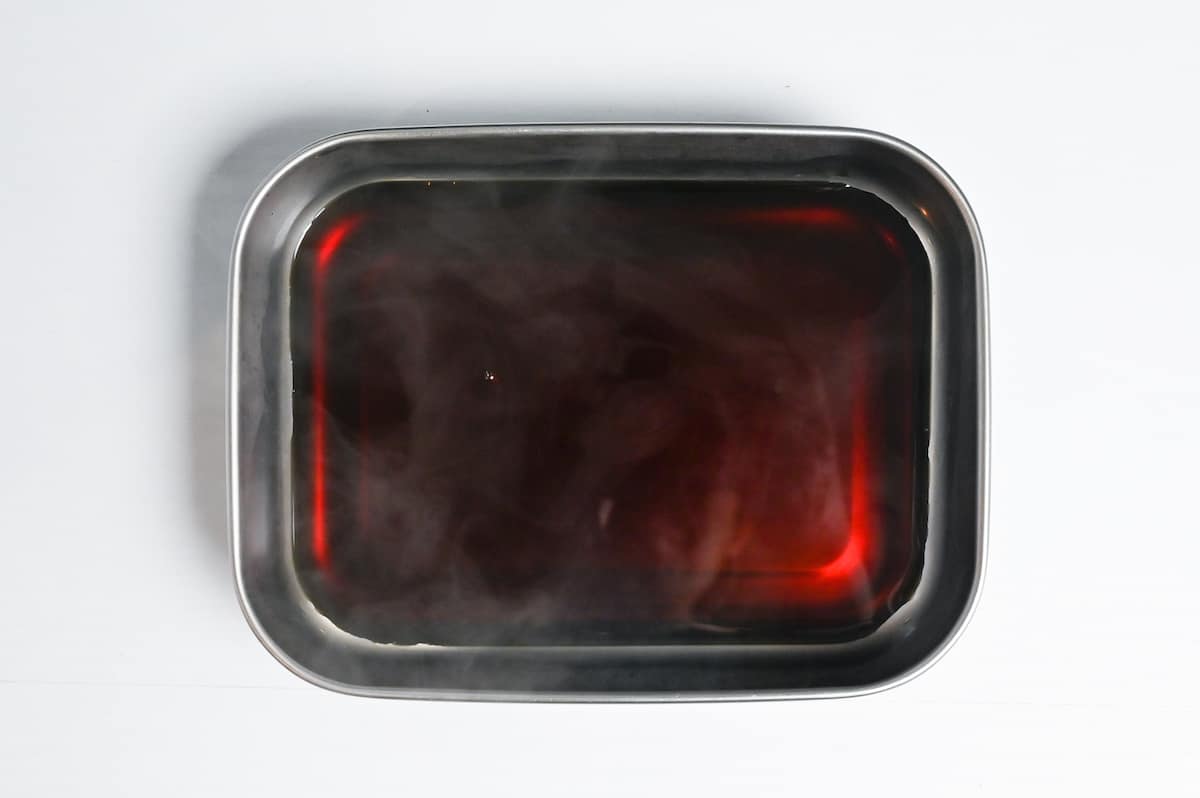 It is very important that the marinade is cool before pouring it over the salmon, we don't want to accidentally cook it!
Cut the salmon and avocado
Use a sharp knife to cut the salmon and avocado into cubes. This is my personal preference, but if you prefer it sliced, you can arrange the dish any way you like. Be creative!
Place them in a container with a small sheet of kombu.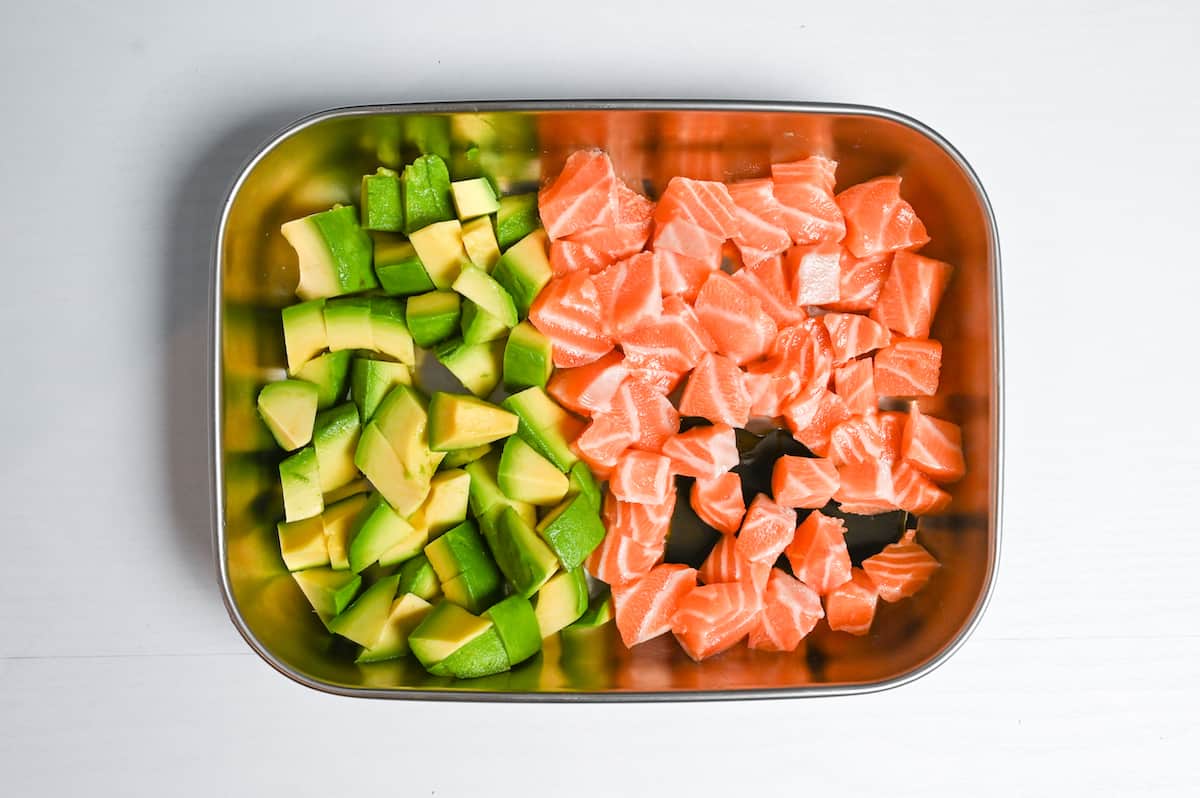 Pour the marinade over the avocado and salmon, you might need to turn some pieces so that they're all evenly coated. Then place a piece of plastic wrap over the top so that its in contact with the surface of the salmon, this will ensure it is evenly marinated.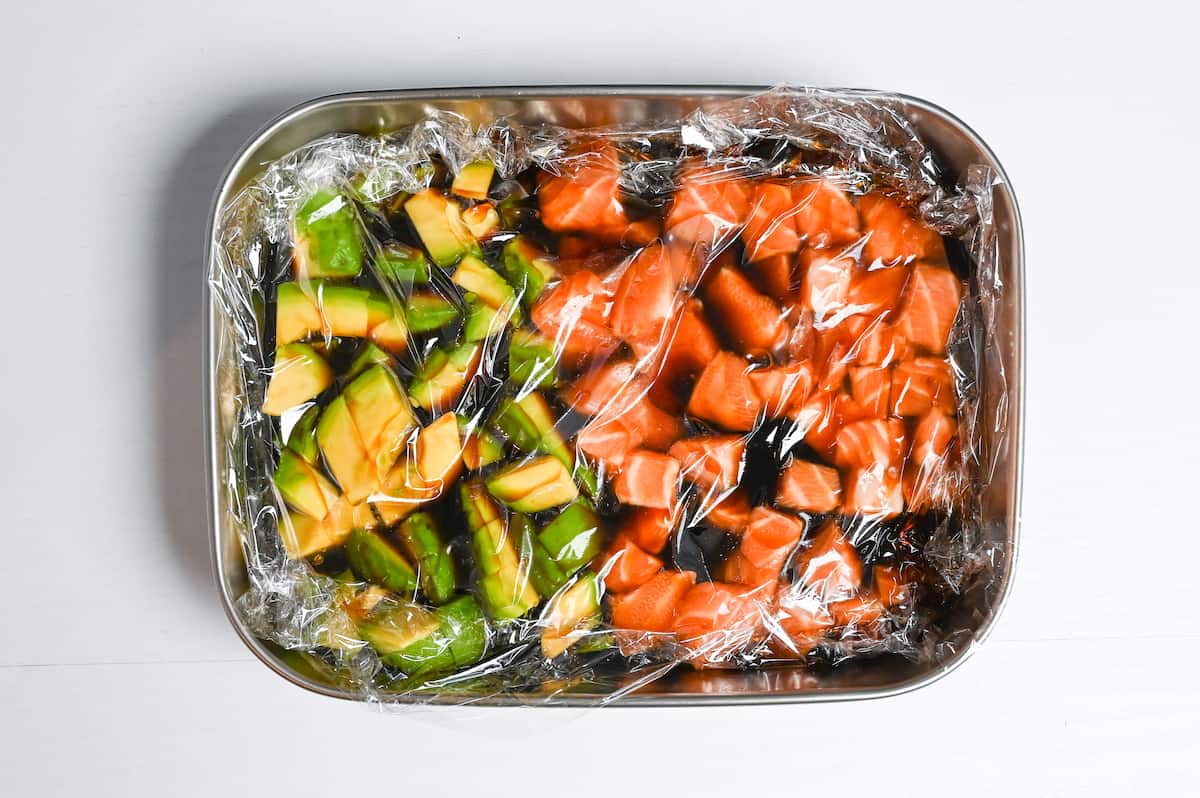 Place a lid on top and marinate in the fridge for 30 minutes. While you wait, I recommend cooking your rice using your preferred method.
Prepare a bowl of rice for each portion. Cut the cucumber into cubes and scatter them on top of the rice along with the marinated salmon and avocado.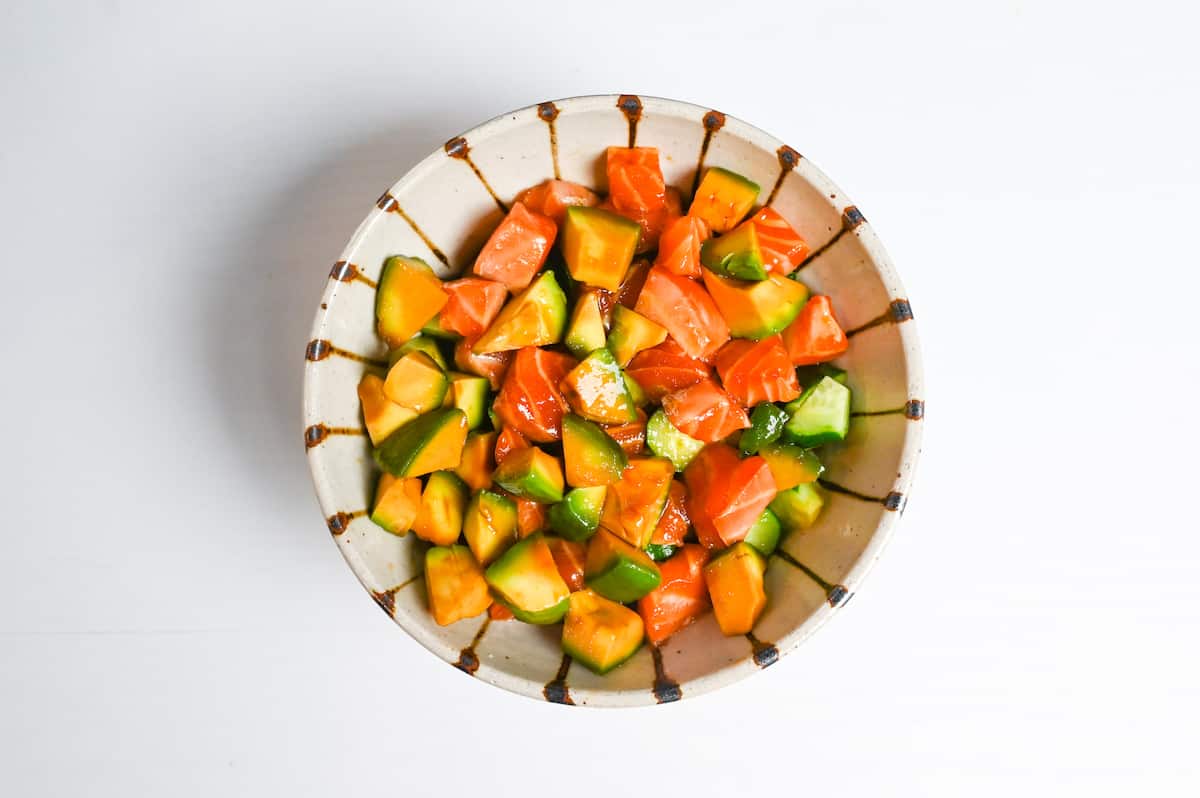 For an added touch, I like to sprinkle the top with sesame seeds, shredded nori or a few chili threads for a little heat.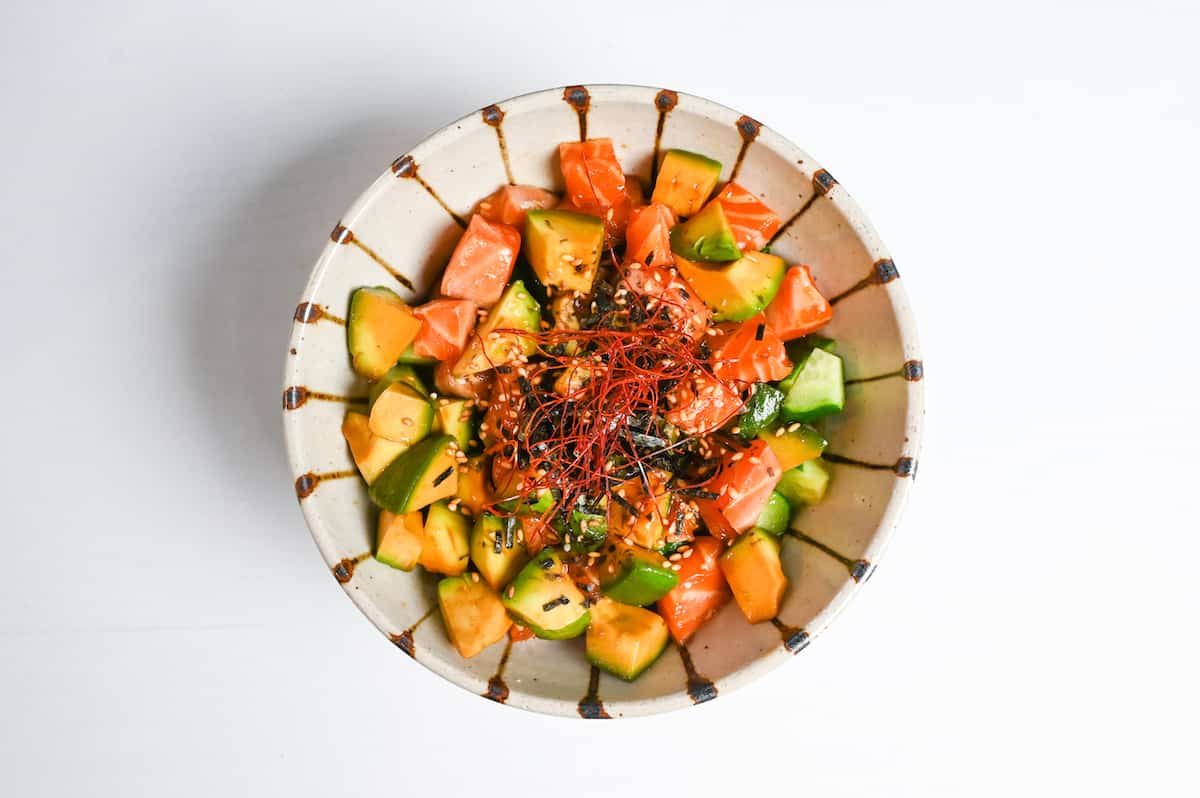 Mix well before eating and enjoy!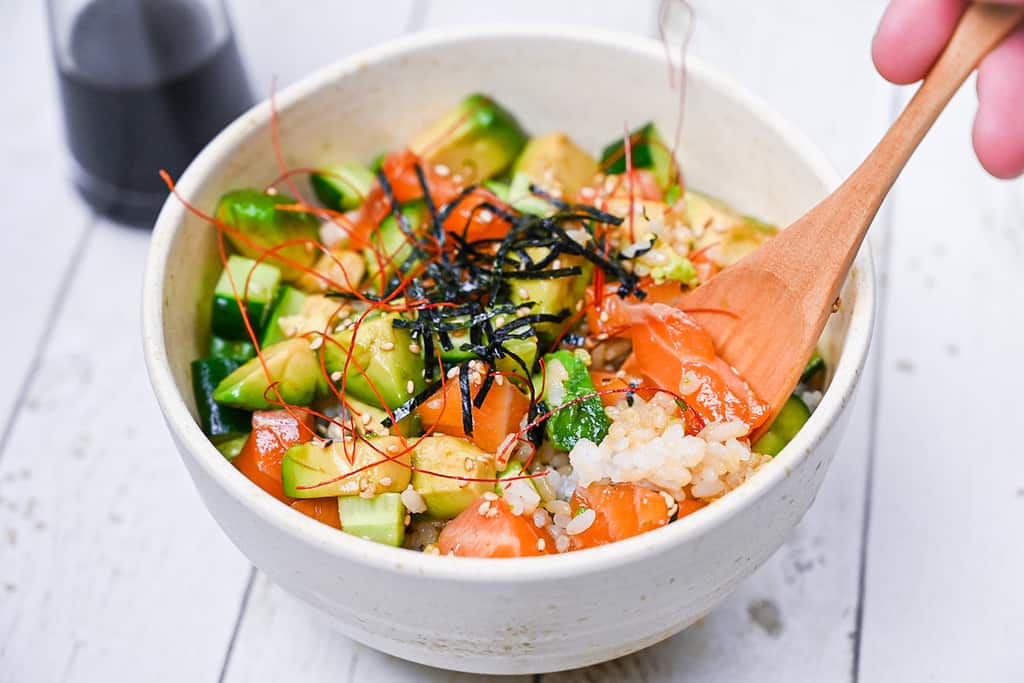 I hope you enjoy this quick and easy marinated salmon don recipe! If you try it out, I'd love if you could spare a moment to let me know what you thought by giving a review and star rating in the comments below. It's also helpful to share any adjustments you made to the recipe with other readers. Thank you!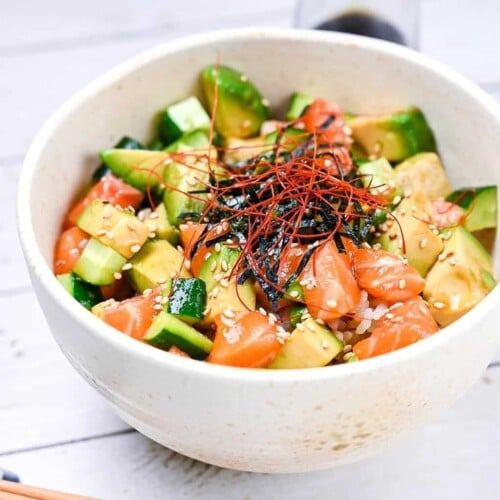 Marinated Salmon Sashimi Bowl (Salmon Don)
Delicious salmon donburi made with marinated sashimi-grade salmon, fresh avocado and crunchy cucumber served over soft Japanese white rice. (Recipe doesn't include how to cook rice.)
Instructions
Pour

50 ml soy sauce

,

50 ml mirin

and

50 ml sake

into a small pan and bring it to a boil on a medium-high heat. Boil for 1 min to burn off the alcohol in the mirin and sake.

Remove the pan from heat and allow the sauce to cool down to room temperature. (You can speed up the process by transferring the sauce to a heatproof bowl and placing it in a bowl of ice.)

Cut

200 g sashimi grade salmon

and

1 avocado(s)

into cubes and place them in a container along with

5 g dried kelp(s)

.

Pour the cooled marinade over the salmon and avocado until evenly coated, then cover it with plastic wrap. (The plastic wrap should be in direct contact with the surface of the salmon.)

If your container has a lid, secure it on. Store in the refrigerator for 30 mins. Use this time to cook your rice using your preferred method.

After 30 mins dish up the rice and cut

100 g Japanese or Persian cucumber(s)

into cubes. Scatter the salmon, avocado and cucumber over the rice.

Pour ½ tbsp of the leftover marinade over each bowl and sprinkle with sesame seeds, kizami nori and/or chili threads (optional).

Enjoy!