The humble and versatile onion, known in Japanese as "tamanegi", comes in all shapes and sizes. Learn all about onions' place in Japanese cuisine, from their surprisingly recent history to their variations, uses and common cutting techniques used in Japanese cooking. I also include recipe recommendations along the way!
Disclaimer: This post contains Amazon affiliate links. Sudachi Recipes earn a small percentage from qualifying purchases at no extra cost to you. See disclaimer for more info.
Jump to:
What is tamanegi and is it essential for Japanese cooking?
"Tamanegi" (玉ねぎ) is the general term for round onions in Japanese. Originating in Central Asia, onions are hardy vegetables equipped with thick, overlapping, rounded leaves at their base. This unique design allows it to thrive even in the harshest of environments. Historical records show that its cultivation dates as far back as the 26th century BC.
Onions made their grand entrance into Japan during the Edo period (1603-1867). Initially met with resistance, a pivotal event transformed its reputation, eventually elevating it to become an indispensable fixture on modern Japanese dining tables.
Fast forward to the present day, and Japan proudly holds the position of the world's second-largest onion producer, just behind the United States. Now, let's peel back the layers of history and uncover how the once-shunned onion earned its popularity and importance in Japanese cuisine.
History of Onions in Japanese Cuisine
Onions, celebrated for their nutritive and restorative properties, have a long-standing history of being the "power food" for pyramid builders and warriors in ancient Egypt. Despite such deep-seated familiarity across cultures, they only arrived in Japan around the mid-Edo period (1603-1867), brought by the Nanban ships in the 1770s. The novel pungency of the onion initially repelled the Japanese palate, and it was reserved solely for ornamental horticulture.
It wasn't until the dawn of the Meiji period (1868-1912) that onions began to take root in Japanese soil and cuisine. Hokkaido's development paved the way for introducing several edible onion varieties from the U.S. in 1871, including what we now know as the "Sapporo Yellow (札幌黄)." This cold-resistant variety thrived in Hokkaido's chilly climate, and onion farms swiftly multiplied.
Yet, onions remained an unpopular vegetable, barely nudging the public interest. What catapulted the onion into the spotlight was the cholera epidemic that swept through the Kansai region in the early Meiji period. Onions then stepped into this bleak scenario, rumors of its effectiveness against it spreading like wildfire.
While there's absolutely no evidence backing the onion's power to combat cholera, its taste mirrored that of Japanese green onion (negi), a staple in the Japanese diet for centuries. Once this connection was drawn, onions ascended to the status of a much-loved vegetable, giving rise to many onion-infused Japanese dishes.
Simultaneously introducing Western-style dishes like curry rice and hambagu in Japan was another stepping stone in the onion's journey, helping cement its place on dinner tables across the country.
Benefits of Onions
What sets onions apart is their potent sweetness that intensifies when they are chopped and simmered until they reach a melt-in-mouth consistency. These sauteed onions lay the foundation for various yoshoku (Western-inspired Japanese dishes), including curry rice, hambagu, sauces, and soups.
Furthermore, onions lend their fragrance and flavor to broths and soups, neutralizing undesirable odors.
Which Kind of Onion Goes Well with Japanese Food?
Onions can be broadly segregated into two types: the pungent Eastern European varieties and the sweet Western European ones. Predominantly, the onions cultivated in Japan are pungent, making these varieties suitable for most Japanese dishes. Nevertheless, sweet varieties can also find their place in Japanese cuisine.
Onions are often classified by the color of their external skin, namely yellow onions, white onions, and red onions. Let us delve into the distinctive traits of each type and their optimal uses in Japanese cooking.
Yellow Onion
The most widely cultivated and favored pungent variety in Japan is the yellow onion (黄タマネギ), named for its light brown external skin. To enhance shelf life, these onions are air-dried for about a month post-harvest before being shipped. High-quality onions possess a firm neck and roots, a uniformly rounded shape, and a solid, heavy feel.
Due to their pungent flavor, when consumed raw, they should be cut and rinsed in water or washed under running water. Yellow onions are versatile and can be utilized in various cooking methods such as simmering, grilling, frying, stir-frying, nabe (one-pot dishes), and soups. If a Japanese recipe does not specify otherwise, yellow onions are a safe and suitable choice.
Interestingly, the white-skinned "new onions (新タマネギ)" that appear in early spring in Japan are early harvested "yellow onions" planted in autumn. They can be used in salads or as condiments after a brief soak in water.
White Onion
A comparatively rare variety in Japan, white onions are available only briefly during the season. There are two main types: one is a sweet variety bred from French onions, and the other is developed with a pungent variety. They resemble "new onions," but their white skin makes them easily distinguishable. They have a high water content and sweet flavor, but their downside is that they do not store well.
Their most prominent feature is their minimal pungency, making them ideal for raw consumption and earning the name "salad onion" (サラダオニオン) in Japanese. Their soft and sweet flesh can be delicious when cut into round slices and sautéed or used whole in soups or oden.
Red Onion
Also referred to as "purple onion (紫タマネギ)" or "red onion (赤タマネギ)" in Japanese, this sweet onion variety is distinguished by its vibrant red-purple exterior. Boasting a crunchy and sweet taste, they are suitable for raw consumption. Although the skin is reddish-purple, the flesh is white, with red rings appearing like tree rings when sliced.
It has a short history as an ingredient in Japanese cuisine and is primarily used to decorate sashimi, tataki, and salads. When boiled or incorporated into soups, its color often bleeds into the broth, which is not visually ideal.
Summary: Types of Onions, Characteristics, and How They're Used in Japanese Cooking
Yellow Onion
White Onion
Red Onion
Look
Bright brown
White
Vibrant reddish purple
Variety
Pungent
Pungent or sweet
Sweet
Characteristics
Unique pungent taste and smell, sweet flavor when heated
Sweet with no pungency, high moisture content
Sweet with little pungency, high moisture content
Usage
For all Japanese cooking
Salad
Sauteed vegetables
Soups
Salads
Pickles
Main varieties in Japan and their distribution period
Sapporo Yellow (Year-round)
Senshu Yellow (Year-round)
Premium White(Dec-Jan)
Aichi White (Feb-Apr)
White Bear (May-Jun)
Mashiro (Aug-Sep)
Shonan Red (Year-round)
Early Red (Year-round)
Kurenai (Year-round)
Other Onions Available in Japan
In Japan, other types of onions commonly found include Pecoros, Pearl Onions, Ruby Onions, and Leaf Onions:
Pecoros (ペコロス) - Also known as small onions, Pecoros are cultivated in densely populated yellow onion fields and harvested when they reach about 3 cm in size. They are ideally used for baking whole in the oven or soups and stews, as they retain their structure and do not fall apart easily.
Pearl and Ruby Onions - Pearl onions and Ruby onions, each about 2 cm in diameter, are excellent for pickling and as garnishes. The white Pearl onions, part of the pungent variety, are often chopped and used for adding flavor. Conversely, red Ruby onions are part of the sweet variety and are typically used raw in salads.
Leaf Onions (葉タマネギ) - Leaf Onions are white onions with thicker leaves, offering a flavor that combines both onions and scallions. This versatility enables them to be incorporated into various dishes, enhancing the dish with their unique taste and texture.
Four Ways to Cut Onions for Cooking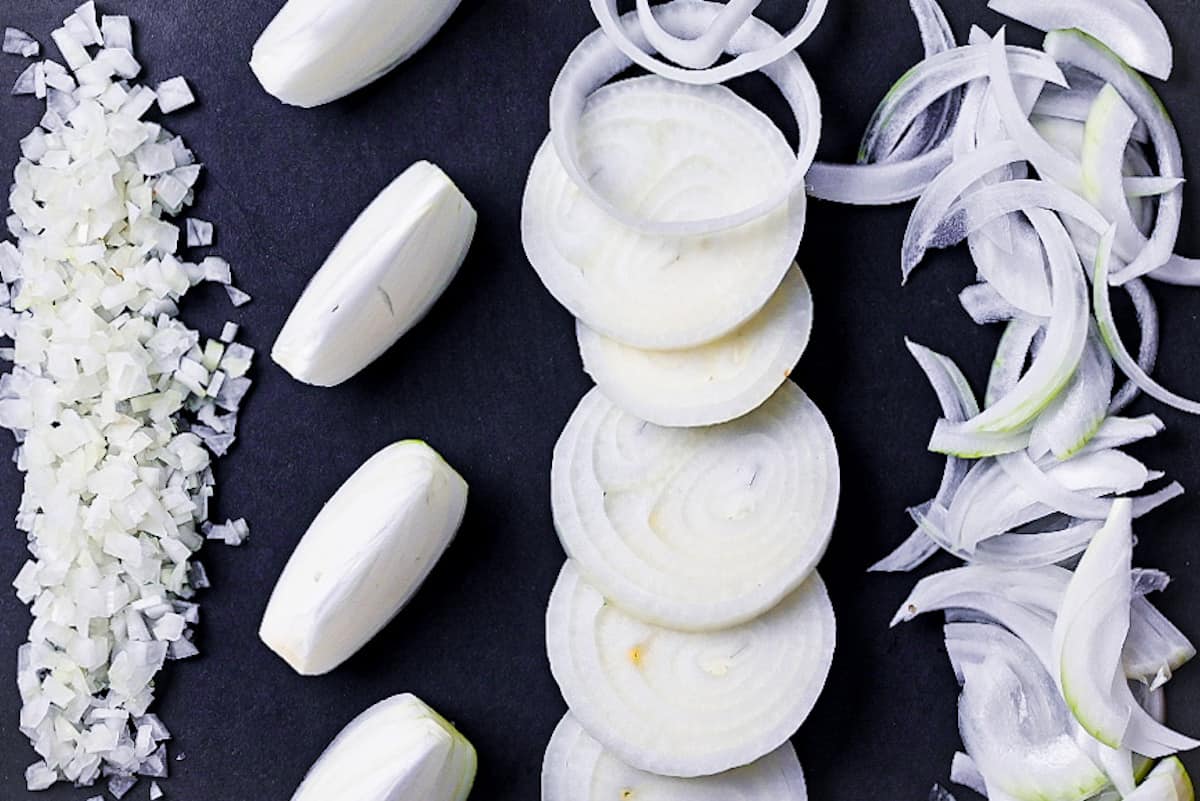 The taste and texture of onions vary greatly depending on how they are cut. Mastering the various cutting methods will expand your repertoire of onion dishes. Let us introduce you to the various ways to cut onions and the appropriate cooking methods.
Finely diced (Mijin-giri)

Wedges (Kushi-giri)

Round slices (Wa-giri)

Thin slices (Usu-giri)

Usage
Stir-fry
Condiments
Stir-fry
Simmered
Soup
Sauteed
Deep-fried
Simmered
Salad
Dish examples
Hambagu, Curry rice, Meatloaf, Fried rice, Chicken rice, etc.
Yasai itame, Nikujaga, Gyudon, Cream stew, etc.
Onion steak, Onion rings, Tempura, Sukiyaki, Beef stew, etc.
Potato salad, Tomato salad, etc.
Finely diced (Mijin-giri)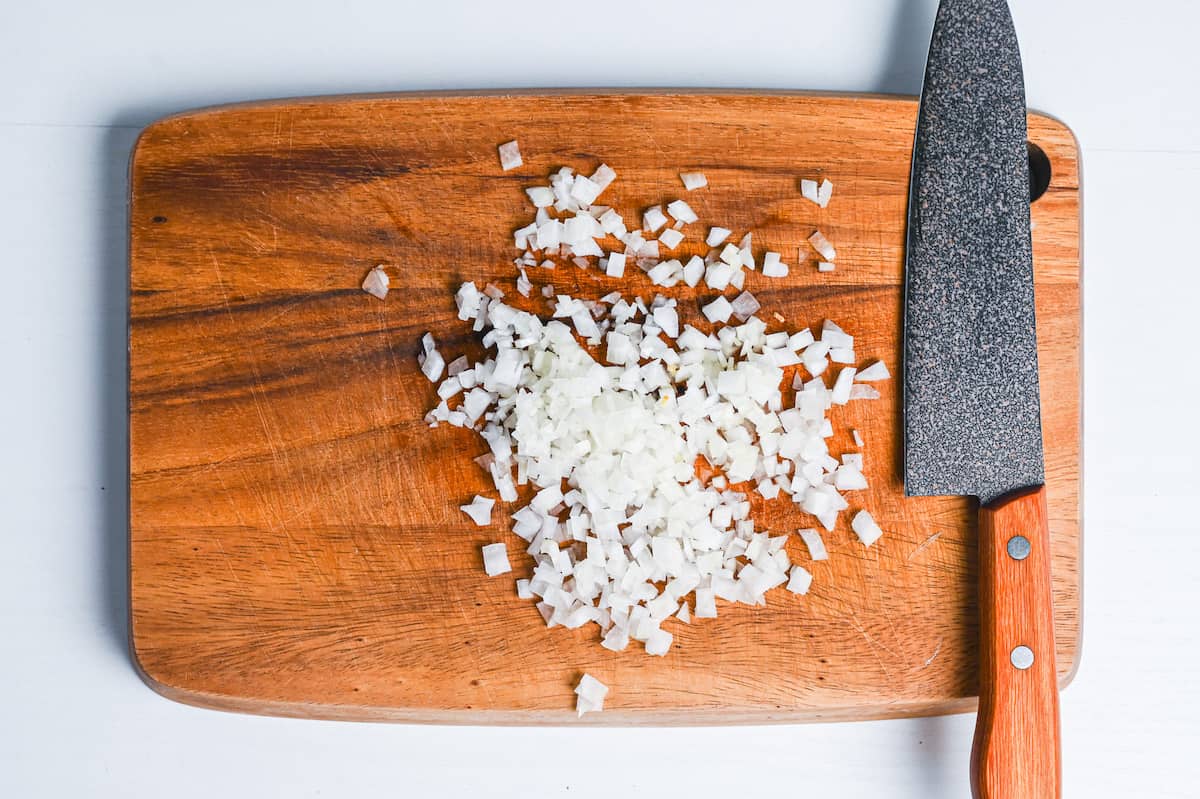 Cut a peeled onion in half lengthwise and place it with the cut side down to prevent rolling. Make fine vertical cuts, being careful not to separate the onion from the root end.
Turn the onion around, hold the knife parallel to the chopping board and make several horizontal cuts, cutting finely from the edges. Hold the knife vertically once more and slice to start finely dicing.
The wider the incisions, the more "coarsely chopped" the onion will be. Use this method when you want to keep the crunchy texture of the onion.
You can make it even finer by rocking the knife back and forth over the already-diced onion.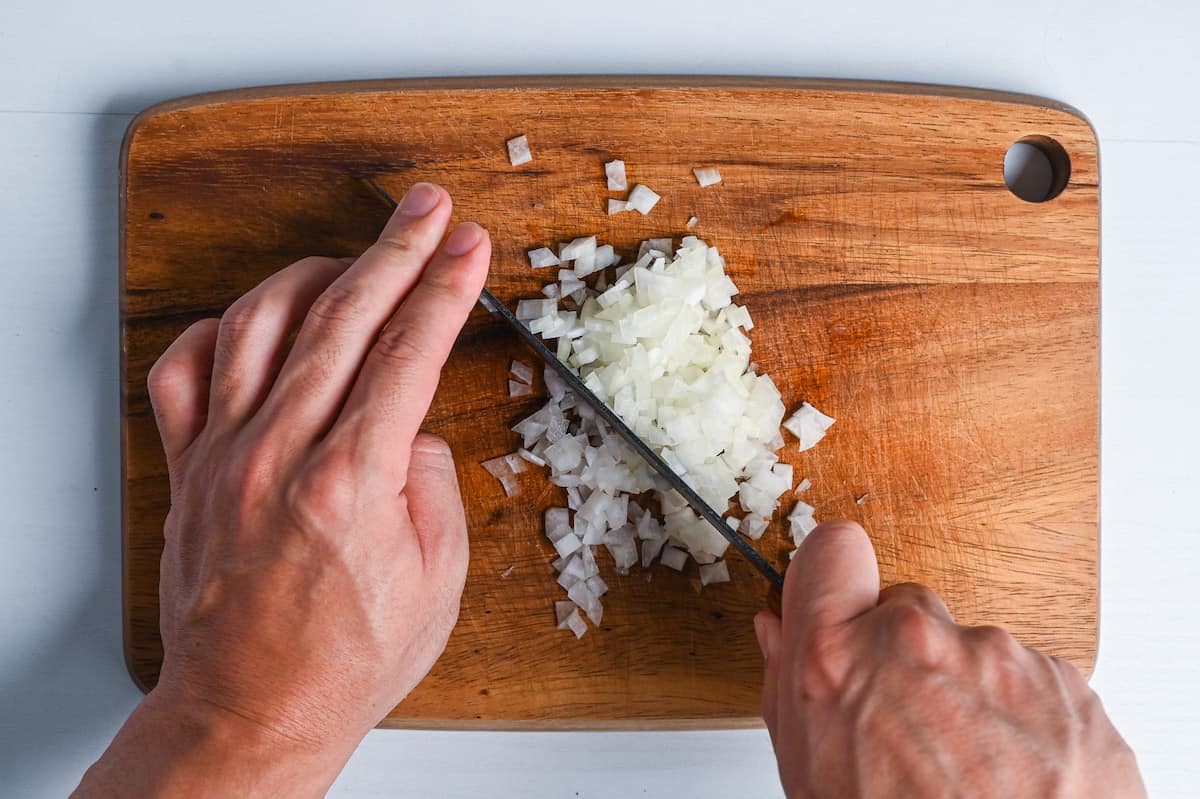 Finely diced onion is suitable for...
Wedges (Kushi-giri)
Cut the peeled onion in half lengthwise, make a V-shaped cut at the base, and remove the root.
Cut the onion in half lengthwise again and divide into two equal pieces without separating the layers. Turn the onion around 180 degrees, keeping the cut ends together, and cut in half lengthwise again.
You can change the size of the wedges by changing the angle of the knife as you cut.
Wedges are suitable for...
Round slices (Wa-giri)
Place the peeled onion on its side with the root attached, and cut off the tip slightly. Press down firmly with your hands and cut into slices about 1 cm thick from the neck. The onion is round and unstable, so be careful not to let your hand or the onion slip.
Round slices are suitable for...
Thin slices (Usu-giri)
Cut the onion in half, lay it flat and cut off the end. Slice to your preferred thickness.
The onion may be sliced vertically or horizontally. Slicing vertically produces a soft and gentle texture while slicing horizontally produces a crisp and crunchy texture. In either case, immediately after slicing, release the slices into cold water and let them sit for a while to remove the pungency.
Thin slices are suitable for...
Must-Try Japanese Recipes That Feature Onion
Now that you've got four ways to cut onion, why not enjoy them with a variety of Japanese recipes! Check out my recipe collection below!
15 Japanese Recipe Ideas Using Onion
A collection of some of the best and most popular Japanese recipes using onions (tamanegi)!
Check out this recipe →
What is your favorite Japanese recipe that contains onion? Let us know in the comments below!
Four Ways to Cut Onions
Four different methods for cutting onions to use in cooking.
Instructions
Finely Diced (Mijin-Giri)
Cut the onion in half through the roots and top stem.

Place one half flat on the chopping board. Cut off the stem and discard, but leave the root intact.

Turn the onion so the root is facing the back of the chopping board. Cut vertically up to the root. (Be careful not to cut all the way through the root or the cut won't work.) The thicker the slices, the bigger the dice.

Turn the onion so that the root is on the opposite side of the knife-hand. Hold the knife parallel to the chopping board (180 degrees) and make horizontal cuts up to the root. Again, be careful not to cut all the way through. Depending on the size of the onion, about 2-3 slices will suffice.

Return the knife to its regular cutting position (90 degrees) and slice the onion in the opposite direction of the first cuts. Slice until you reach the root and discard it.

To make it even finer, scoop the finely diced onion into a pile and continue to chop until it reaches your desired size.
Wedges (Kushi-Giri)
Cut the onion in half from the root to the top.

Place it flat on the chopping board, cut off the top and discard.

Cut a V shape around the root and remove without separating the layers. Discard the root.

Cut the quarters in half again, or angle your knife to create different thicknesses according to your preference.
Round Slices (Wa-Giri)
Take a whole onion, cut off the top and discard.

Hold the onion firmly (be careful of slipping) and slice to your preferred thickness.
Thinly Sliced (Usu-Giri)
Cut the onion in half from root to top.

Cut off the top and discard.

Slice to your desired thickness until you reach the root.

Throw the root away and repeat with the other half.
FAQ
Does Japanese food use onion?
Onions are not used in traditional Japanese cuisine but are frequently used in home cooking and modern Japanese and yoshoku cuisine.
What is onion in Japanese cooking?
You cannot go wrong with pungent yellow onions.
When did Japan start using onions for cooking?
It is since the Meiji era (1868-1912).
What is onion in Japanese?
Onion is called "tamanegi" (玉ねぎ) in Japanese.