Oden is traditional Japanese one-pot dish enjoyed during the colder months. Made with an assortment of fishcakes, tofu, eggs, meat and vegetables simmered in a light soy sauce flavoured dashi broth, oden is the perfect comfort food. Enjoy making this unique winter dish at home!
Jump to:
What is Oden (おでん)?
Japanese oden is a one-pot dish (nabemono) made by simmering a variety of ingredients in a light dashi broth. It's a warming dish that can be enjoyed all year around, but we most commonly eat it in winter.
While oden has its common and popular ingredients, there is no fixed rule to what you can add. That's the beauty of oden!
The broth (dashi) is made from dried bonito flakes and kelp which is then seasoned and simmered for a long time with ingredients such as fried tofu, a variety of Japanese fish cakes, "suji" (beef strips), boiled eggs, root vegetables and various others.
The type of oden ingredients and flavoured broth varies from region to region and from household to household.
History of Oden
The origin of oden started with tofu dengaku, a rectangular piece of tofu which is grilled, served on a bamboo skewer and eaten with miso. Tofu dengaku was a popular dish in the Muromachi period (1336-1573) and the "den" part of "oden" comes from the word "dengaku".
Later, in the Edo period (1603-1868), dengaku came to be a well loved dish, enjoyed by the common people as a fast food. It eventually evolved and rather than eating the dengaku with miso, they started to cook it in dashi and adding more ingredients (like fishcakes), resulting in the oden as we know it today!
Food stands selling oden used to be pretty popular, appearing in the evening serving oden as a warm comfort food to enjoy after work (often served with drinks!) but these days it's more common to buy oden from convenience stores or make it yourself at home.
West VS East
Regional dishes are an important part of Japanese food culture and as you'd probably suspect, oden is slightly different in the East and West. Modern oden's origin is Edo (Tokyo), and then it spread to the West in the Taisho period (1912-1926). At first, it was called "Kanto-daki" to distinguish it from dengaku.
While they share the name "oden" and both use the same bonito flake and kelp broth (dashi), the eastern and western versions have differences in the seasoning, stewing method, and ingredients.
West
Light soy sauce with mirin and salt
Lightly simmering
Often see meaty ingredients such as beef tendons, octopus...etc
East
Sweet and savoury with dark soy sauce, sugar and sake
Simmering for a long time
Fish cakes are very popular such as Chikuwa-bu and Hanpen
And me? I literally live in a region right in between Tokyo and Osaka, so I don't have any preference, but I've gotta say my favourite ingredient is beef tendon.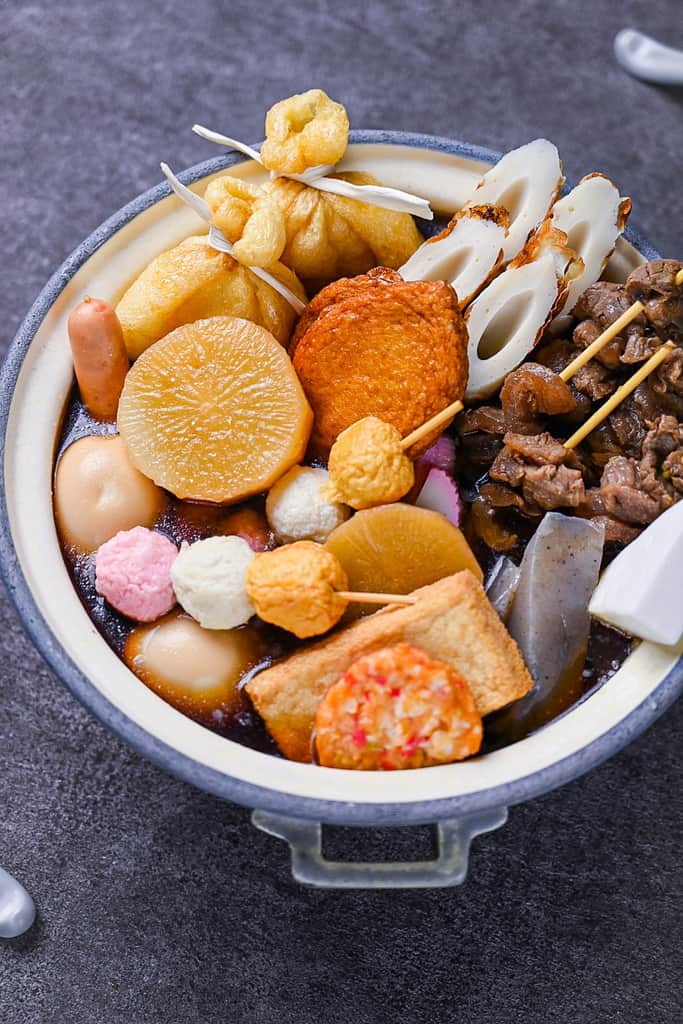 A complete guide to Oden Ingredients
So, what do we put in oden? As I mentioned already, Oden can differ from region to region, house to house, so there's no rules. But I thought it would be nice to list and share popular ingredients to use for Oden.
Daikon
Usually when daikon is used for oden, it's peeled and cut into thick slices. They are boiled separately to soften them before use.
A lot of people think daikon as "the king of oden".
Preparation tip: Peel the daikon, cut into large slices and make a cross-shaped slit on one side. Then pre-boil them in plain water until they are slightly softened on the outside, you then soak them in cold water until you're ready to add them to the oden.
Boiled eggs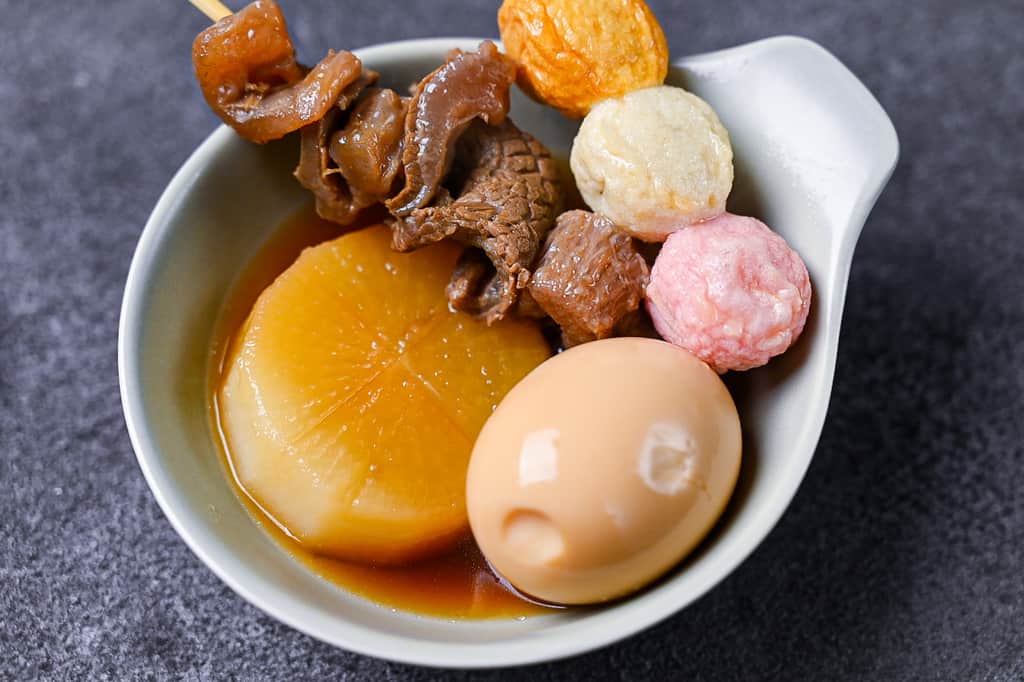 I personally think oden cannot be complete without boiled eggs. Not only regular chicken eggs, but also quail eggs can be seen in oden!
Boil the eggs and peel the shells first before adding them to broth. When they're added to the oden, they absorb the flavour of the broth and take on a light brown colour.
Preparation tip: Hard boil the eggs before adding them to the oden broth.
Konnyaku
Konnyaku is an unique Japanese ingredient made from konjac potatoes. The texture is almost like a hard jelly.
When it's used for oden, it's boiled first to remove the odor before using.
Preparation tip: Score with criss-cross pattern on the surface (both sides). Boil separately to remove any unwanted odor and then add it to the oden broth early on to absorb maximum flavour.
Shirataki
These white/translucent noodles are also a type of konnyaku!
As a oden ingredient, it's tied into a knot to make it easier to eat.
Preparation tip: Rinse the shirataki with cold water and then tie into bundles before adding it to the oden broth.
Kinchaku
Kinchaku (巾着) is a small traditional bag made of cloth or leather with a draw-string at the top.
However, in the food context, kinchaku is a food made by putting ingredients such as mochi (rice cakes) inside fried tofu and binding the knot with an edible dried gourd we call "kanpyo". Alternatively, sometimes kinchaku is sealed with a cocktail stick.
It can also be called as fukuro (short for kinchaku bukuro).
Atsuage tofu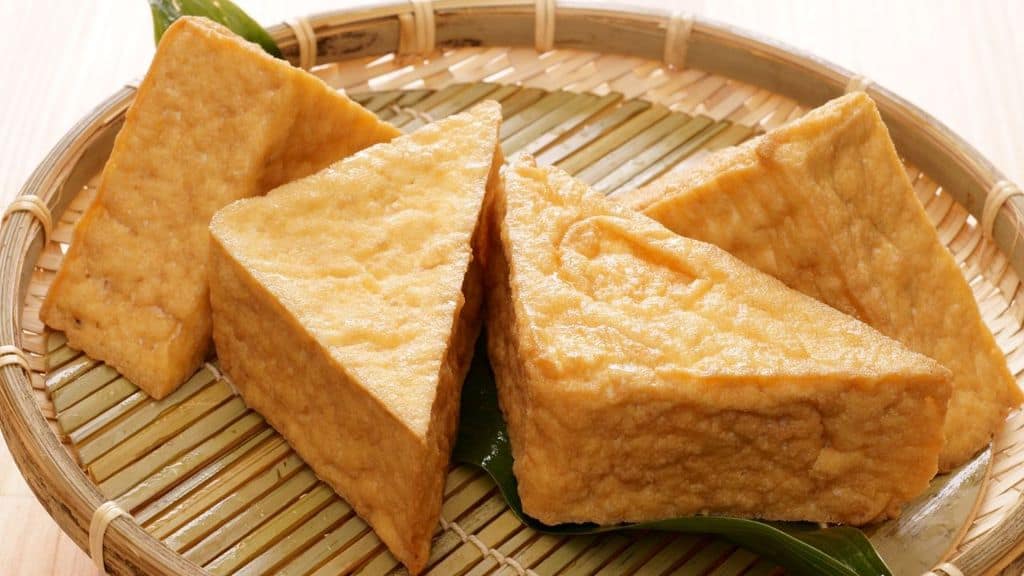 Atsuage is a type of tofu made by cutting tofu into thick slices and deep-frying them in oil. Unlike aburaage, it is not fried enough to keep the inside of the tofu intact, so it is also called "namaage".
Professionals would remove the excess oil in the atsuage by boiling water first, then cook in the oden broth.
Preparation tip: Boil atsuage separately for about 2-3 minutes to remove the oil on the surface and then add it to the broth. Doing this will keep the broth will be clean and clear.
Chikuwa
Chikuwa is a popular Japanese food made by wrapping white fish paste around a bamboo or iron rod and baking it. It is thought that the original form of kamaboko was this type of chikuwa.
As for oden, different types of chikuwa can be seen depending on the region.
Ganmodoki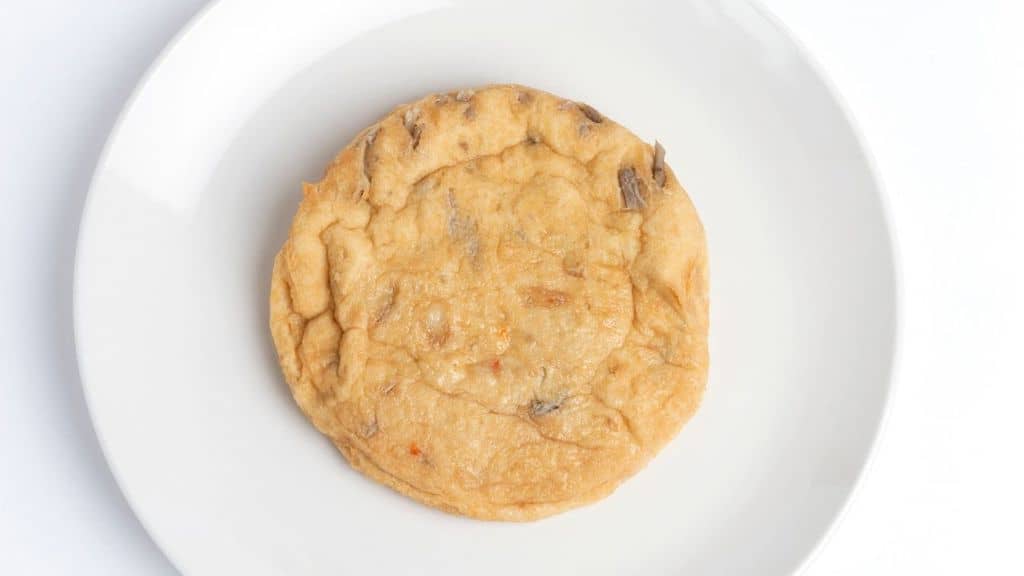 Ganmodoki is a type of fried tofu. It is made from tofu that has been drained and crumbled, then mixed with yams and eggs as a binder. Ingredients such as finely chopped burdock root, carrot, hemp seeds, kombu, etc. are added to the mixture, then it's rolled into a disk shape and deep fried.
It's often called "Ganmo" for short.
Preparation tip: Boil them separately for about 2-3 minutes to remove the oil on the surface. By doing this, the broth will keep clean and clear.
Gyusuji (beef sinew)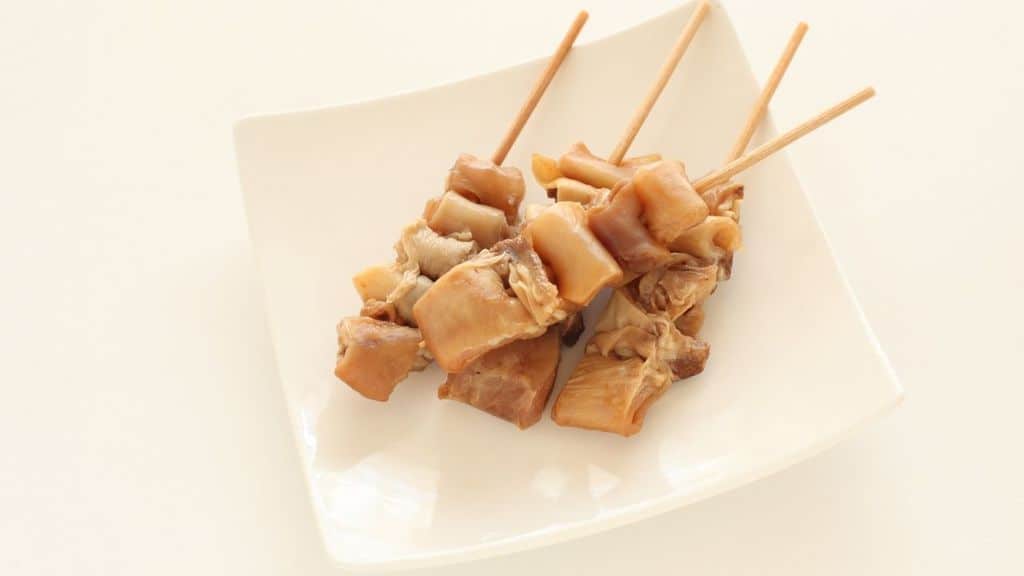 My all time favourite!
Gyusuji is a general term for meat with sinews, such as the Achilles tendon and the shank. In oden, it refers to slow cooked beef sinew on skewers. This ingredient requires the most preparation, but adding gyusuji to oden makes a huge difference to the broth and wouldn't be the same without it!
It is mostly found in western Japan.
Preparation tip: Boil the gyusuji separately to remove excess fat, slow cook it in broth, put it on a skewer and then add it to the oden broth.
Hanpen
Hanpen (半片) is yet another kind of fishcake. This one is white and made from Alaskan pollock surimi (paste), grated yam and kombu dashi. It is usually cut into triangles and eaten in oden or soup. The texture is soft and spongy, a bit like bread. This unique quality makes it a bit different to usual fishcakes.
Preparation tip: Cut into triangles.
Favourite ingredients among Japanese
According to MyNavi (2021), here are the top 10 favourite ingredients chosen by Japanese users.
Boiled eggs: 28.3%
Daikon: 27.2%
Gyusuji: 8.4%
Kinchaku: 5.9%
Hanpen: 5.5%
Atsuage: 4.6%
Chikuwa: 4.2%
Konnyaku: 3.6%
Ganmodoki: 3.4%
Others: 3.4%
Top Ingredients for Making Oden outside of Japan
While many ingredients used in oden are unusual and difficult to find outside of Japan, that doesn't mean you can't make it at home! There is no fixed rule for what ingredients you add, and there are plenty of options for everyone. Here are some of the most accessible oden ingredients to choose from.
Boiled eggs (chicken or quail)
Firm tofu
Potato
Carrots
Tsukune (Japanese chicken meatballs on a skewer)
Tsumire (Japanese fishballs)
Rolled cabbage (seasoned pork wrapped in cabbage)
Boiled octopus
Hot dog sausages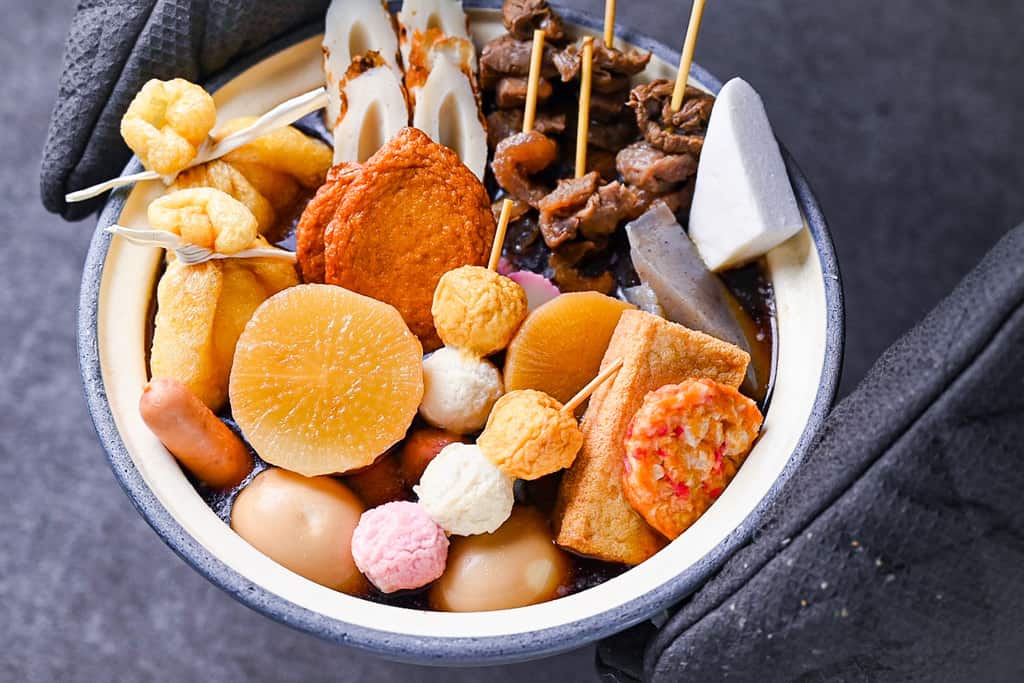 Tips and tricks to make Oden at home
Again, there are literally no rules to make oden, I mean there are too many different ways to make even within Japan.
But here are the tips and tricks I use to make an amazing oden at home!
Try not to overcook fish cake type of ingredients
The rule of thumb is start with the ingredients that take the longest to soak up the flavour. Things like daikon and boiled eggs are added first so that they can soften or absorb more flavour, then tofu and fishcakes are added later just to warm through.
It's important not to cook fried foods and fish cakes like ganmo or atsuage from the beginning, otherwise they can become too soggy and heavy, as well as making the broth cloudy.
The wider the variety is, the better oden will be
The beauty of oden is the flavours from different ingredients dissolving into the broth. The point is to divide the ingredients into groups like vegetables, fish, meat...etc and think about the balance.
Do not use high heat
Oden is always slow cooked over low to medium-low heat. If the heat is too strong, the broth will bubble and ingredients like fishcakes or tofu can break. If this happens, then the broth becomes cloudy.
Getting the timing right
When eating homemade oden, it can be tricky to know when is the best time to start eating because it takes time for the ingredients to absorb the flavour. In addition to this, each ingredient needs a different amount of time in the broth. In other words, if you eat it too early, some ingredients won't absorb enough flavour and will therefore taste bland.
For the best flavour, allow the hard ingredients such as daikon, eggs and konnyaku to simmer in the broth for about 30 minutes, then add the other ingredients and simmer for another 15 minutes. The oden will be simmering for 45 minutes in total.
Day two oden
If you don't finish all of your ingredients, you can save the oden and eat it the next day. In fact, the broth becomes deeper and more complex, and the ingredients absorb more flavour... you could say that day two oden tastes even better!
Some people even prepare oden the night before to create that "day two taste". To do this, make your broth and simmer hard ingredients such as daikon, egg, gyusuji and konnyaku in the broth for 30 minutes. Let it cool, add your other ingredients and store it in the refrigerator overnight. When it's time to eat, you simply heat the oden for about 20 minutes or until warmed through.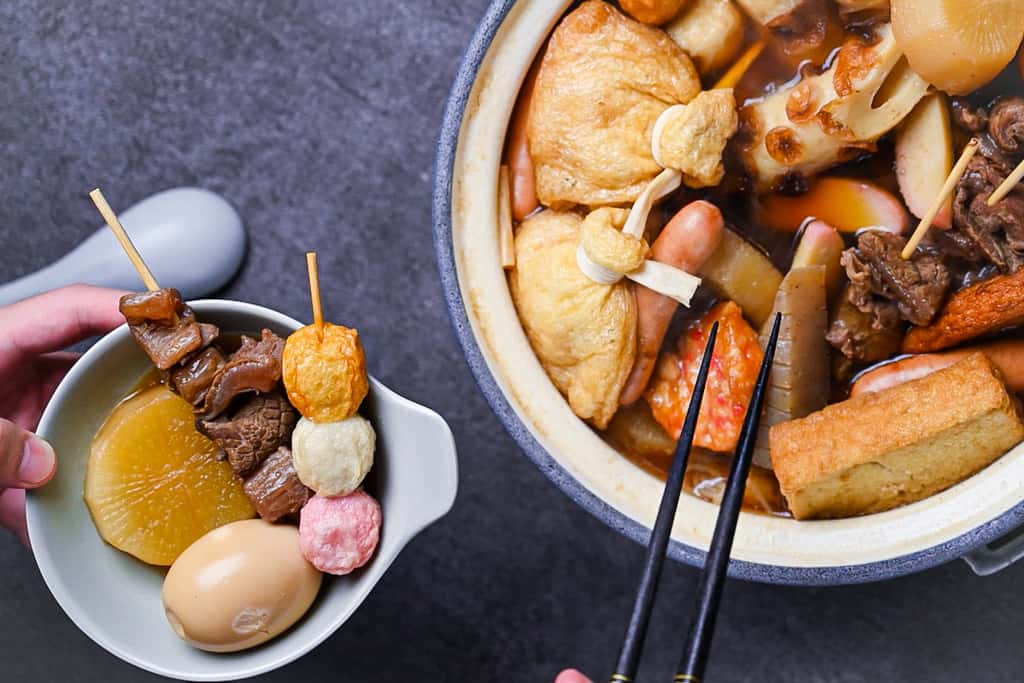 So now that you know all about oden and the different kinds of ingredients it contains, I hope you will visit Japan in winter and try oden! And if you can't visit anytime soon, get experimental with making it at home! What's your favourite oden ingredient?
Oden (Japanese Winter Stew)
How to make classic  "Oden" (おでん), a Japanese winter stew made with fishcakes, meat, vegetables and tofu simmered in a light dashi broth.
Ingredients
Gyusuji
500

g

beef sinew

water

-

for boiling

1000

ml

water

-

for broth

30

g

green onion(s) -

preferably green part

20

g

fresh ginger
Basic Ingredients
300

g

daikon radish(s)

4

boiled egg

fishcakes of your choice

-

see in post

atsuage tofu

-

or firm tofu

any additional ingredients mentioned in post

Japanese mustard

-

optional
Instructions
Gyusuji
Bring a pot of

water

to the boil and add

500 g beef sinew

. Boil for a few minutes to remove the excess fat from the surface.

After a few minutes have passed, pour the sinew into a colander to drain and wash the beef sinew under clean running water. 

Fill the pot again with approximately

1000 ml water

(or enough to cover the beef by 1-2cm) and bring it to a boil.

While waiting for the water to heat up, cut the beef sinew into long strips.

Once boiling, turn the heat down to simmer and add

30 g green onion(s)

,

20 g fresh ginger

and the beef sinew. 

Simmer for 1 hour without a lid. (Add more water as it depletes.)

After one hour, remove the beef sinew and set it aside to cool. Discard the spring onion and ginger but save the broth. 

Continue to simmer the broth without a lid until reduced by one-third.

When the beef is cool to the touch, push the pieces onto skewers. (500g should make approximately 5 skewers)
Preparing daikon
Peel the skin of

300 g daikon radish(s)

and cut into thick rounds. Score one side with a cross, about 1cm deep. 

Boil in a separate pot until it's easy to pierce (about 15 minutes).
Oden
Take a large pot and add

1 liter dashi stock

and 100ml of the left over broth from the gyusuji beef.

Add

2 tbsp sake

,

½ tbsp sugar

,

3 tbsp mirin

,

5 tbsp soy sauce

and

1 tbsp oyster sauce

to the broth. Bring it to a boil and let it boil for 2-3 minutes. 

Turn the heat down to simmer and add the daikon,

4 boiled egg

and gyusuji skewers. (You should also add any other firm ingredients at this point.)

Simmer for about 30 minutes and then

fishcakes of your choice

,

atsuage tofu

and any other soft ingredients you choose.

Simmer for another 15 minutes.

Serve up and enjoy with

Japanese mustard

. 
Notes
Allow leftovers to cool and store in the refrigerator. Warm up on the stove before eating and consume within 2 days.