Using dashi packets is my favorite shortcut for adding authentic Japanese flavor and umami to my cooking while cutting costs and saving time. Here I will explain all you need to know, my brands and how to make perfect dashi in less than 10 minutes!
Disclaimer: This post contains Amazon affiliate links. Sudachi Recipes earn a small percentage from qualifying purchases at no extra cost to you. See disclaimer for more info.
What is Dashi Packet (Dashi Bag)?
Imagine your regular tea bag, but instead of tea, it's filled with the essence of Japanese cuisine. That's what a dashi packet is.
In my experience, these little packets are the heroes of many Japanese dishes. They're like a shortcut to authenticity, giving you that deep, umami-rich flavor without long hours of simmering.
Dashi packets are your go-to for a quick and genuine dashi, a foundational Japanese soup stock. Inside these packets, you'll find a mix of bonito flakes, dried sardines, and other umami-packed ingredients, all wrapped up in a convenient fabric bag.
Just like how you'd steep a tea bag, you simmer these in boiling water for a few minutes, and voila! You are left with a broth that's bursting with flavor.
There are four main advantages to using dashi packets:
Affordable: Making dashi from scratch requires expensive ingredients and a lot of time. It can also be challenging for those trying Japanese cooking for the first time or only occasionally.
Convenient: Unlike traditional dashi, it's quicker to prepare. There's no need for straining, gathering multiple ingredients, or constant heat monitoring.
Always Fresh: You can use it when needed, ensuring you always have fresh dashi since it's used in small quantities.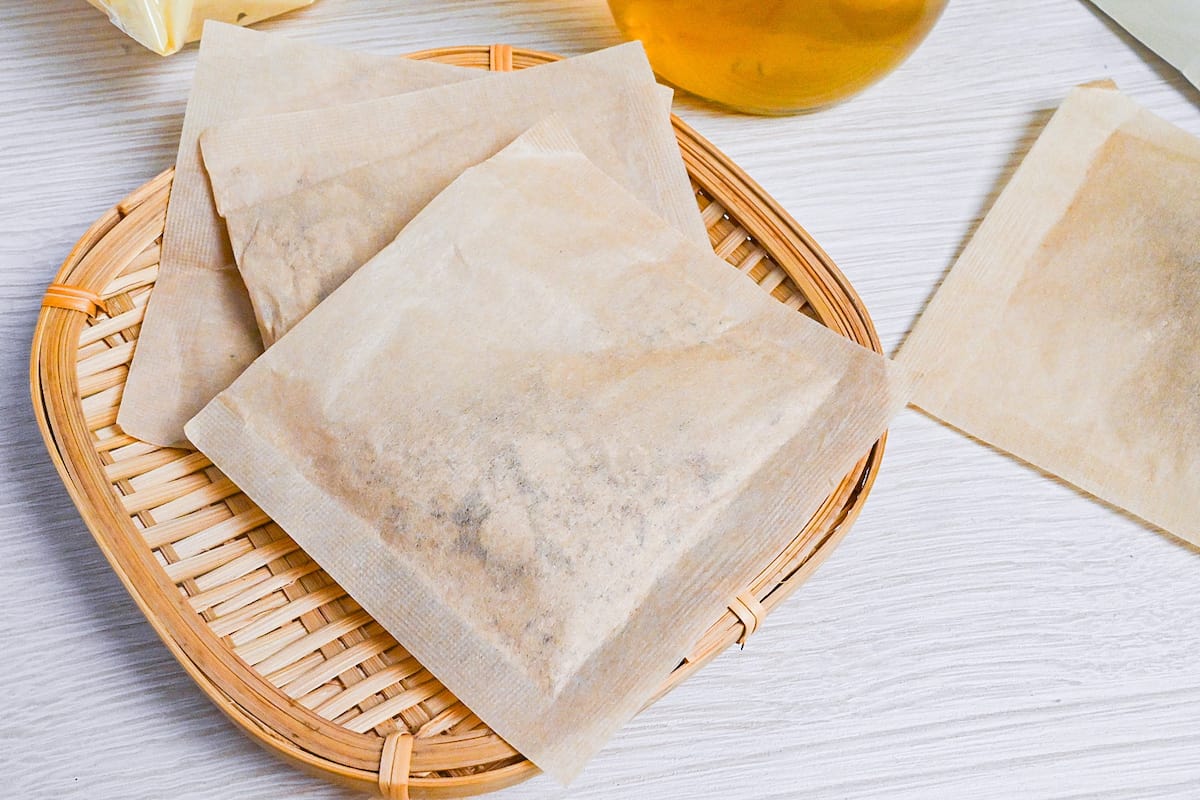 Differences Between Dashi Packet and Homemade Dashi
When it comes to making dashi from scratch in home cooking, the most commonly used type is a combination of kombu and bonito flakes.
Although there are various types of dashi, I will focus on the difference between kombu and katsuobushi homemade dashi and dashi packets.
In both cases, the resulting dashi volume is 700 ml.
Aspect
Homemade Dashi
Dashi Packet
Taste & Flavor
– Aromatic and refined flavor
– Similar to niban-dashi made from scratch
– Strong umami
– Some have a tangy taste
– Some contain added seasonings
Time
– From 1 hour
– 3 to 5 minutes (Note: Longer boiling produces a thicker broth, but overcooking may produce an odor)
Cost
– High (The quality of the soup stock improves with more expensive dashi ingredients)
– Relatively low
Reusability
– Niban-dashi
– Tsukudani
– Furikake, etc.
– Furikake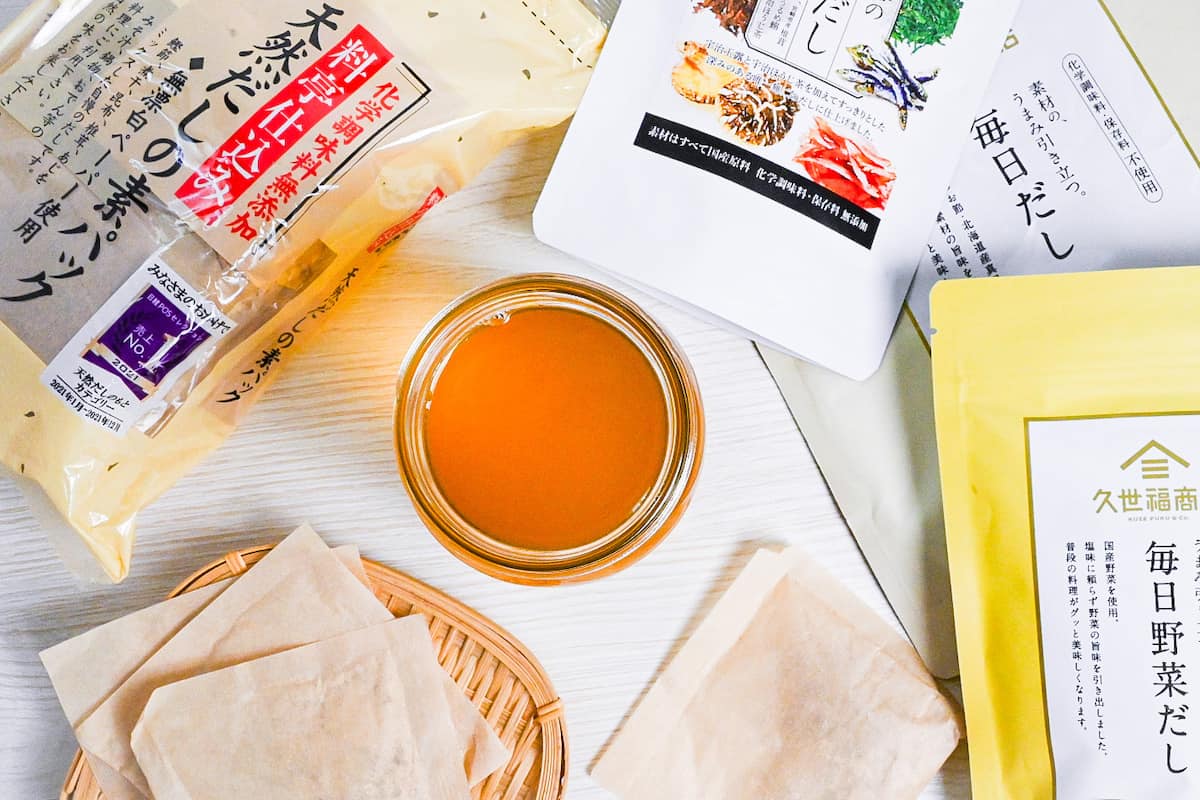 One of the biggest advantages of making homemade dashi broth from scratch, is the fact that the kombu and bonito flakes can be used multiple times whereas dashi packets can only really be used once.
Dashi from scratch begins with the "first dashi" (ichiban dashi) made by soaking or simmering the kombu and bonito flakes to create a premium golden stock. Ichiban dashi is often used for intricate Japanese dishes like clear soup.
Next, the leftover ingredients are used to create a milder "second dashi" (niban dashi), although sometimes additional bonito flakes are added to improve the flavor. This broth, also known as oigatsuo dashi, suits simmered dishes and soups.
The leftover kombu and bonito can be simmered with condiments and turned into tsukudani or pan-fried as furikake, both types of rice seasoning. So, while homemade dashi is more expensive, it ensures little to no waste.
On the other hand, dashi packet varies by brand and often including multiple flavor enhancers. The pro's to using dashi packets are their strong and consistent flavor, and contents of the used packets can be repurposed into furikake.
Recommended Brands You Can Get in the US
I always use dashi packs when I'm short on time. This section features brands I've used, found good, and available in to buy online using Amazon US.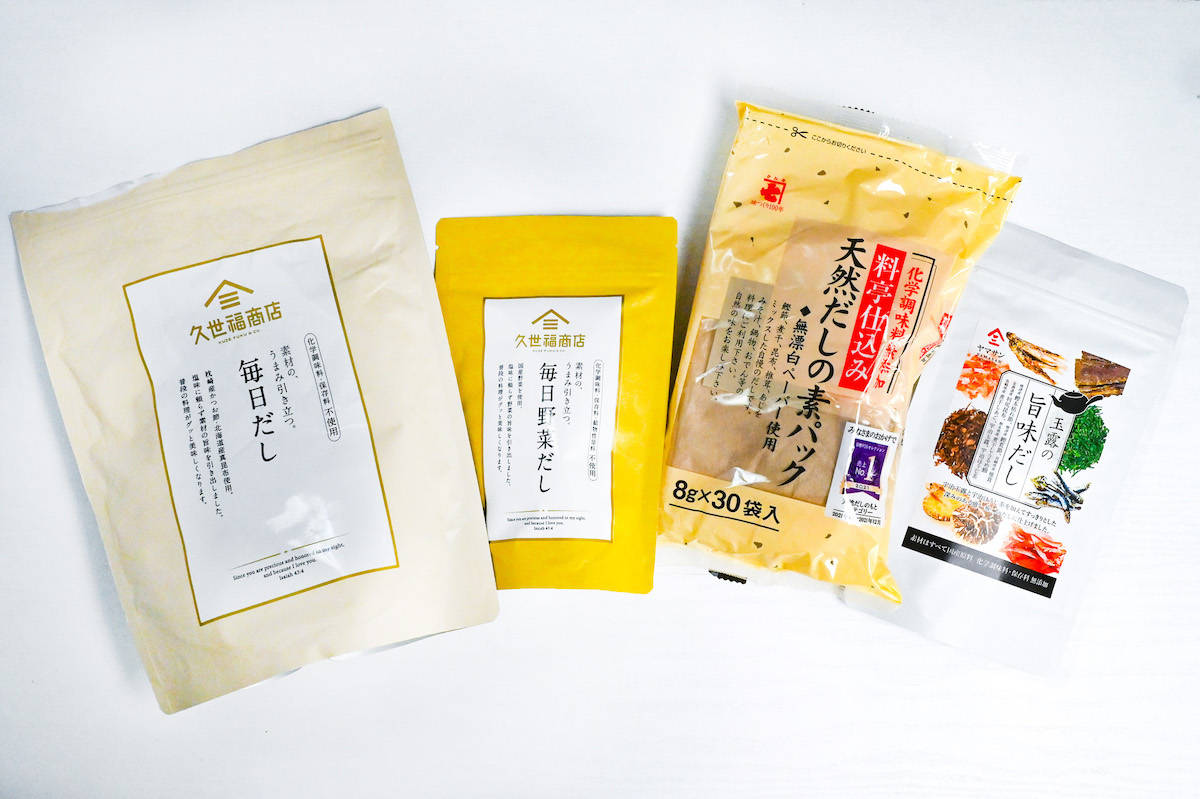 How to Extract Dashi from Dashi Packet
When dealing with English-labeled products, it's best to consult the instructions provided with each dashi packet to prepare it properly. However, when importing Japanese products, there may be instructions written in Japanese that are difficult to understand.
So, here I will explain the general method of making dashi using dashi packets.
Fill a pot with water and bring the water to almost boiling
Begin by filling a pot with about 300-400ml of water. This is typically the right amount for one dashi packet. Bring the water to a gentle boil (not rolling boiling).
Once the water starts to boil, add your dashi packet. You'll notice the water slowly transforming as the flavors from the packet seep out.
Reduce the heat to medium and let it simmer for about 5 minutes. But don't let it boil too vigorously.
If you see the dashi packet trying to escape to the surface, gently push it down with chopsticks or a ladle.
After those 5 minutes, turn off the heat. Now, this is crucial: remove the dashi packet immediately.
In my experience, leaving it for too long can lose the nice, delicate flavor of the broth. And when you're taking it out, resist the urge to squeeze the packet.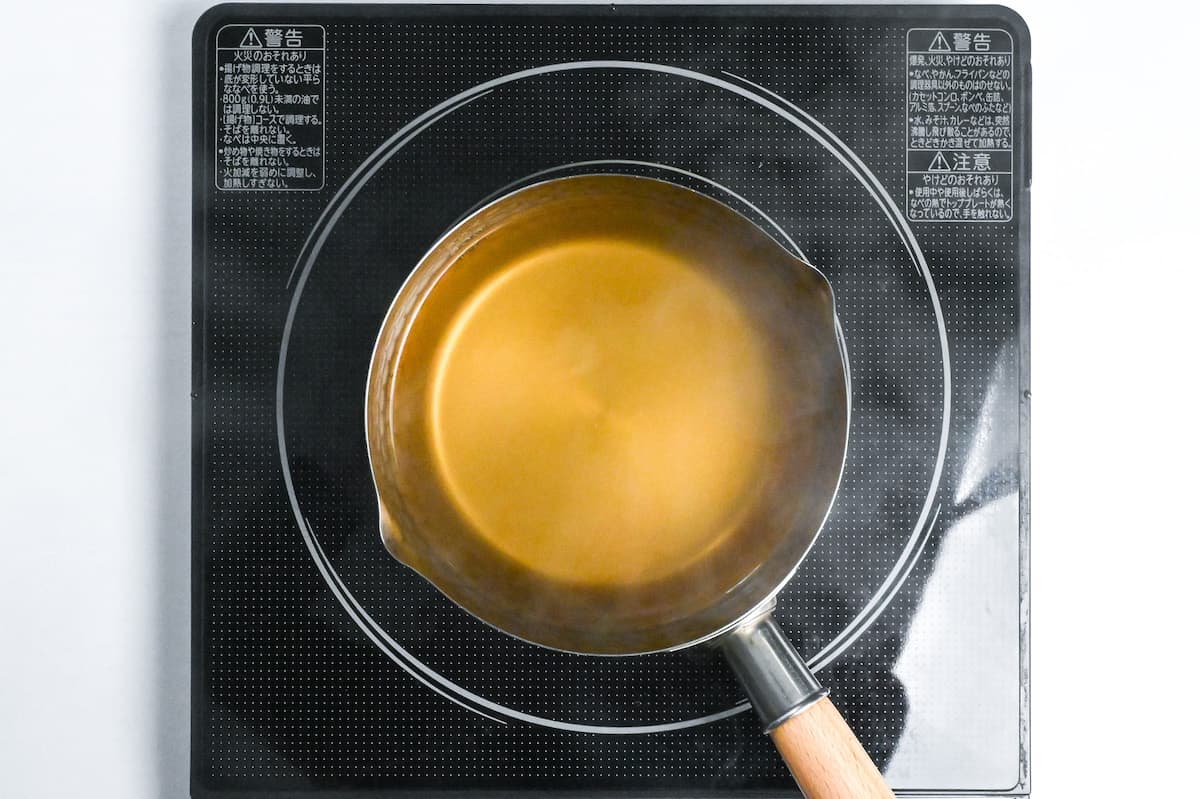 Now, you have a pot of aromatic dashi ready for your favorite dishes. I love using it as a base for soups or to give a flavor boost to my stews.
Japanese Recipes Using Dashi Stock
If you need some inspiration on where to use your freshly made dashi, check out some of these recipes: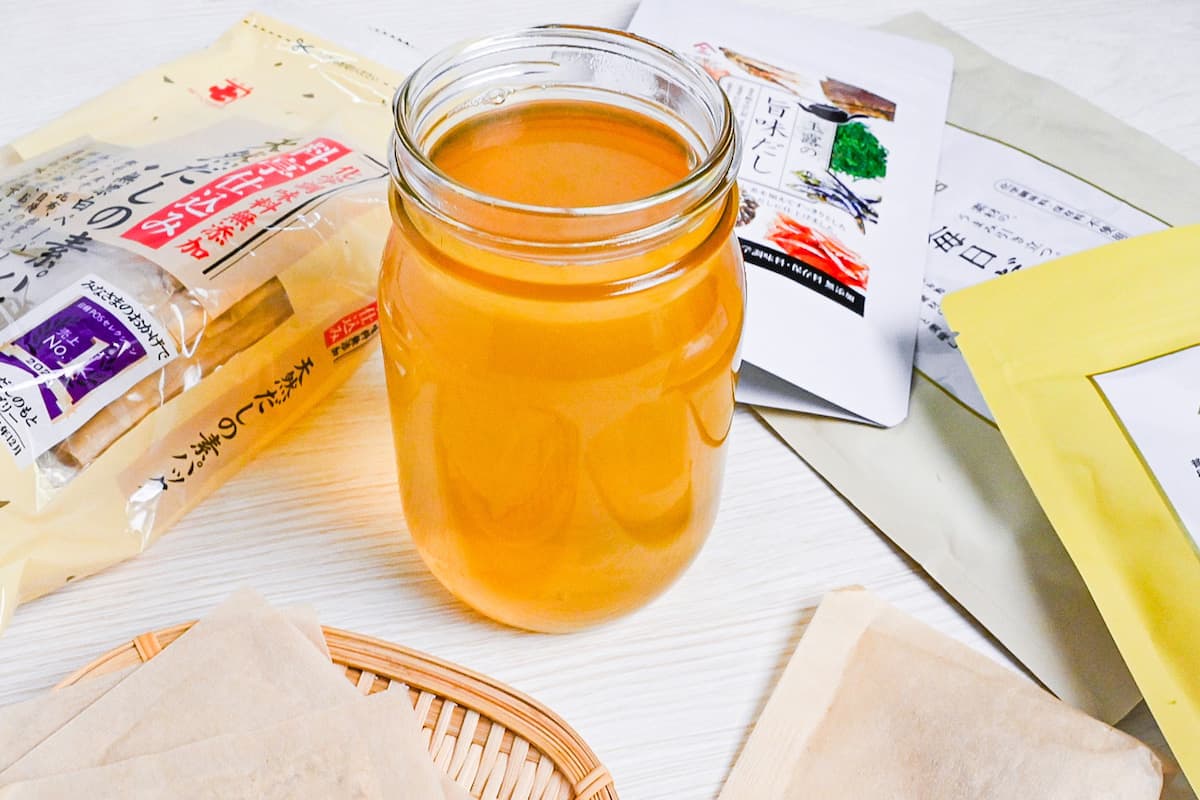 How to Use Dashi Packets
---
A step by step guide on how to use convenient dashi packets to make quick, easy and authentic dashi for your Japanese cooking.
---
---
---
---
Ingredients
400

ml

water

varies by brand, check packaging for accuracy

1

dashi packet
Instructions
Heat

400 ml water

until it's gently simmering.

Place

1 dashi packet

in the pan and simmer for 5 minutes. Keep the heat low to avoid a rolling boil.

If the packet floats, hold it down using chopsticks.

After 5 minutes, remove the dashi packet without squeezing and discard.

Use the dashi straight away or cool and store (see note).
Notes
To store leftovers, allow the dashi to cool and then transfer to a clean, airtight container. Keep in the fridge for up to 5 days.
To freeze, divide into convenient portions using an ice cube tray or similar and freeze for up to 1 month.