Sake is one of the key ingredients used in Japanese cuisine, but what exactly is it? What is it made of? What does it do? If you've been wondering about any of these questions, then you're in the right place! Here you can learn everything you need to know about sake in Japanese cooking!
What is Sake in Japanese Cusine Context?
In Japanese cuisine, the term "sake" refers to "Japanese rice wine (nihonshu)." Sake is an alcoholic beverage brewed from rice, koji (malted rice), and water.
There are different grades of sake, with the higher ratio of polished rice resulting in a more refined and elegant sake with a less tangy taste and a cleaner flavor.
In the cooking context, there are two types: "cooking sake (ryorishu)" and "drinking sake (nihonshu)." The decision on which type of sake to use depends on the chef's judgment.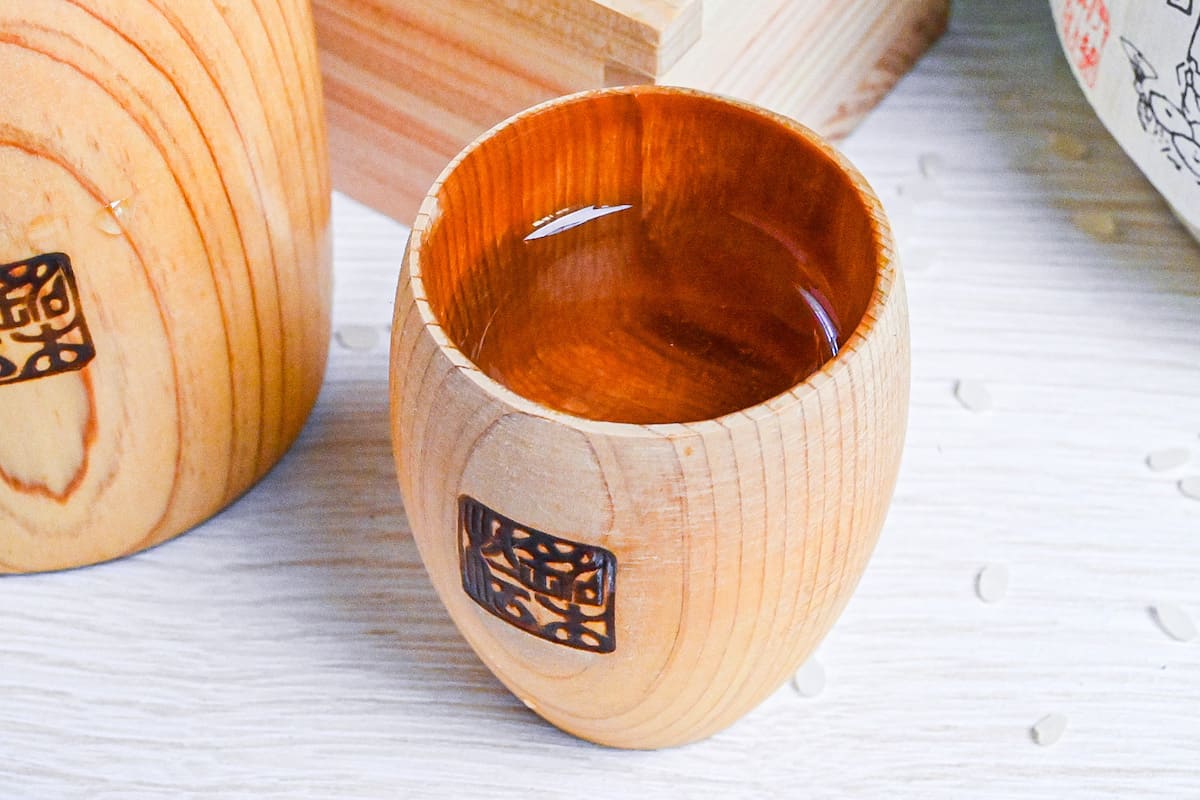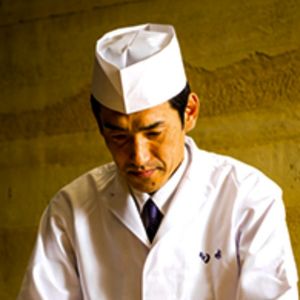 Hidefumi Aoki
Contributing Writer
---
Hidefumi started his career at Hotel Metropolitan "HANAMUSASHI" in 1989, and since then he has worked as a chef and a head chef at various restaurants and ryokan all across Japan for more than 30 years. He holds a chef's license and a fugu chef's license in Tokyo.
A Brief History and Cultural Significance
Sake has been produced for over 2,000 years, roughly the same length of history as rice. Initially, it was made as an offering to the gods and emperors.
The brewing method using rice malt became popular during the Nara period (710-794), and sake began to be produced in large quantities.
Sake is an integral part of Japanese culture and is offered as a symbol of gratitude at festivals and ceremonies.
It is a special drink to celebrate the changing seasons and important milestones in life. It is considered a link between the gods and Japanese people, much like the "Omiki (御神酒)" offered to the gods on New Year's Day.
Over the years, sake has evolved from a drink primarily consumed by men to a fruity and elegant drink that can be enjoyed by anyone.
In the 1980s, there was a boom in locally brewed sake, such as Niigata's "Koshino-Kanbai (越乃寒梅)" and Miyagi's "Urakasumi (浦霞)," which took advantage of the local characteristics of their respective regions.
In the second boom, known as the "Ginjo-shu (吟醸酒)" boom, rice was polished to a fine, clean taste. Ginjo-shu has a light, dry taste, rich aroma, and fruity flavor, making it a popular choice among people who previously had little experience with sake.
The value of sake has changed over the past half-century and continues to evolve. Today, it is a fruity and elegant drink that anyone can appreciate.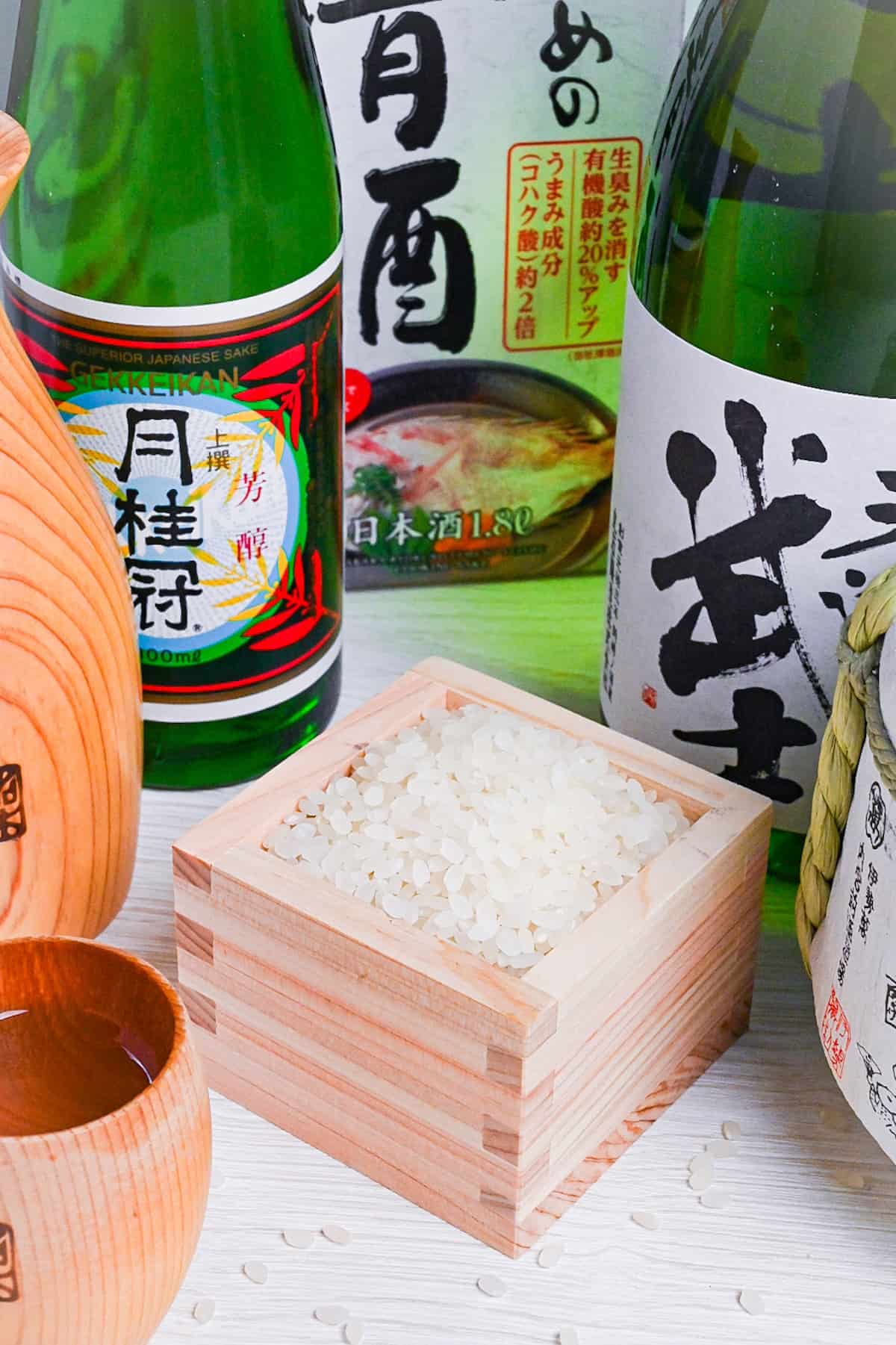 History As A Cooking Condiment
Japan has a unique food culture that has developed over time. It incorporates seasonings like sake, soy sauce, mirin, and miso.
Although it's not commonly used anymore, one such seasoning is the "Iri-zake (煎り酒)," a unique seasoning used since the Muromachi period (1333-1573). It is made by boiling down sake, pickled plums, dried bonito flakes, and salt in a pot.
In the past, Iri-zake was used extensively in households as a substitute for soy sauce, which used to be expensive. It was widely used until the mid-Edo period (1603-1868). As the price of preservative soy sauce fell, soy sauce gradually replaced it.
Even today, some upscale Japanese restaurants sometimes serve Iri-zake instead of soy sauce, especially in the summer, as it goes well with white sashimi.
All in all, sake has always been essential as both a seasoning and a beverage in Japanese cuisine.
Effects and Uses of Sake in Cooking
In cooking, sake is a versatile seasoning used in various dishes. It is often used to soften the ingredients and remove their odors while infusing flavor and umami.
Sake can be used in various ways like steaming (酒蒸し), roasting (酒煎り), and salting (酒塩), to name a few. It is an essential ingredient in Japanese cuisine and can be found in many traditional dishes.
Mirin vs Sake
Both mirin and sake are made from rice and contain alcohol. So, you might get confused between these.
Yes, they are used as condiments to add richness and umami to dishes. However, a crucial difference is that mirin contains sugar, making it sweet and giving it a different purpose and usage.
Its sweetness and richness make it an essential ingredient, especially when a dish requires sweetness, shine, and gloss—such as teriyaki and grilled eel sauce.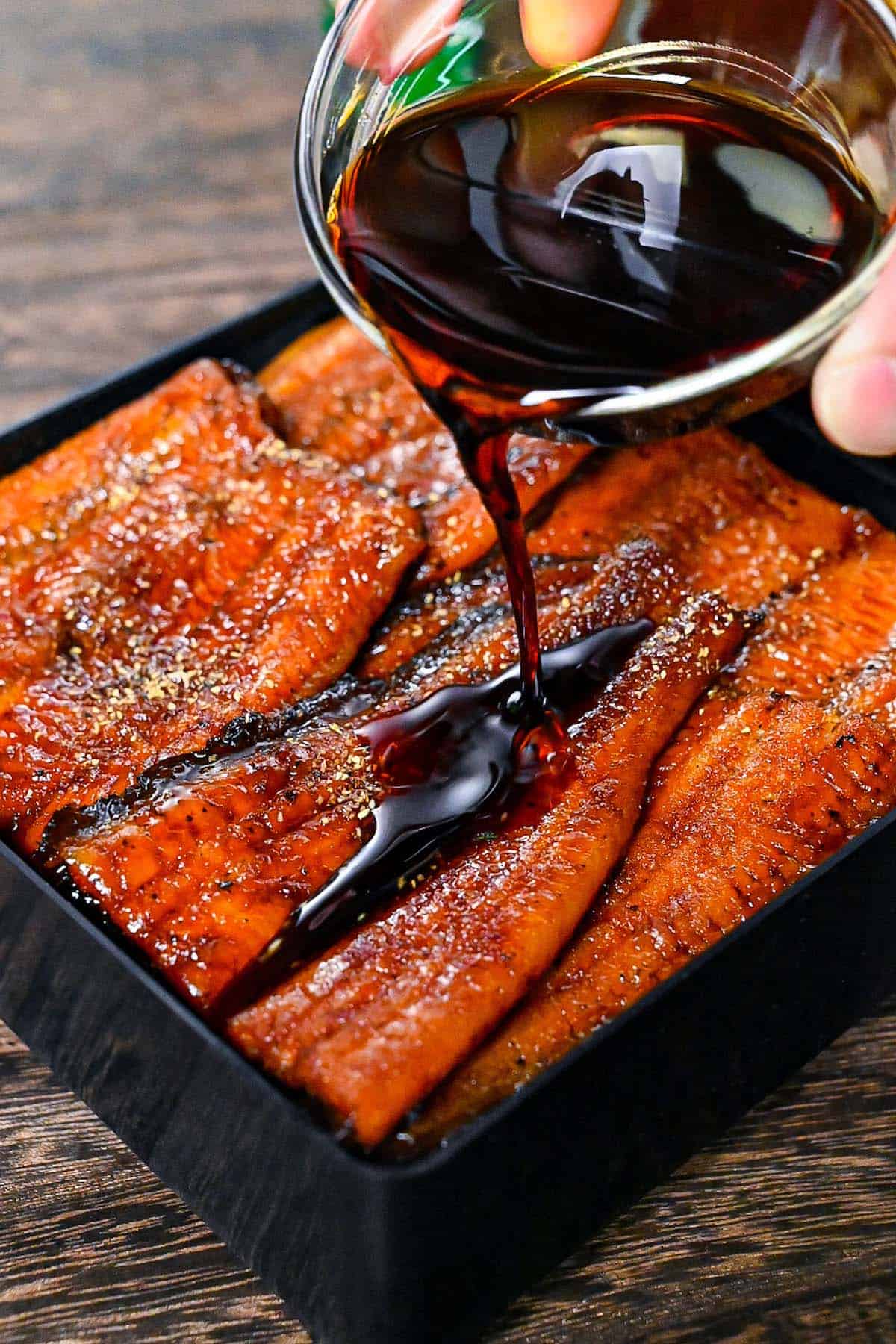 On the other hand, sake is a more versatile condiment that does not interfere with the dish's flavor. For example, it can remove fish odor and add umami and flavor to simmered fish.
Shaoxing Wine vs Sake
Shaoxing wine is a Chinese alcoholic beverage made from glutinous rice and rice malt. While the type of rice used in these two beverages differs, their ingredients are very similar.
Both are known for removing the smell of ingredients and adding umami (flavor) to soften the ingredients.
However, the most significant difference between them is their aroma.
Shaoxing wine has a strong and distinctive aroma, which is not ideal for Japanese cuisine because we focus on the natural flavor of the ingredients.
Undoubtedly, sake pairs well with Japanese cuisine, while Shaoxing wine complements Chinese dishes.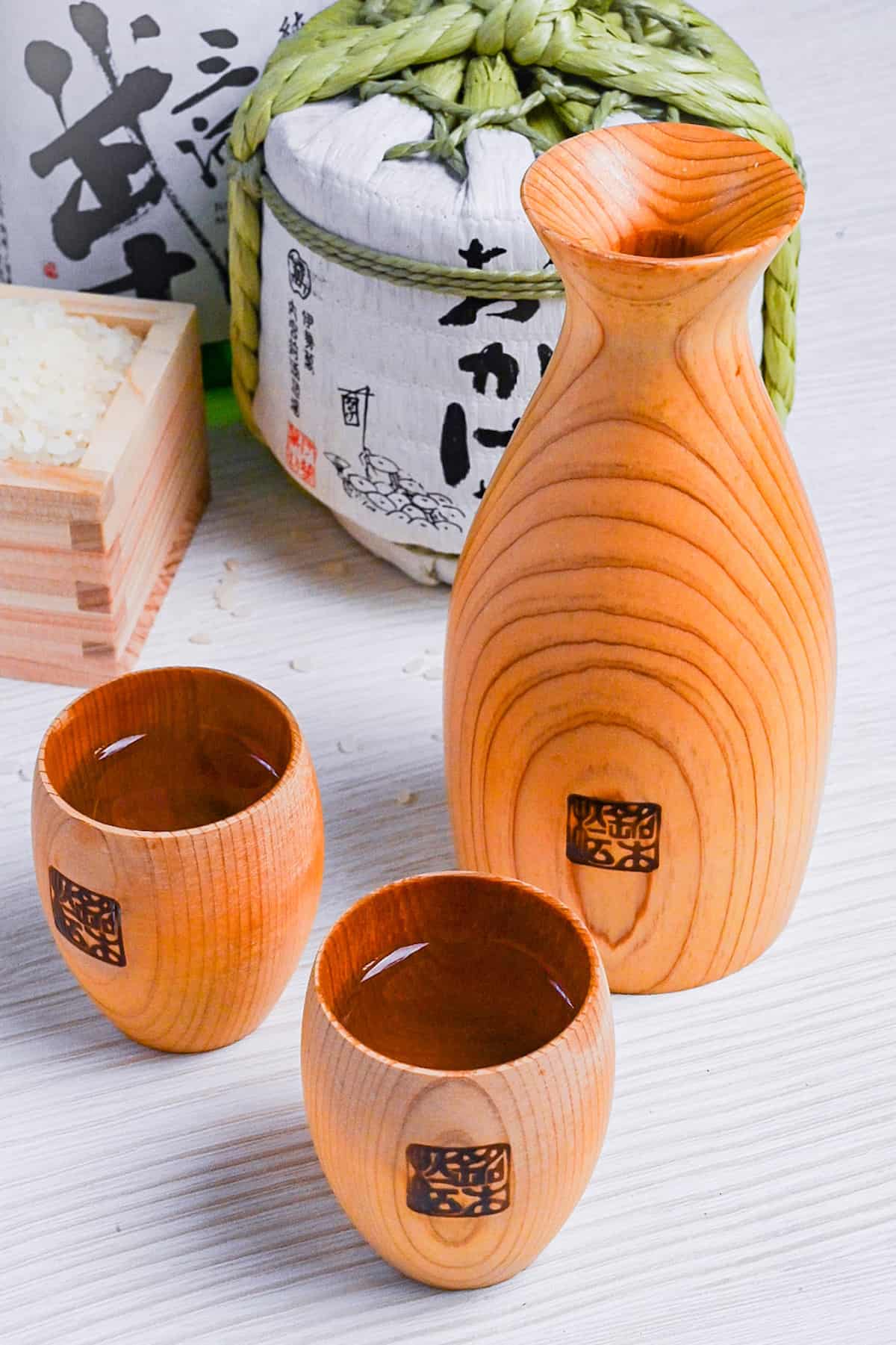 Cooking Sake or Drinking Sake: Which One Should I Use for Cooking?
Determining which type of sake to use can be confusing when a recipe calls for "sake." Sometimes, the recipe indicates whether to use regular or cooking sake, but it's unclear.
On this website (Sudachi Recipes), "sake" is assumed to be pure sake with no added salt. So, if you use "cooking sake" with salt added, you'll need to adjust the salt content elsewhere in the recipe.
But first, let's look at the difference between drinking sake and cooking sake.
Drinking Sake vs Cooking Sake
For sake primarily made for drinking, the most important aspect is whether it tastes good or not. For drinking purposes, the rice used in drinking sake is polished to remove impurities, which enhances the taste and aroma.
Some expensive varieties of sake are made by grinding down up to 20% of the rice.
On the other hand, cooking sake is used as a seasoning to enhance the flavor. It is brewed without removing too much of the surface of the rice, which leaves the umami ingredients, such as the tang and acidity.
Additionally, some products are specially brewed for cooking by adding salt to enhance the sweetness and richness.
It's worth noting that sake is subject to an alcohol tax, but cooking sake is considered a seasoning and is not taxed that way. This makes cooking sake more affordable.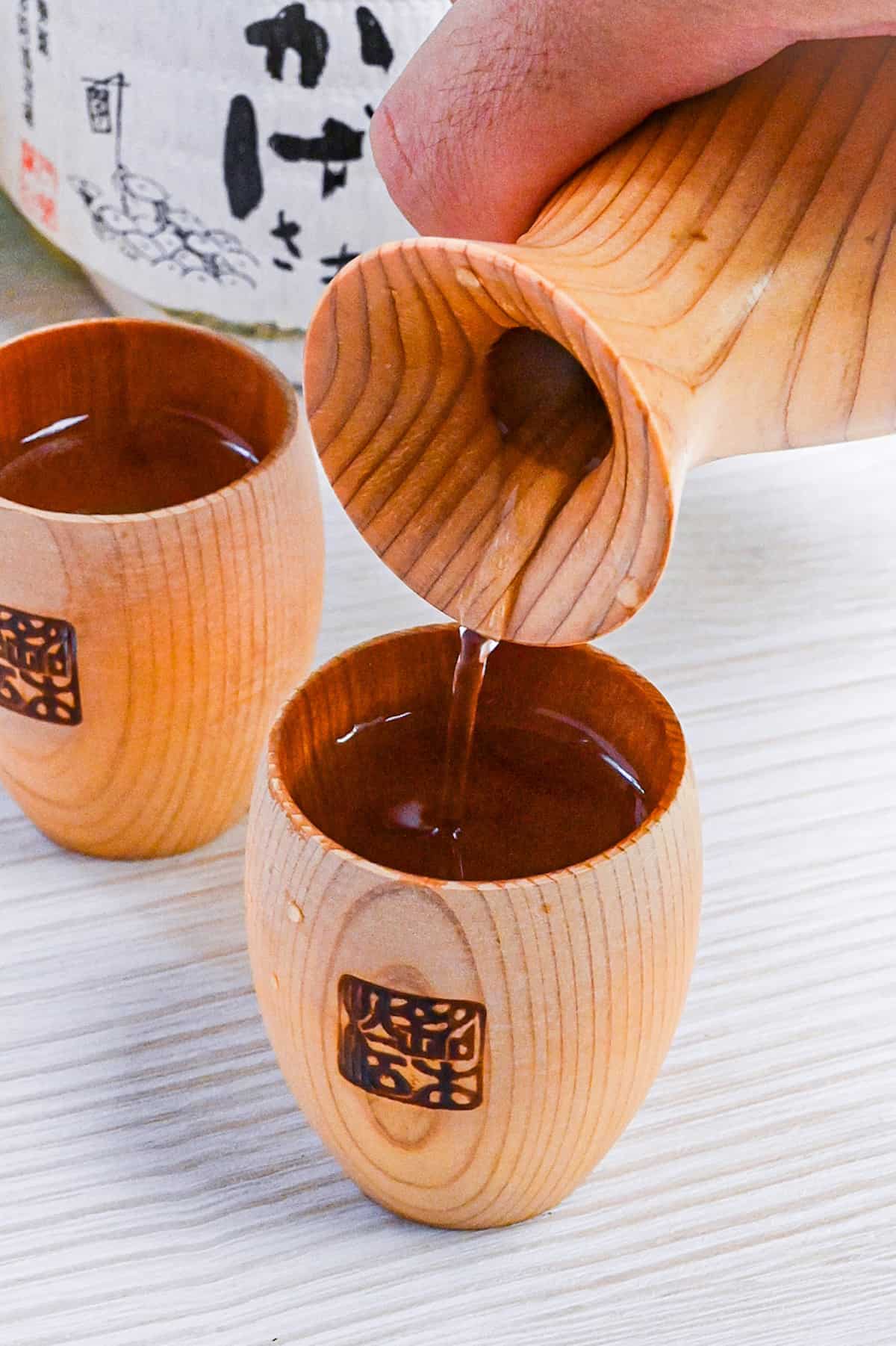 Is it Possible to Use Drinking Sake for Cooking?
You definitely can!
If anything, drinking sake is so much easier to use because it contains no salt and can be used in any dish.
What about recipes on this website?
Every dish in Sudachi Recipes is developed using drinking sake.
What Kind of Sake Do You Use in A Professional Environment?
From my experience, drinking sake is predominately used in cooking at upscale Japanese restaurants. I have worked in various Japanese restaurants in my career and have always used regular drinking sake.
This is simply because cooking sake usually contains a high salt content that can interfere with the taste and has a distinct flavor.
When choosing drinking sake for cooking, I highly recommend Junmai-shu (純米酒), made purely from rice for its delicate aroma.
Again, it is essential to use cheaper variation as it does not polish the rice as much as the expensive ones, leaving a tangy taste that will balance and enhance the dish's overall flavor.
As a professional cook with over 30 years of experience, I believe that sake is like "magic water." It can be used in almost any dish, and a little goes a long way in transforming a dish.
It's safe to say good Japanese cooks are very good at using sake.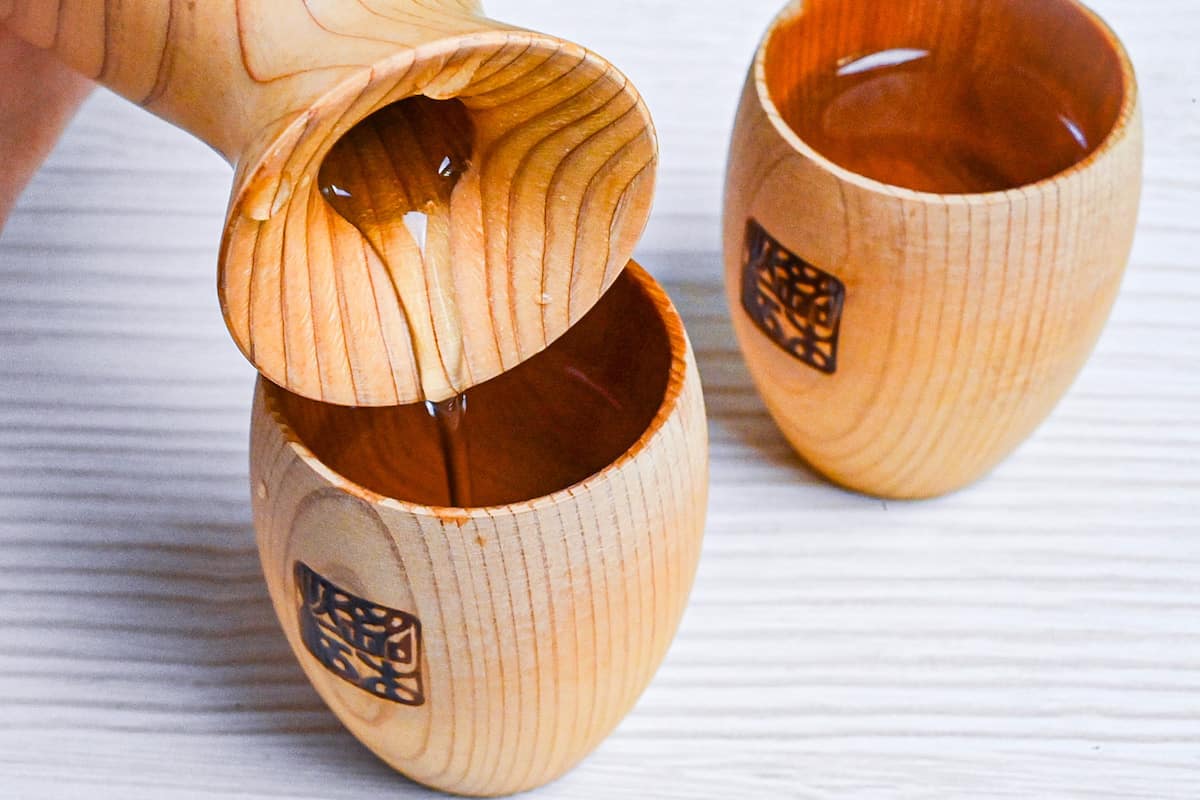 Pro Tips to Choose Sake Substitutes
Depending on where you live, you may not be able to get either drinking or cooking sake.
Sake plays a crucial role in Japanese cooking by removing unwanted odors, tenderizing ingredients, and adding a distinct flavor and aroma.
Based on these factors, you can consider the following substitutions:
Wine
Wine can affect the taste of Japanese food, but it can also help eliminate unpleasant odors, soften the food, and enhance its flavor.
Red wine contains tannins, a type of polyphenol that can impart a bitter taste and a red hue to the food. So, white wine is by far the best alternative.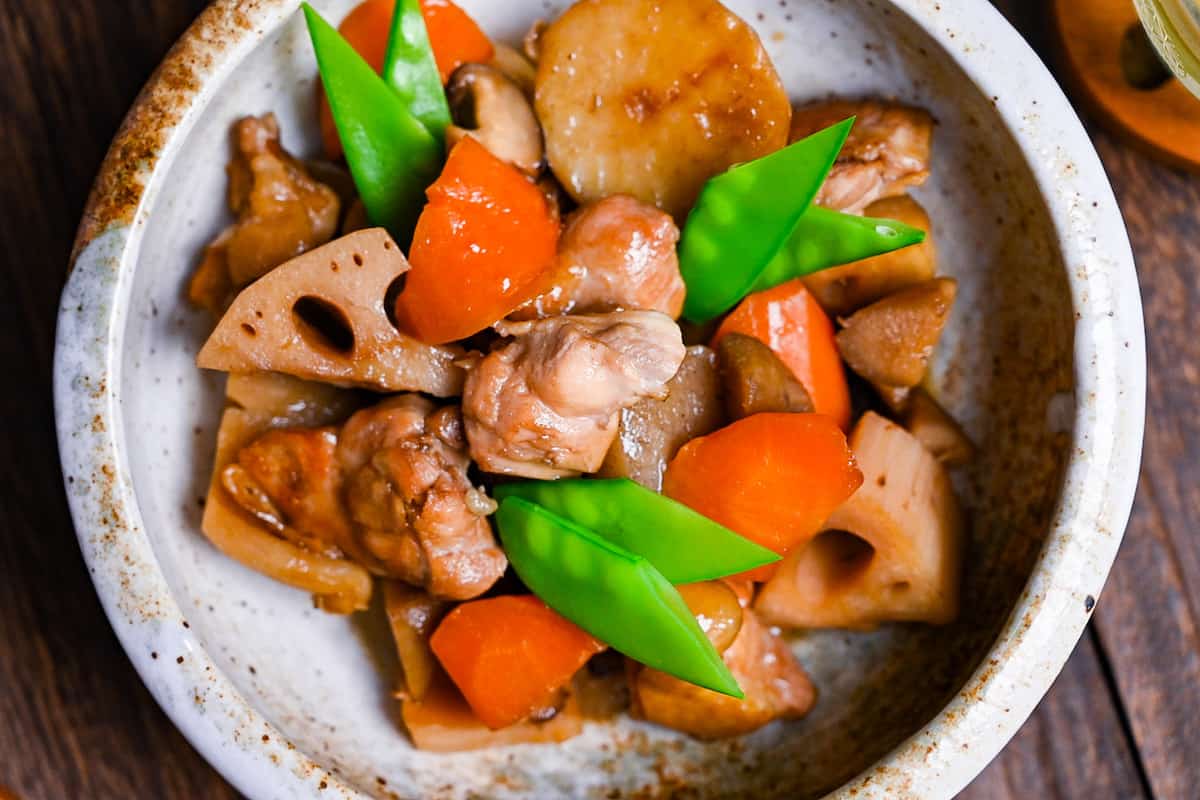 However, choose a dry white wine with low acidity to not interfere with the dish's flavor. Also, avoid fruity and sweet wines.
Vodka
Vodka is a potent alcohol that can remove the odor of ingredients and tenderize meat. It is colorless, odorless, and tasteless, so it does not affect the umami or aroma of a dish.
Due to its high alcohol content, it must be heated thoroughly to release the alcohol properly.
Whisky
Due to its aroma, whisky is better suited for meat dishes than fish. The alcohol content can tenderize the meat.
However, if you plan on using it in Japanese cuisine, be cautious about the quantity and aroma, as it may overpower the flavor and aroma of other ingredients.
Beer
The carbonation of beer can soften the ingredients.
Although you might think malt present in beer may add flavor and richness, be careful with the amount as too much can add excessive bitterness to the dish.
Hon Mirin
Mirin contains almost the same amount of alcohol as sake, which helps in removing the unwanted smell and adds a rich and delicious flavor to the dish.
However, it also has a high amount of sugar that can make the dish overly sweet, so reducing the added sugar is recommended to maintain a balance of flavors.
Non-Alcoholic Substitute
Kombu dashi with a bit of salt would be a great non-alcoholic substitute for sake to add flavor.
It can be used in any recipe without altering the taste. You can add a little ginger if the purpose is to remove fishy odors.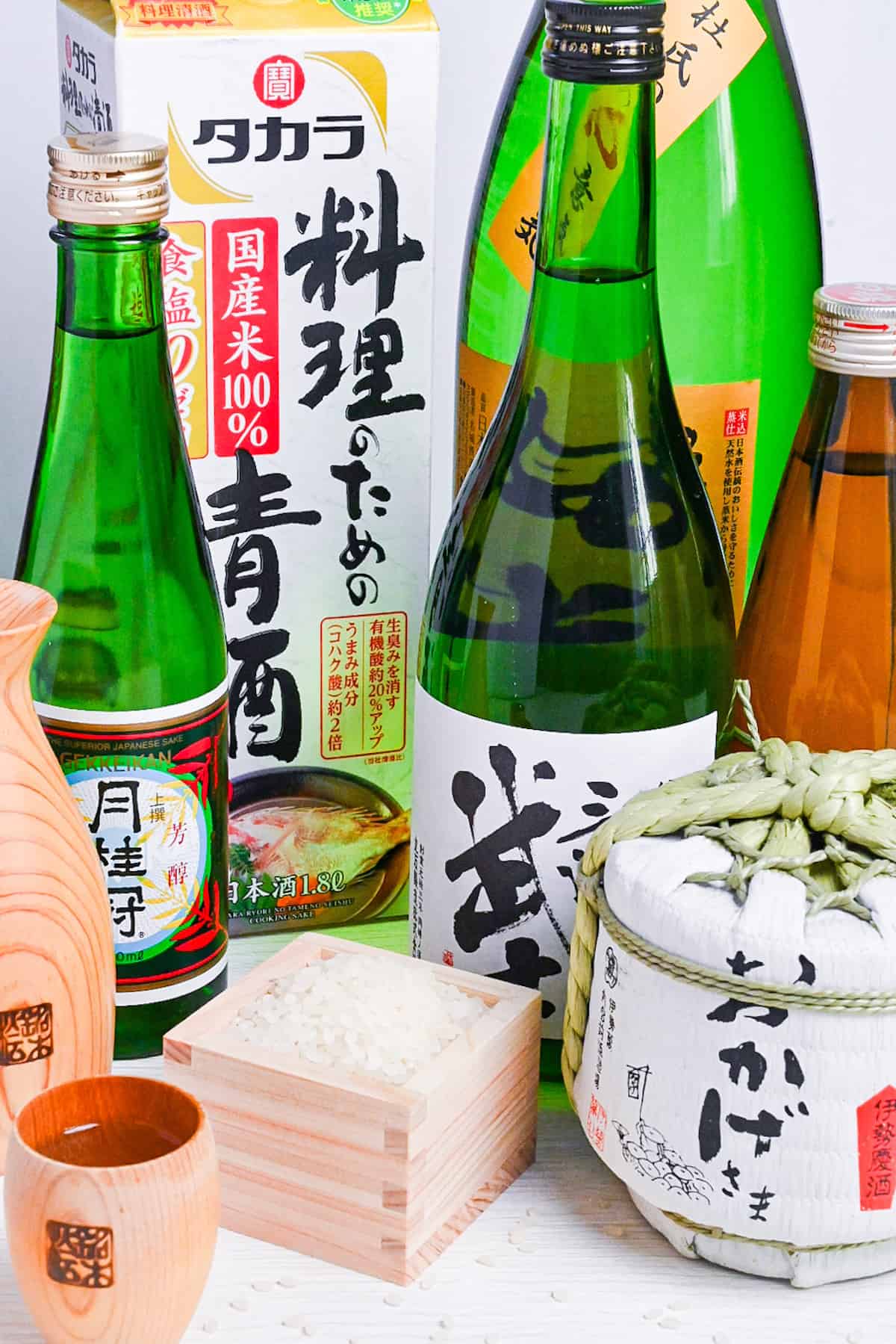 The Bottom Line: What Kind of Sake Should You Use in Cooking?
Throughout this article, I have explored the significance of sake in Japanese cuisine and discussed its importance. I have also discussed the alternatives that can be used as a substitute for sake while cooking Japanese food.
In conclusion, the most recommended type of sake for cooking Japanese dishes is cheap Junmaishu (pure rice sake) with no added salt, rather than "cooking sake."
If you are living in Japan, you may opt for cooking sake that is clearly labeled as having no added salt.
However, it's not that using cooking sake with added salt causes big problems. In such cases, it is just essential to adjust the saltiness in other ingredients.
Dry white wine with low acidity can be a great alternative if you cannot find sake abroad.
FAQ
What is sake used for in cooking?
Sake in cooking recipes often means cooking sake. Professional Japanese chefs use cooking or drinking sake, depending on the dish. Please note that ingredient labeled "sake" on Sudachi refers to drinking sake without added salt.
Can regular sake be used for cooking?
Yes, you definitely can. However, I recommend choosing cheap Junmai-shu (純米酒), not expensive ones.
Is sake the same thing as mirin?
No, they are completely different condiments. It has the same effect of eliminating odors, adding umami and richness, and softening food, but the critical difference is that it is much sweeter than sake, so the purpose is different.
Is sake the same as Shaoxing?
No. The most crucial difference is the flavor and aroma. The manufacturing process is very similar, but there are differences in the ingredients, such as the difference between short-grain rice and glutinous rice, the rice malt, and the difference in color due to caramel coloring.
Can I replace cooking sake with mirin?
It's possible, but the sweetness of mirin makes a huge difference. So consider if the dish can be sweetened.
Can I use vinegar instead of sake?
No, you cannot use vinegar to replace sake. It will make the dish too sour. However, vinegar can be effective in removing the fishy odor. Vinegar can be used by marinating the fish in vinegar as a pre-treatment before boiling, grilling, or frying instead of sake. But make sure to wash and wipe the fish well after.
Does sake tenderize beef?
Yes, sake has the effect of tenderizing beef. Marinating in sake changes the pH value, loosens the muscle fibers of the meat, and increases the water-holding capacity, making it tender and moist.