Chikuzenni is a comforting and nutritious dish made with succulent chicken thigh and hearty root vegetables simmered in a rich dashi broth. This recipe hails from Northern Kyushu and has since become a well-loved dish across Japan. It can be eaten any time of year, but it always makes a special appearance during the New Year as part of "Osechi Ryori".
Disclaimer: This post contains Amazon affiliate links. Sudachi Recipes earn a small percentage from qualifying purchases at no extra cost to you. See disclaimer for more info.
Jump to:
What is chikuzenni?
Chikuzenni (筑前煮) is a traditional Japanese "nimono" (simmered) dish that originates from Northern Kyushu. It brings together a mix of chicken, konnyaku (devil's tongue) and root vegetables such as carrots, lotus root and burdock root. These ingredients are first sautéed in oil before being simmered all together in a pot with a dashi broth seasoned with soy sauce and sugar. The result? A dish boasting a beautifully balanced sweet and savory flavor.
What's fascinating is how this regional delicacy has won the hearts of people all over Japan. It is said to have become well known throughout Japan as a result of its introduction into school lunches as a well-balanced dish, and its use of auspicious ingredients also makes it an important element of Japanese New Year's meal.
A brief history
Chikuzenni is a regional dish from the North Western part of Fukuoka prefecture in Kyushu. Before Japan was divided into its current prefectural system, this region was known as "Chikuzen province" (筑前国).
It is said that the earliest versions of chikuzenni were called "game-ni" by locals. The name "game-ni" is said to have come from the word "gamekurikomu (to gather)" in the Hakata dialect, which referred to the gathering of various ingredients. There is also another theory that it was first served during the Bunroku period (1592-1568) when turtles (called "kame" in Japanese) were stewed with other ingredients.
As its popularity spread, the Chikuzen province became famous for the dish and people outside of the region started calling it "chikuzen-ni". To this day, the dish is known as Chikuzenni nationwide.
Chikuzenni can be eaten all year round and is sometimes even served in school lunches (I remember eating it for lunch back when I was at school). But it also shares a special place in Japanese "Osechi Ryori" (the New Year's menu) and contains auspicious ingredients that are believed to bring good luck to the new year. The holes in lotus roots represent looking into the future and wishing for better future prospects, root vegetables that spend a long time in the soil represent long-lasting happiness, and cooking the various ingredients together in a pot symbolizes uniting the family.
Chikuzenni? Nishime? or Gameni?
You may have heard Chikuzenni be called by other names like nishime, game-ni , or umani. You might be wondering, "Are these all the same?" Well technically, there are a few small differences.
Let's take the name "Chikuzenni" first. As we've discussed earlier, the signature characteristic of this dish is the method of frying the ingredients before simmering. This unique cooking style sets it apart from typical simmered dishes in Japan and makes it a distinctive recipe of the Chikuzen region. where it got its name.
Next up, game-ni (がめ煮), the original name of the dish. Although you might assume chikuzenni and game-ni are the same, there is one small difference between the two. Game-ni contains chicken meat on the bone, where as chikuzenni is made with boneless chicken thigh. It's a small difference, but enough to say they're different.
Nishime (煮しめ) differs from chikuzenni and game-ni in that the ingredients do not need to be fried before simmering, and usually the broth is reduced down until there is nothing left. There are also no particular rules regarding ingredients and seasoning, so more variety of ingredients can be used and these vary greatly depending on the region and the household. Like chikuzenni, common ingredients in nishime include chicken, root vegetables and konnyaku, but other ingredients such as deep-fried tofu, kombu, fish, and Japanese fishcakes such as chikuwa and kamaboko can also be used. Nishime is also known as umani (うま煮) in some regions, in Hokkaido for example.
If I'm being honest, most Japanese people also don't know these subtle differences between these dishes either, so don't worry if you get them mixed up. They all look the same at a glance anyway!
Chikuzenni vs Nikujaga
Another dish cooked in a style akin to Chikuzenni is the beloved "nikujaga," also known as Japanese meat and potato stew. While it's true they share a similar flavor profile and cooking technique, these are two distinct dishes with unique characteristics.
First, nikujaga often calls for beef or pork, potatoes, carrots, and onions as its key players. On the other hand, chikuzenni is always made with chicken (almost without exception), uses satoimo (taro) instead of potatoes, and rarely includes onions.
The use of beef or pork in Nikujaga imparts a deeper, meatier taste, setting it apart from the lighter palate of Chikuzenni. Both are popular home-style dishes, so please give them both a try.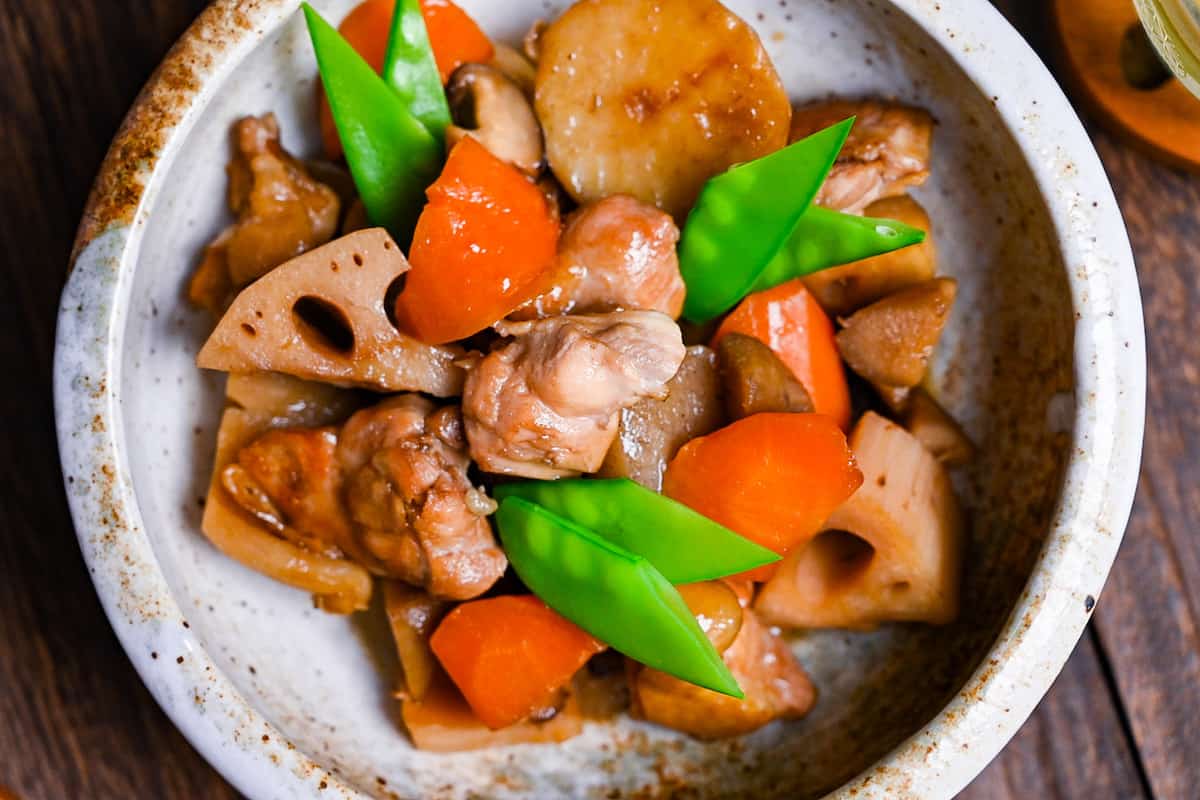 Ingredients and Substitutions
Chicken thigh - For the ultimate texture and flavor, I recommend using skin-on chicken thigh. Other parts work too, but skin-on thigh is best!
Snow peas - Adds a fresh, crunchy texture and splash of bright color at the end.
Carrot - It's common to slice it into thick rounds and use a small cutter to make flower or leaf shapes, especially if you're making it as part of a New Year's menu.
Lotus root (renkon) - You can omit it if you can't get it easily, but it adds nice crunchy texture to the dish and can also be cut decoratively.
Burdock root (gobo) - Again, you can omit it if you can't get it in your area, but as I mentioned earlier, this is a core ingredient traditionally.
Japanese taro (satoimo) - this mildly flavored root vegetable is similar to a potato, but the texture is a little slimy and it has a slightly nutty taste. Be sure to wear gloves when peeling and cutting since the fibers can cause skin irritation. Taro can be replaced with potatoes.
Shiitake mushroom - Adds texture and umami to the dish. Other mushrooms can be used such as button mushrooms or portobellos.
Konnyaku - A classic chikuzenni ingredient that adds a whole different texture to the dish.
Dashi broth - This broth is the base of chikuzenni. Choose from dashi made with dried bonito flakes and kelp, or vegetarian dashi made with kelp and shiitake mushrooms. You could also use instant dashi or dashi bags if you like.
Sesame oil - You can also use vegetable oil if you prefer.
Light brown sugar - White sugar is fine, but light brown sugar is recommended for a richer taste.
Soy sauce - If you want to know more about soy sauce used for Japanese cooking, please see my 20 Most Useful Condiments and Seasonings for Japanese Cooking post.
Mirin - Choosing the right mirin can be tricky, as there are various "mirin-style condiments" that are not true mirin. When purchasing mirin, it is recommended to look for "hon mirin" (本みりん) for the best flavor. In the US, Hinode Hon Mirin is a high-quality and affordable option. Another premium hon mirin available on Amazon US is Kokonoe Jun Mikawa Hon Mirin. If you prefer a more budget-friendly option that is not hon mirin, Kikkoman's Manjo Aji Mirin would be a suitable choice.
Sake - Helps tenderize the meat and improve the flavor. If you do not have it, substitute white wine or dry sherry.
I have listed my recommended Japanese condiments, tools, and ingredients in the Sudachi Recipes Amazon shop. If you want to keep making various Japanese foods at home, please check it out!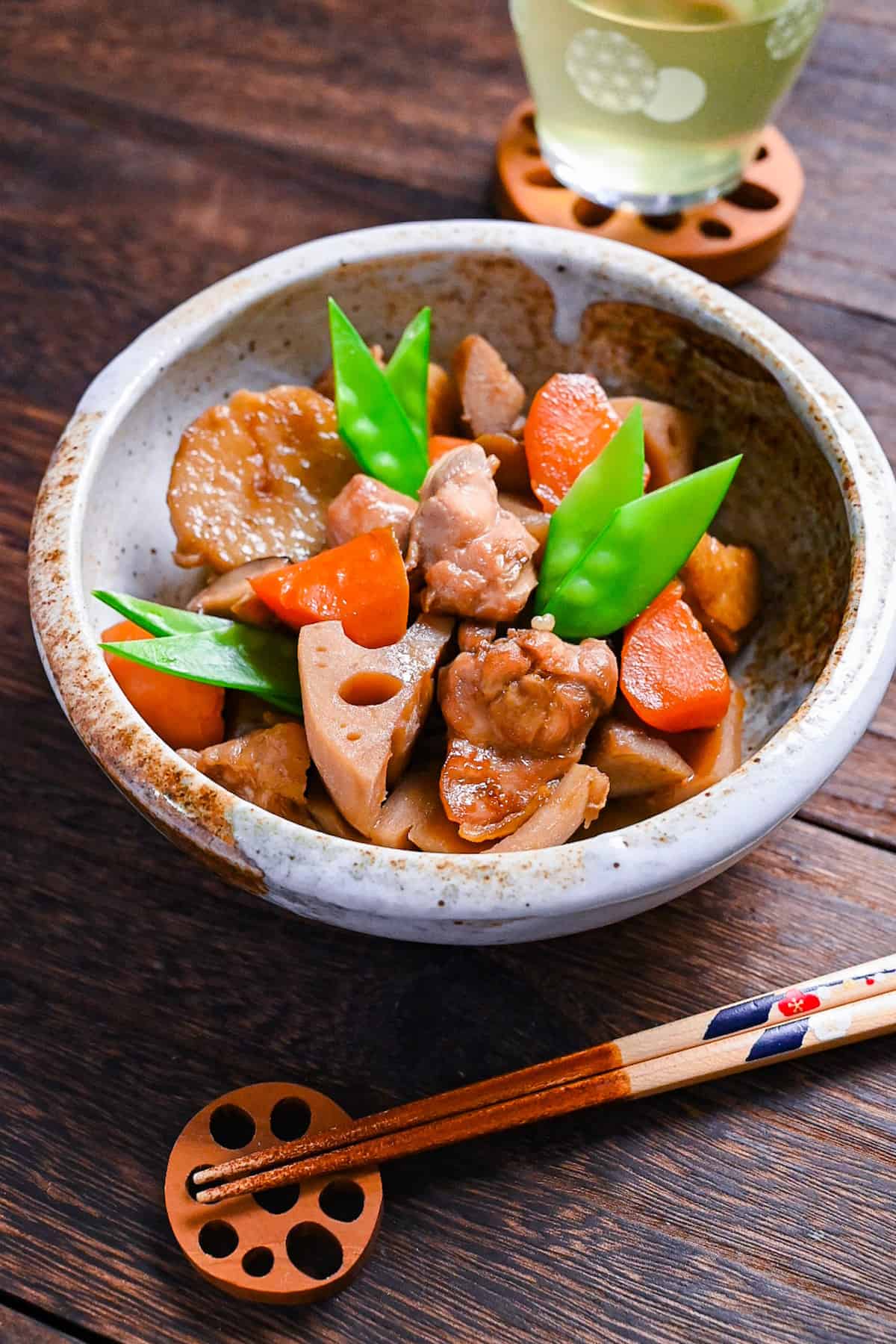 Step-by-Step Process
Take a pot that fits a steaming basket, fill it with water and bring it to a boil. While you wait, wash, peel and cut the carrot, lotus root, burdock root and taro into bitesize pieces. They should be fairly large so that they don't cook too quickly and fall apart during the cooking process. Once cut, soak in water to prevent discolorization.
Once the pot of water is boiling, drain the bowl and place the carrot, lotus root, burdock root and taro in the steaming basket. Steam over a medium heat for 10 minutes.
While they're steaming you can start cooking the chicken. Once 10 minutes are up, be sure to remove the steaming basket from the heat to avoid overcooking.
What if I don't have a steamer?
Traditionally, chikuzenni is made by parboiling each ingredient separately before adding them together to the final pot. I personally like to steam the root vegetables together not only to save time, but to keep the nutrients and color intact. Feel free to parboil them in water if you don't have a steamer.
Heat a large pan or pot on medium. Once hot, add a drizzle of sesame oil and place the pieces of chicken thigh in the pan with the skin side facing down. Seal on all sides until golden.
Once the chicken is sealed, add the steamed vegetables to the pot along with the shiitake mushrooms (quartered) and konnyaku (cut into bitesize pieces). Mix thoroughly and fry for about 1 minute.
Pour the dashi into the pot and add light brown sugar and sake.
Place a drop lid on top, it should be in direct contact with the surface of the ingredients and broth. This will stop the ingredients from moving around too much and prevent them from breaking. If you don't have a drop lid (or in my case, don't have a big enough drop lid!) you can use baking paper or foil.
Bring the liquid to a boil and then turn the heat down to medium-low. Allow to simmer until the liquid is reduced by half (about 10 minutes).
Peel back the drop lid and pour in the soy sauce and mirin. Tilt the pan from side to side to evenly distribute the condiments, avoid mixing since this might break the vegetables. Place the drop lid back on and continue to simmer until the liquid is reduced to one-third.
Once the liquid has reduced, remove the pan from the heat and allow it to cool for one hour. This is an optional step for the best flavor, but if you don't have time, you can move on to the next step.
Add "finishing condiments"
Add soy sauce and mirin and bring to a boil over a medium heat. Tilt the pan to evenly distribute the condiments, again avoiding mixing. Feel free to taste test and add additional soy sauce, mirin or sugar to suit your taste.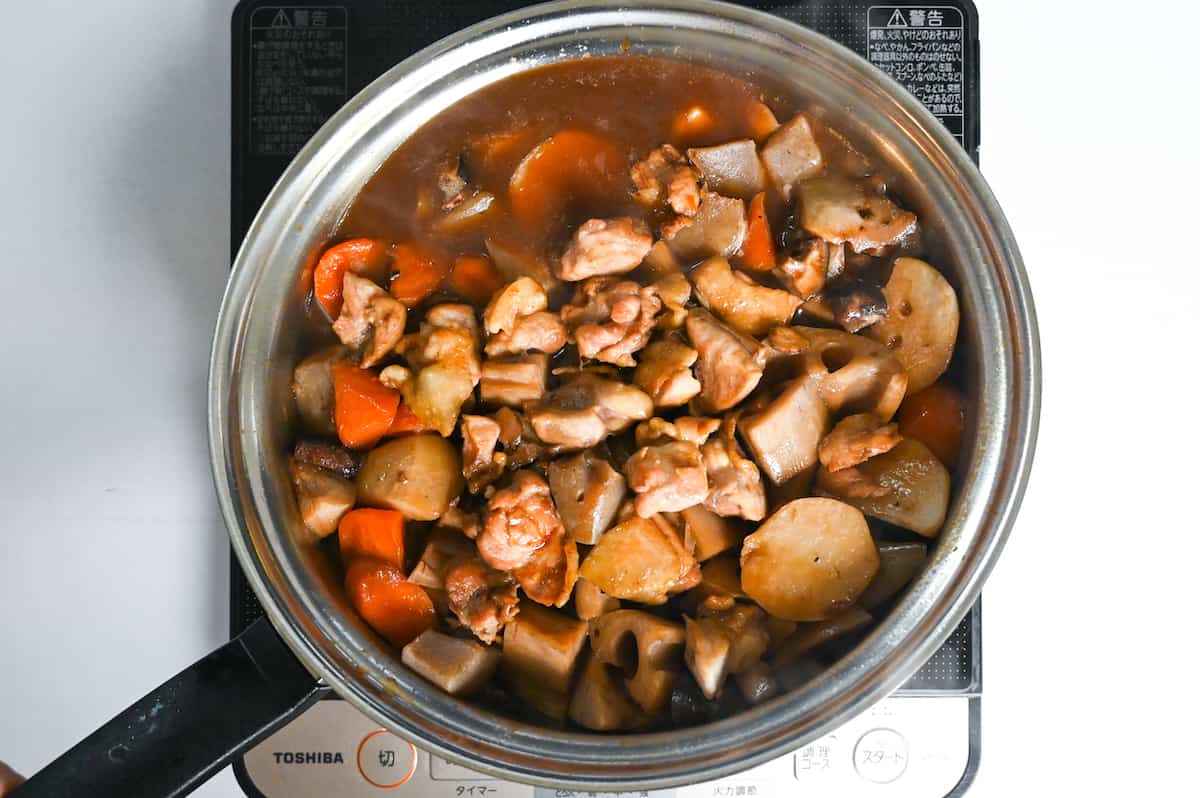 Once boiling, turn the heat back down to simmer.
Boil a small pot of water and blanch the snowpeas for about 1 minute. Use a mesh spoon to remove them from the pot, run them under cold water and cut them in half.
Divide the chikuzenni into serving bowls and decorate with snow peas.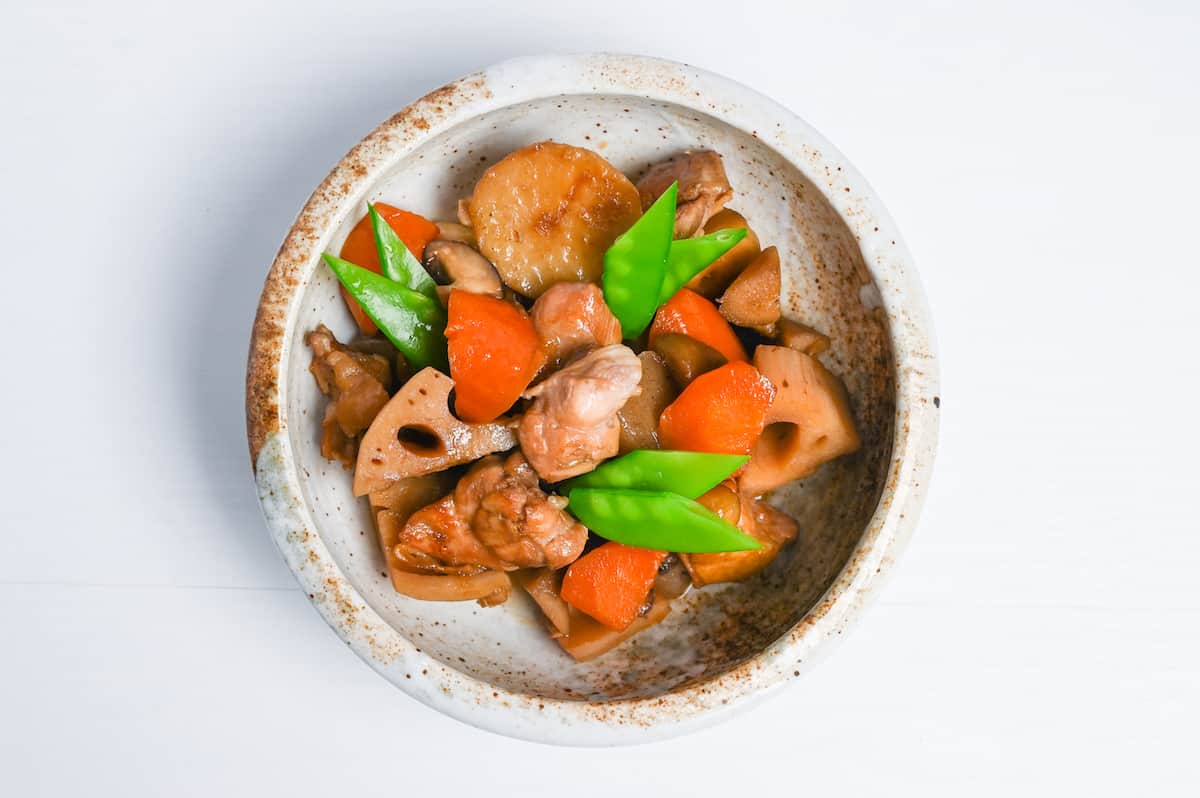 Enjoy!
Storage
When it comes to storing Chikuzenni, there are a few things you need to keep in mind. You can keep it at room temperature in winter for a short while—around 2 to 6 hours. If you plan to eat it soon after cooking, room temperature is okay.
But if you're not eating it immediately, it's best to let it cool and store it into the fridge for safekeeping. Also, if it's summer or if you live in a warm country, avoid leaving it at room temperature as this can make it spoil more quickly. Wondering how long Chikuzenni lasts in the fridge? You're looking at about 3 to 4 days.
Now, let's talk about freezing. You could stretch its life to a whole month by freezing! However, remember, Chikuzenni has certain ingredients, like konnyaku, that don't freeze well. So, it's a good idea to eat up these elements on the day you cook, before you decide to freeze the rest.
If you do freeze Chikuzenni, a handy tip is to include the liquid in the storage container. Why? This simmering broth not only infuses even more flavor into the ingredients while freezing but also prevents them from drying out. Now that's a win-win!
I hope you enjoyed learning how to make chikuzenni from scratch! If you try the recipe, I'd love to hear what you think so please take a moment to leave a review and star rating in the comments below. It's also helpful for our other readers if you include any adaptations you made to the recipe, thank you so much!
Chikuzenni (Nishime/Gameni)
How to make delicious and nutritious Chikuzenni (筑前煮) a traditional Japanese dish made with succulent chicken and hearty root vegetables simmered in a rich dashi broth.
Ingredients
100

g

carrot(s)

-

cut into rough bitesize pieces (rangiri)

100

g

lotus root

-

1cm slices

100

g

burdock root(s)

-

cut into rough bitesize pieces (rangiri)

150

g

Japanese taro

-

(satoimo) rough bite-size pieces

1

tbsp

sesame oil

250-300

g

boneless chicken thigh(s)

-

skin-on , large bitesize pieces

3

fresh shiitake mushroom(s)

-

quartered (or whole for osechi)

200

g

konnyaku

-

roughly cut into bite-size pieces

500

ml

dashi stock

2

tsp

light brown sugar

60

ml

sake

60

ml

soy sauce

60

ml

mirin

10

snowpeas
Instructions
Heat a pot of water that fits a steaming basket and bring it to a boil.

While you wait for the water to boil, wash, peel and cut

100 g carrot(s)

,

100 g lotus root

,

100 g burdock root(s)

and

150 g Japanese taro

according to the instructions in the ingredient list. Once each ingredient is cut, place the pieces in a bowl of cold water to prevent discoloration.

Once water is boiling, place all the root vegetables in the steaming basket and steam for 10 minutes over a medium heat. (When the time is up, immediately remove the basket from the heat to avoid over cooking.)

Heat a large pot on medium and once hot, add

1 tbsp sesame oil

. Place

250-300 g boneless chicken thigh(s)

with the skin side down and seal/brown on all sides.

Once sealed, add the steamed root vegetables,

3 fresh shiitake mushroom(s)

and

200 g konnyaku

to the pot and stir.

Next, add

500 ml dashi stock

,

2 tsp light brown sugar

and

60 ml sake

.

Place a drop-lid (or piece of foil or baking paper) on top so that it's in direct contact with the ingredients and broth, and bring to a boil. Once boiling, turn the heat down to medium-low and simmer until the liquid is reduced by half (about

10 mins

).

Next, peel back the drop lid and add

60 ml mirin

and

60 ml soy sauce

, then tilt the pan to evenly distribute the condiments through the broth (don't mix). Place the drop lid back on and continue to cook until the liquid is reduced by one-third.

Optional step for maximum flavor: Turn off the heat, cover and allow it to cool for 1 hour.

Add the

½ tbsp soy sauce

and

1 tbsp mirin

to the pan and return to the stove. Bring to boil over a medium heat and then lower to a simmer. Tilt the pan from time to time to move the liquid around, do not mix.

Bring a small, separate pot of water to a boil and blanch

10 snowpeas

for 30-60 seconds.

Remove the snow peas from the pot using a mesh spoon and rinse them under cold water. Cut in half diagonally.

Divide the chikuzenni into serving dishes and arrange snow peas on top.

Enjoy!
Notes
Traditionally people parboil each vegetable separately, but I used the steaming technique to make it quicker and easier.
If you don't want to wait for 1 hour to cool down, you can skip the step and add the finishing mirin and soy sauce straight away.
Nutrition
Serving:
337
g
Calories:
257
kcal
Carbohydrates:
22.6
g
Protein:
11.9
g
Fat:
12.7
g
Saturated Fat:
3.3
g
Polyunsaturated Fat:
2.67
g
Cholesterol:
45
mg
Sodium:
977
mg
Fiber:
4.1
g
FAQ
What is the difference between Nishime and Chikuzenni?
There is little difference between chikuzenni and nishime, but to be very technical, there is a difference in the cooking method. In chikuzenni, the ingredients are fried in oil before boiling, while in nishime, the ingredients are only slowly soaked in the cooking liquid and simmered over a long period of time until the liquid is more or less gone.
What is the difference between Nishime and Nimono?
Nimono is a general term for dishes in which ingredients are boiled in dashi broth or water and seasoned. Nishime refers to a particular dish or a cooking method in which ingredients are slowly simmered until all the liquid is absorbed in order to make it last longer.
What does Nishime symbolize?
Nishime, made with a variety of seasonal ingredients and mountain vegetables, is one of Japan's old home-style dishes, and is also used in New Year's osechi. Since mountain ingredients, sea ingredients, and seasonal ingredients are simmered together in a pot, it is meant to bring good luck for everyone to get along and prosper for a long time to come.