If you're looking to elevate your Japanese cooking without spending too much time or money, then dashi granules are the perfect ingredient for you! But what is it, how is it made and how can I use it? Learn everything you need to know right here!
Disclaimer: This post contains Amazon affiliate links. Sudachi earns a small percentage from qualifying purchases at no extra cost to you. See disclaimer for more info.
What Are Dashi Granules?
Dashi is the basis of Japanese cuisine. It is a liquid stock similar to "fon" or "bouillon" in Western cooking but uses ingredients that are unique to Japanese cuisine. It is also used more frequently and for various purposes.
Typically, dashi is made from dried kelp, bonito flakes, dried shiitake mushrooms, etc.. Still, it can be time-consuming and labor-intensive to make it from scratch, and the ingredients are not cheap, especially outside of Japan.
This is where "Dashi Granules" or "Granulated Dashi" (和風顆粒だし) comes in handy. This "instant dashi" is made by grinding kelp, dried bonito flakes, and other dashi ingredients into small granular pieces and combining them with other seasonings. These can then be dissolved in water to create dashi with little time or effort.
Although it does not have the same taste or flavor of homemade dashi that has been carefully prepared from scratch, it is very convenient for making Japanese food quickly, simply, and reasonably priced.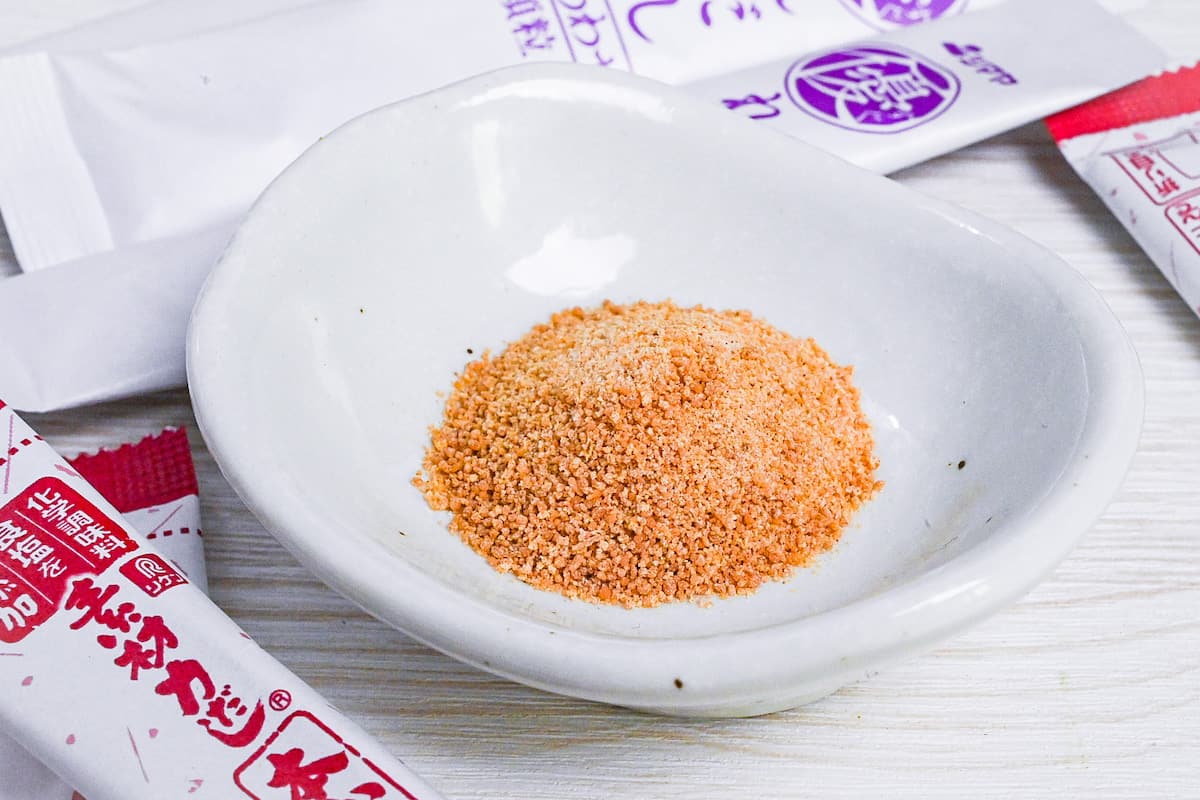 Differences from Other Types of Dashi
In addition to granulated dashi, there are dashi bags, powdered dashi, and liquid dash. Let's compare the characteristics, advantages, and disadvantages of each type.
Characteristics
Advantage
Disadvantage
Granules
Heat treated
Easily soluble
Long shelf life
Various flavors available
Easy to use
Consistent taste
Weak in dashi flavor
May contain salt
Can have a cloudy appearance
Powder
Unheated
Strong flavor
Easily moistened
Strong flavor
Can also be used to make authentic dashi broth
Vulnerable to humidity, the flavor tends to leach out
Not suitable for storage after opening
Does not dissolve, making it less palatable in some dishes
Liquid
Diluted type
Additive-free, seasoning-added, and other varieties
Variety of dashi broths such as kombu dashi, katsuo dashi, and combined dashi
Some contain a lot of additives
Be careful of the dilution ratio
Need to use up as soon as possible after opening.
Packet
Powdered dashi in a teabag-like packet
Easy to use
Packaged in single-serving packets
Easy to make authentic dashi
No need for measuring
The packaging makes them not very eco-friendly.
Dashi Granules: Dashi granules are heat-treated during manufacturing, resulting in a weaker flavor than other "instant dashi." They may contain added salt and seasonings, so caution is needed when seasoning. These granules easily dissolve and spread evenly, ensuring a consistent flavor however they sometimes create a cloudy appearance in the water. Various types are available, including bonito, kombu, awase, iriko, ago, and shiitake mushroom dashi. The all-purpose dashi blends several types and is versatile for various dishes.
Powdered Dashi: This type of dashi is made by finely grinding raw dashi ingredients. Since it's unheated, it retains a good flavor and is often additive-free. Unlike other forms, it doesn't dissolve in liquids but can be used similarly to furikake (sprinkles). After opening, it requires careful storage; it should be sealed tightly and stored in a cool, dark place. Various types are available, including high-end products made from carefully selected ingredients.
Liquid Dashi: Most liquid dashi products are concentrated by adding seasonings, but some are derived directly from the dashi. There's a wide product range, from budget-friendly to premium options. Adjusting the dilution rate allows this dashi to be used in various dishes. Some versions are additive-free and high-quality, while others might contain additives.
Tea Bag Style Dashi: The tea bag-style dashi offers a convenient method to make authentic dashi by boiling powdered dashi packets in hot water. This approach addresses the issue of powdered dashi not dissolving in liquid. Once used, the leftover contents of the packets can be roasted and seasoned to create a homemade furikake with soy sauce, mirin, sesame, and chili peppers.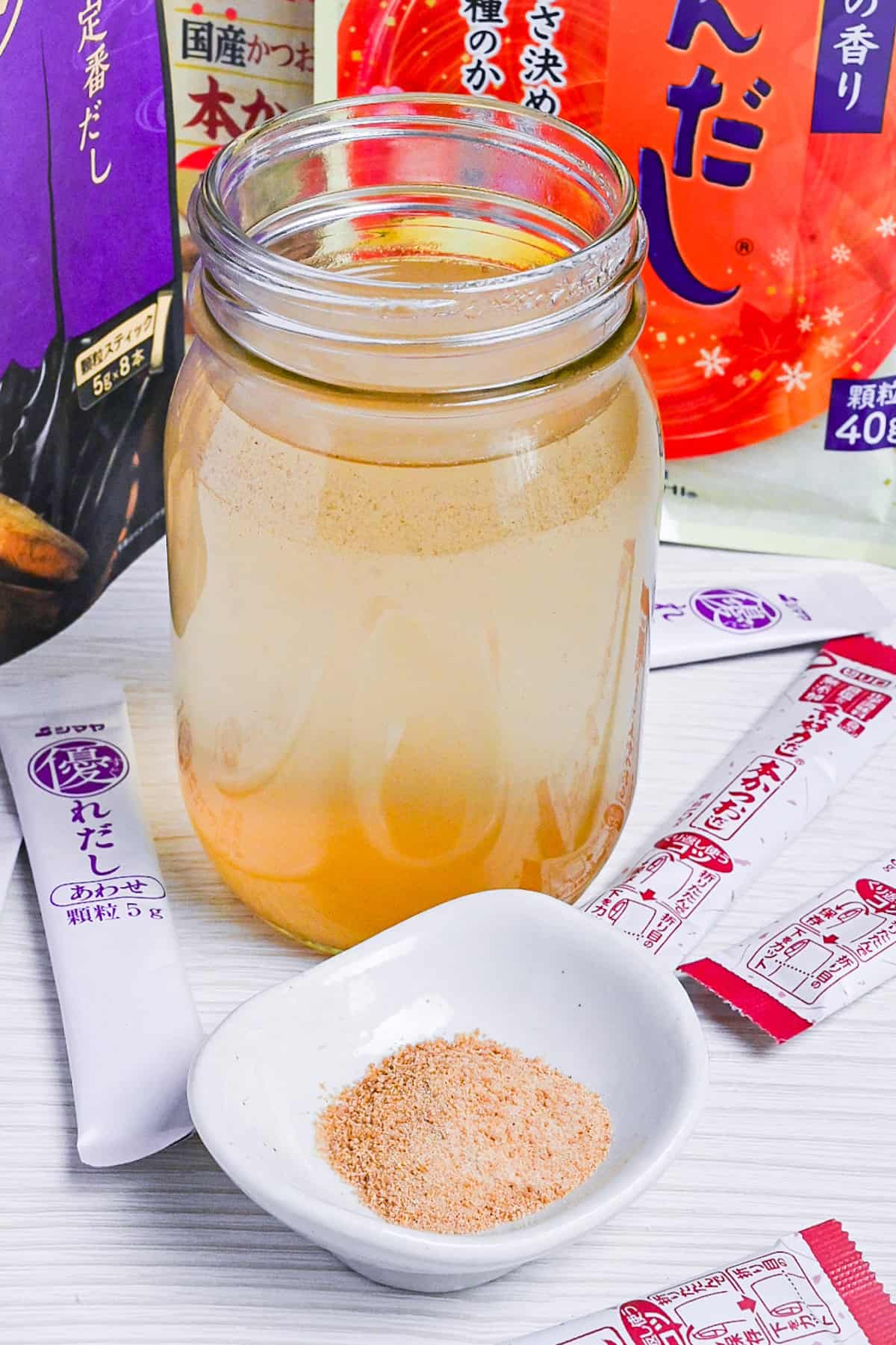 When Do People Use Dashi Granules in Japan?
Dashi is the lifeblood of Japanese cuisine. While traditional dashi, brewed with dedication, is unparalleled in taste, there are moments when the practicality of dashi granules shines through.
Small servings: Need a single cup of miso soup or a small amount of dashi for a lunchtime side dish? The granulated form dissolves swiftly, letting you measure the exact amount without waste, even when making small batches or portions.
Racing against time: Crafting authentic dashi can take a long time, sometimes stretching beyond an hour. For those moments when every minute counts, the quick-dissolving granulated dashi comes to the rescue.
Ingredient scarcity: The soul of dashi lies in its ingredients, and their quality can make or break the broth. If top-tier ingredients elude you, the consistent quality of dashi granules is a reliable fallback. Its extended shelf life makes it a pantry essential for unexpected culinary ventures.
When you're not used to it: If you're dipping your toes into Japanese cooking or lack confidence, the granulated version ensures a consistent flavor every time, eliminating the guesswork.
Beyond just broth: The dashi granules aren't just a broth substitute. It is infused with salt and other seasonings and doubles as a versatile seasoning. Whether for simmered dishes, stir-fries, dressings, or inventive sauces, its potential is limited only by your creativity whenever you want a bit of dashi element in your cooking.
While traditional dashi remains the gold standard, the granulated version is an indispensable ally in the modern kitchen, blending convenience with consistency.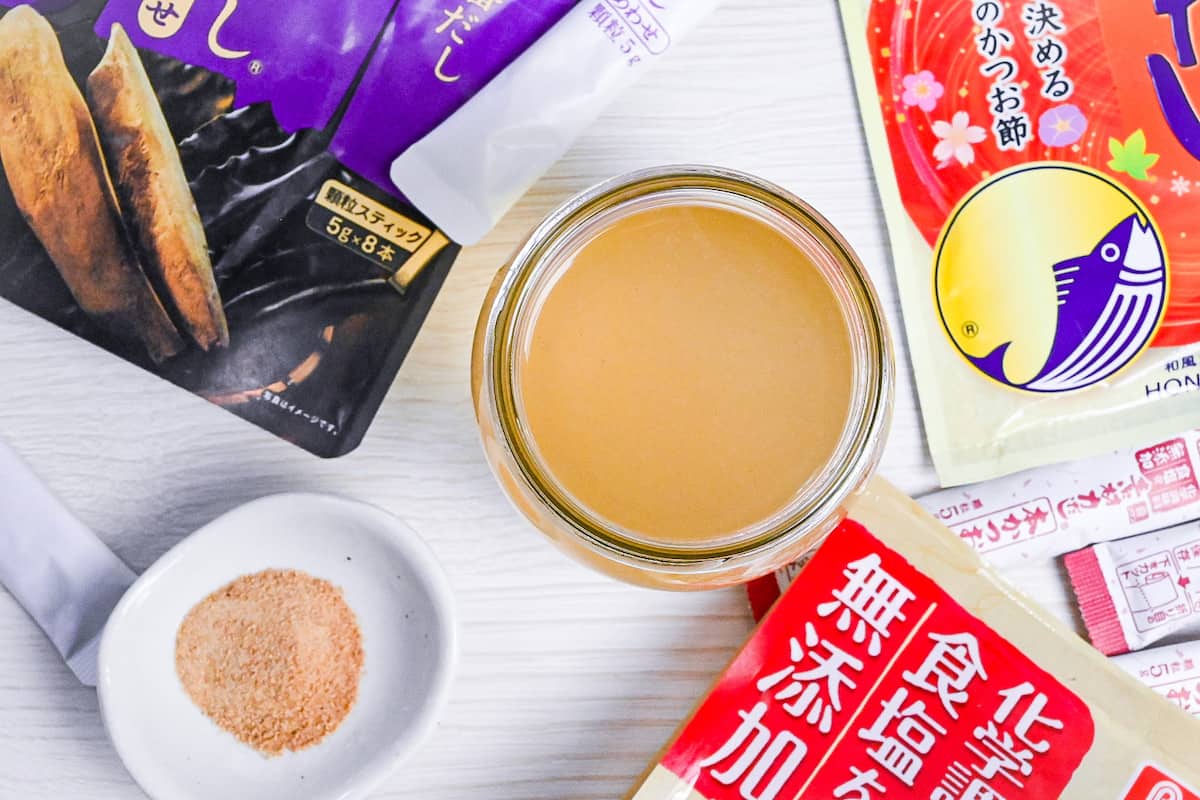 3 Recommended Japanese Granulated Dashi
In the heart of Japan, the demand for Japanese granulated dashi is soaring. With many options available, each variant brings its unique flavor profile. Here, we delve into some renowned "Japanese granulated dashi" brands, celebrated for their taste, aroma, and versatility: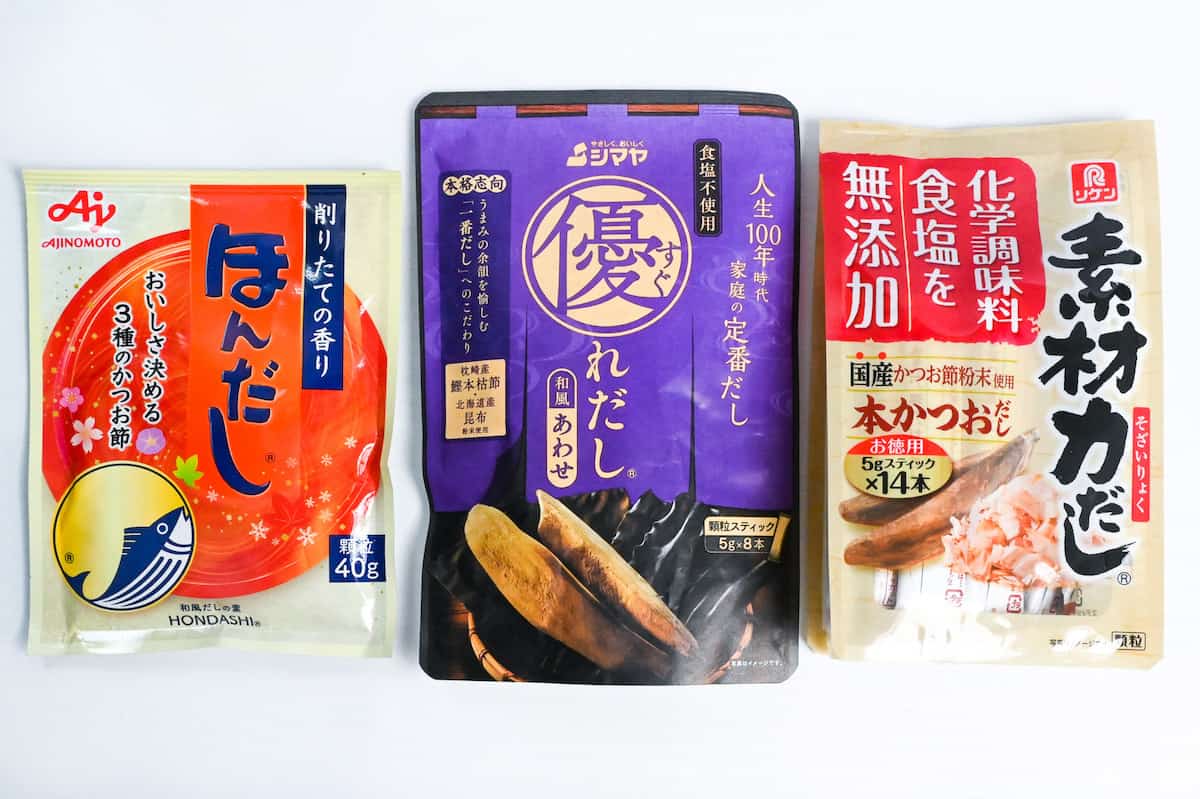 Ajimoto Hon Dashi: One of the stars in the world of dashi, Ajimoto Hon Dashi is renowned for its robust flavor. It's the quintessential dashi that seamlessly complements many dishes, making it a staple in many kitchens since they are also expanding overseas, probably one of the most inexpensive products.
Shimaya Awase Dashi (Additive-free): A harmonious blend of bonito's rich aroma and the subtle kombu umami, this dashi granule elevates any dish it graces. Its stick-type packaging ensures ease of use, making it a favorite among many.
Riken Katsuo Dashi (Additive-free): Purity at its best. With no added salt or chemical seasonings, Riken Katsuo Dashi stands out for its unadulterated flavor. It's a testament to the brand's commitment to offering authentic taste without compromise.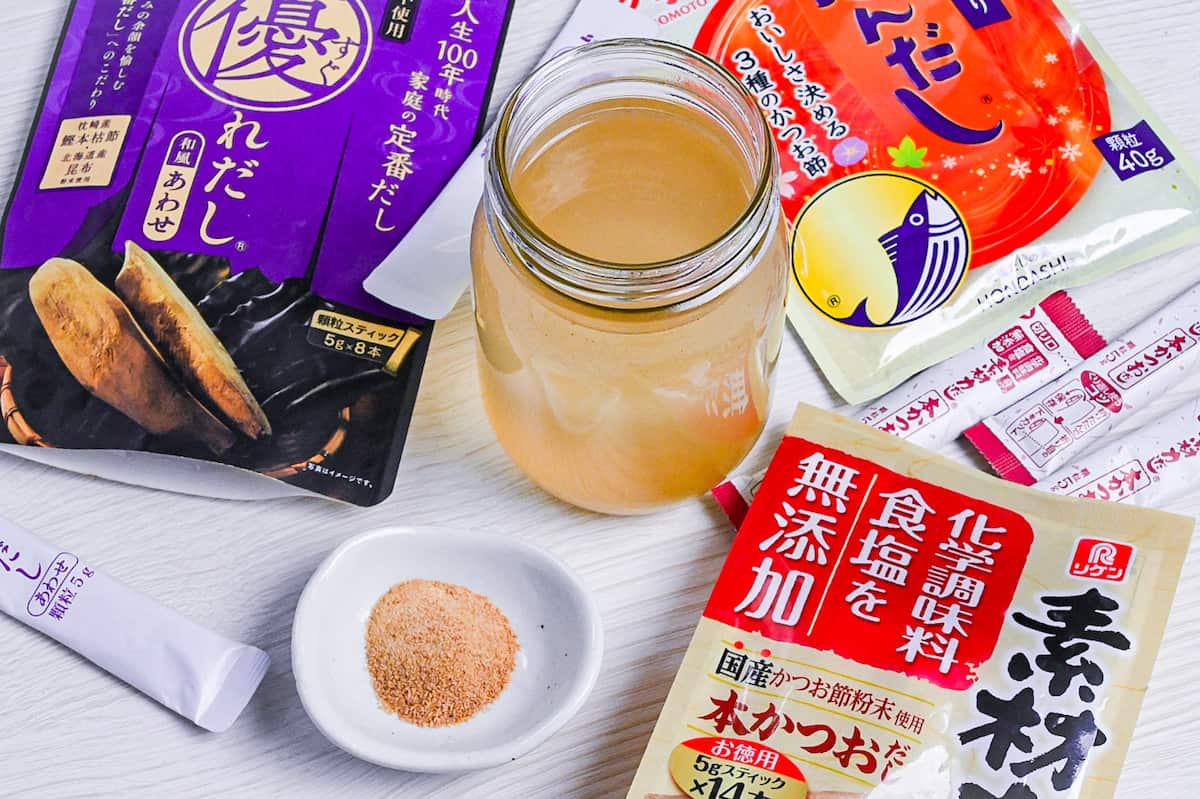 How to Make Dashi Using Granules
The preparation method for making dashi with granules varies depending on the brand or usage. Many granules come in packets containing individual sachets for easy use without the need to measure. These sachets can also vary in weight and strength so there's no "one method for all" when it comes to dashi granules.
With that in mind, I will share the instructions for making dashi specifically using "Ajinomoto's Hondashi Granules".
Measure out 225ml of water. This can be hot or cold depending on what you plan to use it for, but generally the dashi will dissolve better in hot water.
Measure out 1/2 teaspoon of dashi granules and pour them into the water. Mix until dissolved.
Use to make quick miso soup or however you like. Enjoy!
The ratio of dashi granules to water ratio for Ajinomoto's Hondashi Granules is 1 tsp for every 450ml water. Divide or multiply to suit your needs.
Recipes
Whether you're making a small batch of dashi, or simply sprinkling the powder into a dish to elevate the flavor, dashi granules are great way to save time and money and are perfect for those times that you don't need much! I tend to use dashi granules for these recipes:
I hope you enjoyed learning about dashi granules and how to utilize them in your Japanese cooking!