Spinach ohitashi is a simple dish made with blanched spinach soaked in a soy and dashi-based sauce. It's quick, tasty and makes a great side dish for any Japanese meal!
Disclaimer: This post contains Amazon affiliate links to help our readers find the products used by us. Sudachi Recipes earn a small percentage from qualifying purchases at no extra cost to you. See disclaimer for more info.
What is ohitashi?
Ohitashi (お浸し) is a simple side dish made with blanched vegetables that have been soaked in a dashi-based sauce. Because of the short cooking time, the vegetables maintain their natural color and texture whilst the sauce lightly flavors them and adds subtle umami.
While many Japanese people (including myself until recently!) believe ohitashi is simply the name of the dish, it's actually the name of the type of preparation/cooking method!
The name derived from the process of soaking food in dashi, but this process is often omitted these days. Simply boiling the vegetables and pouring soy sauce over them can also be called ohitashi.
History of ohitashi
Funnily enough, in ancient times, ohitashi was known as "hitashimono" or "soaked things".
Documents from the Nara period (710-794) suggest that this method of preparation existed then, but the phrase "hitashimono" appears in a record from 1517.
In the Edo period (1603-1868), there were also dishes using marine products such as abalone, sea cucumbers, and jellyfish as ingredients, but after the Meiji period (1868-1912), ohitashi made simply with vegetables and soy sauce became the mainstream.
Because of this, ohitashi can be translated to mean "soy-flavored boiled greens".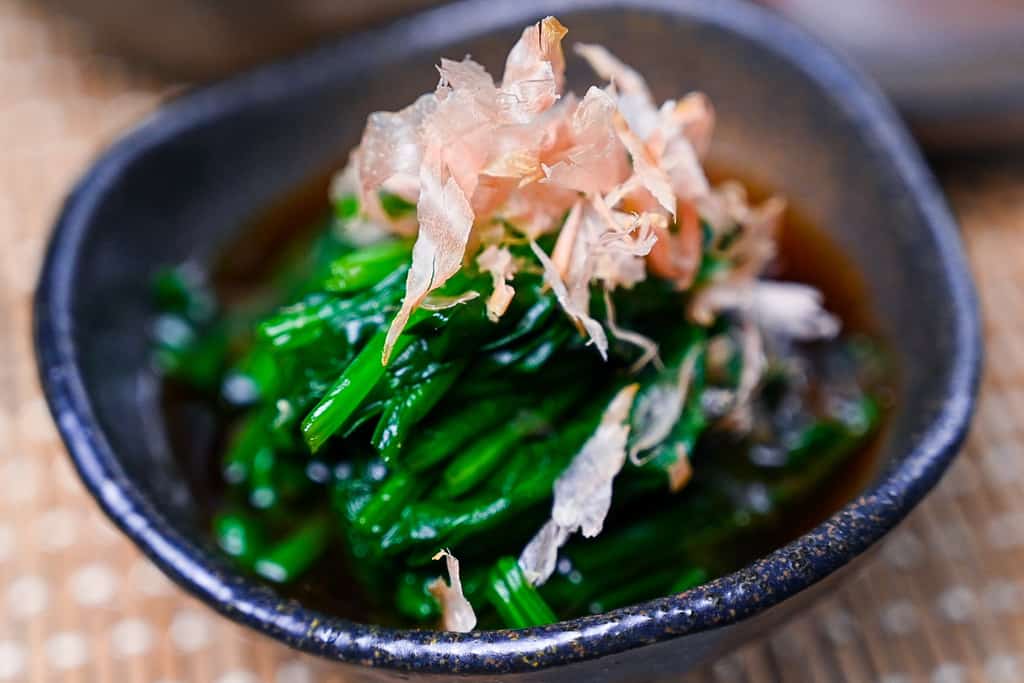 How to eat ohitashi
Ohitashi is usually served cold and sprinkled with katsuobushi (bonito flakes).
You can make a vegan version by using a kombu and shiitake dashi (I have my own homemade vegan dashi recipe here), then sprinkling it with sesame seeds instead of katsuobushi.
I recommend serving ohitashi as part of a Japanese-style set meal. Rice, miso soup, pickles and a main dish served with ohitashi on the side. It makes a perfectly balanced meal!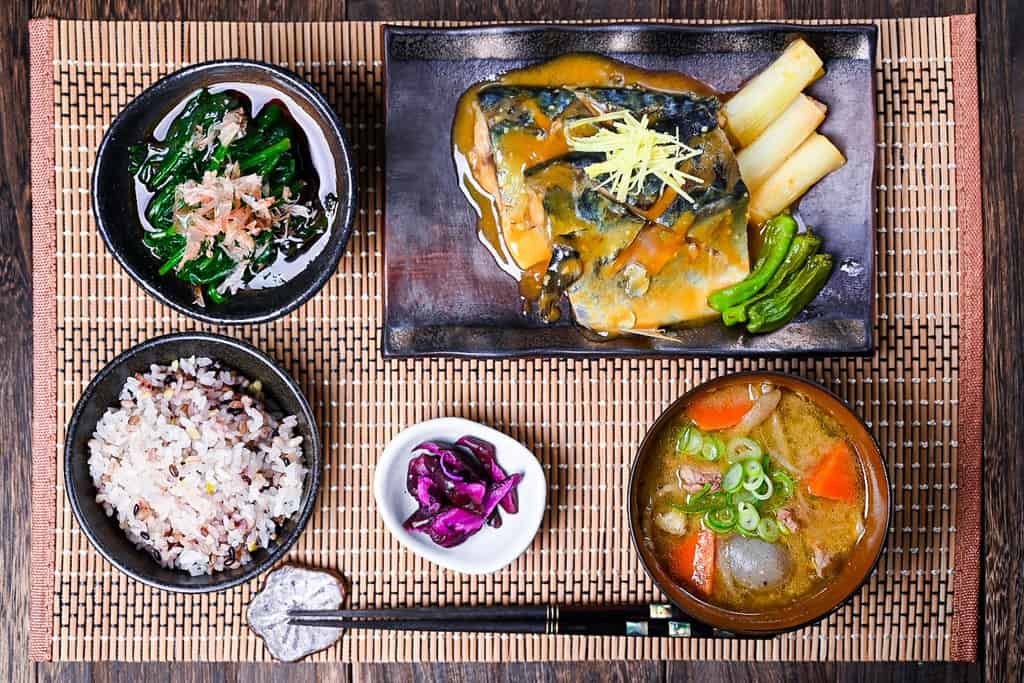 Ingredients to make Ohitashi
Dashi – This Japanese soup stock is the key to umami and authentic flavor. I usually opt for my favorite dashi made with bonito flakes, kelp and dried sardines but if you prefer, you could also make plant-based dashi with dried shiitake mushrooms and kelp. Alternatively, instant dashi powder or dashi bags also work.
Soy sauce – another key ingredient for flavor and saltiness, I recommend using Japanese soy sauce if possible.
Mirin – for sweetness
Chinese spinach – also known as "oriental spinach" or "horenso" (ほうれん草) in Japanese.
Salt
Bonito flakes – an optional garnish that adds a briny flavor. This can be omitted or replaced with sesame seeds for vegetarians and vegans.
Happo dashi
Spinach ohitashi is soaked in a condiment we call "Happo Dashi". Happo dashi is made with dashi stock, soy sauce, and mirin with a ratio of 10:1:1 respectively.
Even though is uses the same ingredients as mentsuyu (concentrated noodle dipping sauce), happo dashi has a milder and less salty taste since it contains more dashi and less soy sauce.
In Japan, we often water down store-bought mentsuyu for a shortcut happo dashi. If you have mentsuyu sauce at home, you can try this too! The ratio is usually 50:50 of mentsuyu to water but check the packaging since it depends on the brand.
Other vegetables that you can use for ohitashi
Spinach is the most popular choice of vegetables for ohitashi without a doubt, but it's not unheard of to use other kinds of vegetables too.
According to Goo Ranking (2015), the top 10 vegetables for ohitashi are below:
Spinach: 842 votes
Canola flower: 148 votes
Eggplant: 140 votes
Japanese mustard spinach: 118 votes
Okra: 105 votes
Crown daisy: 61 votes
Beansprouts: 58 votes
Jew's mallow: 58 votes
Nappa cabbage: 57 votes
Asparagus: 44 votes
So if you're not a fan of spinach, perhaps you can try making ohitashi with another vegetable! My personal favorites are canola flower and eggplant.
One great thing about the spinach version though, is how quick it is to make!
Instructions for how to make Spinach Ohitashi
Spinach Ohitashi is easy to make and can be made ahead of time. It takes less than 10 minutes to cook, then 30 minutes of marinating time.
Add dashi, soy sauce and mirin to a saucepan. Bring to a boil over a medium heat and allow it to bubble for 1-2 minutes.
Remove the pan from the stove and leave it to cool to room temperature.
Bring a large pot of water to a rolling boil and add a pinch of salt. Set a bowl of ice water next to it. While you wait for the pot to boil, wash the spinach and make sure to remove any dirt or sand.
Hold the spinach by the leaves and dip the stems in the boiling water. I recommend using tongs to hold them to protect your hands from the steam. Hold the spinach stems in the water for 30 seconds.
After 30 seconds, submerge the rest of the spinach in the boiling water and cook for 30 seconds.
Transfer to the ice water
Transfer the spinach to the ice water. This will halt the cooking process and help the spinach maintain a fresh green color and crunchy texture.
Remove the spinach from the bowl and squeeze it thoroughly to remove as much water as possible. (Leftover water will dilute the broth so it's important to squeeze well!) Transfer to a chopping board, trim off the roots, and cut the spinach and stems into 5cm (2 inch) pieces.
Place the spinach in a container and pour the cooled happo dashi over the top.
Cover and marinate in the fridge for at least 30 minutes before serving.
Divide into serving dishes and top with bonito flakes or sesame seeds.
Enjoy!
Tips and tricks
Here are a few simple tips and tricks that you can easily use to make perfect spinach ohitashi at home!
Tips to make delicious spinach ohitashi
Soak the spinach in cold water before cooking while you wait for the pot of water to boil. This helps maintain a good texture.
Blanch the stems first – this ensures the spinach is evenly cooked all over. If you cook everything together, the leaves will be overcooked and wilt.
Use tongs to hold the spinach – not only will this stop your hands from burning from the steam, but you can also use the tongs to quickly remove the spinach and transfer it to the ice water once it's cooked.
Transfer to ice water immediately after blanching – this quick cooling method is to prevent them from losing color, taste and texture.
Squeeze well before marinating to prevent excess water from diluting your marinade.
Marinade for at least 30 minutes before serving, preferably a few hours if you have time.
Storage
Spinach ohitashi will keep for 2-3 days in a sealed container in the fridge (although this largely depends on the condition of the spinach when you make the dish).
To freeze spinach ohitashi, divide it into individual portions in small containers and pour the marinade over the top. Freeze it together with the marinade. This storage method will keep for 2-3 weeks. Defrost in the fridge overnight or on the counter for an hour or so. Once defrosted, use within 24 hours.
I hope you enjoy this quick and easy spinach ohitashi! If you try out the recipe, I'd love to hear what you thought. Leave a review and star rating in the comments below! It's also helpful for our other readers if you mention any adjustments you made to the recipe. Thank you!
Spinach Ohitashi (Japanese Spinach Salad in Dashi)
---
How to make "Spinach Ohitashi", a simple Japanese side dish made with blanched spinach salad soaked in a soy sauce and dashi-based marinade.
---
---
---
---
Instructions
First make happo dashi by boiling

200 ml dashi stock

,

4 tsp soy sauce

and

4 tsp mirin

in a saucepan for 1-2 minutes.

Remove the pan from the stove and leave it to cool to room temperature. 

Heat a large pot of water and add

1 pinch salt

. Set

1 bowl ice-cold water

next to it. 

Once the water reaches a rolling boil, hold

200 g spinach

by the leaves and submerge the stalks into the boiling water. Hold it there for 30 seconds. (Hold it with tongs to prevent burning yourself.)

After 30 seconds have passed, submerge the rest of the spinach into the water and continue to boil for another 30 seconds.

Once the time is up, immediately transfer the spinach to the bowl of ice-cold water and let it cool for about 1 minute.

Take the spinach out of the water and squeeze the excess water out as much as you can.

Cut the spinach into 4-5cm (approx 2 inch) long pieces and place them in a container.

Pour the happo dashi into the container. Cover and rest in the fridge for at least 30 minutes. 

Serve as a side dish with Japanese-style meals and enjoy!
Notes
Make the dish vegetarian/vegan by using shiitake and kombu dashi and sprinkling with sesame seeds instead of bonito flakes.
Keep leftovers in the refrigerator and use within 2-3 days.